Have you ever thought about what things at your home could be easily repurposed? These upcycling ideas will give your creative mind a much-needed nudge to go and make something useful from what you already have!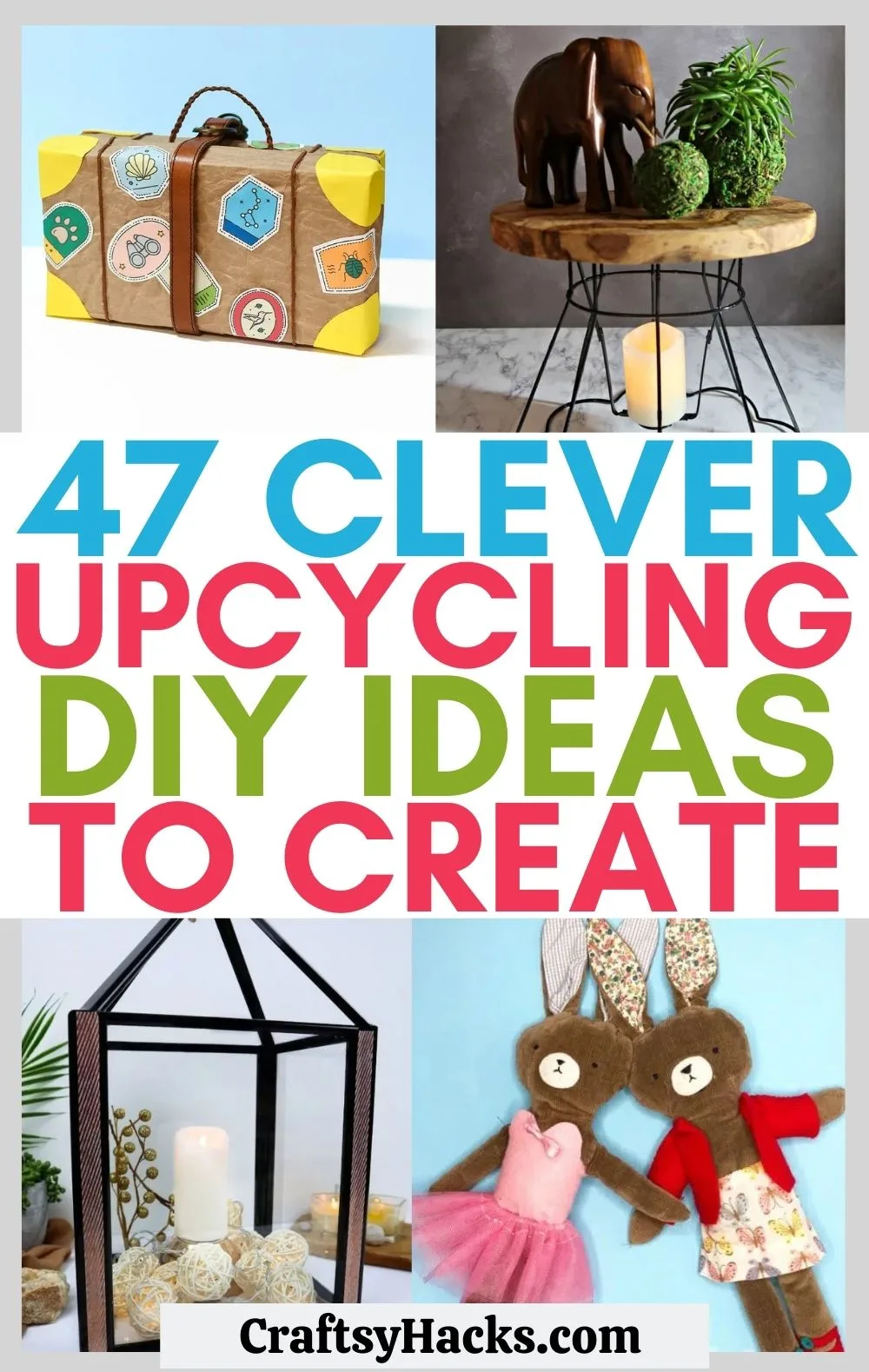 Upcycling is the new recycling if you ask me. It's also the foundation of any good craft project.
If you've got the tendency to hoard or stash, then just this once, you're in luck. You already have a rich source of crafting supplies and items at hand. So all that's left is for you to figure out what you want to do with them.
Here's a list of 47 amazing projects where you can repurpose and upcycle to your heart's content!
1. Scented Candles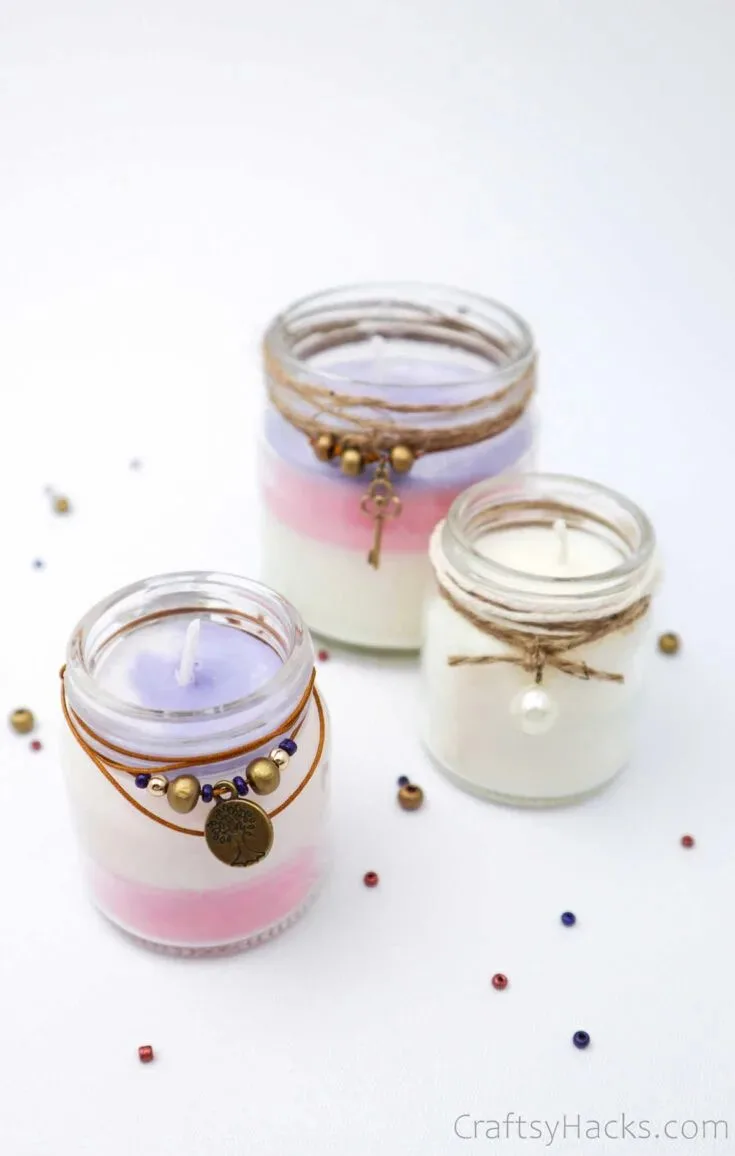 Source: craftsyhacks.com
Every room needs, no, deserves at least a couple of scented candles in them. They brighten up the entire room, make it smell fresh and wonderful, and can do wonders to perk up the atmosphere in there.
You don't want to be buying so many candles, though, not when they can be so expensive. And definitely not when you can be making your own at home.
Grab some mason jars from your recycling bin to upcycle into candle jars, beeswax or soy wax flakes, candle wicks from here, dyes, and finally, essential oils(look here).
2. Denim Storage Bins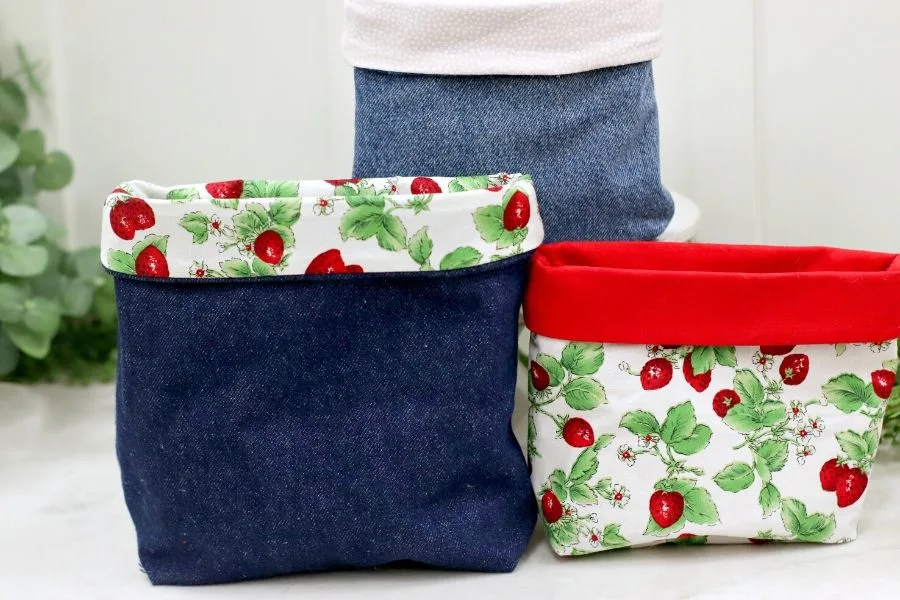 Source: happiestcamper.com
The next time you're about to throw away an old or ratty pair of jeans that you can't wear anymore, just hold up. Why don't you upcycle those jeans instead?
What can you make, you ask? A ton of creative things, like this upcycled denim storage bin. You can use scrap fabric you have in your stash to line the edges and give your bins cute cuffs.
Depending on the size you make them into, you can use these bins to keep different things organized and clutter-free. You can use them to store skeins of yarn, craft supplies, sewing supplies, and more.
Take a look at these 47 DIY scrap fabric projects, too.
3. DIY Phone Holder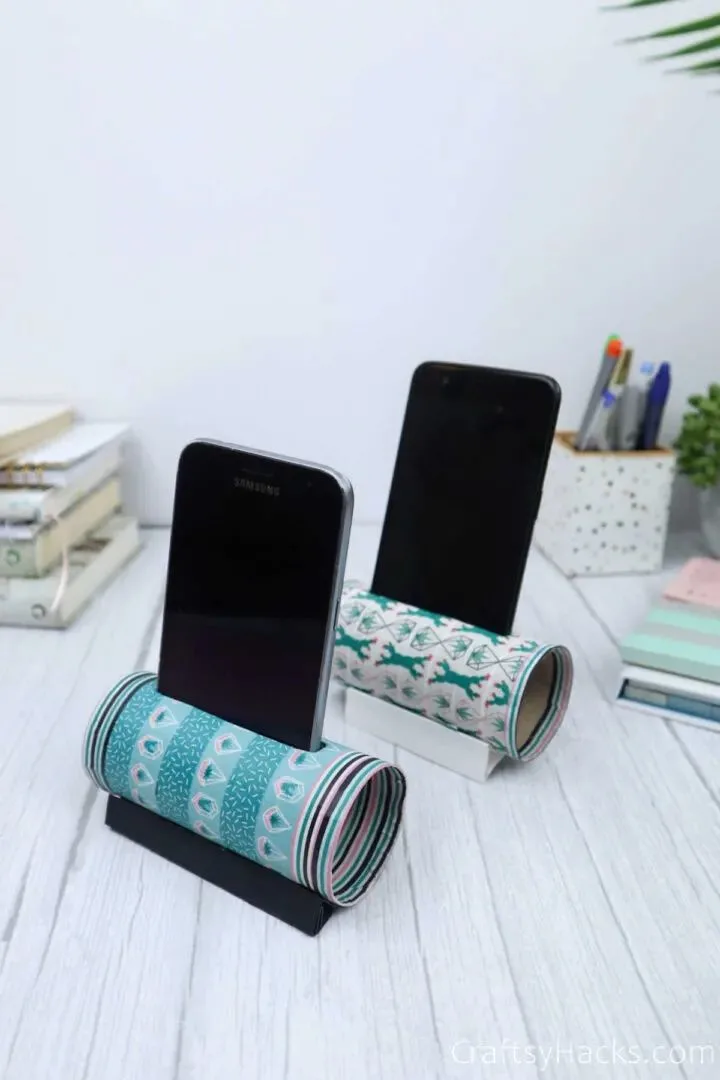 Source: craftsyhacks.com
Phone holders that you pick off the internet are all good, I'm sure, but are they absolutely fabulous like these ones. Moreover, would you believe me if I told you they were made out of toilet paper rolls?
They're super easy to make and pretty to look at, too. You also probably have all the supplies you need already, so it also means they're going to cost you next to nothing to make.
It all comes down to picking out your washi tape. The pattern on your phone holder will depend on the washi tape you use, so you can pick up some right here.
4. Children's Dress Up Wardrobe DIY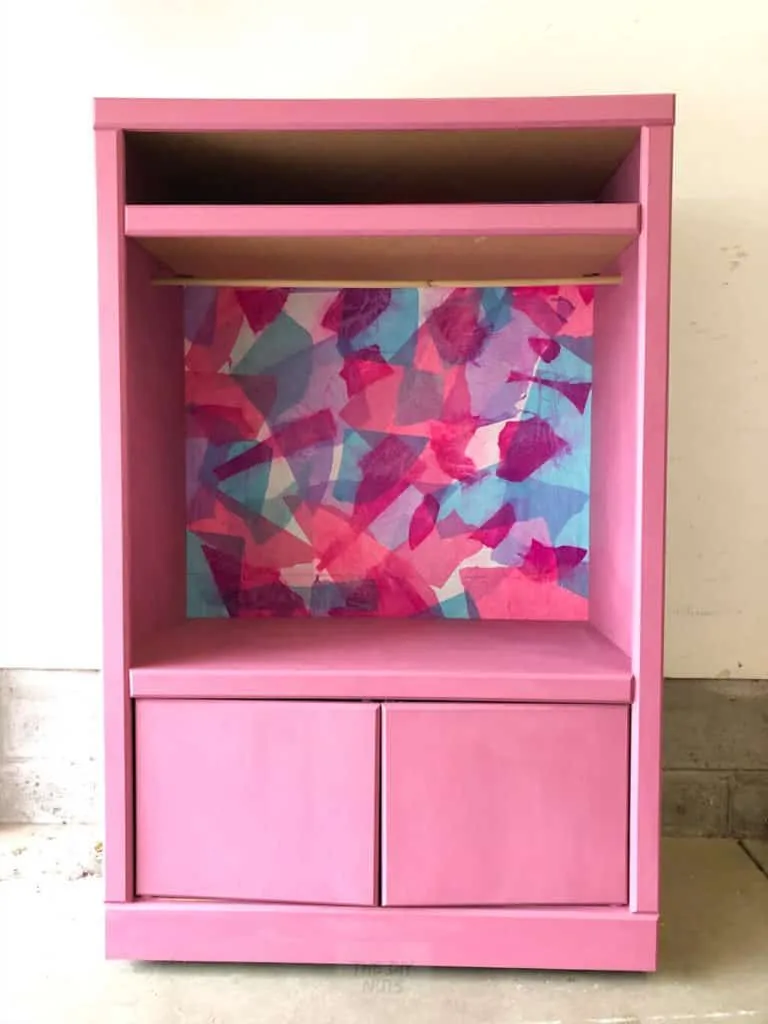 Source: thediynuts.com
If you have the habit of hitting up flea markets, then the odds are that you will find an old wood wardrobe or dresser you like but needs a makeover. Go ahead and pick it up, then take a look at how you can jazz it up into, say, a dresser for your child.
Next, grab some paint cans and give your dresser a couple of coats of paint. Feel free to buy or even mix your own paint.
This project uses chalk-finish paint which is a mixture of a third portion each of plaster(look here), water and paint. You ought to lay out newspapers when you're mixing the paint to catch spills and splatters.
5. DIY Wooden Shape Puzzles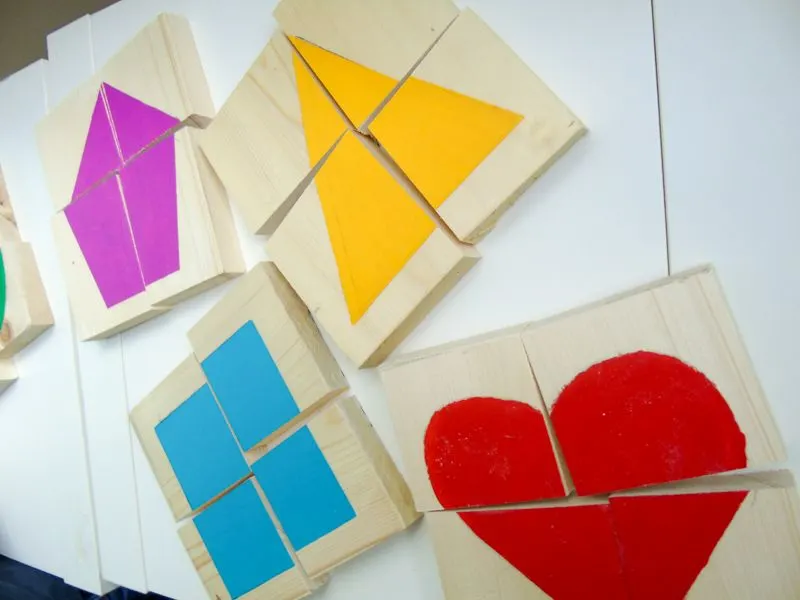 Source: intheplayroom.co.uk
Kids need a ton of interactive playtime filled with activities that can boost their motor and cognitive skills. You can cater to those needs if you have a little spare time to do a little woodwork and make your kids these shape puzzles.
You can upcycle old wooden blocks or scrap wood you have lying around your home from previous projects. So, pull out your toolbox for your saw and a sander(look here), grab some acrylic paint, clear varnish from here, and painter's tape from here.
Once you've sanded the wood and smoothened the edges, it's time to draw and subsequently paint different shapes on them.
6. No-Sew T-shirt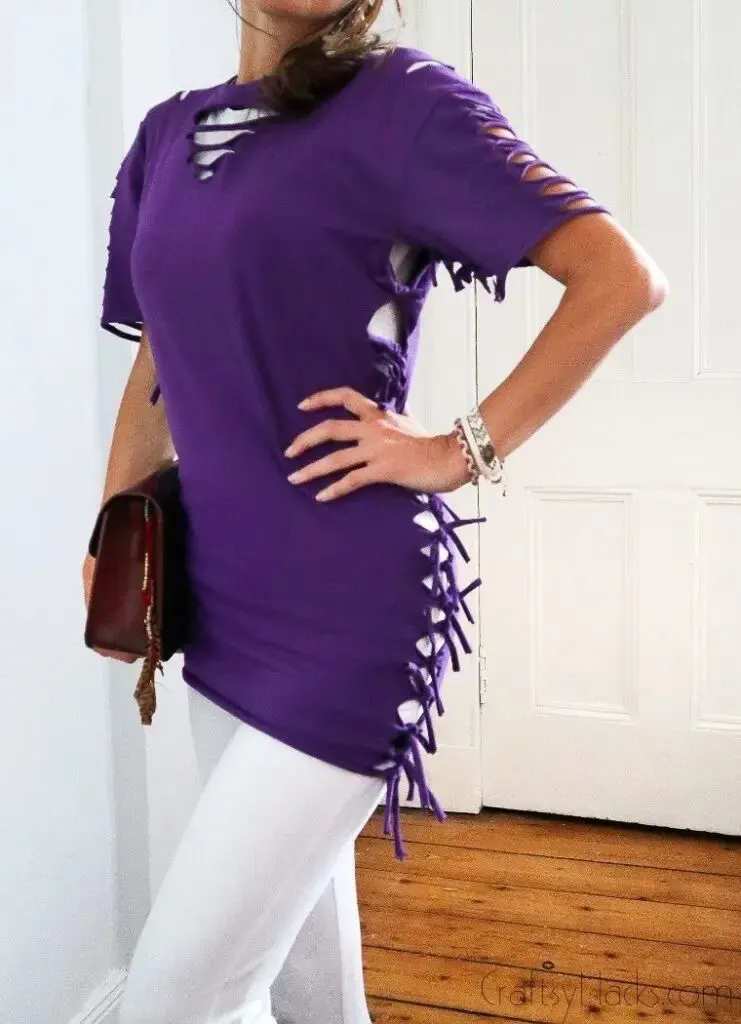 Source: craftsyhacks.com
The best and easiest way to make a new tee is to upcycle one you already have. Come on; I know you have a few old tees in the back of your closet you never use but can't make yourself throw away. Go ahead and grab one now.
With just a pair of fabric scissors, you can totally turn your plain tee into something funky and fun. The best part is that this project is completely no-sew, so you won't have to lug out your sewing machine, either.
You do have to design the shirt first, and for that, you can use chalk pencil or tailors chalk like this. Make the required marking, cut the fabric, and stretch each strip before looping them into ties!
7. Rainbow Crayons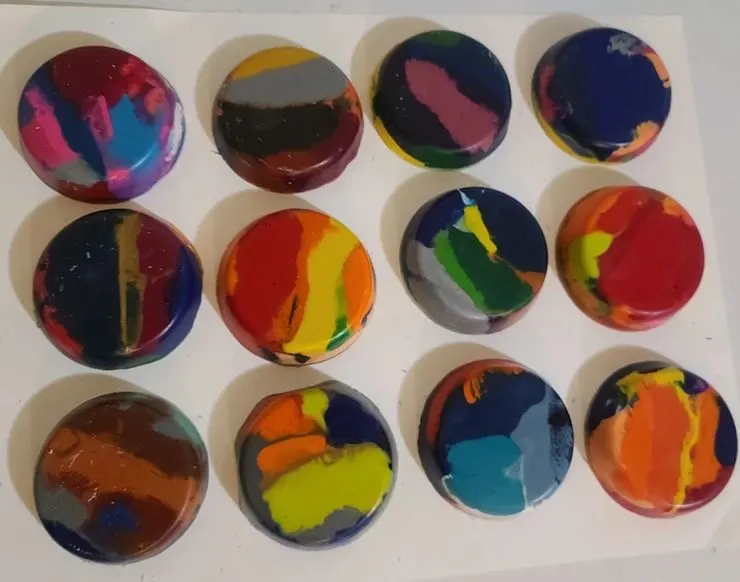 Source: thedragonmama.net
If there's one thing that bothers me endlessly, it's when crayons break, and you can use them anymore. It's such an annoying nuisance, and it's also such a waste to have all those broken crayons just lying around unused in a stash.
Why don't you gather all those crayons and peel away the paper wrapping? We're going to turn these crayons into a fun and colorful batch of rainbow crayons.
Grab an old muffin tray and place all the broken crayons in the cups. Now, you can place different colors in each cup for a marbled rainbow finish, or you can place crayons of the same color and shade in each cup—it's up to you!
8. DIY Bracelet from Shoelaces
Source: craftsyhacks.com
As a teenager, I used to make these amazing bracelets out of twist ties and embroidery floss. Well, back then, we were always looking out for quirky techniques to make quirky accessories.
So, in light of that, take a look at these DIY bracelets made from shoelaces—yes, shoelaces! It's so much fun and so easy that kids, teens, and adults alike can enjoy making them.
Pick up some shoelaces from here. You only need one single item to make this bracelet, so make sure you pick laces in the colors you like.
Now the only thing left for you to do is to follow the instructions and make your very own DIY shoelace bracelets!
9. Upcycled Old Vases with Paint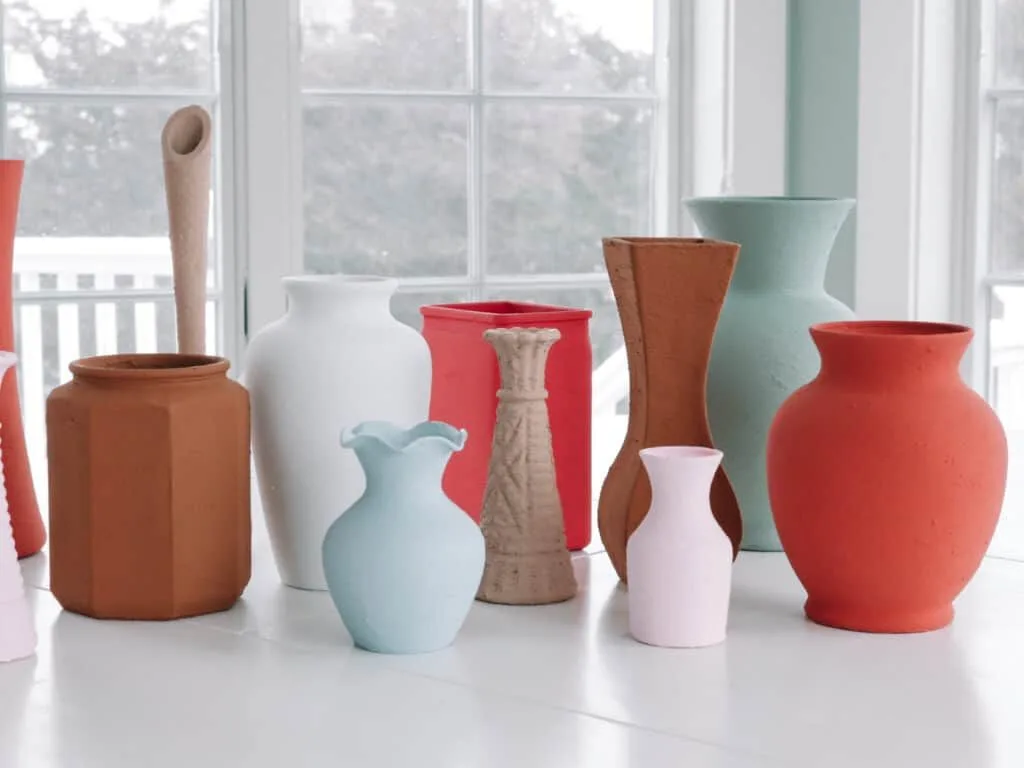 Source: thatlemonadelife.com
I think that a vase full of cheerful flowers can brighten up any room in an instant. But, that being said, you can stick a bunch of beautiful flowers in any old vase and call it a day.
This DIY project will help you upcycle old vases into some truly amazing new pieces. Pick up some chalk paint from here, a few foam brushes, a drop cloth, and a couple of paper plates to mix the paint to get started.
Before you start painting your vases, make sure you wash them, then dry them thoroughly. The paint won't stick to the vases if there's any dirt, grease, or anything oily on them.
10. Christmas Card Holder
Source: heatherednest.com
I bet that you typically stack all your Christmas cards in a pile. Or, you put them in a drawer somewhere until it's time for you to clean them up once the holidays are over.
But really, Christmas cards deserve to be cherished and displayed somewhere you can see and enjoy them. That's why you need a Christmas cardholder like this one.
It's an old vintage shutter that has been upcycled into this fabulous card holder. Here's what you'll need for this project:
Heavy-duty stapler and staples(look here)
Cardboard box
Box cutter(look here)
Packing tape
Vintage Shutter
Your Christmas cards!
11. Upcycled Tin Cans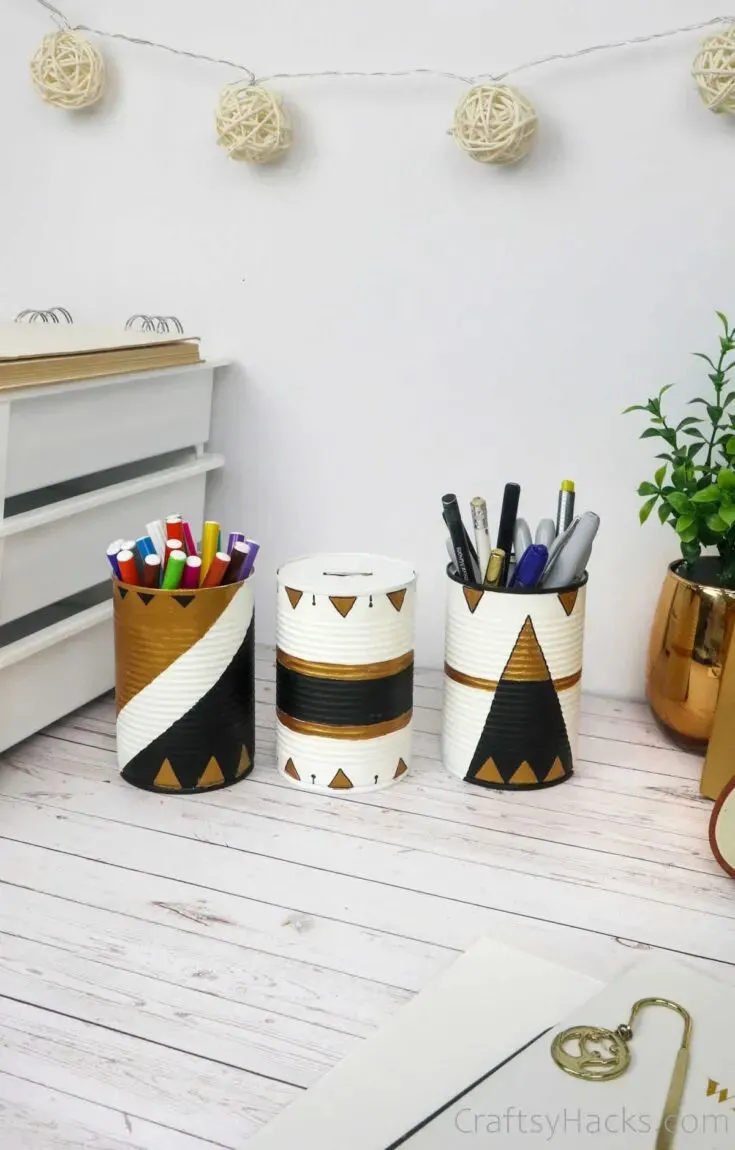 Source: craftsyhacks.com
Tin cans are one of the most popular items that you can upcycle and use in craft projects. You probably have a ton of tin cans just sitting in the back of your pantry or in your recycling bins, too.
So go ahead and grab a few to make these upcycled tin can desk organizers. You can't truly have too many desk organizers because if you're anything like me, you probably have too many office and craft supplies that need organizing.
But, I know the importance of keeping my desktop organized and these tin cans really help. In fact, you can even use one of those cans as a planter and place a succulent or cactus in it to brighten up your desk space!
Why don't you take a look at this DIY desk organizer out of cereal boxes for more upcycling project ideas?
This is a fun craft for men.
12. Wine Cork Ornaments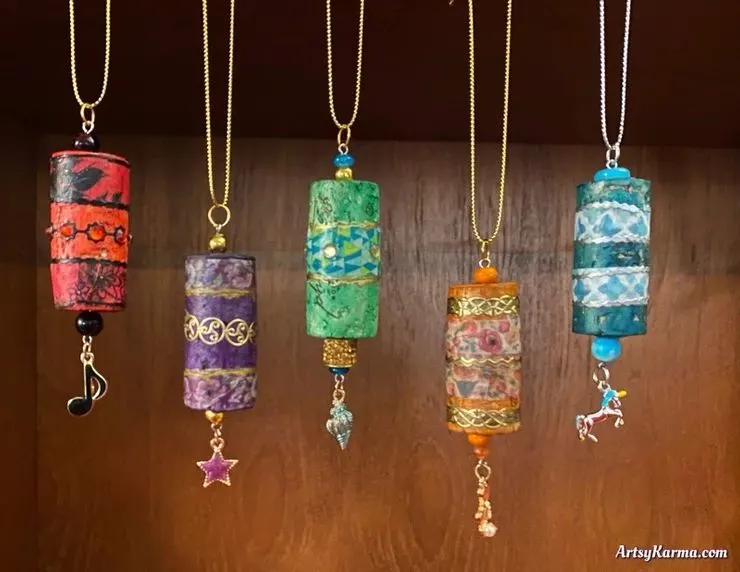 Source: artsykarma.com
Wine bottle craft projects are always fun, especially the part where you get to collect the wine bottle in question and empty them. You know, you can also save those wine bottle corks while you're at it and turn them into these cute ornaments.
I hope you haven't used up all that washi tape you bought earlier; you'll need a couple of rolls for this project. You'll also need some string or twine to hang the corks from.
While you're at it, feel free to pick up some embellishments to help you decorate these ornaments. You can hang them down from the bottom, as seen here.
Check out these stunning wine bottle crafts for more inspiration.
13. Thrift Store Painting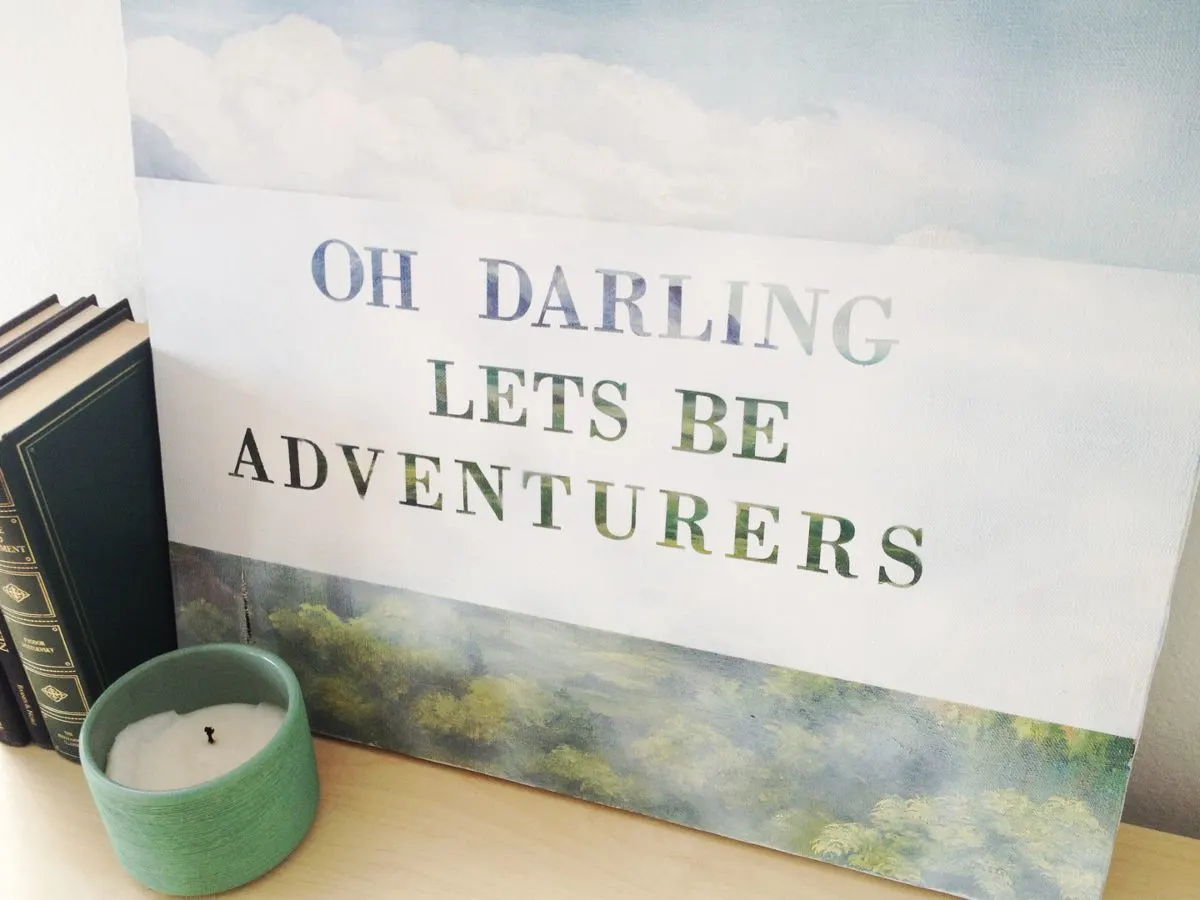 Source: juliemeasures.com
I think that dollar stores, flea markets, and thrift stores are some of the best places to shop when you're on the lookout for creative and cost-effective projects. Take this thrift store painting project, for example.
Do a little digging and pick out your painting or canvas of choice. Then, buy a couple of cans of spray paint, masking tape like this, and also some vinyl letter stickers from here.
Place the vinyl letters on your canvas to read your quote or saying of choice. Make sure that the letters are securely attached to the canvas. You can also dabble in a bit of color blocking to preserve your original painting!
14. Unicorn Toilet Roll Craft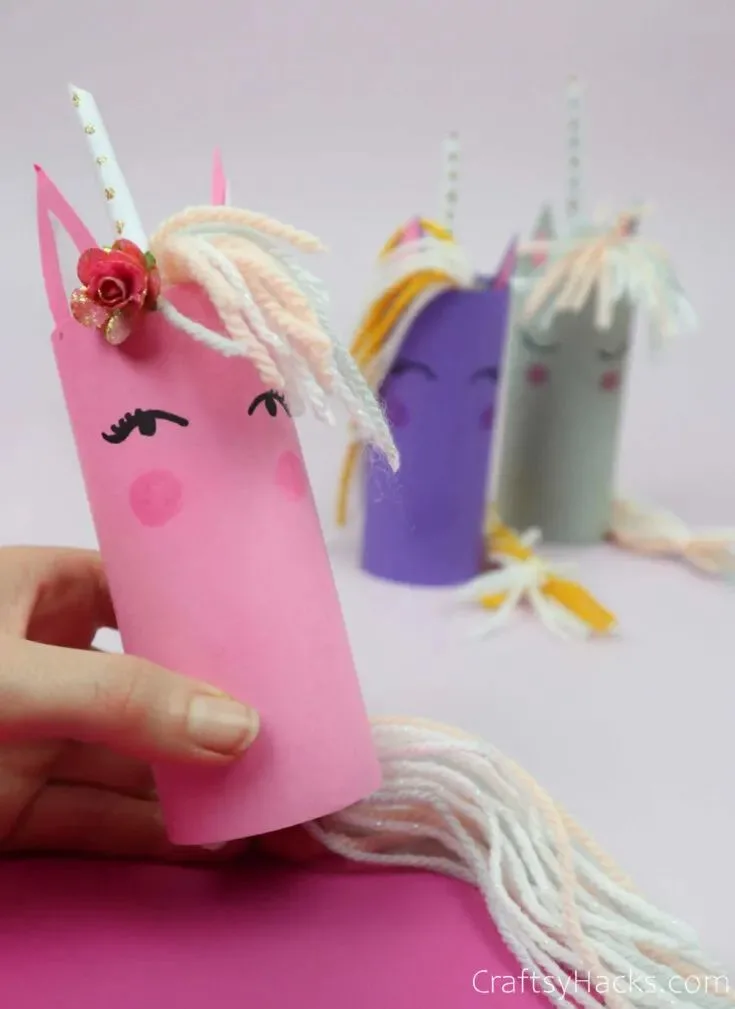 Source: craftsyhacks.com
Here's yet another DIY project that calls for toilet paper rolls! I absolutely love how unique and creative these projects are. You can never quite get over how something as drab as cardboard toilet rolls can turn into something unique and colorful!
Unicorns are as unique and colorful as you can get. This project is sure to be a hit with your kids, so go ahead and sit them down for craft time.
While you're at it, why don't you also check out these 27 delightful unicorn crafts for more inspiration!
15. Bread Pan Planter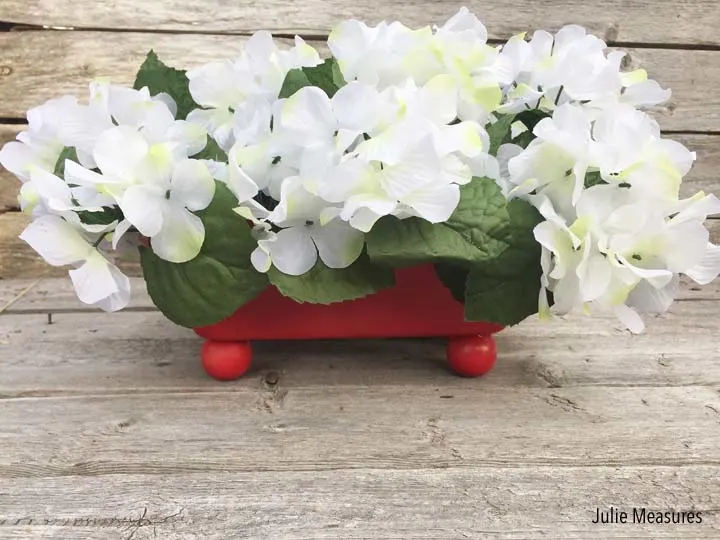 Source: juliemeasures.com
Bread pans are really great as craft project materials, especially when you're going to use them as planters. Think about it; they're already the perfect shape for one of those window sill planters, right?
But you can also use them as centerpieces and line the front porch, front steps, or on either side of the garden path. You can use these upcycled bread pan planters just about anywhere!
Just pick up a couple of these large wooden beads to use as stands to prop the bread pan. You can use your hot glue gun to adhere the beads to the planter.
Check out more crafts you can make and sell.
16. Embroidery Hoop Pumpkin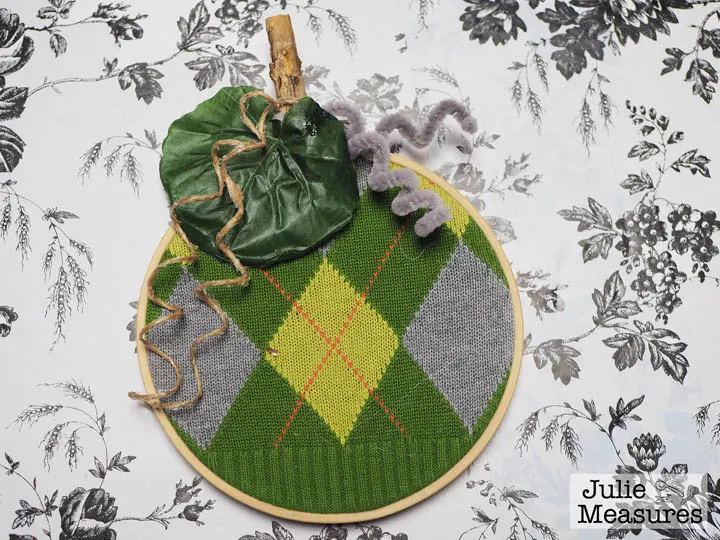 Source: juliemeasures.com
What a distinguished-looking pumpkin. No, really, look at it. It looks all academic in its sweater vest print, like a professor playing the part of the pumpkin.
Anyway, these pumpkins are made by upcycling old sweaters. I bet you have a couple of them that you accidentally shrunk in the washer, or perhaps they have holes in them? Either way, go ahead and grab one of them.
Also, pick up embroidery hoops from here, and for the vine tendrils you see there, you can use pipe cleaners. In fact, why don't you also take a look at these 27 Thanksgiving crafts for adults for more pumpkin-themed inspiration?
17. DIY Headband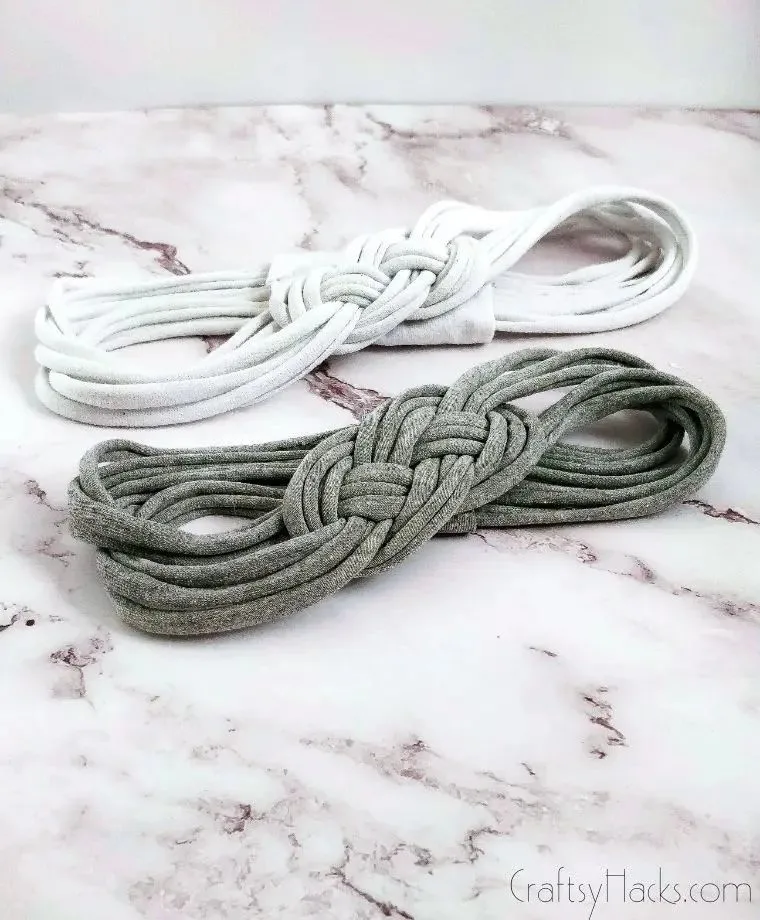 Source: craftsyhacks.com
You remember that no-sew DIY t-shirt you made earlier? Well, if you have another shirt or two to upcycle, then here's a stylish and sustainable project for you! These DIY headbands are personalized and chic, with a Celtic pattern that is fashionable and easy to recreate.
You'll need a pair of fabric scissors, a hot glue gun, and of course, a t-shirt. When you're picking out the shirt you plan to upcycle, make sure that the fabric is soft, stretchy, and moisture absorbent.
Using your fabric scissors, cut the bottom of the tee into three long strips, still looped by the seam. The bigger your tee, the bigger the headband, so make sure you don't use a really small one.
18. Toilet Paper Seedling Pots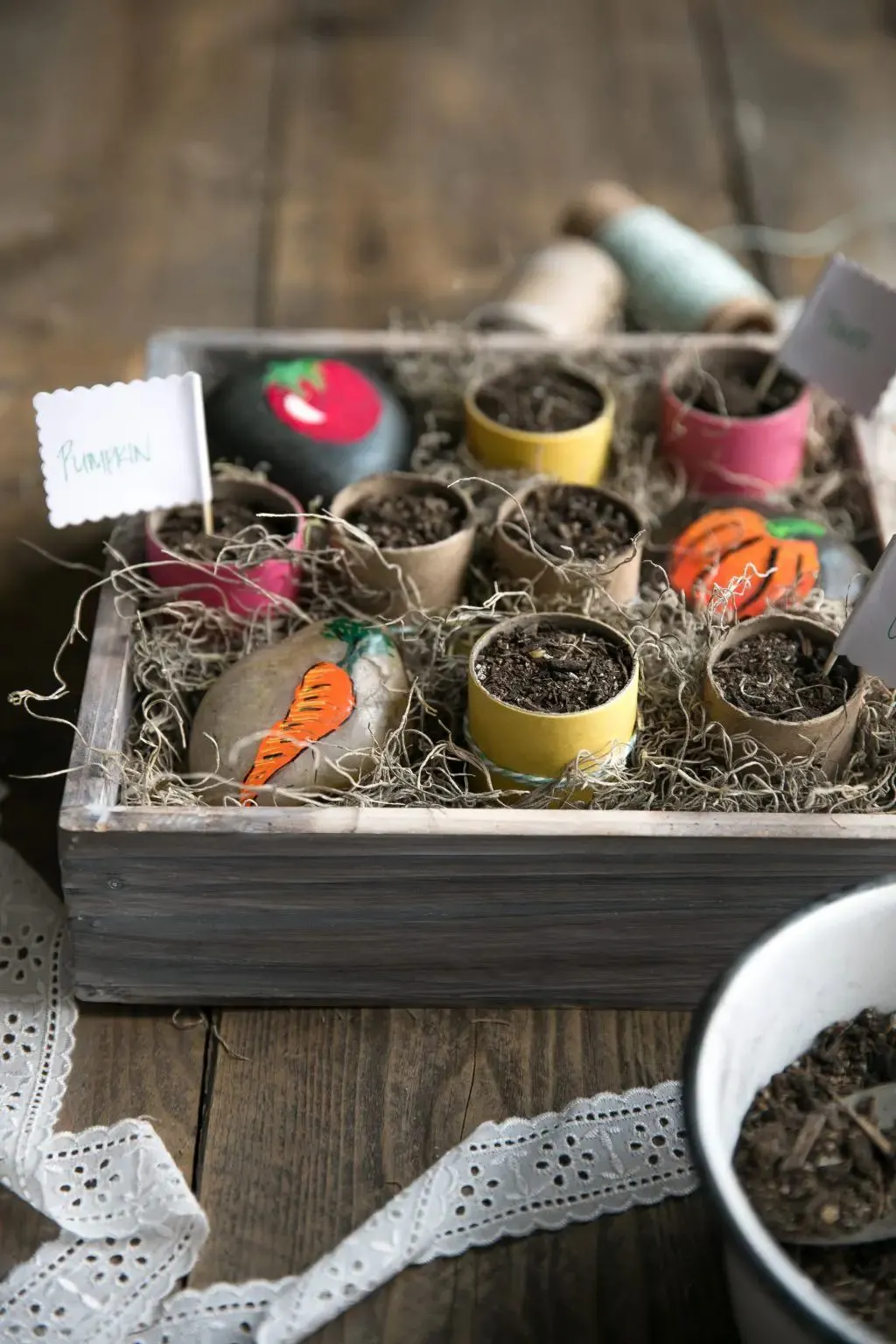 Source: theforkedspoon.com
Once again, a unique project that allows you to reuse toilet paper rolls into these nifty seedling pots. Indoor gardening just took an interesting turn, didn't it?
This project is an opportunity to introduce your kids to the wonders of gardening. It's a lovely family project where you can teach them about the importance of sustainable living, plant life cycles, and growing their own food!
You can use washi tape and ribbons to decorate your toilet rolls a bit before you use them as pots!
19. Socks Pumpkin Craft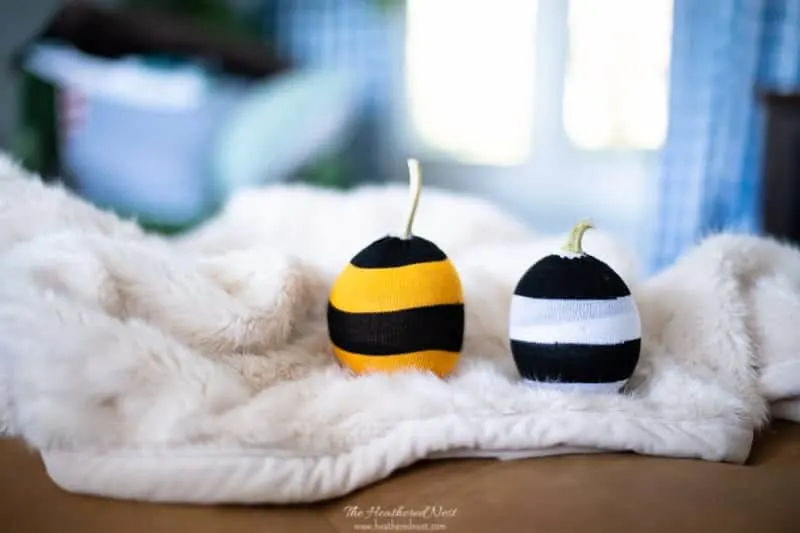 Source: heatherednest.com
You've already learned how to upcycle old tees, so now, let's do the same with your socks. Every human being I know has a stash of socks that are all mismatched, missing a pair, or just unused for a while. Let's raid that stash!
Once you do, it's time to gather the other materials you'll need for these sock pumpkins:
Polyfil from here.
Rubber bands.
A stick to use as the pumpkin stem.
Your hot glue gun.
Finally, just a word of advice: you don't have to use pumpkin-colored socks. You can make a ton of quirky socks, too!
20. DIY Pencil Case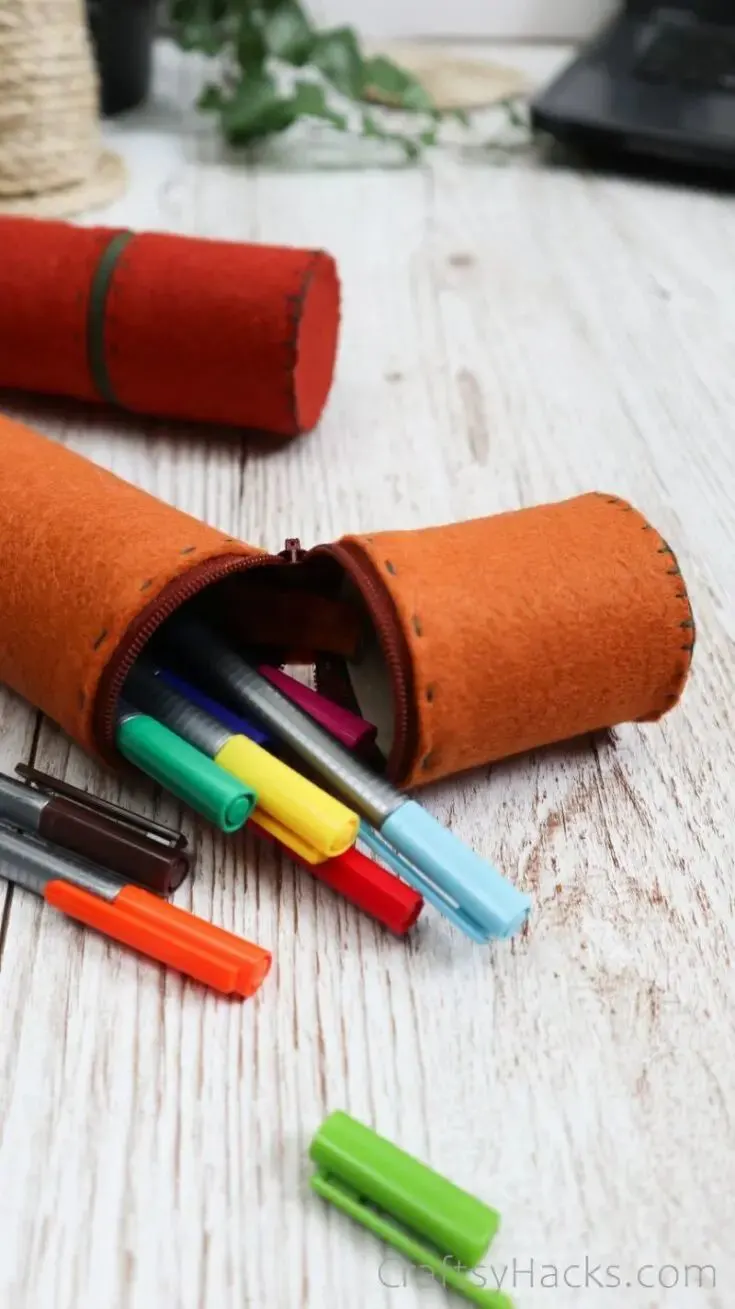 Source: craftsyhacks.com
We've really hit the jackpot with all these upcycled toilet paper roll craft projects, haven't we? This DIY pencil case isn't just for show, no. You can actually get some utility out of them; just take a look at how!
First, pick up a few of these nylon zips. You'll also need a needle, colored thread, cardboard, a hot glue gun, scotch tape, and a craft knife.
The best part about these pencil cases is that they feel wrapped. That just makes them so luxurious. You can switch out the felt for fabric, leather, or even suede swatches and scraps.
21. Yoghurt Container Flower Pot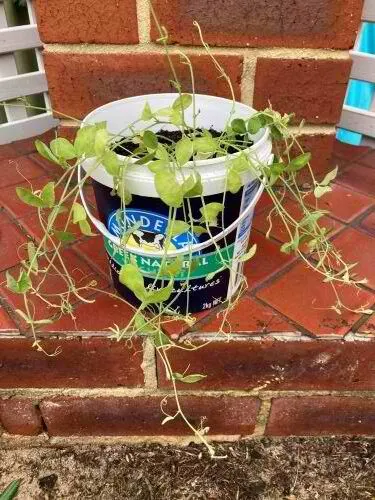 Source: mygreentoddler.com
I love yogurt. Don't you love yogurt? Well, everyone ought to love yoghurt; it's just so creamy and delicious. And, if you buy enough, they come in these huge bucket-like cartons with a handle.
These buckets are surprisingly sturdy and durable. Don't throw those buckets away; you're going to upcycle them into flower pots. You heard me, flower pots!
Before you begin, though, you should thoroughly wash and dry them. It makes it much easier to decorate them if you're through with this step of the process.
22. Money Tissue Box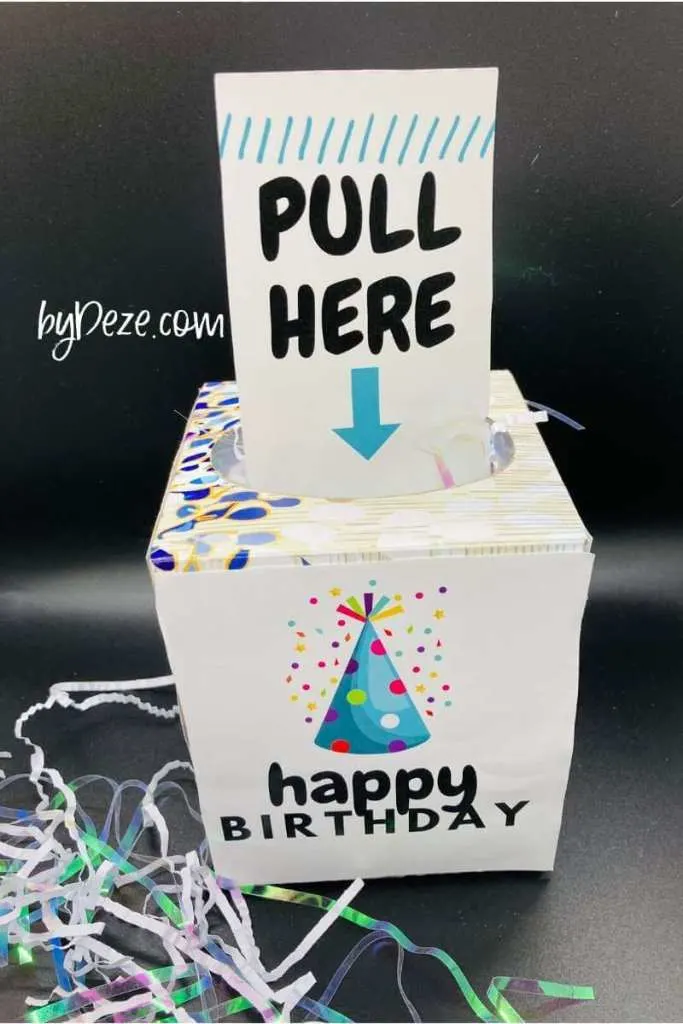 Source: bydeze.com
I love receiving gifts and surprises on my birthday. But you know what I love even more? Cash, of course! Sometimes, cash as a gift can come in pretty handy.
Here's a unique and fun way to gift cash: a money tissue box! They're perfect for graduations, birthdays, and other festive celebrations. It may even be a really great idea at weddings if newlyweds prefer money over gifts.
You'll need a tissue box, dollar bills, paper, scissors, and double-sided tape. To decorate the box, you can use decorative confetti, tissue paper, and more!
23. DIY Dollar Tree Lantern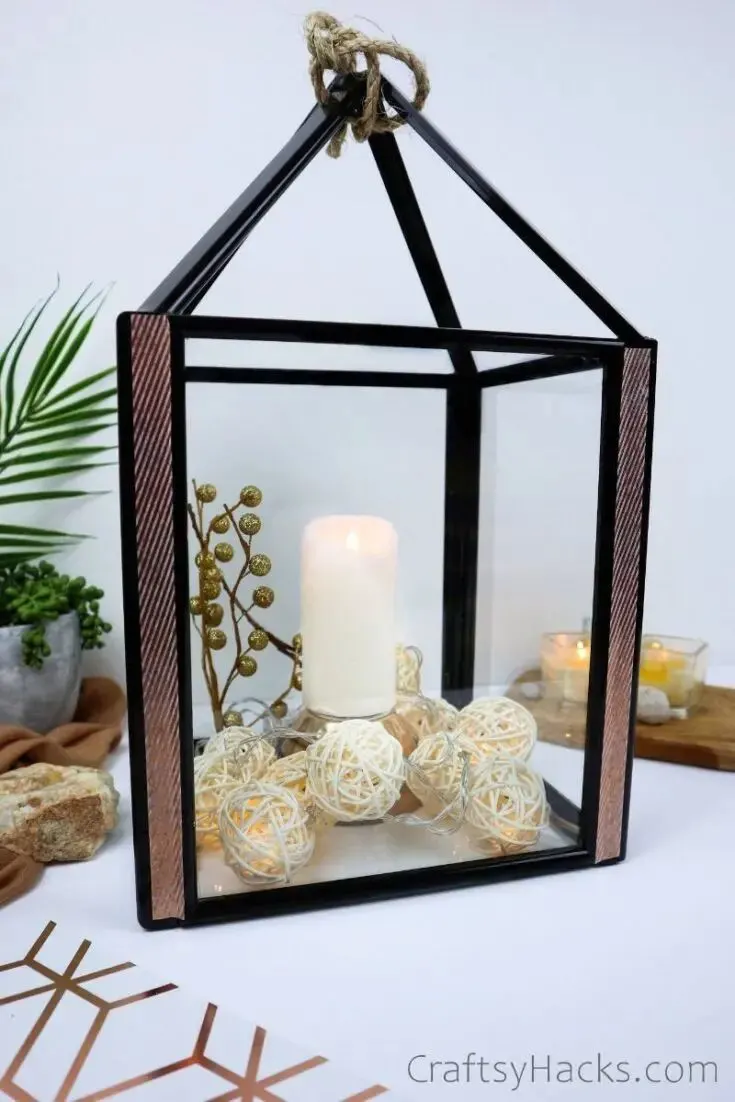 Source: craftsyhacks.com
I love good lighting around my home. But more importantly, I love creative lighting, like this DIY dollar tree lantern.
Lanterns can be pretty expensive when you buy them at a store or online. Instead, you can make your own with a few easy-to-find and cost-effective craft essentials and items from a dollar store.
Pick out a few simple dollar tree frames. You can disassemble these frames and repurpose them for your lantern. Once you're done making the lantern, and the glue has dried, stick an electric pillar candle in there and some decorative balls, too!
Check out more DIY crafts for teens here.
24. Early Learning Recycled Project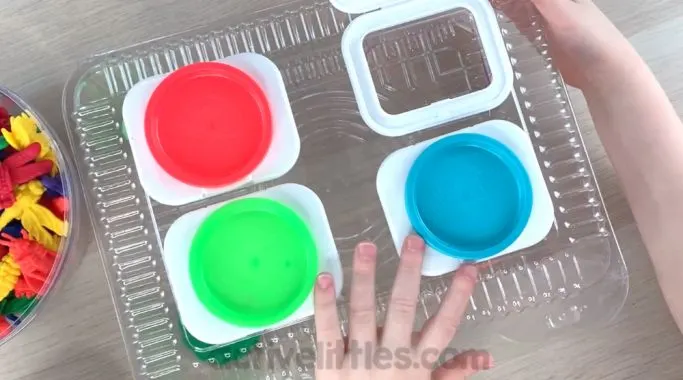 Source: activelittles.com
This fun learning toy has incorporated upcycling and recycling in one cool project. Think of it as a mix-and-match project with a learning opportunity at every curve.
Grab a plastic container and use a craft knife to cut four holes before hot-gluing the recycled baby wipe opener onto those holes. Next, hot glue the playdough container tops onto the baby wipe openers to help with differentiating the colors.
Just a quick tip: allow all the different components to dry completely before you progress with each step of this project.
25. Fire Chair Makeover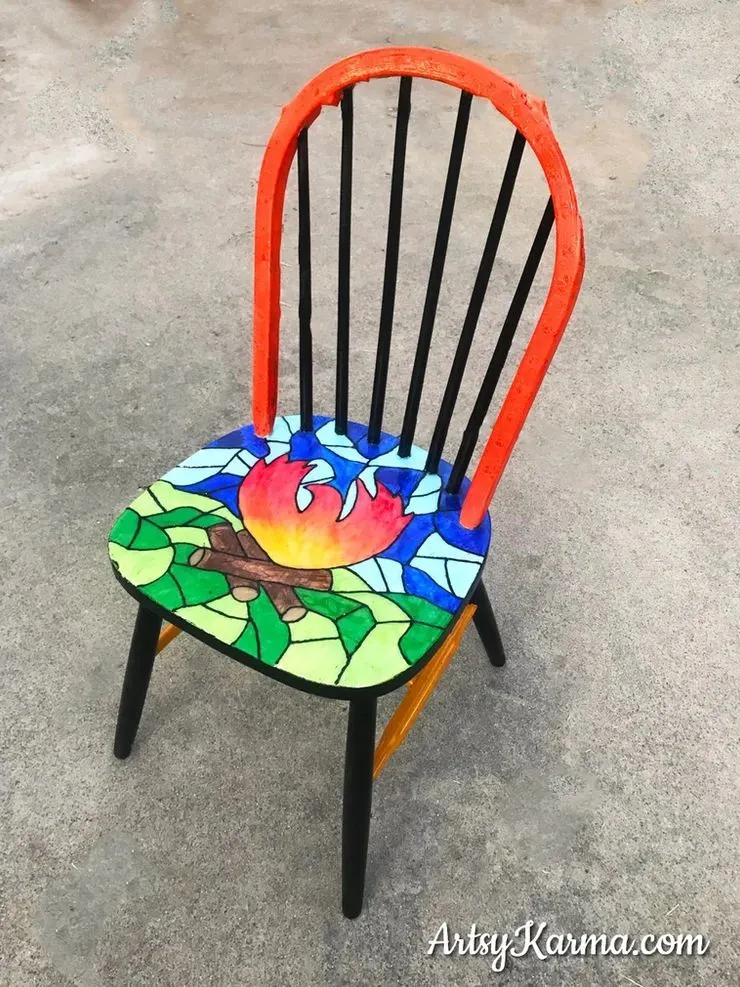 Source: artsykarma.com
Are you turning in your old dining room chairs for a newer set? Then I bet you're just going to dump the old ones in the wood chipper. Just hold off on that and consider a makeover, instead.
You can stick to the campfire motif here, and you'll have yourself a bunch of chairs to sit around a real bonfire. Or, you can explore different patterns and go crazy with the designs and painting! When you're done, just spray a nice coat or two of sealant, and you're done!
26. DIY Leaf Candle Holder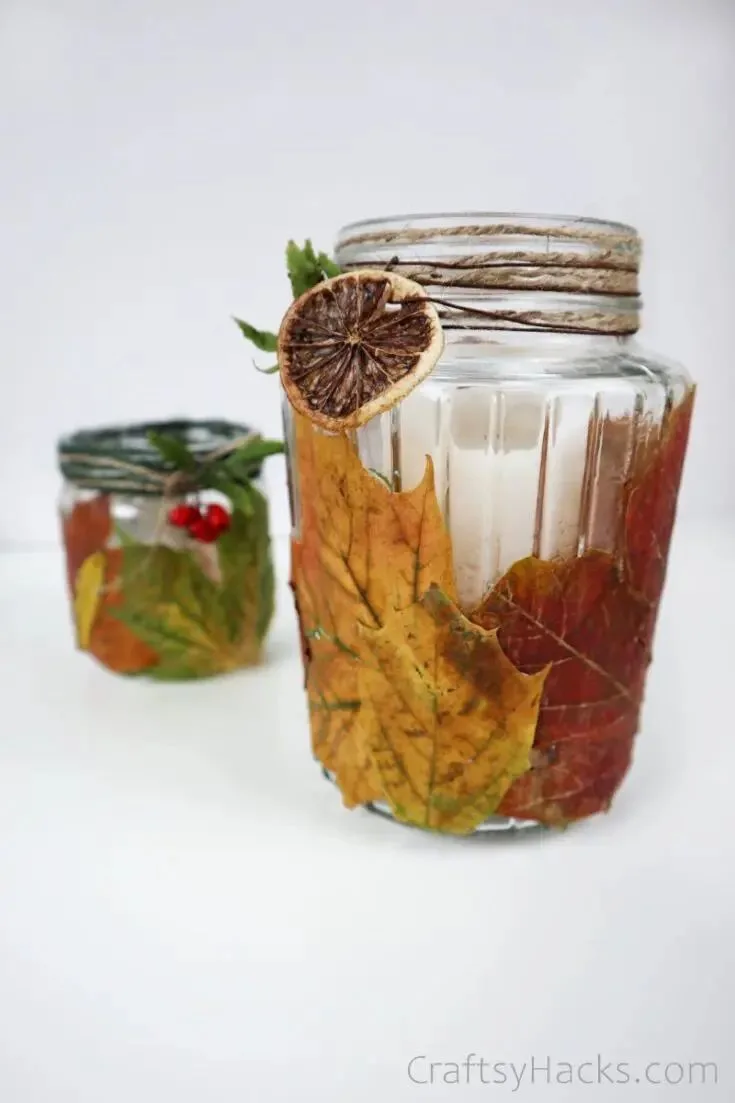 Source: craftsyhacks.com
Scented candles are amazing, yes. But you can't just pour hot wax in any old jar and call it a day. Your scented candles set the scene in every room, and it deserves a worthy vessel, like this DIY leaf holder.
Fall colors on a candle jar are always amazing. Just think of those warm spicy, citrus notes wafting around your room from this gorgeous leafy jar.
Grab some jute twine from here, a couple of dried orange peels, and maybe even a stick of cinnamon or a couple of stems of dried cranberries to use as decorations.
27. Recycled Batteries Container
Source: greenokla.com
Getting rid of batteries the right way is of vital importance. If you just dump used batteries in the trash, you'll find that they can be toxic and harmful to the environment.
They're full of chemicals like sulphuric acid and lead that need to be disposed of properly. How can you do that, you ask? Well, perhaps this recycled batteries container can motivate you to do just that.
Using little more than an old disinfectant or cleaning wipes container, you can practice your fancy upcycling skills! Just remember to thoroughly clean out the container before you decorate it.
28. DIY Bottle Cap Candles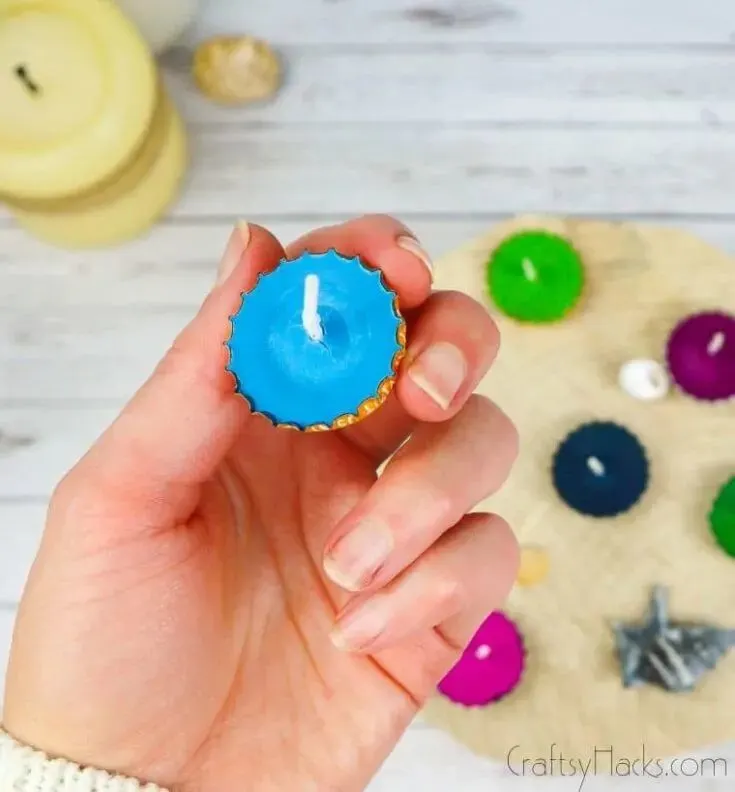 Source: craftsyhacks.com
There are a ton of creative bottle cap projects out there, but have you seen one as adorable as this one? Who would have thought that bottle caps would make really unique candle vessels?
You know the drill, so thoroughly wash and dry the caps before you use them for the project. You can use beeswax or soy wax, and you'll need candle wicks, too.
If the wicks are too big, just grab a pair of scissors and trim them down to size. Feel free to add a drop of candle dye(look here) and a drop of essential oil, too, if you want to up the ante.
29. DIY Bathroom Vanity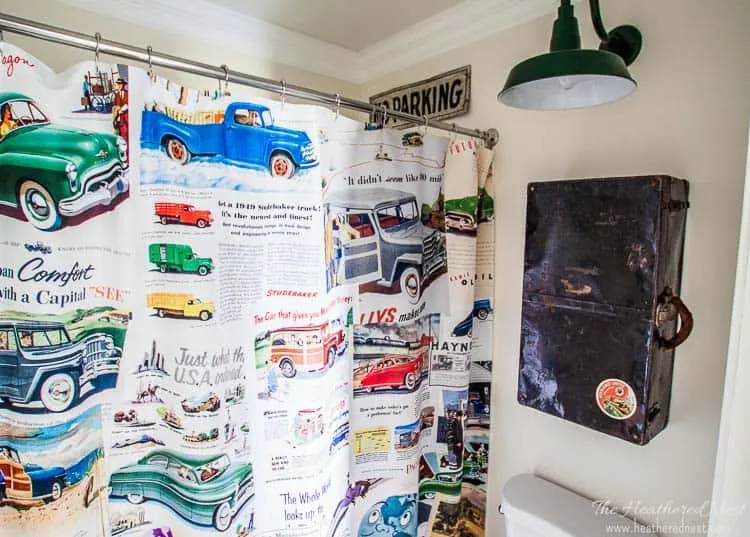 Source: heatherednest.com
This bathroom vanity really takes the cake. Have you seen something this unique or creative? Go on;, think about it; I'll wait.
I bet you have an old suitcase somewhere up in the attic just gathering dust. Or perhaps you have one that is ready to kick the dust. Just grab that and upcycle it as this vanity!
You won't believe much of an accent piece a vanity like this can be. It can also help you get rid of all the visible clutter in your bathroom—bottles, brushes, paste, and more—and organize them inside this vanity.
30. Knotted T-shirt Headband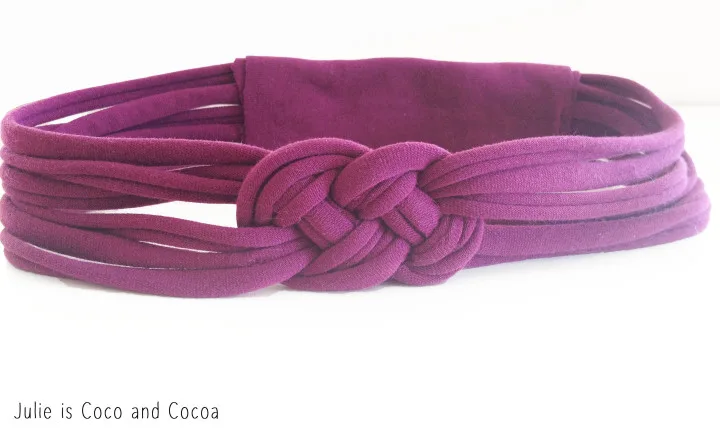 Source: juliemeasures.com
Remember when you upcycled that old tee and turned it into a trendy headband? Well, this one's another amazing DIY no-sew headband project.
You know how this goes, so grab an old tee you no longer use and a pair of scissors. Then, cut long looped strips of the tee as instructed.
Just follow the instructions, and you'll have your knotted tee headband in no time. While you're at it, you can also check out these DIY t-shirt ideas for more innovative ideas to upcycle old tees.
31. Upcycled Drawers Wall Unit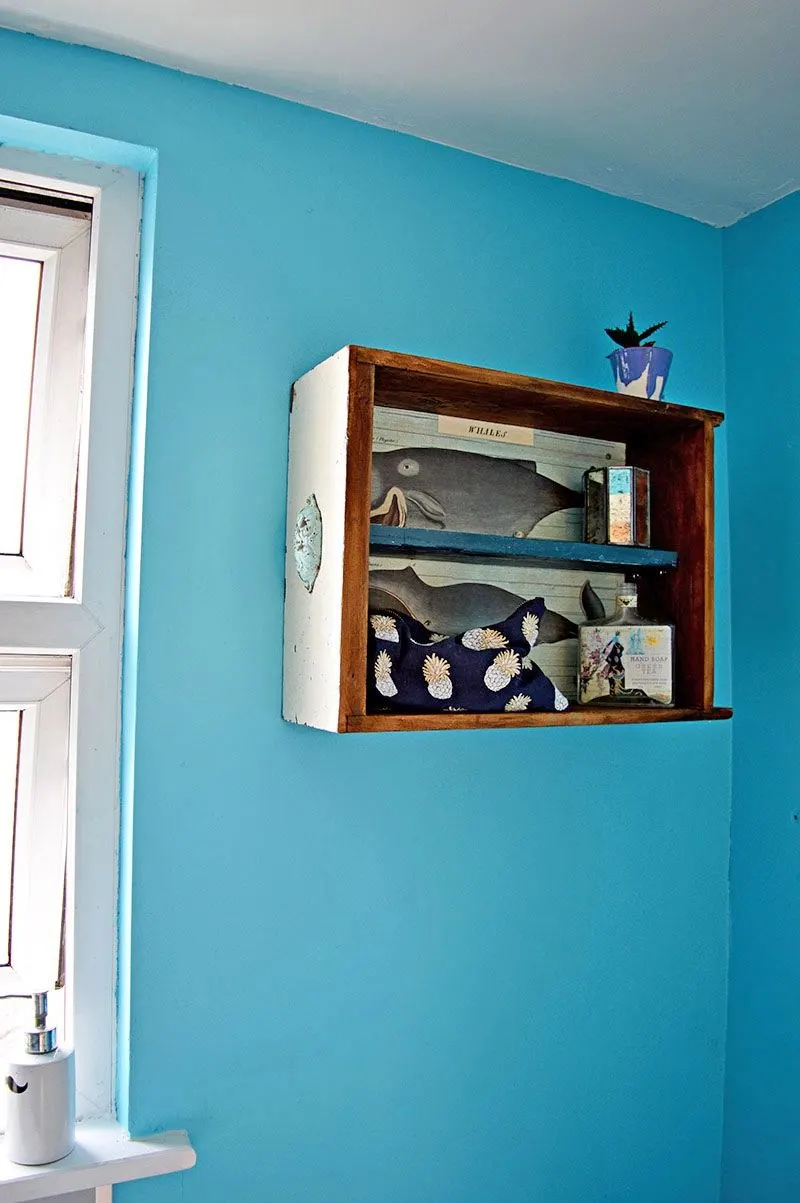 Source: pillarboxblue.com
Are you looking to add a little extra storage to your bathroom? There are better ways to do that than to go out and buy a pricey drawer unit.
Take this project, for example, where you can upcycle an old drawer into your very own shelving unit. You can find plenty of these drawers at a skip, a dumpster, or a flea market.
You can decorate the actual drawer by decoupaging some printed napkins on the surface. When you're done painting and refurbishing this drawer, you can also pick out a nice ornate handle from here.
32. Tin Can Piggy Bank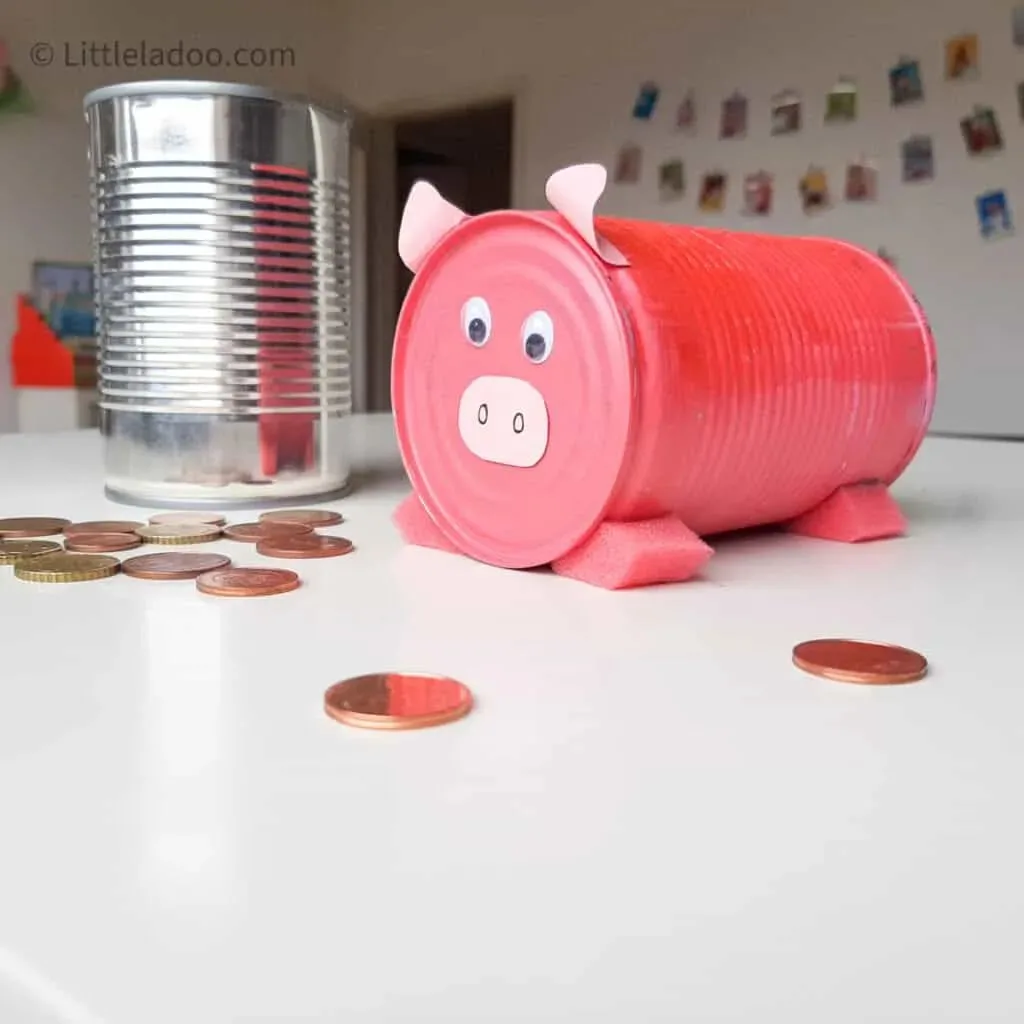 Source: littleladoo.com
A tin can is a great craft material for a ton of different projects but for now, you're going to be using it to make your very own piggy bank.
Grab some metallic paint and give the tin can a couple of coats. Then, pick up some googly eyes, some pink cardstock, and pink sponges for the stands.
Use a hot glue gun to adhere the different components onto the can. Allow the can to dry completely. Oh, I almost forgot, don't forget to cut a slot on the lid to drop the pennies through!
Love this craft? You might enjoy these Dollar Tree crafts.
33. Eco Friendly Wrapping Paper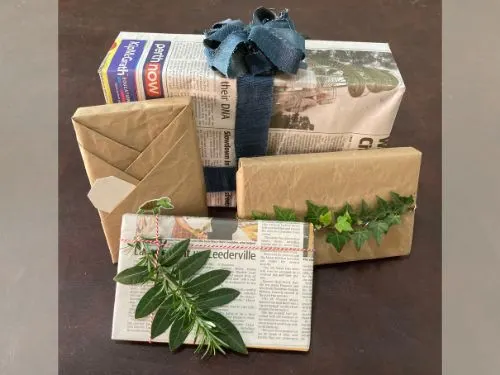 Source: mygreentoddler.com
I don't think I've used those fancy textured patterned wrapping paper in ages. Why would I, when I can be eco-friendly and sustainable and use newspaper or brown paper instead?
Besides, with the right accessories, you can turn plain old brown paper wrapping into something chic and creative. First, you can do a little research and figure out different techniques and styles to wrap paper.
You'd be surprised how just a few different tucks and folds can make your gift look like it was professionally packed. Then, you can use colorful string, ribbon, or twine, little pressed leaves and flowers, stickers, and more to take it up a notch.
34. Christmas Glitter Jars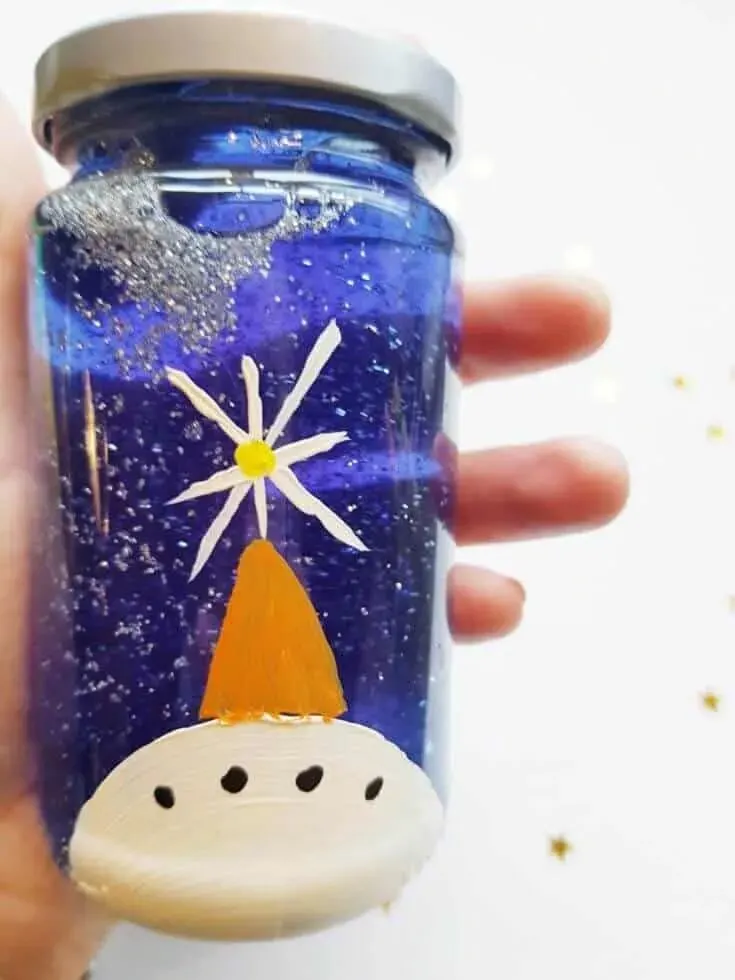 Source: liltigers.net
Sensory glitter jars are a great way to keep little kids—and adults, too, who are we kidding—occupied for a good long time. They're also super easy to make, and an opportunity to upcycle some old glass bottles or jars in your recycle bin.
Pick up some glitter from here, a bottle of water, confetti, food coloring, paint, and a couple of brushes. You probably already have everything you need in your craft supplies at home; everything on this list is pretty easy to come by.
So, once you have assembled all the above, go ahead and follow the instructions to make your calming Christmas-themed sensory jars.
35. Scrap Wood Sculptures for Kids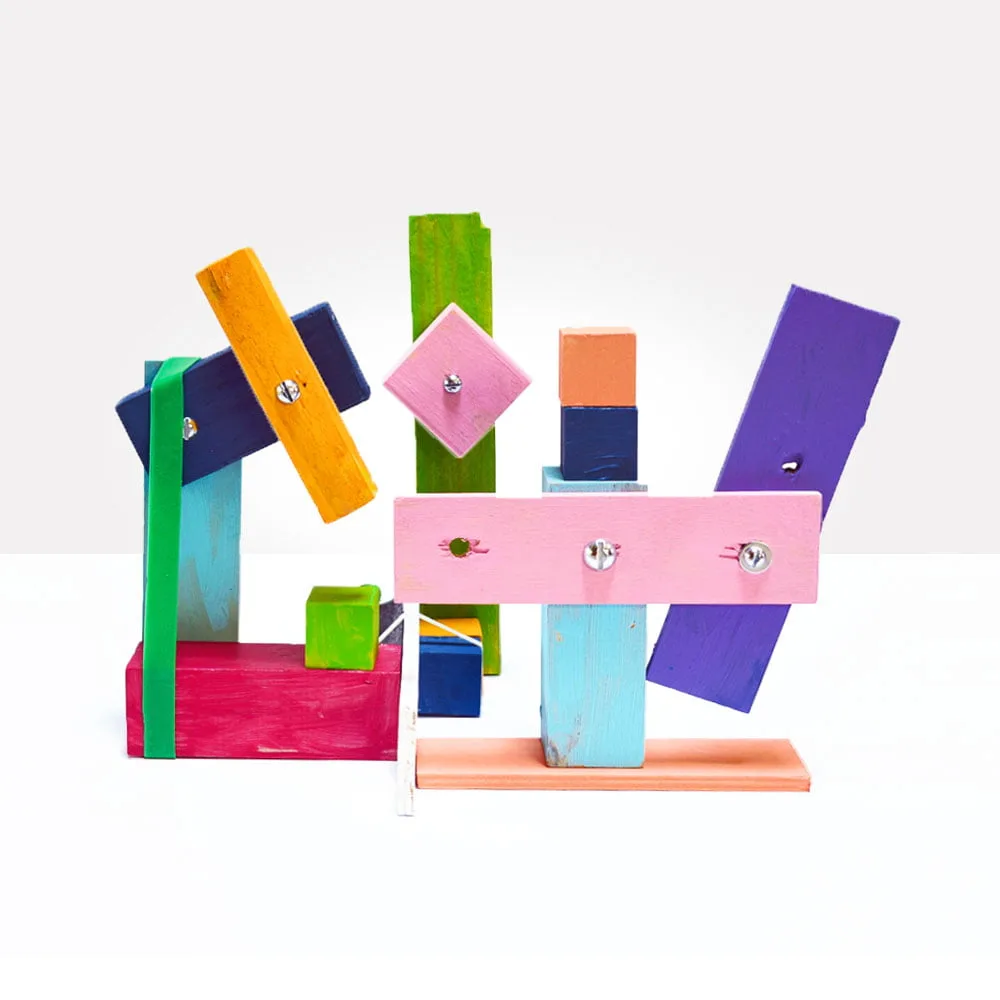 Source: barleyandbirch.com
Scrap wood has a ton of potential. It's a pile of amazing craft projects just waiting to be made—like these scrap wood sculptures for kids, for example.
What better way to get your little ones interested in building? You can have them make small-scale structures, providing them with a hands-on approach to learning about this fascinating field.
With these wood blocks, you can teach them about the imaginative and educational principles and foundation of architecture and all that during playtime!
36. Repurposed Light Parts Angel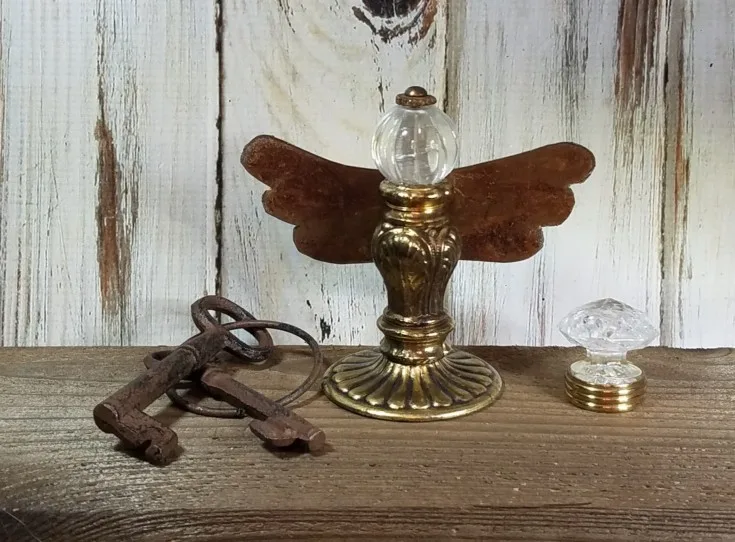 Source: mixedkreations.com
Let's take a look at how you can repurpose old light parts and make your very own angel. Makes sense, doesn't it, for you to light up your room with an angel-themed light piece?
You'll need a crystal knob from here, or you can pull one off an old dresser or drawer. The angel's wings are actually made from metal. You can just as effectively use something else to fashion those wings—from felt sheet cutouts to using pliers to twist wire into wings.
When you're done, just rig this angel up to an electric outlet and set up the wiring as instructed before lighting it up!
37. Cutting Board and Grater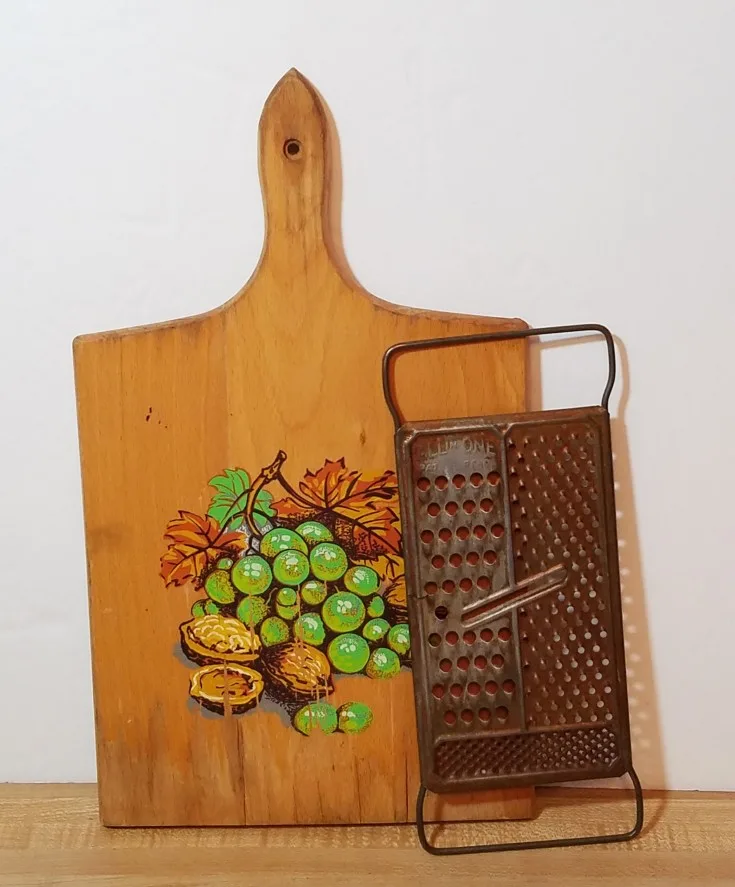 Source: mixedkreations.com
This photo or recipe display has been made by repurposing and upcycling an old, rusty grate and also a cutting board. I'm sure you have both of those lying around in the back of your pantry.
You might want to pick up a wrought iron coat hook from here, preferably one with screws. You will also need wire, a pair of wire cutters, a screwdriver, pliers, round magnets from here, and adhesive.
I'd recommend that you wear a pair of protective gloves while working on this project. You'll be working with pretty rusted items, so it always pays to be extra careful.
38. Chair Back Kitchen Storage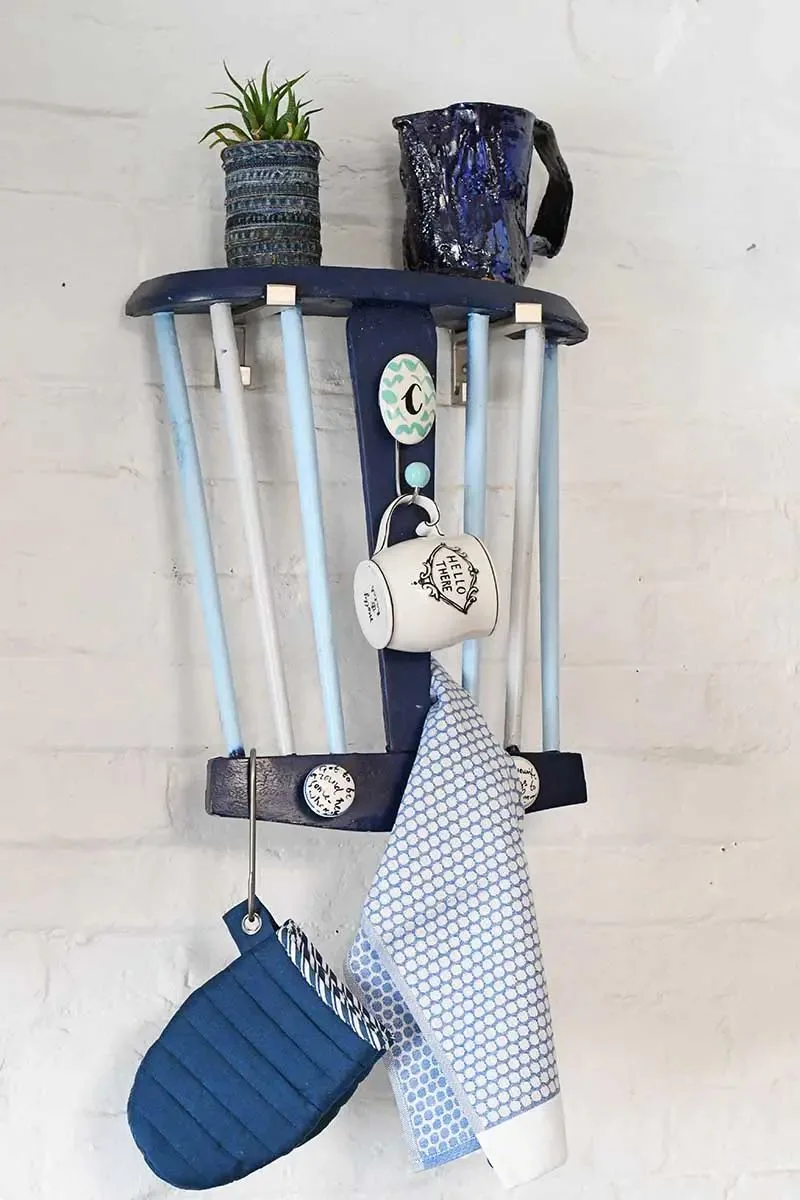 Source: pillarboxblue.com
Are you wondering how you can make this kitchen rack? Well, first, you're going to want the back of a chair. You can pick that up from a scrap yard, in case you were wondering.
Use a hand saw or a reciprocating saw to cut off the top/back of the chair. Then, grab a can of spray paint and paint the piece you sawed off.
You can use decorative knobs to, well, decorate this piece. Then, pick up a couple of shelf brackets—IKEA carries them—and use that to hang this piece on your kitchen wall.
39. Wire Lampshade Frames into Plant Stands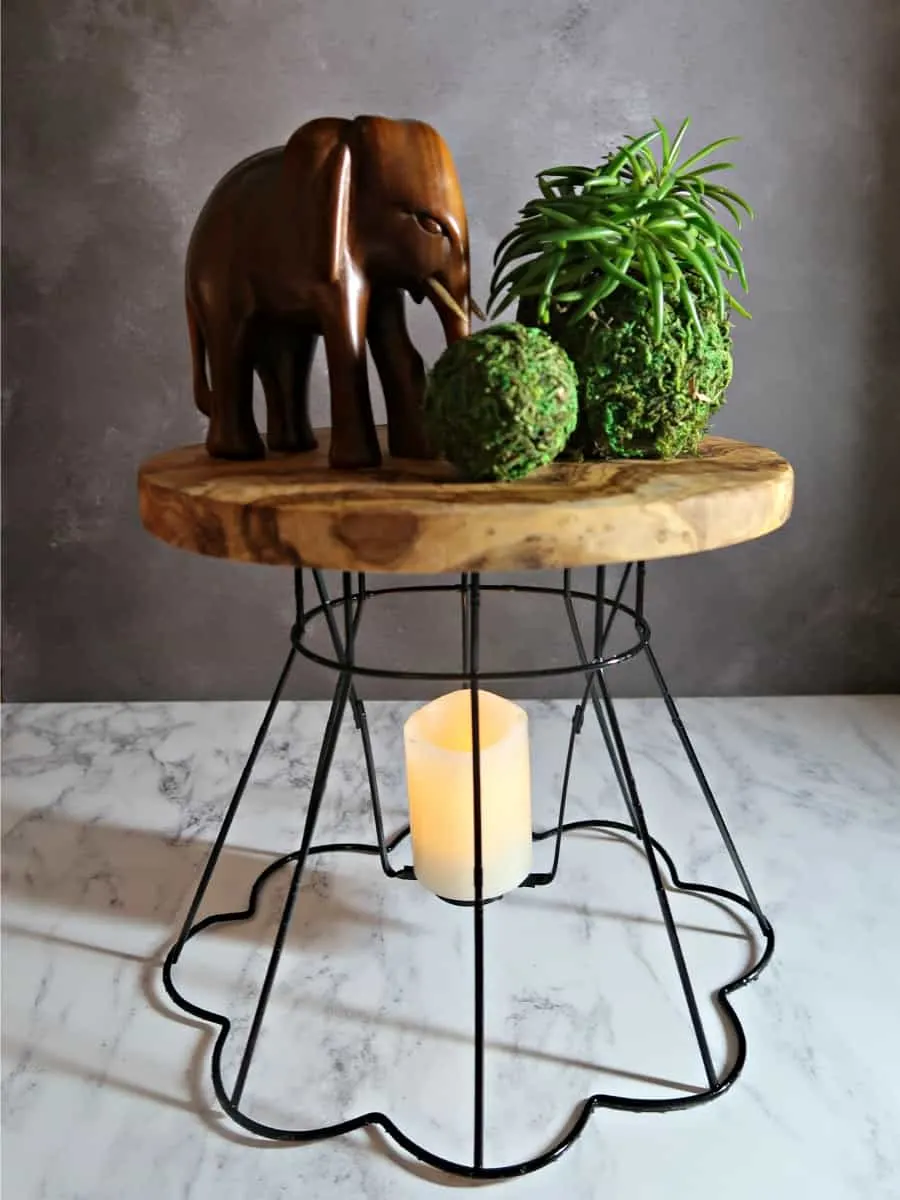 Source: craftinvaders.co.uk
If you're making a visit to a dumpyard to get rid of a lamp that's beyond the realm of salvaging, then I suggest you strip that lamp for spare parts. You can always use the metal frame of the lampshade for other projects, like this one where you can turn it into a plant stand.
Vintage lampshades, in particular, work really well for this project as they have intricate patterns and designs that look amazing. You can even buy them, but since we're dealing with an upcycling project, I'd recommend you check a thrift store first.
So, start stripping the material or fabric off the frame. You can use a pair of scissors and even salvage the fabric for scraps if you like.
40. Nature Explorer Shoebox Trunk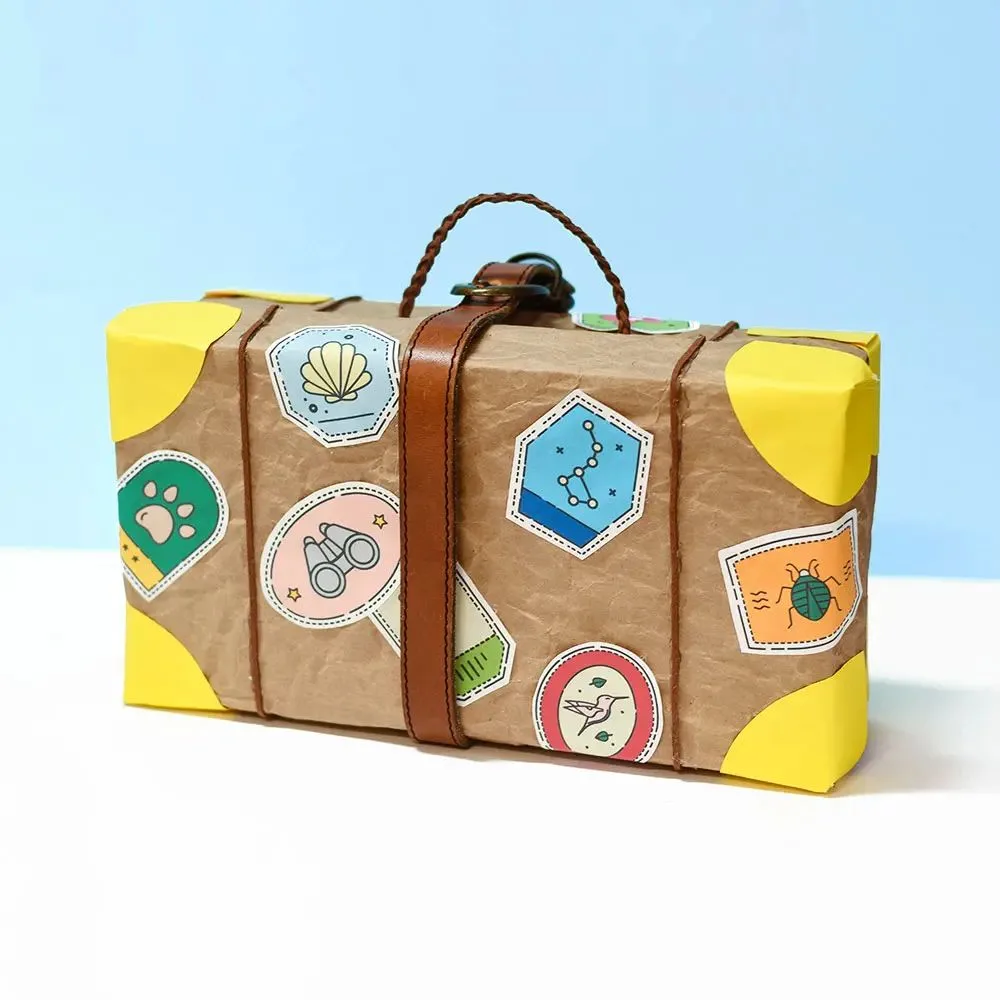 Source: barleyandbirch.com
What, you might be curious to find out, is a nature explorer shoebox trunk? Well, let's break that down a little. In essence, you're going to be turning an old shoebox into a trunk to store all your collectibles.
This can be little knick-knacks and mementos you picked up on your travels, or even shells and pretty stones you picked up at the beach or on a hike. You're going to use scrap cardboard and a utility knife to make your very own trunk-shaped collectible box.
Once you've made your trunk, you can decorate it and gussy it up. Wrap the entire thing with brown paper, accessorize it with an old leather belt, and stick travel stickers like these on it, too!
41. Blue Jean Planter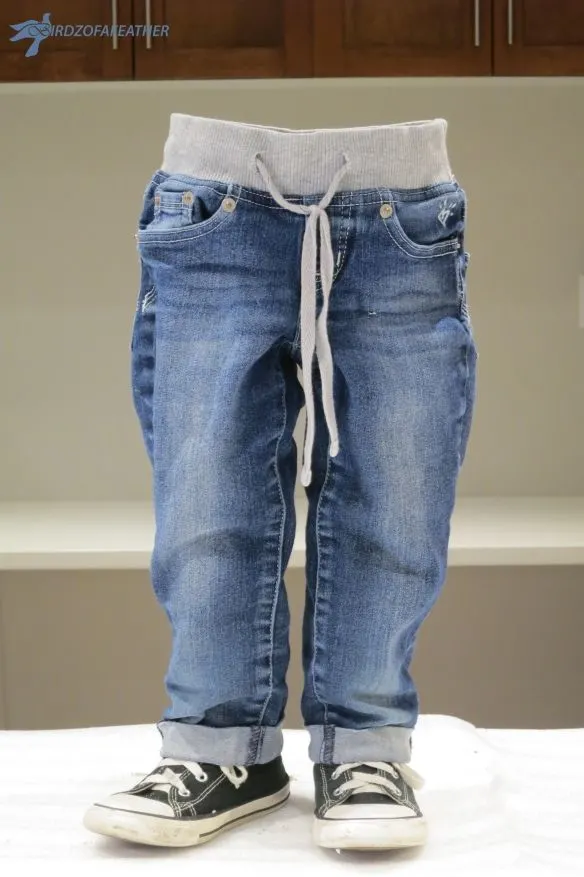 Source: birdzofafeather.ca
If you think back to way earlier on in this list when you upcycled your denim jeans into jean bins? Here's another project that calls for upcycling your jeans, only this time, you're going to be making a planter.
This project is a little elaborate, I'm afraid, and calls for an exhaustive list of supplies and tools. But, trust me, it's definitely worth it when you get to show off your quirky denim planters.
If you switch out the flowers for something like a bowl of candy, this also makes for an amazing Halloween prop. I mean, a pair of denim-clad legs just hanging out all by itself…spooky, right?
Check out more Dollar Store planter ideas here.
42. Cardboard Tube Lamb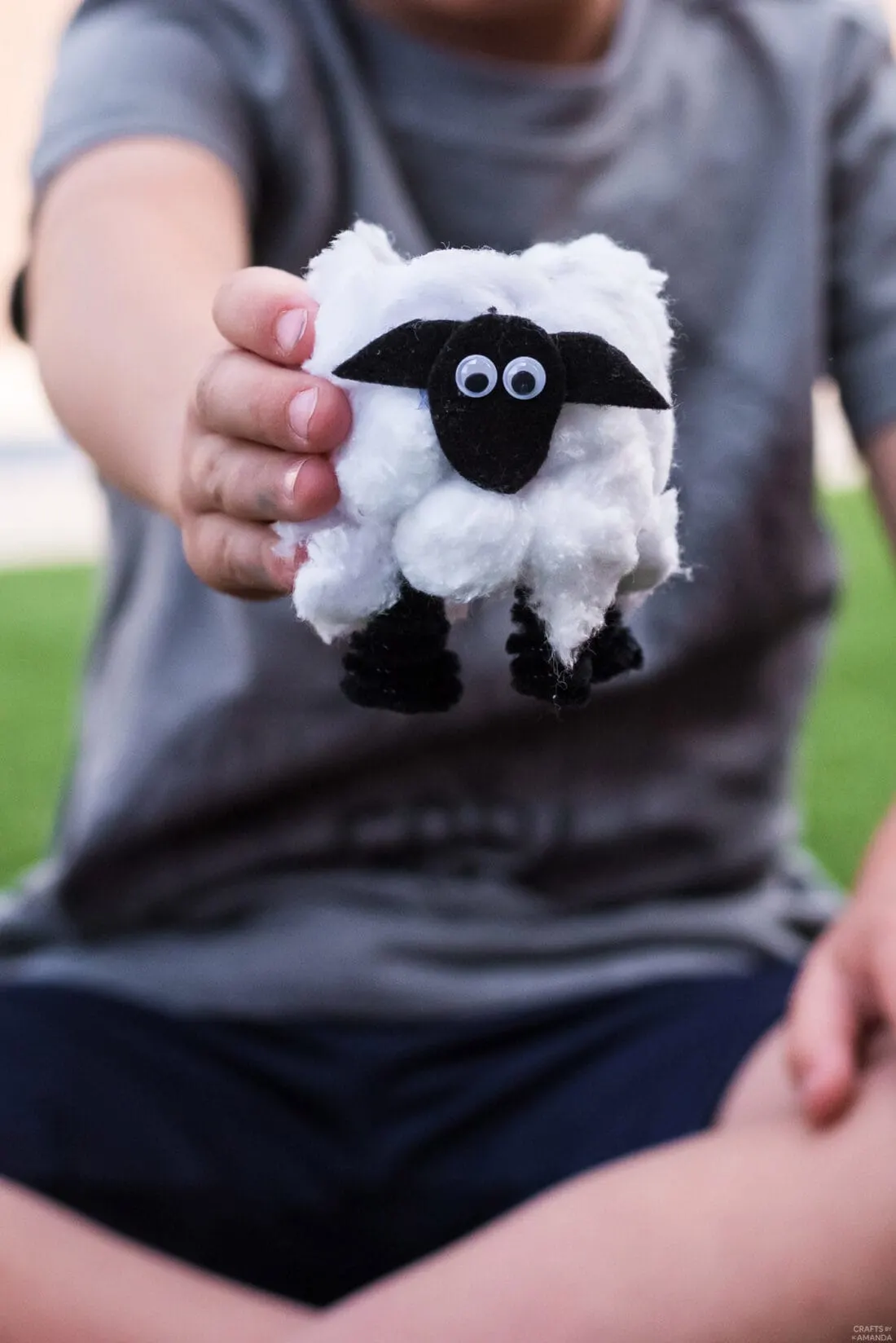 Source: craftsbyamanda.com
This might possibly be one of the most adorable DIY projects on this list. Check out this fluffy cardboard tube lamb. It's soft and almost cuddly, except for the fact that it's made from cardboard.
What can you use it for? Well, it's a pretty versatile decorative piece. Hey, with Christmas around the corner, you can even use that to decorate the manger!
Raid your stash of cotton swabs, pick up some felt and some pipe cleaners, as well. You know what, I bet this would be a great classroom project for younger kids and toddlers.
In fact, why don't you check out these 27 classroom crafts for more ideas?
43. Bunny Doll Pattern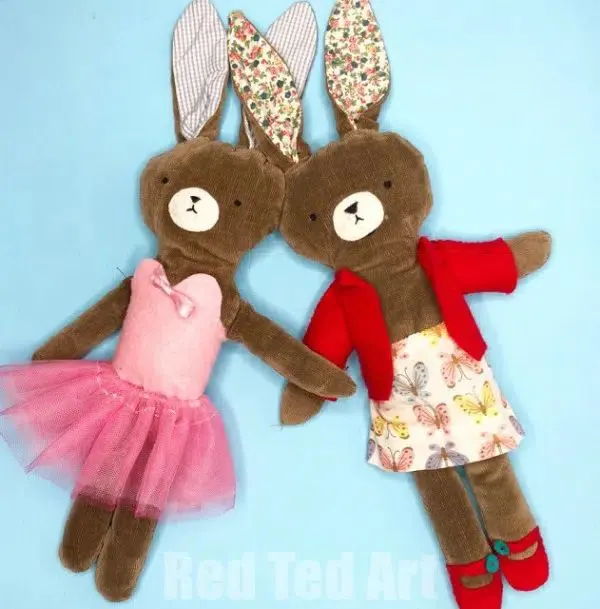 Source: redtedart.com
I think that it makes perfect sense for us to make these cute bunnies after we just made those fluffy sheep. If we keep this up, we can have our very own menagerie of upcycled animals.
You can use these bunnies as a part of your Easter decor. They're cute enough that your kids will love making and playing with them.
What I absolutely love about this project, however, is all those little scraps of patterned and textured fabric, both around the ears and also for the cute outfits! You can use this opportunity to practice your needlework.
44. Christmas Gift Tags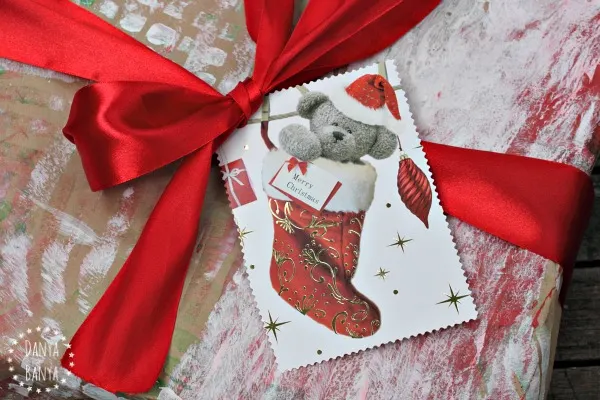 Source: danyabanya.com
Christmas presents aren't quite complete without those flashy red bows on top. But I think that it also deserves a really pretty gift tag like this one.
You can use this gift tag to put the name of the recipient, yes, but also to scrawl out a little message to show your love. It's a great opportunity to get a little more personal with your gifts this Holiday season.
If you're wondering how you can recreate that lovely decorative edging on your paper, just grab a pair of these decorative scissors.
45. Wooden Wall Art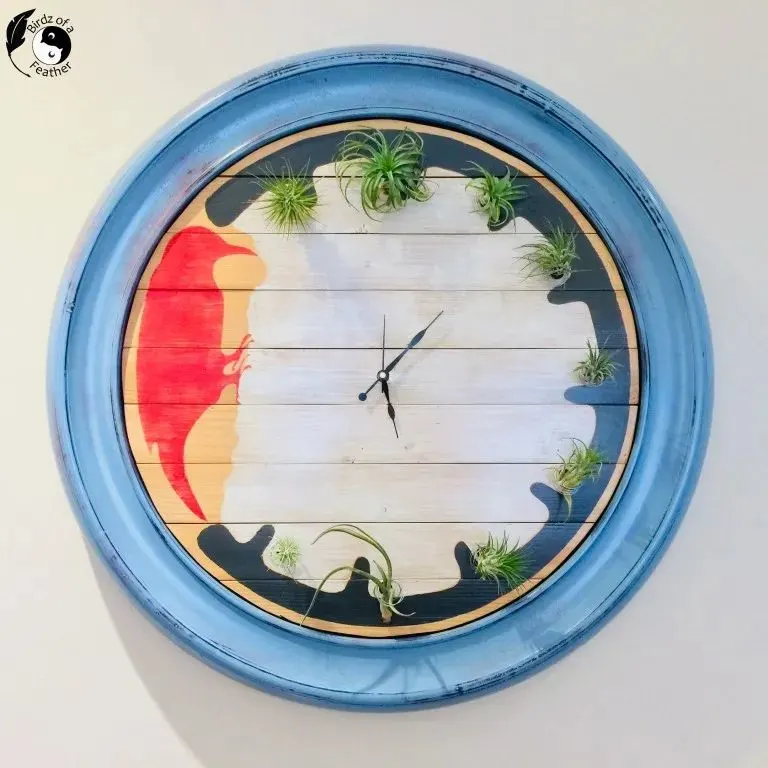 Source: birdzofafeather.ca
Wall art never goes out of style, and certainly not wall art that looks this fabulous! Go ahead and grab an old wooden crate or find some wood pallets for you to repurpose.
The next part is the decorating, and you can go all out with that. You know, I have an idea. Why don't you turn that wall art into a wall clock?
You can pick up some wall mechanism from here to help you with that!
46. DIY Beach Dollhouse from Scrap Wood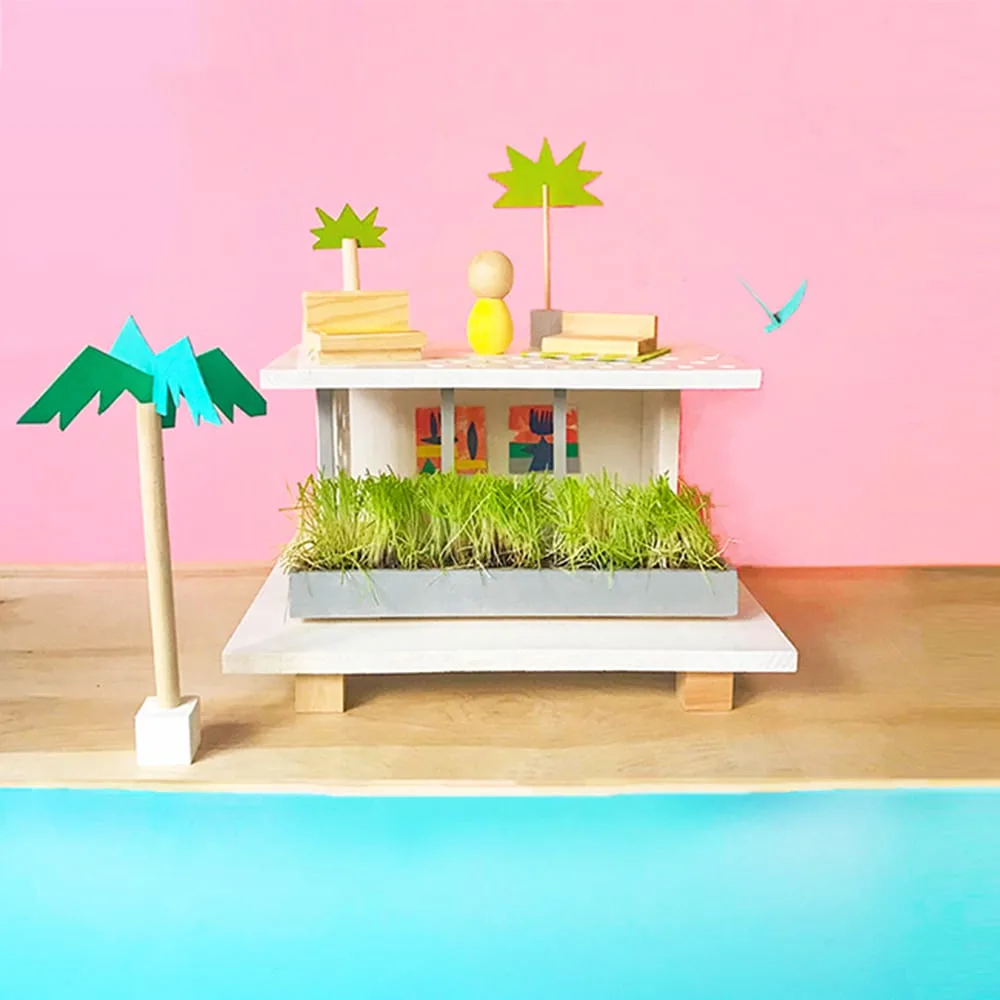 Source: barleyandbirch.com
This DIY beach dollhouse is the stuff of dreams. I'd turn myself into a doll if it meant I could call this pad my home.
It's made completely from scratch, from the furniture to the front porch—everything you see is upcycled or repurposed. So, pick up a few wood dowels, paint cans, and some wheatgrass for the shrubbery to get you started.
47. DIY Bathroom Cabinet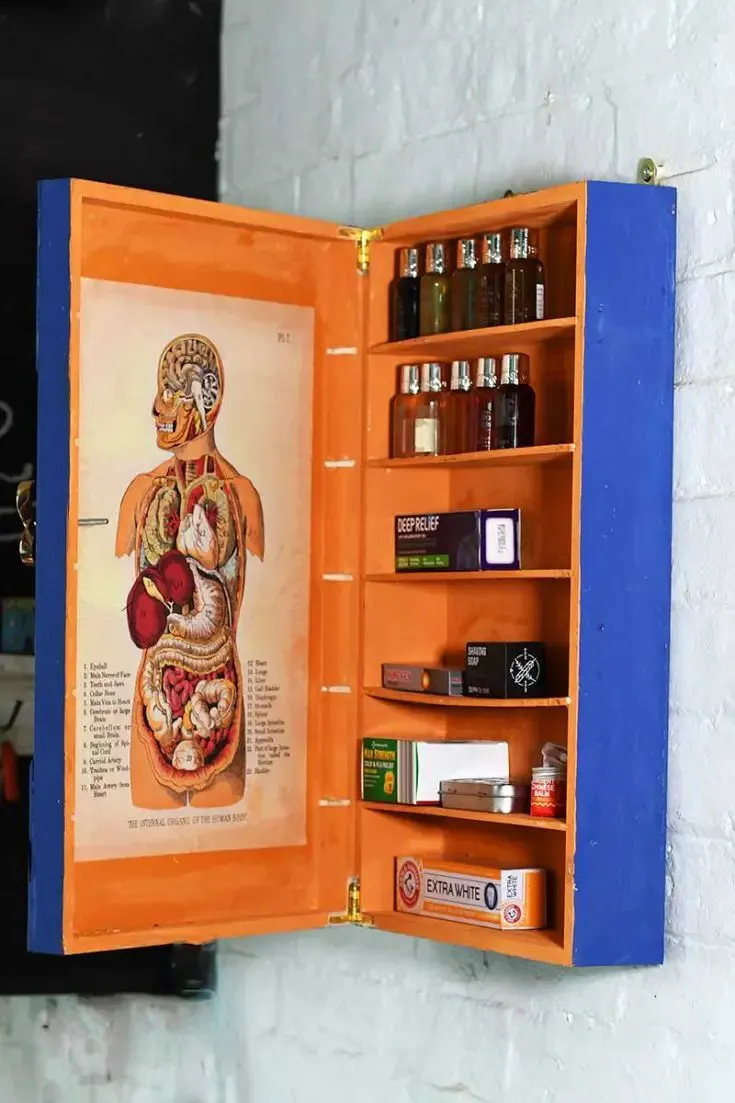 Source: pillarboxblue.com/
You won't believe how much clutter can shrink a room. If you would just get rid of all that visual clutter on your bathroom counter and organize them into, say, this DIY bathroom cabinet, you'll be dazzled by the difference it makes to your room.
If you've ever received a fancy bottle of wine, then chances are it came in one of those fancy boxes, you can repurpose that box, add some compartments and dividers, and use it as your bathroom cabinet.