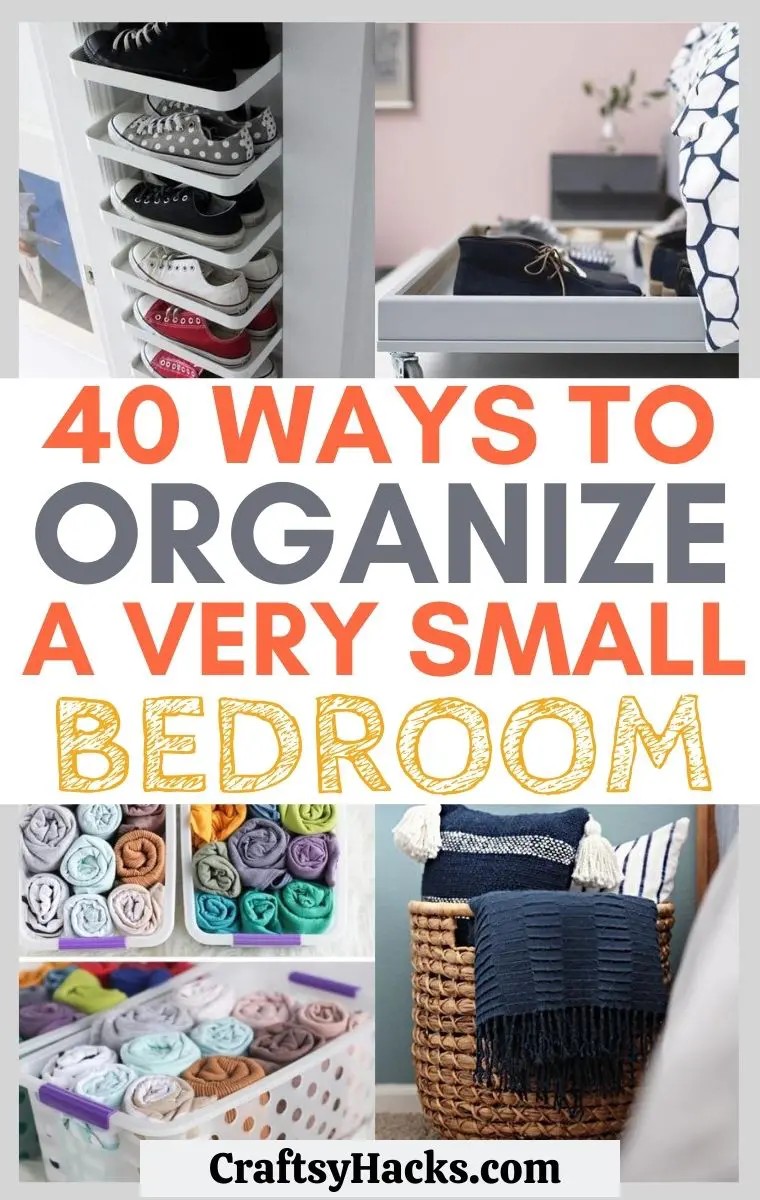 A small bedroom can truly be a headache to organize. Having everything in one small space can get messy very quickly too!
Today, I'd love to share a few ways you can organize a small bedroom. These organizers will make your life easier and, hopefully, give you some inspiration.
1. Under Bed Shoe Drawers
Credit: HouseBeautiful.com
Beds in our bedroom take up a large space, so save it up by getting under bed drawers. Here is a nice wooden under-bed shoe drawer with wheels you could use.
You can use a drawer like that to store not only shoes. It's a good place to keep all your sheets, towels, blankets, and other essentials that perhaps you don't use on a daily basis.
2. Plastic Boxes with Labels for Wardrobe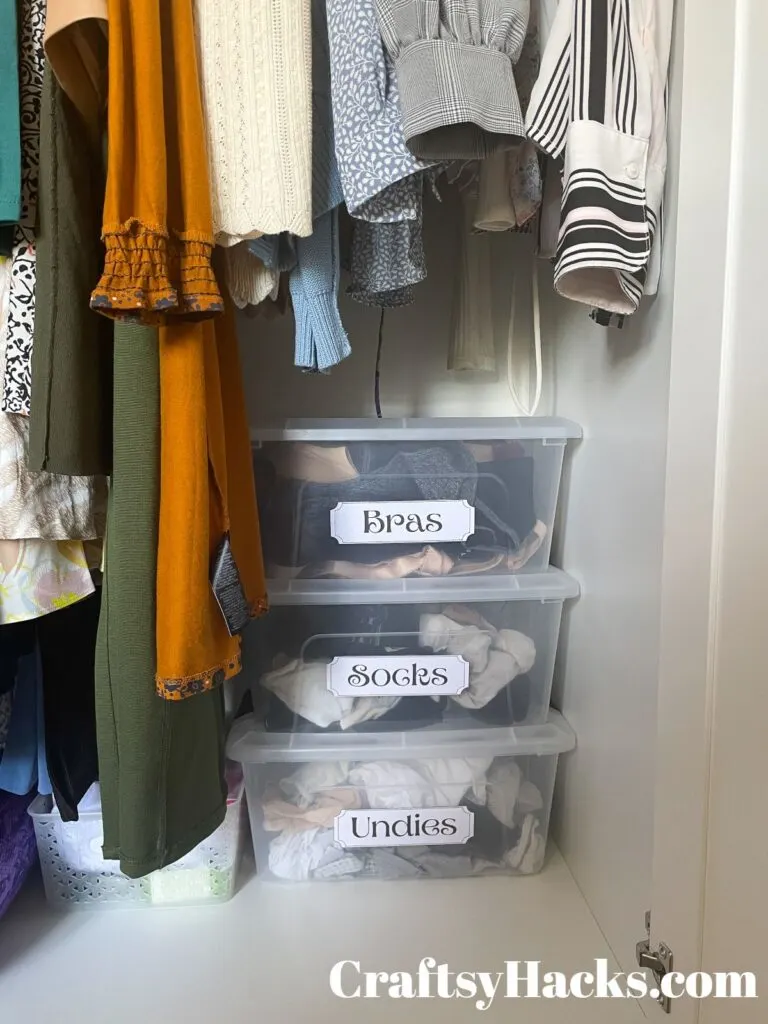 It's essential to use the vertical space in our closets to store more items. As you can see in the picture above, I have quite a bit of empty space under my shirt and sweaters inside the closet.
I've got a few plastic storage boxes and attached my very own labels to them. Now, it's super easy to just pull one box out, get my undies, and put it back. With the labels, there is absolutely no confusion!
The best thing about these is that you can print out the labels and just attach them with a glue stick. No special printable sticker paper is needed! You can use these on baskets and even fabric storage boxes, they're great.
I have designed a bunch of these labels for different purposes but you can also print out the empty ones and just write down your own categories.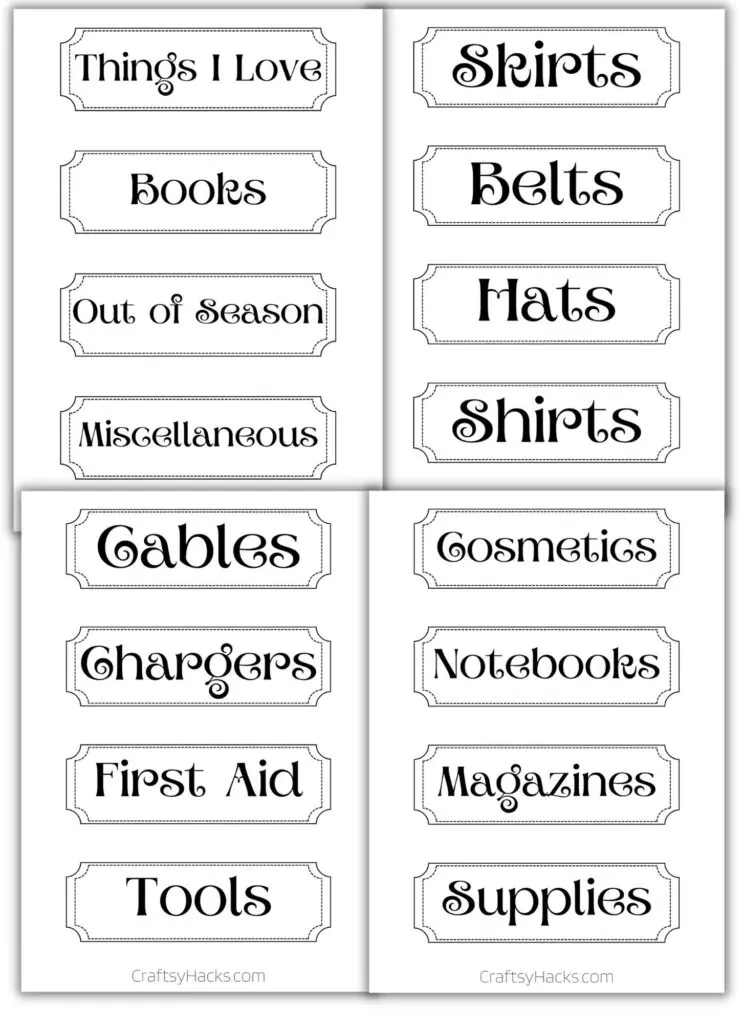 You can download them for free below. Just add in your information and I'll send the labels straight into your inbox immediately. 🙂
Happy organizing!
3. Book Shelves Over the Bed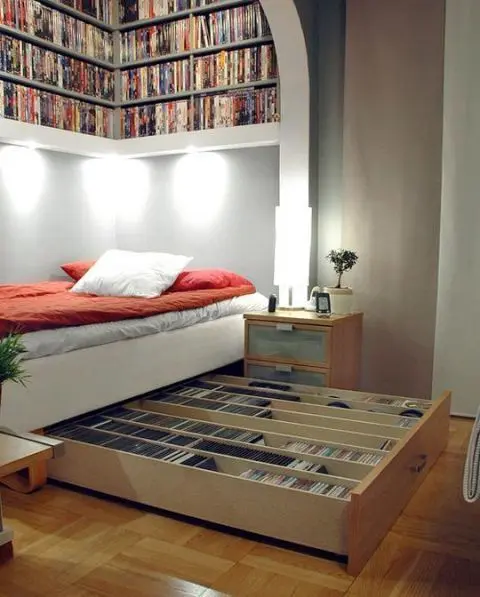 Credit: HouseBeautiful.com
We often forget to use the vertical space above the bed. And that's a huge mistake!
Have a collection of books? Install multiple bookshelves just above your bed and keep all your books there.
My personal favorites:
If you have so many books that don't quite fit just above the bed, take an extra step, and make your own under-bed book organizer. That's obviously if that space is free!
4. Turn Your Wall Shelving Unit into a Wardrobe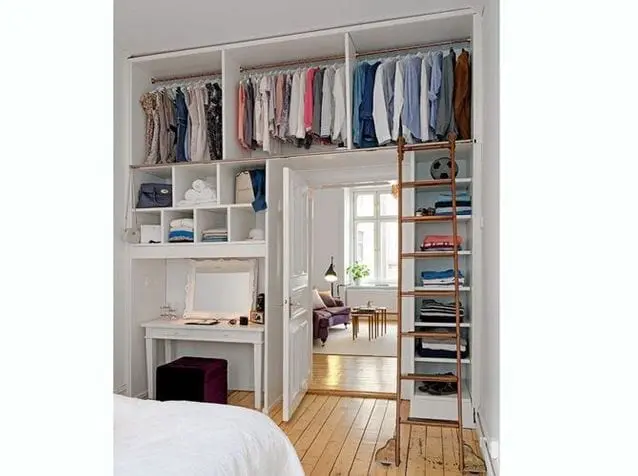 Credit: Pinterest
I absolutely loved the idea once I saw it online. If you have a small room, feel free to use wall shelving as the wardrobe.
You can hang all the sweaters, dresses and jackets just above the doors. Then, obviously use ladders to reach them.
Not a good idea for someone who's afraid of heights. However, if you don't mind getting up there to get your clothes, feel free to try this at home.
5. Corner Shelving Unit for Shoes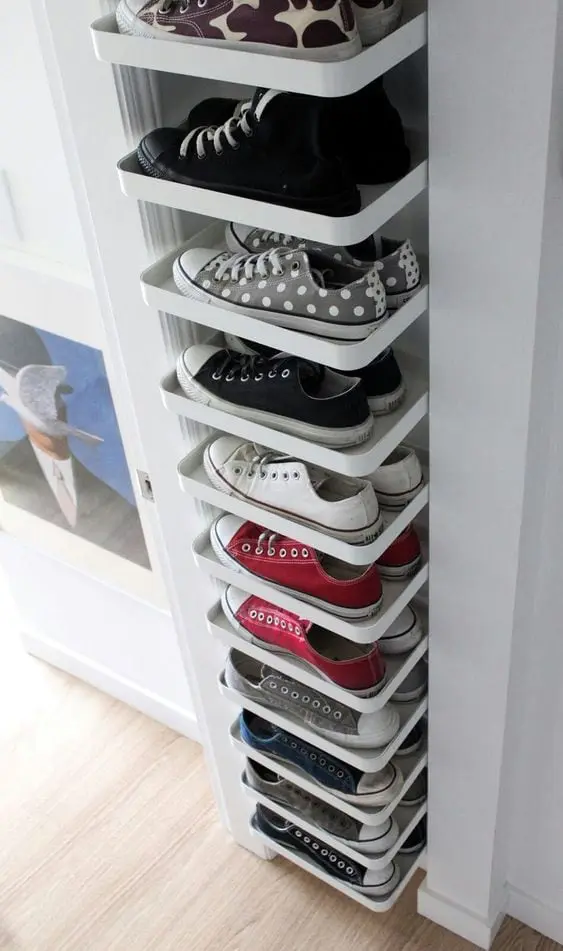 Credit: Pinterest
Perhaps instead of using floating shelves for books, install them in the corner, stack them up and store your shoes there?
It offers a super practical way to keep your shoes organized and will keep your room looking tidy and neat. And that's exactly what we want.
6. Wall Hooks for Everything Important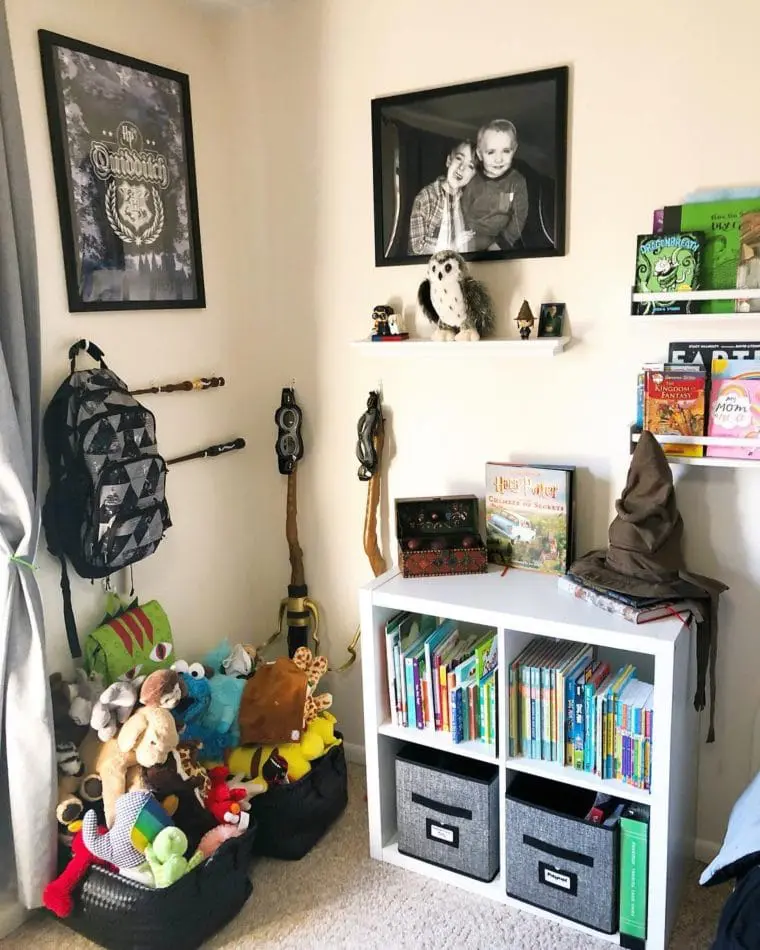 Credit: Instagram
We often forget to use vertical space in our room. The truth is you can easily get everything neatly organized with wall hooks.
Get a few sturdy wall hooks, attach them to the walls and hang your bags, instruments or even accessories on them.
It's truly a great way to get things organized. There are a ton of wall hooks that come in different shapes and sizes on Amazon.
Learn more about all the different ways you can use command hooks to organize your home.
7. Use a Pegboard to Get Accessories Organized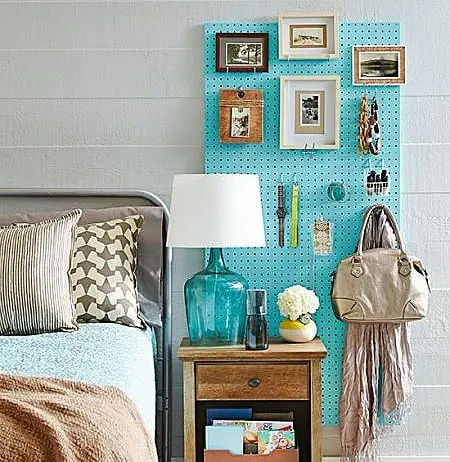 Credit: Instagram
This is an absolutely cute idea for those who have a lot of accessories. Organize them by using the vertical space of the wall.
A pegboard is great as a design piece, but it also has a crucial organization function. So, definitely incorporate it into your bedroom design.
8. Animal Head Wall Décor for Organizing Accessories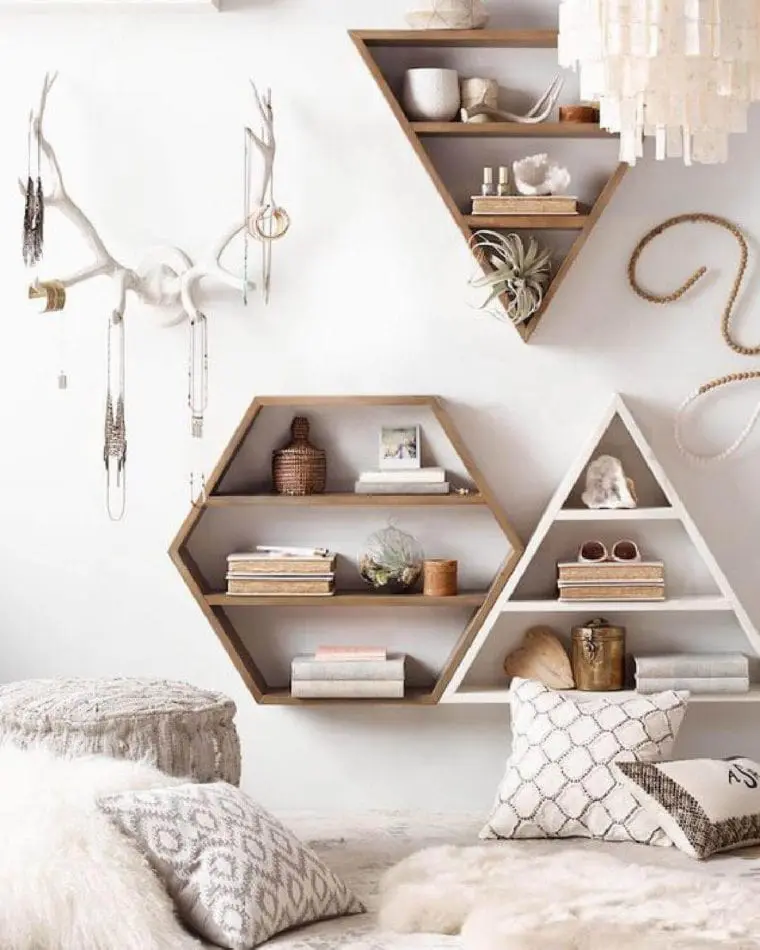 Credit: Instagram
If you're a fan of animal head wall décor pieces and had them in your bedroom, use them for organizing jewelry. The through is you can truly use design pieces for organization too.
Couple it with shelves of different forms and you'll have a beautiful looking room.
You can either go for triangle shaped shelves or hexagon-shaped shelving or good old square ones.
9. Rod Under the Shelves for Hanging Clothes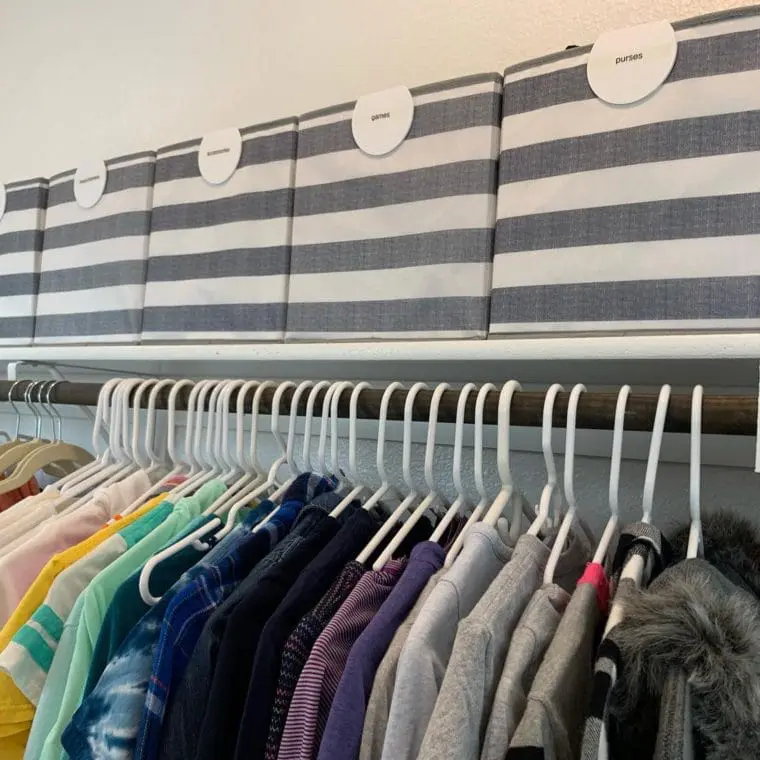 Credit: Instagram
If you have a few shelving units at home and you're not using the space under them, install a rod. You can hang all your clothes under the shelf.
In this way, you're going to be using more of the vertical space. And still not lose any space for books, baskets, or other goodies.
10. Use Storage Boxes on Shelves Too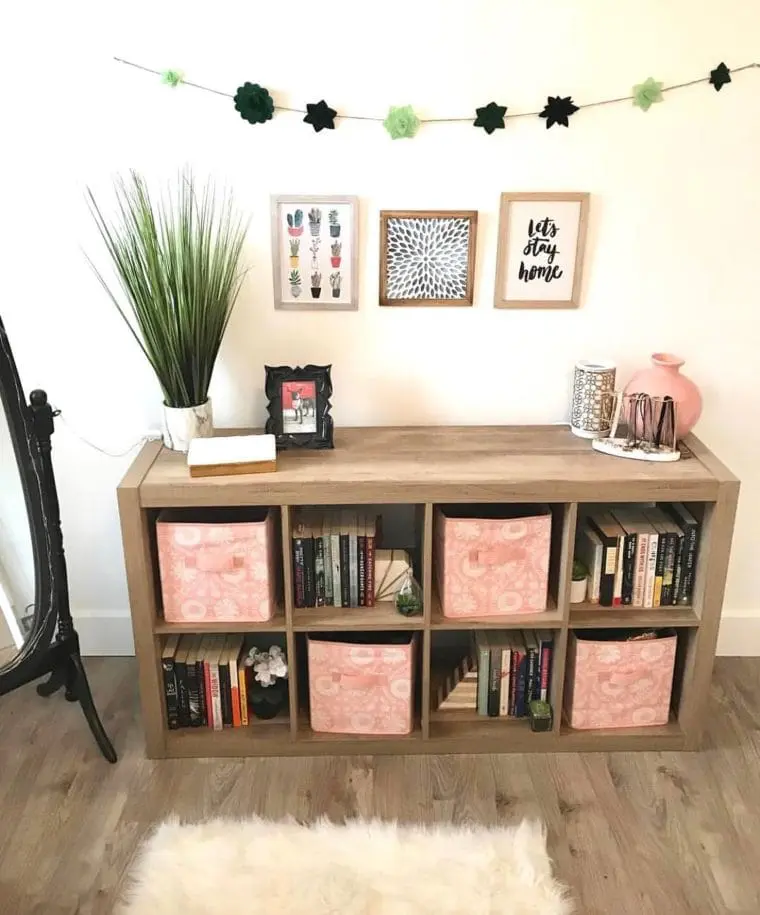 Credit: Instagram
If you're running out of space, you can easily make more of it by adding storage boxes to each shelf. You'll be able to use more vertical space and store the small items.
Great for accessories, clothing items, school supplies, etc. Get fabric cubes with compartments and introduce even more organization into your small bedroom.
Easy, simple and works wonders when it comes to increasing room storage.
11. Rustic Jewelry Organizer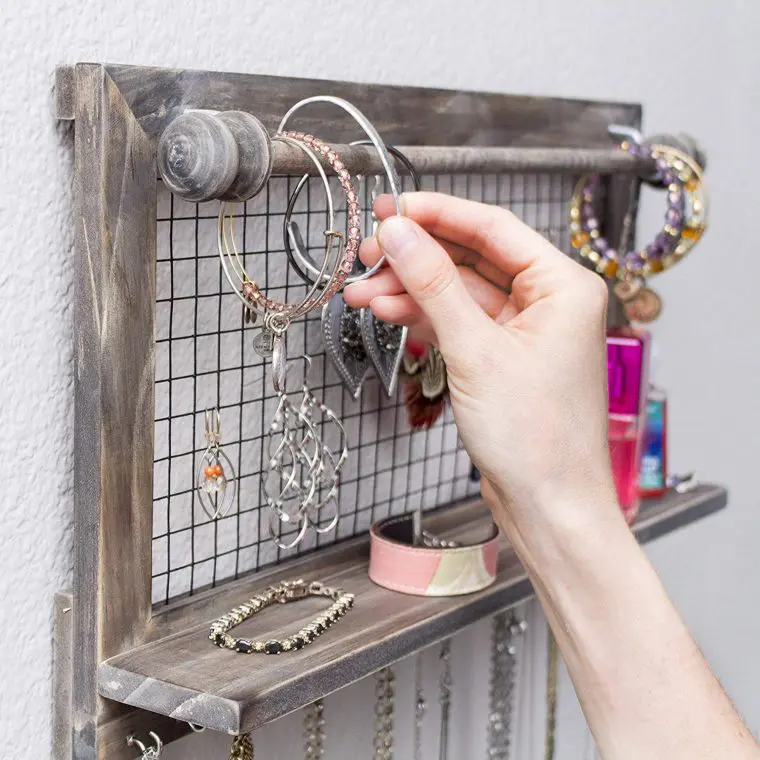 Credit: Amazon
A little accessory organizer on your wall can turn into an elegant design piece. This rustic jewelry organizer is just that.
It looks amazing, it's super practical, and picking your accessories before going out will be so easy. Absolutely love the idea, so give it a try!
12. Your Own Clothing Rack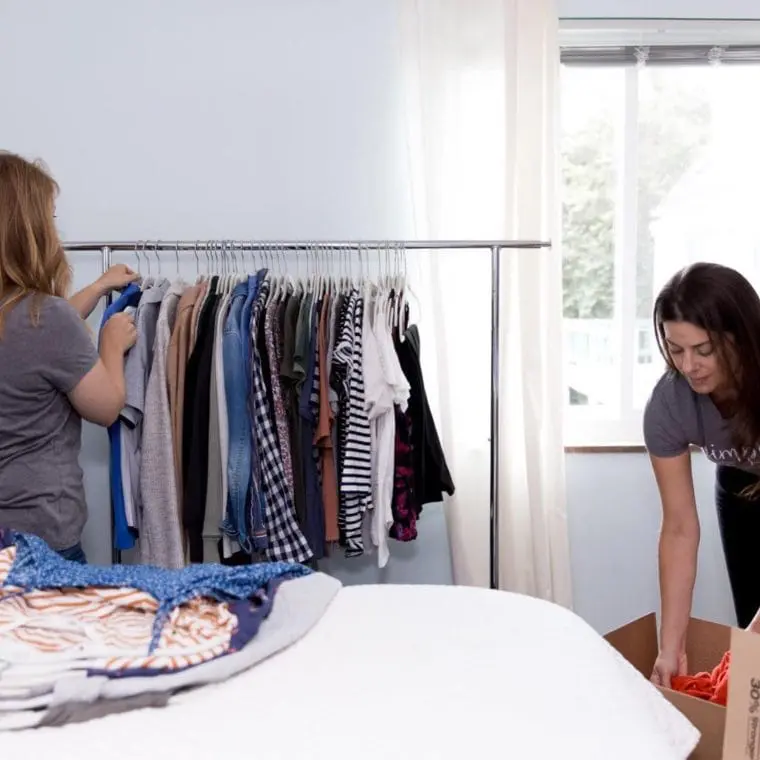 Credit: Instagram
In case you don't have a wardrobe yet you're tight on space, get a clothing rack. Get a rack with shelving like this one.
In this way, you'll be able to store more items on it, not just clothes. You could easily get a few storage boxes and throw them in all your accessories.
If you're creative, you can really use the rack and maximize the storage space. All of that while keeping it neat and organized.
13. Hanging Organizer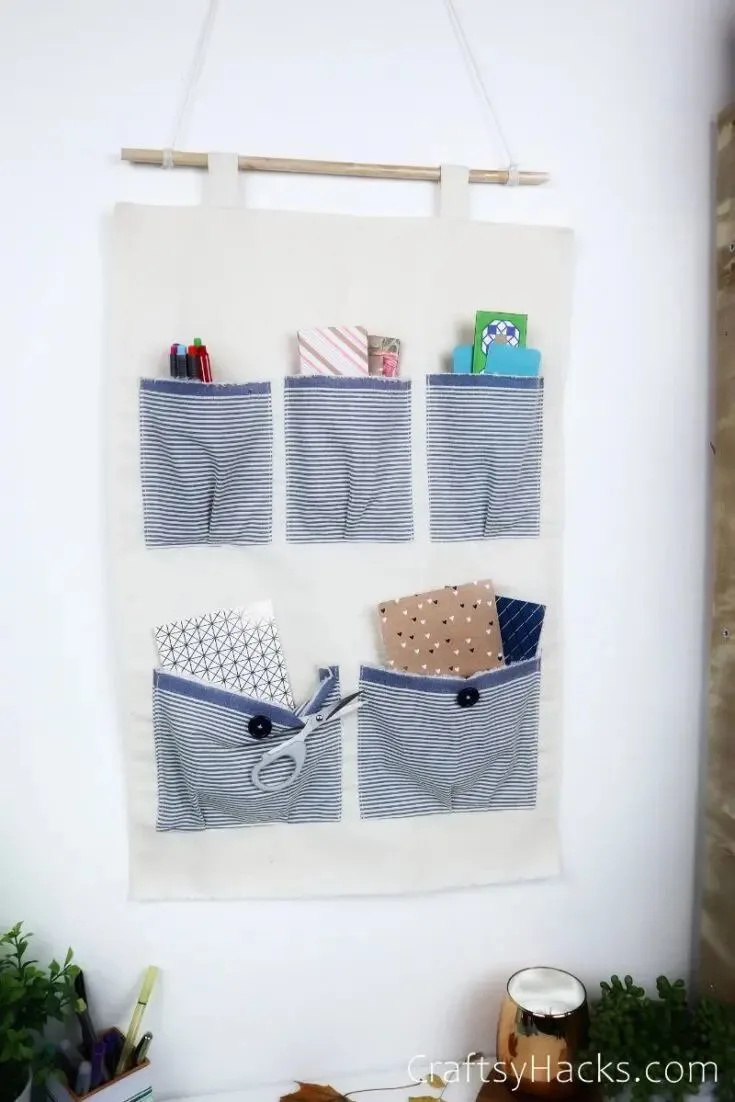 Credit: Craftsyhacks.com
Something as simple as a fabric door organizer like this one here can help you to increase storage in your small bedroom. It's absolutely great for lighter books, notepads, and makeup products.
What's more important, it's cheap and functional.
14. Door Utility Rack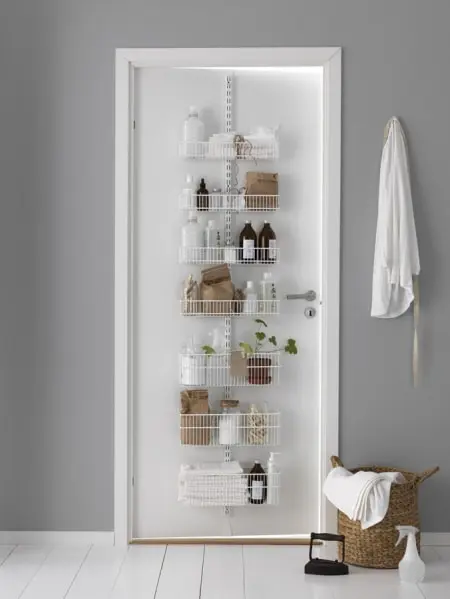 Credit: HSW.com
Get a cute, white door utility rack like this one here. It'll offer you some extra space to organize your accessories, makeup and self-care products, and whatever else you need.
We often forget to use our doors for storing the very essentials we need. So, if you're running out of space, definitely get one.
They look awesome too!
15. Use Towel Rods to Hang Shoes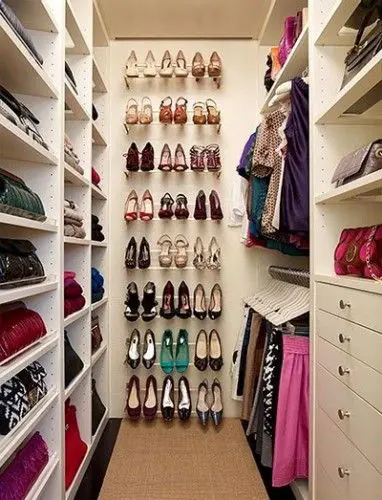 Credit: Pinterest
If you're one of those people who have a ton of shoes and no space to keep them, try this idea. Get a bunch of double towel bars like these ones here.
Make sure they're double, otherwise you won't be able to place shoes on them. Now, just stack them up and store all your shoes.
Let's be honest, it looks pretty cool and gives you a chance to consider all your shoes before going out.
16. Closet Drawers for Organizing Clothes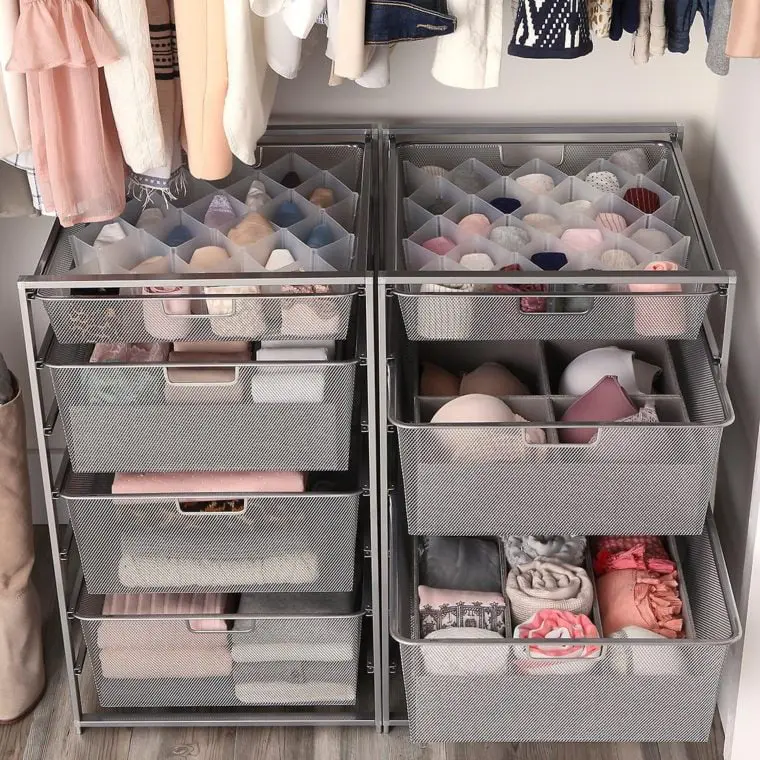 Credit: Containerstore.com
These closet drawers are a higher-end purchase and can give you the ability to organize all your underwear, socks, shirts, and accessories. The organizer offers a very easy way to do all that.
It doesn't take a lot of space and isn't very high, so you can easily fit it under hanging clothes or shelves. They look great too, especially when keeping them organized is so easy.
The compartments here are the key! It's definitely not for those on low budgets but the sturdiness of the organizer ensures it'll last for a while.
17. Keep Your Shelves High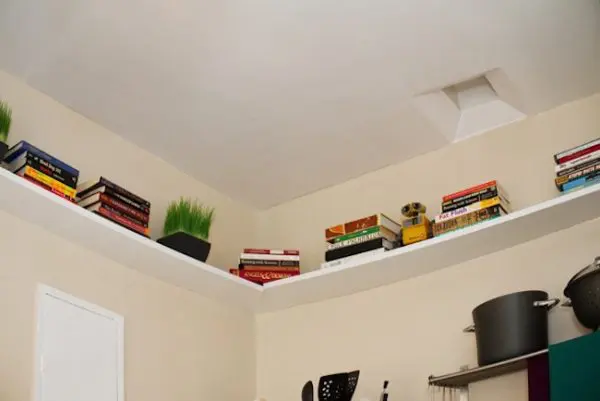 Credit: Makespace.com
If you feel overwhelmed with the number of things you have. And installing shelves on the walls doesn't seem like a great idea.
Try installing them just below the ceiling. In order to reach your things, you'll need to get all the way up there.
However, you're going to save yourself from bumping into shelves all the time and feeling overwhelmed with the amount of stuff on the walls.
18. A Storage Corner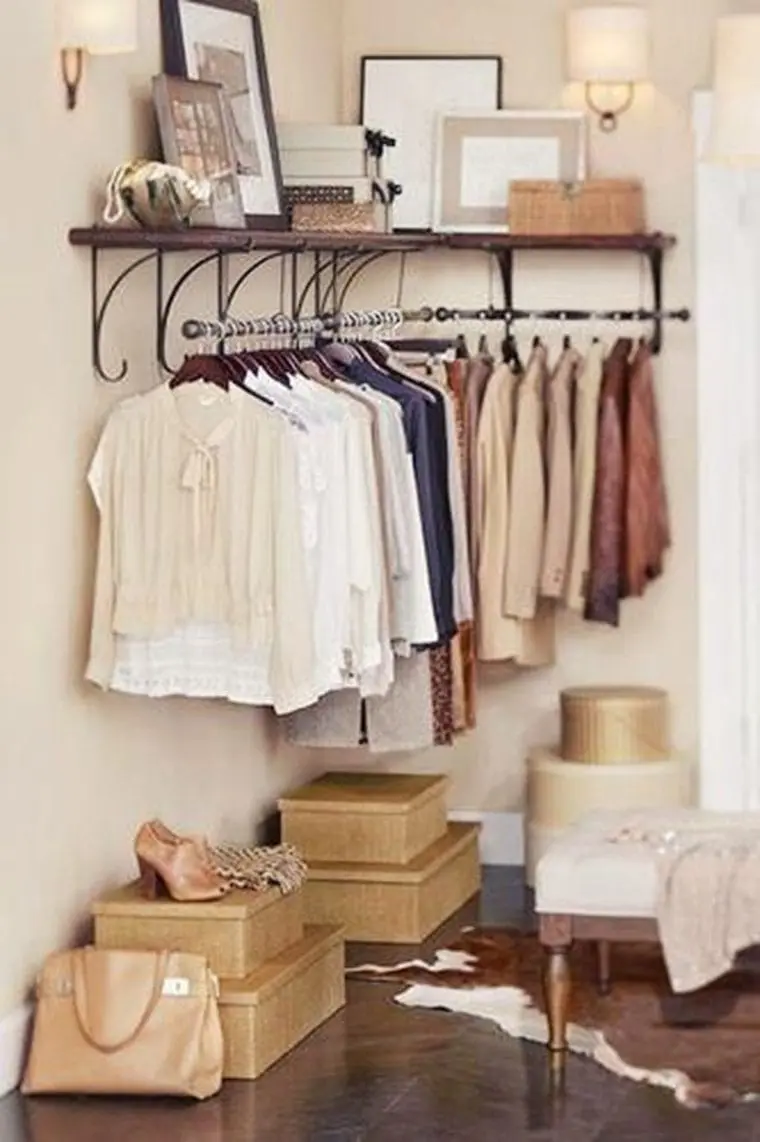 Credit: delphinecosmeticdiary.com
I absolutely love how you can combine all the storage hacks to fit as many things as possible into the corners of the room. All of that while still looking organized and neat.
This is a perfect example of how you can do it all: use the corner, get the corner shelving, get a rack for hanging clothes as well as storage boxes. Elegant and yet so practical!
19. Stunning Agate Wall Hooks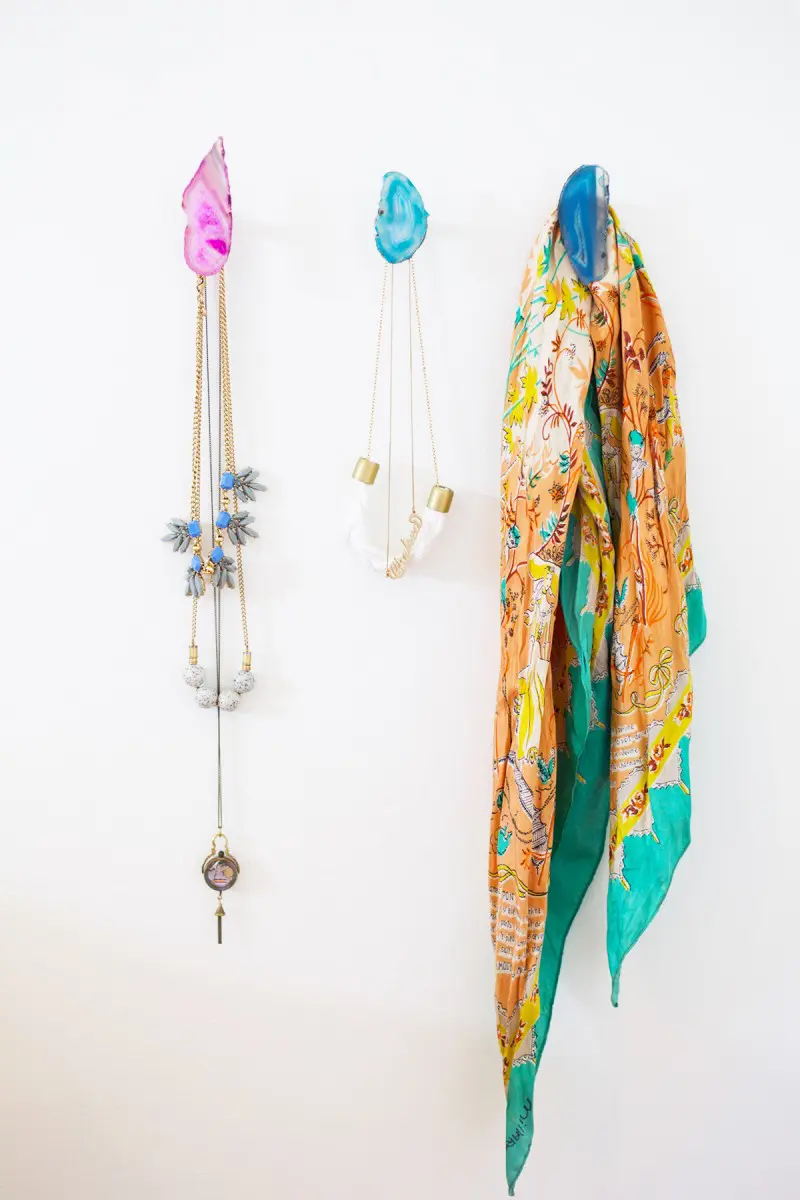 Credit: lovelyindeed.com
Small bedrooms usually require us to maximize wall spaces. Forget the traditional wall hooks and use stunning agate instead.
To do this, you will need agate slices, moldable glue, 4-inch screws, and a drill. Agate slices are available at your local crystal shop, but if you don't have one, you can buy a mix of agate slices here.
Read this tutorial to find out more about how it's done in less than five minutes.
Aside from looking stunning, did you know that agate is known for repealing negativity and has a calming and soothing effect? I would definitely like to have it in my room!
20. Use Dollar Store Bins for Garments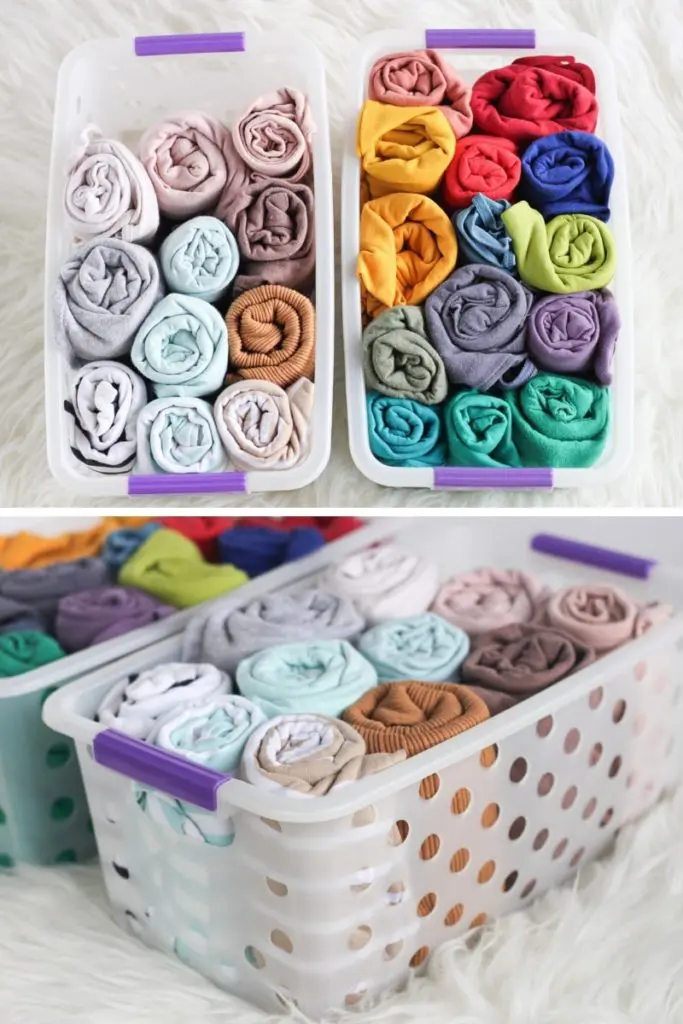 Credit: lifesahmazing.com
Small rooms equal small closet spaces. To maximize your closet space, use dollar store plastic bins and roll your garments instead of folding them.
Stack them vertically on to the plastic bins. You will be glad to know this method holds more clothes than traditional folding and piling on top of each other!
Make it even more organized by labeling each plastic bin. Check out more Dollar Store storage hacks like this here.
21. DIY Mirror and Jewelry Box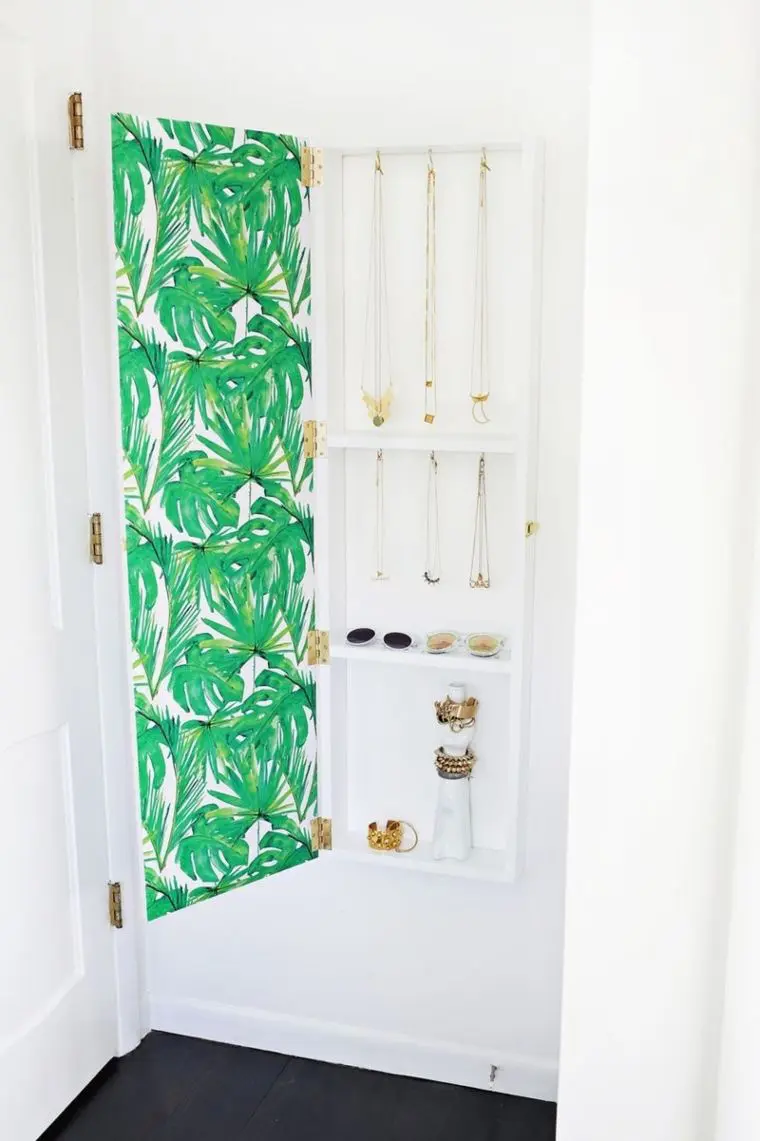 Credit: abeautifulmess.com
Talk about maximizing the wall space. This two-in-one mirror and jewelry box is so ingenious. It's hard not to replicate it.
The idea is to mount a shelf onto your wall and cover it with a full-sized mirror. It's such a smart idea. After all, you will need a mirror to check how your jewelry and other accessories match with your outfit, right?
Check out more ideas on how to organize small items!
22. Rolling Carts Are Your Best Friend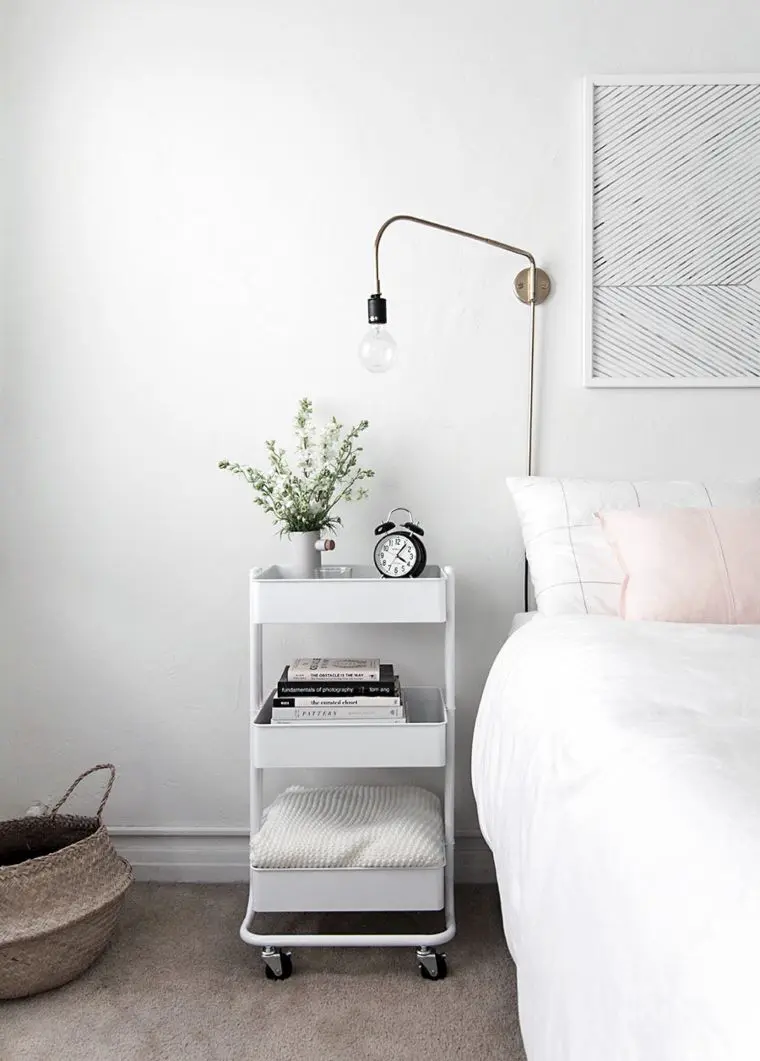 Credit: homeyohmy.com
When you have a small space, anything that moves is super convenient. That way, you can always move it when you need extra space.
For this reason, you should have at least one rolling storage cart in your small bedroom.
There are many types of mobile carts available.
My favorite is this because it comes in an industrial wooden design, that goes with most minimalist décor. Also, it has built-in brakes, which is always a great safety feature for anything with wheels.
Check out more small bedroom organizing ideas that require no drilling.
23. Hanging Laundry Hamper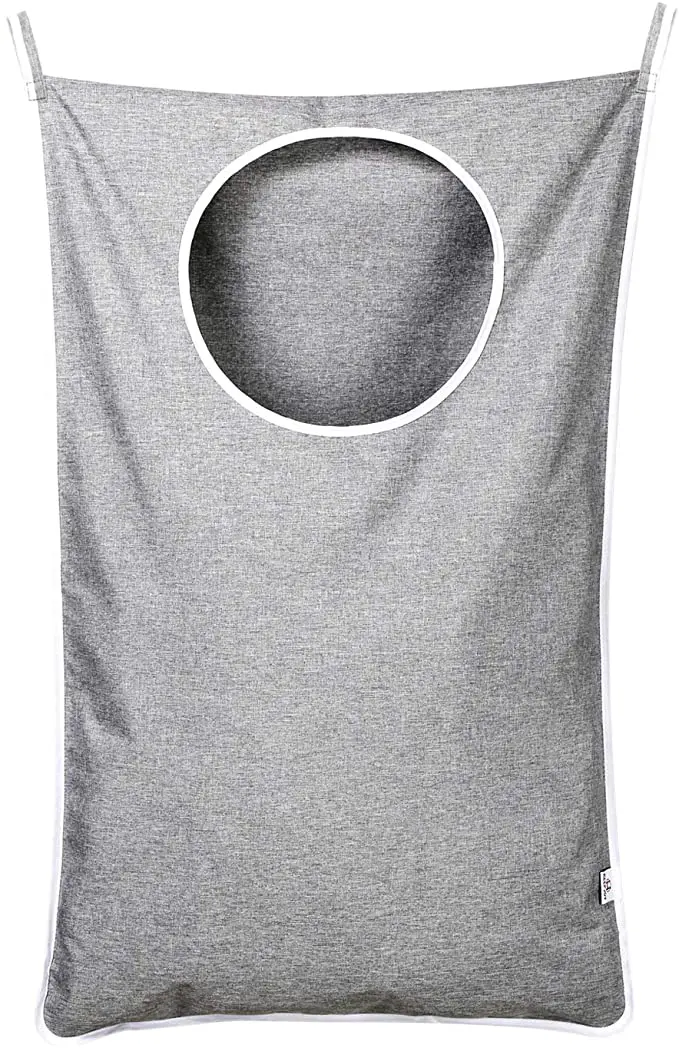 Credit: amazon.com
Laundry bins can take up so much space, so why not hang them instead? This sleek-looking hanging laundry hamper can be hung behind doors or even on the toilet wall.
It comes with a zipper lining on the bottom of the hamper, making it super easy for you to unload your dirty laundry straight onto the washing machine.
If you're wondering where to get it, they're sold online here.
24. Floor to Ceiling Closet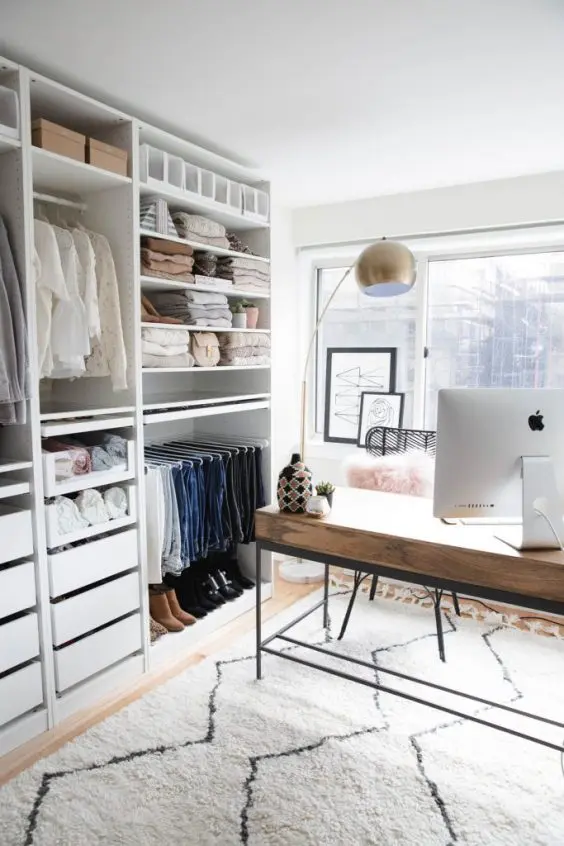 Credit: chloedominik.com
If you can't have a walk-in closet because of limited room space, why not have a floor-to-ceiling one? Color-code the way you store your clothes for an added decorative effect.
Complement the sleek and clean look by using minimalist decorative storage boxes. The open shelving concept makes the illusion of a bigger space.
The best part is because it's open, you are sort of forced to maintain the neat and tidy organization of your stuff. No more hidden unfolded clothes!
Check out more closet organizing ideas here.
25. End-of-Bed Shoe Storage Ottoman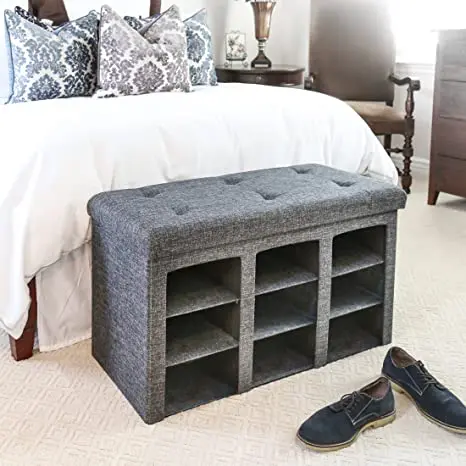 Credit: amazon.com
I love the functionality of this 2-in-1 small bedroom furniture. It sits right at the end of your bed, where you normally put on your shoe anyway, so why not turn it into an ottoman that stores your shoes?
The great thing is, it also folds compact when you need more space or move out of your existing one.
If you think this would look good in your room, you can get this storage ottoman here.
26. Wicker Basket Hampers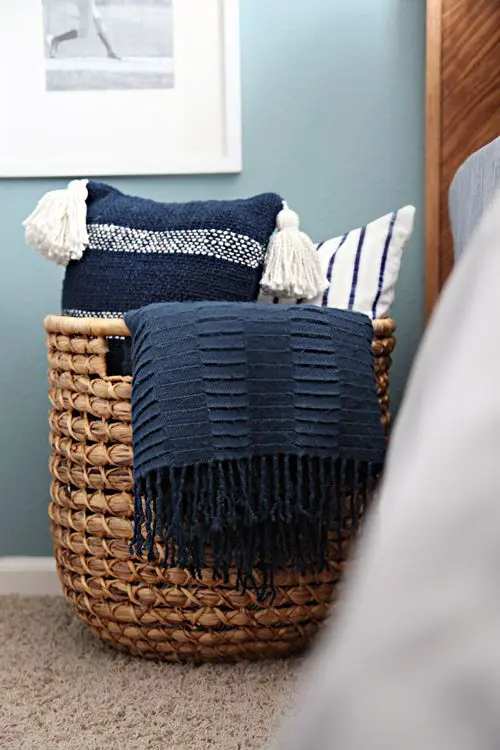 Credit: blogspot.com
Wicker baskets are storage solutions that also look great as decorative accents. They are great decorative accents for small spaces to place things you would require to use from time-to-time.
Place them on your bedside to hold throws, extra pillows, or even your extra linen. You can buy wicker baskets from specialty home stores, or create a similar-looking one inspired by this DIY project.
27. Use a Platform Bed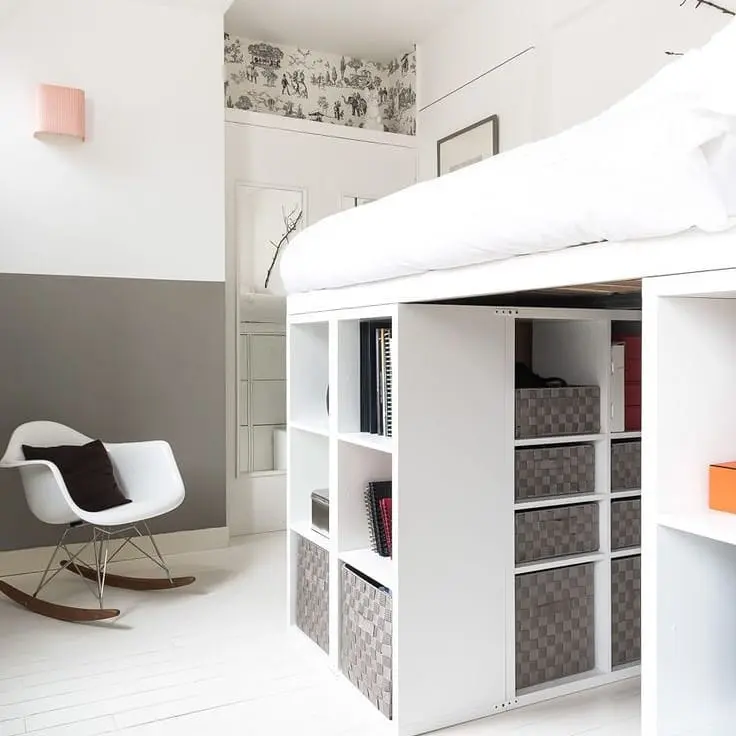 Credit: Instagram
If you don't mind having a slightly raised bed, then a platform bed could be your solution to limited storage space. The idea is to mount a slat bed frame onto sturdy pieces of cube storage shelves to maximize the under-bed storage.
Finish the look by filling your cubes with decorative storage baskets like these ones.
28. Hanging Storage Organizers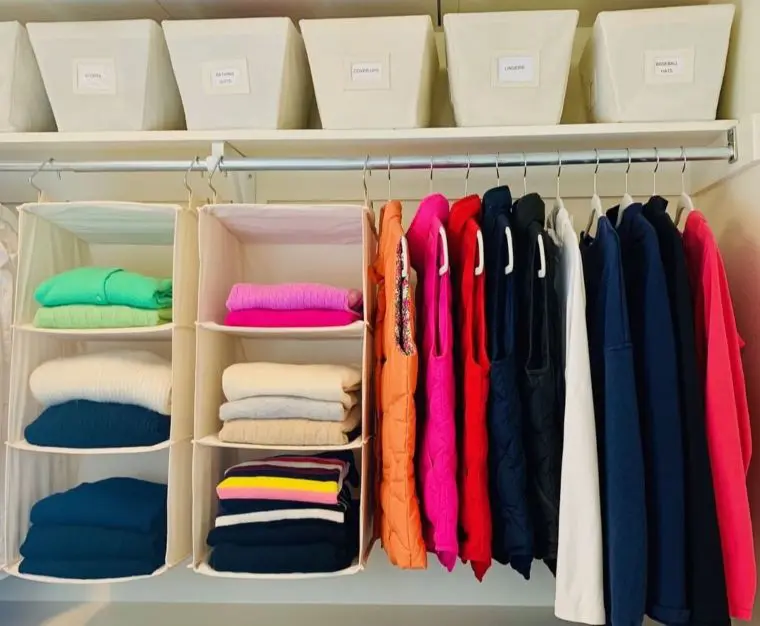 Credit: Instagram
An excellent way of maximizing cabinets that don't have built-in shelves is by using hanging storage organizers like the ones available here.
I love this brand of hanging closet organizer because it also has side pockets on them, which can hold small accessories such as purses, belts, or ties.
I would also complement this gray hanging organizer with a similarly-colored storage bin like these. It has a transparent side, which allows you to see its contents easily.
If you don't want this style, you can also go for the traditional storage box. But, add labels in front, so you know what is inside each bin.
29. Pull-Out Bedside Shelf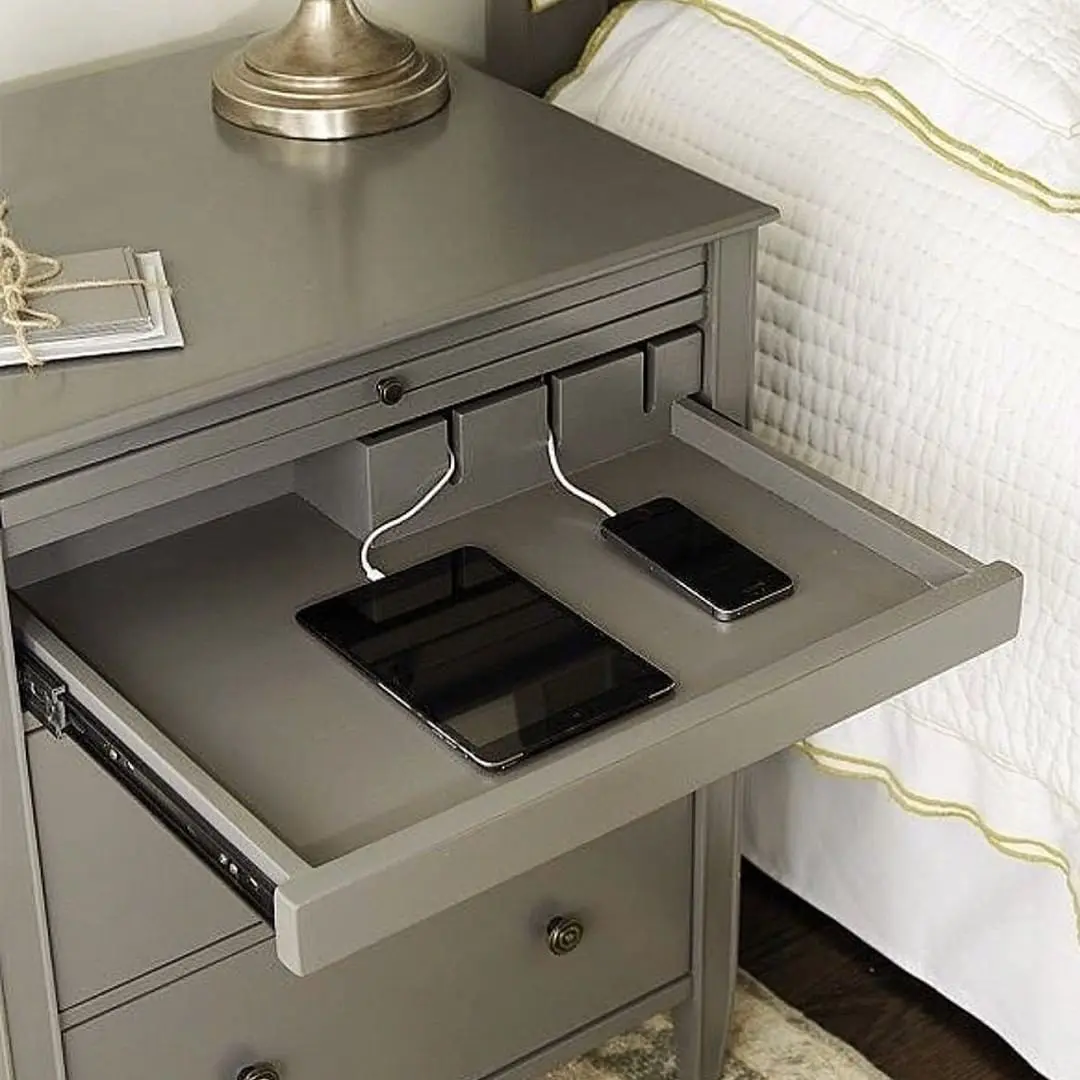 Credit: Instagram
Declutter your bedside tabletop by installing pull out shelves to hold your gadgets while they're charging.
Click here for a full video tutorial on how pull-out cabinet drawers are converted into pull-out shelves.
30. Behind-the-Mirror Clothes Hanger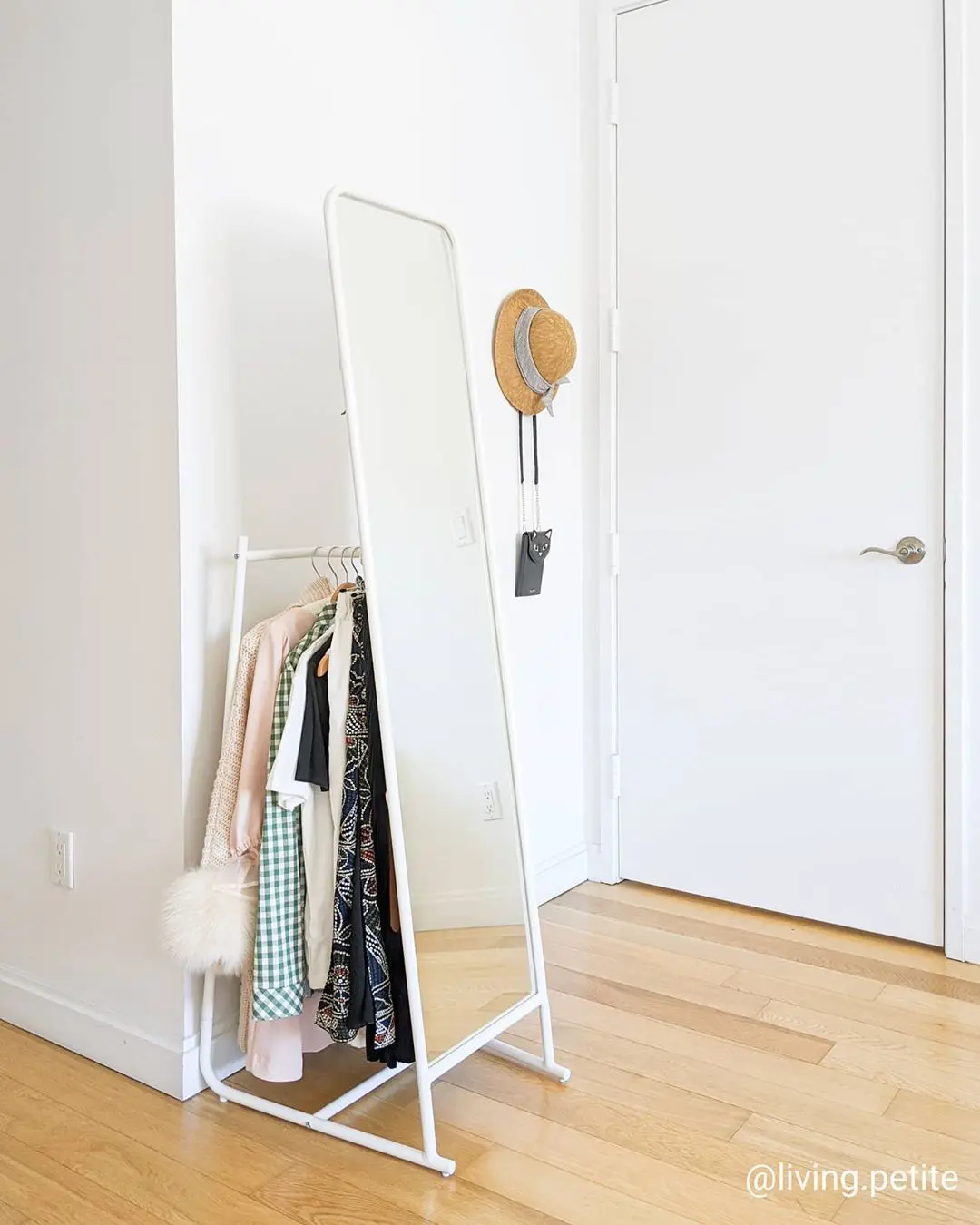 Credit: Instagram
This is such a brilliant idea of maximizing the space behind the mirror. It comes as no surprise that this concept came from Ikea.
Besides clothes, you can also use the rack to hold your umbrella, bag, and so much more.
31. Wall-Mounted Jewelry Organizer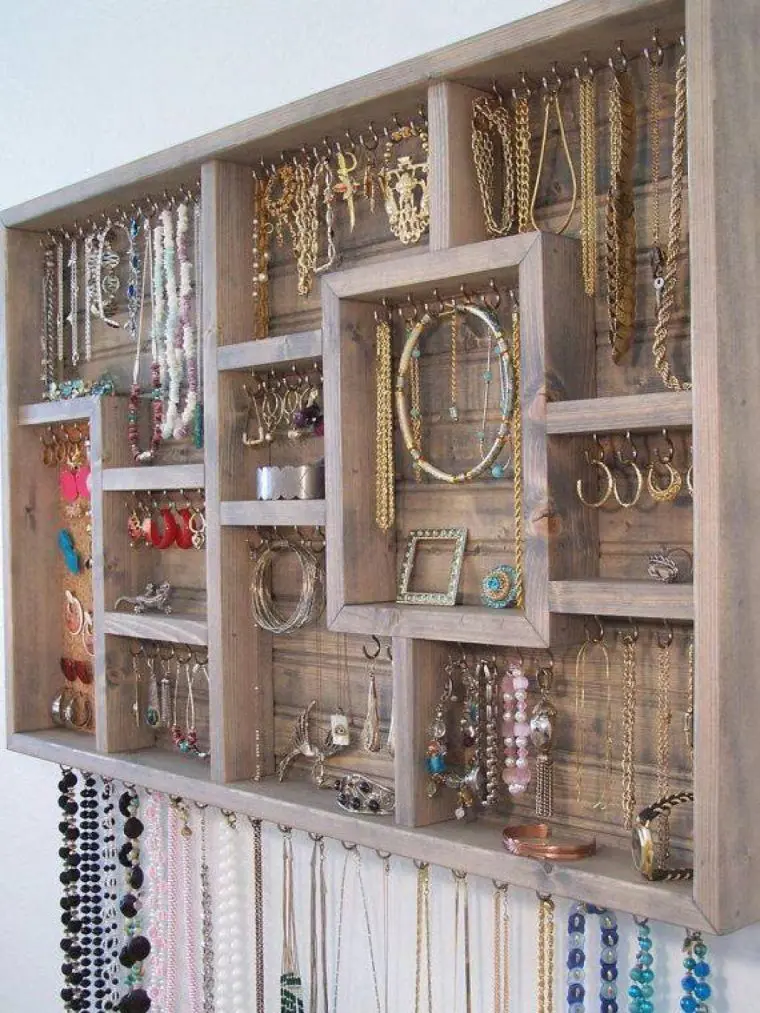 Credit: homebnc.com
You can create your own cute and artistic jewelry organizer from scrap wood, or buy premade wooden shelves. My personal favorite is the decorative wooden picture frame I found here.
Stick a corkboard on one of the picture panels to hold earrings, and install screw hooks like these at the bottom of the frame to hold longer necklaces.
32. Floating Cube Shelves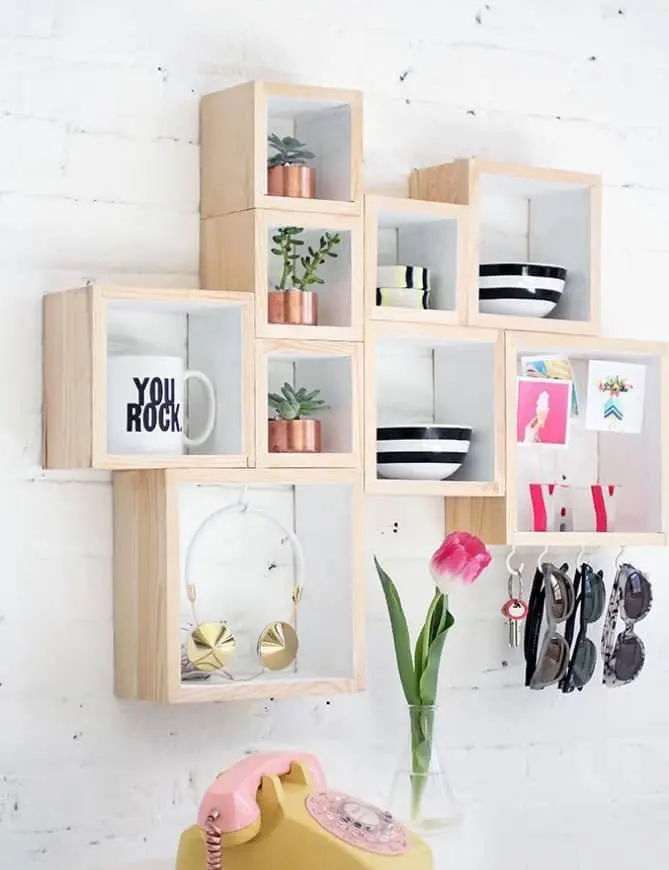 Credit: hairsoutofplace.com
You probably can tell by now that maximizing your wall space is a trend in small bedroom spaces.
Mount wooden cubes on your wall to create extra storage space. Add a bit of character by mixing different cub sizes, such as the one seen in this photo.
You can recreate this by using raw wood materials or use pre-fabricated cubes like the ones found here.
Whatever method you choose, make sure you mount them securely onto the wall with screws. Or, if you're renting the place or don't want damage to your walls, use heavy-duty Commando strips available on this page.
33. Tension Rod Shoe Rack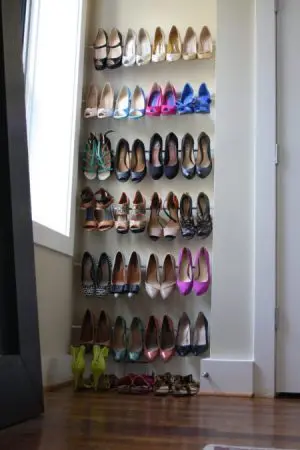 Credit: chasingabetterlife.com
Storing shoes can be a problem in tight spaces. But there are ways of creating extra storage space for your shoes, by using common household materials, like tension rods usually used hanging for curtains.
The trick is to find a niche in your bedroom where you can anchor the rods and hang your shoes on. The best thing about tension rods is you don't even need to drill holes or use a nail or any adhesive to stay securely in place.
You can find tension rods at your local hardware stores, but if you struggle to find some, you can always order them here.
34. Headboard Mini-Bookshelf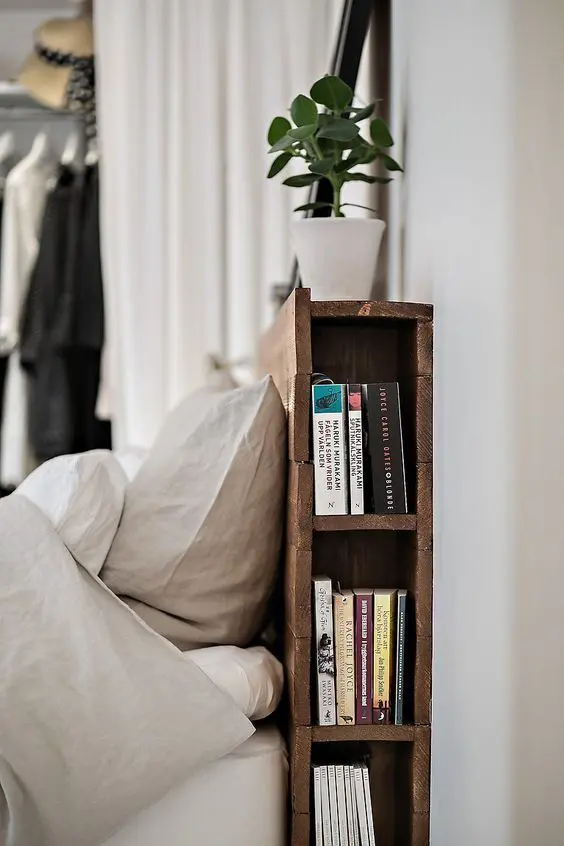 Credit: wordpress.com
If you already have a headboard in place, this may be a little hard to pull off. However, if you are yet to have a headboard and are planning to get one.
You may want to consider building a small niche on each end of your headboard to serve as mini bookshelves to hold your nightly reads.
If for some reason, you can't create your headboard, there are also relatively inexpensive headboards with built-in bookshelves, such as the one I saw here.
35. Above-Door Floating Shelf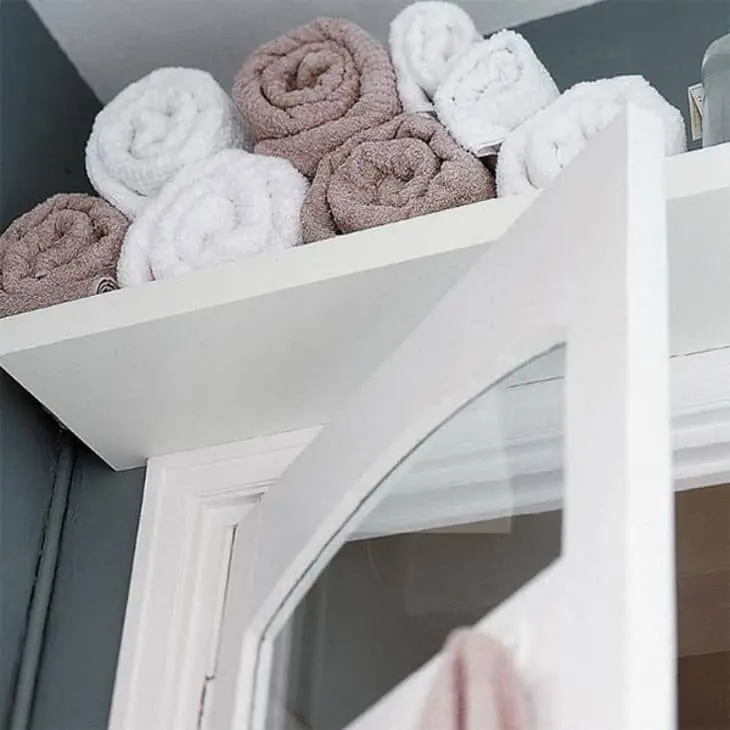 Credit: apartmenttherapy.info
An area often overlooked is the space above your door. This can actually be used as a storage space, especially if you have a small bedroom.
For this project, you can use any wooden slab lying around the house and then paint it over to match your bedroom door's paint. Alternatively, you can also buy these relatively cheap floating shelves, which can be installed without tools.
36. Under-Bed Shoe Storage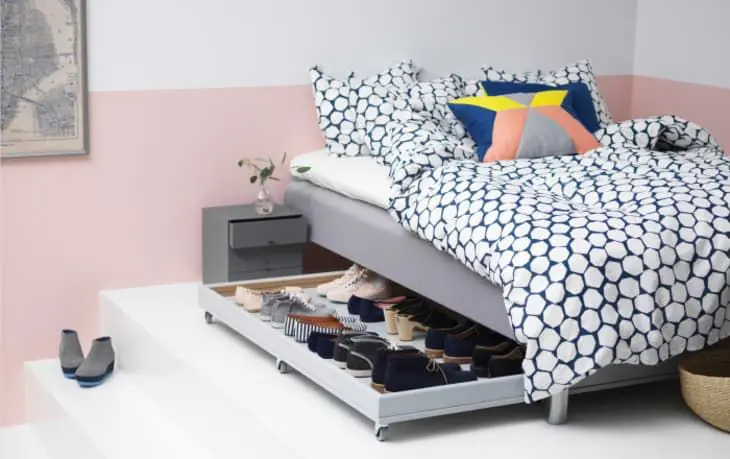 Credit: apartmenttherapy.info
Another excellent shoe storage location is under your bed. A lot of beds sit low above the floor; we tend to dismiss it as storage spaces.
What we don't realize is that a double bed can store at least 14 pairs of shoes. You can make your pull out shoe storage by using some plywood or wood panels and paint to create the storage base.
Finally, attaching caster wheels like this for ease of pulling the shoe storage out from under your bed. Here's a video tutorial on how similar shoe storage was done.
37. Under-Bed Linen Storage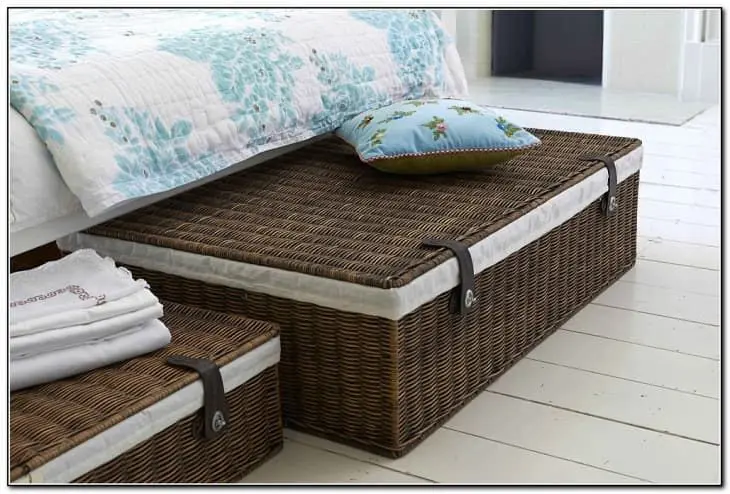 Credit: apartmenttherapy.info
Another storage problem for small bedrooms is our linen. They tend to be very bulky and take up too much space in our tiny closet.
The good news is, there are storage bins specifically designed to fit perfectly under the bed and are wide enough to accommodate linens. There are various under-bed designs available, from wicker baskets to simple polyester ones.
My favorite is the under-bed storage bin I found here because they have covers that protect whatever is inside them. They're collapsible when I don't need them, saving me more storage space.
38. DIY Storage Daybed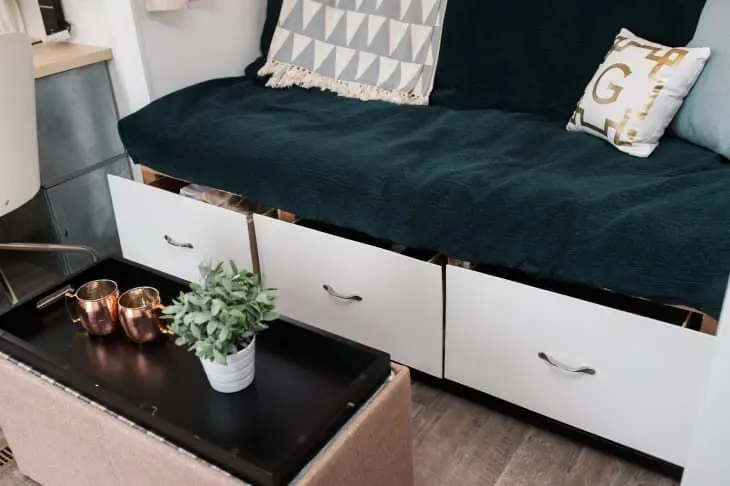 Credit: apartmenttherapy.com
I honestly can't think of a much better way to maximize a daybed than to install drawers underneath it to maximize storage space. These drawers would be excellent places to store linen, spare pillows, and so much more.
To guide you through how to create a 2-in-1 daybed/storage and a full list of materials needed, read through the tutorial found here.
39. Floating Makeup Dresser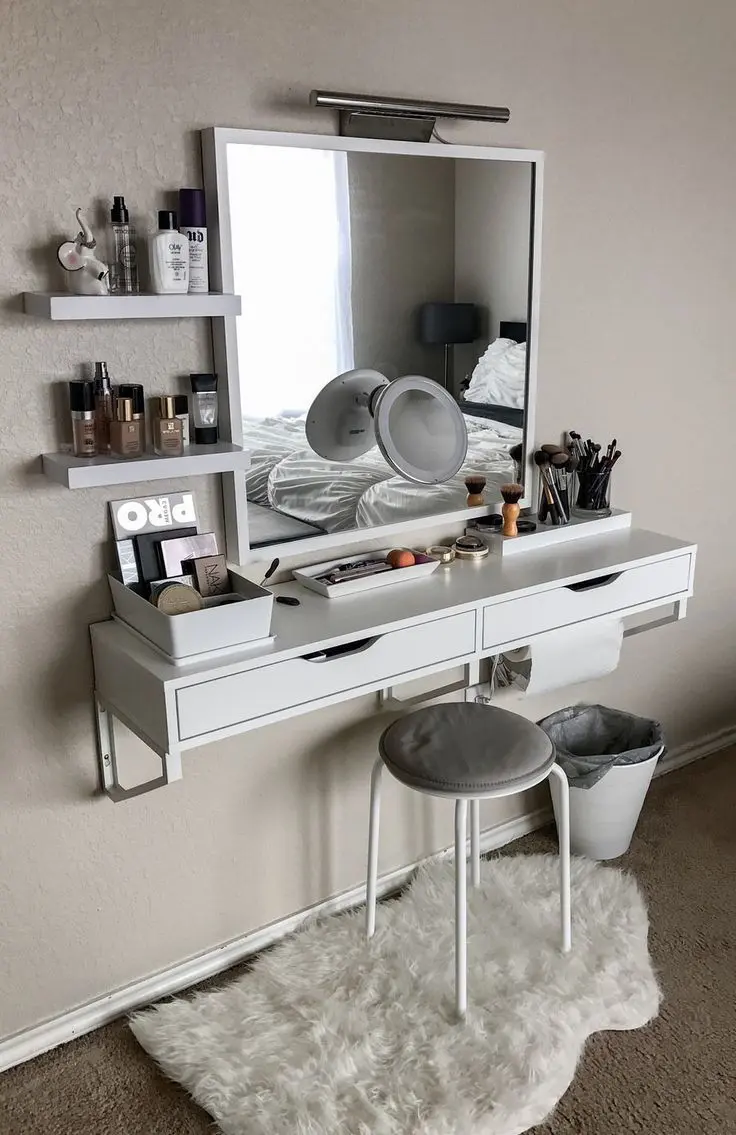 Credit: Pinterest
Desks and vanity tables can be bulky and take up a lot of room space. But that doesn't mean you can't have a makeup dresser.
In fact, you can, but it will be mounted to the wall as opposed to on a desk. You simply use a combination of various floating shelves and wall-mounted drawers, mirrors, and lighting.
If you want a minimalist makeup dresser that doesn't occupy too much wall space, you can get this compact floating one found here.
40. Maximize the Headboard Space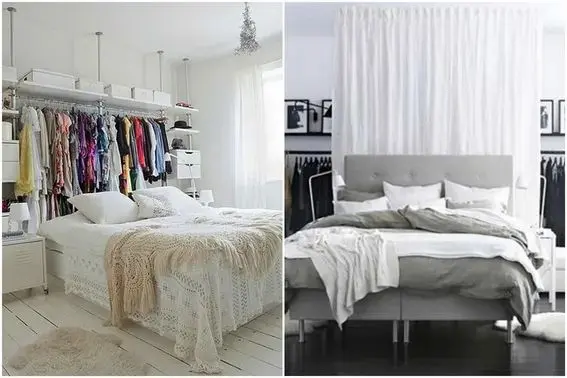 Credit: culturacolectiva.com
This photo shows two ingenious ideas of maximizing your headboard space. Both of which use rods to hang clothes on.
Perhaps my favorite out of the two is the one where you can use a curtain to cover the stuff that is hung behind the headboard. What's yours?
The bedrooms aren't exactly small, but the idea is quite good for any space!
Conclusion
I hope you've loved some of these small bedroom organization ideas. Do you have any of your own?
Share them in the comment section below if you do!