Dollar Tree is an amazing place to get your crafting supplies for cheap. Transform Dollar store items into something that looks awesome!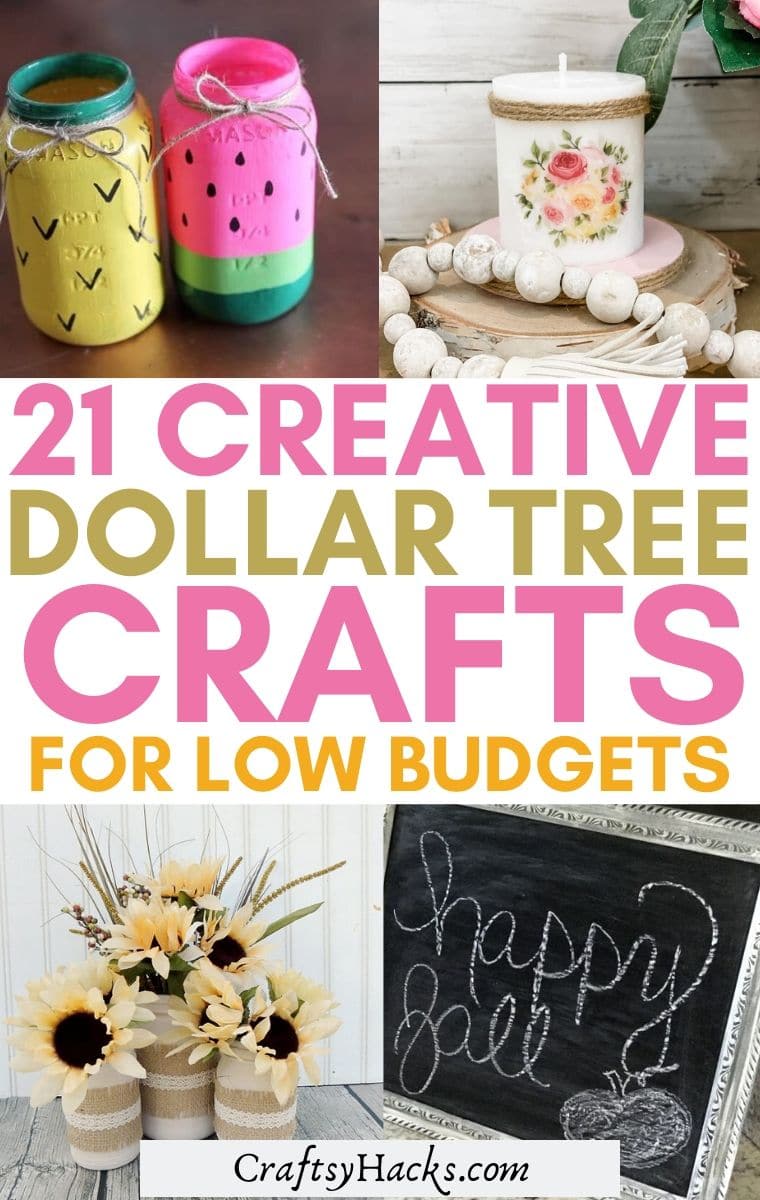 Seeing all the beautifully decorated interiors online might leave you wanting to decorate your home the same way. However, you don't have to spend enormous amounts of money, when you can opt for a DIY project and make your own Dollar Tree crafts.
With a little bit of creativity and a few materials, you can get crafty in no second! Of course, these Dollar Tree crafts might serve as just an idea for a craft on your own. Prepare to be blown away because these dollar store crafts will change your life.
1. Gold Dollar Store Frame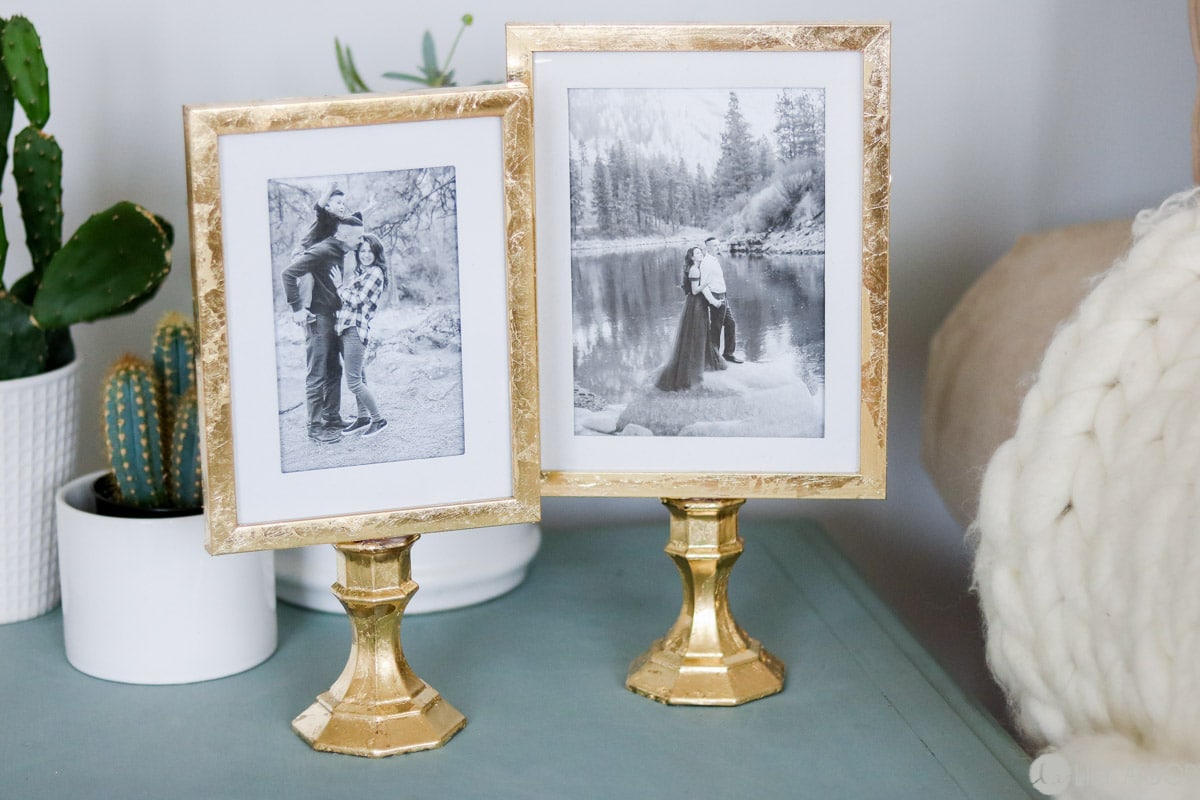 Credit: lilyardor.com
You will need two picture frames you can find at a dollar store. Also, two glass candleholders. In addition, you might need something like a dowel you can find here to create good support for the whole frame.
Some additional supplies you will need for this DIY are a glue gun like this one, gold spray paint and gold leaves, gilding adhesive, brush, and a wooden dowel.
Spray paint the candleholders, then apply gilding adhesive to them and the frames before starting to apply gold leaves. After ten minutes, you can start applying the gold leaves with your fingers and remove the excess with your brush.
Attach the wooden dowel to the inside of the candleholders using a glue gun. Then, glue down the frame to the dowel and the candlestick holder.
And voila! You will have a beautiful gold dollar store frame. Check out more DIY dollar store frame crafts here.
2. Glass & Rope Vase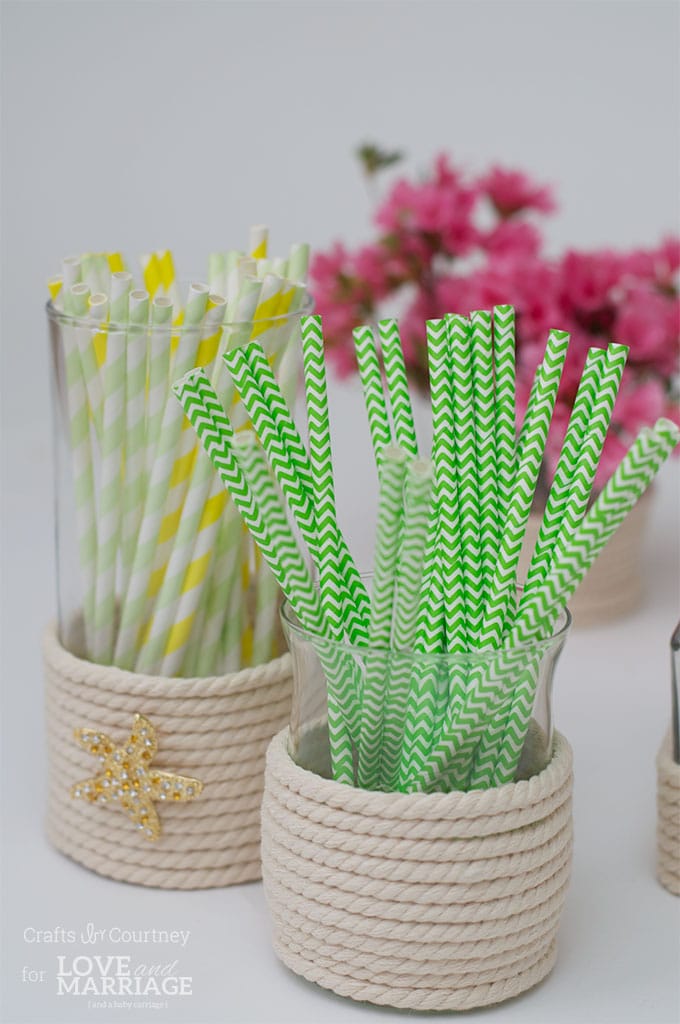 Credit: loveandmarriageblog.com
This vase makeover will be one of your favorite Dollar Tree crafts. It is easily made!
You can play with vase shape, size, and style! All you need for this project are a glass vase of your choice, glue gun, decorative rope, and a pair of scissors.
Start by adding the glue to the bottom of the vase using a glue gun and wrapping the rope tightly around the vase. Once you are satisfied with the look, cut the rope and glue the end of it to the vase.
3. Hanging Flower Basket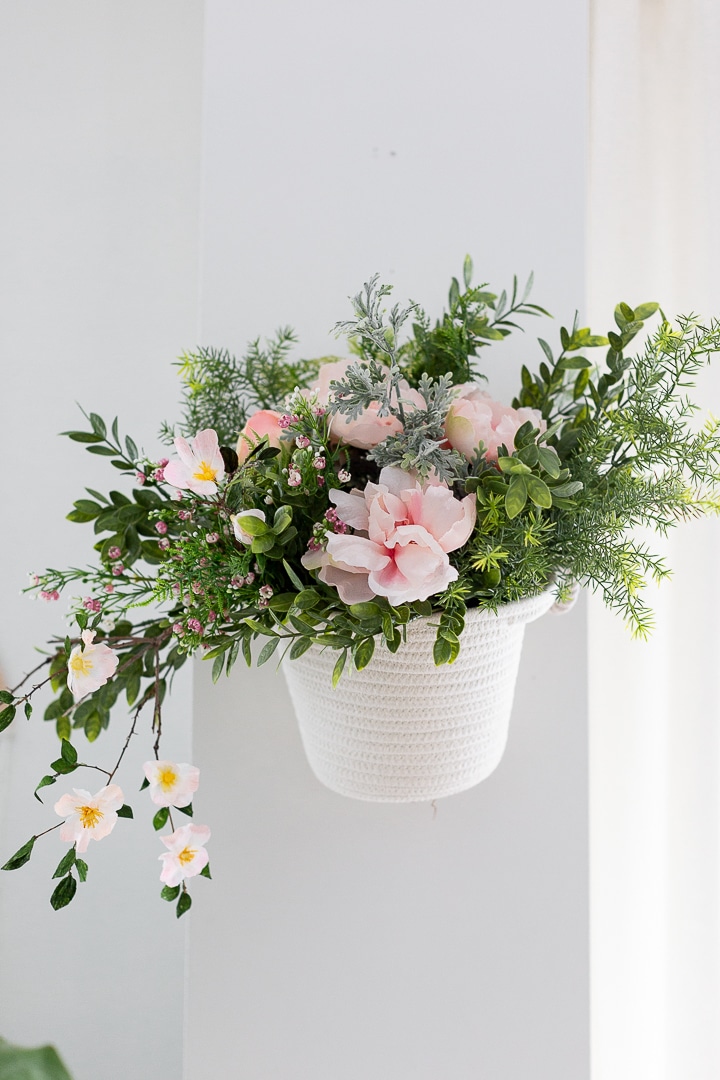 Credit: craftberrybush.com
This sweet and simple dollar store basket is easy to make. It can be a lovely little piece for your kitchen, entryway, or even your bedroom.
All you will need is a decorative rope, a dollar store basket, and some fake flowers of your choice. Start by tying the rope to the handles of your basket and then start adding the "greenery" in it.
Arranging flowers will be fun, and you can give it your personal touch. Finally, hang the flower basket somewhere on the wall and enjoy your view every day!
This is a nice DIY craft for teen girls.
4. Antiqued Plaque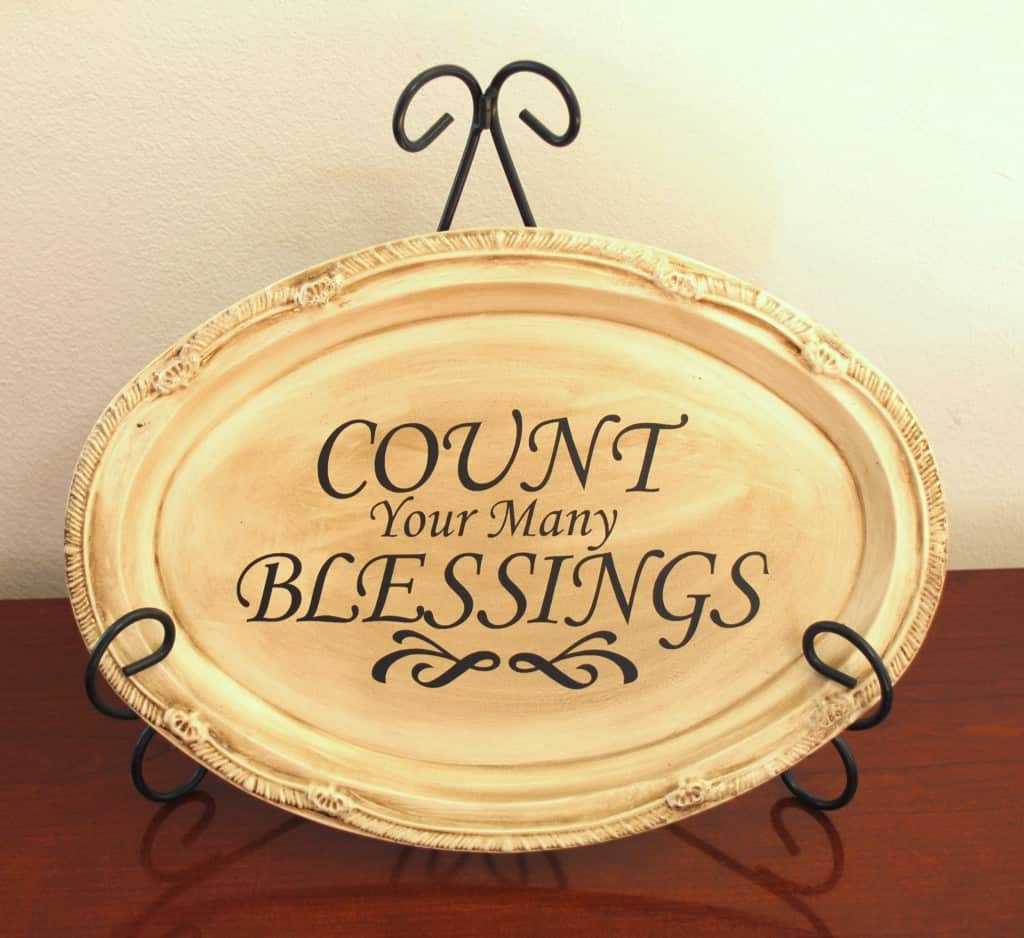 Credit: creationsbykara.com
To create a beautiful antique looking plaque, you won't need much. Head to the Dollar Store or simply find a few of your old ceramic or metal trays.
Use spray paint in the color you prefer and paint your tray with a couple of spray paint layers. Then use a dark craft paint which you can water down a little bit, to get the consistency similar to ink.
Use a paintbrush to start adding the dark color to your tray and start creating the antiqued look. Once you apply paint, brush it off with an old rug or piece of cloth.
In the end, add some vinyl letters, names, monograms, sayings to your antiqued plaque. You can also add some antique-looking accessories such as the keys you can find here, ornaments and glue them down to the tray.
5. Votive Candle Holder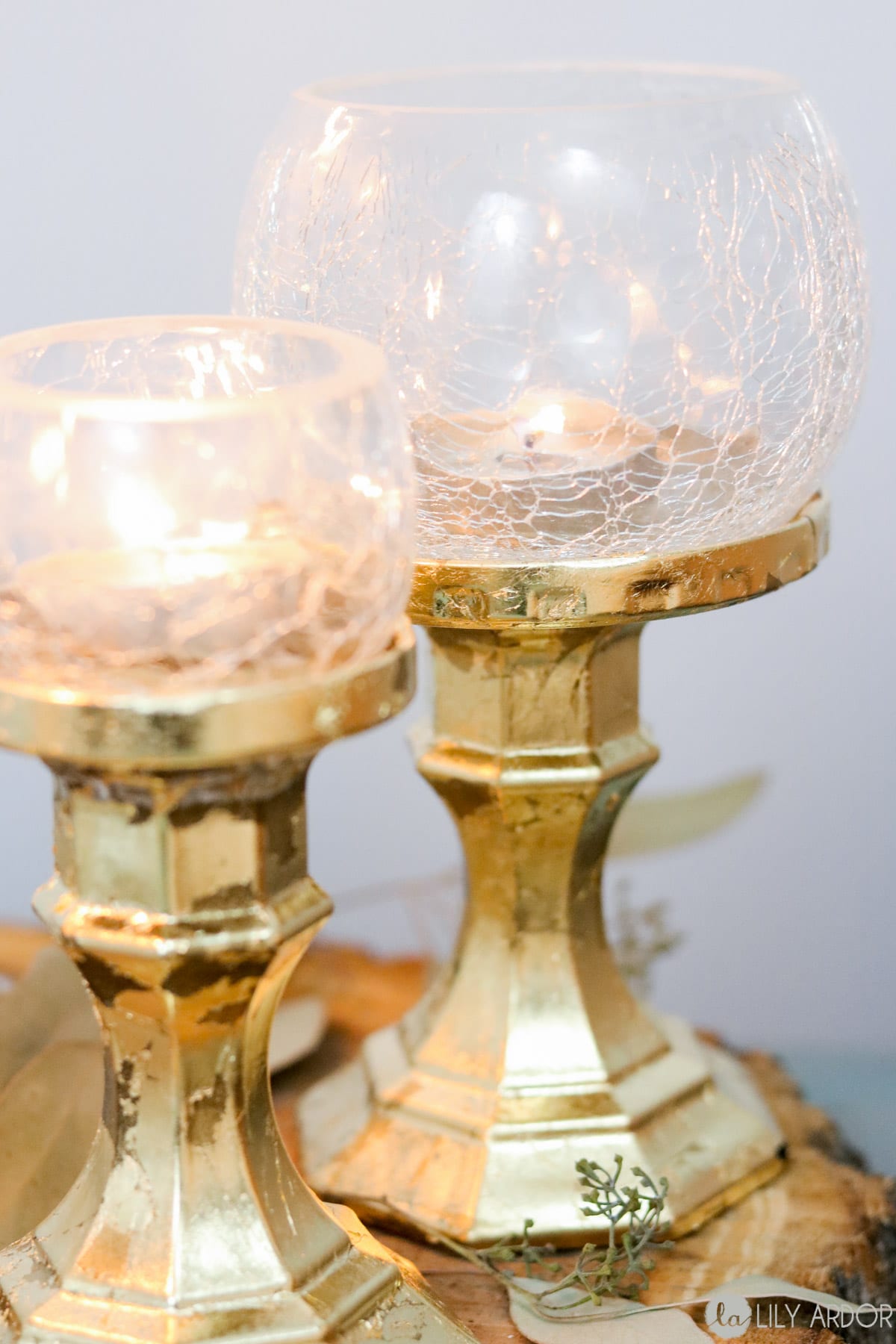 Credit: lilyardor.com
A candle holder can be a nice decoration for your home. Putting one on a table, mantelpieces, shelves, or anywhere else can make the whole room look a little more sophisticated.
If you want to make this gorgeous and elegant votive candle holder, you can head to the nearest dollar shop or use some old trinkets. Take a look at what you will need.
Get a couple of cheap glass candle holders, gold spray paint, some gold leaves, gilding adhesive, old jar lids, and a glue gun.
6. DIY Dollar Tree Beach Glass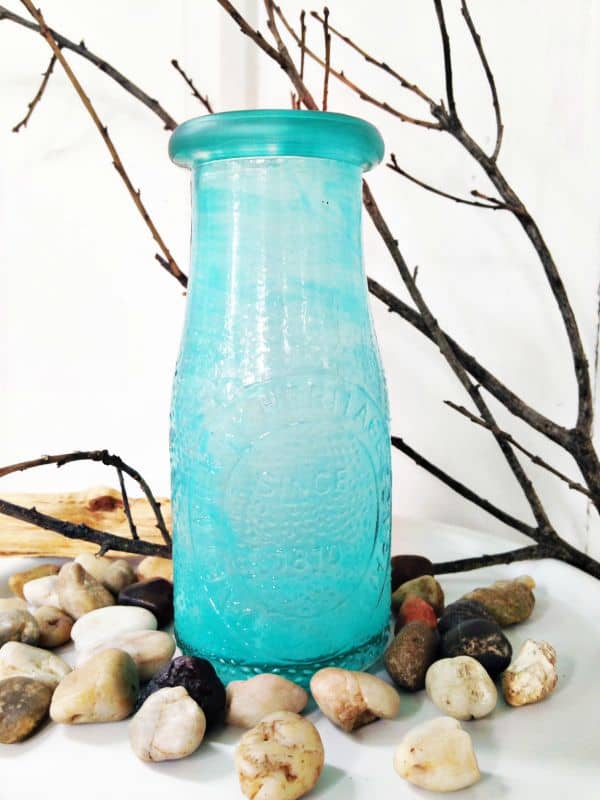 Credit: thehomespunhydrangea.com
Those who like a little bit of the nautical twist to their decor can make this beach glass bottle without too much effort.
Mix some white glue in a disposable container or a bowl. Then, add a couple of drops of both colors. When you get the desired color, you can stop stirring the mixture.
Then, take the foam brush, dip it into the mixture and start painting your bottle (both inside and outside). Let it dry for a few hours, and your little project is done!
This is a lovely craft to make and sell!
7. DIY Fruity Mason Jar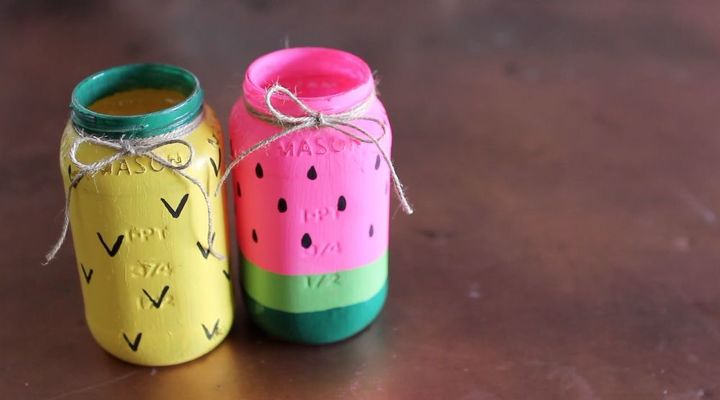 Credit: hometalk.com
Mason jars are just great. Even better are colored mason jars you can use to decorate almost anything!
It can be a nice touch to your garden or balcony. Get a few mason jars and choose which fruit you are going to draw.
Then, using a bigger brush, paint the jars with the color of your choice.
Some additional accessories you can use are ribbons, utility ropes, and others you think could match the fruity mason jars. For an old and rustic look, use sanding paper like this and gently brush the dry painted surface.
With a more precise painting brush, which you can find here, add details to your jars, and this craft is finished!
Check out more mason jar projects that would be a perfect gift.
8. DIY Reverse Canvas Sign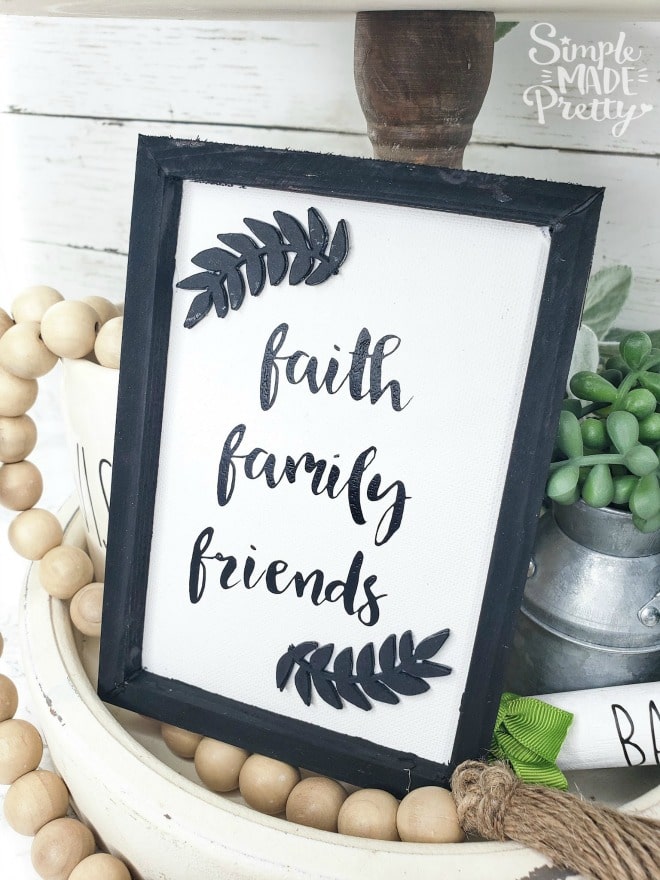 Credit: simplemadepretty.com
Making the reverse canvas is easy. All you need to do is get a canvas and flip the white rear side to the front.
Remove the staplers from the back of our canvas using a flat-headed screwdriver. Buy the frame for your canvas and paint it the way you want or simply buy a frame in a color that you like.
Then, simply stick the image or text to the canvas and press with an iron. Cut out some leaves from heavy black cardstock and glue them around the text or image.
Use the staple gun to attach the frame to the canvas. Make sure that the size of the staples is not too big.
9. Succulents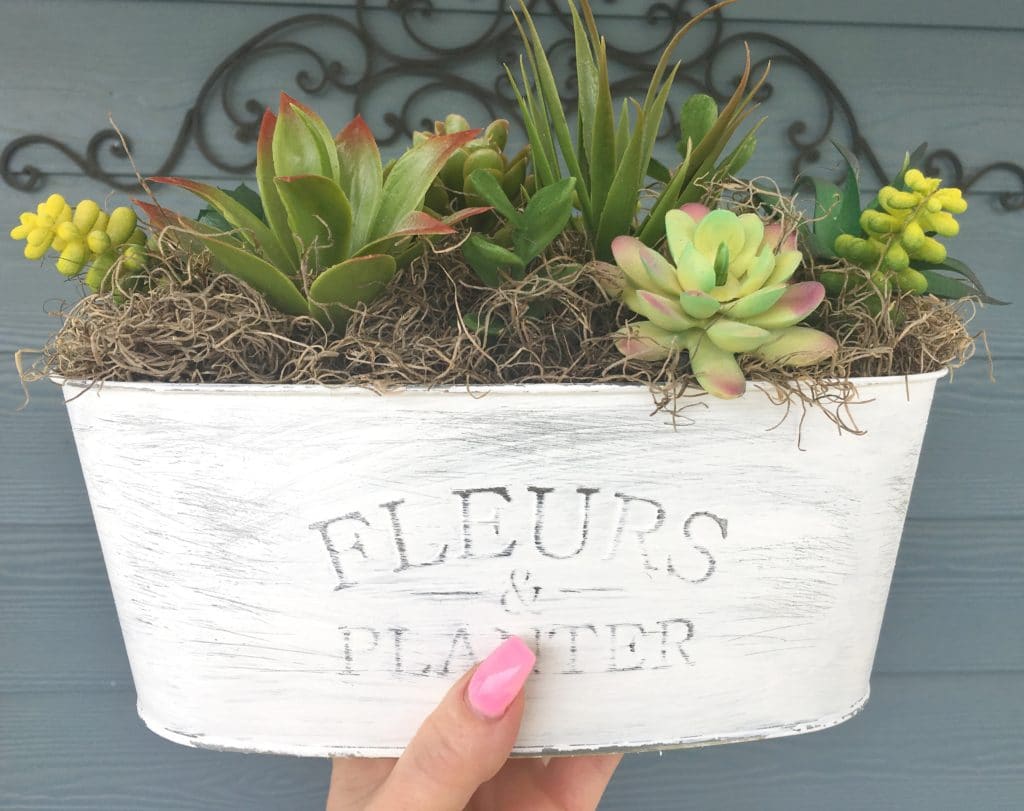 Credit: heytonya.com
Choose a perfect old looking flower tin from the nearest dollar store and paint it with spray paint. Then, use medium-grit sandpaper to get the old shabby vintage look.
Afterward, add a floral foam inside the tin and start arranging the succulents. Fill in all the gaps with some moss and add raffia to make it look even cuter.
You can find fine floral foam here.
10. Fall Jars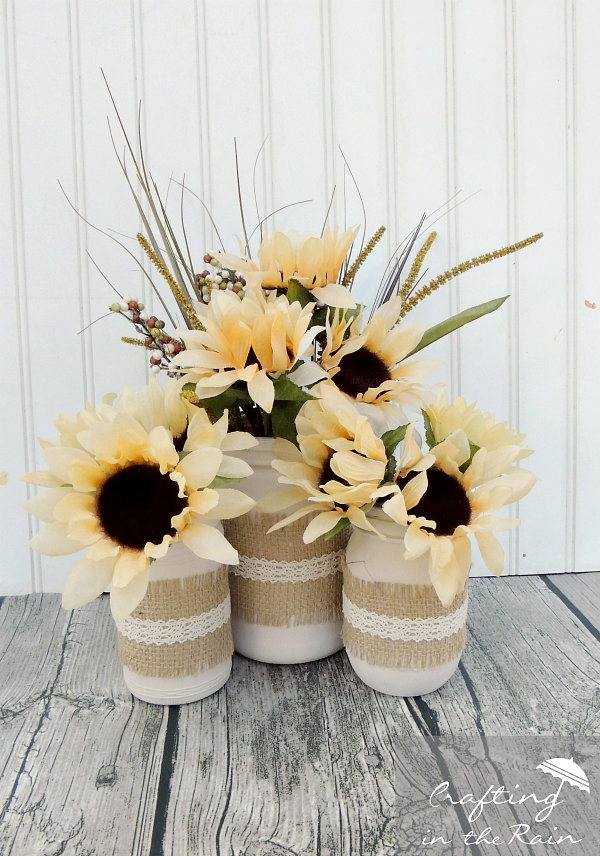 Credit: craftingintherain.com
What you will need for this DIY project are jars, FolkArt chalk paint, hessian fabric like this, fake sunflowers, and other plants such as grass. Also, a hot glue gun
Paint the jars with several coats of chalk paint. Then, if you want to achieve the distressed look, use some sandpaper. Measure the hessian fabric or a burlap ribbon and glue it around the jar – just across the middle.
11. Easy Thanksgiving Centerpiece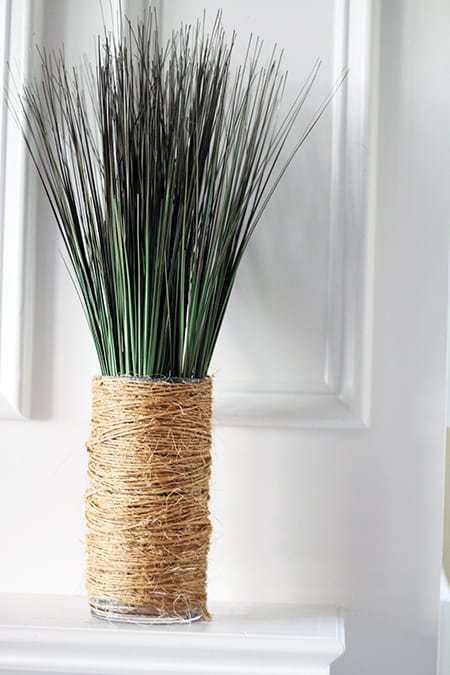 Credit: passionatepennypincher.com
Thanksgiving might be all about food, but it is also about preparing decorations for it. To make your Thanksgiving table look marvelous, get crafty and check out this DIY.
You will need a big glass jar, some twine, and a glue gun. Wrap the twine around the jar and glue it to the glass surface. You don't have to be precise when gluing it.
You can get natural jute twine here.
12. Trendy Decorative Lantern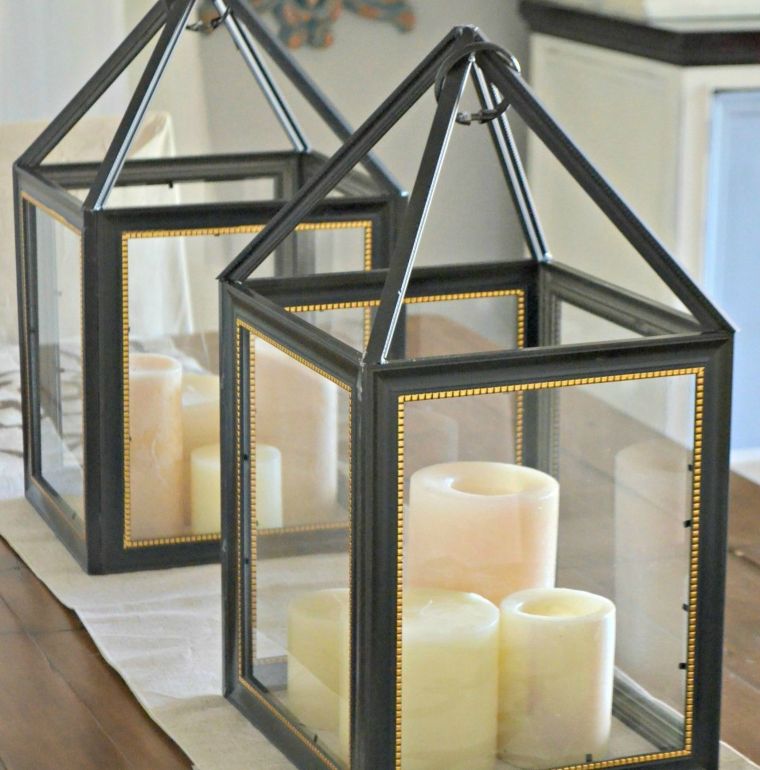 Credit: hip2save.com
Did you know that you can have those expensive-looking lanterns in your home and make them really quickly?
Go get some flat sided photo frames here, some pliers and a hot glue gun. If you could find a shower curtain ring or any similar item, that would be perfect for this little DIY!
Take the frames apart and glue them together to form a cube-like shape. Make sure to leave the glass inside the frame.
Break apart more frames and use the sides to create the top of the lantern. Lastly, add the little curtain ring at the top of your lantern to make it look super realistic!
This is a lovely Farmhouse décor project.
13. DIY Vintage Signs Made From Foam Board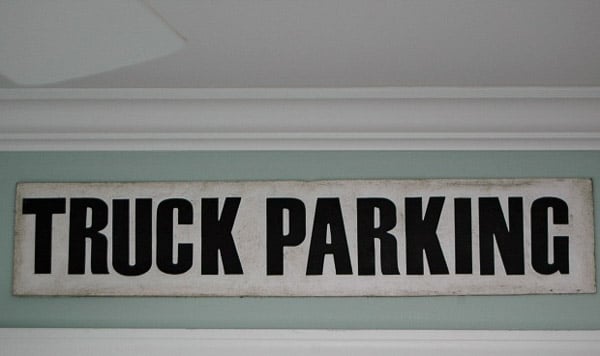 Credit: littlehouseoffour.com
Gather the following material: foam board, clear wax, some letters, ruler, utility knife, command strips, and aging dust.
Cut the board to the size you need and use the ruler to measure. Mark where the letters should be and then glue them one by one.
Cover the board with the clear wax and then dust some aging dust. The last step is to hang the sign wherever you want to!
14. Lavender Candle Wreath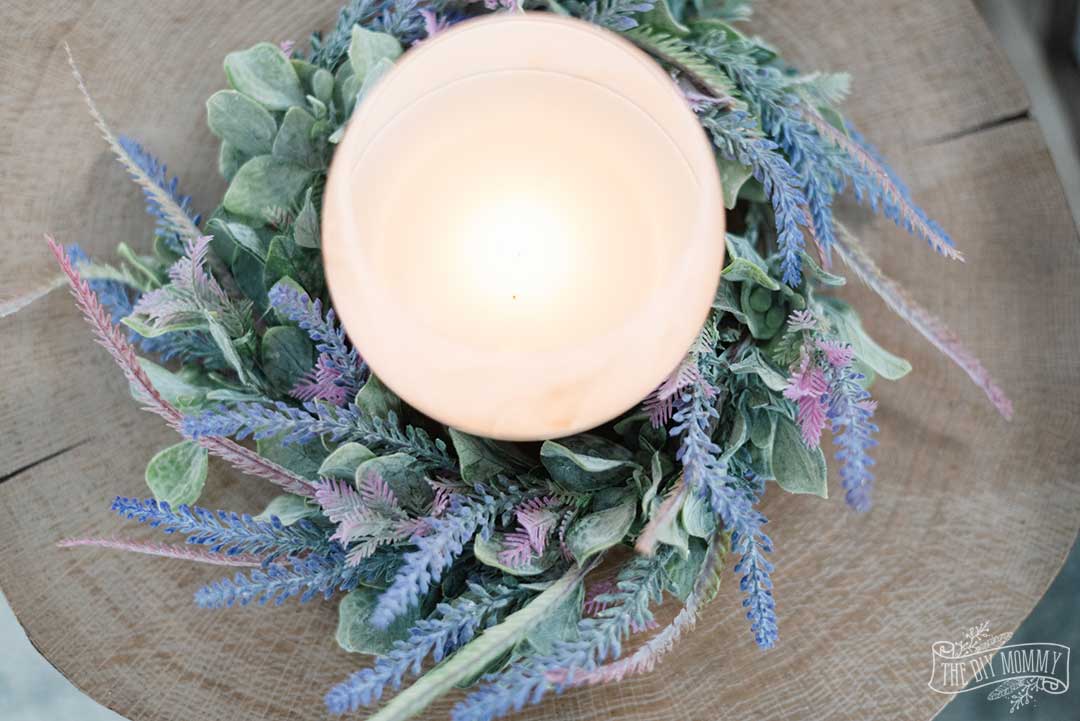 Credit: thediymommy.com
Lavender is often used for interior decor, especially to decorate tables. If you want to make a cute lavender candle wreath here's what you need to get:
Some faux flowers (of course, lavender, and even some lamb's ear you can see here), wire, and a finished wire wreath.
Using wire cutters, arrange lavender around the wire wreath forms and secure it. Complete the full circle, and you are done!
15. Easy Black and White Dollar Tree Succulent Vase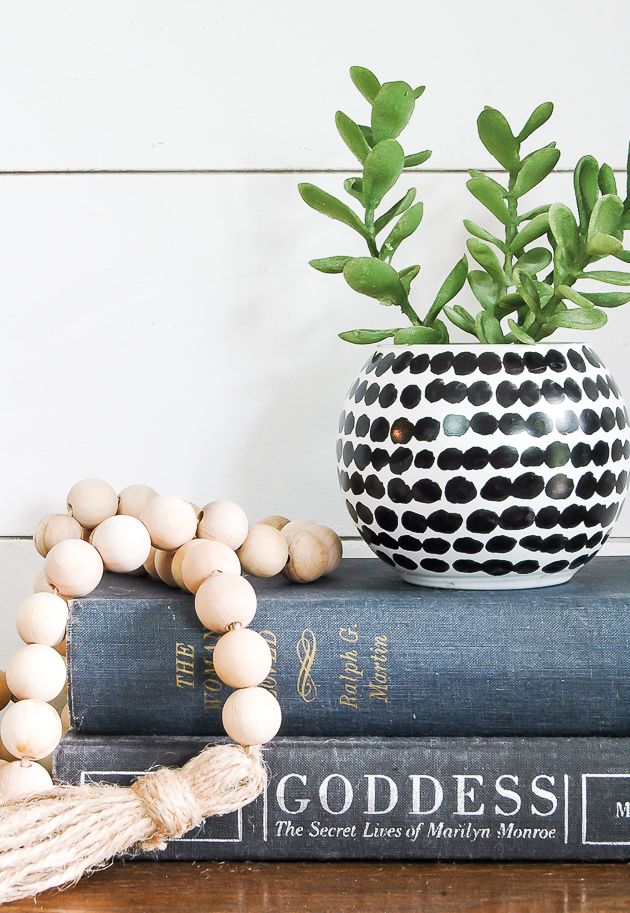 Credit: littlehouseoffour.com
Get a clear glass vase, white spray paint for glass, black paint marker, water-based finish, and of course, some succulents.
First of all, spray paint the glass vase and let it dry. You might need to do several coats of paint.
Use the marker to draw dots or any shape you like in a pattern that you prefer. When it is dry, cover with a protective finish.
The vase is finished, and all you need to do is add the succulents or even some rocks or sand in it.
Get black markers here!
16. DIY Dollar Tree Chalkboard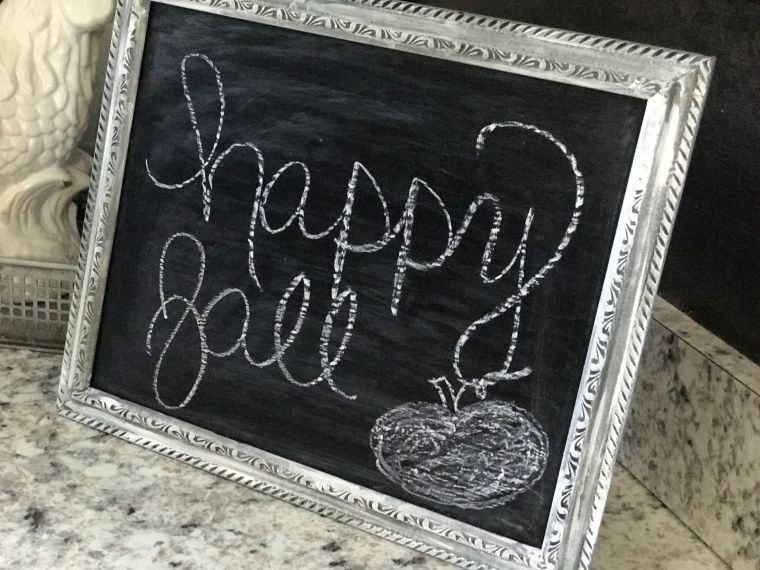 Credit: re-fabbed.com
For this one, find a frame you like and get a pack of white chalk. You will need some black or dark chalkboard paint, and that's pretty much it.
Here is a black chalkboard paint I recommend.
Take the frame apart and paint the glass with chalk paint. Wait until it is dry and repeat the process a couple of more times until you like the result.
Touch up the frame if you feel like doing that, or even paint it with some leftover paint that you have. Put the glass inside the frame, and your DIY chalkboard is complete!
17. Spring Terrarium with Dollar Tree Frames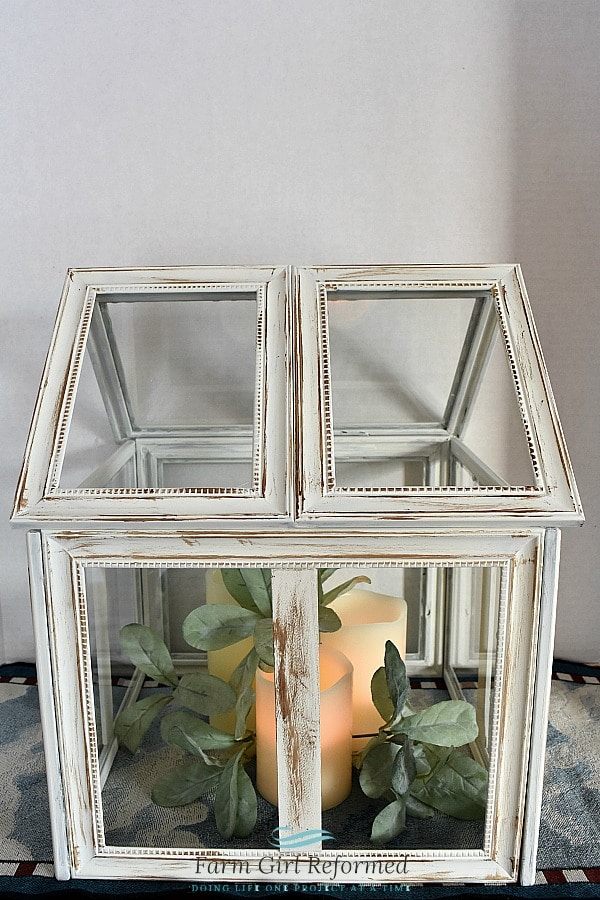 Credit: farmgirlreformed.com
Similar to the trendy decorative lanterns, this spring terrarium DIY project will be super fun and easy! Get some bigger and smaller photo frames, a couple of paint sticks, wood glue, hot glue, white paint, and some stain.
Start by taking the picture frames apart and then paint them with the paint sticks. Then glue the sides of the frame to make a cube-like shape.
Every terrarium must have a rooftop, so using the remaining of the frames, create one. Glue everything together and decorate with herbs and candles inside.
18. Mini Easter Egg Topiary Dollar Store Craft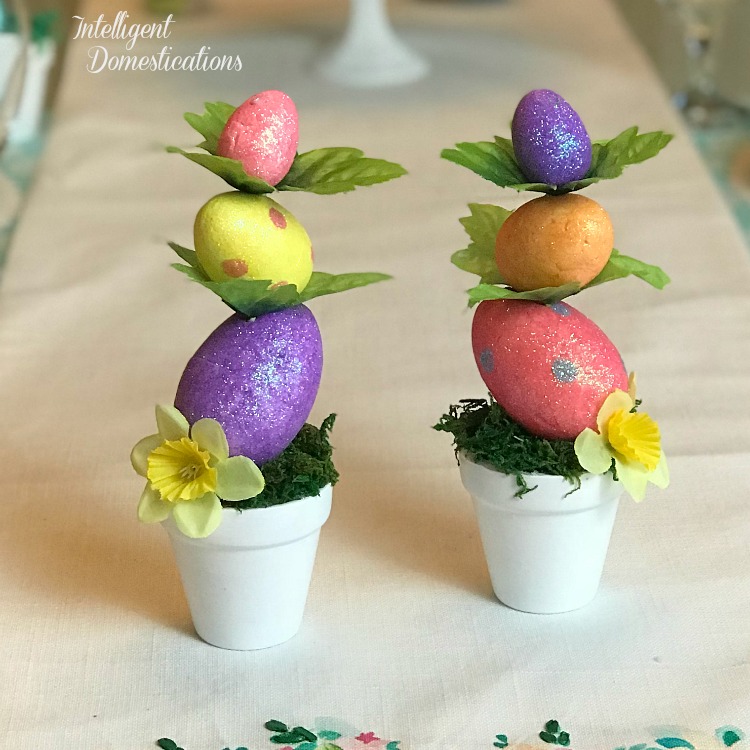 Credit: intelligentdomestications.com
As far as the supplies are concerned, you will need a mini flower pot, foam Easter eggs, and accessories such as ribbons, flowers, moss, etc.
Firstly, paint the mini flower pot, then add some styrofoam to it and glue some moss on top to cover the styrofoam. Then, place a skewer stick in the middle of the foam and secure it.
Lastly, you will need to add the eggs, one on top of another, and decorate them according to your wishes.
19. Farm Fruit Basket Wagon Planter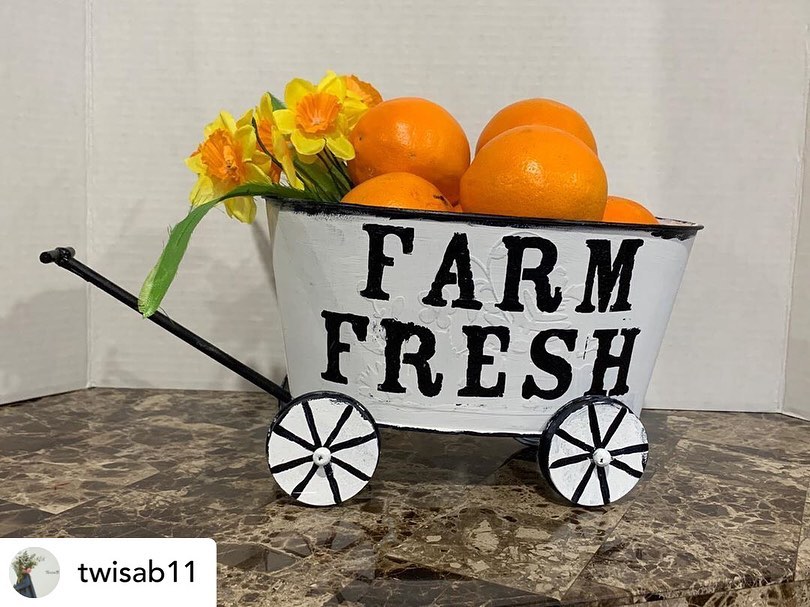 Credit: Instagram
Find an old antique looking flower tin, some black and white chalk paint, and recycled jar lids.
Paint the skewers black and use white paint to cover the flower tin and four jar lids. Then, using a thin painting brush, draw lines to make the jar lids look like wagon wheels.
Glue the lids around the tin and glue the skewers to one side of the basket to look like a wagon handle. Once everything is dry, put some fruit and flowers in it to decorate your farm fruit basket wagon planter.
20. DIY Faux Topiaries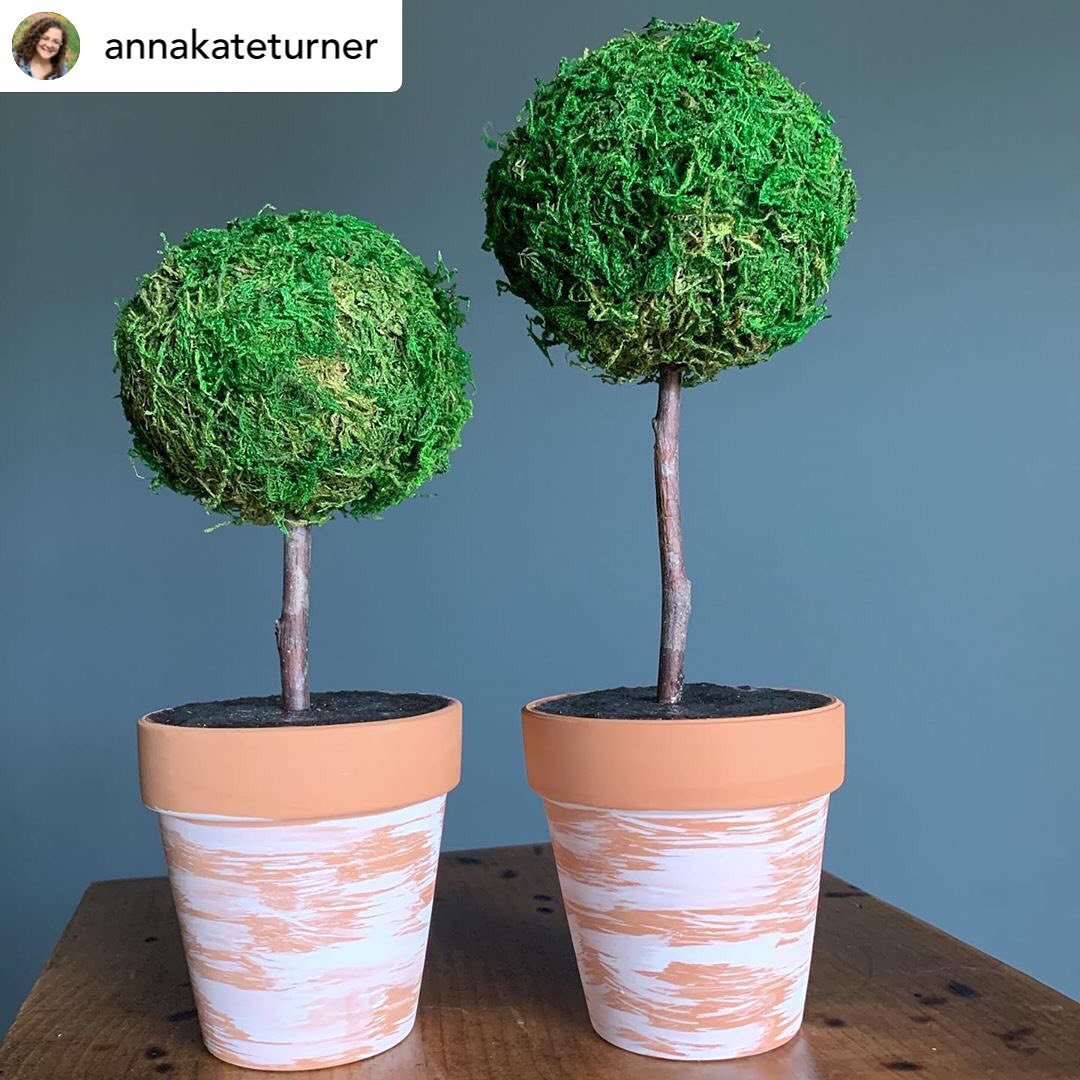 Credit: Instagram
To make these fabulous DIY faux topiaries that look like little trimmed trees, you will need a ceramic pot, a stick or a smaller branch, a styrofoam sphere, hot glue, plaster, moss, and some paint.
Take the styrofoam ball and start gluing moss onto it. Glue the moss thickly to cover all the styrofoam surface.
Mix the plaster with some water and add it to the ceramic pot. When it is semi-dry, add a branch with the tree trunk and secure it until the plaster dries completely.
Add more moss to the plant pot, and this amazing DIT topiary is ready to be placed on your table!
21. Floral Vintage Candle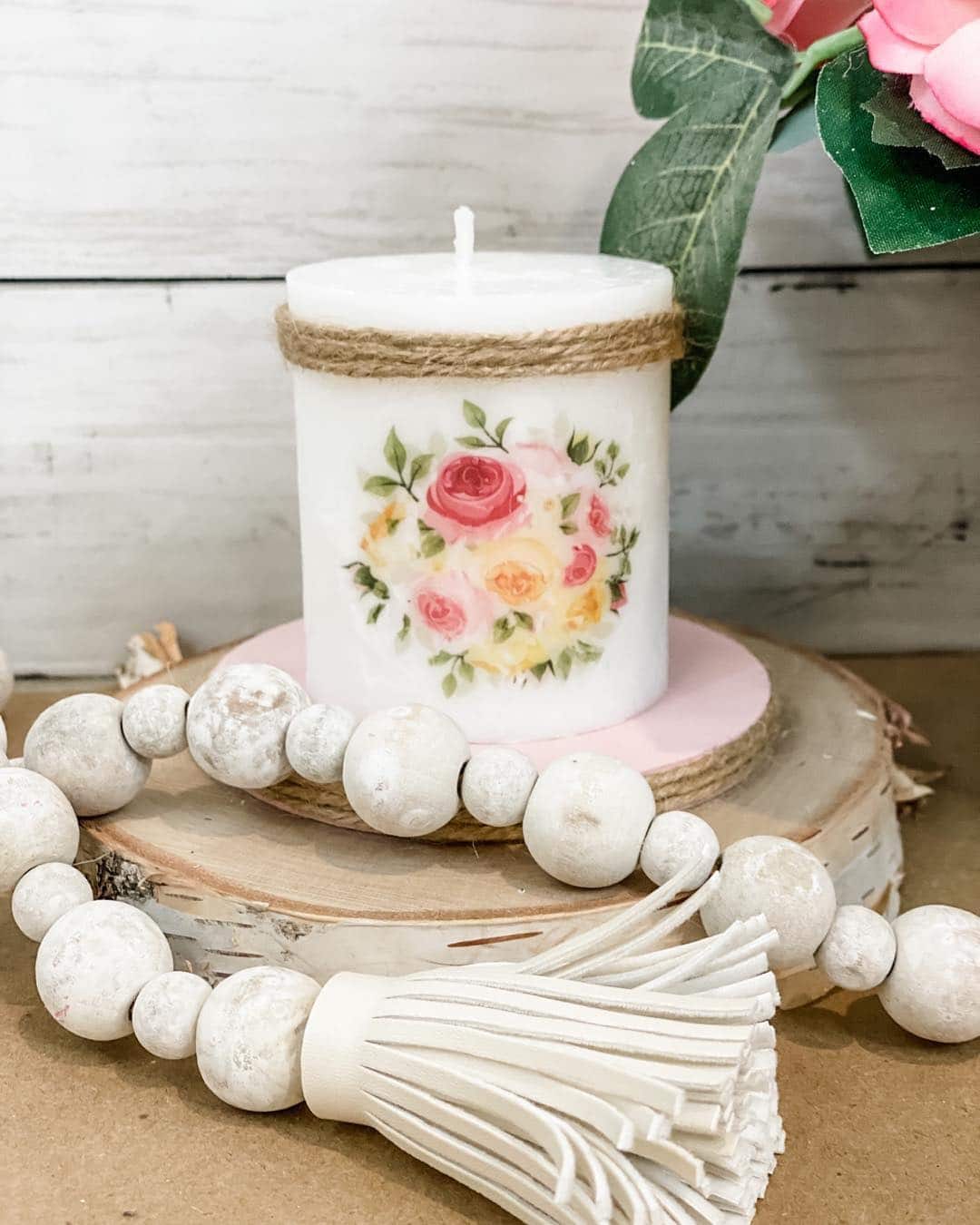 Credit: Instagram
Anyone interested in this DIY will be amazed by how easy it is to make this lovely candle. Buy a white candle and use a Wagner heat gun to transfer an image to the side of it.
Decorate with jute rope like this one. Attach it to the candle using hot glue. Pair the candle with a decorative wooden stand you can put underneath it.
Conclusion
Do you like any of these dollar store crafts? Which one is your favorite? Make sure to share them with your friends!