Got a glass vase? Here is what you can do with just a bit of yarn!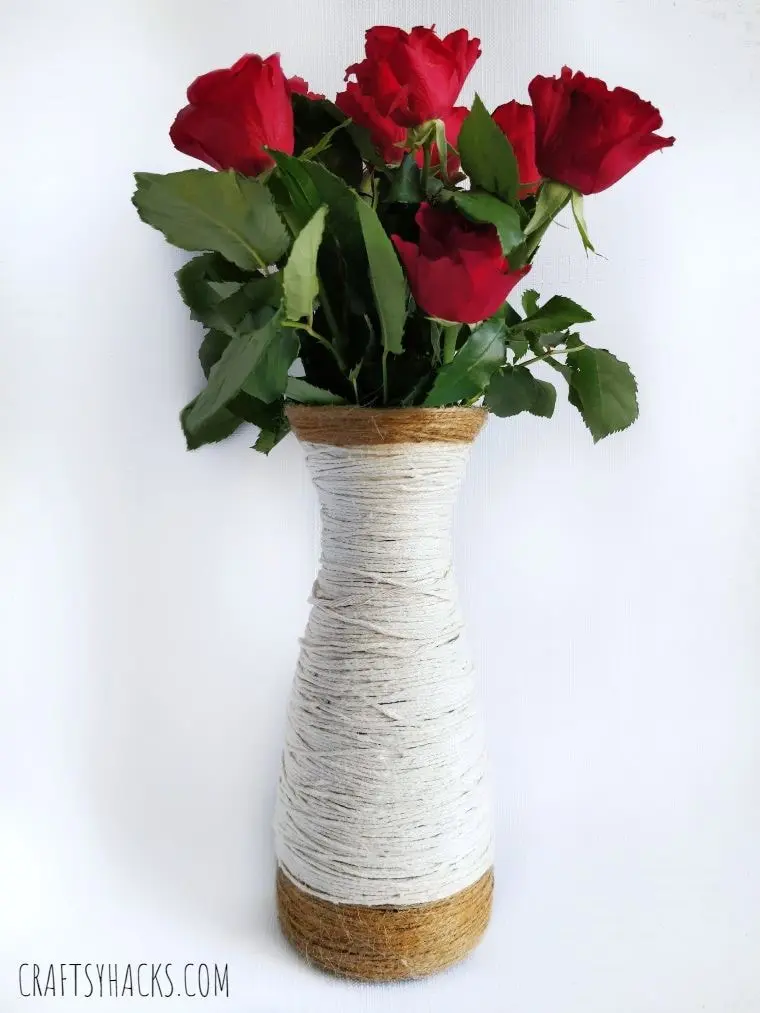 Many people spend tons on home ornaments, such as décors, flower vases, and other accent pieces. But we're not part of the many, we're a unique bunch of crafters. We are experts at hacking our way into beautiful DIY pieces, like this DIY yarn-wrapped glass vase.
I can think of hundreds of places this unique vase can sit on.
They'd look great on your kitchen countertop to bring in the beauty of the outdoors. How about using a small vase that fits in a corner on your home office desk?
A centerpiece for your dinner table? Table setting accent for those big parties that you are about to host?
Or why not add a personal touch to your gift by placing the flowers into a vase you made as opposed to presenting it in the usual store-provided bouquet it came with?
I could blabber on and on enumerating the many ways of using this vase, but you're here to know how it's made, so let's get started.
Supplies for the Vase
Tall glass vase (You can find one at Dollar Tree store)
Scissors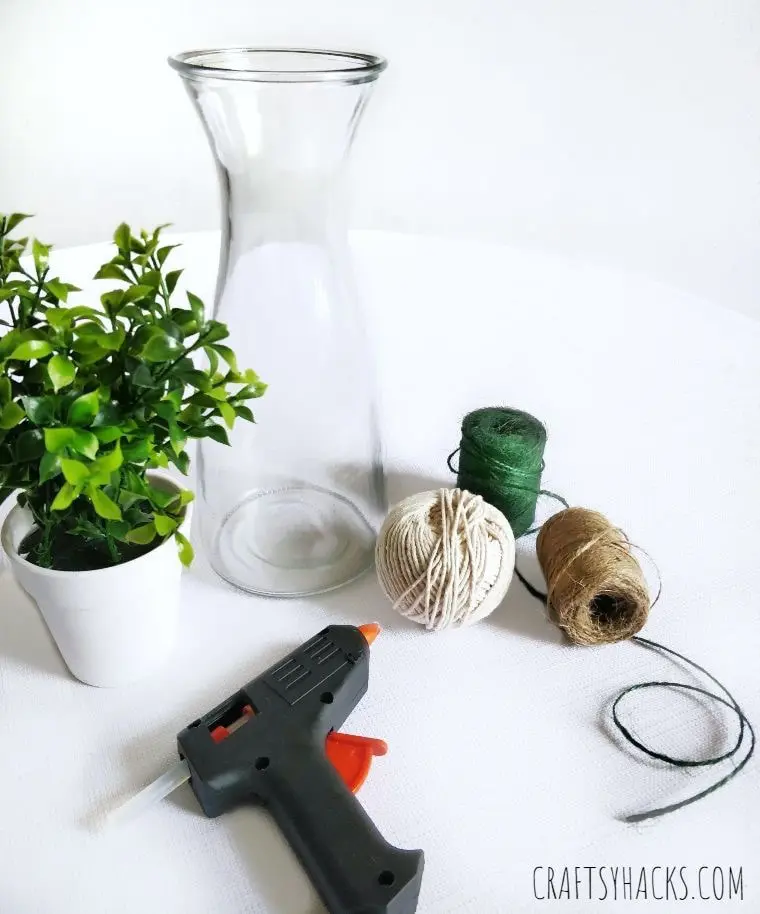 How to Make Yarn-Wrapped Glass Vase
You'd notice that the supplies listed above are inexpensive, and if you do the maths, you might be surprised to figure out that they add up cheaper than store-bought vases.
In just one crafting project, you get to save money, enjoy a bit of relaxing craft time, and decorate your home.
Here's how you can create a beautiful jute-wrapped glass vase in three easy steps: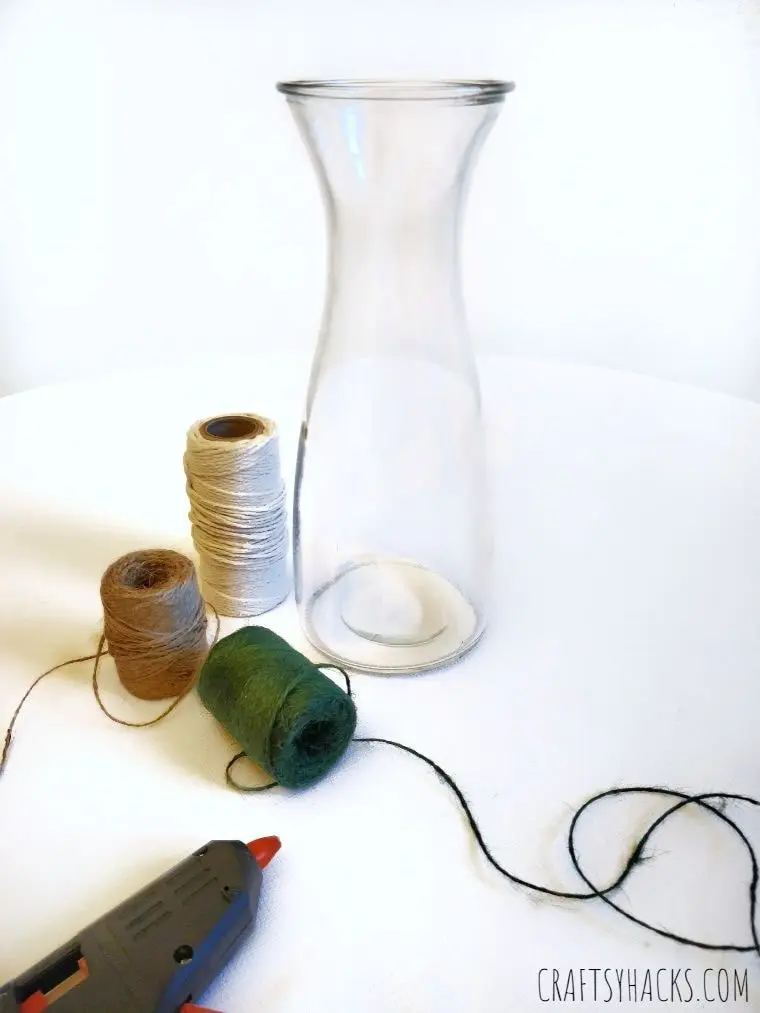 STEP 1
Gather the materials you are going to use. Before anything else, make sure you already have a pattern in mind for how your yarns cover the vase.
Turn on the glue gun to allow it to start heating up. You want to ensure it gets hot enough for the twine to stick to the glass easily.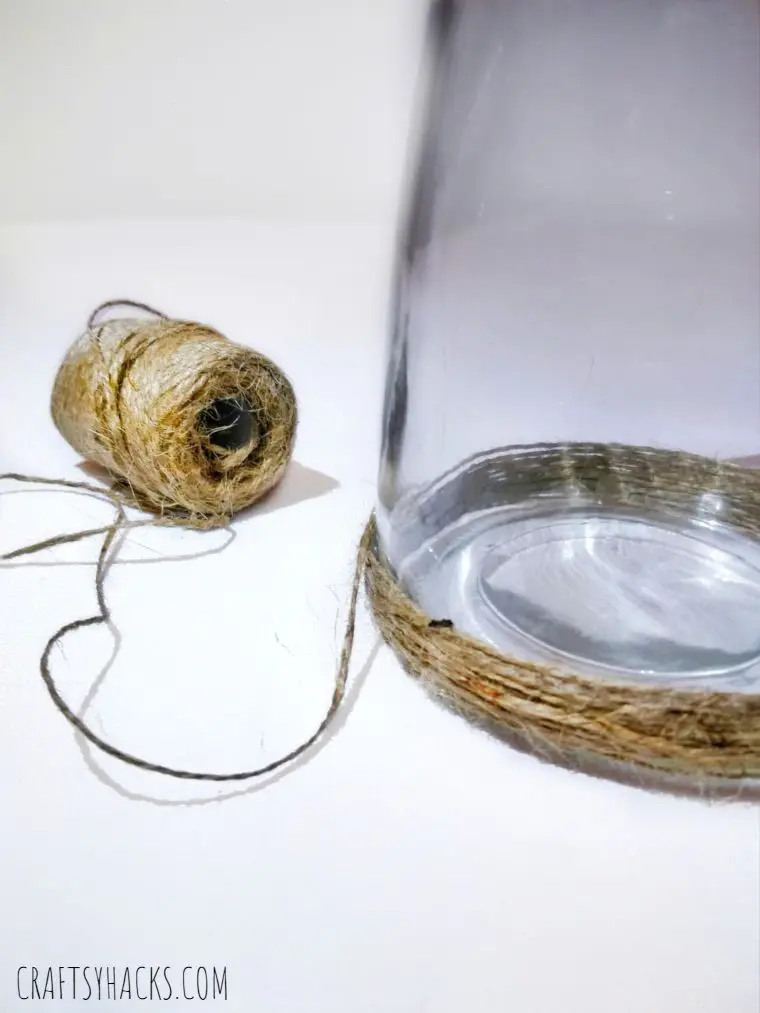 STEP 2
When the hot glue gun is ready, start attaching the first yarn color from the bottom of the vase up, according to your desired pattern. In this example, I used the natural-colored twine as my base color.
Continue wrapping the glass vase with your jute twine. You want to add more rows until you achieve the desired height of that color.
You don't need to add glue for each row of twine you attach as a dab of glue sticks more than a single line of yarn to the vase.
Craft tip: Don't apply an excessive amount of glue onto the vase. You only need enough to allow the yarn to adhere to the glass surface.
You don't want your vase to end up with a lot of visible, hardened glue.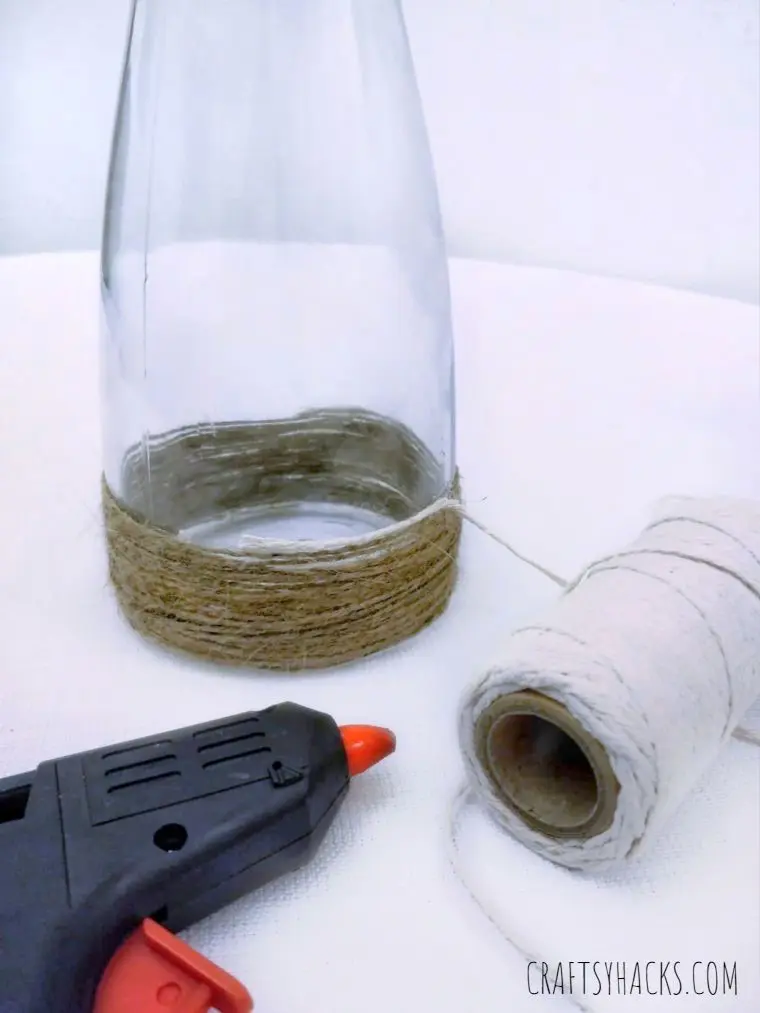 STEP 3
Once you've achieved the desired height of your base color (in this case, the natural colored twine), cut the yarn and attach the edge securely on to the glass.
This is the part where you move on to the next color according to your pattern. I used white natural jute wine for my main color. I repeated the wrapping around process until the entire vase was covered in yarn.
To enhance my pattern, I stopped wrapping around the vase with white yarn just before I reached the mouth of the vase. I carried on to with finishing the vase cover with the same natural yarn color I used on the base.
Again, you have full control of how you want your yarns patterned on to the vase.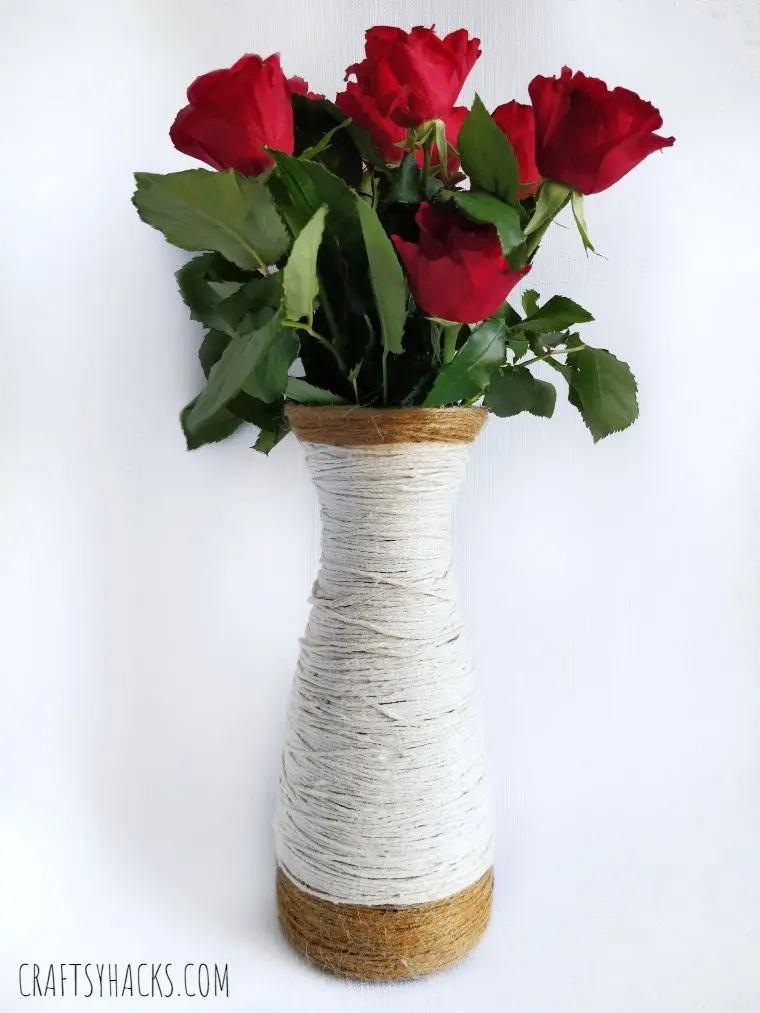 Other Crafts You May Like:
Yield: 1 vase
Yarn-Wrapped DIY Glass Vase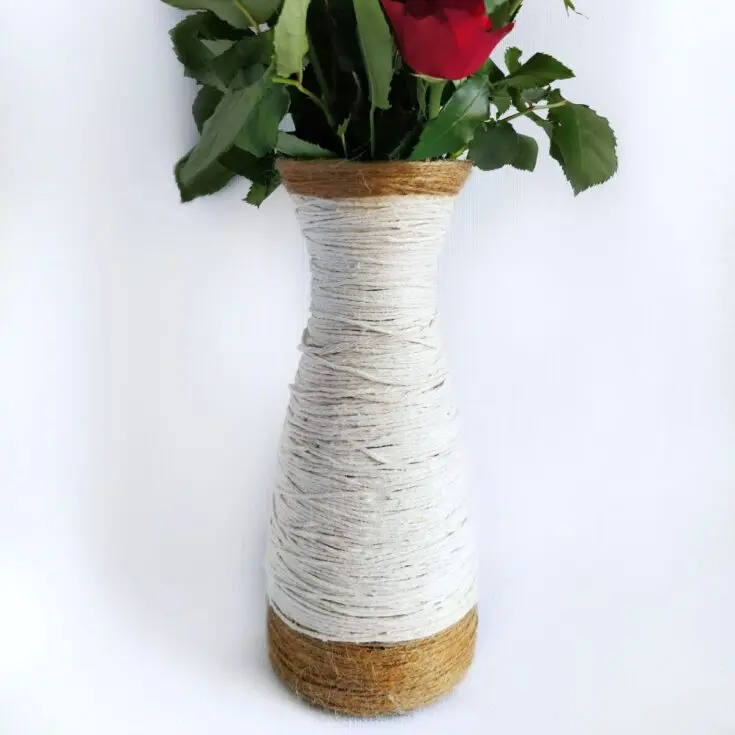 This yarn-wrapped DIY glass vase is a beautiful decor item for your home. You can make it yourself and have fun decorating home!
Materials
Tall glass vase (get one at Dollar Tree store)
White jute twine
Natural jute twine
Instructions
Prepare the necessary materials.
Decide on a pattern for your yarn design.
Preheat your hot glue gun.
Using a wrap-around technique, attach the yarns from the base up, according to your preferred design.
Complement your beautiful vase creation with equally beautiful flowers!
Conclusion
This easy DIY vase is the perfect addition to your home's statement pieces. They're also ingenious ways of recycling unused glass bottles or old, unsightly vases.
I used the glass vase as a flower vase for this project, but if you think about it, there are several other ways of using a yarn-wrapped glass vase.
It doesn't necessarily need to be a vase too, use old storage jars, for example. You can create pencil holders, kitchen utensil holders, and so much more!
So the next time you see a similar looking piece on home décor shops, resist the urge to buy it! Instead, tell yourself, I'm going to make one of these over the weekend.