Transform your IKEA Kallax unit with these fun IKEA hacks. Make your Kallax look extra nice and serve a more practical function!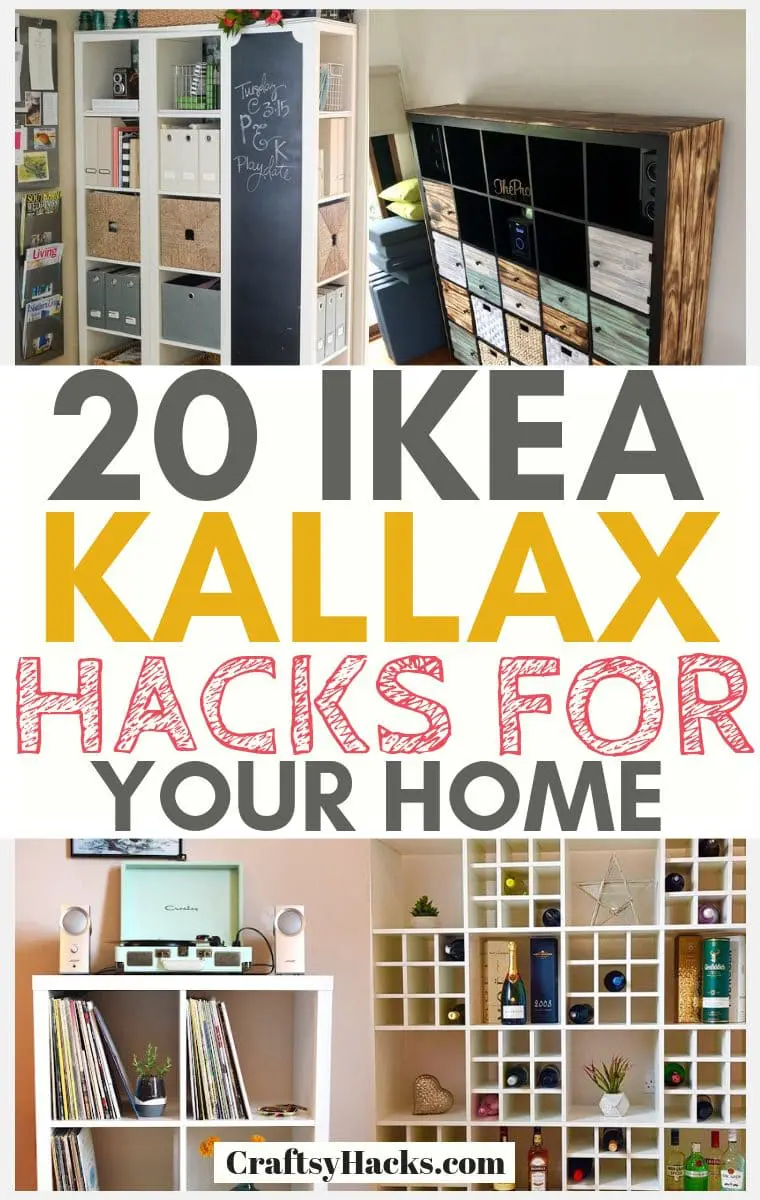 Who doesn't love a good IKEA hack?
Strolling through the meticulously arranged showrooms we can only find at IKEA. I know I'm not the only one who has trouble resisting the urge to toss everything into my shopping cart.
But when I see the price tag – ouch! Thankfully, there's a better (and much cheaper) way to go about upgrading your home décor situation.
With a bit of creativity, you can easily convert the KALLAX Series shelf unit from IKEA into practically anything.
Not sure what you can do with a KALLAX shelf? Here are 20 IKEA KALLAX hacks for you to draw inspiration from!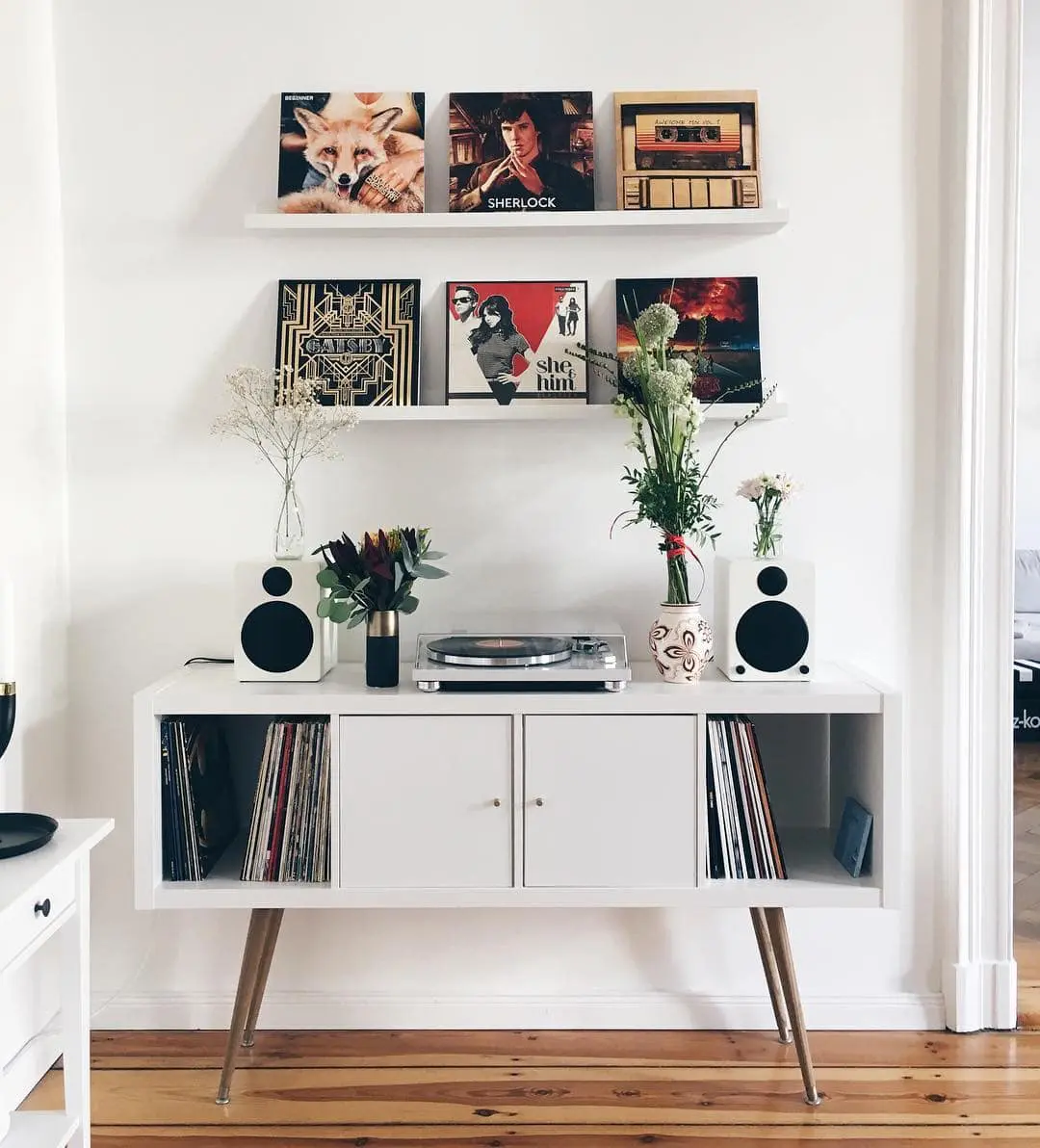 Source: Instagram
Fact: We can all use a bit more storage space around the house. But why spend a ton of money on storage units when you can build your own with the KALLAX shelf.
With this simple IKEA hack, you can create a storage desk to maximize storage space while giving yourself more counter space as well.
All you really need to do is attach a set of legs to the unit. What's great about making your own desk is that you can pick and choose how tall you want it to be!
For a table that sits lower, I would suggest using shorter legs like the set you can find here.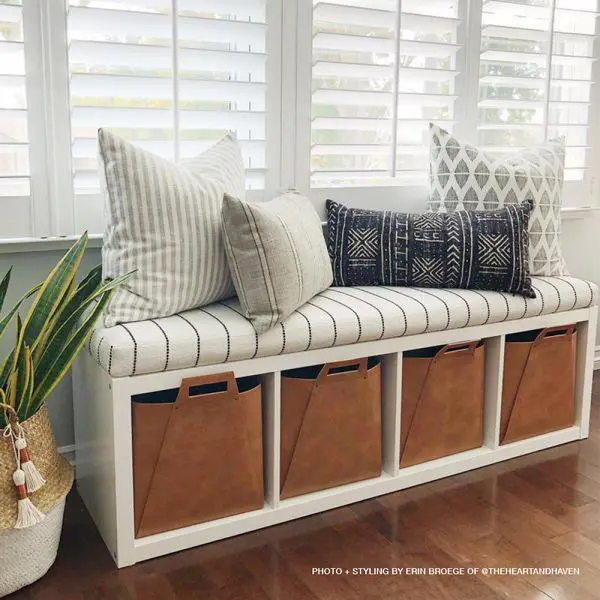 Source: tonicliving.com
If you don't already have a storage bench at home, well you're seriously missing out. Besides giving you a ton of extra hidden storage space, you also get an adorable new seating area to relax.
The ultimate win-win situation! Turning your KALLAX shelf into a storage bench is fairly simple.
The best part is you can easily give your storage bench a makeover with a coat of paint and colorful storage bins. I love these storage bins because there are plenty of colors to choose from (you can't go wrong with beige).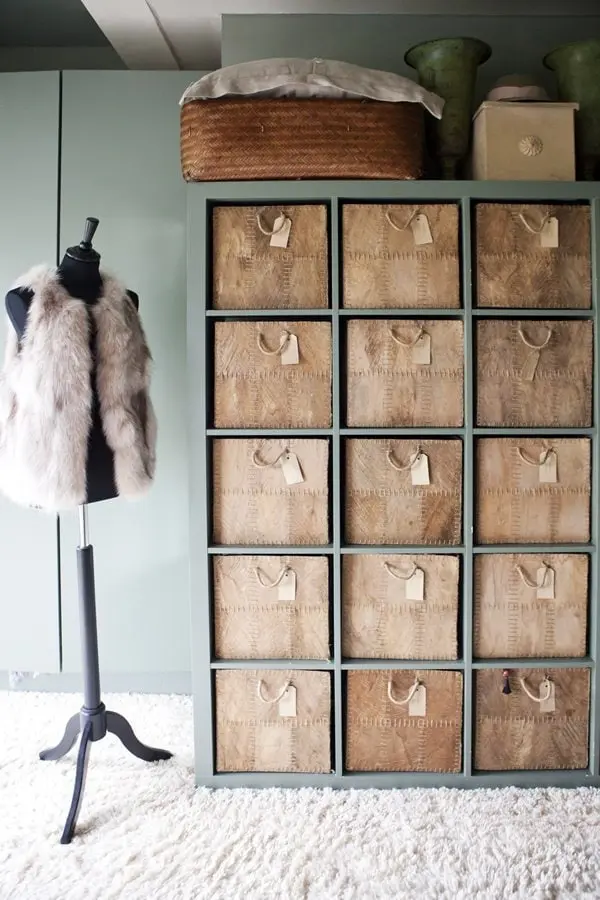 Source: thedecorista.com
What's the #1 item on everyone's IKEA wish list? A new wardrobe system, of course.
But since they do run a bit pricey and it's definitely not a good idea to put a dent in your wallet over a new closet, here's an affordable alternative. Just build your own wardrobe unit out of a KALLAX shelf!
You can easily add a rustic, farmhouse vibe to your new wardrobe unit with a coat of paint and a complementary set of storage cubes. There are plenty of great color options here!
Great if you're a fan of farmhouse décor.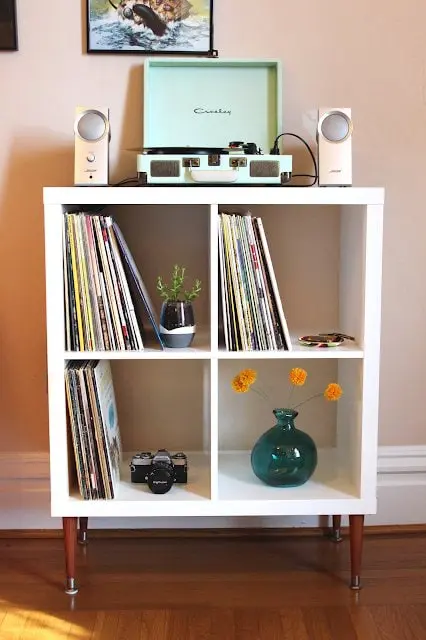 Source: thesurznickcommonroom.com
Looking for another unique way to bring more storage space into your home? With the KALLAX shelf, it's fairly simple to create your own retro-chic vinyl record shelf.
But don't let the name fool you because you can use this new storage unit to display practically anything, from your book collection to beautiful floral arrangements.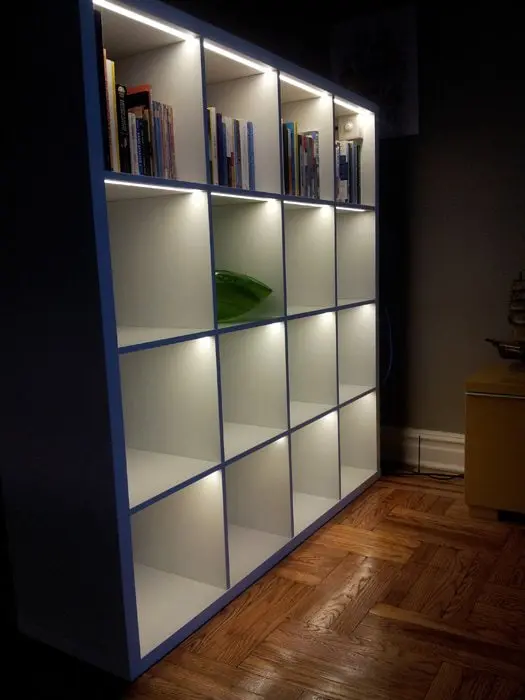 Source: ikeahackers.net
Want to do something super unique with your KALLAX shelf? Well, here's something you've definitely never thought of: LED lights.
This is a great way to bring more of a futuristic vibe into your home. Not to mention, it also gives you the option of dim lighting for when you just want to sit back and relax.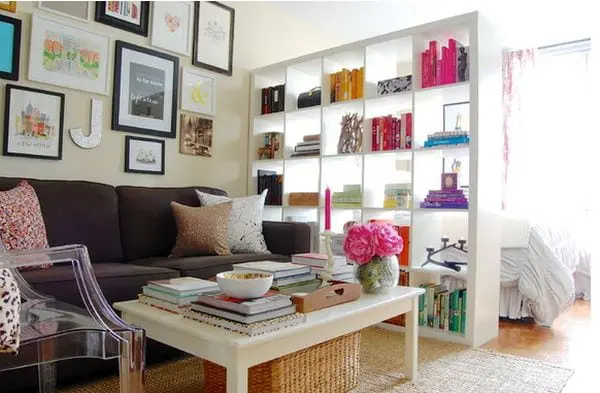 Source: homedit.com
Want to change up the floorplan in one of your rooms but minus the commitment? Use your KALLAX shelf as a room divider.
This is one of the easiest ways to section off a larger space or even to add a "wall" into an open space within your home. Another advantage of using the KALLAX shelf as a room divider?
You get a ton of storage space, which isn't the case with the traditional room divider.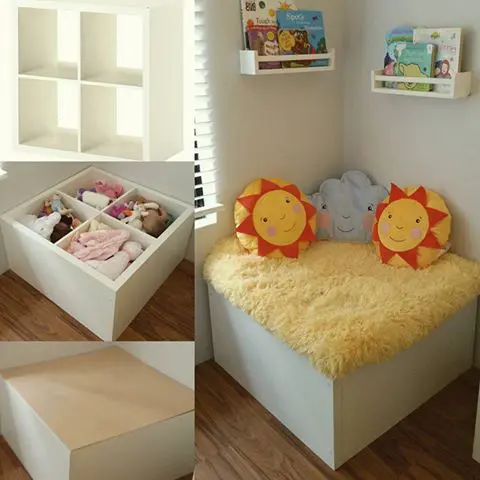 Source: ikeahackers.net
Sometimes you just want to sit in a corner of your house and bask in the peace of nothingness. For these instances, a coach can get way too comfortable, while a chair is just downright uncomfortable!
You can easily dedicate a corner of your home to your alone time with a DIY seating area made out of a 4 x 2 KALLAX cube. Another bonus is that this new seating area gives you a lot of extra hidden storage space.
And you can easily enhance your home décor by tossing a couple of decorative pillows over it. These burlap lined pillow covers come in a number of adorable colors!
Definitely, one of those furniture makeover ideas you have to try!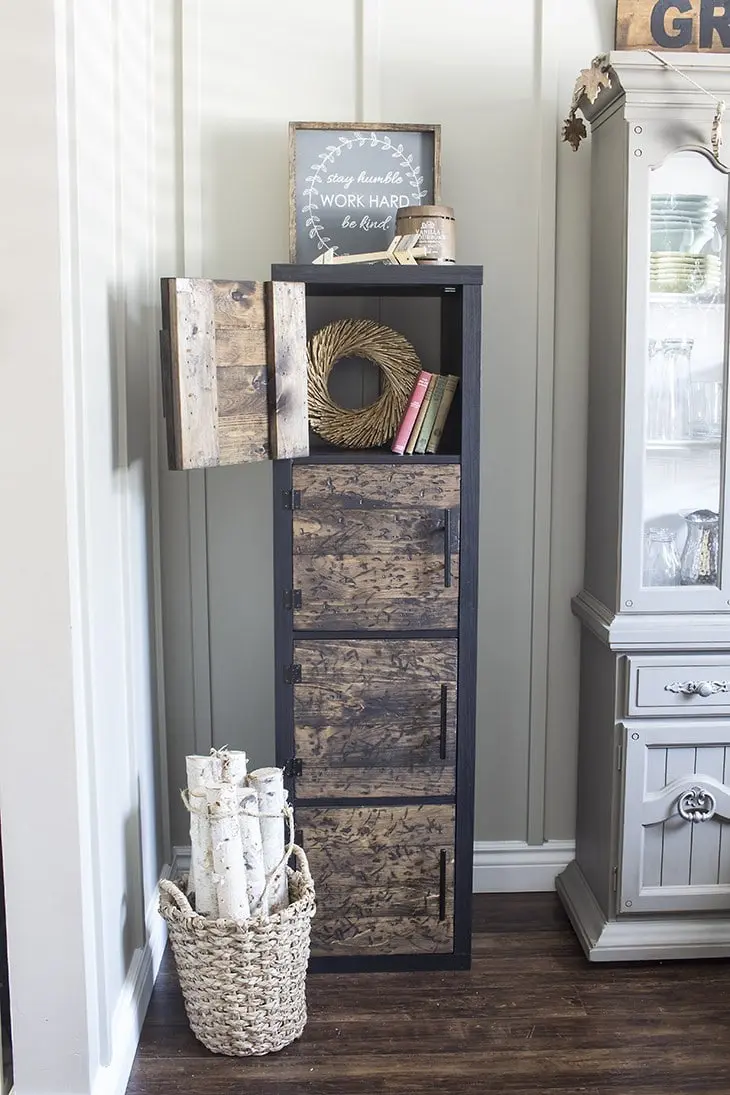 Source: homemadelovely.com
This is the ultimate home project for the DIY enthusiast! A standup storage unit with cabinets can cost you quite a bit of money.
But the thing is – it's actually fairly easy to build your own cabinets with the KALLAX shelf. All you really need is a plank of wood and some wood stain to create a rustic or even, industrial type of vibe.
I would suggest using a set of silver handles for your cabinets like the style you see here.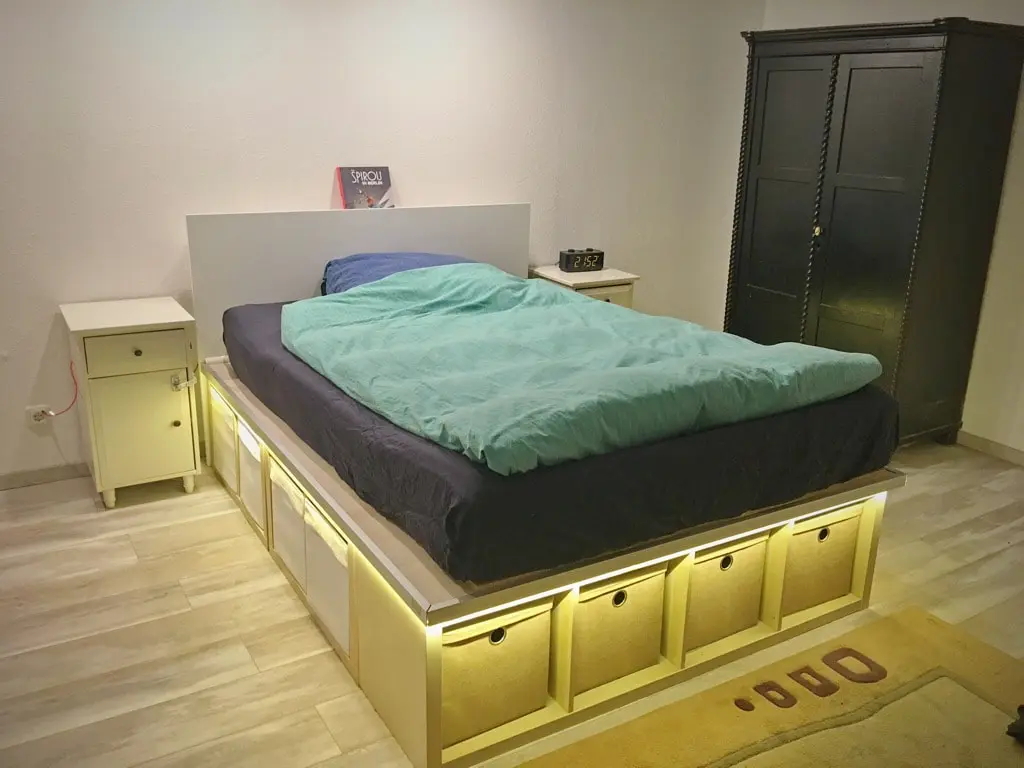 Source: ikeahackers.net
I'm sure we could all use an extra bed frame for our overnight guests. But why spend a ton of money on an expensive bed frame that you're only using occasionally when you can just DIY it.
Trust me, your guests will appreciate not having to sleep on a waterbed on the floor! This is truly one of those bedroom décor projects you must try.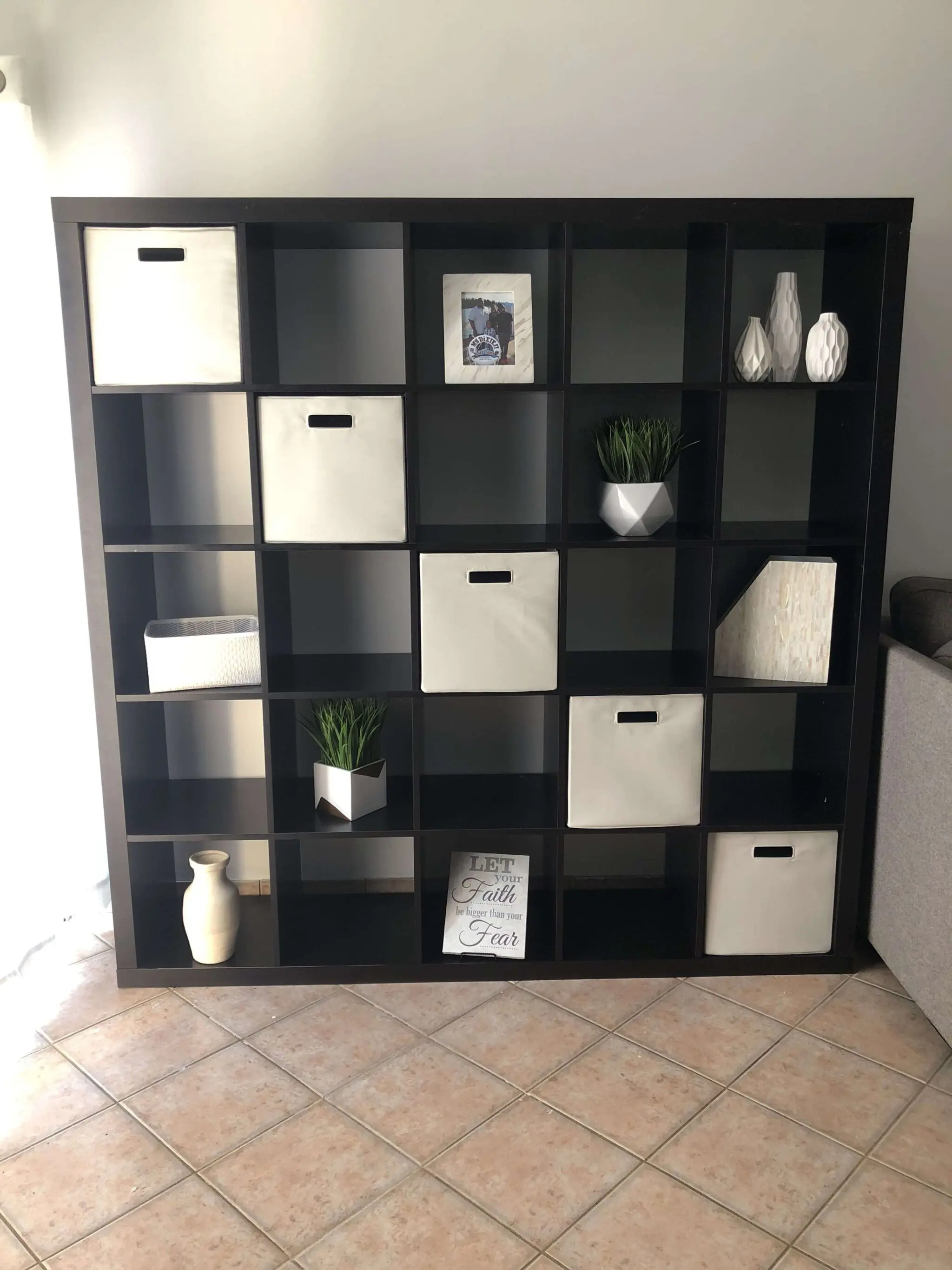 Source: Pinterest
Okay, so we already know that you can use the KALLAX shelf to maximize storage space in your home. But, it's not just the functionality that makes the KALLAX shelf the ultimate MVP when it comes to IKEA hacks.
What's great about this shelf unit is that you can also use it as a decorative piece! It's as simple as painting the entire unit black and strategically placing white accent pieces into the cubes.
A great decorative piece to display on your KALLAX shelf? Mini succulents like the set here.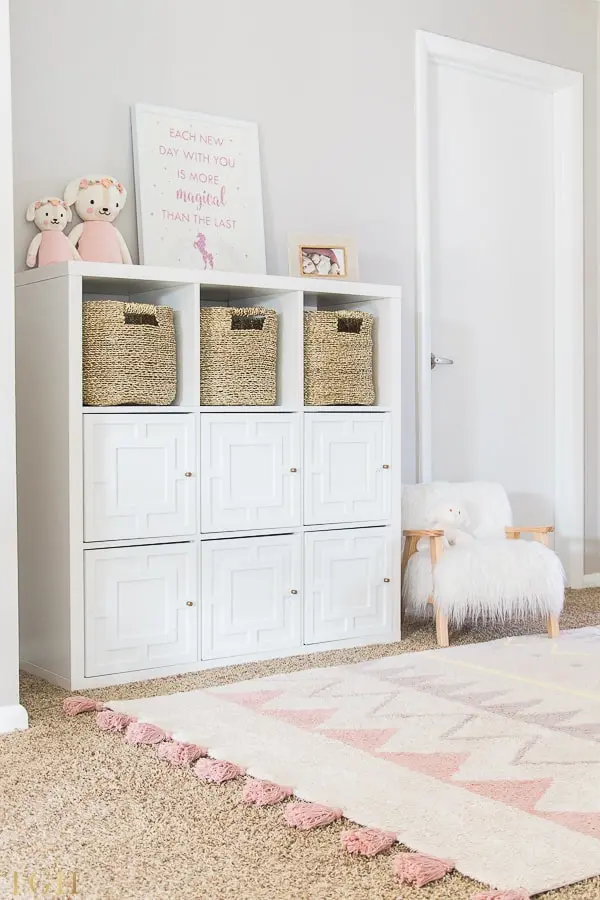 Source: thegreenspringhome.com
Looking for another simple way to increase storage space in your home? Use the KALLAX shelf to build your own storage unit that has both open and closed storage areas.
What's great about this unit is that you can really customize the outcome by picking and choosing which exact spot you want to add a door.
For a super-luxe vibe, you don't really have to do much. Just keep your shelf unit white and add a set of white doors!
Source: etsy.com
Calling all wine lovers! You can easily create your own wine rack by adding sections into the cubes of your KALLAX shelf.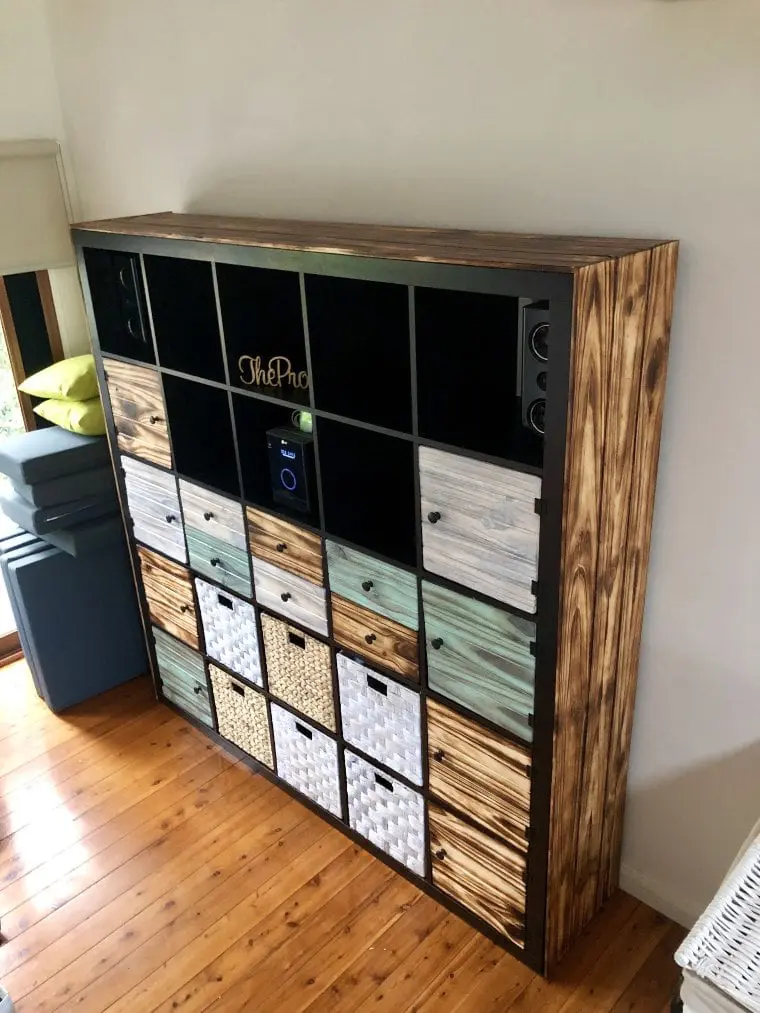 Source: Pinterest
Trying to achieve a more alternative look with your DIY storage unit? After adding a door to whichever cube you wish to turn into a cabinet.
Use paint or wood stain to add a wash of color to it. You can achieve a retro-chic vibe by using different colors to create a pattern.
To completely keep up the aesthetic, I highly recommend a set of knobs like these ones here.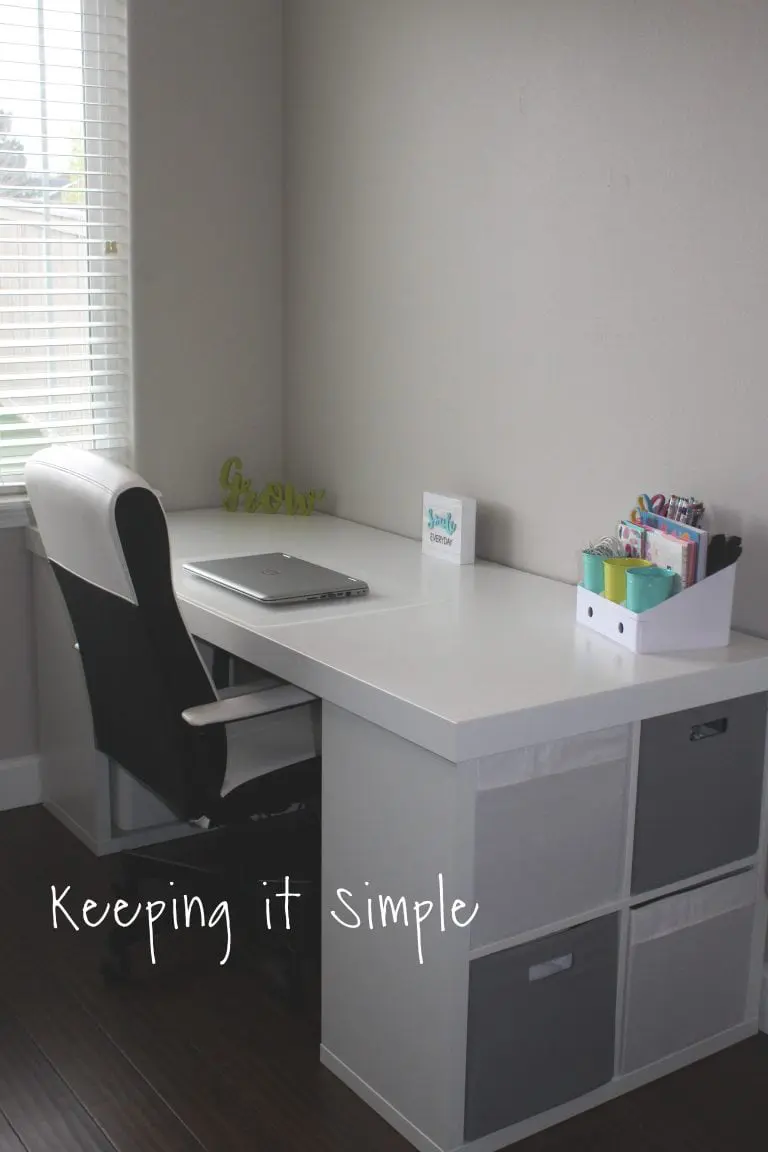 Source: keepingitsimplecrafts.com
Want to upgrade your current workspace situation? Take your home office to the next level by building your own desk with the KALLAX shelf unit.
Honestly, why spend a ton of money on a regular 'ol computer desk when you can be creative and make your own. The best part about this IKEA hack is that the amount of storage space you can get out of your DIY desk is unparalleled with any other desk.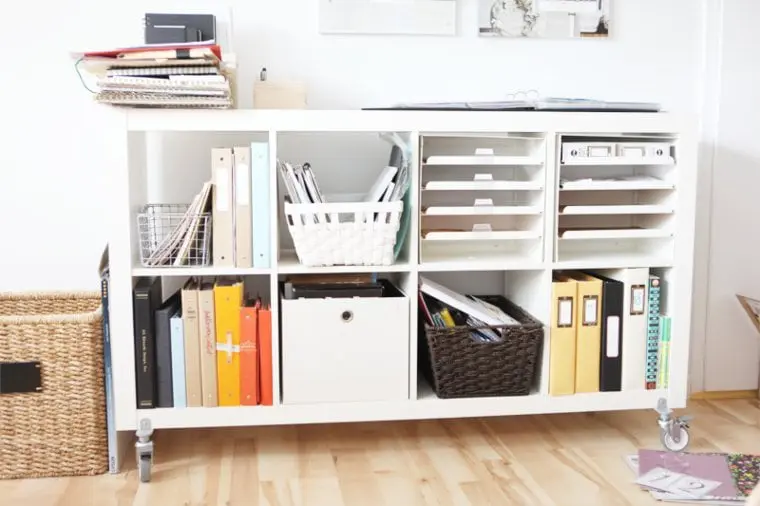 Source: aliedwards.com
Need some more ideas for building your dream office? We all love a good hack that can help us tidy things up and enhance our workflow.
Convert your KALLAX shelf into a workspace station to display your files and folders, or you could even insert paper trays into the cubes to keep things organized.
To protect your hardwood floors, I recommend adding a set of quality wheels like the style you can find here.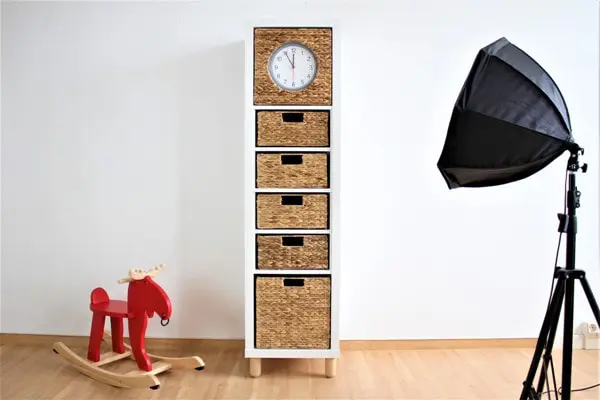 Source: new-swedish-design.de
This is one of the most creative KALLAX hacks out there.
We already know there's a ton of stuff you can turn this shelf unit into but you probably never even thought of adding a clock to it.
Put a modern twist on the grandfather clock concept by situating a clock in the top shelf and using the rest of the compartments for storage!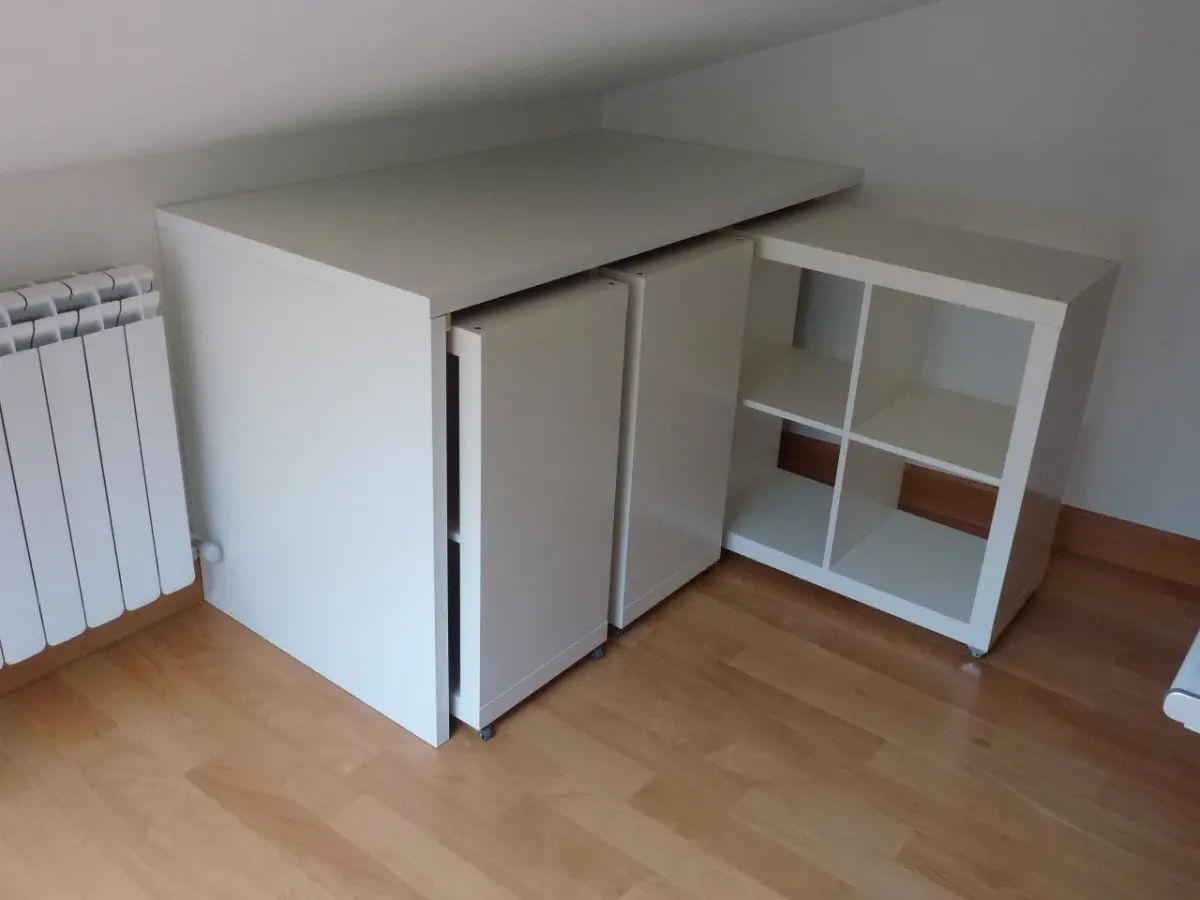 Source: ikeahackers.net
This is the ultimate hack for the avid reader. Instead of using a regular bookshelf to display your books out in the open, why not build your very own portable library?
Not to mention, it's pretty cool to tell people that you have a portable library.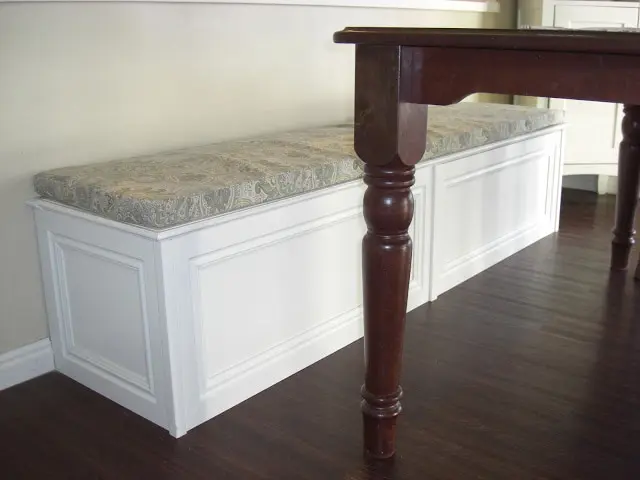 Source: houseofnormandy.blogspot.com
A banquette bench is a perfect addition to any home!
You can easily convert a KALLAX shelf into a bench to create a cute little seating area that also gives you a ton of extra hidden storage space in any area of your home.
Source: Pinterest
This is the ultimate IKEA hack for someone who likes to know where everything is!
Turn your KALLAX shelf into the perfect addition to your home office by adding a file cabinet, paper tray, or even placing an acrylic or plastic compartment into one of the cubes to organize your office supplies, like the one here.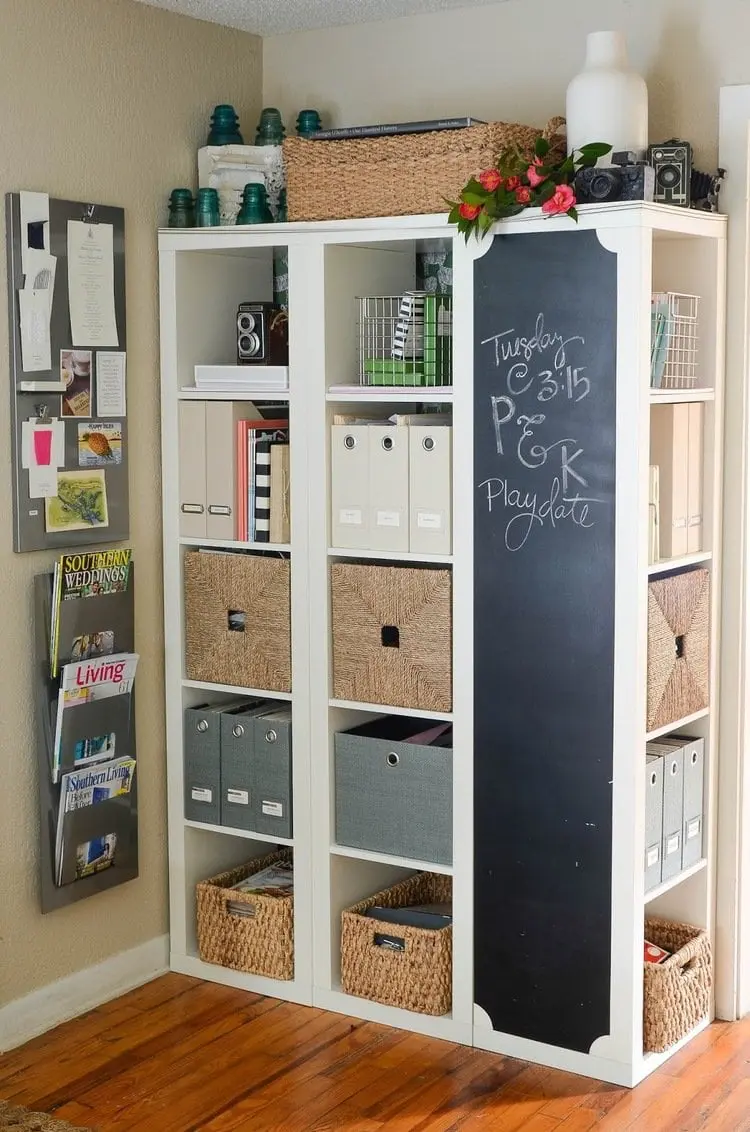 Source: ironandtwine.com
Everyone needs a memo board in their home.
Everyone.
It's a great way to leave messages for your family members or even to leave a reminder for yourself. Transform the KALLAX shelf into a standing chalkboard memo board with some chalkboard paint. I love using this chalkboard paint for most of my DIY projects around the house!