Easy, simple bedroom decor projects that will transform your home on a low budget. These ideas are creative, fun, and super easy to make.
I love switching up the decor in my bedroom every now and then. Not just the placement of my beanbags or my pillows.
New accessories and cute, thrifty decor always lift my spirits. Coming home to the same decor can be a downer, especially if you have a small living space.
Here are a few simple hacks that you can use to switch up the decor in your bedroom. So, your day is not as boring!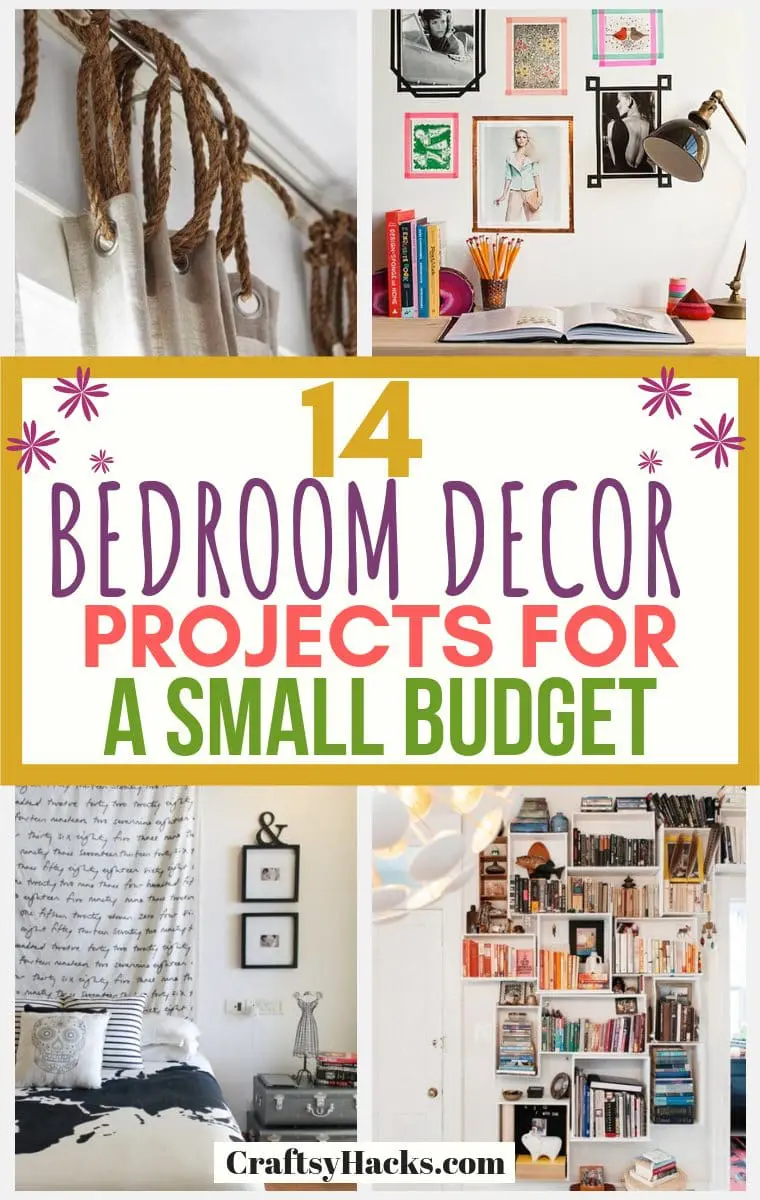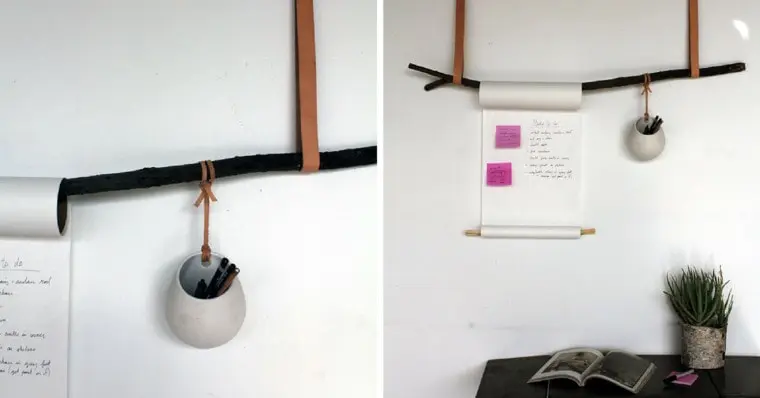 Idea Credit: Loom & Leaf
These hanging notepads can give your room a touch of archaism. You can put up sticky notes or cut-outs and even use it as a vision pad.
This works perfectly in your bedroom as you can put up your personal agendas on it. Also, feel free to pin up some jewelry you're planning to wear the next day.
Also, you could just tie up a pen stand next to it. Just attach two leather straps on the wall and buy a branch-style rod.
Pass a roll of the pad through the rod and place it between the straps. Easy!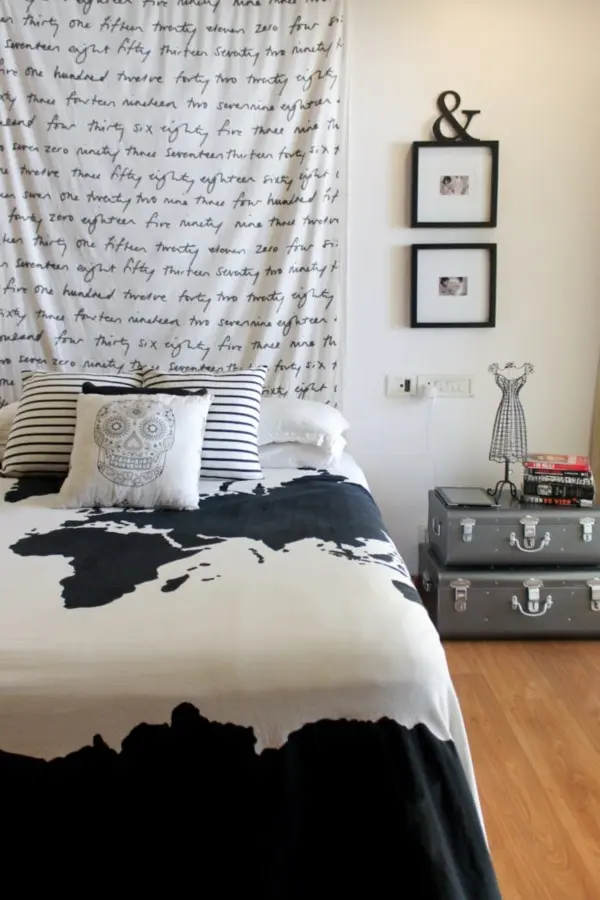 Idea Credit: chuzailiving.com
If you're into calligraphy art we've got the perfect prop for your bedroom. Walls with handwritten text on them are big right now.
Obviously, you don't have to cover the whole wall. Get some IKEA fabric with handwriting and cover your wall with it. Cute and simple!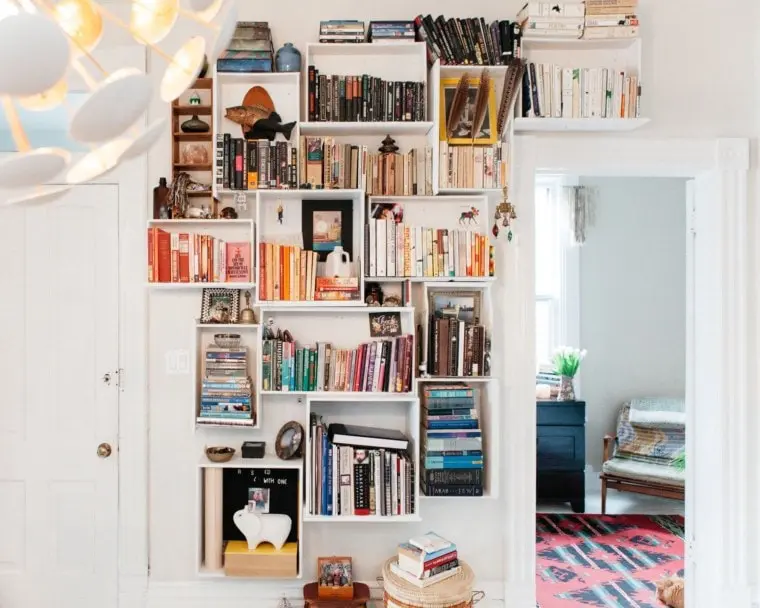 Idea Credit: Pinterest
Repurpose old dresser's drawers and attach them together to make a unique bookcase. If you're buying second-hand drawers online, opt for dovetailed drawers as they hold a lot of books.
It's okay if they are of different shapes. Just paint them the same color, and lay them out on the floor. Then, make sure to attach them as one arrangement.
Before installing the bookcase, get an estimate of the space your wall has to offer.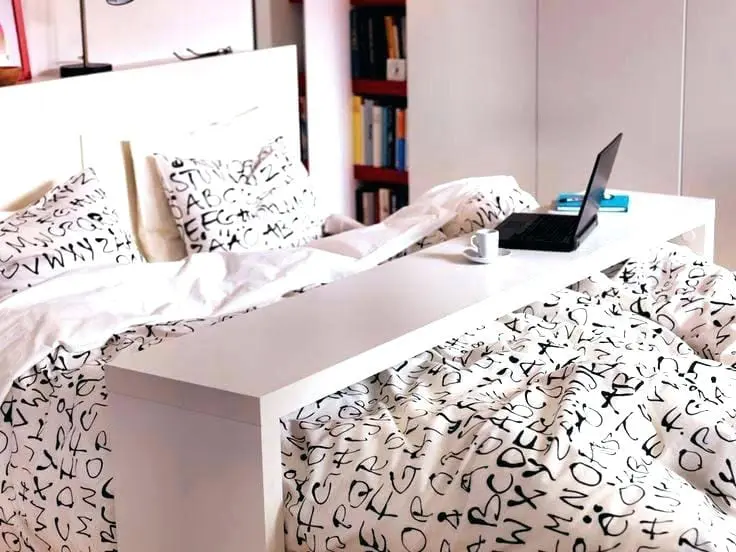 Idea Credit: Poligrabs.co
If you work from home every now and then and don't have space for an office, here's something new. We're talking about the IKEA Malm Occasional Table which just slides over your bed.
The best thing about this rectangular table is that you can set it up in your room and even store a few things on it. Later, just move it over your bed.
Easy to use! You can get some work done or watch your favorite movie!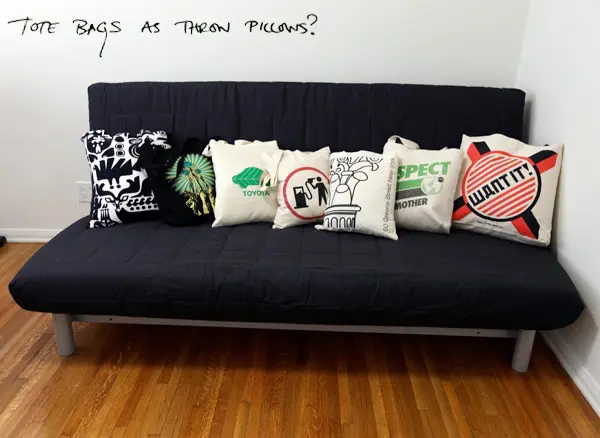 Idea Credit: Notcot.com
If you love having tiny pillows or cushions on your bed, try this cute hack. Buy a few tote bags, big enough to fit a cushion.
Here are a few lovely tote bags you.
After you put the cushion in the bags cut off the straps and just sew off the top to act as cushion covers. Or you can keep the strap on for a quirky look.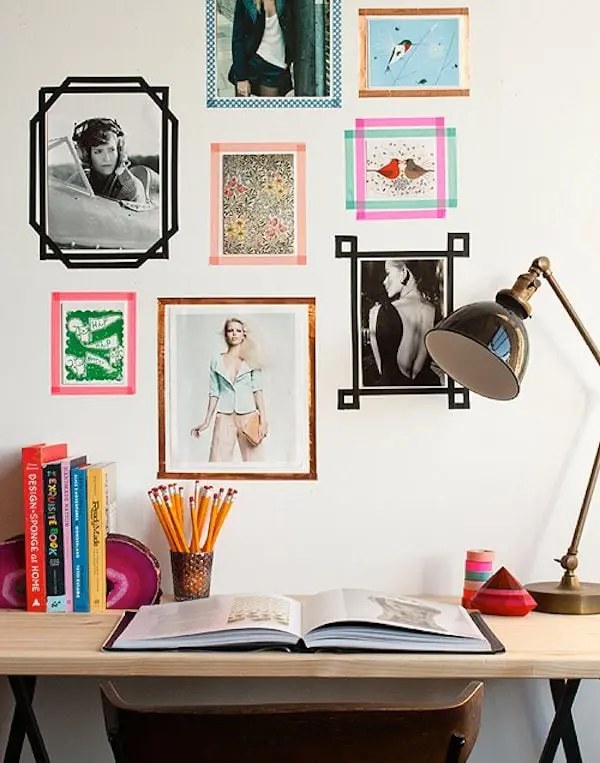 Idea Credit: Pinterest
If you want photo frames on your bedroom wall don't go for wooden frames. Just buy a few colorful washi tapes.
You can make fake frames with these. Simply attach the tape to the walls around the pictures.
The good thing here is that you can use your own artistic imagination to create whatever you want!
Try these washi tapes and improvise.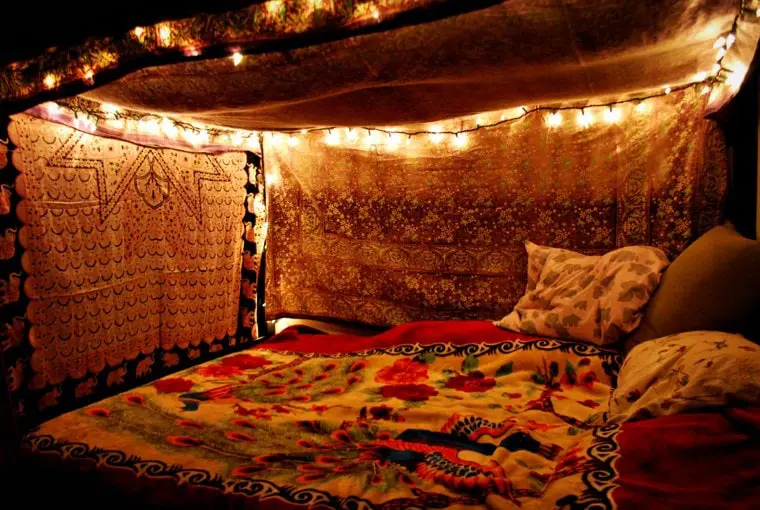 Idea Credit: Flower Shop.com
If you have some folksy tapestries or sheets, you can create your own very unique bedroom canopy. It'll definitely give your room a boho vibe.
Or you can just use those to make your own, cosy tent. The only thing you'll need is a mattress!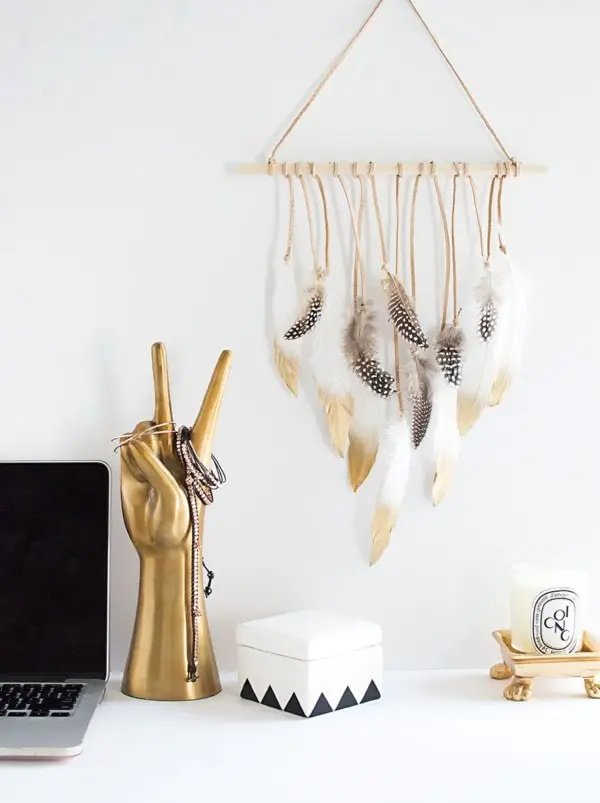 Here is something you can make to give your bedroom an extra edge – a feathery hanging decoration. Take an earth-colored wooden rod and hang it on a few fake leather ropes.
Then, use the very same ropes to attach feathers to the whole decoration. Simple and cute!
Here is one that looks absolutely lovely.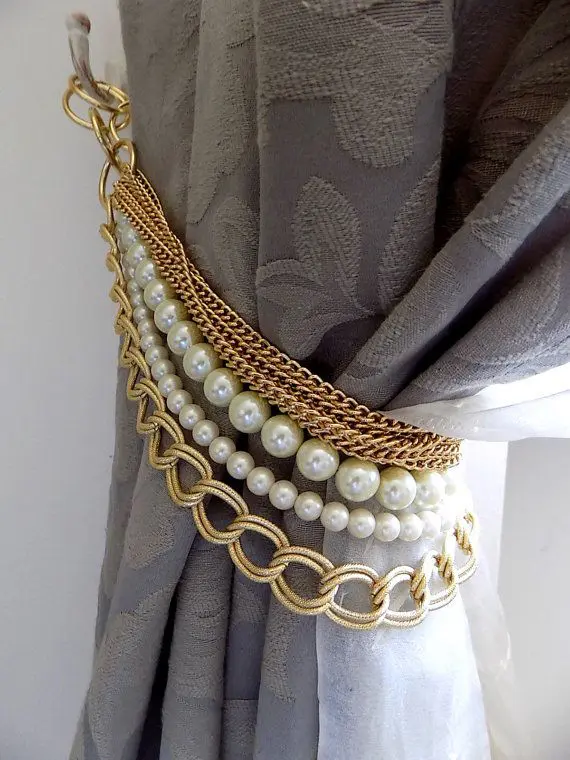 Idea Credit: Pinterest
To add a vintage look to your bedroom, repurpose your artificial stone and bead necklaces into curtain ties. You can even buy cheap metallic necklaces online and use them as tie-backs for your curtains.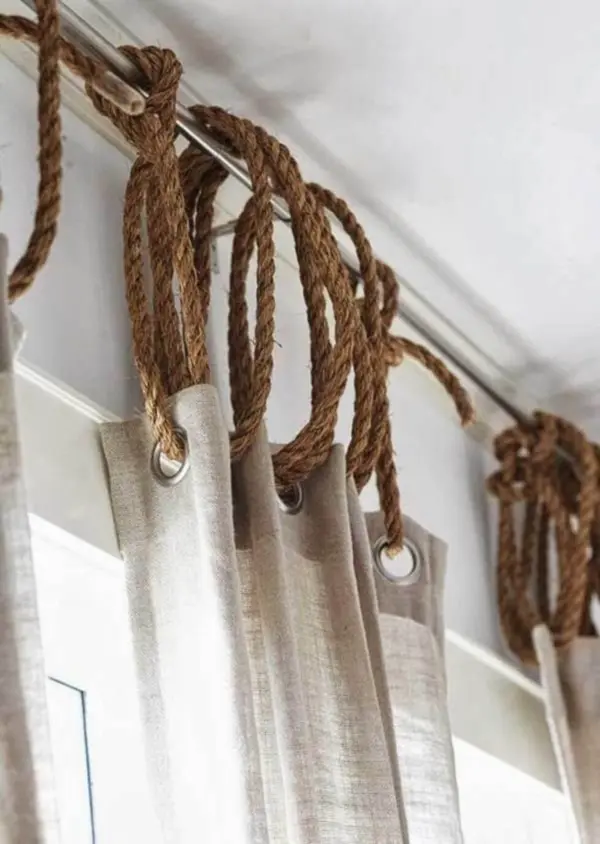 Idea Credit: Home BNC
If you want a nautical-themed bedroom, ditch the curtain rings and choose sturdy jute ropes instead. Use these to hang your ropes.
If you're going for a rustic bedroom design, this would be a perfect detail to consider. You can even hang nautical-inspired charms from the rods or some sailor-themed scarves.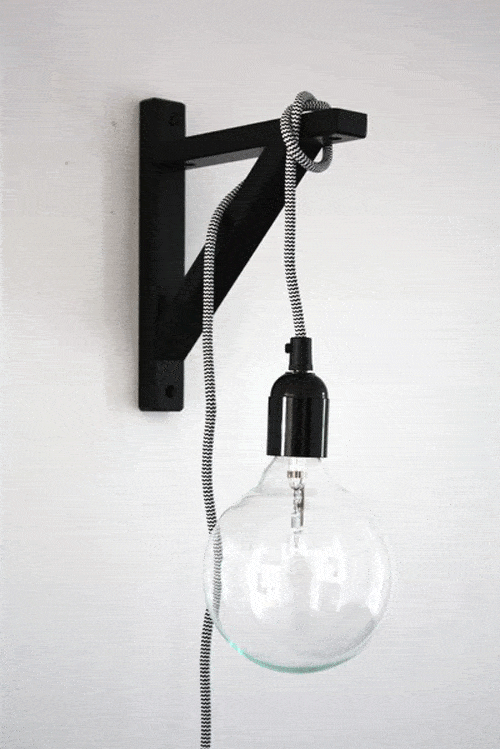 Idea Credit: Pinterest
If you're setting up a monochrome minimalist bedroom, and don't have a lot of space for a big lamp, you'll love this idea. Instead of a big elaborate lamp, buy a light bulb that has cord attached to it.
You can find these online and they're pretty cheap! Also, you have all the freedom to hang it on whatever objects you want.
Here are a few beautiful pendant lights that are minimalist: option 1, option 2, and option 3.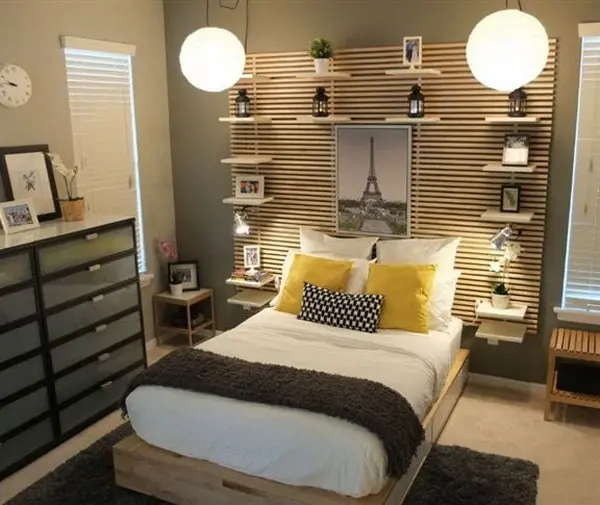 Idea Credit: BCAAR
IKEA's Mandal headboard is the versatile headboard you're looking for. It's cheap, sustainable, and artsy.
You can use adjustable shelves to truly design your bed area. You can either put your nighttime essentials on there or pictures of the people you love.
Don't be afraid to play with lights too. These could love amazing at night time.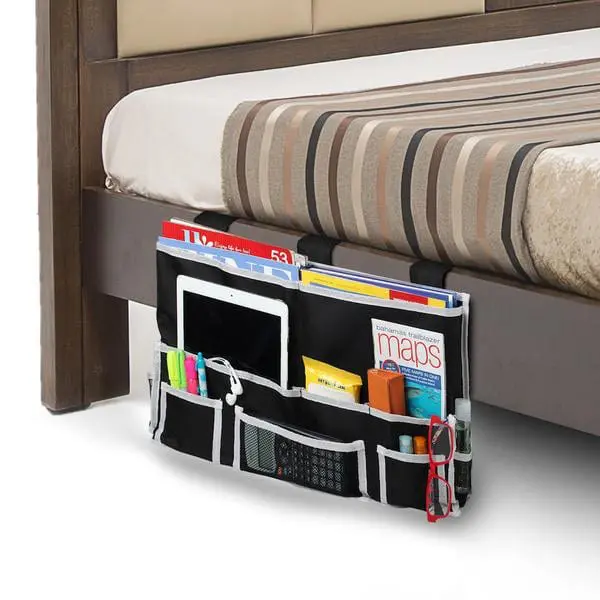 Idea Credit: Shelf Design
This one is more of an idea for storage rather than just design. There are a few bedtime essentials that you might want to keep next to you.
Those include phones to magazines, to chargers, to our bedtime skincare essentials. A bedside caddy with multiple pockets is perfect for storing everything you need.
We've found it to be super useful for storing headphones or glasses. Especially if you're afraid to break them.
Love the idea? Buy one here.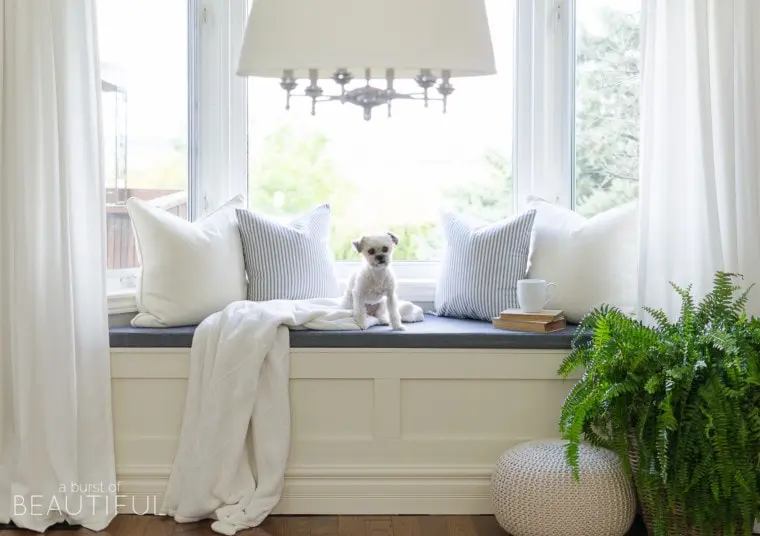 Idea Credit: A Burst of Beautiful
If you have a window in your bedroom, make your own spot for reading. While it might not necessarily be very cheap to build one, it could prove to be a beautiful place for a relaxing evening.
You can always use cheaper materials to make one and use the space underneath for storage. Just add a few pillows and a thin mattress on top of it to make it look extra sweet.
Also, you can always transform your furniture and make it look new.