There is so much you can do with cheap Dollar Tree frames! Transform your Dollar store frames and get crafty!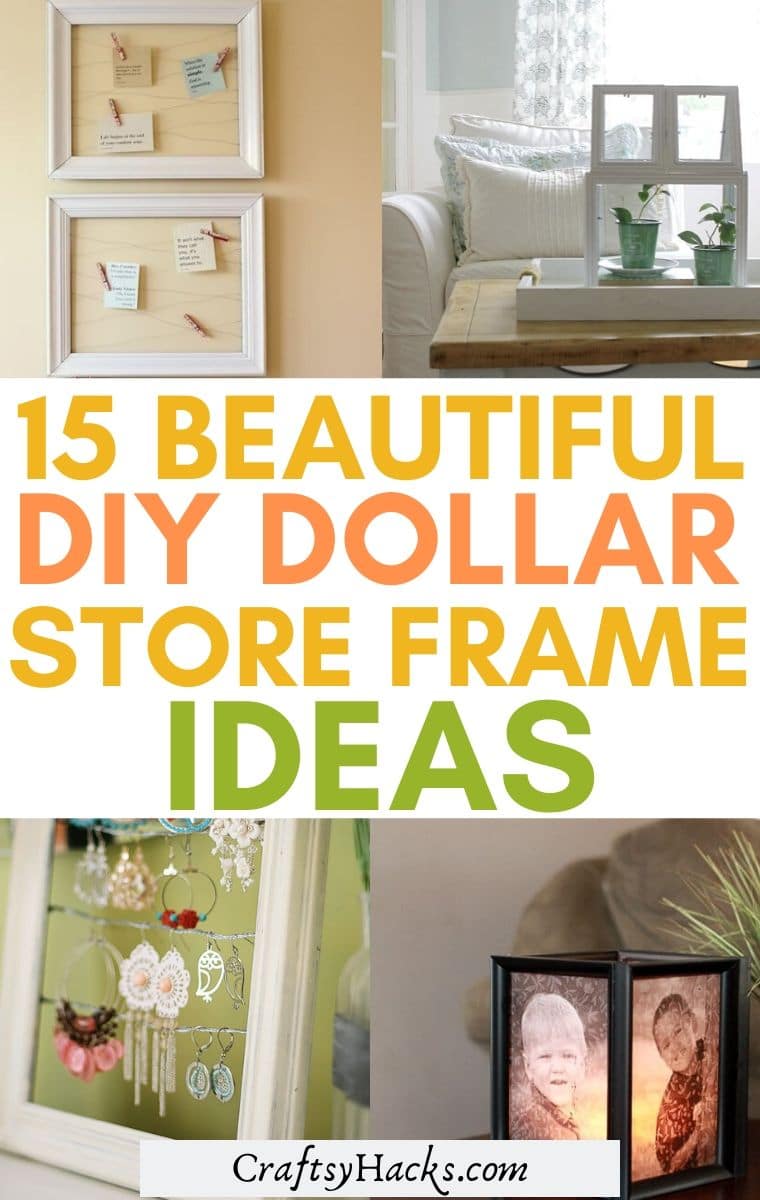 If your home could use a makeover but you're short on time, you can freshen it up by repurposing picture frames.
If you're ready to think outside the box, picture frames can do more than simply frame your pictures.
Check out these 15 awesome, budget-friendly projects using picture frames you can buy at your local Dollar Store.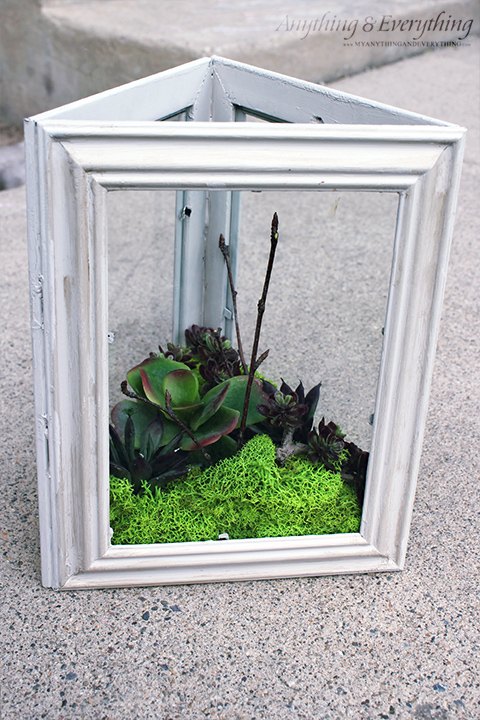 Source: myanythingandeverything.com
Do you have a bunch of succulents lying around your house without ever being noticed by anyone? Or maybe your home doesn't have enough space for a lavish plant arrangement?
Problem solved: you can make this adorable succulent garden with dollar store frames and a few simple supplies.
And if you're someone who just can't keep plants alive, this project works great with artificial succulents too!
You can use this succulent garden to decorate your home or take it with you to work and freshen up your office.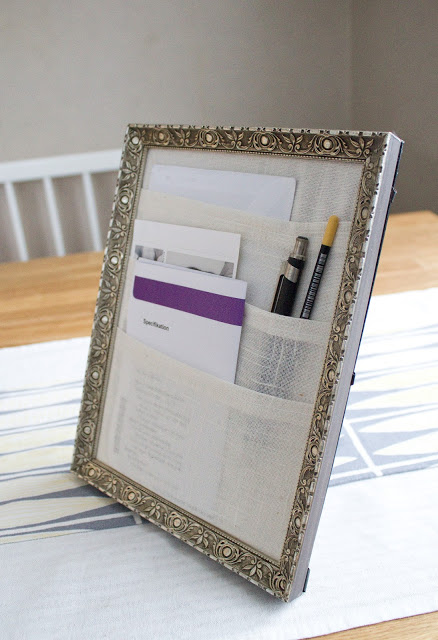 Source: wishfultinker.blogspot.com
If you're looking for a handmade gift idea for the upcoming holiday season, here's something cute and functional. This photo frame table organizer would be a great gift for your little ones to make for their favorite uncle, aunt, or their grandparents.
And the best part is you don't need to use any tools or cut wood. All you need is a picture frame, some fabric, and this glue!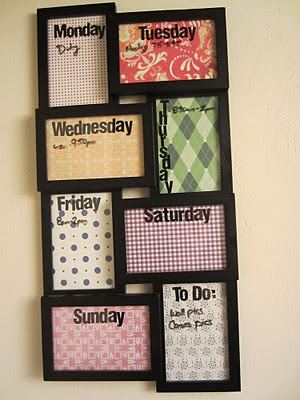 Source: tanglesandtangents.blogspot.com
Here is another DIY project that will help you stay organized. This beautiful dry erase calendar will help you keep track of all your errands and tasks.
It can be a great addition to your craft room, kid's bedroom, or even the kitchen. Besides picture frames, you'll also need scrapbook paper, scrapbook letters, scissors, a pencil or pen, and a dry erase marker.
The project will take you no more than 30 minutes and you can customize it however you want!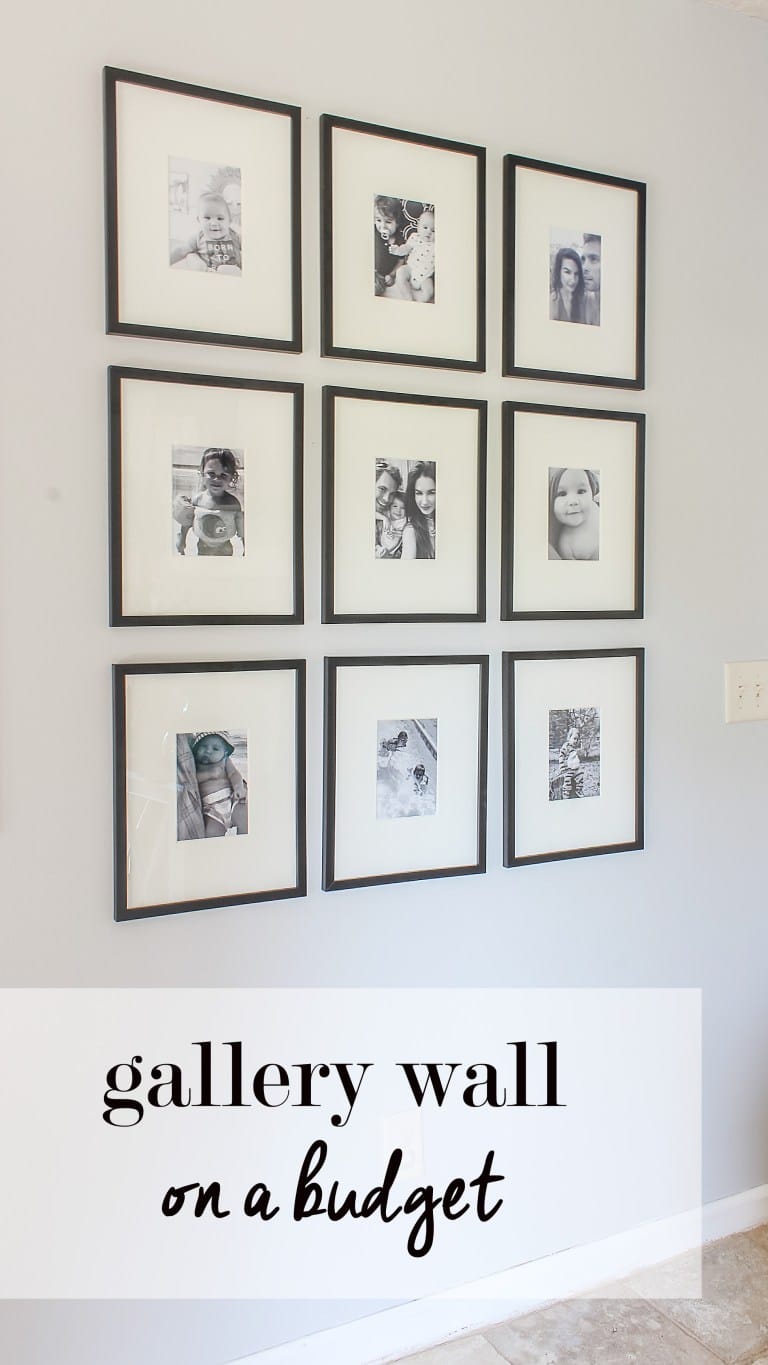 Source: designingvibes.com
One of the easiest ways to upgrade your living space is by adding some artwork. But when you're operating on a tight budget, it can be difficult to turn your visions into reality.
You'll be hard-pressed to find good-looking frames, let alone art and mats. Or so you thought.
Contrary to popular belief, you don't have to break the bank in order to transform your plain white walls into a lavish gallery. In fact, the cost of this project is about $100 and it takes only an hour to make.
If you're not going to the Dollar store for the frames, just get some here. It's much easier when they get delivered to your home.
This is a project that's great for teens too.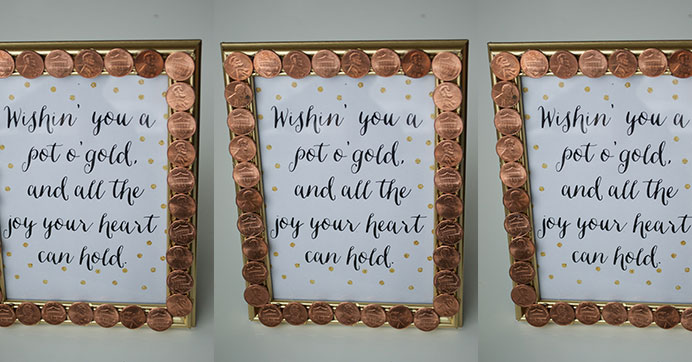 Source: blog.dollartree.com
It's time to put those pennies you've been saving to good use. Whether you're looking for a gift idea or a piece of décor that will add some shine to your room, this easy DIY project is perfect.
All you need to do is hot glue each penny in place along the frame's border. Once you're done, fill the frame with your favorite photo or a fun quote!
Here is a good-quality hot glue gun with the sticks for this project.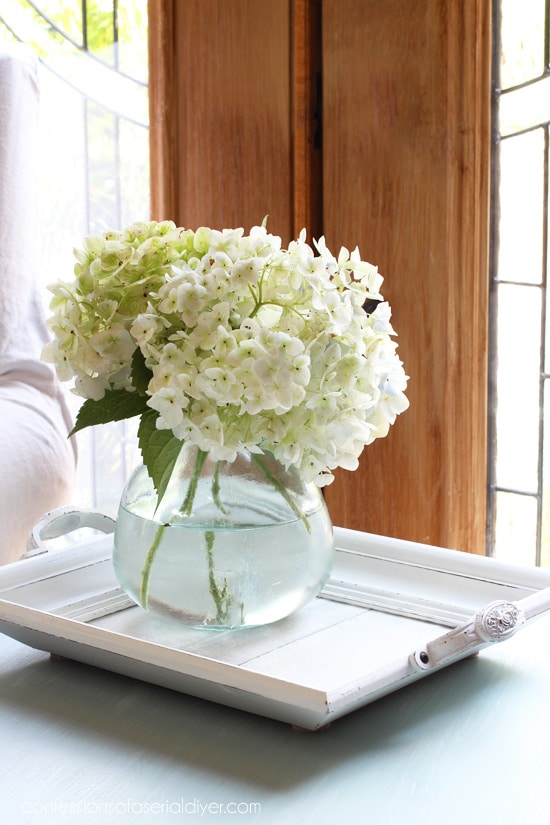 Source: confessionsofaserialdiyer.com
This picture frame tray is absolutely beautiful and very easy to make.
The tutorial by Confessions of a Serial DIYer suggests using an old picket pile. But, you can also decide to keep the whole frame and choose any kind of picture or scrapbook paper to fill it.
This would be ideal for gift-giving because you can completely customize it depending on the recipient. It could even be made into a DIY Christmas gift basket.
This DIY project is also great for saving and upcycling old picture frames.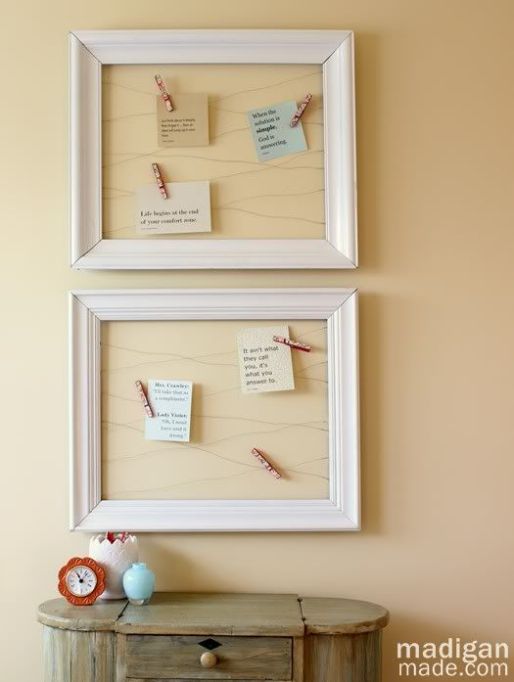 Source: rosyscription.com
This DIY memo board would be a great addition to your home office area or working desk. Use it to display little reminder notes, postcards, photos, or cute inspirational quotes.
The tutorial by Rosyscription suggests using gold craft wire, but you can also use a wire mesh-like this one here. To hold the items in place, use clothespins or, if your memo board is made with wire mesh, use little magnets.
Also, the frames can be painted in whatever color you want.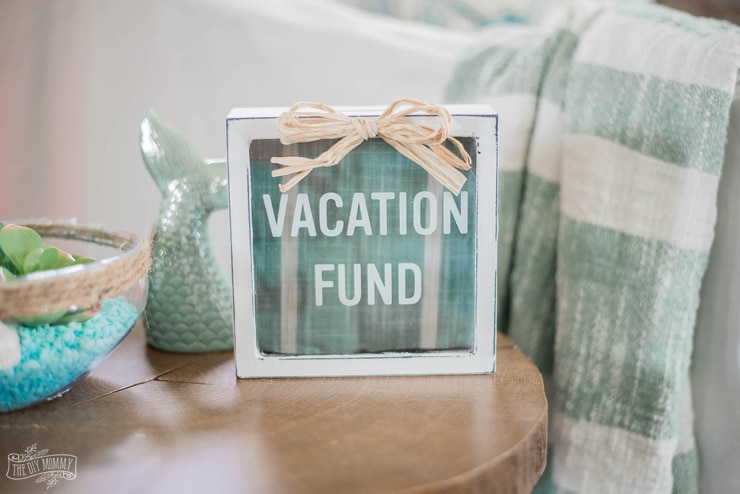 Source: thediymommy.com
Missing the beach? This amazing DIY project will help you remember the special moments spent by the sea and warm your heart during the upcoming winter days.
This summery frame is super easy and fun to make. You can customize it with all sorts of miniature accessories like shells, fishing net, miniature 'beach' signs, mini seagulls, etc.).
Get the tutorial here.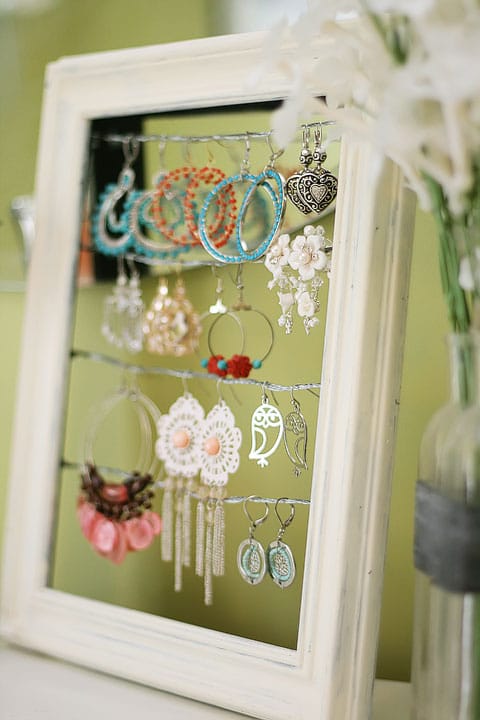 Source: kevinandamanda.com
If you're keeping your earrings in a box, they're probably all mixed up and tangled. Looking for a simple pair of earrings can take ages and make you frustrated.
This DIY Earring Display is a lifesaver. Place it on your dresser or hang it next to your mirror and it will look like a framed colorful work of art!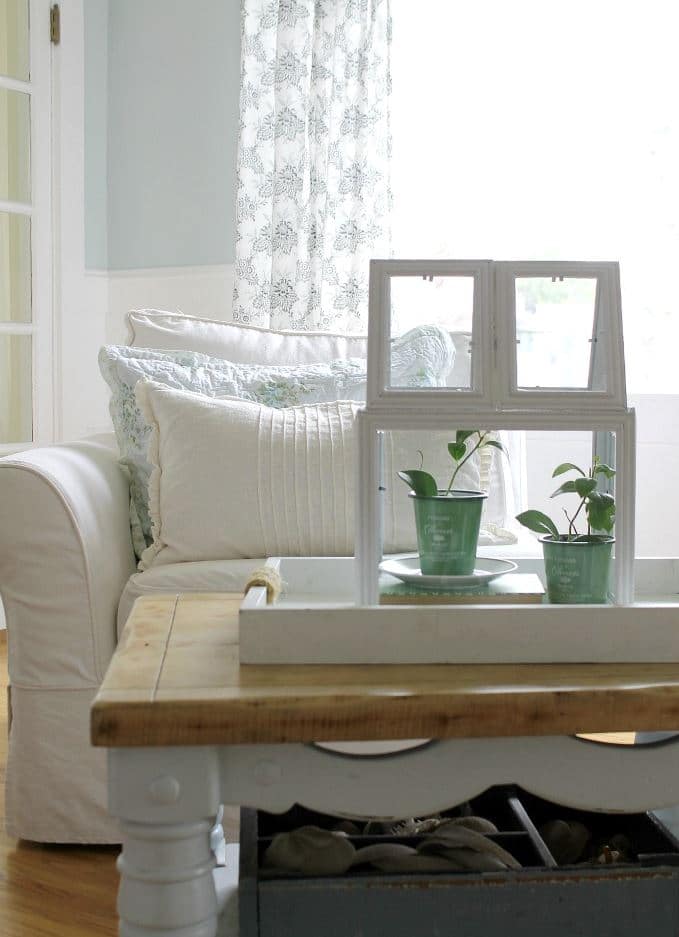 Source: ellaclaireinspired.com
Make a lovely home for your orchids, ferns, jasmines, and other hothouse plants.
This super-cute glasshouse does take some time and work, but once your indoor oasis is done, you'll see that it was worth your while.
Place your greenhouse terrarium by a sunny window and watch your little garden grow.
Get the full tutorial here.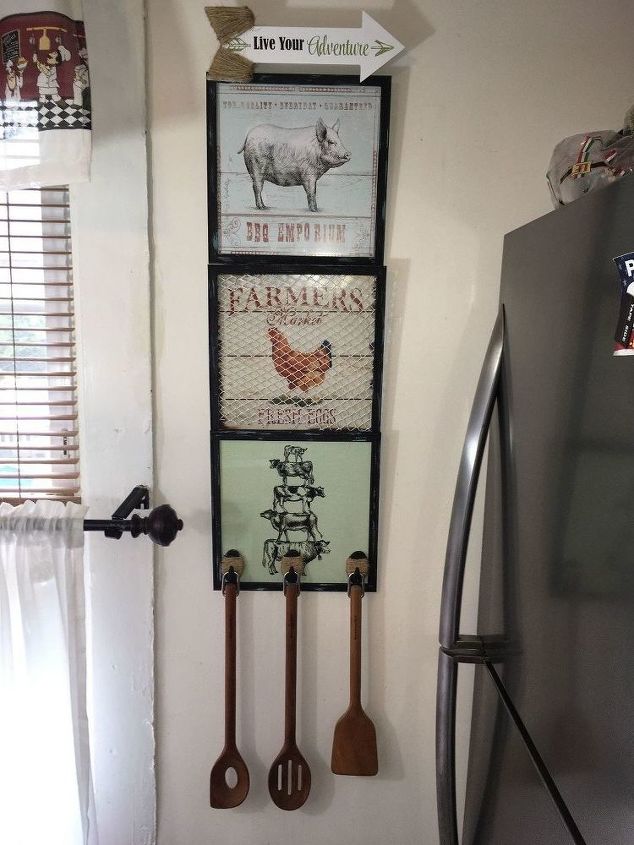 Source: hometalk.com
Love farmhouse décor? Luckily, some of the best farmhouse looks are actually DIY projects you can easily make yourself.
Farmhouse décor is very popular but that doesn't mean that your home will look the same as everybody else's. Add custom art to your DIY pieces and you'll get unique décor items that can't be replicated.
Just take a look at this Farm House Kitchen Décor and you'll see what I'm talking about.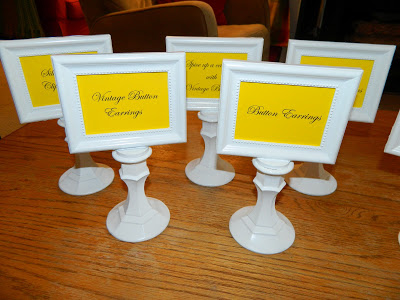 Source: polka-dottyplace.blogspot.com
Looking for a unique way to display pictures in your home? Or maybe you need table signs for your party?
While you're at the Dollar Store for the frames, make sure to get these metal pillar candle holders and wooden circles as well. You'll also need glossy white spray paint and some regular glue or a glue gun.
This is also a great DIY to bring your outdated candlesticks and picture frames back to life by transforming them into stylish photo pedestals.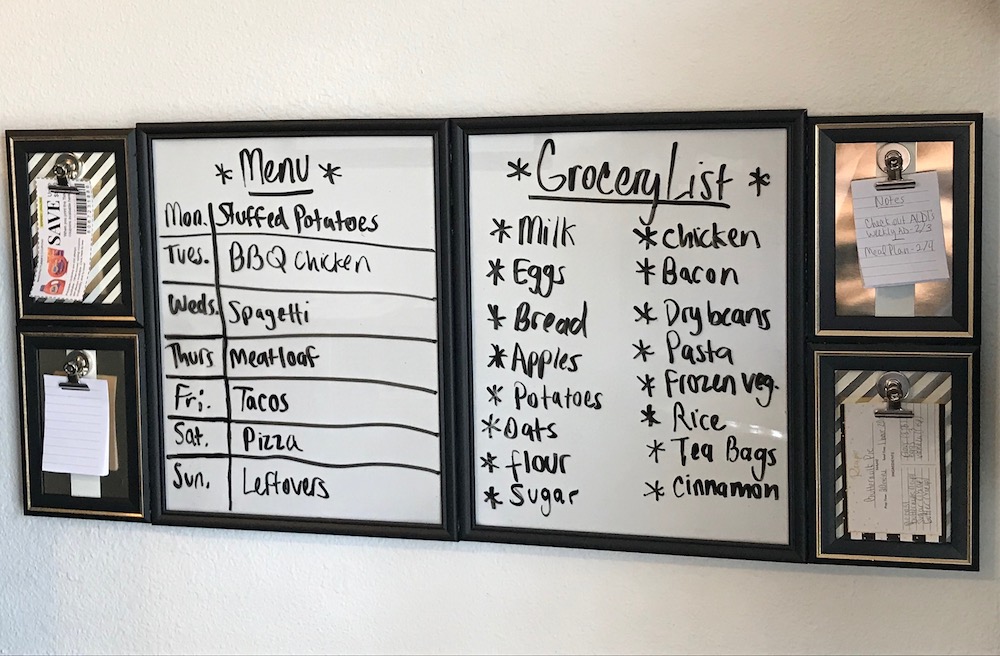 Source: prudentpennypincher.com
The question: "What's for dinner?" is a never-ending one. If you want to keep your sanity in the kitchen, you need to make sure you're well organized.
Use this easy DIY tutorial to make your own Meal Plan Frame that you can use over and over.
It contains a grocery list, menu, recipe cards, notepads, coupons, all in one place to save you time, mess, and stress! You can get recipe cards here, in case it's not easy to get a hold of them.
Most of the supplies you need for this DIY Meal Plan Frame can be found at Dollar Store, so the total cost is less than $10. This is a very simple craft that takes no more than half an hour to complete.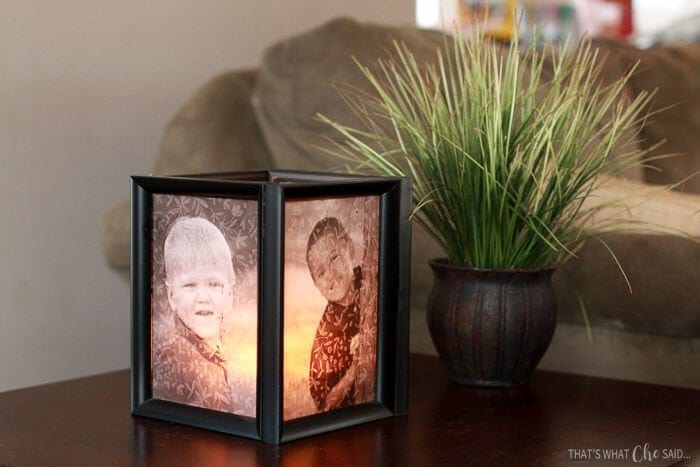 Source: thatswhatchesaid.net
Don't you just love being surrounded by photos of your family and dearest friends?
Yes, family photos are amazing. But do you know what's even more amazing? Turning those photos into wonderful glowing luminaries!
Luminaries are like candles, so in this craft, you'll be actually creating personalized candle holders. They're really easy and absolutely perfect for uniquely displaying your photos.
You can use these luminaries to decorate your home (especially if you have no more space on the walls to hang frames). They also work beautifully for special events like receptions, baby or wedding showers, graduations…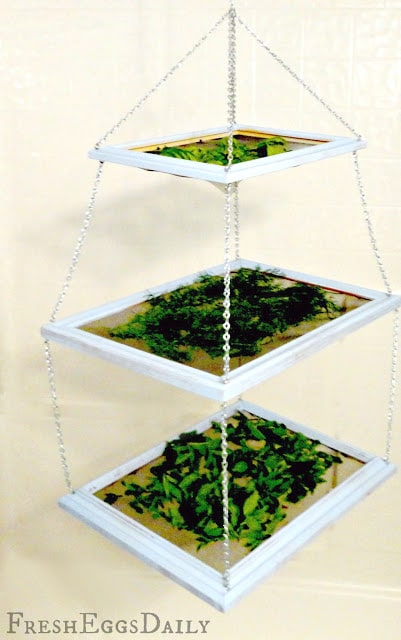 Source: fresheggsdaily.com
If you have lots of fresh herbs like cilantro, thyme, saffron, basil, oregano, and lemon balm that need drying, this DIY project is just for you.
You're probably drying your herbs in the oven, on wire cookie racks on the kitchen counter, or using brown paper bags. Well, this DIY Tiered Herb Rack is not only cool-looking, but it also allows you to dry 3 different herbs on separate levels.
The screening allows the air to flow freely and make sure your herbs are dried quickly and evenly.
Conclusion
Which of these DIY Dollar Store Frame projects did you like the most? Do you have your own DIY craft that involves frames but didn't make the list?
Let me know in the comment section below.