Use IKEA furniture to transform your home decor. These IKEA hacks will help you do that on a low budget.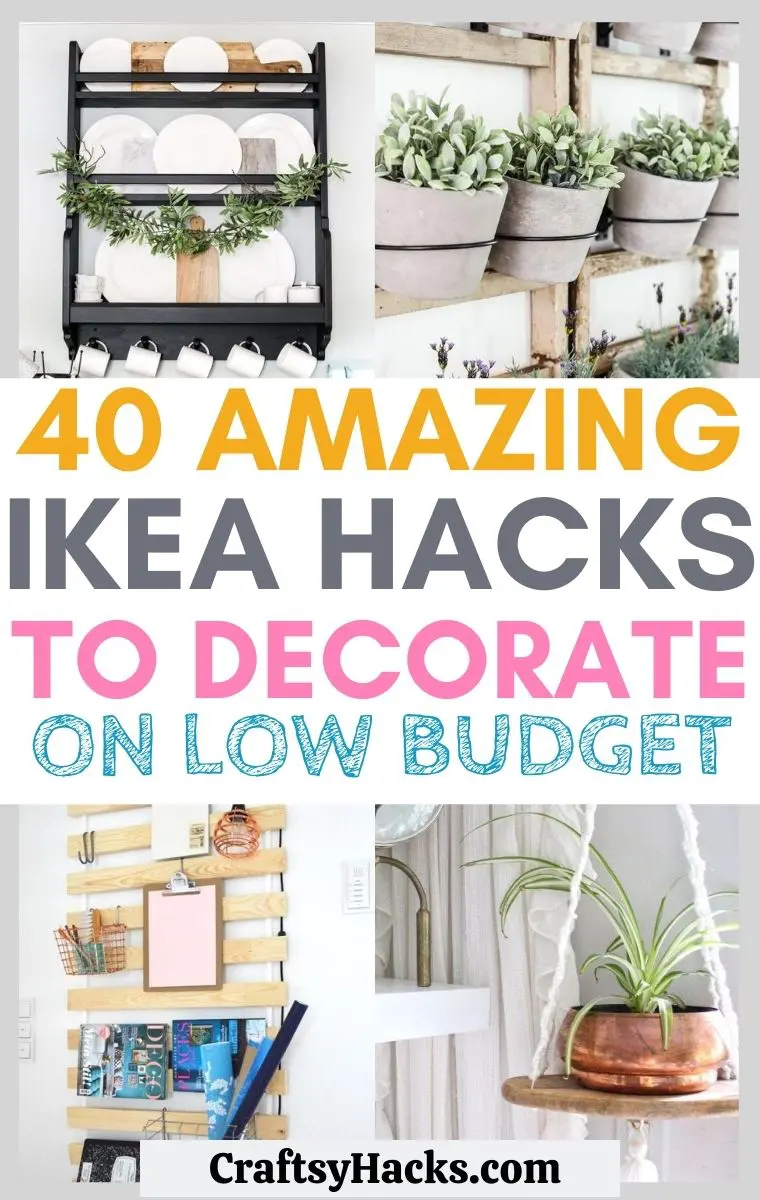 IKEA is one of my favorite shops because you can find so many furniture items that are low budget. While most of them are pretty boring there are multiple ways you can transform them.
Today I want to share with you 20 lovely IKEA hacks you can use to decorate your home!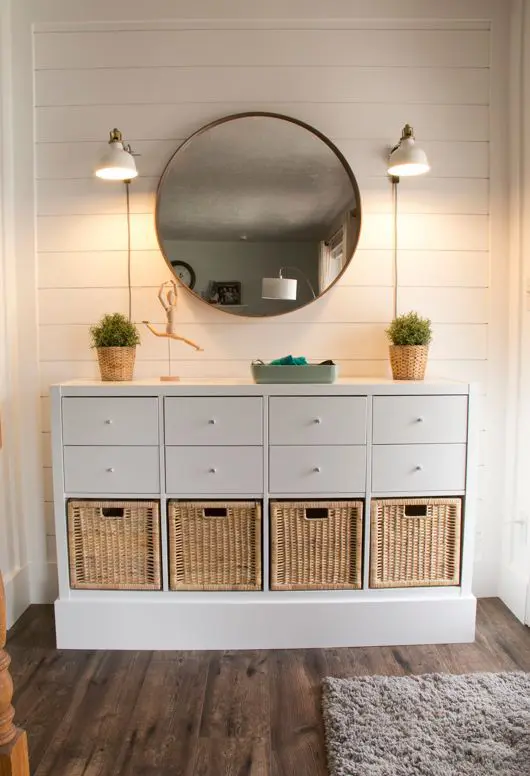 Credit: Hometalk.com
Get an Ikea Kallax shelf unit and transform it into an entryway organization unit. We all have a lot of things that simply need to go somewhere.
With this organization unit, you can forget about the things being all over the place. You can now store them in one place and have a nice entry to the house.
Insert IKEA drawers and slide in hand-woven baskets, like these ones here, into the lower shelves. Use each drawer for different types of items so you stay organized.
Now all your sunglasses, scarfs, and other essentials have a place to be.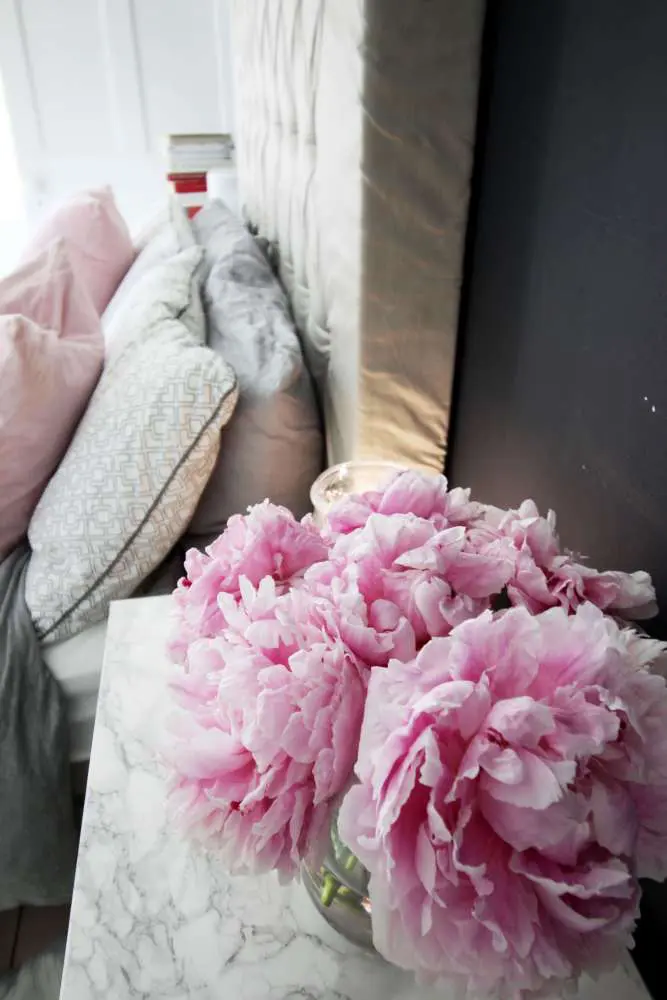 Credit: byshnordic.com
Get a regular IKEA bedside table and transform it into something that suits your bedroom energy. First, get a little bit of paint – preferably grey.
Then, buy a marble effect sticky back plastic sheet like this one here and stick it to the top of the table. And here you go, a way more interesting bedside table that's also a great design piece!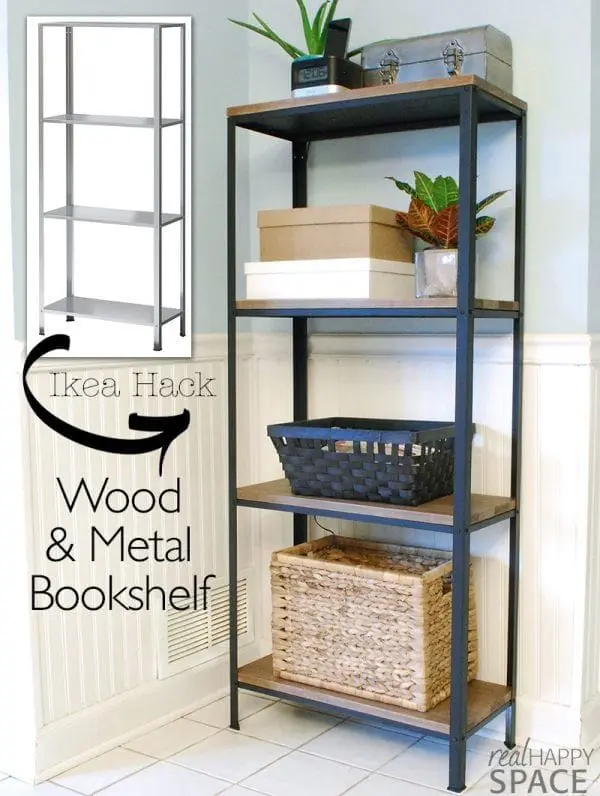 Credit: bloglovin.com
You don't need to buy industrial shelving to make it look industrial! Get this super cheap Hyllis shelving unit, spray it with black paint and add wood planks to the shelves.
The wood planks will stay intact as long as you loosen up the shelves a little bit and then tighten the screws. For the top wood plank, you'll have to drill a few holes to secure it.
The result – your very own industrial shelf for a truly small price!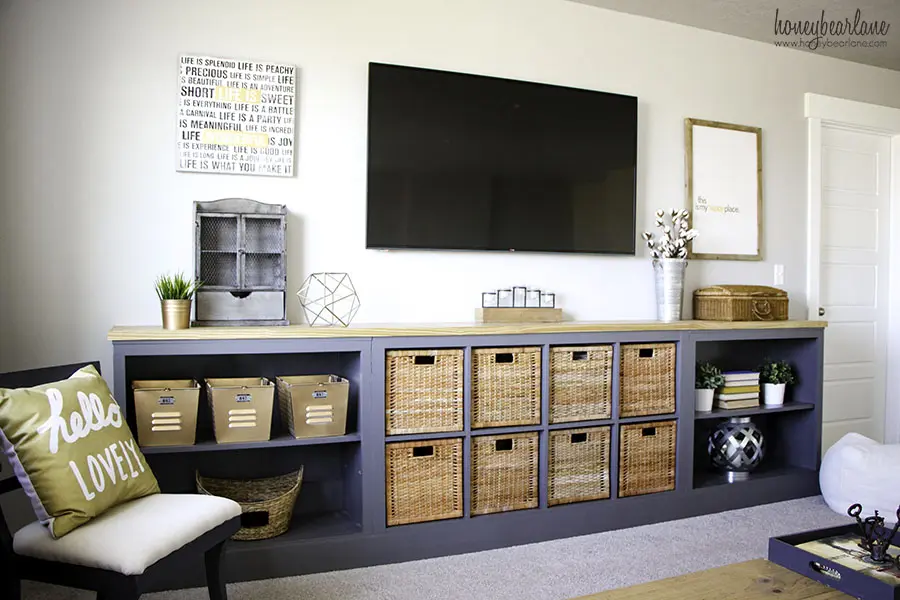 Credit: honeybearlane.com
Get IKEA Expedit and a long bookshelf, and turn them into this marvelous long storage unit. It also happens to look absolutely amazing.
The oak stain and shellac-based primer are essential to make it happen. Also, choose the colors that will suit your room – go for brighter colors if your home lacks lighter spaces.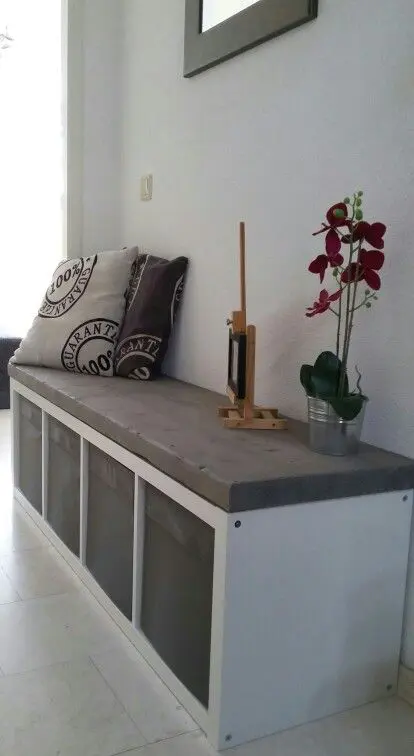 Credit: Pinterest
You can turn Ikea Kallax into a beautiful storage unit the whole family will love. It can also function as a bench, which makes it perfect for a hallway.
Sit down on it to put your shoes on or when waiting for the family to get ready. For it, you'll need a long wooden plank or a few large wooden planks for a more rustic look (like these ones here).
You can just glue them together or fasten them up and attach them to the top of the Ikea Kallax. Obviously, you'll need a few storage baskets as well.
You can either go for grey foldable storage cubes made out of fabric or for these beautiful vintage wire baskets. Either way, there are a lot of options when it comes to picking the right storage basket.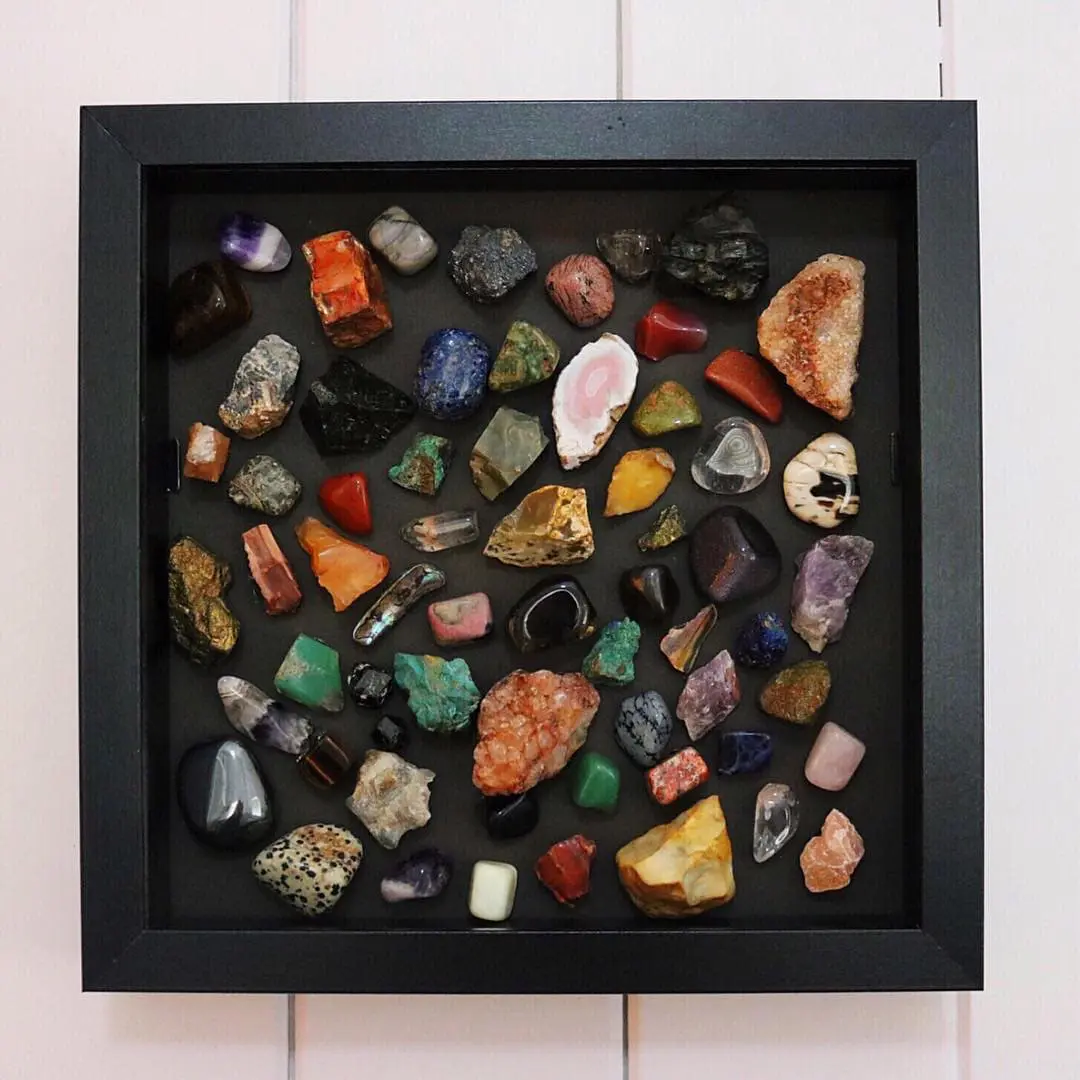 Credit: Instagram
A big fan of all sorts of rocks and crystals? If you collect them, it might be a good idea to showcase them.
Get a simple black frame from IKEA, glue some card down and glue the gemstones. It'll do for a beautiful design piece at home and will carry some spiritual value too.
If you don't collect minerals but would love to have a piece like that on your wall, get a bulk of crystals here.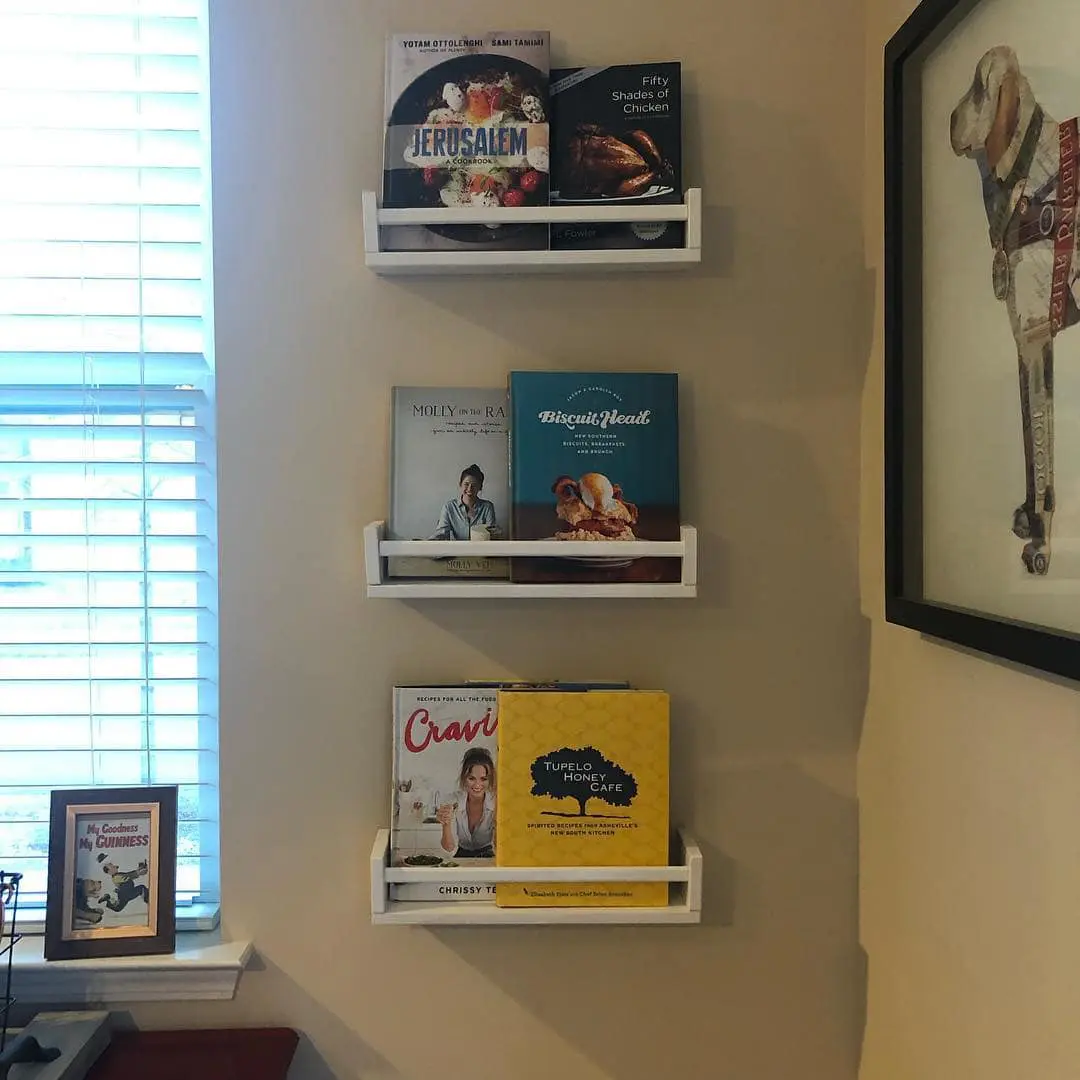 Credit: Instagram
Get these BEKVAM spice racks and spray them with white paint. You can use them for books, pictures and much more!
A great way to design your walls and create some practical storage space.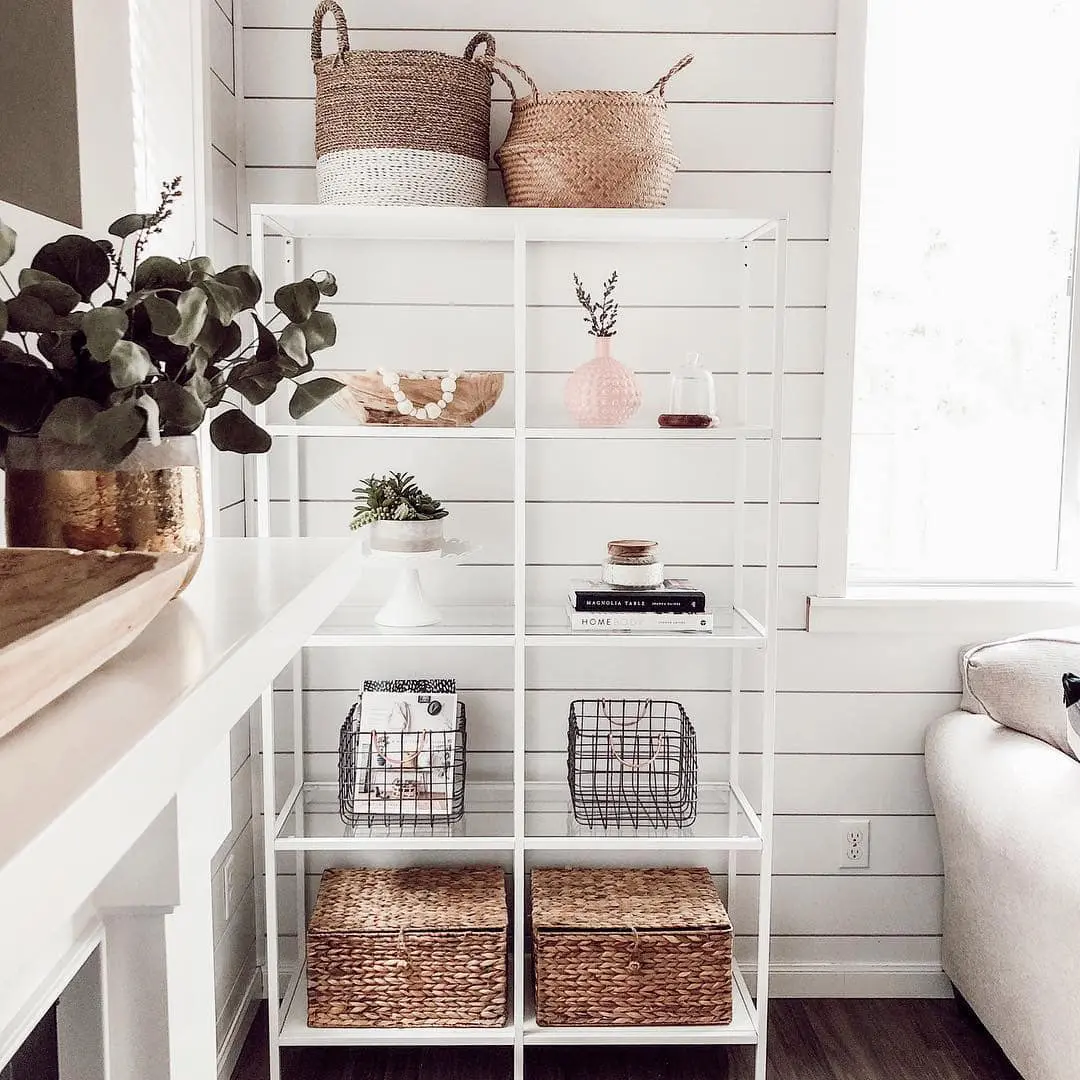 Credit: Instagram
Ikea is full of metal shelving units! They're cheap and, if you design them with flowers and other decorations, they can do for a lovely design piece in your room.
Simple, functional and beautiful!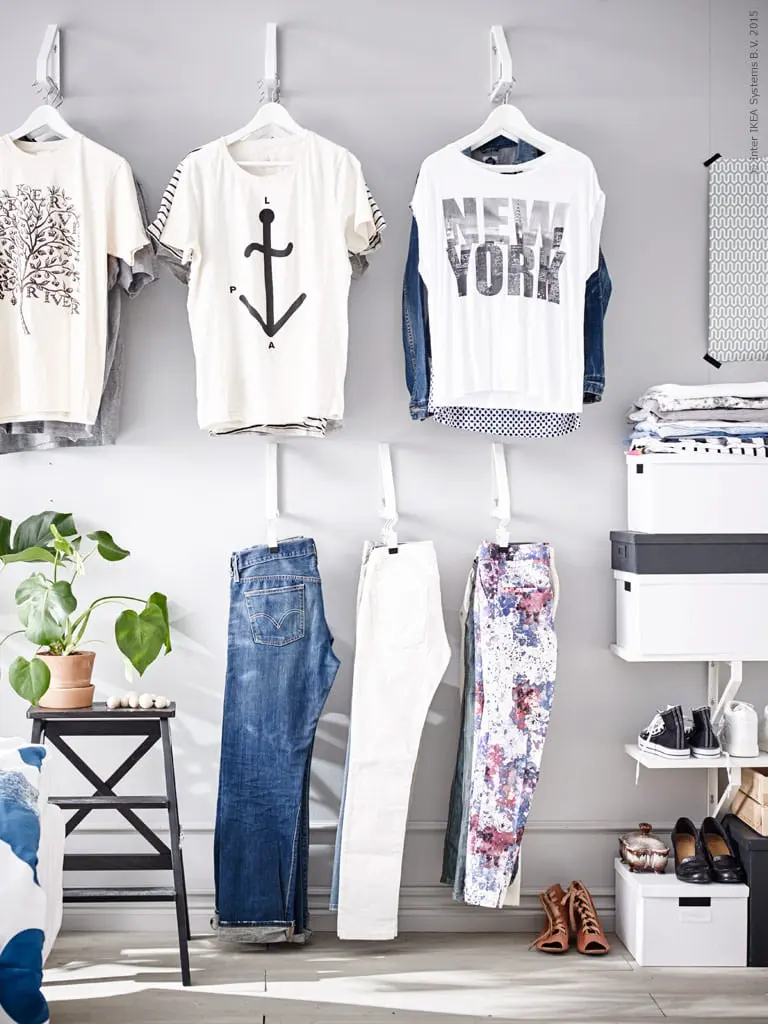 Credit: livethemma.ikea.se
These shelf brackets aren't just for shelves! Use them to hang your clothes and design your bedroom in that way.
You can always put a shelving unit on top and store everything on it!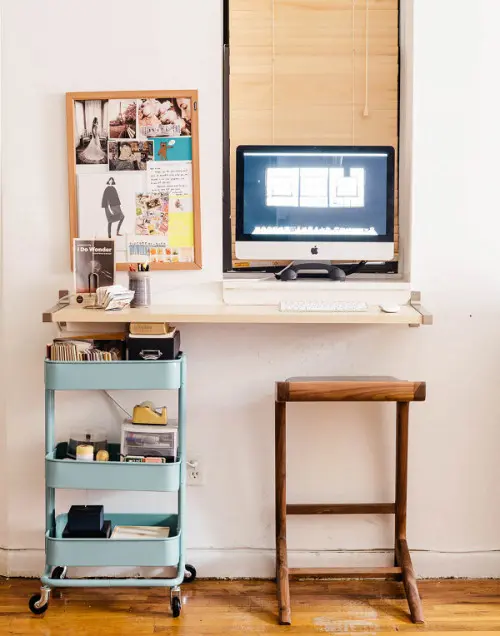 Credit: designsponge.com
This Ikea cart will do for a perfect addition to your office space. Especially if you have a wall desk!
Just roll it under the desk and store all your documents, pens, notebooks and other office supplies in there. It does for a beautiful design piece and you can always move it to another room when inspiration hits.
Credit: apartmenttherapy.info
Who said wall hooks are only for coats and other clothes? Not at all, organize your shoes with them and your home will look more interesting.
It's a super practical way to store your shoes since you can save your walls from staining them with the dirty shoes. Also, make sure you get big enough hooks!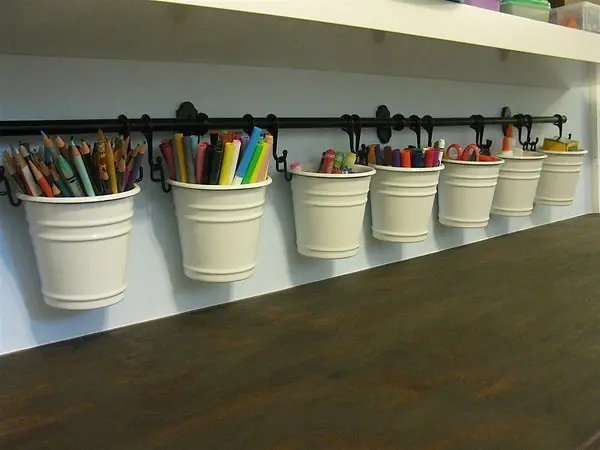 Credit: renovationtracker.blogspot.com
Get a few white buckets, black hooks, and a black rod! Assemble all that together and you'll have a nice crafts space.
Also, you could very well add a shelf on top of it and increase storage! Cute, simple and very functional.
If you have kids, this is a perfect place to store all the markers, pencils and keep them low. So, the kids will be able to reach and get artistic.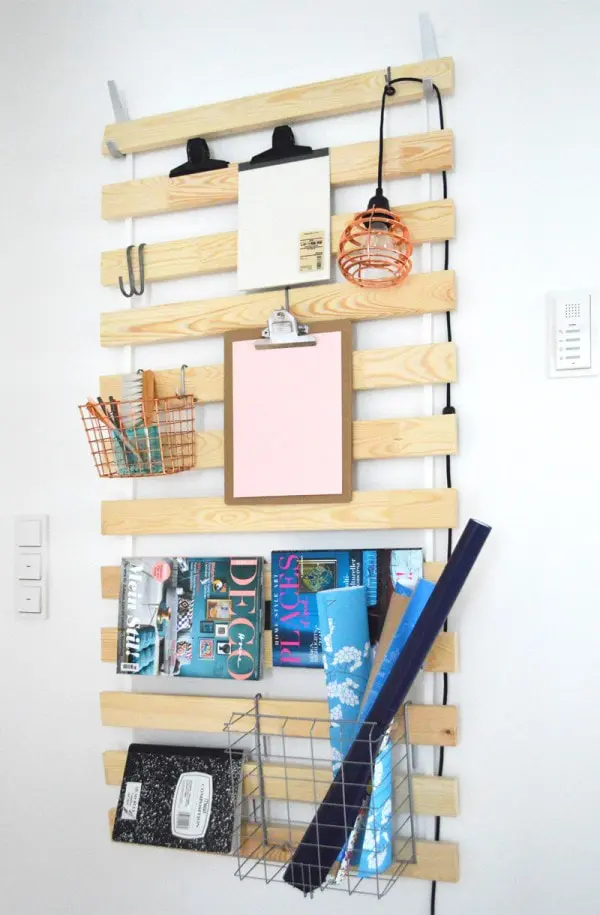 Credit: ichdesigner.com
Get a slatted bed base for just $10 and turn it into a beautiful wall hanger. Hang it on the wall, just make sure to get beautiful hooks.
Afterward, you can hang various items, accessories on it. Even your own wire baskets to create even more storage space!
Here is a beautiful vintage basket you might want to incorporate into this piece. Overall, it's a great bedroom décor project.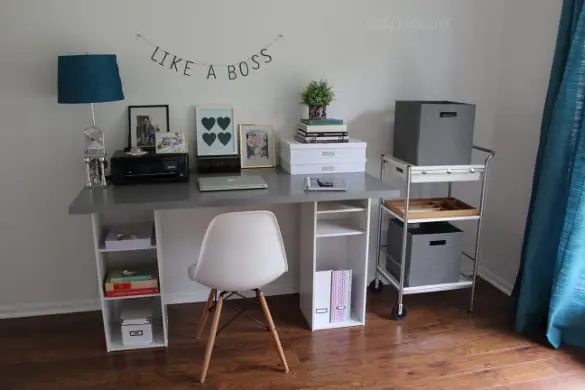 Credit: prettyprovidence.com
Beautiful desks can get very expensive very quickly and that's super annoying. Since having a beautiful workspace is so important for staying productive and organized.
Get a big desktop from IKEA, smaller bookshelves and just put the top on top of them. A silver IKEA cart will work beautifully here too because it'll create some extra storage space.
Overall, it's just a very cheap and practical way to create your office space. It looks amazing too!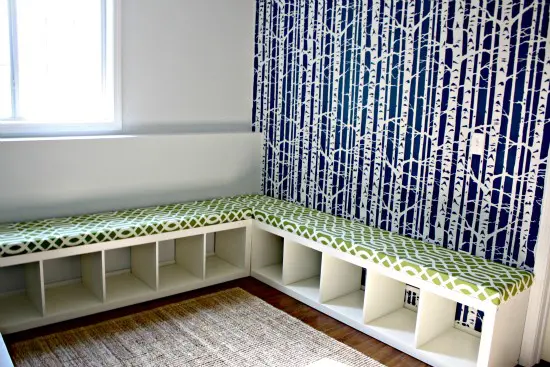 Credit: iheartorganizing.com
This is one of those DIY furniture makeover ideas you want to try. Expedit bookcases from IKEA are simply amazing.
All you have to do is get some fabric and turn it into a beautiful bench. The good thing here is that you could always slide in a few baskets into the shelving unit and create that extra storage you definitely need.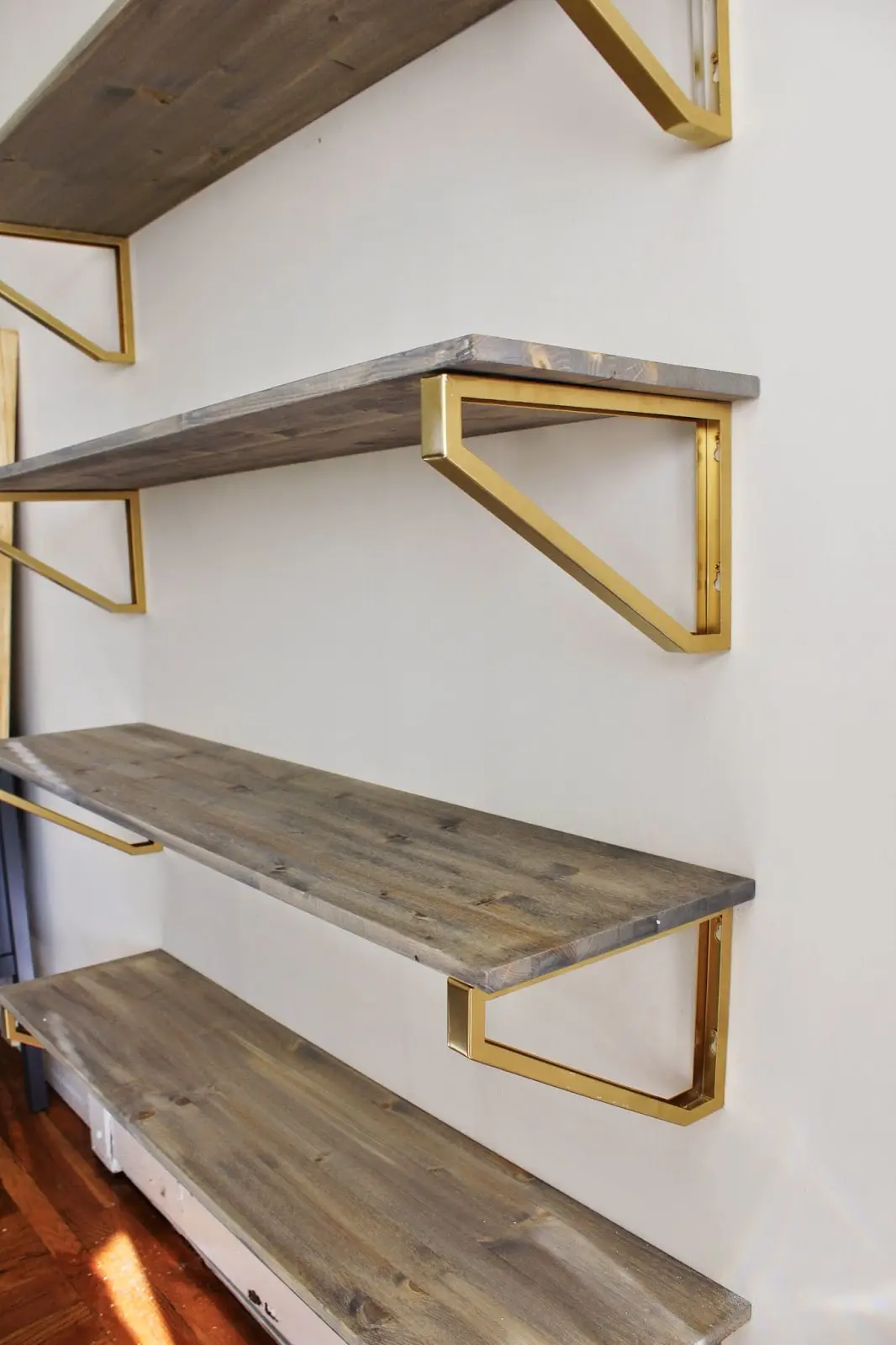 Credit: simplystyledsf.com
Get golden shelving brackets and wood planks to create your own shelves. Stack them on top of each other and you'll have a beautiful shelf unit.
You can store your pictures here, flowers, books and everything else practical. It looks great too!
Credit: thejpetite.com
You know that IKEA shelves are super cheap. So, you can definitely get one and use your own imagination to make it look a little bit more interesting.
Using wrapping paper or wallpaper and attach it to the back of the shelf while assembling it. Final result – a beautiful and original bookcase.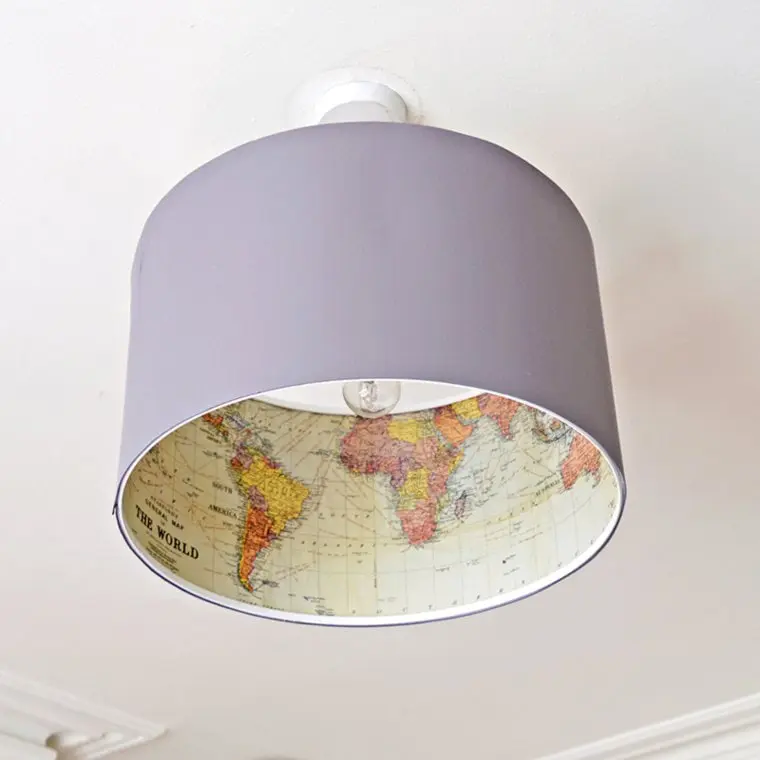 Credit: pillarboxblue.com
Get a budget lamp shade from Ikea and put a twist on it. Also, buy a world map wrapping paper (or any other wrapping paper) as well as Mop Podge glue.
Finally, you'll need to do some handy work. However, it'll all result in a lamp that you will probably not find in any other home! So, definitely worth trying.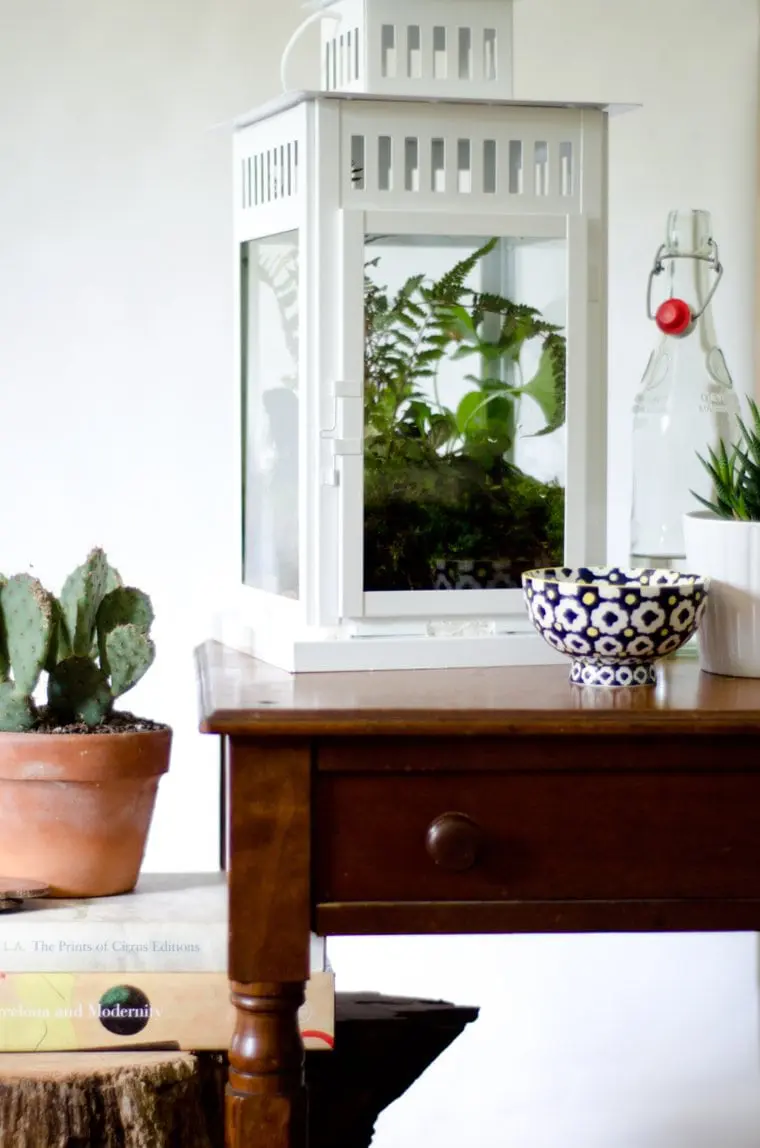 Credit: thouswell.co
This is a beautiful design piece for your home. You'll need an IKEA Borrby lantern, some plants, potting soil, charcoal, moss, and adhesive sealant.
All of these will come into one piece that you can put in the living room or kitchen. It'll definitely give the room a little bit of life!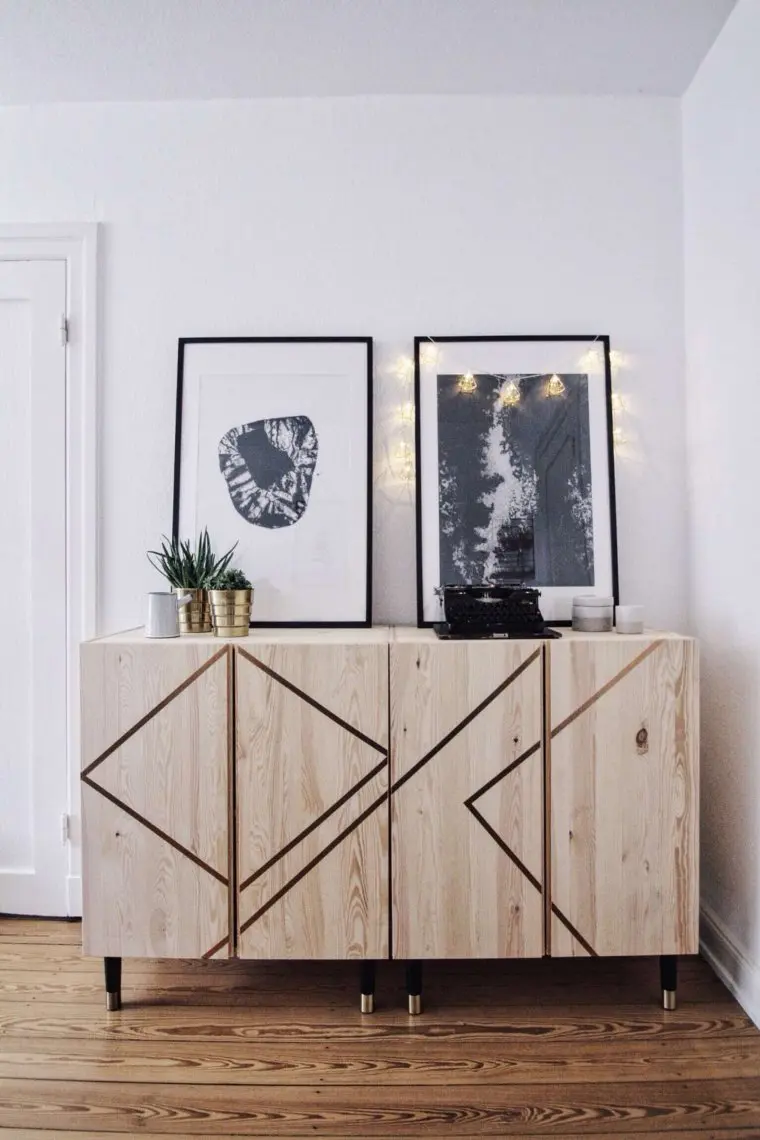 Credit: paulsvera.com
Get Ikea IVAR cabinets and use golden washi tape to transform them. While the actual cabinets look super boring, a little bit of work can truly take them to the next level.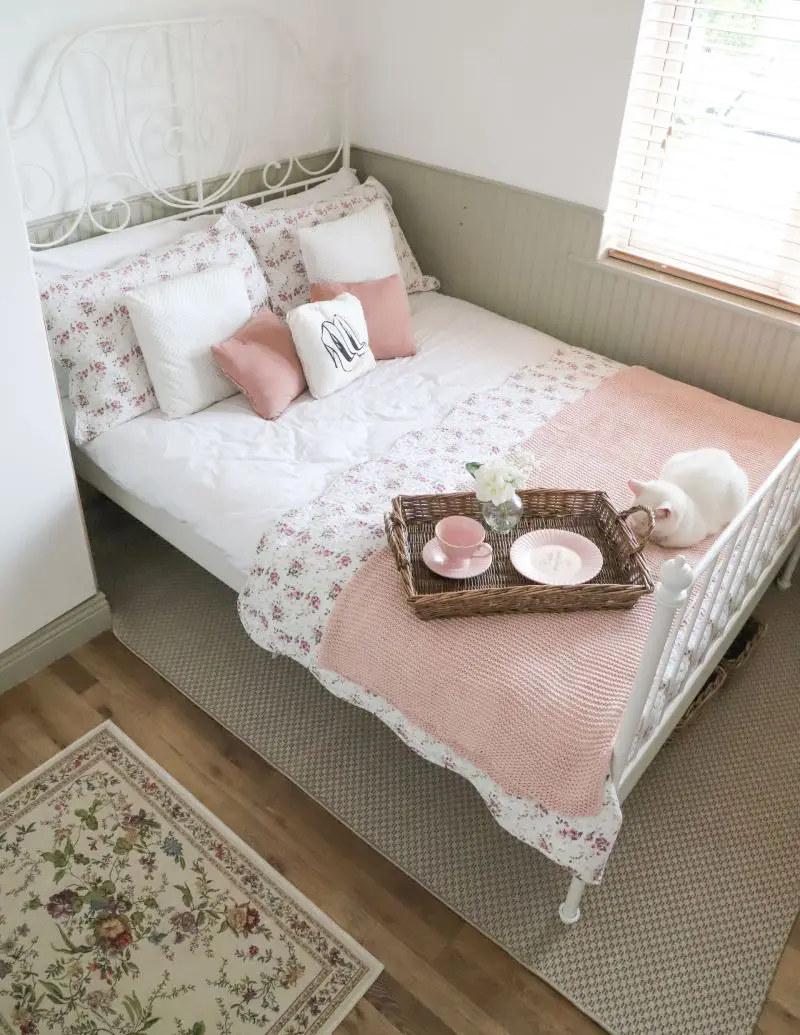 Credit: daintydressdiaries.com
The Ikea Leirvik bed frame may look like any ordinary plain and simple white bed frame, but the addition of vibrant beddings instantly transforms this into a stylish bed fit for a princess.
All you need to do is use beautiful floral-patterned sheet sets like this, and a mix of white and pastel-colored bedding accents. Finish the décor with a breakfast tray similar to the one seen here, and a few accent pieces, and the classy-looking pastel pink bed is complete!
Check out more IKEA bed hacks for bedroom here.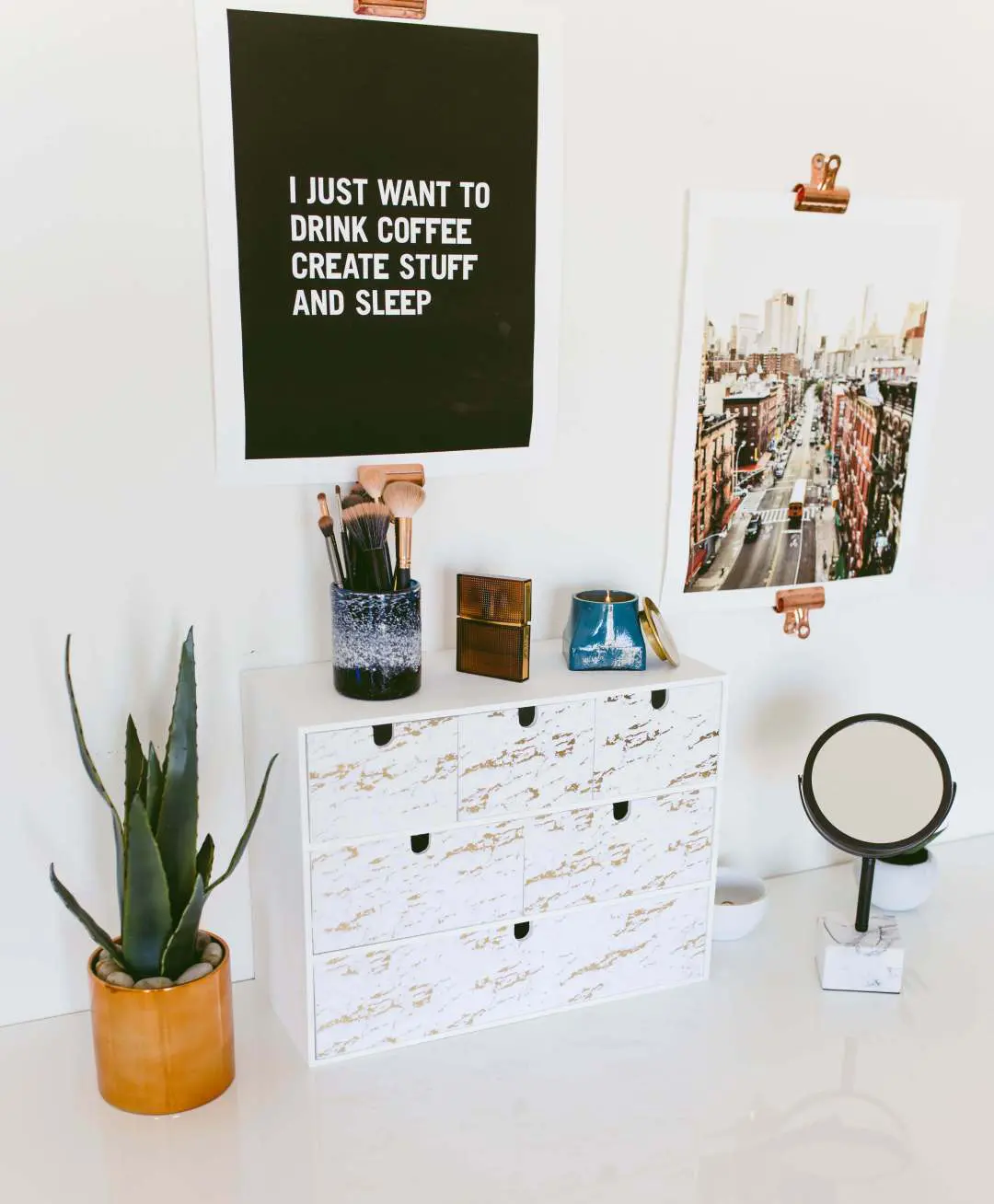 Credit: twinspiration.co
This elegant-looking makeup storage drawer is actually an Ikea Moppe all dolled up. It's super easy to achieve it, too.
You can do it in two ways. First, you can paint the drawers white, then mod-podge it over with a metallic scrapbook paper.
If you don't want to paint it, you can also use a marble contact paper like this and stick it on to your drawers.
I'm sure you will agree that it was a gorgeous makeover.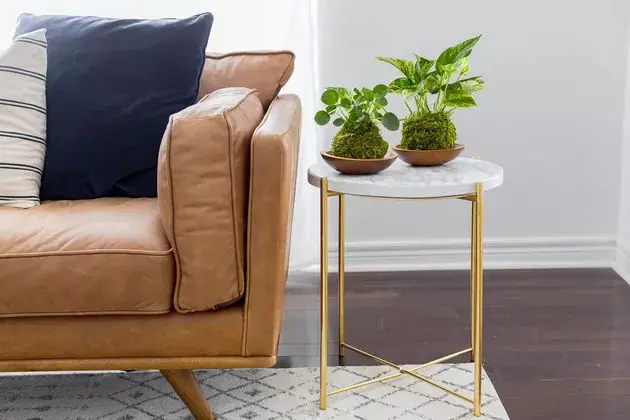 Credit: hunker.com
This hack is another great way of using marble contact paper to transform Ikea furniture. This time, we use the Ikea Gladom tray table, marbled paper, and this metallic gold spray paint.
It's super easy to make! Simply spray paint the tray table frame, wrap the table with the marble contact paper, and assemble!
The key thing to remember here is when assembling, flip the tray upside down. That way, it looks more like a table rather than a tray.
How's that for an instant added elegance to the room?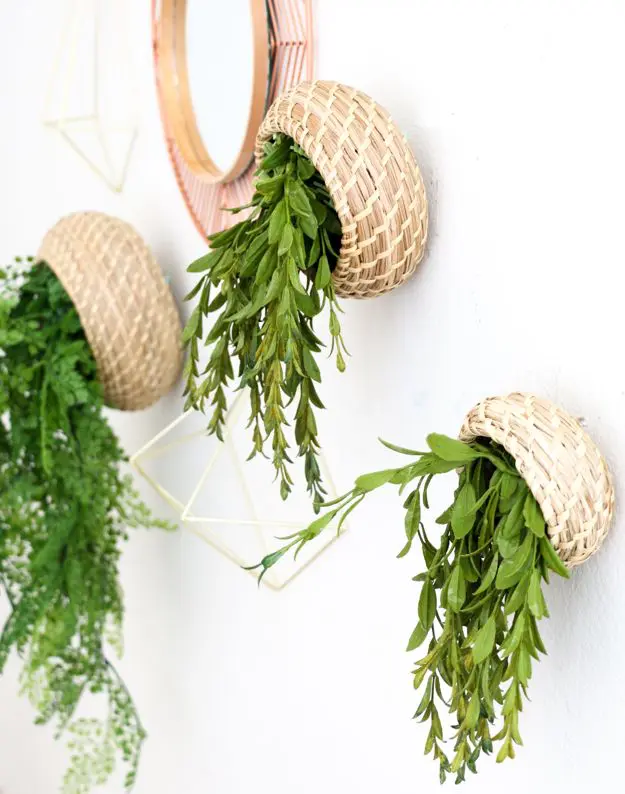 Credit: akailochiclife.com
I love the natural flowy feel of these DIY floating basket planters! It may look hard to make, but it's really incredibly easy.
Hover over to this page to find the guided tutorial on how to make this eye-catching wall décor that would fit any room of the house.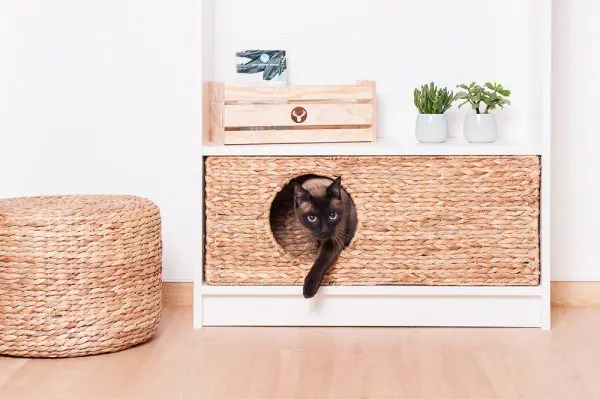 Credit: decorlovin.com
Isn't this a super cute and brilliant idea? A Swedish company designed this basket specifically to suit the base of an Ikea Billy bookshelf.
This hack is super easy, and you don't even need to do any modifications. Just slot the basket into the shelf, and that's it!
Don't you wish our human hangouts were just as easy to make?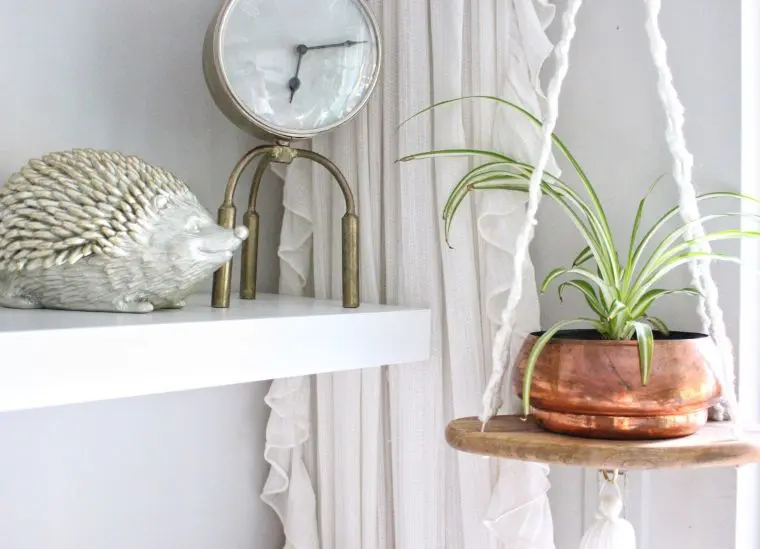 Credit: decorlovin.com
Who would have ever thought that chopping boards can be used as hanging planters? It's super brilliant, I am annoyed I wasn't the one who thought of it first!
To recreate this, you will need an Ikea Fascinera chopping board, brass rings, yarn, jewelry string, and a drill.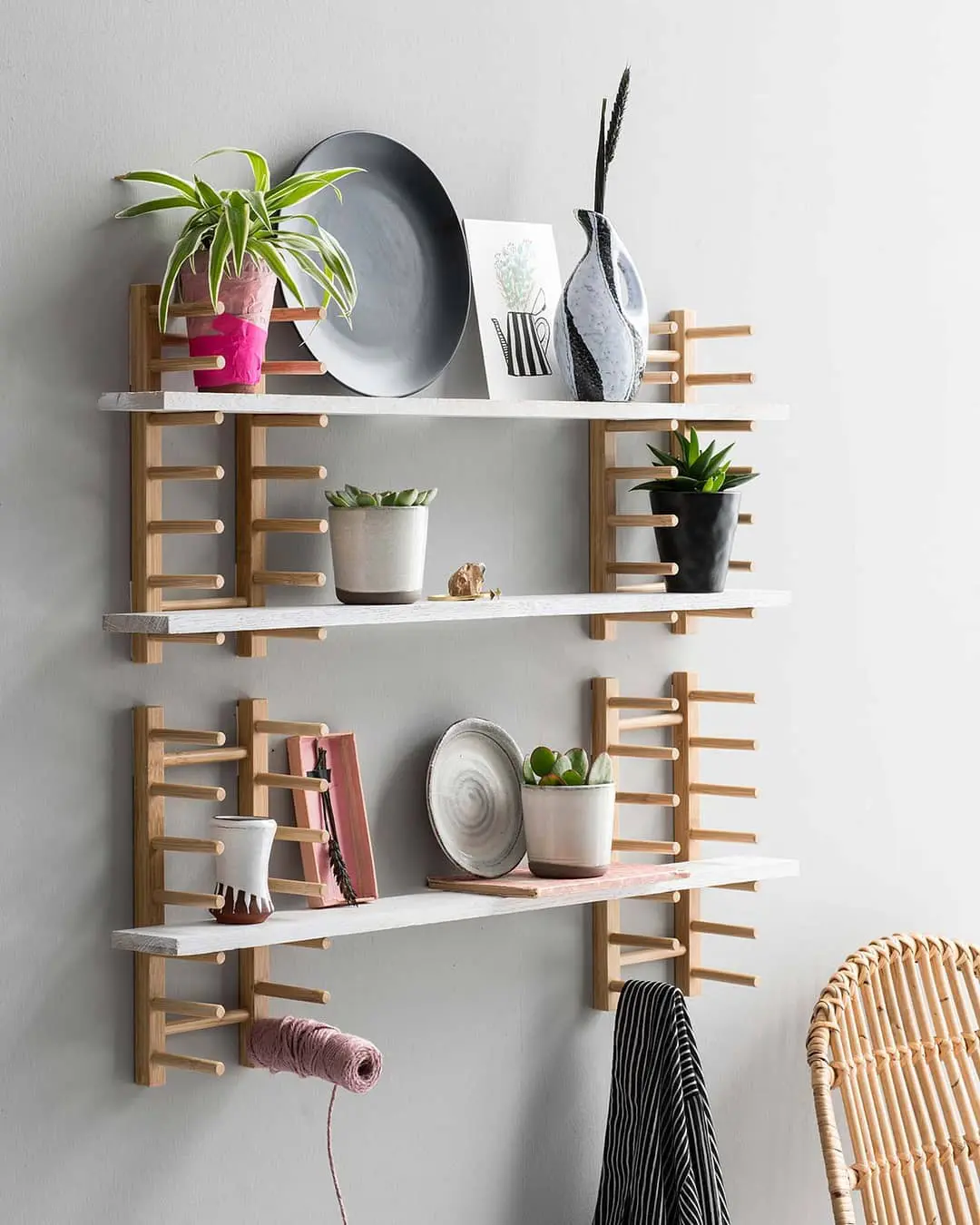 Credit: Instagram
Would you believe me if I told you that this bookshelf was made from plate holders? Yes, they're made from the inexpensive Ikea Ostbit bamboo plate holders!
Simply mount them onto your wall with these strong-hold Commando strips, add a few painted wooden slabs, and decorate to your heart's content!
The best thing about it is the holder pegs double as hanging racks for coats, ties, and so much more. Versatile and inexpensive, what more can you ask for?
This is a great IKEA hack for the kitchen!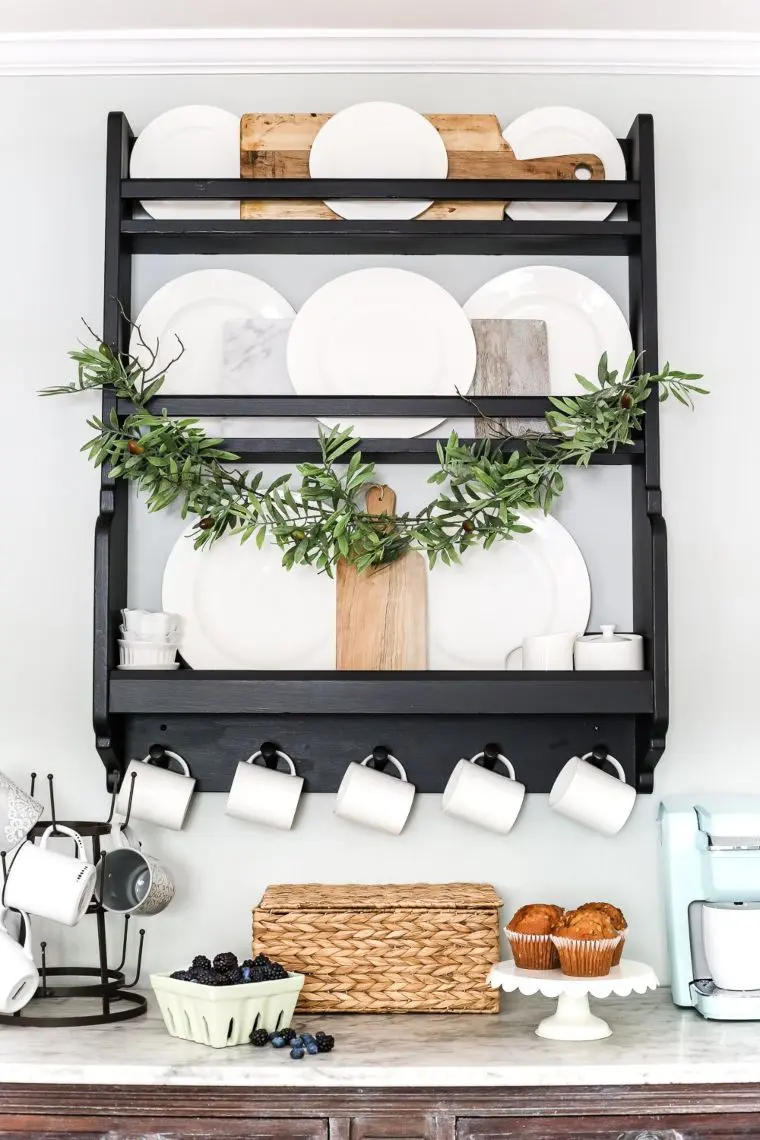 Credit: blesserhouse.com
If you have a dull, empty wall in your kitchen, why not bring it to life with a decorative plate rack? The good news is, there's no need to do anything apart from getting yourself this Ikea Vadholma wall shelf.
It comes available in black, so you don't need to worry about ruining your kitchen's color scheme – black goes with almost any color! Fill it with your favorite decorative dishes and line the bottom hooks with mugs that bring out your character and style.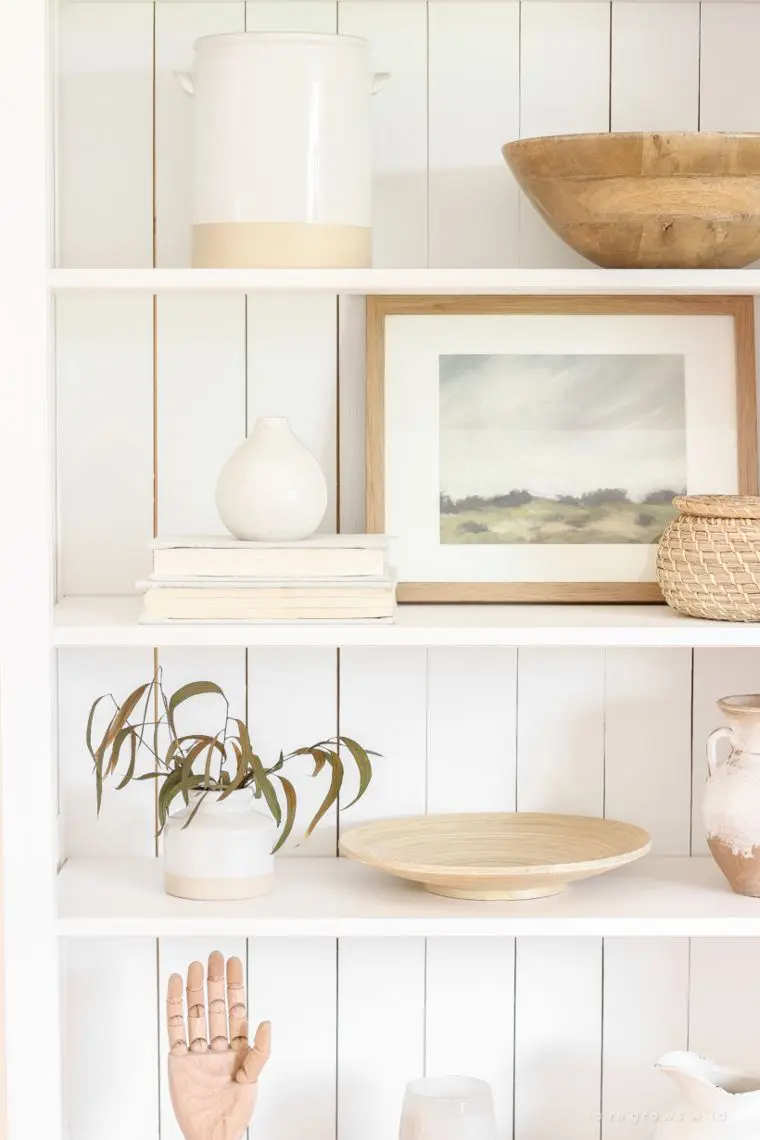 Credit: lovegrowswild.com
Ikea furniture comes in minimalistic yet functional designs. But that doesn't mean you can't transform them into something to suit your decorative preferences.
Just like this Ikea Hemnes, that was converted into a stunning farmhouse style furniture. Check out these IKEA bookshelf ideas for more inspiration!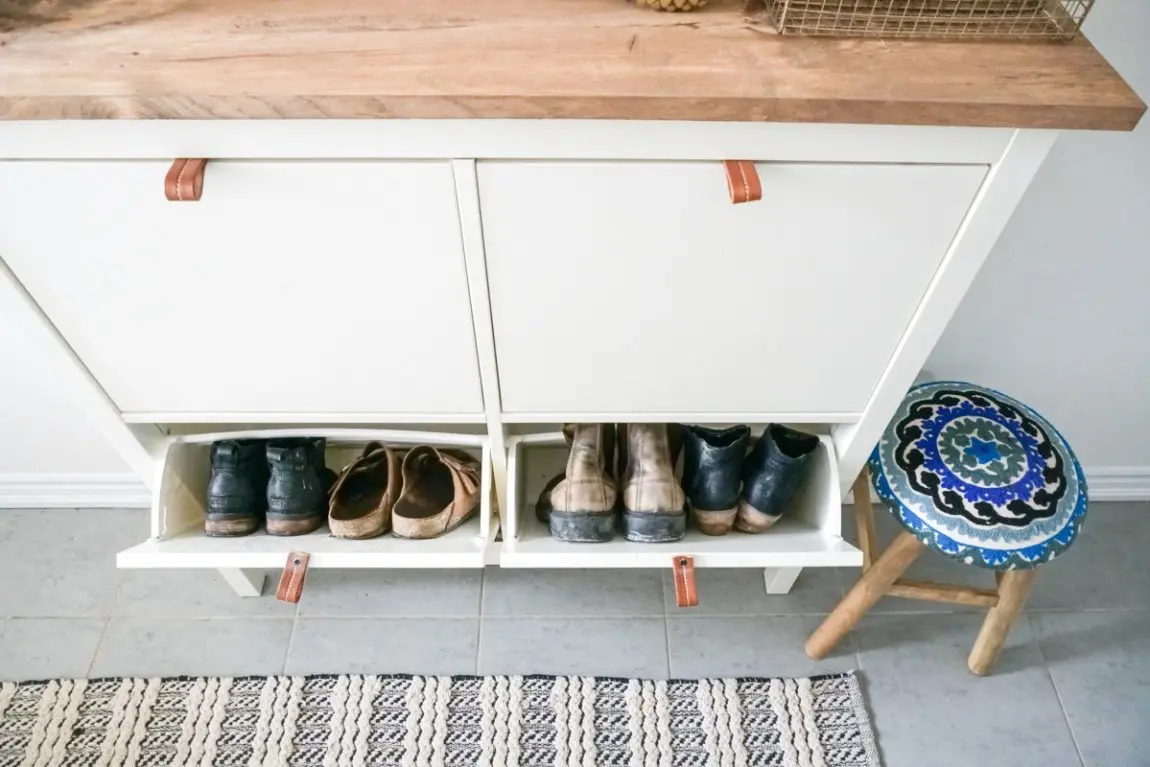 Credit: lavenderjulep.com
This shoe cabinet is another product from the Ikea Hemnes range. Its slim design makes it a perfect hallway table and shoe cabinet in one.
Just assemble the shoe cabinet, leave out the included door handles, and use this leather cabinet pulls instead.
To complete the rustic look, cut a wooden board to fit the size of your shoe storage top and brush a walnut shade stain like the one found here. When the stain dries, use a strong adhesive to attach the wood-stained board to the top of your shoe cabinet.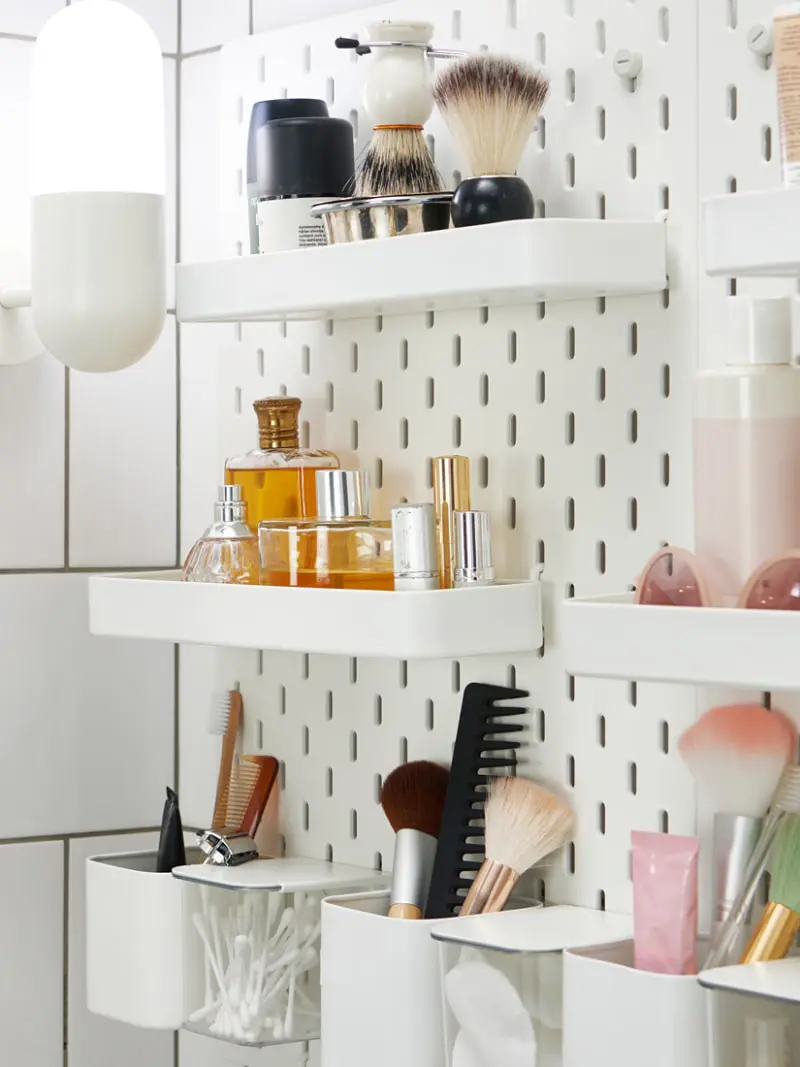 Credit: domino.com
If your bathroom has limited storage space, the Ikea Skadis range could be your next best friend!
The Skadis is a versatile organization tool with a pegboard base. It has a wide range of containers, shelves, clips, and hooks, so you are free to design your bathroom's organization board.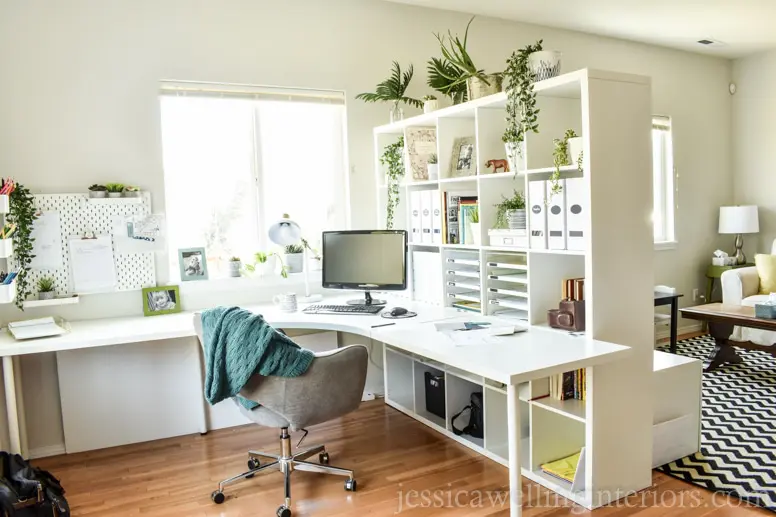 Credit: jessicawellinginteriors.com
Make your workspace distinct from the rest of the house. Use a combination of Ikea Kallax shelves to create a bookshelf and divider in one!
What I love about the Kallax is its open feature, which makes it easy for me to see what the kids are up to while I am working on my desk. The cubes are also large enough to hold my office folders, books, and even storage boxes.
Check out more of IKEA Kallax hacks!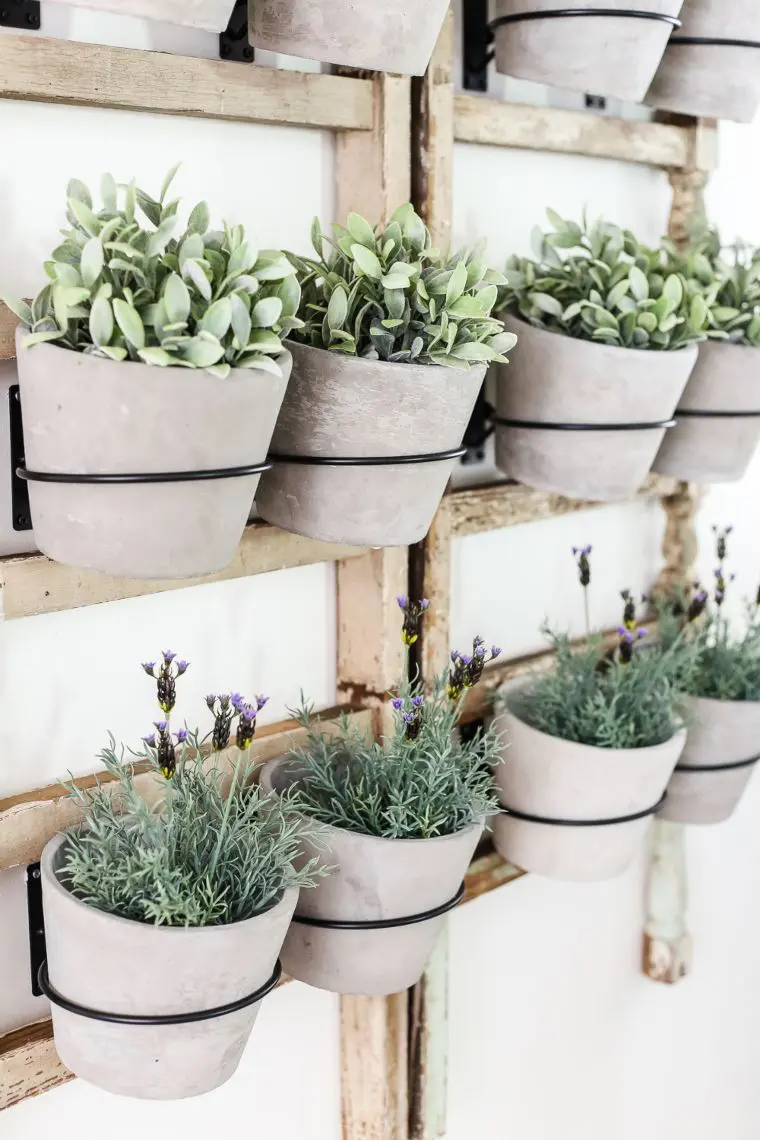 Credit: blesserhouse.com
Add a creative touch to your indoor plant decors by mounting them to the wall instead of resting them on tabletop surfaces. You will need these inexpensive Ikea Nypon plant pots and some flower pot rings like the ones found here.
Mount these on to your wall and add some wood slabs or an old ladder to give it a more rustic look.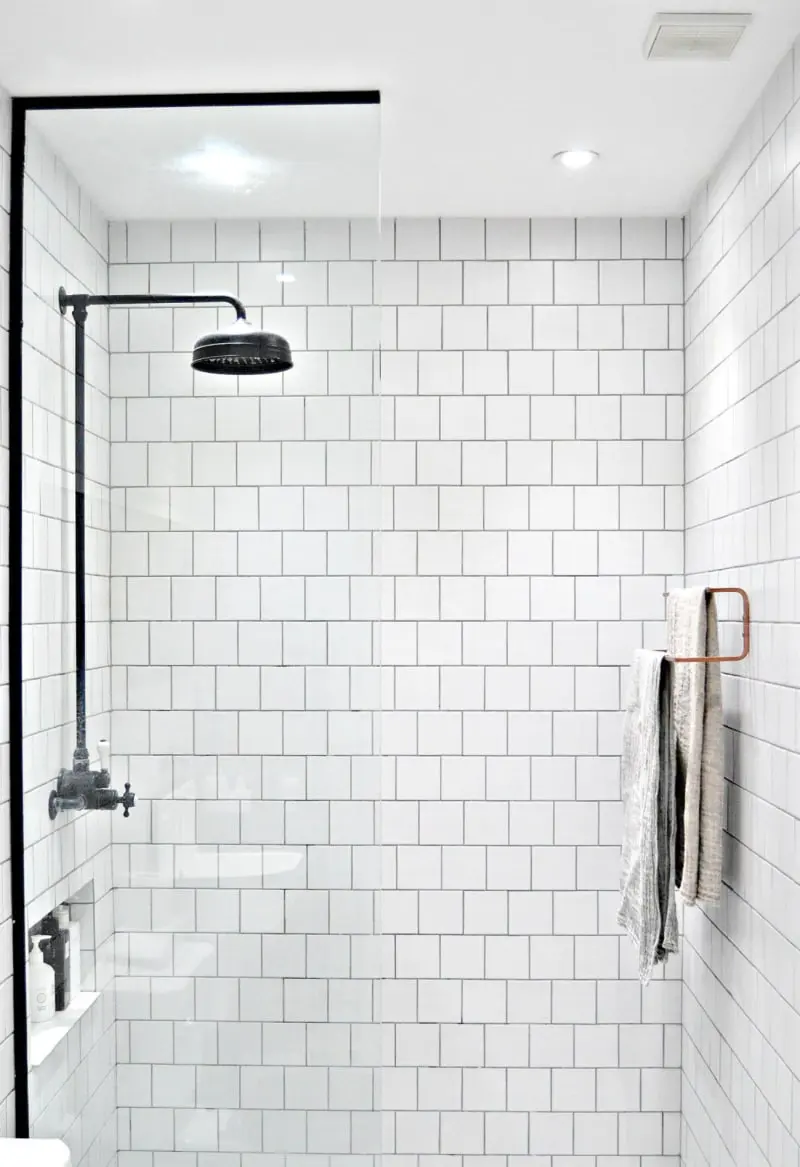 Credit: domino.com
Splash an elegant color to your otherwise monochromatic bathroom space by painting your Ikea Hjalmaren towel rack with a nice shade of metallic copper.
It may be difficult to find a Hjalmaren nowadays as it has since been discontinued. Still, you can also apply the same principle to other towel racks, Ikea or not.
A simple five-minute hack that can transform your bathroom into a more luxurious and vibrant space!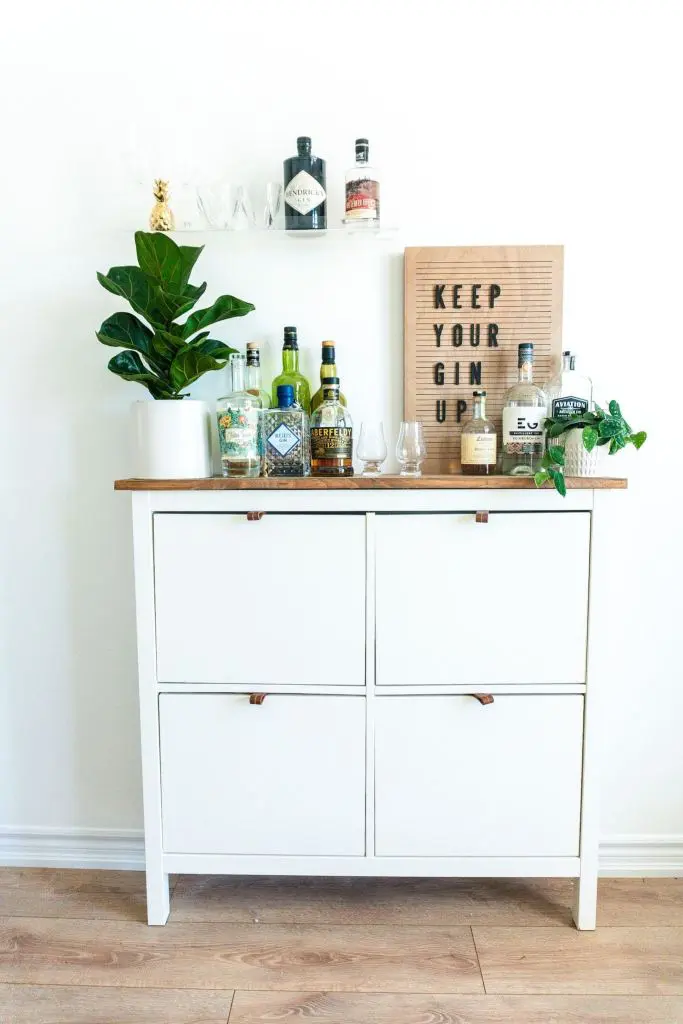 Credit: lavenderjulep.com
This hack is similar to the shoe cabinet upgrade we showed you earlier on this list. The difference is that instead of using it for shoes, you use it to store your premium bottles and cocktails instead.
Specialized bar cabinets can be quite expensive, but this Ikea hack definitely saves you a lot of $$$. There you go, now you have more money to use on your favorite bottle of spirits!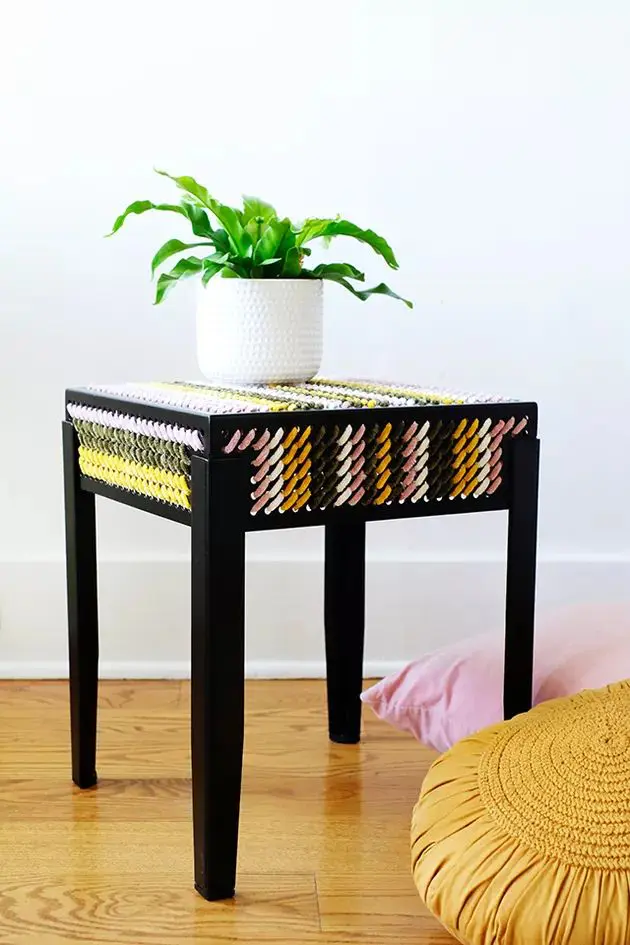 Credit: hunker.com
This is a fun DIY project for you and the kids over the weekend. You will need an Ikea Sjalvstandig stool to serve as your design base, your favorite colors of yarn, a scissor, and masking or painter's tape.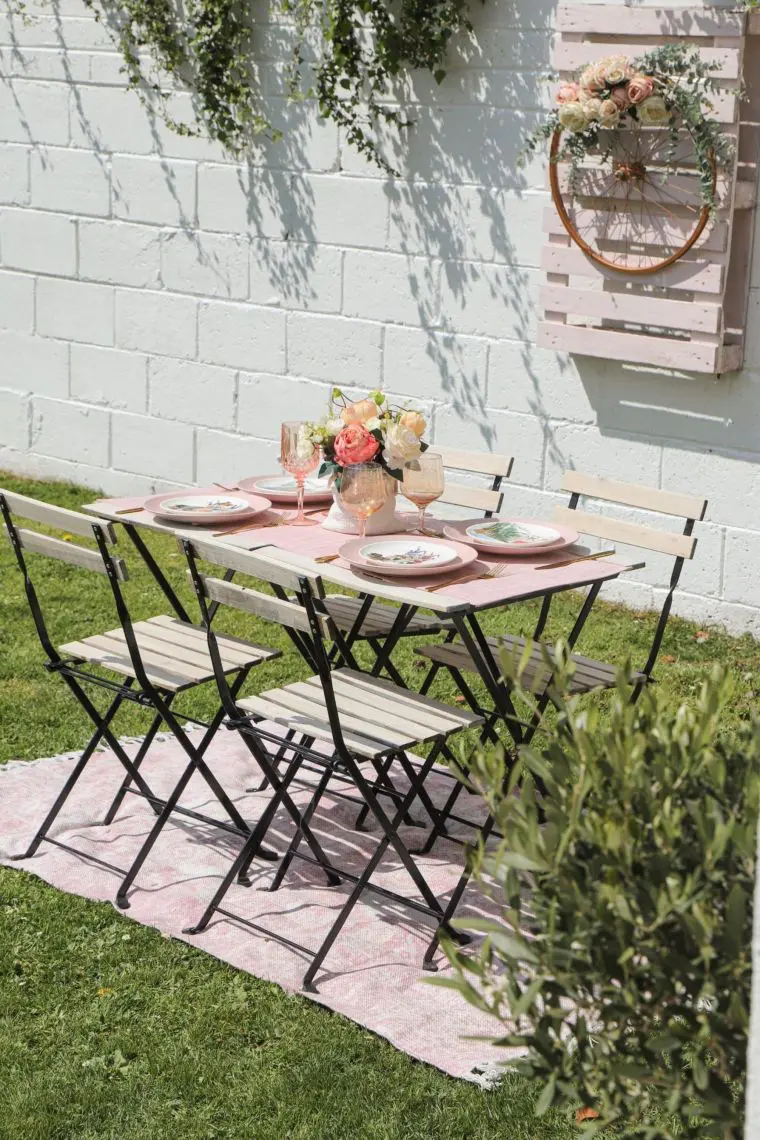 Credit: daintydressdiaries.com
This hack is about giving the weathered Ikea Tarno a new life. Outdoor furniture doesn't come cheap, so before you decide on trading your old one for something new, check this DIY hack first to see the possibilities.
You can watch this video for the full transformation process, and other Ikea hacks you can use to spruce up your outdoor furniture setting.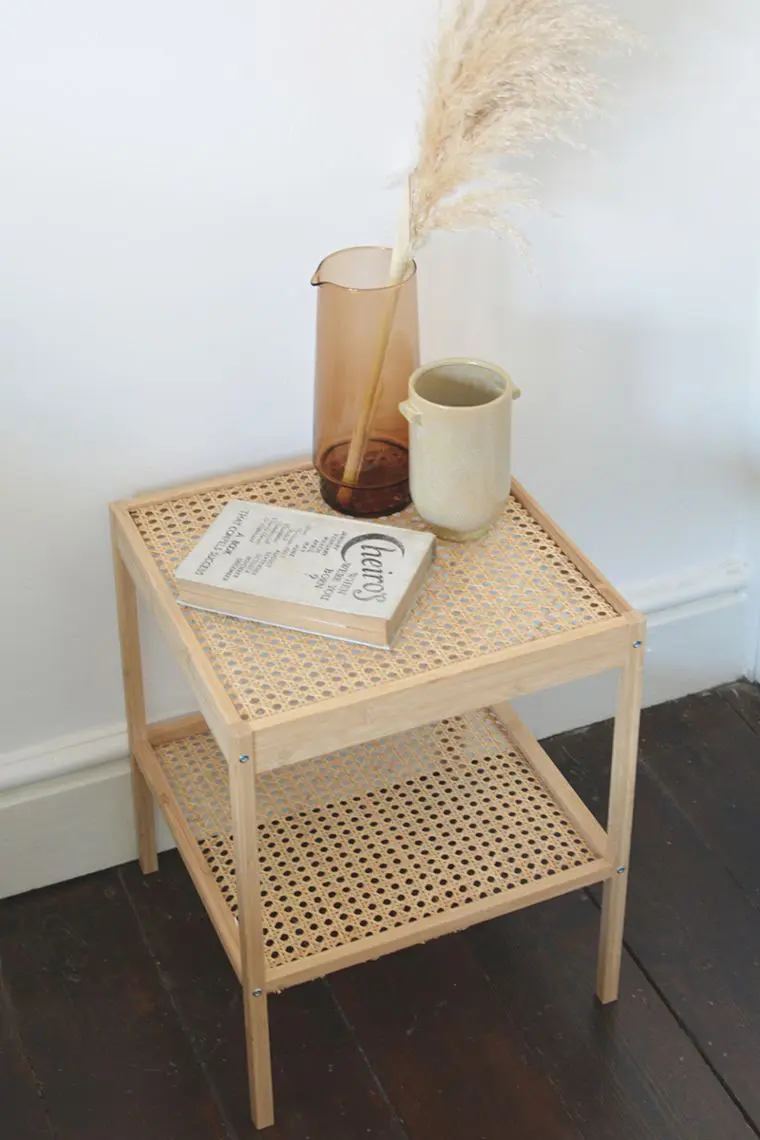 Credit: burkatron.com
The Ikea Nesna bedside table is an inexpensive piece of minimalistic furniture that you can easily transform into a boho-style accent piece by simply flexing your DIY muscles.
You will need cane webbings like the one seen here, a staple gun, adhesive glue, and a pair of scissors.
Before building the Nesna table, take the glass tabletop, lay it over your cane webbing, and cut it to match the glass shelf's size. Now, go ahead and assemble the table but leave out the bottom wooden slats.
Line your glass shelf with contact adhesive using a paintbrush. Take your pre-cut cane webbing and place some adhesive on it before sticking it onto the glass shelf.
Make sure to trim the edges, so it leaves a seamless finish on the table. Leave this to dry.
Once everything is dry, grab your extra cane webbing and cut it to the size of the bottom shelf. Attach this onto the table using a staple gun.
Voila! From minimalistic to boho in no time!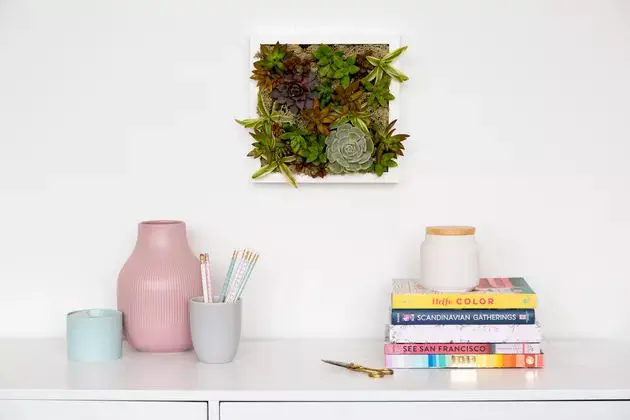 Credit: hunker.com
I love succulents! They are beautiful indoor plants, and they also make life easier as they are super easy to maintain.
Unconventionally display your succulents by using the inexpensive Ikea Ribba picture frame range. Besides your succulents and soil, you will also need moss, chicken wire, a staple gun (get yours here if you don't have one), wire cutters, and a pair of scissors.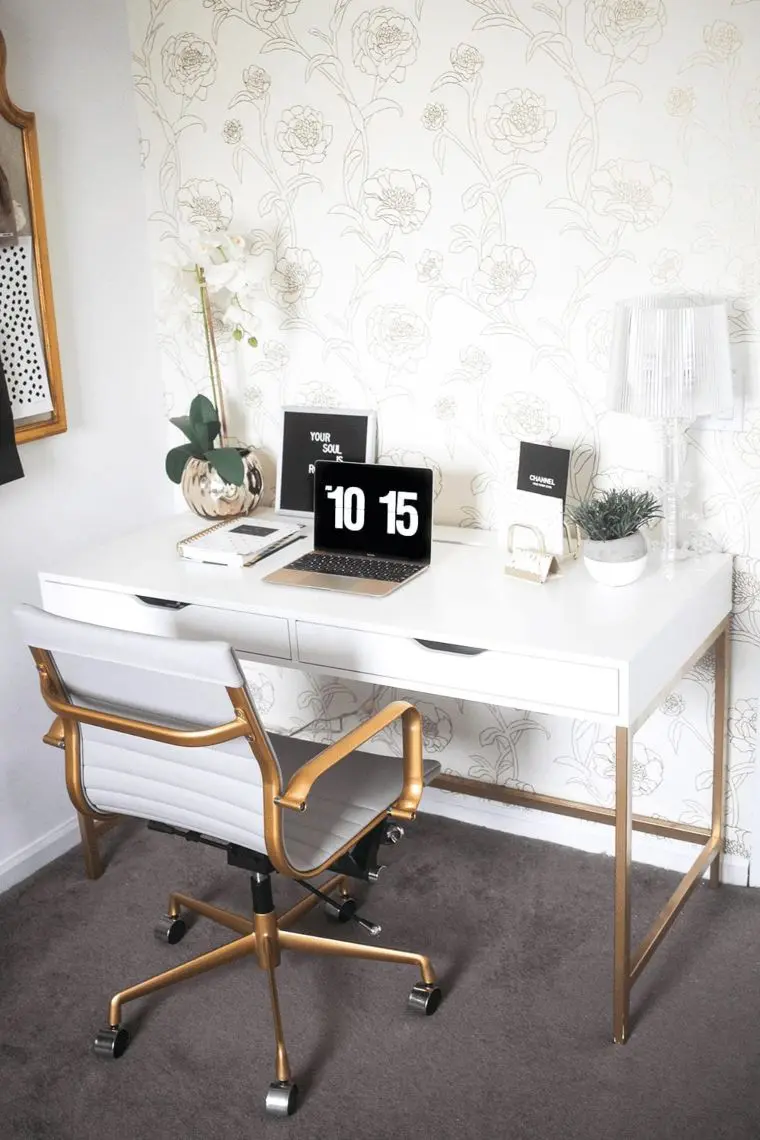 Credit: moneycanbuylipstick.com
If you want your home office to exude elegance, grab yourself an Ikea Alex desk, your office chair, and a metallic gold spray paint.
You probably already know what I am going to say next, right? Yup, you spray paint the table's legs and the chairs, too (including the armrests), and that's it.
A touch of elegance in under 10 minutes! All that's left is to assemble the pieces and decorate that luxurious office space!
Check out more IKEA desk hacks like this here!
Conclusion
So, did you like any of these IKEA hacks? Try them, decorate your home and get inspired!