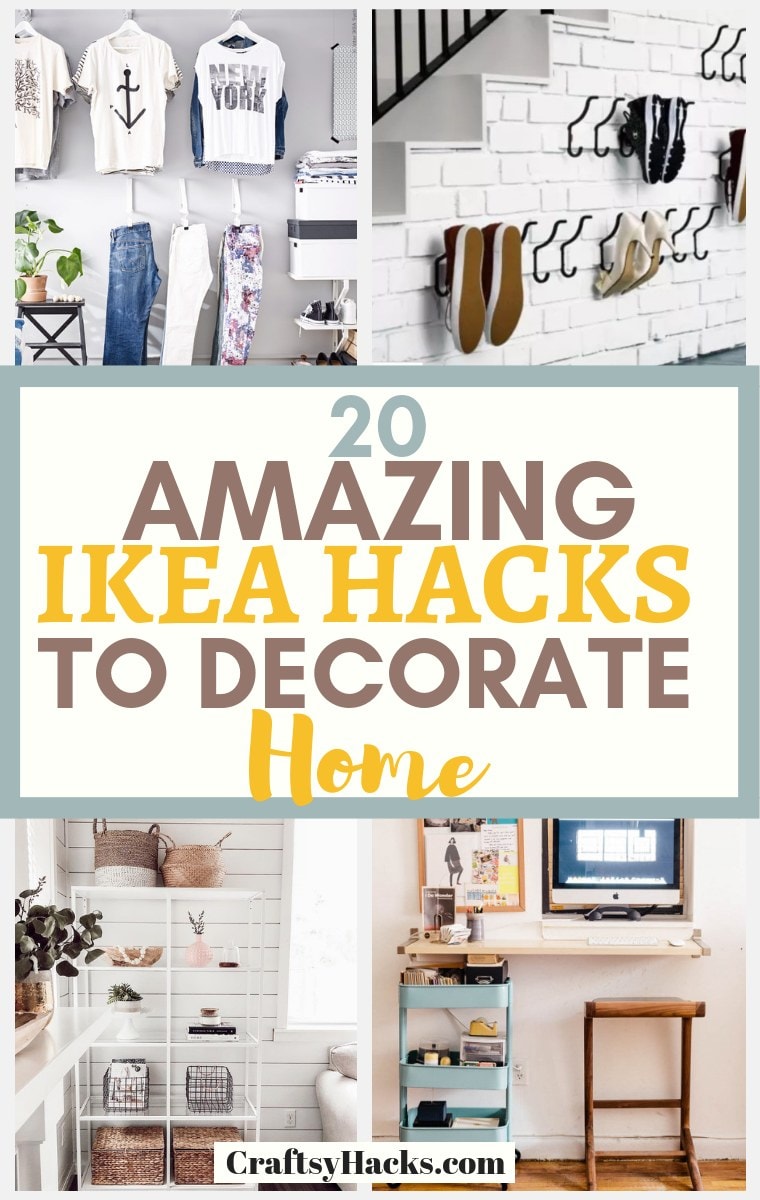 IKEA is one of my favorite shops because you can find so many furniture items that are low budget. While most of them are pretty boring there are multiple ways you can transform them.
Today I want to share with you 20 lovely IKEA hacks you can use to decorate your home!
This blog is supported by readers purchasing featured products. When you buy products with my links, I earn a commission at no extra cost to you. Here is my full affiliate disclosure.
1. Entryway Organization
Credit: Hometalk.com
Get an Ikea Kallax shelf unit and transform it into an entryway organization unit. We all have a lot of things that simply need to go somewhere.
With this organization unit, you can forget about the things being all over the place. You can now store them in one place and have a nice entry to the house.
Insert IKEA drawers and slide in hand-woven baskets, like these ones here, into the lower shelves. Use each drawer for different types of items so you stay organized.
Now all your sunglasses, scarfs and other essentials have a place to be.
2. Marble Top Bedside Table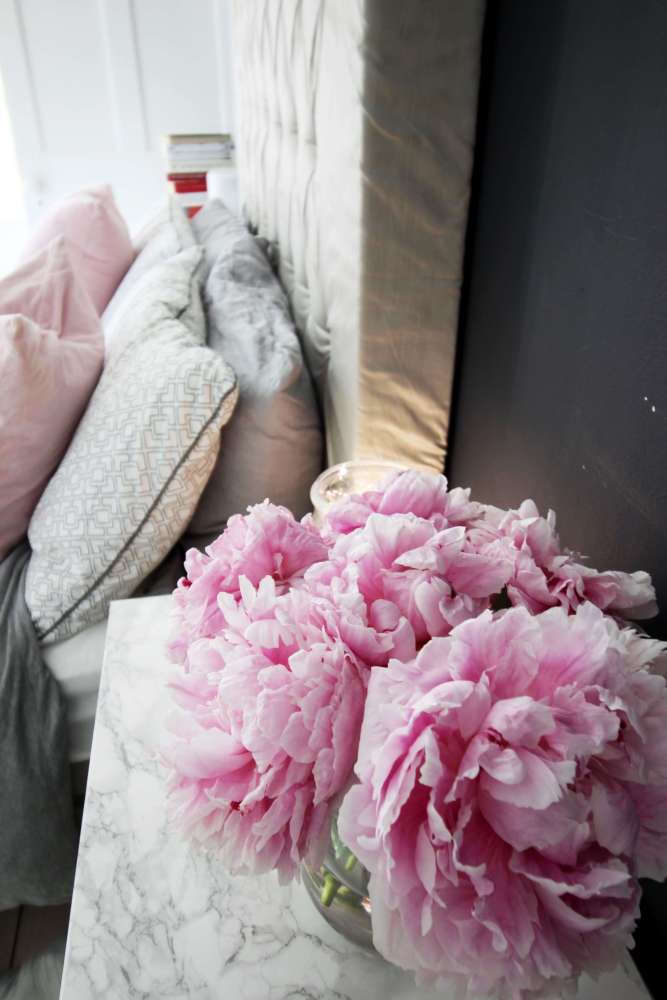 Credit: byshnordic.com
Get a regular IKEA bedside table and transform it into something that suits your bedroom energy. First, get a little bit of paint – preferably grey.
Then, buy a marble effect sticky back plastic sheet like this one here and stick it to the top of the table. And here you go, a way more interesting bedside table that's also a great design piece!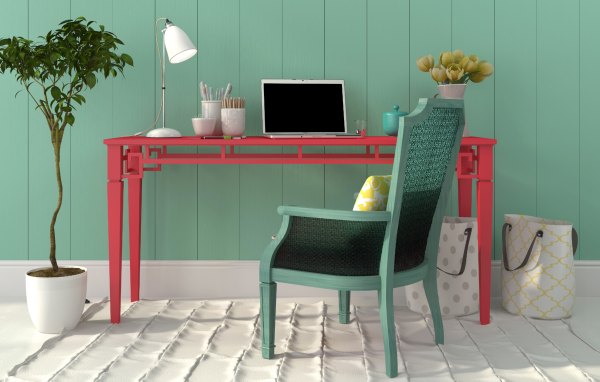 3. Industrial Shelf
Credit: bloglovin.com
You don't need to buy industrial shelving to make it look industrial! Get this super cheap Hyllis shelving unit, spray it with black paint and add wood planks to the shelves.
The wood planks will stay intact as long as you loosen up the shelves a little bit and then tighten the screws. For the top wood plank, you'll have to drill a few holes to secure it.
The result – your very own industrial shelf for a truly small price!
4. Long Storage Unit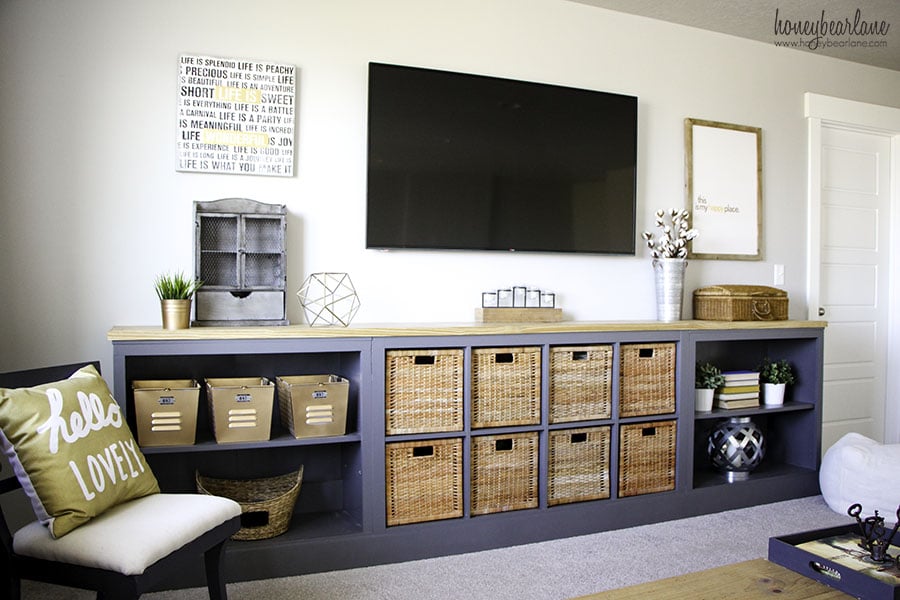 Credit: honeybearlane.com
Get IKEA Expedit and a long bookshelf, and turn them into this marvelous long storage unit. It also happens to look absolutely amazing.
The oak stain and shellac-based primer are essential to make it happen. Also, choose the colors that will suit your room – go for brighter colors if your home lacks lighter spaces.
5. Hallway Bench with Storage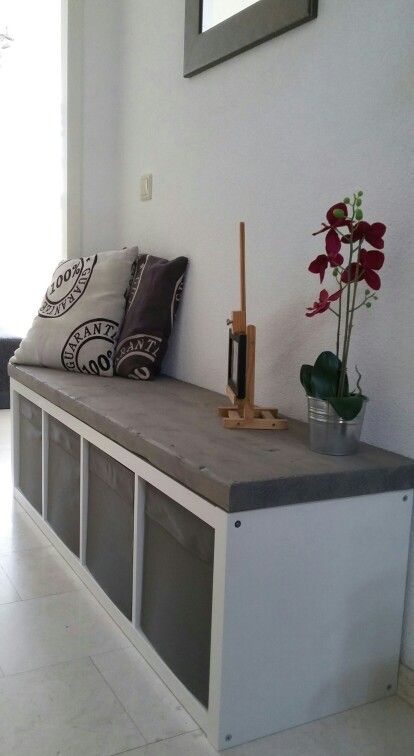 Credit: Pinterest
You can turn Ikea Kallax into a beautiful storage unit the whole family will love. It can also function as a bench, which makes it perfect for a hallway.
Sit down on it to put your shoes on or when waiting for the family to get ready. For it, you'll need a long wooden plank or a few large wooden planks for a more rustic look (like these ones here).
You can just glue them together or fasten them up and attach them to the top of the Ikea Kallax. Obviously, you'll need a few storage baskets as well.
You can either go for grey foldable storage cubes made out of fabric or for these beautiful vintage wire baskets. Either way, there are a lot of options when it comes to picking the right storage basket.
6. Framed Rocks and Minerals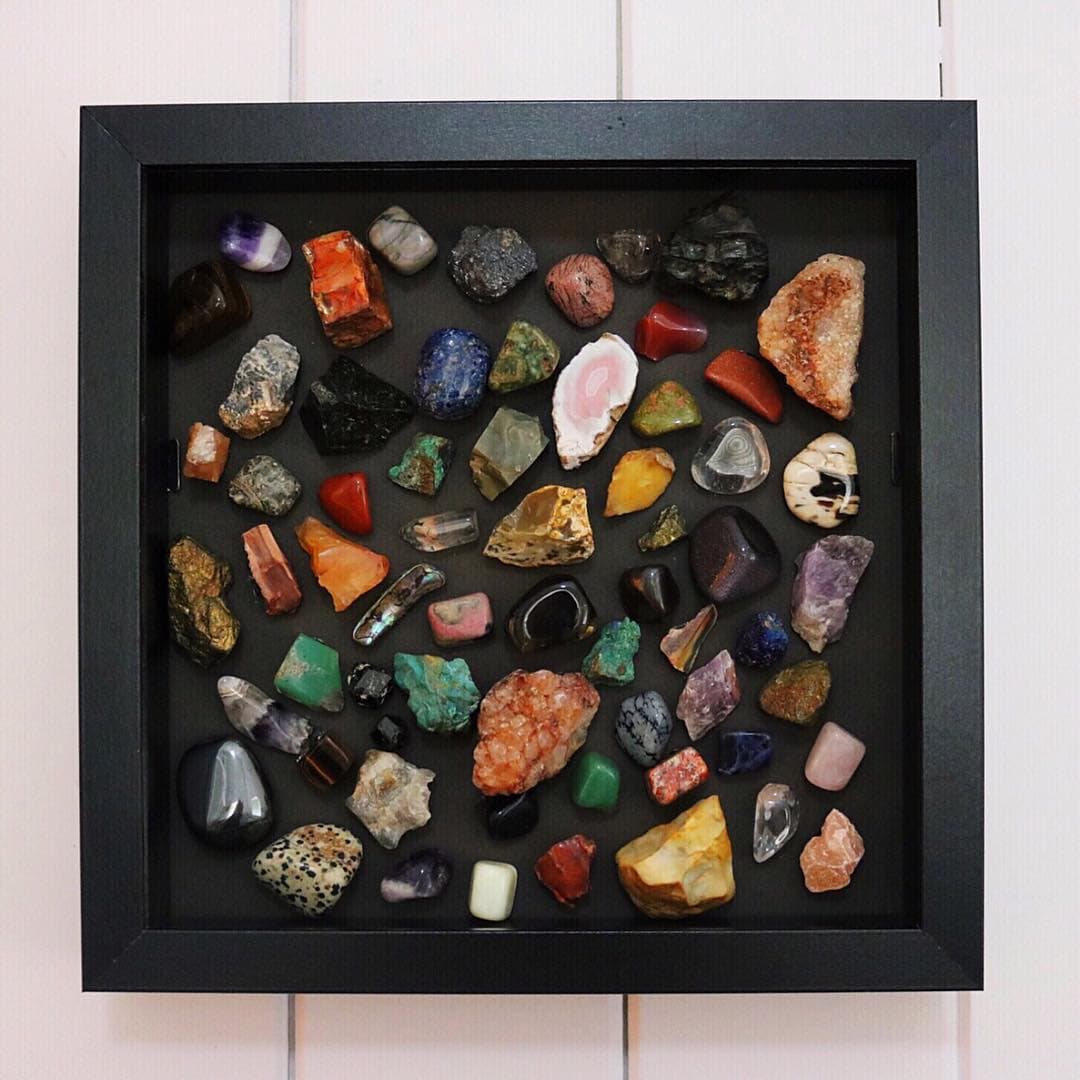 Credit: Instagram
A big fan of all sorts of rocks and crystals? If you collect them, it might be a good idea to showcase them.
Get a simple black frame from IKEA, glue some card down and glue the gemstones. It'll do for a beautiful design piece at home and will carry some spiritual value too.
If you don't collect minerals but would love to have a piece like that on your wall, get a bulk of crystals here.
7. Shelves for Books
Credit: Instagram
Get these BEKVAM spice racks and spray them with white paint. You can use them for books, pictures and much more!
A great way to design your walls and create some practical storage space.
8. Designed Shelving Unit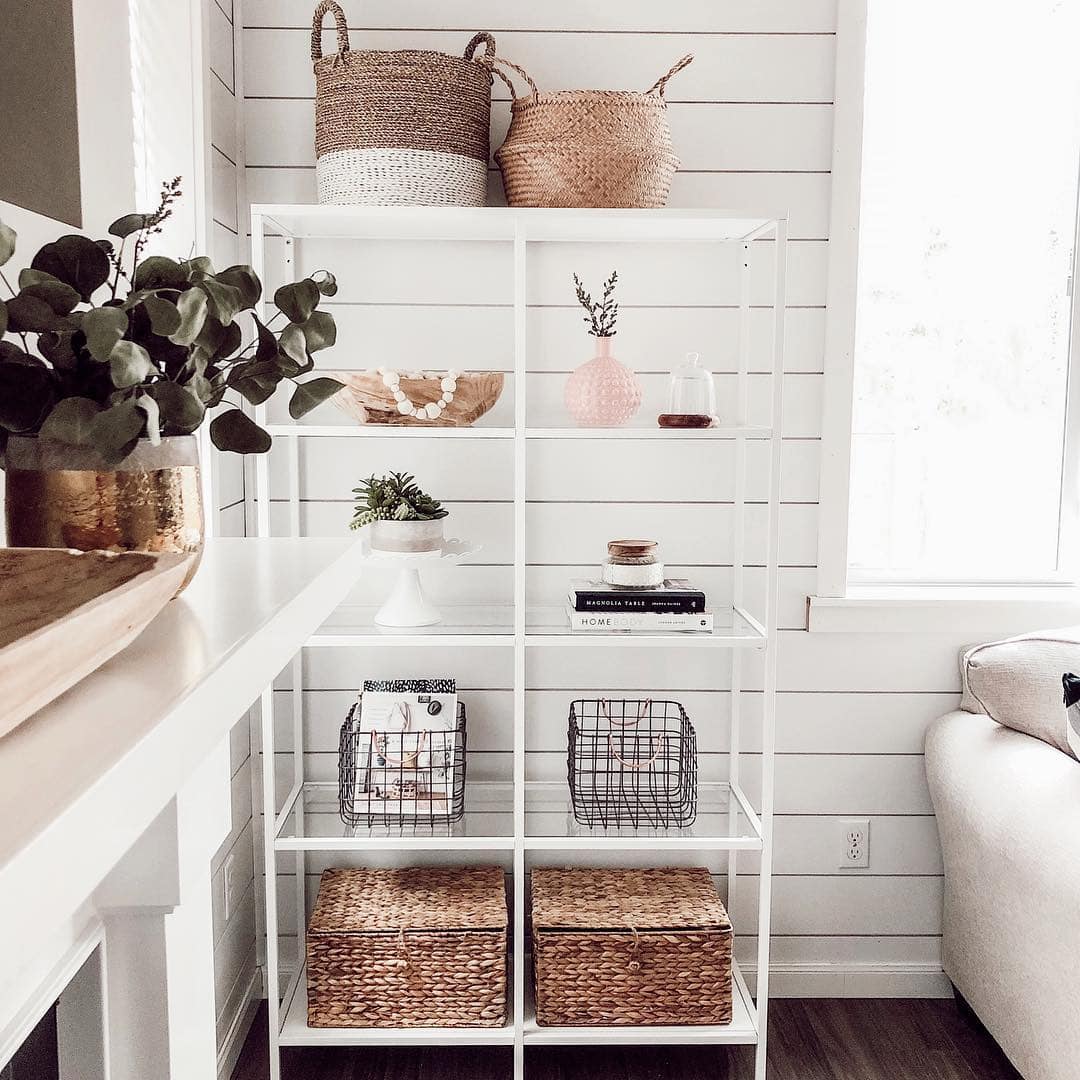 Credit: Instagram
Ikea is full of metal shelving units! They're cheap and, if you design them with flowers and other decorations, they can do for a lovely design piece in your room.
Simple, functional and beautiful!
9. Shelf Brackets for Storing Clothes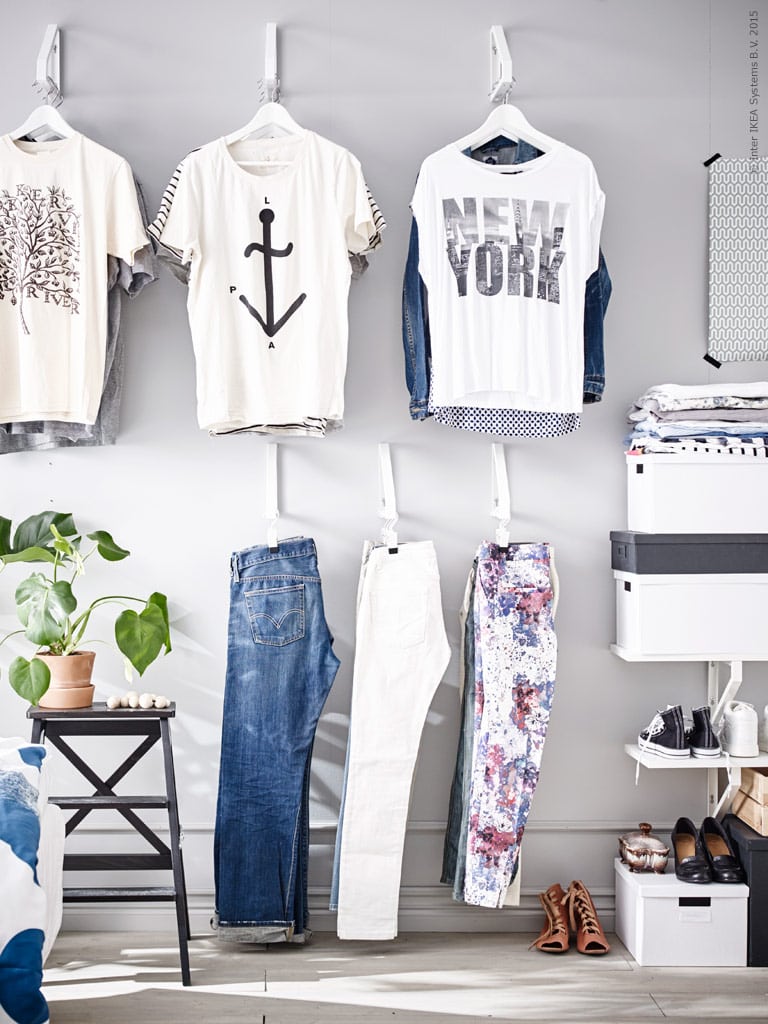 Credit: livethemma.ikea.se
These shelf brackets aren't just for shelves! Use them to hang your clothes and design your bedroom in that way.
You can always put a shelving unit on top and store everything on it!
10. Ikea Cart for Your Desk Setup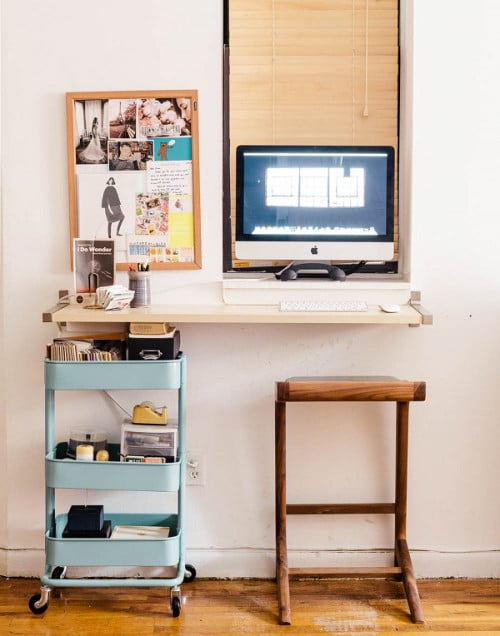 Credit: designsponge.com
This Ikea cart will do for a perfect addition to your office space. Especially if you have a wall desk!
Just roll it under the desk and store all your documents, pens, notebooks and other office supplies in there. It does for a beautiful design piece and you can always move it to another room when inspiration hits.
11. Wall Hooks for Shoes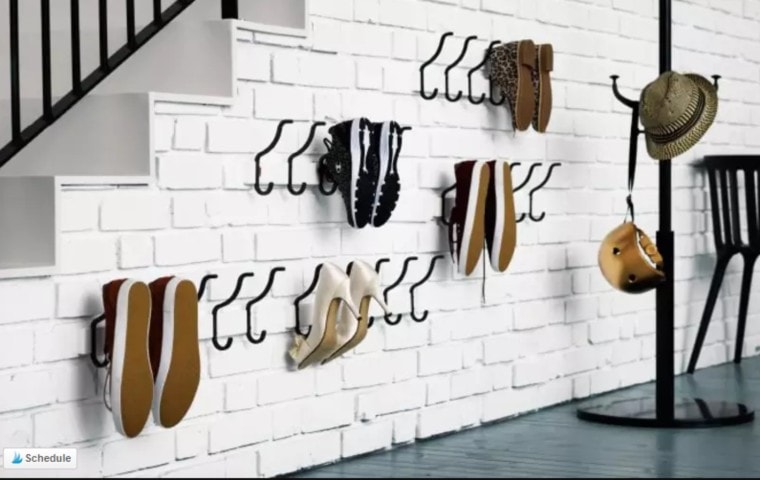 Credit: apartmenttherapy.info
Who said wall hooks are only for coats and other clothes? Not at all, organize your shoes with them and your home will look more interesting.
It's a super practical way to store your shoes since you can save your walls from staining them with the dirty shoes. Also, make sure you get big enough hooks!
12. Your Own Craft Area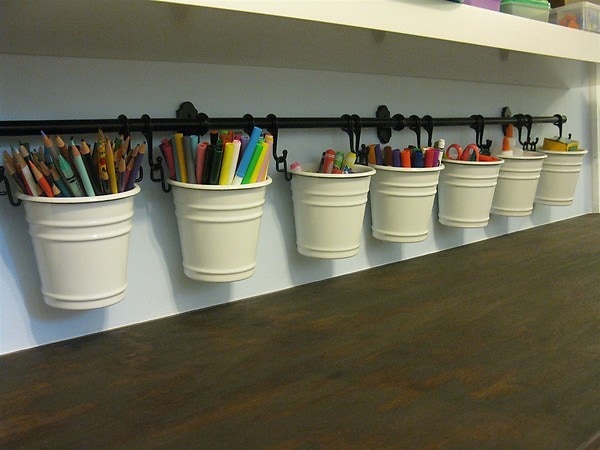 Credit: renovationtracker.blogspot.com
Get a few white buckets, black hooks, and a black rod! Assemble all that together and you'll have a nice crafts space.
Also, you could very well add a shelf on top of it and increase storage! Cute, simple and very functional.
If you have kids, this is a perfect place to store all the markers, pencils and keep them low. So, the kids will be able to reach and get artistic.
13. Turn Bed Slat into a Wall Hanger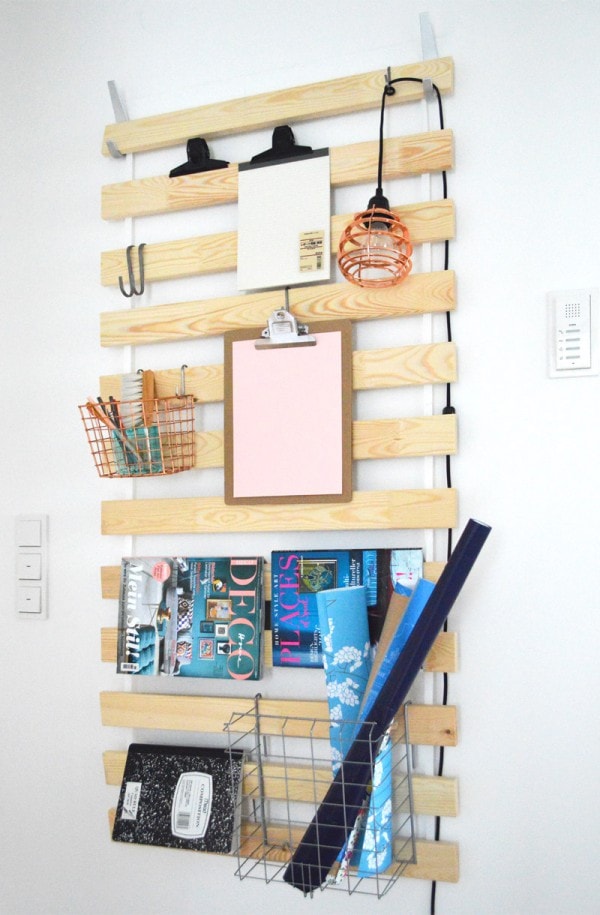 Credit: ichdesigner.com
Get a slatted bed base for just $10 and turn it into a beautiful wall hanger. Hang it on the wall, just make sure to get beautiful hooks.
Afterward, you can hang various items, accessories on it. Even your own wire baskets to create even more storage space!
Here is a beautiful vintage basket you might want to incorporate into this piece. Overall, it's a great bedroom décor project.
14. $60 DIY Desk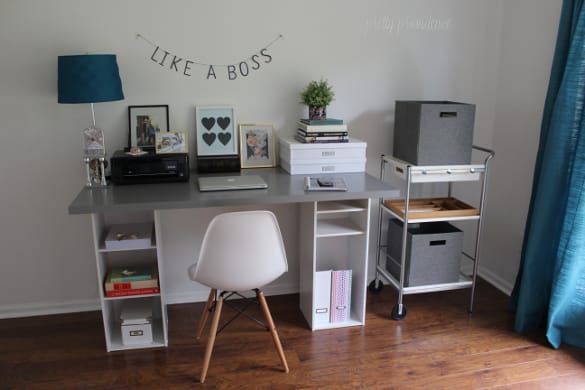 Credit: prettyprovidence.com
Beautiful desks can get very expensive very quickly and that's super annoying. Since having a beautiful workspace is so important for staying productive and organized.
Get a big desktop from IKEA, smaller bookshelves and just put the top on top of them. A silver IKEA cart will work beautifully here too because it'll create some extra storage space.
Overall, it's just a very cheap and practical way to create your office space. It looks amazing too!
15. A Beautiful Bench with Storage Space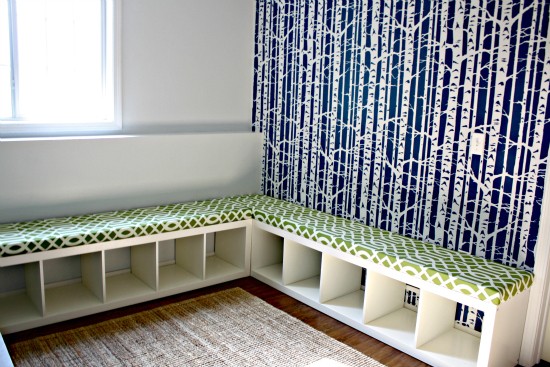 Credit: iheartorganizing.com
This is one of those DIY furniture makeover ideas you want to try. Expedit bookcases from IKEA are simply amazing.
All you have to do is get some fabric and turn it into a beautiful bench. The good thing here is that you could always slide in a few baskets into the shelving unit and create that extra storage you definitely need.
16. Rustic Wood Shelves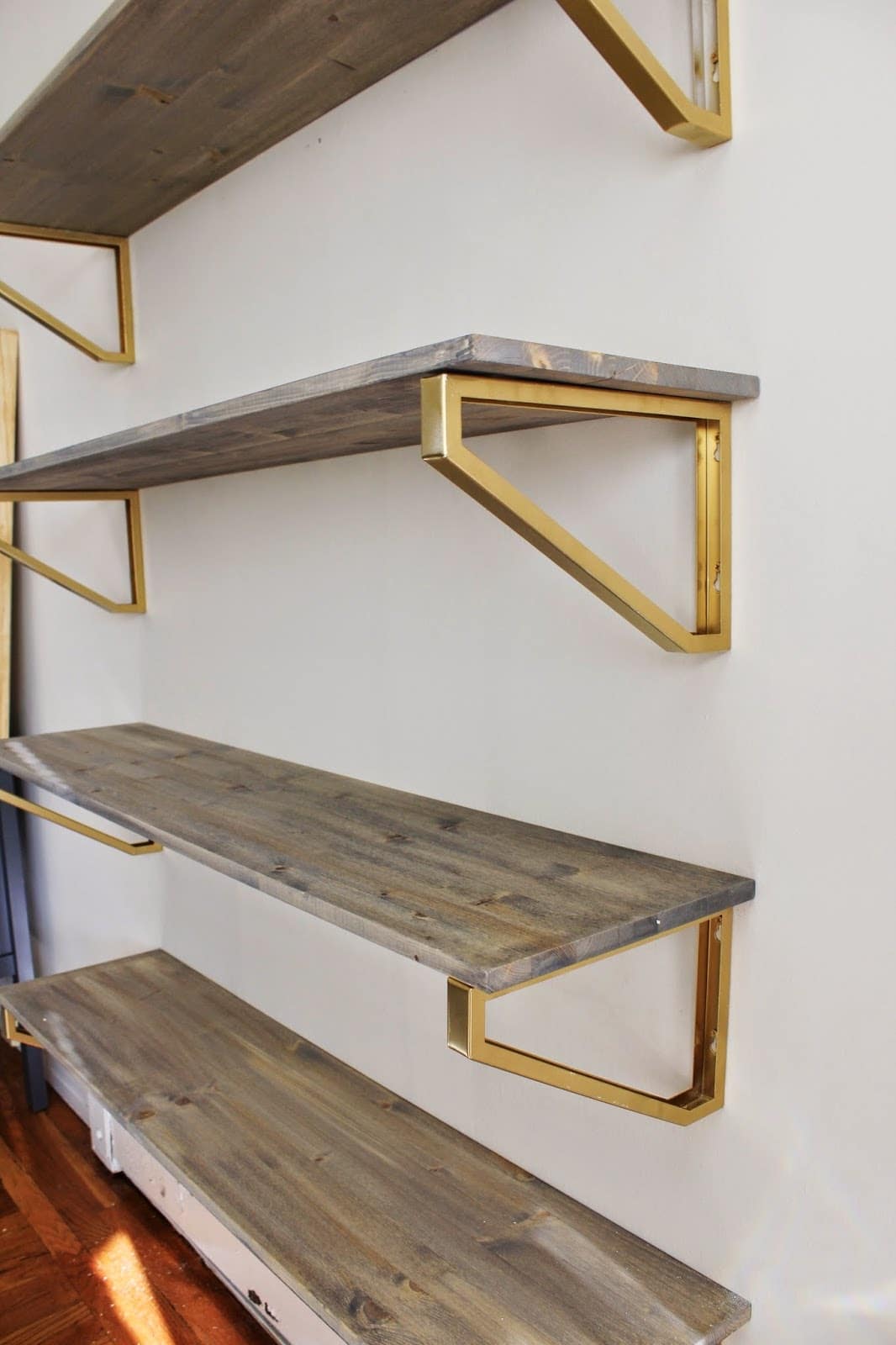 Credit: simplystyledsf.com
Get golden shelving brackets and wood planks to create your own shelves. Stack them on top of each other and you'll have a beautiful shelf unit.
You can store your pictures here, flowers, books and everything else practical. It looks great too!
17. Bookcase Makeover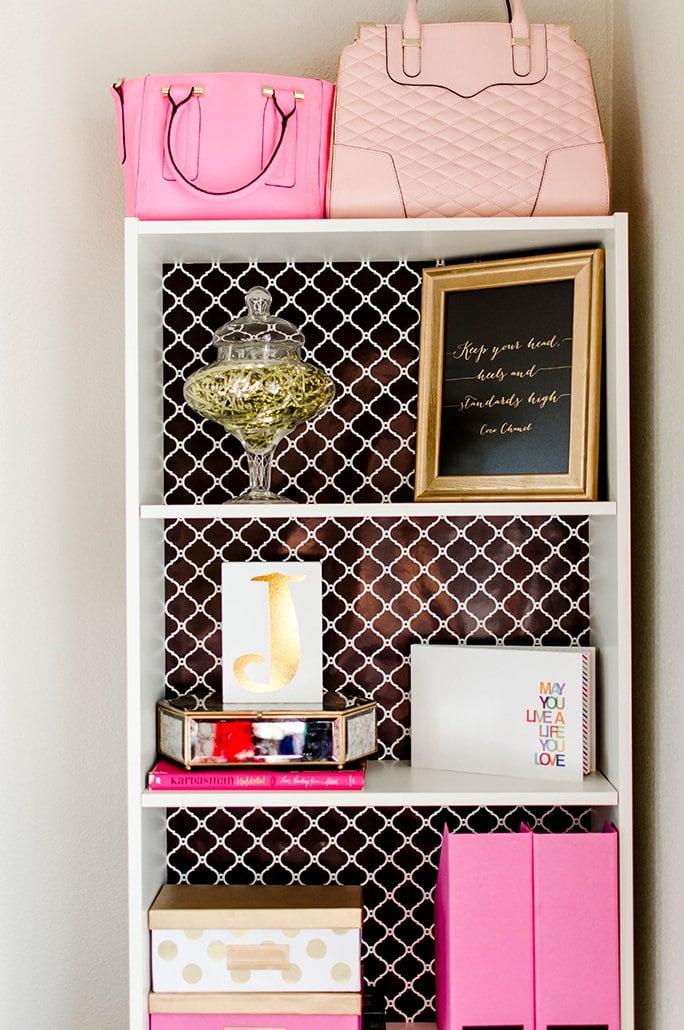 Credit: thejpetite.com
You know that IKEA shelves are super cheap. So, you can definitely get one and use your own imagination to make it look a little bit more interesting.
Using wrapping paper or wallpaper and attach it to the back of the shelf while assembling it. Final result – a beautiful and original bookcase.
18. An Amazing IKEA Lamp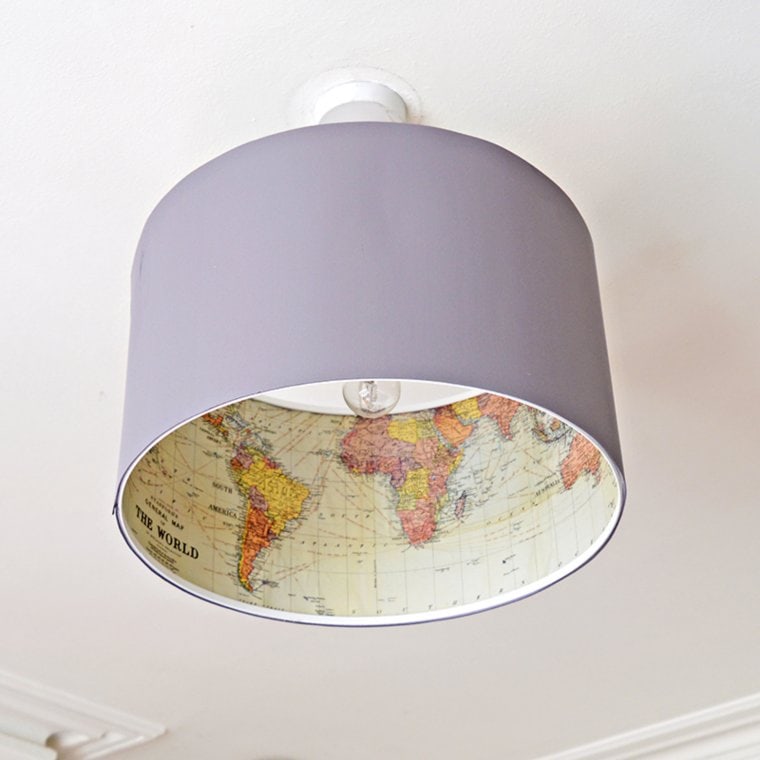 Credit: pillarboxblue.com
Get a budget lamp shade from Ikea and put a twist on it. Also, buy a world map wrapping paper (or any other wrapping paper) as well as Mop Podge glue.
Finally, you'll need to do some handy work. However, it'll all result in a lamp that you will probably not find in any other home! So, definitely worth trying.
19. DIY Lantern Terrarium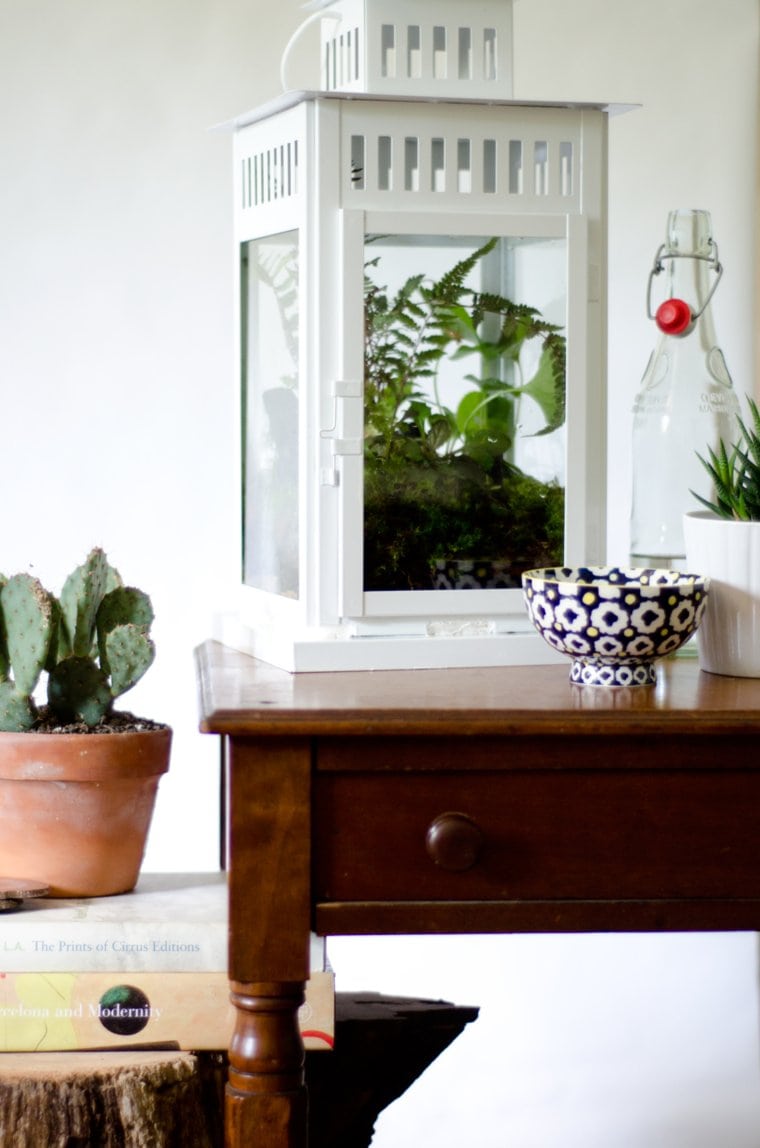 Credit: thouswell.co
This is a beautiful design piece for your home. You'll need an IKEA Borrby lantern, some plants, potting soil, charcoal, moss, and adhesive sealant.
All of these will come into one piece that you can put in the living room or kitchen. It'll definitely give the room a little bit of life!
20. DIY Cabinets
Credit: paulsvera.com
Get Ikea IVAR cabinets and use golden washi tape to transform them. While the actual cabinets look super boring, a little bit of work can truly take them to the next level.
Washi tape and a few beautiful legs will do the job!
Conclusion
So, did you like any of these IKEA hacks? Try them, decorate your home and get inspired!