Take control of your cleaning schedule with these bullet journal spreads. Easy. simple and practical!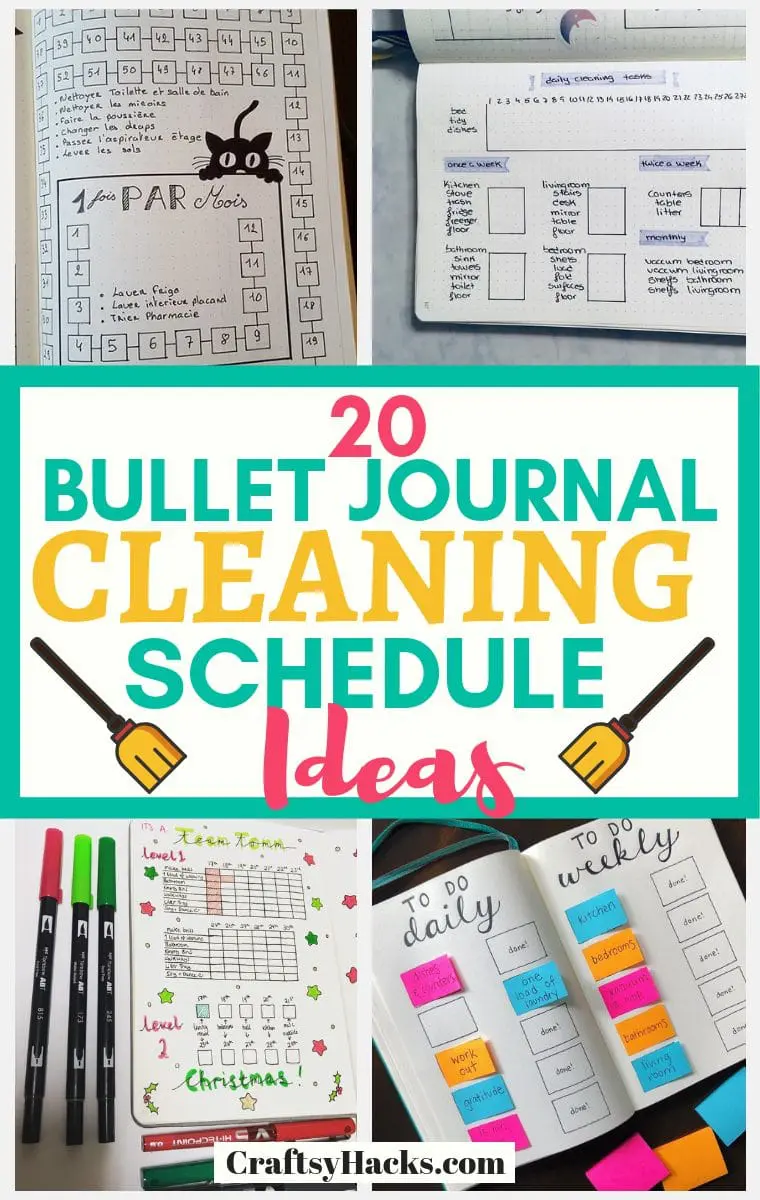 Do you find cleaning daunting? I certainly do! Especially when the dust collects everywhere all the time and it's so easy to forget to clean it.
That's where cleaning schedules truly save me! Having it in front of me every day truly makes it easy to remember to keep things neat.
Also, it's just a much better way to stay organized. And there is nothing more pleasant than ticking things off once a chore is finished!
So, today I'm sharing 20 house cleaning schedule for your bullet journal. I hope these will give you a little bit of inspiration for your own journal!
Get creative and get inspired!
Recommended Products
Here are the supplies you'll need to start your own cleaning schedule or just a bullet journal in general.
What to Clean and When to Clean It
If you're finding it hard to come up with the chores for your bullet journal. Here some of the tips.
Firstly, you should think of how often you want to do certain chores. Categorize them into daily, weekly, bi-weekly and monthly ones.
Examples of the chores you might have:
Daily
Make bed
Wash dishes
Wipe down kitchen surfaces
Weekly
Clear out the fridge
Dust furniture
Vacuum
Clean mirrors
Clean bathroom
Do laundry
Monthly
Deep clean kitchen
Vacuum mattress
Clean the oven
Clean dishwasher
Dust blinds
20 Bullet Journal Ideas
Here are 20 bullet journal ideas for your cleaning schedule. Get creative and feel free to improvise.
1. Clean Home Bullet Journal Spread
Know what you have to do weekly, what bi-weekly, or daily! Have those tasks in front of you all the time and tick them off whenever you're done.
Simple, easy, and will help you to have those chores always on your mind.
2. Team Tomm Spread
If a holiday is coming, don't be afraid to make a holiday-themed spread. If you're going to have guests over, there's probably going to be quite a few extra tasks that you wouldn't have otherwise.
Make sure you're using colors to make it a little bit more fun!
3. Monthly Bullet Journal Spread
If all you have is a black pen, you can easily make a simple but practical monthly cleaning schedule. Tick off the tasks once they're finished and enjoy filling up all the spaces.
4. Cleaning Schedule for Cat Lovers
This cat-themed cleaning schedule is super cute. What I love about this cleaning schedule is that it's for the whole year.
Write down your weekly tasks and monthly tasks. When you're finished with all of that week/month, simply color the box.
It'll be so satisfying to watch that chain fill up!
5. Black and White Spread
It's all about that simplicity! This cleaning schedule is great if you have quite a few daily cleaning tasks.
Draw a little calendar like the one in the example and tick off the chores. It's really that simple!
6. Cleaning Routines Bujo Spread
Have a page to remind yourself of what needs attention. You don't have to tick anything off but having the list will definitely help you to get things going.
7. Colorful Cleaning Schedule
Bring some color to your bullet journal with this cleaning schedule. Box up all the tasks that need to be done weekly, monthly, daily or even yearly.
Add some color to the frames and, here you go, a perfectly beautiful cleaning schedule.
8. ''I Love to Clean'' – Said No Over Ever Bujo Spread
When you're writing down the chores, throw in a quote or two. You never know, it might as well just inspire you to clean up!
9. Weekly Cleaning Schedule
Make a little table for the weekly cleaning chores and design the rest of the page with little cleaning drawings. An inspiring quote or two will help as well!
10. Cleaning Bullet Journal Spread for Each Room
Here is a slightly different approach to cleaning. Note down your cleaning chores by room.
So, next time when you know that guests are coming, you can prioritize the rooms that they'll stay in.
Other than that, it's just a quick reminder that you also have a closet to organize!
11. To-Do List with Notes
I absolutely loved this idea! Instead of ticking things off, just move the sticky note to the ''done'' column.
In this way, you'll definitely know when the task is finished. Also, you'll bring some color to your bullet journal.
12. Start Cleaning
Use circles instead of rectangular shapes to make your bullet journal more interesting.
13. Get Creative
Fairly simple but beautiful cleaning schedule. Great if you want to keep your bullet journal clean.
14. Cleaning Schedule Layout
The template is fairly simple. However, the drawings bring out a little bit of playfulness and color.
A lovely idea to try if you can draw at least a little bit.
15. Bring On the Spring
This spring-inspired spread is absolutely gorgeous. The floral design truly brings out the design.
Perhaps it will even inspire you to decorate your home flowers and bring more life to it!
16. A Piece of Art
Nobody said you cannot make your cleaning schedule a piece of art. Write down what needs to be done for each room on weekly basis.
Then, tick off the chores once they're finished.
17. Needs for House Cleaning Spread
Draw the layout of your home and make sure it stays clean. You can always write down the chores in each room to have them in your mind.
18. Play With Fonts
This one is such a great template for someone who loves playing with fonts. Get creative, create your own fonts, and make a theme!
19. Bring On the Pink!
I love this bullet journal spread because you clearly don't need to be artistic to draw it. However, it looks cute and isn't super simple.
A great design idea for someone who's just starting out with bullet journals and wants to draw something simple yet creative.
20. The Year's Cleaning Schedule
Who said cleaning schedules cannot be fun? This one is cute, colorful. Map out the whole year's chores on one page and have fun with it!
Conclusion
Hope you found some of these cleaning spread ideas useful. Want to learn more about bullet journals? Check these habit tracker ideas and bullet journal templates.