I love adding sweet little details to my bullet journals, and I'm always looking for different fun themes. Today, you'll find cute and fun succulent and cactus doodle ideas for bullet journals!
All fun, relatively straightforward, and look great on the pages of any bullet journal. They are easily scaleable depending on where you want to add your greenery.
If you need any step-by-step tutorials, check out my YouTube video of the same name.
There I break it down into a quick line-by-line time-lapse video so you will enjoy recreating these sweet and simple drawings.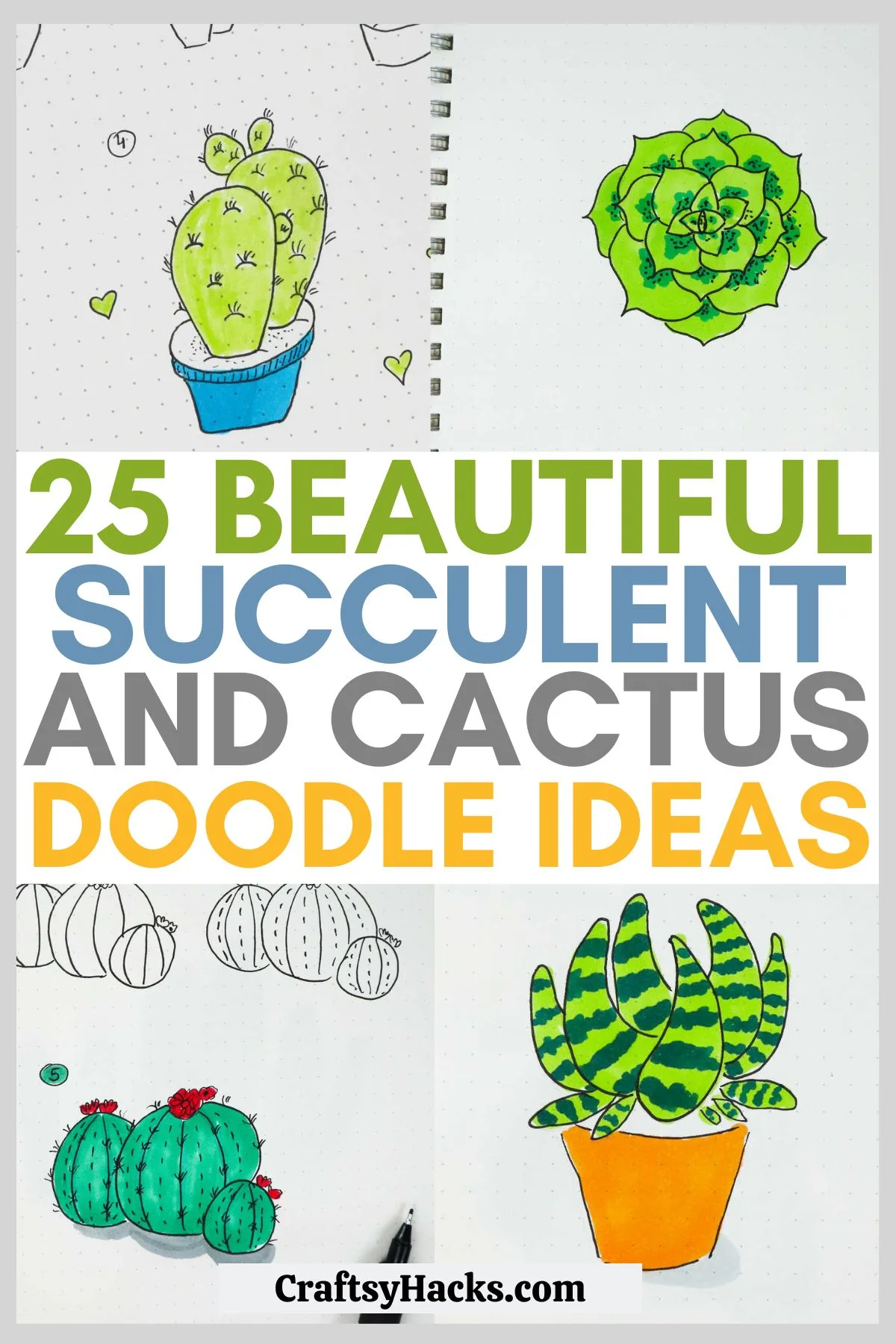 Also, a note, if you're looking for the supplies I used while creating these images, look no further. All are listed directly below this introduction.
With that, here are the materials and the rest of the post–I hope you enjoy drawing these ideas as much as I did! These pencils, this notebook, this ruler, these markers, and this pen set.
Now, let's get to drawing! Comment your favorites, and make sure to share them on any socials.
1. Cactus Doodle #1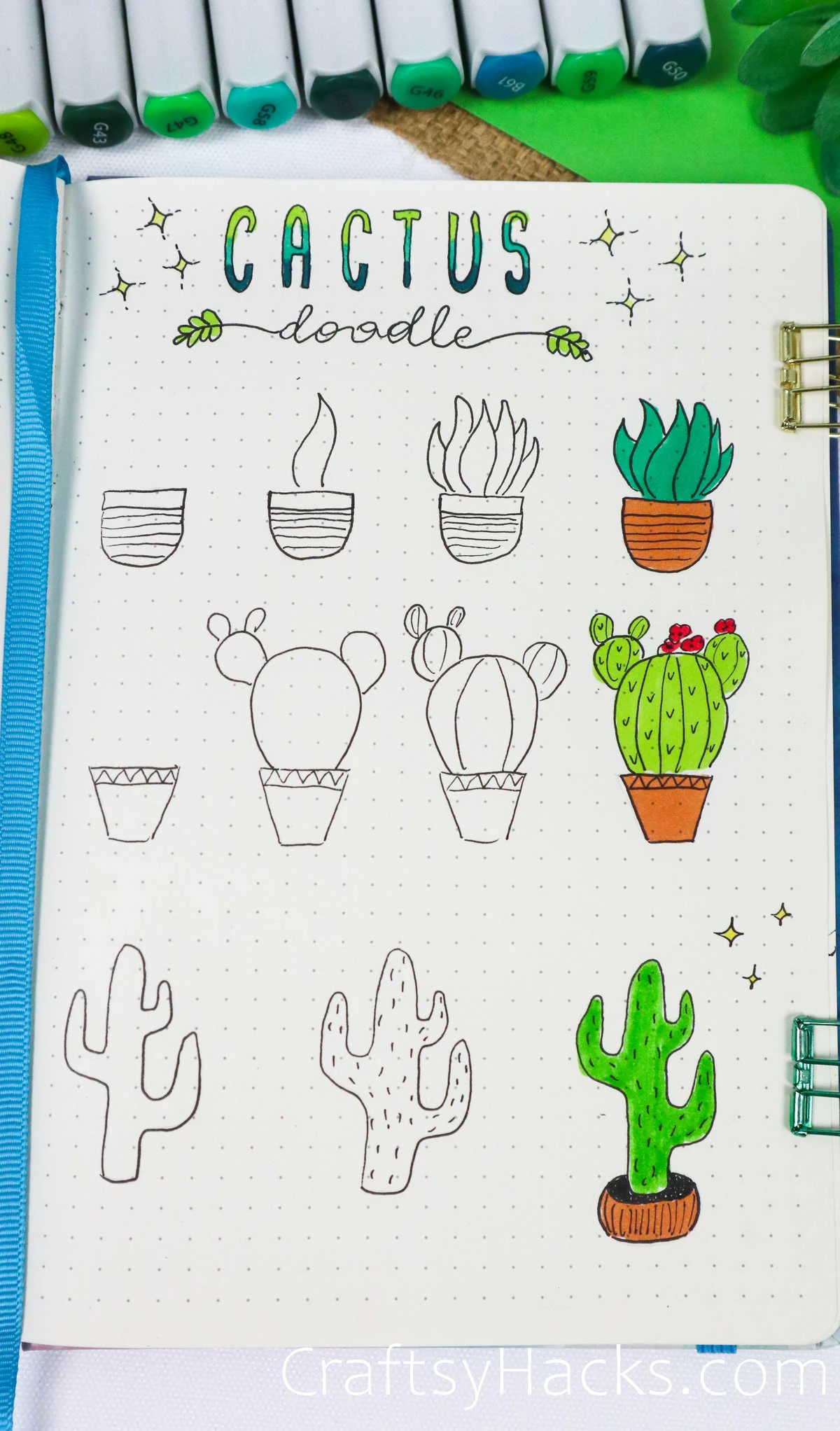 We have a lot of cactus (and, of course, succulent) doodles to cover, and I thought we'd start with some of the simplest.
Try them out right in the very pages in your bullet journal, or grab some scrap paper and try each idea as many times as you'd like.
Check out these creative bullet journal divider ideas!
2. Cacti and Succulent Doodle #1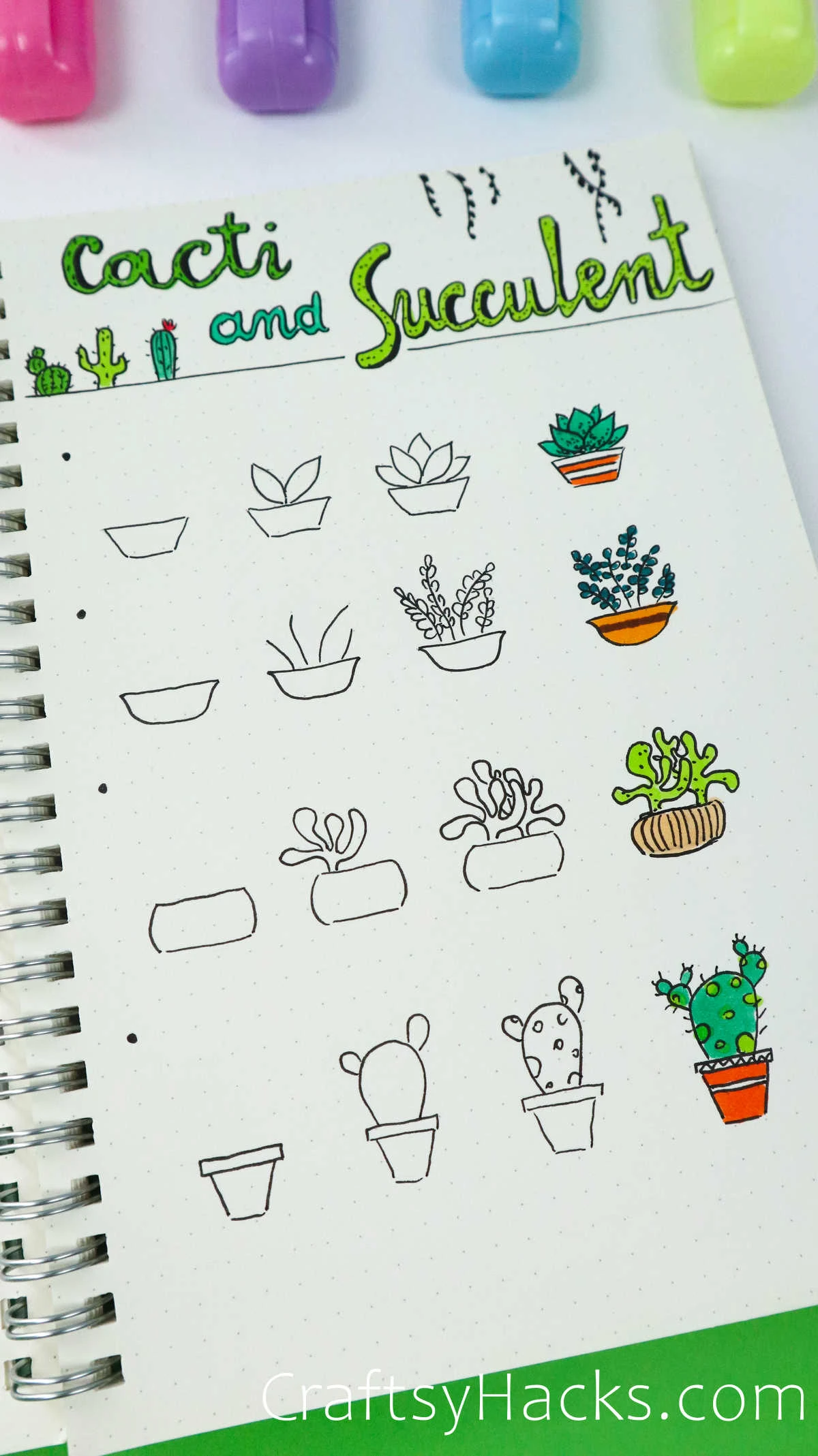 Many pages like this exist on the post, so feel free to mix and match specific plants you'd like. I like using these cute accents on tracking or warmer month calendar pages.
This thought goes for the rest of the ideas, but play around with pots to see what you like!
3. Tall Flowering Cacti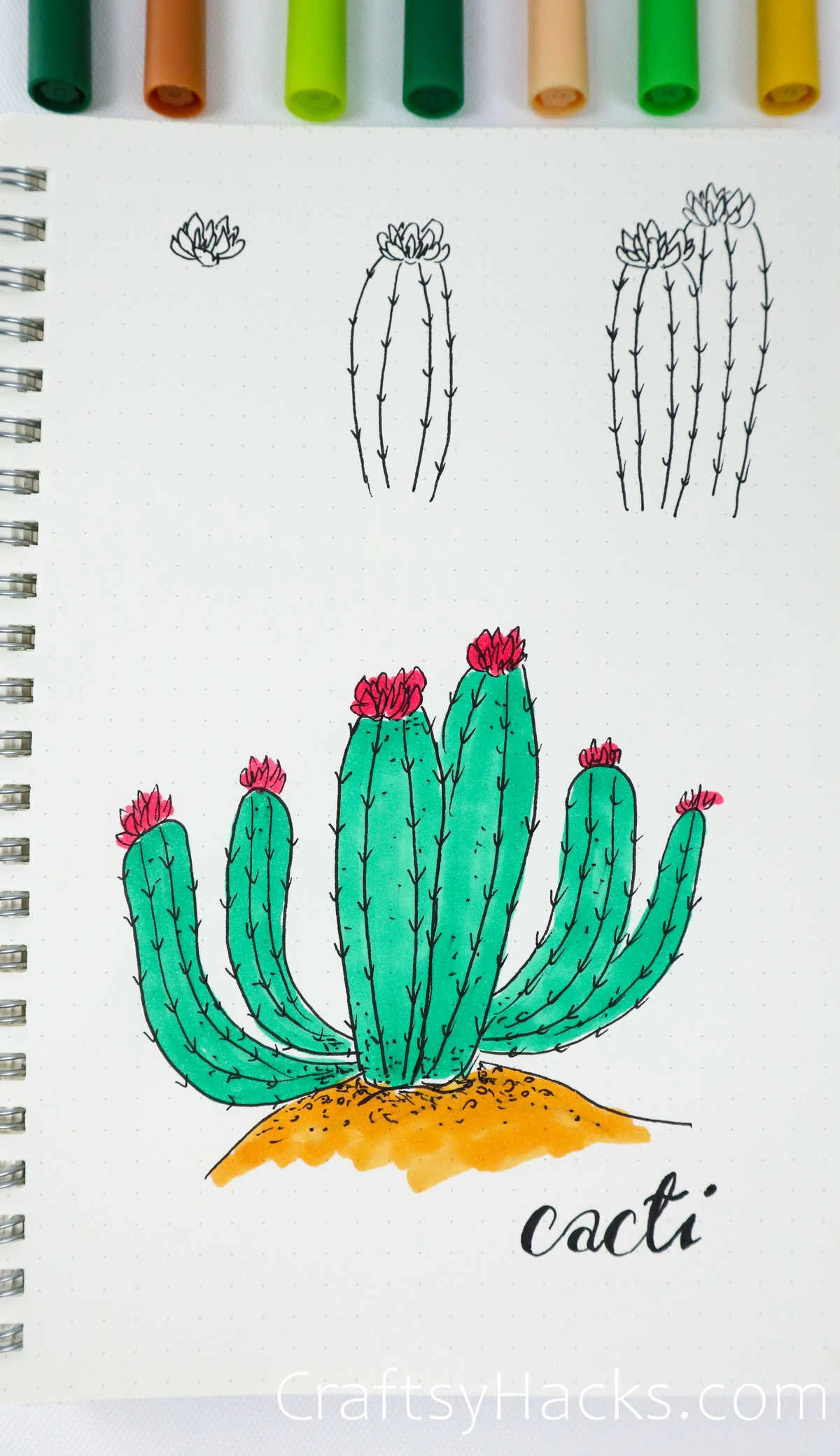 Tall flowering cacti are some of the coolest types of cacti, in my opinion. I had to include it in the list somehow–I think this would be a great addition to the bottom of a page with a larger list.
Make the flowers all the same color, or pick a few popping colorful hues.
4. Bulbous Flowering Cacti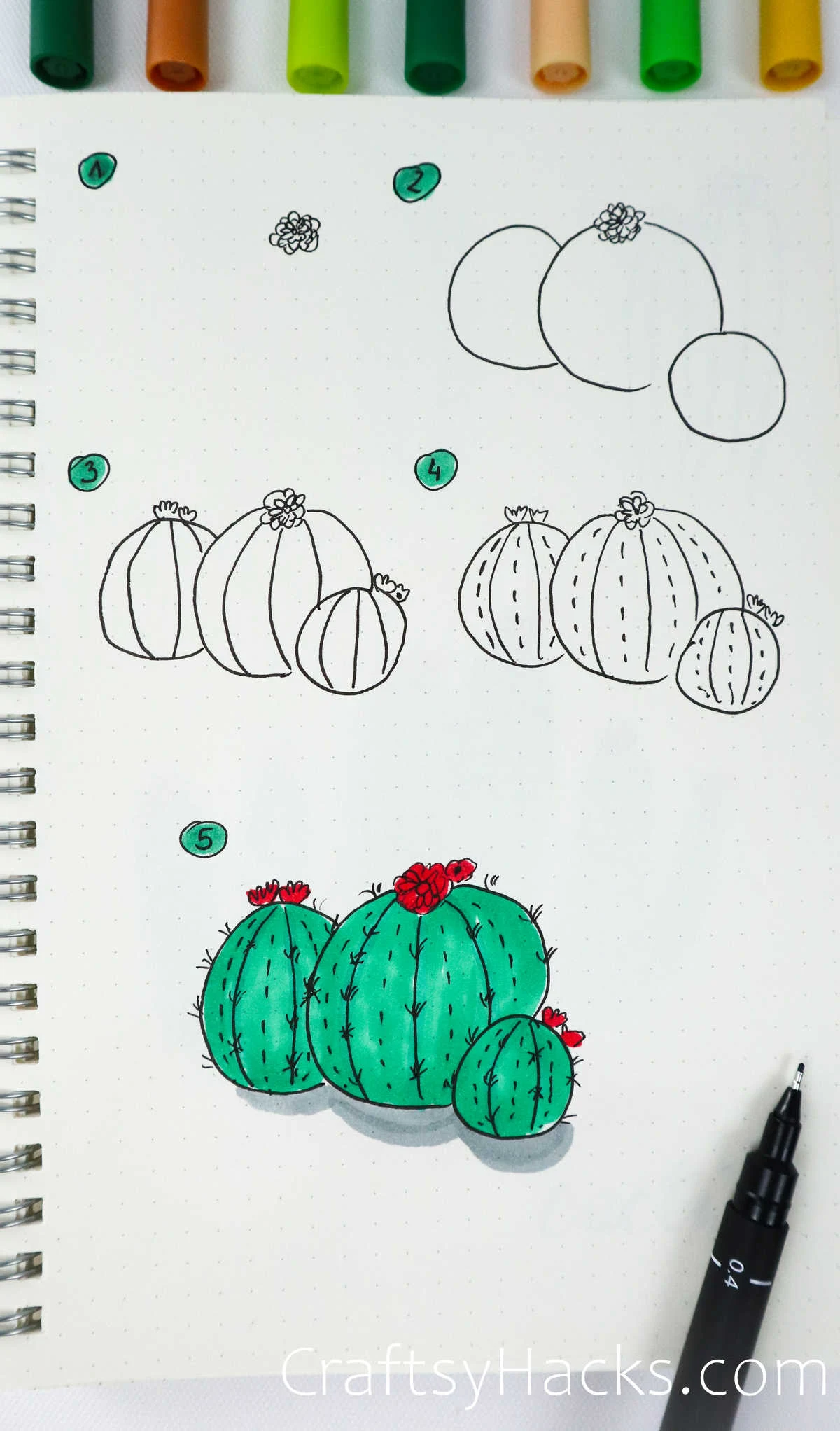 These cacti remind me of pumpkins and are a great addition to any summer pages. They look just darling in the corners of my bullet journal's pages.
If you're feeling a little extra–add some cute facial characteristics. It makes it more fun and prepares you for the real thing!
5. Step-by-step Succulent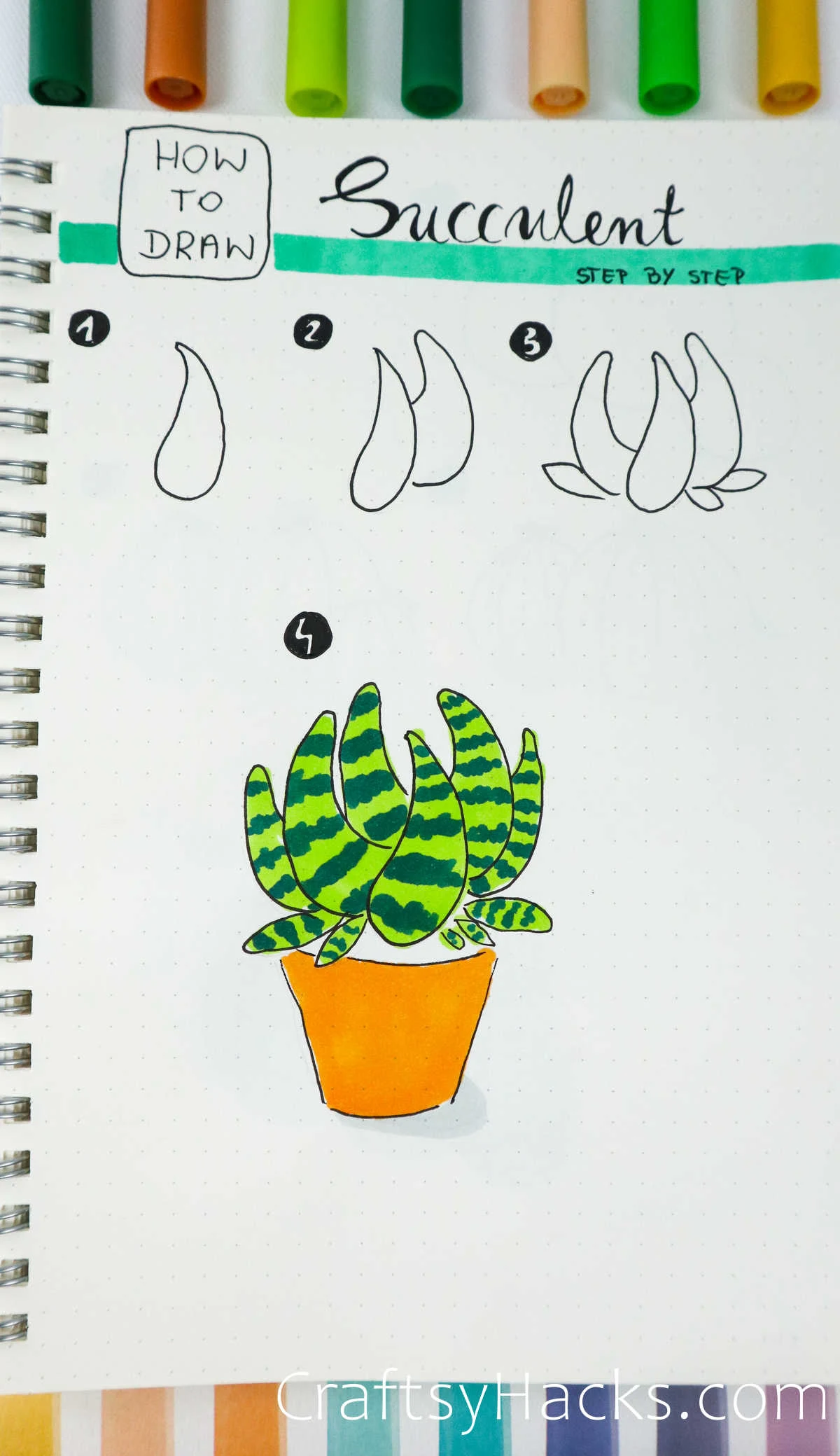 This succulent snake plant is an easy and zen way to eliminate your worries.
The simplistic vase, the different-sized teardrop shapes, and how to color the leaves make for a stress-free doodle for your bullet journal.
Play around with the color to make your snake plant all the more exciting.
6. Succulent Doodle #1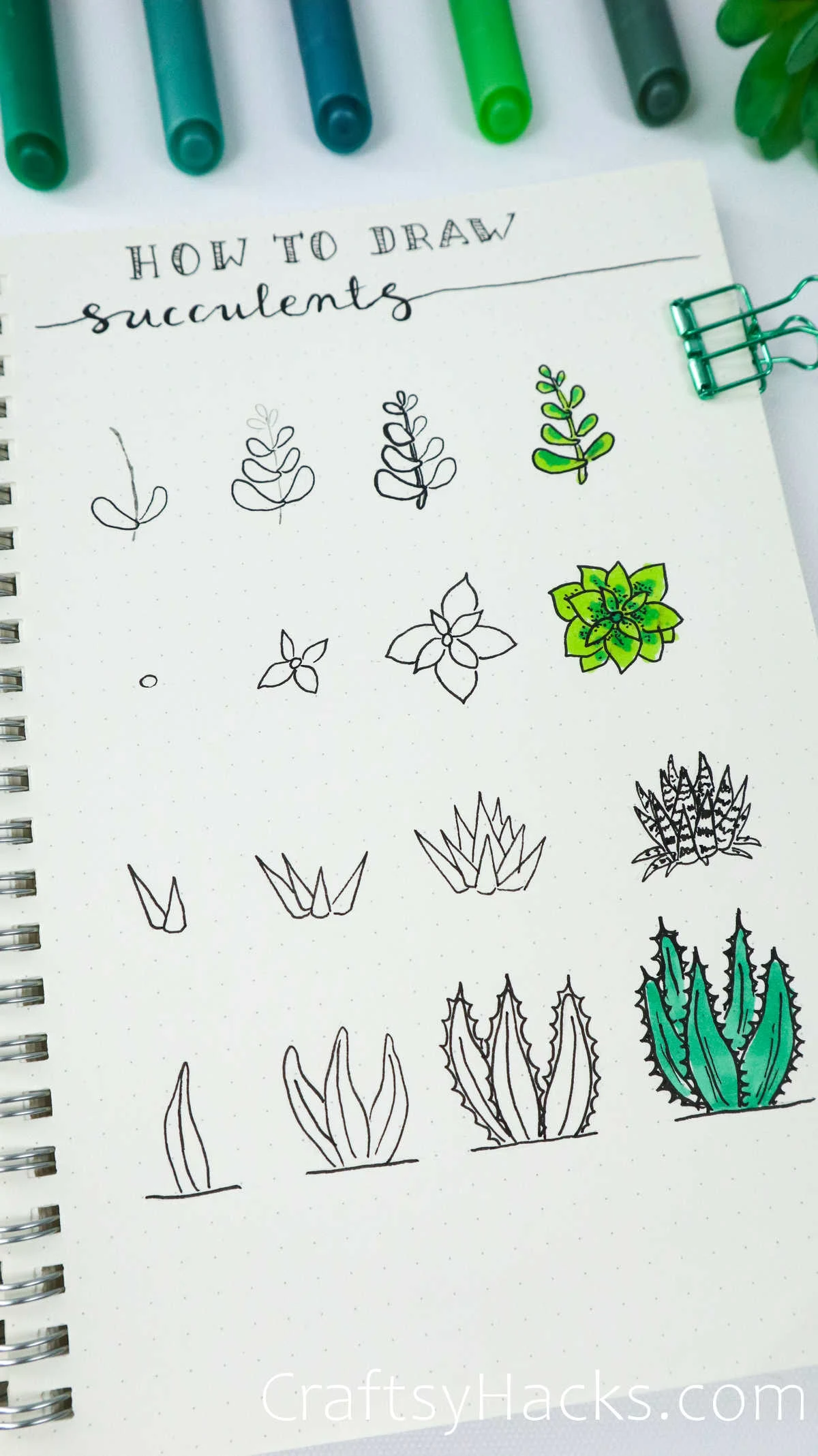 Succulents are completely beautiful plants and endlessly interesting–so many different shapes, sizes, and various shades of green.
This page here offers a few of the simplest options in varying ways–options for any artist practicing. Add them all in a row on beautiful cardstock and gift them to a friend, family member, or loved one.
7. Prickly Pear Cactus Step-by-step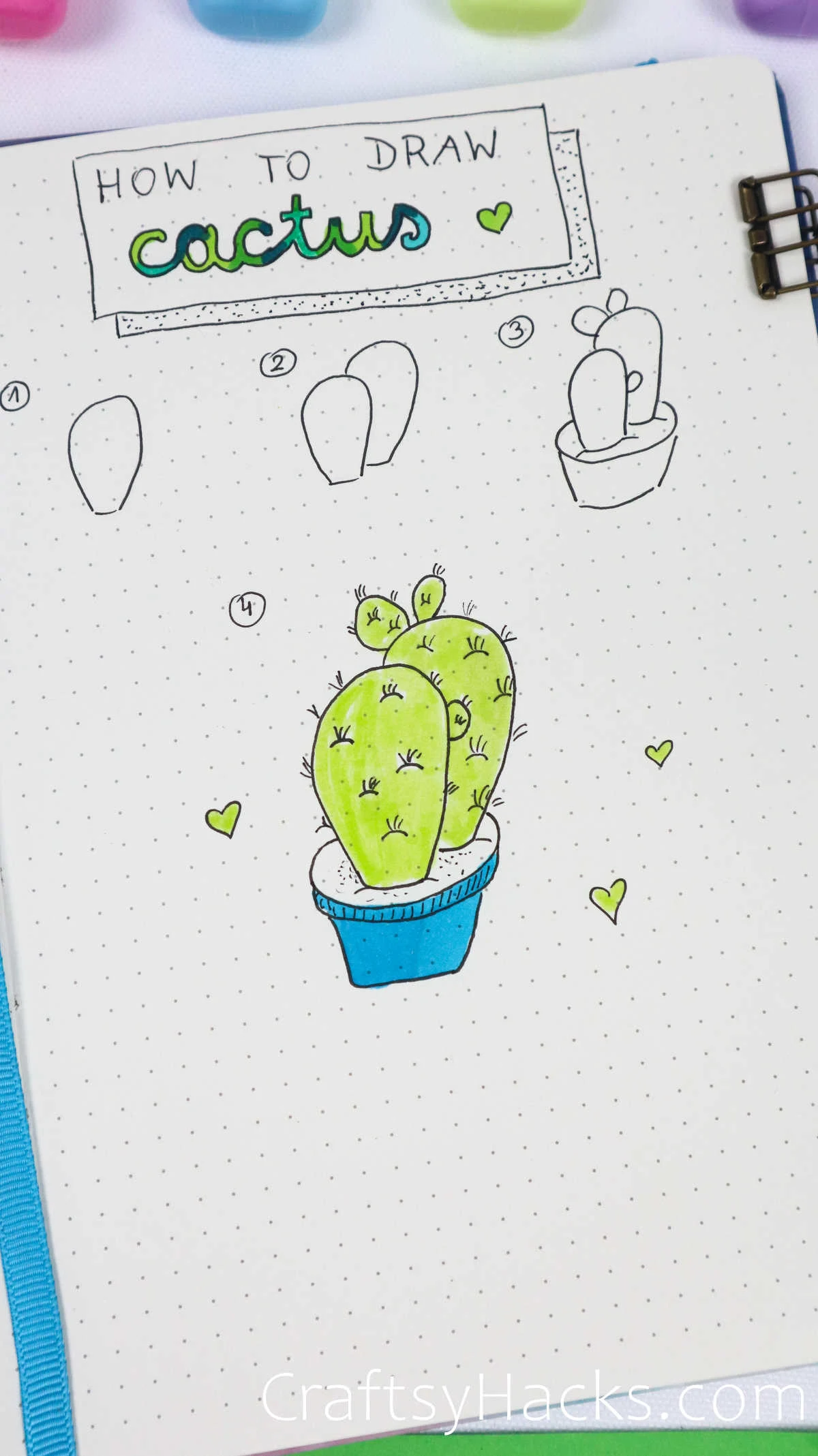 Prickly pear cacti are some of my other favorites. So very easy to draw–the most time-consuming part of this plant is the detailing of the spikes.
You could add any color of flowers to this prickly pear or, realistically, any of the plants on this list.
8. Cactus and Succulents Doodle #2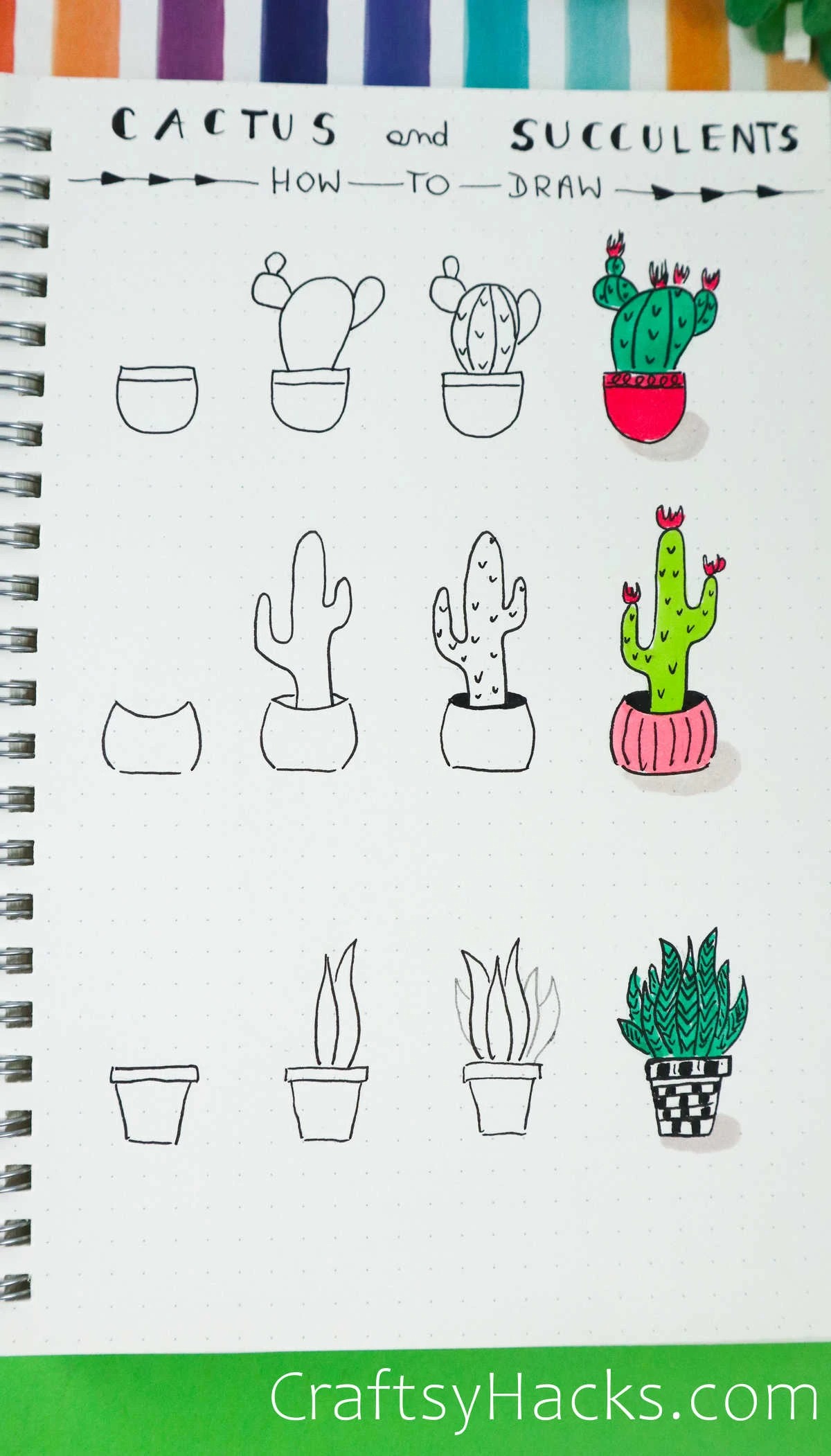 This next idea has more options for sweet cacti and succulents to add to your pages–and is highly customizable.
Pick and choose pots and plants to use in your own pages to accent your details perfectly. Add different designs, colors, or even shapes to personalize it even more.
9. Succulent Doodle #2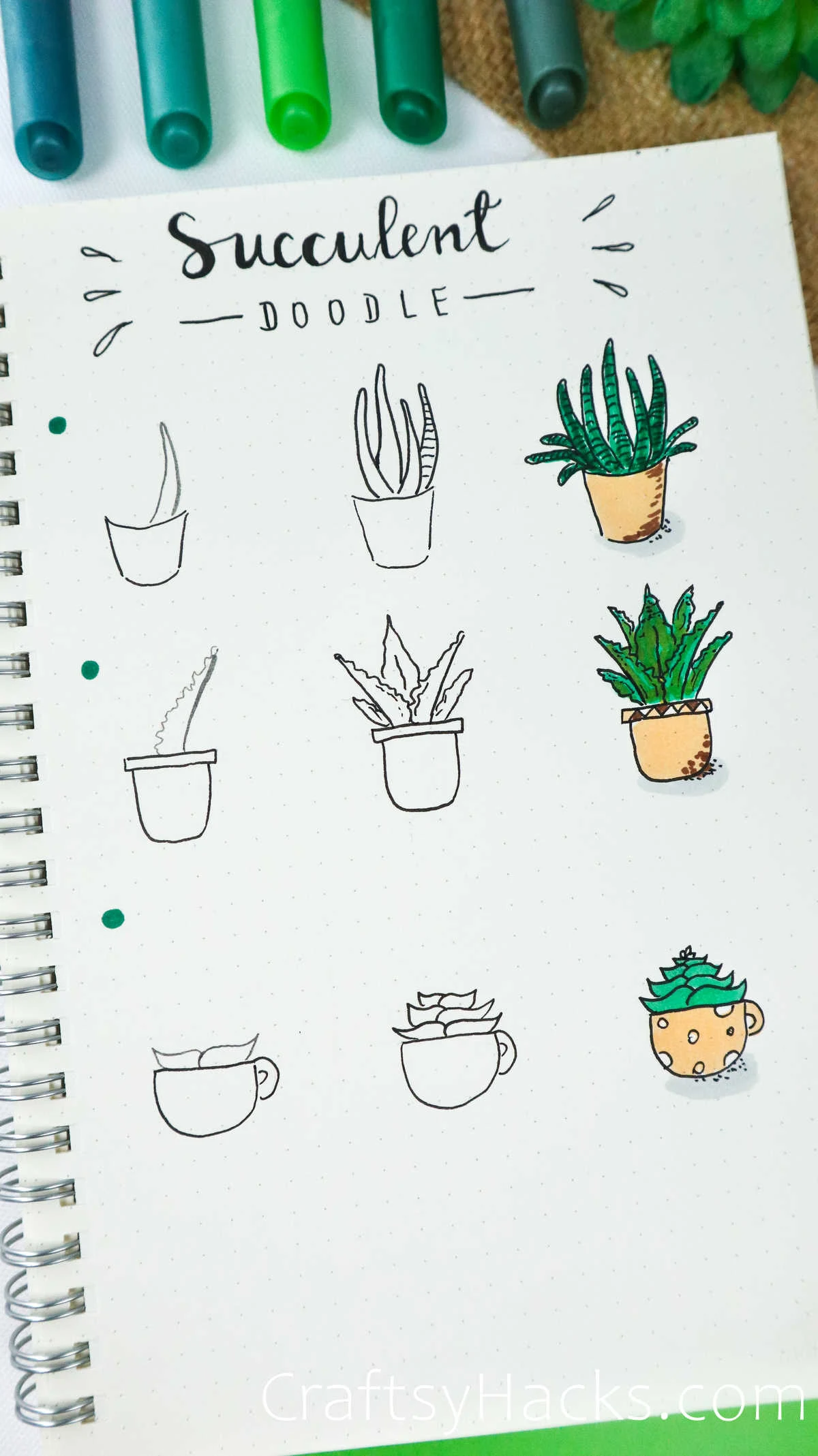 I find drawing succulents so calming–tall, short, little, big–whatever the type, I love creating them on the page.
A tip for any of these multi-drawing pages: mark spots across the page in even markings to complete each step.
The coffee mug holder is one of my personal favorites. It just makes it feel all the more cozy.
10. Prickly Pear Trio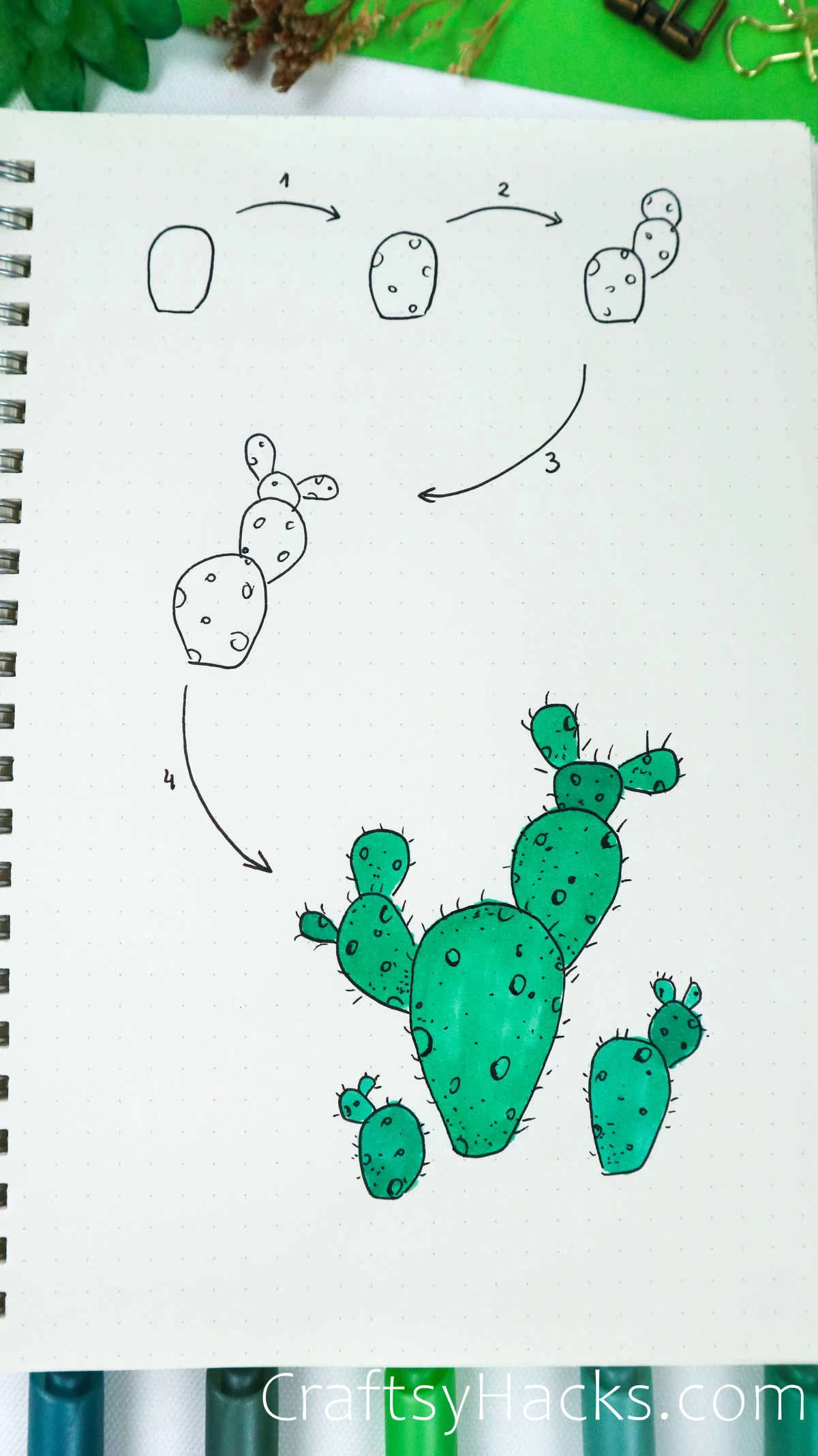 As you know by now, I love a prickly pear, and this trio is no exception. It's a series of building blocks that all get connected to create a more complex picture.
Add flowers, a little critter, or the sun above for a cuter final result.
The best part about the prickly pear cacti is that you can make it as complicated or simple as you'd like with how many additions get added.
You might also enjoy these other cute doodles for your journal!
11. Succulent And Cacti In A Cloche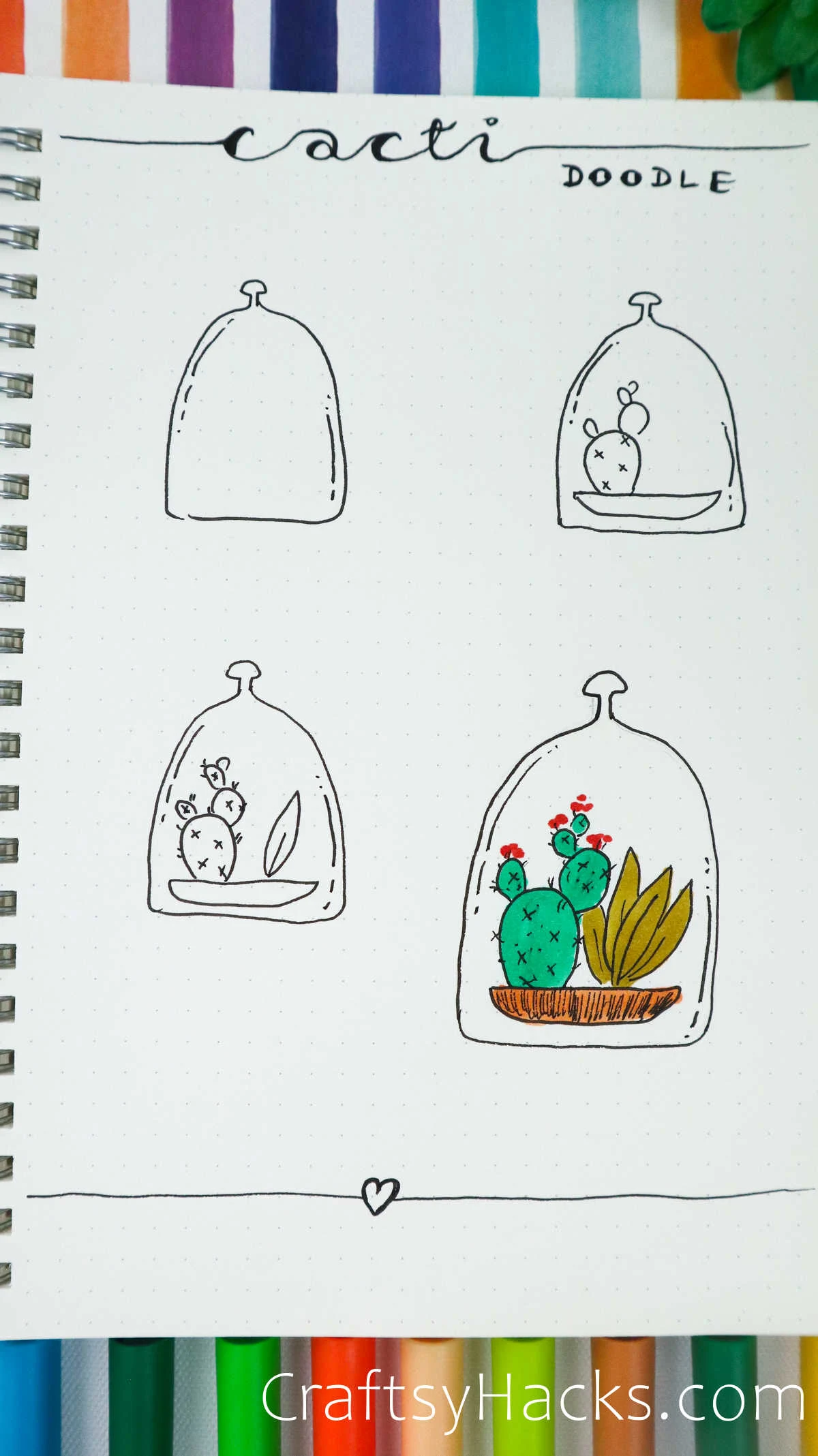 By now, I'm sure you're looking for an extra bit of pizazz with our ideas. Here's a simple but effective one–adding a cloche to the scene.
I think a beautiful idea for a print or card on some pretty card stock. Add cloches of different shapes and sizes with various succulents and cacti to make the gift all the more personalized.
This doodle idea looks great at any size, also. Great for a title page in a bullet journal, emotional, social, or physical recording pages.
12. Flowering Saguaro Cactus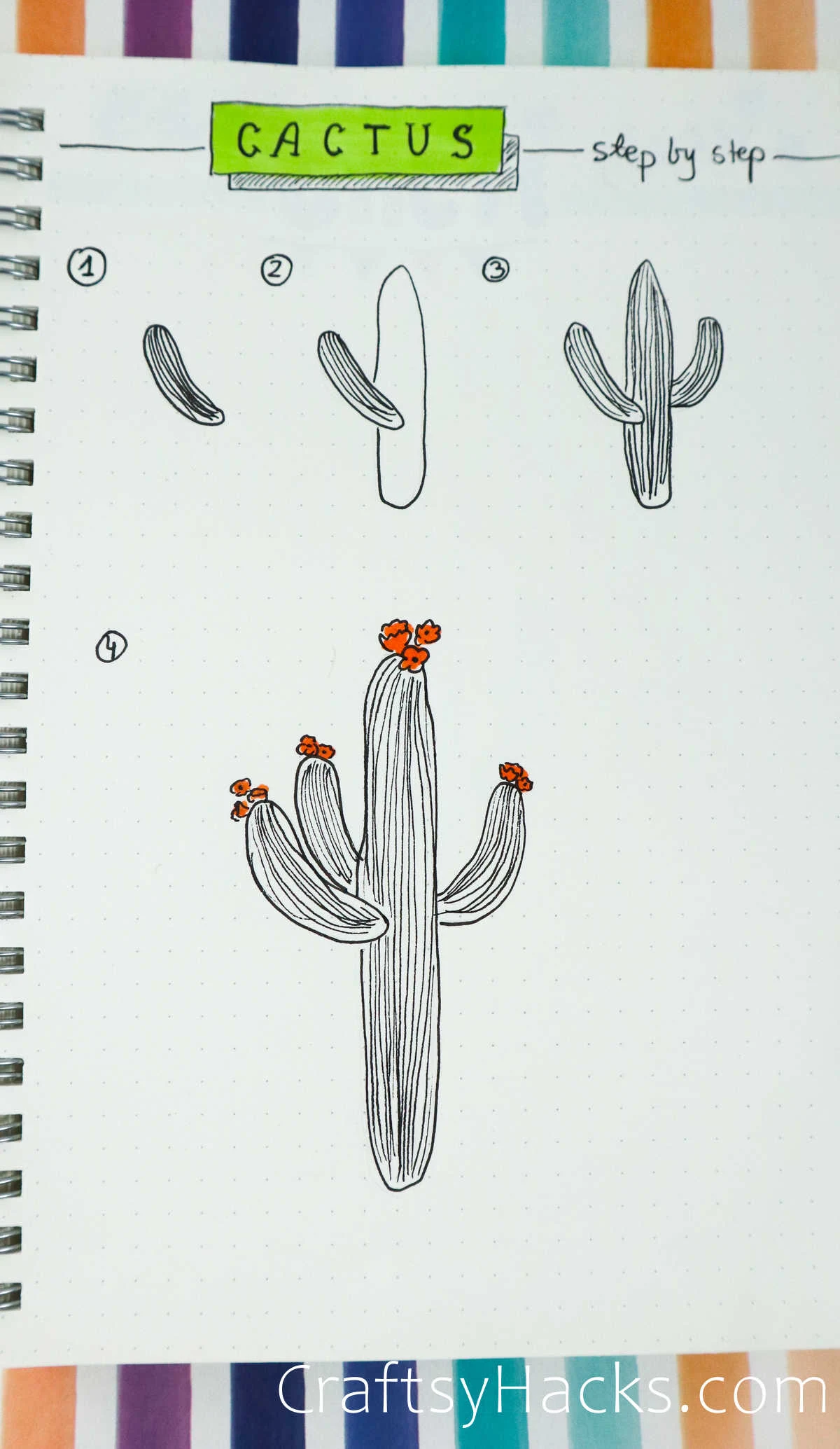 The most classic-looking cactus in the bunch–the Saguaro cactus–was essential to add to the blog post today.
One of the easiest shapes to accomplish–even the detailing lines to fill in aren't too bad to complete.
I only added a few flowers, but I think adding more flowers of varying shades or hues would be beautiful. Feel free to add more arms or make the cactus taller to make the plant more complex.
These other flower doodle ideas would look perfect in your journal!
13. Overhead Blooming Succulent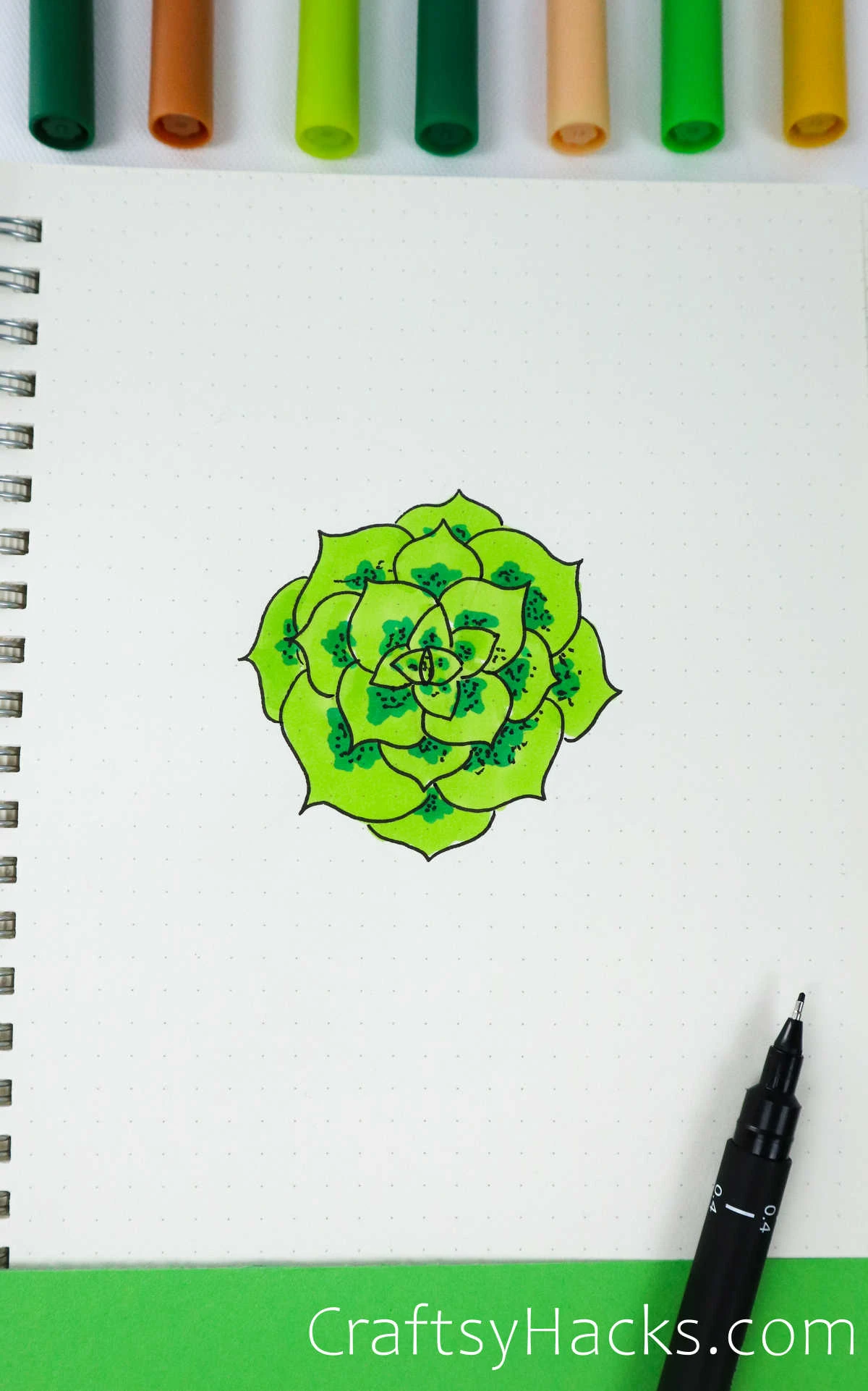 Another way to spice up our cactus and succulent is by changing the perspective of how it appears on the page.
Admittedly, this works better for succulents that bloom this way, but play around with any plants and see how it turns out.
Add small flowers or vines to make the image more complex and interesting.
I like the idea of adding a corner accent of varying sizes of this succulent–it makes the bullet journal page natural and calming.
14. Cactus Doodle #2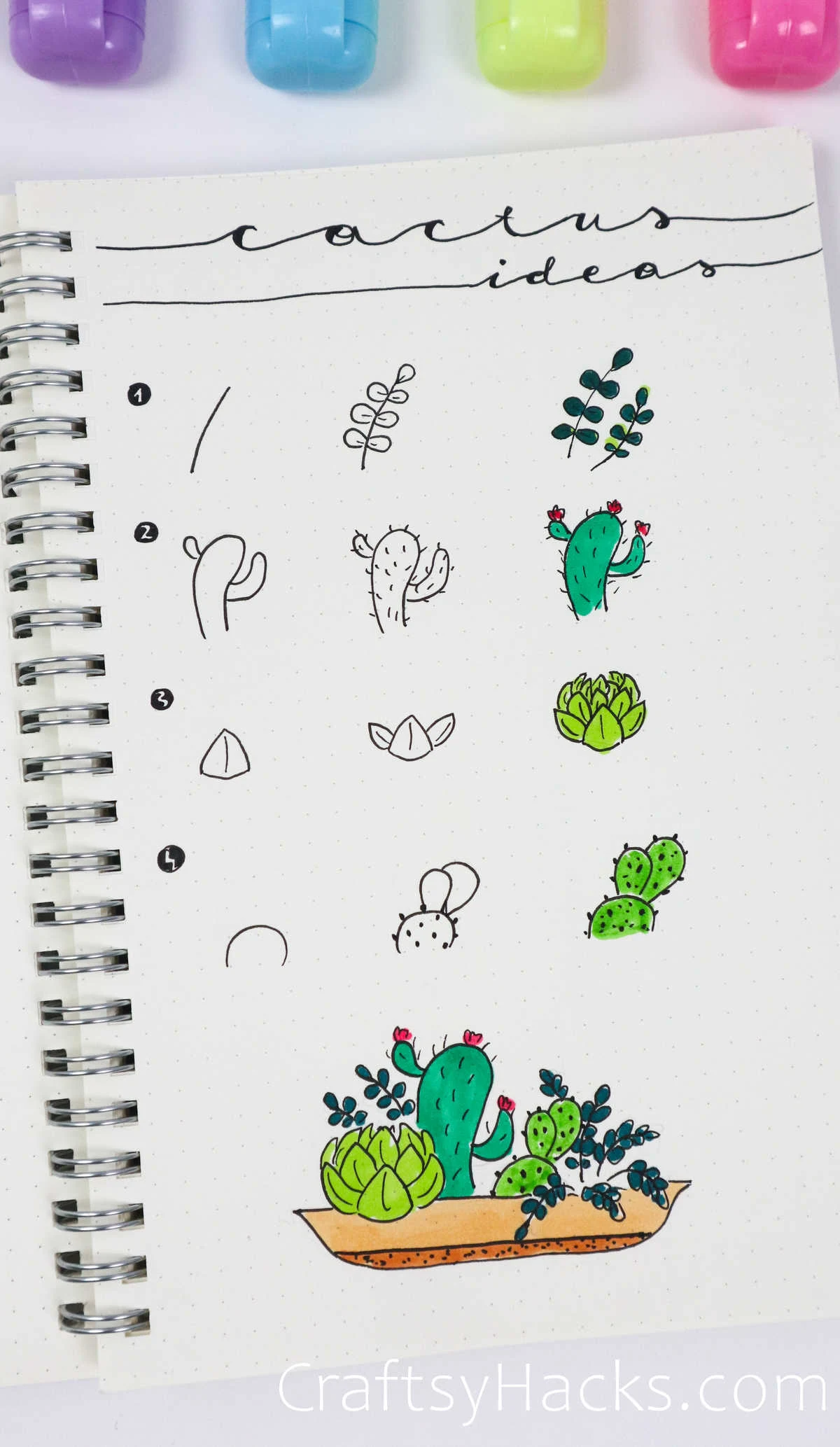 This doodle is a series of buildable options of main cacti and a succulent or two to vary up your succulent and cacti repertoire.
As seen at the bottom of the page, there's an oversized pot to create your very own cactus garden.
The cactus garden also makes for a great print or card for a friend or family member. Keep the image black and white or liven it with vibrant colors.
If you're making it for a child, consider adding sweet cartoon faces to make it more interesting for them.
15. Cactus Step-by-step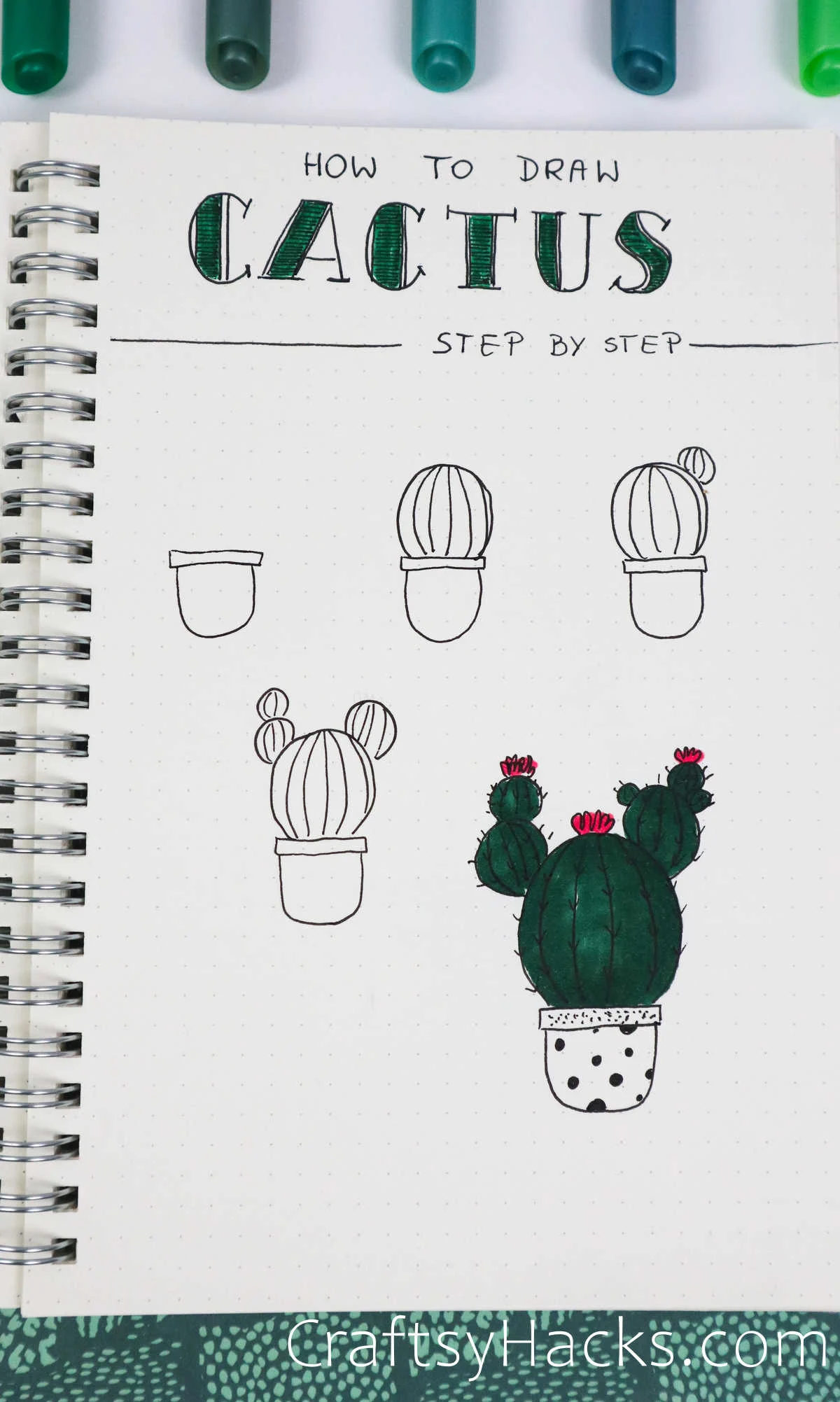 Remember the pumpkin-looking cacti? Here's a fun variation on the bulbous ones from earlier on in the blog post.
These are so fun to create because they are another option that is entirely buildable in any way imaginable.
Add different shades of green to make the doodle more fun, along with the addition of various colored flowers.
16. Cactus In A Bowl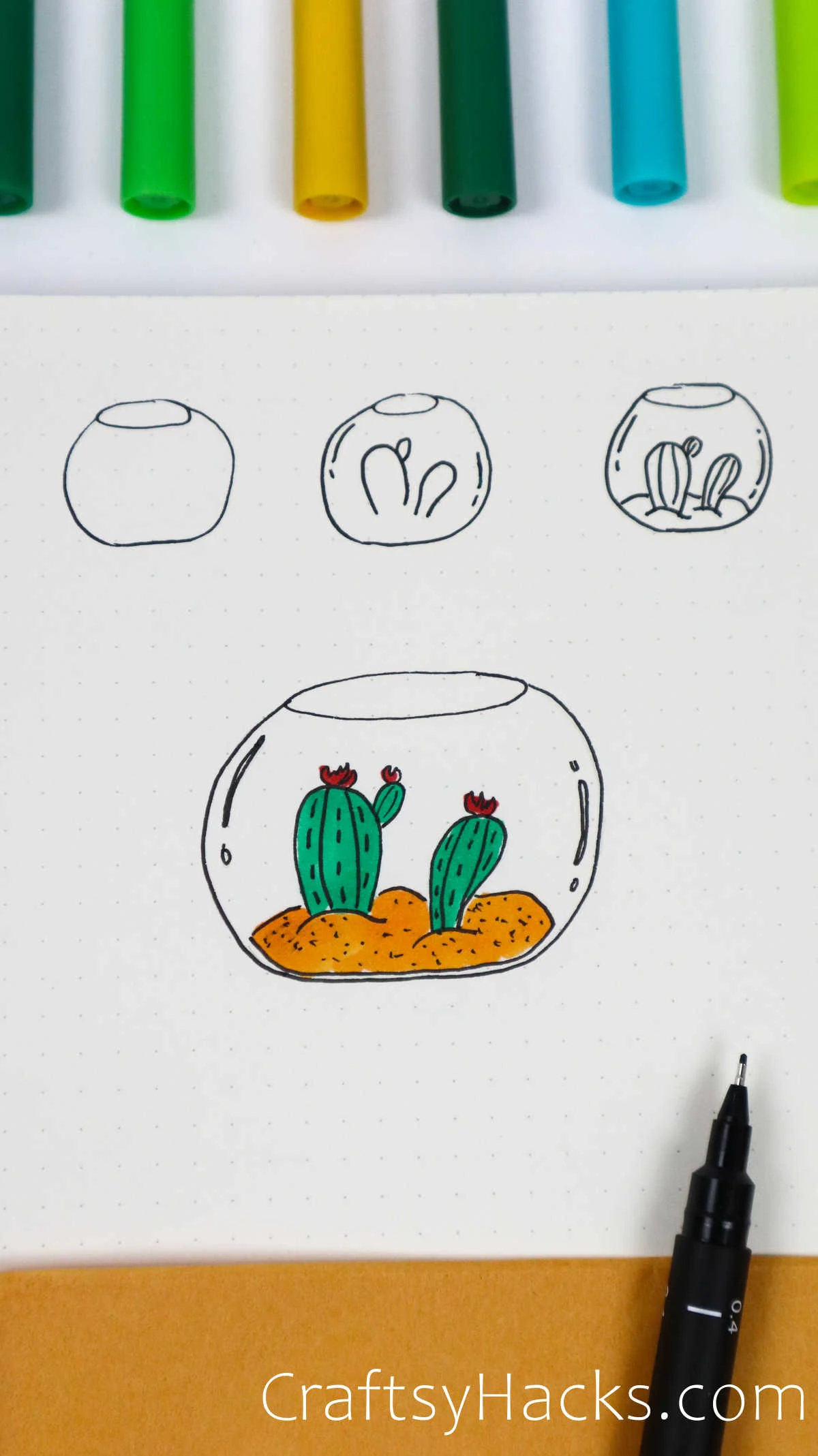 A variation on a great holder for a succulent or cactus are these fishbowl-looking containers. They offer a little less space for a variety of species in the bowl, but they still create a whole scene.
Size the fishbowl up if you'd like to add more plants into the space. The other idea you could try is by stacking multiple containers ontop of one another to make for a nice bullet journal accent.
17. Cactus Doodle #3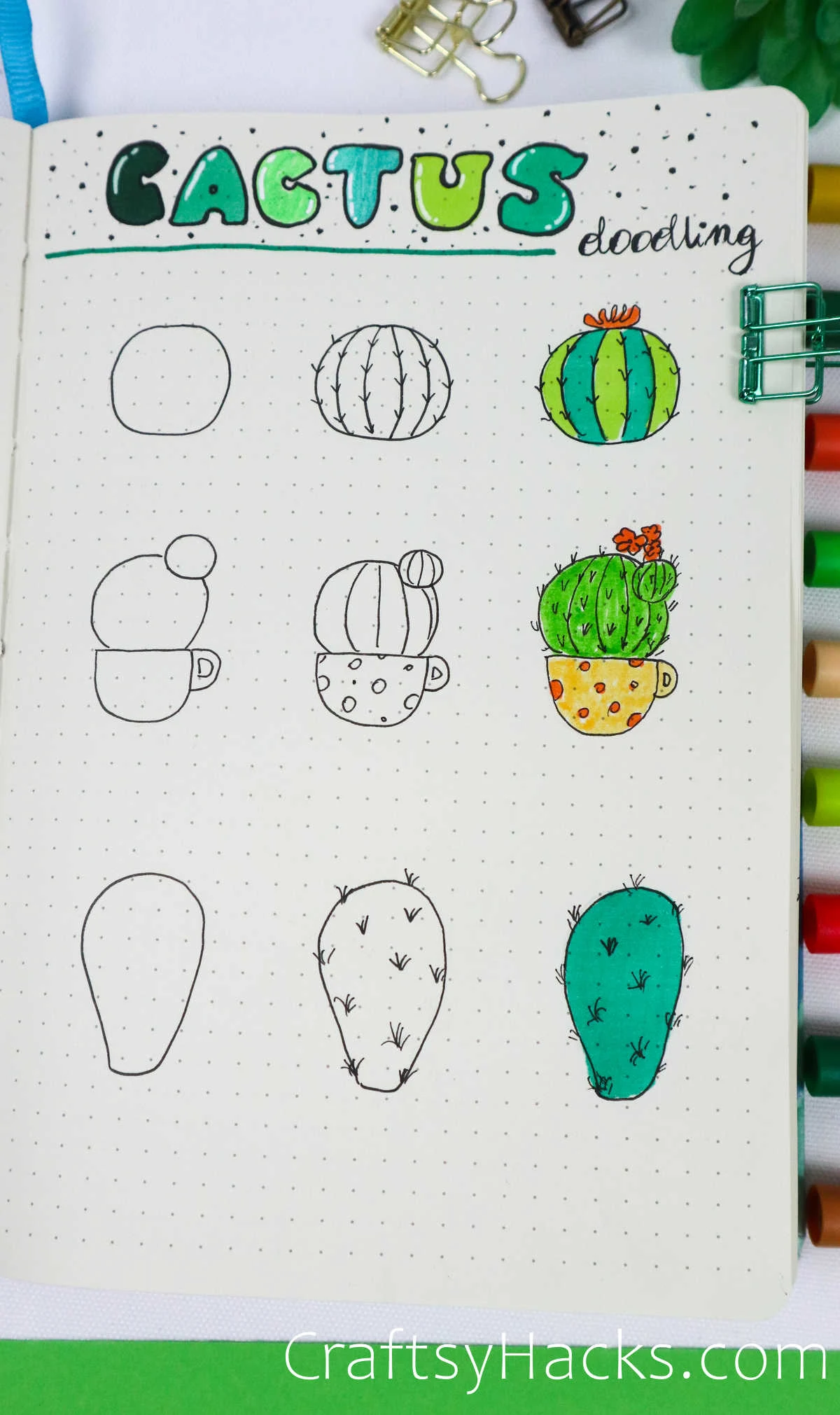 I am sharing some color-specific and flower variations on some of the basics shared above. Breaking down and knowing the basics of the basics is important to be able to build skills and abilities.
Really any shade could do for a cactus. Obviously, you can stick with traditional colors, but you could also experiment with some unexpected colors or shades closer to green (yellows/blues) to change it.
18. Cactus Doodle #4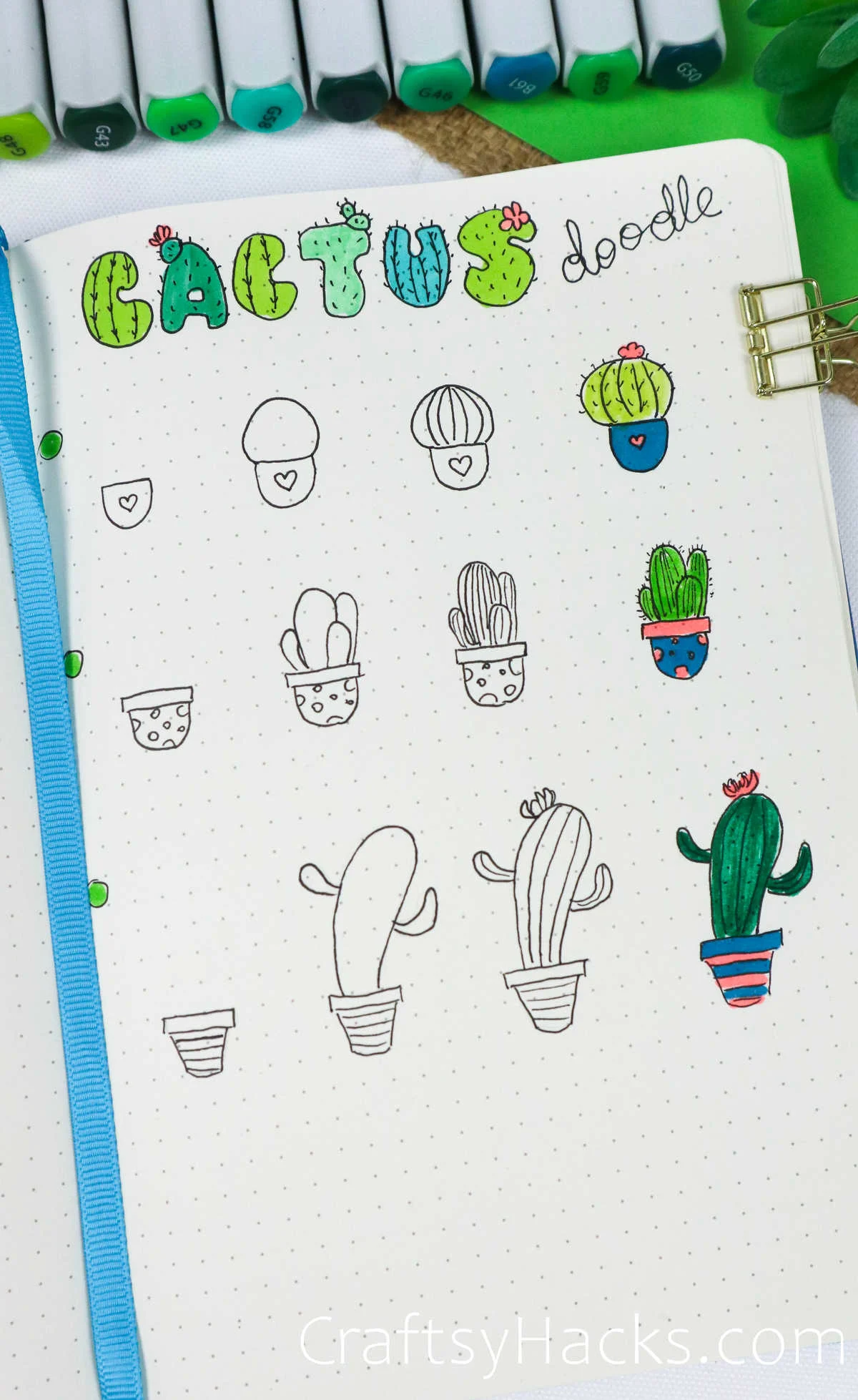 This doodle idea is for those who love any drawing idea's cutesiness. These cacti specifically pack that extra sweet punch with the warm colors and the flower accents on the plants.
An interesting idea to play around with is the size of the plant compared to the size of the pot. By doing this, it ensures the cuteness factor tenfold.
I'd suggest trying it the opposite way, but I think it wouldn't yield the same results.
19. Cactus Doodle #5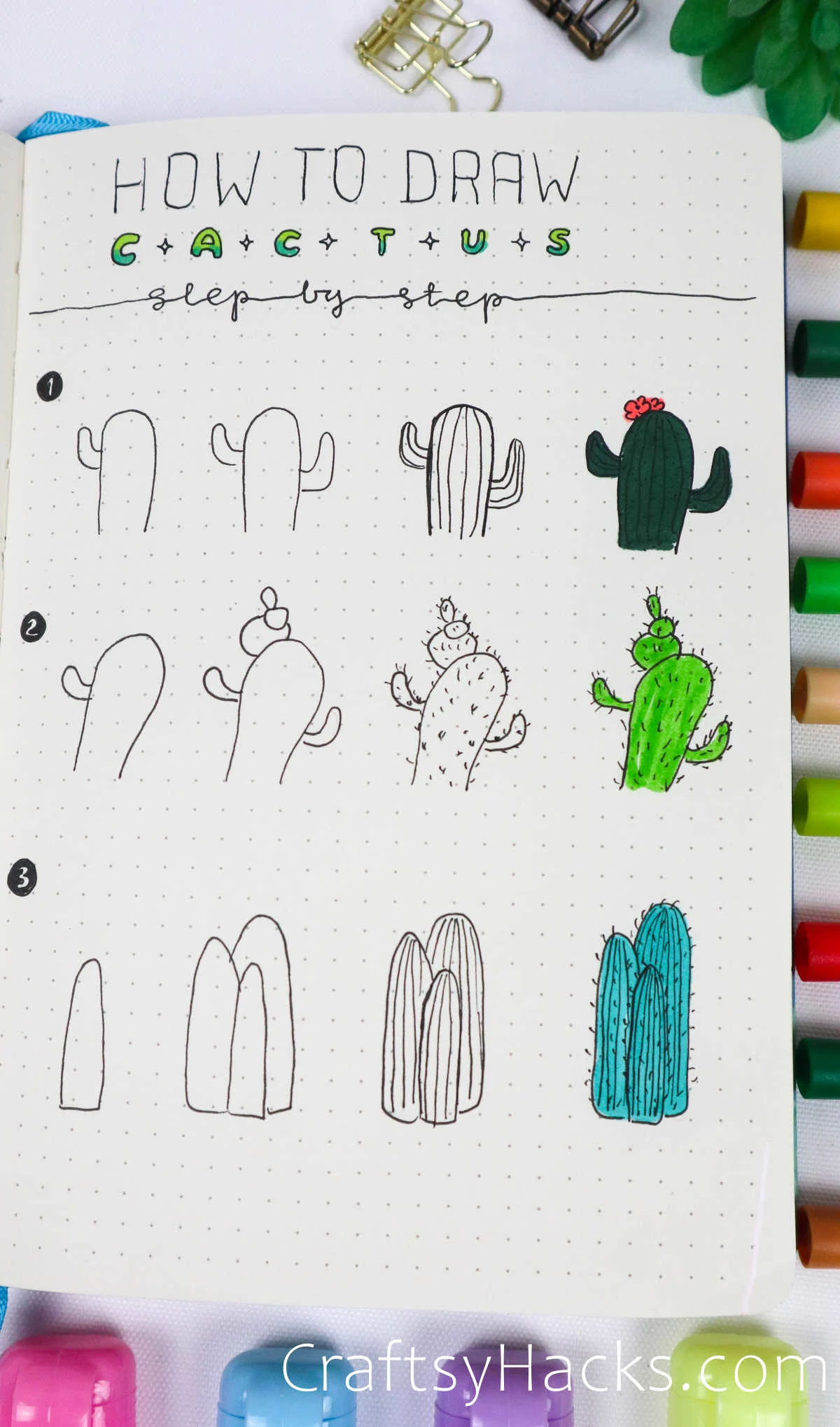 This doodle takes a closer look and examines the bigger elements on a smaller scale. It's a great way to get a form down before expanding the size of your subject.
These cacti are a great way to practice this concept because they are such simple figures, and the only major detailing revolves around the spiny and ribbing of each plant.
That way, you can try these multiple times over before expanding.
20. Short Flowering Cactus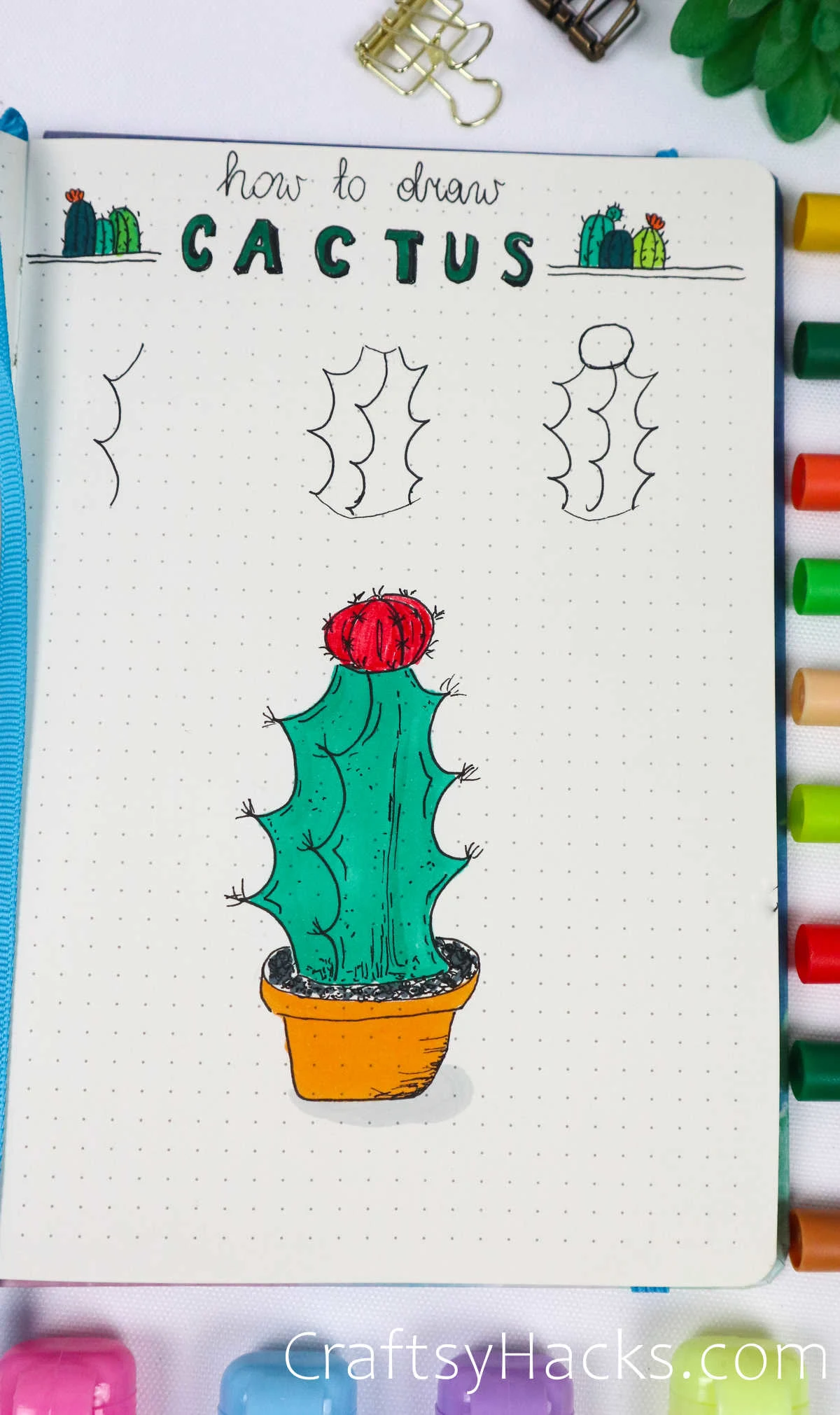 Here's a bit of an oddball cactus to practice as a stand-alone plant. These are a cute but a bit more complex–which really isn't much, just compared to the others–with their various repetitive lines.
Play around with the size of the plant as well as the flowering bulb on top. They are known to all be a little different.
Those bulbs are usually red or warm, but I think they look stunning in a cool or an unexpectedly warm color.
Depending on how tall you make it, these make for a great accent on a growth development tracker page.
21. Cactus Doodle #6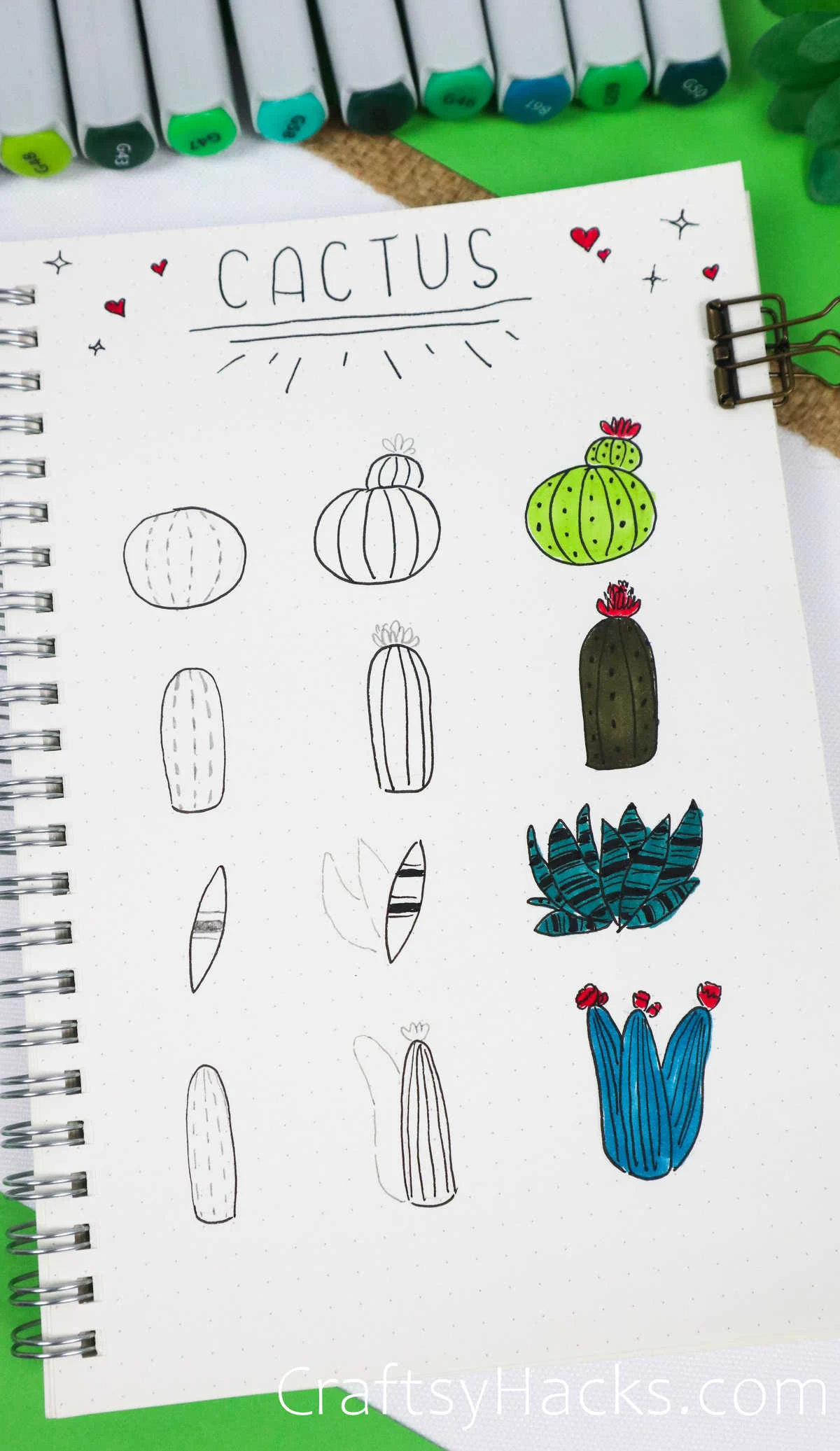 Continuing in the examinations of specific parts of different cacti elicits more practice to help you with sizing, perspective, and overall line work, making you an overall stronger artist.
These doodles specifically examine plants' leaves, which can be hard to conceptualize in a bigger picture sort of setting.
Again, add varied flowers or different colors, or change the size of any prospective plant you plan on drawing.
Ready to move on from the desert? Try these ocean doodle ideas!
22. Cactus & Flower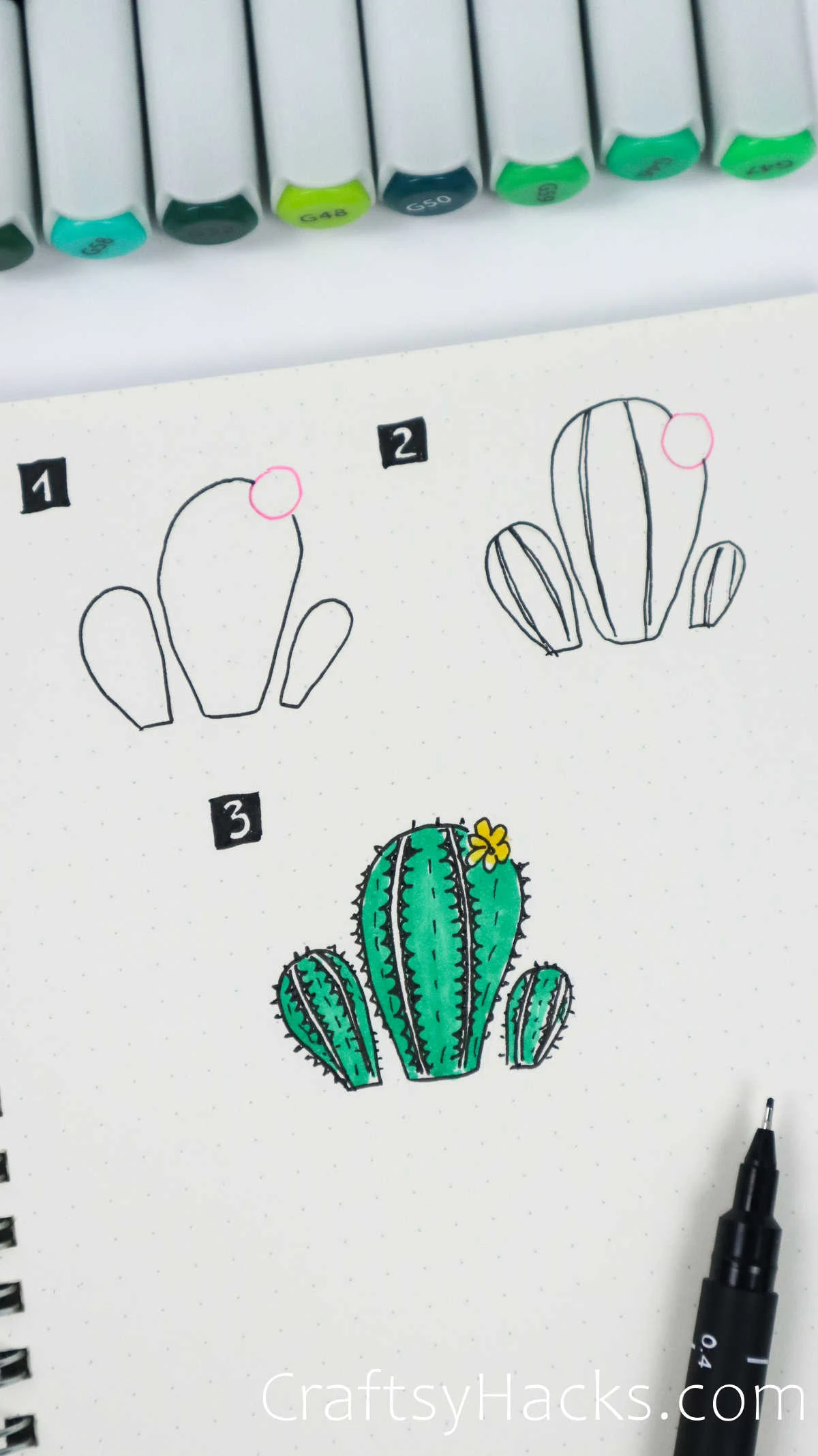 A familiar cousin to a prickly pear cactus, these fellows normally stick low to the ground and always seem to have a budding flower attached to them in one or various spots on the palm of the plant.
Easy to make many of these; this cactus would do a great practice in layering an object over an object with a small patch of these plants.
A fun way to make this idea more complex, if you are creating more than one, is to make the flowers different colors.
23. Potted Succulent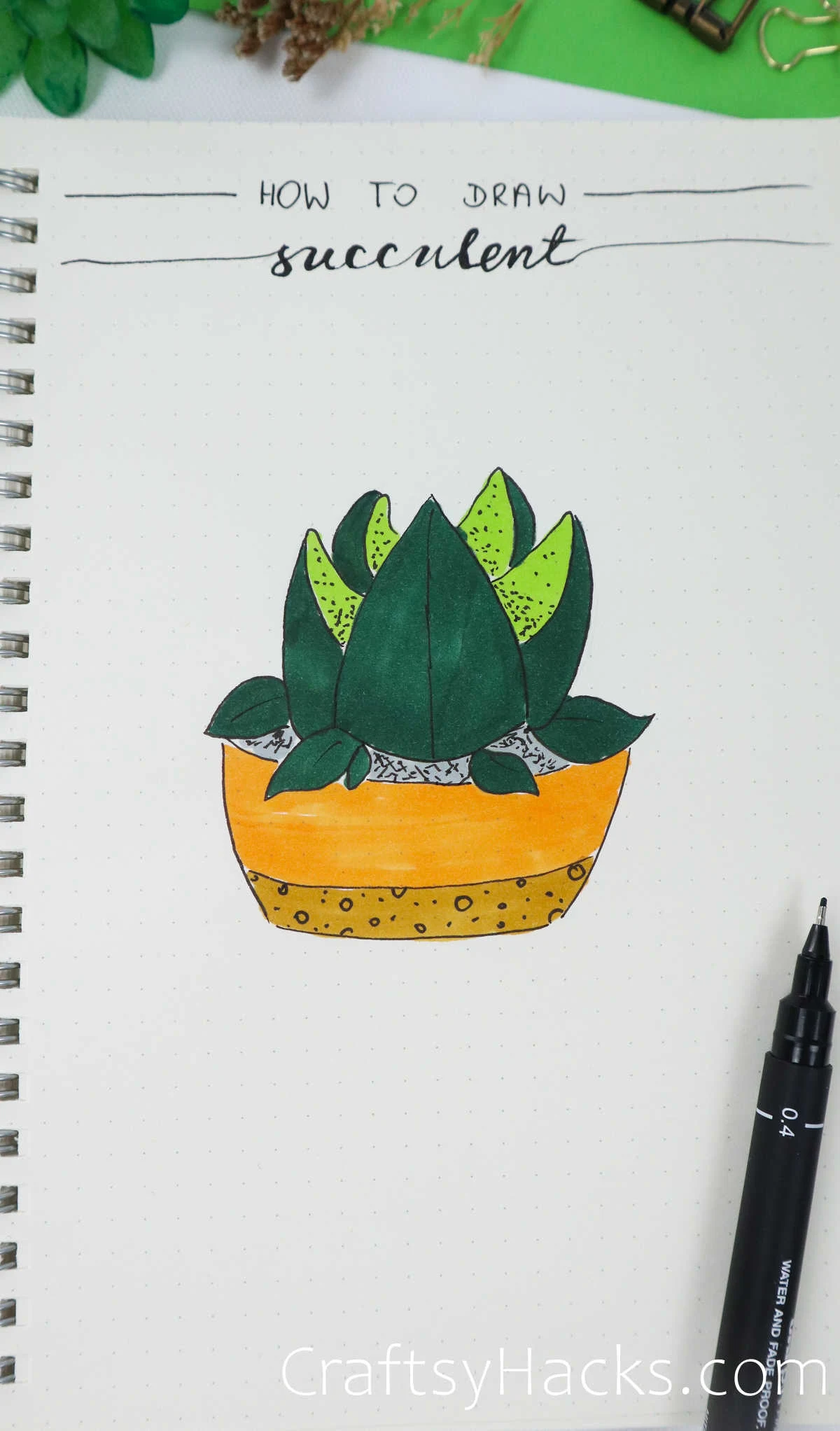 If you're looking for an index or title page image, you can never go wrong with a big potted succulent.
It's simple but draws the eye to the page and lets the text be the star while still holding its own presence.
Change the plant or pot naturally and play around with color, too. A nice vining succulent, or even a cactus, could work well here–any simple plant will do.
24. Simple Cactus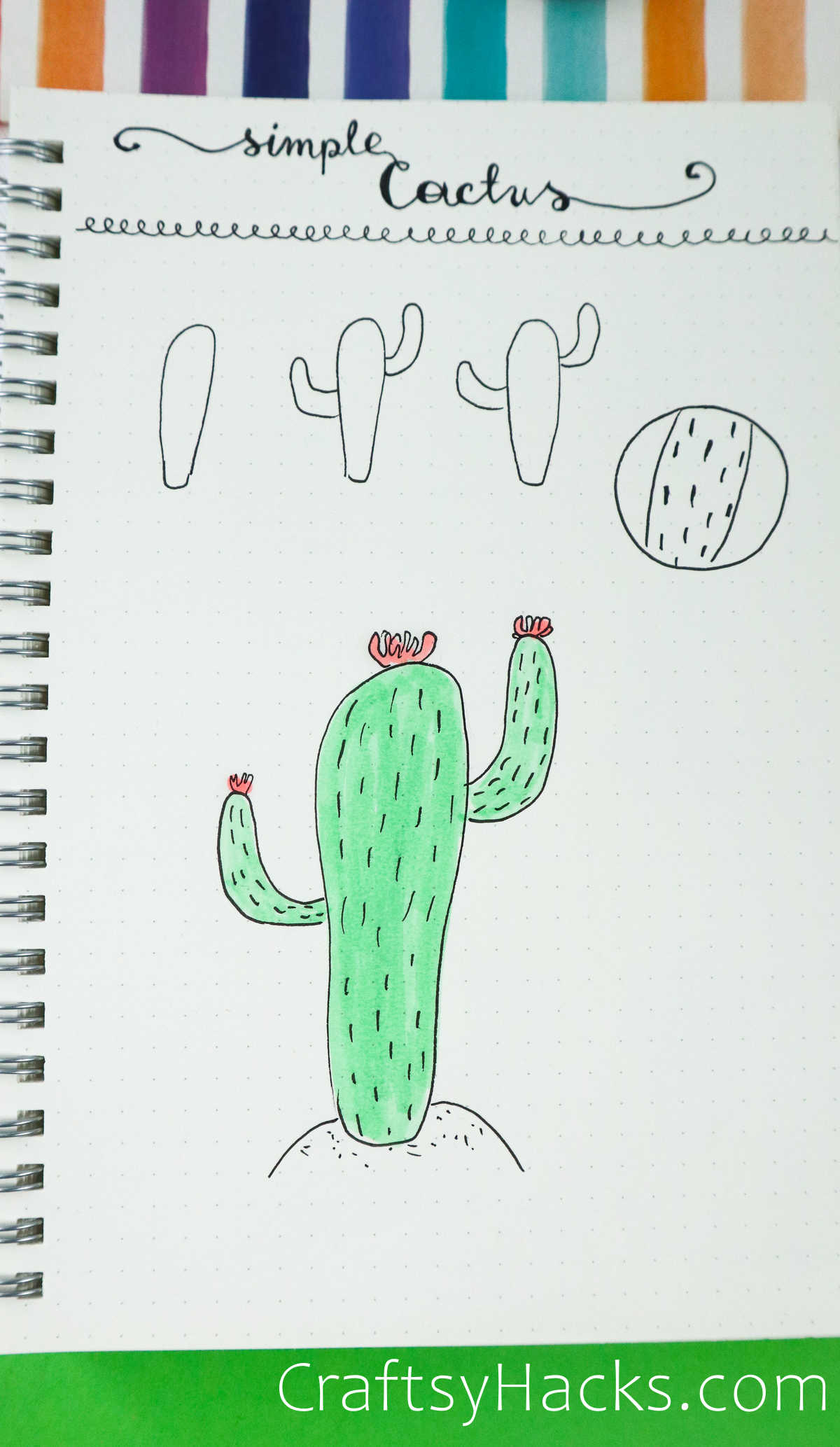 Again, another classic cactus perspective for this post is a great addition. When most people think of cacti, they think about something like this or the one above with arms similar to this one.
I liked this one enough to add it because it's simpler than the one above and gives me a bit of a vintage vibe–perfect for all of you classic lovers out there.
Need more inspiration? Try these ocean doodles!
25. Bulb Cactus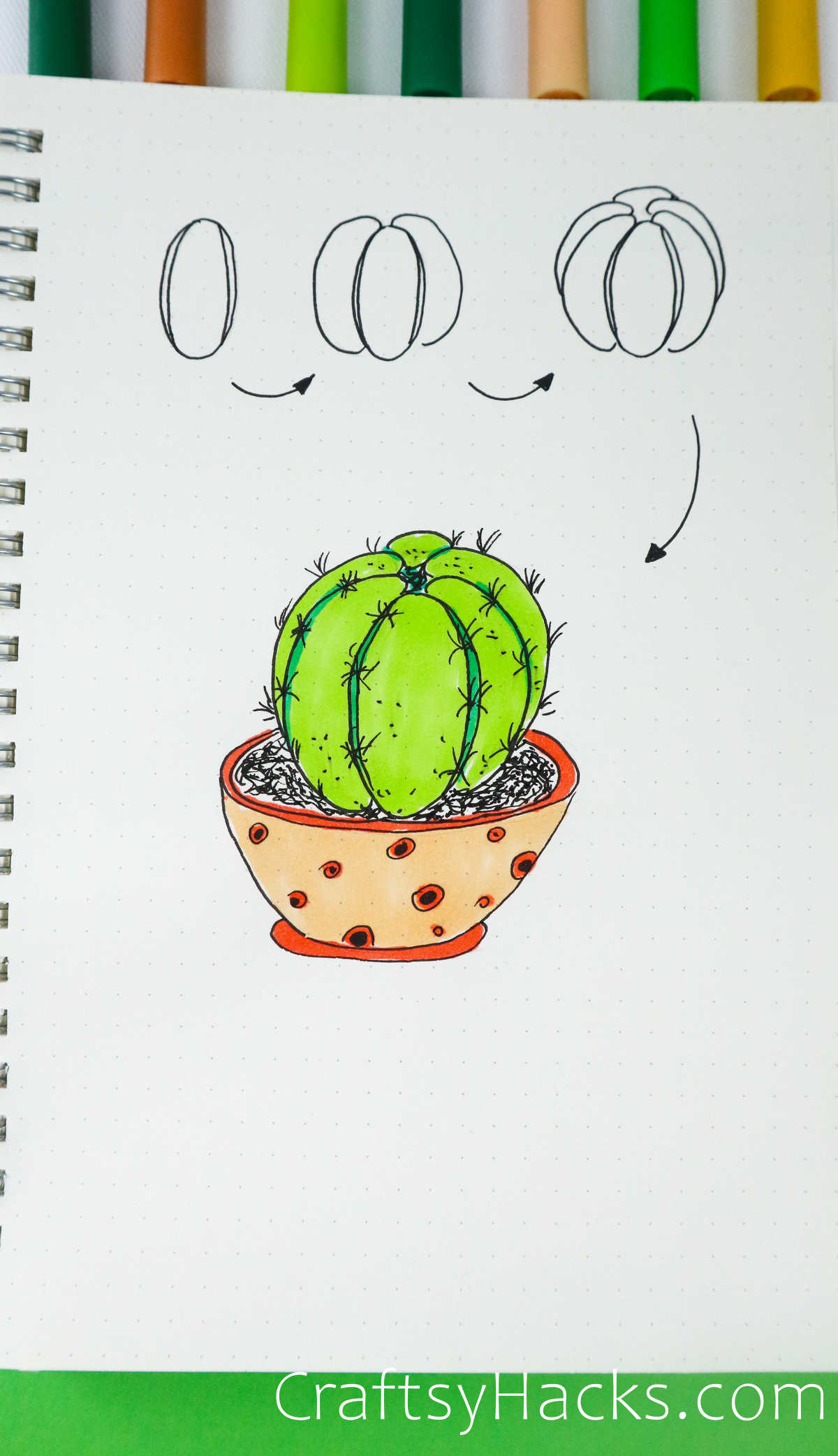 Last but not least, a closer, more detailed look at the bulbous cacti. This image gives a more detailed and realistic viewpoint of the classic globe-like cacti.
Keep your journal going with these amazing bullet journal ideas!