Are you always caught lost at sea mid-doodle or thoughts? Why not go for a themed doodle session and learn a handful of ocean doodles to add to your bullet journal repertoire?
Fear not–you've come to the right place! Here are twenty-five options plus a small handful more on a few of the examples listed below.
Most drawings have a simple tutorial to follow step by step to help you along in your process if needed. The rest should be relatively self-explanatory and nothing too time-consuming.
If you're looking to grab some materials to use for this project, here are a few of my recommendations.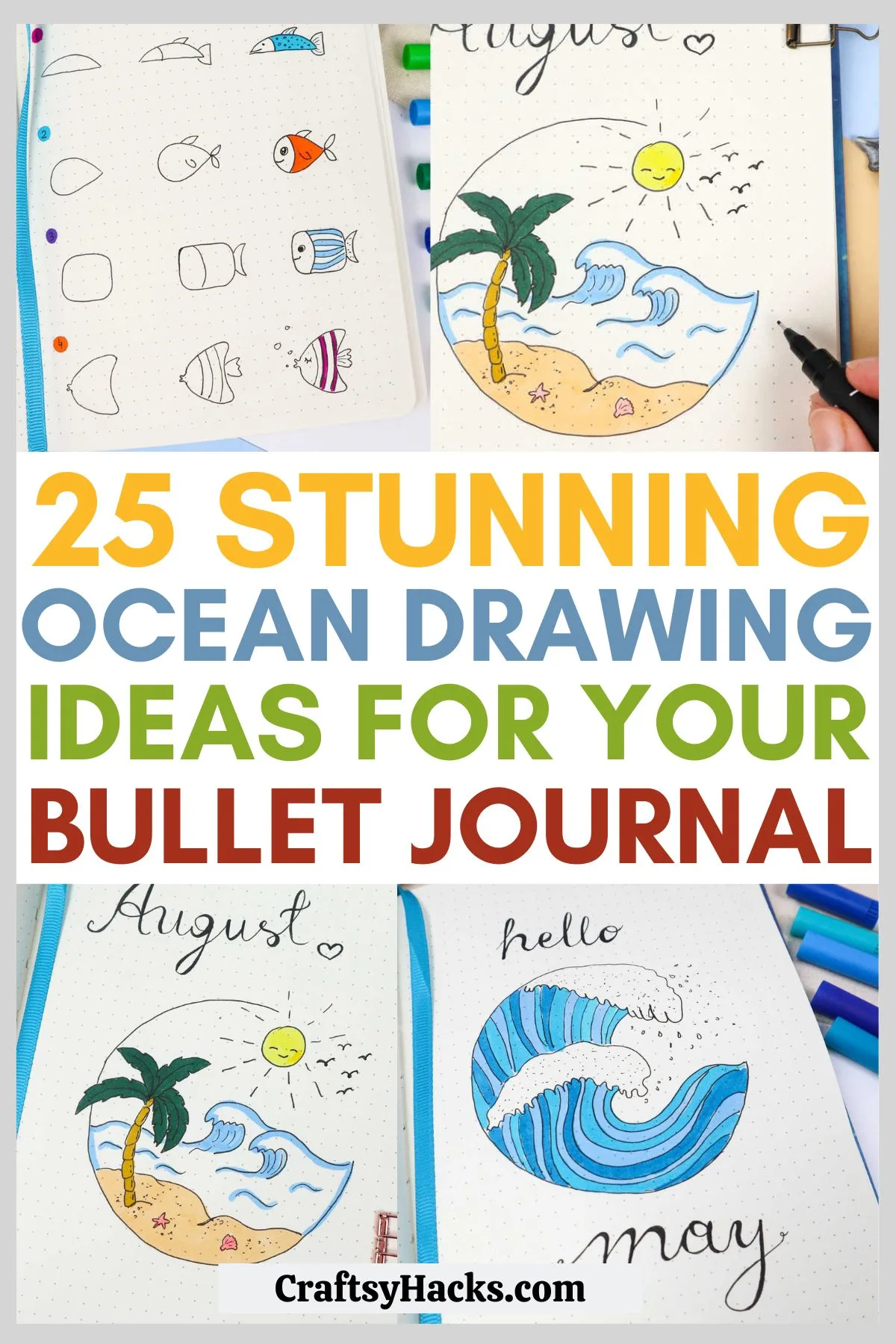 These skinny markers, these chiseled tips for larger-scaled pictures, this notebook, these pencils, and this eraser will do just fine to complete any of these doodles.
With all of that said, onto the ocean doodles!
1. Riptide Waves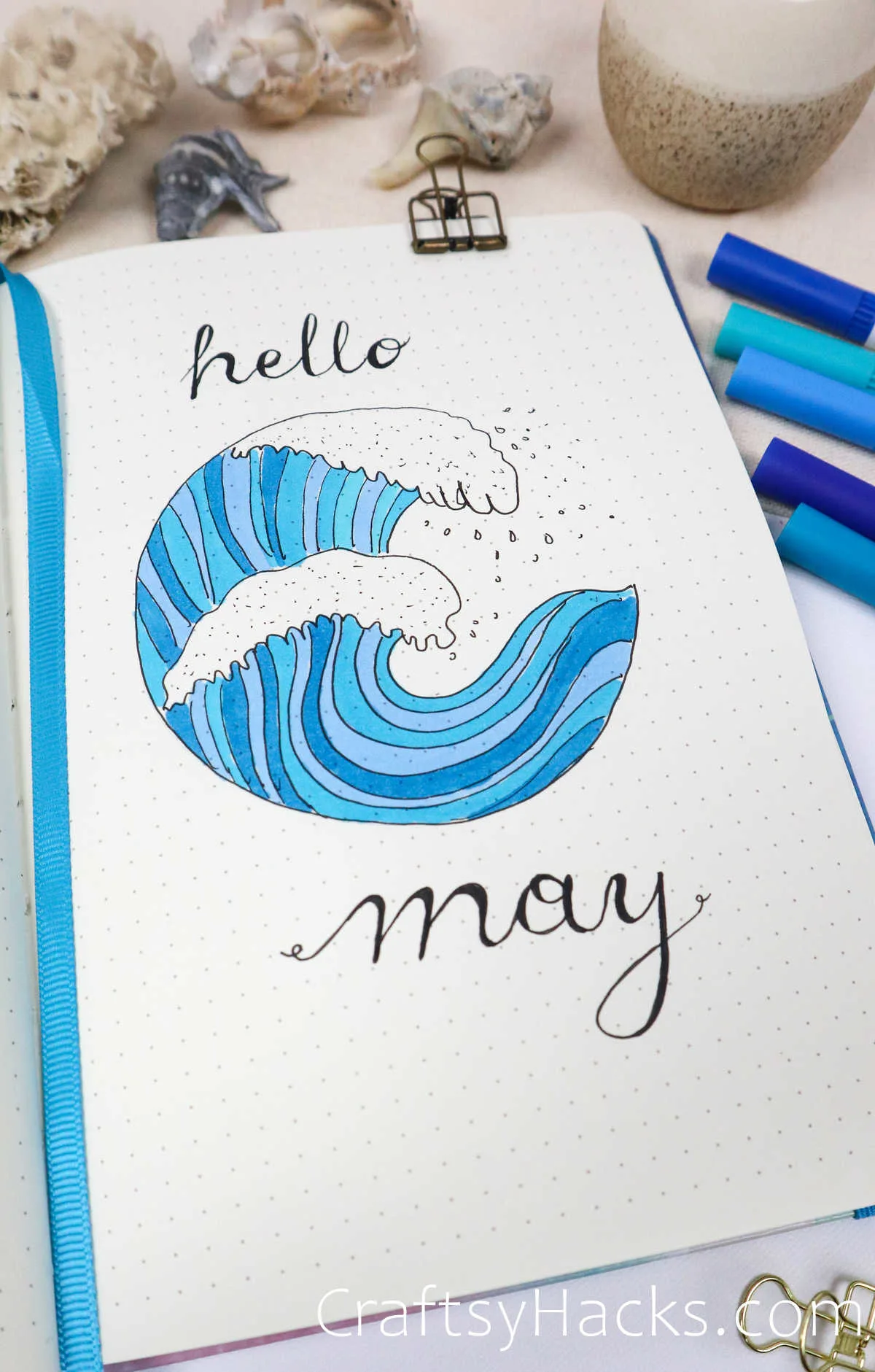 There's no ocean without water or waves, so the first item on my list today has to be some riptide waves.
Perfect for bullet journals or a sweet framed print on the wall–keep the waves all blue or spice it up with multicolored waves.
A tip to get a framed even circle, there are a few ways to go about it. Grab either a compass or a cup or bowl and trace the circumference.
Make sure to check out these other best bullet journal ideas!
2. Killer Whale Step-by-Step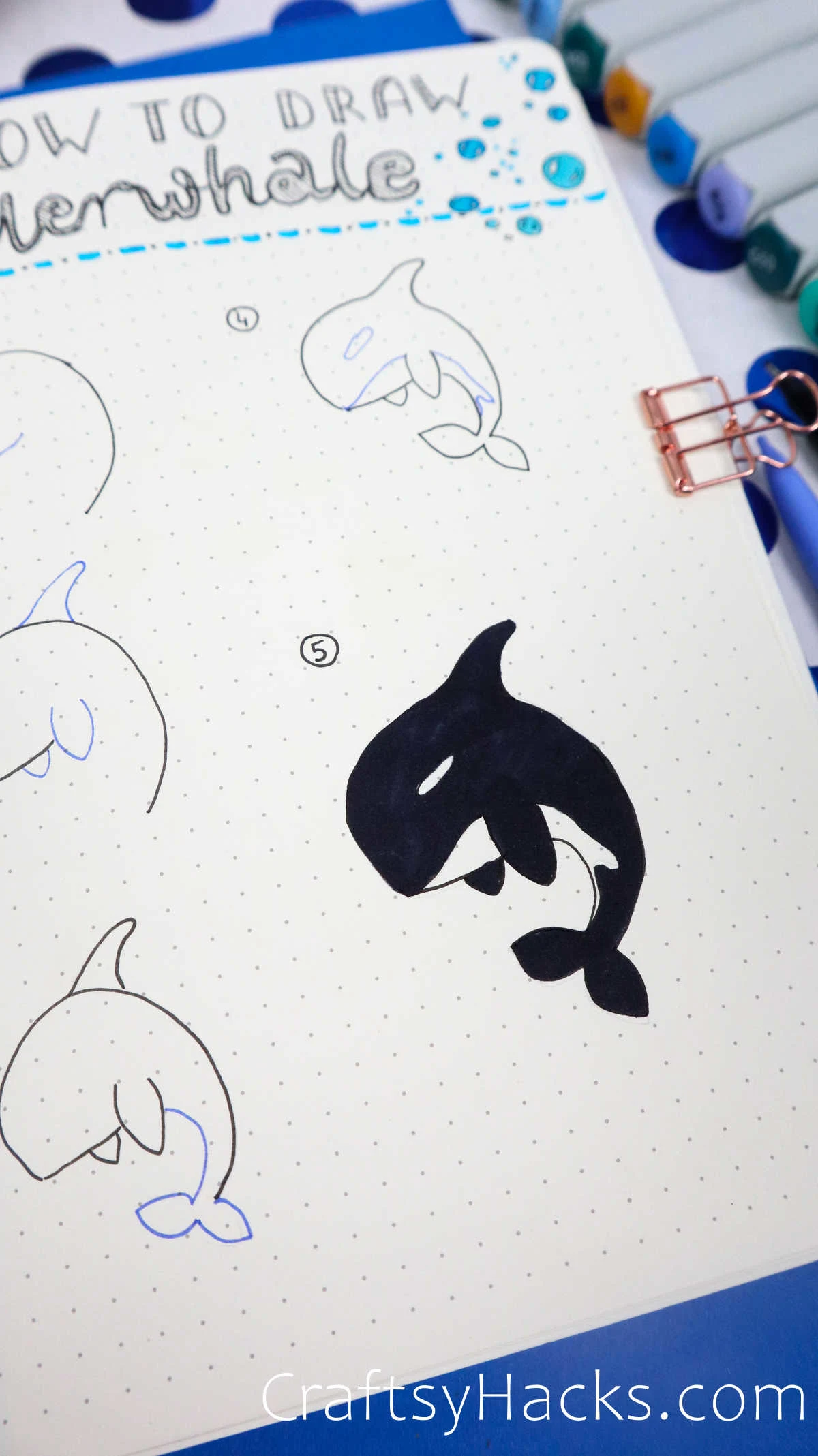 Killer whales, or orcas, are another synonymous association with the ocean, although some, unfortunately, associate them more with contained entertainment properties.
Either way, they are beautiful, yet unlike their real-life counterpart, the one on the page is nothing for the illustrated seals to fear.
The steps to complete this orca that gets drawn out gets shown above, and note that each blue line is the newest addition to complete your whale.
3. Goldfish Step-by-Step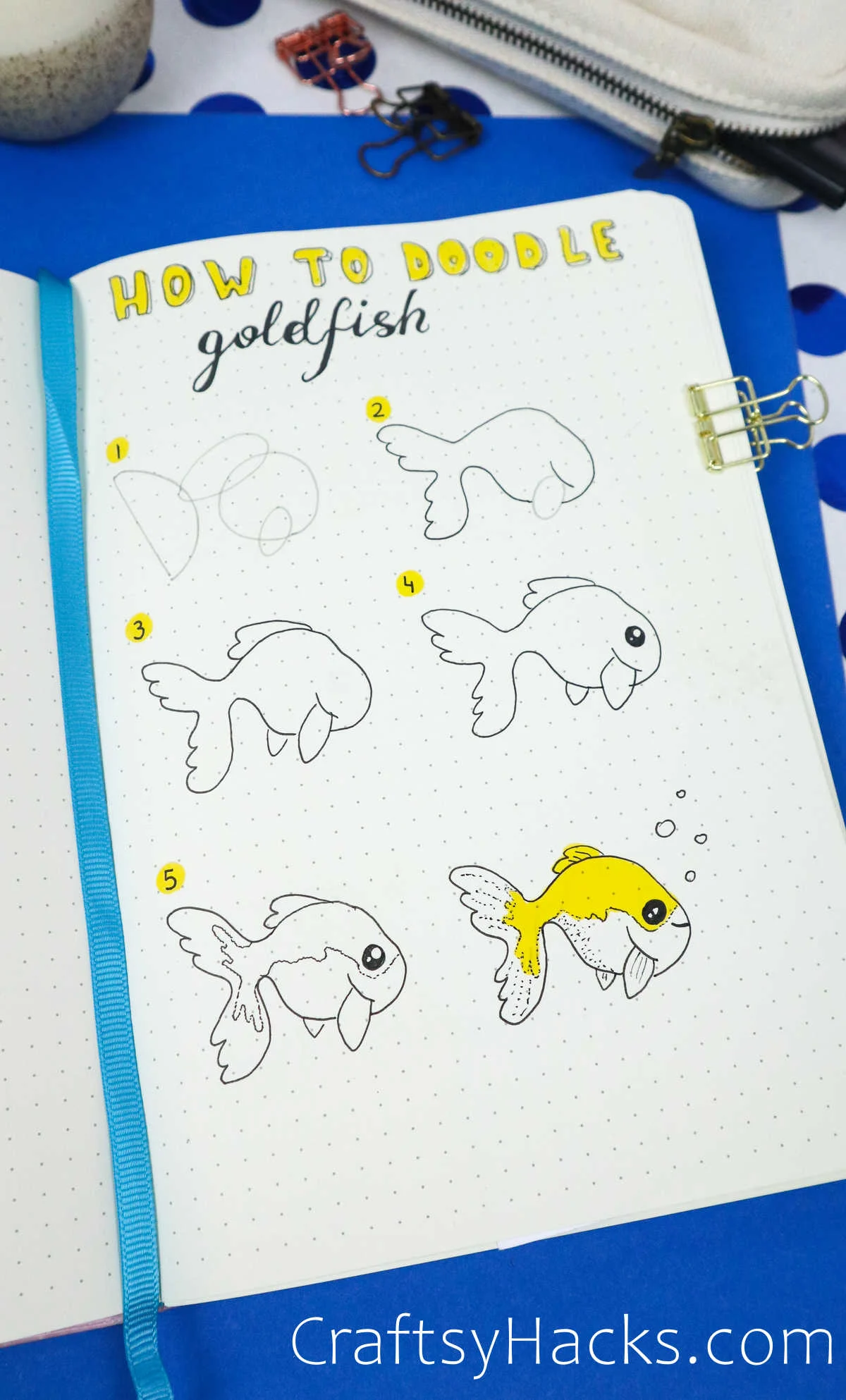 Another doodle step-by-step is this fun little goldfish–which may not strike you as an ocean dweller, which is true, but it is an aquatic staple.
Goldfish are still a contender for this list, even though they are mostly found in fishbowls.
Try this goldfish in pencil–with the more complex detailing, it's an important way to complete the fish successfully. The first step starts with simple shapes that move toward the finished product.
4. Message in a Bottle Step-by-Step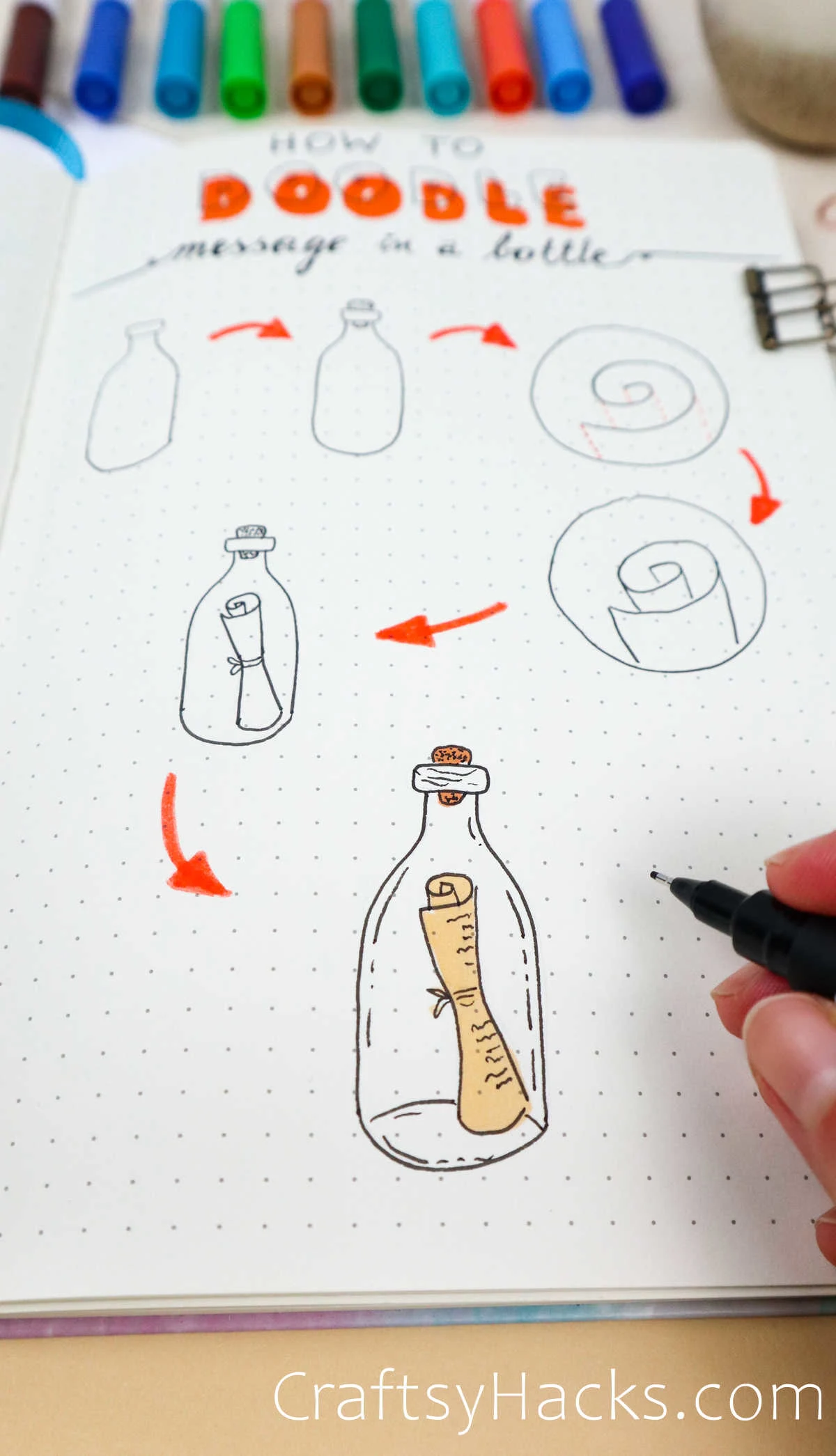 Mostly a Hollywood image, a message in a bottle only exists at sea or is found on the shores of beaches. Somewhat mysterious, but always exciting to come across one or even draw one!
Above, you'll note that the third and fourth images detail the top of the message in the bottle to get it just right.
If you are confident to try it out on your drawing right away, try it on a scrap piece of paper to get it all right.
These bullet journal divider ideas will help you organize your doodles!
5. Seahorse Step-by-Step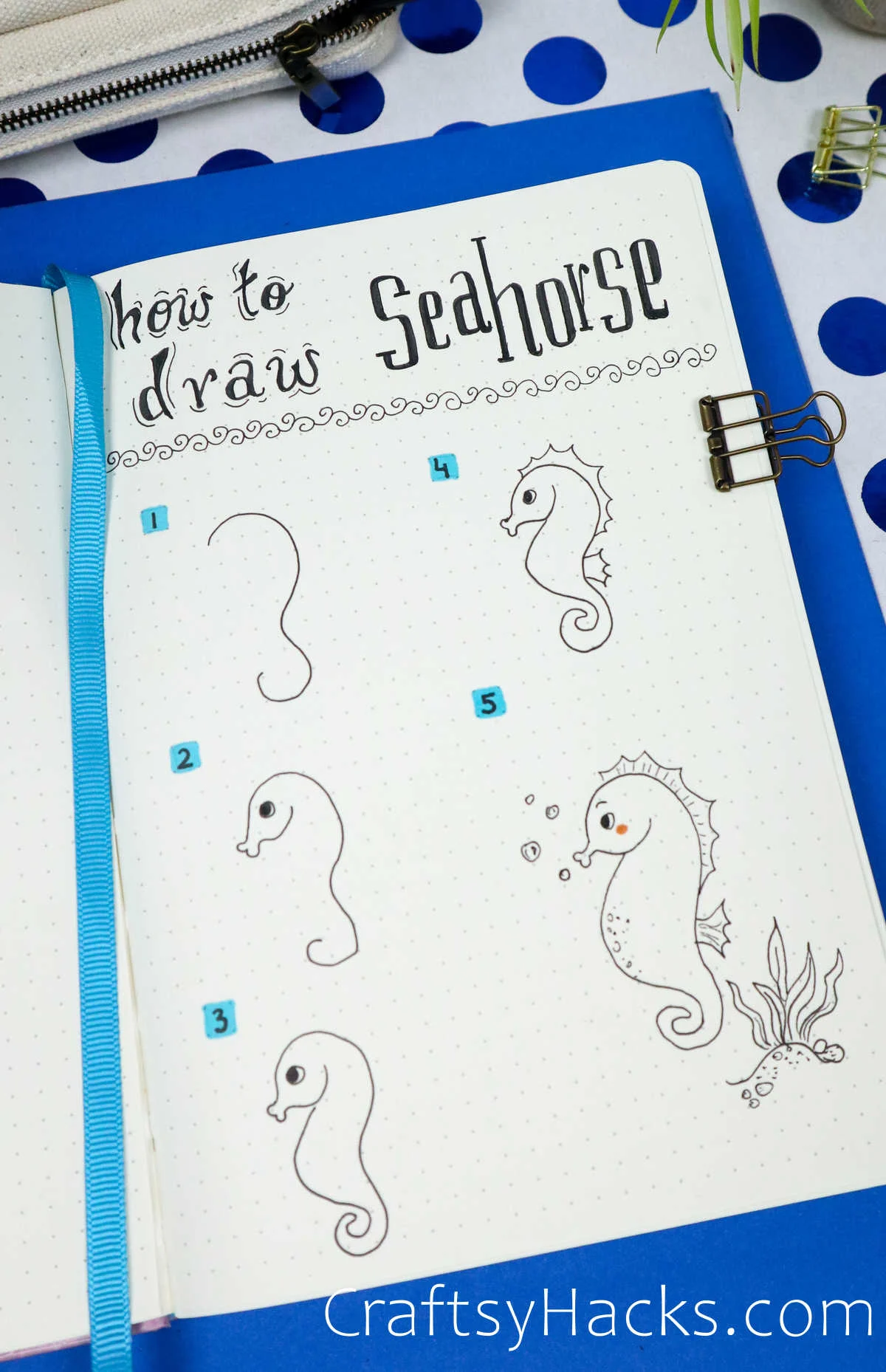 You'll find our next subject–the seahorse–a little deeper in the sea. As a kid, I always found myself fascinated by the creatures and how the male are the ones that carry the babies.
Again, there's a simple step-by-step to follow for our curly little friends.
Draw a whole family or a singular seahorse–scale it to the size you're interested in, and voila–you're newest deep sea creature addition on the page.
6. Surfing Fish Step-by-Step
This surfing fish is perfect for those looking for a bit more whimsy in their doodling activities. Expand the image to add a few more tubular friends and their boards.
This tutorial, like many, starts with the innermost detail and work your way outward.
As always, try practicing it a few times over on a separate sheet of paper or in pencil to get all the detailing and spacing right.
7. Six Types of Seaweed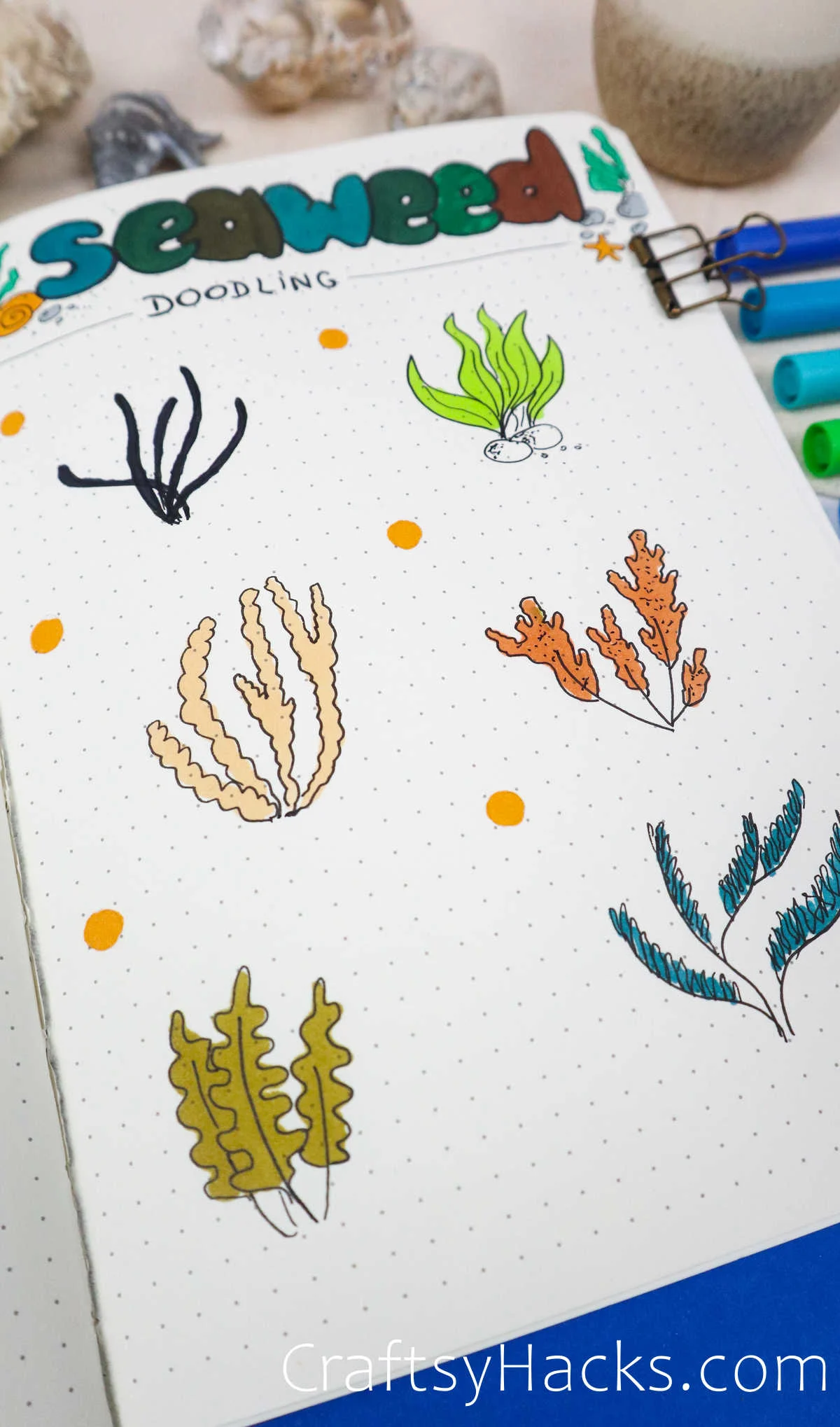 We can't forget about the plant life of the ocean–seaweed being the premier vegetal greenery that comes to mind.
This sample gives you plenty of options to add seaweed to any nautical scene to give it more life and texture.
8. Step-by-Step Coral Variations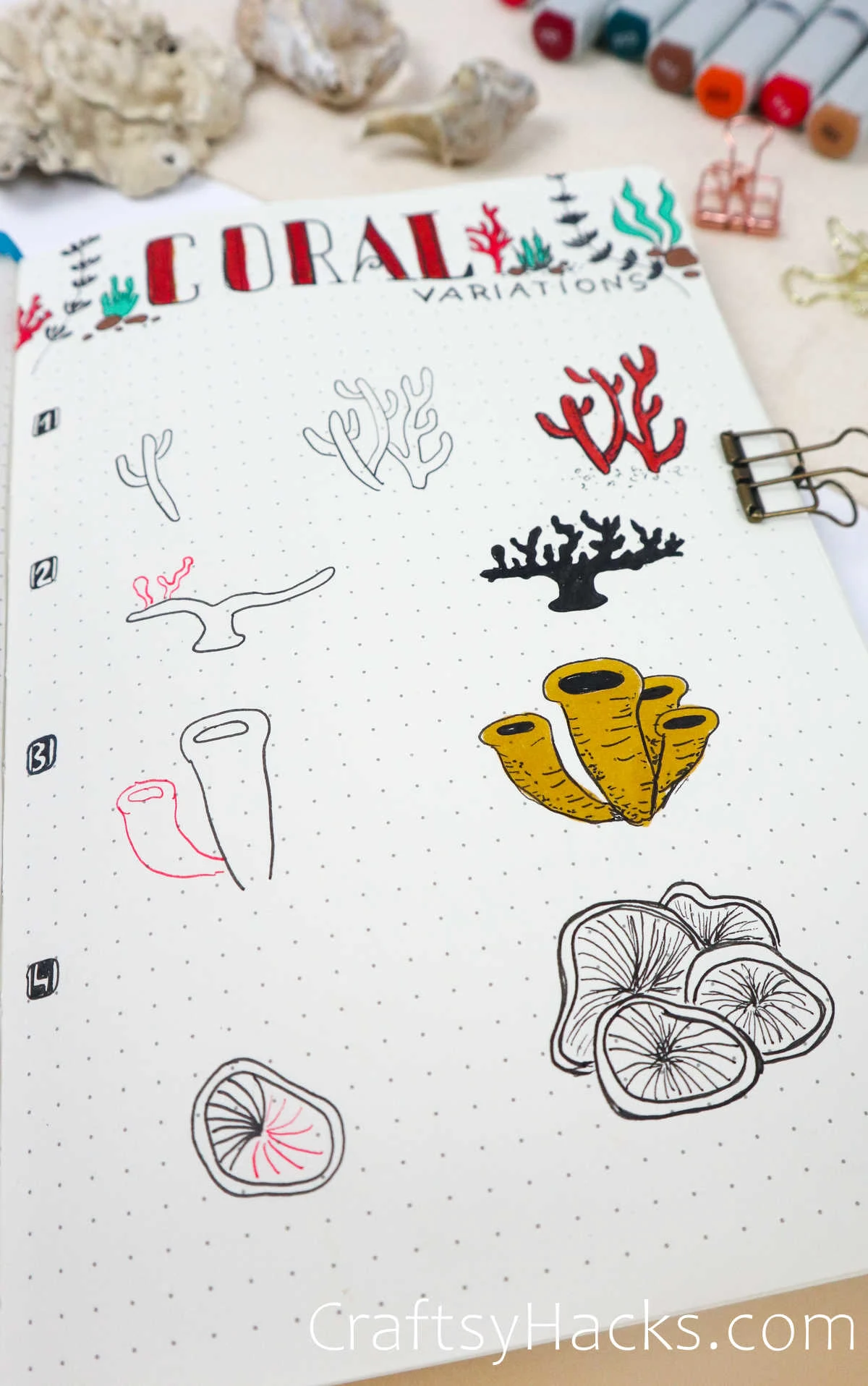 What goes hand in hand with seaweed is different corals. There are endless possibilities for coral formations, but here are some generally easy ones to draw.
Each coral image has a bare-bones tutorial to help you along with your creations. Swap the colors around to give it a little more vibrancy.
9. Octopus Step-by-Step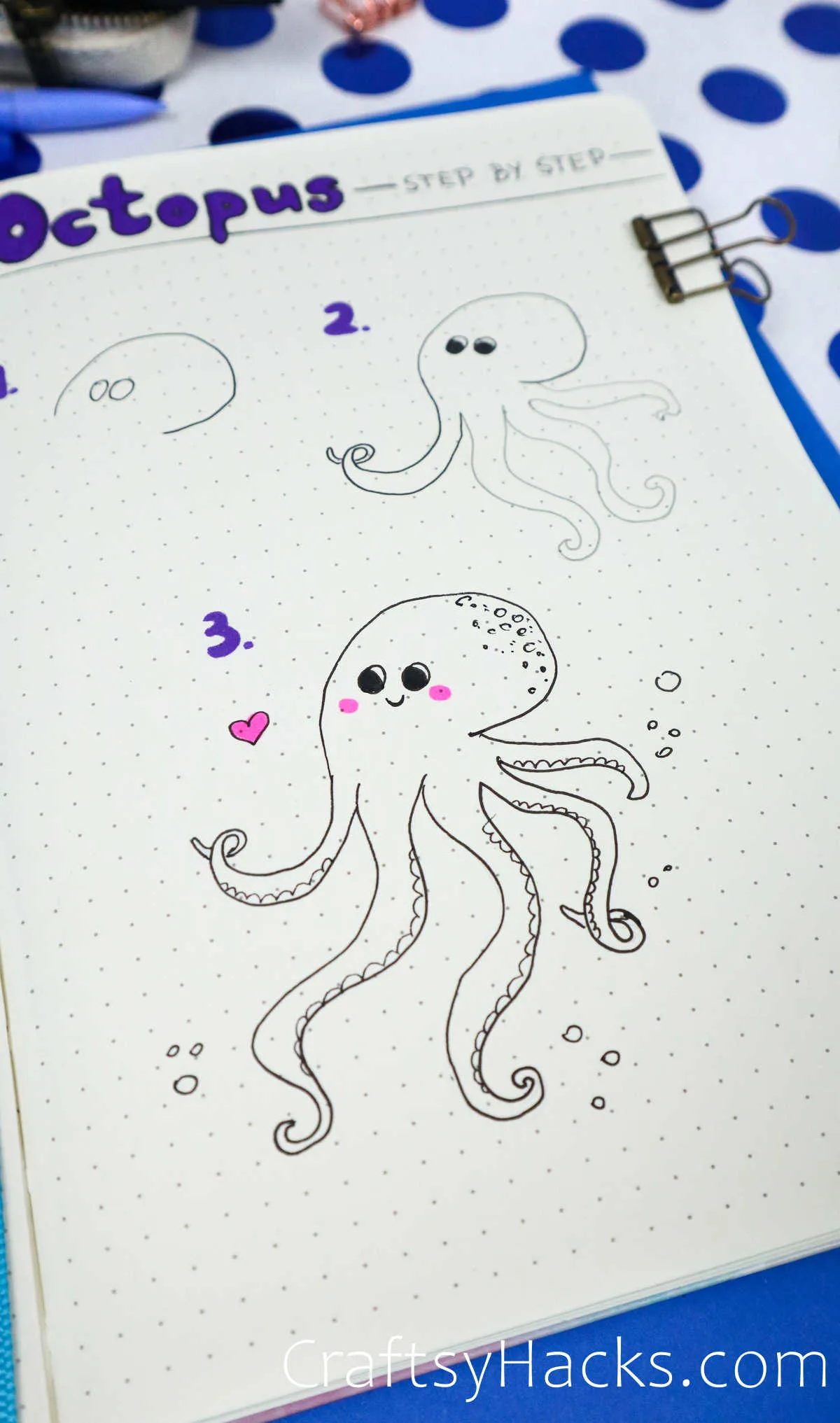 The ocean has so many creatures at almost every level–the octopus is a well-known species that transcends a few different levels.
To make the creature a little more friendly–try adding a cute little cartoon face.
Feel free to try variations on the detailing parts of the octopus's body–triangles, squares, hearts even! Implement the octopus into a scene or make it a larger print.
10. Beach Scene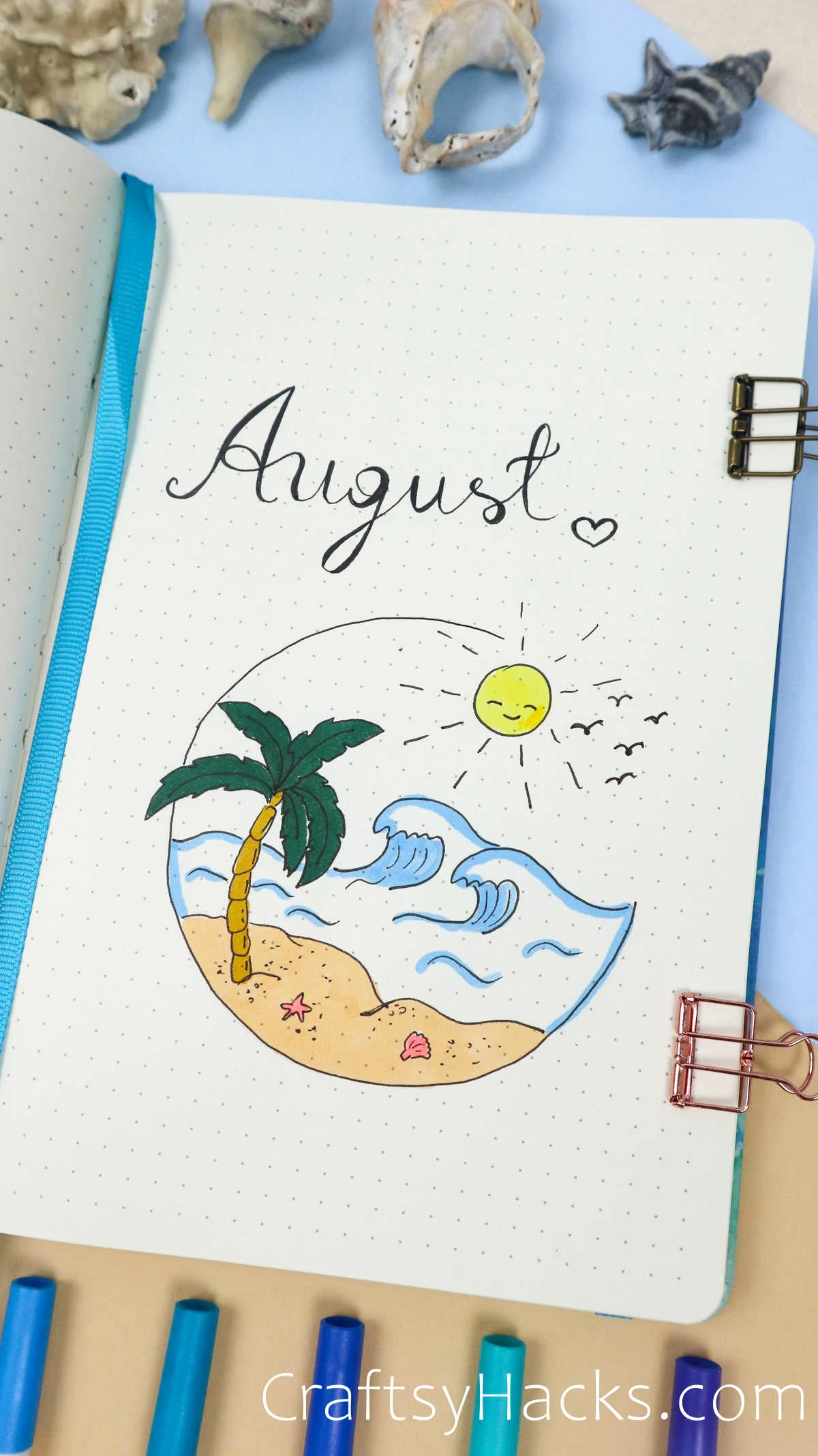 Like the riptide, this beach scene gets framed within a circle and would be perfect for a bullet journal, card, or print on the wall.
Play around with the colors–add a beach chair or a fish surfing to fill out the scene.
Draw the initial circle in pencil lightly to create the unclosed circle for the birds and sun to expand beyond the scene.
11. How to Draw a Jellyfish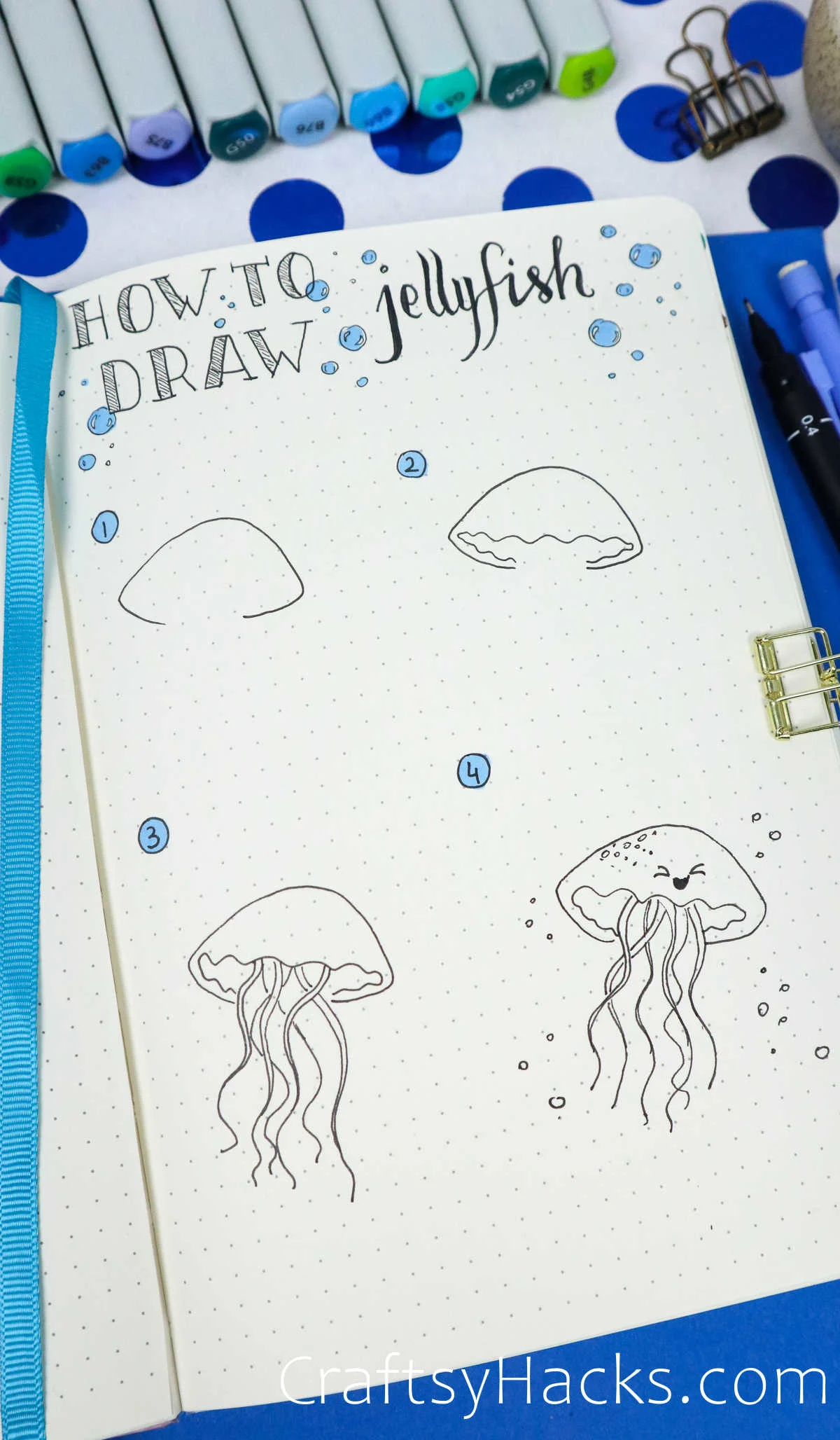 When I was little, I always thought jellyfish and octopuses were the same things, and when I found out they were different, I assumed they were friends.
Are they–who knows, but they are in the same spirit to draw jellyfish.
Add the face at the end or keep it without–either way, it's a great tutorial to learn how to draw a jellyfish. I like using a light neon marker or watercolor to give these jellies the glow they deserve.
12. How to Draw a Whale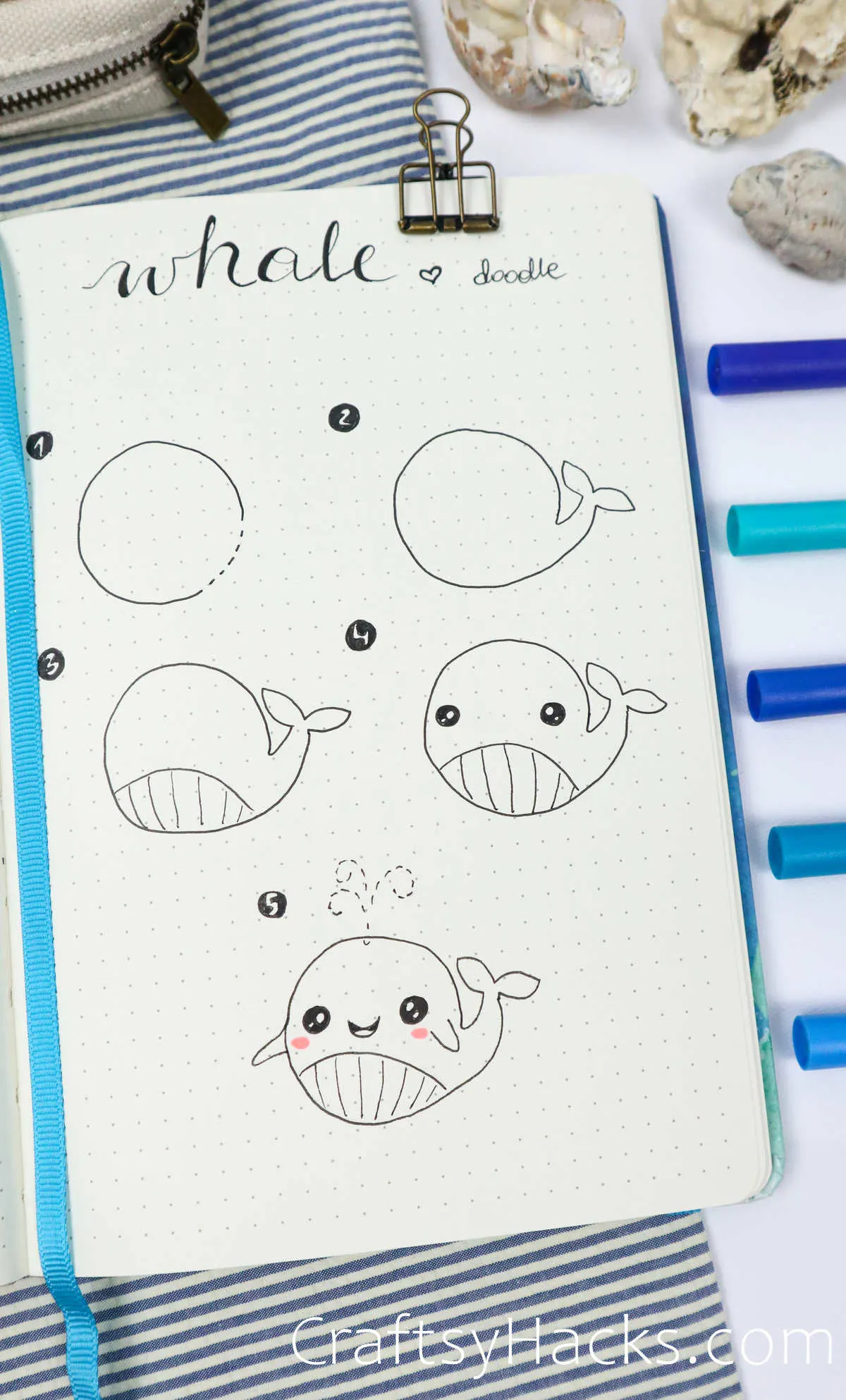 This list wouldn't be complete without the biggest animal in the ocean, the whale, and there's no denying it. Adding a cute cartoon face is the easiest way to complete this creature.
Try the whole thing in pencil to add the tail easier when constructing the animal. Use a cap or other small round item to create an even circle, leaving a doted area for the tail's area.
13. Stingray Step-by-Step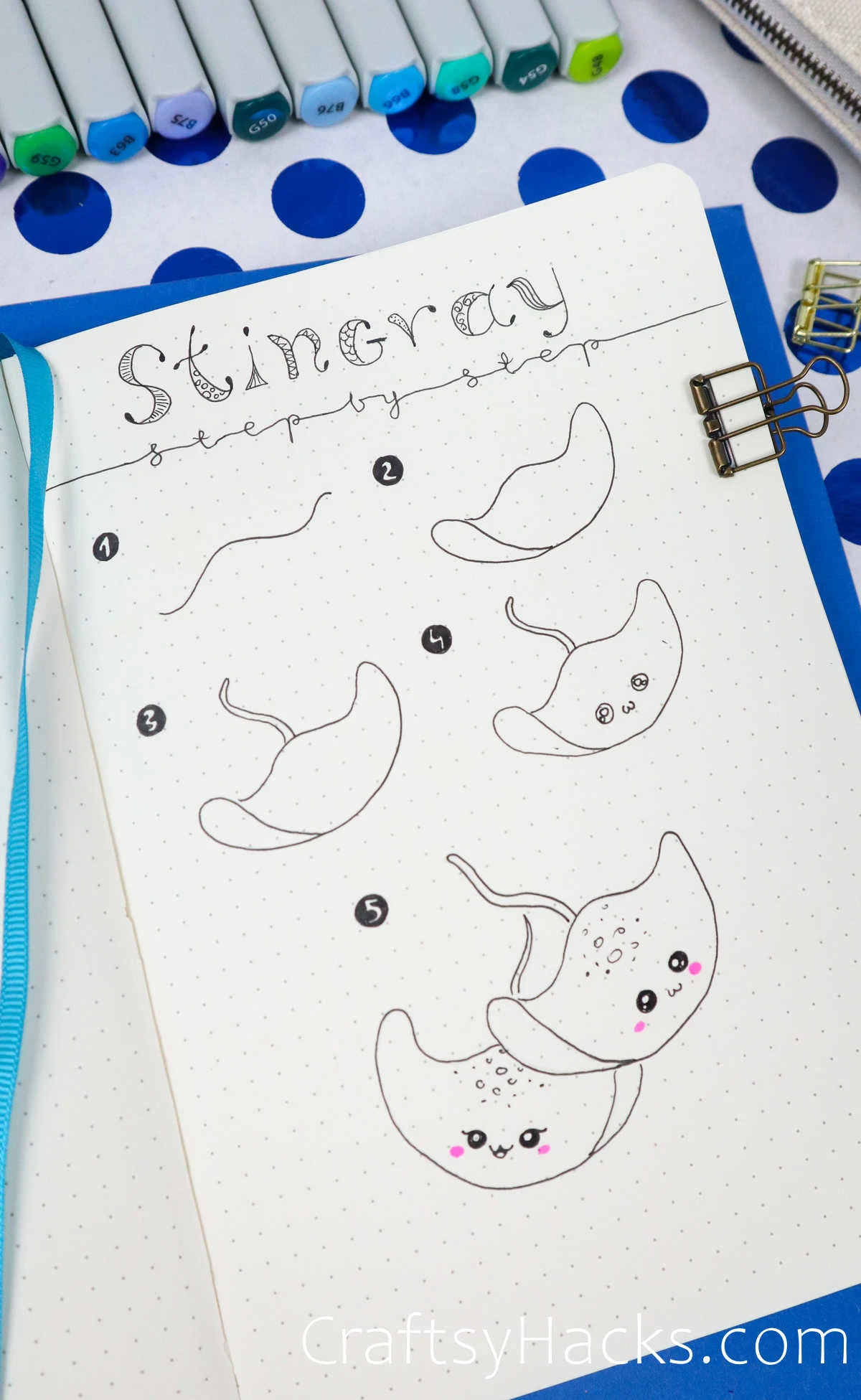 Stingrays are another easy and cute doodle to try your hand at.
Draw an entire school's worth or one large stingray with cartoon faces–maybe even add different emotions to their faces for more fun results.
Try each stingray in a different color to make the scene even more interesting, or vary the size of each ray to make them more complex.
14. Various Ocean Doodles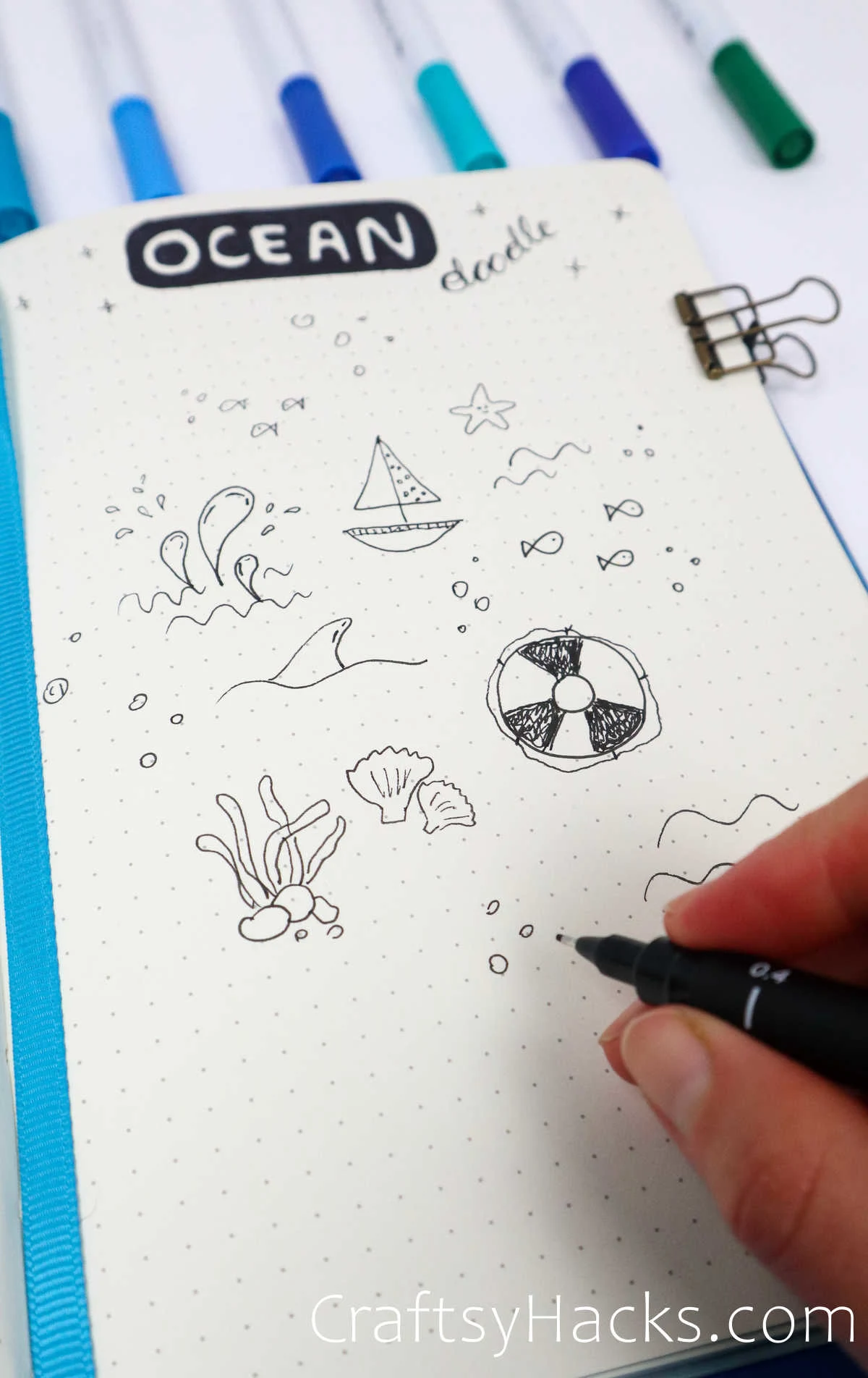 What doodle list wouldn't be complete without the little scenes both beachside and at sea? Here I've collected small moments to inspire the finer details in your drawing scenes.
Take all the liberties from this brainstorming drawing page. If you get inspired by these doodles, please share them with me in the comments below.
15. Continuation of Ocean Scenes Doodle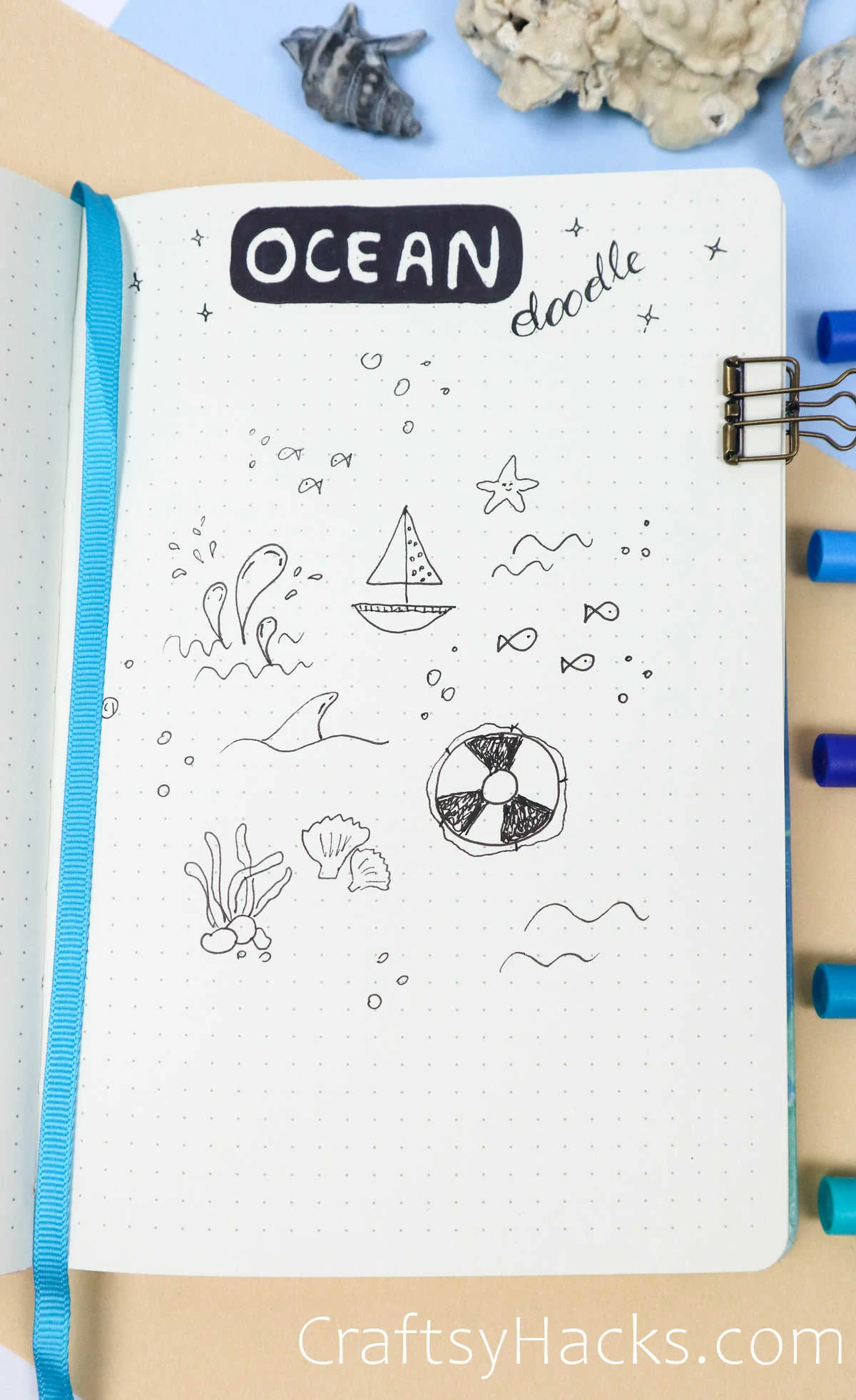 Here is another view and some various scenes of ocean doodles.
There are really endless possibilities of potential details you could add to your scribbles, and again, if you have any, please share them below.
16. Sea Creature Step-by-Step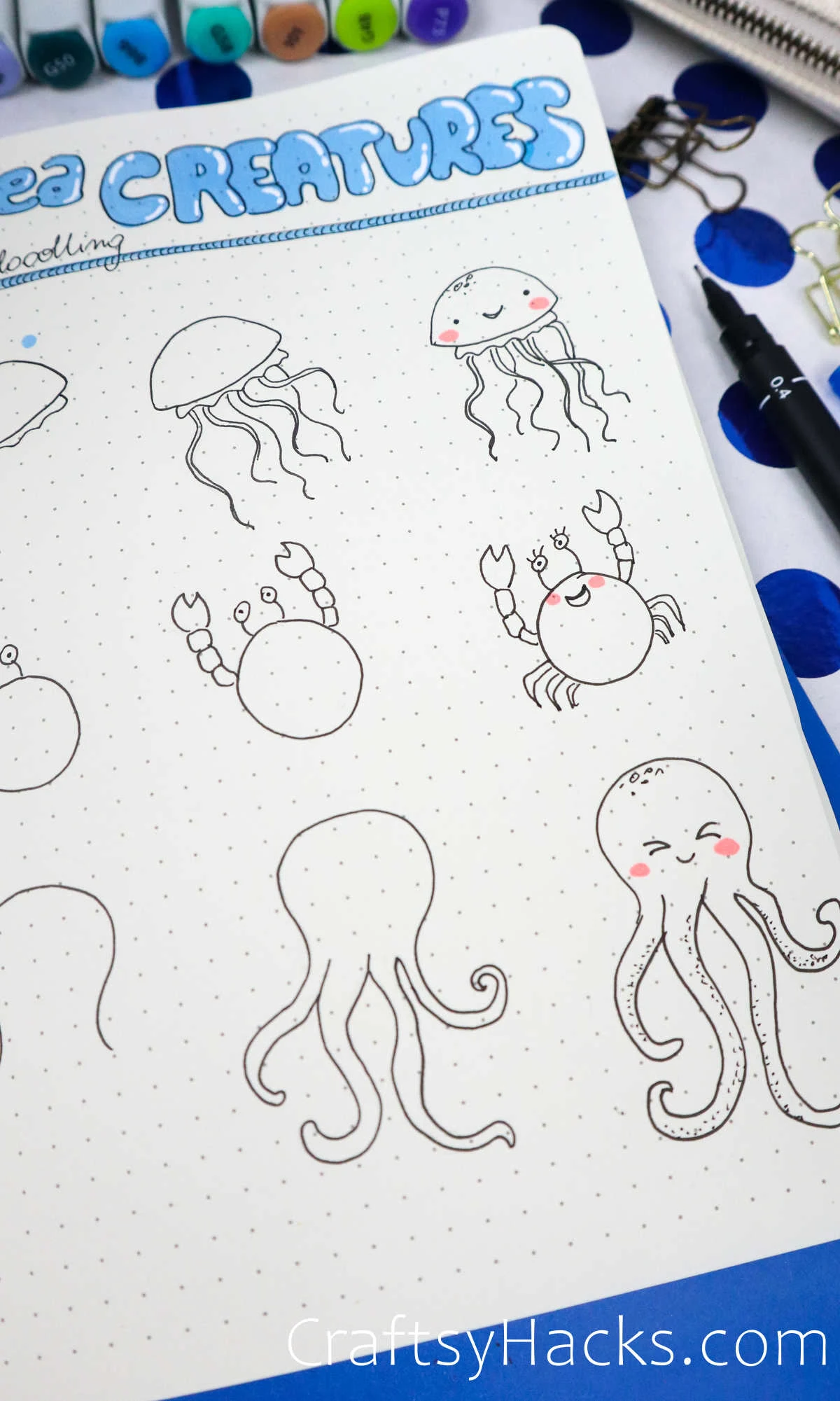 Just like the endless possibilities of details to add to your pictures, the same goes for sea creatures. The different species within types of creatures add to the plethora of options.
As you've already seen, jellyfish and octopus are already on the list, but these are fun variations on the two and all the types of crabs out there–at least one had to make it onto the list.
17. Ocean Animals Step-by-Step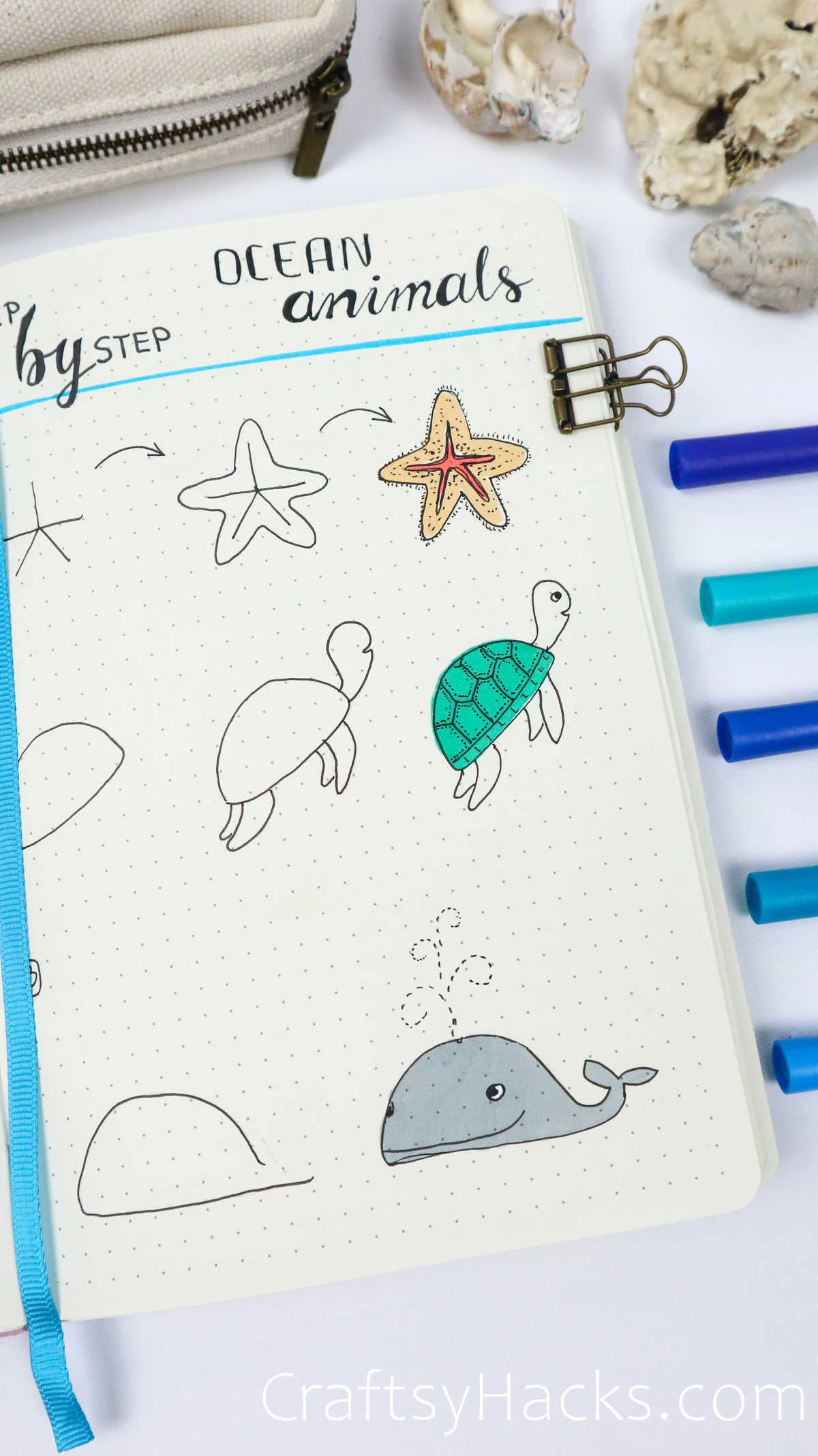 Continuing with sharing the number of ocean animals possible to doodle, here is a simple take on a whale, turtle, and starfish.
Each tutorial is very basic, and the detailing of each creature takes the most time–all of these structures got made simply so they could be fun to draw.
Practice them at this size, and then feel free to resize them as you get comfortable with each species.
These cute doodle face ideas will bring these animals to life!
18. Underwater Doodles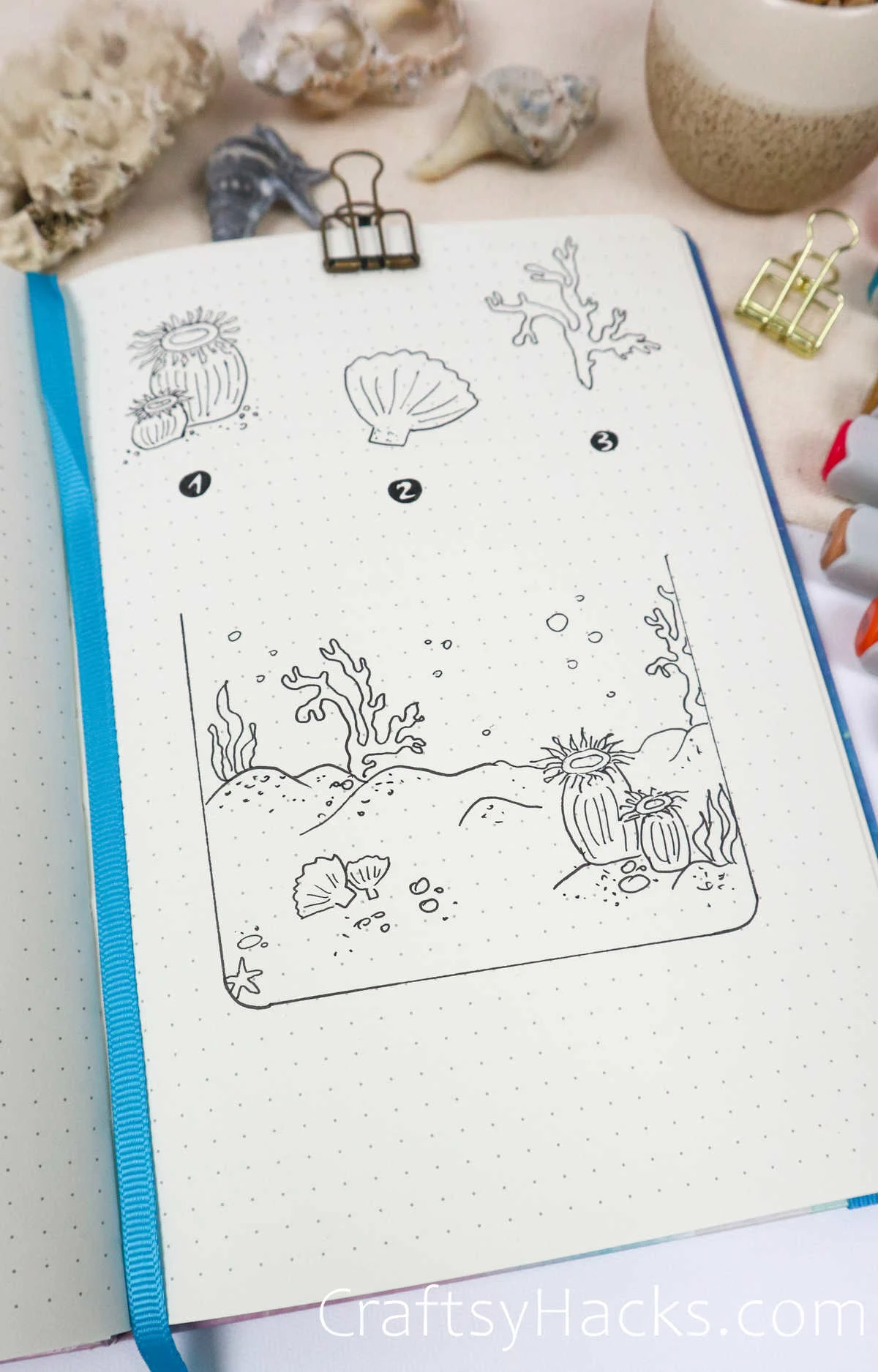 This doodle idea is more of an implementation of the other brainstorming pages above, but I've also included a few different types of items to add.
Feel free to add a few of the creatures from above into this underwater place to get the party going.
19. Waves Four Ways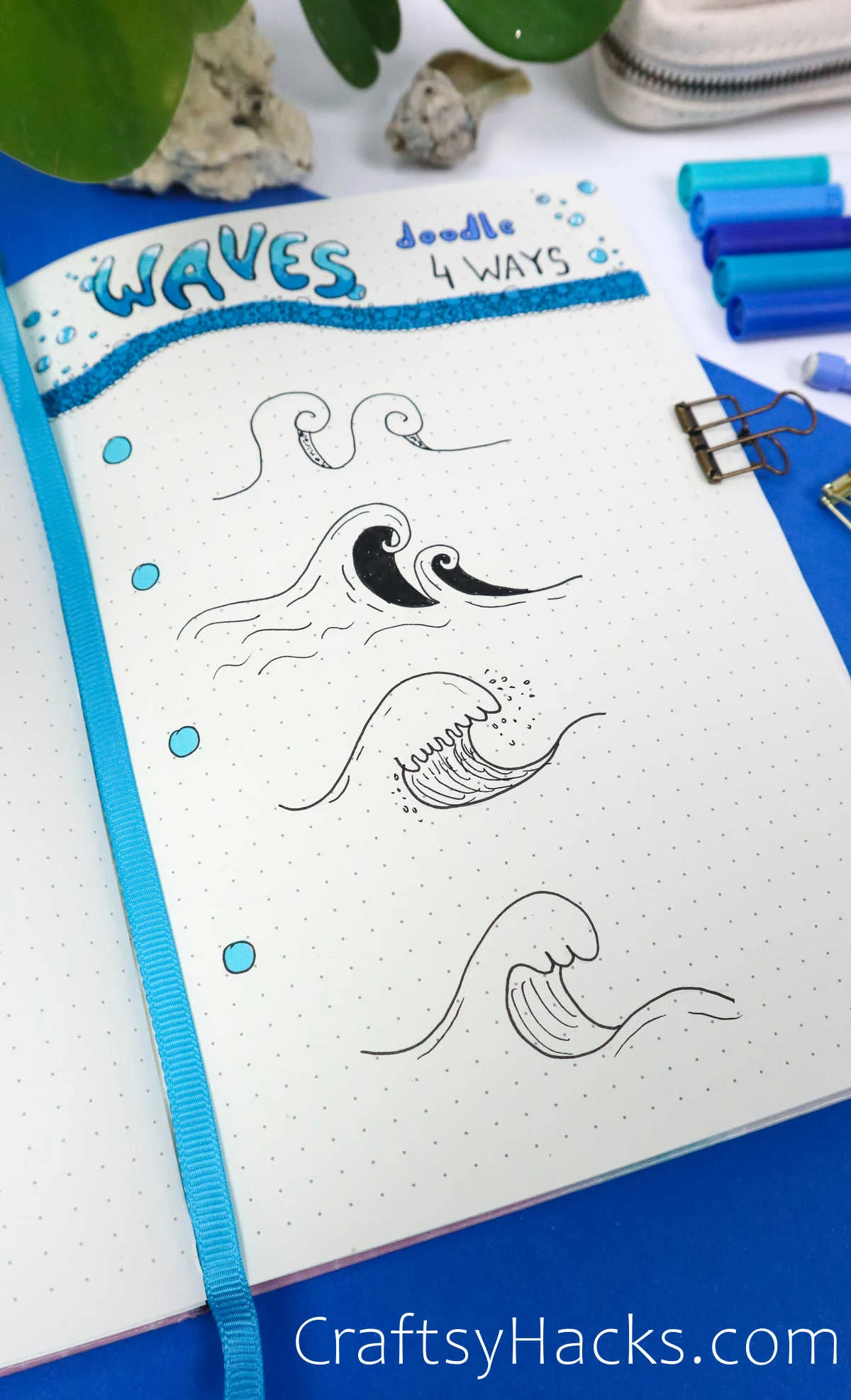 The waves from above all came from this page in some form or another. I like to practice most items on a brainstorming page before fully committing to a piece unless I'm mindlessly doodling.
Starting with the basic construct of the wave, I generally start with the top line and expand into the other parts.
That helps if you don't know where to start.
If you do feel more comfortable starting from the bottom and working your way up, don't shy away from it–however, you get your doodling done works.
20. Ocean Doodles Step-by-Step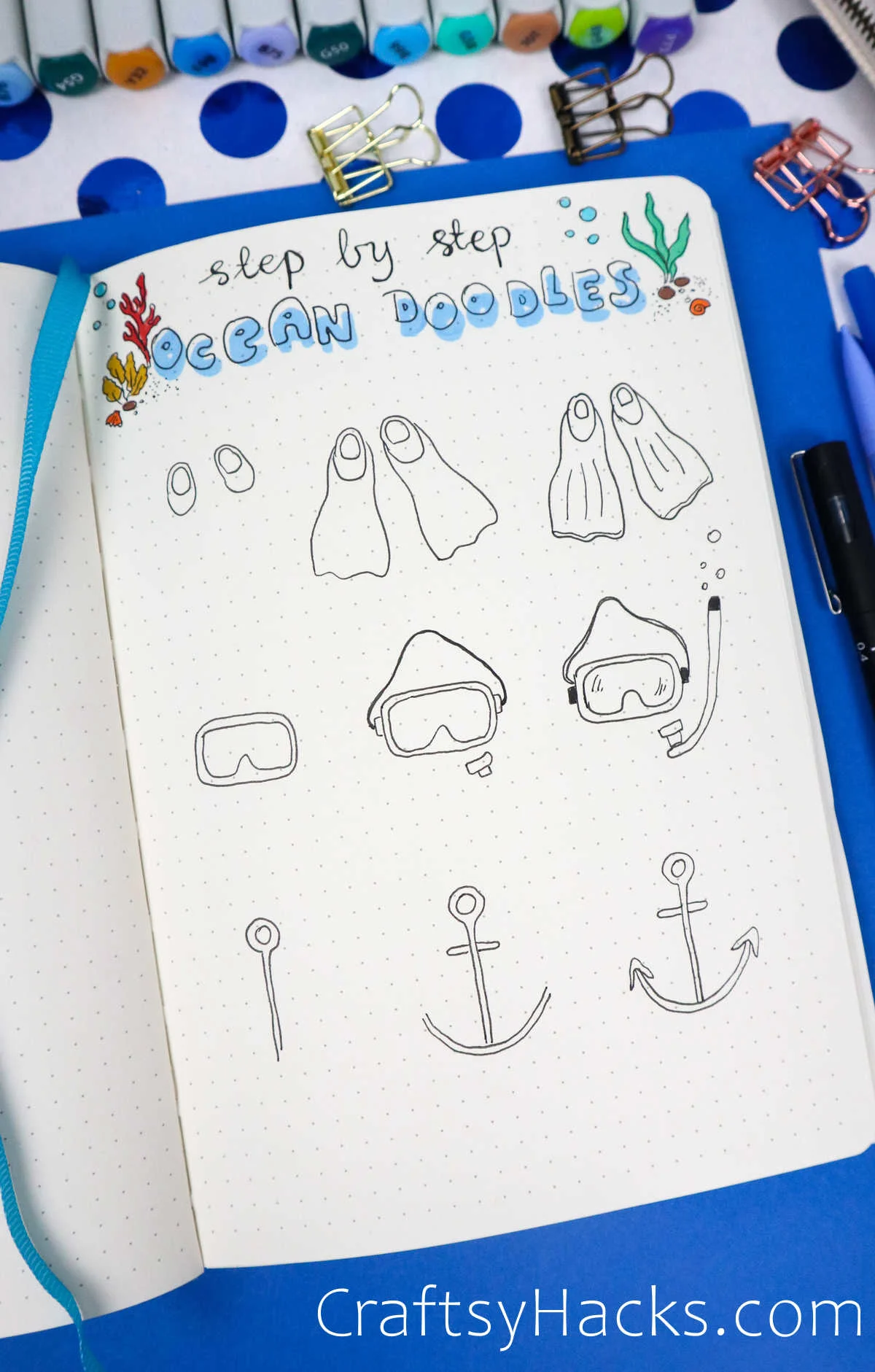 Some essential ocean accessories are a perfect idea to add to this list–these are pretty important items for some activities.
The tutorials are bare bones and not hard to follow, so these are great doodles to add as details in other images.
A fun idea to do or maybe a little morbid–these could be abandoned items in your drawings to make everything feel a little more real.
21. Four Ways to Draw Cute Fish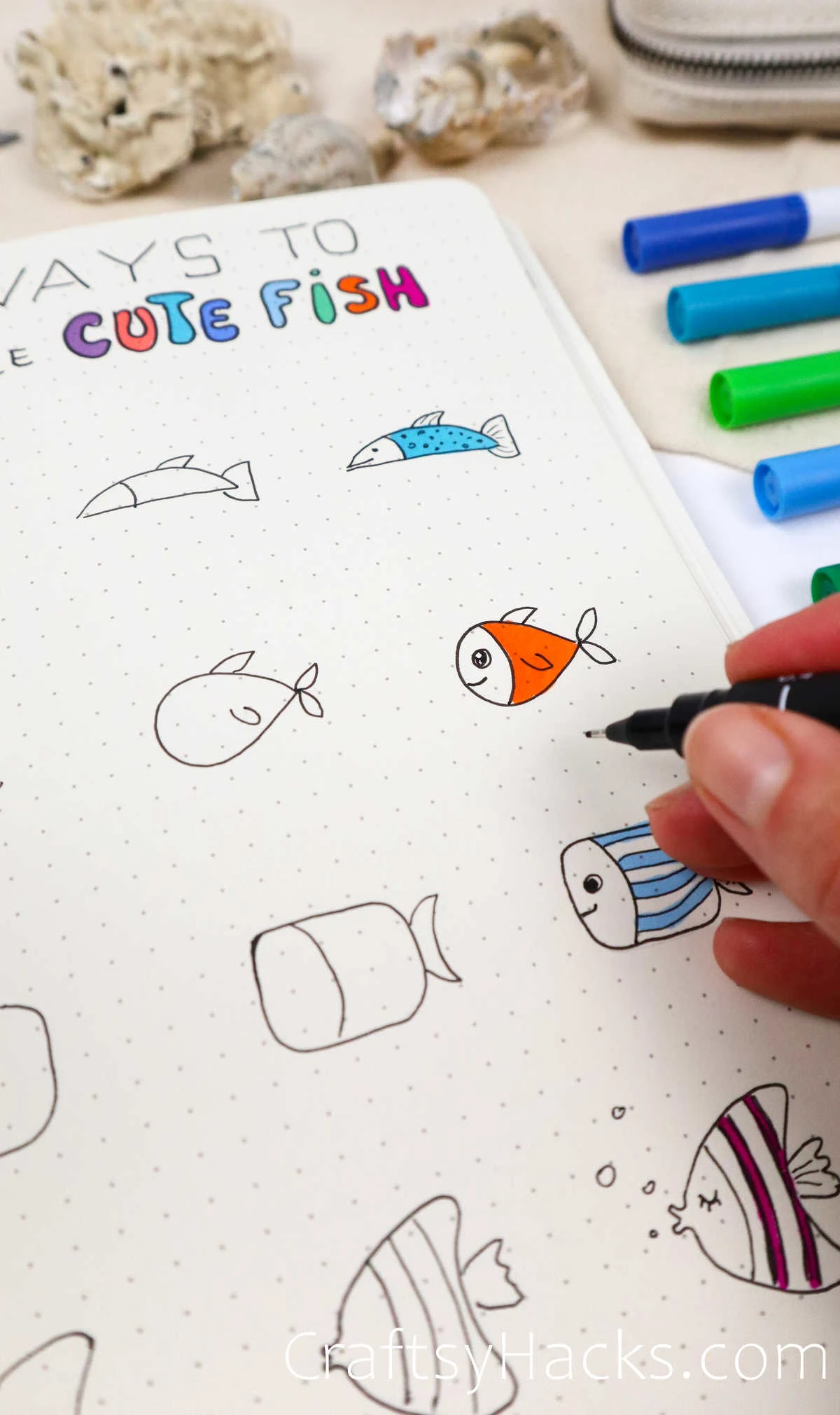 We all know there are endless arrays of fish in the sea, and drawing them can get tricky fast. These four reflect some identifiable fish in some ways, but in others, it's just cute and fun.
However you decide to doodle fish is up to you–go for the realistic look or go full color with multiple colors and everything. Whatever you see is the best option, don't be afraid to try it out.
22. Treasure Chest Doodle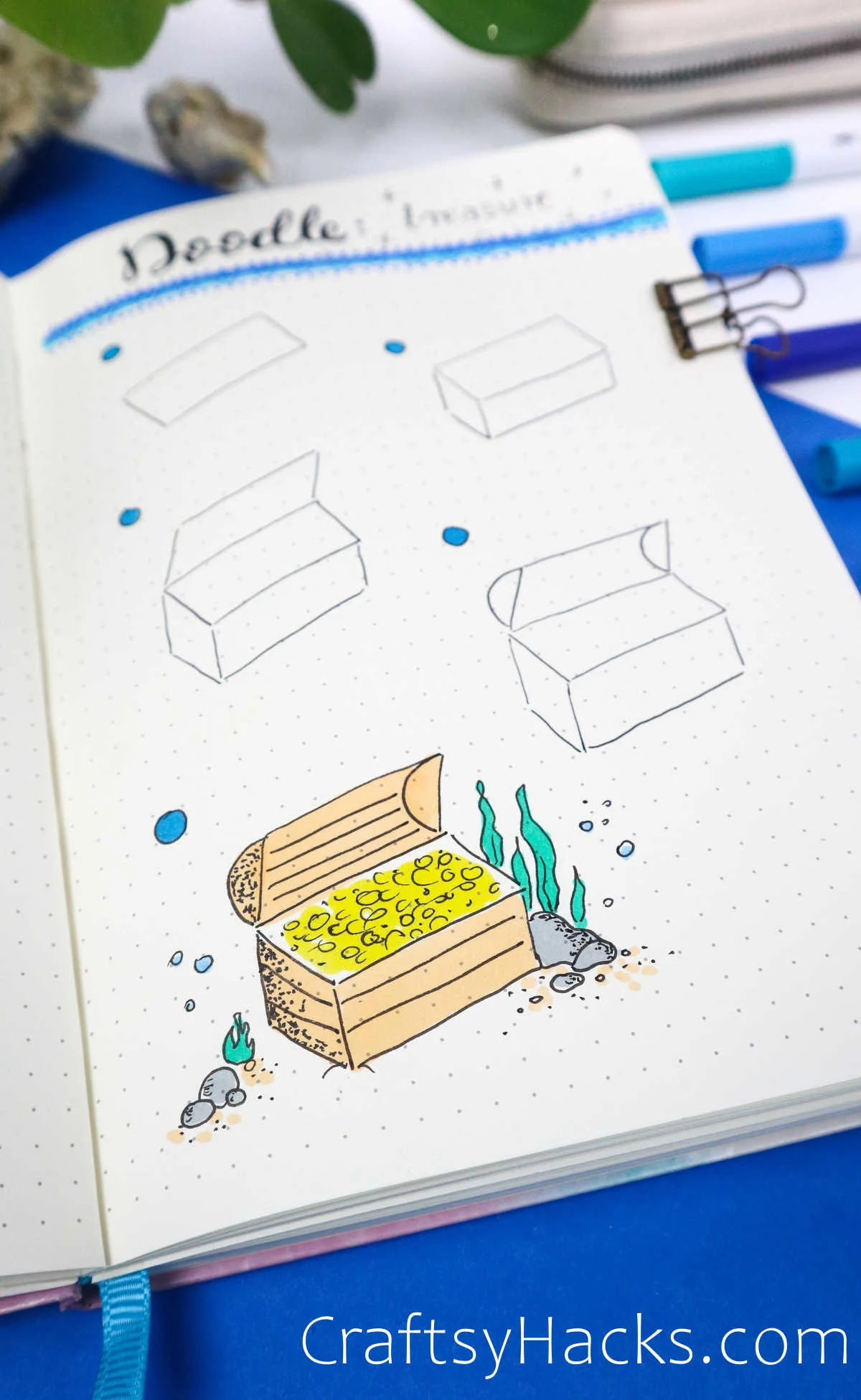 We all know there are buried treasures somewhere in the ocean, so why not draw a treasure chest?
It's one of the easiest items on the list, and the detailing of it takes the most time, but it's well worth it once it's complete.
23. How to Draw a Shell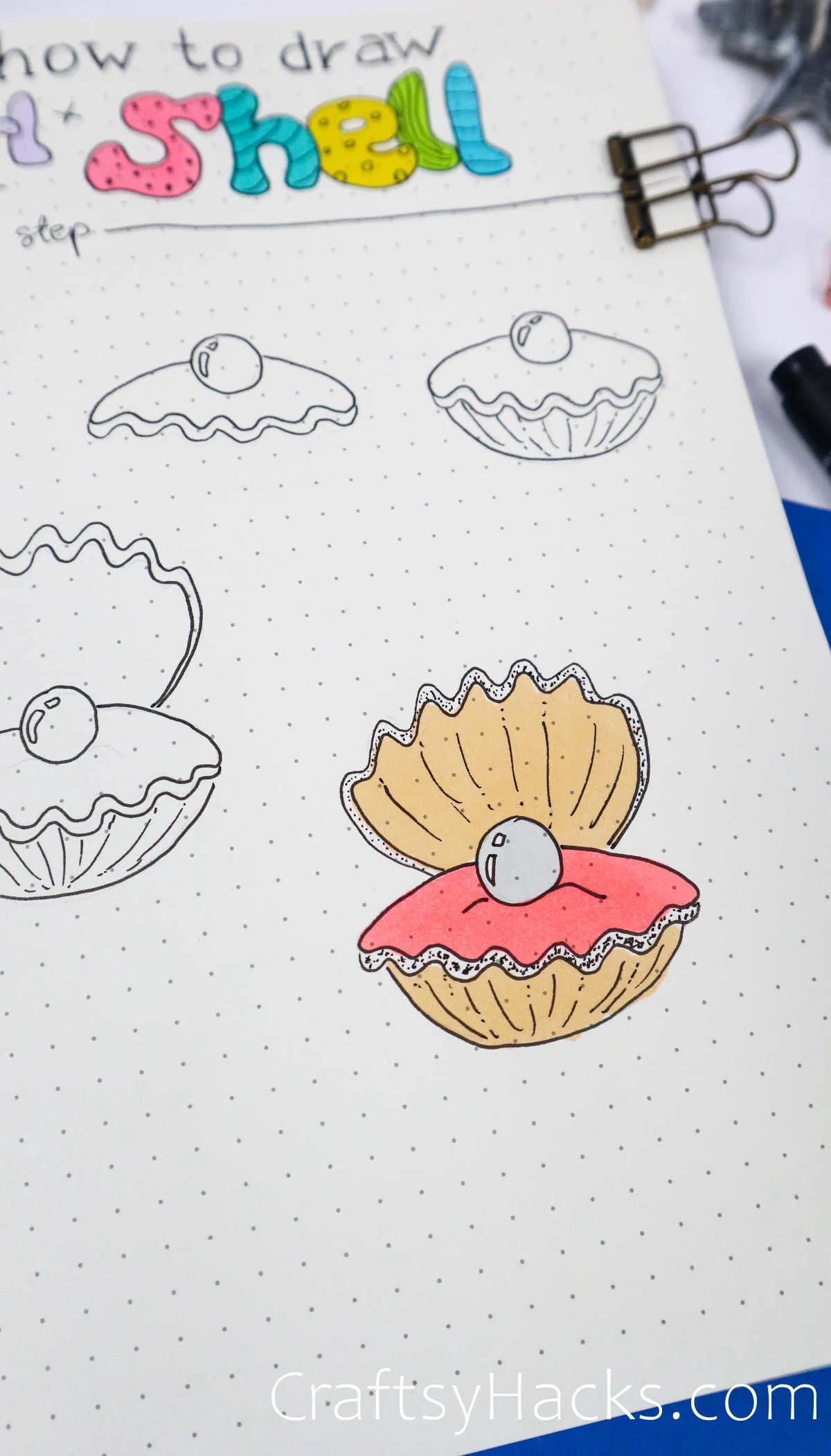 We've already showcased a few simple shells on the list, but this clamshell is a classic image of ocean paraphernalia. A shell with a pearl is the perfect addition to this list of doodles.
You might also enjoy these pretty flower doodle ideas for your journal!
24. How to Draw a Seal Step-by-Step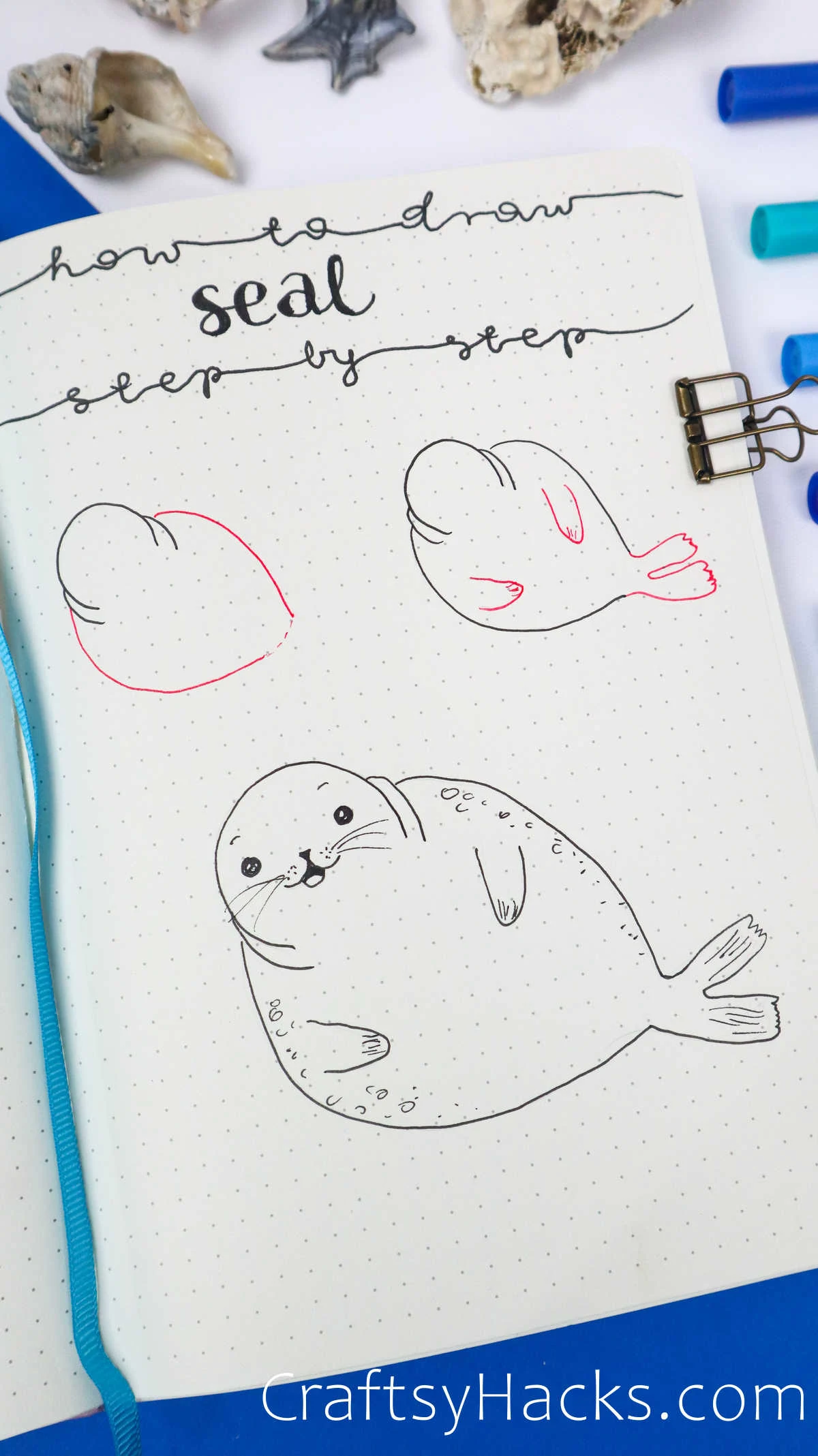 One of the sweetest and cutest doodles on the list, a seal is, of course, going to help round out the list of sea creatures to draw.
The red lines in the small tutorial denote the addition of lines in drawing our sea cow.
25. How to Draw Four Different Seashells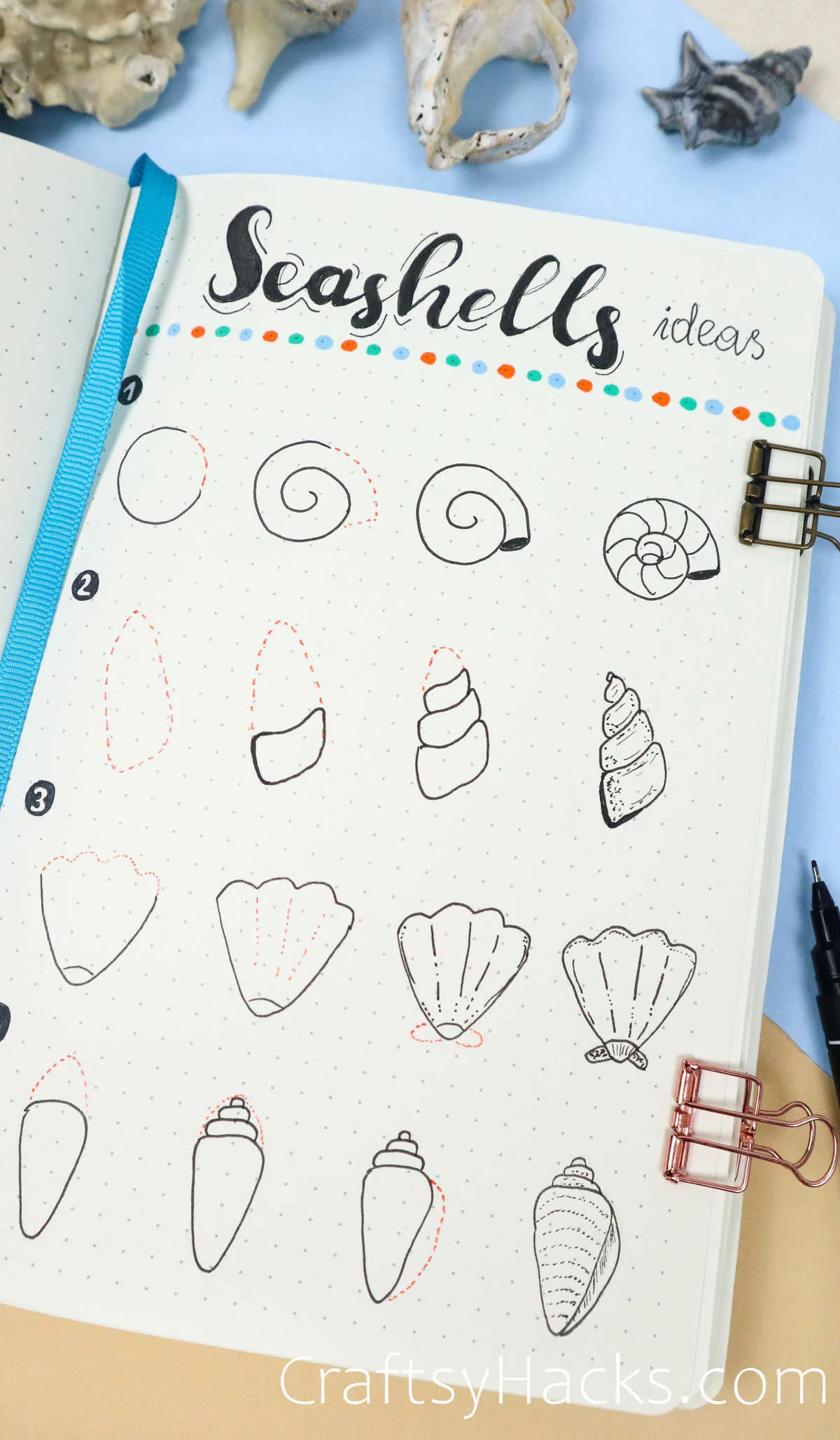 Beached treasures will close up this list–there's no better beach activity (in my kids' opinion) than to look for the different seashells. Here are four of the many types we've found on holiday.
You'll also want to check out these other cute doodles for your journal!