If you're anything like me, I'm always on the lookout or thinking about an easy and fun drawing idea I can add to my notebook. Today, you'll find easy drawing ideas full of critters, nature, and emotions!
All fun, all easy, and act as pretty good inspirational content if you don't find what you've been looking for. Although I wholeheartedly believe you can not go wrong with this list.
If you need any step-by-step tutorials, check out my YouTube video of the same name.
There I break it down into a quick line-by-line timelapse video, so you'll have a breeze recreating these sweet and simple drawings.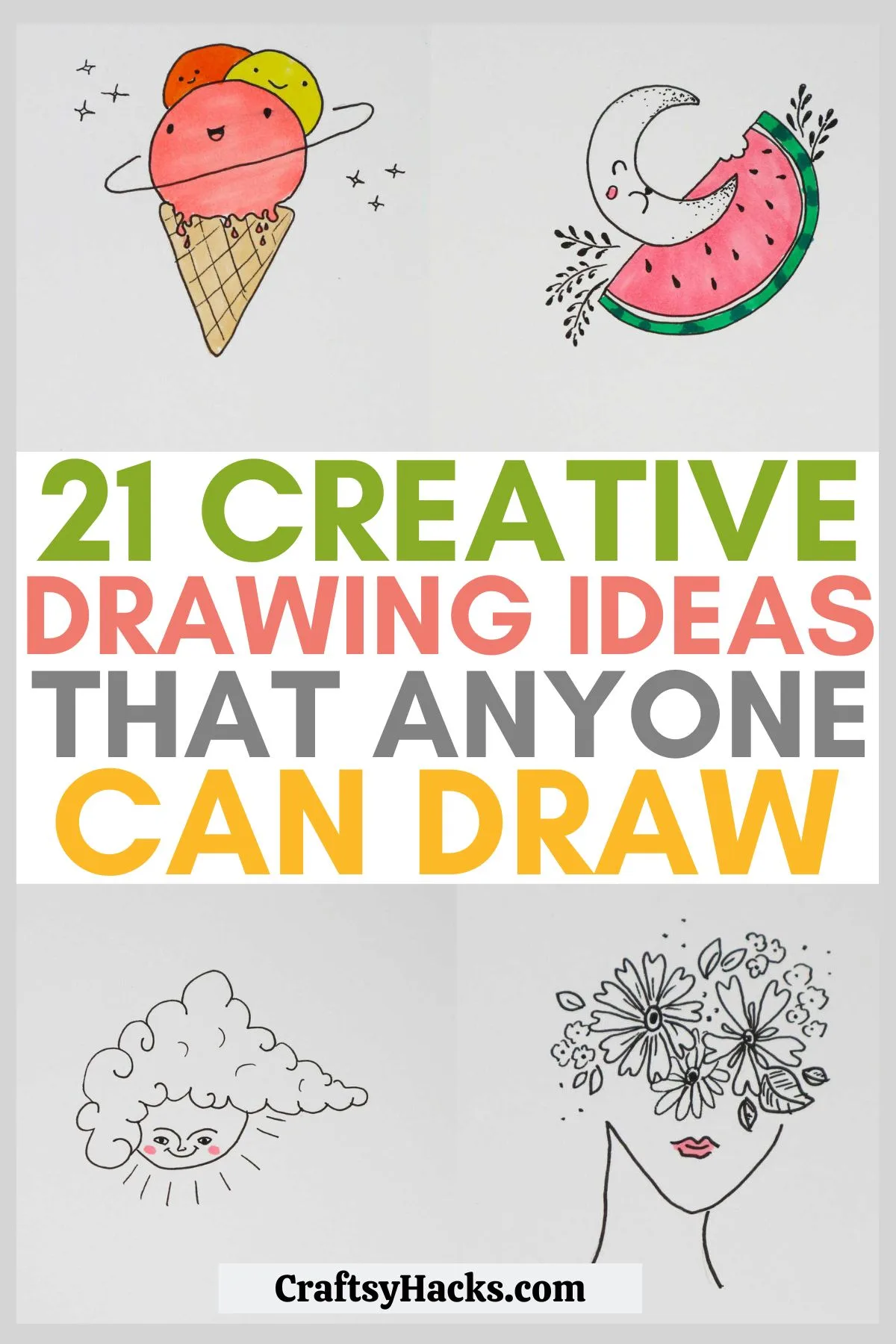 Also, a note, if you're looking for the supplies I used while creating these images, look no further. All are listed directly below this introduction.
With that, here are the materials and the rest of the post–I hope you enjoy drawing these ideas as much as I did! These pencils, this notebook, this ruler, these markers, and this pen set.
Now, let's get to drawing!
1. Groundhog Wishing On A Shooting Star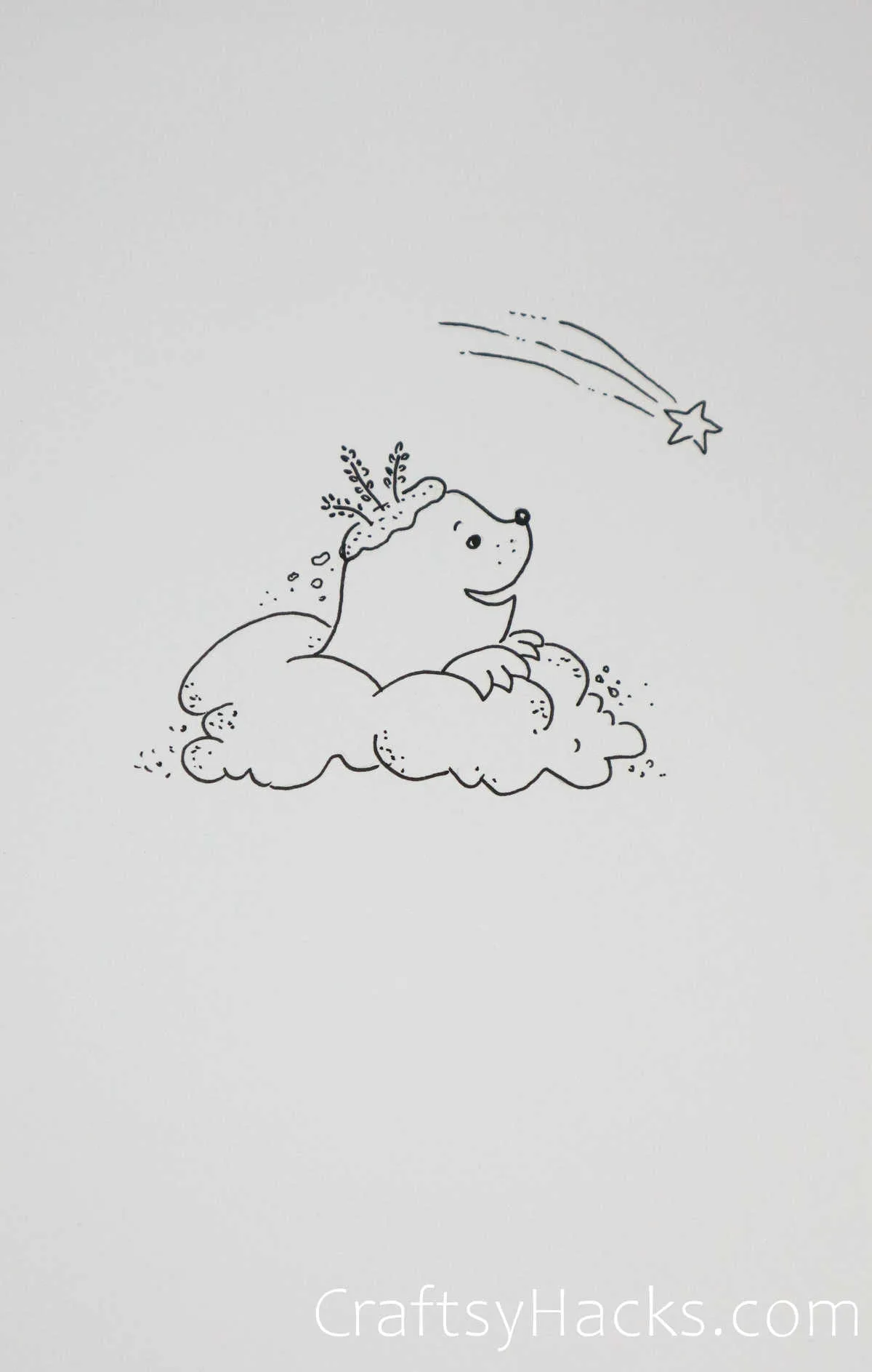 To start the post, our easy but fun drawing ideas are one of my favorites on the list–a groundhog wishing on a shooting start.
What does the groundhog wish for–an early spring, extra socks, some extra dinner?
Who knows, but he's cute as a button! Embellish the earth he's popped out of with seasonal elements or add more stars–whatever you wish is good for our groundhog.
2. All Of My Love Songs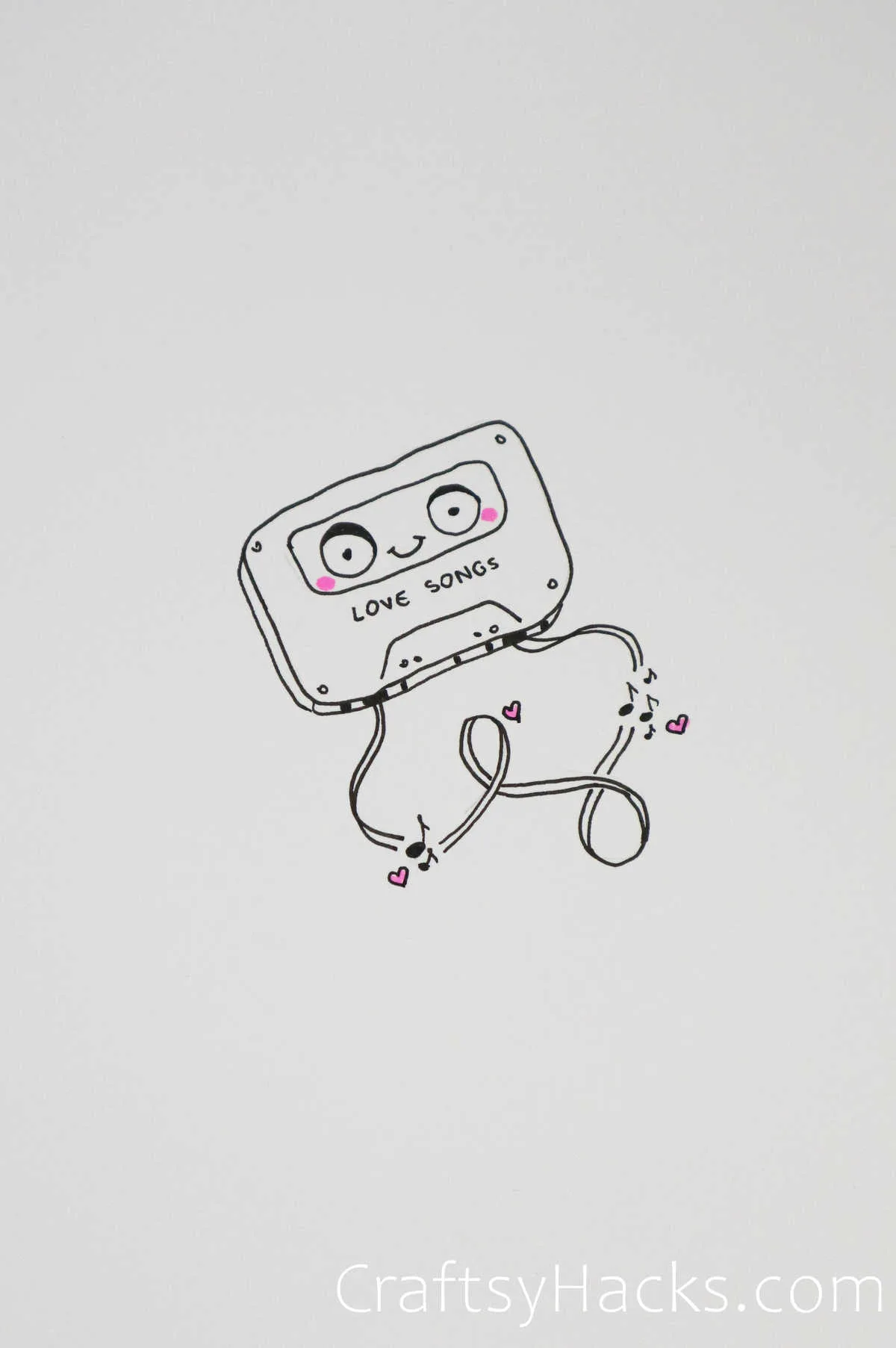 I can tell how old you are by how you react to this easy drawing's image! In all seriousness, I loved a mix tape, and of course, I had a few love song mix-tapes in the mix.
The expression says it all on this little tape deck's face–choose whatever you need at the moment you are drawing your own.
A fun addition–add what songs you'd add to your mix above or below the image.
3. Flowers Hanging Off A Hanger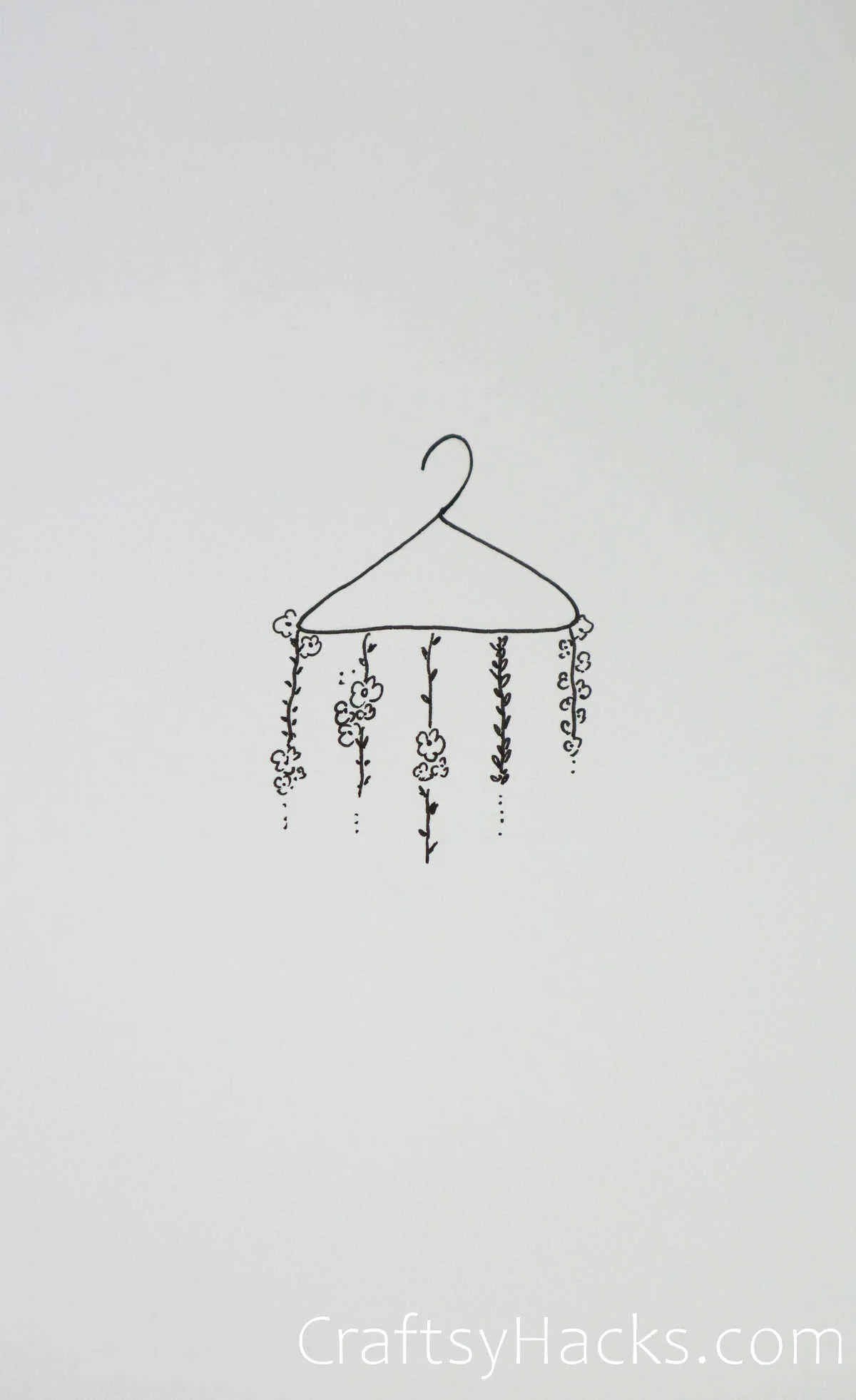 I love flowers drying and suspended in the air, so translating onto the page was a natural idea. Use any form of suspension you'd like–I thought a hanger was cool and sort of unexpected.
Scale it to the size of your intent, but grab a ruler to get equal and professional-looking spacing between each hanging.
You might also enjoy these easy rose drawing ideas for your sketchbook!
4. Flower Face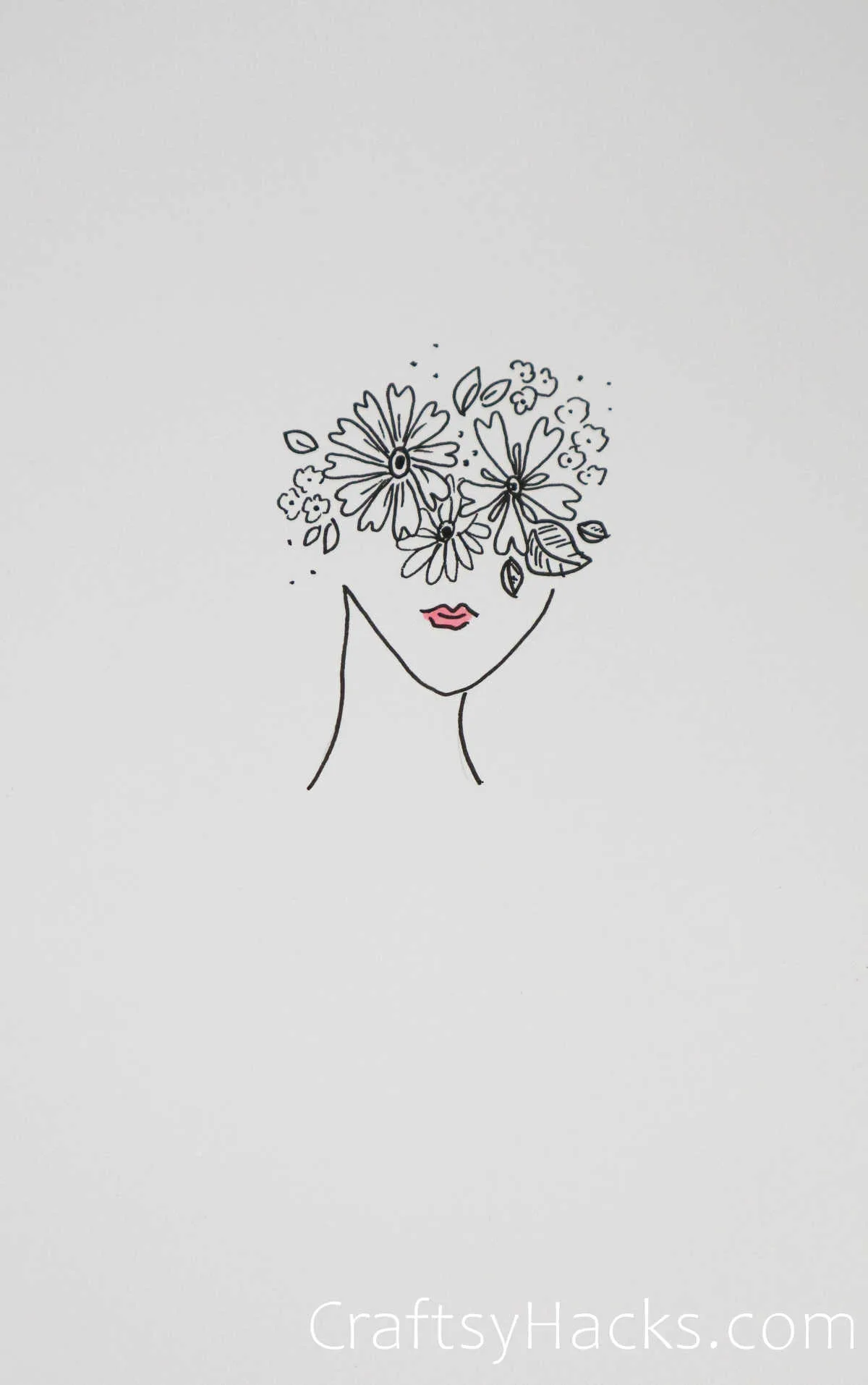 A little chic and very customizable, this flower face makes for a great print for that stylish friend or family member. The most time-consuming part of this drawing is obviously the flowers.
This image is a great practice in spatial planning and how to map your flowers so your drawing is successful.
It took me a few times with experimenting of where I placed all of the blooms, but that step was worth it.
5. The Moon And The Watermelon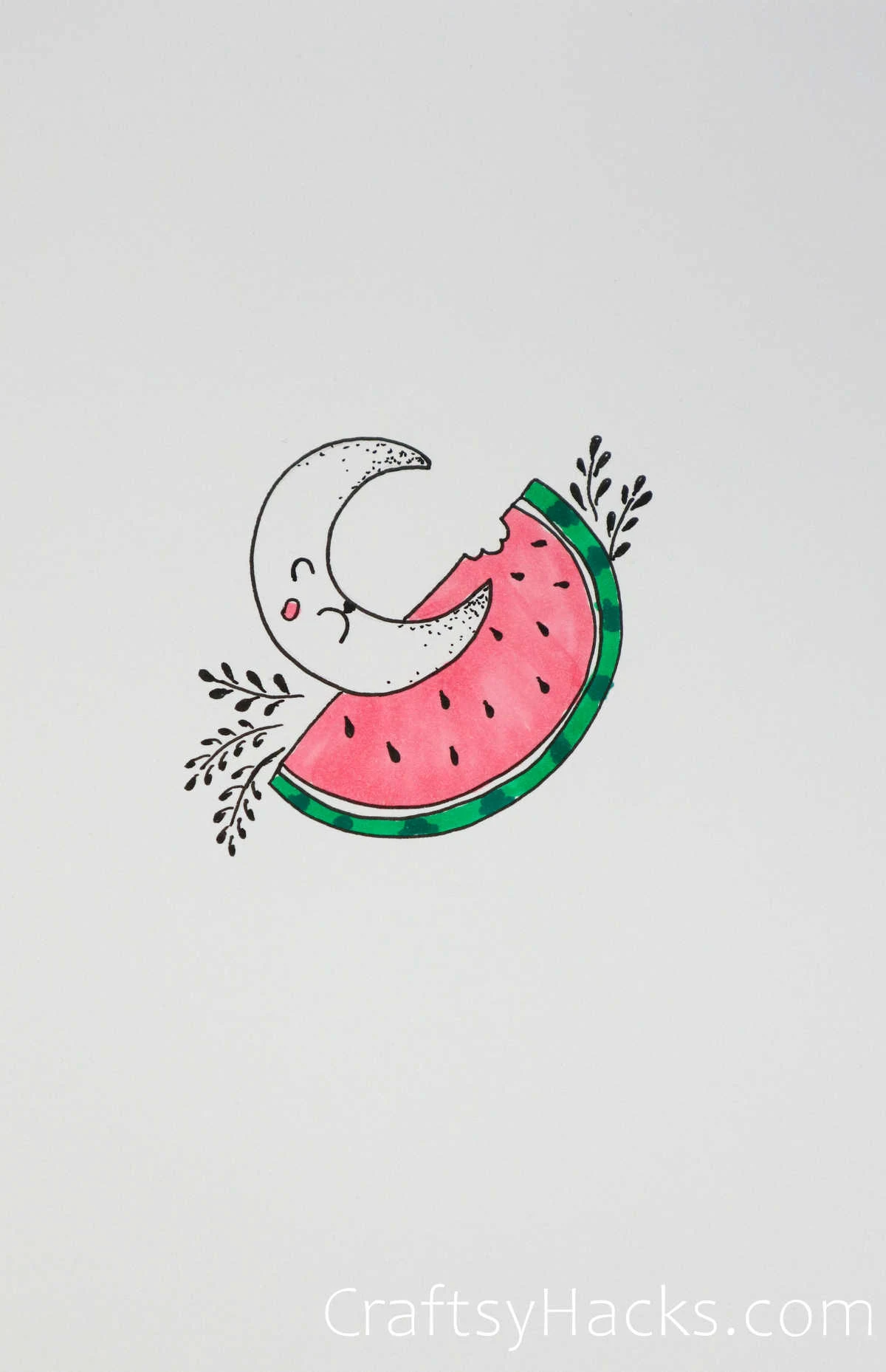 A little different than that of a sun and moon pairing, but still as much fun to draw.
I like how the crescent moon and watermelon mirror each other's shape, with a bit of greenery to balance it all out.
Try it with your favorite fruit and pair it with the moon or sun! Mirroring shapes makes the idea all the more fun.
6. Out Of This World Ice Cream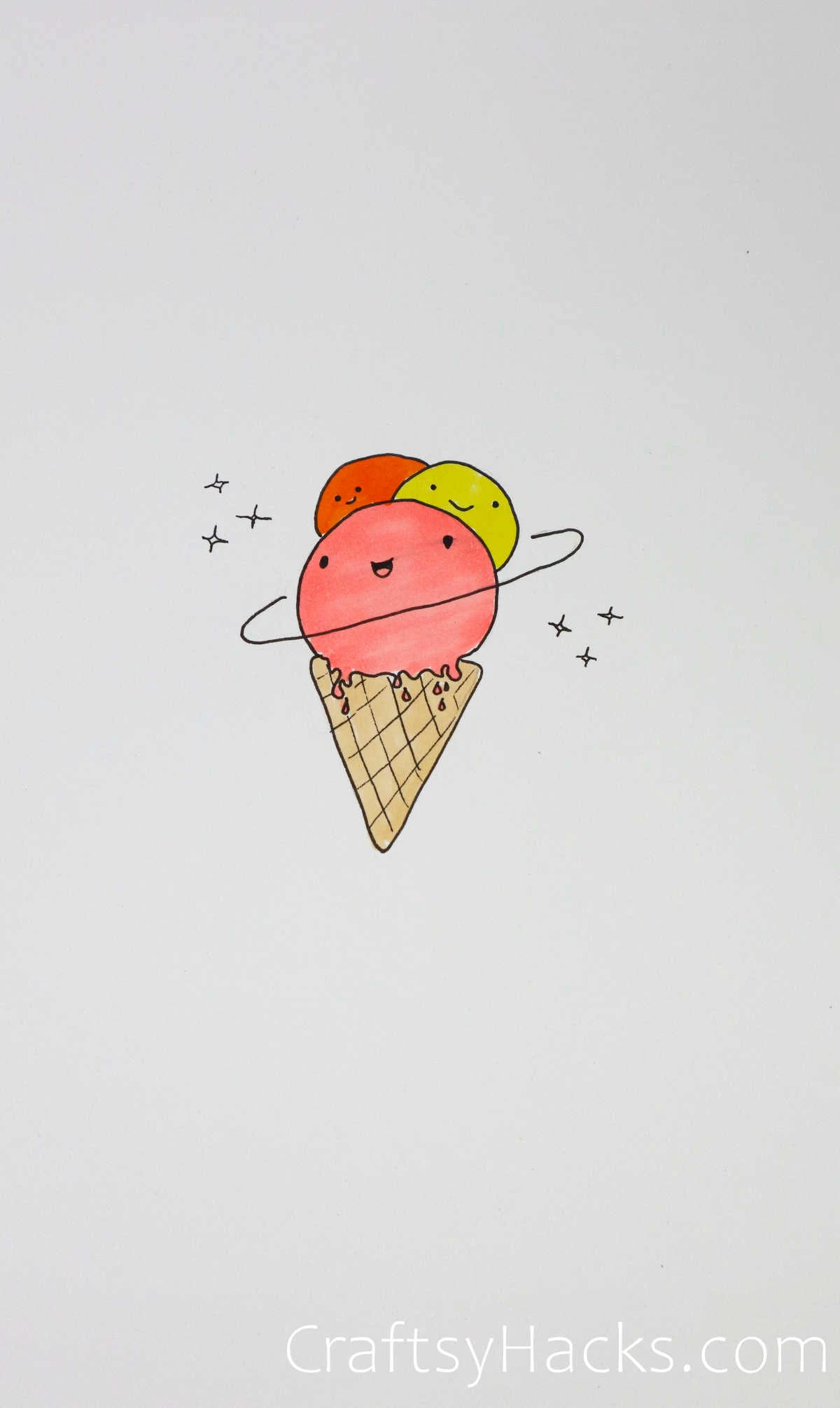 An idea that came to me when I got the perfect spoonful of a recent ice cream sundae! You know, when it's the perfect bite of toppings, ice cream, and cone–this is my interpretation, anyway.
7. Sun Awakening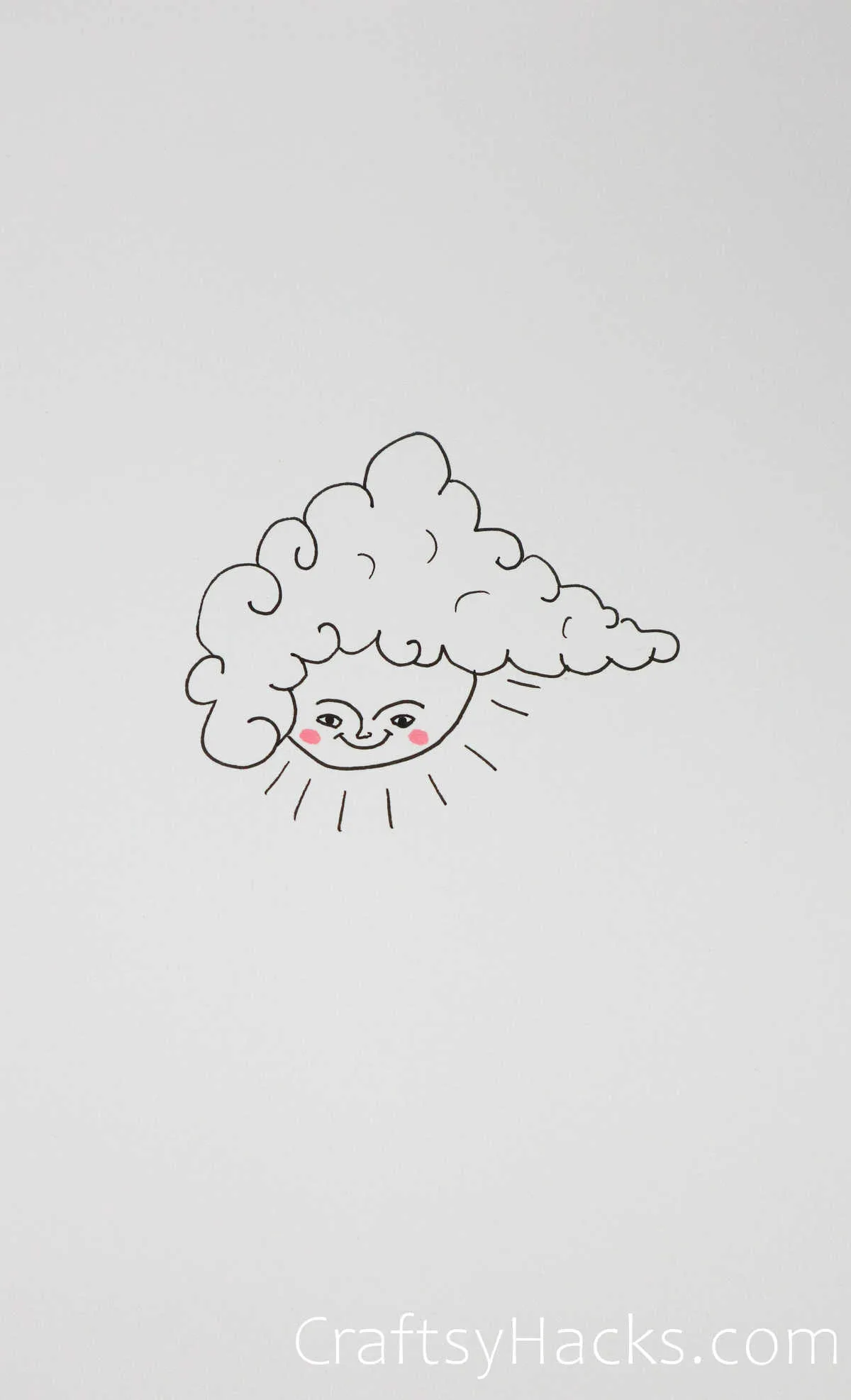 One of the best feelings is when the sun comes out from the clouds on a yucky day, and I thought that would be great to capture via drawing.
I've added the details to express that, between the rays, smiles, and cheerful eyes, you can tell the sun is just as happy as the rest of us when it returns.
8. The Sun And The Moon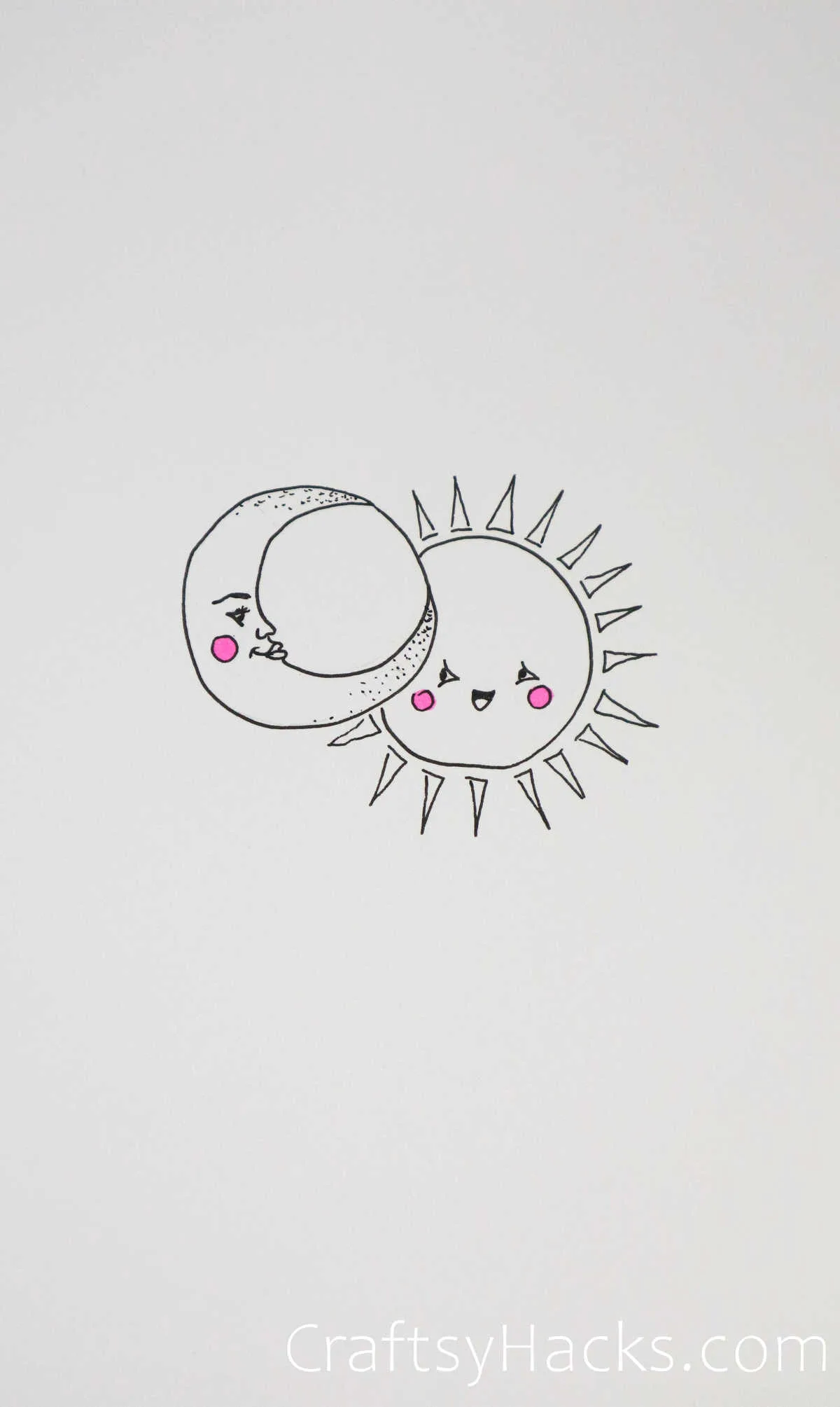 This idea is an absolutely classic and essential image to include in my easy drawing post! Day and night, sun and moon–the perfect pairing always, and one of the easiest to draw in any fashion.
9. Special Delivery From The Stork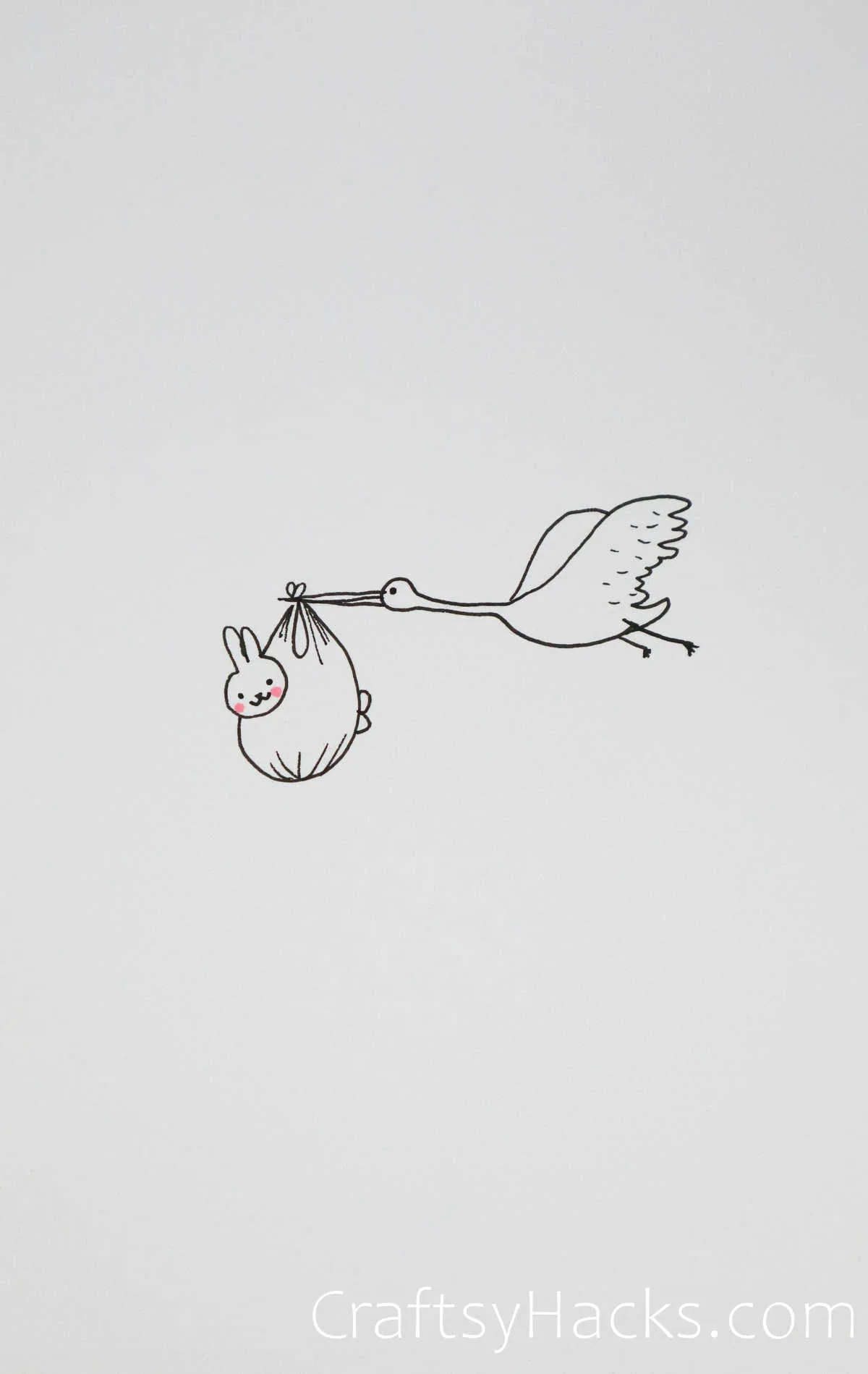 We all know what this stork is up to–carrying a very special delivery!
If you have a friend, family member, or even yourself that's expecting, drawing this on cute cardstock makes for a great print or card.
10. Fantastic Fox Flaunting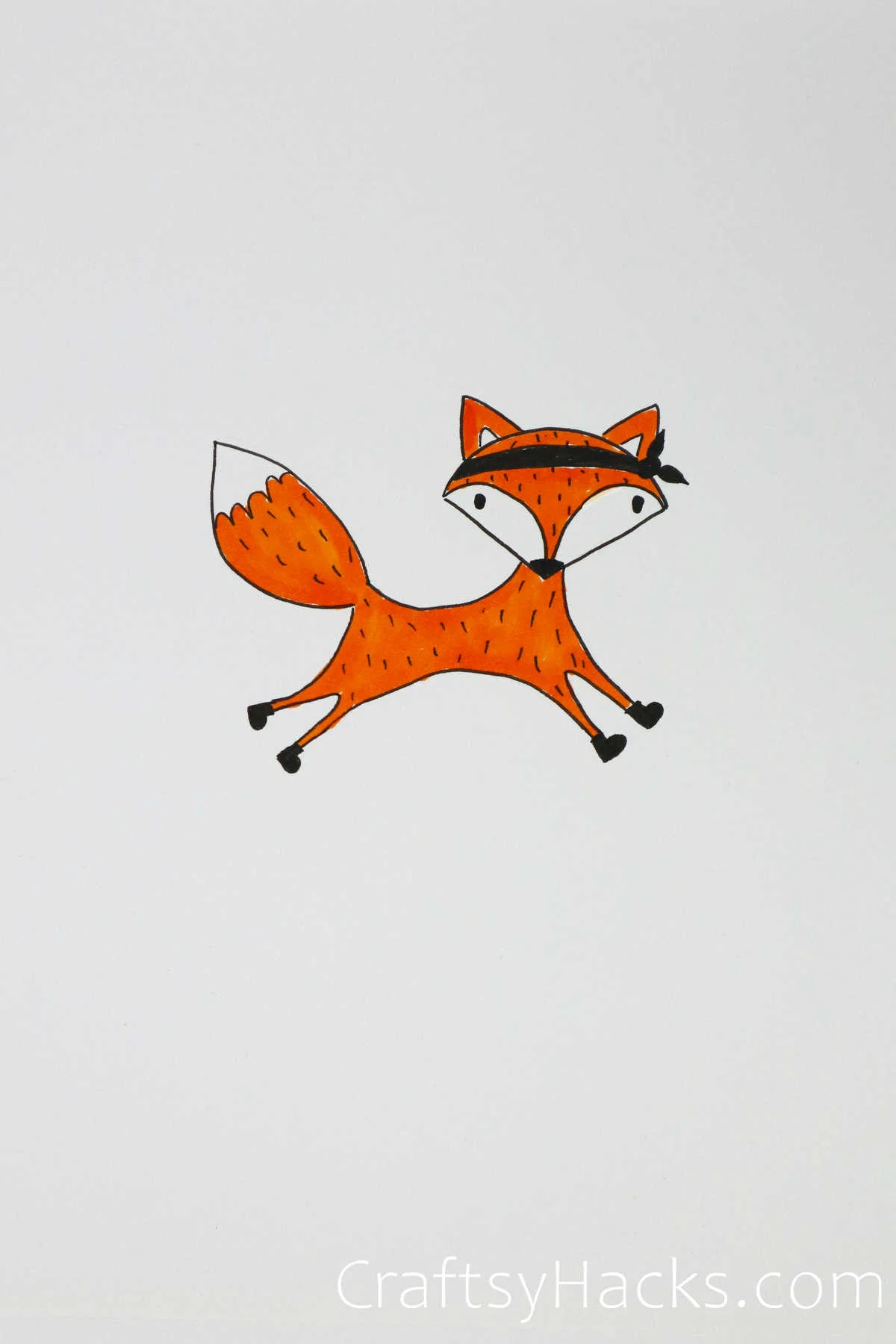 An easy silhouette is always a great time–especially on this flaunting fox.
Color him classically as I have, or choose a less common color and add accessories to this fancy fox for a great subject for an easy drawing.
Check out these other cute drawing ideas!
11. Mothy Mushroom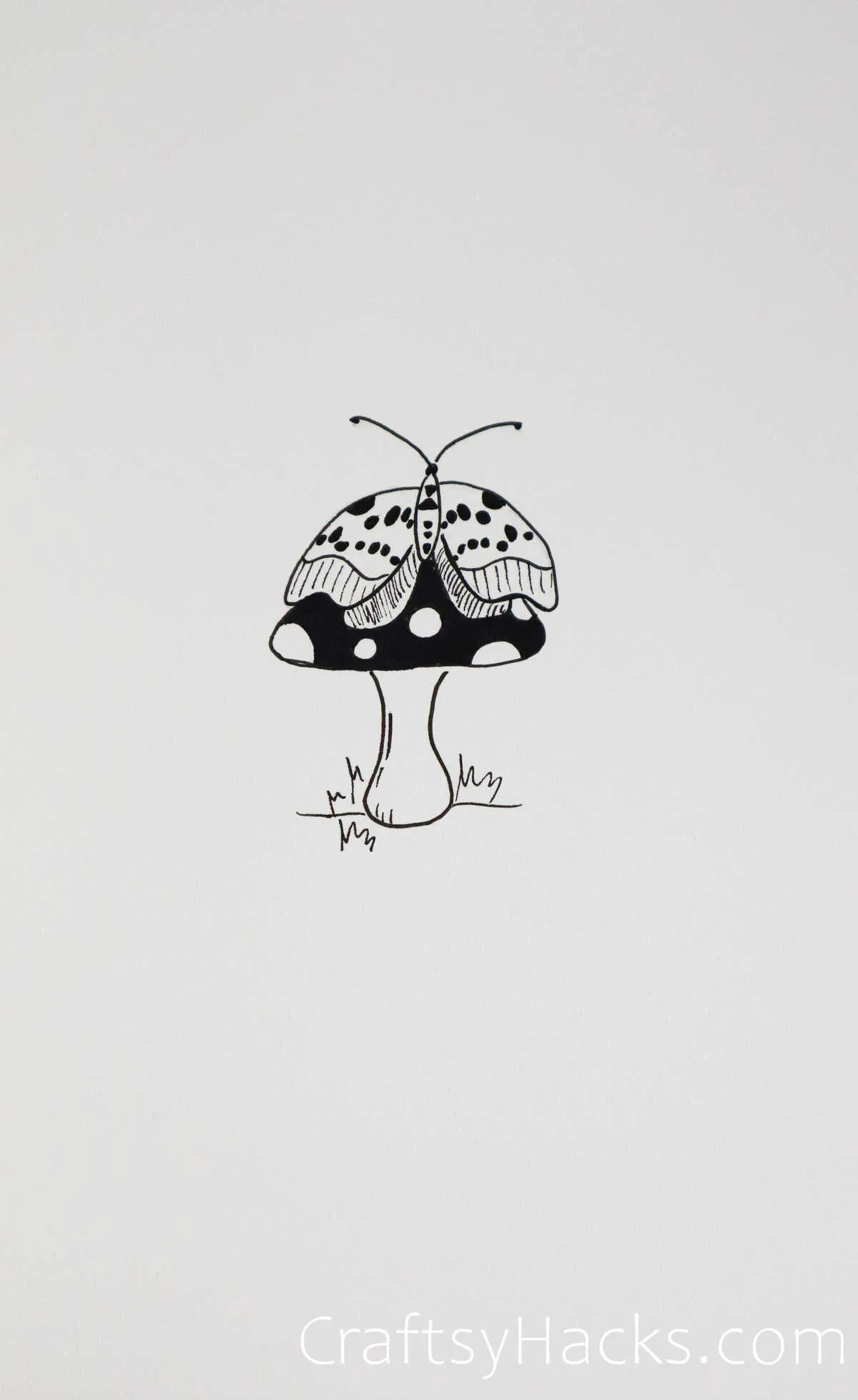 I love drawing the natural world, and what I love most is pairing two very natural parts of nature together.
It's a great destresser, low-stakes, and highly customizable with either element in the image.
The design on the mushroom cap and moth were just simple, classic designs, but I've done some pretty wild patterns on both. Do what feels right at the moment.
Try these other fun mushroom drawing ideas next!
12. The Turtle Amires A Pretty Flower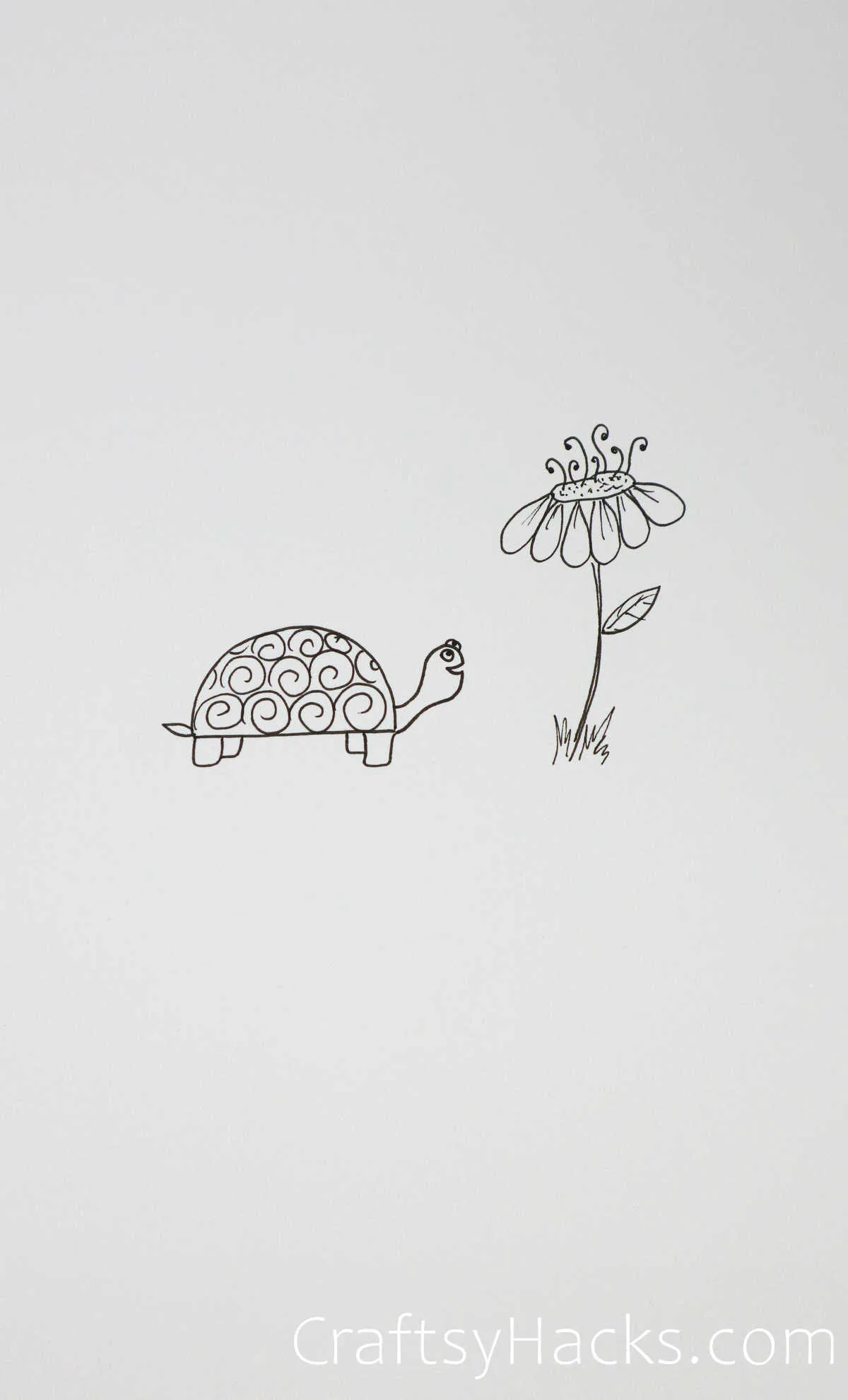 Haven't you ever heard the expression, stop and smell the roses? Our little turtle friend is doing just that!
The turtle's expression tells it all–the scene is overall positive.
If you'd like to add some drama to the idea, swap out what the turtle smells (think stinky socks, freshly baked goods, or something funny), it changes everything!
13. The Wisest In The Woods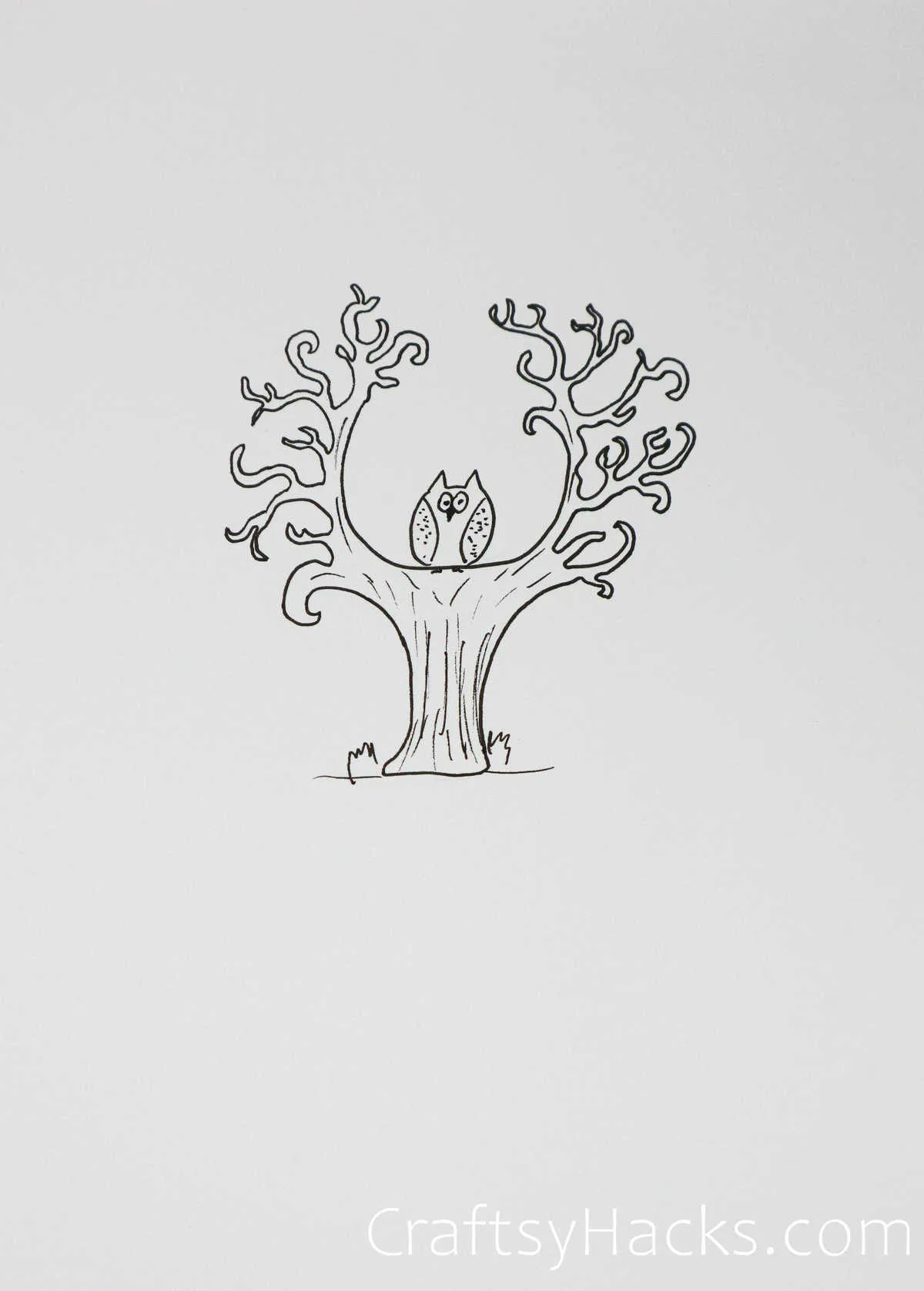 A curly, knotted tree is a great basic elevated idea to practice.
Make the tree more complex with more details, or stay a little simpler like mine–either way, it's a great way to practice detailing and space.
Depending on the scale of your drawing of the wisest in the woods, add more owls, or change its size.
You could also add a whole treeline of trees like this with sporadically placed owls or other various animals.
14. A Scene All Bottled Up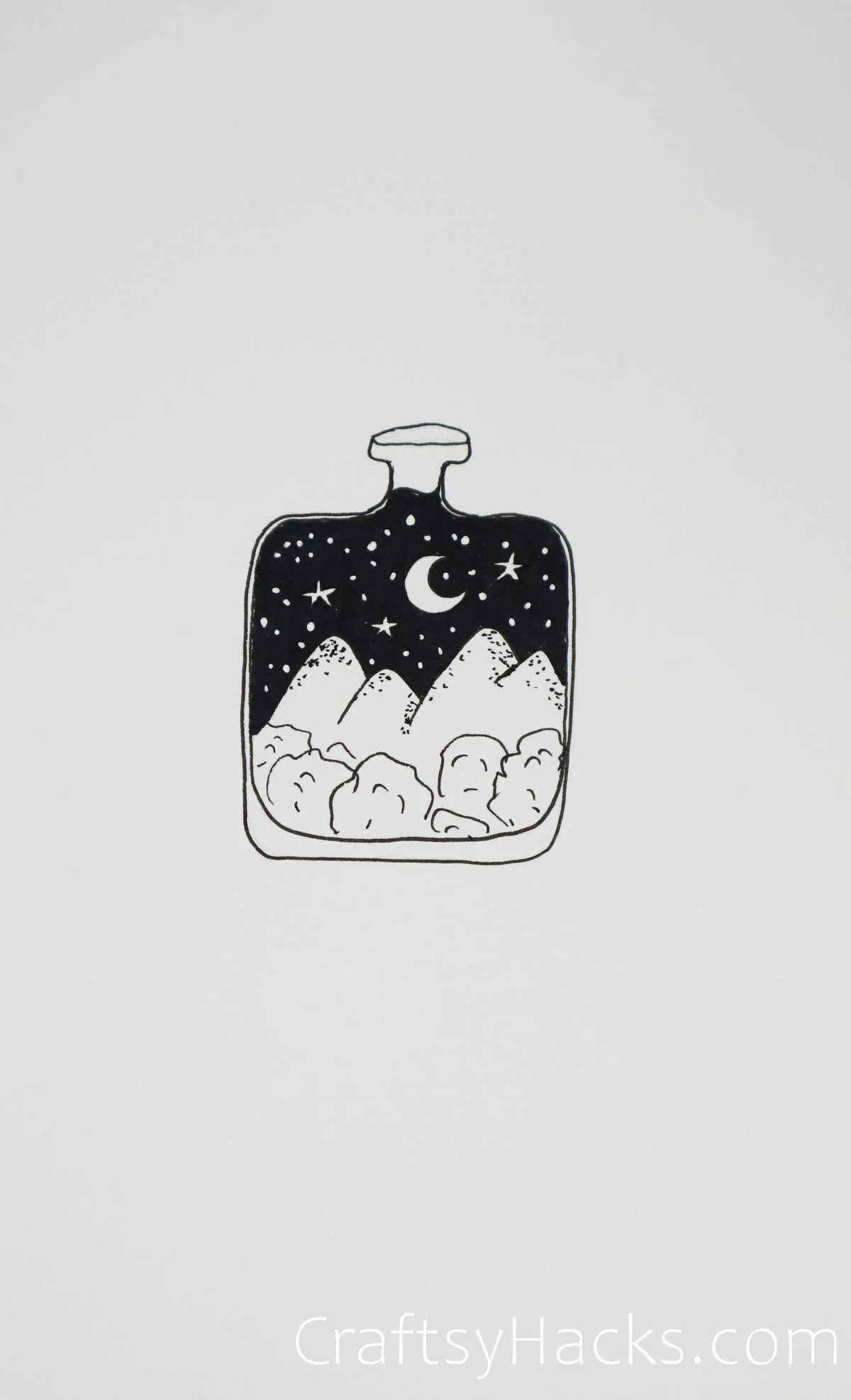 Try a scene in a bottle for a more interesting perspective or a more detailed part of a scene you may have trouble with. Play with the size or shape of the bottle and, of course, the contents of the bottle!
Really you can try anything inside a bottle–animals, shapes, a genie, of course, amongst many other scenes.
15. Flower Bear Smelling the Flowers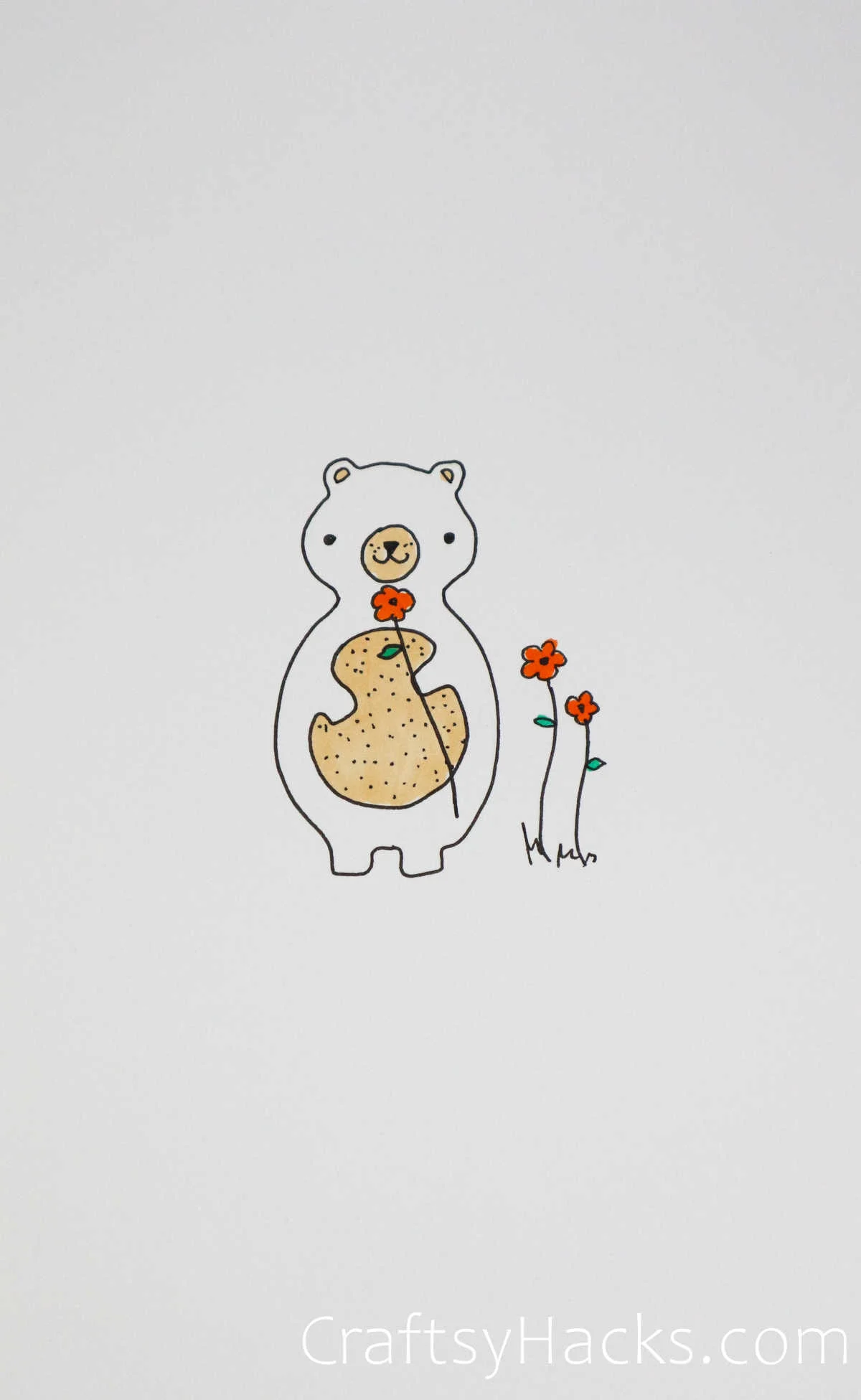 Fictitious bears are some of my favorite characters–Yogi, Winnie The Pooh, Paddington Bear–the list goes on, but I love them all!
This inspiration led me to the idea that I create my own sweet animated bear.
Let your bear do any activities you'd like, but stopping to smell the roses, or whatever flower, I think, is a simple and perfect addition to this sweetie.
16. Planetary Apple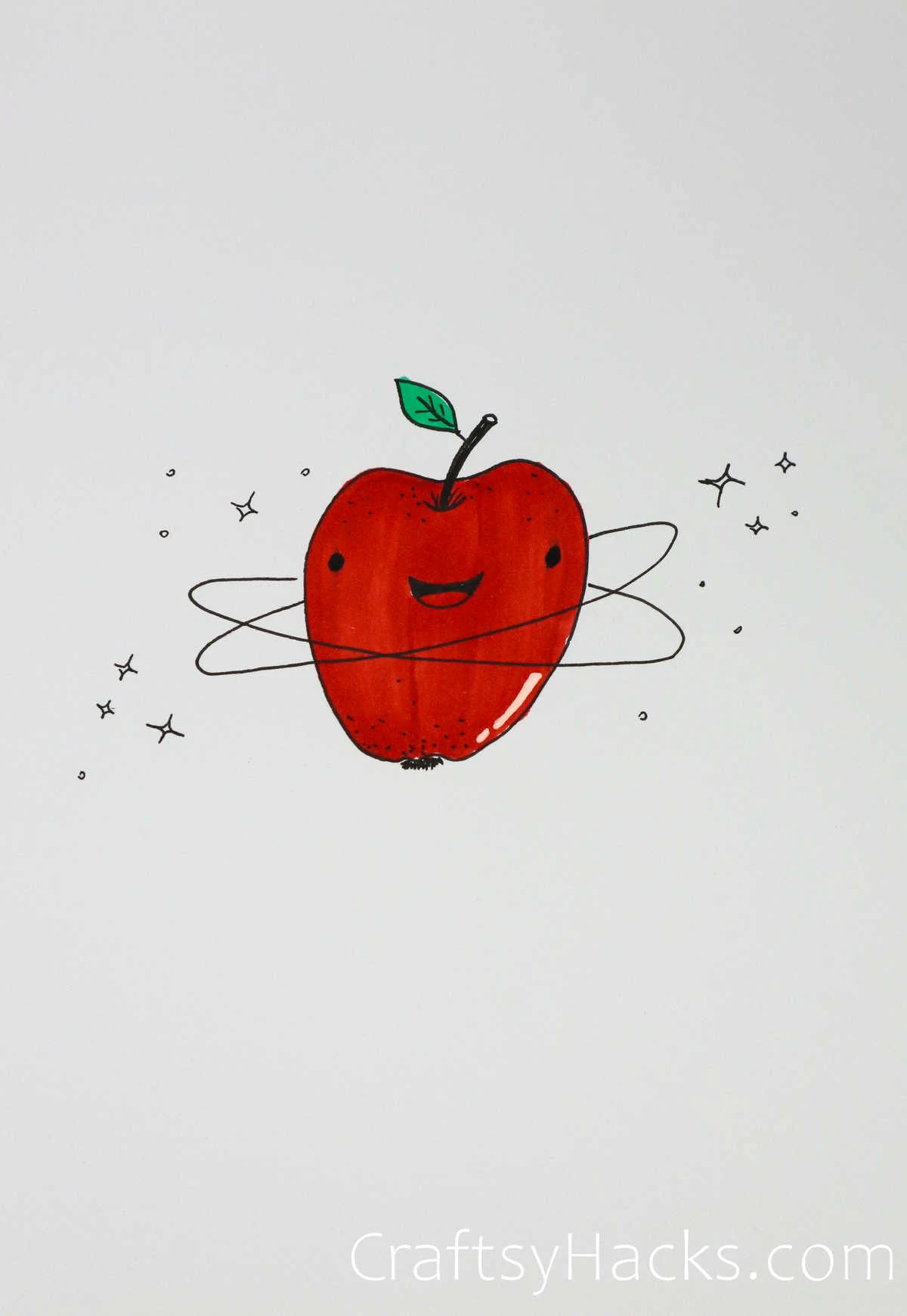 Good fruit is totally out of this world when it's in season and tastes its best–this is an obscure but a nod to those perfectly ripe fruits, all the same.
Naturally, I chose an apple for a few reasons. It's easy, resembles a planet-esque shape, and has a wide surface area to draw detailing into.
17. What's The Buzz?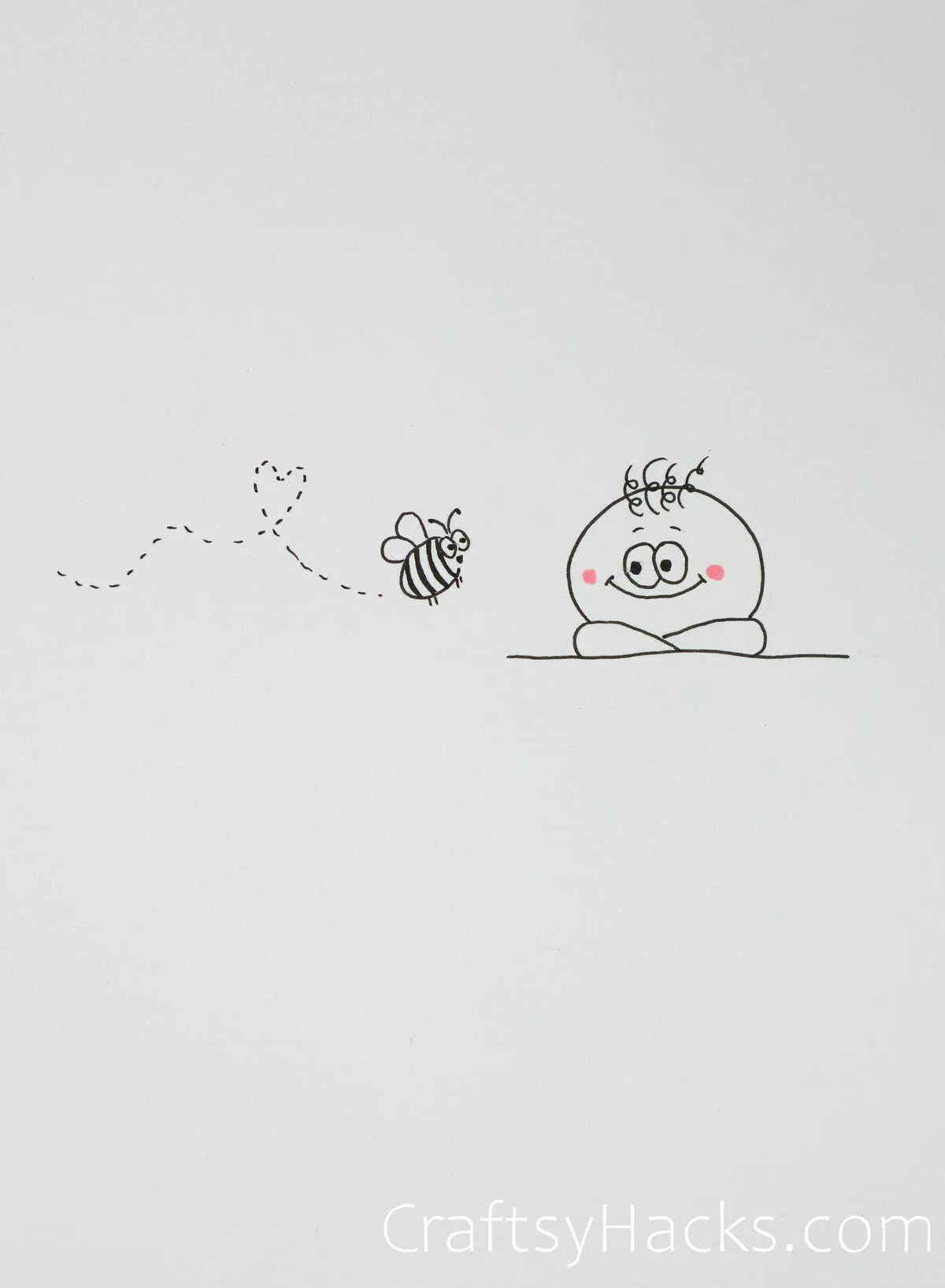 We all know a cute little bumble bee is one of the easiest in the book–so take this general idea and run with it!
I added an interested smaller child to the image to illicit a fun and easygoing scene, but do whatever you envision.
If you have a lot of paper to work with, I think a fun concept to play around with in this image is the trail the bee leaves behind.
The heart goes along with what I was interested in expressing, but something comedic would be great.
18. Hiding Out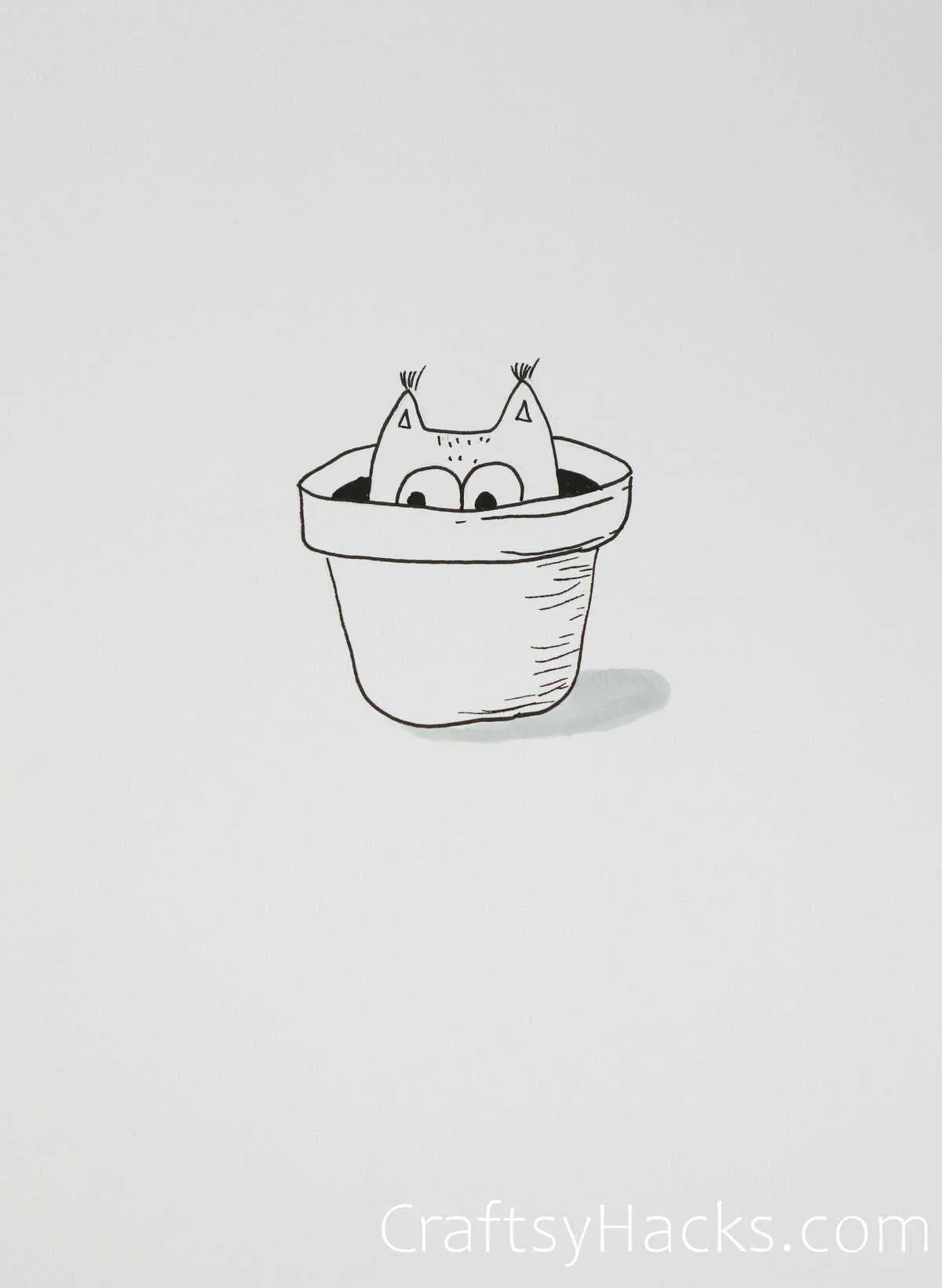 I love practicing cartoonish drawings to continue practicing different styles. This little guy hiding out in a pot is a great place to practice.
Get specific with who is ducking into this planter, or keep the character non-descript like mine. Either way, it's an easy to practice image in cartoon drawing.
19. Enjoying A Sunset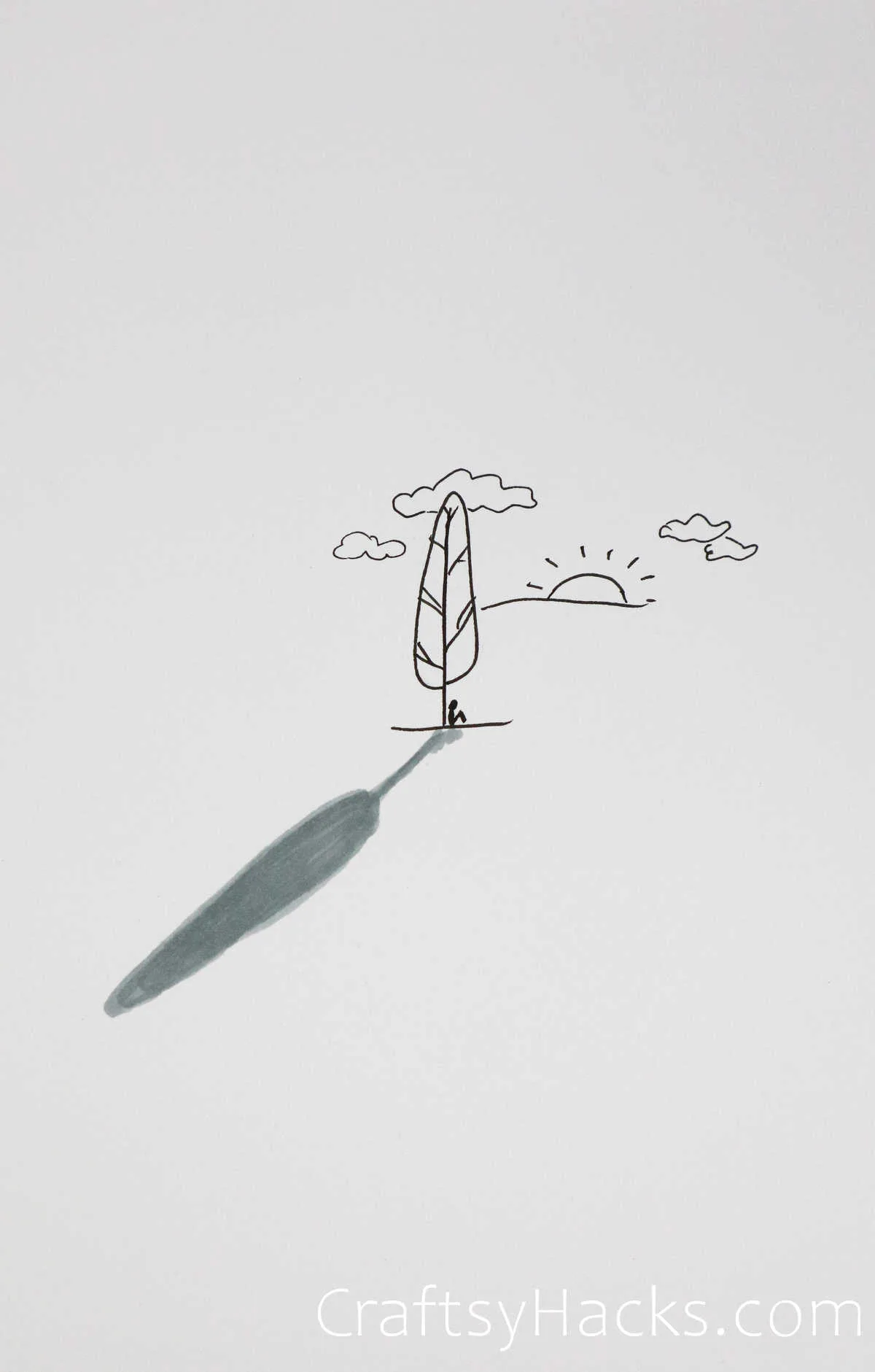 There's nothing more serene than long shadows and simple silhouettes.
This idea of enjoying a sunset drawing is just the tip of this iceberg, too–make it a sunrise, eclipse, or any other natural event.
This drawing is a great practice in shadow and perception. Making the shadow too big, small, or angled can lead to an odd ending–I like to mark with a ruler to keep things straight!
Check out these other tree drawing ideas!
20. Snoozing The Days Aways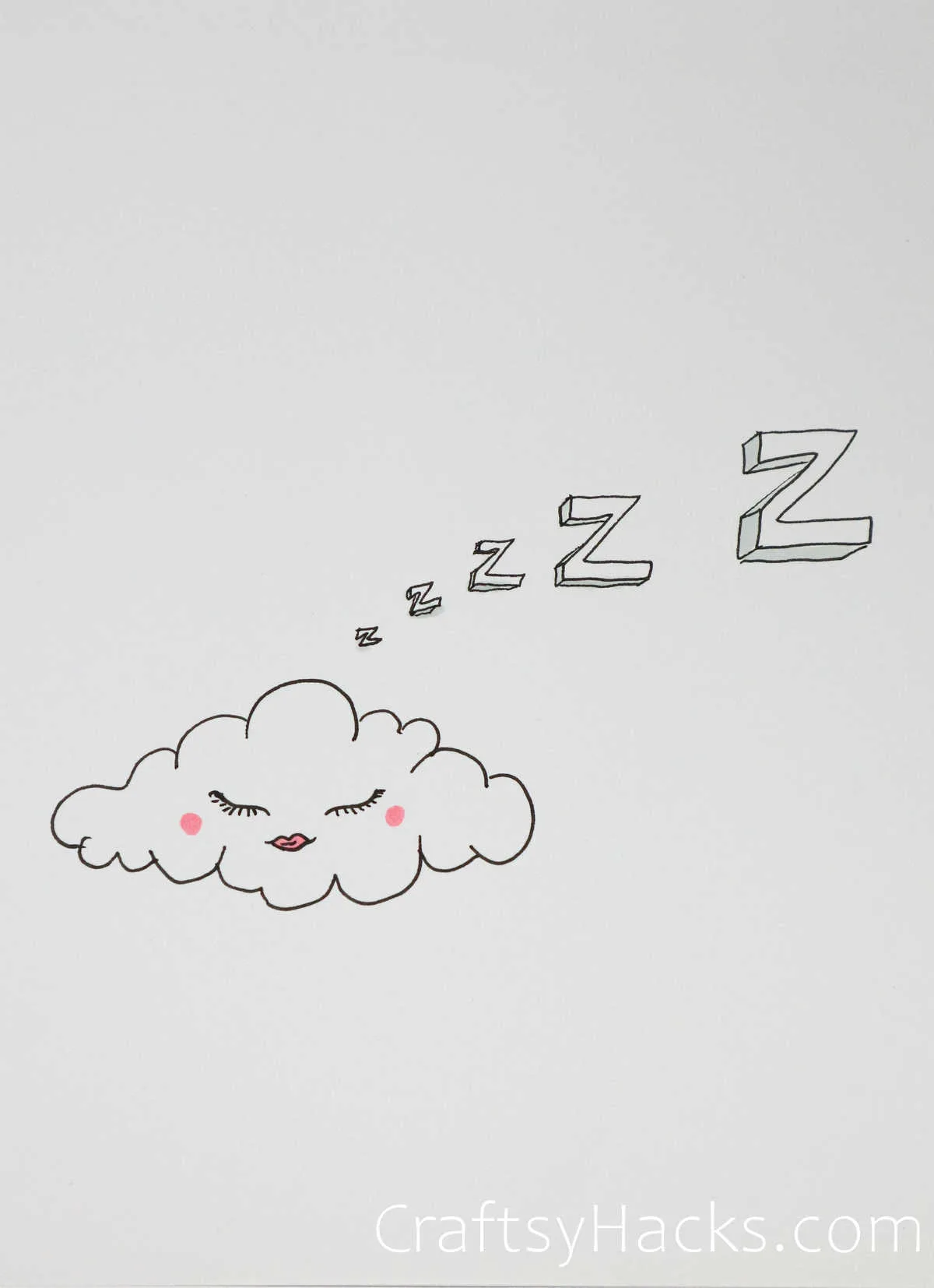 I love these little snoozing clouds–so easy, so adaptable, and so quick to draw. Change out the cloud's face, what they're dreaming about, or even the amount of clouds to include in your doodle.
Get even more creative and characterize each cloud to someone you know, whether a family member or a friend. It could work as a really sweet small gift.
21. Bag Full Of Love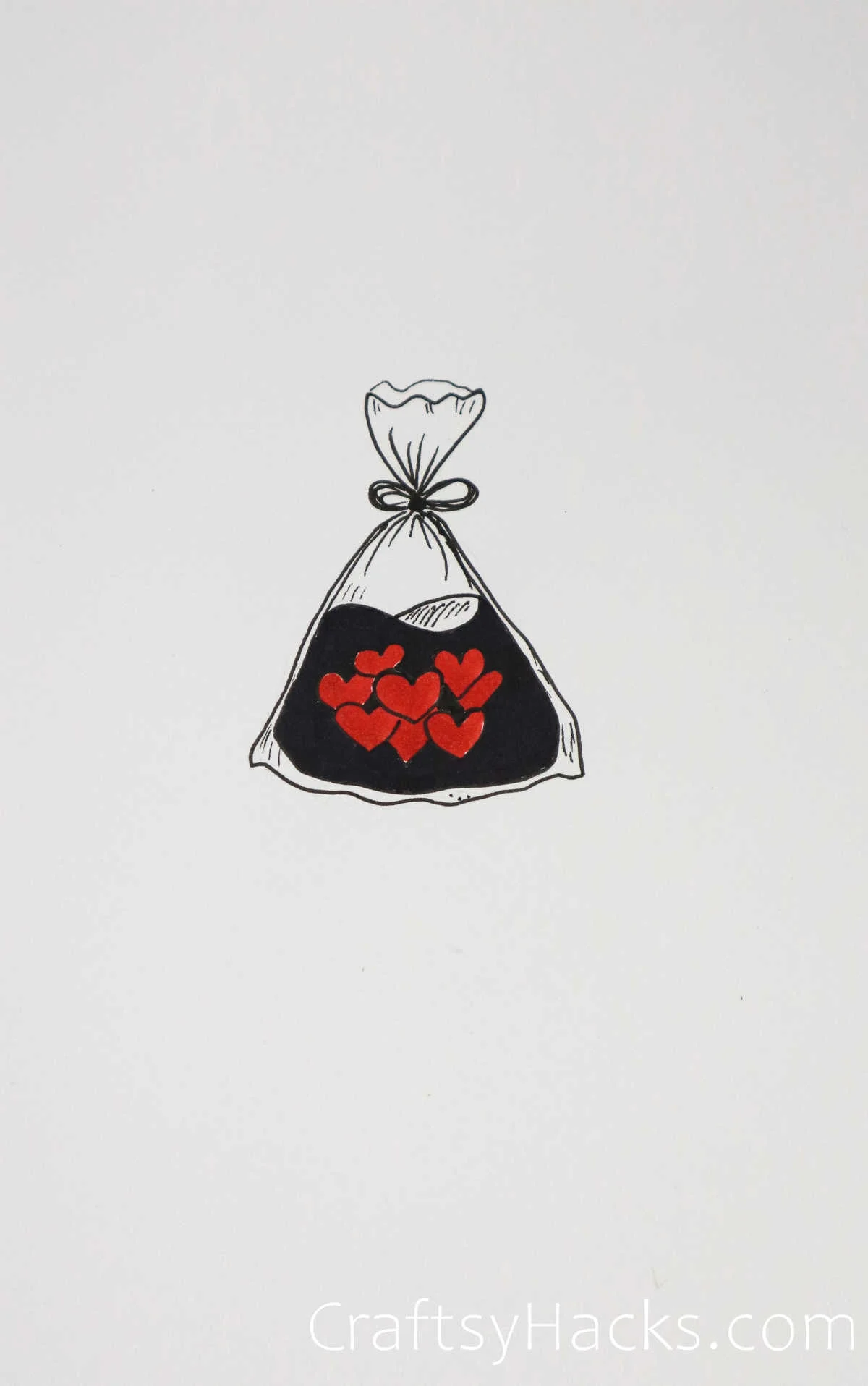 Don't you wish you had bags of love to hand out to others? In this case, you kind of do now!
Create a bunch of small-scale ones and give them as gifts or leave them for those who need them at that moment.
Keep improving your drawing with these brilliant drawing hacks!