Get your office together with IKEA furniture. These IKEA desk hacks are fun, creative, and practical.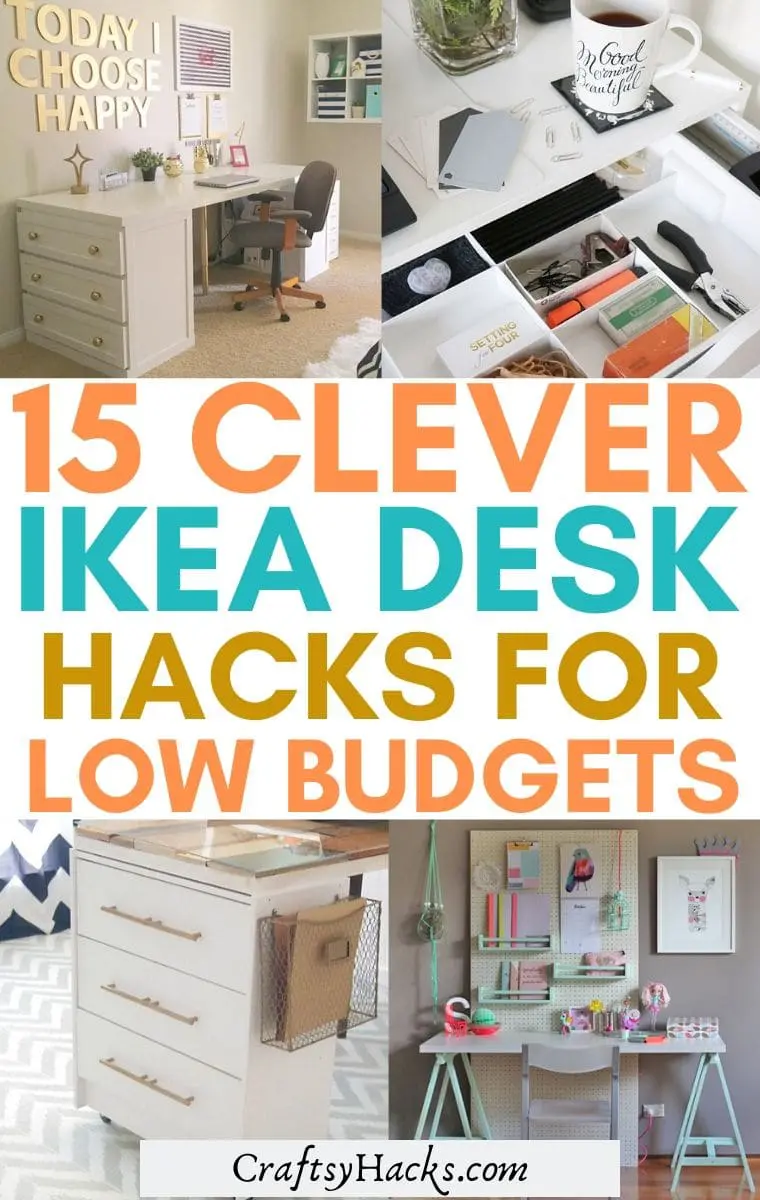 I'm a firm believer that if you love your workspace, you'll be more productive. We spend most of our days working, so why not make that time as joyful as possible?
One of the best ways to turn your desk into a happy place is to organize it and add a personal touch. And because I'm always up for saving some money, the following list includes IKEA desk hacks.
From minimalist and colorful to standing desks and maximum storage. These hacks are as easy as they're beautiful and functional!
Read on to find your new favorite desk hack.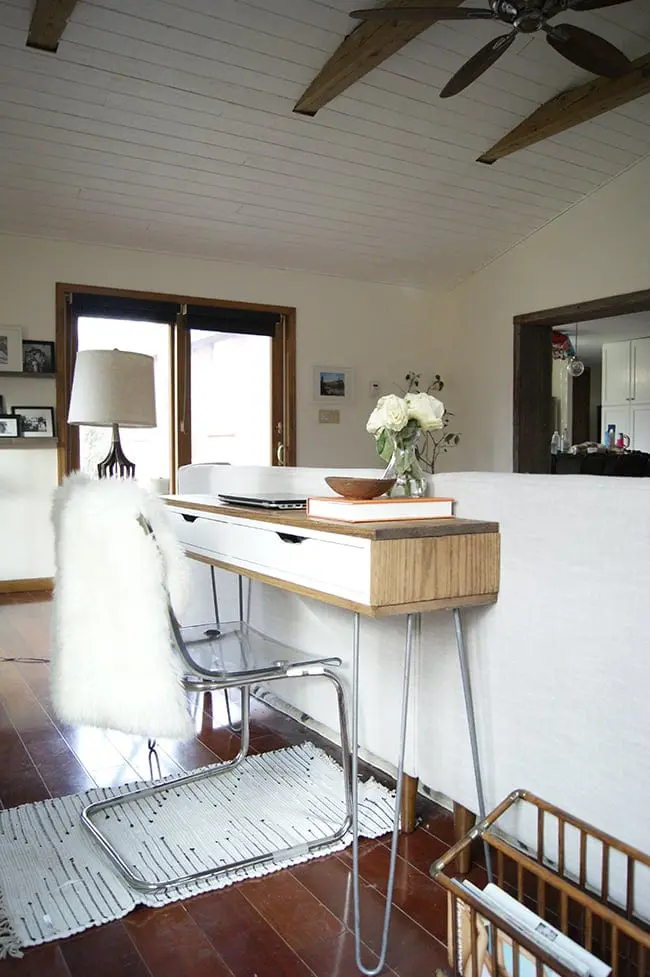 Credit: undeclaredpanache.com
If your home is tiny, a slim desk like this one will provide extra room for work without overwhelming the living space.
You can place your new desk alongside a wall in your bedroom, behind the sofa, or even in the hallway!
To make the desk you will need the Minwax Stain Mission Oak in Gloss and hairpin legs. You can get a set of 4 here.
The legs look absolutely gorgeous on any desk.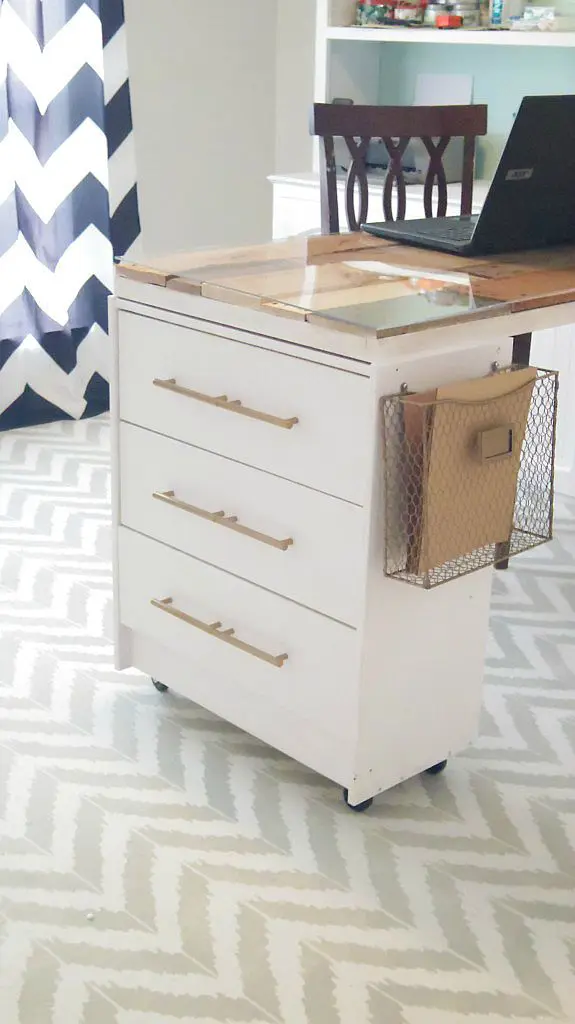 Credit: addisonmeadowslane.com
Made of sturdy wood, the IKEA Rast dresser is a perfect blank canvas for a little creativity. To create this beautiful rustic desk, you'll need gold spray paint like this one here and some reclaimed wood.
Add a plexiglass surface to protect the wooden tabletop, as well as a handle and casters for easy movement. Here are some cheap yet good quality casters I recommend.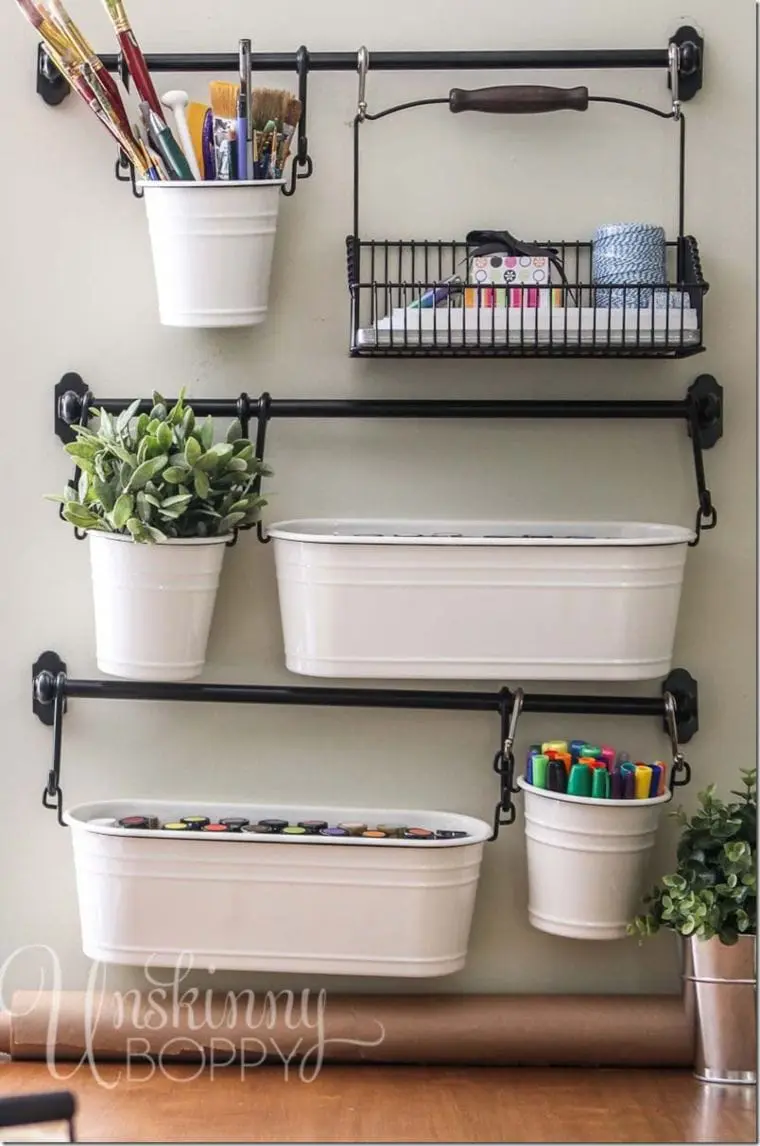 Credit: unskinnyboppy.com
Have your craft supplies completely taken over your desk? Create vertical storage with IKEA's Fintorp series of buckets and hooks and tame that mess!
The buckets and wire baskets can be easily moved, so you can change them up to fit new needs.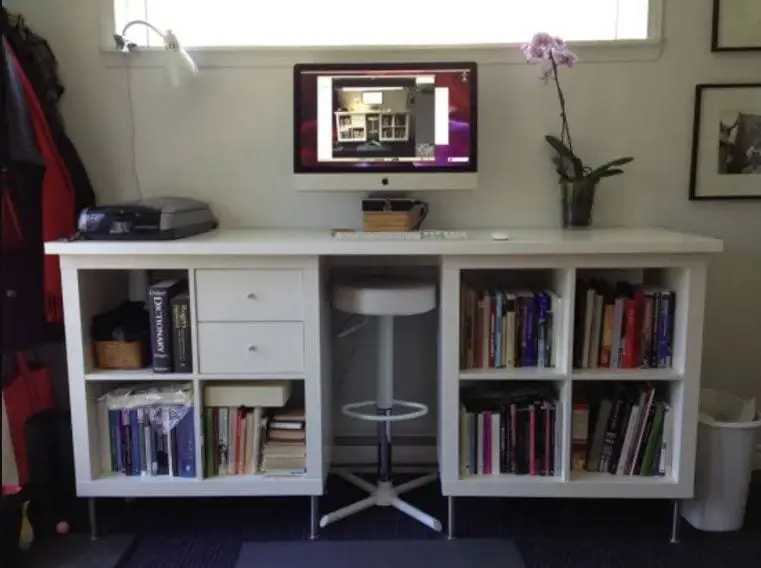 Credit: apartmenttherapy.com
If you want a desk that provides tons of space, this is just for you. This DIY standing desk is made of two Kallax (formerly Expedit) cubes, topped with a Linnmon tabletop, and propped up with Capita legs.
You will have plenty of desktop space for your scanner, papers, and (most importantly) books.
Here are more IKEA Kallax hacks!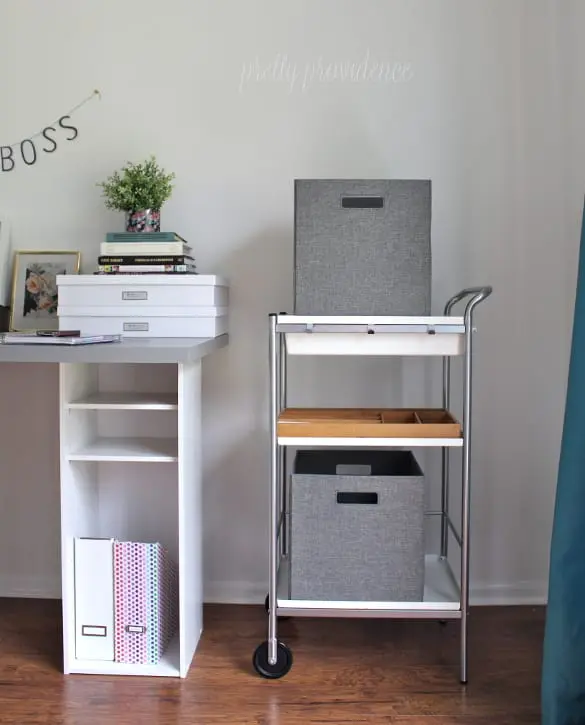 Credit: prettyprovidence.com
Having a handy place to store all your office supplies will not only keep your desk tidy and organized, but it will also leave some extra space for stylish accessories.
By using a cart to store all your things, there is no need to have a desk with built-in storage; you can easily make one for yourself out of a repurposed table or a rustic wall-mounted shelf like this.
Depending on how much office supplies you have, you can have two or three carts.
If you don't fancy a trip to IKEA, you can always get a good quality cart that will look just as good on Amazon. Here is the one I absolutely adore.
These carts are good to use in the kitchen as well. Check out more of the IKEA kitchen hacks here!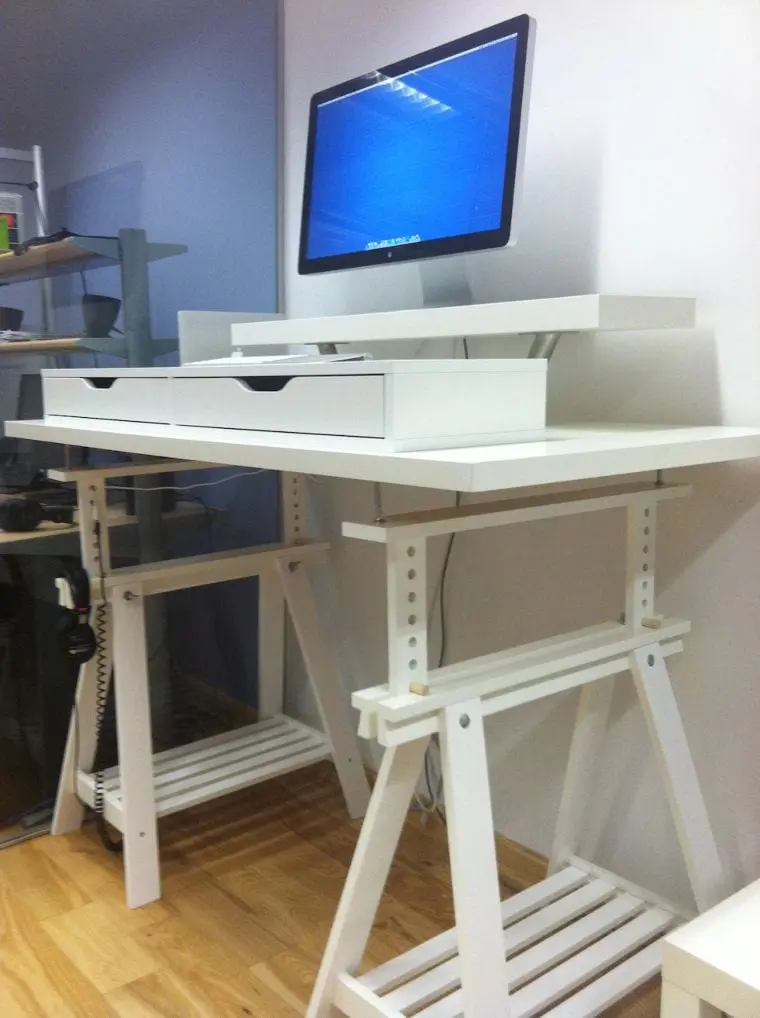 Credit: nickwynja.com
Did you know that when you get things done standing, you concentrate better on the task, maintain a proper posture, and burn calories at the same time?
To build this standing desk, you'll need the following items from IKEA: Capita bracket, Lack wall shelf, Ekby Alex wall shelf, Vika Amon tabletop, and Vika Artur trestle.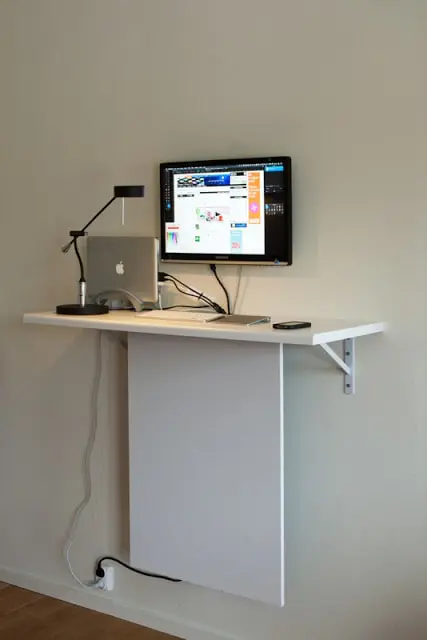 Credit: ikeahackers.net
If you live in a small space, you will need a compact solution in order to incorporate an office workspace.
This DIY standing desk cleverly uses a simple whiteboard to hide computer cords and external hard drives.
Get these white floating shelves to make this desk happen!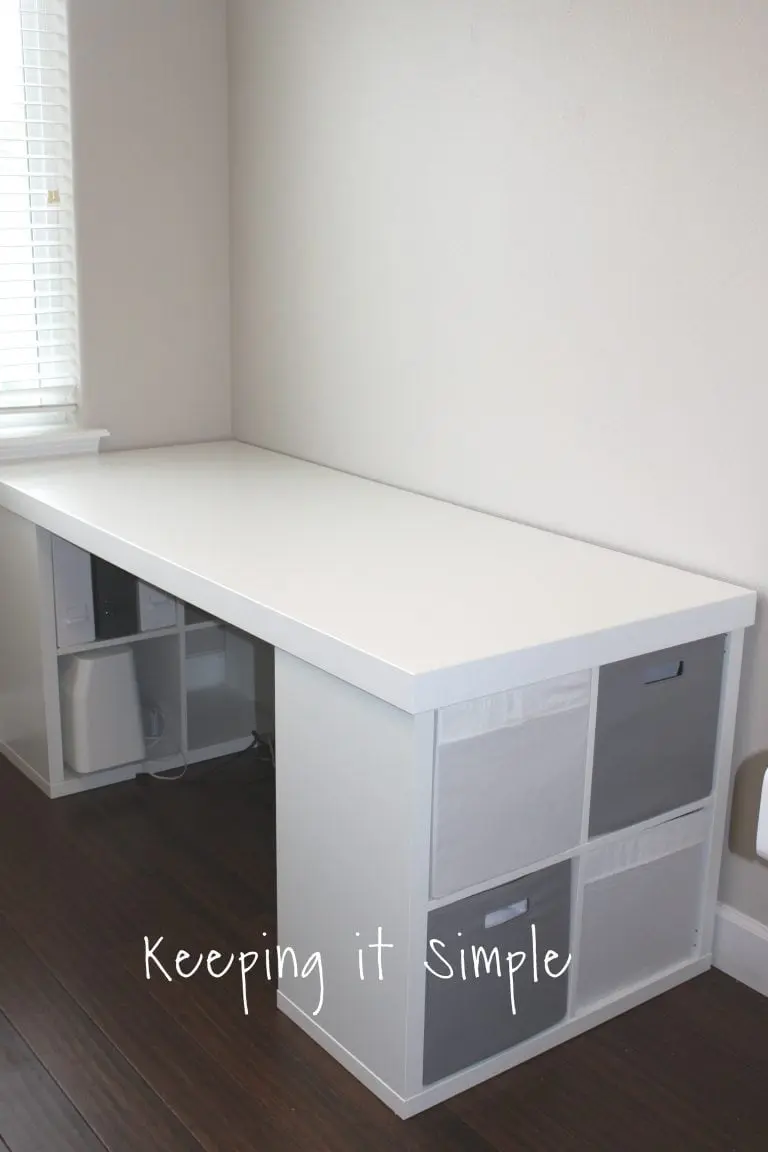 Credit: keepingitsimplecrafts.com
The Kallax shelving units have a relatively simple design. They come in various sizes and colors and at an affordable price, which gives you an opportunity to really have fun repurposing them.
Kaysi from Keeping It Simple used these cube organizers in white to create a computer desk with lots of storage space.
Get more IKEA décor hacks like this here.
9. ÖSTERNÄS Leather Handles for Drawers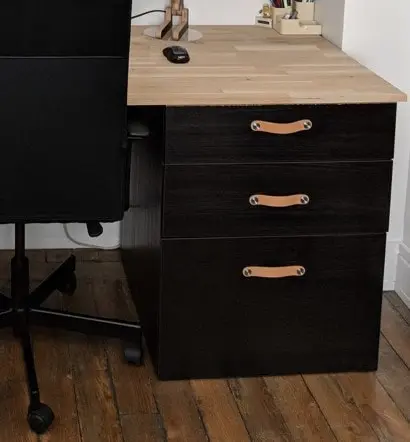 If you're looking for an easy way to makeover your desk, these leather handles are the perfect solution. IKEA's ÖSTERNÄS leather handles for drawers will transform your old and/or inexpensive desk into a minimalist and modern workspace.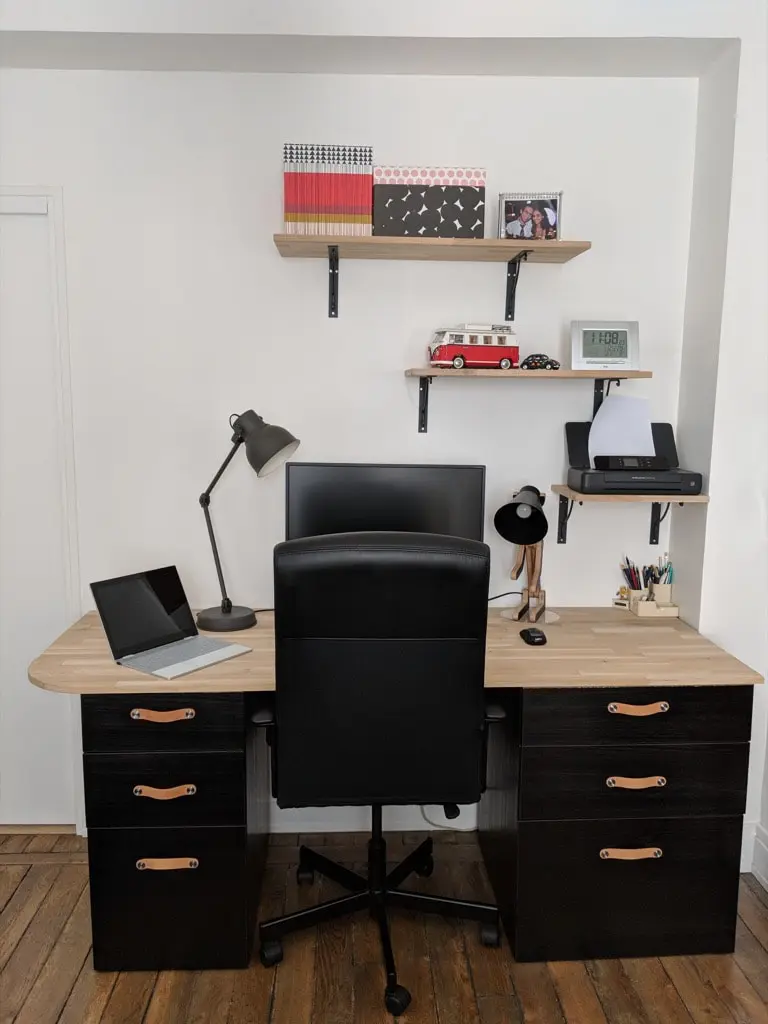 Credit: ikeahackers.net
IKEA offers a variety of cabinets you can choose from when designing a kitchen. They come in different configurations, depths, and widths.
Now, this isn't a kitchen design, but it uses kitchen cabinets because of the variety of options. This will allow you to design a custom desk but on a budget!
This industrial-style desk provides plenty of storage behind the drawers and on the shelves. I just love the combination of black lower cabinets and oak boards!
If you're looking for some good boards, here are some good-quality yet affordable ones I recommend.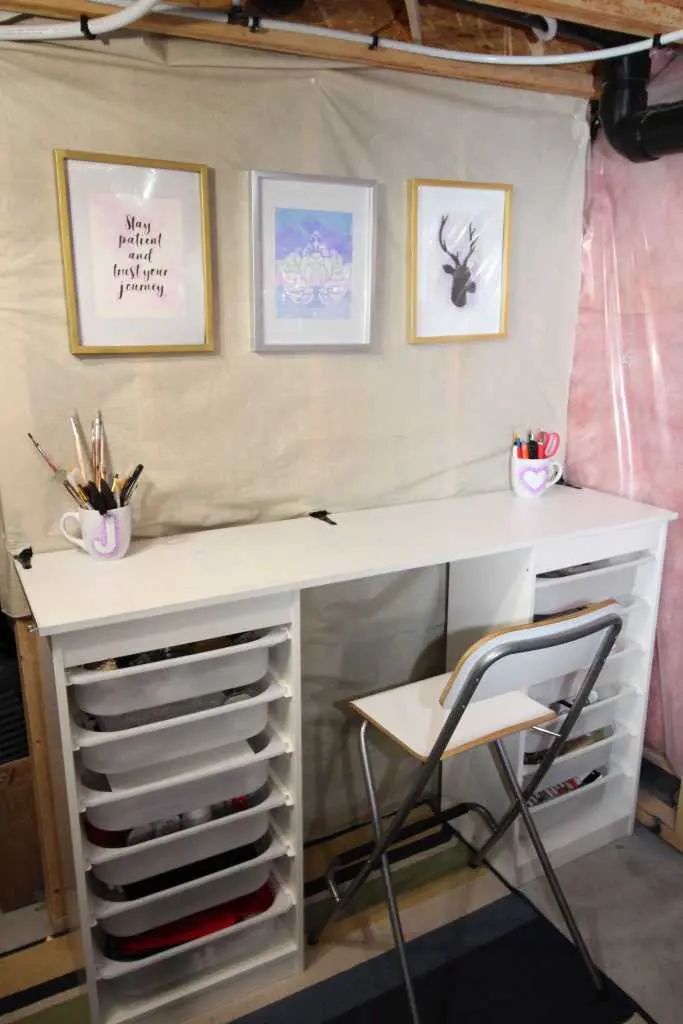 Credit: feelingnifty.com
Storage for crafting supplies can be tricky, but IKEA's Trofast Shelves offer the perfect solution. This DIY desk hack is quick, cheap, functional, and perfect for a small space.
Besides IKEA Trofast Storage Shelves and Ikea Trofast bucket drawers, you'll also need a sheet of white shelving wood like this one here, and (optionally) 2-3 wall hinges with screws like these.
Feel free to use this IKEA hack for the bathroom as well.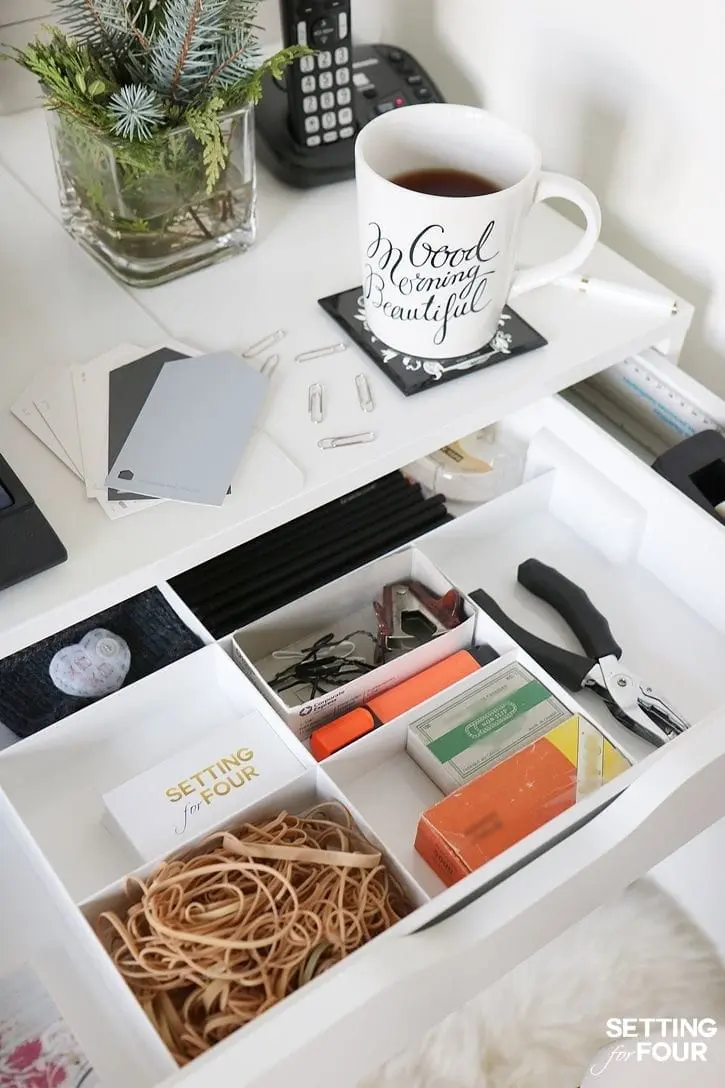 Credit: settingforfour.com
Are you one of those people who throw all of their odds and ends into the nearest desk drawer? That's ok, we all do it sometimes and end up with a horribly messy junk drawer.
But when the time comes to finally use that red pen, you won't be able to find it because it's buried under a sea of office supplies.
Luckily, there's a simple solution. Made of polypropylene, the STÖDJA drawer dividers hold plenty of stuff, and they're easy to remove for cleaning.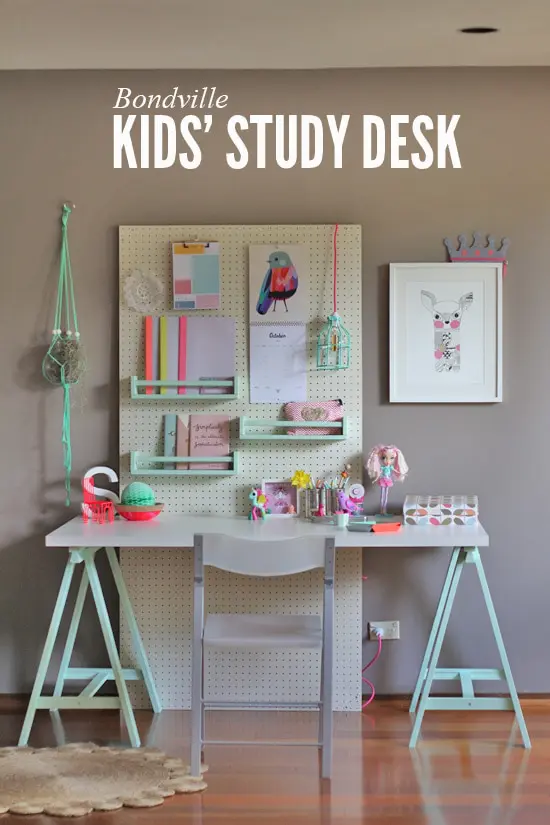 Credit: stephbond.com
If you have some basic DIY skills and a few IKEA items, you can make this study space during the weekend.
Thanks to the IKEA spice racks (turned bookshelves) attached to the pegboard (this one will look awesome in this project), you can easily customize this study space to fit the interests of your child!
You can also use spice racks to create beautiful chic décor in the kitchen!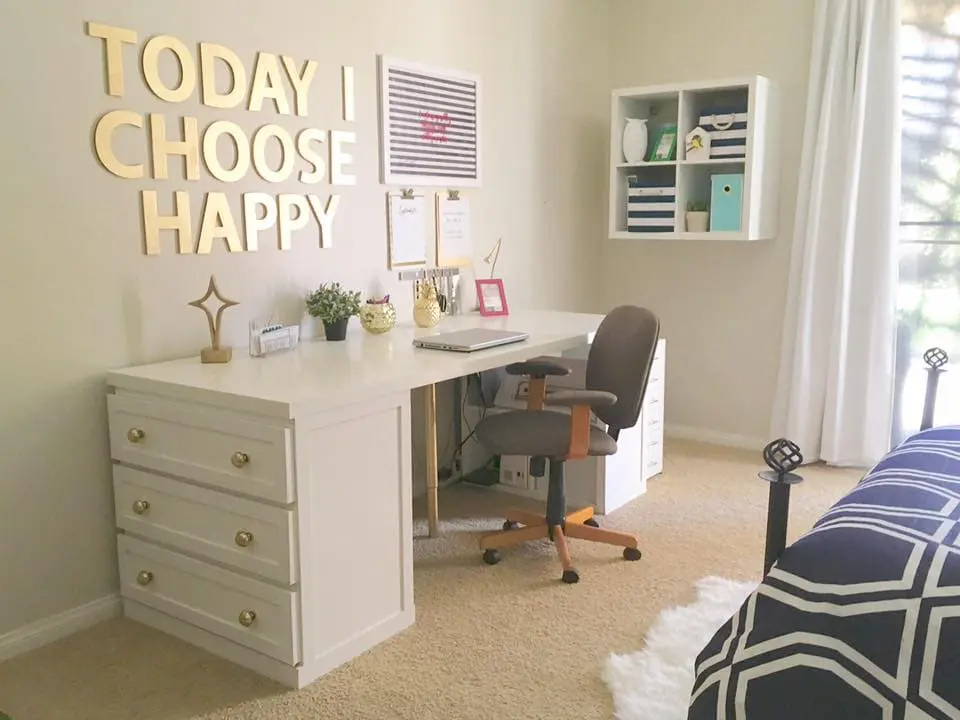 Credit: ikeahackers.net
The Malm dressers are one of IKEA's staple items. They're very effective when it comes to storing clothes, but completely basic.
Fortunately, if Malm's look is a little too plain and boring for you, you can easily turn it into a unique, glamorous desk!
Besides a 3-drawer Malm dresser, you'll also need 1 4-cube Kallax, and 1 adjustable leg from IKEA. In addition, this hack also requires 1 large wood door, L brackets, a piece 1/4″ plywood 1 1×3, a 1/2″ piece of wood, approx. 40 ft. 1″ lattice molding, and 3 pieces 3″ hobby wood panels (1/4 inch).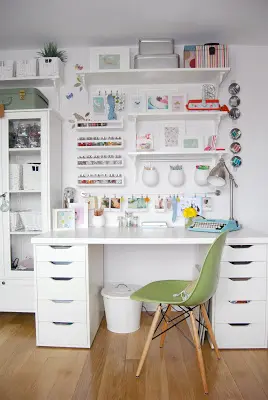 Credit: rosehipsandpetticoats.blogspot.com
When it comes to organizing your working area to make the most of the space, IKEA's Bekvam spice racks rule! They're so versatile that it would be a pity to use them only for holding spices.
Organize your crafting room by mounting Bekvams to hold your large collection of ribbons, paint, pens, pencils, string, twine, and more!
Conclusion
Which of these hacks is your favorite? Let me know in the comment section.