Use IKEA furniture to transform your kitchen. These IKEA hacks will help you do just that.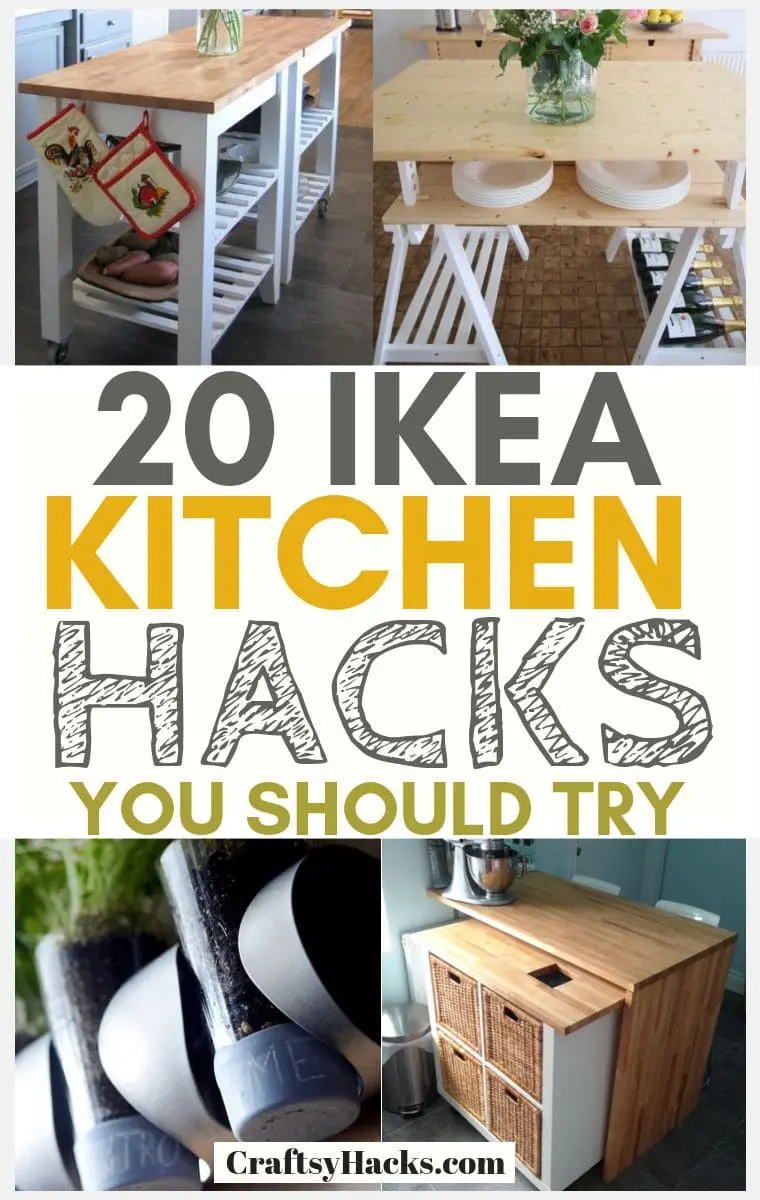 Everyone loves a good trip to IKEA. Besides the food, there's a lot that we can appreciate the fine details of each perfectly staged room!
But here's the real question: How do you do the same for your home when you're working with a tight budget?
Thankfully, there are plenty of IKEA hacks that can help you achieve the dream living situation at a fraction of the cost. Here are 20 IKEA hacks to take your home décor situation to the next level!
1. DIY Kitchen Island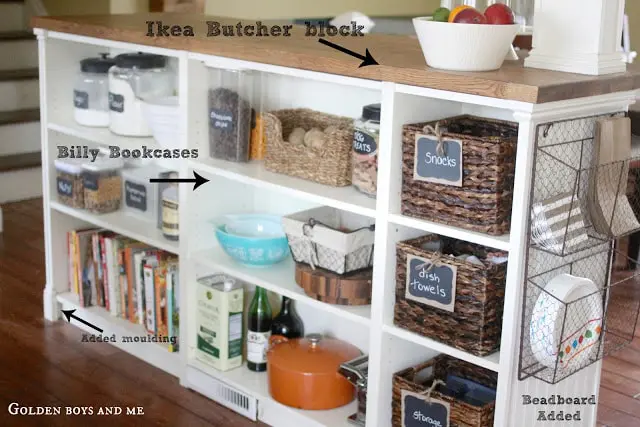 Source: goldenboysandme.com
Want to give your shabby kitchen décor a complete makeover? Well, the easiest way to change things up a bit in your kitchen is to add an island to the layout.
There are a number of advantages to adding a kitchen island to your home. You get extra counter space, more storage, and an adorable spot to sit and relax.
That's whether it's on your own or when you're entertaining guests. You can construct your own kitchen island out of a couple of BILLY Bookcases from IKEA along with a panel of wood to serve as a countertop.
For seating, these bar stools are perfect for a kitchen island. You can easily change up the aesthetic of these stools with a coat of spray paint to suit your kitchen theme.
2. Make Your Own Minimalistic Dining Table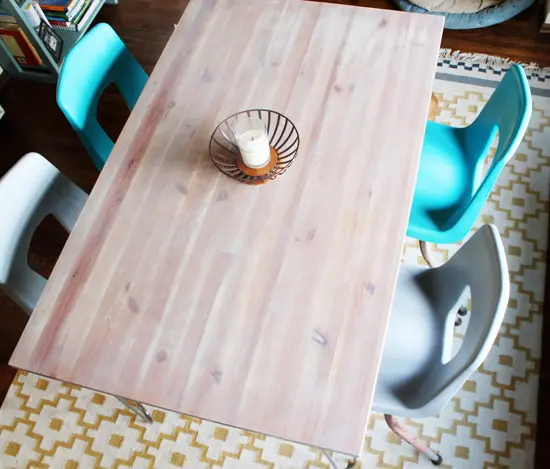 Source: acutedesigns.blogspot.com
Adding a sleek, minimalistic dining room table to your home is a great way to take your home décor to the next level. But, instead of spending tons of money on a contemporary style dining table, you can just DIY it by taking apart a traditional set.
With the JOKKMOKK table, you can easily construct your own contemporary piece! All you need to do is add a coat of wood stain onto the surface of the tabletop and attach a set of hairpin legs to it.
I highly recommend using a set of heavy-duty metal legs like the ones you can find here.
3. Copper Pendant Lights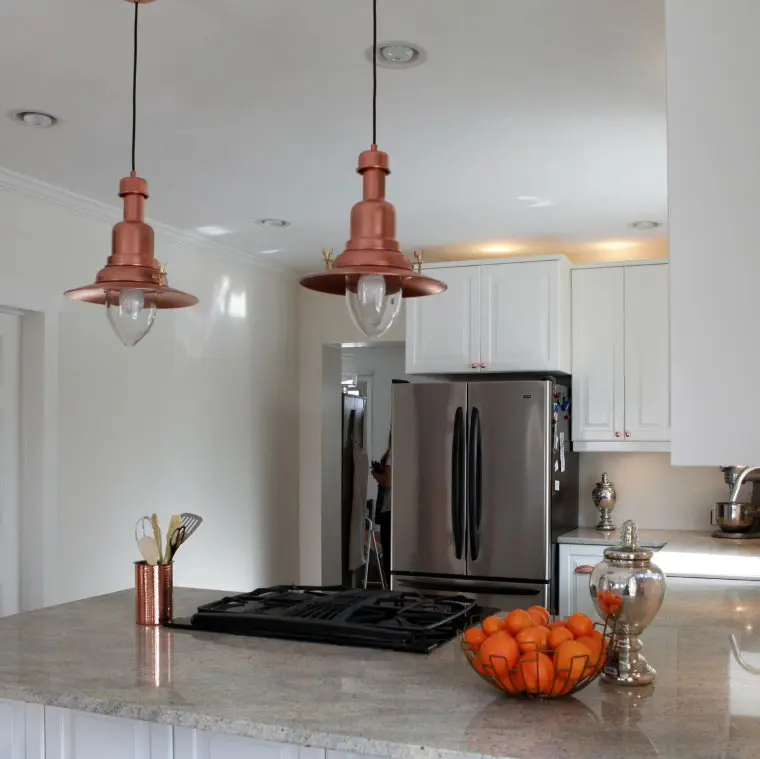 Source: kojo-designs.com
Don't you just hate it when you see the perfect light fixture but it's the wrong color for your home!
With the OTTAVA pendant lamp, you can easily turn this aluminum fixture into a beautiful copper light with a bit of primer and metallic spray paint. This metallic spray paint is my top choice for all DIY projects around the house!
4. DIY Charging Station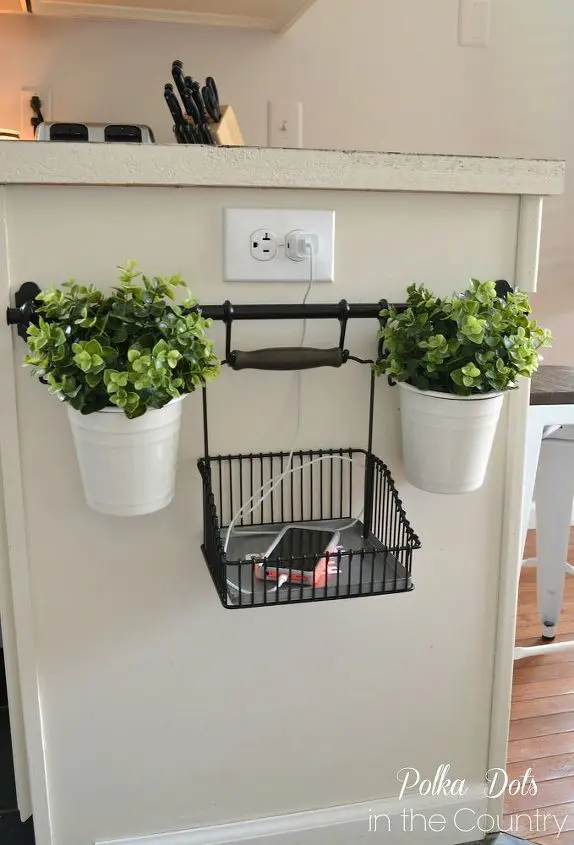 Source: hometalk.com
Your phone charging situation at home is about to get a lot cooler with this DIY charging station. Besides how adorable this metal wire charging station looks.
There's really no better way to get rid of all the clutter on your tabletop. The best part is you don't have to dig around for a charger because you know exactly where it is.
You can easily build your own charging station with the FINTORP series from IKEA and mounting it onto some empty wall space around your house!
5. Utility Cart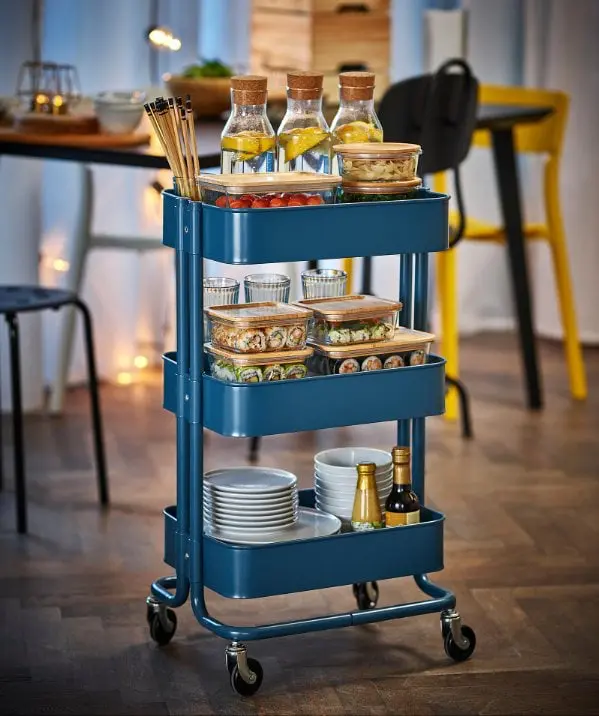 Source: IKEA
It goes without saying that we could all use a little extra storage space around the house. Instead of spending a ton of money on expensive drawer units.
Just grab a utility cart from IKEA and give it a makeover! You can easily change up the color scheme of this utility cart with a coat of spray paint.
But why stop there? Add some artificial floral arrangements into your cart for an ultra-luxe look.
This set of faux tabletop greenery is the perfect addition to any interior space.
6. Mobile Kitchen Island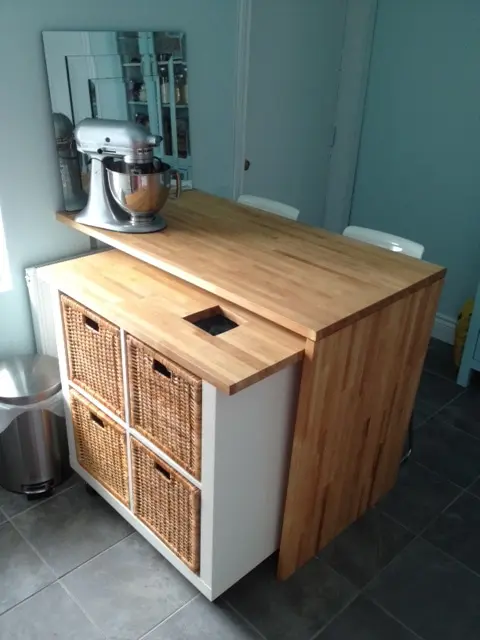 Source: ikeahackers.net
Looking for another simple DIY to build your own kitchen island? Honestly, installing an island into your kitchen doesn't have to cost you the big bucks.
Just DIY it by placing a countertop over the KALLAX shelf unit, then add storage baskets! Just make sure you invest in a quality set of caster wheels because it's going to be carrying a lot of weight.
Look for wheels like these heavy-duty caster wheels which offer great loading capacity and dual locking to ensure safety.
7. Elegant Bar Cart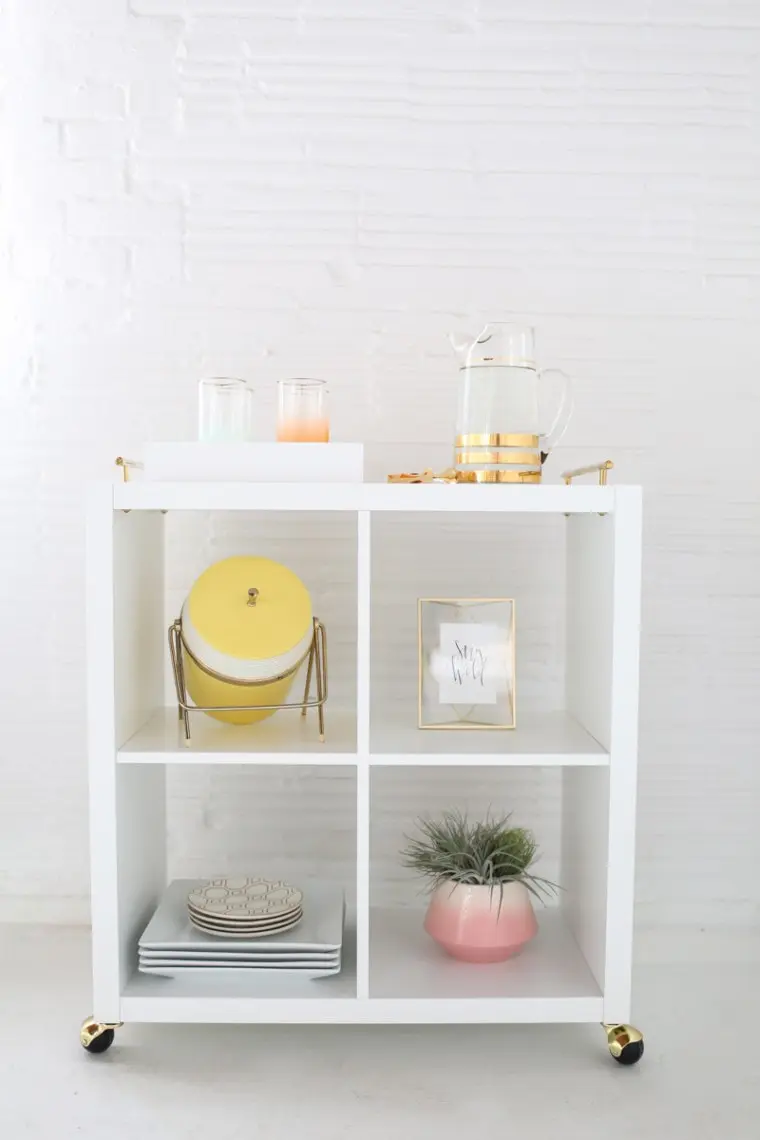 Source: sugarandcloth.com
Want a simple way to take your home décor to the next level? A DIY bar cart is a perfect addition to any home.
Create a minimalistic but elegant bar cart out of the KALLAX shelf unit from IKEA. I highly recommend using these antique brass hooded swivel ball casters to complete your bar cart.
This color pairs beautifully with a white unit!
8. Sliding Shelves for Your Kitchen Pantry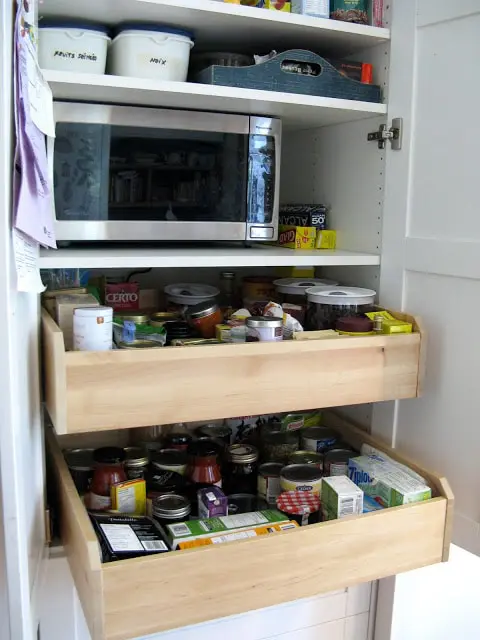 Source: ikeahackers.net
Don't you just hate it when you can't see or reach the stuff that's in the back of your kitchen shelves? Your life is about to get a lot easier with this simple DIY furniture project.
Grab wooden drawers from the PAX Wardrobe at IKEA and install them into your kitchen pantry to create sliding drawers!
9. Mounted Spice Rack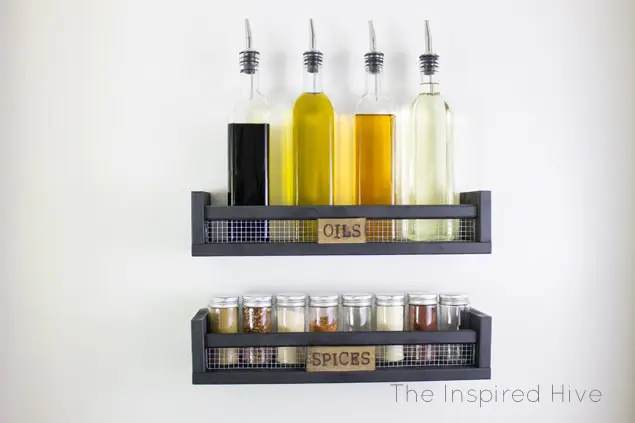 Source: theinspiredhive.com
Looking for a way to reduce the clutter in your kitchen pantry? Organize your spices by mounting a DIY spice rack onto your wall!
You can easily construct your own rustic spice rack with these BEKVAM shelves. To give these shelves an industrial makeover, all you need is a bit of paint and metal hardware cloth!
10. Mid-Century Bar Cabinet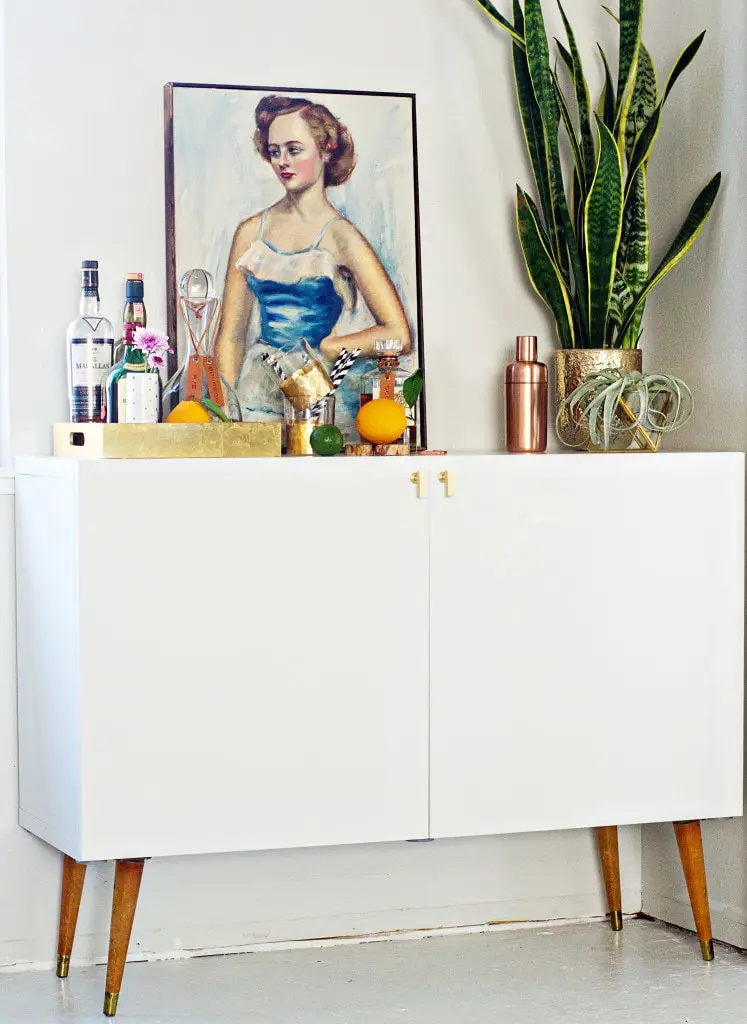 Source: thevintagerugshop.com
Trying to fill some empty space in your home? A mid-century bar cabinet is the best way to enhance the aesthetic in any room.
Add some glamour to a simple cabinet from IKEA by adding your own knobs and covering the walls inside with gold foil wrapping paper.
11. Farmhouse Style Kitchen Cart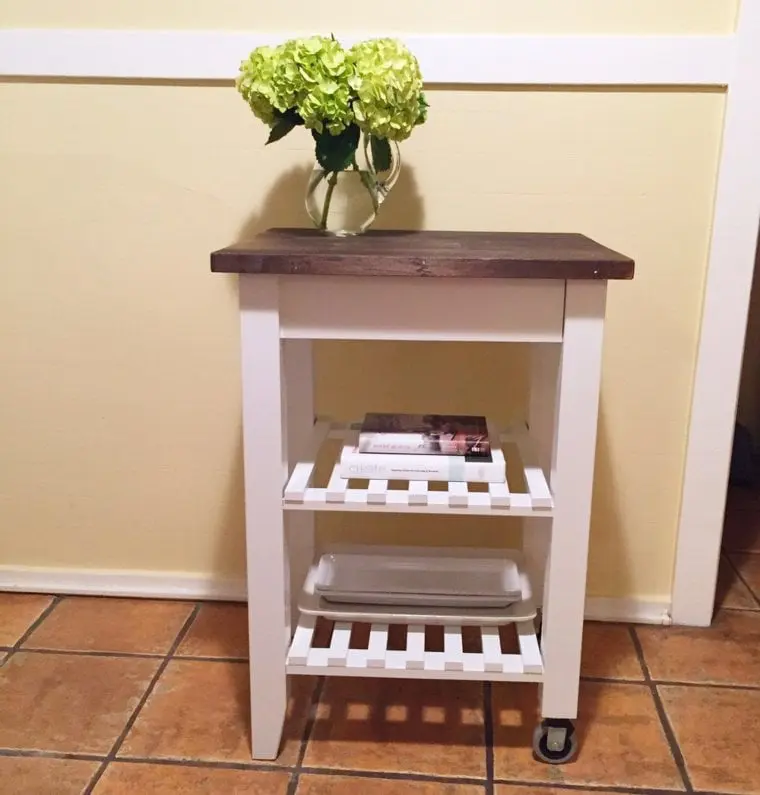 Source: thefourthreads.com
Add some rustic vibes to a regular IKEA kitchen cart with some paint and wood stain. This is a great way to increase the storage space in your kitchen or even to create a space to display a beautiful floral arrangement.
You can find a great wood stain in a lovely espresso color here. This is a beautiful DIY project for those who love farmhouse décor.
12. DIY Credenza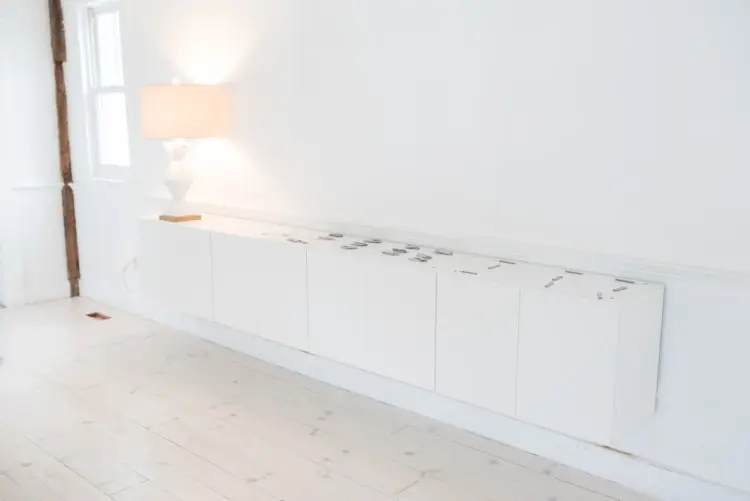 Source: houseofmenig.com
Want to increase the storage space in your living room? Instead of spending a fortune on a credenza, you can easily build your own with a set of upper wall cabinets from IKEA.
This DIY unit is a stunning addition to any home!
13. Sack Wall Organizer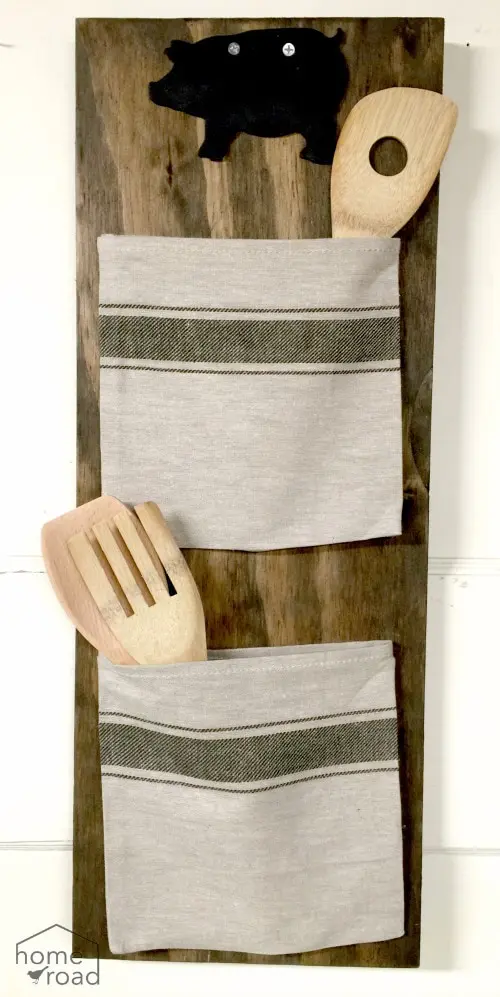 Source: homeroad.net
Looking for a simple way to organize a couple of items in your kitchen?
You can easily build your own sack wall organizer with a plank of wood, wood stain, and cloth napkins from IKEA.
This is a great way to store the items you always find yourself reaching for!
14. Indoor Herb Garden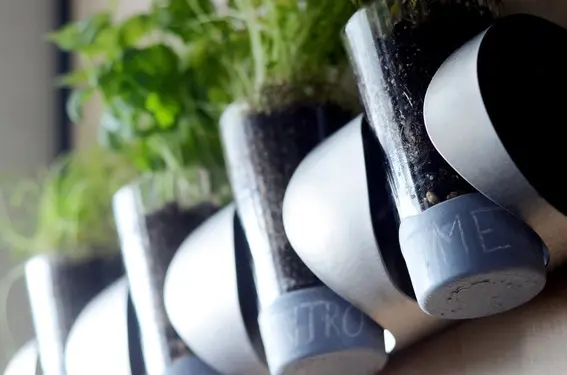 Source: curbly.com
This is definitely one of the most creative IKEA hacks out there!
Create your very own beautiful indoor herb garden with the VURM wine rack. Just mount the wine rack horizontally onto your wall. Then make your own miniature plant arrangements by adding cilantro and basil into a pint glass filled with pebbles.
You can find decorative river pebbles here – they're perfect for any indoor and outdoor DIY projects you've got going on!
15. Vintage-Inspired Kitchen Island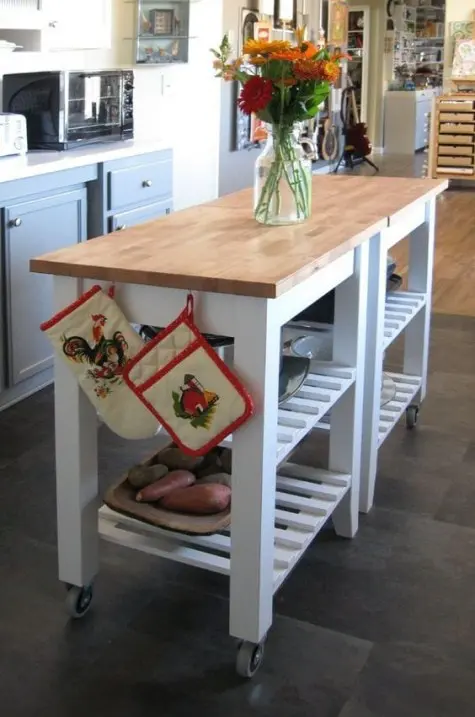 Source: comfydwelling.com
Construct a vintage-inspired kitchen island out of 2 BEKVAM kitchen carts. All you need to do is paint them white.
Except for the tabletop because we're all about the birch finish. Then push the 2 carts together!
16. Urban Kitchen Storage Unit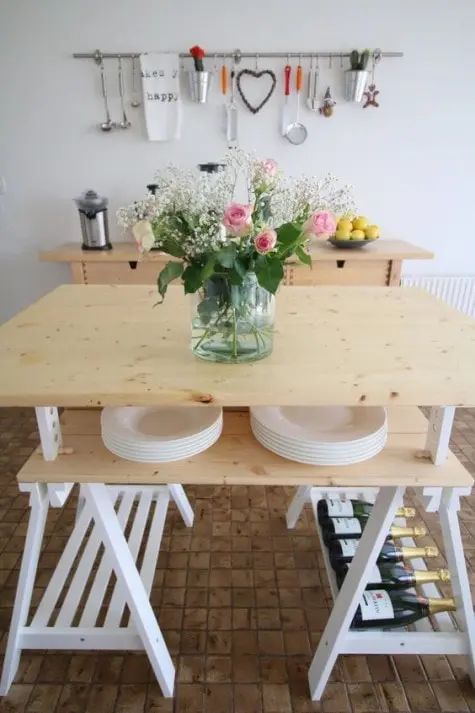 Source: comfydwelling.com
Looking for ways to maximize the storage space in your kitchen? Here's a creative DIY that puts a unique spin on the regular kitchen island.
With the FINNVARD trestle from IKEA, you can create the perfect storage unit to house your dinner plates and wine bottles!
17. Metallic Salt and Pepper Shakers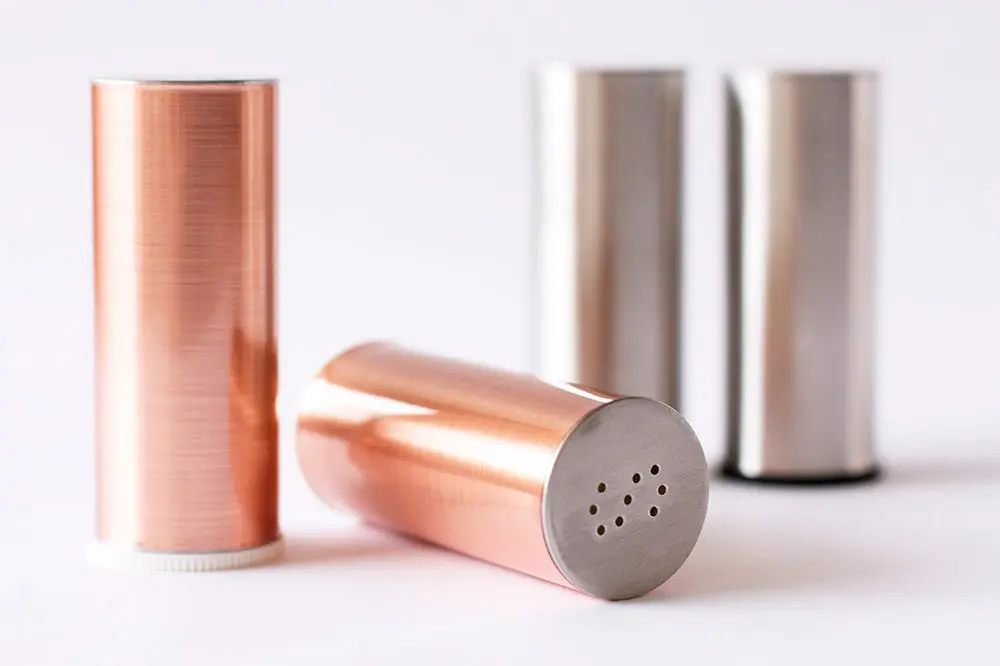 Source: brit.co
This is by far one of the easiest DIY projects to step up the visual appeal in your kitchen!
Grab a set of salt and pepper shakers from IKEA and cover them up with copper contact paper. For all your DIY needs, I highly recommend this metallic contact paper for a beautiful finish.
18. Industrial Wall Shelves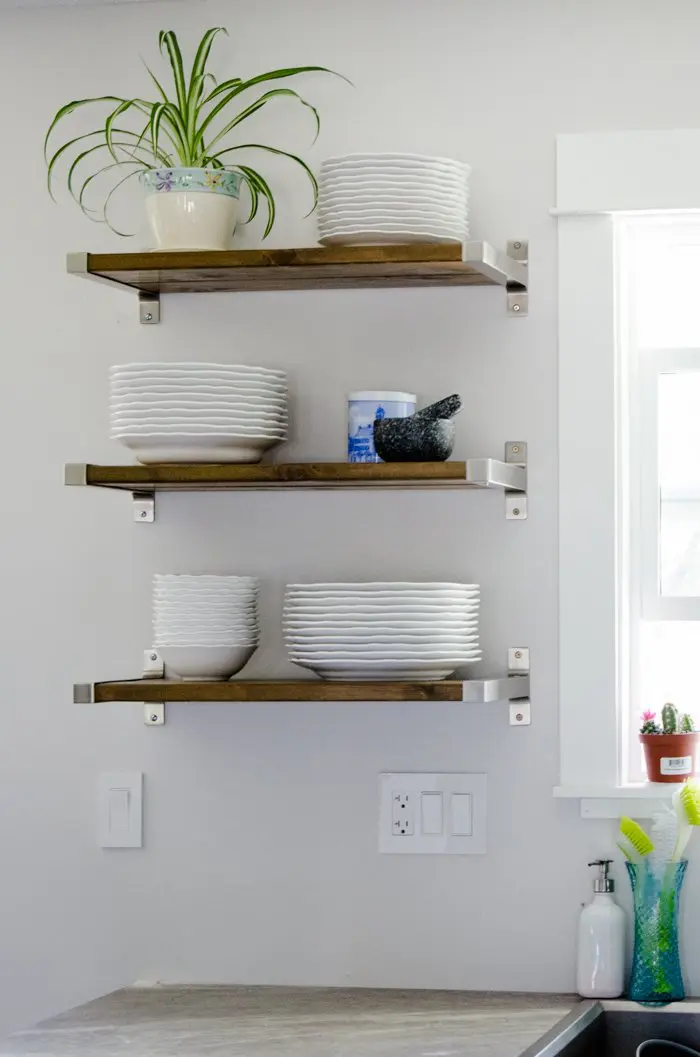 Source: lemonthistle.com
The best way to clear up some space in your kitchen cabinets? Mount a couple of DIY shelves onto your kitchen walls to organize your plates.
For this simple DIY, all you need is a couple of stainless steel wall brackets from IKEA and a gorgeous piece of wood that you can cut into shelves!
19. Sliding Garbage Bins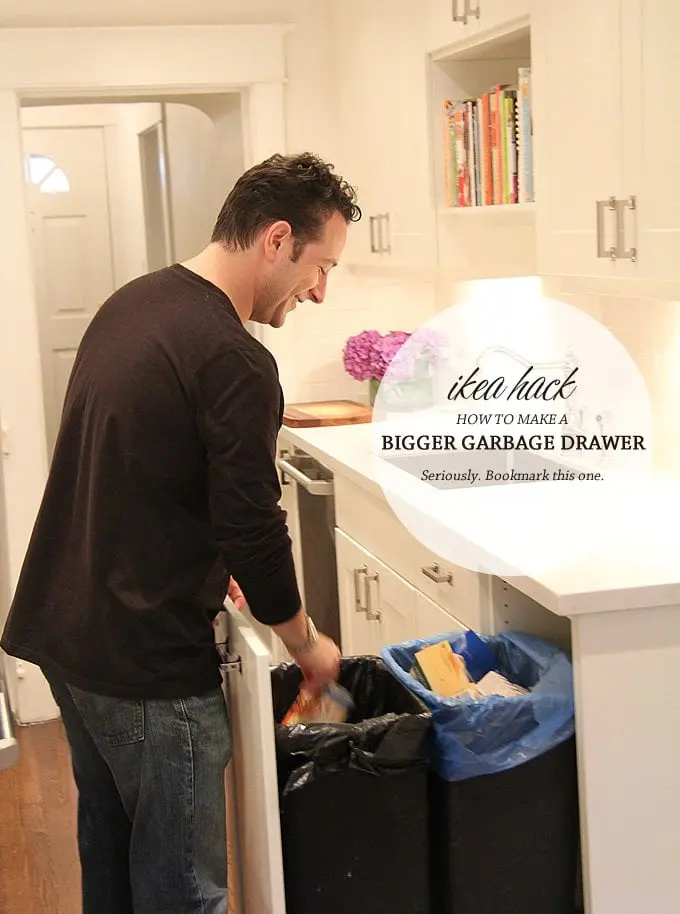 Source: lindsaystephenson.com
With this creative IKEA hack, taking out the trash has never been easier! To create your own trash pullout system, get yourself a base cabinet from IKEA.
Just attach a drawer unit to the bottom!
20. Wire Shelves for Your Kitchen Pantry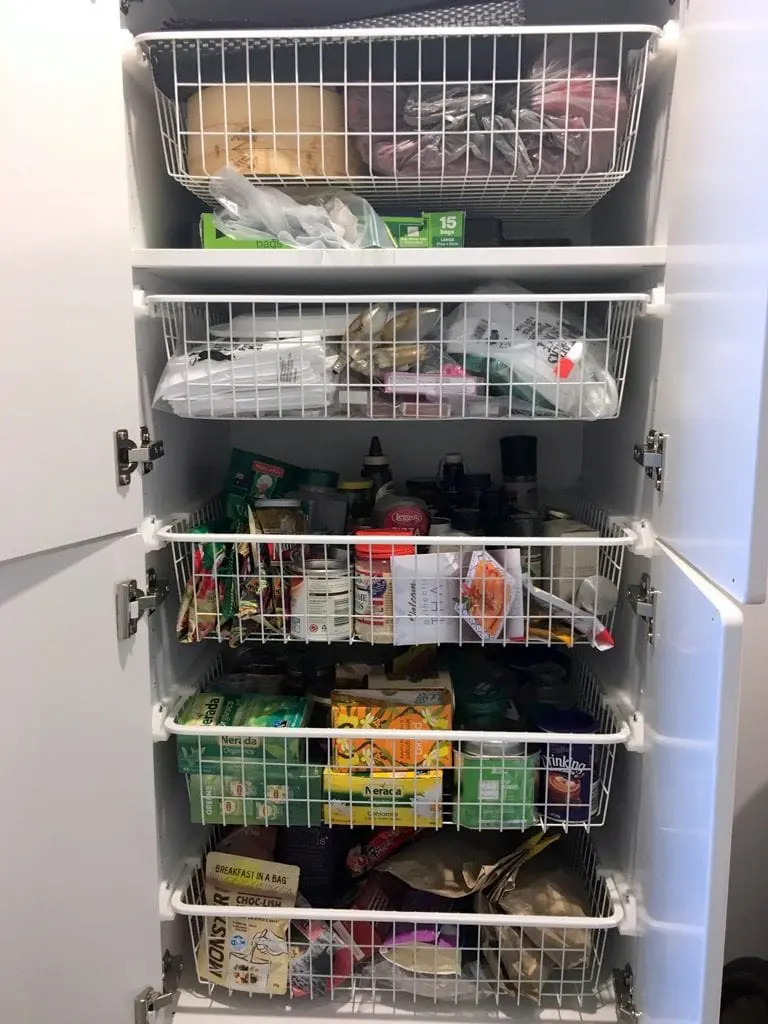 Source: ikeahackers.net
Want to upgrade your current snack situation? Create a pullout pantry shelving unit out of the STUVA GRUNDLIG wire baskets from IKEA.
Although these wire baskets work great for all your storage needs around the house, they're definitely a must-have for your kitchen pantry!