Transform your home decor with these farmhouse spring decorations. These ideas are fun, creative, and simple enough to make yourself!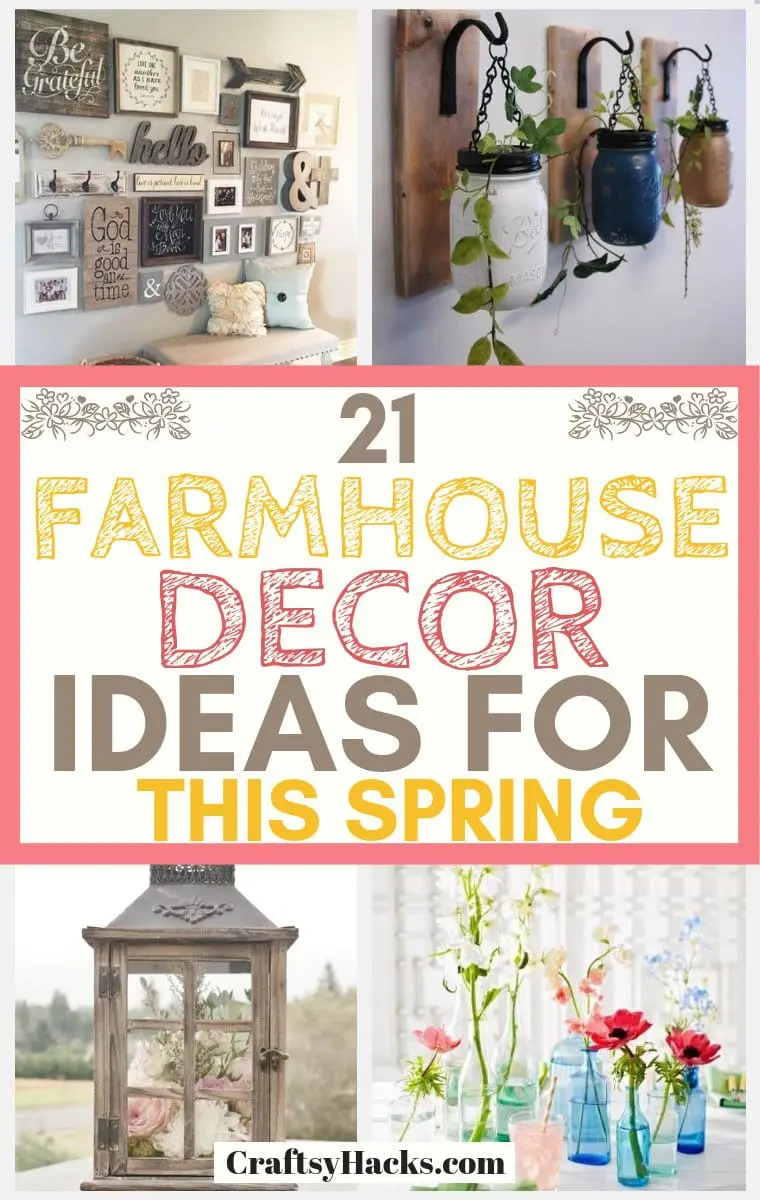 Isn't it always a pleasure to brighten up your farmhouse with some spring décor? Not only does the décor lighten up your farmhouse, but it could also be a total, wondrous transformation for the outlook.
What's more, is that the process and experiences of decorating are always fun and memorable. Who wouldn't want these?
Here are 20 farmhouse décor ideas for you to try out this spring.
1. DIY Moss Balls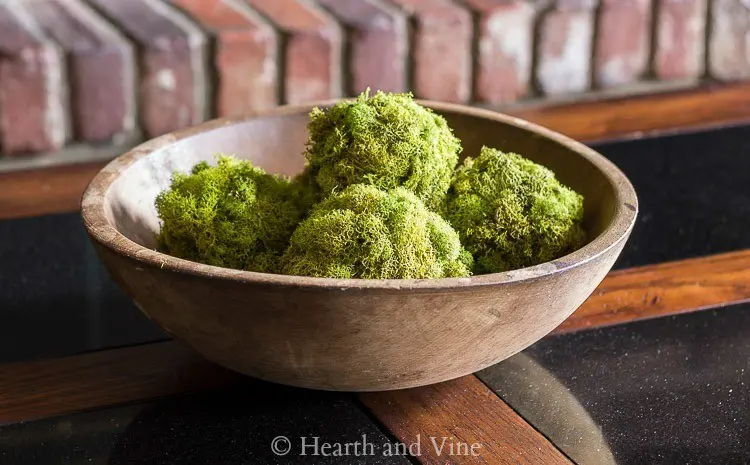 Source: hearthandvine.com
This is quite simple to make. Get your hands on some Styrofoam or plastic eggs of different sizes –according to your preference.
Get some glue and finally, some moss and you're good to go. Coat the eggs with the glue and then add on the moss. It instantly makes for your farmhouse décor.
Get a wooden bowl to make this décor idea happen.
2. Spring Wreath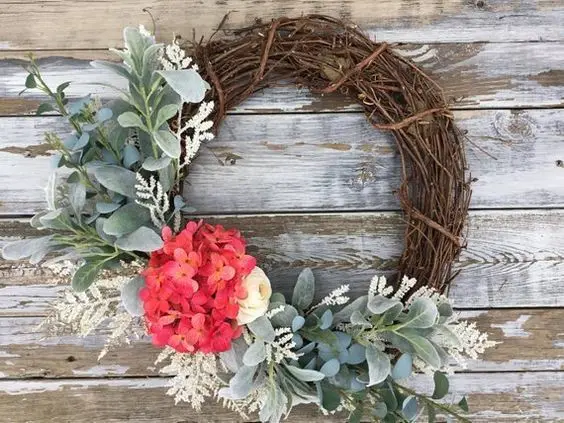 Source: www.etsy.com
Hanging a wreath on your entrance door can make for simple yet lovely spring décor. You can make a wreath in less than ten minutes and choose whatever color of flowers suit your taste.
Wreaths are amazing for decorating the porch in the spring. So, definitely make one!
3. Herb Garden Made with Mason Jars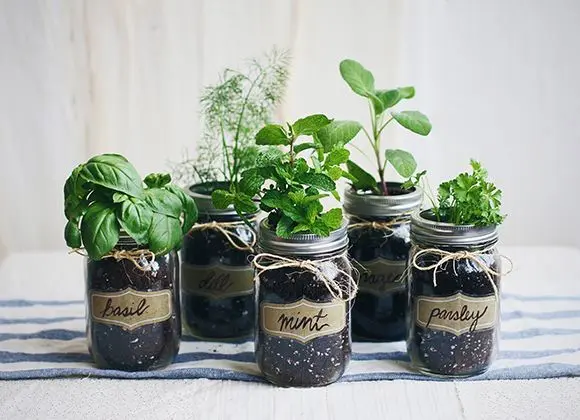 Source: freepeople.com
Another beautiful farmhouse décor is to use up your mason jars. Plant in herbs and spices and use them for decorating the kitchen or porch, you can also scatter them around the house.
So, get these mason jars and start decorating.
4. Floral Tea Cups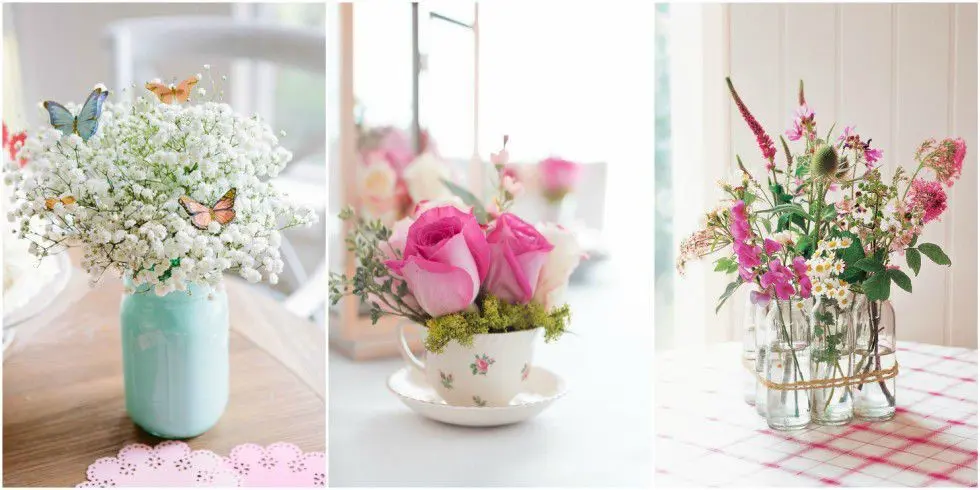 Source: countryliving.com
This is quite easy. You simply put one large budded flower in a teacup.
The cups could be clustered on your table or scattered around your house. Also, you could get a shabby vase like this one here or a vintage-styled vase.
5. Pots with Blooming Flowers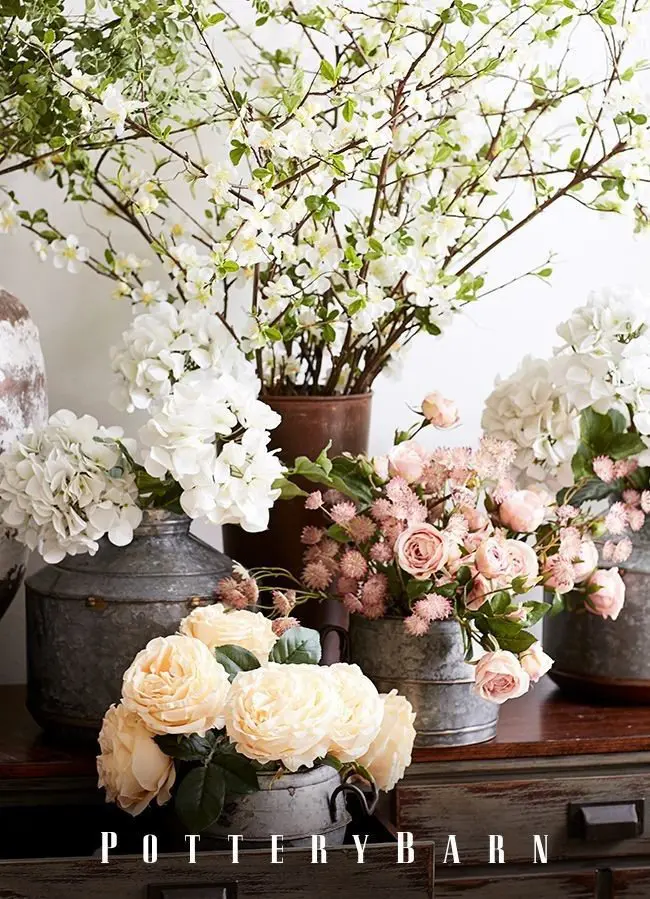 Source: potterybarn.com
Arrange three or more pots with blooming flowers. This is a perfect "welcome to spring" décor idea.
Here are some of the flower pots that are great for farmhouse décor:
6. Floral Door Basket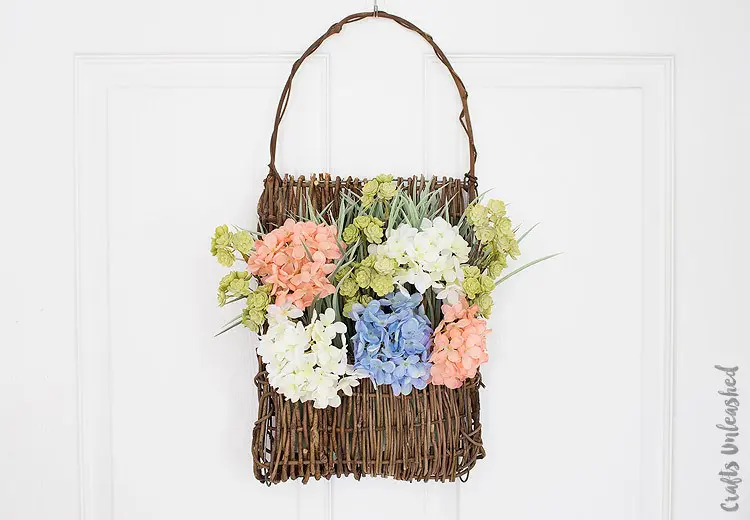 Source: consumercrafts.com
What to do here is simple. You get a basket and lay some empty bottles or plastic at the base before covering it up with sheet moss and flowers.
This should give your farmhouse entrance a beautiful spring décor outlook.
7. Hang Some Prints on the Wall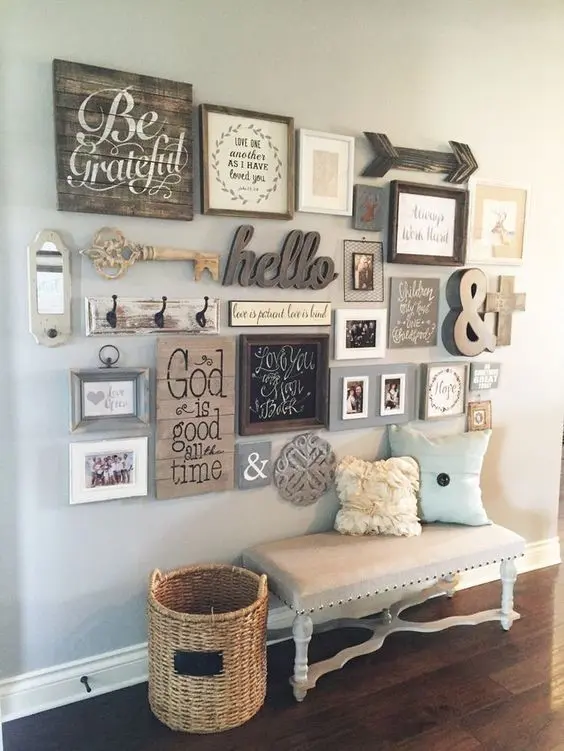 Source: best99-home-decor-pics.club
You can make floral prints that serve as insignias for spring and frame them to hang on your walls. These wall prints can be bought at a cheap price.
Also, you can just DIY from old posters and flower photographs. Get a few farmhouse-style frames here or a few rustic signs like this one here.
Arrange all of these and you'll have beautiful farmhouse wall art.
8. Hanging Mason Jars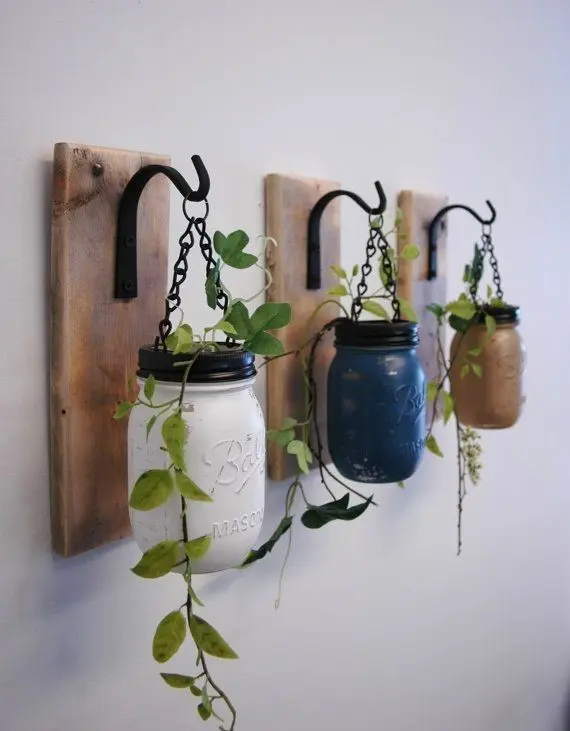 Source: diyforhouses.com
You can also use your leftover mason jars. Put flowers in them and hang them on walls around the house.
This is perfect if you are looking to achieve a rustic touch in decorating your farmhouse for spring.
9. Flowers in Watering Cans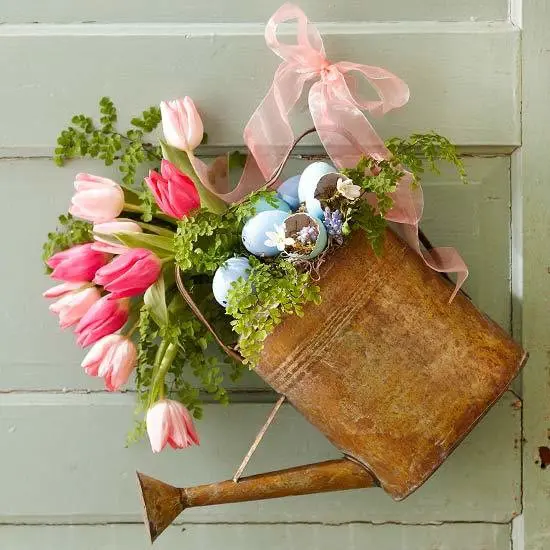 Source: architectureartdesigns.com
This is a really nice way to spice up your farmhouse porch for spring. Get a beat-up watering can and some flowers.
I'm sure you know the rest. Make sure to use bright flowers that will complement the watering cans.
Here are a bunch of rustic-style watering cans that will do the job.
10. Terracotta Pots with Flowers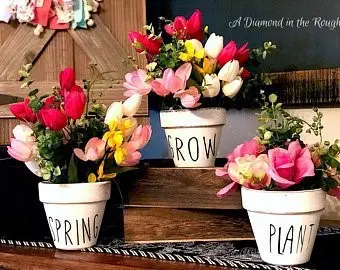 Source: etsy.com
An alternative to watering cans and mason jars – well not necessarily an alternative as you can use them all together- is the terracotta pots.
You can easily get these from your neighborhood tool store, give them a fresh coat of paint, and put in your flowers.
You can also get terracotta pots online from here. Might save you some time buying these online.
11. Egg Box with Tulips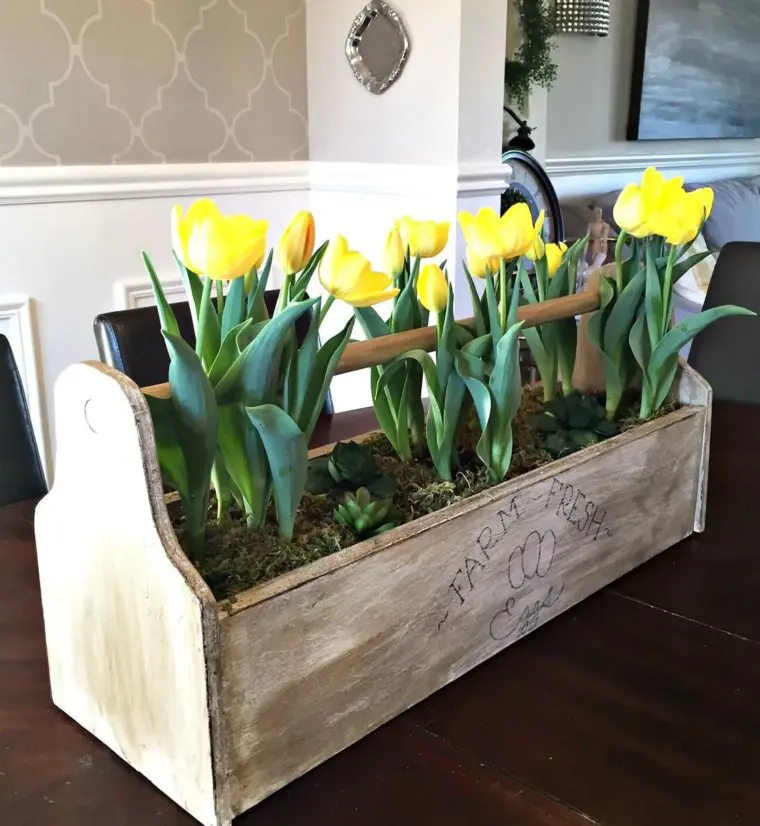 Source: homebnc.com
Get an egg box and fill it up with some fresh tulips of colors that suit your taste. You can easily place this on your porch and make it feel spring-ready.
Here are a bunch of wooden boxes that will make it all work.
12. Flowers in Farm Boots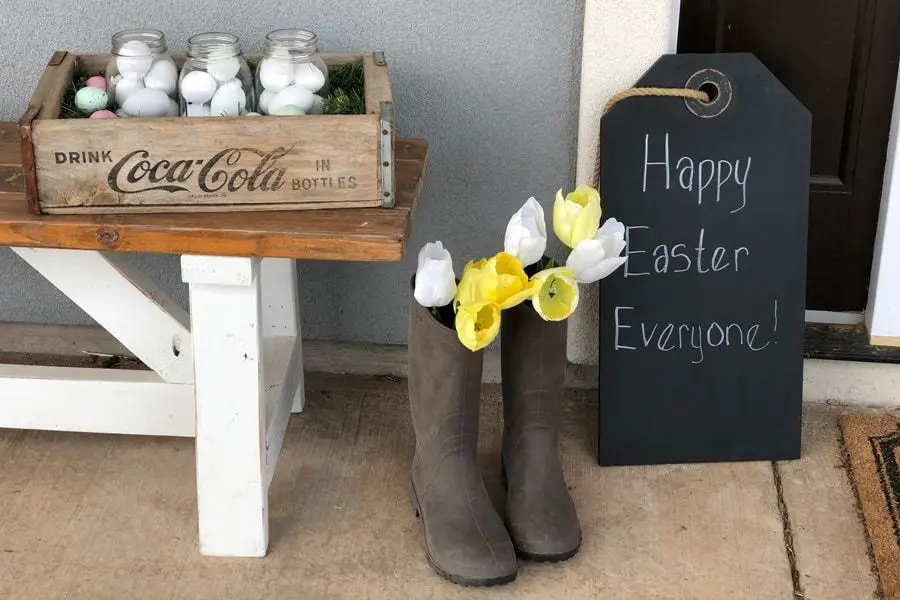 Source: ourprovidenthomestead.com
A great idea for farmhouse decoration during spring is simply to place your farm boots out on the porch. Get an assortment of beautiful long flowers around which you can place in the farm boots.
Let then peek out of the boots and you are definitely getting set for your ultimate spring décor.
13. Centerpieces and Vignettes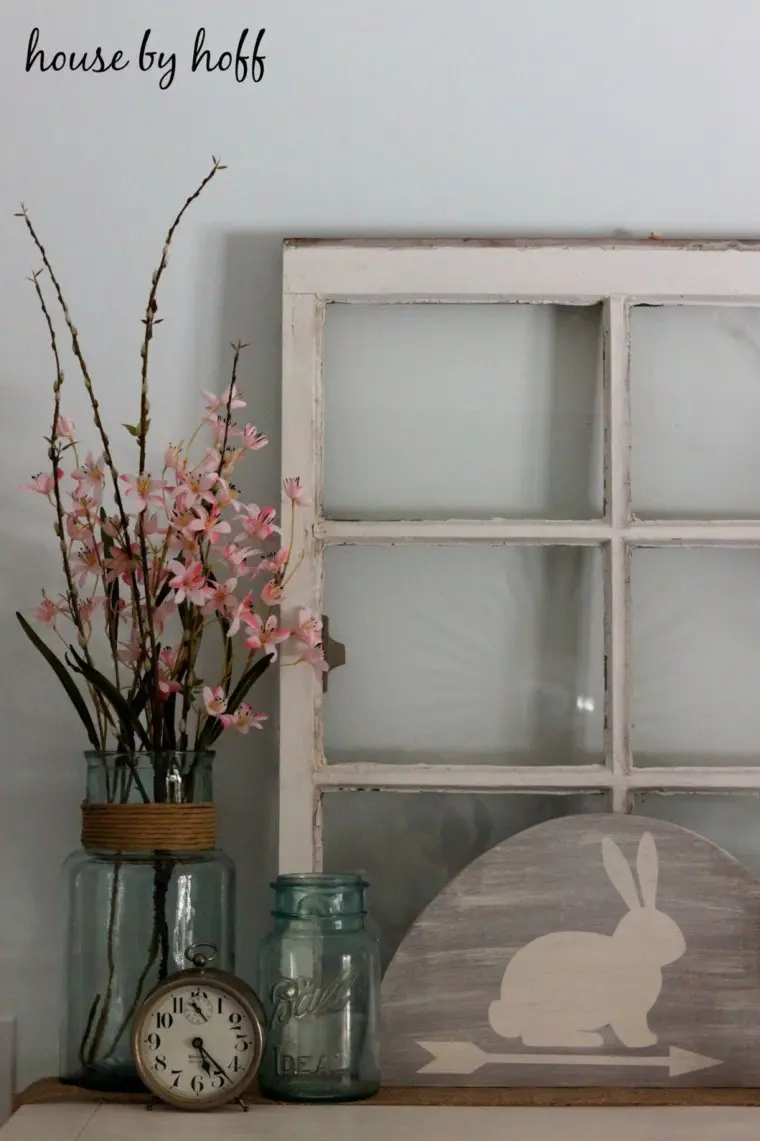 Source: housebyhoff.com
Add style to your farmhouse spring décor by placing simple vignettes on tabletops. You can put some flowers into light-colored vases too.
Also, add a few of your vintage accessories to go with it, sitting as centerpieces on your shelf or table.
Here are a few beautiful rustic style white vases you can choose from. Also, here are some of the cutest farmhouse-style accessories.
14. Lantern with Flowers Arranged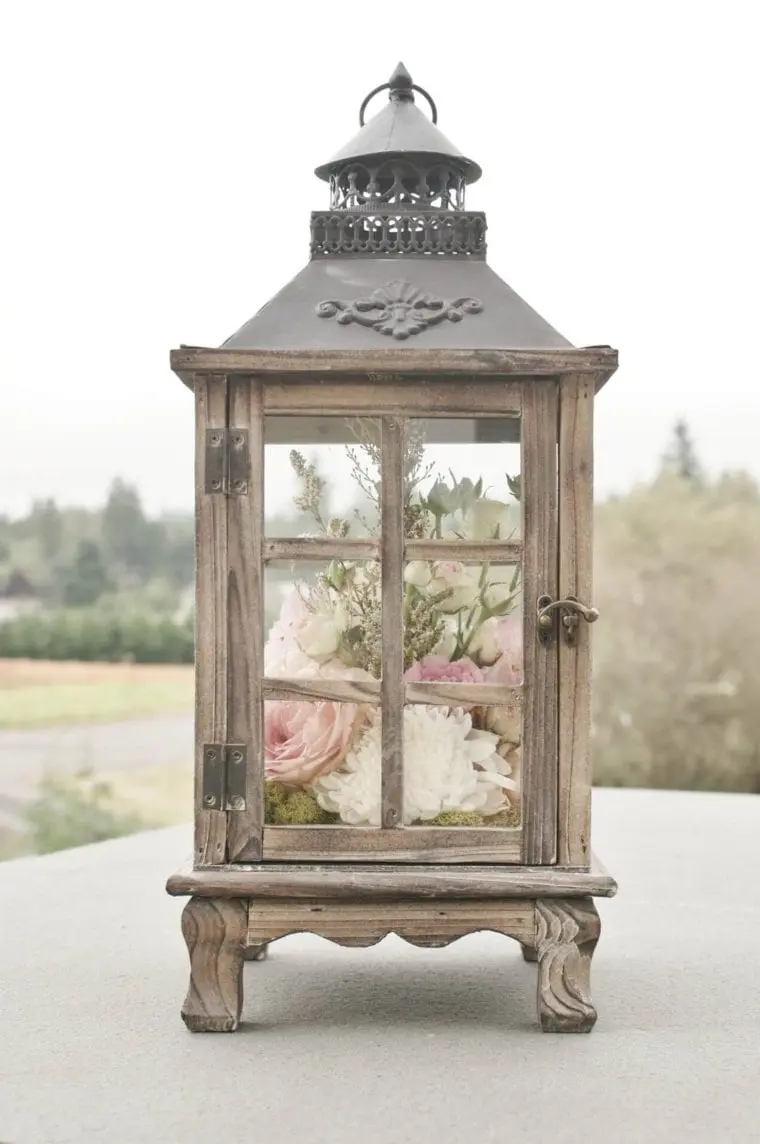 Source: homebnc.com
You can turn your lantern into the perfect spring decor item. Take your lantern, open it up, and neatly arrange some flowers in it.
The result might surprise you. Here are some of the beautiful wooden lanterns to choose from:
15. Decorated Chalkboards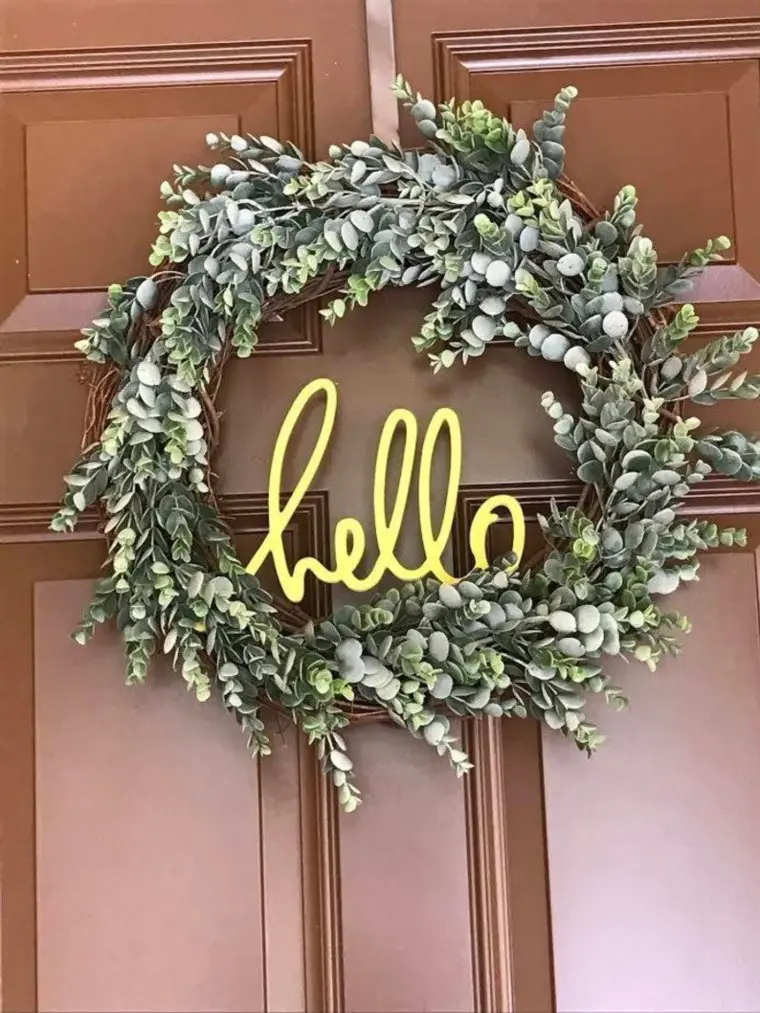 Source: homedit.com
For spring farmhouse decoration, there are no limits to what you can do or design with on a simple chalkboard to get the perfect air of spring feeling right on your porch.
You can write your favorite quote about spring or simply draw something.
In some cases, a simple "welcome" surrounded by flowers might suffice. Also, you have the option of using white chalk or going all out to use multi-colored chalks.
You can get a chalkboard here and a bunch of chalk markers here.
16. Milk Bottles in a Box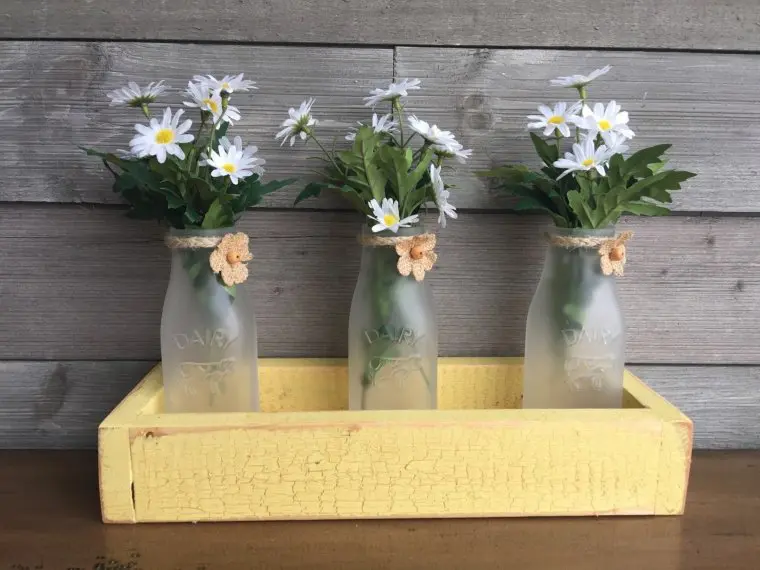 Source: etsy.com
Unused milk bottles can be collected for your farmhouse spring décor. You can paint them and arrange a selection of flowers in them.
This might fit perfectly on your dining table or on your porch or kitchen. Need more décor ideas on a lower budget? Try these IKEA décor hacks.
17. Colored Glass Bottles with Flower Arrangement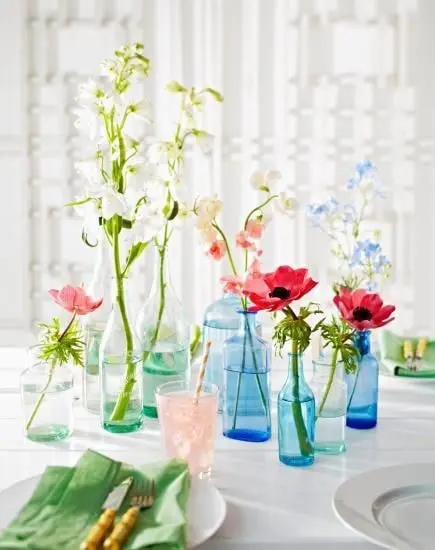 Source: midwestliving.com
Get some glass bottles and paint them in bright, warm colors that are reminiscent of spring. Think light pink, light blue, and light yellow for this.
Then, put some flowers in the bottles to get a floral feel. Simple, beautiful, and cute!
18. Dough Bowls with Floral Arrangement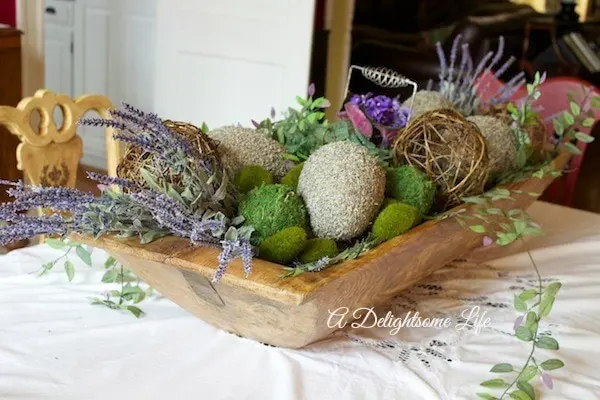 Source: adelightsomelife.com
A popular item in farmhouse kitchens, dough bowls can also be used for spring décor acting as the centerpiece. Usually, a large dough bowl is used, placing an array of flowers in them.
This makes for a beautiful piece.
19. Mini Moss Garden Spring Centerpiece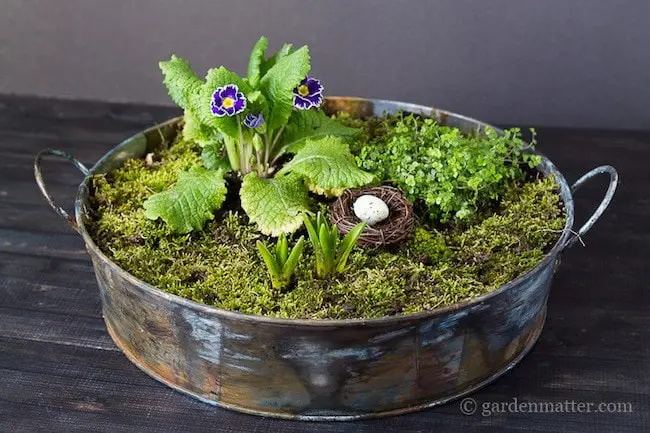 Source: hearthandvine.com
Using backyard materials you can make something truly special. Find moss gravel, pebbles, and soil.
These can make for a beautiful décor piece. It's the kind of thing that will bring a lot of spring scents into your home.
20. Ombre Egg Centerpiece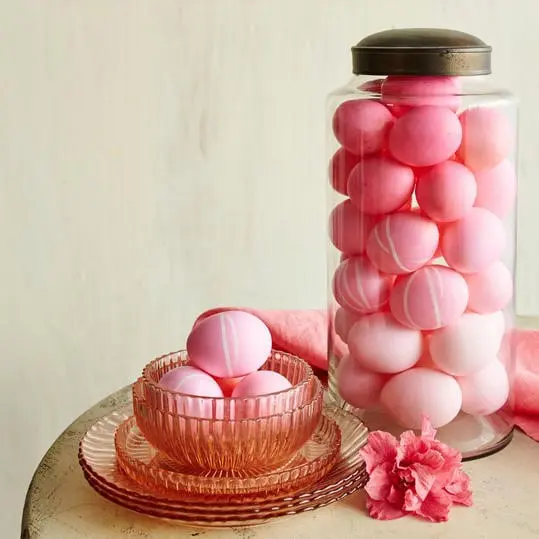 Source: southernliving.com
Spring always comes with Easter. And as you know, egg and bunnies are the insignias for Easter.
You can make an ombre egg centerpiece. This décor serves a double purpose as you need no redecoration when Easter comes finally.
The ombre egg centerpiece is made simply by dying eggs and placing them gently in clear glass vessels.
Check out more DIY Dollar Tree projects for your Farmhouse decor here! They're fun to make!
21. Basket of Tulips Centerpiece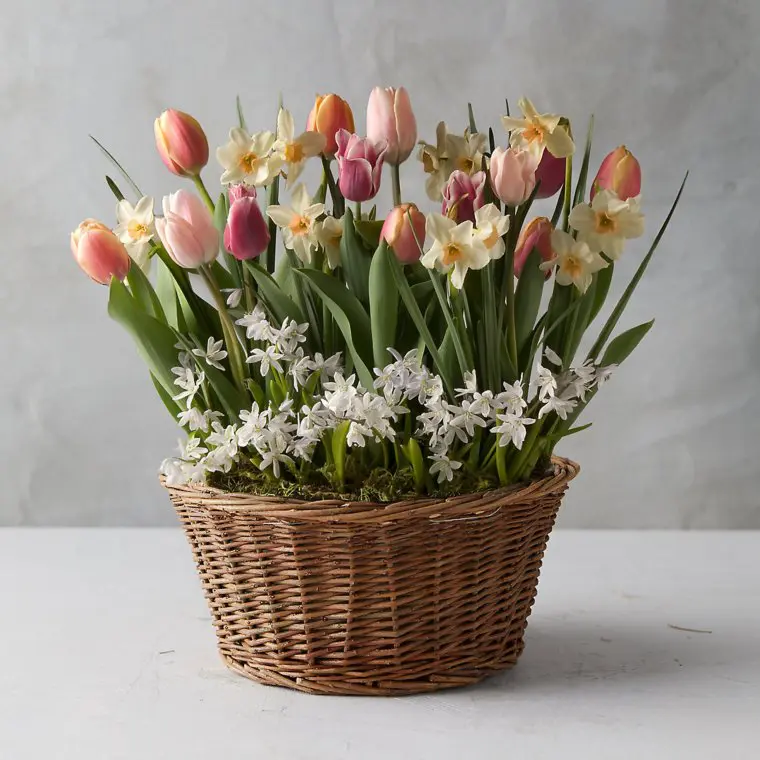 Source: julieblanner.com
A basket of tulips in your farmhouse can work magic in changing the feel of the house. All of that by making it more colorful, a bit more spring-ey, and all nice.
However, the tulips should be neatly arranged in the basket. It is more than just throwing a few flowers in a basket.
Here are some of the wicker baskets that I absolutely love: