Decorating the porch shouldn't be hard! Grab these porch decorating ideas that are truly beautiful.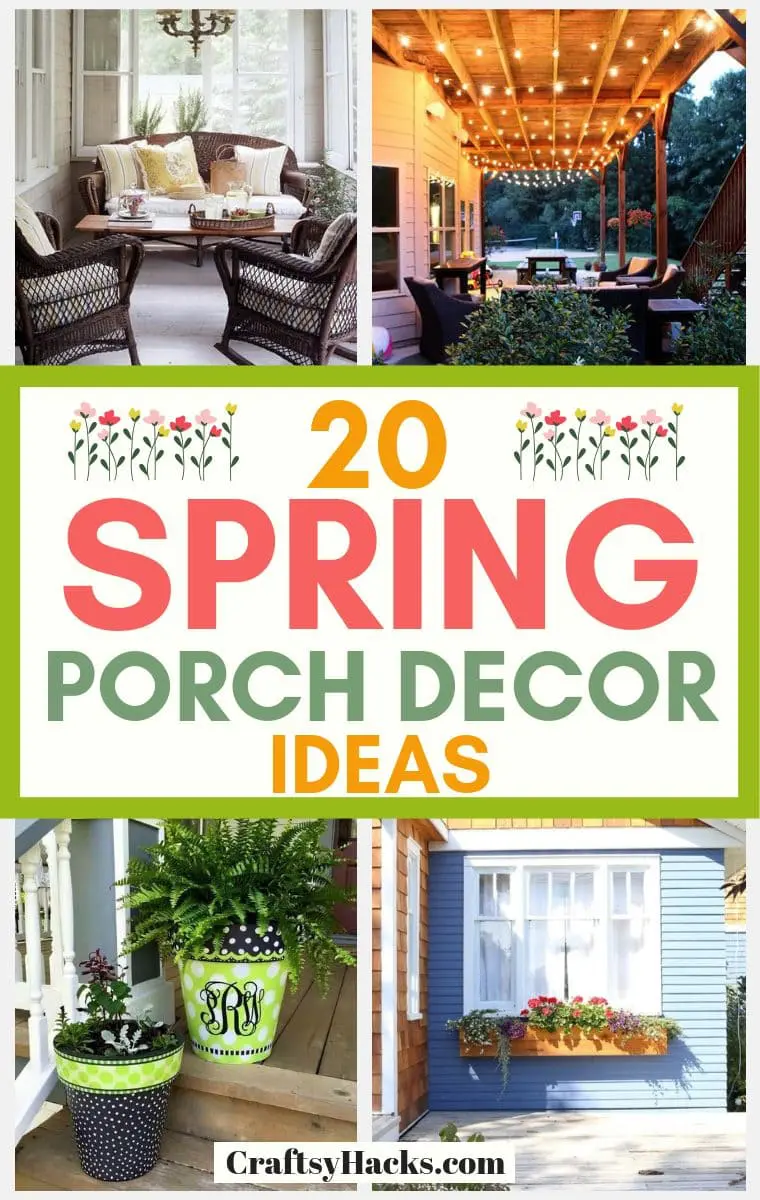 When we thought porches are gradually fading out, some modern porch designs will blow your mind. So, if you still think porches are in the past, think again.
And with the spring on us, there's no better place to relax and treat your guests than a classy porch. Have you run out of DIY spring porch decor ideas?
Don't fret. These great tips will help you create a perfect spot for relaxation – with family and loved ones – and the entertainment of guests.
1. Comfy Seat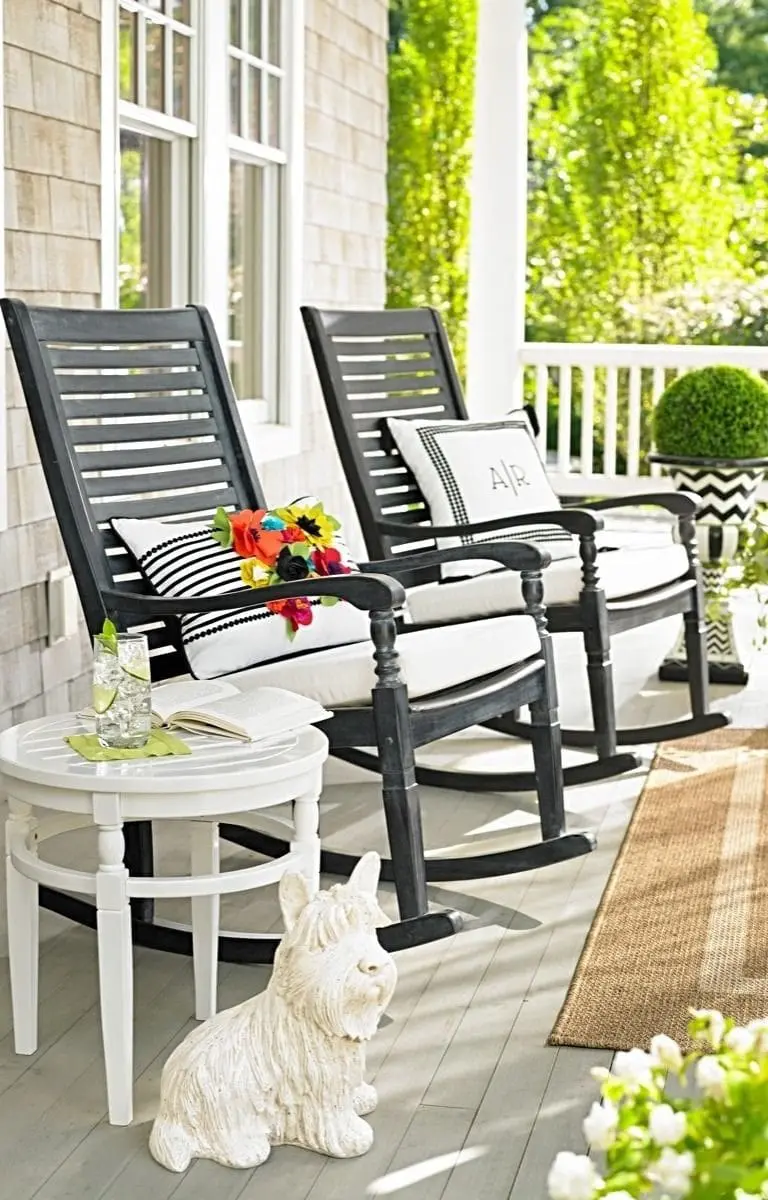 Credit: Pinterest
Treat yourself – and guests to comfortable chairs. While patio furniture comes with expensive price tags, you could try out some easy-to-make DIY ideas on the internet that won't shake your budget.
These outdoor rocking chairs will do the trick. Also, get a set of beautiful ornament pillows to give your porch a bit of a character.
2. Personalize Your Doormats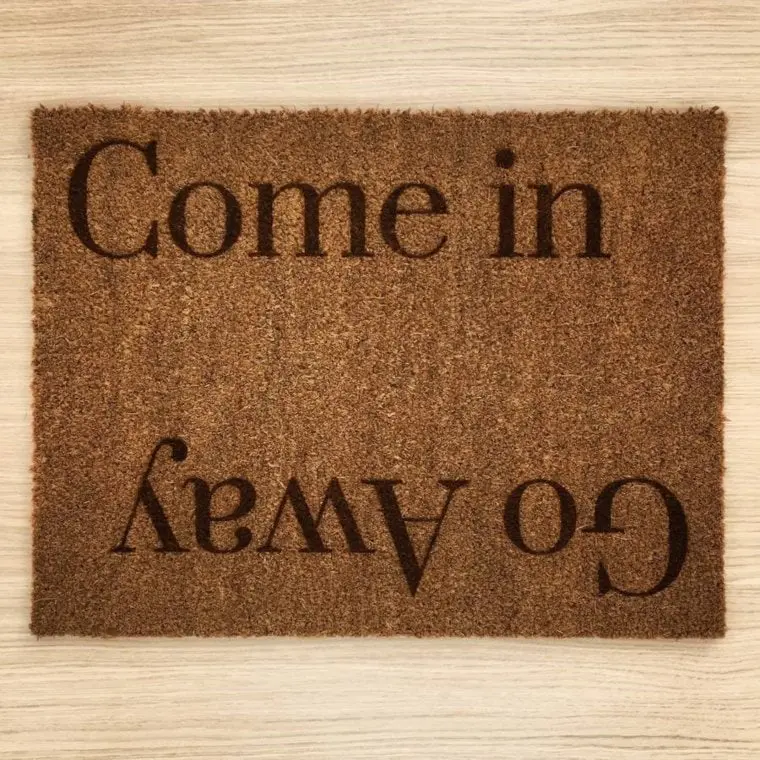 Credit: notonthehighstreet.com
Your doormat isn't all about function – it reflects class and personality. Tell your guests something about you – but let your doormat speak.
Introduce your style with a doormat. A stenciled welcome mat is not anti-budget.
Get a custom doormat here!
3. Add Taste to Your House Number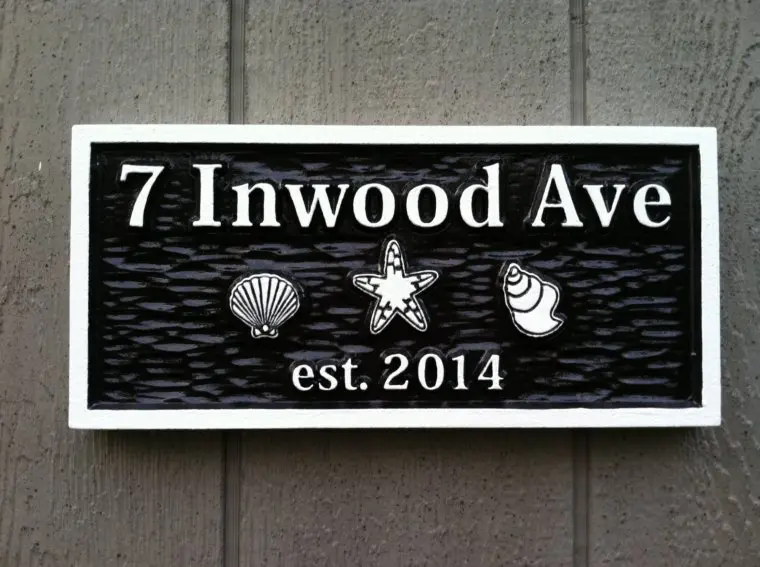 Credit: kidskunst.info
Do you think your house number has no business being stylish? Wrong.
The devil, they say, is in the details. A cheap regular house number design diminishes your home appeal and speaks poorly of your style.
There are several ideas to help upgrade your home number tag.
That said, ensure your new house number has/is:
Modern-aged, and reflects your home style.
Placed beneath an exterior light for visibility.
Readable fonts – avoid overly fancy fonts.
4. DIY Bug Repellant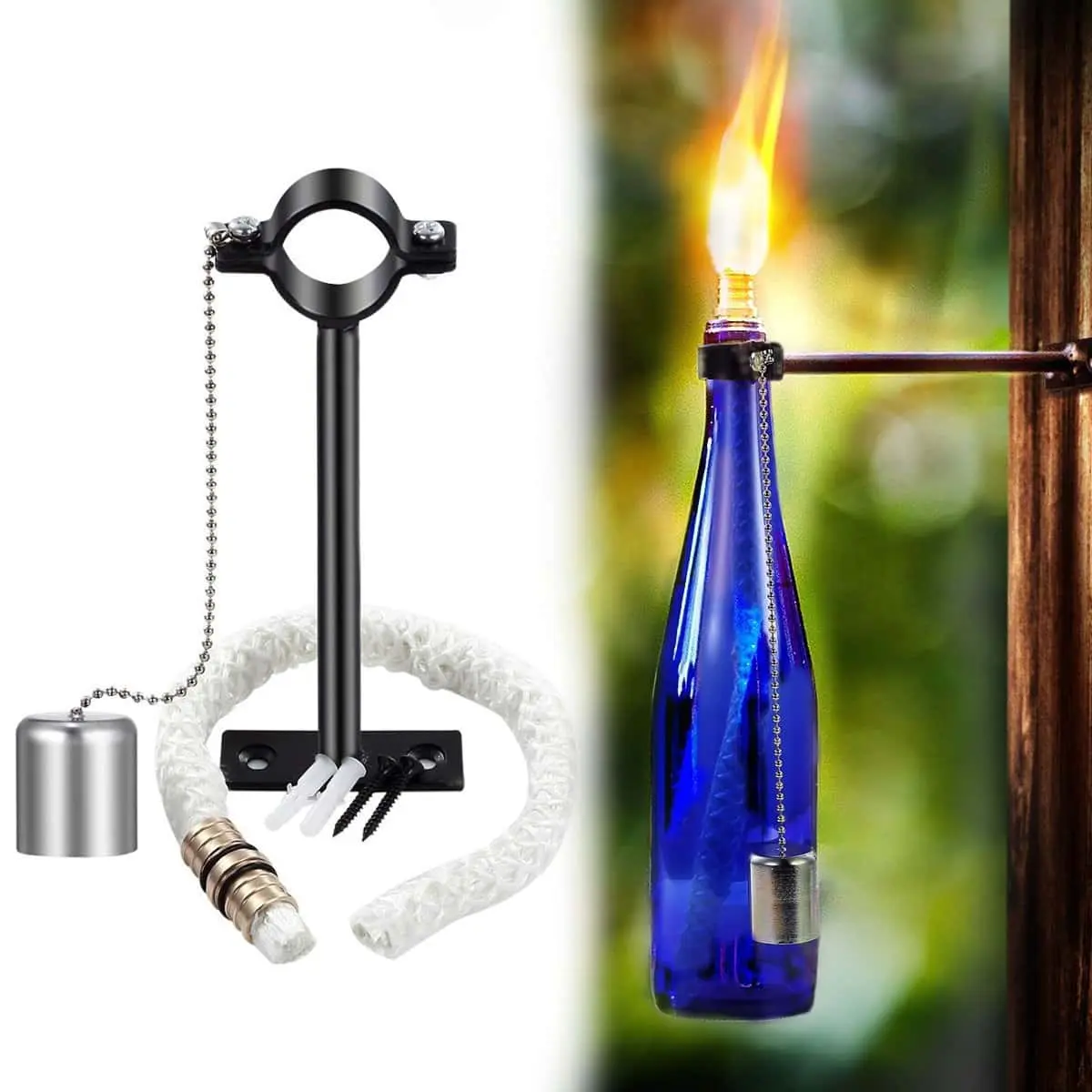 Credit: ebay.com
This décor idea would not only beautify your home, but it's also a sure way to recycle those bottles. It's a very simple and easy DIY idea.
While you could just make this one by yourself, you could also just buy it. The holder in the picture can be bought here.
5. Try Out a Custom Sign – Add Some Warmth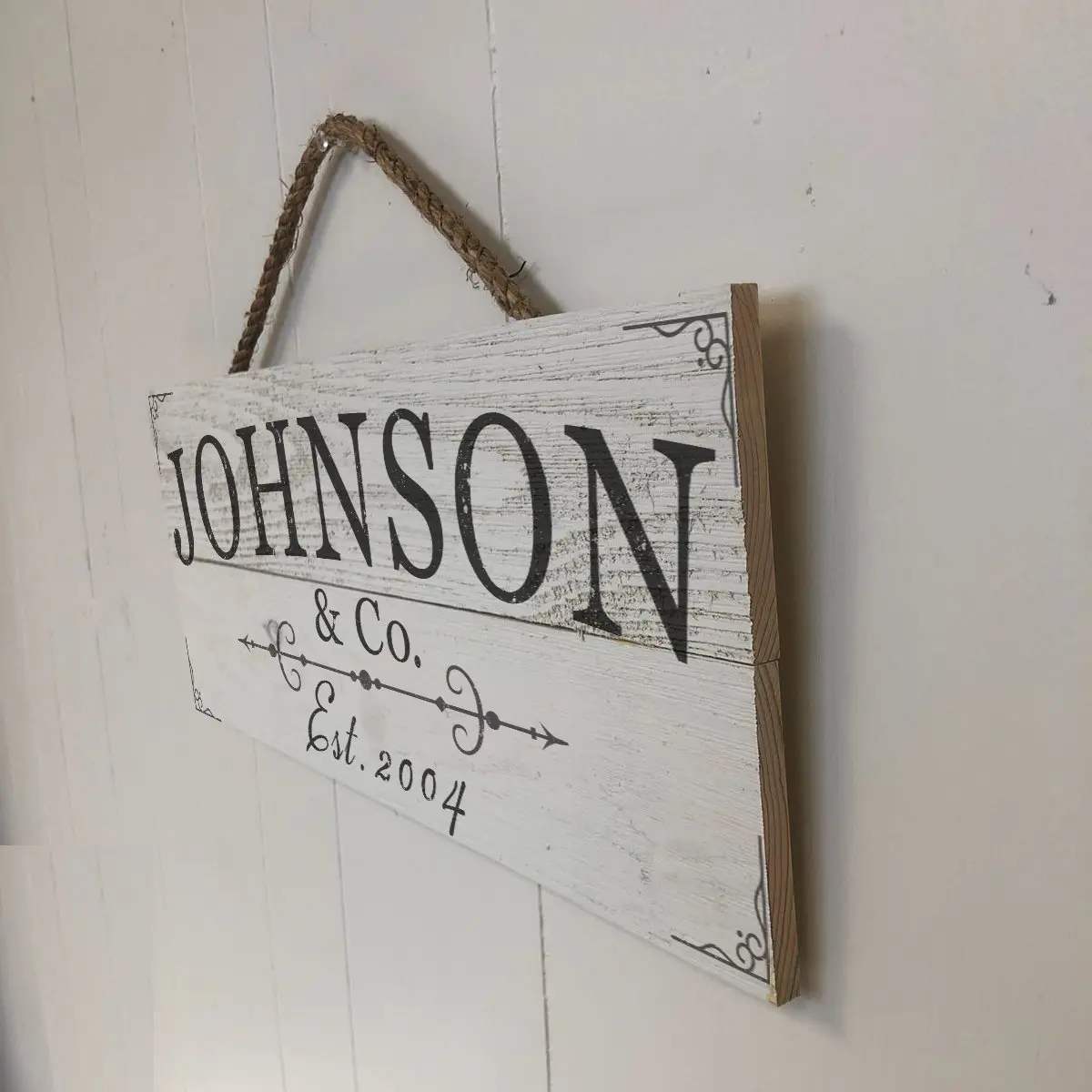 Credit: amazon.com
Signs are a powerful way to tell guests about your family values. Try to be creative with your sign ideas.
Anyway, you don't have to DIY it completely. Here is a personalized Rustic home sign you could just order.
6. Use Window Boxes to Enhance the Appeal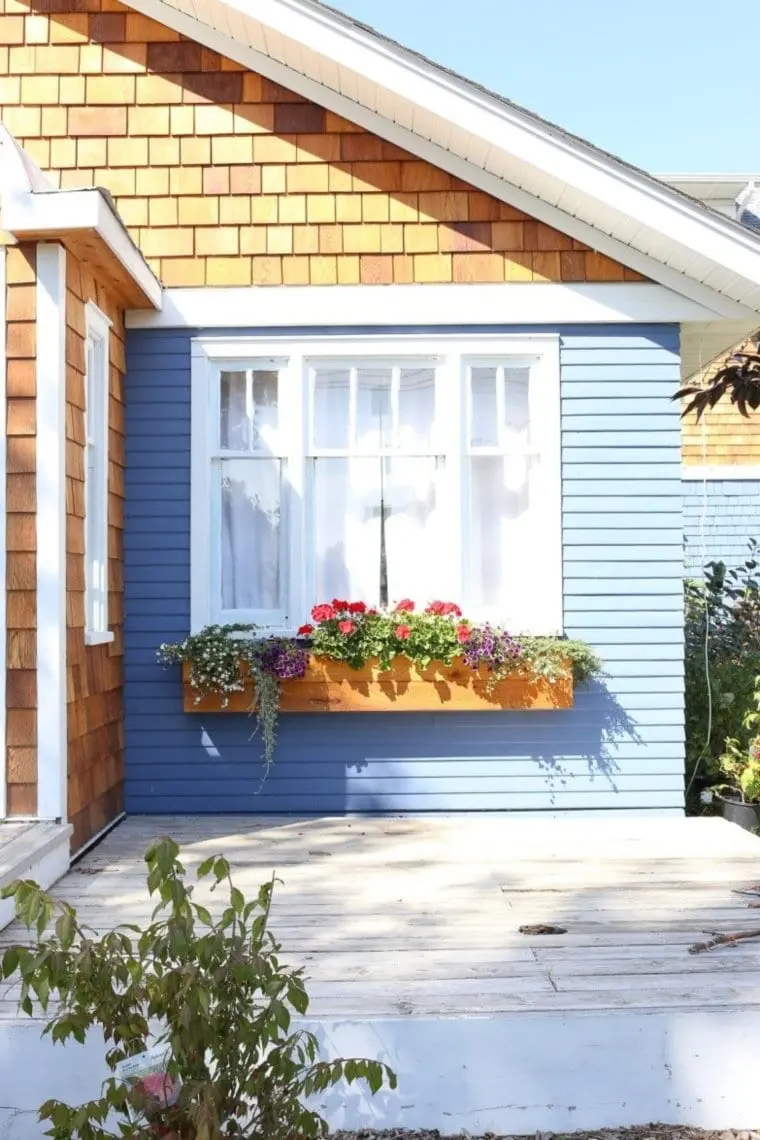 Credit: Pinterest
Do you like window boxes on your porch? Cedar would be a great idea.
Although this option is a bit expensive, its beauty is timeless. Window boxes say you're proud of your home. It tells your visitors just that.
Some of the window boxes I absolutely love:
7. Make a Mini Flower Garden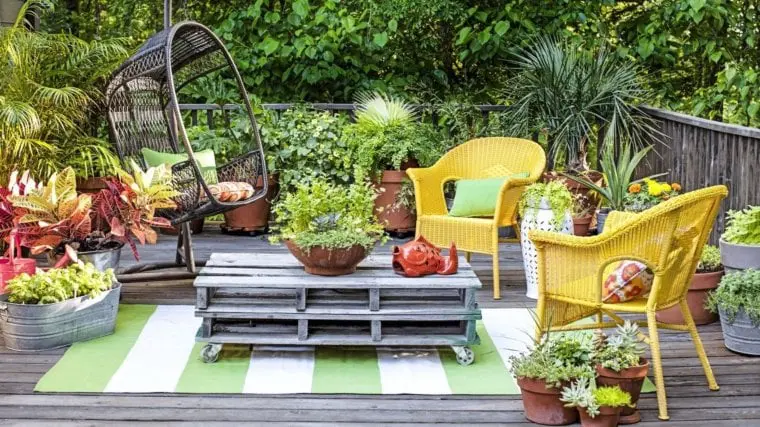 Credit: goodhousekeeping.com
Pour some personality into your garden- make it reflect your style. A plain and serious garden design reflects zero personality.
A mini garden wouldn't only be a treat for the kids; it gratifies the kid in us. Get one of those wicker egg chairs and transform your porch just like that.
Enjoy the view!
8. Candlelights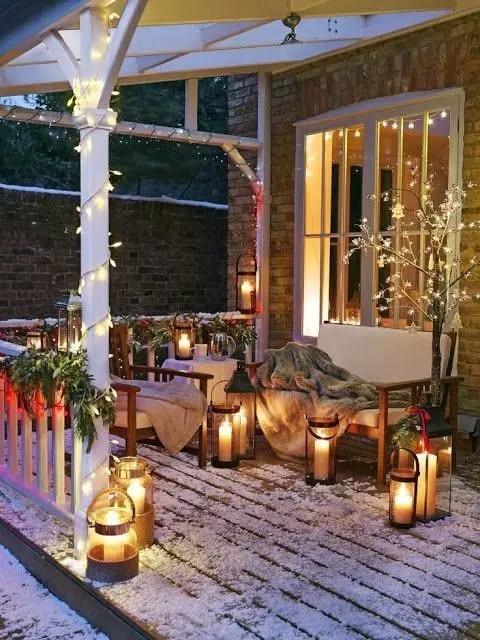 Credit: Pinterest
Lighting could make the whole difference. So many homeowners do not have electric lights extended to their porch or patio.
Don't ruin your porch with too much lighting; the mood your candlelight brings is unrivaled and relaxing. To achieve the look you'll need:
9. Make a Wire Basket with an End Table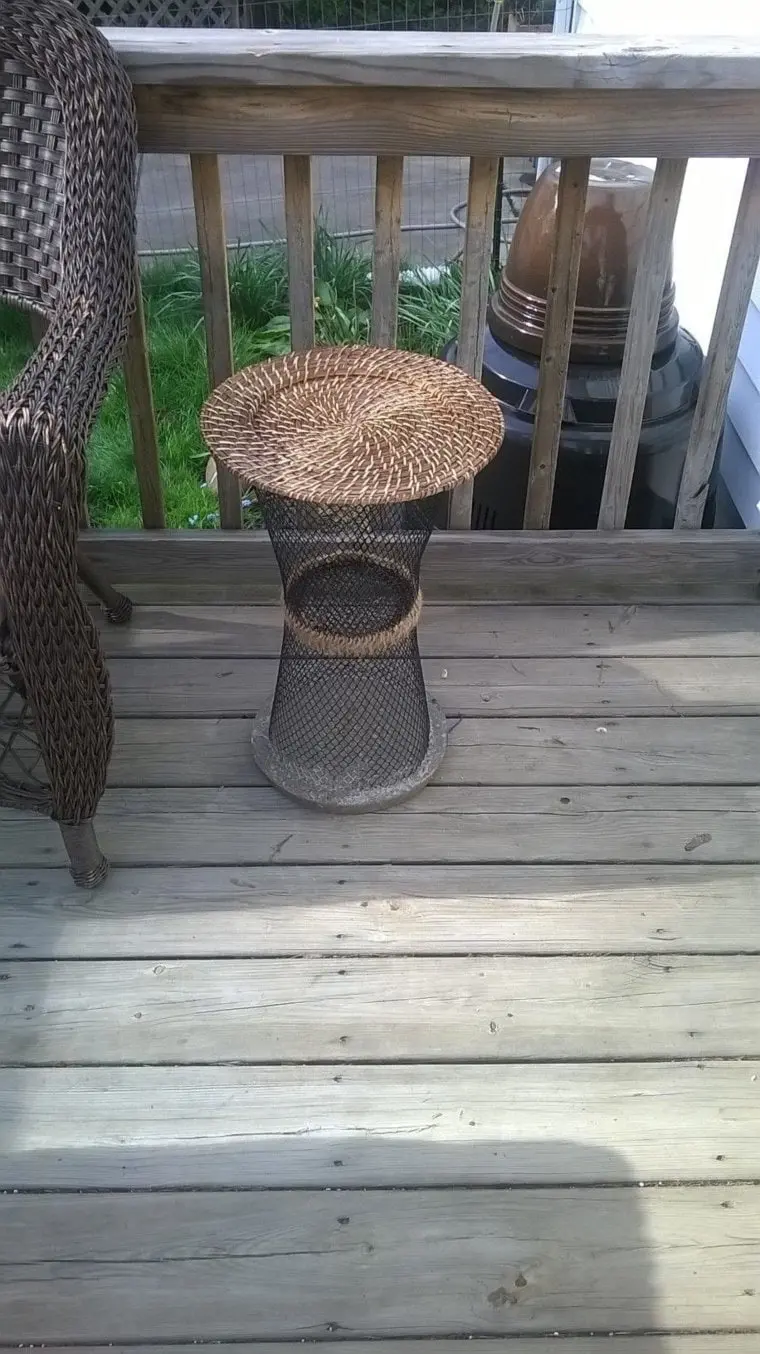 Credit: pinterest.com
Plant stands and end tables are vital components of your porch – sadly, they are mostly overlooked. Having your guest sit comfortably is a great idea, but with their drink on the ground?
That's awkward. A simple end table would spare you that embarrassment. Not into DIY'ing a table like that?
Here is a beautiful table that has a similar look.
10. Soft Plant Vase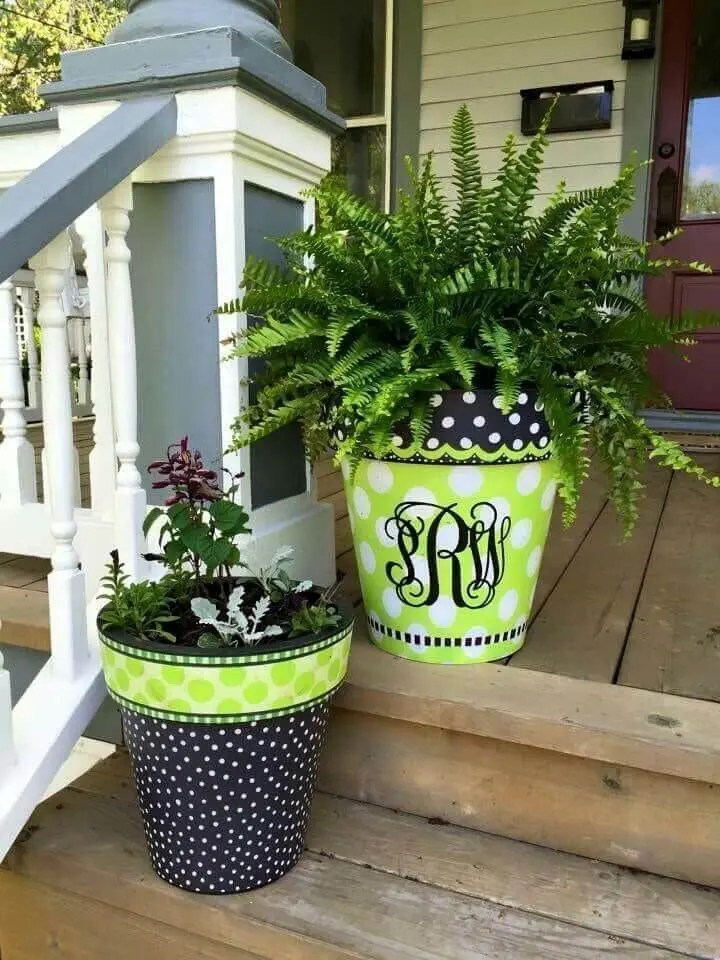 Credit: pinterest.com
While succulent planters seem an easy DIY idea, it can be somewhat tricky. You could browse the internet for the basics.
Pinterest is definitely full of these! Get creative, let yourself have fun, and decorate your porch with these!
11. Create a Beaded Wind Chime With the Kids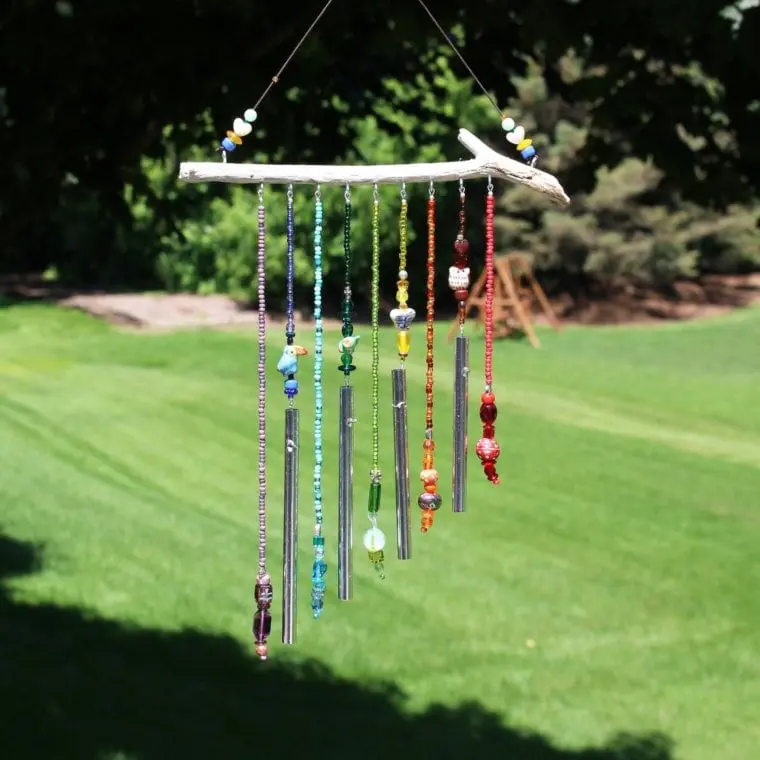 Credit: etsy.com
Nothing complex, just build something colorful that flows with the wind. It doesn't have to make noise for it to make a statement about your home.
Get on with a wind chime project with the kids – make it all fun. Not into making your own stuff, there are loads of beautiful outdoor wind chimes that you can buy online. Here are some.
12. Hang Lightings
Credit: pinterest.com
Adorn your porch ceiling perimeter with some ambient lighting. The beauty this design pours on your porch is second to none.
13. Change Your Flower Positions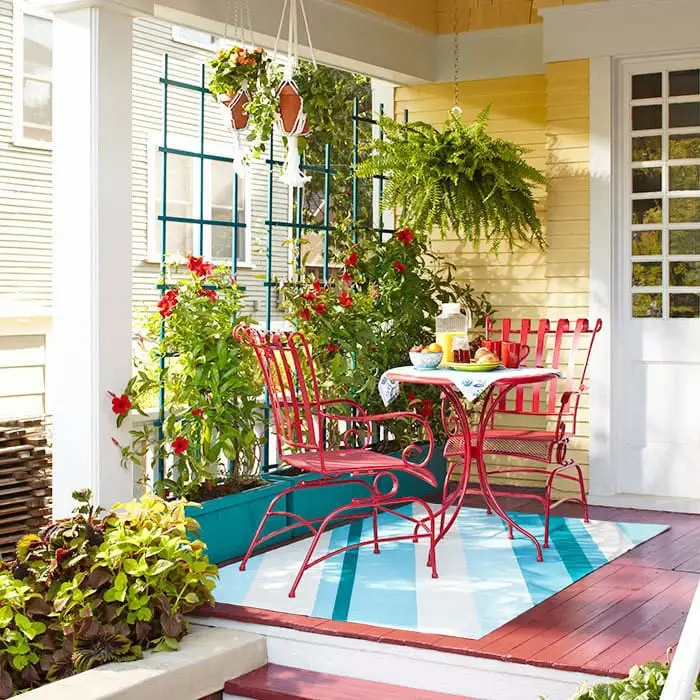 Credit: lowes.com
You could try some creativity with your flower placements. Rather than having it hang from the perimeter, you could tweak it.
Make the plant vase hang from the ceiling. This new arrangement can change the way your porch looks and make you feel renewed.
Check out more on how to decorate a porch!
14. Wicker Sofas Are Everything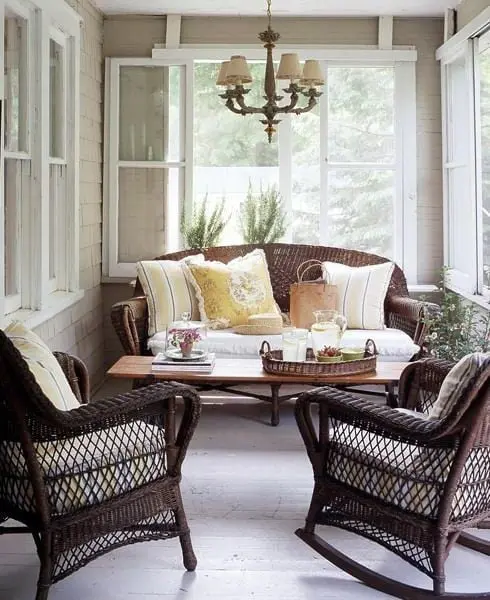 Credit: Pinterest
Sometimes all you need to make that porch cozier is a wicker sofa. You can check a bunch of these here.
I'm loving them since they're so easy to clean, you can make them look extra cozy with a few pillows and blankets too. So, a wicker sofa is definitely a must for a porch.
15. Transform Your Porch With A DIY Wreath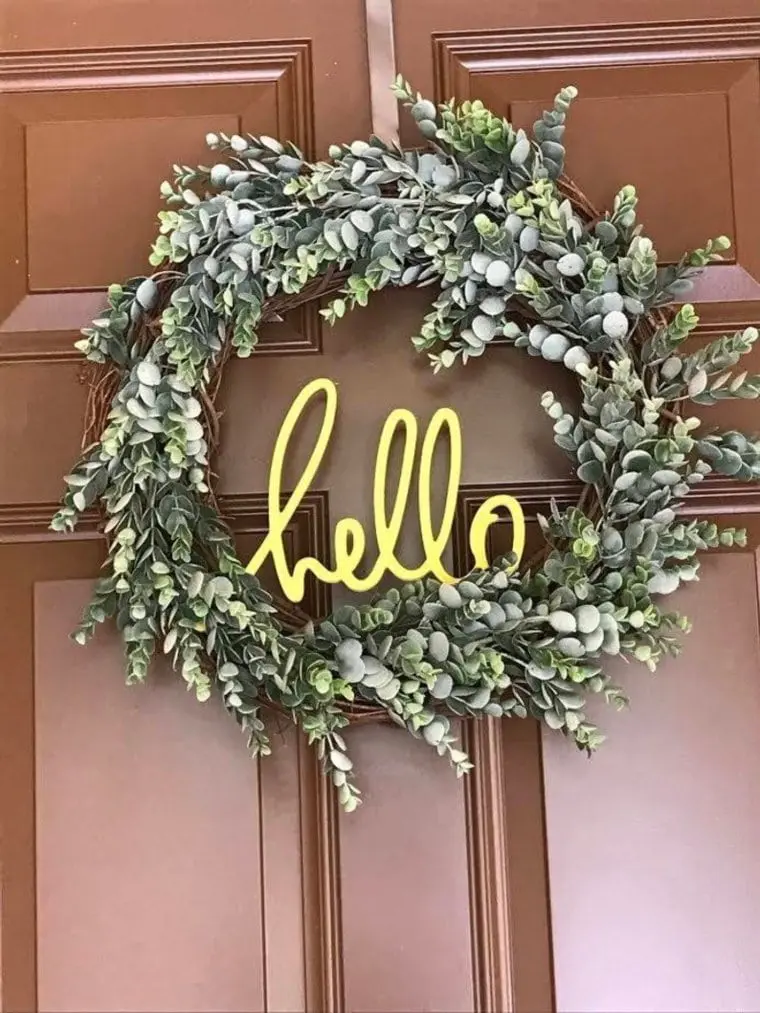 Credit: etsy.com
Many homeowners – In search of a befitting pattern – change their porch design often. Having an excellent porch design doesn't require so much creativity – as you probably think.
Just throw in a simply styled boxwood wreath – Its designs are ageless. You can either make one and have fun with your kids crafting.
Or you could just as well buy a wreath. Just look at all of these options here.
16. Expand Your Space With a Garden Arbor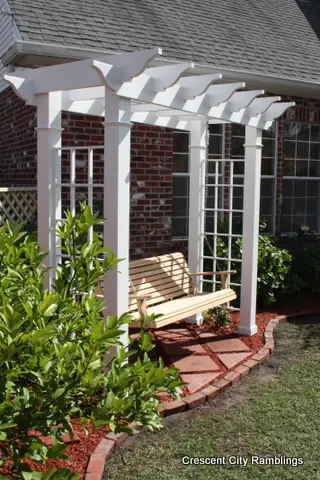 Credit: Pinterest
Think your porch isn't big enough? You can extend it with a garden arbor.
Create additional space for the cameras and enjoy the extra space. You can always extend the porch with a little pathway towards the garden arbor.
17. Use Ropes on Your Terracotta Pot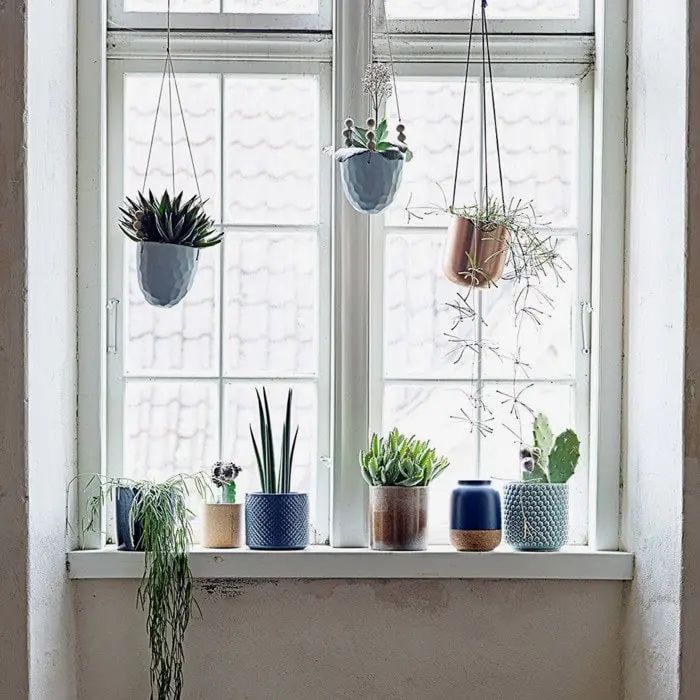 Credit: nymag.com
Although many homeowners think terracotta pots are boring, they fit better than plastics. And some crafters have created several creative ways about this pattern.
It's a simple DIY project. All you may need is a rope, twine, glue, and paint.
Here is a lovely tutorial on how to create your own vertical pot garden.
18. Chalkboard to Liven Up the Porch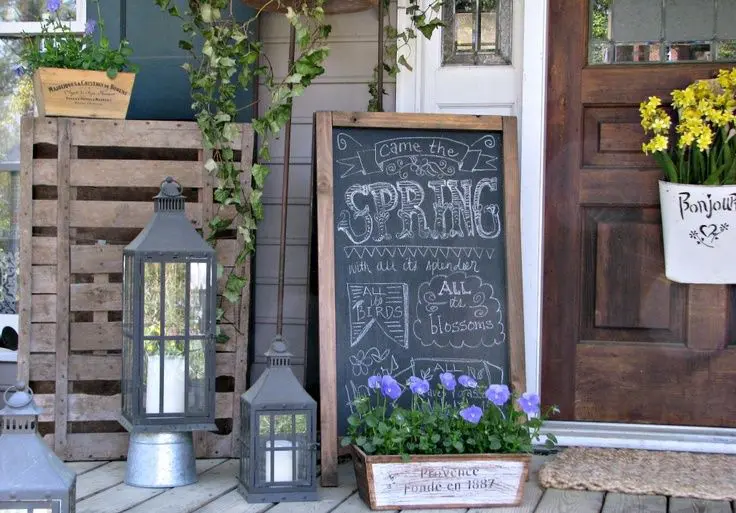 Credit: homedit.com
Have you ever considered bringing out the chalkboard to your porch? Write down a lovely message, the menu of the day, or just a large, warm ''Welcome''.
Here is a vintage standing chalkboard that's absolutely great for outside use. Or this one comes in a couple of patterns.
19. Outdoor Carpet Might Be Exactly What You Need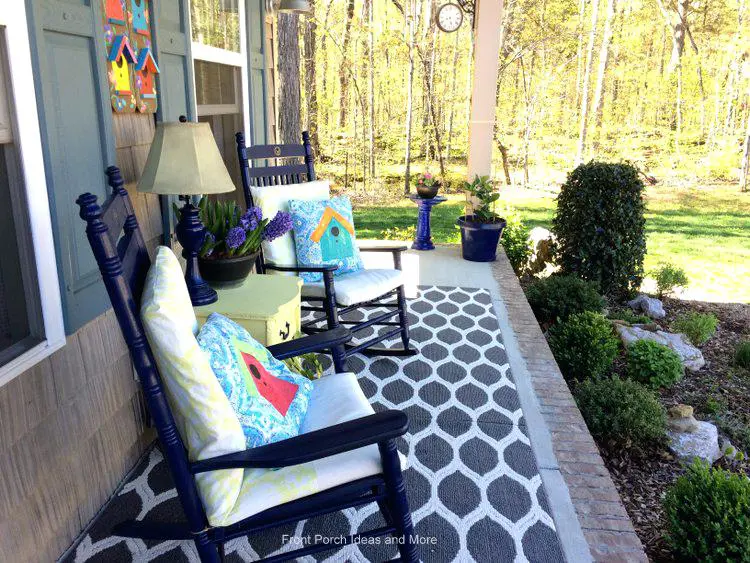 Credit: thoutool.info
Having a carpet at home is the most natural thing. However, it might not be so intuitive to put one outside.
The good news is that carpets for outside use exist. Something as cute as this outdoor carpet can truly transform your porch.
20. Create Space Dividers With Old Window Panes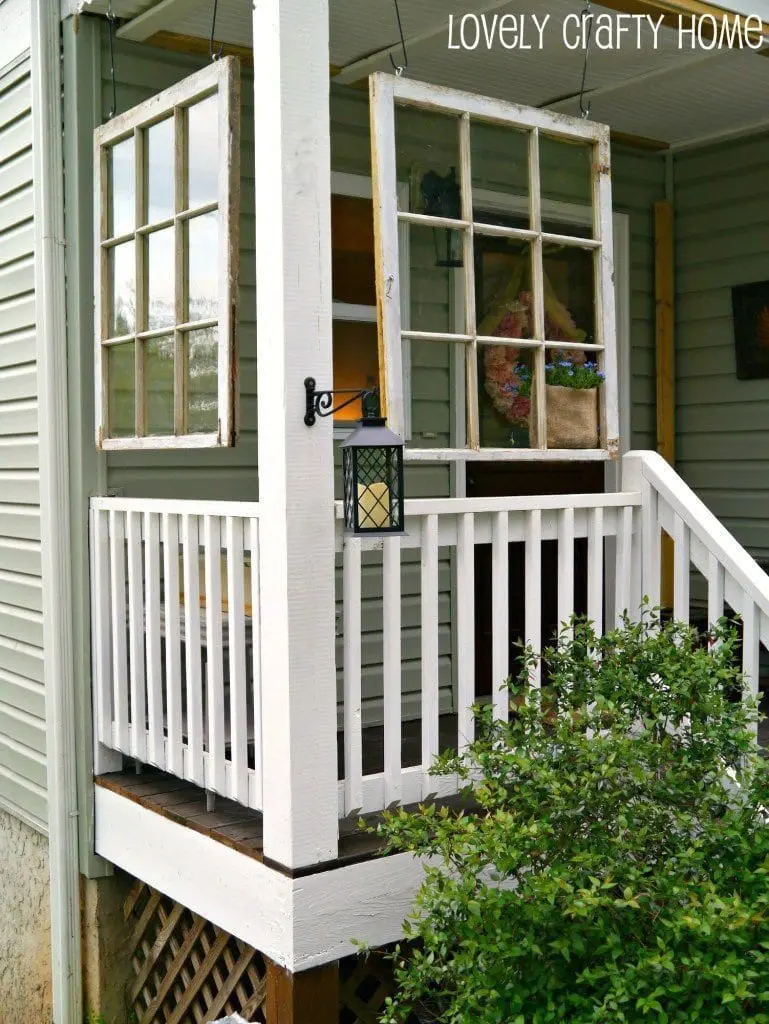 Credit: gugurkan.com
Big window panes make cool dividers for your outdoors. This setup may also serve as a privacy screen for homeowners with close-by neighbors.
You may upgrade this project by using frosted spray paint. On top of that, you're free to change their colors whenever you want.
Also, you could easily decorate them too. Hang some lights on them and enjoy the view!