Decorate for Easter with fun projects. These DIY decorations will keep you busy and your home looking good.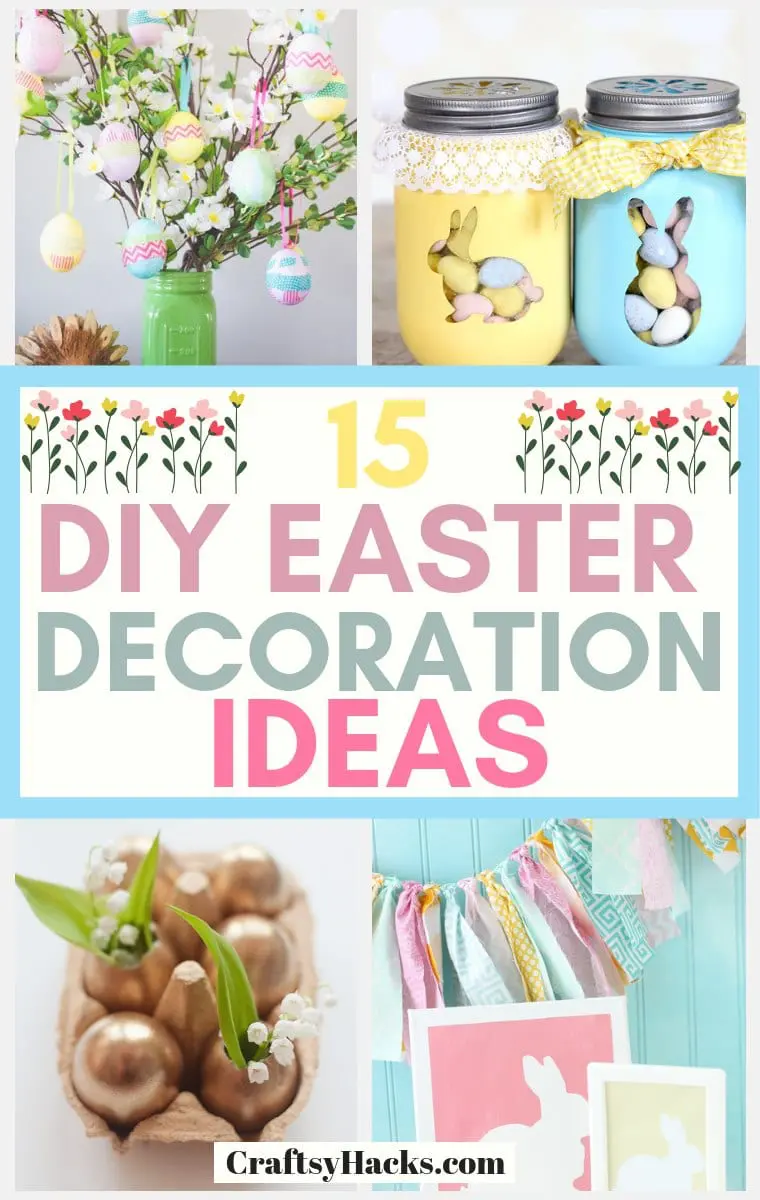 It's that time of the year again – Easter! Once again, all the family will meet to celebrate the rebirth of nature and the resurrection of Jesus.
Whether you're religious or not, it's just a beautiful time of the year. Especially if you have kids and love to spend time with your friends and family.
Like with any holiday, what makes it special is decorations. Truly transforming your home will lift everyone's mood and make them happy.
So, why not decorate? Today, I'm sharing multiple Easter decoration ideas you can make yourself at home. Some are more complicated than others – so, there is truly something for everyone.
So, try these with your family and kids, and, most importantly, have fun!
1. Easy Easter Centerpiece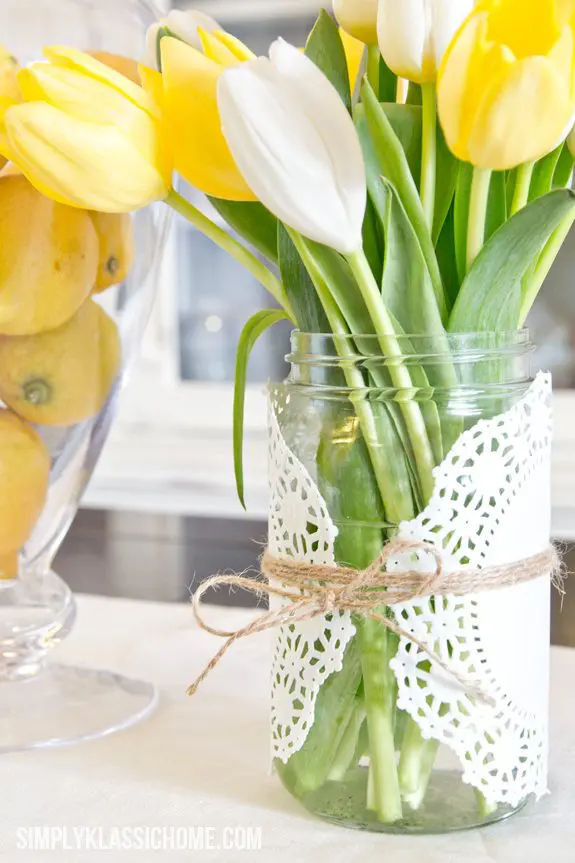 Credit: yellowblissroad.com
There is nothing quite as wonderful as a bouquet of fresh flowers. The one flower that truly comes out for springtime is a tulip.
Grab a glass jar, a bit of rope, and a doily. Use the rope to fasten the doily to the glass jar, fill it up with water and add flowers to eat.
Here you go, a simple and very easy Easter centerpiece! Feel free to use washi tape to decorate the jar too.
Here are some of my favorite floral washi tape designs.
2. DIY Easter Egg Balloons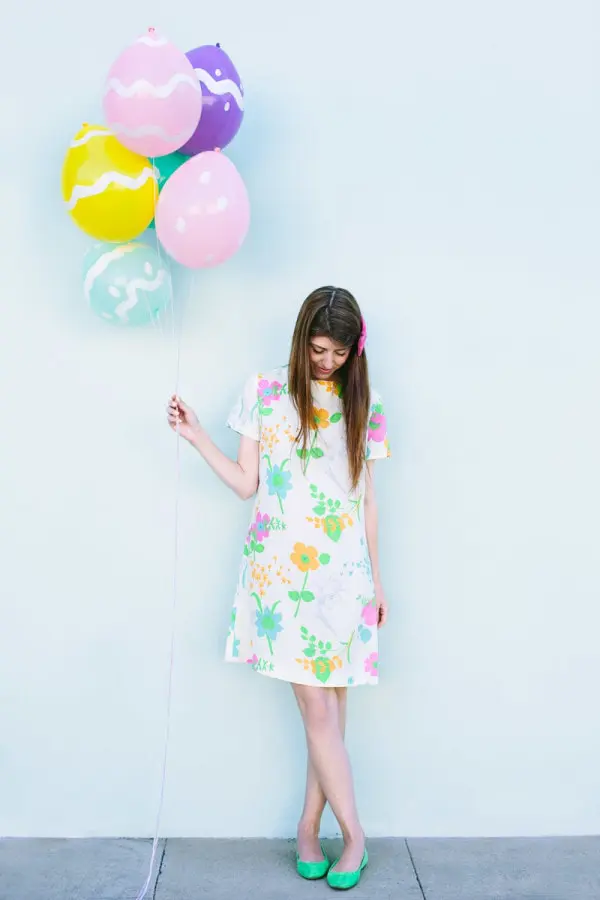 Credit: studiodiy.com
Have you realized that balloons, when turned upside down, look like eggs? Now, here is an idea coming your way.
Fill the balloons with helium gas, design them, paint on them perhaps, turn them upside down and you'll have wonderful-looking Easter eggs! Keep those at home, outside and use them at your Easter party!
3. Bunny Canvas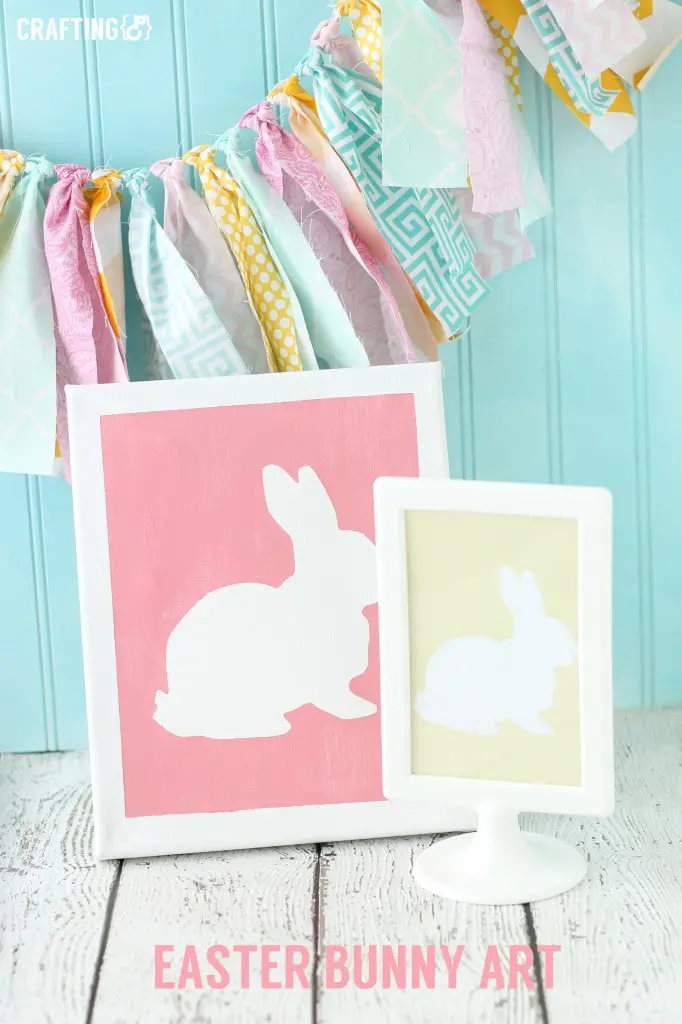 Credit: craftinge.com
Something as simple as painting on canvas can go a long way. It's also pretty simple to make.
Obviously, not all of us are amazing painters, so if you just click on the link right under the picture, you can get a printable to cheat the craft. Haha!
Frame the pictures and put them around the house!
4. DIY Easter Garland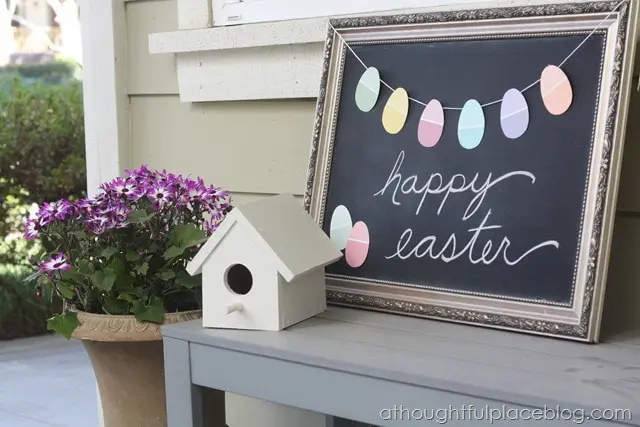 Credit: athoughtfulplaceblog.com
If you have any paint chips laying around and you're thinking of getting rid of them, don't. Instead, use them to make your very own cartoon eggs.
Then, get a bit of white thread and make your very own egg garland. You can attach it to the chalkboard or just to the wall.
A very simple decoration that you can make with your kids!
5. Butterfly Bouquets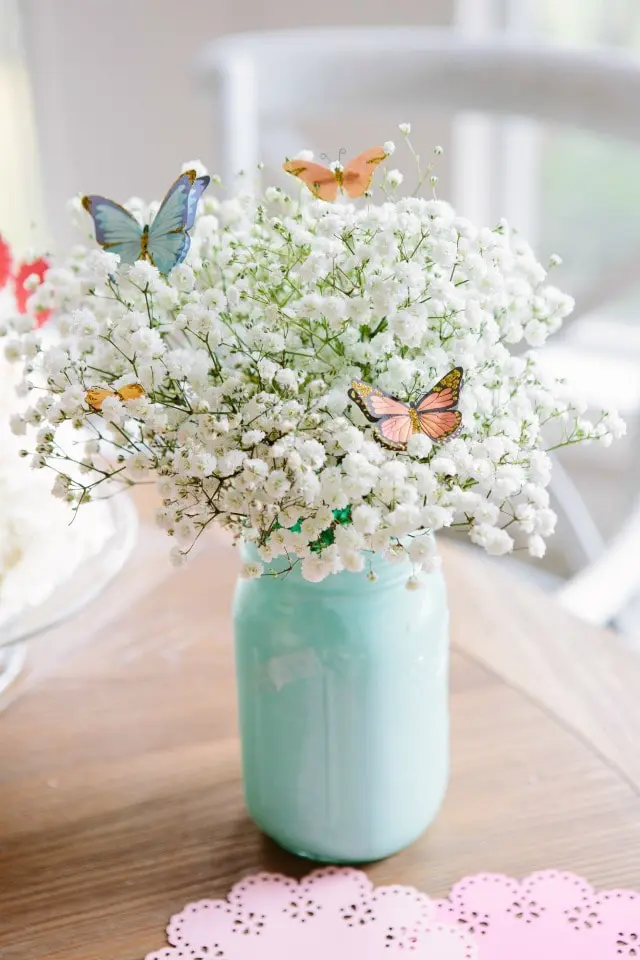 Credit: designimprovised.com
Bring spring into your home with more flowers. Obviously, the vase is everything here.
If you're looking for a ceramic vase that also comes in a nice color, check these vases here. Anyway, the key here to make the bouquet a little bit more colorful and playful is the butterflies.
You can get some of the colorful butterflies here – they're easy to attach, super playful, and will totally bring more color into your home.
6. DIY Easter Golden Eggs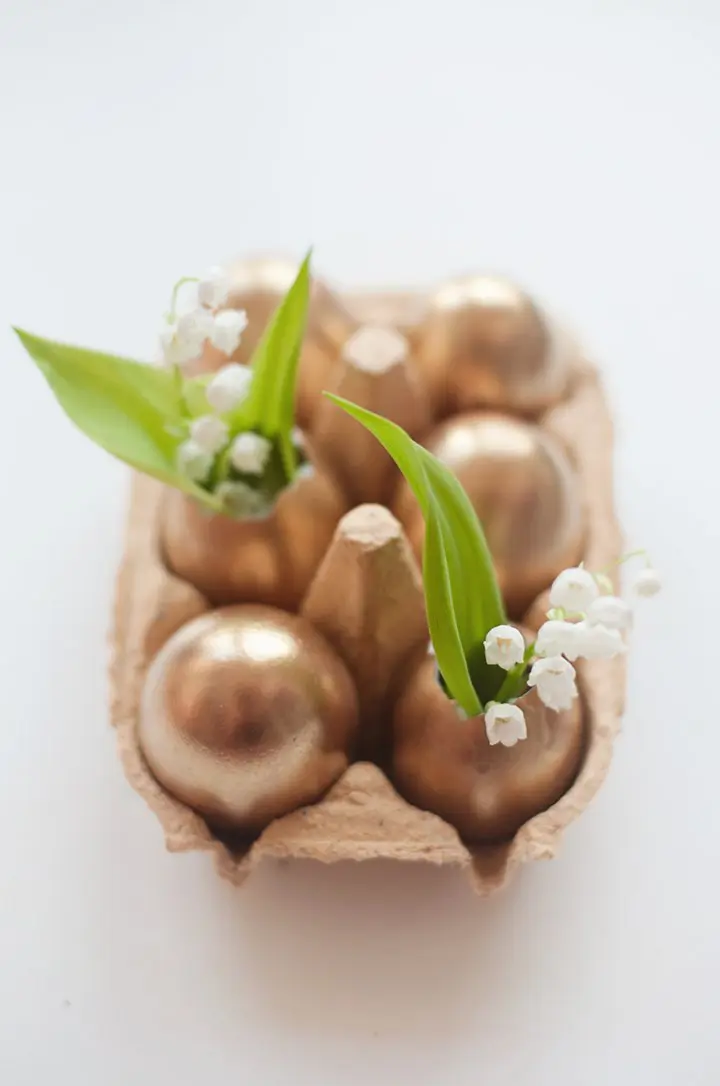 Credit: 79ideas.org
If you fancy bringing some gold and bronze colors into your home, you might love this idea. You pretty much just need spray paint.
Spray boiled eggs with it (just make sure not to consume them) and a little vase, if you have one. Add a few flowers, make an egg arrangement, and here you go, a simple yet beautiful Easter decoration.
7. Forest Inspired Decoration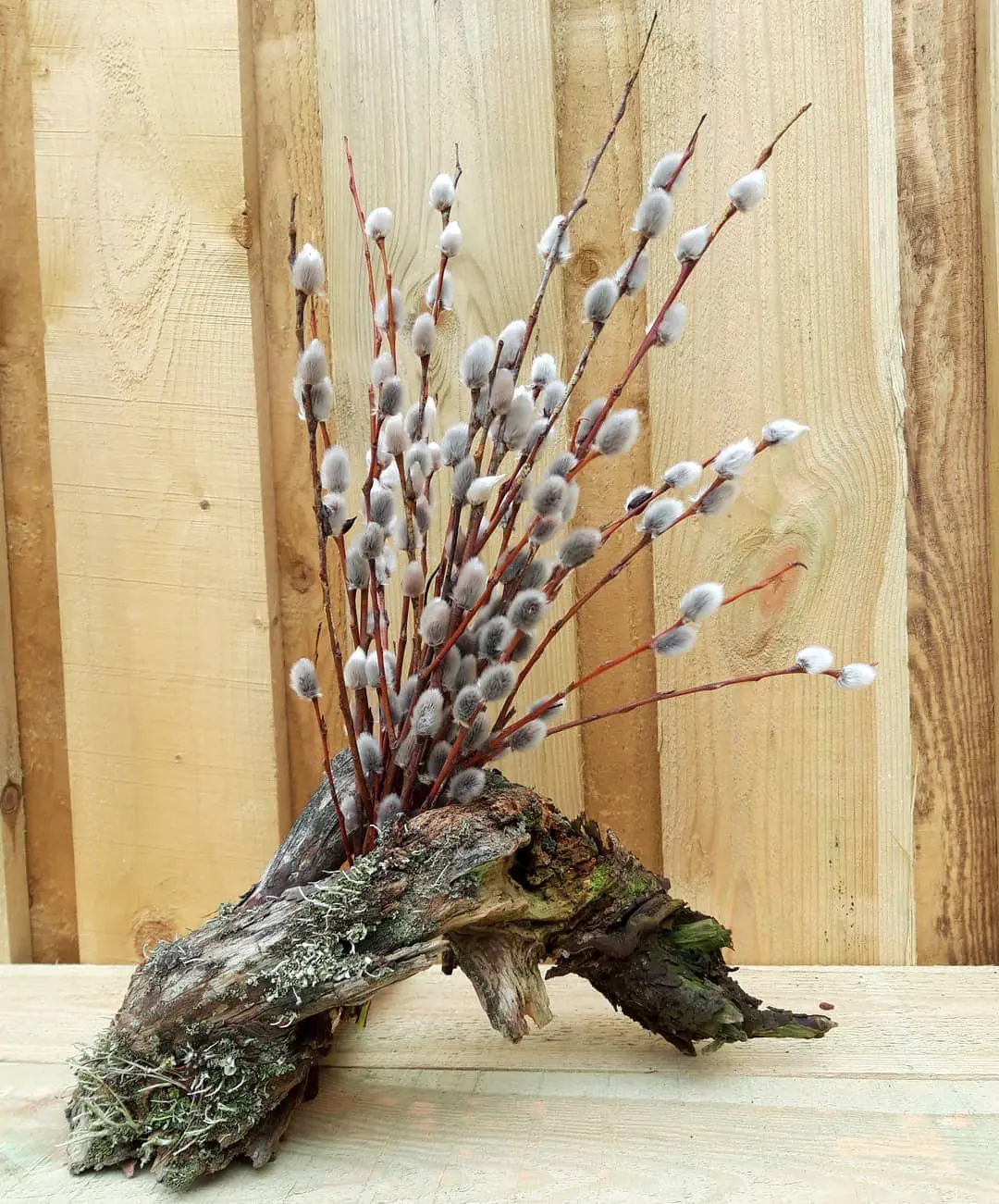 Credit: Instagram
If you live somewhere near the forest or just love the vibes of nature, get creative. This is a great example of what you can achieve with a little bit of imagination.
Pussy willows are just such a beautiful spring flower. They're so soft like rabbits, so why not incorporate them into your Easter décor?
8. Natural Flower Arrangement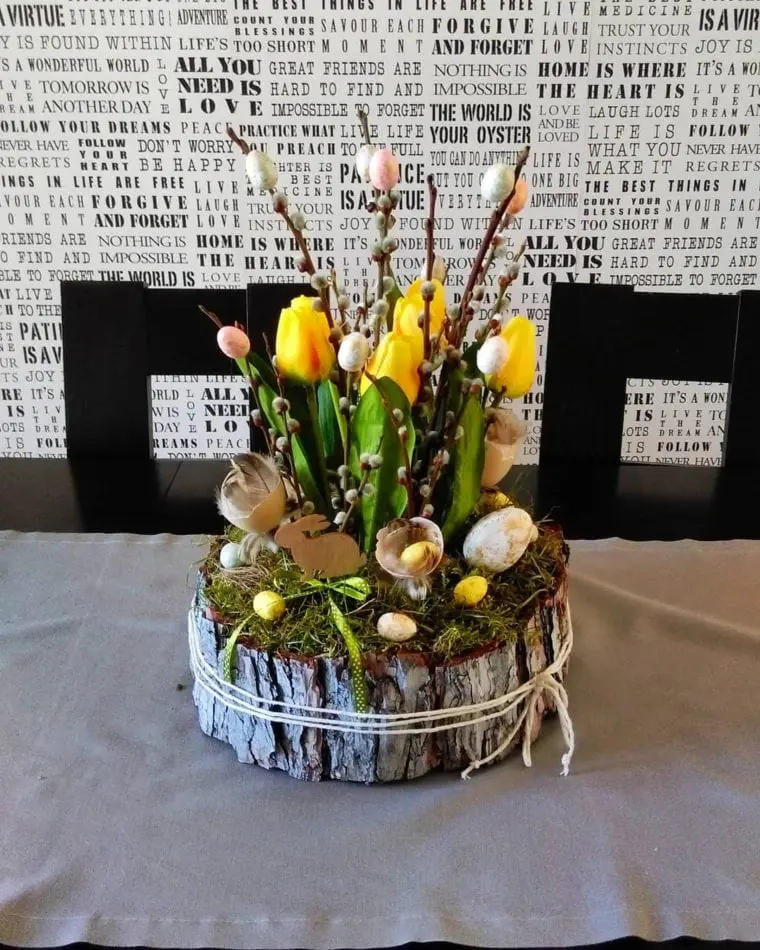 Credit: Instagram
Go to the forest, get a bit of moss, a few flowers, perhaps pussy willows, and a bit of tree bark. Now you don't have to rip it off the trees but there's usually plenty on the floor.
Now, use these beautiful items provided by nature to make this flower arrangement. Get creative, and buy some flowers from the shop.
9. Colorful Easter Centerpiece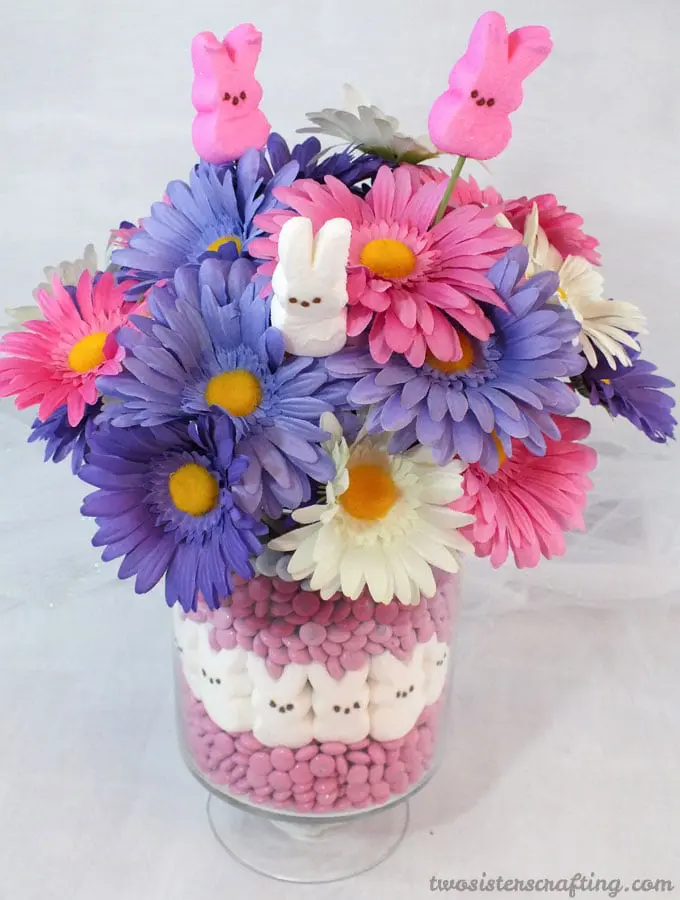 Credit: twosisterscrafting.com
Now, if you do want to bring more color into your home, this centerpiece might be just for you. Get a clear glass vase, artificial or real flowers, M&M's, Easter bunny candies, and lollipop sticks.
Fill up the glass vase with the M&M's, Easter bunnies and add the flowers. Attach the bunnies to the lollipop sticks, stick them into the vase, and here's your decoration!
10. Fruit Stand Easter Decoration
Credit: worthminer.com
You don't need to buy Easter decorations to make them with the items you already have at home. For example, take your fruit stand and design it.
A cup or two with an inspirational message or a bunny might as well just do the trick. Make sure you fill it up with decorated Easter eggs and have it as a centerpiece.
11. Paint Stick Basket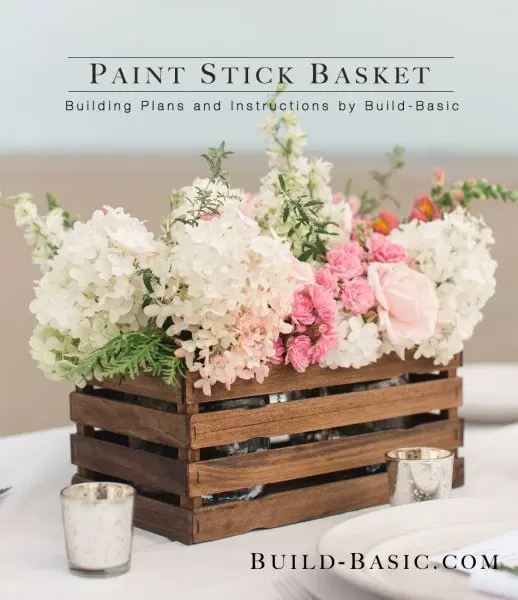 Credit: build-basic.com
Easter baskets do for amazing gifts. However, if you get creative, you can make a beautiful centerpiece too.
Paint stir sticks are super easy to find and they're very cheap. And you can actually make a basket out of them!
Fill it up with beautiful fresh flowers or decorated Easter eggs, and you'll have something truly beautiful. Follow the full tutorial on how to make this one happen here.
12. DIY Eggshell Planters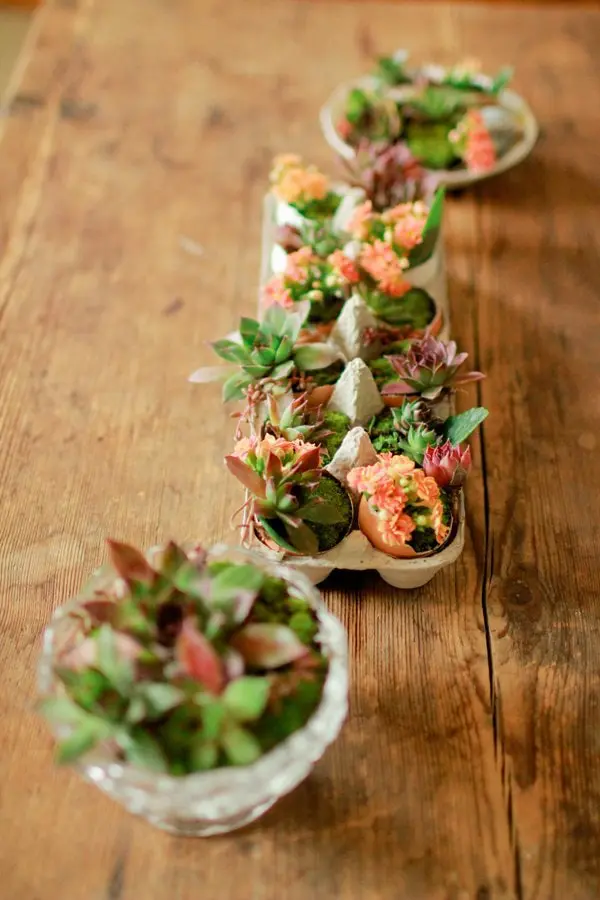 Credit: lerobinsnest.blogspot.com
Next time you're cooking something, make sure you're not throwing away the eggshells. The truth is, you can make a beautiful Easter centerpiece with them.
Don't throw away the egg box either! Fill up the eggshells with a bit of soil and plant a few small flowers.
Put them all together and wuola! Simple, and truly Easter worthy decoration.
13. Easter Bunny Treat Jars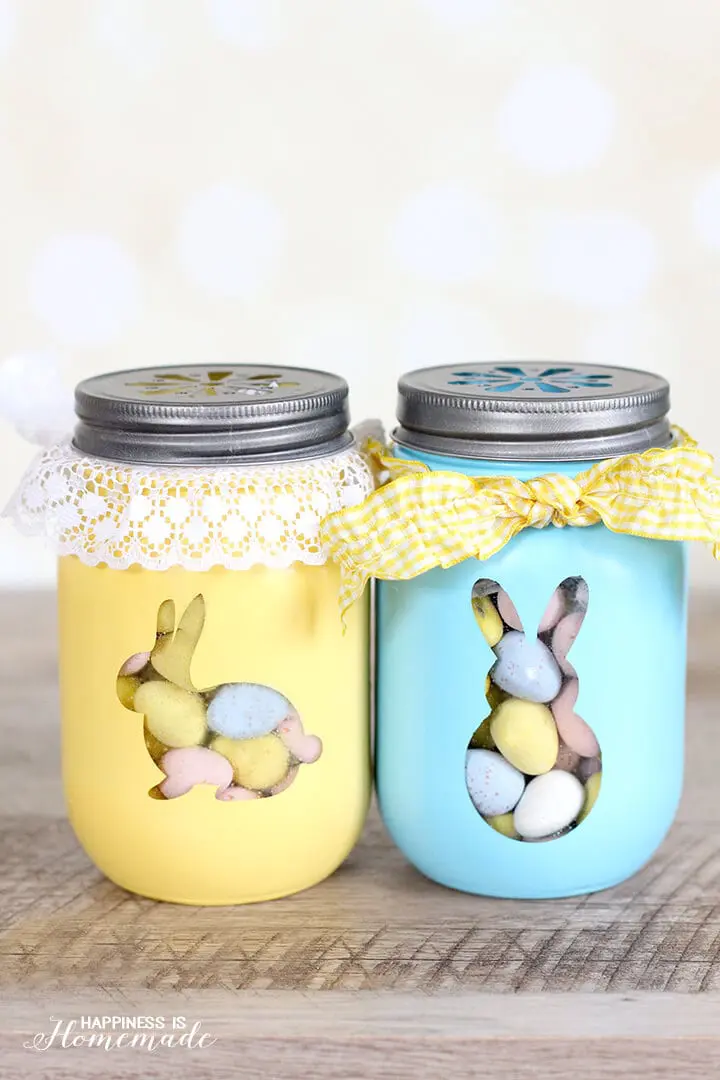 Credit: happinessishomemade.net
There is nothing better than chocolates or candies around the house. What's even better is that you can incorporate the sweet treats into your home design for these holidays.
So, make your kids happy by crafting these Easter bunny treat jars. Actually, it's one of those Easter crafts that even your kids can make.
So, definitely get the whole family involved!
14. Easter Egg Tree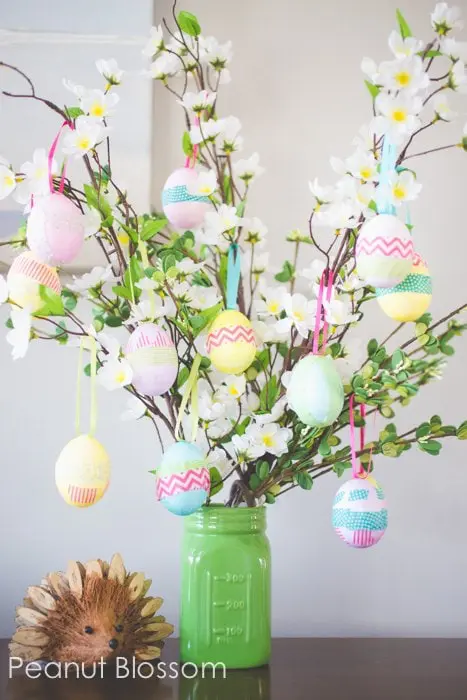 Credit: peanutblossom.com
Speaking of gorgeous, this Easter decoration is exactly that. First, get your colored mason jars or colorful vases (like these ones here).
Get some about to expire eggs, decorate them, get some greens, and, here you go, your very own Easter tree. This is definitely one of those spring decorations that will bring a smile to anyone's face.
Take off the eggs after Easter and you can keep them as a décor element in your living room.
15. 'It's all for the Birds'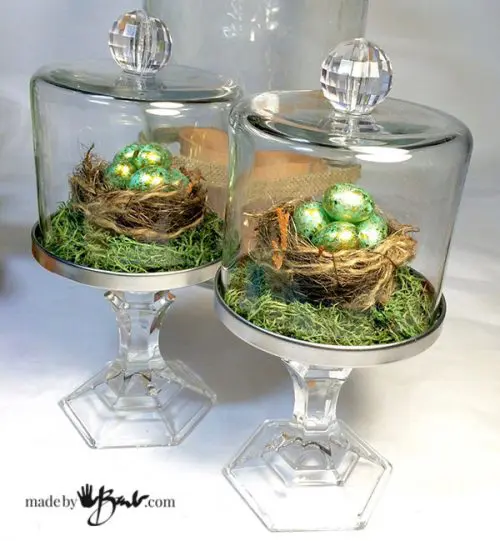 Credit: madebybarb.com
These bird nests will look so cute at home and truly bring the warmth of the spring into your home. So if you have anything made from glass that's meant for storing food, use it!
You can truly improvise and make something of substance!
Conclusion
So, are you going to make any of these decorations this Easter? Which one looks like your favorite?
Let me know in the comment section and have fun crafting this Easter!