Easter is here again! Make these beautiful Easter baskets for your loved ones to enjoy.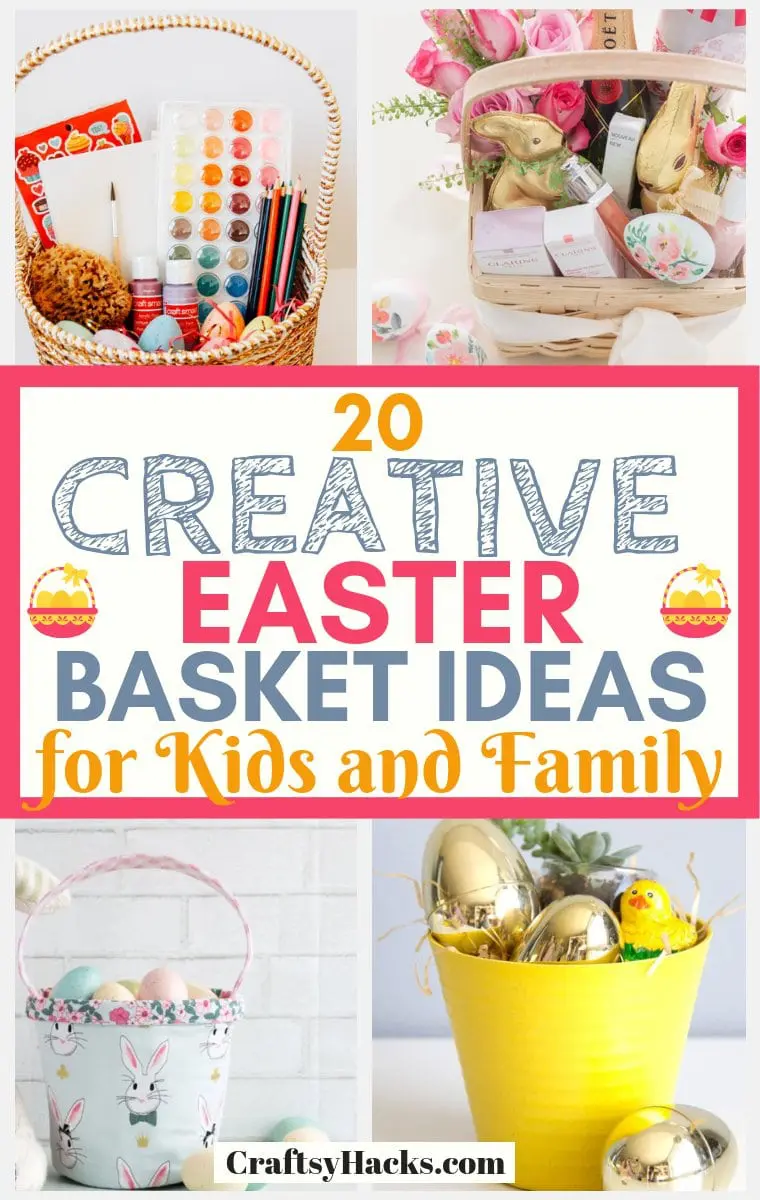 With Easter coming, it's again that time of the year when you're searching for Easter basket ideas either for your kids or friends.
The truth is an Easter basket is a great gift for both the little ones and the older family members. So, today I thought I'd share a few Easter basket ideas that will your whole family smile!
Get some inspiration, get crafty, and enjoy the creative energy in the air!
1. Easter Basket with Fresh Flowers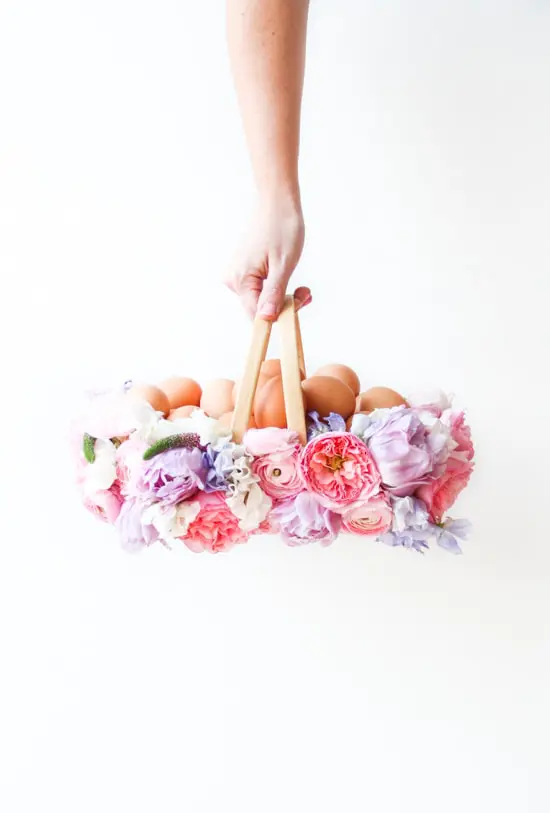 Credit: papernstitchblog.com
Feeling fresh and happy this Easter? You might want to make your Easter basket a little bit more interesting with some fresh flowers.
Hot glue is really what you'll need (here is a good glue gun with 30 glue sticks) and, of course, your favorite fresh flowers. Use your imagination and transform your Easter basket just like that.
It'll definitely do for a beautiful décor element at your home.
2. Chocolate Easter Lollipops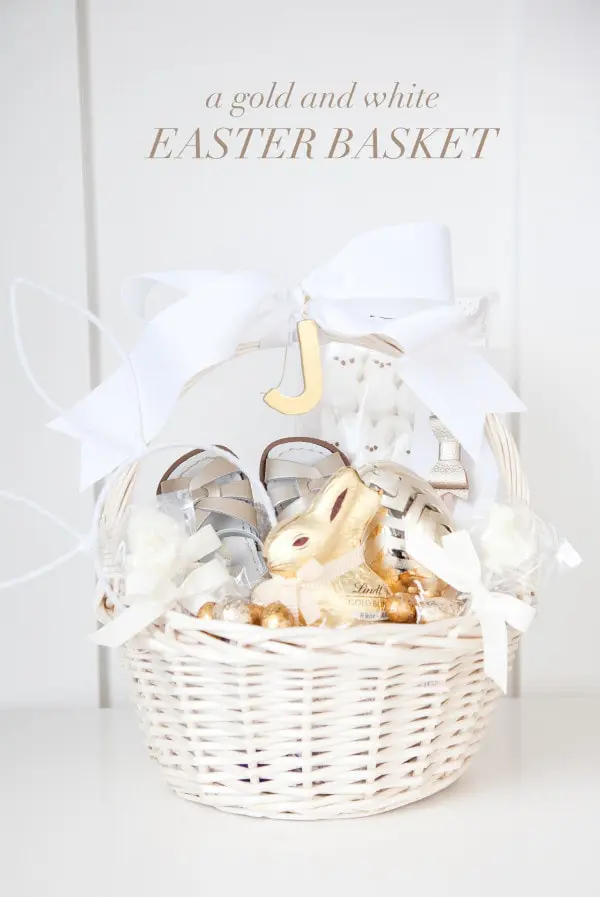 Credit: blog.gygi.com
Gold and white Easter basket is great not only for your kids but it can do for a beautiful Easter gift. The elegance and, of course, the sweets will make someone's day.
All you need is a white basket, white chocolate, Easter molds, lollipop sticks, lollipop bags, and ribbons. Get to work and use your imagination.
This basket is surely a great gift for anyone no matter the age. Plus, you can beautifully place these around the house for family members to find.
3. Basket with a Sewing Pattern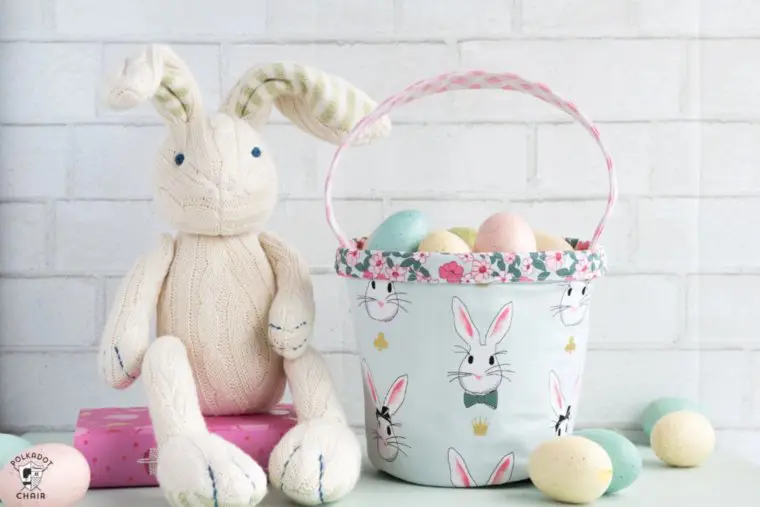 Credit: polkadotchair.com
Love sewing? If it's a little hobby of yours, you might want to use the skills to make a basket.
The little ones will love it and it truly looks amazing. Click on the link just under the picture to get the full details on how to make this one happen.
4. DIY Tutu Basket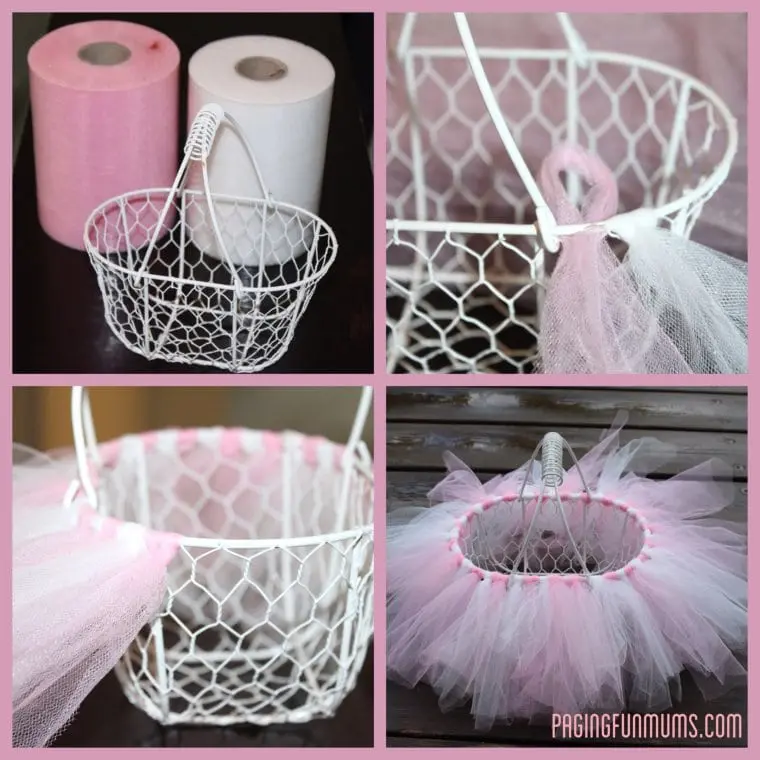 Credit: pagingfunmums.com
The name describes it very well. It's a very easy basket to make, all you need is a white wire basket, tulle, and scissors.
Your baby girl or baby boy will love it and it won't take you long to make it. So, definitely consider it.
5. Unicorn Basket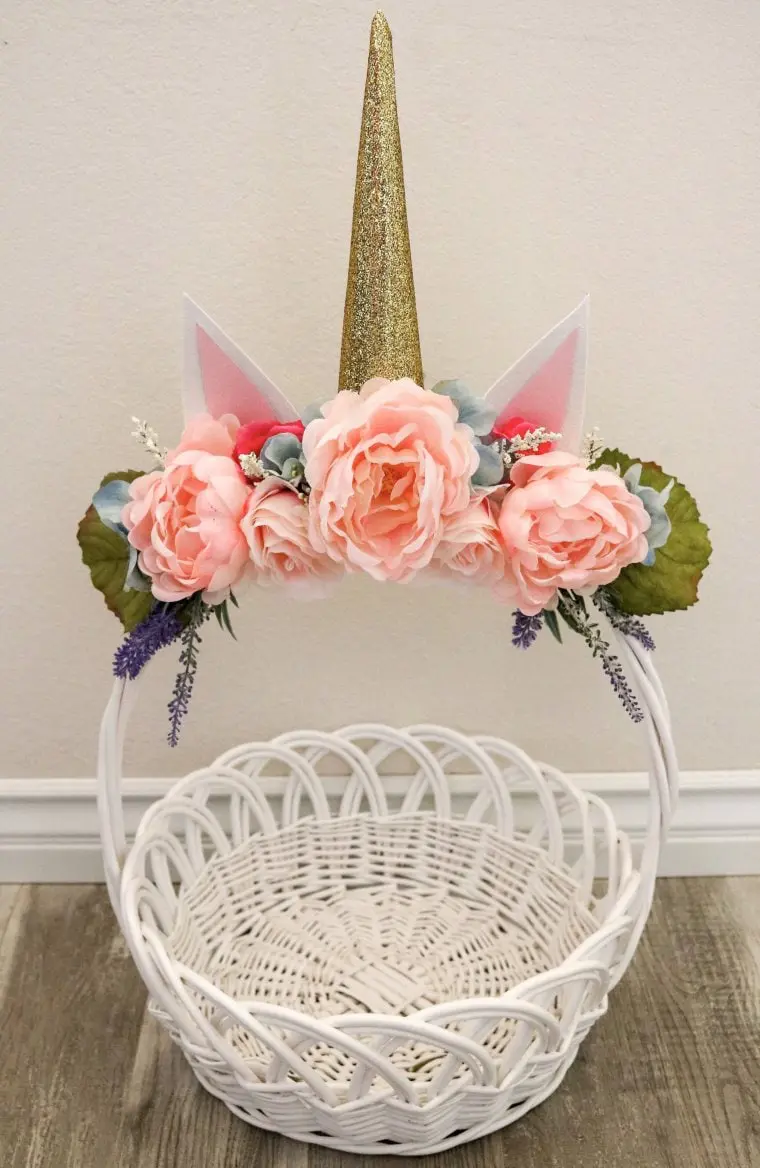 Credit: Pinterest
Make your own unicorn basket and feel like life is all pink roses and unicorns. The basket will definitely bring some beautiful energy into your home.
To make one, you'll need a white willow basket, either fake or real flowers, a hot glue gun, cardboard, perhaps some white paint, and, of course, glitter!
6. No-Sew Fabric Basket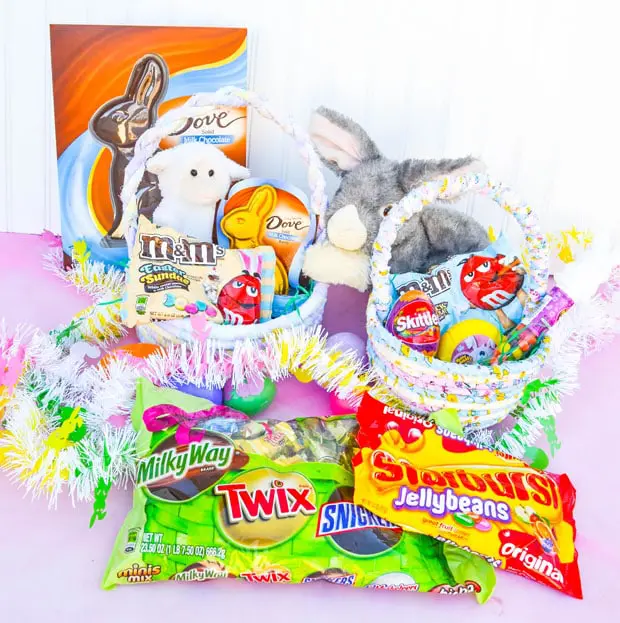 Credit: dianarambles.com
Want a fabric basket but not really up for the sewing challenge? Great, this basket is then just for you.
You'll need quite a few things for this one – rope, woven fabric, scissors, ruler, hot glue gun, a large bowl, plastic wrap, and clear tape! Click on the link just under the picture to get the full tutorial.
7. Easter Basket with Printable Tags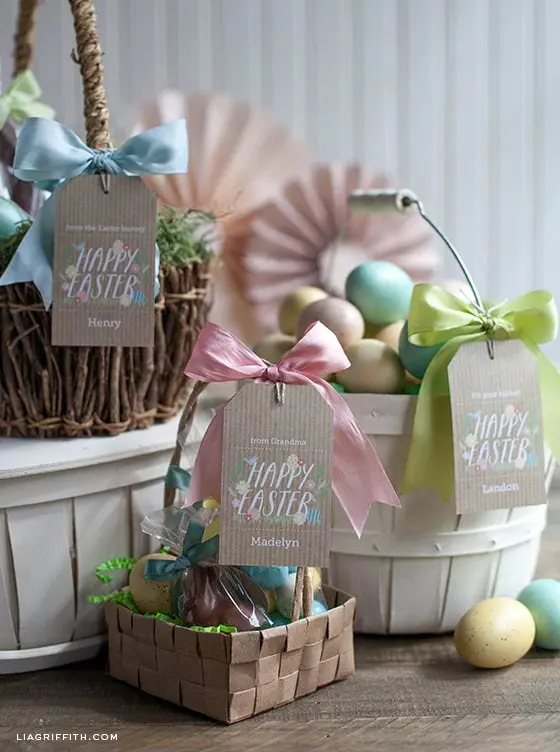 Credit: liagriffith.com
Get printable Easter tags right here and use them on your Easter baskets. A nice tag or two can truly bring a whole new meaning to a basket.
So definitely give these a try!
8. Grown-Up Easter Basket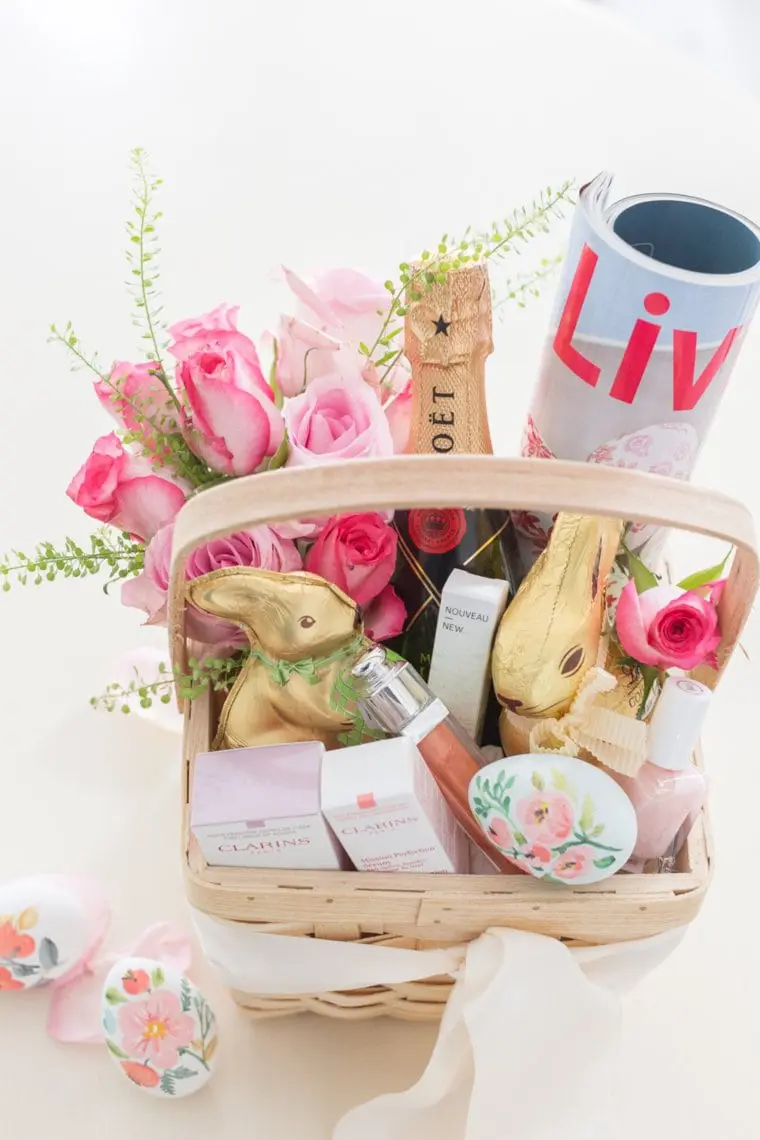 Credit: craftberrybush.com
I think the name describes this basket so well. It's a great gift for older family members and friends.
A basket with a nice ribbon and a bunch of chocolates as well as a few self-care products is sometimes exactly what your loved one may need. Don't forget a bottle of champagne too!
9. Cute Basket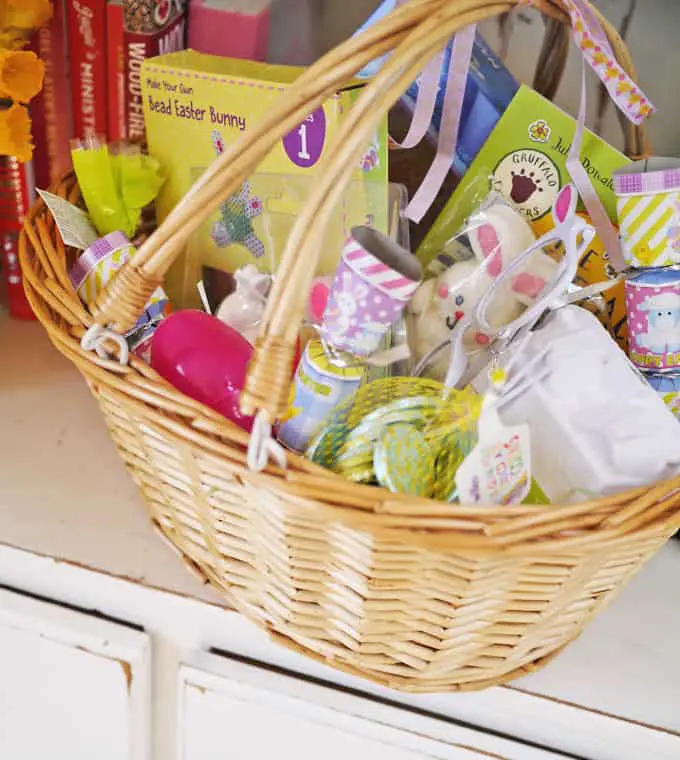 Credit: tamingtwins.com
Get a regular willow basket and turn it into something that truly looks cute. Some of the great ideas for such a basket are coloring books, chocolates, storybooks, cute slippers, socks, bubbles, or just Easter crafts.
The more colorful, the better! The only thing not to forget – the ribbon. Why? Because everything looks so much better with a ribbon.
10. Craft Stick Basket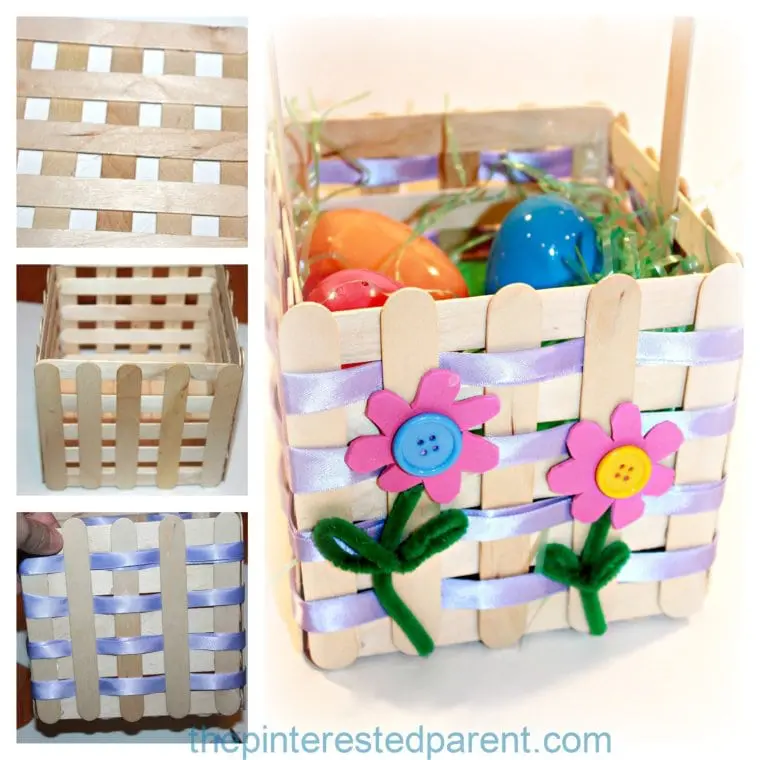 Credit: thepinterestedparent.com
This creative basket will truly enlighten your home. For it, you'll need Jumbo craft sticks and a hot glue gun.
Get some buttons, fake flowers, and ribbons, and beautify it to your taste! Trust me, you're going to have fun with this one.
Plus, it's always fun to make something from absolute scratch.
11. Basket with Liner Pattern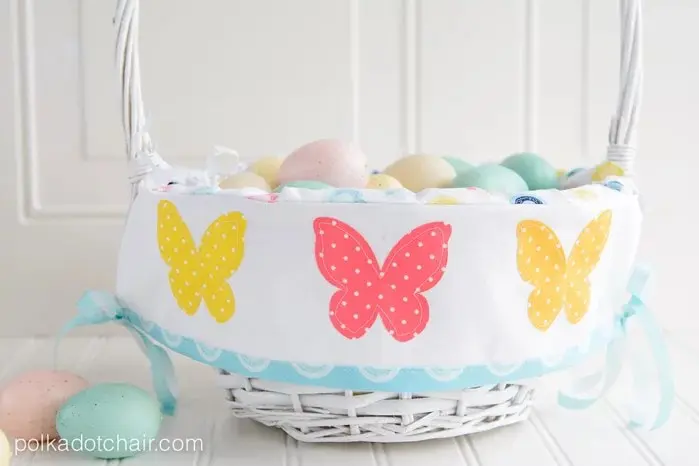 Credit: polkadotchair.com
Love sewing and want to try a bit of it (but not too much) with the Easter Basket this year? Try, this little sewing pattern with butterflies.
The basket will make for a great spring decoration – not just Easter. It'll bring more subtle color into your kitchen or living room.
So, definitely give it a try and have fun with it!
12. DIY Grownup Basket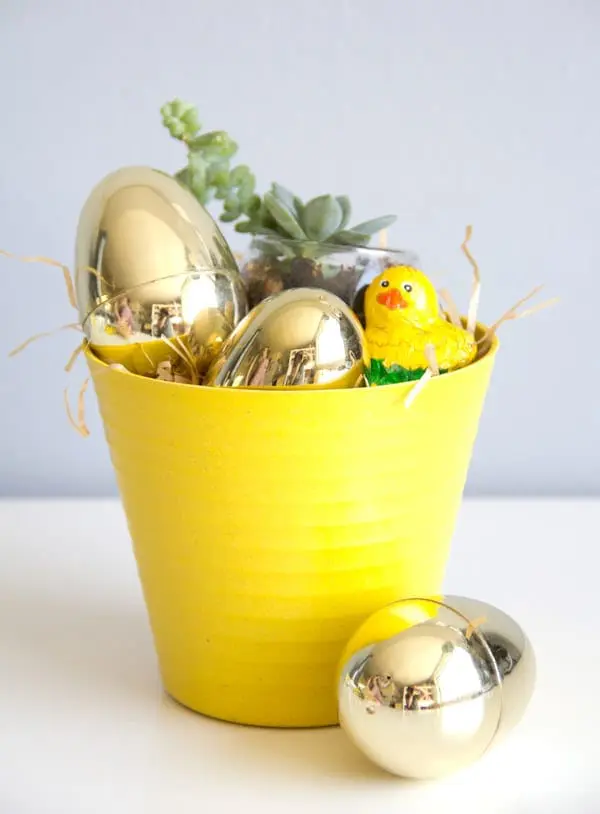 Credit: lovelyindeed.com
This grownup basket – isn't just for grown-ups. Plus, it's actually a pot! Nevertheless, love the name.
Get a small pot, the more colorful – the better. Also, fill it with tiny succulents and the rest is for you to decide on.
If it's an older friend, perhaps a bottle of wine will do the trick. Otherwise, make sure to add as much chocolate as you can!
13. Egg-cellent Easter Gift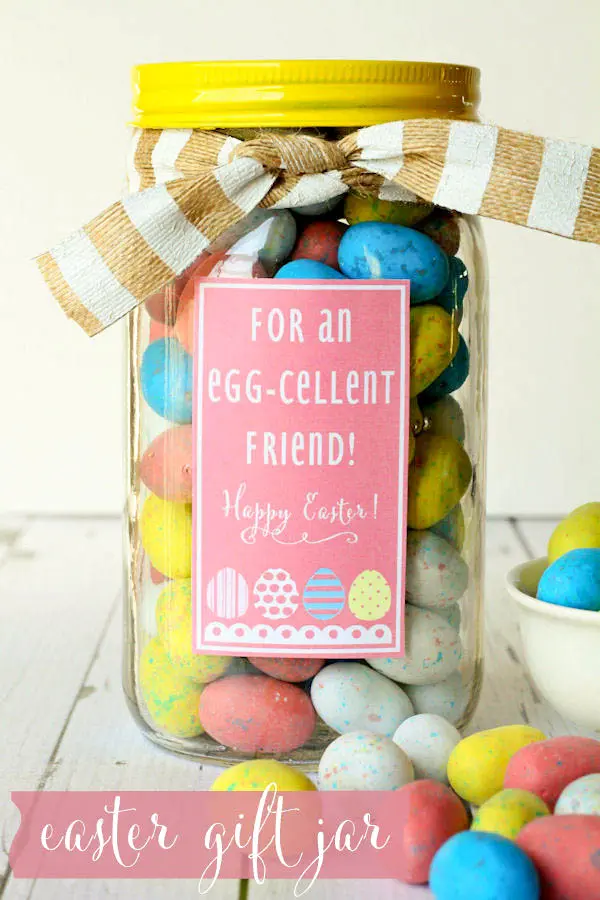 Credit: lilluna.com
This lovely gift idea is great for both the little ones and your friends. All you need is a mason jar with a colorful lid and ribbons.
An inspirational tag or two will bring positive emotions! Just make sure there is enough chocolate in it!
14. Lace-Trimmed Mason Jar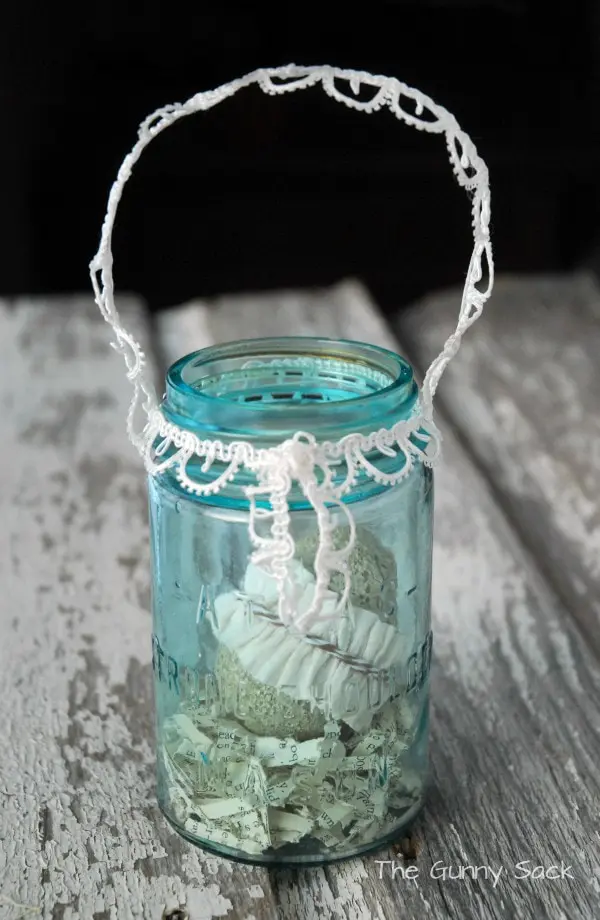 Credit: thegunnysack.com
Something as simple as this Mason jar can go a long way. Whether it's only an egg that you want to showcase or chocolates, it's great for all types of gifts.
You could also just make a nice Easter decoration out of it and have these all around the house!
15. A Modern Basket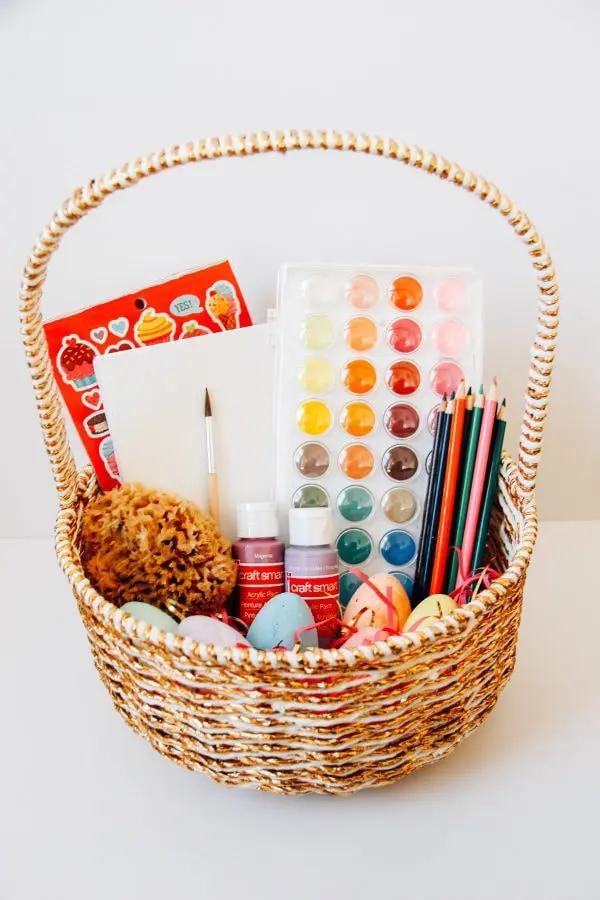 Credit: stylemepretty.com
Have some artists in your family or want to encourage your friends or kids to do more artsy things? Here is a perfect Easter basket idea for that.
Get some brushes, decorated eggs, pencils, and other crafts supplies. And help your loved ones to take their creativity to a whole new level!
16. Movie Night Basket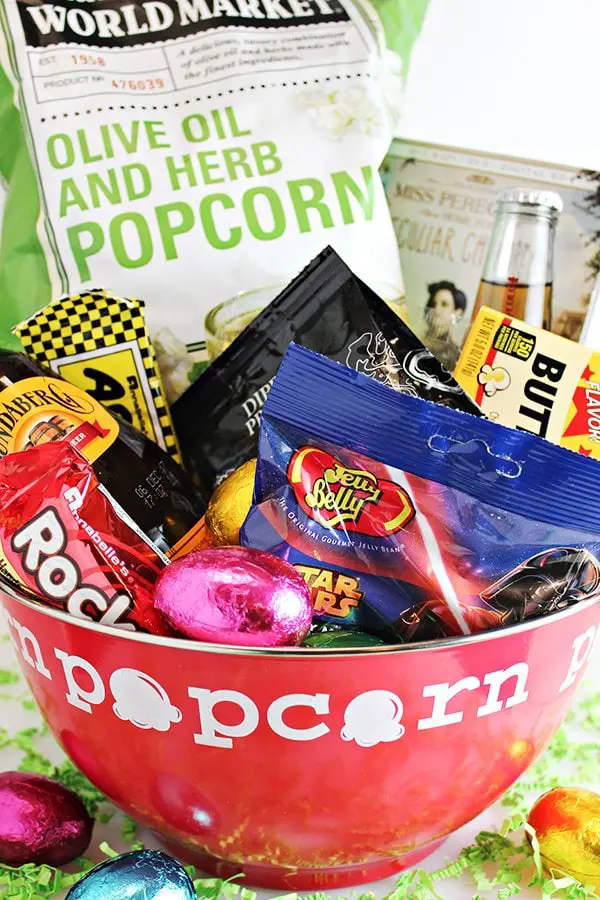 Credit: homecookingmemories.com
Having a movie night on Easter? Surprise your family with these movie night themed baskets.
Get a popcorn bowl and instead of filling it with just popcorn – fill it with movie DVDs, popcorn bags, and other treats. You can never have too much chocolate on Easter!
17. Baby's First Basket
Credit: pinterest.com
Have a newborn in the family? Make it extra special by getting the first baby's basket.
Fill it with toys! If it's for the mother, make sure to add diapers and other baby essentials. A new mother can never have too much support when it comes to raising a child!
18. Mason Jar Basket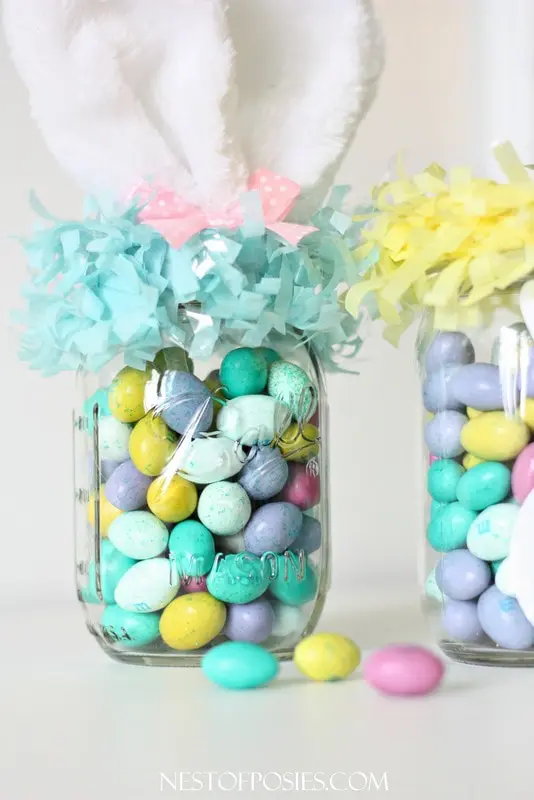 Credit: nestofposies-blog.com
If you're tired of the regular baskets, go with this Mason jar basket idea. You can fill up the Mason jar with all types of candies, decorate it with some fun trims and Easter bunny ears.
It's a very simple Easter ''basket'' idea that everyone will love. That both include the little ones and older family members.
19. Mini Basket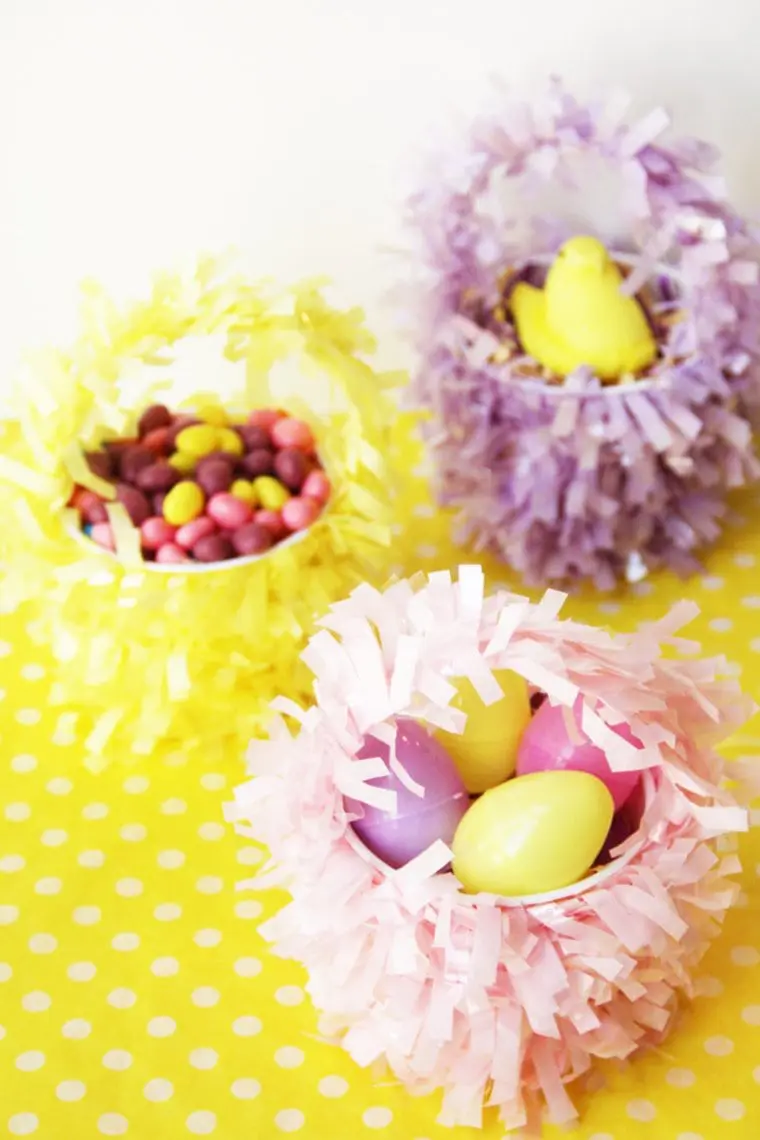 Credit: studiodiy.com
Easter baskets don't need to be massive to leave a good impression. Plus, the little ones will love them.
For these little baskets, you'll need plastic cups, fringe garland, and double stick tape. Easy, simple yet super cute!
20. Easter Bunny Gift Bag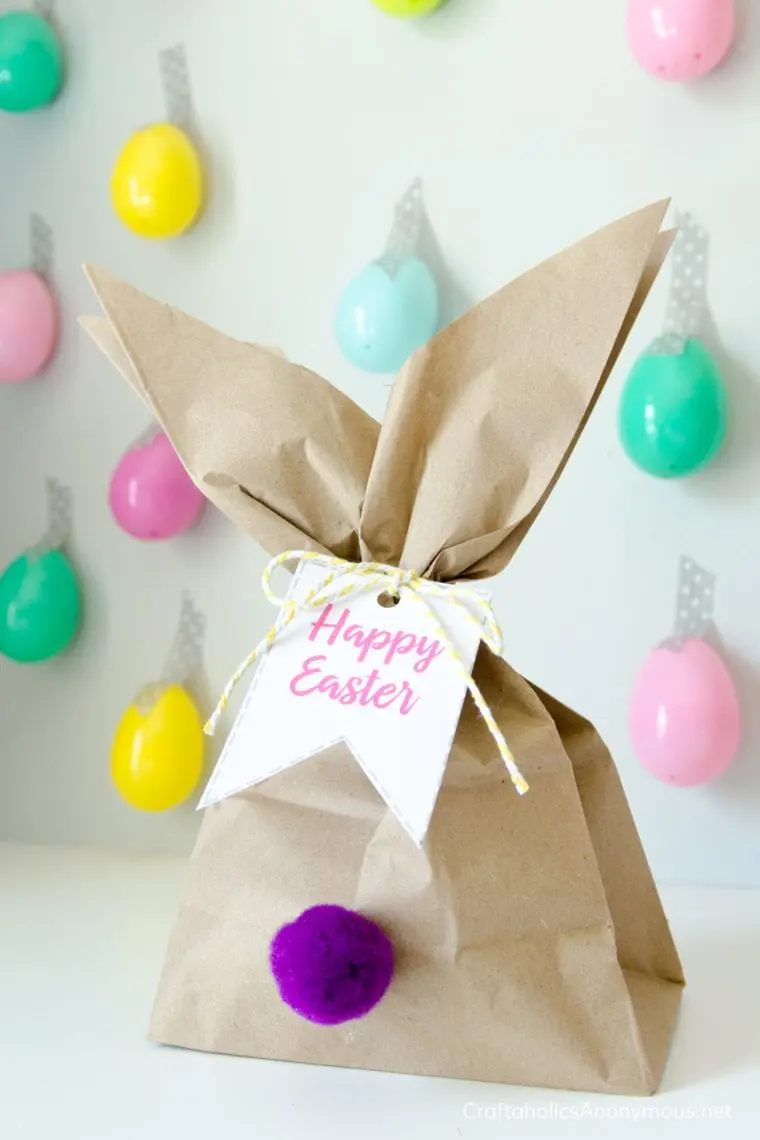 Credit: craftaholicsanonymous.net
Click on the link under the picture and you'll get the printable tags for this little gift bag. In case you don't want to make an actual Easter basket, this offers a quick way to cheat the system.
Fill the bag with Easter candies and chocolates, tie it with a ribbon or a beautiful rope, and you're done!
Conclusion
Are you going to use any of these ideas for your Easter basket? Do let me know in the comment section!