Get crafty with these Easter crafts. Easy, fun, and great for any family crafting activity!
It's that time of the year! The spring, the sun, and most importantly – Easter! Easter is such a nice family celebration and it just feels so good to have everyone over.
What's even better is that the little ones can contribute towards decorating for Easter too. Letting them get creative will definitely make the Holidays even more exciting.
So, today I'm sharing Easter crafts that you might want to try. At the end of the day, these are just meant to give you a little bit of inspiration and new ideas.
Thus, improvise and, most importantly, have fun!
1. Paper Plate Easter Bunny Craft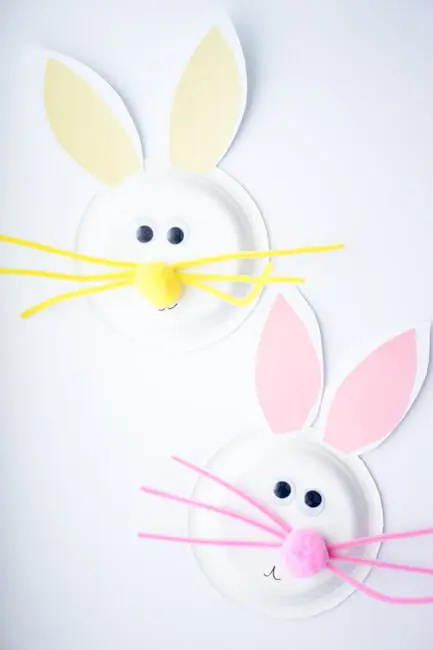 Credit: thebestideasforkids.com
Perfect for toddlers, this little craft idea is exactly what you might need. All you'll need is a couple of paper plates (which you might have anyway), googly eyes, pipes cleaner, some paper, and good glue.
If you're not sure which glue to use, this one is great for school use! These little bunnies will definitely do for a cute Easter decoration.
2. Easter Chick Handprint Card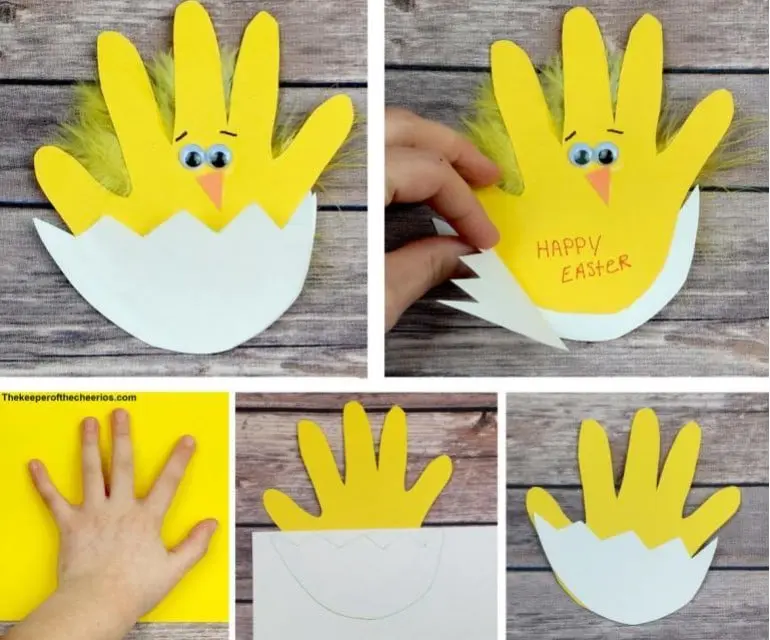 Credit: thekeeperofthecheerios.com
Another simple yet cute craft your whole family can try! Once again, you'll need sticky wiggle eyes, so feel free to stock up on these here.
Also, the feathers are the crucial part here too. While you might not necessarily come across them in you supermarket, you can always stock up on them here.
Also, feel free to play with the feather colors. Let the kids use their creativity!
3. Crafty Popsicle Stick Baby Chick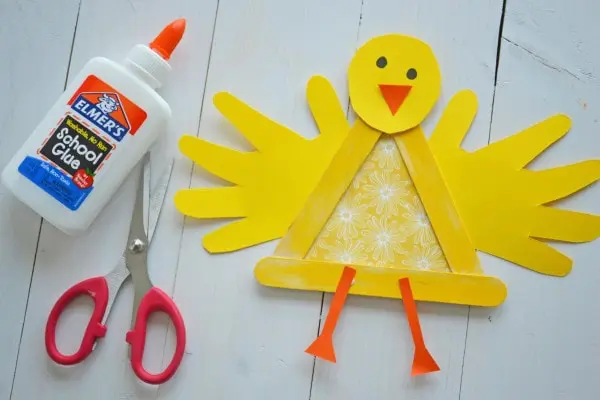 Credit: makeandtakes.com
If you're looking to have fun and create a simple but cute Easter decoration, try this little craft. You'll need popsicle sticks, yellow paint, paper plates, scissors, black markers, paint brushes, glue, paper, and cardstock.
4. Salt Dough Easter Eggs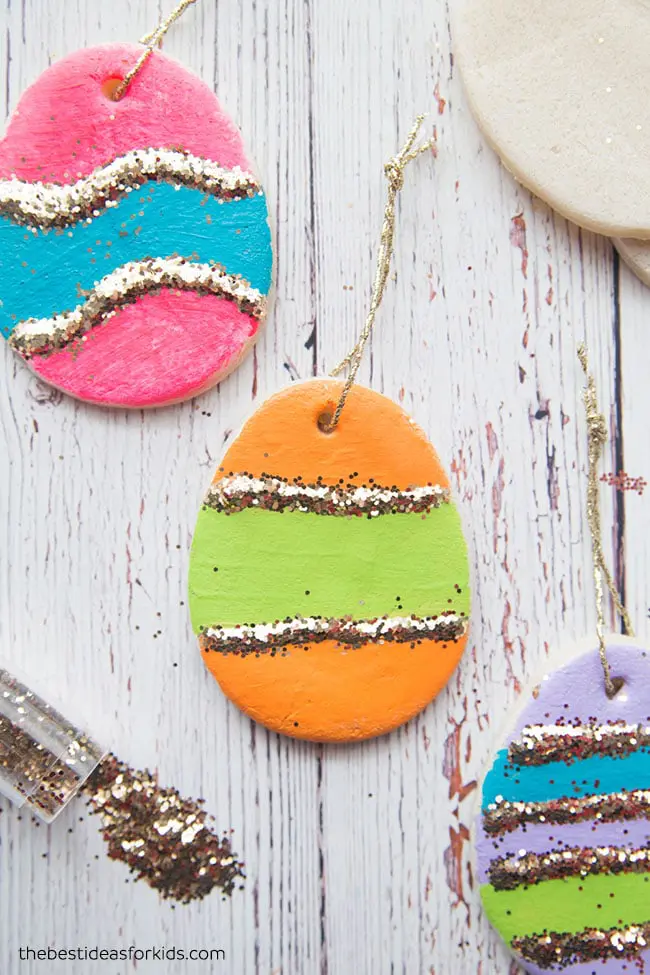 Credit: thebestideasforkids.com
This one is slightly more complicated and requires more work. However, if you're for making a few salt dough Easter eggs, go for it.
First of all, you need to make salt dough. Here is a recipe on how to make it happen.
Then, you'll need an Easter egg cookie cutter, acrylic paint – here is a very versatile set with loads of colors. To finish the whole thing up you'll need Mod Podge sealer and, of course, glitter.
Here is cheap and good quality glitter.
5. Easter Egg Bunny Hugs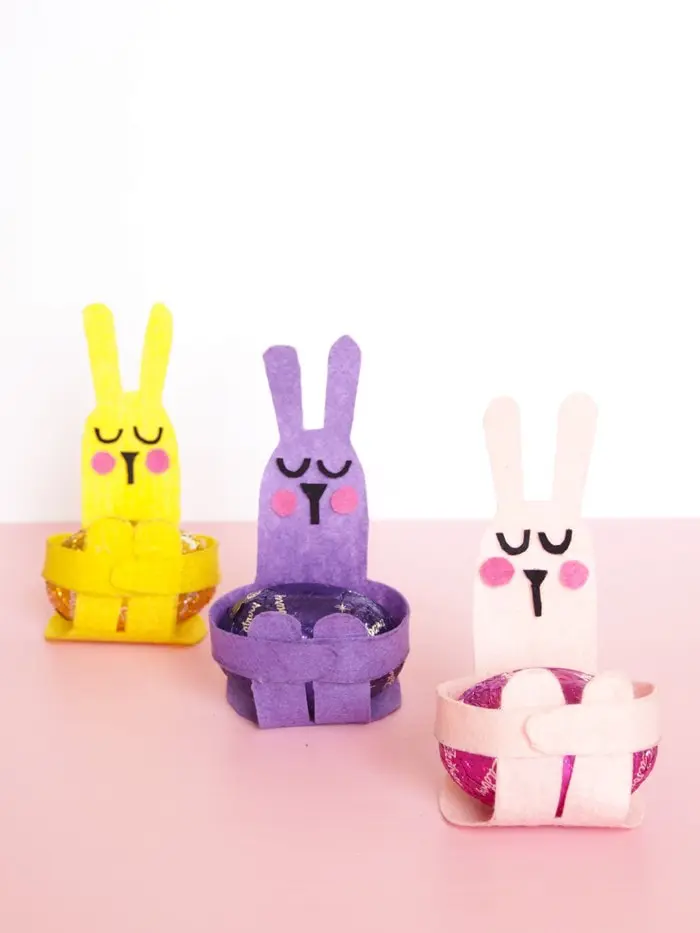 Credit: paperandpin.com
These Easter bunny hugs are so cute, I had to include them. These are slightly different and require you to get a bit of acrylic felt.
The craft comes with a template but you can always try to replicate with your kids to get that extra challenge in there!
6. Foam Cup Bunny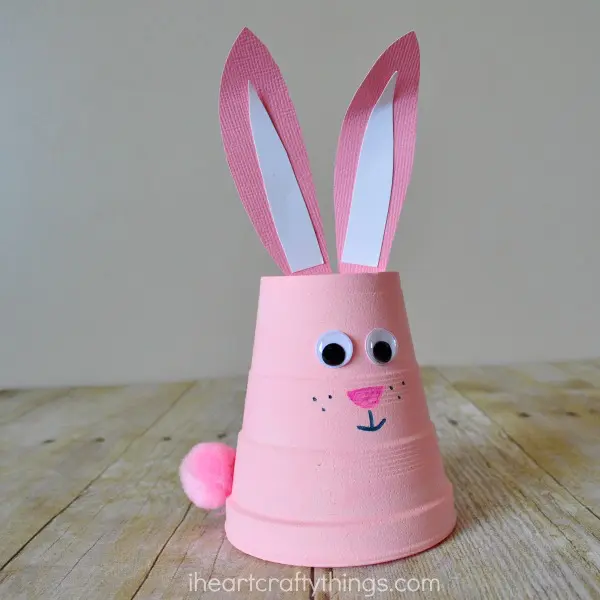 Credit: iheartcraftythings.com
This pink bunny will make everyone excited. Both to make it and to look at it.
It'll definitely do for a beautiful Easter decoration that you put on your dinner table. Additionally, it's just such a fun little craft to try.
7. Pom Pom Easter Chicks
Credit: blog.consumercrafts.com
This one is a little harder to make. You'll need more tools and supplies for it but it's definitely worth it.
These little Easter chicks will do for such a beautiful Easter decoration. But, on top of that, you can use them throughout the whole spring and summer.
At the end of the day, little chicks represent warmth and the birth of new beginnings. That includes wakening up of nature and flourishing.
8. DIY Daffodils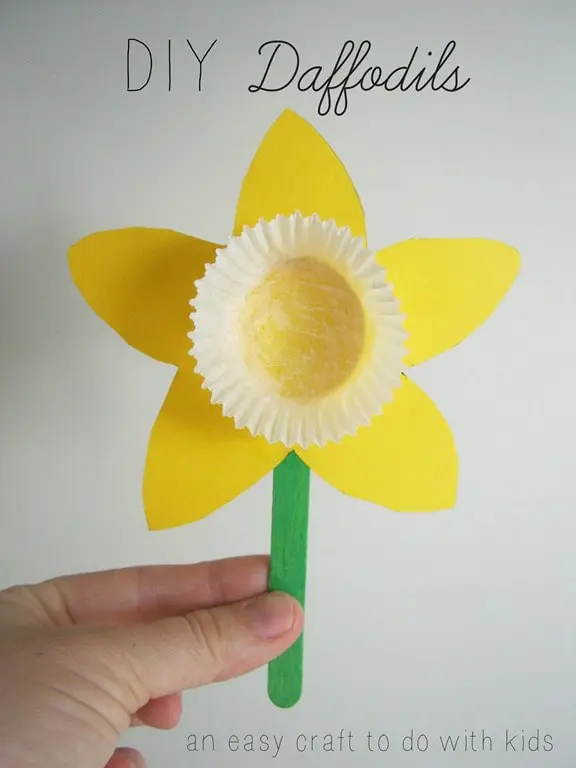 Credit: mendandmakenew.co.nz
These daffodils are so simple yet pretty creative. Never thought you could use cupcake liners this way.
Anyway, these DIY daffodils are easy to make and your child will have loads of fun. So, why not try?
9. Tin Foil Easter Egg Art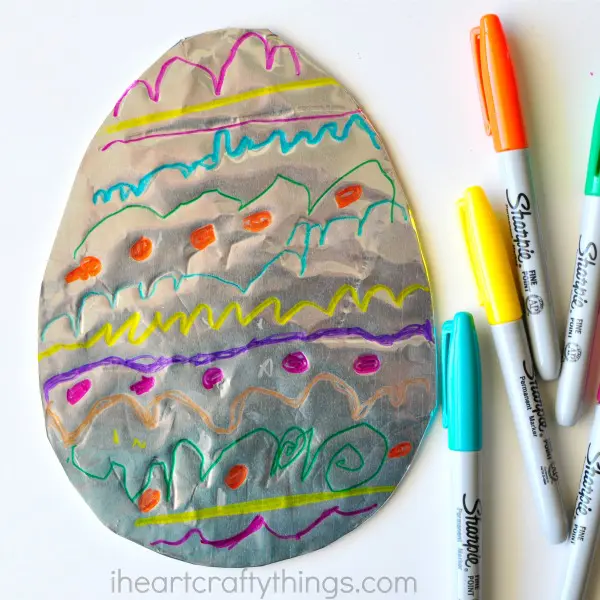 Credit: iheartcraftythings.com
All of us have a bit of aluminum foil at home. So, why not use it for Easter decorations?
These eggs are super cute, simple and your toddlers will have so much fun drawing on them. If you cannot trust them with decorating real eggs yet, this is a perfect way for them to get involved.
10. String Easter Eggs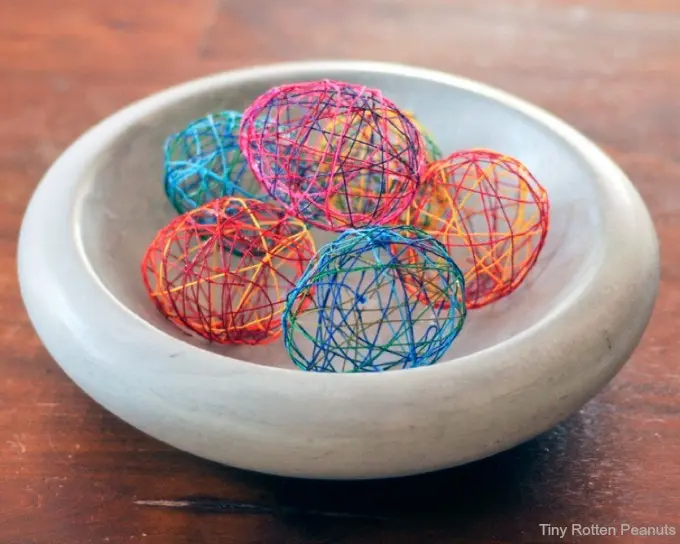 Credit: craftwhack.com
I'm sure you've seen string decorations around. They're so fun to make and, when you succeed, you feel like you've actually achieved something.
These little string Easter eggs are perfect for kids to make. You'll need water balloons, embroidery floss, and glue.
11. Watercolored Easter Eggs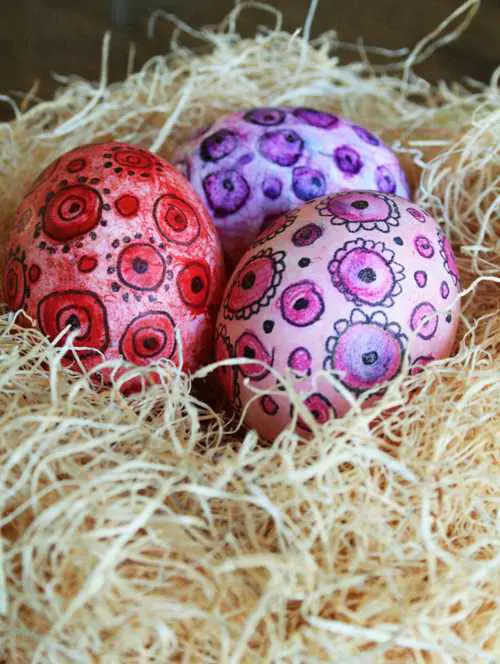 Credit: alisaburke.blogspot.com
Is your child ready to color eggs? Well, then try watercolor pencils to design them.
The whole family is sure to have loads of fun!
12. Handprint Chick Puppets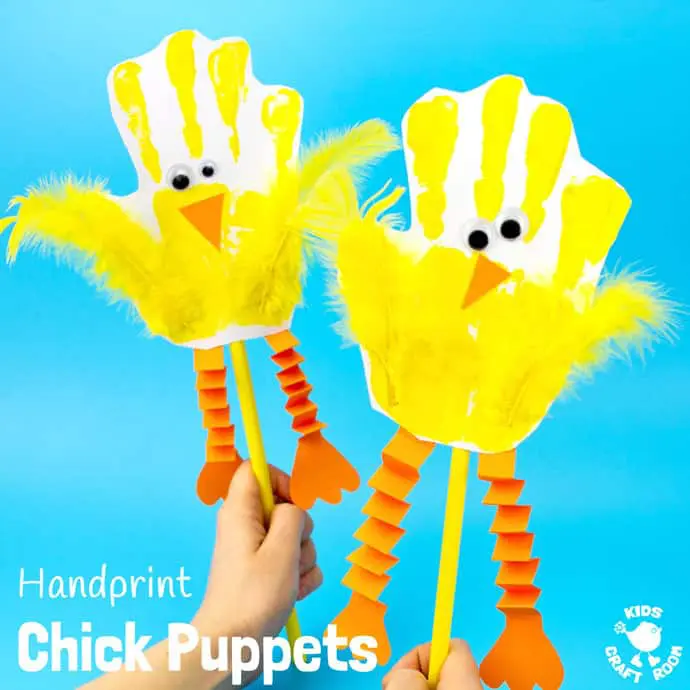 Credit: kidscraftroom.com
These chic puppets look fun and are fun to make. You can get a printable to make it easier – just click on the link right under the picture.
The cute feathers and funny eyes will make it a fun decoration. Also, the children will have loads of fun playing with them.
13. Paper Bunny Hiding in the Grass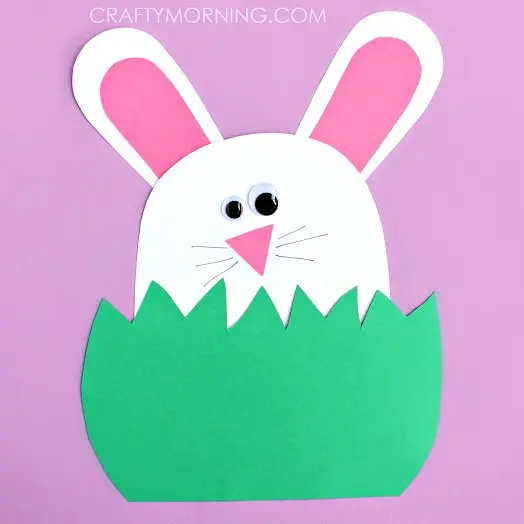 Credit: craftymorning.com
Simple but cute Easter crafts anyone in your family can make. You can easily attach them to the walls (just make sure you don't ruin them).
These will truly help to feel the Easter spirit at home.
14. Watercolor Surprise Easter Egg Art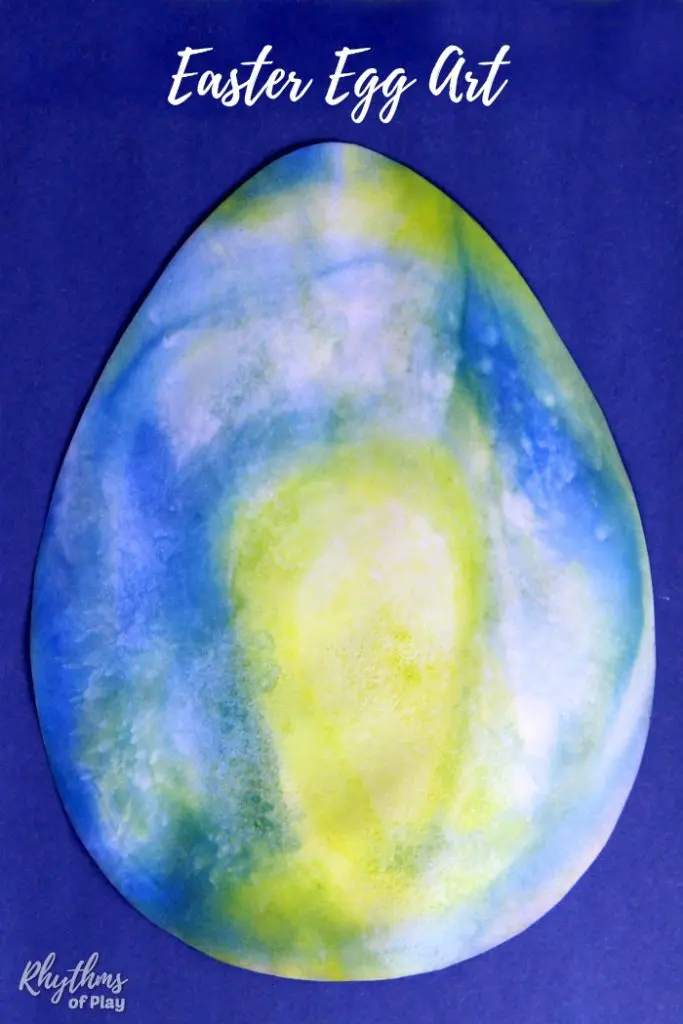 Credit: rhythmsofplay.com
Get your crayons (here is the ultimate crayon collection), liquid watercolors, watercolor paper, and scissors!
Use those to practice coloring eggs to then do it on the real thing!
15. Paper Wreath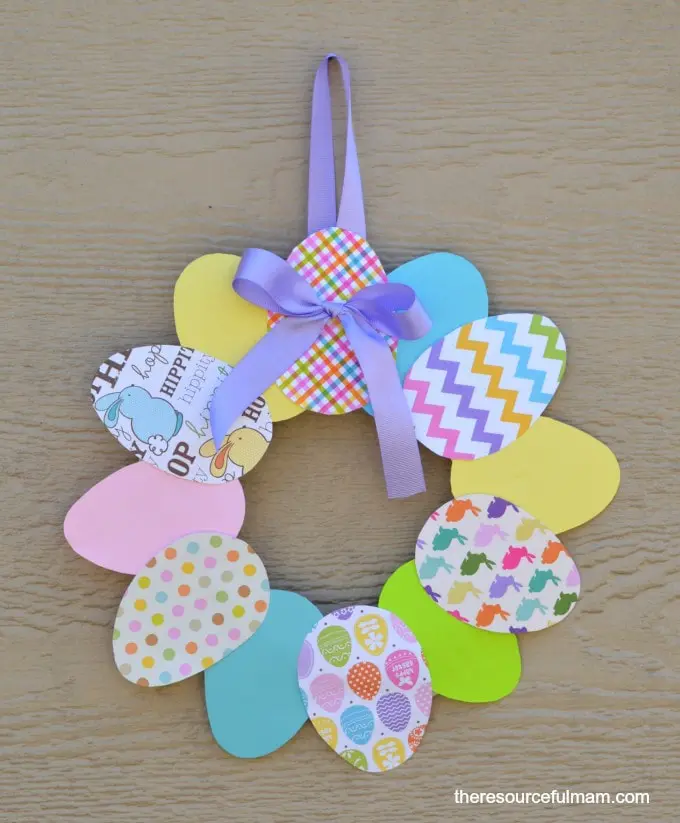 Credit: theresourcefulmama.com
Easter wreath is simply essential when it comes to decorating for Easter. Let your kids to make their own wreath.
Obviously, most wreaths aren't that easy to make and they require quite a bit of skill. However, if you're planning on making one this year, you could involve your kids too.
They could make their own paper wreath – an easier version that looks beautiful and cute.
16. Toilet Paper Easter Bunnies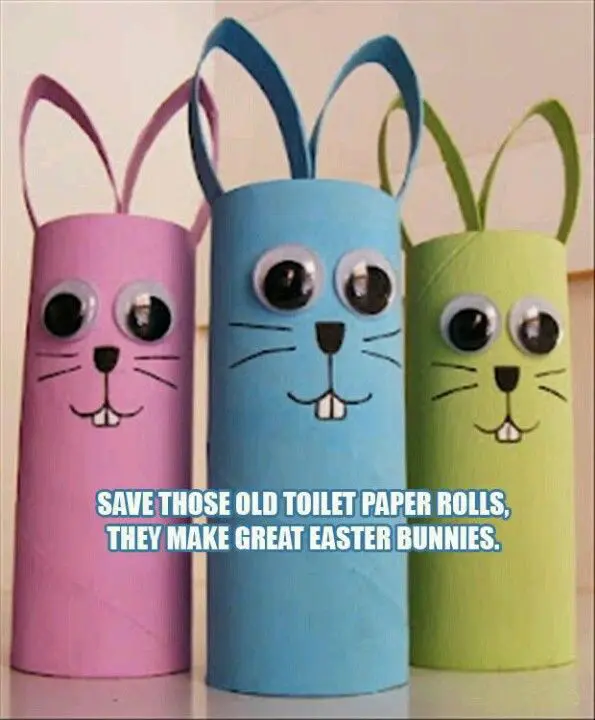 Credit: Pinterest
If you have a bunch of toilet paper rolls lying around – why not use them to decorate your home? These little toilet paper bunnies are easy to make, they'll look good and your kids will love them.
All you need is toilet paper rolls, a bit of watercolor paint, cardboard (or just thicker paper) as well as markers and wiggle eyes.
17. Bunny Mask
Credit: typepad.com
Masks are so fun to make no matter the occasion. Let your kids get into the Easter spirit with these creative masks.
It's so much more fun to play games when you're in a character!
18. Paper Plate Flower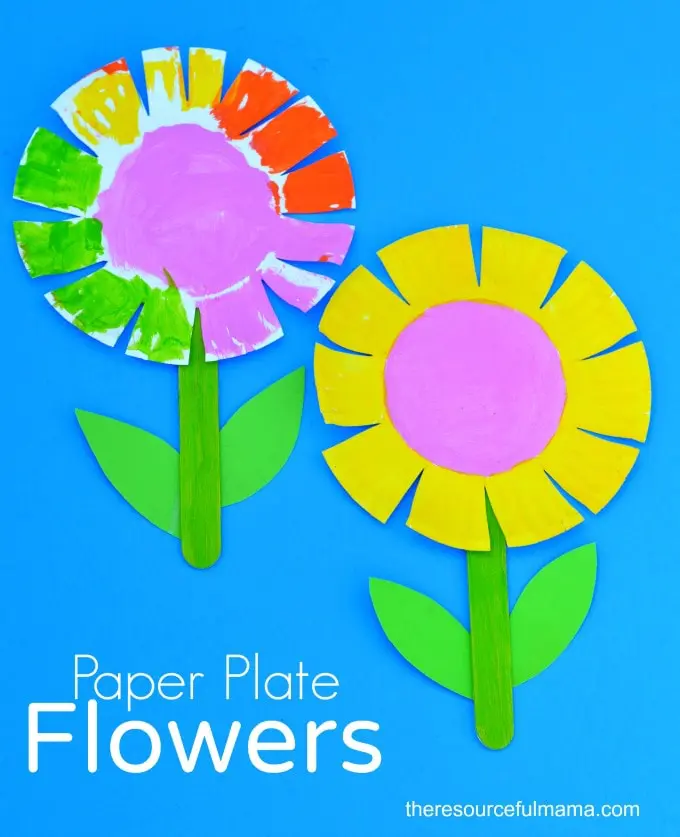 Credit: www.theresourcefulmama.com
I've mentioned a craft that uses paper plates already. So, if you really want to go all the way with them, you can try this little craft as well.
These flowers are cute and you can truly improvise. So, do buy a bunch of paper plates and let your kids get inspired.
There is simply so much you can do with them. You can also create just so many different types of flowers that will bring in the spring spirit into your home.
You don't have to make these just for Easter!
19. Paper Eggs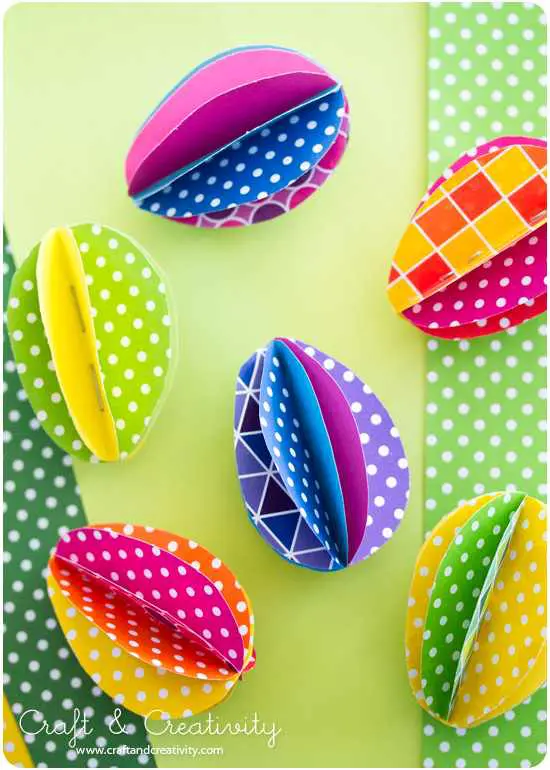 Credit: craftandcreativity.com
These paper eggs are absolutely gorgeous. They make for an amazing decoration.
Of course, you'll need to help your kids with this one. That's mostly because this one requires a little bit of needlework, and you want your kids to stay away from these.
Obviously, that depends on age. However, I truly recommend making this one no matter the age because it'll truly bring more color into your home.
20. Cupcake Liner Flowers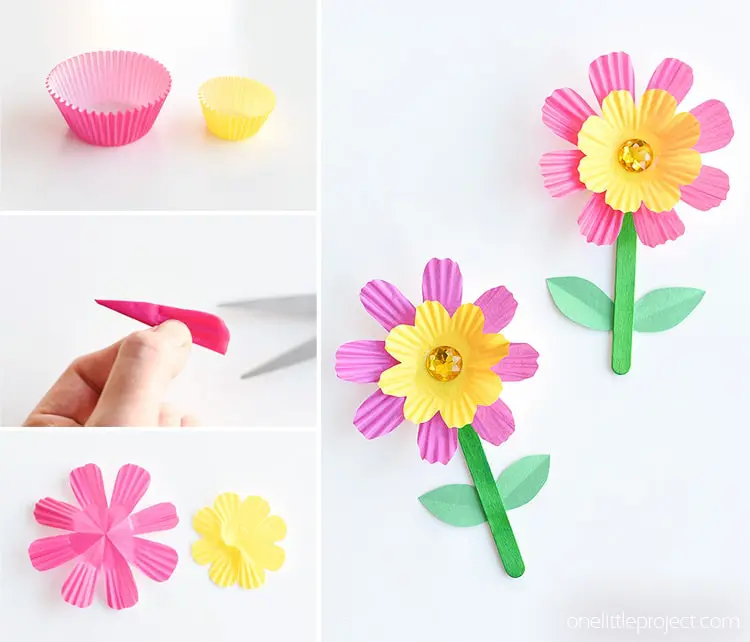 Credit: onelittleproject.com
Have more cupcake liners at home? Try making these cupcake liner flowers with your kids.
The cool thing about these is that you won't need any paint mostly because liners come in color too. However, you really want to get a few gemstone embellishments (you can get the ones here) to decorate your flowers.
21. Easter Egg Button Wreath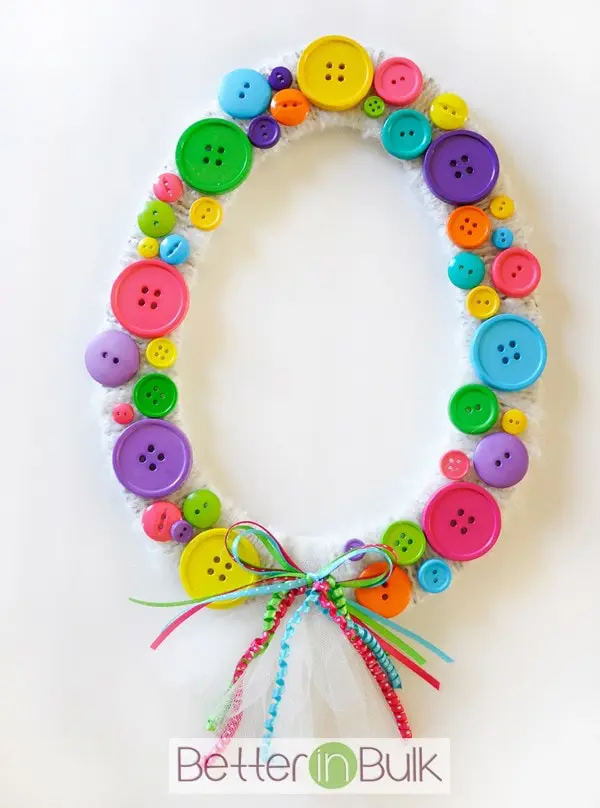 Credit: foodfunfamily.com
Do you have a bunch of buttons laying around? If not, you can still buy them here. The good thing about them is that you can use them to make a cute, colorful and playful wreath.
Also, it's just such a nice yet relatively easy project for your kids and the whole family.
22. Easter Chicks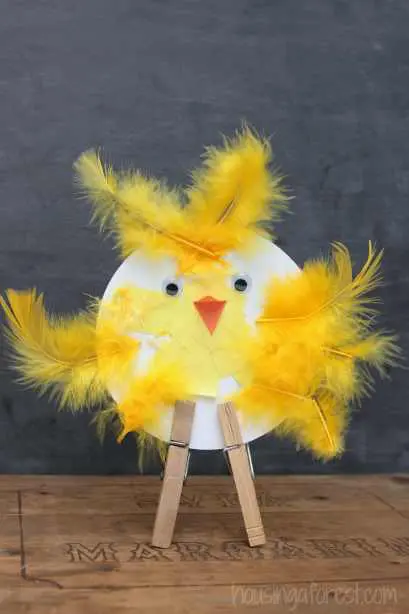 Credit: housingaforest.com
These Easter chicks are pretty great to make. Mostly because you're really going to be using the things you have at home – except for a few decorative supplies.
Other than that, these do for super simple cut decorations that everyone will love.
23. Bunny Pots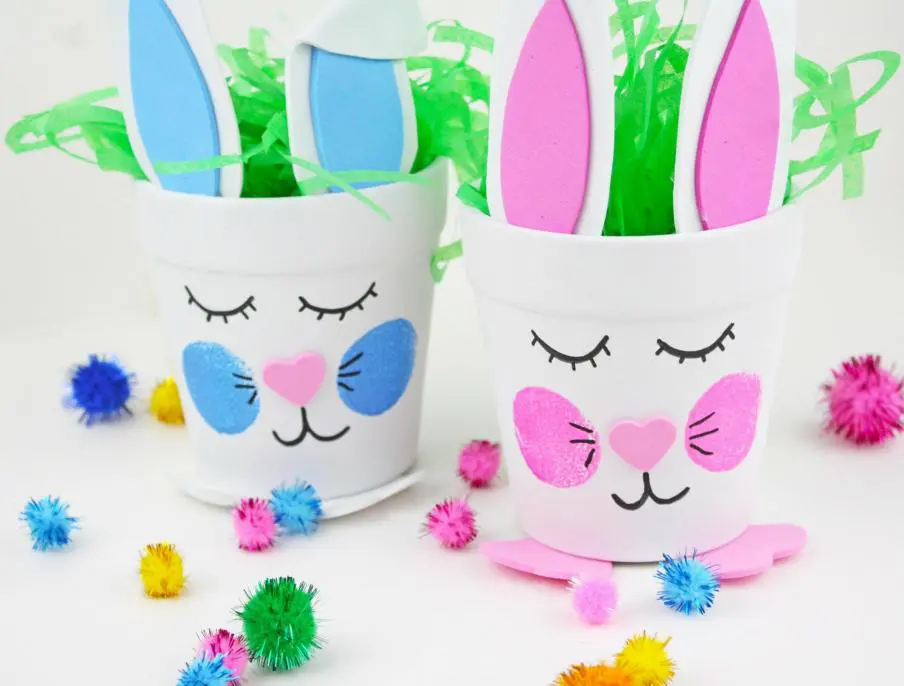 Credit: fun365.orientaltrading.com
If you're feeling like growing a few plants and perhaps making a decoration that will last for a long time, try these bunny pots.
Make sure you buy white pots (like these ones here) and don't use the black markers right away. Otherwise, you might ruin the pot, and they aren't exactly very cheap.
24. Easter Egg Glasses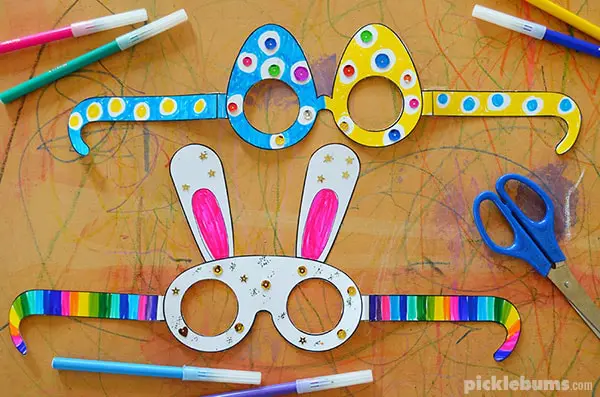 Credit: picklebums.com
These printable egg glasses are so cute. You can download the printable just by clicking the link under the picture.
What's fun about it is that your kids can cut the glasses out a color them in whatever way they want! Very simple, great for the small humans in the house and not very messy.
So, if you're not looking forward to the whole cleaning up after the creative session, try this craft.
25. Bunny Juice Box Wrap
Credit: earlylearningideas.com
If you drink juices, this little bunny wrap is going to be both useful and beautiful. These are great if you're having more kids over for Easter.
You can wrap up all the juices! Also, the kids will love to create something that they'll actually use!
Conclusion
I hope you've enjoyed these Easter crafts. Try them with your kids and try to have fun!
I hope these little ideas will give you some inspiration for this Easter and make everyone smile. At the end of the day, that's what matters!