Easter wreaths are what you need to decorate your home. Make these DIY wreaths to transform your home during Easter.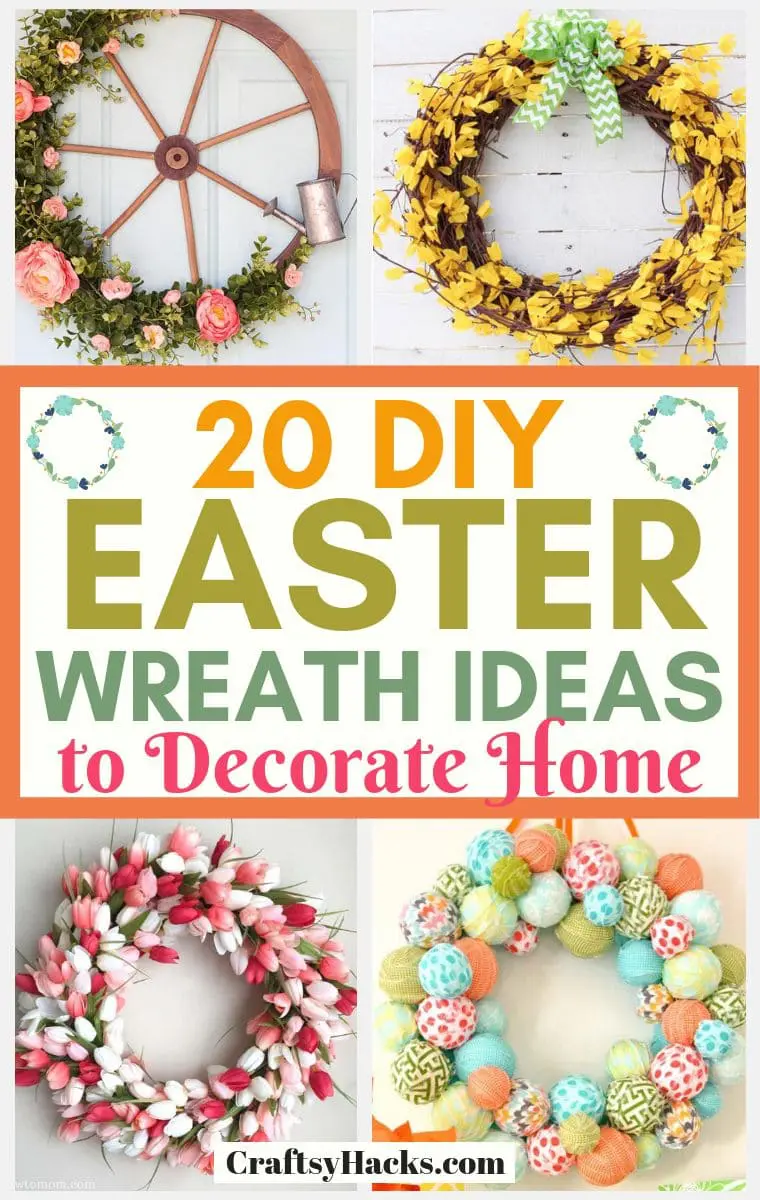 It's that time of the year again – Easter! The best part of it, like with any holiday, is the process of decorating the house.
Getting your whole family involved can truly make everyone's day. Additionally, a guest or two might notice the decorations.
What a lovely way to show everyone that you're taking the holidays seriously! Also, it's just such a sacred Easter decoration that you definitely want to hang on your door.
So, today I thought I'd share with you multiple DIY Easter wreaths that will make crafting fun and enjoyable. I hope these will give you some very much needed décor inspiration!
1. Simple Easter Wreath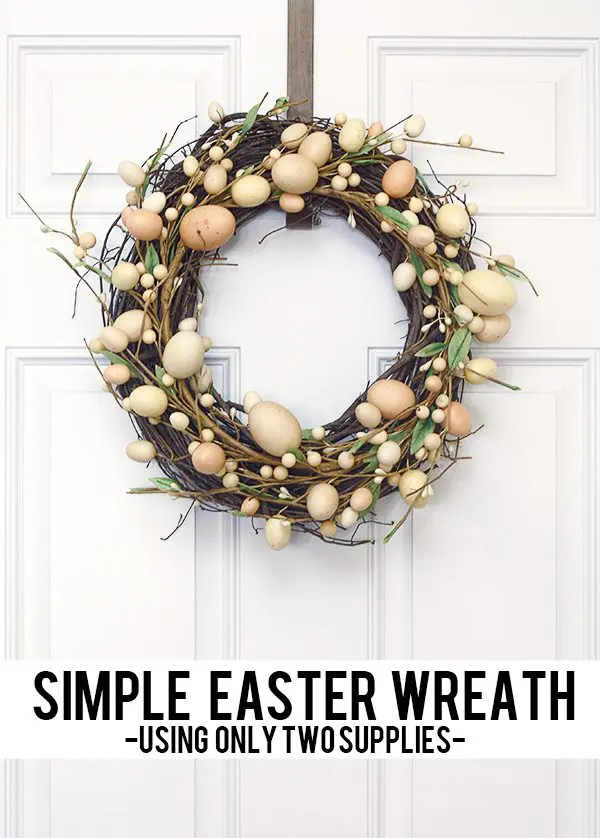 Credit: livelaughrowe.com
Starting things off with a simple but elegant Easter wreath. Get a grapevine wreath (you can choose one from here), an egg garland and floral wire with a glue gun.
It's a pretty easy wreath to make, so if it's your first time making one, you can give it a try. Also, it just looks very natural and blends with the environment beautifully.
2. Tulip Wreath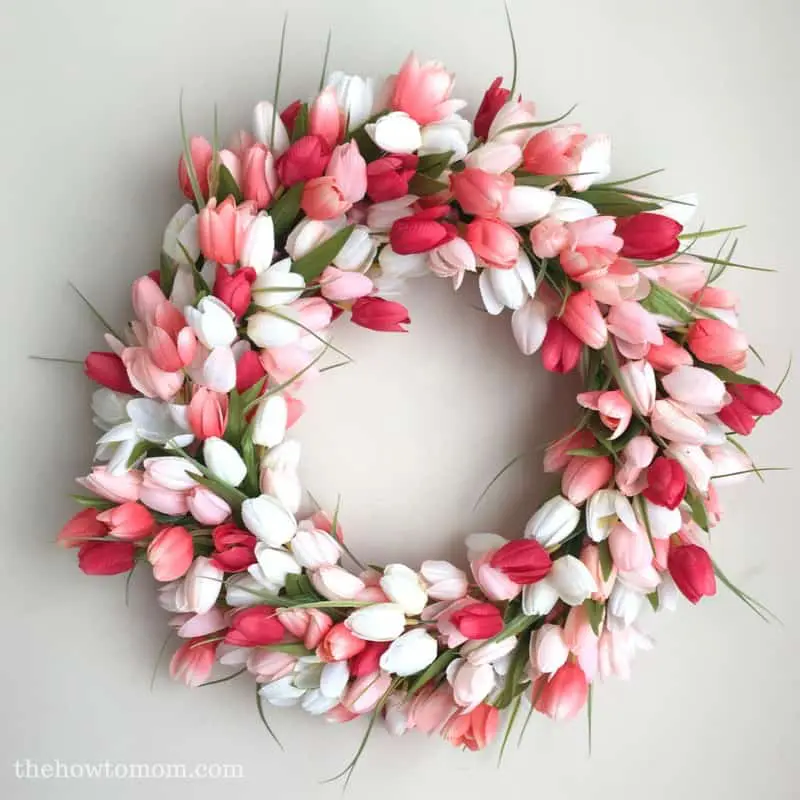 Credit: thehowtomom.com
Love tulips or just flowers? This natural wreath is exactly what you might love.
While the wreath won't last forever, it'll make Easter truly special. On top of that, that's the only type of wreath that will actually smell nice.
So, if you want to bring nature into your home and signify the beginning of a livelier period, make this wreath.
3. Amigurumi Easter Wreath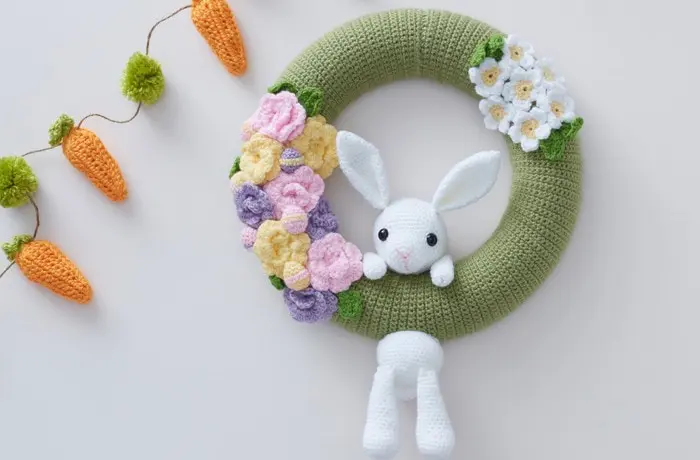 Credit: hobbycraft.co.uk
A fan of crocheting by any chance? Try making this Easter wreath – it's not the easiest one to make but it looks absolutely amazing.
Also, it's something you can in multiple places at home and it'll definitely last you for more than one Easter. It's truly a piece of art.
Check the full tutorial here on how to make it. If you're up for the challenge, go for it. The wreath is definitely worth making.
4. Easter Bunny Wreath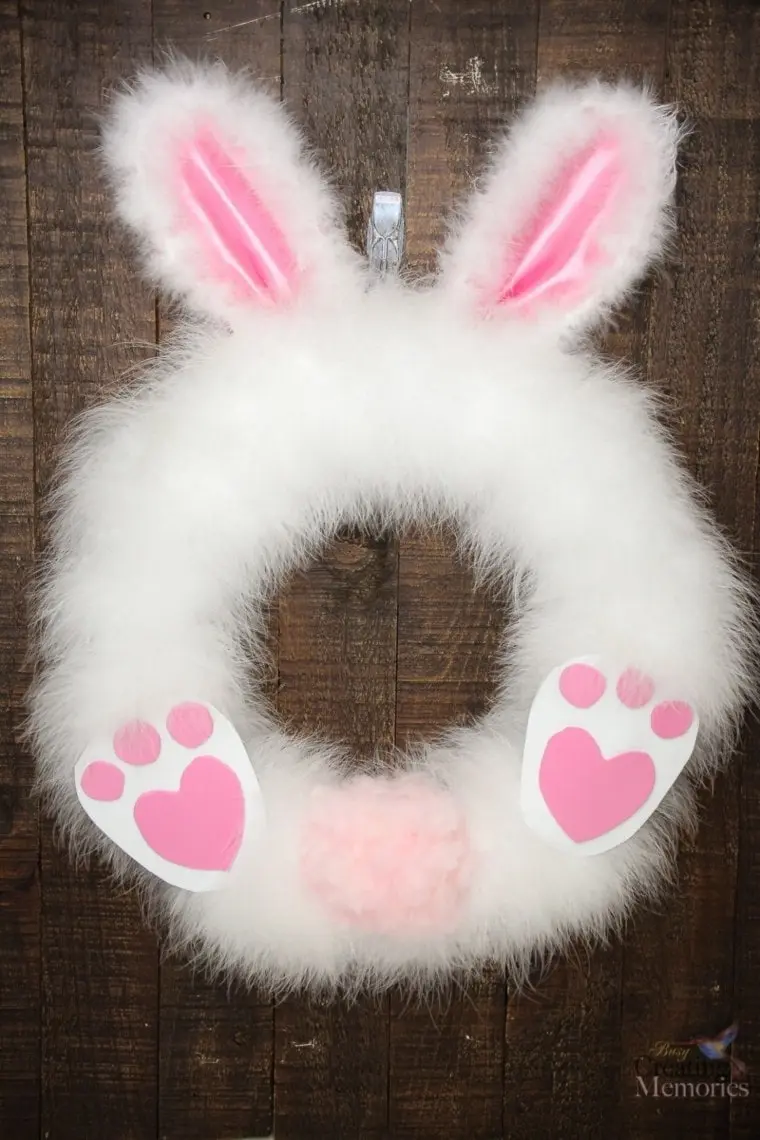 Credit: busycreatingmemories.com
Here is an adorable but simple project that your kids will love. This bunny wreath is very playful, super cute and the kids will love this one.
To make the wreath you'll need a smooth foam ring, fluffy boa like this one here, greening pins, foam sheets and, of course, bunny ears. Play with the colors and create your own bunny wreath that resonates with your home décor.
5. Quick and Easy Wreath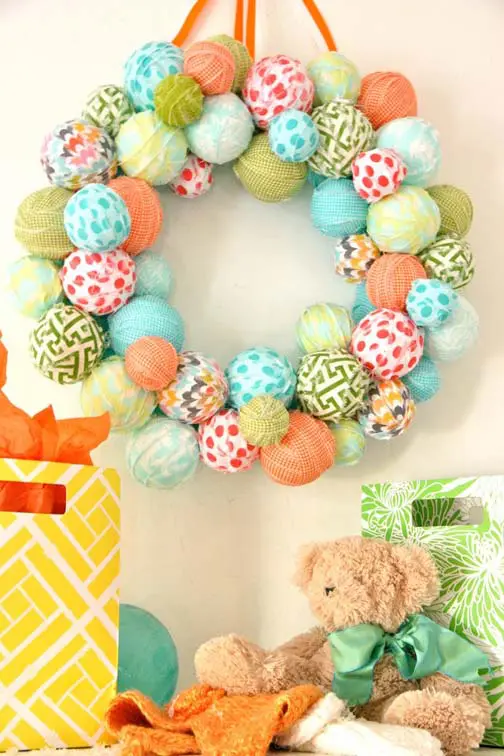 Credit: michaelmillerfabrics.com
Have a bunch of torn fabric at home and styrofoam balls? Well, then you're in luck.
You can make this simple, yet super interesting Easter wreath and create a cozy feeling in your home. This is perfect for the living room or bedroom.
Probably not a great idea to keep this one outside. However, if you're looking for interesting Easter crafts to decorate your rooms, it's definitely worth considering.
6. Dollar Store Spring Forsythia Wreath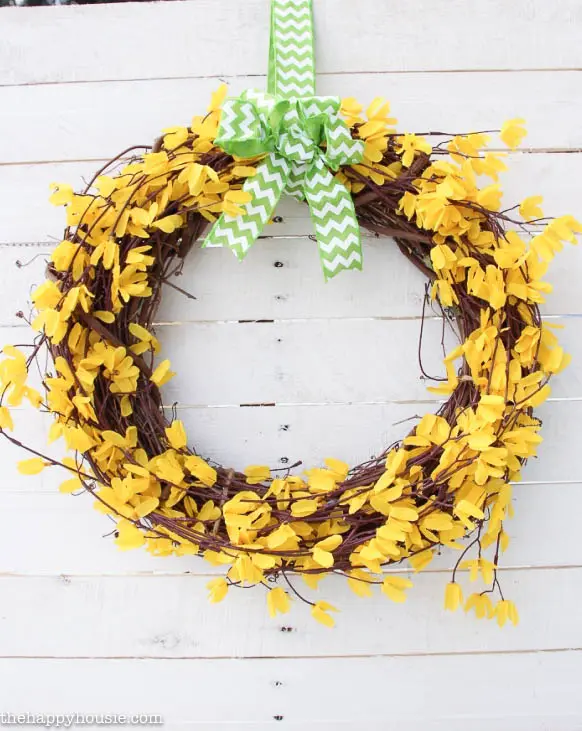 Credit: thehappyhousie.porch.com
Making an Easter wreath doesn't have to be expensive. In fact, you can get most of the supplies for it in the Dollar Store.
Which makes it a super cheap yet beautiful Easter decoration that will make your home look amazing. Check the full tutorial here on how to make this wreath just in 5 minutes.
7. Easter Egg Wreath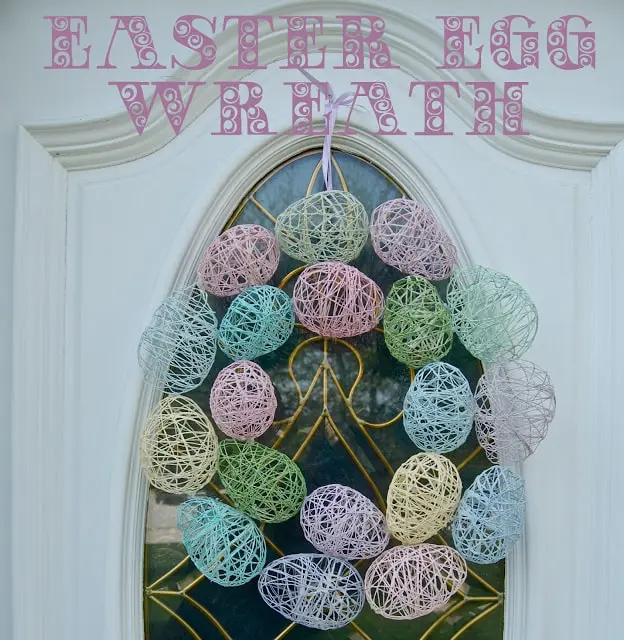 Credit: wineandglue.com
This wreath is nothing like what you'd expect to see on someone's door. However, it's truly an interesting decoration idea that you should definitely try.
Also, I love the fact that you don't need a lot of supplies to make this one happen. And, children can totally contribute towards making the wreath.
It's a truly cute wreath that will easily blend in.
8. Spray Painted Spring Wreath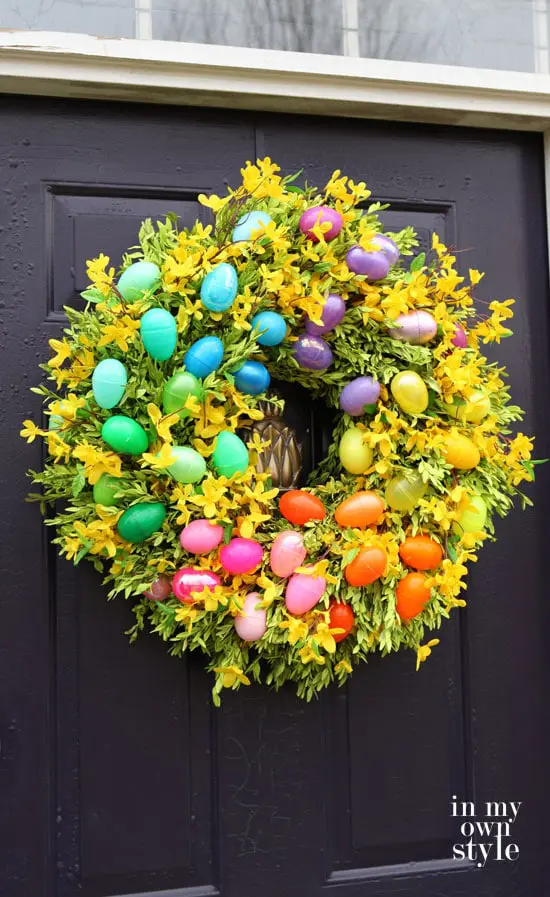 Credit: inmyownstyle.com
If you have some old boxwood wreaths and they're looking poor, you can always revive them. Get some spray paint, a few décor details and you have a brand new wreath.
It's a great idea because so often we just make a new wreath or buy one instead of trying to reuse the old one. This is a great idea if you think of the environment and try to recycle.
Get some ribbons, some plastic eggs, and make a truly beautiful Easter wreath out of the old one.
9. Wagon Wheel Farmhouse Style Wreath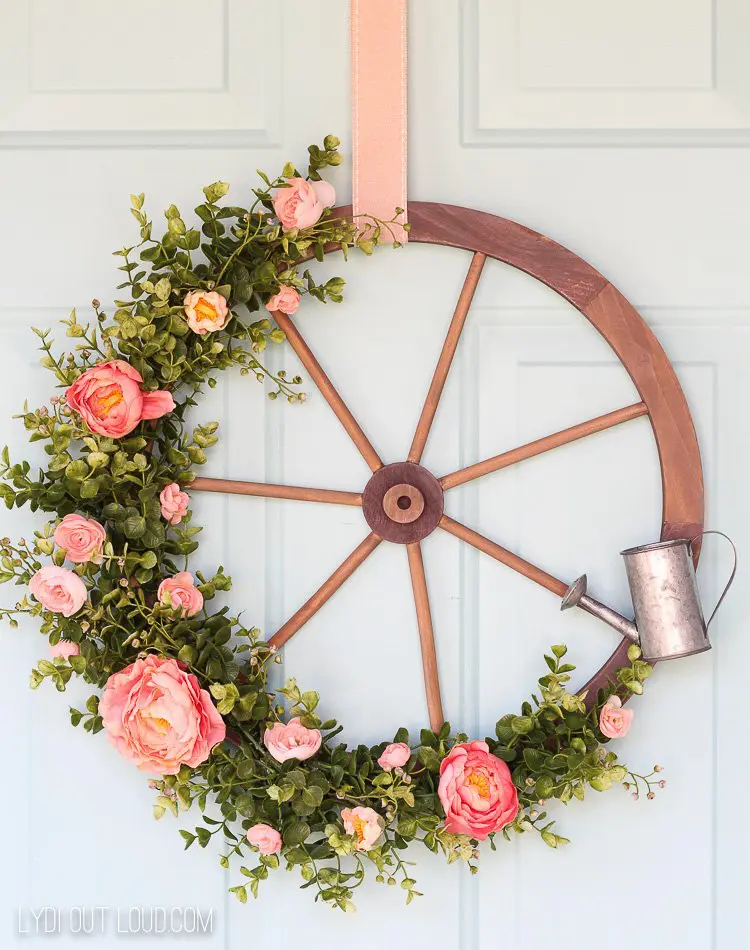 Credit: lydioutloud.com
If you're a big fan of farmhouse décor and constantly look for such décor ideas, you'll love this wreath. It's actually a wheel transformed into a wreath.
It looks absolutely amazing, probably nothing like what you'd find in any other house. However, it simply takes Easter wreaths to a whole new level.
Check the full tutorial here on how to make this one.
10. Floral Valentine's Day Wreath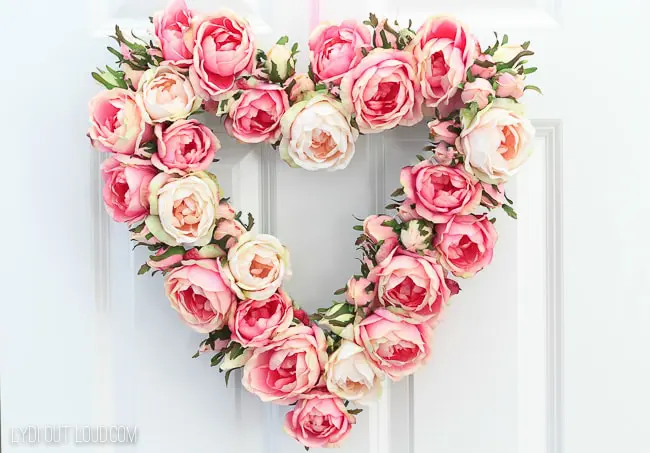 Credit: lydioutloud.com
Well, don't get me wrong – Valentine's day is long gone. However, this beautiful heart-shaped wreath seems just like the best thing.
It represents the love and warmth that our homes are all about. So, why not make one this Easter? Use fresh roses for this one and welcome your guests with beautiful smells.
11. Umbrella Wreath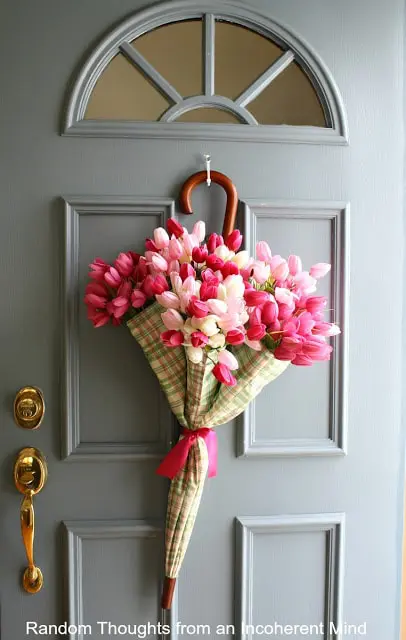 Credit: randomthoughtshome.com
If you're looking for something less traditional this month, make this umbrella wreath. Truly something that will bring the attention of your neighbors.
Another great thing about it is that it's fairly simple to make. All of us have umbrellas at home, get a ribbon, some fresh flowers, and fill up the umbrella.
That's you done!
12. Boots Wreath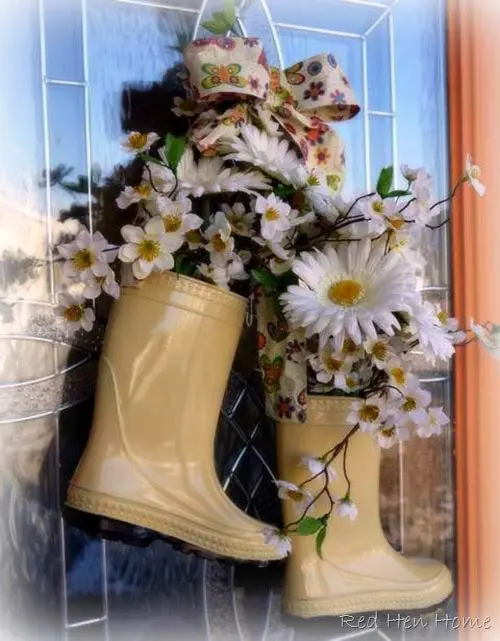 Credit: redhenhome.blogspot.com
When I first saw this wreath, I thought it was an ingenious idea. If you have colorful booths laying around, get some flowers and tie the whole thing up.
Here you go, a playful Easter wreath that will make everyone smile at least a little.
13. Paper Umbrella Wreath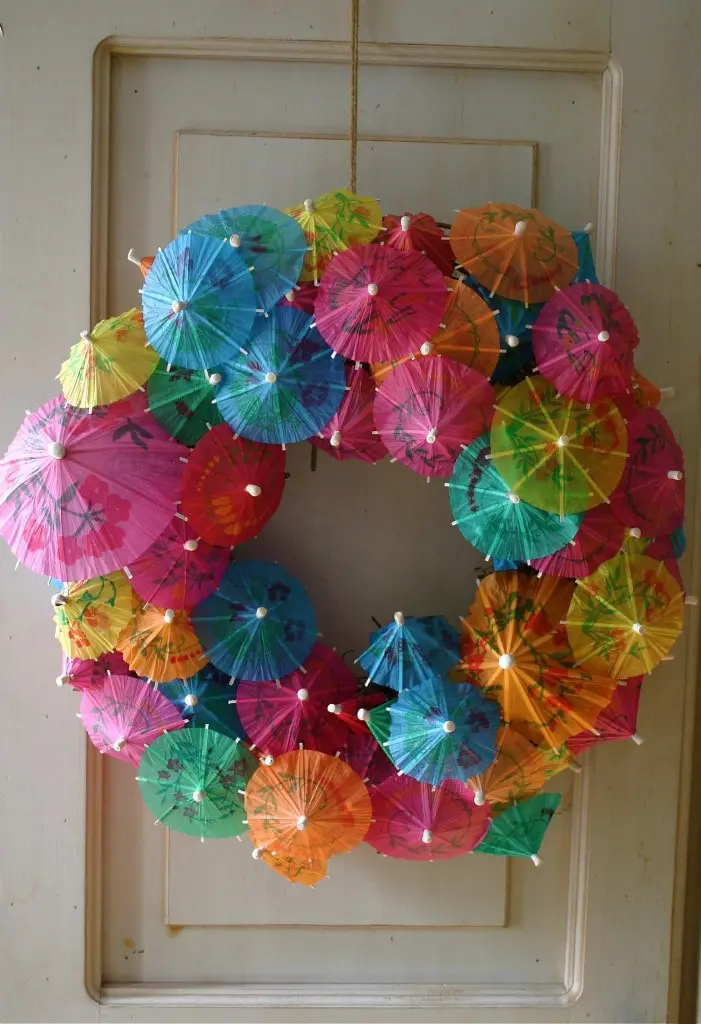 Credit: cfabbridesigns.com
Do you know the small paper umbrellas that you can use for sandwiches and other snacks? These are great for celebrations and gatherings.
However, they're even better as a part of a decoration. Make this paper umbrella wreath and surprise your family members during the Easter dinner.
14. Grass Spring Wreath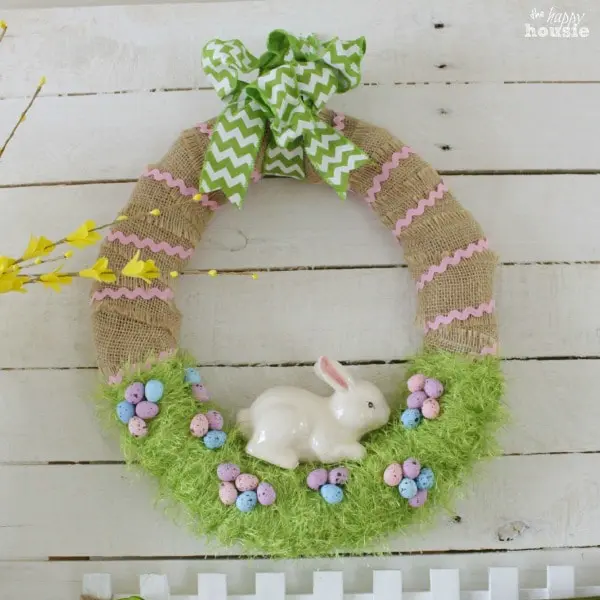 Credit: thehappyhousie.porch.com
This wreath is a perfect Easter decoration. If anything, it's truly a piece of art.
I'm not saying it's going to be easy to make it but the light colors, the eggs, and the bunny will truly make everyone smile. It's so cute and heart-warming, isn't it?
Also, you can both have it outside and inside. So, bring on your imagination and make this lovely wreath that kids will love.
15. DIY Glittered Easter Egg Wreath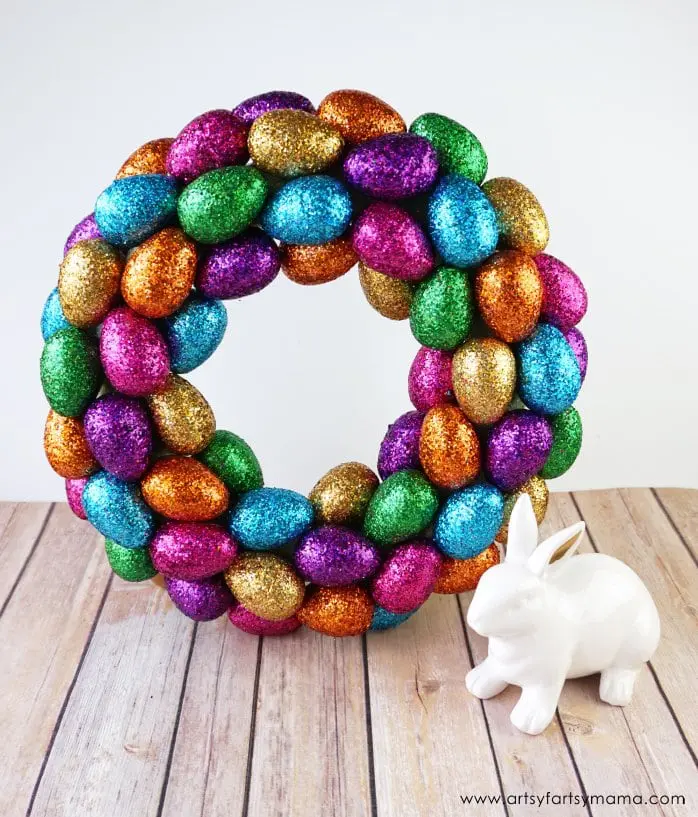 Credit: artsyfartsymama.com
If you're a fan of everything glitter, here is a perfect craft idea for you. For it, you'll need either a lot of glitters or glittered eggs.
If you cannot find eggs covered in glitter, you can always do it by yourself. It'll be a little bit more work but should do the job!
16. Bunny Wreath
Credit: southerncharmwreaths.com
This bunny-shaped wreath will truly bring life into your home. It's gorgeous, creative and nothing like what you've seen before.
Obviously, you'll need some greenery for this one – since using fake plants won't cut it. Truly a beautiful décor idea for your home!
17. Autumn Fabric Wreath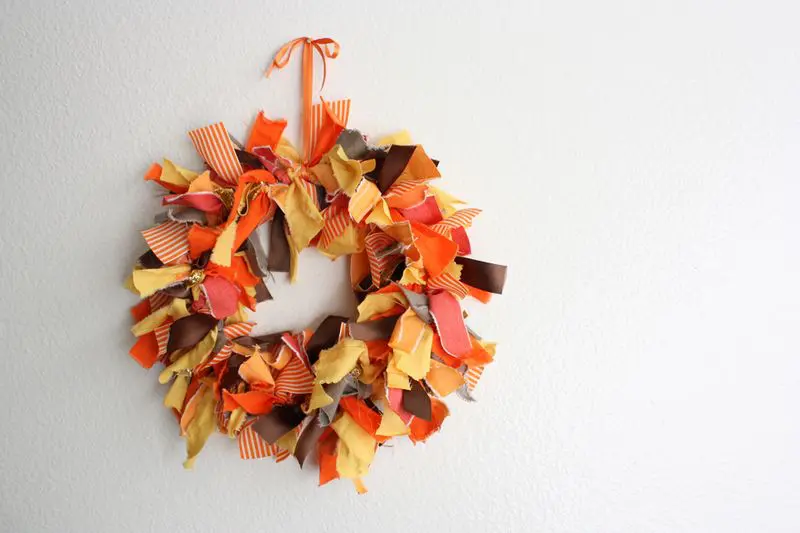 Credit: abeautifulmess.typepad.com
If you have a lot of pieces of fabric around the house, you can make a wreath that has a bit of an autumn feel. While it might not directly resonate with Easter, it's truly a beautiful piece of decoration.
Make one and have fun with your family. I think it's a great craft to make with your kids. Since it's not very difficult and yet very creative.
18. Anthro Style Wreath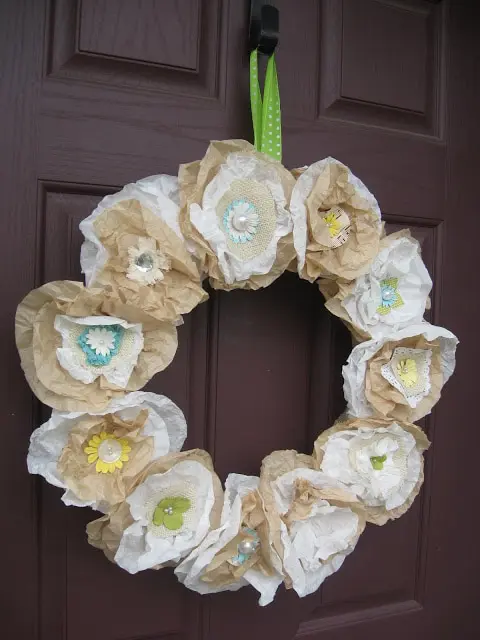 Credit: tatertotsandjello.com
Get your whole family involved with this anthro style wreath. For those who have no idea what ''anthro'' really tells us here – it' a store!
So, yes, indeed, it's Anthropologie inspired wreath! Give it a try, it might take the whole night!
19. Whimsical Spring Wreath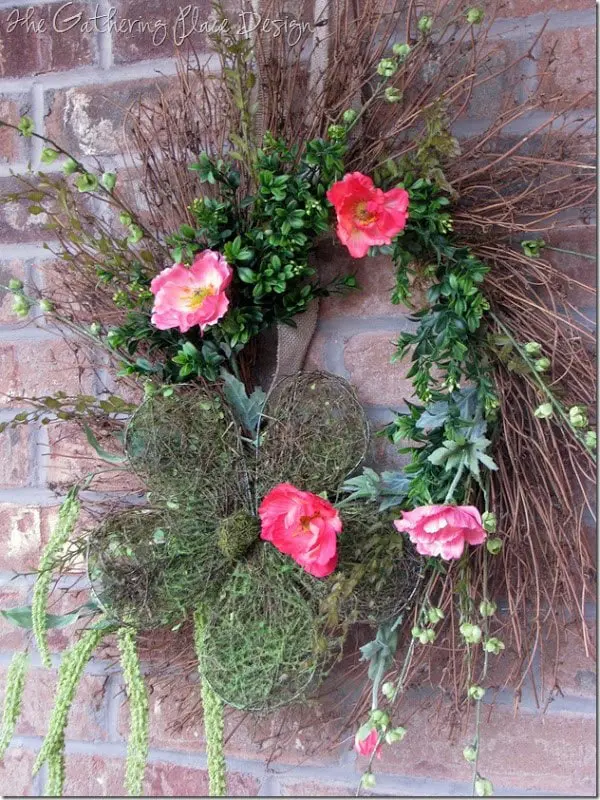 Credit: thegatheringplacedesign.blogspot.com
There is nothing more beautiful than a natural wreath for your backyard. If you have a garden or just feel like you want to bring some life into your home area, you can make this wreath.
It truly represents the rebirth of nature and brings in very much needed liveliness into your life.
20. Bunny Ears Wreath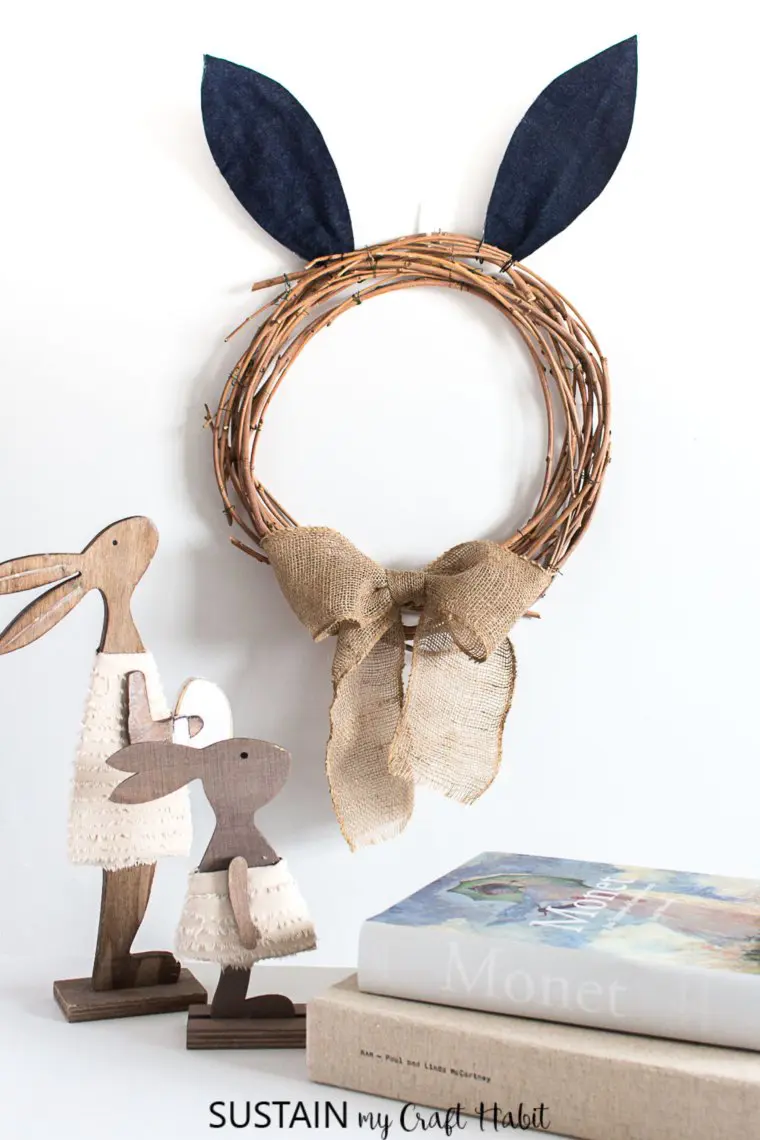 Credit: sustainmycrafthabit.com
This cute bunny ears wreath will suit your room perfectly. Perhaps it's not the best choice for an outside decoration but it'll definitely become a centerpiece of a bedroom.
You could also just hang it in the living room or dining room. Keep it somewhere near your Easter basket.
Conclusion
Loved the wreath ideas for this Easter? Are you going to DIY one of them? Let me know in the comment section!