Love the farmhouse style? Here are multiple farmhouse Christmas decor projects to transform your home.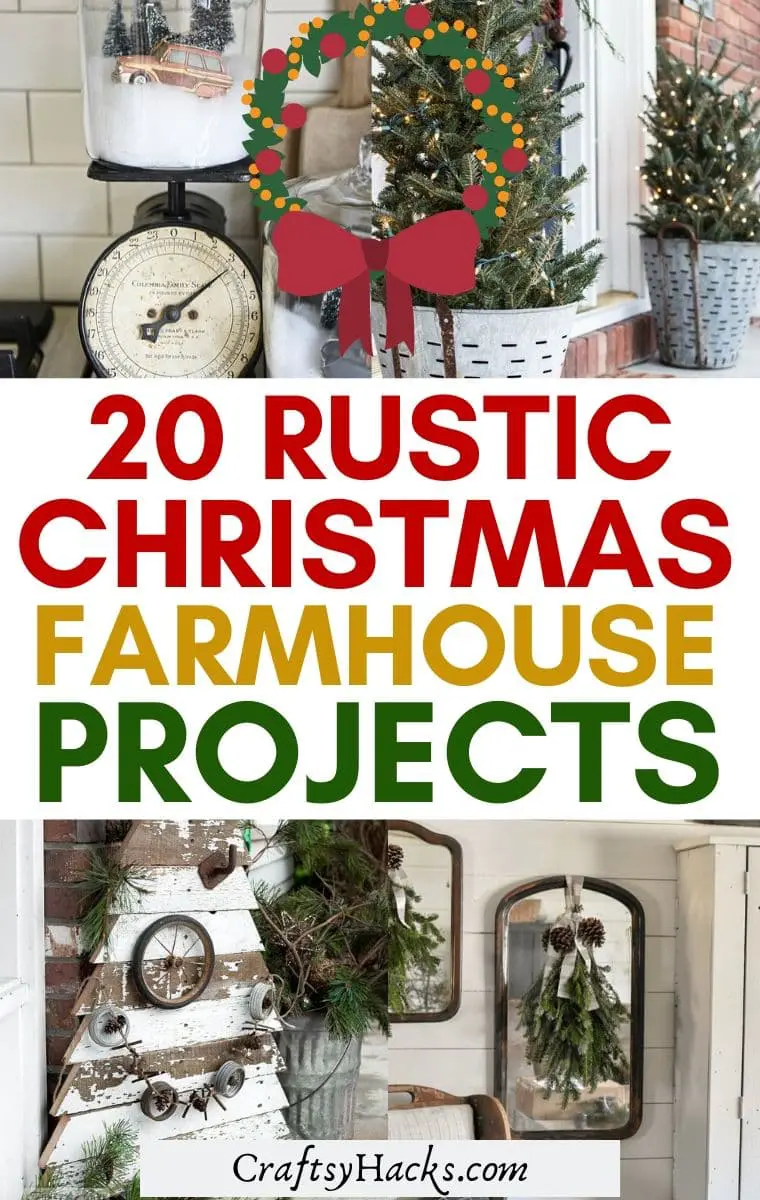 Is there anything cozier than a farmhouse Christmas?
If you love rustic country decor too, this collection is just for you! I've put together a list of 20 different DIY projects that will help you incorporate a farmhouse look into your Christmas décor.
All of these DIY Christmas decorations are very easy to make and most of them can be made with stuff that you already have at home.
And if you don't have some of the supplies, you can buy them at very affordable prices. Yes, you can pull that gorgeous rustic Christmas look without breaking the bank.
Are you ready? Let's turn your home into a vintage Christmas getaway.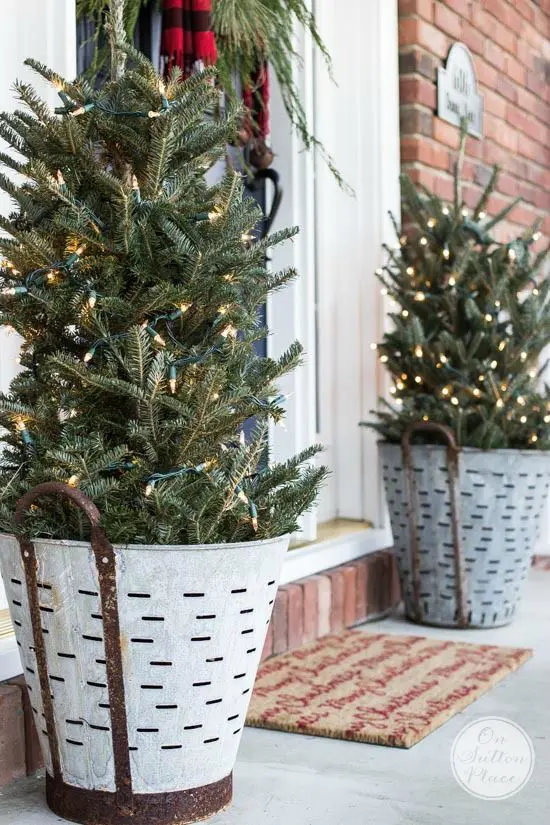 Source: onsuttonplace.com
Add a touch of rustic charm to your deck or porch with these olive bucket planters filled with Christmas trees. In spring, you can switch out the trees for ferns.
In autumn, you can use the olive planters for your pumpkins.
Get your olive buckets planters here.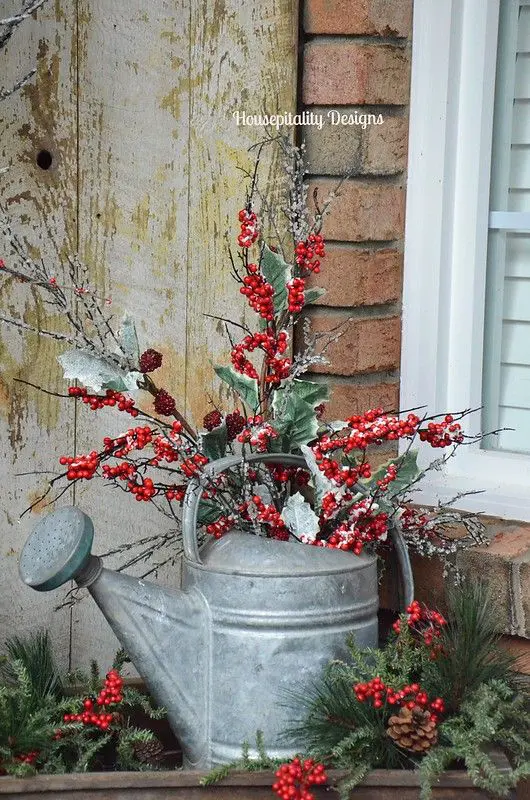 Source: housepitalitydesigns.com
Old watering cans aren't exactly desirable items. But wait till you see just how beautiful and charming they can be!
You can easily re-purpose your old watering cans and turn them into vintage Christmas ornaments for your yard, entryway, or garden. All you need to do is fill them with faux branches of berries!
If you don't have a metal watering can, you can get one here.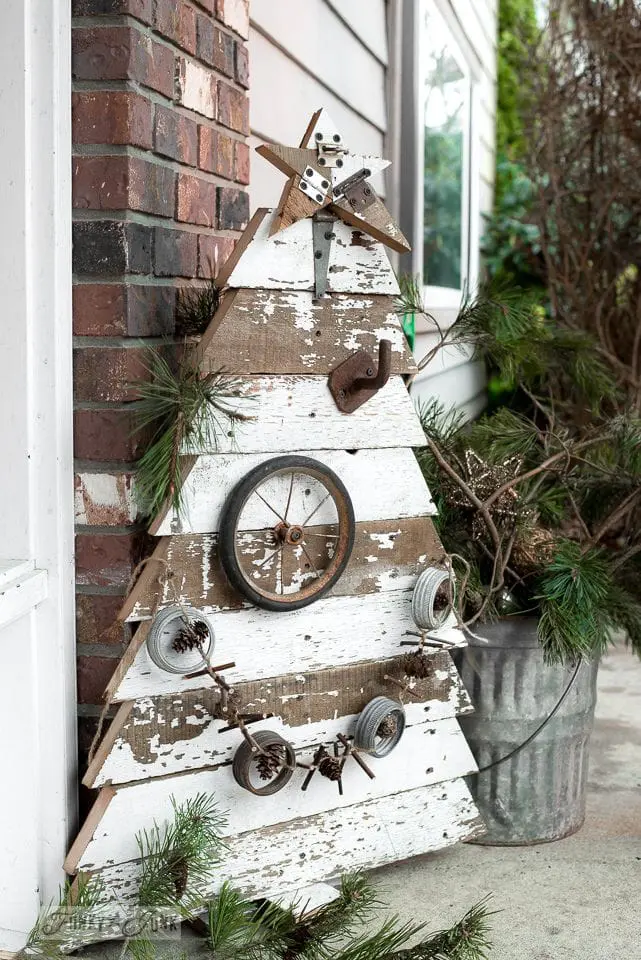 Source: funkyjunkinteriors.net
Old barn planks, pallets, or fence wood will be perfect for creating these DIY outdoor wooden Christmas tree and star.
To be honest, this project does take some work but it's totally worth it because it will give your porch or front yard a lovely rustic touch. The good news is you don't need to paint them (unless you want to, of course).
You can also add evergreens or ornaments like these to dress your tree up.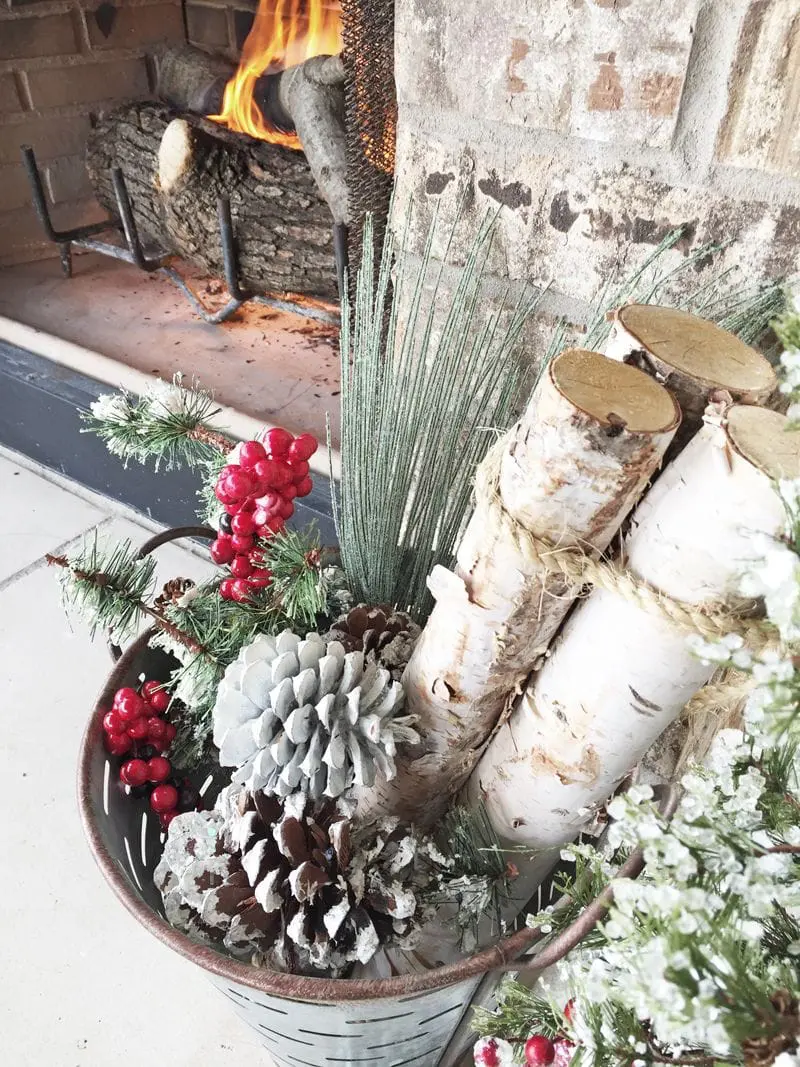 Source: cleanlivingcleaneating.com
Looking for a way to decorate your fireplace with rustic Christmas decorations? Turn to those vintage olive buckets again.
Kara from Clean Living Clean Eating suggests filling them with pine cones, berries, birch logs, and snow-covered pine branches which you can get here.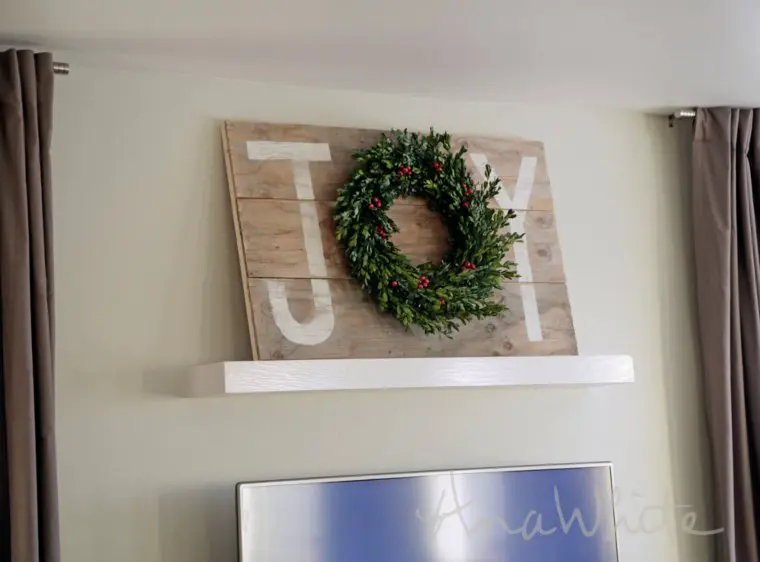 Source: ana-white.com
What's better than making the walls of your home greet a Merry Christmas to the family and friends?
Joy signs aren't new to Christmas, but a large board holding the letters of 'JOY' with a lavish wreath like this for the O surely makes this one stand out.
Bring some joy to the world, folks!
Source: lovegrowswild.com
I believe that some of the best holiday memories happen at the dinner table when you're with your loved ones enjoying your favorite Christmas recipes.
An amazing Christmas table decoration can help you reinvent and relive some of those sweet memories. Believe it or not, setting a farmhouse holiday table doesn't need to be expensive, time-consuming, or difficult.
Just like this decorating idea by Love Grows Wild. It features cute frosted evergreens in little wood boxes, these gold candlesticks, and two little wooden nutcrackers.
You can get 4 unpainted wooden nutcrackers here if you wish.
So simple and yet absolutely gorgeous Christmas centerpiece!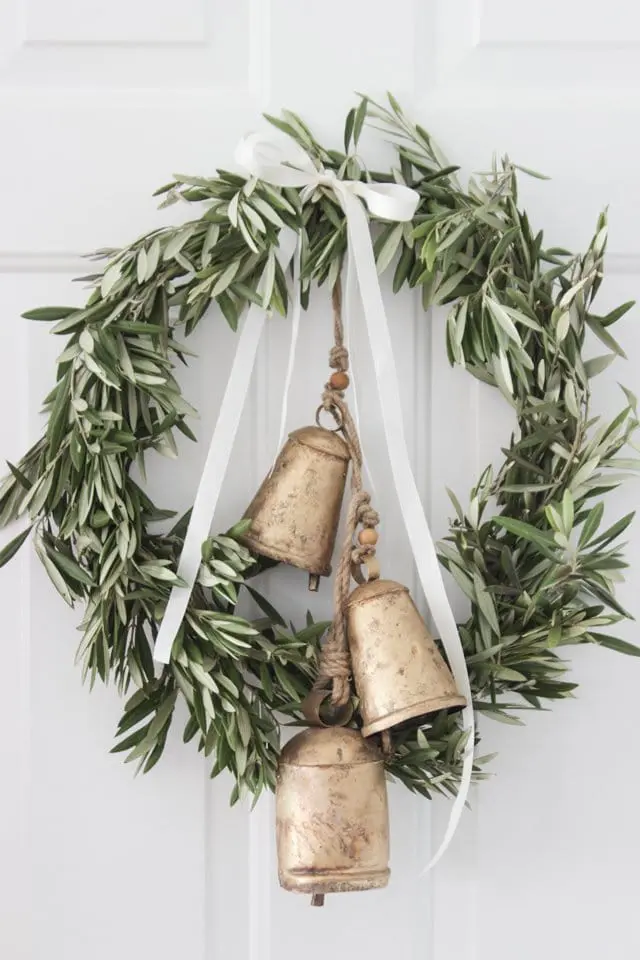 Source: shadesofblueinteriors.com
Christmas decorating is great but it can sometimes be too over-the-top.
I mean, giant Santas standing among gingerbread houses surrounded by Christmas lights in all possible colors? C'mon!
If you're looking for a more subtle approach this season, look at this minimalistic wreath made out of olive branches.
It is very simple to make. Just put together a bunch of olive branches with floral wire. Add a few cute bells like these and you're all done!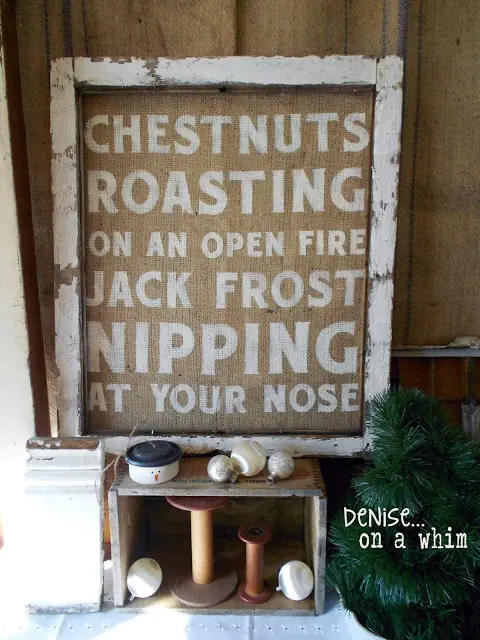 Source: deniseonawhim.blogspot.com
Don't have time to put together a pallet sign? No problem.
Pay your garage a visit and look for an old, chippy window (there has to be one, I mean, what are garages for?).
Use it to frame burlap with white lettering. This is how you create a gorgeous Christmas sign.
You can get burlap here. It'll be useful for many Christmas to come. Also, for other farmhouse décor projects too!
If you need inspirations, here are a few verses from my favorite Christmas carol:
I'll be home for Christmas

You can plan on me

Please have snow and mistletoe

And presents on the tree.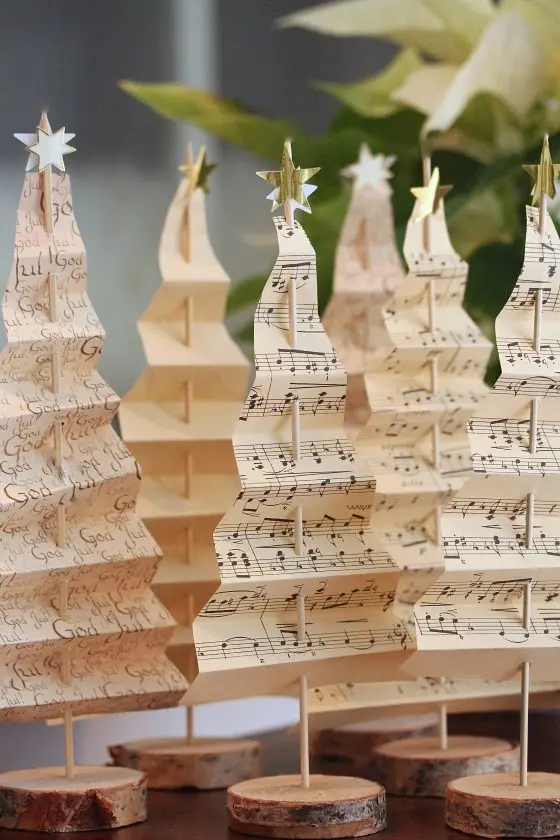 Source: onsuttonplace.com
When decorating for Christmas, don't forget about your entry. These vintage enamelware pitchers are perfect for the three bottom stairs.
Fill them with juniper and your guests will be greeted by the beautiful, clean smell of pine. Choose red or white pitchers like these ones and don't forget to add pinecones!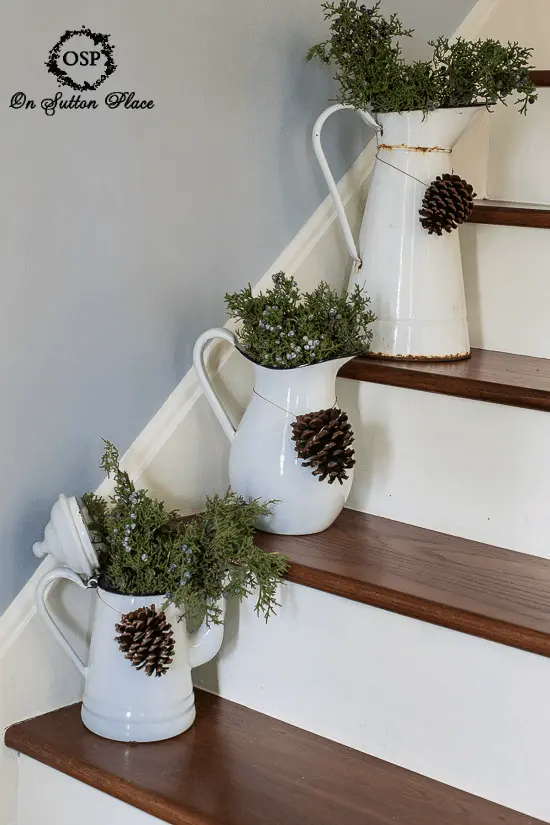 Source: lyckoslanten.blogspot.com
Sheet music can really add a touch of elegance to your Christmas décor. For instance, you can use it to create a 'forest' of decorative Christmas trees.
You can use these cute vintage sheet music trees to decorate the home. Also, as name card holders for your Christmas dinner.
All you need for this DIY craft is several sheets of music cut into triangles, extra-long skewers, and a small slice of wood.
Scatter the trees in the center of your dining table to create a lovely table setting or place one on each plate.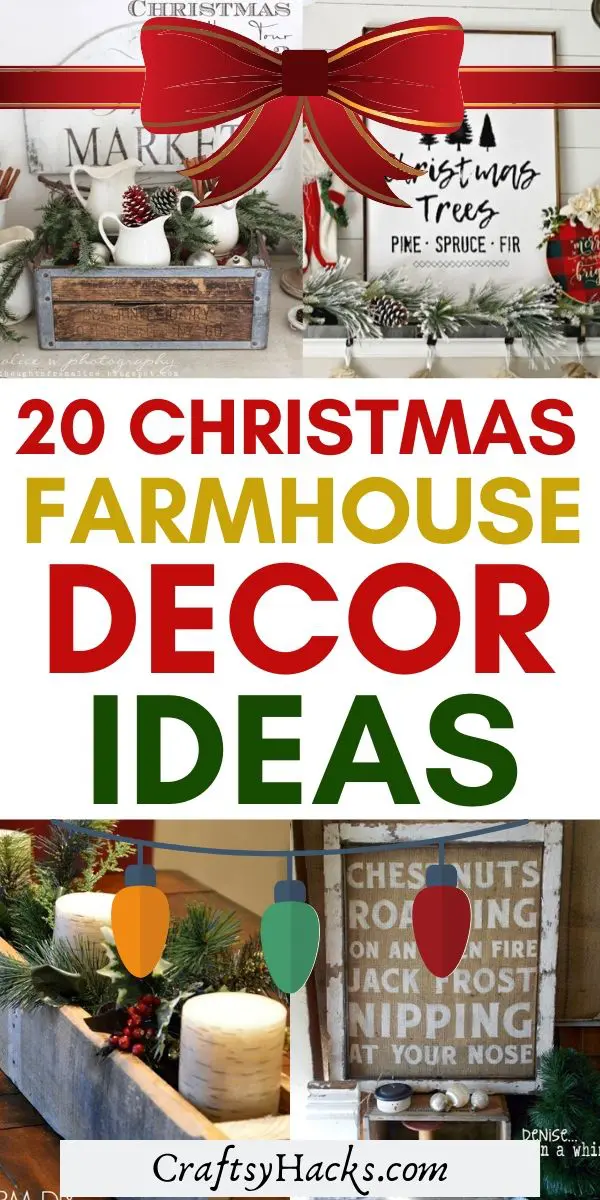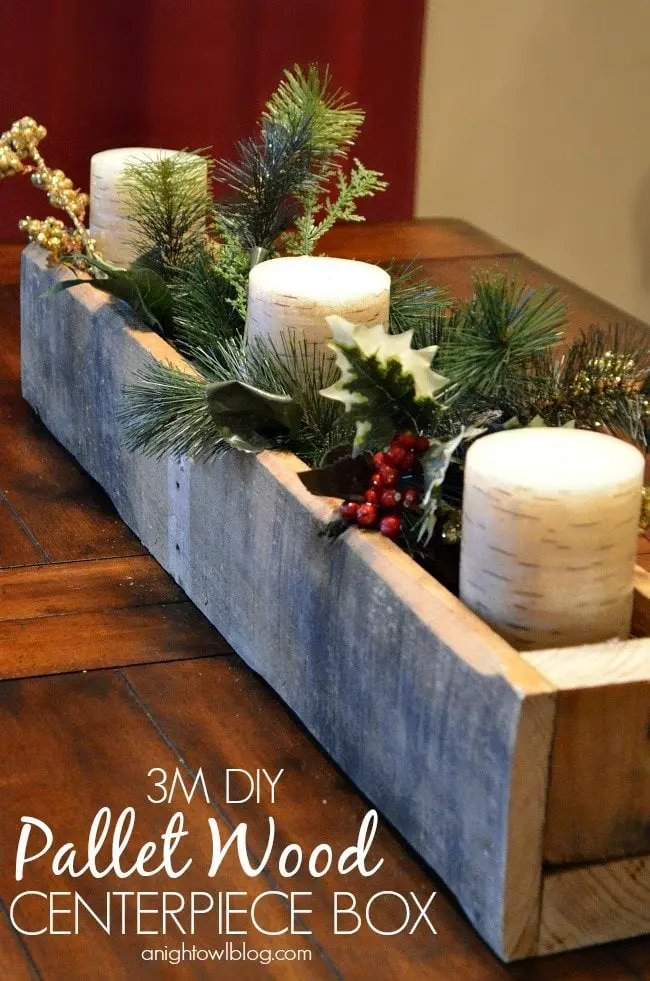 Source: anightowlblog.com
This rustic pallet wood centerpiece box is a perfect quick DIY project! To make it, you'll need these rustic wood pallets, circular saw, nails, hammer, and wood glue.
Here is a good budget circular saw. Useful if you ten to work with wood!
The decoration can be easily changed according to the season. When you're ready to serve the meal, just lift it off the table without damaging the design!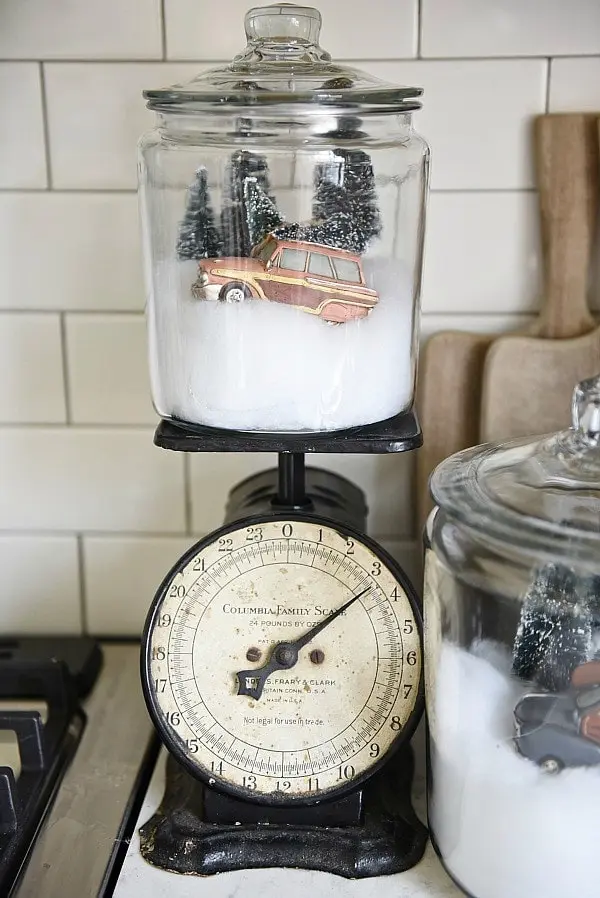 Source: lizmarieblog.com
Can you imagine Christmas without cute accessories placed all around your home? Snow globes are one of my favorite holiday accessories and these beautiful rustic ones can be in 10 minutes!
Begin by placing snow (cotton) at the bottom of the jars, then add mini Christmas trees and one car in each. You can get a bunch of beautiful Christmas tree decorations here.
They'd also look awesome with mini woodland creatures like there, houses, or Christmas ornaments.
These snow globe jars are definitely one of the most beautiful DIY Christmas decorations that exist!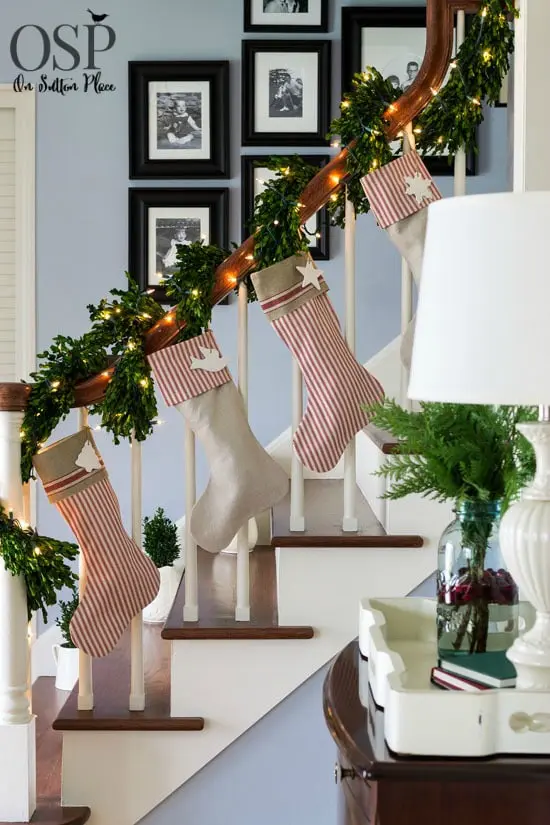 Source: onsuttonplace.com
If you have no fireplace to hang your beautiful stockings, why not use your stair railing? By the way, if you have no stockings yet, you can get a few gorgeous ones here.
If they are just for show, stuff them with some shredded craft paper or tissue paper. Combine the stockings with a garland and simple lights like these to bring some Christmas cheer to your entry.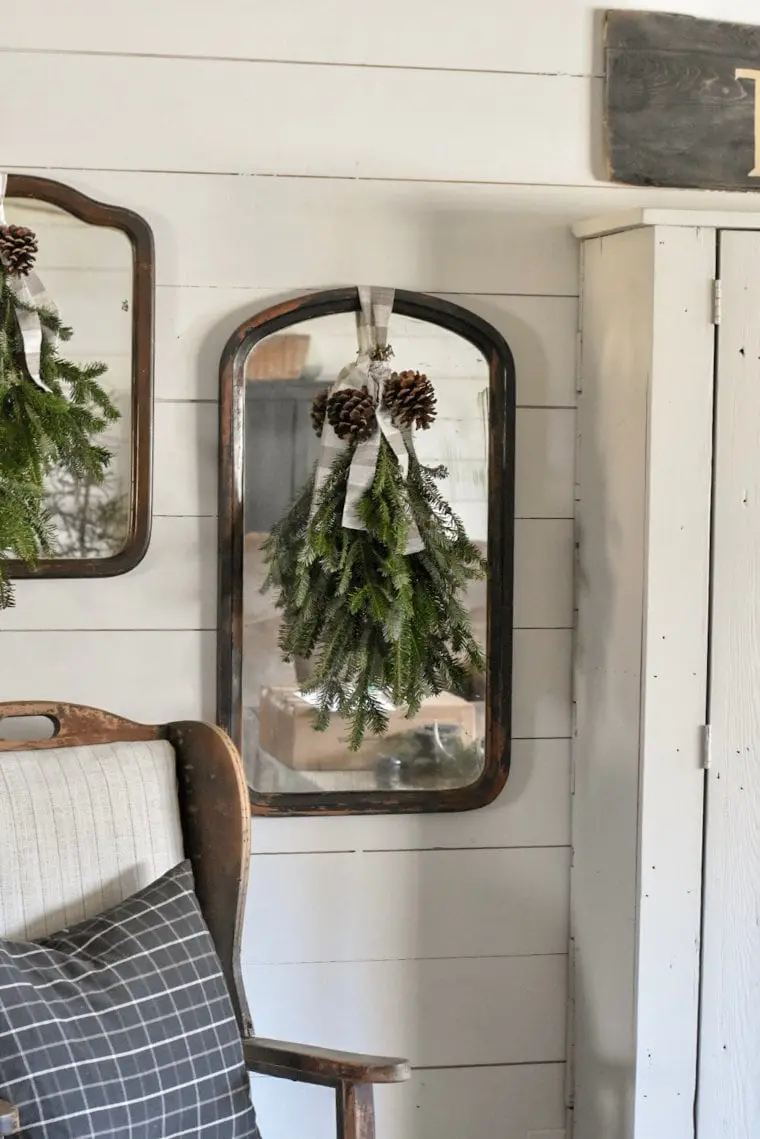 Source: rockyhedgefarm.com
DIY Christmas wreaths are fun to make. They also add a dash of natural charm to your Christmas décor. But they sometimes take hours to make.
So, if you're not in the mood for extensive craft sessions, make this charming swag which is done in less than 30 minutes.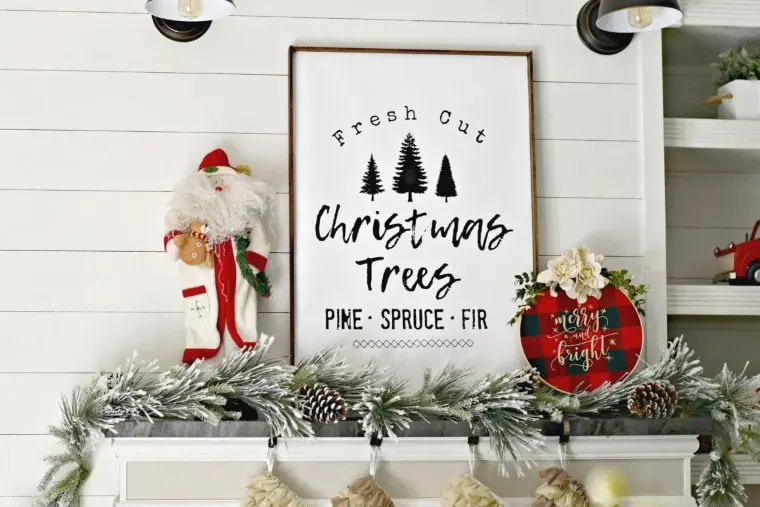 Source: hip2save.com
If you're not a huge holiday decorator (not all of us are and it's totally fine) but you still want to make something you'll all enjoy, think printable signs.
There's nothing easier than making a sign like this. All you need is a vintage Christmas-themed printable poster, a lovely barn wood frame like this and a permanent double-sided tape.
You can place one of these signs on your wall or mantle, or hang a few of them as a collection using slightly smaller frames.
This is a perfect Christmas craft for kids as well!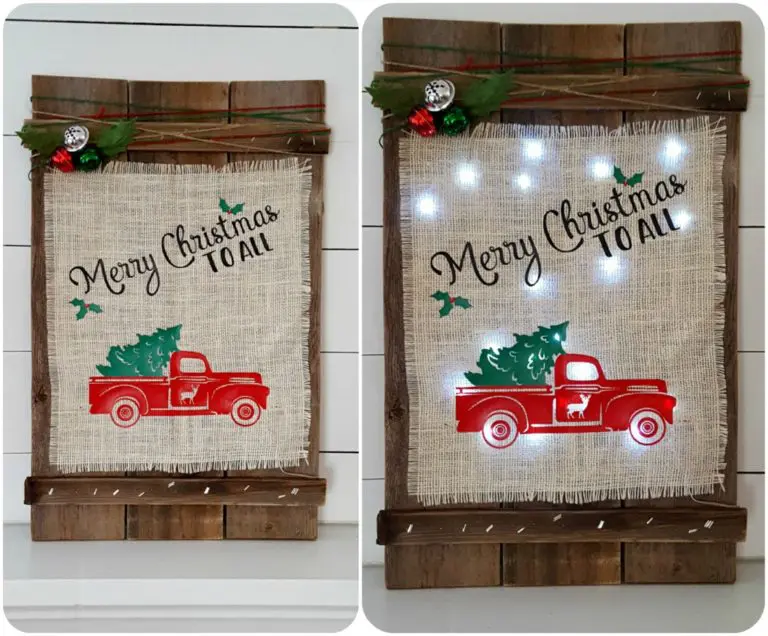 Source: leapoffaithcrafting.com
Here is another homemade sign. As you might have noticed, DIY signs are all the rage right now. You'll see stenciled, painted, and printed ones on canvas, barn wood, and pallet wood.
This one is special because it's printed on burlap. It's easy, affordable, and requires zero artistic skills.
Unless you're talented and willing to express your creativity; in that case, paint away!
A perfect home decor or gift idea for everyone! If you use it as a gift, make sure to wrap it in a nice Christmas paper.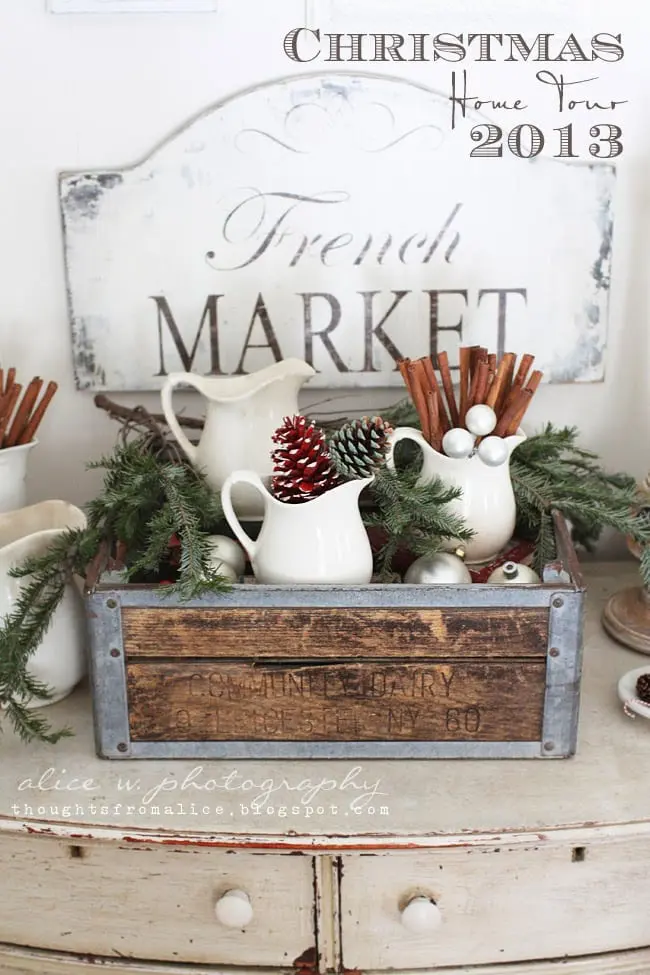 Source: christinamariablog.com
Here's a perfect Christmas décor for those that live in a small space, just like Alice from This Creative Life.
She used an old milk crate and masterfully combined ironstone pitchers like these with leftover greenery from her Christmas tree, vintage ornaments, cinnamon sticks, and painted pinecones.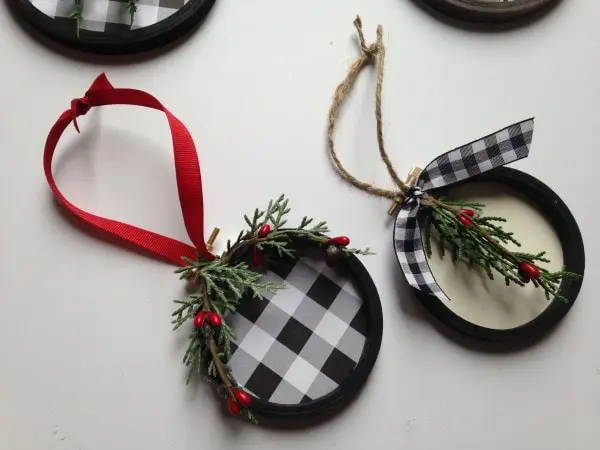 Source: morelikegrace.com
These versatile ornaments are made from fabric and small embroidery hoops. You can display them on your tree, string them as a garland, or hang them on your window.
You can get the embroidery hoops here.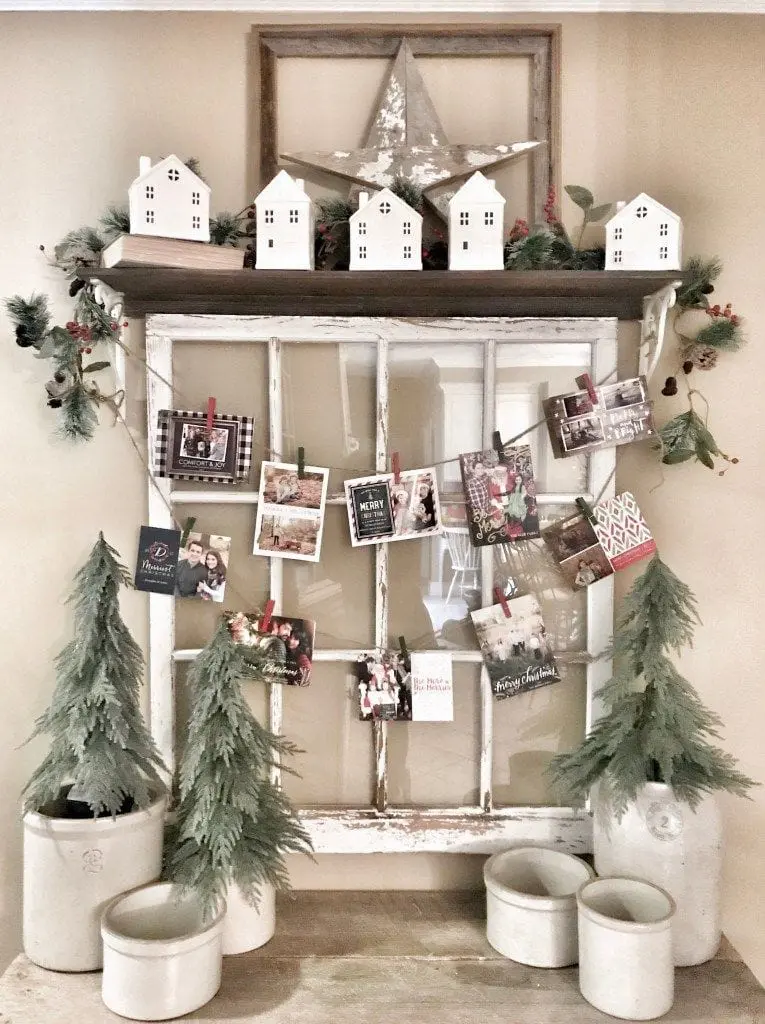 Source: blessthisnestblog.com
I love sending and getting Christmas cards. Do you? If you have lots of cards sent to you by family and friends over the years, you might be wondering what to do with them.
I believe this Christmas cardholder is a beautiful and practical way to store your cards. It will not only keep them neat and organized but it will also show off your cards and serve as a gorgeous Christmas decoration.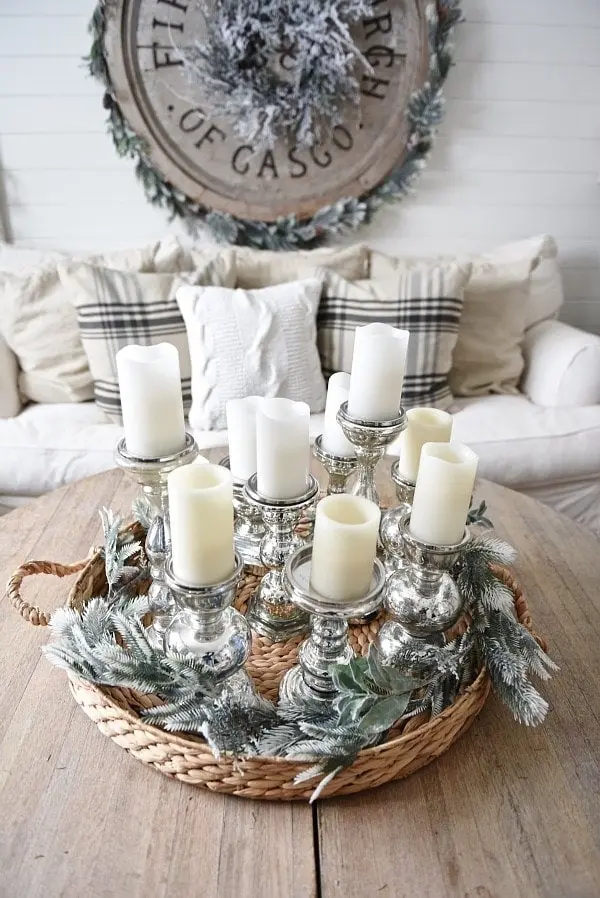 Source: lizmarieblog.com
Not providing at least one décor idea that uses a basket would be so negligent!
The best thing about baskets is that you can find them at crafts stores or even the dollar store. Plus, you can use spray paint (here is the gold one if you fancy the color) to transform them into your favorite color.
For this simple yet stunning centerpiece, you only need winter greens and candlesticks.
If you just want to make your own Christmas gift basket, check out more ideas here.
Conclusion
Did you like any of these farmhouse decorations? Let me know in the comment section and have fun making them!