Get creative this Christmas with these DIY decorations. 25 different decor items just for your home!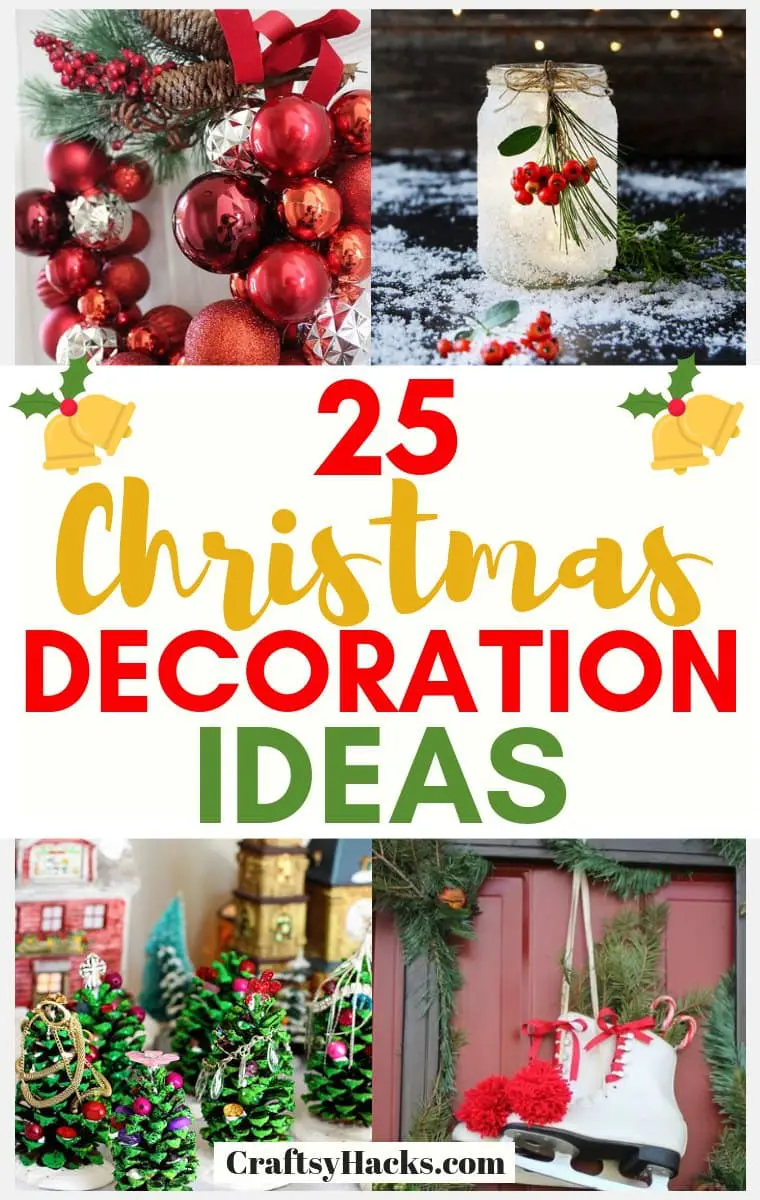 As a DIY enthusiast, Christmas is hands down one of my favorite times of the year. Instead of putting a dent in your wallet to decorate your home, take your holiday setup to the next level with a little DIY.
Want to get super creative with your Christmas decorations this year? Here are 25 unique ideas to bring some Christmas cheer into your home!
1. Holiday Throw Pillows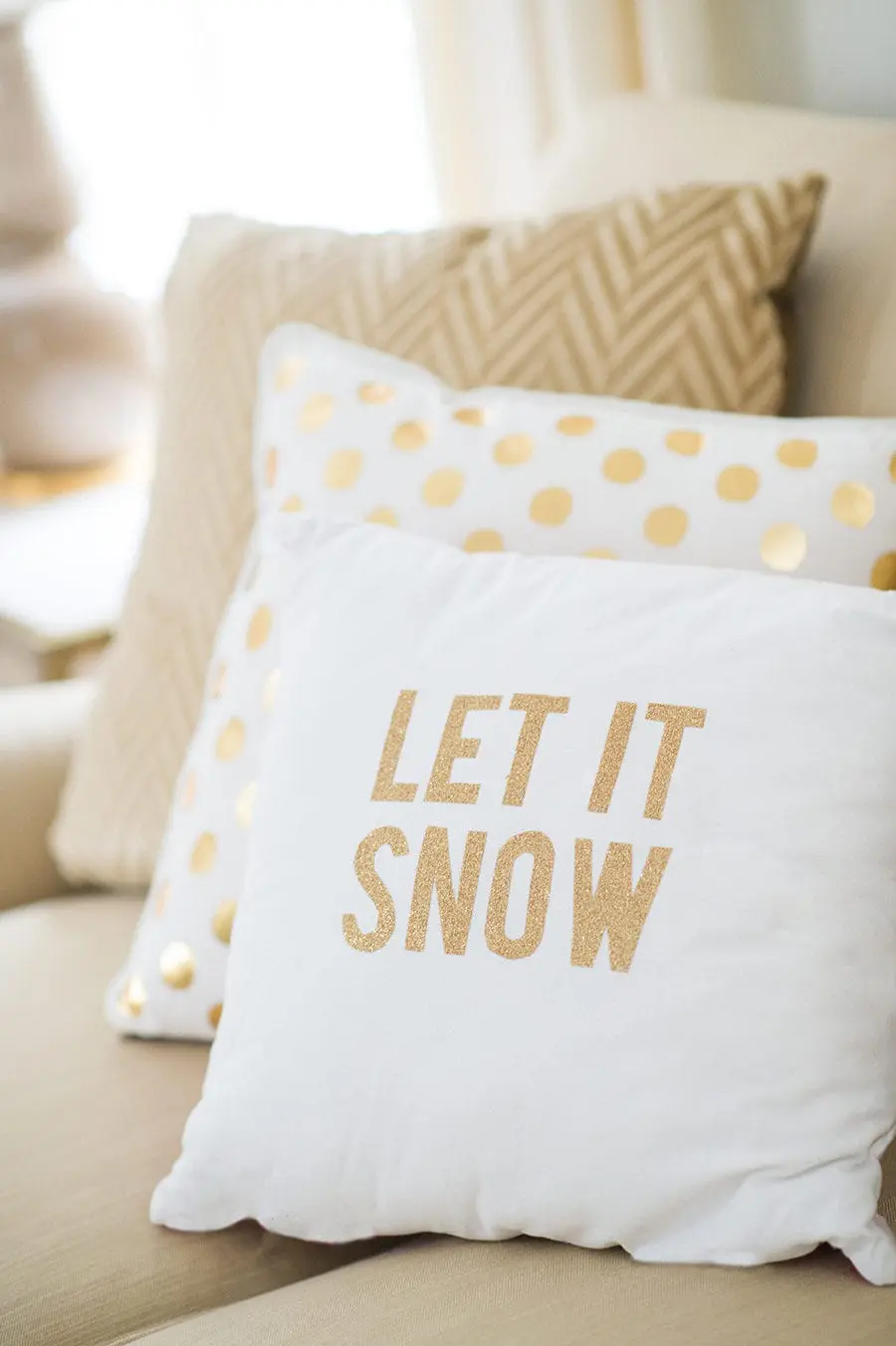 Credit: stylemepretty.com
You can never have enough throw pillows scattered around the house! With the holiday season fast approaching, it's time to start thinking about how we can get a little festive with our current home décor situation.
With this DIY project, you can easily make your own custom throw pillows to suit the Christmas theme you're going for.
For the pillows, you'll need:
2. Mini Pinecone Trees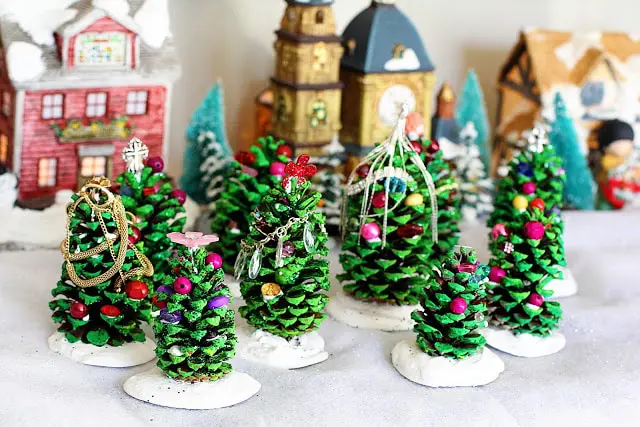 Credit: elementaryartfun.blogspot.com
Looking for a simple way to get the kids more involved with the Christmas decorations? Get them to help you out with making mini pine cone trees!
These adorable trees are incredibly easy to make and they work wonders for adding a pop of color into your holiday setup. For this specific project, I suggest using plaster to build a sturdy stand for your trees.
Here is a cheap yet good quality plaster I recommend.
3. Sock Snowman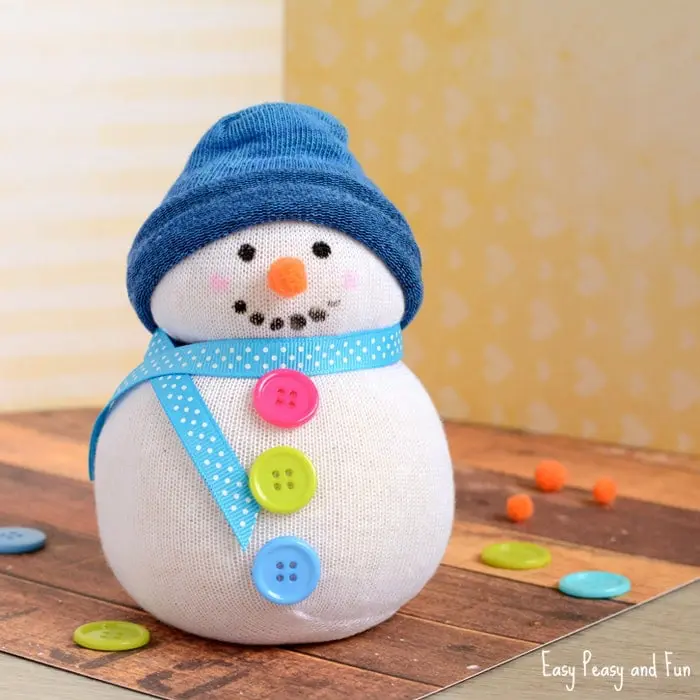 Credit: easypeasyandfun.com
These tiny sock snowmen look oh-so-cute in any corner of your home! The best part is that you can really get creative with how you decorate them.
I love making a snowman to represent every member of my family and dressing them up with everyone's signature style. If you like little crafts like that, make sure to pile up on colorful buttons like these.
4. Snowy Pinecone Tree Ornaments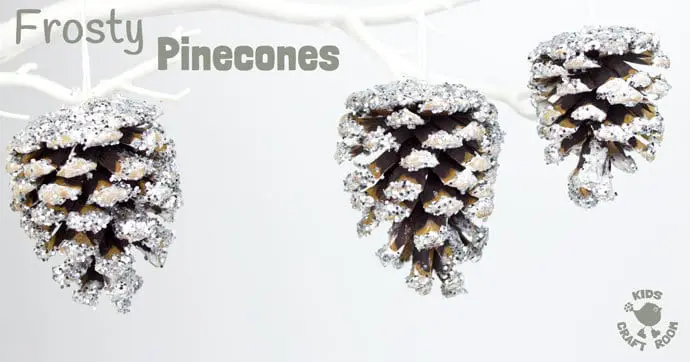 Credit: kidscraftroom.com
Pinecones are the real MVP when it comes to holiday craft sessions. Pinecones fit right in with the holiday aesthetic but it's also incredibly easy to decorate them.
You can give your pinecones a frosty makeover with white acrylic paint, white PVA glue, large grain silver glitter, and twine or cord for a hanger loop.
For all pinecone-related crafts, I love using medium-sized pinecones like the type you can find here.
If you're interested in more crafts like this one, check out these DIY Christmas tree ornaments.
5. Wire Hanger Wreath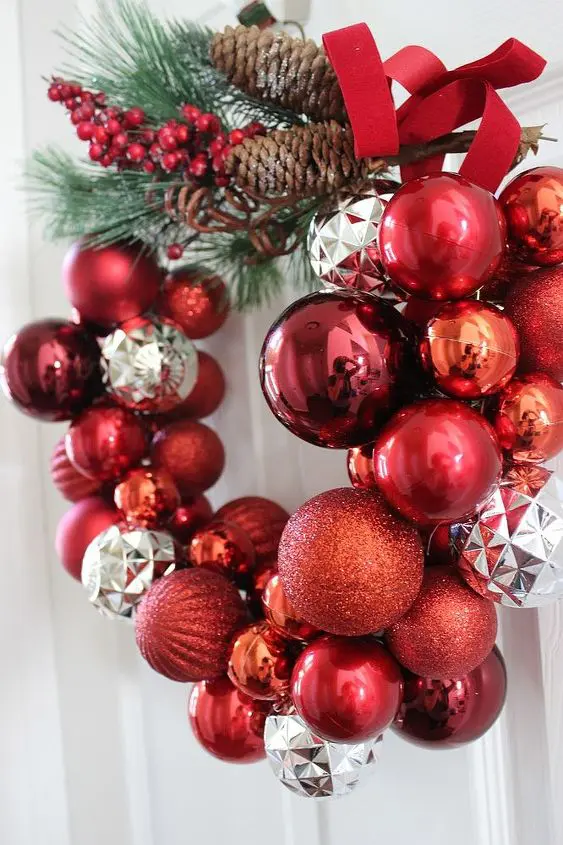 Credit: hometalk.com
Thinking about buying a wreath to hang on your door? Save yourself a couple of bucks this season by building your own Christmas wreath out of the items you already have lying around the house.
For this specific DIY project, all you really need is a wire clothes hanger and Christmas ornaments. Mix a few colors to give the wreath a little more life.
These ornaments are good to choose from and will last for ages.
6. Frosty Mason Jars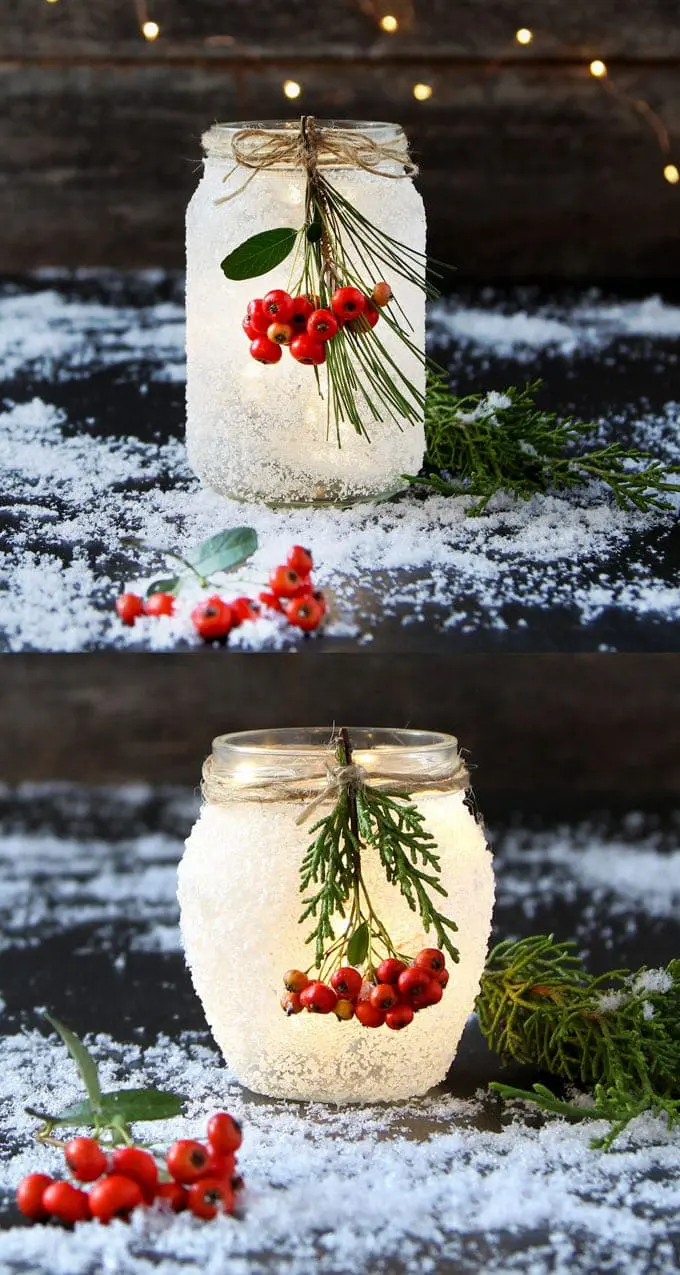 Credit: apieceofrainbow.com
Nothing looks more magical on an empty tabletop than a beautiful arrangement of frosty mason jars. Not to mention, they also add a dreamy quality to your home décor situation!
To make your own frosty mason jars, I highly recommend purchasing Ball mason jars in bulk over here. You will also need:
If you want to see more DIY mason jar crafts, check this article here.
7. Centerpiece Made Out of Ornaments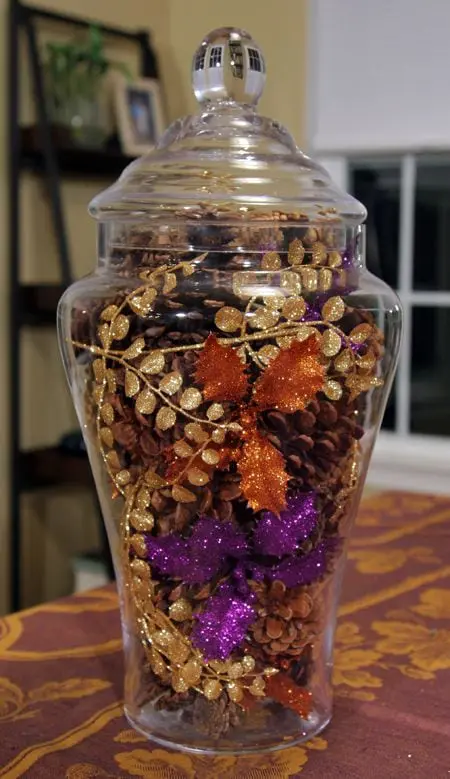 Credit: taketimeforstyle.com
When it comes to decorating your home for the holidays, you can't forget about bringing a festive centerpiece into your dining table situation.
There's something special about setting up a gorgeous centerpiece that makes a family dinner seem that much more intimate.
Instead of spending a fortune on a centerpiece, you can easily assemble your own with a large glass container or jar. Also, this one's not much of a shocker, but you'll also need a couple of pinecones to fill it up!
To make the centerpiece more interesting, I recommend using one of these apothecary jars. They come in interesting shapes which make them that much more interesting.
Add a pop of color into your DIY centerpiece by tossing in an assortment of colorful ornaments.
8. Glittery Candleholders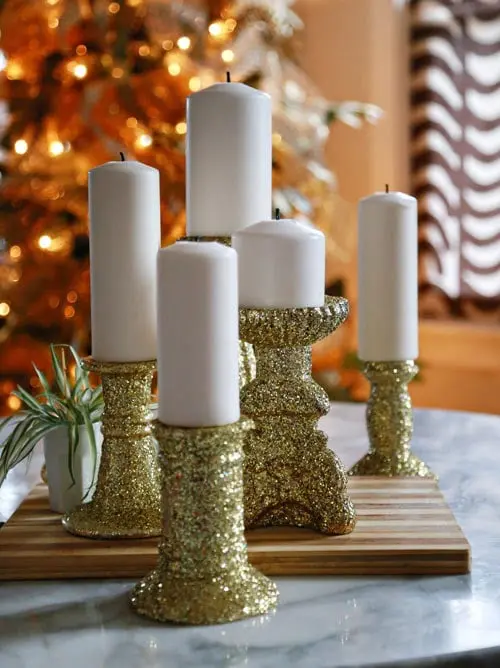 Credit: ilovetocreateblog.blogspot.com
What's the one thing we can all use more of around the house during the Christmas season? Glitter and sparkles!
Bring some glamour into your home décor situation by giving your candlesticks a complete makeover with a ton of gold or silver glitter. Whichever suits your theme the most.
9. Reindeer Centerpiece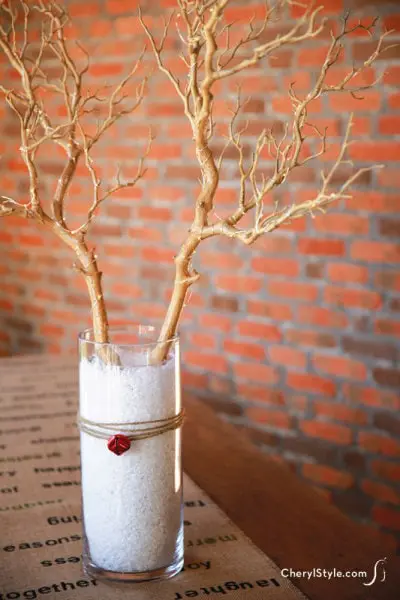 Credit: everydaydishes.com
Looking for a great money-saving hack to make your own centerpiece this year? This adorable reindeer centerpiece works well as either a centerpiece for your dining room table.
For this project, you'll have to grab a glass cylinder vase like the type you can find here. What's great about them is that you'll be able to use them as a décor element even after Christmas.
They are simple and versatile!
10. Frosty Vase Display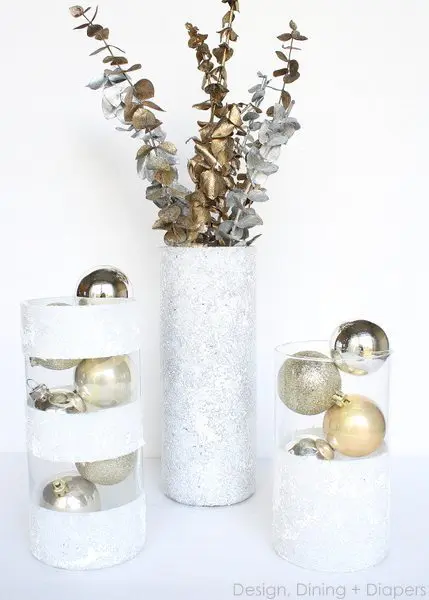 Credit: tarynwhiteaker.com
A simple way to bring some Christmas cheer into your home décor? You can easily transform a plain vase into a frosted vase.
Use it as either a centerpiece or just as a decorative piece to add to your tabletop.
The best part about this DIY project is that you can easily change up the color scheme. Fill your vase up with pinecones or other tree ornaments.
I usually place pinecones and ornaments into two smaller containers, then use twigs and foliage in a taller vase!
11. Wine Glass Snow Globe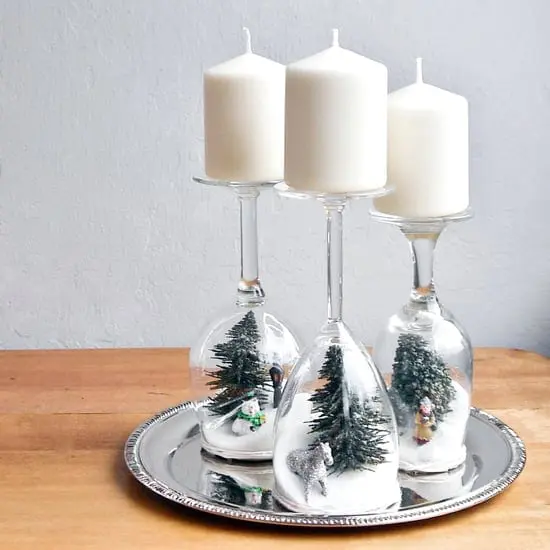 Credit: popsugar.co.uk
It just doesn't feel like Christmas until you add a couple of snow globes into your holiday setup. Bring a beautiful winter scene into your home by making your own snow globes out of wine glasses.
Your DIY wine glass snow globes also double as cute winter-themed candleholders! For the craft you'll need:
12. Evergreen Centerpiece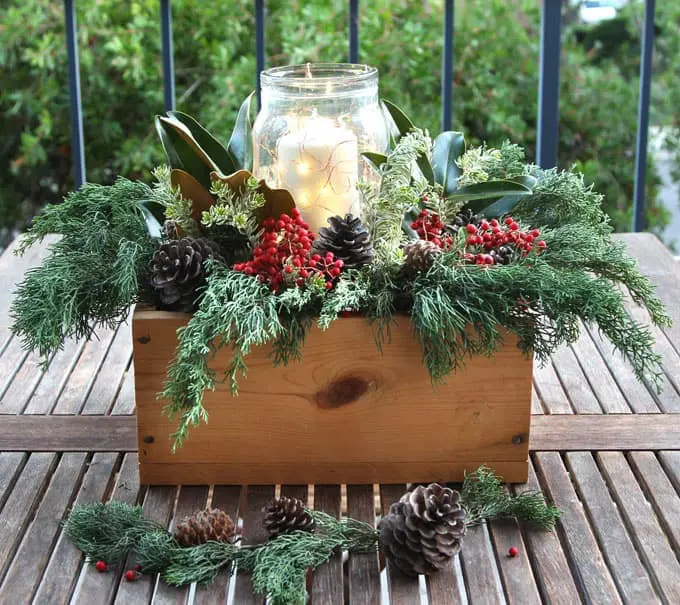 Credit: apieceofrainbow.com
Here's a simple DIY project to create a stunning plant box centerpiece out of your favorite evergreens! The best part about this craft is that the final outcome looks like an expensive floral arrangement.
Also, you can't even tell that you put everything together with a couple of items from your local dollar store.
13. Framed Reindeer Silhouette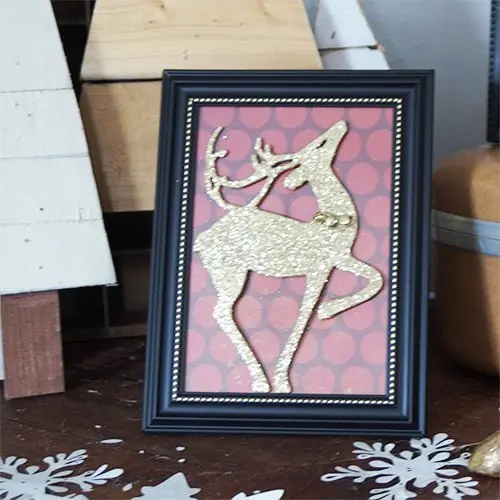 Credit: savedbylovecreations.com
Looking for an easy DIY project to bring some holiday vibes into your home? This is probably one of the easiest craft ideas on this list!
Also, it's just a great addition to a DIY Christmas basket. You can easily create your own reindeer silhouette portrait to either hang on your walls or to place on top of some empty counter space.
I suggest using a dark brown frame for more of a rustic vibe. But, to glam things up a bit, I would use a silver or gold frame, like this one, to house your reindeer silhouette.
14. Cascading Snowflake Door Hanger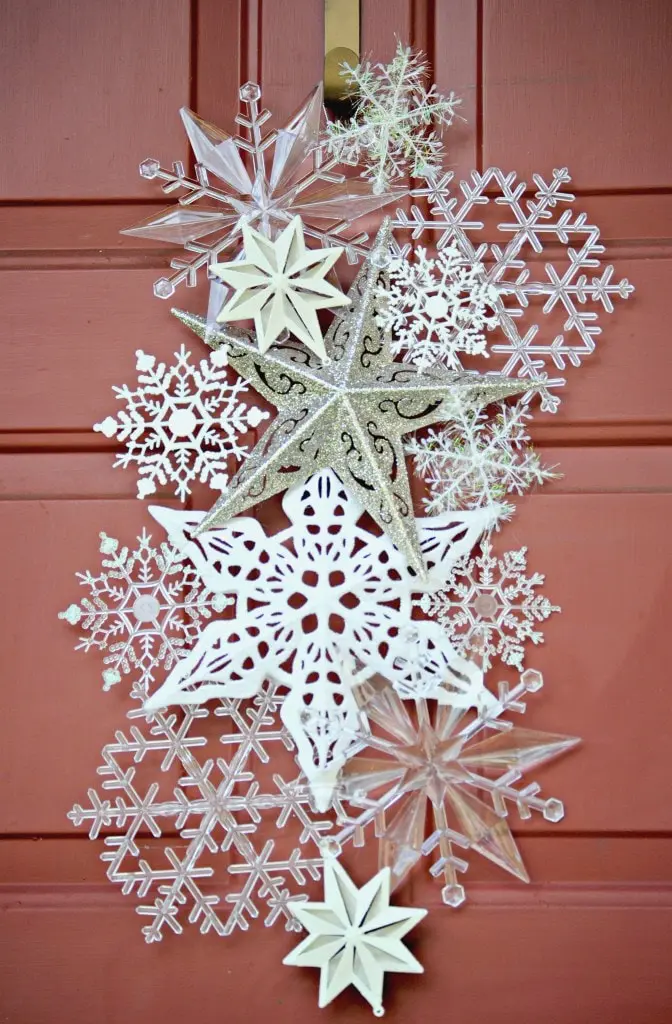 Credit: raeofsparkles.com
Who doesn't love snowflakes! The intricate patterns on snowflakes add a very elegant but delicate quality to your entire décor situation.
You can easily assemble your very own cascading snowflake door hanger by layering a variety of plastic snowflakes and stars on top of one another. You can use plastic snowflakes like the set you can find here.
15. Skates in a Frame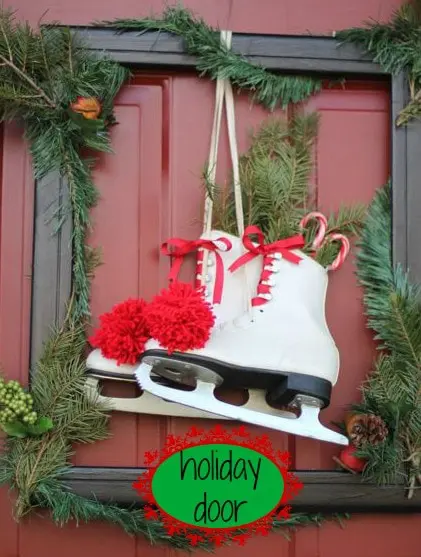 Credit: ourlifeinaclick.blogspot.com
Got an old pair of skates lying around? Instead of adding to the clutter you've got going on at home, show your friends and family how creative you can get.
Use a pair of old skates to construct a Christmas-themed portrait. This adorable decoration looks great either on any empty wall space around the house or even on your door!
16. DIY Snow Village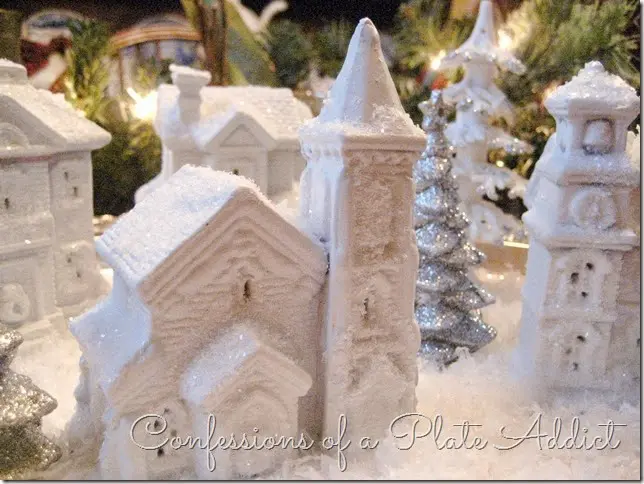 Credit: confessionsofaplateaddict.blogspot.com
There's nothing more exciting than walking into a DIY snow village in your home! Don't spend a ton of money on an extravagant Christmas-themed display this year!
Instead, you can actually build your own with a couple of items that can be found at your local dollar store.
For this simple project, the only materials you need are white spray paint, mod podge, white glitter, a paintbrush, and mini house figurines like these ones!
17. Letter Decal Plate Arrangement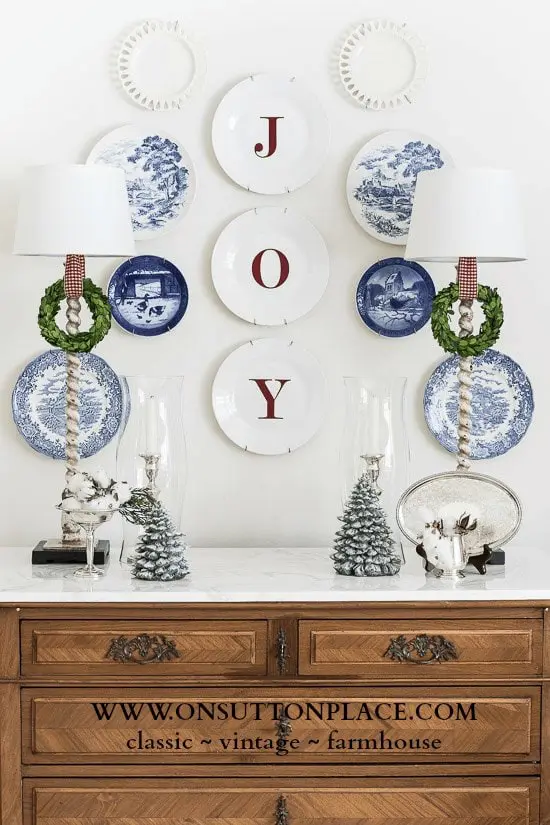 Credit: onsuttonplace.com
Walls looking a little empty? Here's a fantastic DIY project to show everyone how creative and resourceful you can get!
Decorate a set of plain, white plates with letter decals to add a personal touch to your Christmas decorations.
Creating a beautiful arrangement of plates is a fantastic way to fill up some empty wall space. Around the holidays, use simple letter decals to spell out a short word like "joy" or "love."
18. Picture Frame Wreath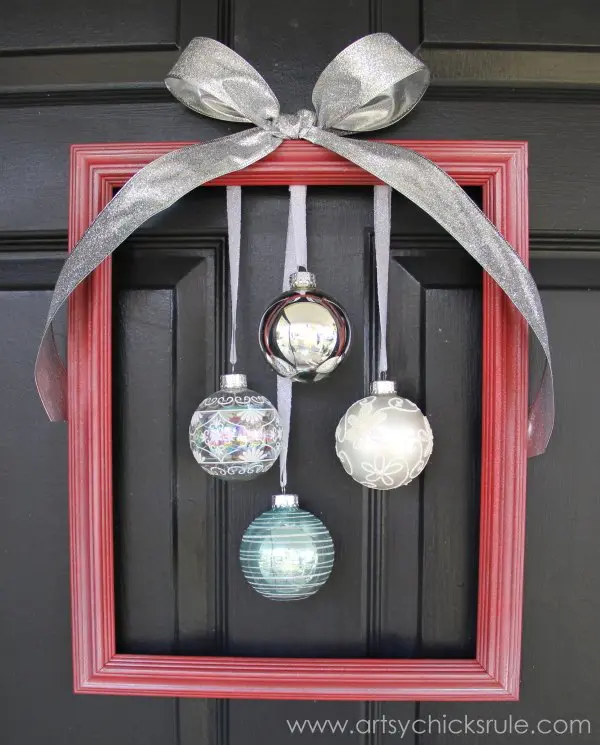 Credit: artsychicksrule.com
Want to get super creative with your decorations this year? We all love a great money-saving hack that doubles as a fun craft activity.
Forget about the regular ol' Christmas wreath! This Christmas, we're using a picture frame to construct our very own wreath to hang on the front door.
For this project, the only materials you really need are tree ornaments, pretty ribbon, and a large picture frame like this.
19. Pinecone Wreath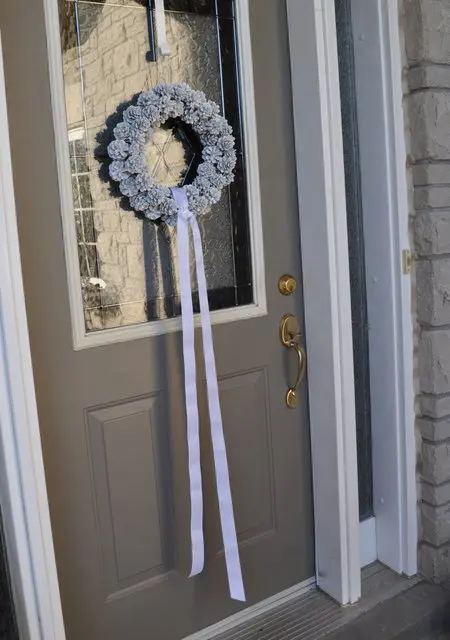 Credit: lifeisaparty.ca
Here's another beautiful wreath idea! With a little DIY (and a ton of pinecones), you can easily assemble a gorgeous wreath with a snowy effect.
You can change things up by painting your pinecone wreath the right color to match your theme.
For this specific project, I love how elegant and luxe the color white looks! But to glam it up a bit, I suggest going with a silver or rose gold color.
If you're loving the wreath ideas, check out these DIY Easter Wreaths!
20. Christmas Lanterns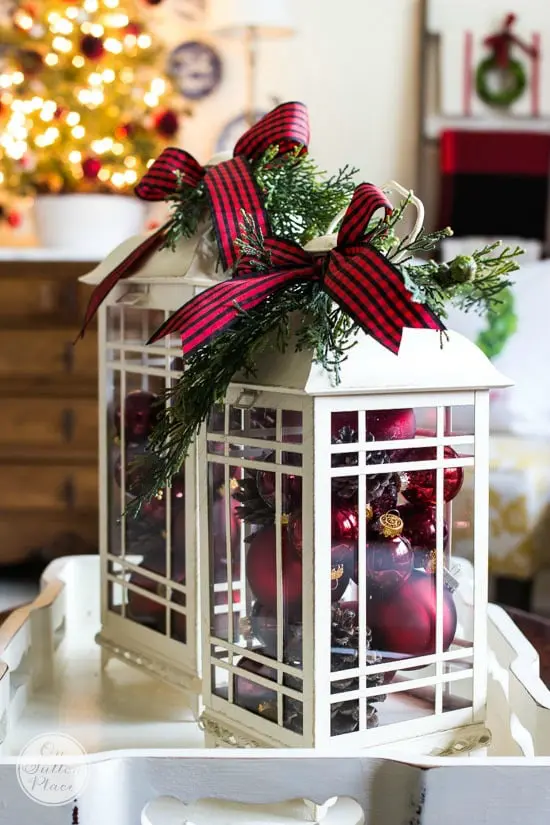 Credit: onsuttonplace.com
White lanterns are absolutely stunning when you incorporate them into your home décor situation.
Add a magical quality to your holiday setup by creating your own Christmas lanterns to place onto any tabletop. I recommend using a medium-sized lantern like the one you can find here, it's 12 inches high.
21. Snowy Candle Jars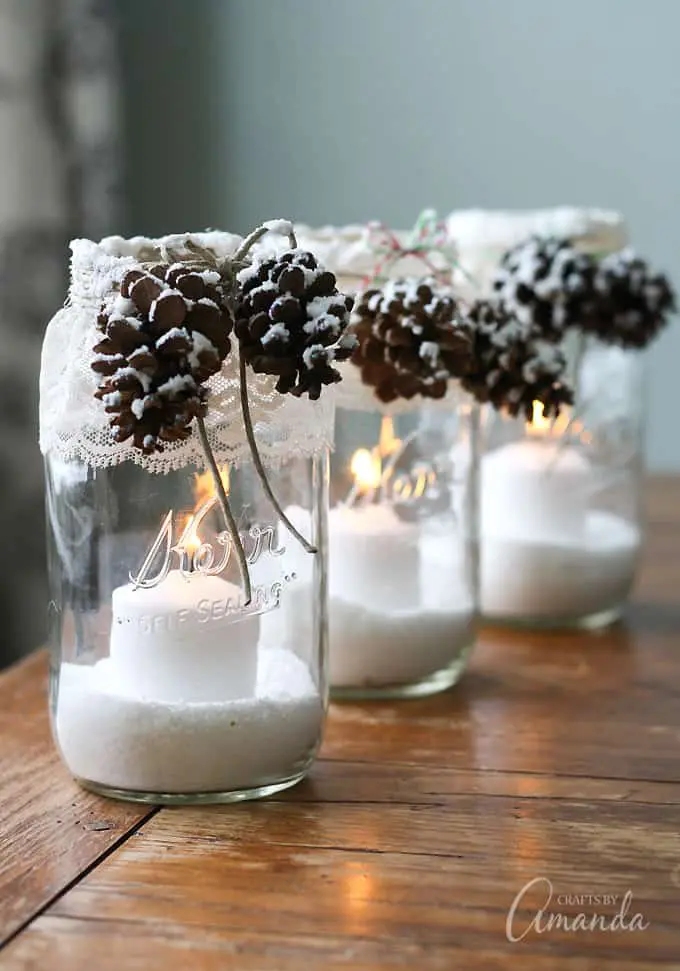 Credit: craftsbyamanda.com
During the colder months, I love scattering these snowy candle jars around the house. Using these frosty jars as luminaries on a snowy evening brings an ethereal quality into the atmosphere.
For all DIY projects, use Ball mason jars! You can purchase them in bulk here for a fantastic price.
22. Snowball Ceiling Display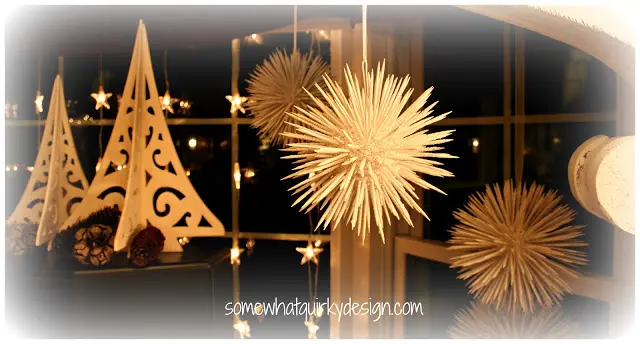 Credit: somewhatquirkydesign.com
This is one of the most creative DIY ideas on this list! There's nothing cuter than walking into a room with simple, minimalistic snowballs dangling from the ceiling.
These adorable decorations look even better when you suspend them at different lengths. For this project, you'll need styrofoam balls like the ones you can find here.
23. Pom-pom Garland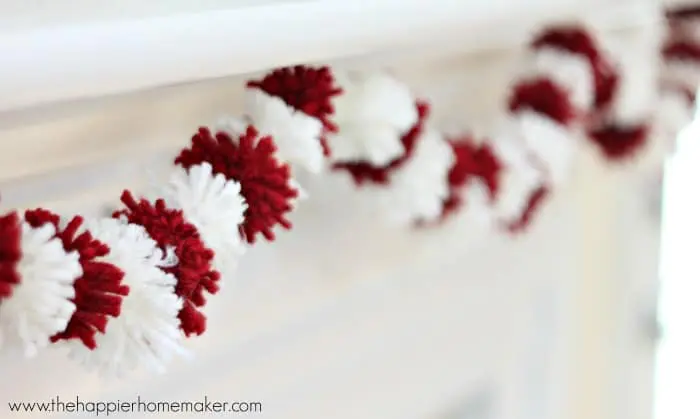 Credit: thehappierhomemaker.com
Looking for an easy way to add a pop of color into your holiday décor? Forget about the tinsel, we're about to get super creative by making our own pom-pom garlands this year.
What's great about this simple project is that you can pick and choose the right color combinations to suit the aesthetic you're going for. My top pick is red and white, or blue and white!
24. DIY Christmas Stockings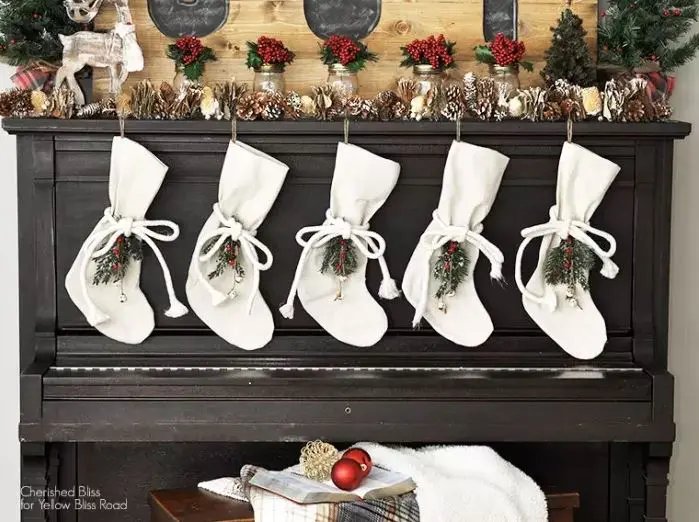 Credit: yellowblissroad.com
Nothing screams Christmas more than the sight of large stockings hanging above the fireplace.
Save yourself a couple of bucks this holiday season by making your own stockings for all your loved ones with a little DIY.
Add a personal touch to everyone's stocking by using different colors!
25. Rustic Reindeer String Art
Credit: cleanandscentsible.com
Want to bring some rustic vibes into your holiday décor? Here's a fun-filled activity to construct your very own vintage-inspired reindeer string art portrait to hang around the house!
I suggest using a dark walnut wood stain like the one you can find here to enhance the rustic appearance of the wood.
Conclusion
Did you like any of these Christmas decorations? Which ones are you going to try to make?
Don't forget to share them with your friends for a little creative inspiration!