DIY crafts with mason jars can do for beautiful home decorations. So, get crafty and decorate your home with mason jars.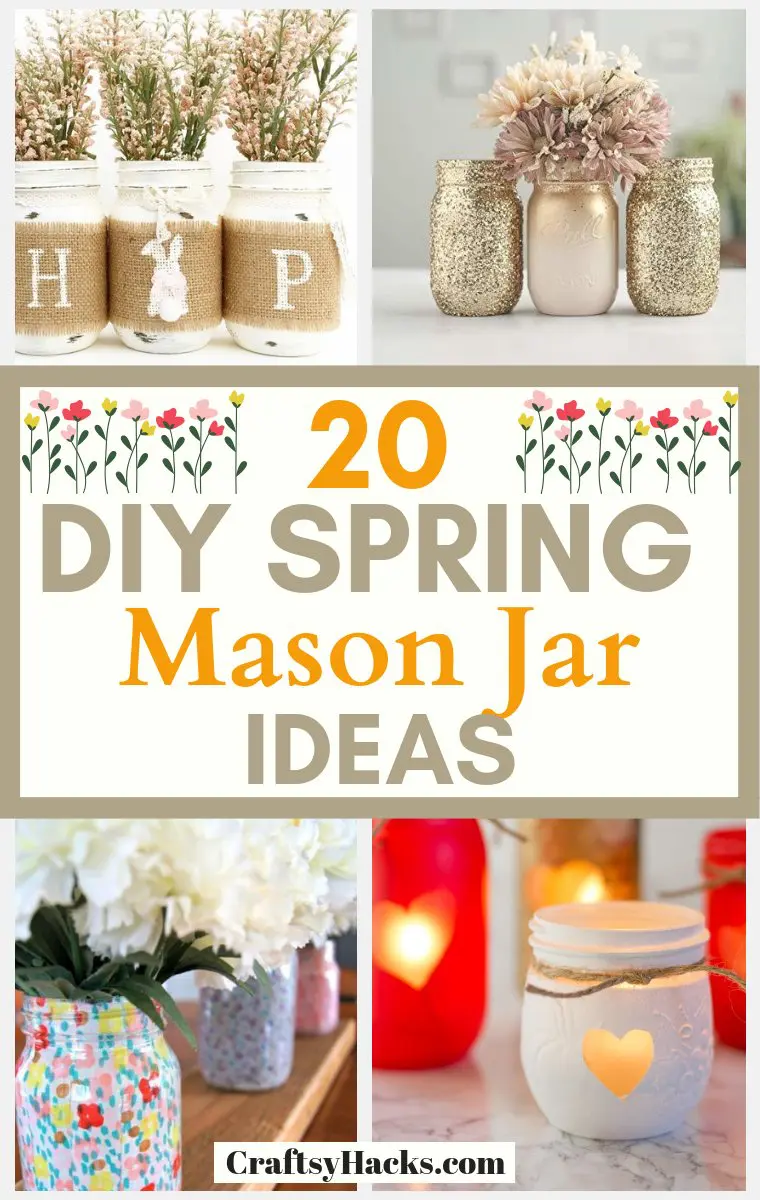 They say "Nothing is useless – everything has value." This is so true of your mason jars. From the empty cookie mix jars to the old jams and preserves jars, most homes are filled with empty jars.
Interestingly, you could spice up your spring with some adorable DIY mason jar accessories. Here are 20 DIY Mason jar ideas you can try out for amazing spring décor.
The Essentials you'll need to make these Mason Jars:
1. Bird Feather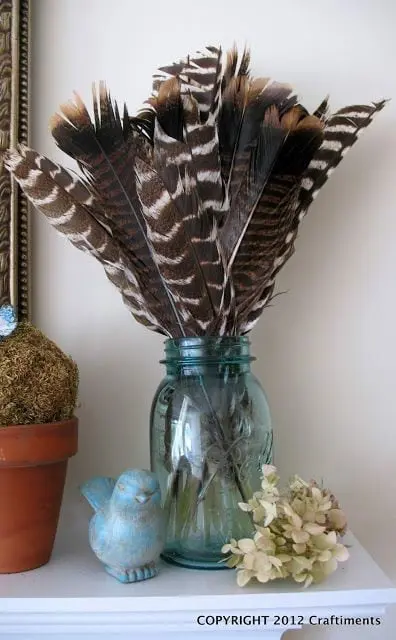 Credit: Pinterest
Go on your weekend relaxation with your coffee, as you watch the birds croon. Here's an easy DIY idea.
Did it ever occur to you how much you can do with your mason jar? Perhaps not so much, but it can make for a perfect decoration for your backyard.
2. Easy Mason Jar Luminaries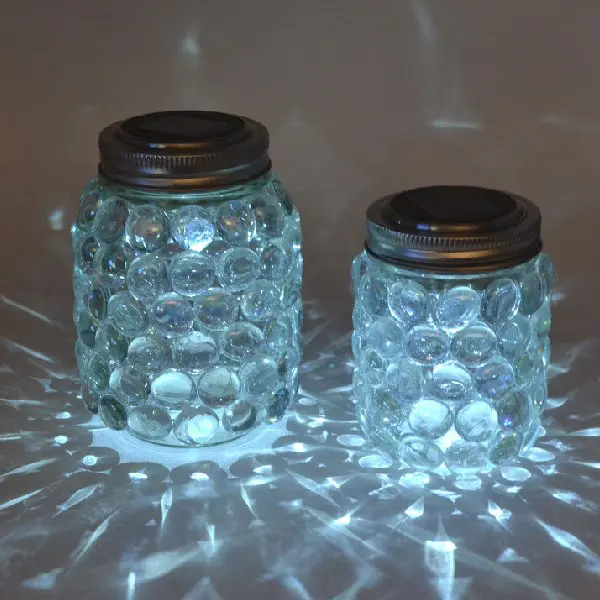 Credit:hometalk.com
Transform your front porch with these mason jars. They'll definitely bring some new light into your home décor and impress everyone around you.
Marbles will truly do the trick here. All you need to do is to use a hot glue gun or clear silicone caulk to make it stick.
3. Flower Vase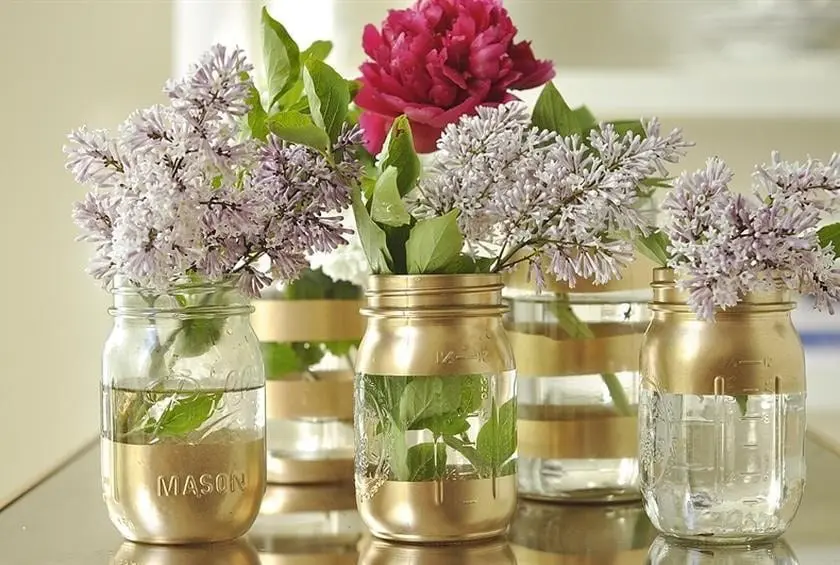 Credit: thedailymeal.com
That mason jar lying uselessly around your home could become a masterpiece after a few little touches. It's simple; paint the jars and see what you have – a typical spring vase.
When done, your new spring mason jar becomes the best fit to showcase your daffodils and freshly picked tulips.
4. Terrarium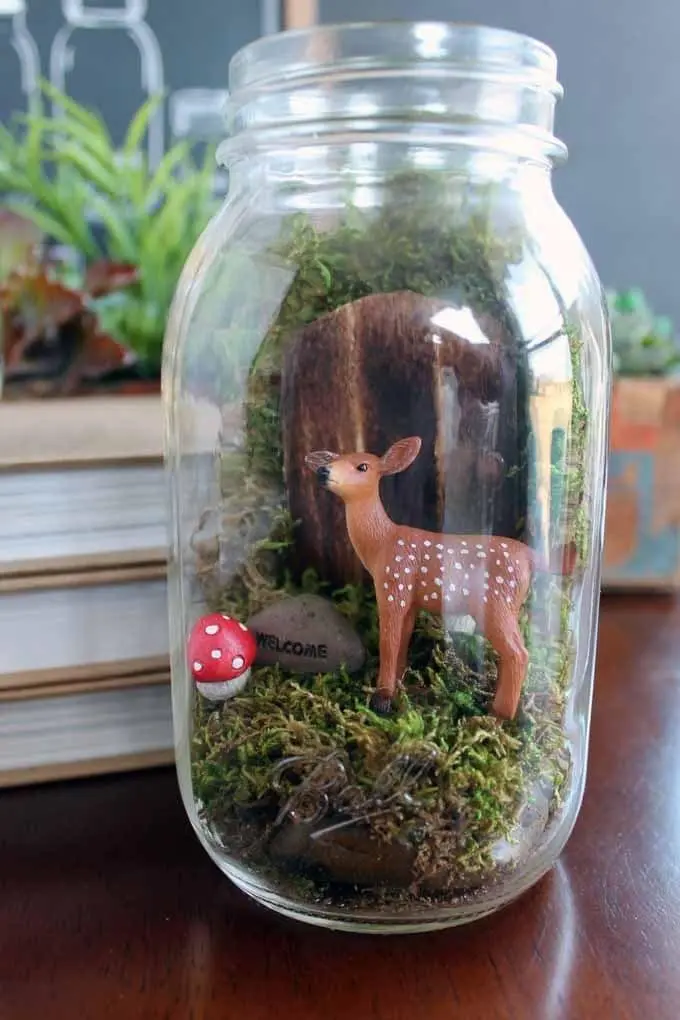 Credit: Pinterest
What better time to begin gardening than in spring? None.
Interestingly, you can set up a terrarium and create an indoor garden. Starting a terrarium isn't demanding – put soil, rocks, and plants in a big mason jar.
Also, you can get your kids around to help you make it. It is as easy – and fun.
5. Painted Glass Candle Holders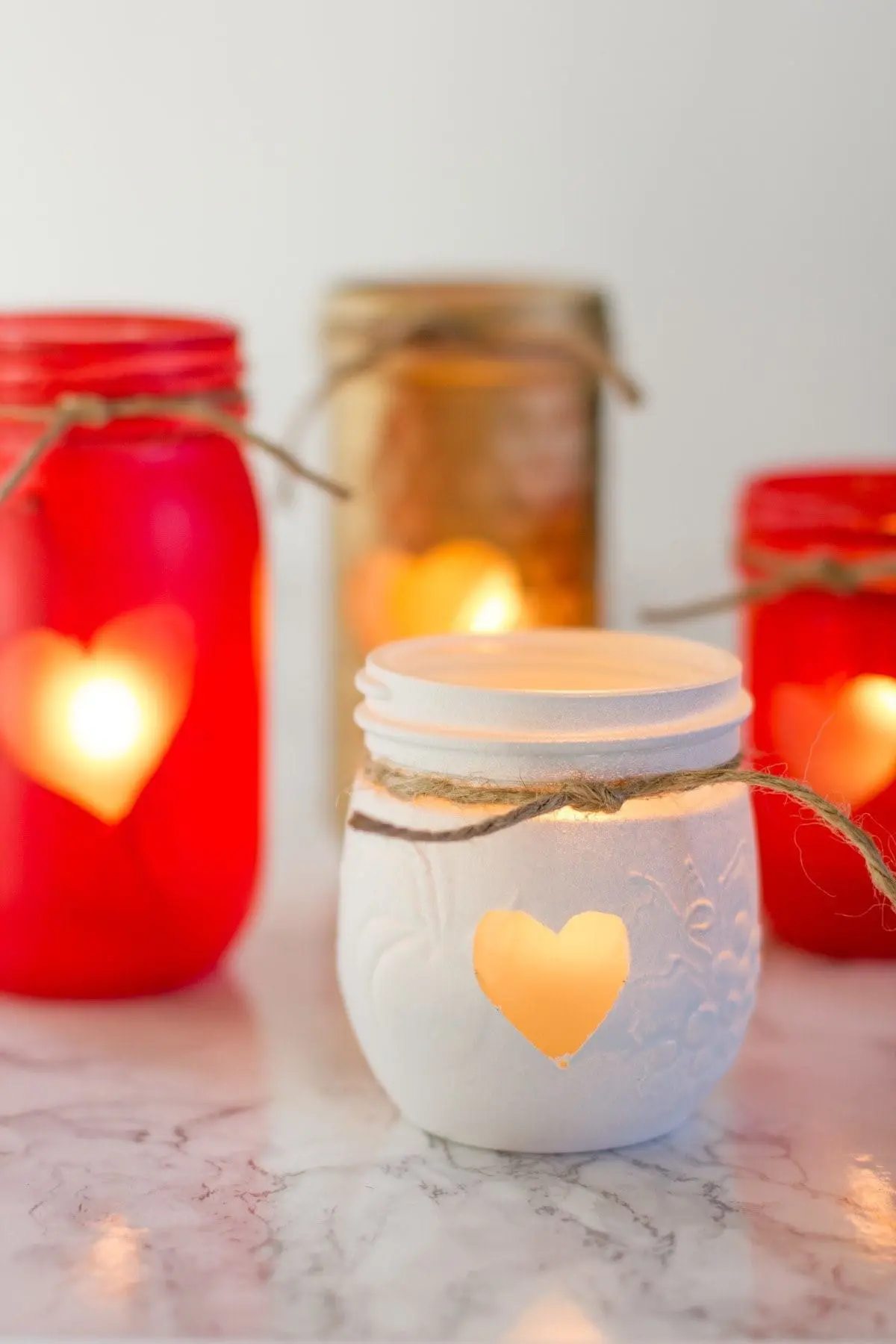 Credit: wholefully.com
In the course of your spring cleaning, get out your winter accessories, and replace them with spring fresh pastels. These Mason jar candle holders are must-have accessories for winter.
6. Chalkboard Mason Jars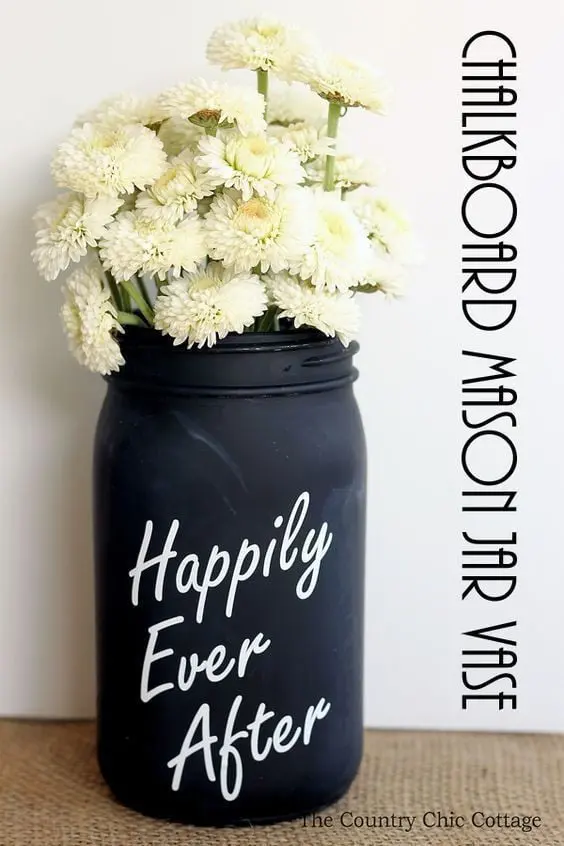 Credit: Pinterest
Wouldn't you love to transform the look of your mason jars? A chalkboard finish painting will do.
The rustic appeal it offers makes it an ideal theme for your outdoor events – like weddings and other socials.
To make a mason jar like this one, you'll need chalkboard spray paint and a few chalk markers.
7. Outdoor Light String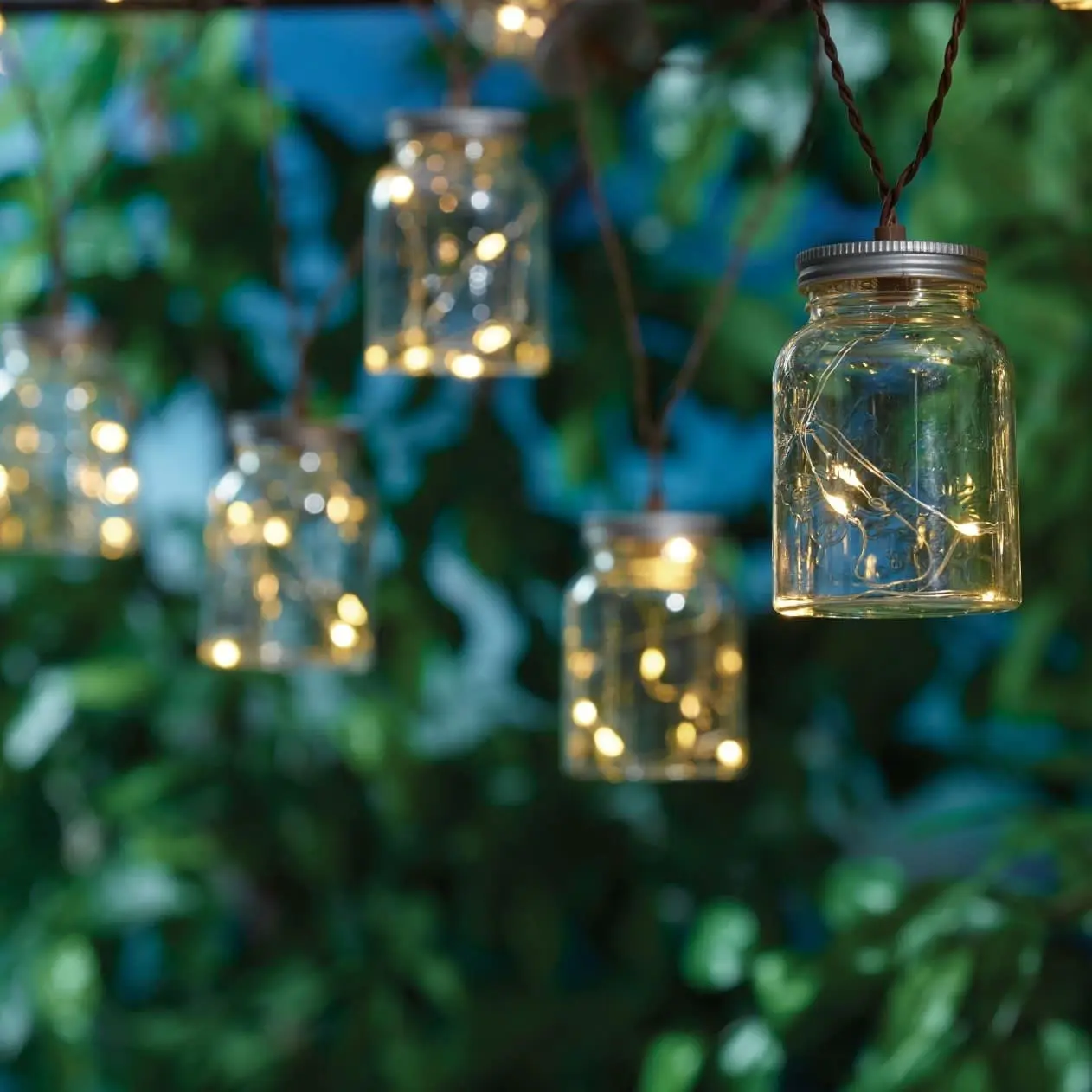 Credit: walmart.com
Make the best of your summer and spring nights outdoors with these outdoor mason jar lights on your patio.
Use ropes or strings to showcase the lights. Simply put them up over your patio umbrella and enjoy the view.
Those truly look cute.
8. Vertical Garden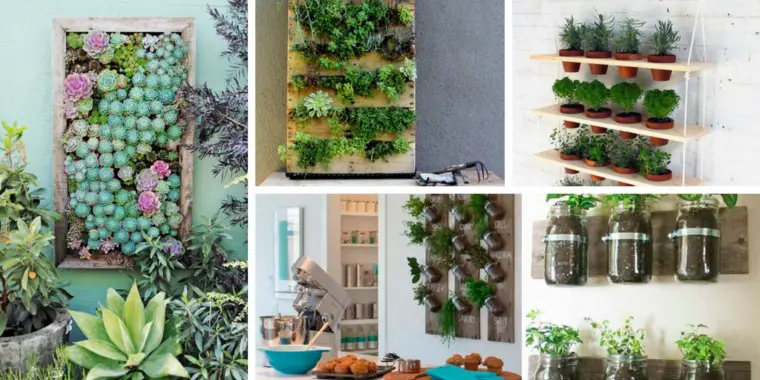 Credit: gardendiyideas.com
Do you have only limited outdoor space? Too small for a garden?
You indoors could serve as one. Still no space indoors? Try vertical.
Yes. These are planters installed on walls for planting your favorite herbs and flowers, without consuming floor space.
To make this one happen, you'll definitely need quite a bit of soil. You can get some here.
9. Citronella Candle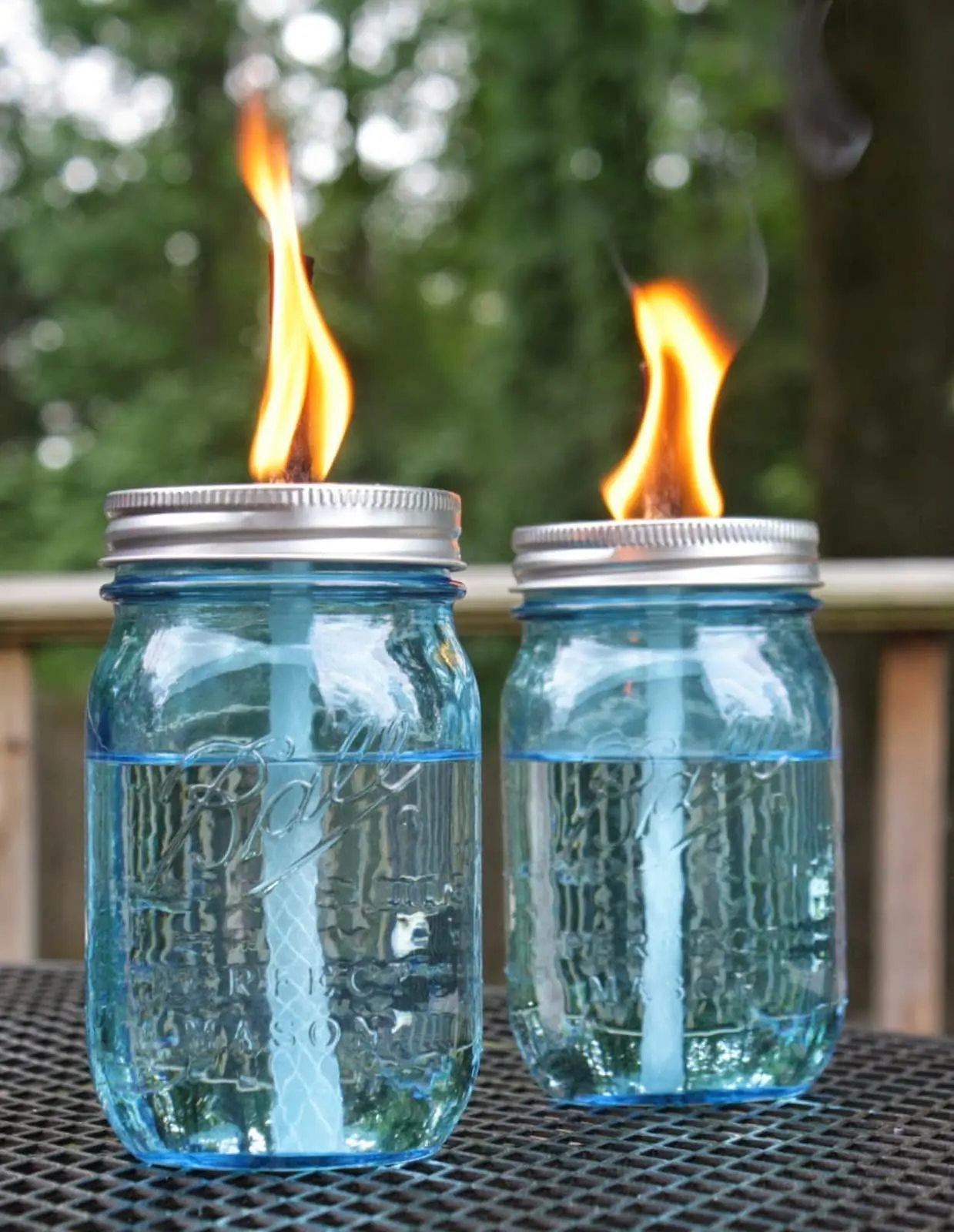 Credit: livealittlewilderblog.com
Citronella candles are a great DIY mosquito repellant. Fascinatingly, you can use these candles over many years – it is reliable.
To make this citronella mason jar, you'll need thick wicks and a bottle of torch fuel. You can get one that's citronella scented here.
10. Glitter Vase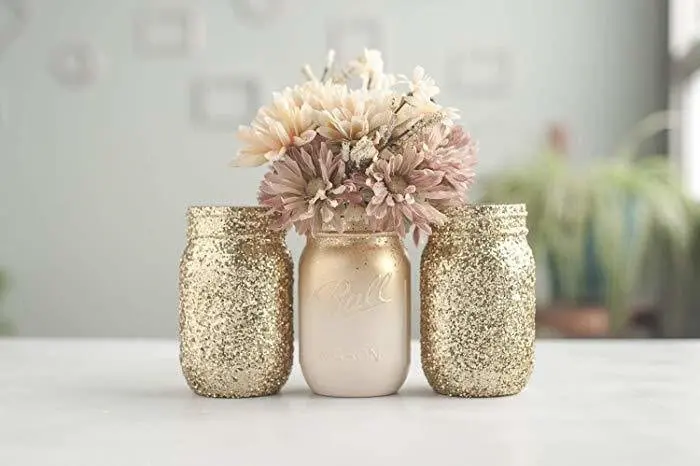 Credit: amazon.com
Here's an easy-to-make spring gift idea. Simply get a mason jar and wrap it up with glitter.
This offers you a stunning spring vase that fits a range of occasions like anniversaries. We're talking about Thanksgiving and birthdays.
To make these mason jars happen you'll need:
Spray paint
Newspapers
Painting brushes
Spray paint the mason jars, because the color will come out even through the glitter. Once dry, cover the jar with an even layer of glue.
Afterward, pour glitter on the jar so that it sticks to it. To finish the jar, spray it with Rust-Oleum gloss topcoat – it's actually just transparent paint. Works wonderfully!
You can always just buy these exact mason jars here.
11. Mason Jar Candle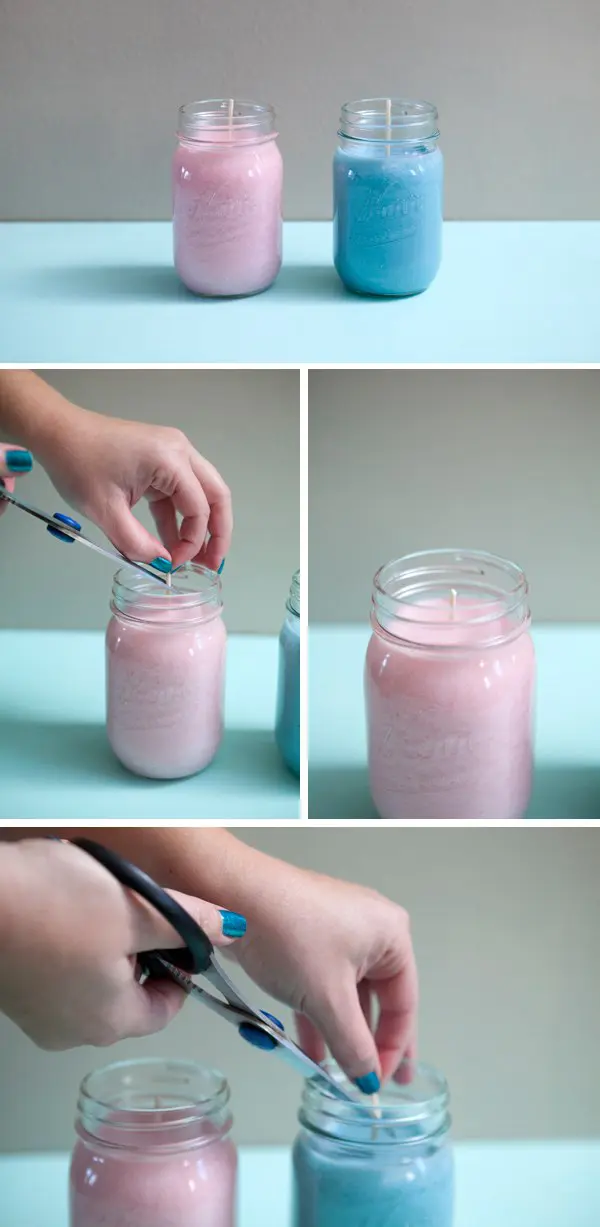 Credit: somethingturquoise.com
The alluring smells of the candles can transform your home's aura this spring. Imagine your home filled with soothing aromas.
The great thing about Mason jars is that you can even make your own candles in them! If you want a candle like that in a shop, it'll cost you at least $15.
Well, save some cash and make a more unique gift for your friend. Check the full tutorial on how to make these candles.
12. Critter Jars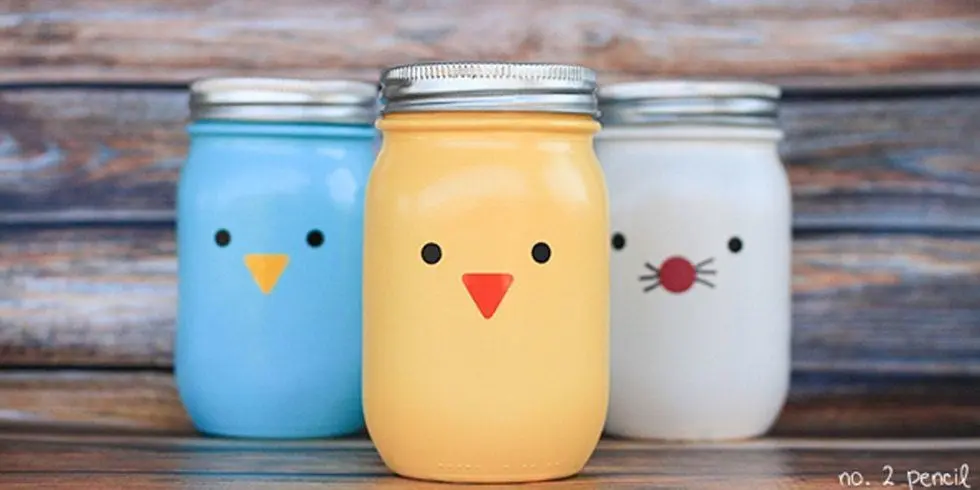 Credit: Pinterest
Here's a great animal-themed jar for spring. But there's little – or no – fun doing this all by yourself.
So, bring the kids on board! And the best reward would be decorating their rooms with these adorable jars – not just in spring – but all year round.
13. Easy Easter Gifts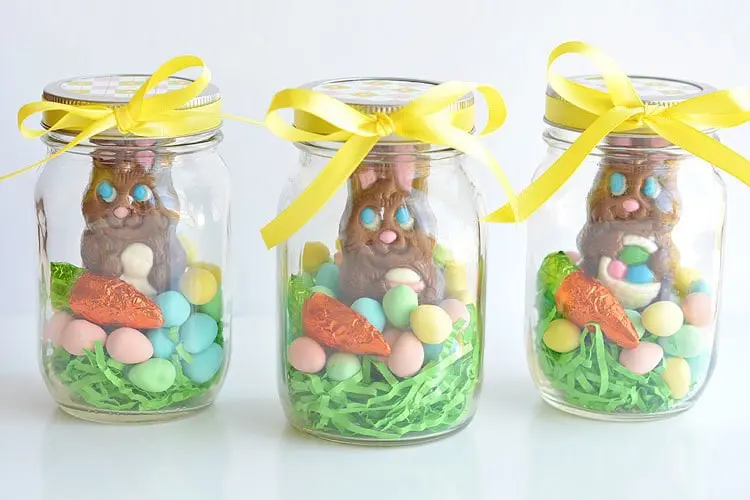 Credit: onelittleproject.com
Thinking of a DIY Easter gift? Here's an idea:
Get those mason jars, stickers, scrapbook paper, and sometimes – that's all. Now you have an ideal Easter gift packaging.
14. Coconut Cream Pie in a Jar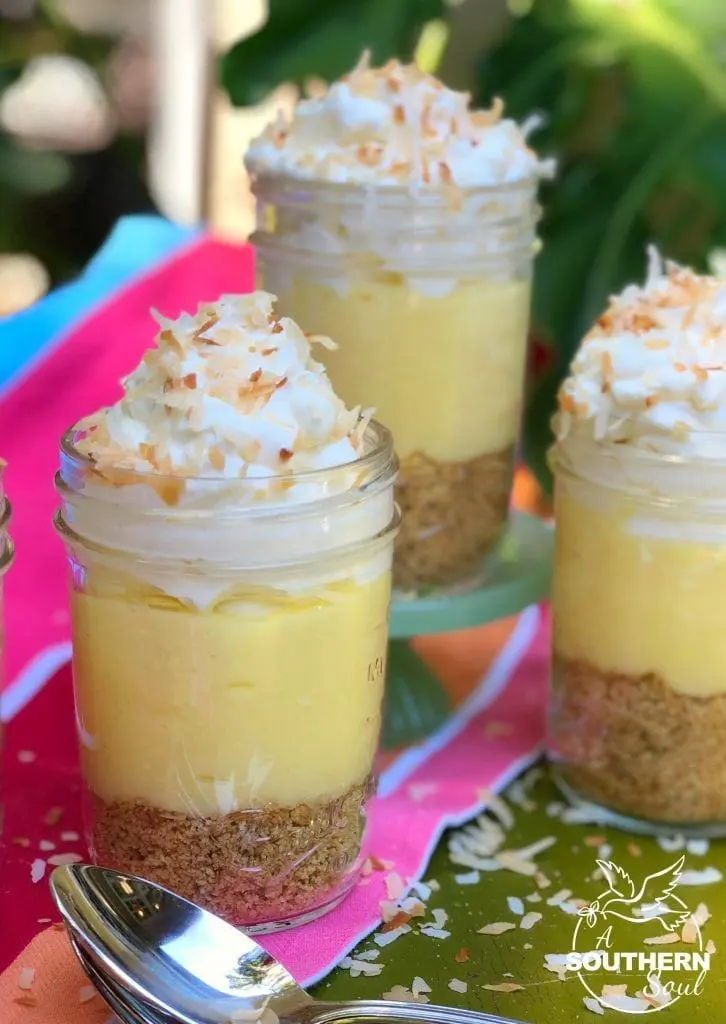 Credit: Pinterest
Here's a perfect dessert for spring. The coconut puddings garnished with coconut flakes, topped with candy eggs – that's it.
Yes, you can definitely serve food in mason jars too! Anything from low carb cheesecakes to granola with yogurt. So, if a more important celebration like Easter is coming, use them to serve food!
15. Fishnet Wrapped Mason Jar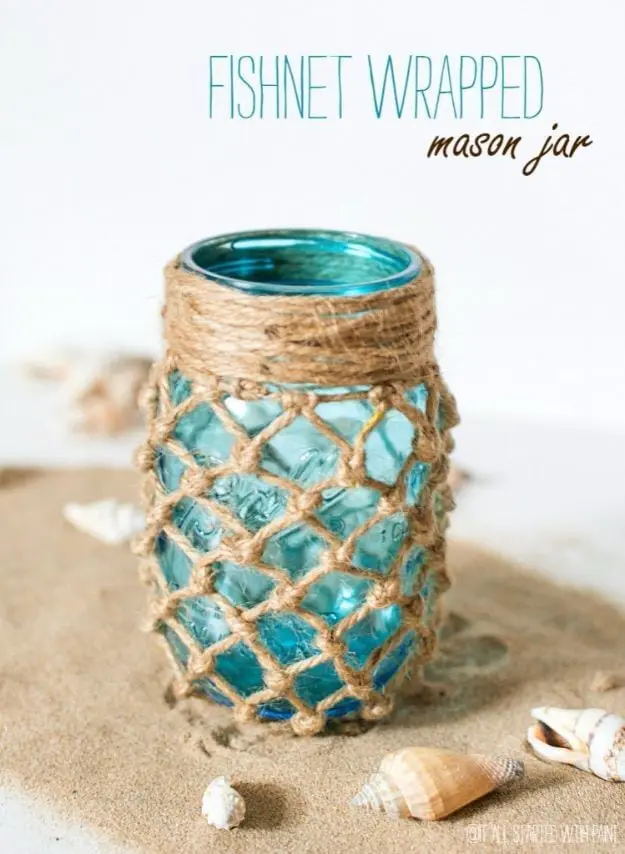 Credit: diyprojectsforteens.com
Do you have a used fishing net just lying around and you're about to throw it out? Well, slow your roll.
With that and a mason jar, you have everything you need to create something truly elegant. Simply wrap a piece of your fishnet around a mason jar. Either spray paint it or use tinted Mason jar.
It makes for a cute beach house décor as well.
16. Easter Bunny Nest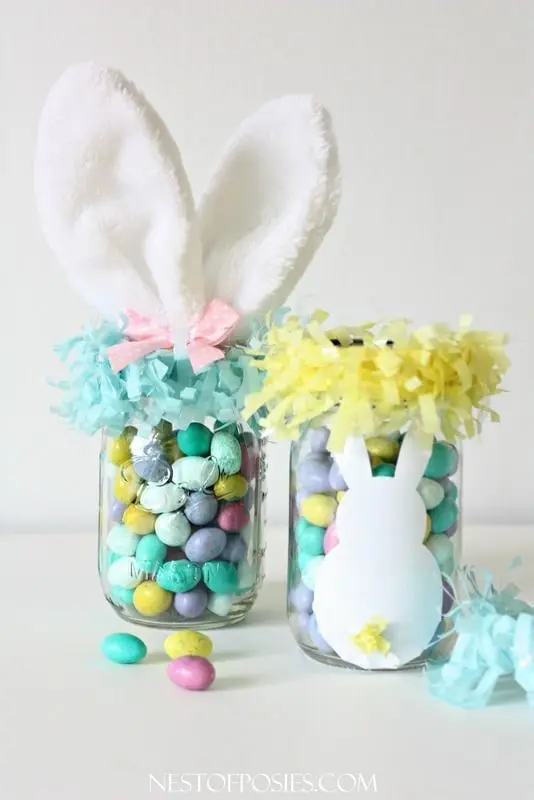 Credit: Pinterest
Another wonderful Easter treats the kids would love. Here's it – get your mason jar and fill it with candy eggs, edible grass, and a chocolate Easter bunny.
It doesn't need to be Easter for you to feel like filling up those mason jars with candies! But still, if you want to get more crafts ideas for Easter, check this post.
17. Simple Easter Centerpiece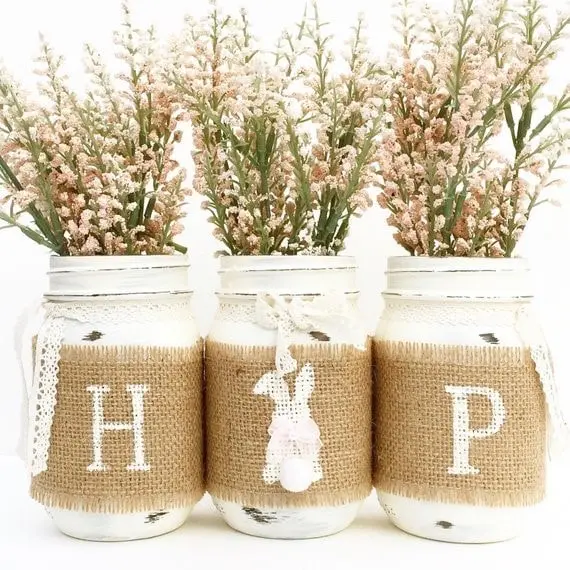 Credit: etsy.com
Here's probably the easiest DIY vase there is. Simply wrap up your mason jar with a doily and throw in your favorite spring flowers.
To make these ones happen you'll need some glue, white paint, and spray paint for the jars. However, these could really do a for a beautiful DIY gift.
18. Decorative Mason Jars for Storage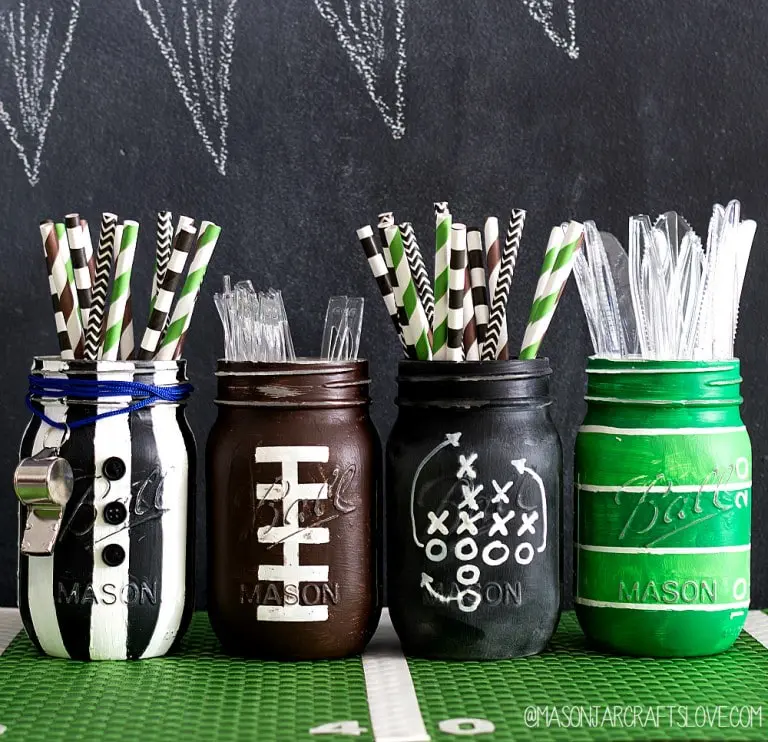 Credit: masonjarcraftslove.com
Get some Americana acrylic paint and cover your mason jars with it. Feel free to improvise and have fun with it.
Use grid sandpaper to give the mason jar a shabbier look. Then, use chalk markers to decorate them.
You can get truly creative here! And, at the end of the day, you can just use them to store forks, spoons, and other kitchen goodies.
19. Tinted Mason Jars
Credit: sayyes.com
Here's another creative DIY Mason jar idea for spring vases. Pastel-tint the jars with food coloring and Mod Podge.
Tinted Mason jars sometimes cost extra for no good reason really. Plus, it can do for a simple yet fun craft for kids, so definitely get them involved!
Check the full tutorial here.
20. Floral Fabric Fun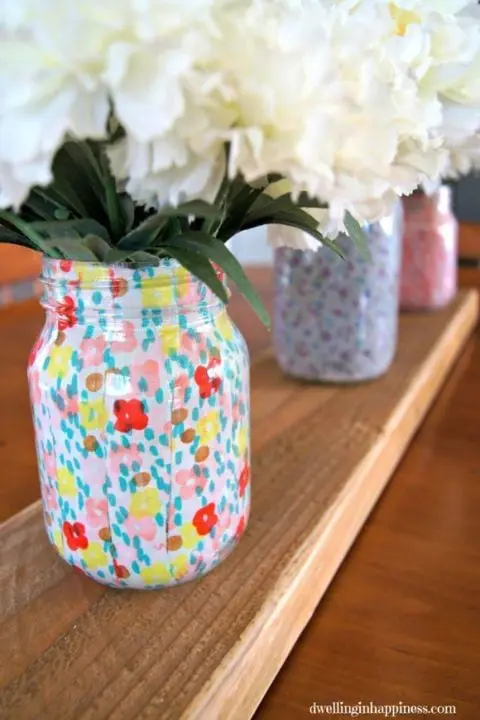 Credit: dwellinginhappiness.com
Get strips of floral fabric and some Mod Podge. You'd be thrilled how much you can transform those mason jars to a spring-perfect flower vase.
All you need is to cut the fabric into strips and dip the fabric in the mixture of Mod Podge and water. Then, just stick it to the inside of the jar and watch the magic happen.
The glue will need to dry out before it becomes transparent.