Gift wrapping is not only fun but important. Transform your gifts for friends with unique wrapping.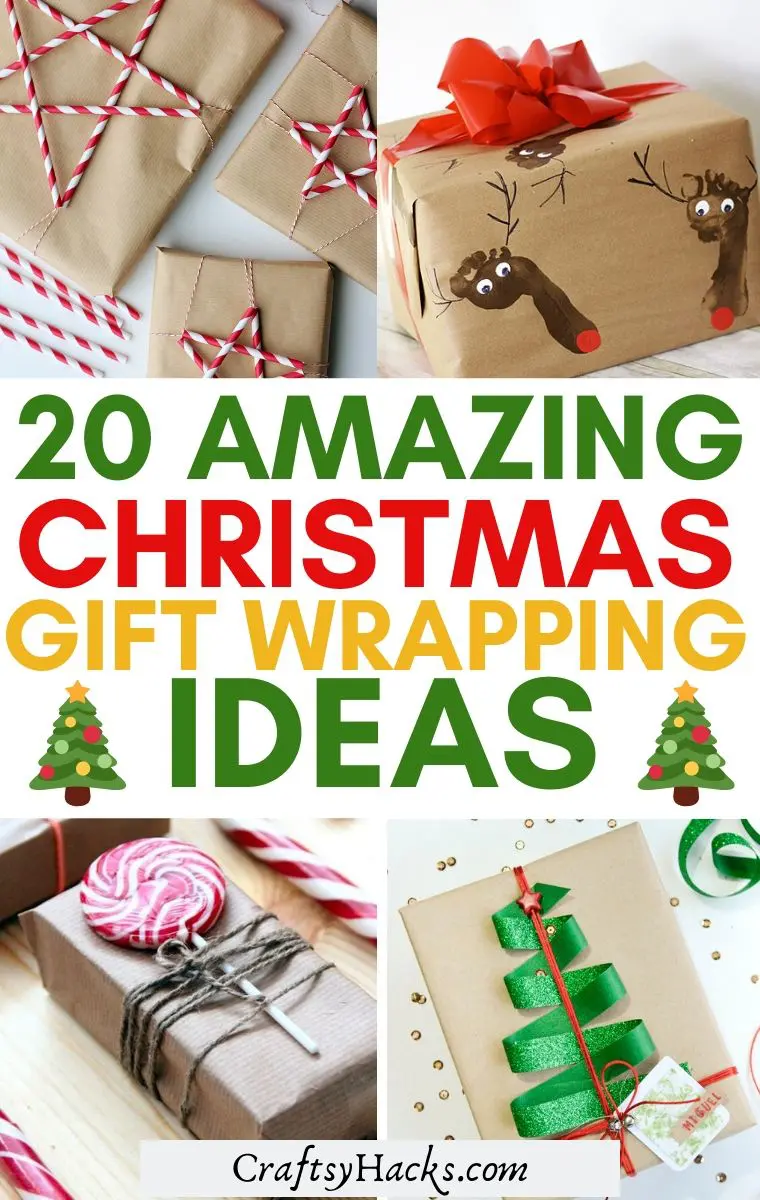 Christmas is the season of giving. And what better way to show someone you care than by giving a beautifully wrapped gift?
These simple gift wrapping ideas will make even the most beautiful presents more meaningful.
There are more reasons why you should ditch store-bought wrapping paper in favor of these DIY wrapping projects. They're easy to make, very affordable, and absolutely gorgeous. Plus, you can include your loved ones in their making and create a fun holiday tradition.
Your family and friends will be so impressed that they'll refrain from tearing their Christmas gifts and take their time to admire them.
To get you inspired, we've put together a list of our favorite 20 Christmas gift wrapping ideas. Let's get crafty!
1. DIY Christmas Tree Gift Toppers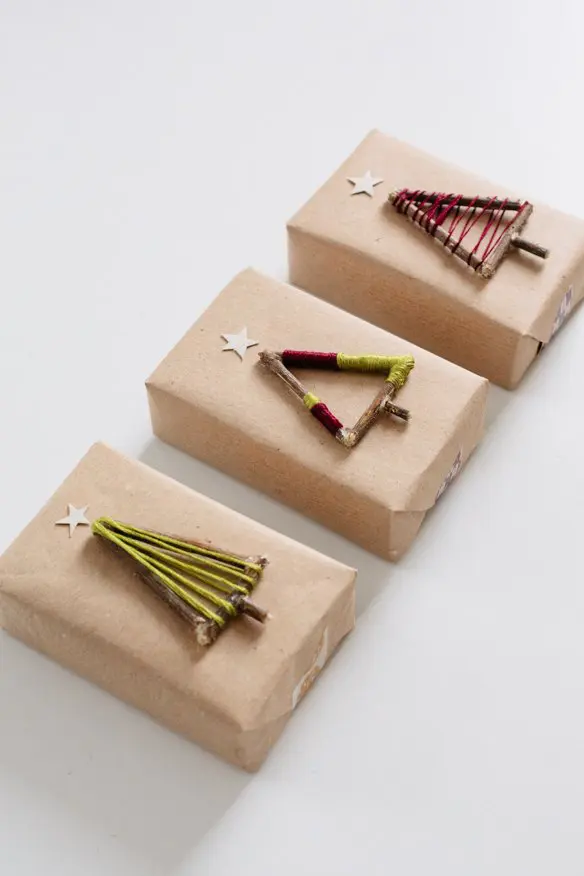 Source: fellowfellow.com
You have already chosen a gift and wrapping paper, now it's time to make it more special. These fun Christmas tree toppers work best with monochromatic gift wrapping paper or, even better, plain Kraft paper like this one here.
To make them, you'll need a couple of sticks, scissors, a hot glue gun, regular craft glue, and embroidery thread in colors of your choice.
This is a hot glue gun I recommend.
2. Snowman Gift Wrap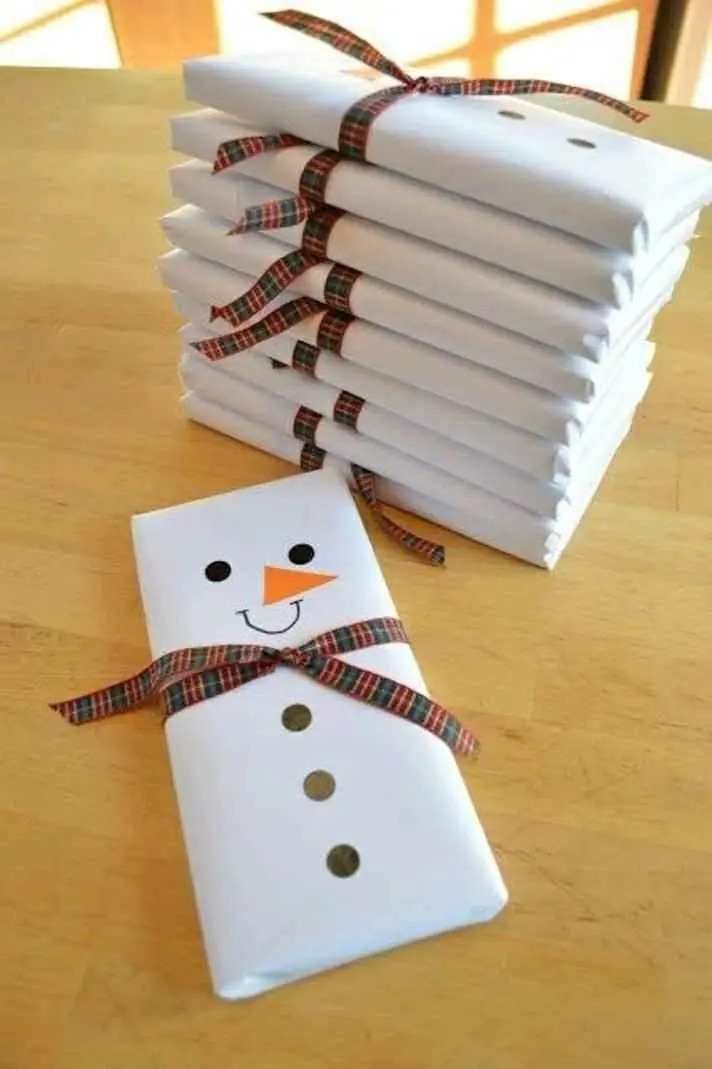 Source: Pinterest
Forgot to buy wrapping paper? No biggie. For this snowman gift wrap idea, you can use plain white paper.
The rest of the supplies include a sharpie, black and orange paper, and this thin ribbon (I suggest red and green).
Wrap up your favorite gifts and add them to your very own unique Christmas basket.
3. DIY Chalkboard Gift Wrap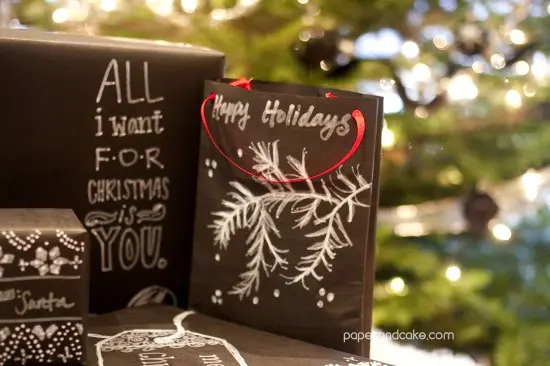 Source: paperandcake.com
This is such a fun and inexpensive gift wrapping idea! Just think about it – no two gifts will be the same.
You can find black Kraft paper for under $10 here. The paper is thick, so it holds up really well.
It also has a matte finish, which makes it perfect for drawing and writing with chalk. As an alternative, you can use white chalk pens like these ones here.
Get down to work, the possibilities are endless!
4. DIY Christmas Wrapping Ideas with Kraft Paper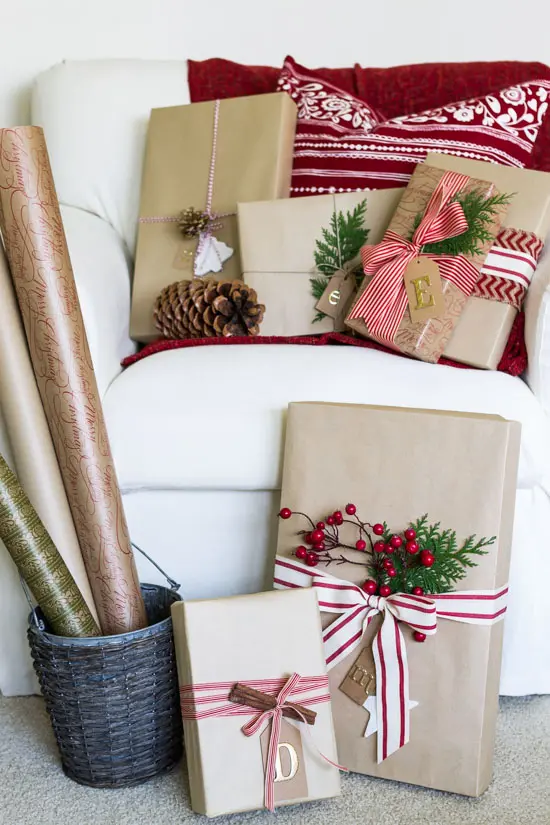 Source: onsuttonplace.com
This Christmas, keep things simple. You'll not only make it easier on yourself but your gifts will also look super-stylish.
When it comes to simplicity, brown Kraft paper rules. There's literally not a thing that doesn't pair well with the good ol' Kraft paper.
This DIY tutorial by On Sutton Place gives a few amazing ideas for simple yet beautiful Christmas wrapping combos with Kraft paper: gold stick-on letters for initials, natural elements like cinnamon sticks, pinecones, fresh greenery, or red berries (whether natural or faux ones), etc.
You can get gold stick-on letters here.
5. DIY Christmas Wrapping Idea with No-Sew Fabric Flowers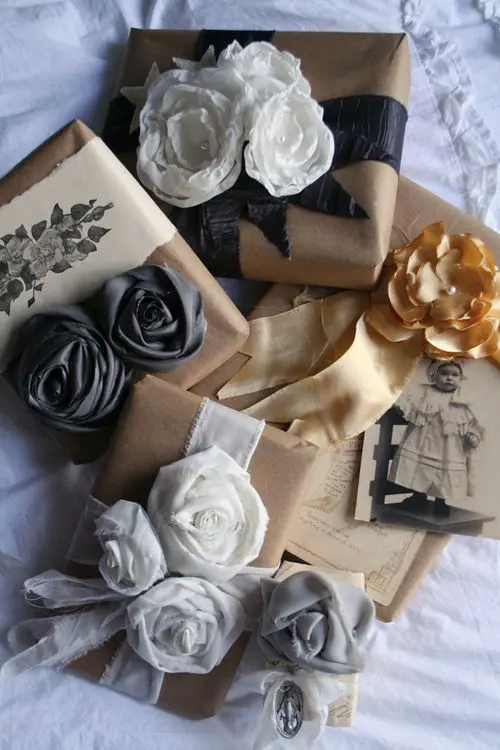 Source: prettypetals.typepad.com
Even though they look super-glamorous, these fabric flowers are actually very easy to make. They don't require getting out your thread and needle.
Trust me, you'll never buy a bow again!
The only problem is your flowers might look much better than the gift inside!
You can also buy fabric flowers here in case you're not feeling like making them.
6. DIY Star Garland Gift Wrap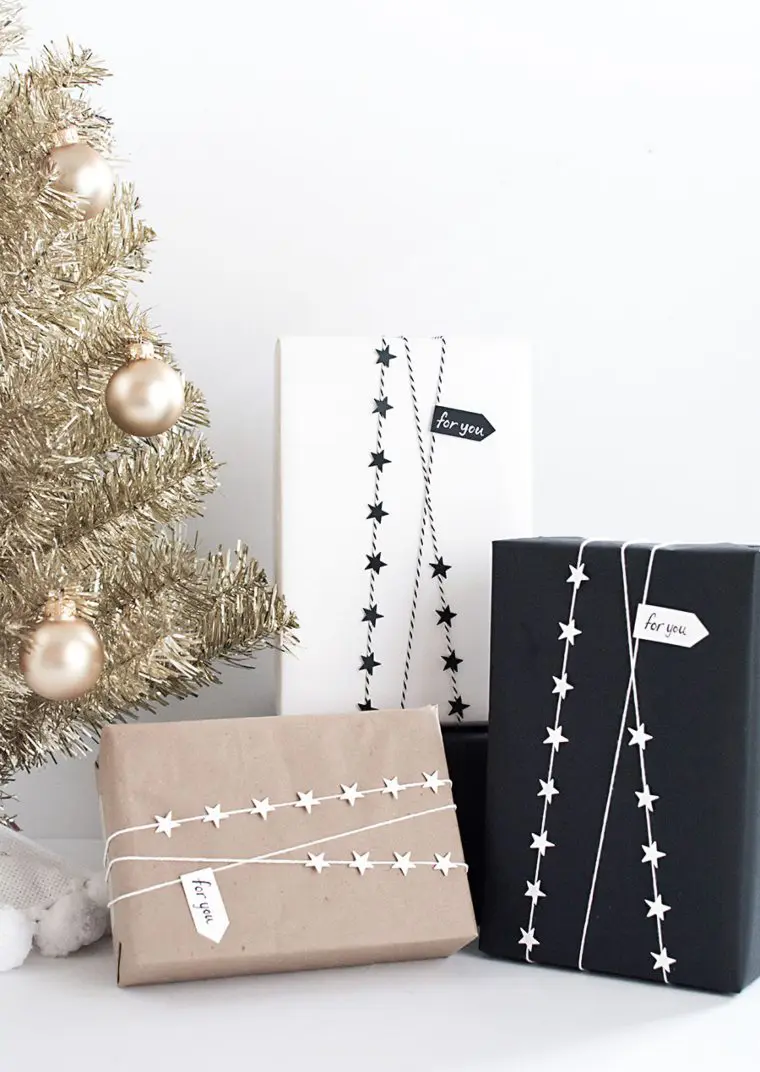 Source: homeyohmy.com
Make gift wrapping simple, fun, and modern with this classy and easy DIY star garland gift wrap. We recommend pairing your star garland with monochromatic paper.
To make this project, you'll only need card stock, string, scissors, and tacky glue.
You could also use these wrapped boxes as Christmas decorations by the Christmas tree.
7. DIY Twine and Christmas Ornament Wrap Idea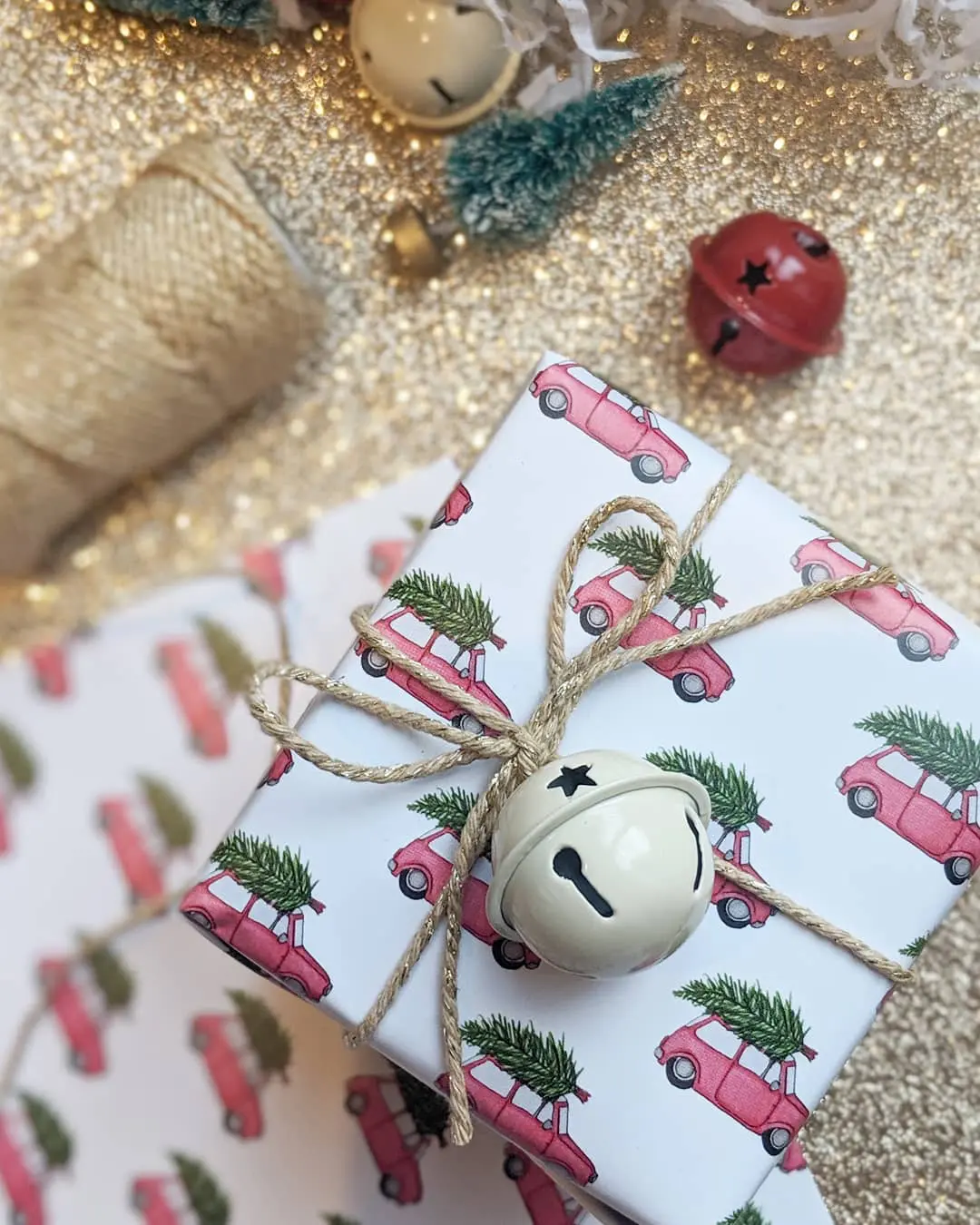 Source: instagram.com
It's amazing what you can do with your old Christmas ornaments and some twine! Or the ones you make yourself for Christmas!
You can also make this project with brand new ornaments that the recipient will later hang on their Christmas tree! And instead of twine, you can opt for a clothesline.
Here are a few new ornaments that would work beautifully here.
When it comes to wrapping paper, it all comes down to personal preference. You can go with monochromatic Kraft paper or use special Christmas-themed paper like these ones here.
8. Scandinavian Christmas Tags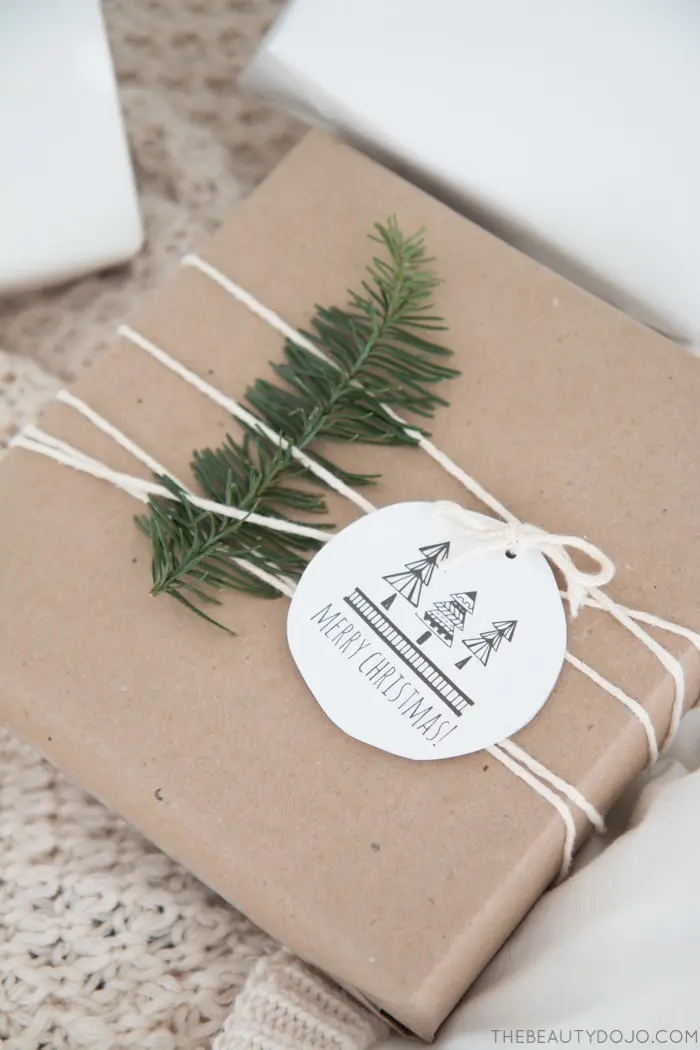 Source: thebeautydojo.com
Once gift wrapping is in full swing, you'll be needing lots of gift tags. To save yourself the time and frustration, print your set of tags ahead of time.
These clean and simple Scandinavian Christmas tags are perfect because they pair well with any kind of wrapping paper, toppers, or ribbons.
9. Christmas Gift Wrapping with Black Paper Boxes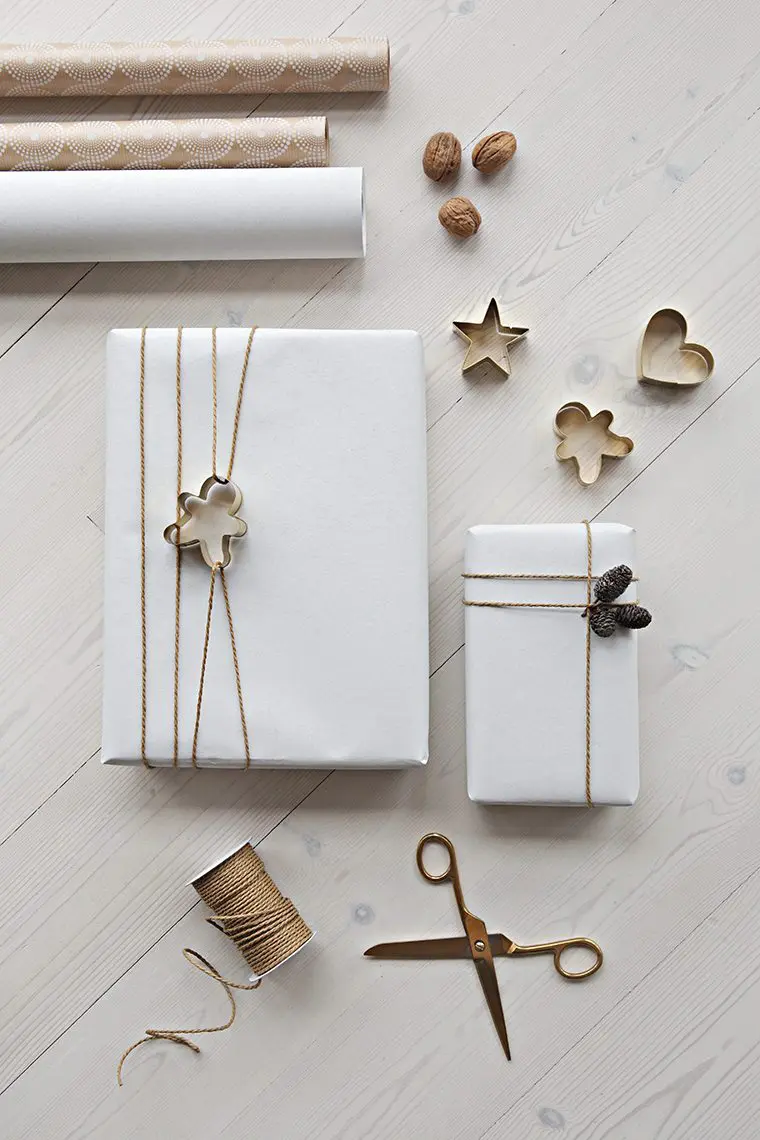 Source: stylizimoblog.com
There's just something so chic and stylish about black color. The lack of ostentation in these black paper boxes will say much more than things that try hard and shine.
The flat black backdrop that these boxes provide is the perfect showcase for a mistletoe sprig or any kind of greens you find in your garden, white berries, cinnamon sticks, or pinecones.
If you don't have pinecones, you can always stock up on them here.
10. Personalized Gift Wrapping Idea with a Photograph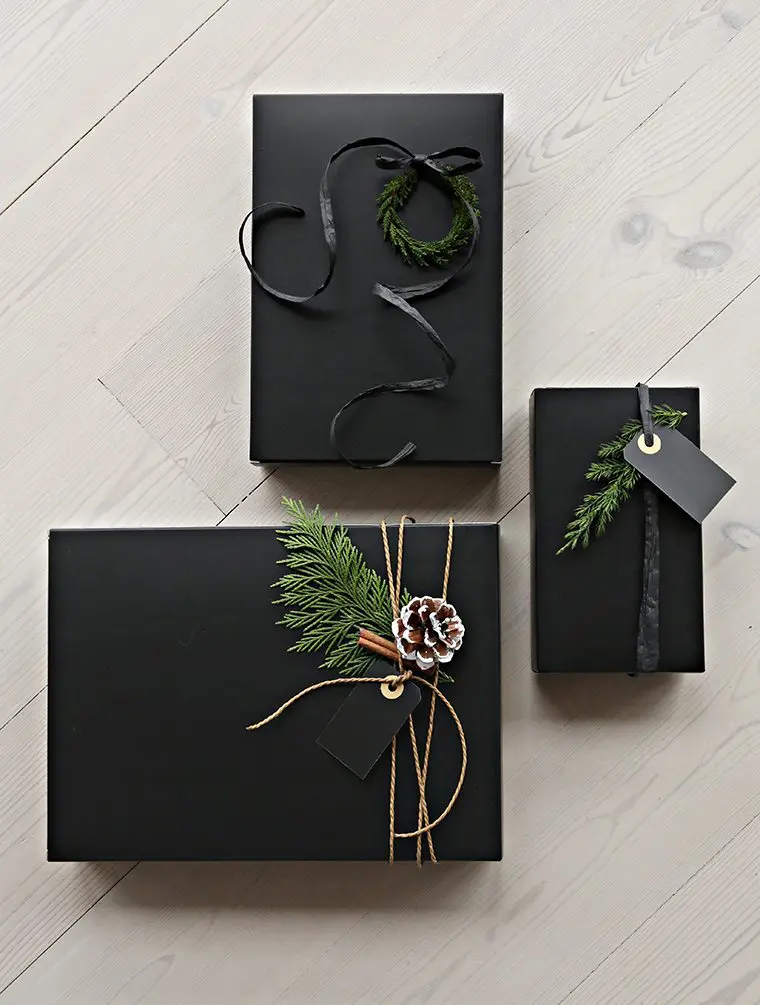 Credit: bossamae.com.br
If you want to personalize your Christmas gifts even more, choose a special photo to use when wrapping them. Simply tie the ribbon or twine, and insert the photo in the center.
The photo can replace the bow if you want. It is beautiful on its own but you can also pair it with a small branch or a flower.
Stock up on that twine here.
11. Christmas Gift Idea with Lollipop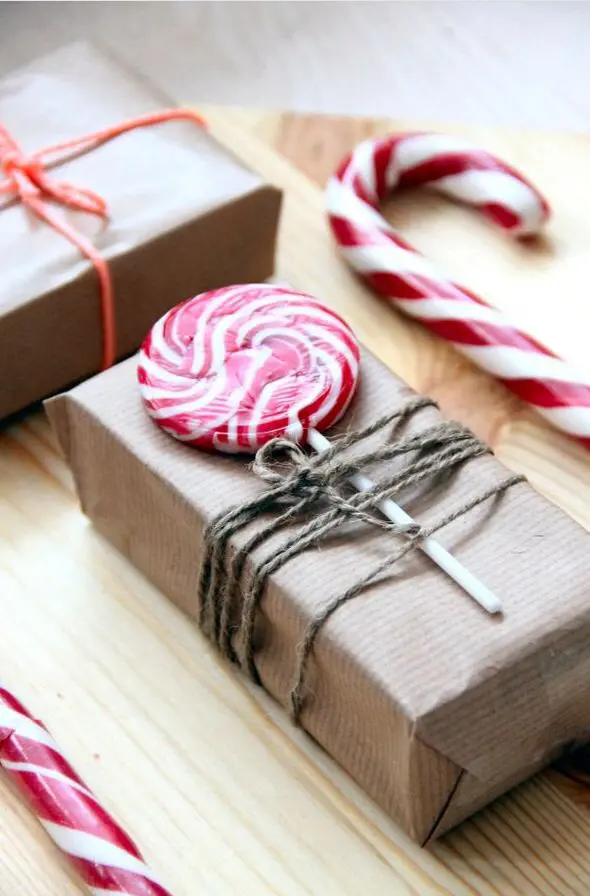 Source: Pinterest
Simple gold and the red color palette is always festive and chic but it can be a bit boring year after year.
For an instant update, add a holiday swirl lollipop to each gift, tightly securing it under the twine or ribbon.
You can get a bunch of Christmas-themed lollipops here.
12. Ribbon Christmas Tree Wrapping Idea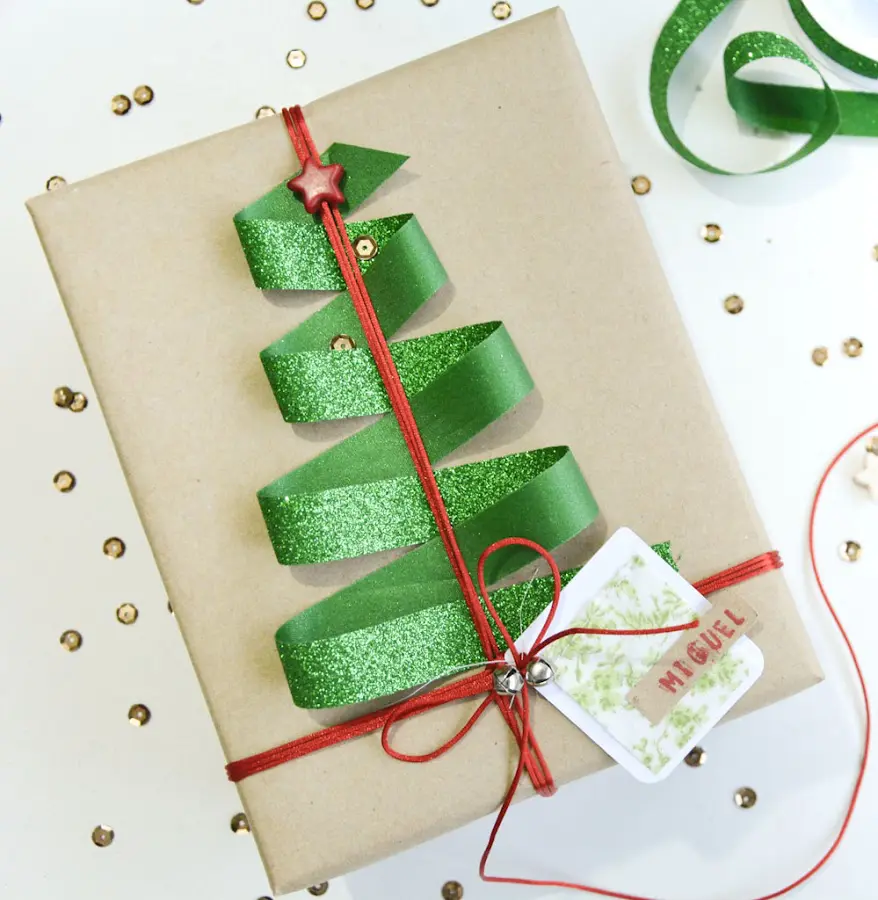 Source: manualidades.facilisimo.com
If you have already spent lots of time and money into buying your Christmas gifts, here is a cheap and easy wrapping idea for you.
You don't have to buy lots of shiny and glittery wrapping paper and ribbons to cover your gifts. All you need is some simple brown wrapping paper and green paper ribbon that will be turned into a Christmas tree.
Glue the ribbon tree, and add few sequins to show it as ornaments on it. Tie the gift with red thin yarn likes this one here, then put cute little bells and a tag.
These vintage bronze jingle bells would work well for this occasion.
13. DIY Christmas Wrapping Paper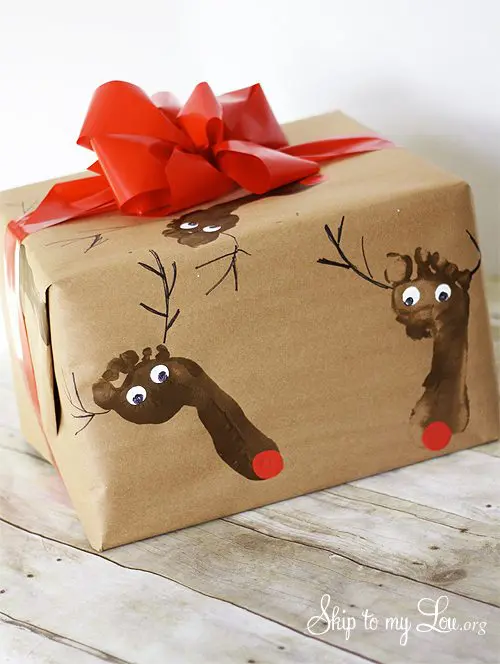 Source: skiptomylou.org
Here's that simple brown wrapping paper again. Only this time, it's made super-fun with the help of your little ones. Or to be more precise their tiny feet.
Don't worry if your wrapping paper turns out a bit weird. What's important is that your kiddos will enjoy decorating it and the feet reindeer will certainly be eye-catching!
Either way, it's definitely a fun Christmas craft for kids.
14. DIY Santa Packages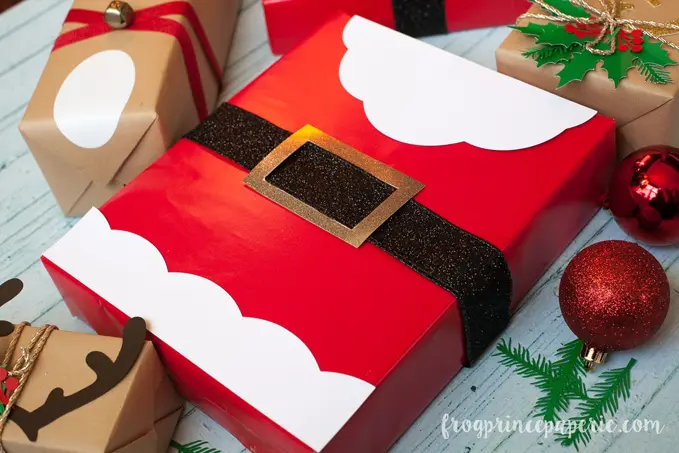 Source: frogprincepaperie.com
Here's a gift wrap idea that puts the ho-ho-ho in the holiday season. This gift box looks just like Santa's suit, complete with belt and collar.
It will definitely be the best-dressed gift under your Christmas tree!
15. Reindeer Boxes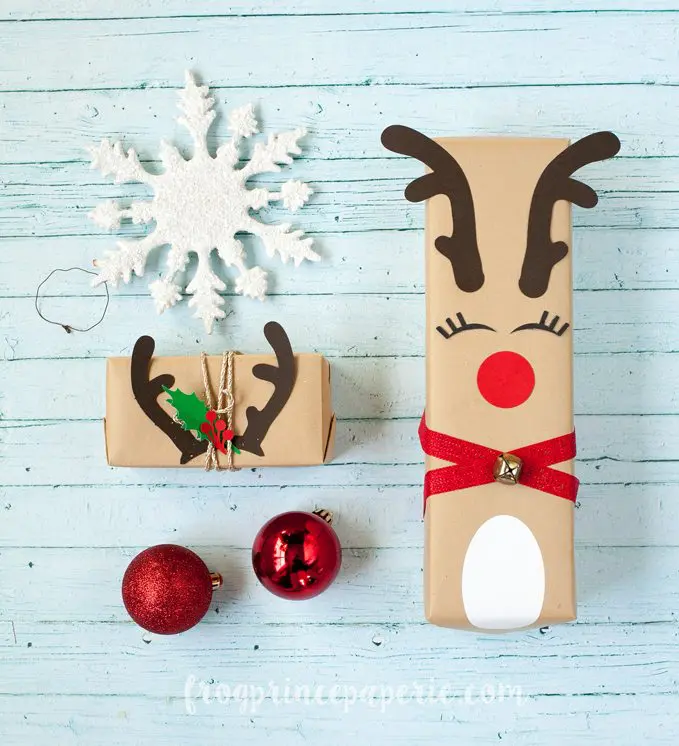 Source: frogprincepaperie.com
Doesn't Christmas make you think of Rudolf flying through the sky? Well, why not turn your Christmas gifts into jolly Reindeer?
They'll look super-festive, almost like they were wrapped by Santa himself!
16. Paper Straw Stars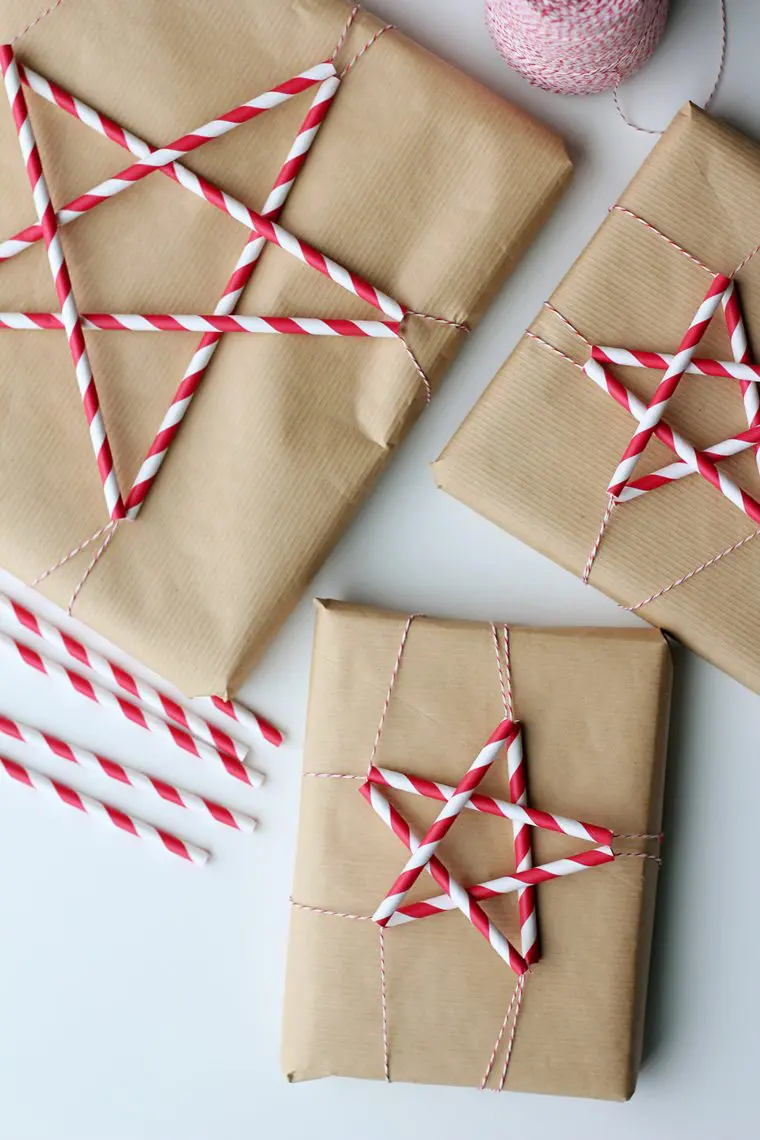 Source: splashofsomething.com
These adorable paper straw stars are quick and easy to make. You don't need any tape or glue, only a few straws, some string, and your folding skills.
You can also hang the striped paper straws on your Christmas tree, in a window, doorway, garland or anywhere around your home to add a bit of Christmas cheer!
17. Easy Mini Wreath Tags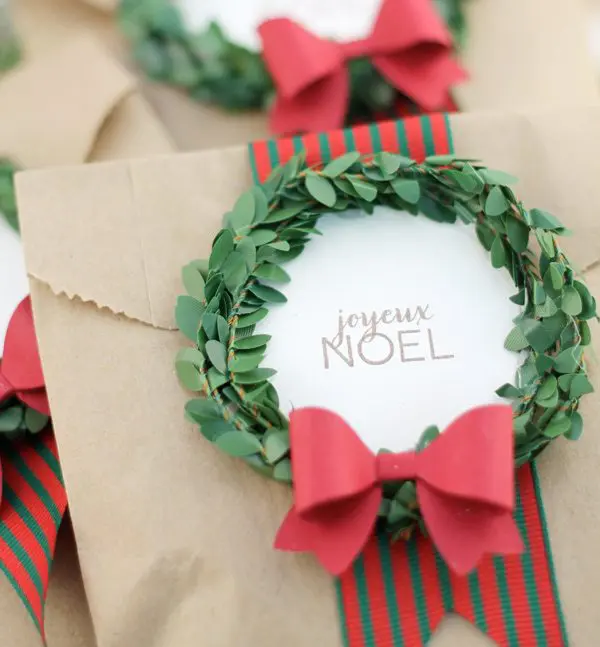 Source: damasklove.com
These mini wreath tags are the most adorable accent for your Christmas gifts. You can make them with natural greenery from your backyard or park, or with mini garlands like these.
The list of supplies for these cute tags also includes a glue gun, 2.5″ paper circles, wide grosgrain ribbon, and mini bows.
So, if you're making your own Christmas wreath this year, you might as well transfer that mood into gifts!
18. Festive Wrapping Inspiration with Greenery and Berries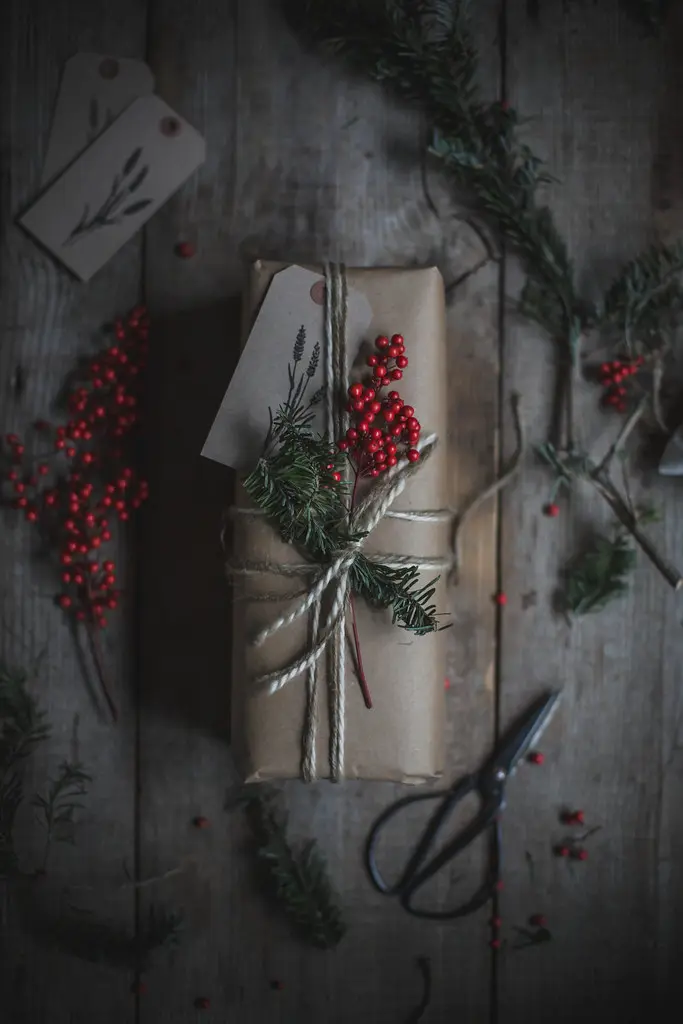 Source: localmilkblog.com
While it is true that beautiful packaging makes any Christmas gift seem a little bit more special, it doesn't mean that you have to spend lots of time and money on fancy ties and ribbons.
This easy yet stylish wrapping features brown paper, twine, some cotton balls, plus greenery and berries from your yard. You'll be able to pull it off even if your wrapping skills aren't so great.
Don't worry about tying and arranging anything too neatly because this wrapping should look natural and relaxed.
19. Easy Burlap Details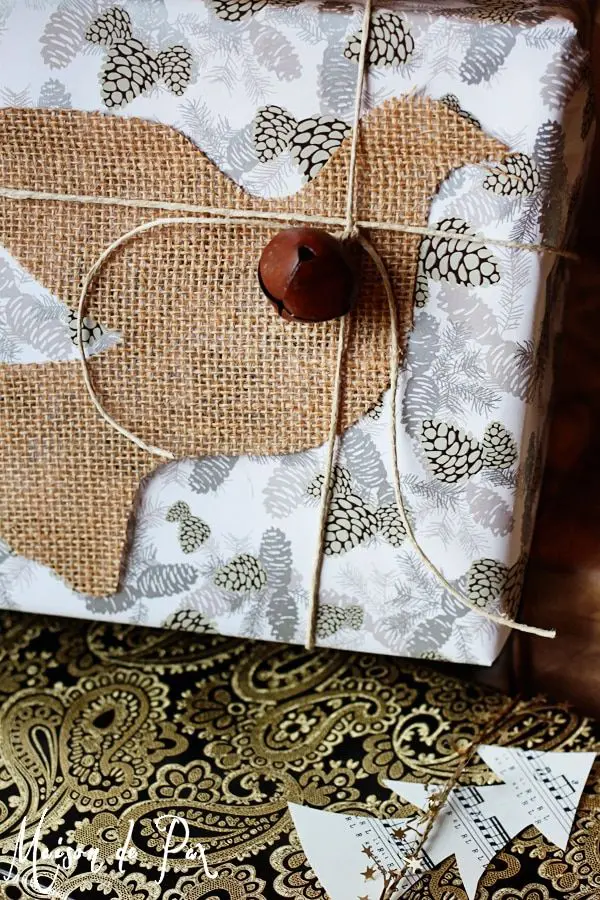 Source: maisondepax.com
Burlap is a very interesting material to work with and it is sure to make your gifts look amazing. You can use it to wrap a whole gift and then decorate it with Christmas bells, lace, old jewelry, white snowflakes, or golden stars.
Stock up on burlap here.
Also, you can wrap the gift in a shiny gilded paper and then use burlap birds, ribbons, Christmas balls, angels, trees, stars, pine cones, etc.
20. Tissue Paper Ruffles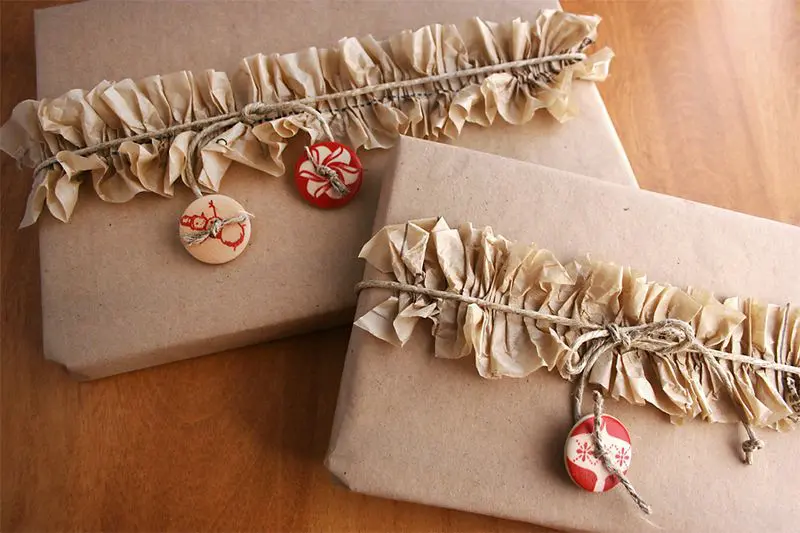 Source: cosmocricket.typepad.com
To wrap things up (pun intended), I'm sharing a DIY idea that involves romantically-looking ruffles made of tissue paper.
All you need to make these cute ruffles is colorful tissue like this, scissors, a large needle, string, and tape to adhere it to the gifts.
Conclusion
Which of these wrapping ideas did you like best? How will you be decorating your Christmas gifts this year?
Let me know in the comments below.