Love a bit of crafting? Try these craft projects for adults, they're not too hard, not too easy – just right.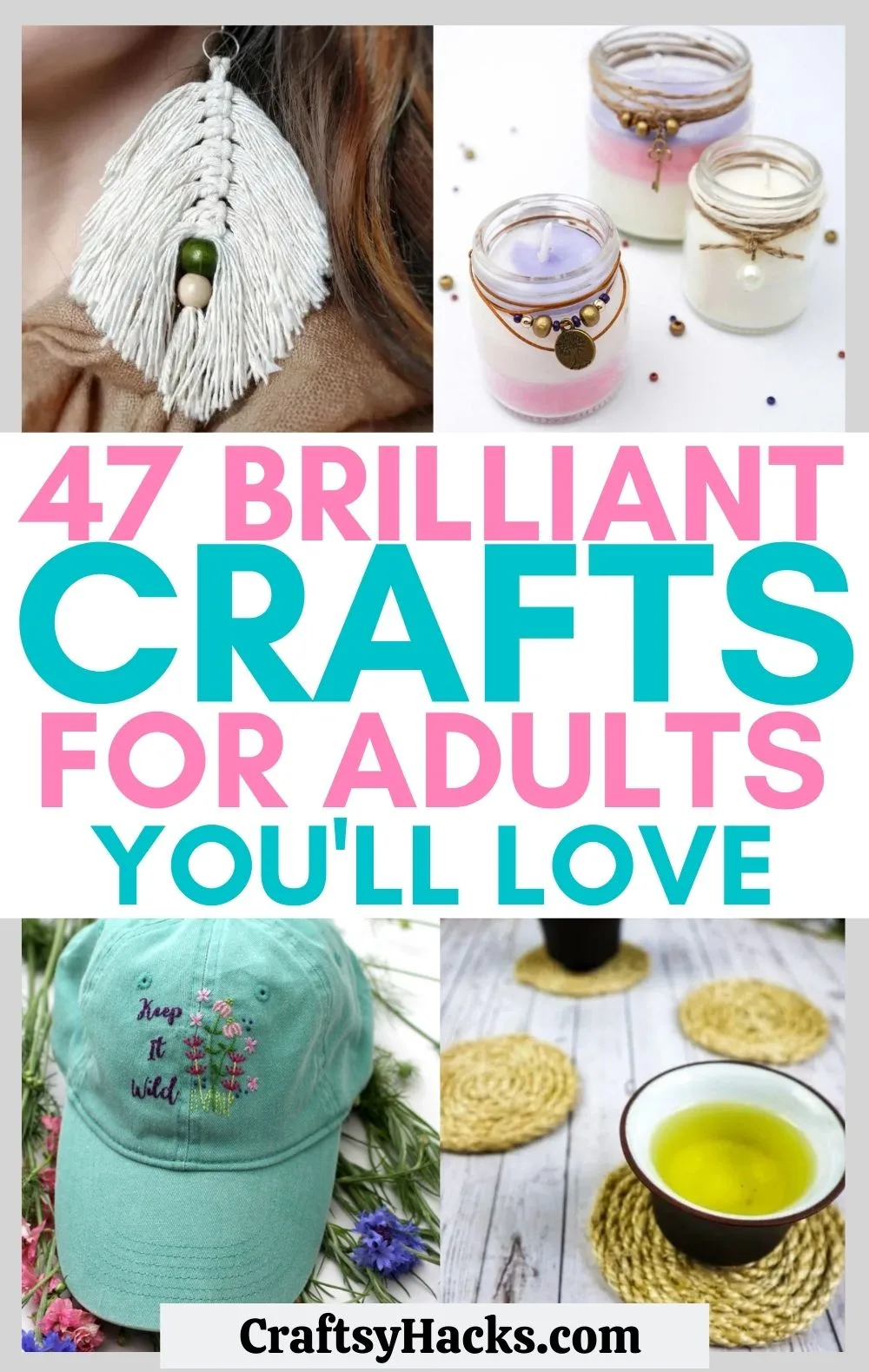 If you think that arts and crafts are a kids-only activity, think again. Crafting is beneficial for us adults, and it's not just me saying this. Science backs it.
According to research done in 2011, engaging in crafting reduces your chances of getting memory problems by up to 30% to 50%. Experts also claim that crafting can help people suffering from chronic pain, depression, and anxiety.
There you go. Crafting benefits both your physical and mental health. The beautiful products you make out of them are just a bonus.
To help you kickstart your crafting routine, here are some craft projects, specially curated for adults.
1. DIY Glitter Wine Glass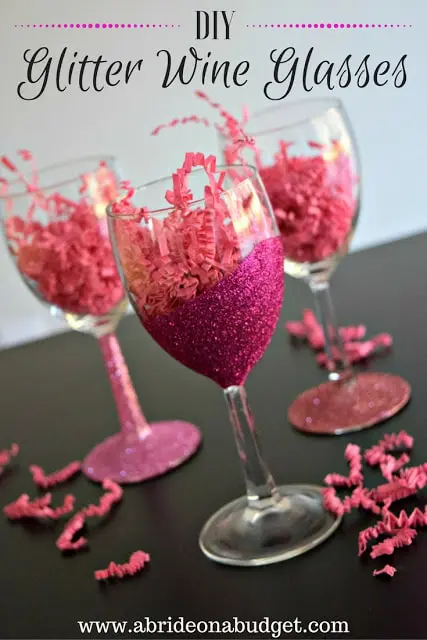 Credit: abrideonabudget.com
This project is excellent for bridal showers or milestone birthdays. They're very easy to make, and most of the materials are available at your local dollar shop or craft store.
Enhance the bling on your wine glasses by adding some sparkly rhinestones, like the ones I found here.
2. Inspiring and Relaxing Coloring Pages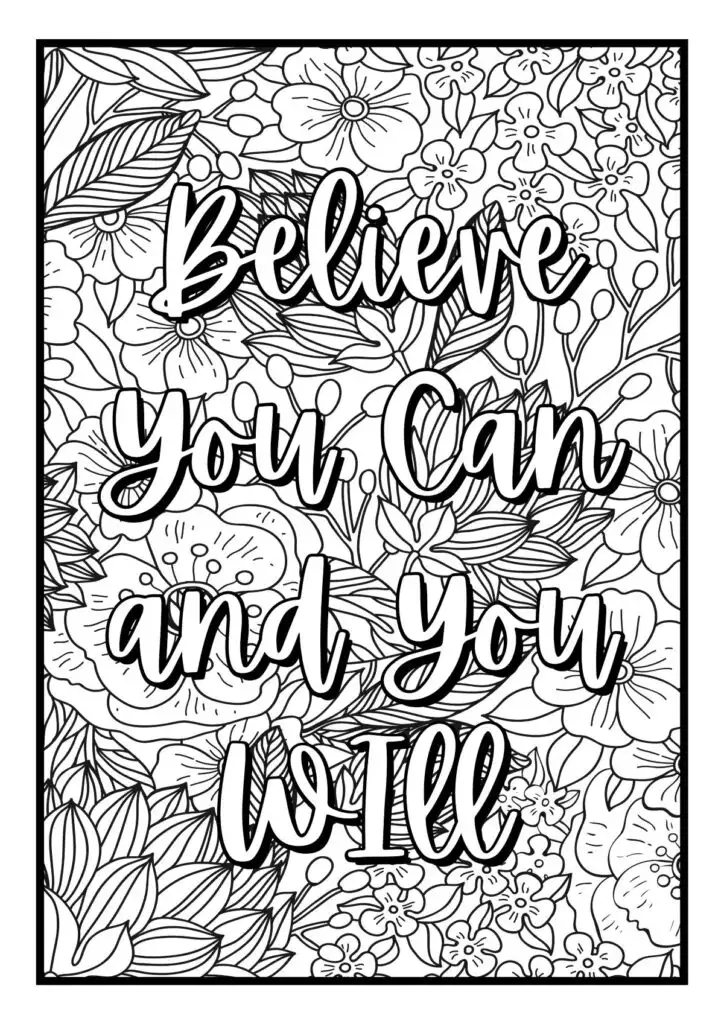 When you're looking for something simple that will lift you up, coloring pages are perfect for that. I have designed these inspiring coloring pages that will get your creative juices going and give that very much-needed inspiration.
I love these for a relaxing activity when I feel stressed. I love the fact that you can just sit down, print these out and color your heart away. Also, if you're someone who enjoys self-affirmations and wants to give a little time to your soul, these are perfect.
These coloring books helped me to change my negative thoughts into more positive ones. It has had a significant positive effect on my mental health. So, if you need some positivity in your life combined with creativity, these are great.
You can grab 20 pages of these coloring sheets I have designed below. Just put in your email address and I'll send them over to you immediately.
3. Lippie Holder Keychain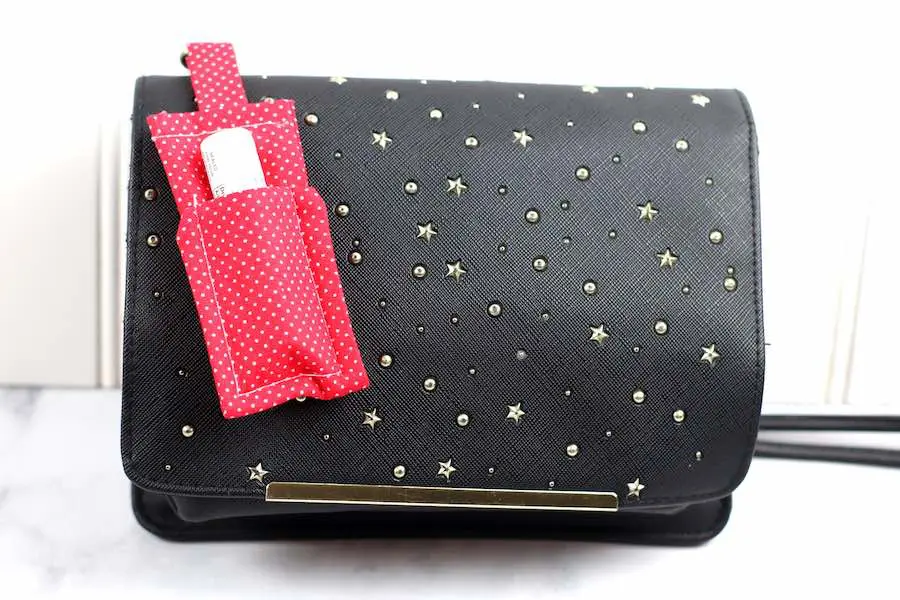 Credit: happiestcamper.com
I buy A LOT of lip balm. Not because I overuse them – it's more because I lose them. All the time! If this is sounding like you too, this project may be just what we need.
Some sewing skill is required to complete this project. But if you're a beginner at sewing, don't fret –this step-by-step tutorial will guide you through it.
4. DIY Garden Kneel Pad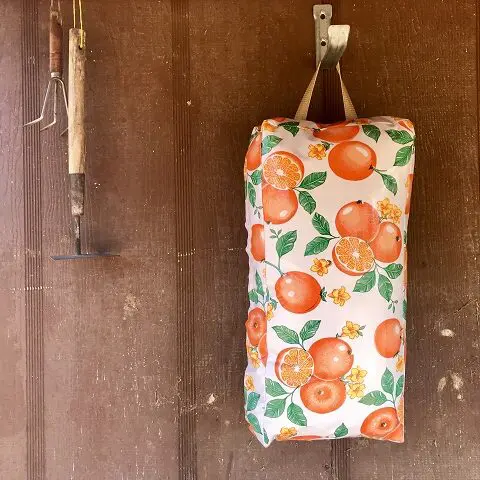 Credit: homespunseasonalliving.com
If you love gardening, you will know how uncomfortable it is not having a knee pad. This tutorial guides you through making your kneel pad from recycled materials, making it more comfortable than store-bought ones.
Apart from your sewing materials, you will also require a rotary cutter and mat for this project. If you don't own either of these, you can buy them individually, or order them as a set here.
5. DIY Rustic Wreath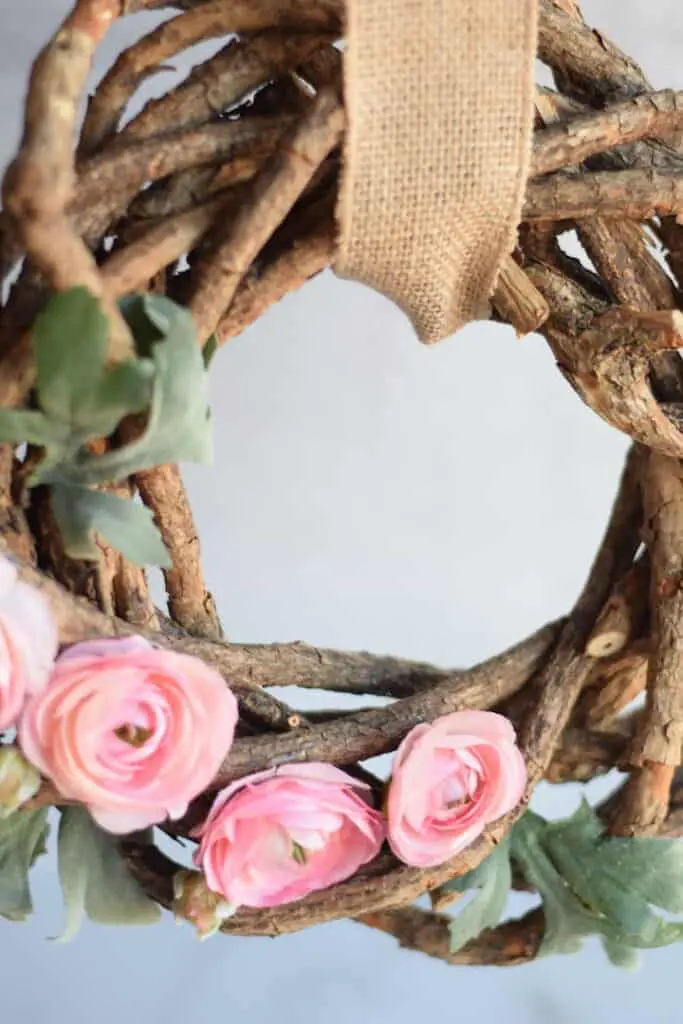 Credit: bootsandhooveshomestead.com
Create a rustic yet elegant décor perfect for Spring with this DIY wreath.
Use a branch wreath to achieve a natural rustic feel. You can make your own by collecting twigs and branches, or you can purchase a pre-made one here.
Attach some faux flower and leaves, allow to dry, and hang on your front door.
Check out more wreath ideas here and here.
6. Stylish Tote Bag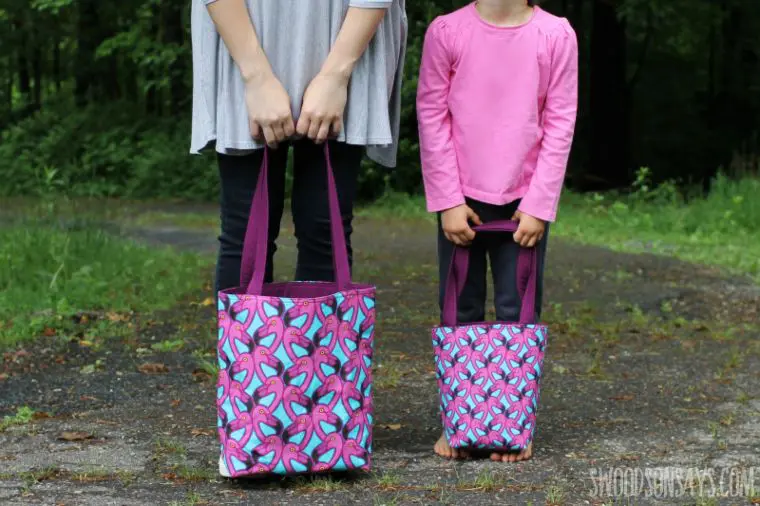 Credit: swoodsonsays.com
If you have some sewing skills and love coordinating outfits with your little one, here is the perfect project that will make mommy and baby happy!
If you want a full tutorial, check this out. Add softness and body to your totes by adding the fusible fleece noted as optional in the tutorial.
If you're unsure of where to find one locally, get them online here.
7. Hand-Embroidered Baseball Cap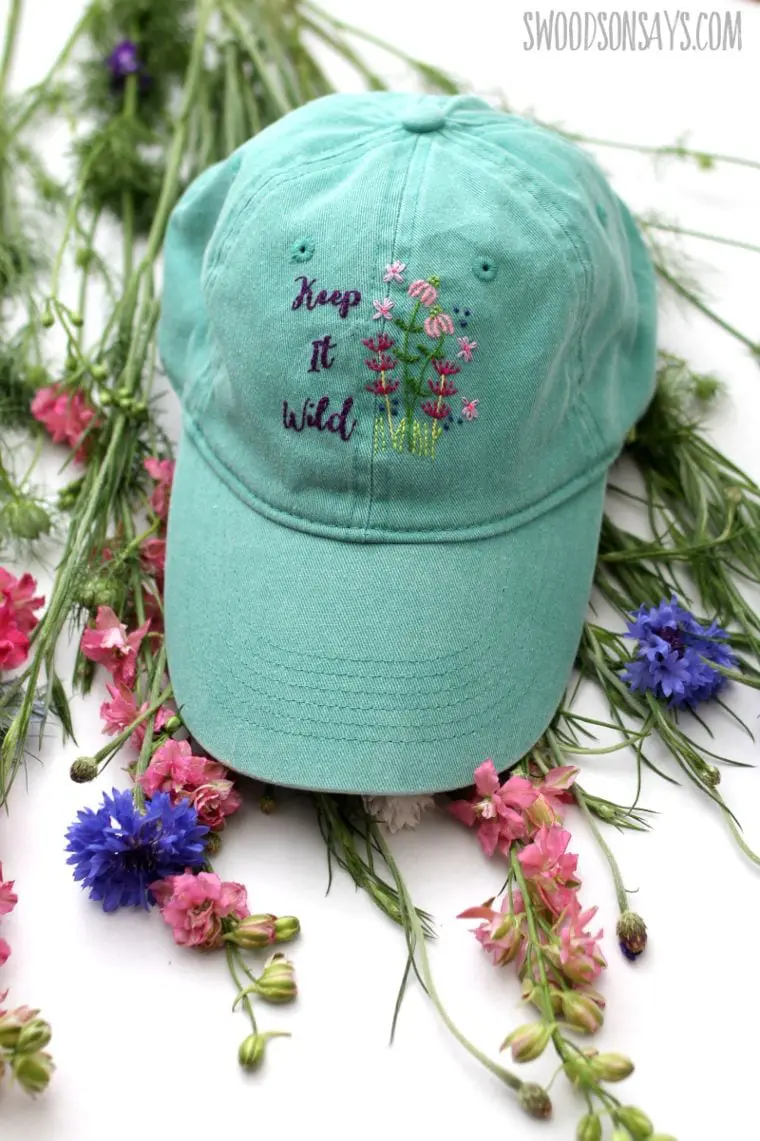 Credit: swoodsonsays.com
Level up your embroidery skills by adding a personalized touch to your OOTD. Embroider your favorite quote, element, or pattern. Your creativity is your only limit.
Not sure where to buy your plain hat canvas? Click here to see a ton of color options.
8. Beeswax Candles Jars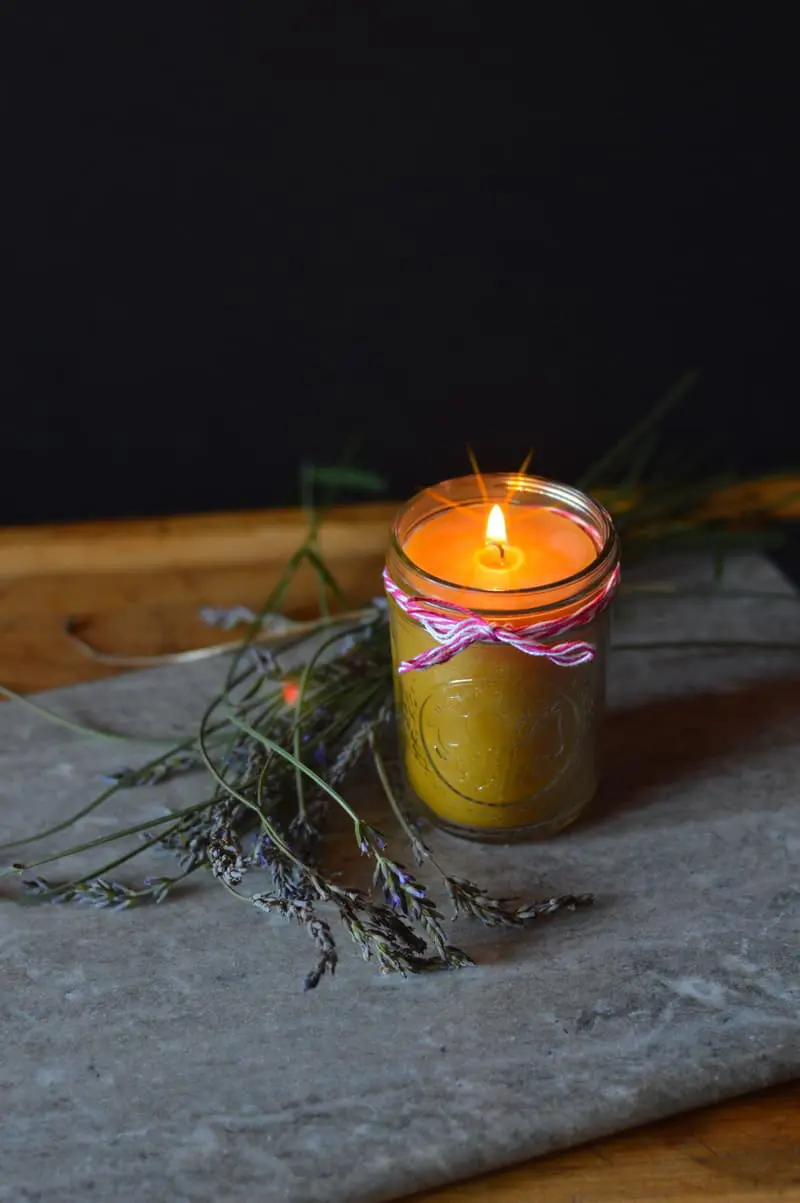 Credit: rootsy.org
Attract positivity and a calm, peaceful ambiance in your home with these mason jar candles.
Beeswax may cost more than other candle materials, but this is because it's a naturally occurring wax – the only one of its kind. Order your beeswax here if you can't find any locally.
Did I mention these are also great gift ideas for friends and family?
Check out more DIY mason jar ideas here!
9. Scented Wax Sachets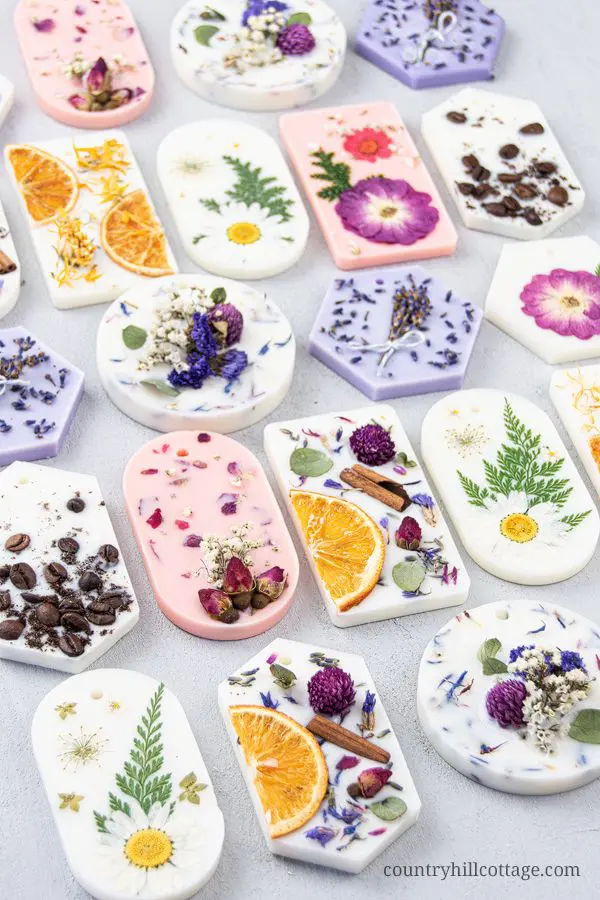 Credit: countryhillcottage.com
These wax sachets contain soy wax, essential oils, and dried botanicals. They're great as air fresheners or fragrance bars to deodorize small spaces (think closets and drawers).
Unlike scented candles or wax melts, you don't need to light these sachets up. If you want to learn more about creating your wax sachet, watch this video.
If you already have a fair idea of how to make them but are looking for materials, such as the sachet molds, click here.
10. DIY Gold Painted Rocks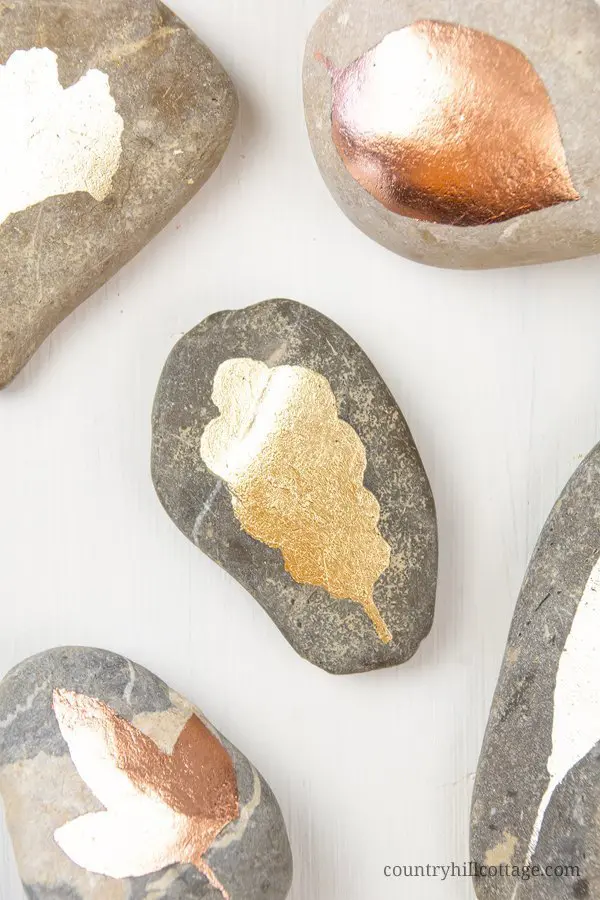 Credit: countryhillcottage.com
If you've never tried gilding, this may be the perfect beginner project for you.
What is gilding? It's the technique used to apply a thin layer of gold onto any solid surface. An authentic gold leaf can be quite expensive, so for this project, you may want to use imitation gold sheets available here.
This is the sort of craft that you can get your kids involved with too! Here are more projects for the little ones!
11. Statement Doormats
Credit: burlapandblue.com
Don't settle for boring plain doormats. Instead, inject a bit of your character into your front steps with these statement doormats.
You will need a blank doormat to start with. I got mine here. For full instructions, including free stencils, read this article. Easy, right?
12. Easy to Do Felt Magnolia Wreath
Credit: burlapandblue.com
Felt takes a spot in my top five favorite craft materials. They're so versatile, affordable, and they come in a wide array of colors and patterns.
If this is your first time creating crafts with felt, the right place to start would be purchasing your first felt collection here. Once you have your supplies ready, check this step-by-step tutorial.
The great thing with this project is you can do it for any occasion, with any theme – especially now that you've purchased your own felt set.
13. Dyed Wine Corks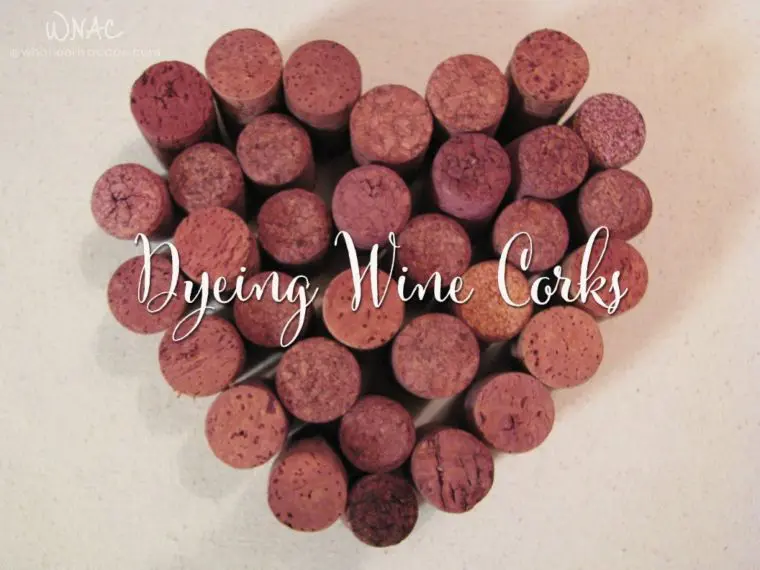 Credit: whoneedsacape.com
Instead of throwing your wine corks away, why not revitalize them with some dye? Yes, you can dye wine corks with the use of fabric dye, like this.
Simply pop them in a tub of water and vinegar, leave to soak overnight, and you end up with a colored wine cork.
You're probably wondering, what do I with these? There are so many craft possibilities. I am keeping my ones until I gather enough to create a decorative cork board.
14. Fashionable Denim Sling Bag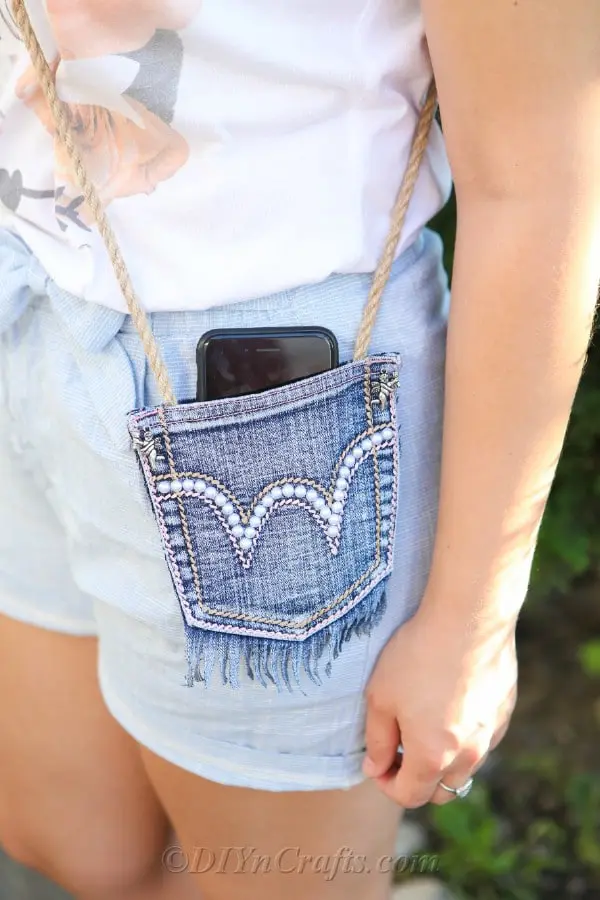 Credit: diyncrafts.com
Do you have a pair of jeans sitting in your closet unused for years? Why not put them to good use by upcycling them into a fashionable bag?
Cut out your jean's pocket for an instant sling bag that conveniently carries your phone or small wallet. Add a bit of glam with pearl rivet embellishments found here.
15. Heart String Art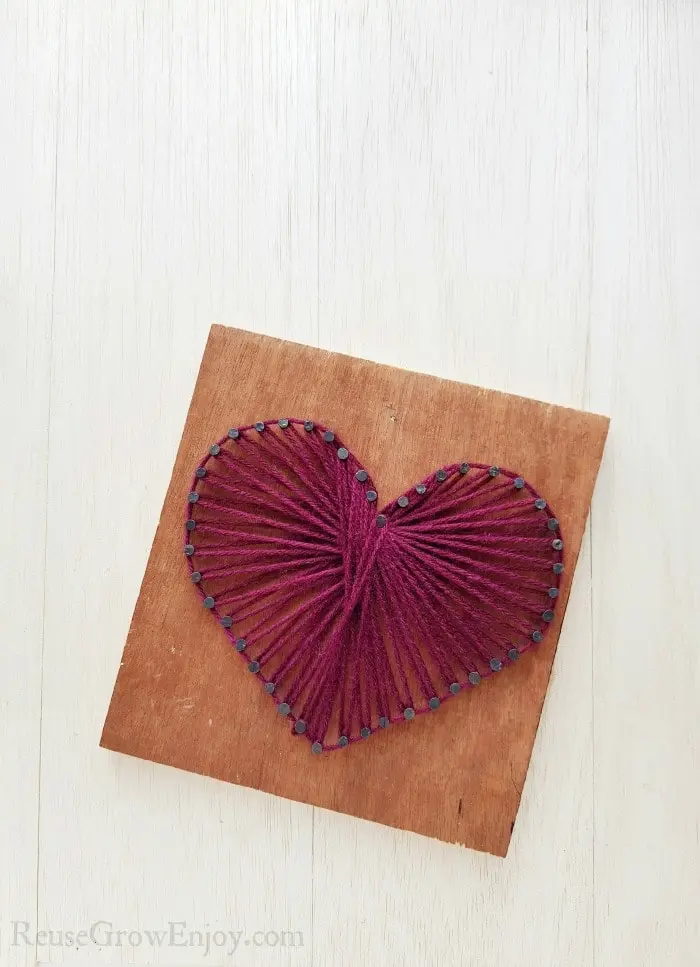 Credit: reusegrowenjoy.com
Express your love the DIY way with this heart-shaped string art set on wood. Most of the supplies will probably already be in your toolbox, except for the base wood plank, which you can easily order here.
To learn about the proper technique to weaving the perfect heart, read through this tutorial.
16. Men's Shirt Pot Covers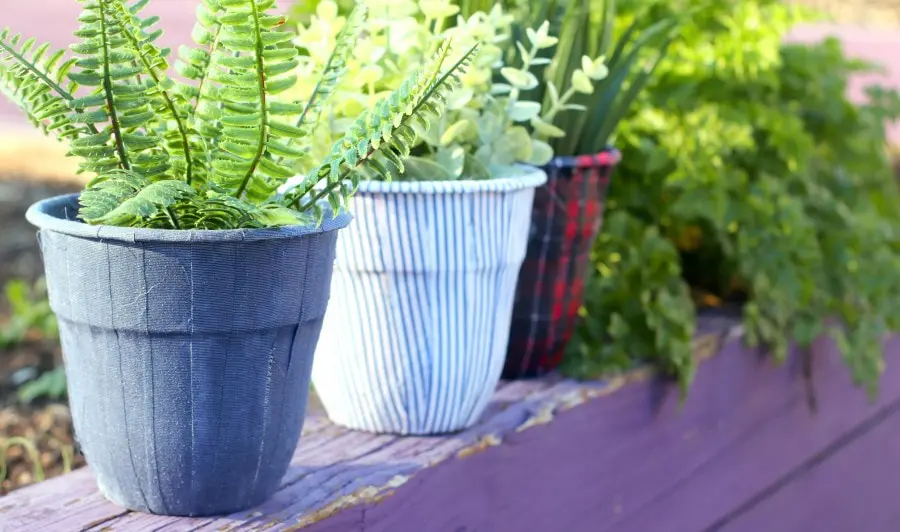 Credit: scrappygeek.com
Upcycle your man's old shirts with this pot cover project. Cut strips of old shirts and glue each piece to the pot until it's completely covered. Play with your creativity and use a mix of shirts and patterns.
17. Reusable Elastic Bowl Covers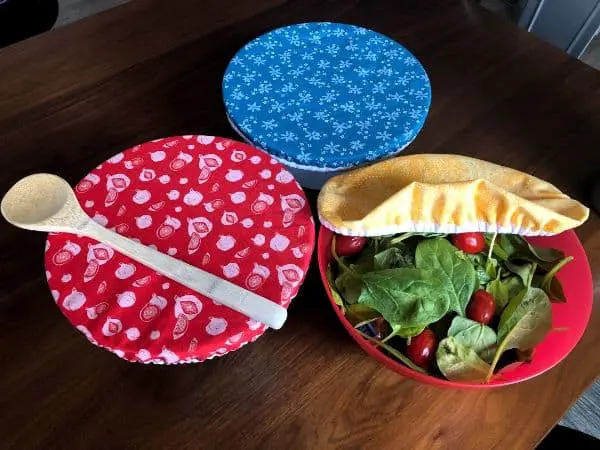 Credit: beginnersewingprojects.com
Cling wrap is excellent, but they're not environmentally friendly. Try creating this project as a sustainable alternative to cling wrap.
You will need basic sewing skills for this project, but this video should guide you through the process. These covers are great for your outdoor party bowls or for covering your toddler's bowls full of leftovers.
18. DIY Farm-Style Baskets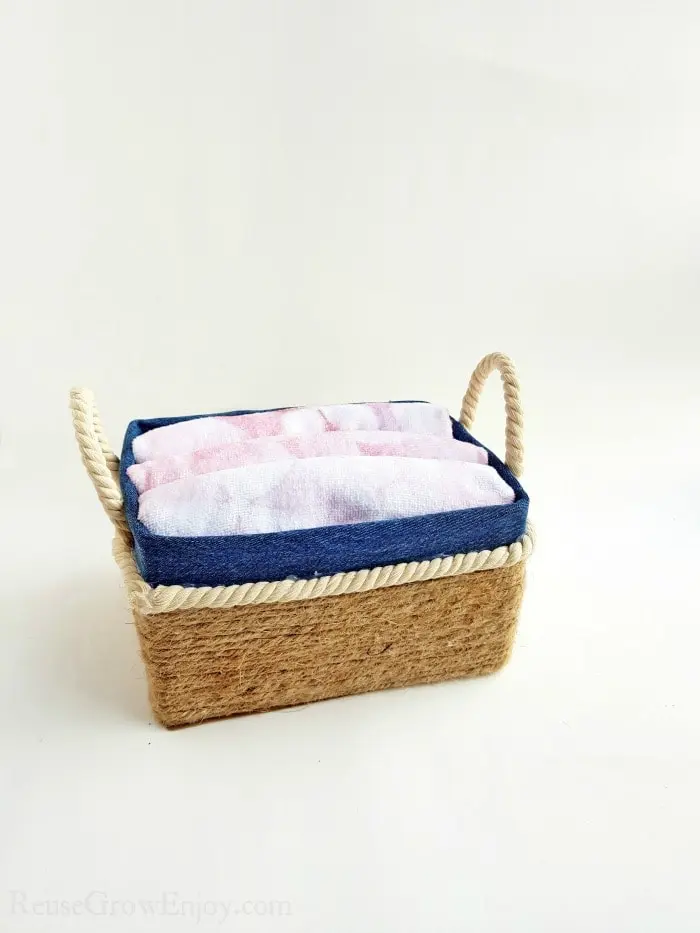 Credit: reusegrowenjoy.com
Make rustic, country-style baskets out of old boxes with this craft project. If you want a different style, feel free to design your own – let your creativity take center stage!
To make one similar to this photo, use an old cardboard box lined with upcycled denim from your old jeans. Create the rustic feel by gluing twig rope to the bottom of the box and use thicker cotton ropes like this to create the handles.
The finished product would be a great storage solution for hand towels, magazines, or your craft supplies!
19. Indoor Ceramic Mini Planters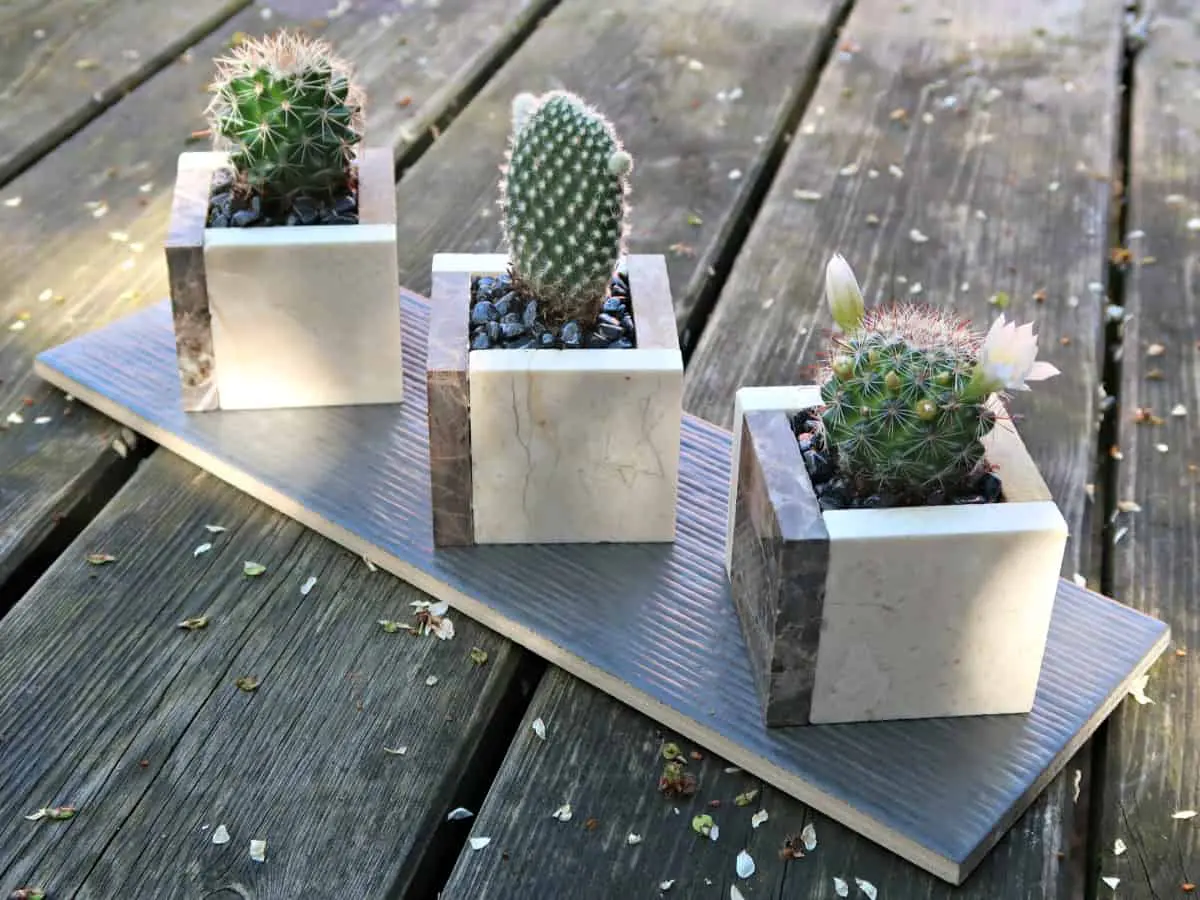 Credit: craftinvaders.co.uk
Give your succulents a beautiful home with these chic ceramic planters. Your indoor plants will stand out by the windowsill or on the kitchen countertop with their new, classy, and sophisticated looking home.
All you need are a few ceramic tiles found here and a good quality stronghold glue, and you're good to go!
Design tip: Mix and match ceramic tiles colors and textures for a more appealing look.
Check out this yarn-wrapped DIY flower pot idea!
20. Candlesticks Out of Old Curtain Rings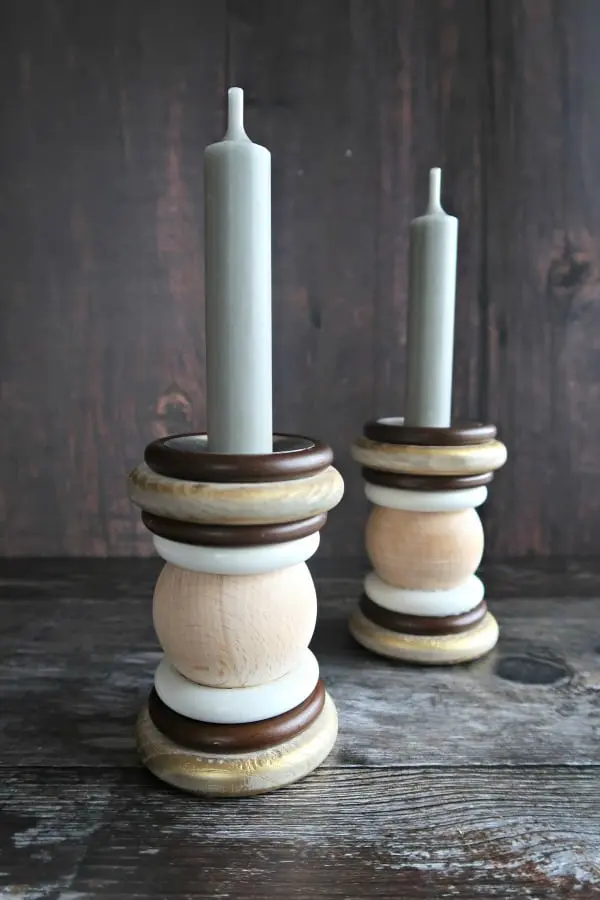 Credit: craftinvaders.co.uk
If you have spare curtain rings and you don't know what to do with them, this project may give you a bit of inspiration.
In addition to your curtain rings, you will need wooden spheres, candlestick liners (get them here), and stronghold glue. Assemble them and attach them with strong adhesive to form an exquisite-looking candle holder.
21.DIY Pencil Case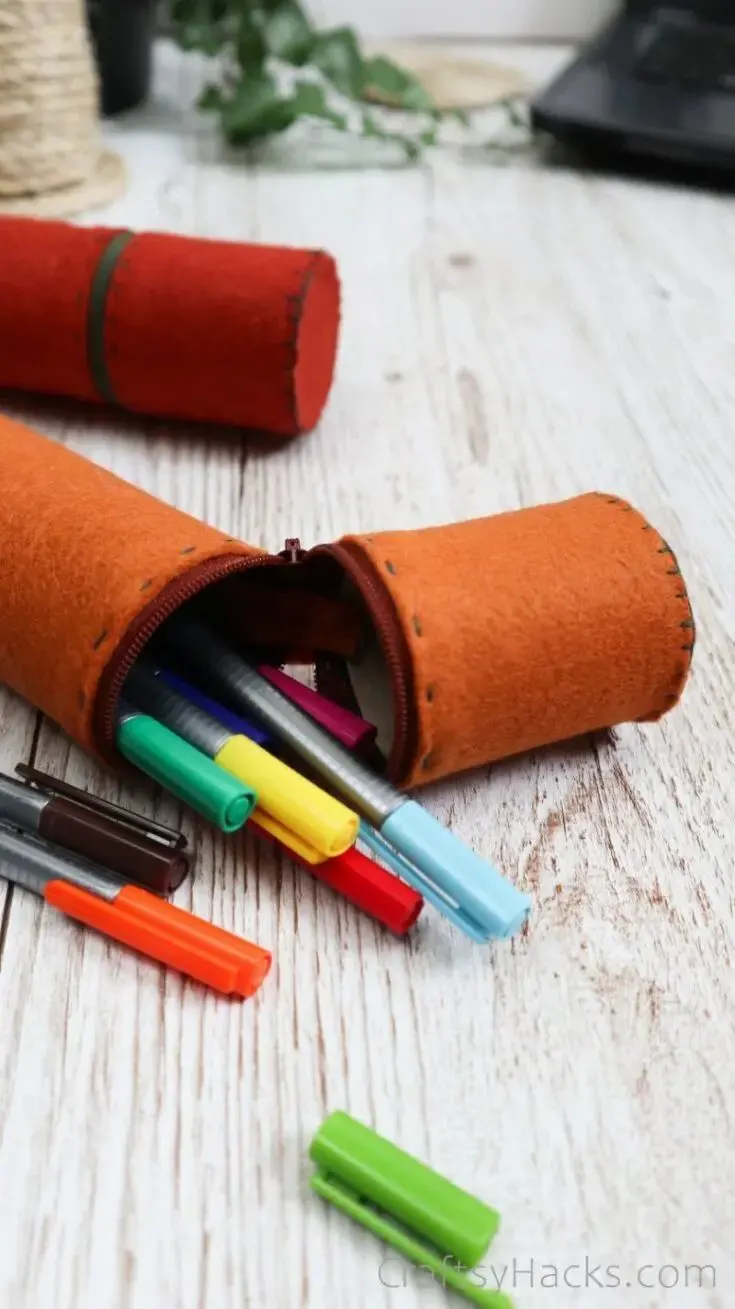 Credit: craftsyhacks.com
Whoever said that pencil cases were only for kids definitely haven't seen this gorgeous felt pencil case. It's a crowd-pleaser for all ages, be it as a back-to-school DIY or a small craft project for adults.
The best part? It's made from soft felt fabric and—wait for it—an empty toilet paper roll! It even comes with a handy zipper to help keep your pencils and pens safe.
Grab some of these felt sheets, a nylon zip from here, and your needle and thread to get started.
Check out more fabric crafts here.
22. Pressed Flower Greeting Cards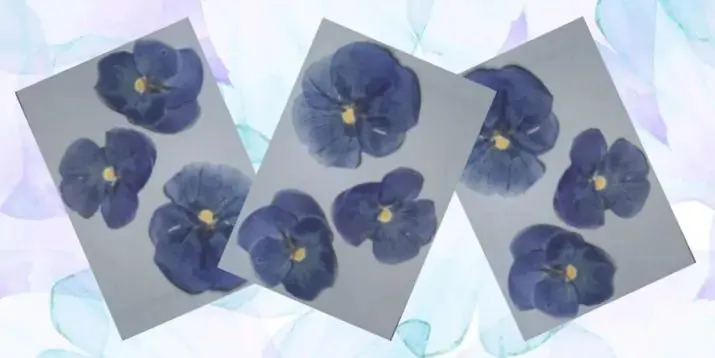 Credit: fluxingwell.com
Who doesn't love greeting cards? Homemade gift cards are even better, don't you think? You can make these pressed flower greeting cards right at home.
All you need to do is pick out your flowers and press them. Alternatively, you can just buy pre-pressed flowers here.
Try out different flower arrangements until you're happy with the design. Only then should you position and hot-glue the flowers in place.
23. DIY Scented Candles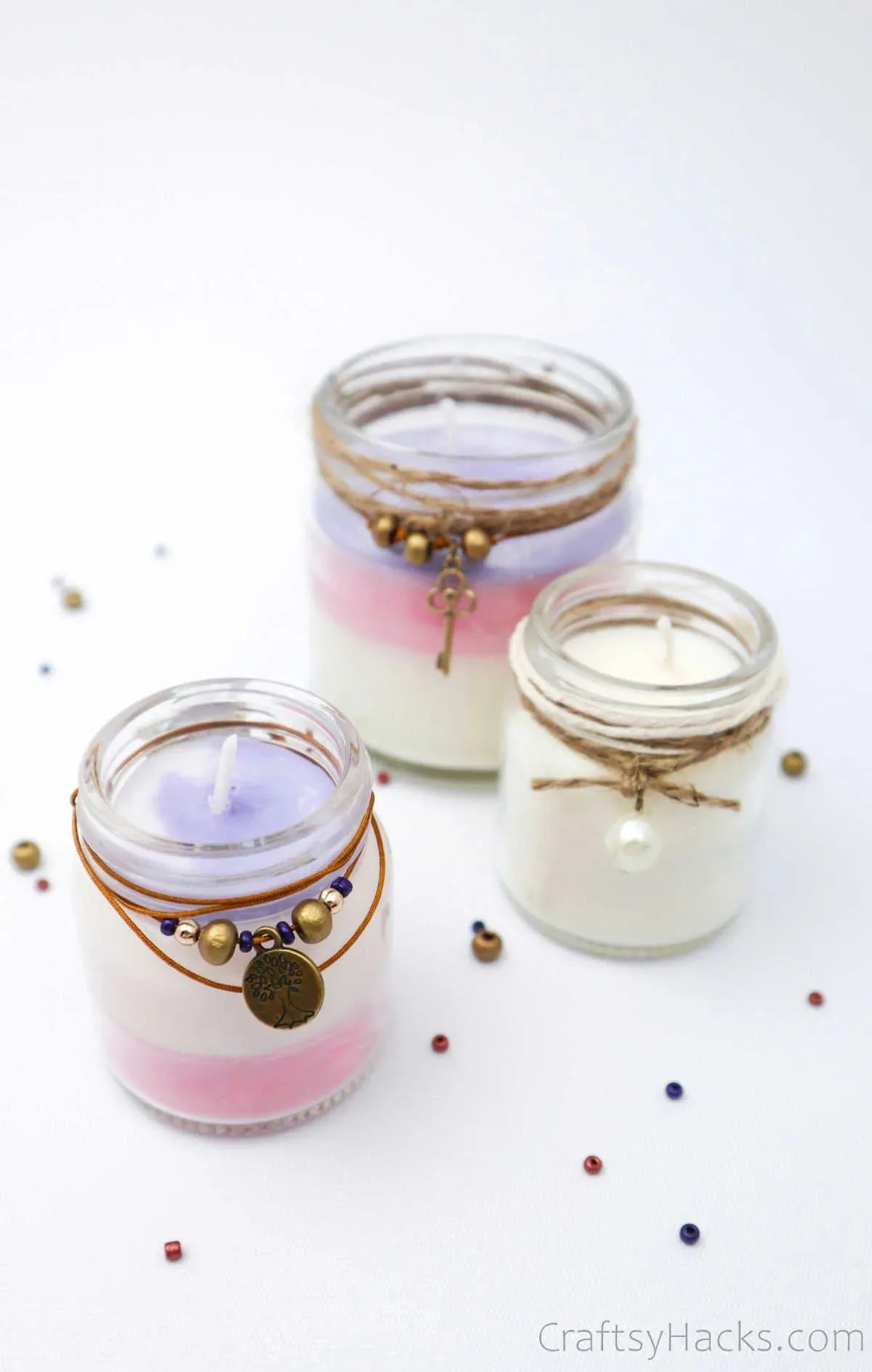 Credit: craftsyhacks.com
Haven't your appreciation grown for candles through the years? It's the sort of thing you can gift to anyone, they smell amazing and create the cozy home environment you crave for.
Why not make candles of your own? These scented candles are an easy craft for adults yet fun enough to make and show off to your friends.
This is a great craft to make and sell!
24. DIY Dollar Tree Lantern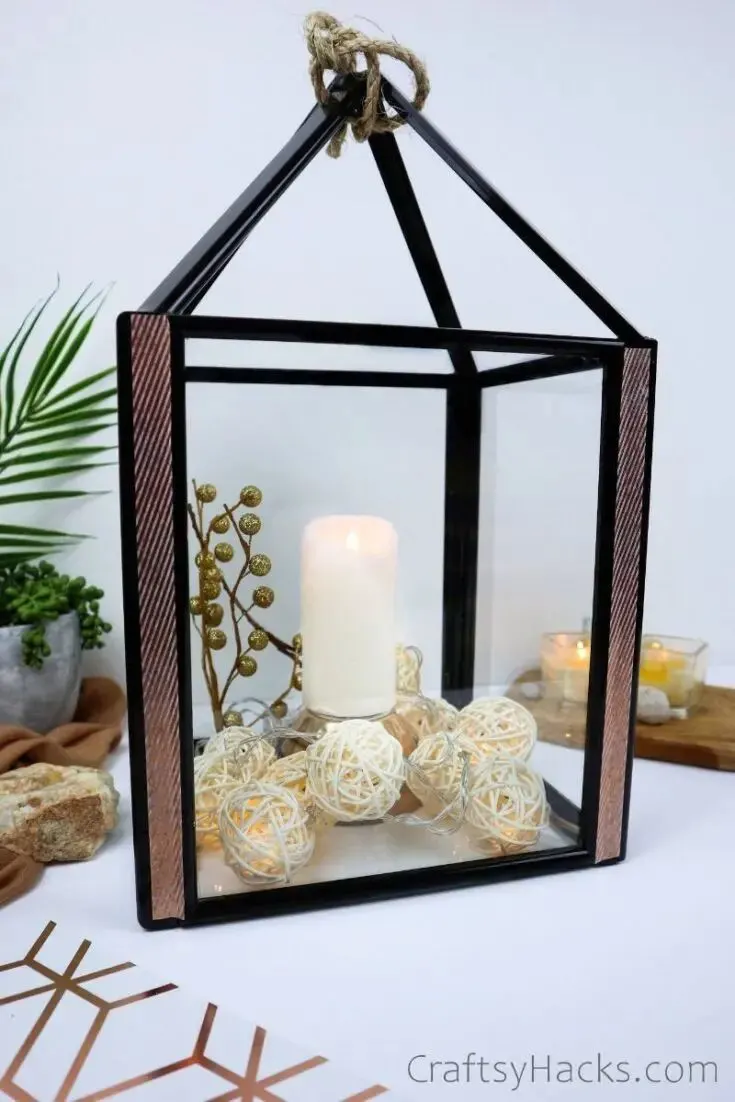 Credit: craftsyhacks.com
Dollar Trees are like the treasure you unearth in the attic one afternoon, years after you stashed them away in your childhood. You never know what you'll find, but they have everything you never thought you'd need.
Check out this Dollar Tree lantern. It's a wonderfully attractive decorative piece that you can make on a budget.
It can also be a wonderful gift or party favor. Just make a few of these on a rainy day and save them for one too.
25. DIY Lavender Soap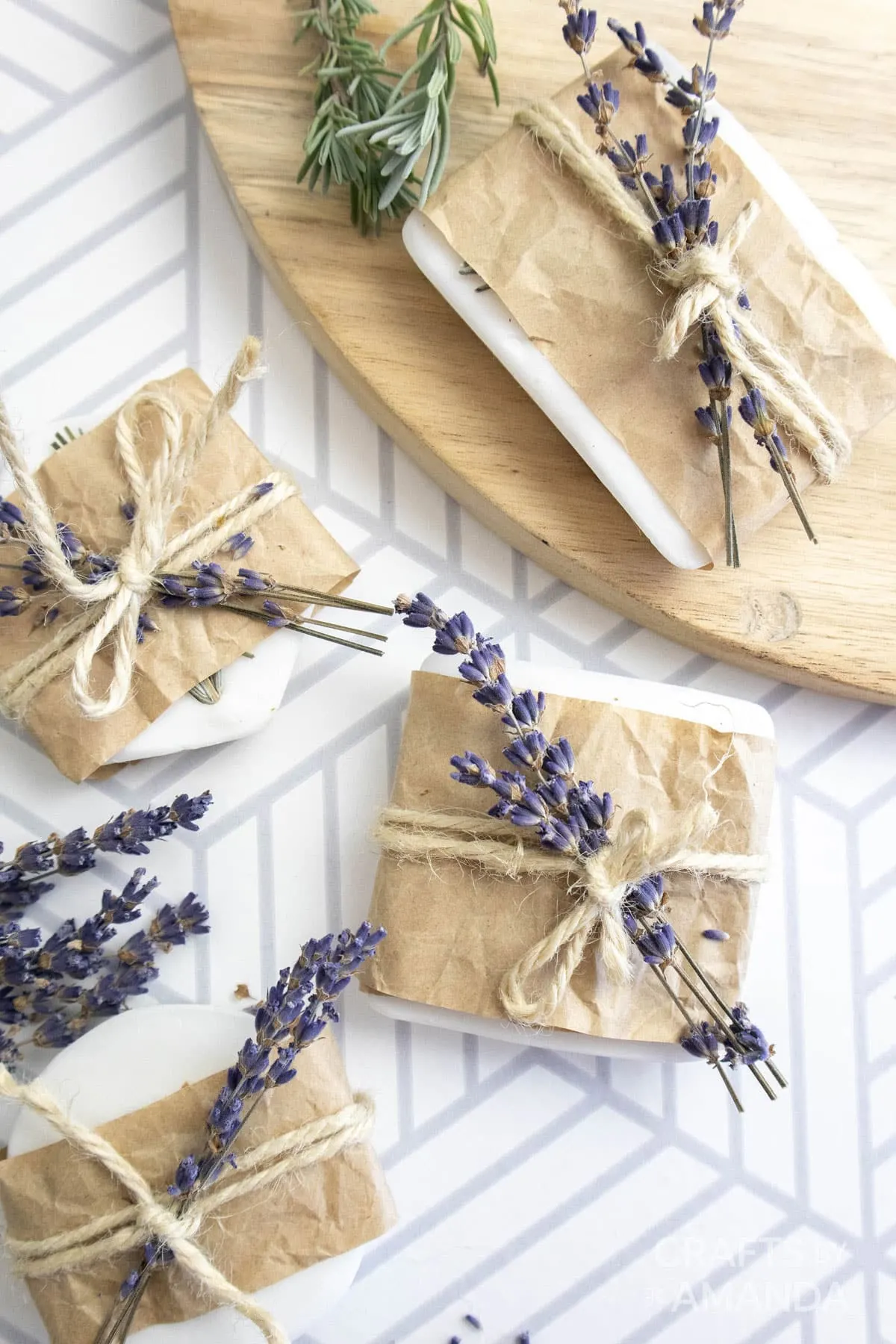 Credit: craftsbyamanda.com
I can never get enough homemade products: soaps, candles, scrubs, and the likes. Lavender is always my go-to choice for any scented candles I make, and that applies to soaps, too.
All you need for this DIY soap is some dried lavender from here. You'll also want these soap molds to get you started.
Here's a tip: you can use good quality melt and pour soap base, preferably something milk-based, as opposed to glycerin.
26. Homemade Photo Coasters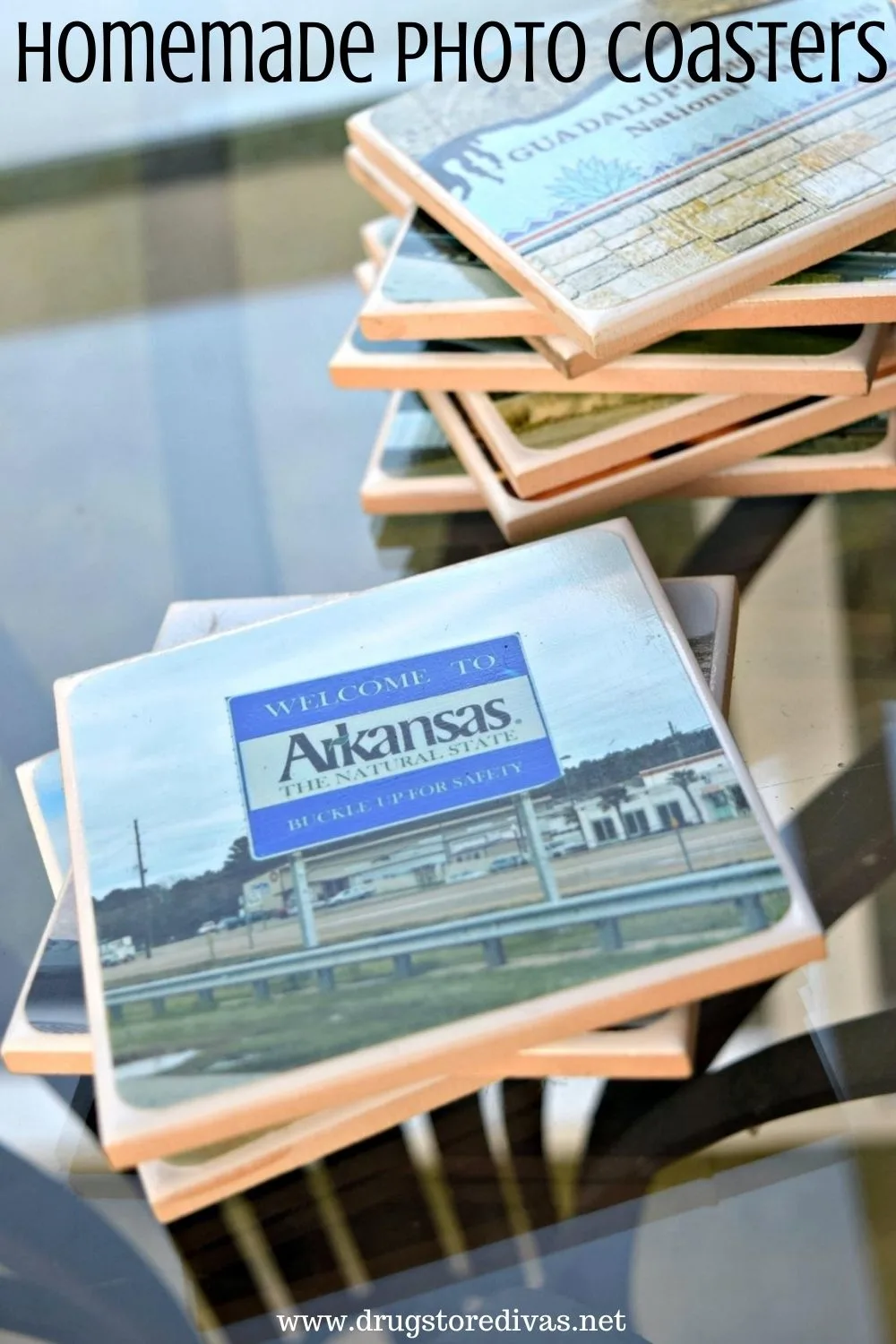 Credit: drugstoredivas.net
However cliche photo coasters can be, I think they're super endearing. Besides, they can be photos of just about anything: family, friends, cats…chickens?
Just pick out your photos as well as your base—ceramic tiles for this DIY. You'll want to also grab some mod podge and triple clear glaze to help you set and finish the coasters.
There's just one thing you need to watch out for, and that's how you trim and cut the photos. You can use a pair of scissors or even a paper trimmer from here to help you along the way.
27. DIY Leaf Candle Holder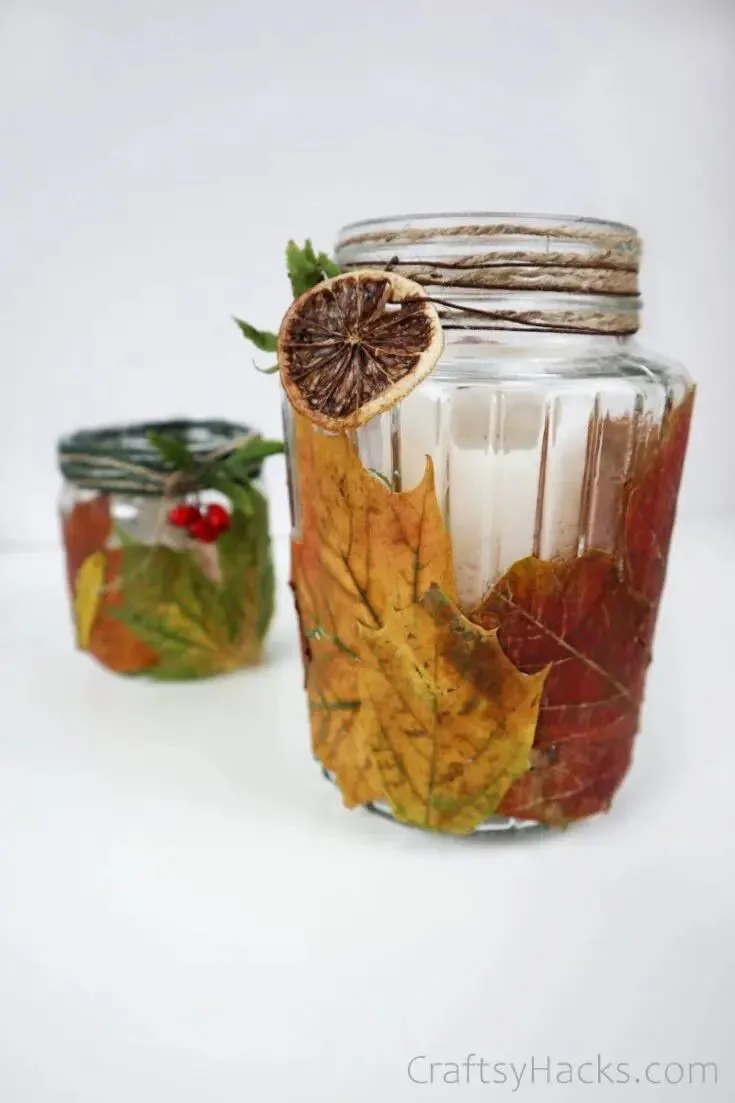 Credit: craftsyhacks.com
Here's another favorite homemade product for you to try out: a DIY candle holder…with leaves! It's super easy to make, and depending on how you make the candle, you'll have something that can look and smell good.
Just think of how beautiful autumnal leaves would look on this glass candle holder. Once you light the candle inside, the warm glow from the flame will be offset by the woodsy notes of fall leaves.
That there is the best recipe for magic you'll ever find!
28. Floral Bookends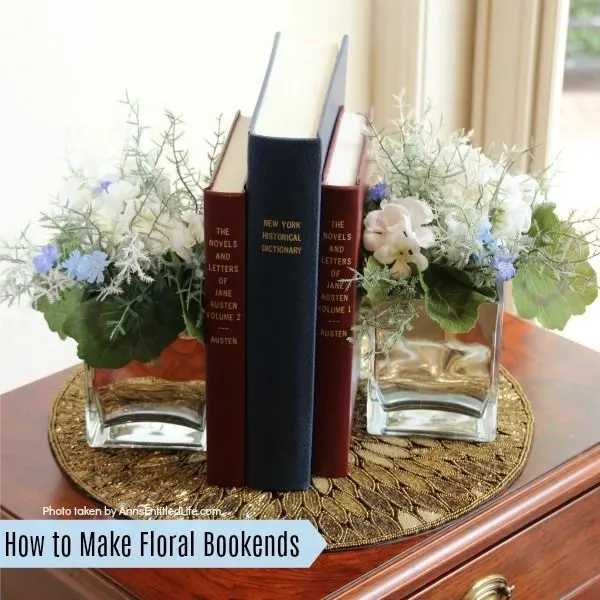 Credit: annsentitledlife.com
Bookends don't need to be one of those drab metal alphabets we usually find. They can be pretty and functional too, like these floral bookends you see here.
You probably need to hit a dollar store first and grab a couple of glass containers. If you want to spray paint your glass container, go for something solid or metallic.
Also, stop by the florist and pick out some seasonal flowers. Alternatively, you can use dried flowers, too.
29. Flower Picture Frame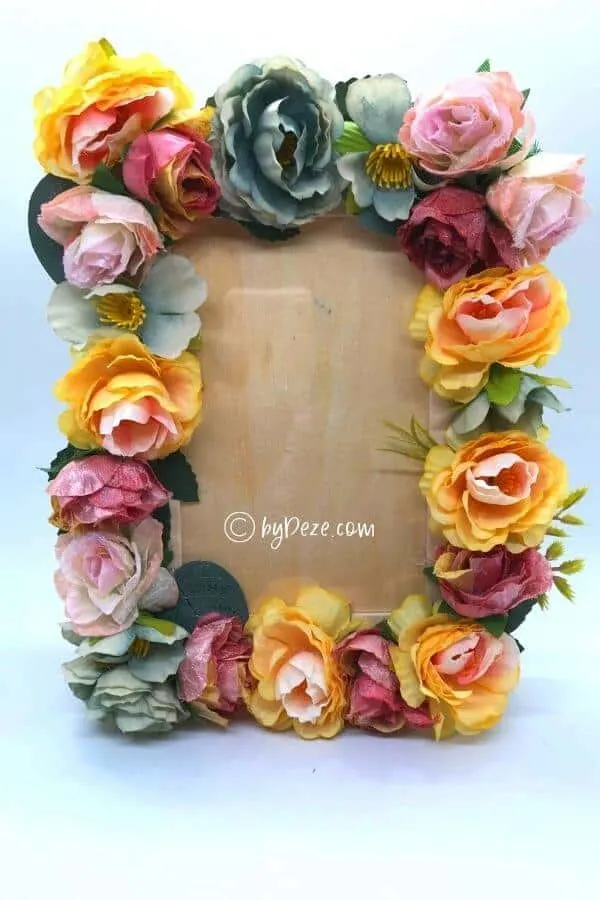 Credit: bydeze.com
Let's stick to the floral theme for just a little while longer for this gorgeous DIY floral picture frame. It's a straightforward project that you can give to a friend or loved one with a happy picture of you and them.
These frames can be your go-to craft project in summer, spring, or even just a rainy afternoon craft session. You'll need some faux flowers from here and a photo frame like this to get you started.
Finally, grab your hot glue gun and you're all set to make your floral photo frame.
30. DIY Rope Coasters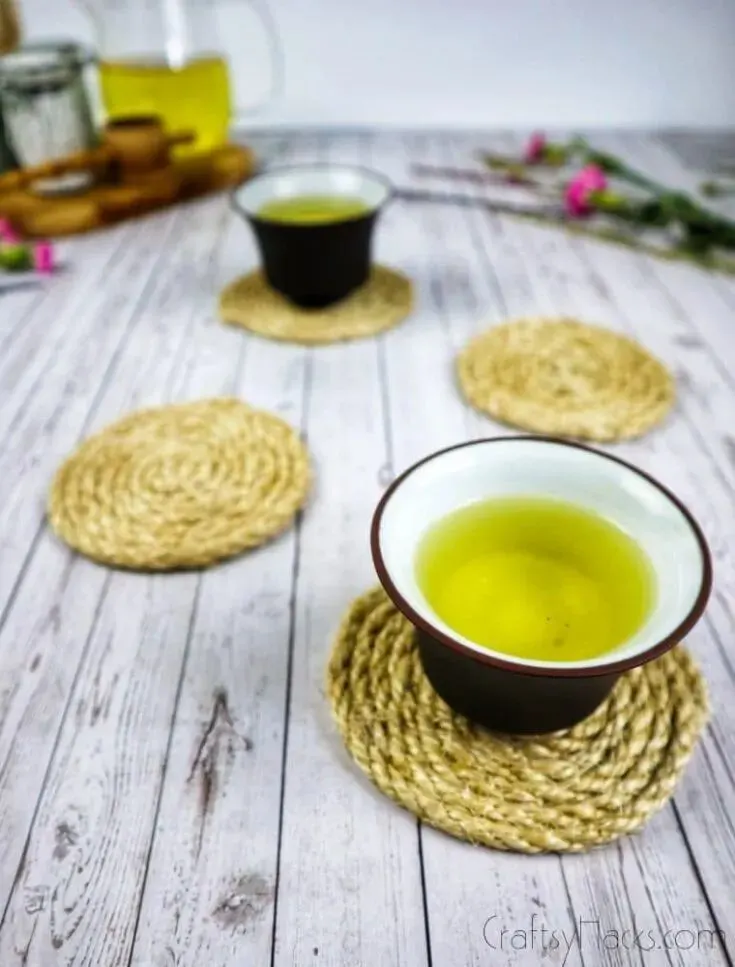 Credit: craftsyhacks.com
You can never have too many coasters at home; there's always room for more. So, check out these DIY rope coasters. They're easy to make—all you need is some thick manila rope from here.
You'll also need a wooden disc or a CD, a hot glue gun and a piece of fabric. Go ahead and grab your supplies.
To make this rope coaster, you have to angle the tip of the rope inward and start winding it with the periodic application of hot glue to keep it together.
31. Sunglass Case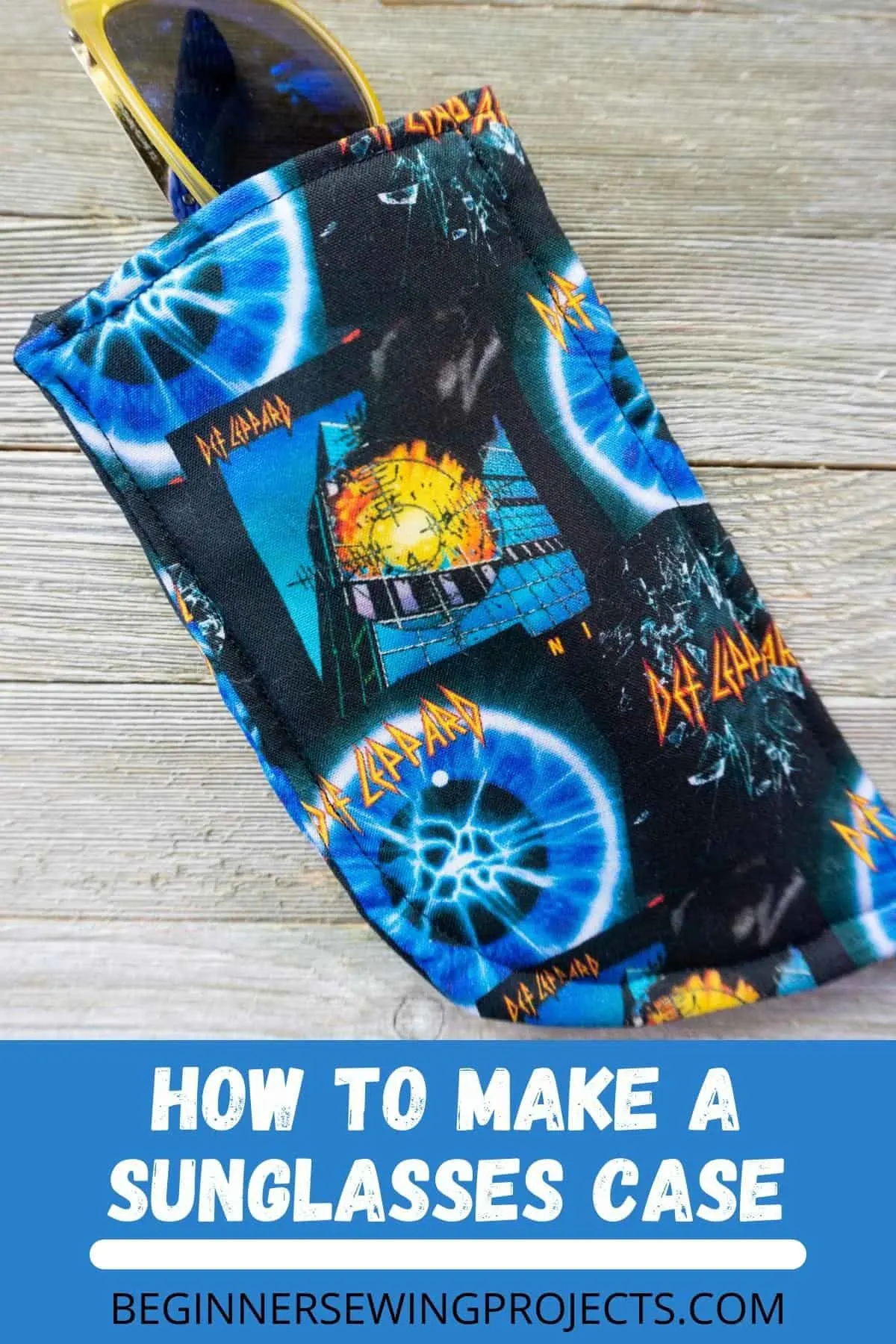 Credit: beginnersewingprojects.com
Sunglass cases are super underrated. Most of the time, we end up tossing our sunglasses onto the dashboard or tuck them away in a pocket or sleeve.
What you need is a gorgeous DIY sunglass case to help you protect your glasses so you don't end up sitting on them. Pick out your fabric, matching thread, and a pair of scissors.
You'll also need to whip out your sewing machine unless you want to hand-sew this sunglass case. Here's a tip: use water-proof and heat-proof, stretchy fabric to get the best use out of your sunglass case!
32. Marbled Nail Polish Mugs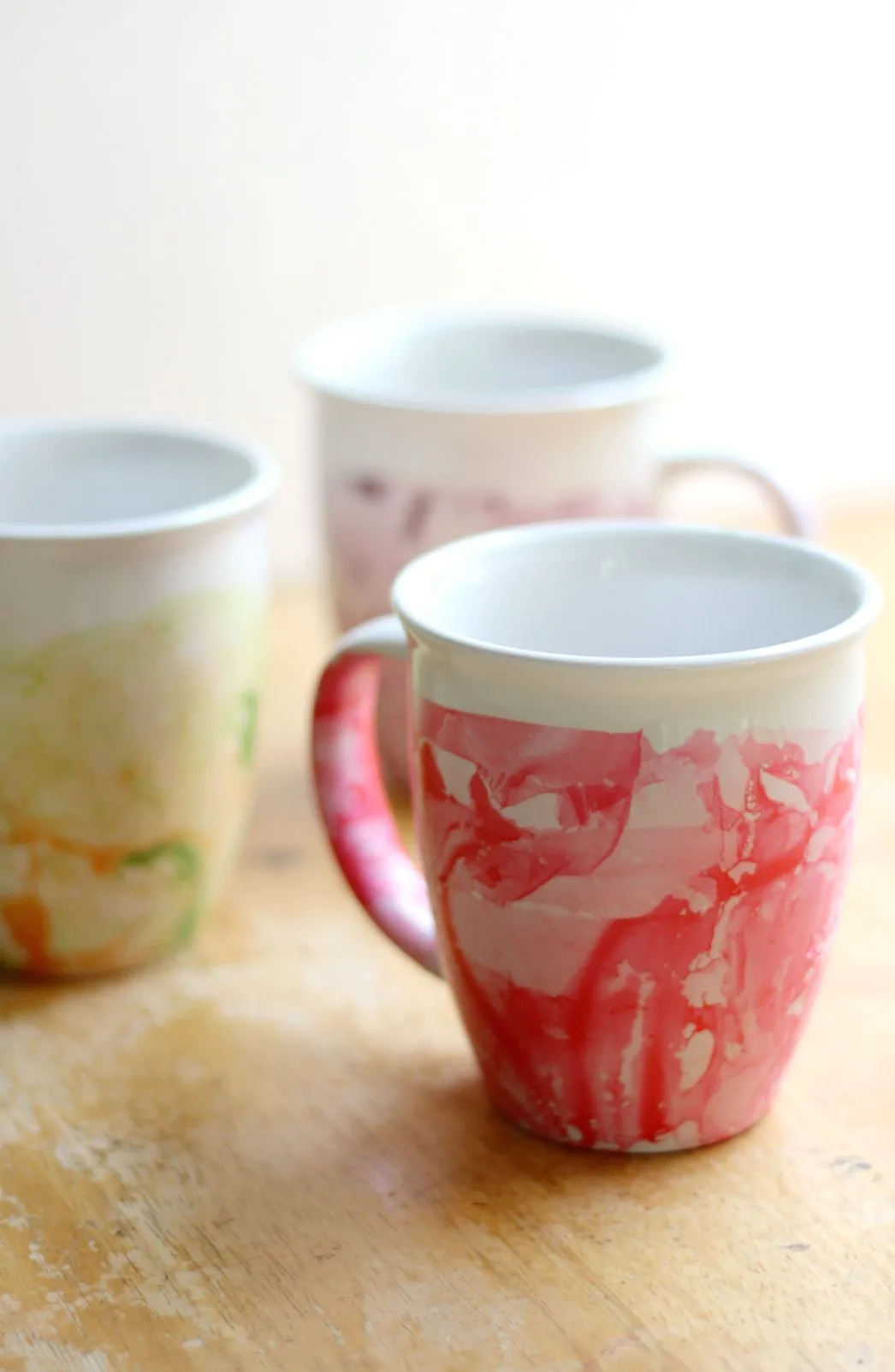 Credit: strengthandsunshine.com
Don't you love that artsy, veined-marble finish you usually find on your stoneware or floors? They can be super elegant, or bright, bold, and quirky as well.
Here's a DIY project that can help you recreate that gorgeous marbled finish on your coffee mugs. All you need are these mugs and a couple of nail polish bottles from here.
Don't forget, you'll probably want to lay some newspapers over your work surface to catch any spills and control the mess that's sure to occur.
33. DIY Wire Rings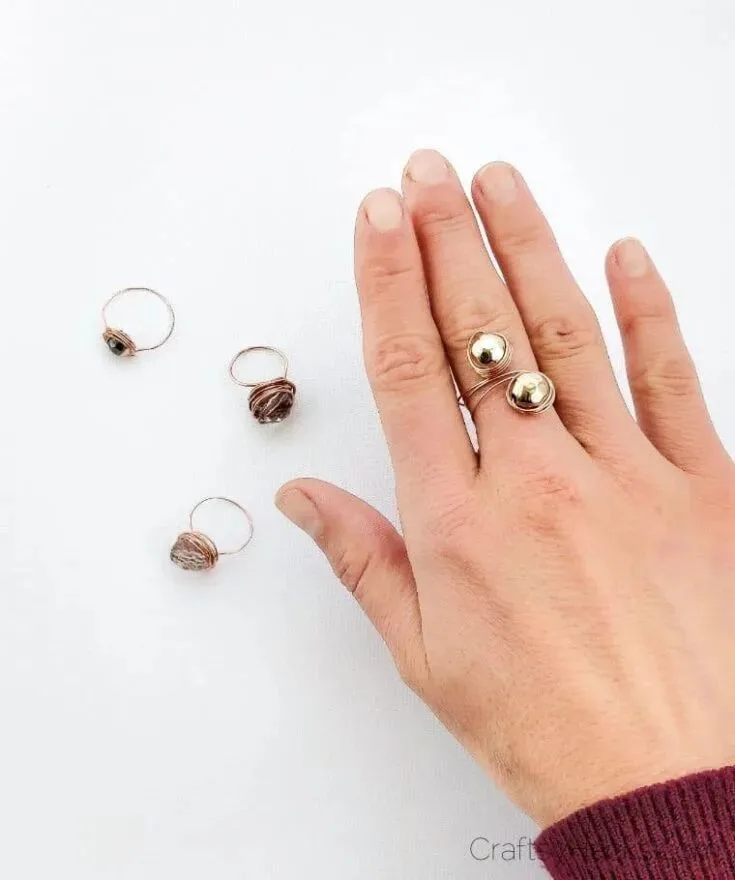 Credit: craftsyhacks.com
When it comes to making DIY jewelry, simplicity and elegance over loud and bold design are the keys. It's super easy to go wrong with this particular area of DIY.
With that in mind, check out these minimalistic DIY wire rings. They're edgy and unique without being over-the-top or gaudy.
You should pat yourself on the back for pulling off a wire ring that's both understated and unique. If you want to jazz it up a bit, add a bead or two along with the wire you pick(look here)
34. Macrame Wine Bottle Hanger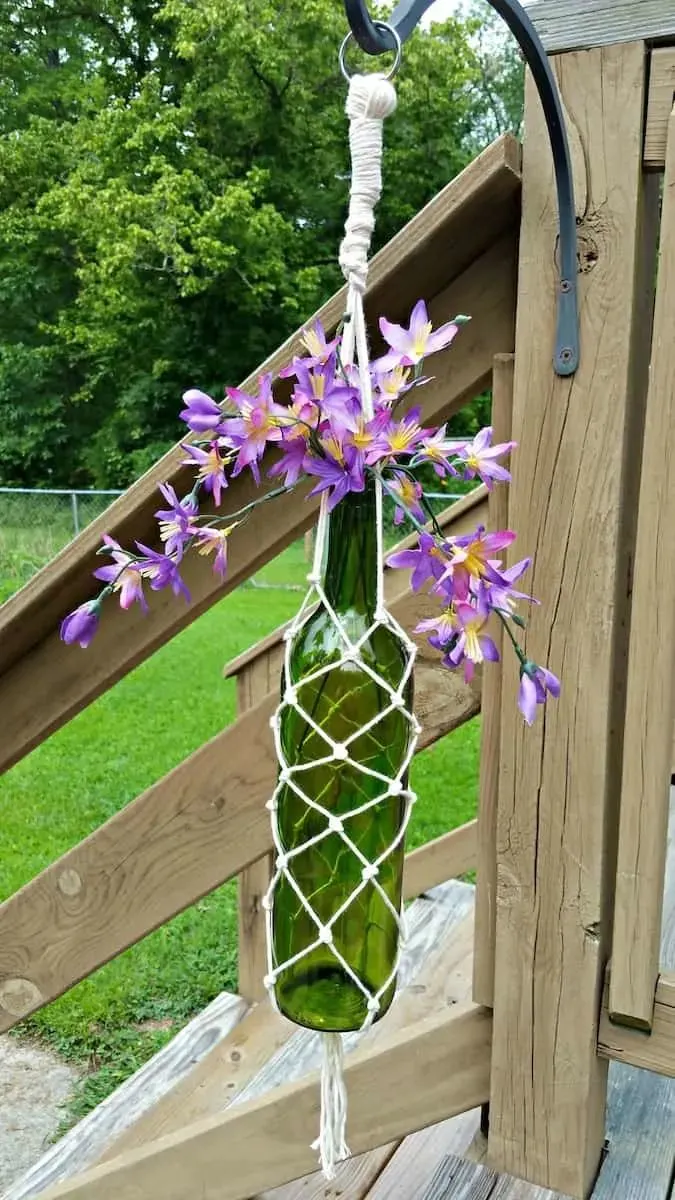 Credit: singlegirlsdiy.com
Check out this Macrame wine bottle hanger. But wait, have you ever seen a wine bottle hanger before?
Well, this is what it looks like, so if you're interested, then buy some of this macrame twine to get started! You'll also need a large ring—wooden or even a key ring like this—and a small crochet hook.
As long as you follow the pattern to the T, you'll have a gorgeous wine bottle hanger ready in no time at all. It takes time, especially if you're a newbie to macrame, but don't worry; you'll get there in the end!
35. Circle and Line Metal Wall Hanging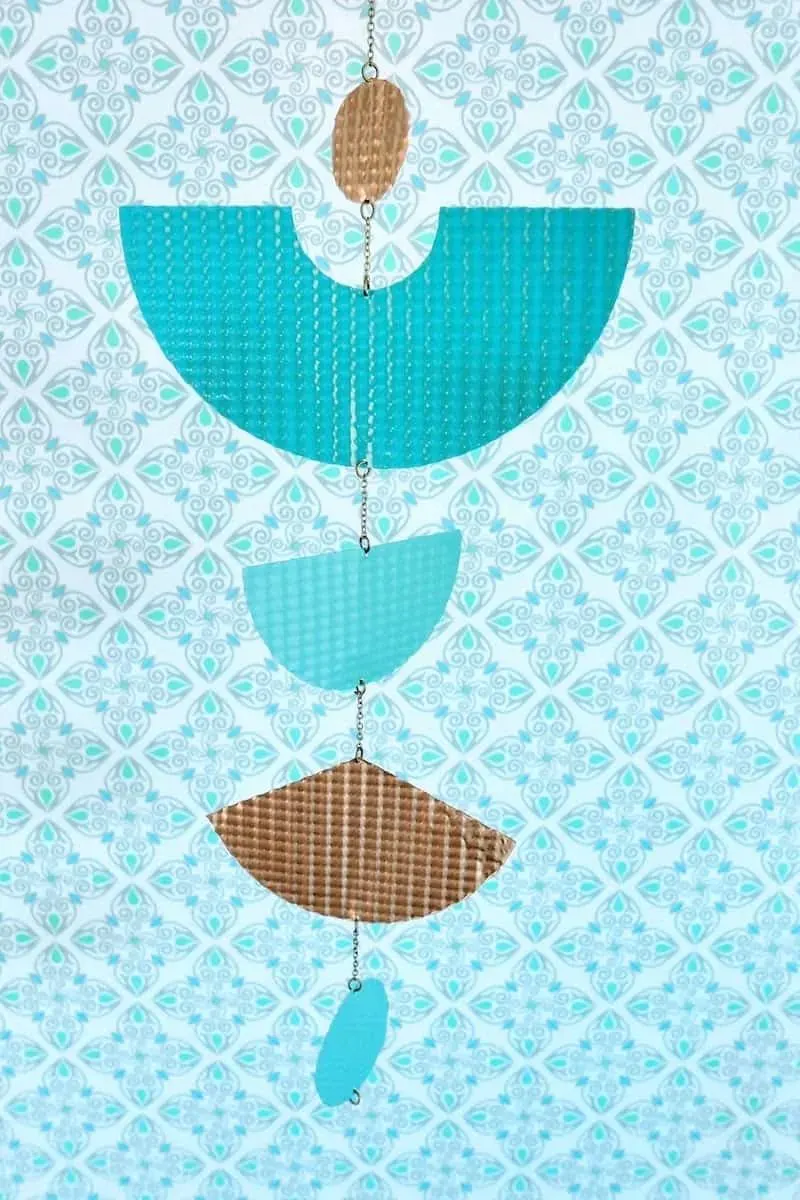 Credit: singlegirlsdiy.com
I just love quirky wall hangings, don't you? They're always fun and flirty, even when they're elegant and niche.
For this wall hanging, you can use a series of geometric patterns, all linked together by a line of metal chains to hold it in place. You can hit a Dollar Store that's closest to you and pick up any supplies you might need to recreate this.
You might also want to consider investing in a Cricut Maker to help you with this project.
36. No-Sew Shirt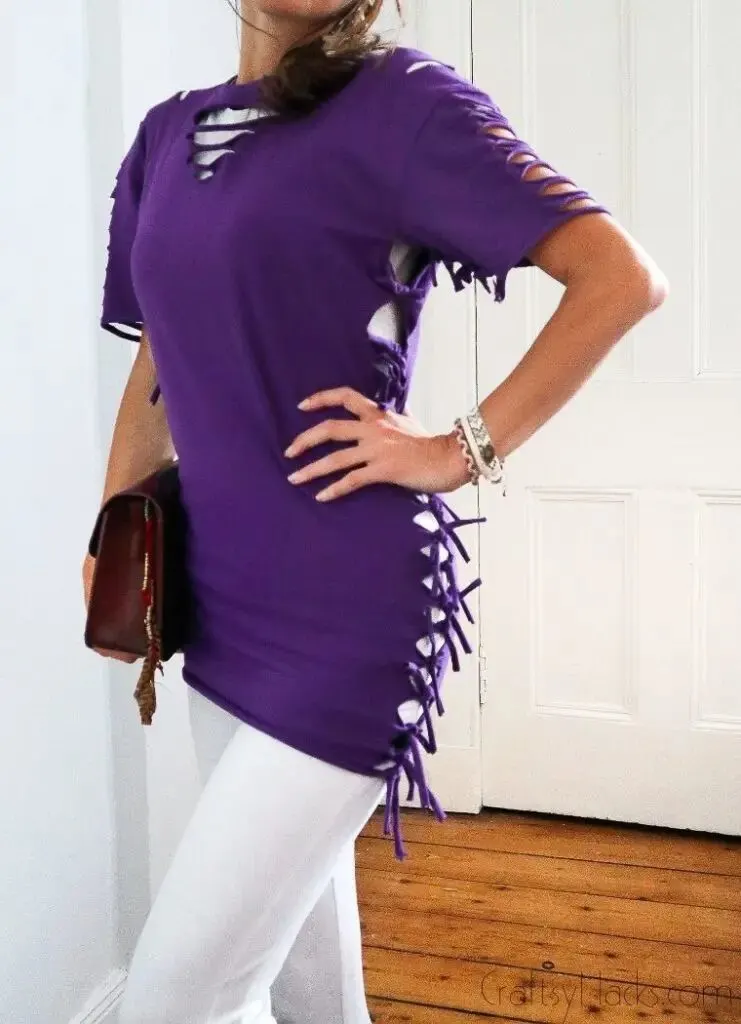 Credit: craftsyhacks.com
We've all got at least a half dozen shirts sitting in the back of our closets that we haven't worn in months. But at the same time, you can never muster up the gumption to donate or dump them, either.
Here's a new-sew project to help you make the best possible use of those shirts. You'll need to pull out your trusty pair of fabric scissors and buy some tailor's chalk.
Check out more t-shirt ideas here.
37. Triangle Wooden Shelf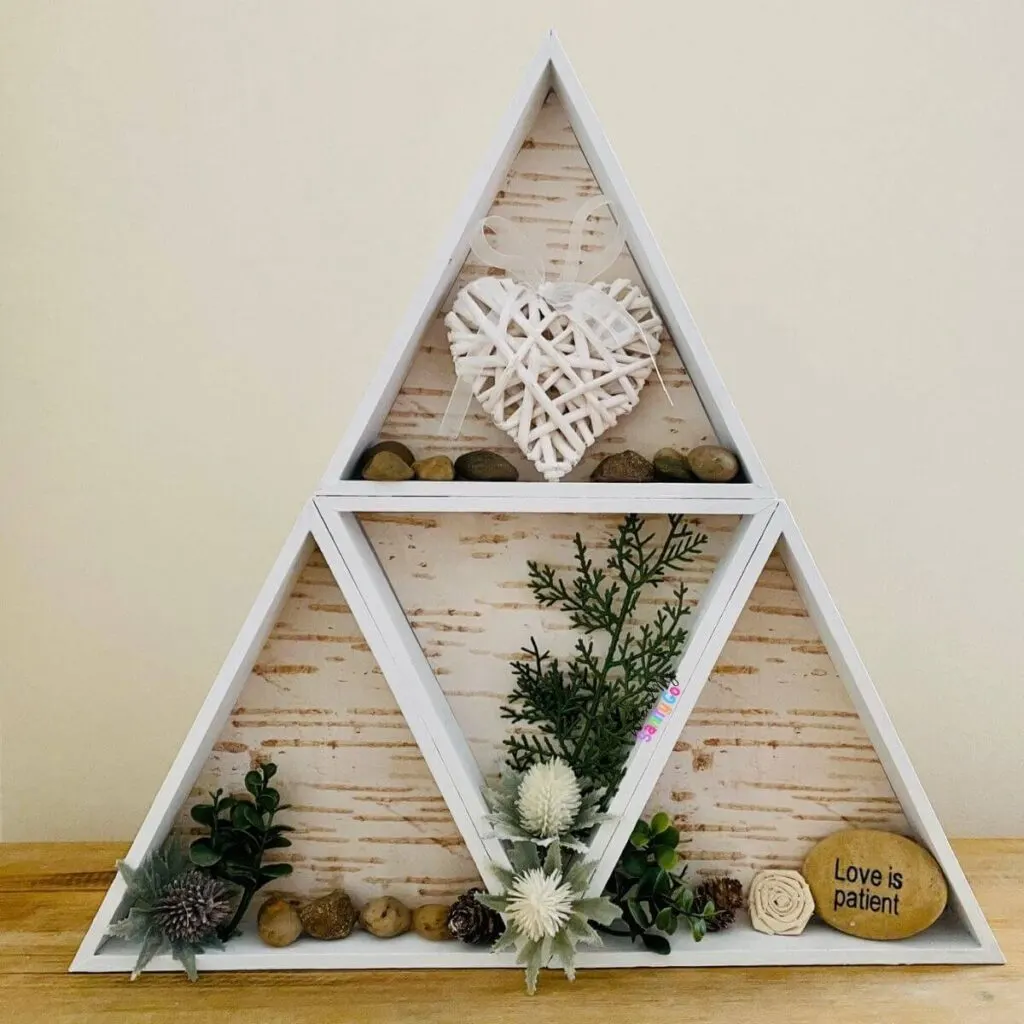 Credit: wheredmysanitygo.com
This DIY wooden shelf is everything I love about DIY projects. It's unique, it's functional and it screams a ton about the level of thought and creativity that has gone into designing and building it.
You can find these individual triangles at IKEA, but don't forget to pick up some cardstock, adhesive, and a few bottles of acrylic paint.
Once you've cut and stuck the cardstock to the back of the triangles, you can use binder clips to hold them in place while they dry overnight.
This is an amazing craft for men to make!
38. Braided Essential Oil Bracelets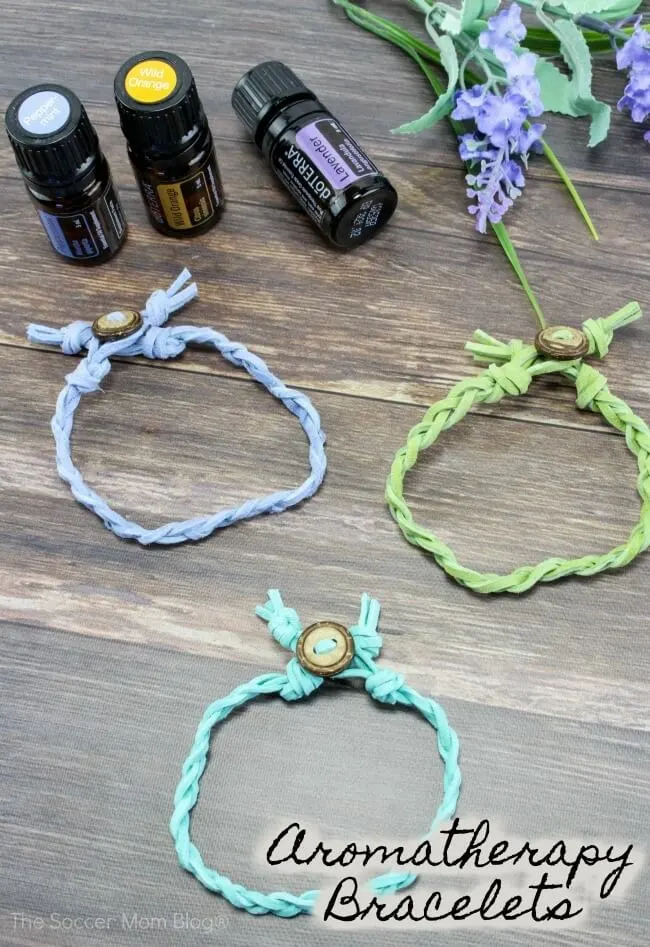 Credit: thesoccermomblog.com
Braided bracelets are like the starters-kit essentials to DIY jewelry making. Every man, woman, and child has, at some point in their lives, made or at least worn a braided bracelet.
But hold up; have you ever come across these DIY braided essential oil diffuser bracelets? No, you read that right; it did say essential oils!
This uber innovative trick of adding a few drops of your favorite essential oil to your braided bracelet allows you to carry around your favorite scent all day.
39. Woven Bowl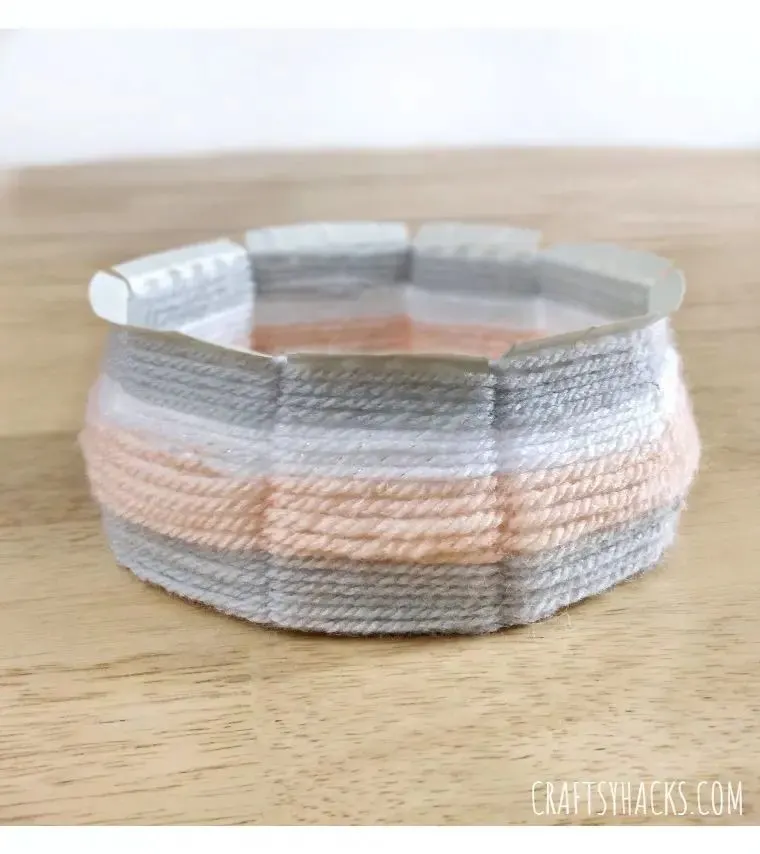 Credit: craftsyhacks.com
Here's a rather practical DIY craft project that also happens to be easy and affordable. You can use it to store all kinds of bits and bobbins, or even as a practical storage container, depending on what you use it for.
The best part about this bowl, however, is the fact that it has been woven. Weaving is such a therapeutic process that you can enjoy.
So grab some thick yarn and weaving!
40. Weighted Blanket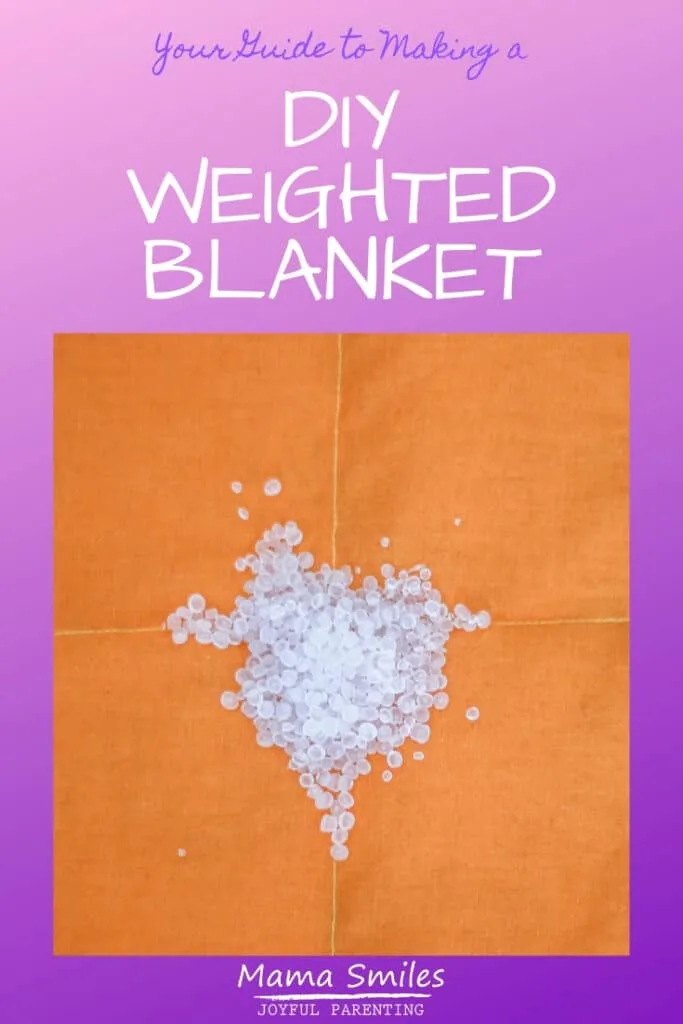 Credit: mamasmiles.com
The concept of using weighted blankets might be new but the need to cozy up has always been high on one's list of priorities. Did you know that the weight of something heavy and thick is proven to be comforting?
It also acts as a sensory aid to kids with ADHD. These blankets allow them to focus on something heavy, warm, and reassuring to keep them grounded in the present and touch with their sensory outputs.
So check out how to make these weighted blankets on your own.
41. Pallet Plaques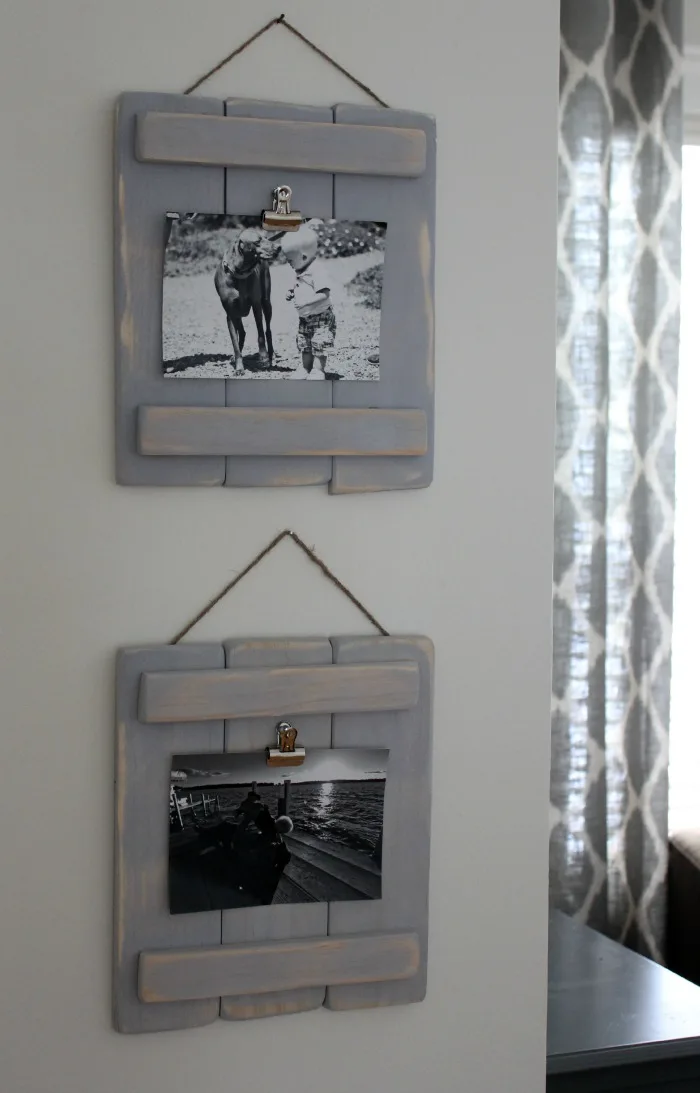 Credit: ohmy-creative.com
Pallet plaques are somewhat like glorified clipboards that you can recreate to look rustic and chic. They're great craft projects to keep you occupied and also to show off your artwork and photos.
You'll need the required craft boards in the measurements and dimensions specified, as well as some jute rope, a few bulldog clips, sandpaper, chalk paint, and a staple gun.
42. DIY Rock Photo Holders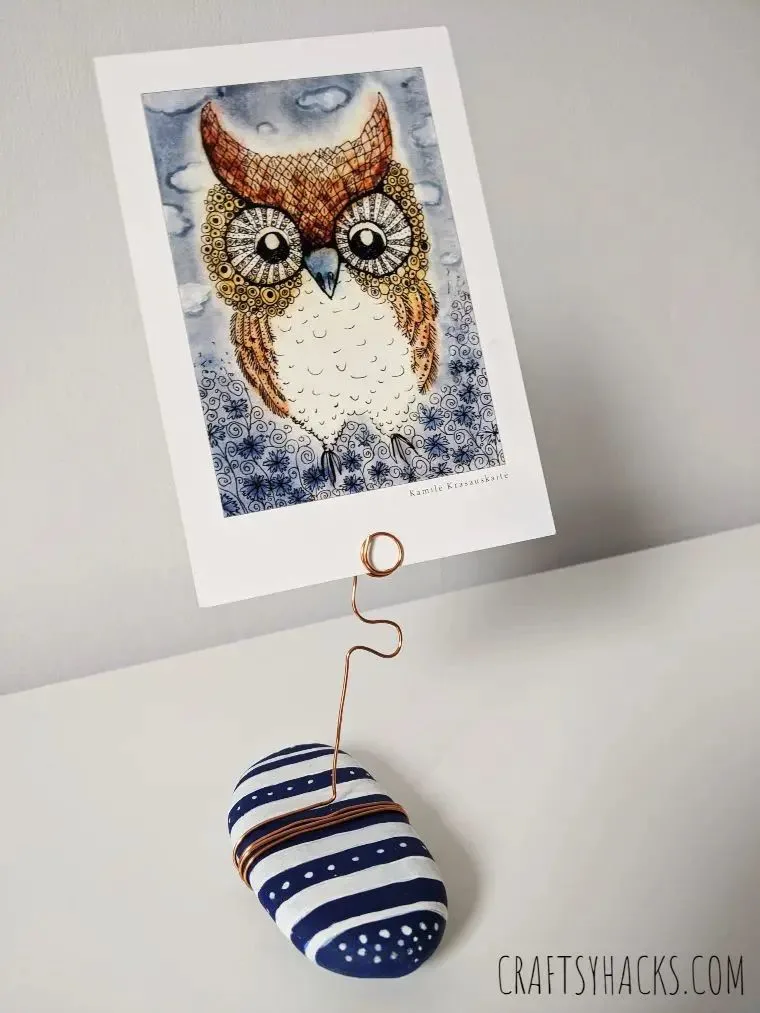 Credit: craftsyhacks.com
There's something so whimsical about these DIY rocks that are moonlighting as these super cute photo holders. They're adorable and I can bet you a kidney that they'd brighten up your desk or shelves.
It's also a wonderful way to continue the waning practice of printing photos. There's a sense of tangibility in actually holding and feeling a photo of a happy memory that digital photos just can't recreate.
43. Cardboard Harp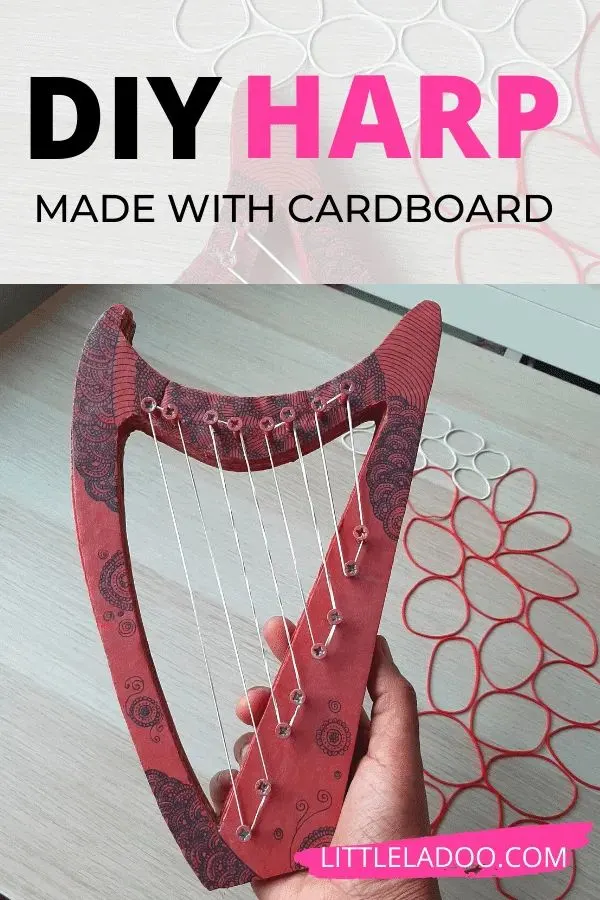 Credit: littleladoo.com
You're probably asking yourself what you could do with a cardboard harp. Well, not much, to be honest, other than to display it on your shelves to show off some pretty great crafting skills.
Besides, who wouldn't love to have a harp? Think of it as a stand-in for the real harp you know you can't play but crave to possess.
You'll need some thick cardboard, a few rubber bands, a cutting mat, some paint, and the template for the cutting process.
Check out more construction paper crafts here.
44. Dish Garden Flowers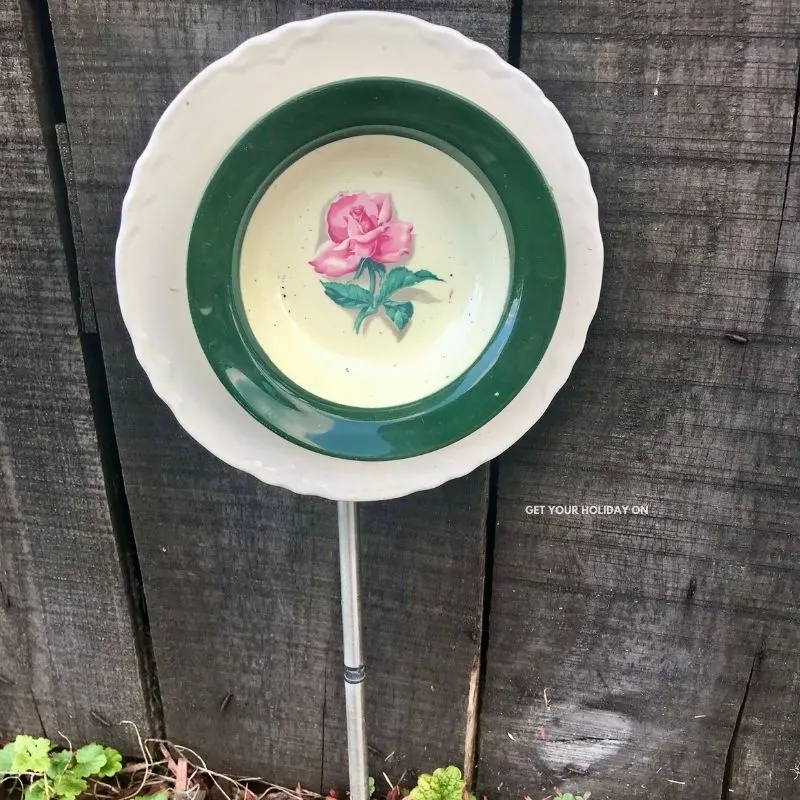 Credit: getyourholidayon.com
With summer in full swing, there's no end to the flowers you'll see blooming outside. How about you recreate all that happy, floral vibes you get from flowers with this DIY dish featuring a garden flower?
This is one of those projects that look good and help you repurpose household items. This turns them into new and revamped versions of their former selves!
45. Macrame Leaf Earrings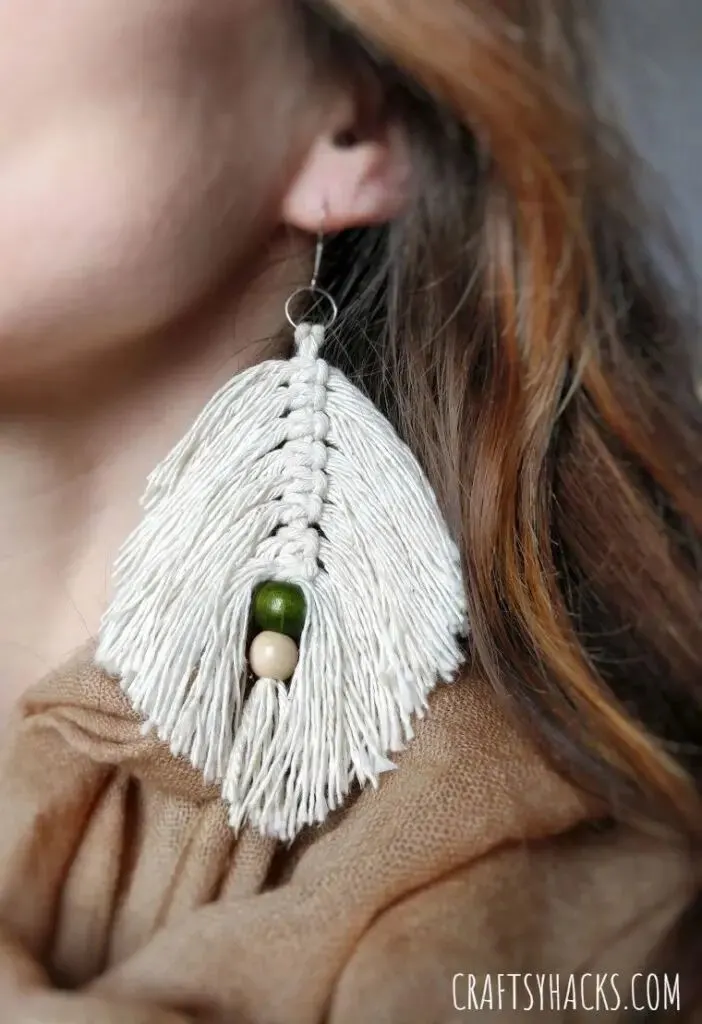 Credit: craftsyhacks.com
We've already looked at craft rings and bracelets; now let's take a look at some DIY earrings. This macrame leaf earring is a fabulous opportunity for you to learn more about and also experiment with macrame.
There are dozens and dozens of wonderful patterns to make your earrings, but these leafy ones really do take the cake, don't they?
You can also add a bead or two to kick things up a notch!
46. Painted Sandals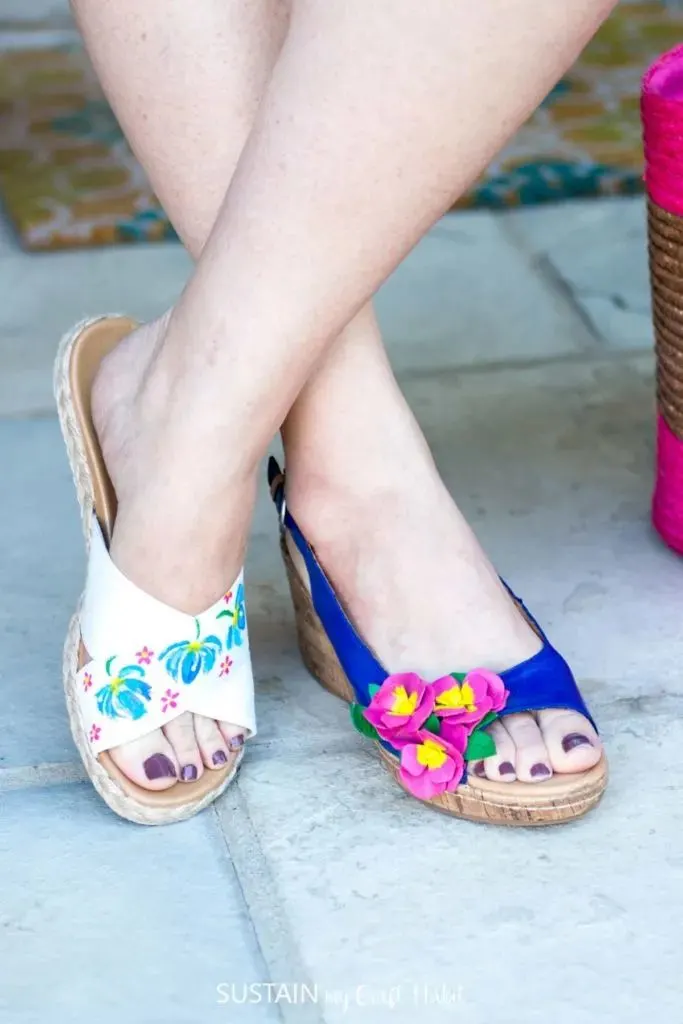 Credit: sustainmycrafthabit.com
Do you have a pair of sandals that are still in working condition, but have become too worn out or faded? Or perhaps you just want to spice up your footwear.
Whatever your intent, here's a DIY project for you: painted sandals. It's exactly what it sounds like. You paint your sandals and then embellish and decorate them however you see fit.
47. Yarn Wrapped DIY Flower Pot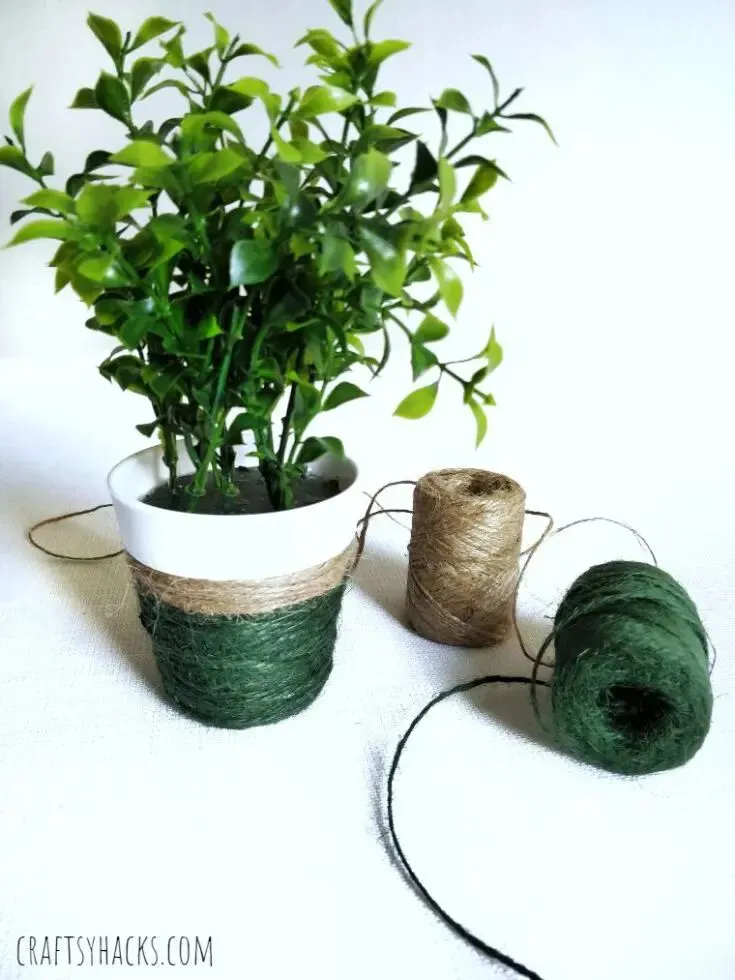 Credit: craftsyhacks.com
Here's one last yarn-wrapped DIY project for you to try. This flower pot has been given a complete makeover with all the colorful yarn that's been wrapped around it.
You can also use this craft project for the kids during their own craft session. In fact, you can rope(ha!) them into it and they can do all the wrapping and twining of the yarn!
Conclusion
There are hundreds of other adult craft ideas out there, but I hope the ones above make for a good start. Share these ideas on your social media networks and see if your friends have other creative ideas to add.