Looking for a back-to-school craft? This DIY pencil case is a great project that will actually be useful for school or university.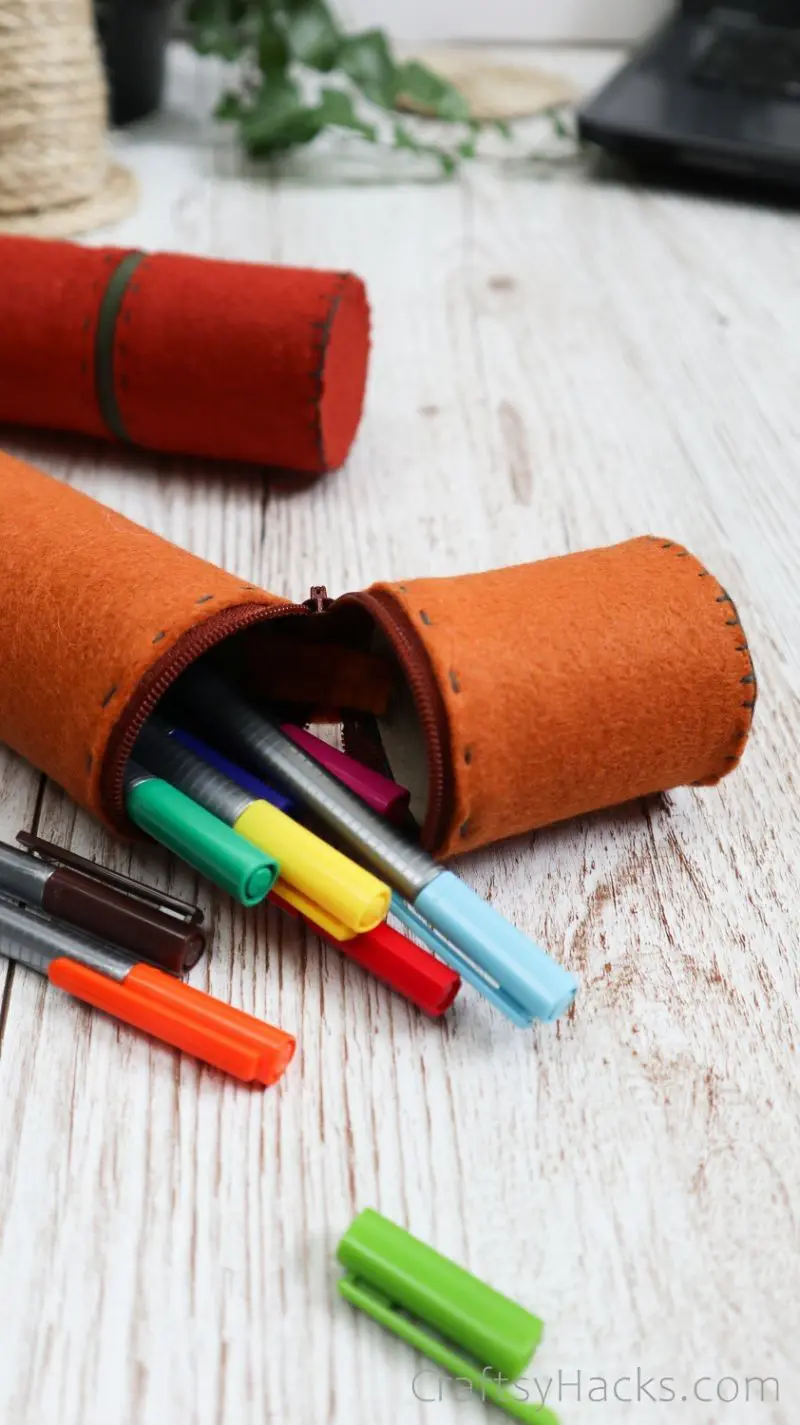 There's nothing that makes a school day better, like a set of unique stationery. When I was in school, I was always so excited when buying new stationery for the year!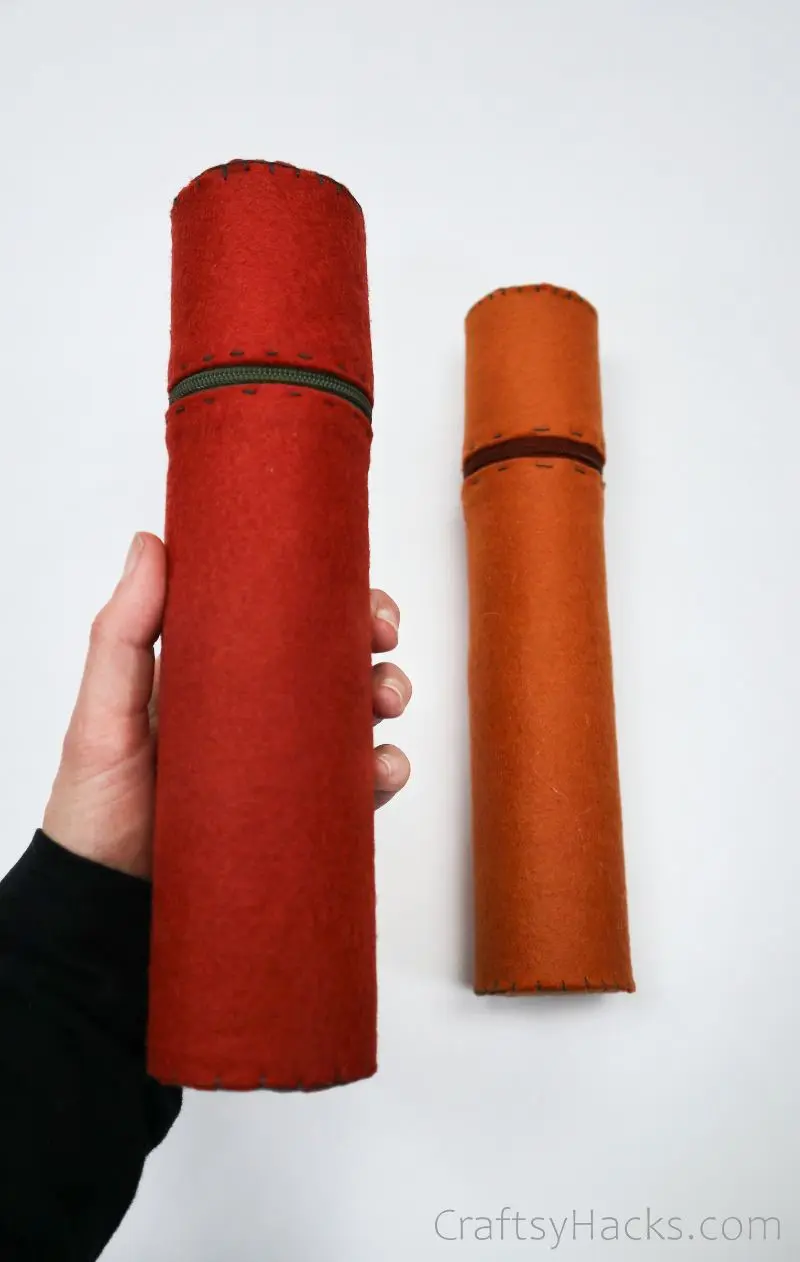 The problem is, adopting new supplies can be an expensive undertaking. Not to mention, you'll unavoidably have the same set of stationery as someone else in school.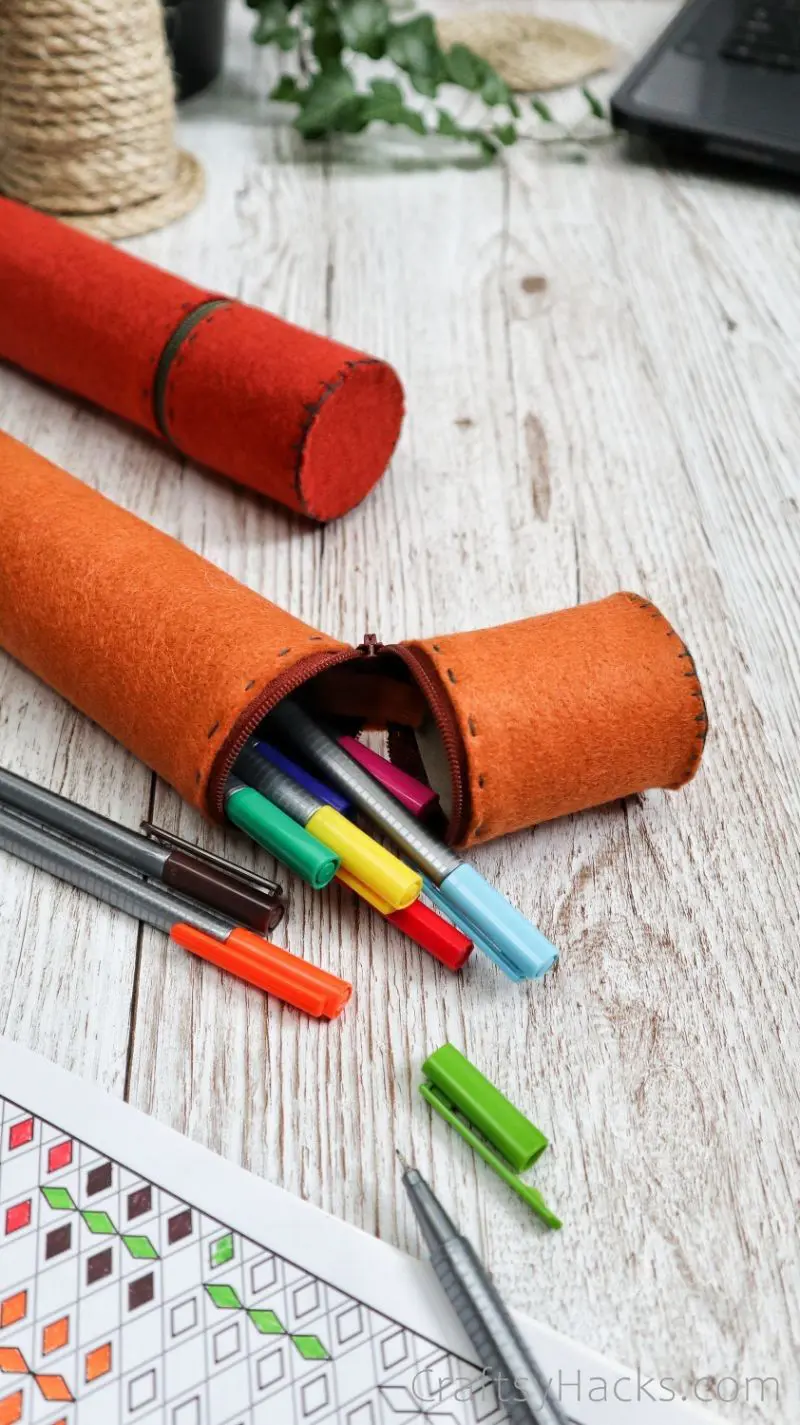 With this sustainable, ingenious, and easy-to-execute pencil case in your arsenal, you don't have to worry about breaking the bank. Don't worry, you wouldn't guess this is made of cardboard at all.
DIY Pencil Case – A Great Back to School Craft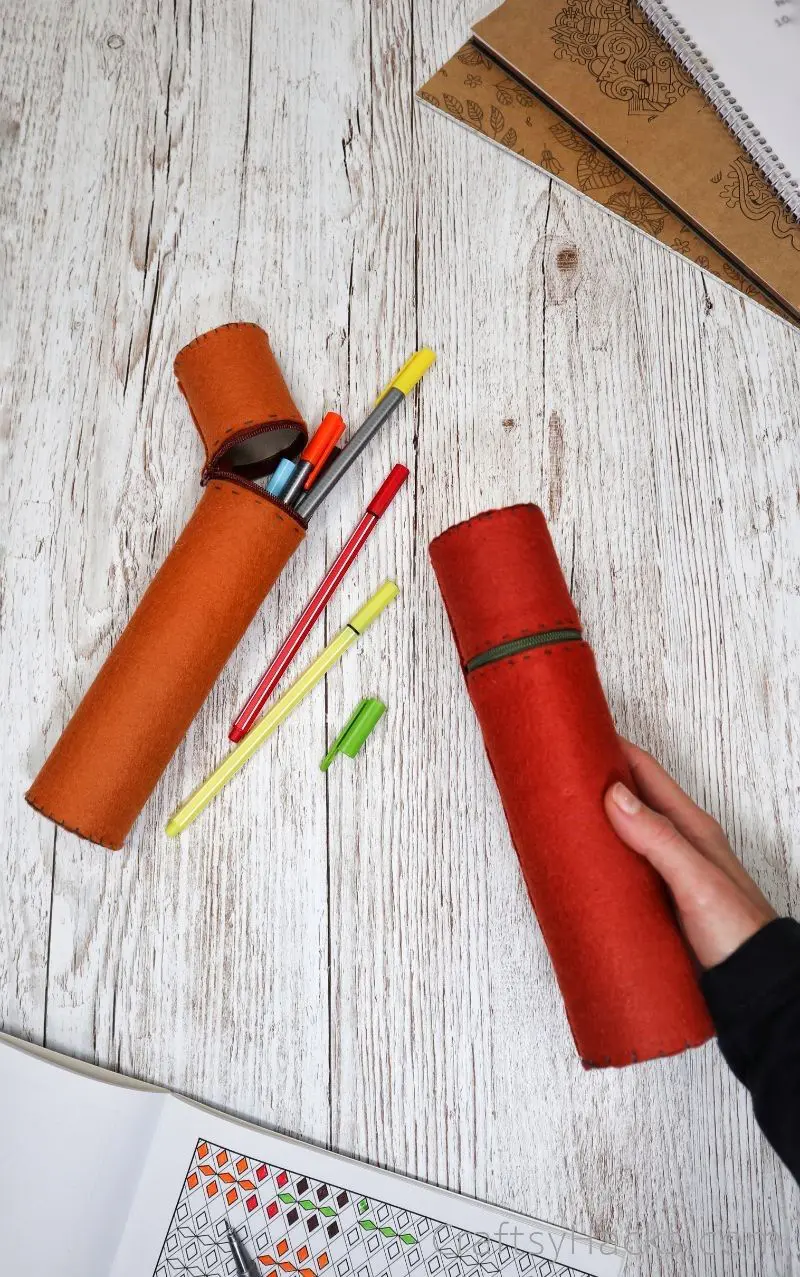 Supplies for a Pencil Case
Toilet rolls
Nylon zip (around 6'' (15cm) long)
Cardboard
Hot glue gun
Scotch tape
Pins
Needle
Thread
Pencil
Measuring tape
Retractable knife
Compass with a pencil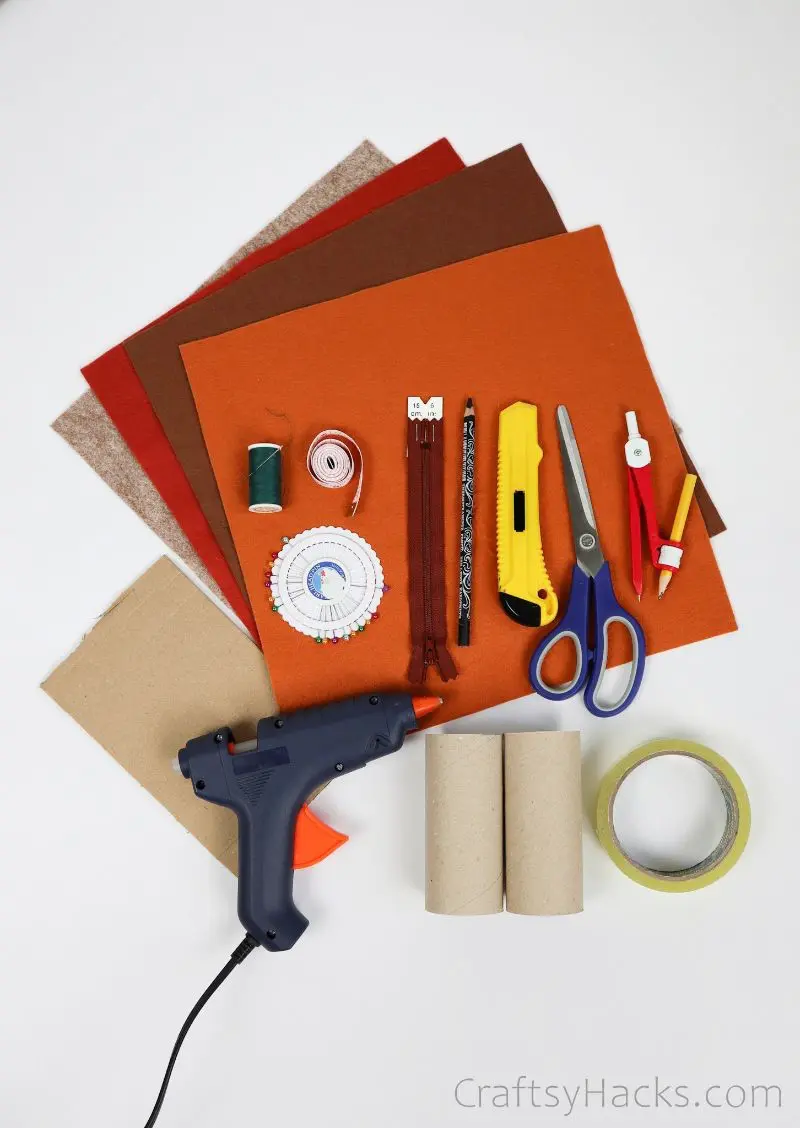 How to Make a Pencil Case
Here is a full step-by-step tutorial on how to make your very own upcycled pencil case.
Step 1
Let's start by getting our supplies together. You need a zip long enough to wind around your cardboard tube, so I chose a 15cm long zip. If you're using a thicker tube, pick up a longer zip.
You also need at least two felt pieces, one for the pencil case's body and the other for the wings. However, feel free to experiment with color blocking to make your case even more unique!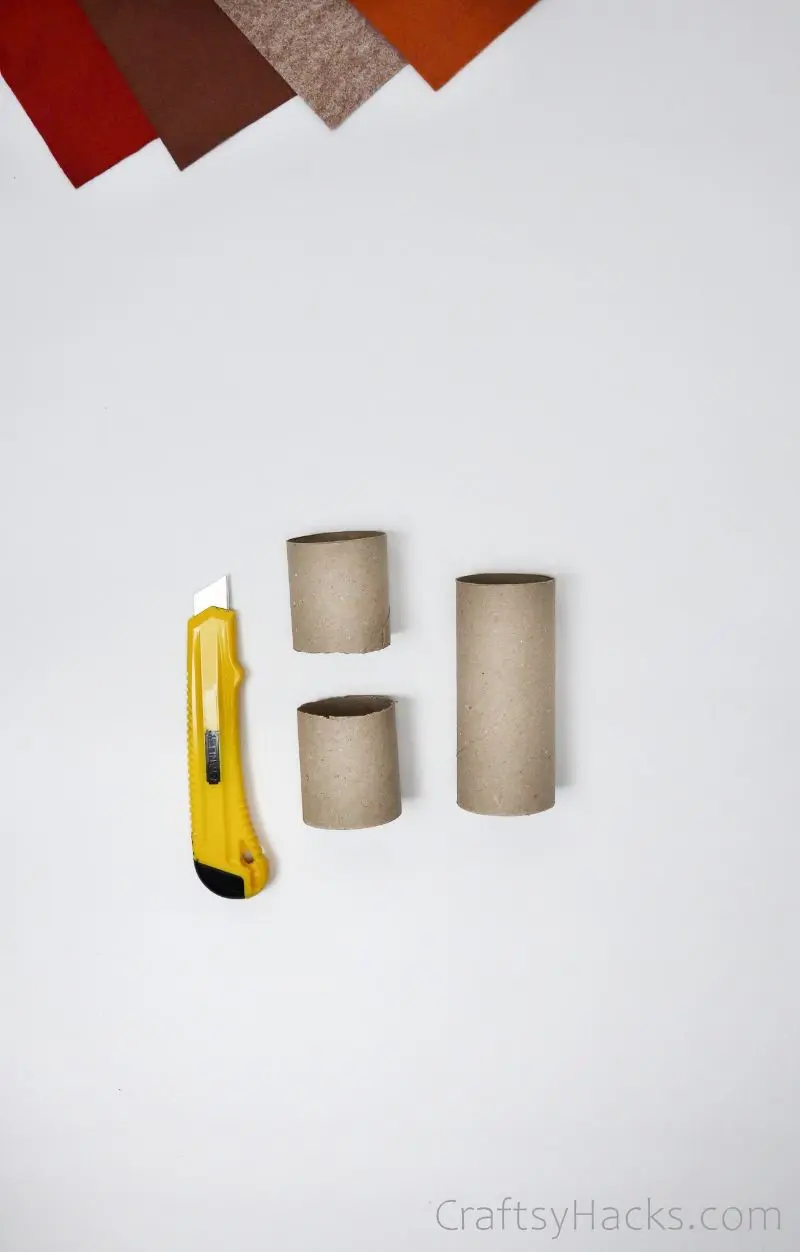 Step 2
First on the agenda is to create the interior structure's shape. Grab your craft knife and cut one of the cardboard rolls in half, leaving the other intact. Now, you should have three pieces (as above).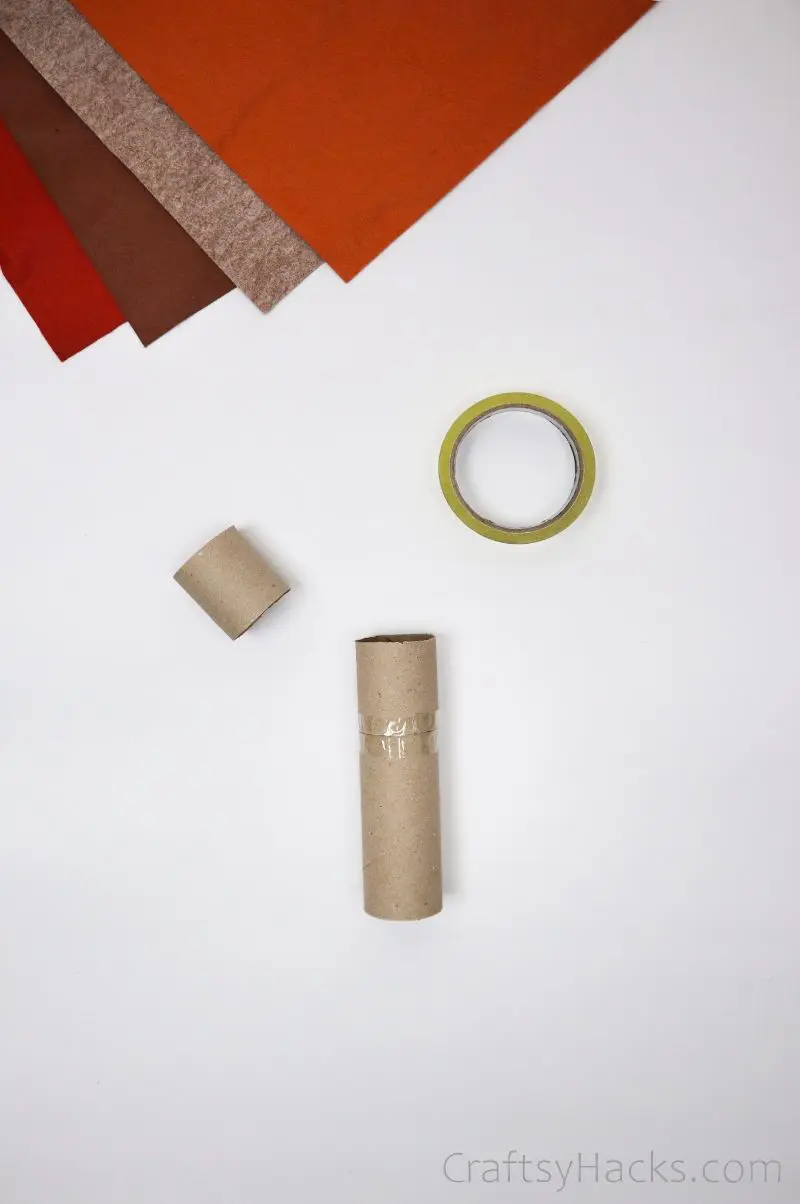 Step 3
Using some tape, attach one of the small cardboard pieces to the top of your toilet paper tube. This will leave with you one long cardboard tube and one half-sized piece.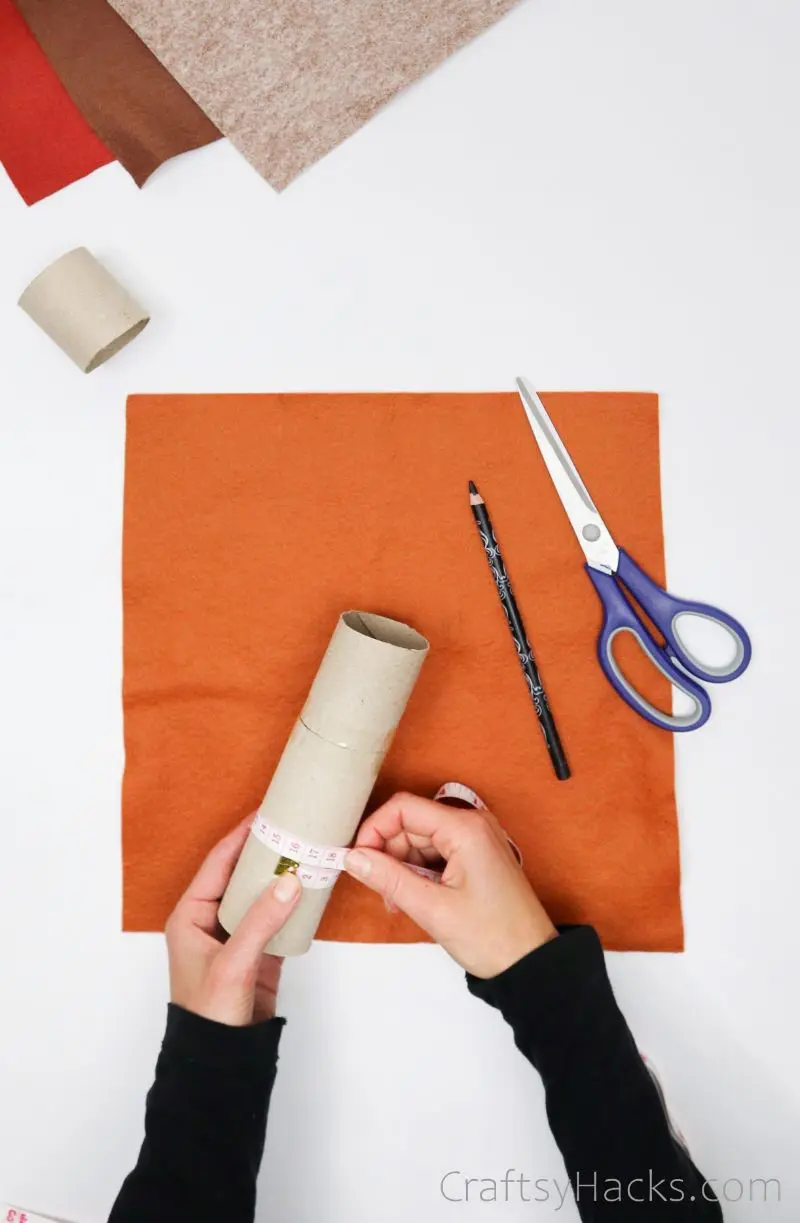 Step 4
Next up, it's time to start covering the roll! Begin by measuring the large paper roll's circumference, then transferring that length measurement to a piece of felt. Mine was 15cm wide.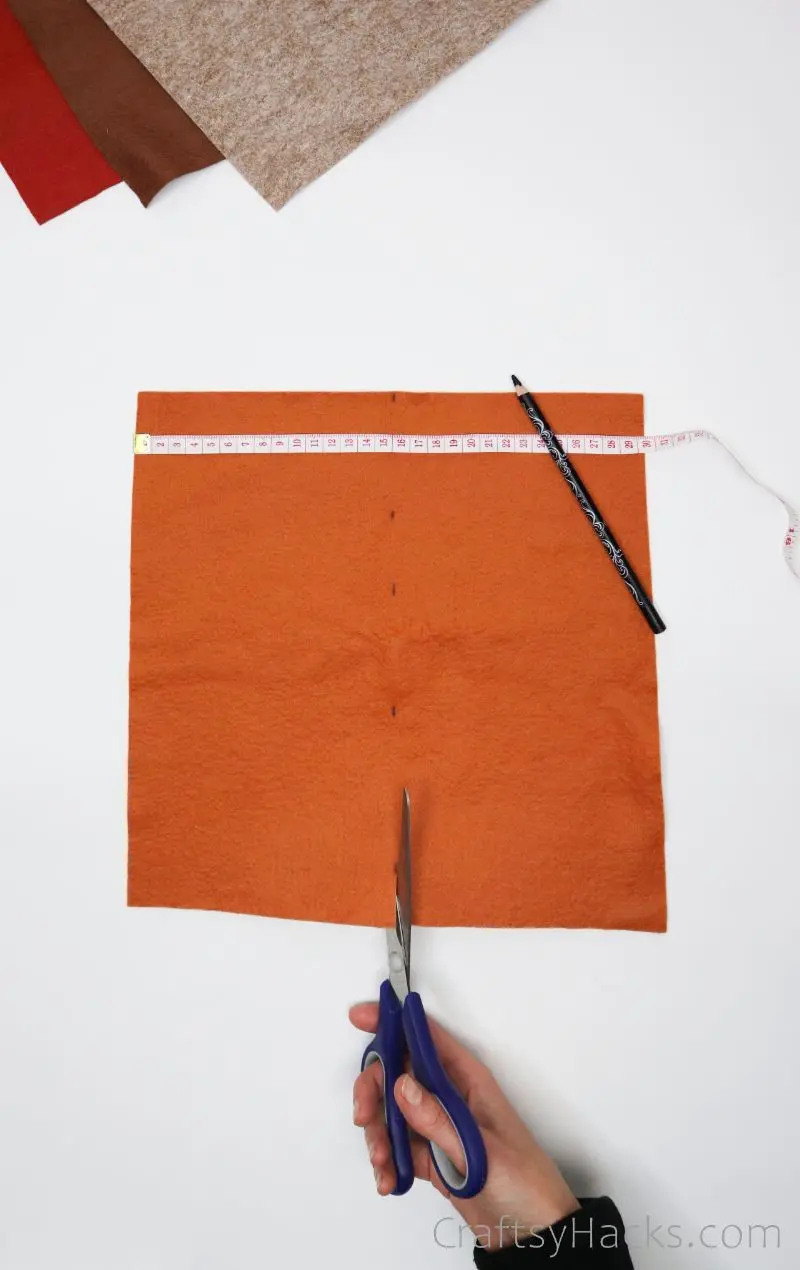 Step 5
Draw a straight line on your felt at your measurement mark, then cut. Now, you have a piece of felt that will fit around your cardboard tube.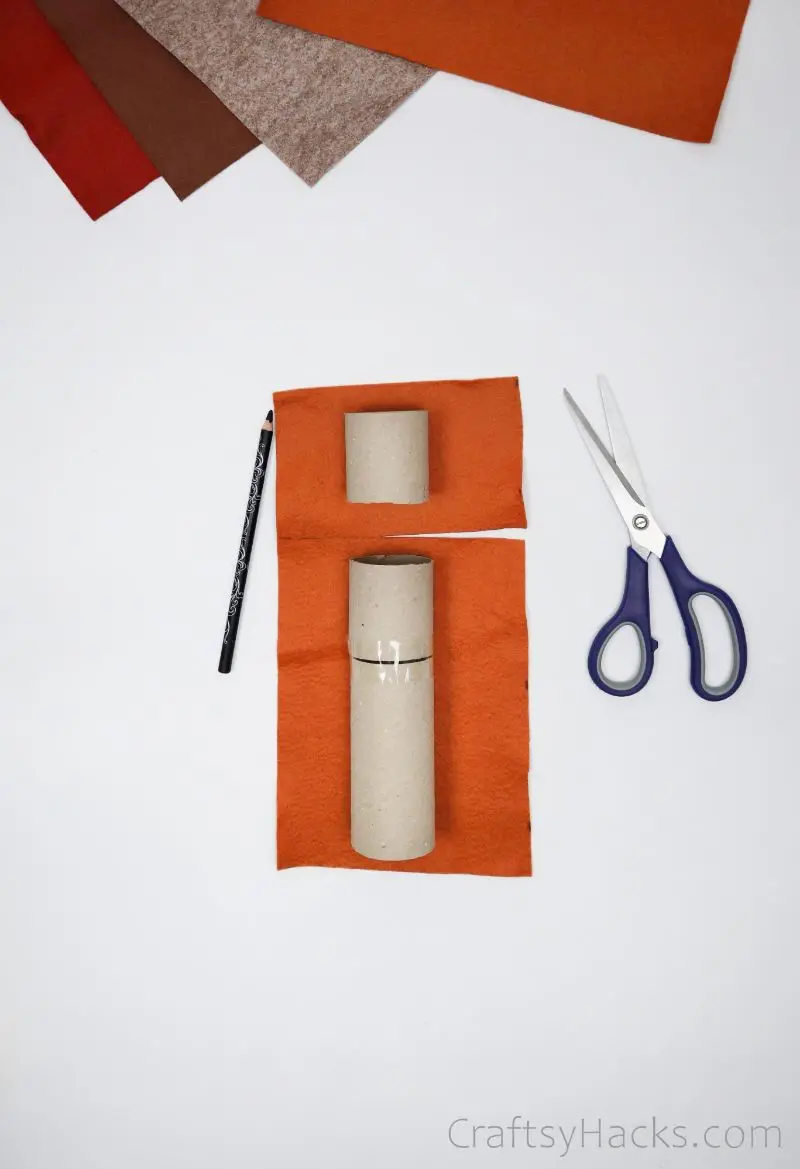 Step 6
Next up, we need to trim the felt horizontally to accommodate the two cardboard pieces and attach the zipper. Line up the small and large parts on your felt piece, then cut between them as above.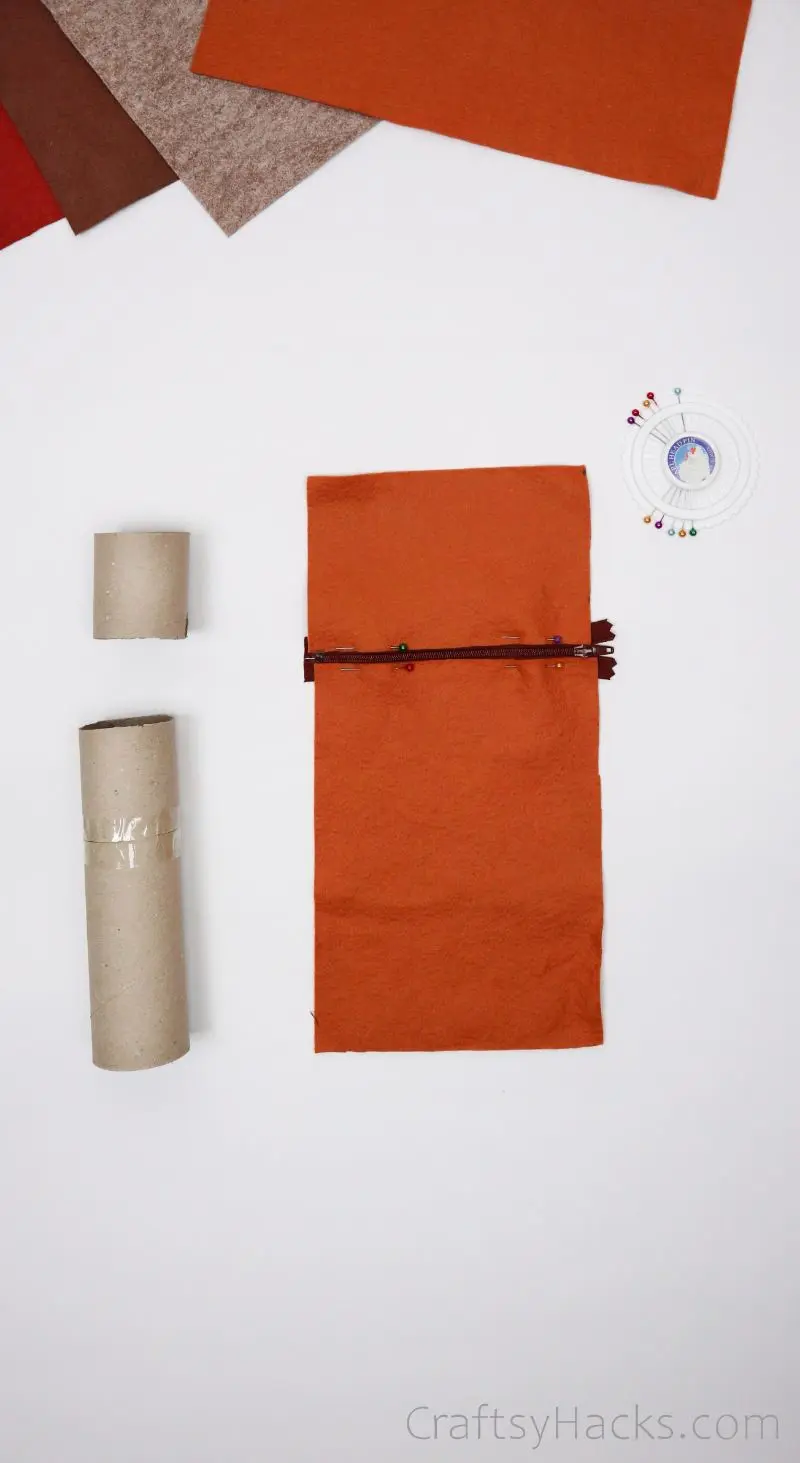 Step 7
It's time to attach our zipper! Lay your felt out flat, then pin the zipper from end to end. Ensure you're lining up the felt's edges with the zipper's teeth to create a clean join.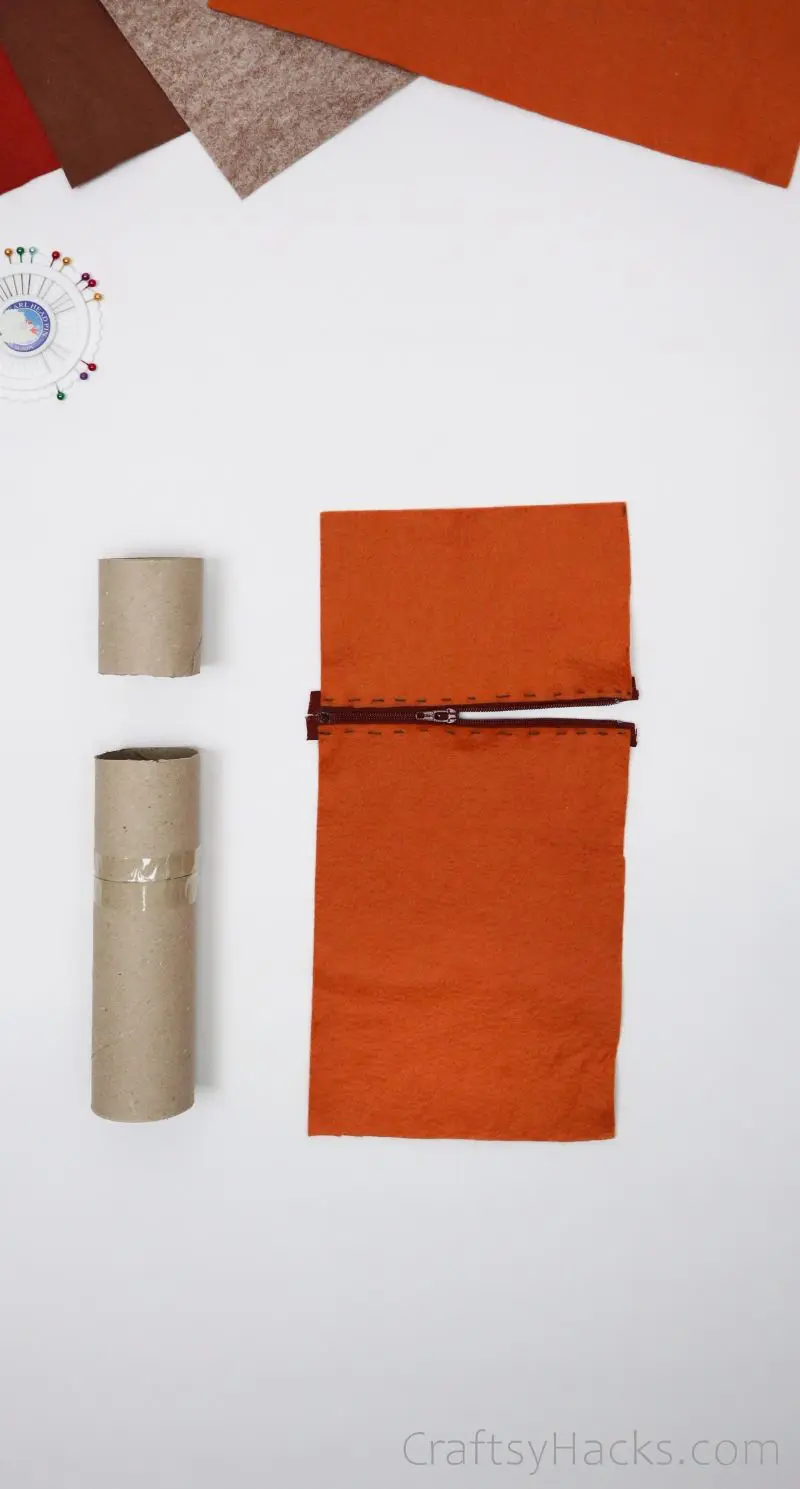 Step 8
Take the felt to your sewing machine or whip out your needle and thread because it's time to sew! Simply run a straight stitch along each side of the zip, making sure you catch the backing.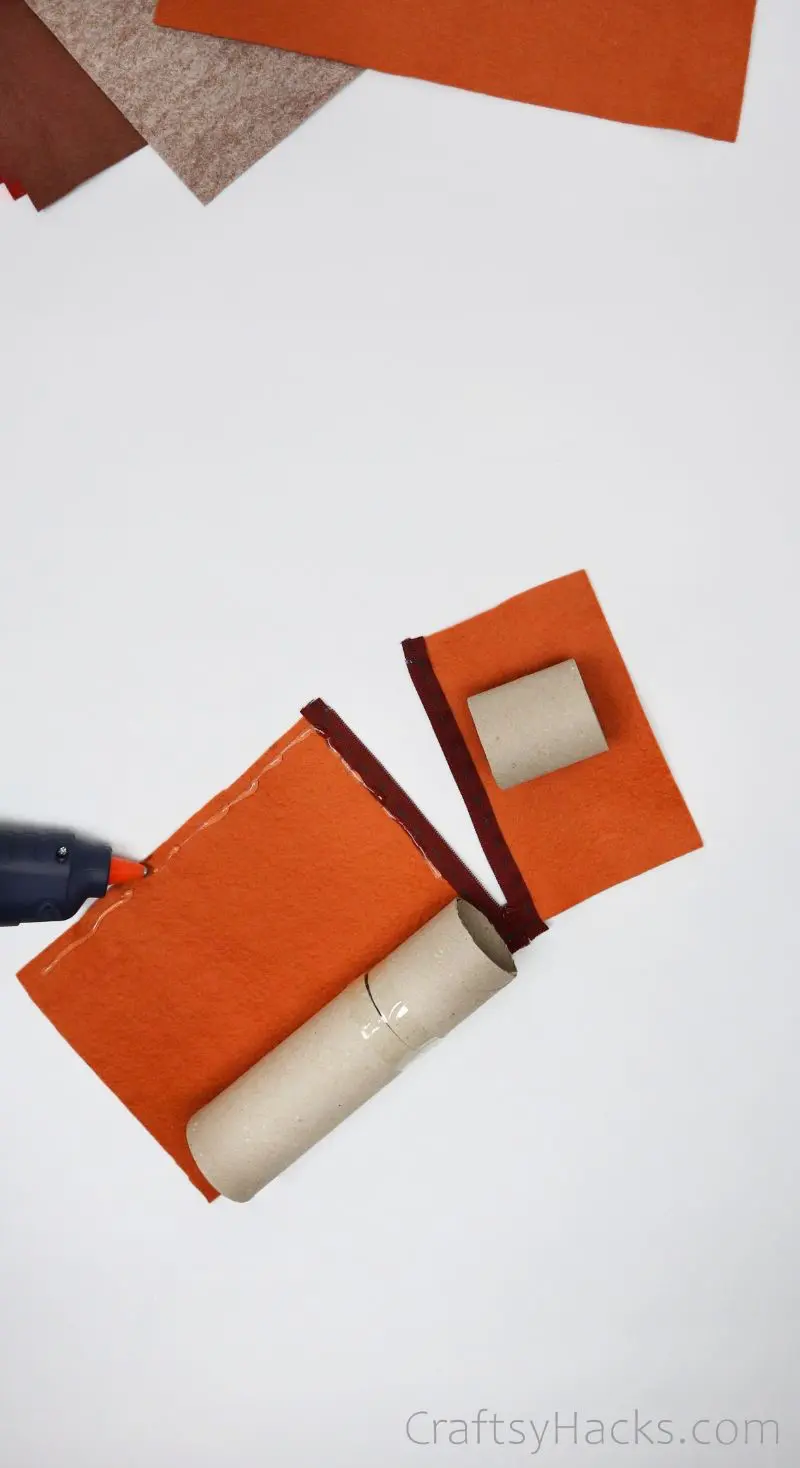 Step 9
Now that you've made your felt cover, it's time to attach it to the pencil case's interior. I used a hot glue gun to do this. Run a line of glue along the edges, then roll the tube along to cover it entirely.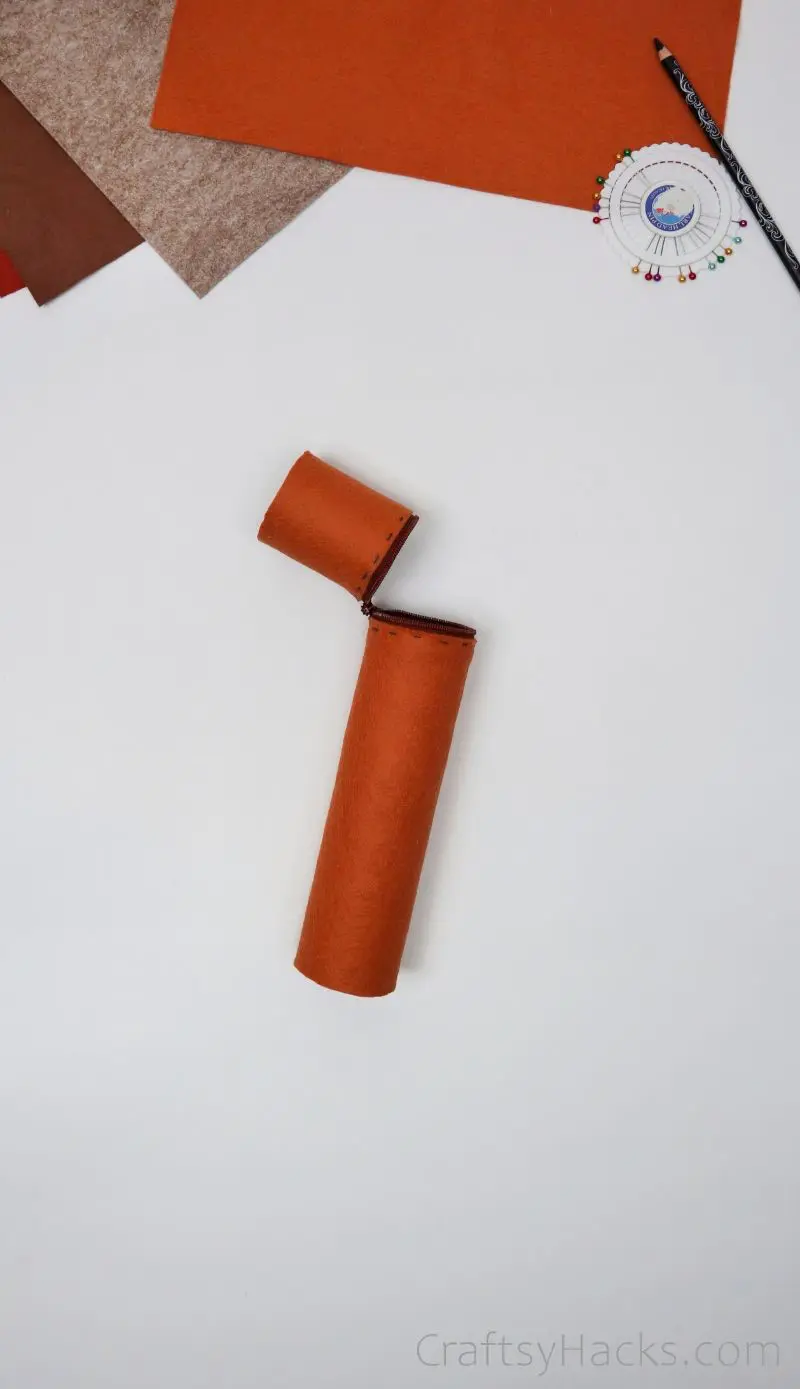 You should be left with a covered roll! Now's the time to test if your zipper stays attached when you unzip your pencil case all the way.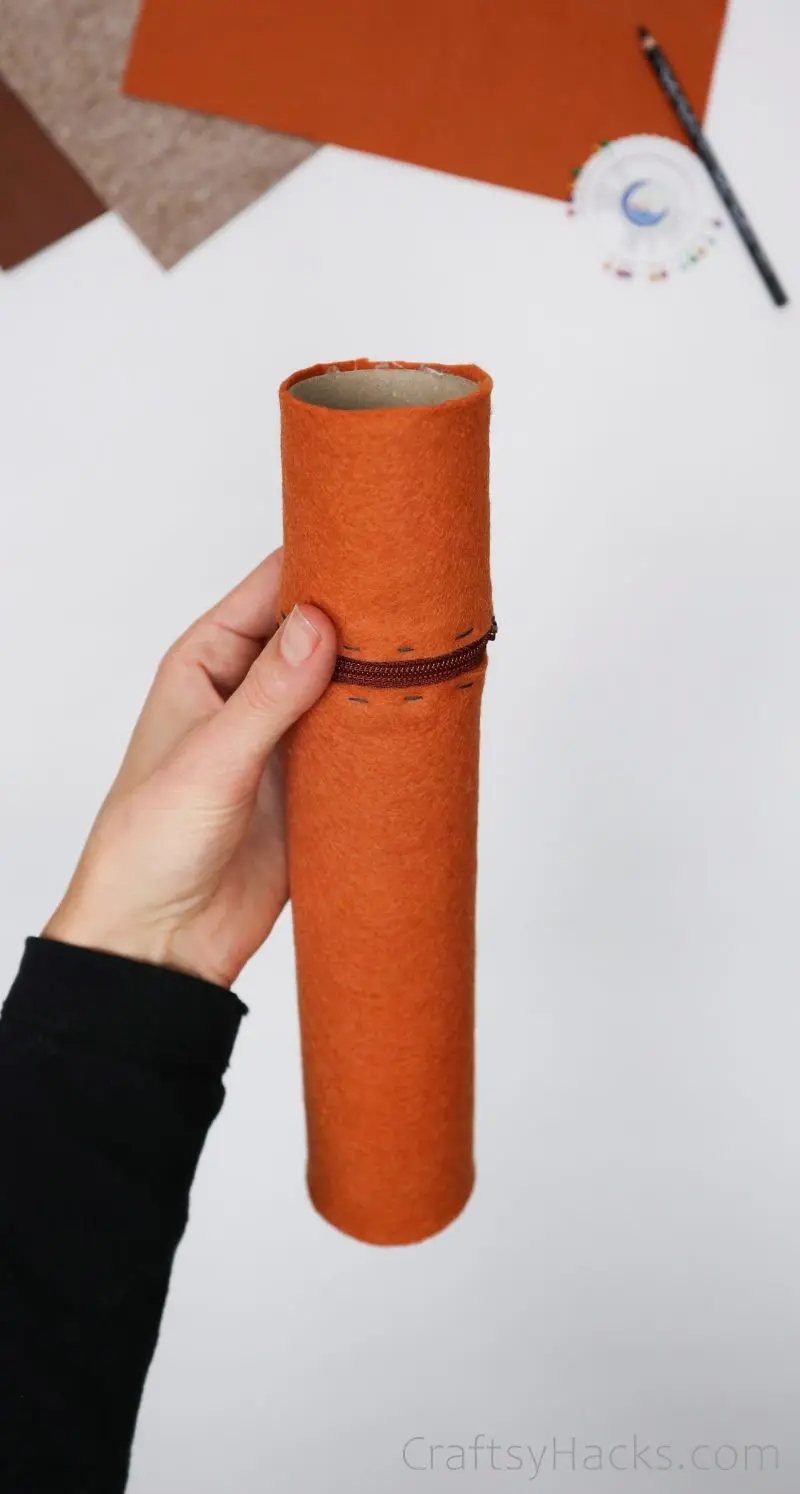 Step 10
You'll notice that your pencil case's stop is still bare… well, now it's time to fix that! We're going to create a cardboard felt patch for either end of the tube. You can choose to use a contrast color here.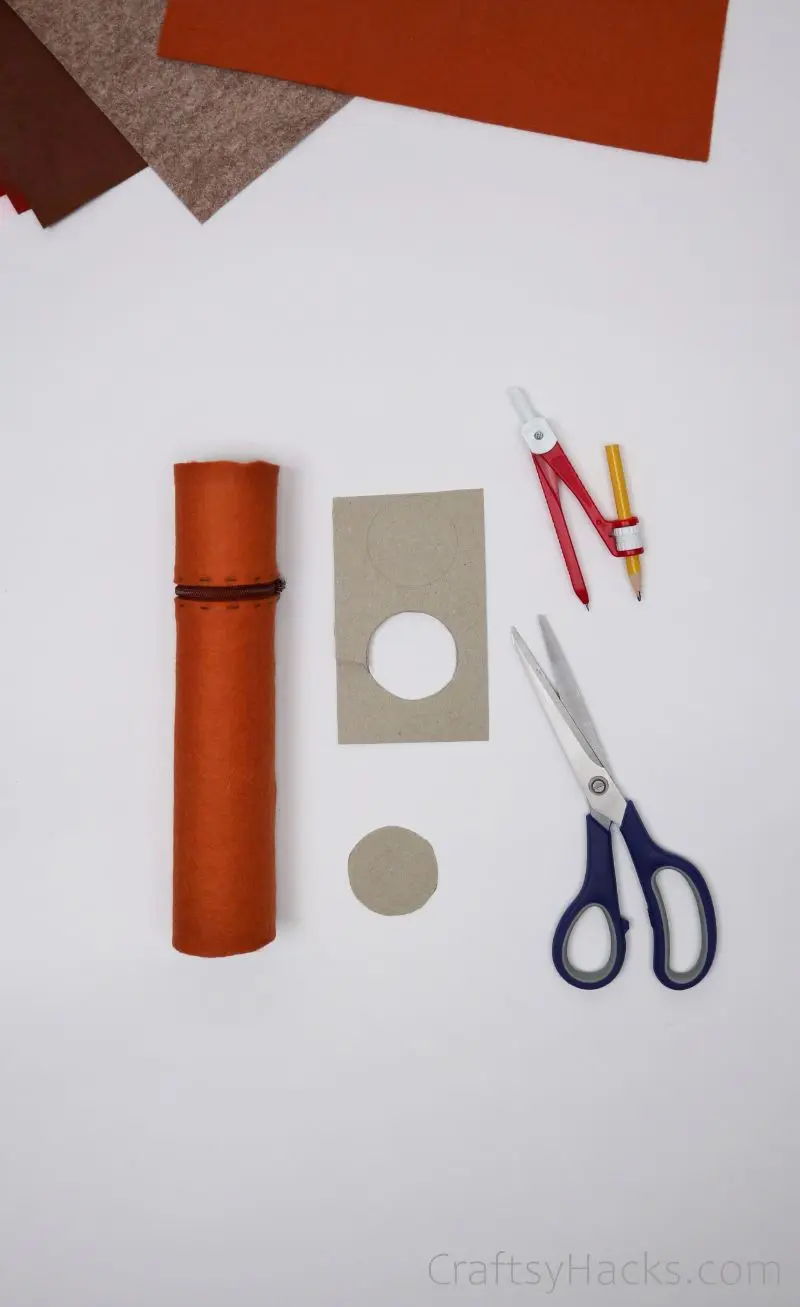 Grab your compass and use it to measure the circular gaps on your pencil case, then draw two circles of the same size on some cardboard. If you don't have a compass, just use another same-sized tube.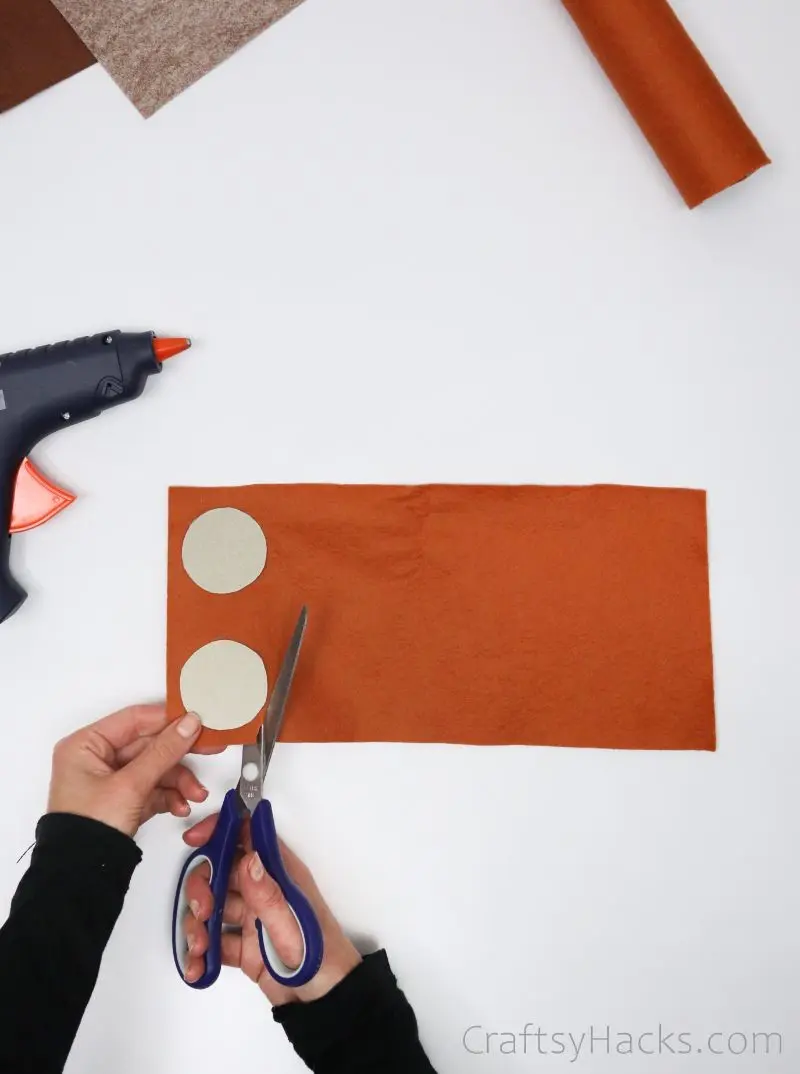 Step 11
Cut out the cardboard circles, then glue them onto your felt with a hot glue gun. Use your fabric scissors to cut around the edges, following them closely.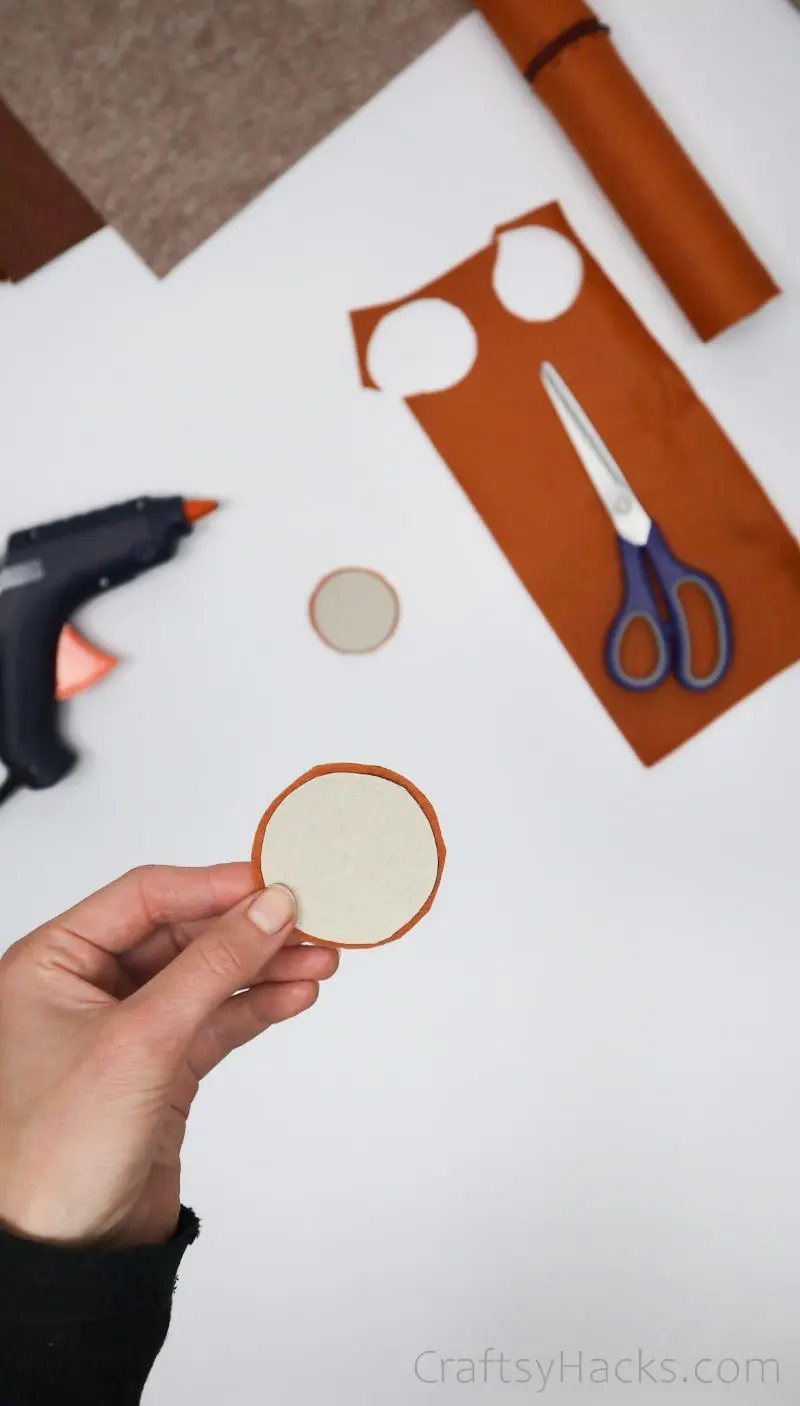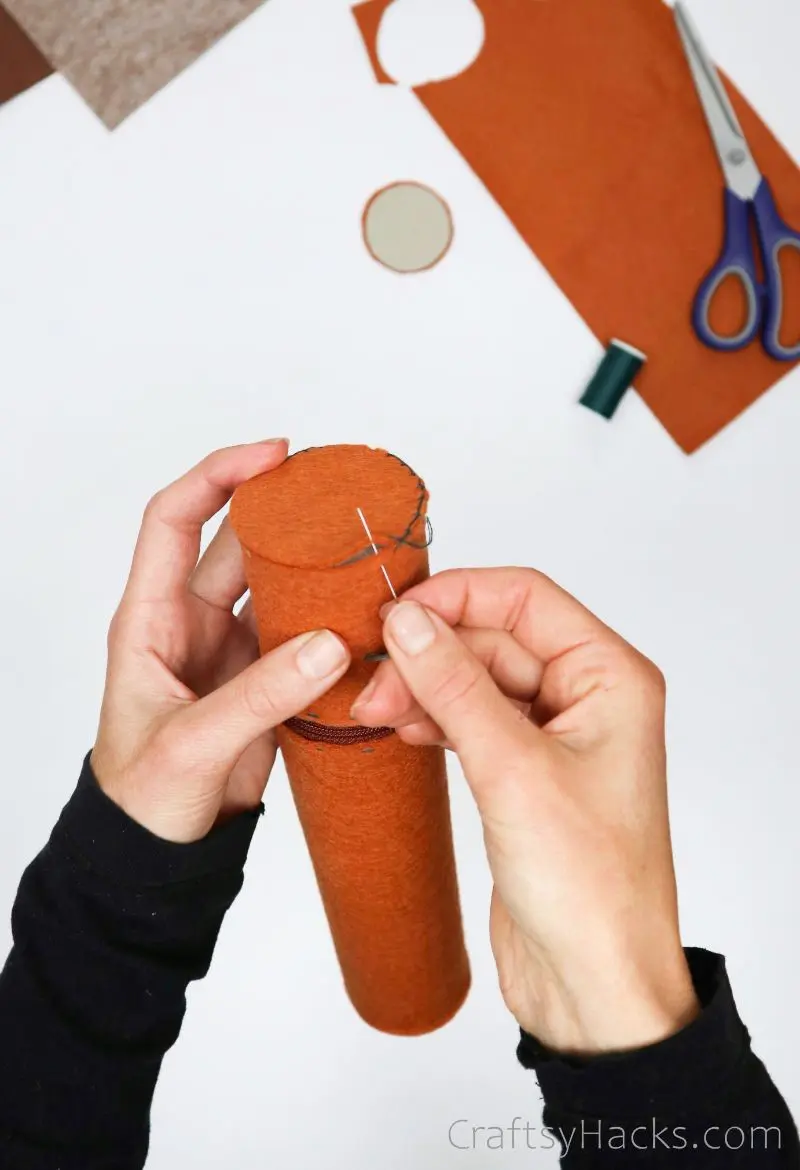 Step 12
Finally, it's time to crown our pencil case! Lay your felt circles—cardboard sides in—over the gaps in your case. Using a needle and thread, run a mattress stitch along the outside to seal it shut.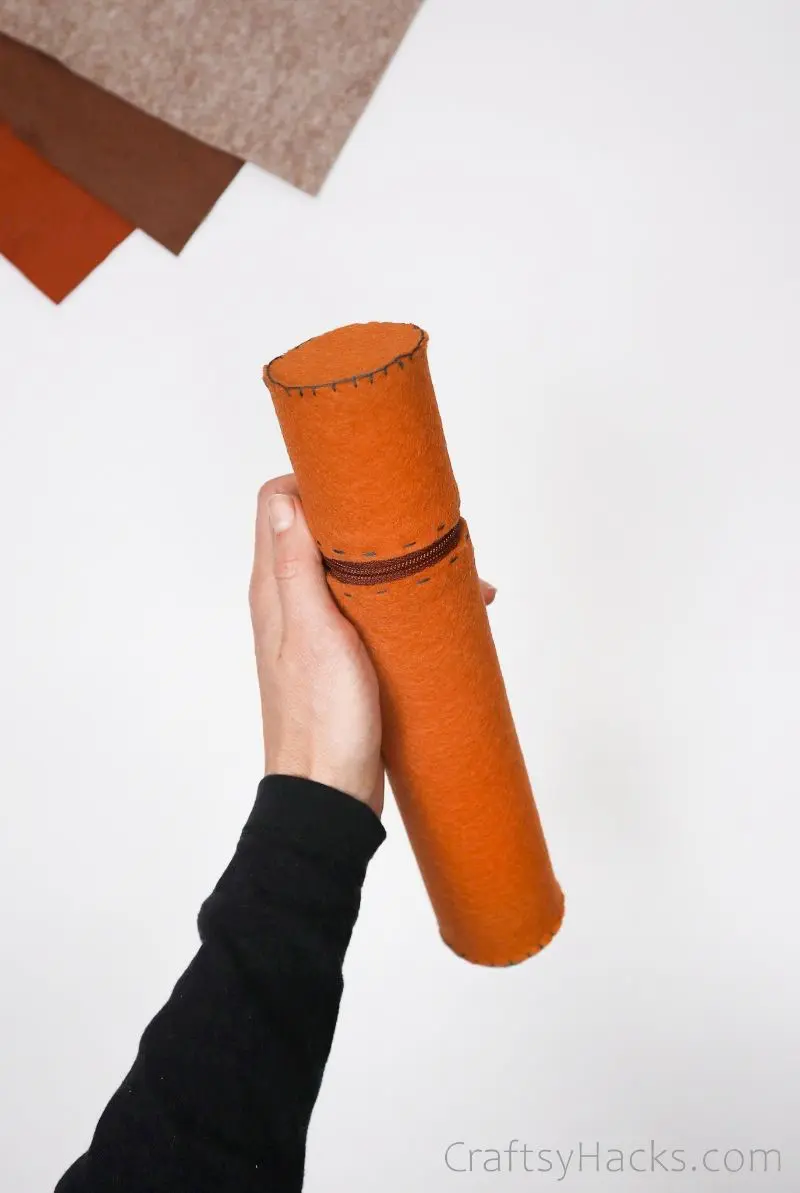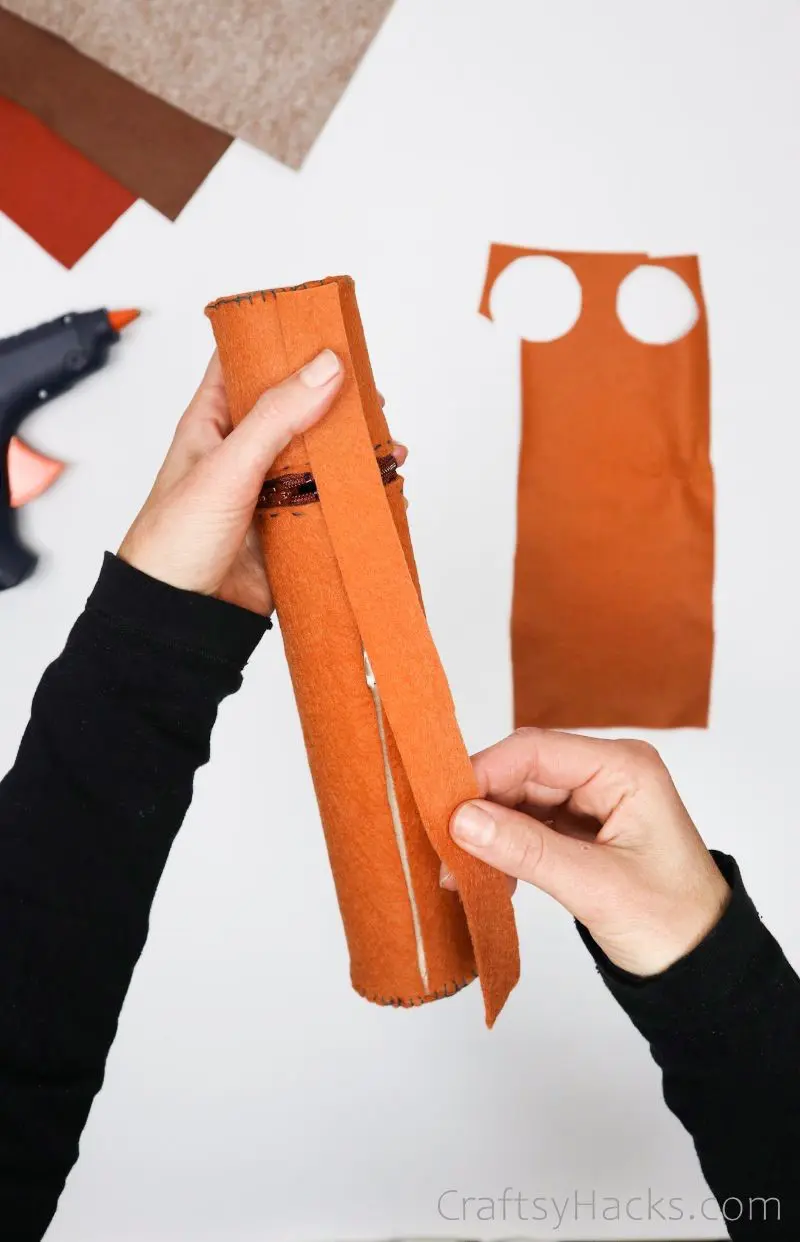 Step 13
The very last step is to cover the unsightly join on the back of your case. Using some extra felt, cut a thin strip and glue it down over the join.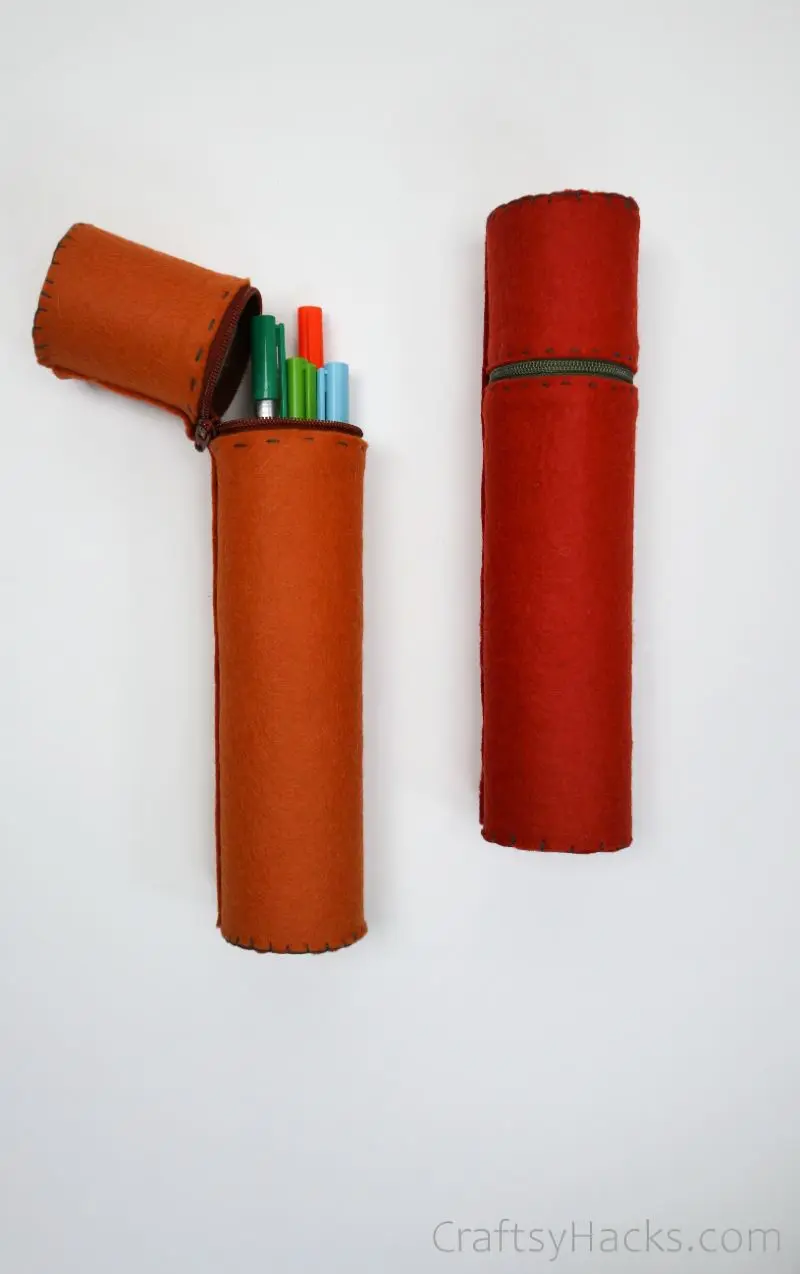 After all that, you're done! Despite the cheap materials used to make these cases, they look so professional once completed. From here, it's easy to customize the felt with markers, pins, and more.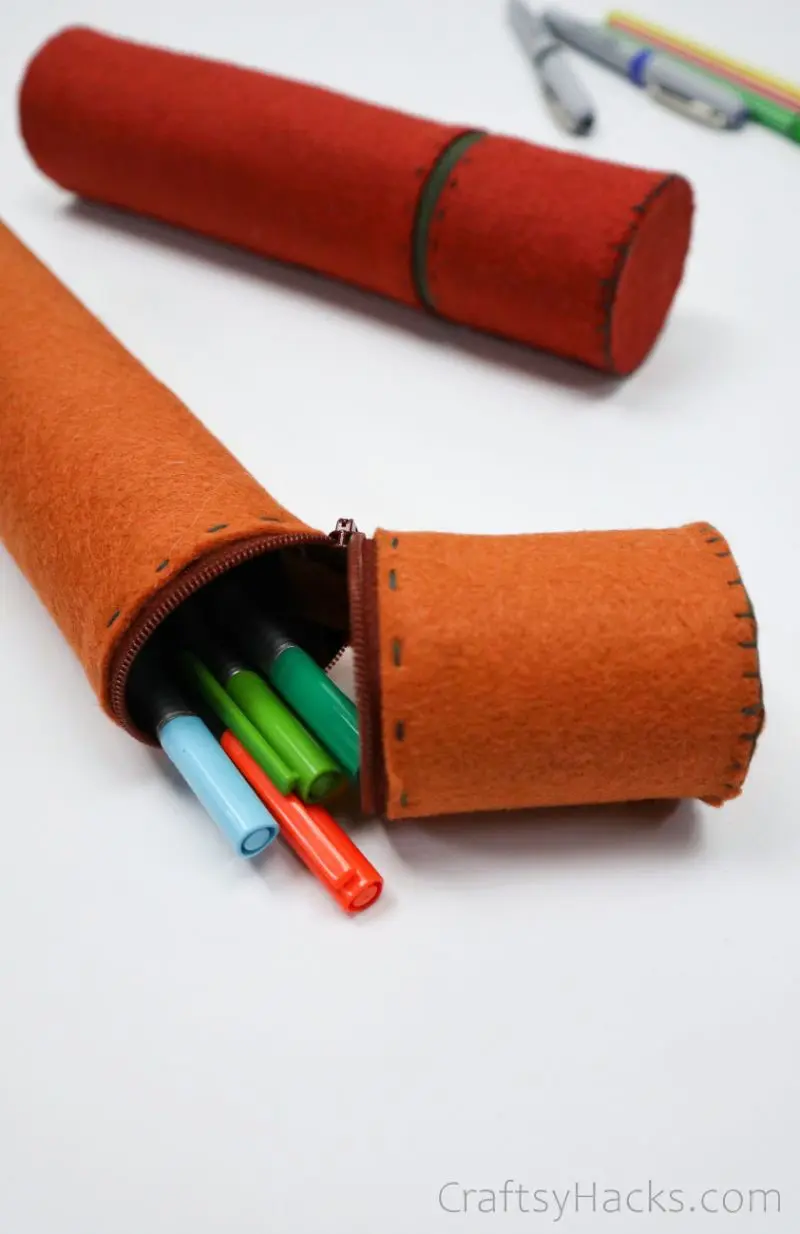 Create as many as you want to carry your various school supplies around. You can even make them as gifts to give to your friends at the start of a new year.
How Much Might This Upcycled Craft Cost?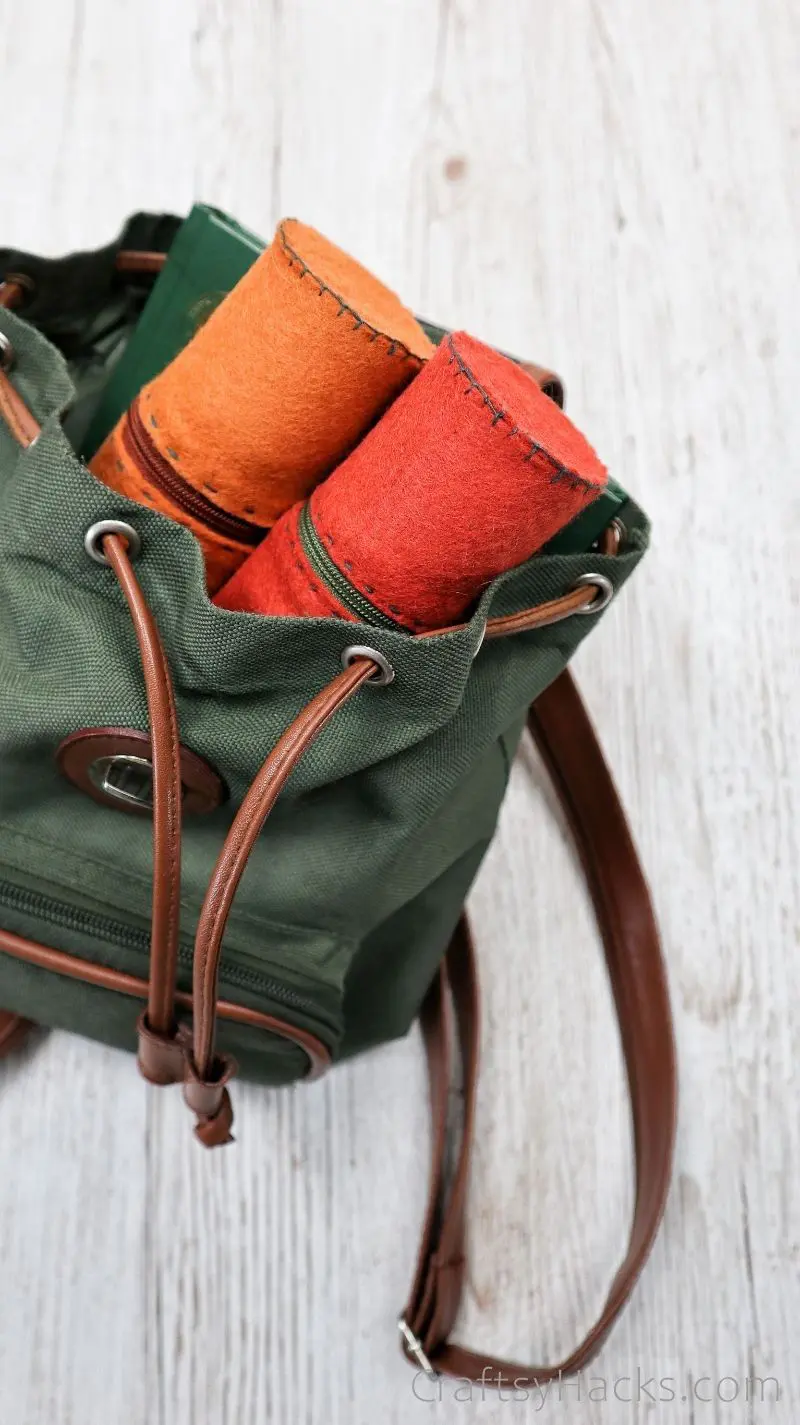 Luckily, cardboard toilet paper tubes cost nothing to procure. Buying felt in a one-off bulk pack from somewhere like Amazon will make sure you're prepared for all future crafting.
However, you can also pick up some super cheap sheets from your nearby dollar store. If you're really shooting for sustainability, rip a zipper out of some old or ruined clothing to reuse!
Check out more toilet roll crafts here.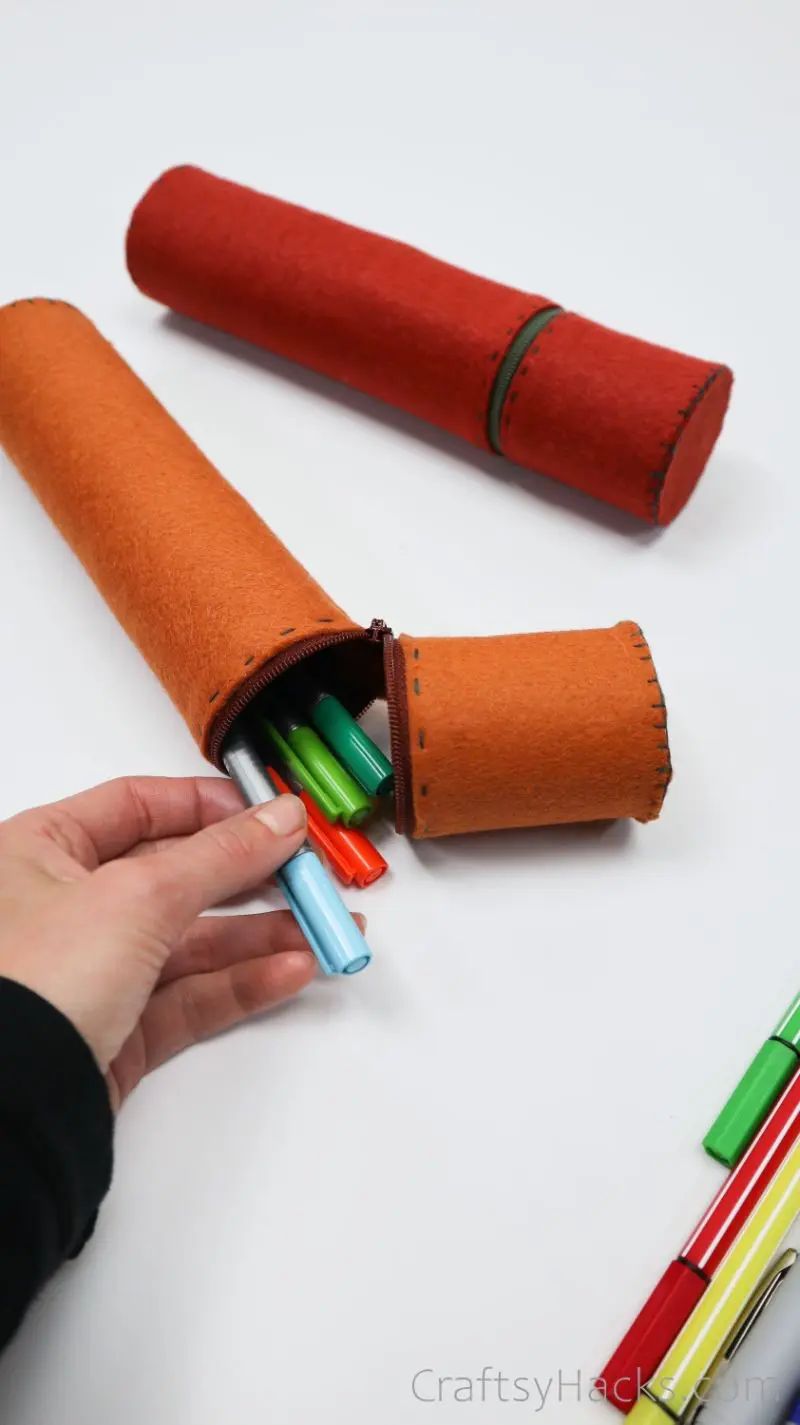 Other DIY Crafts You Might Like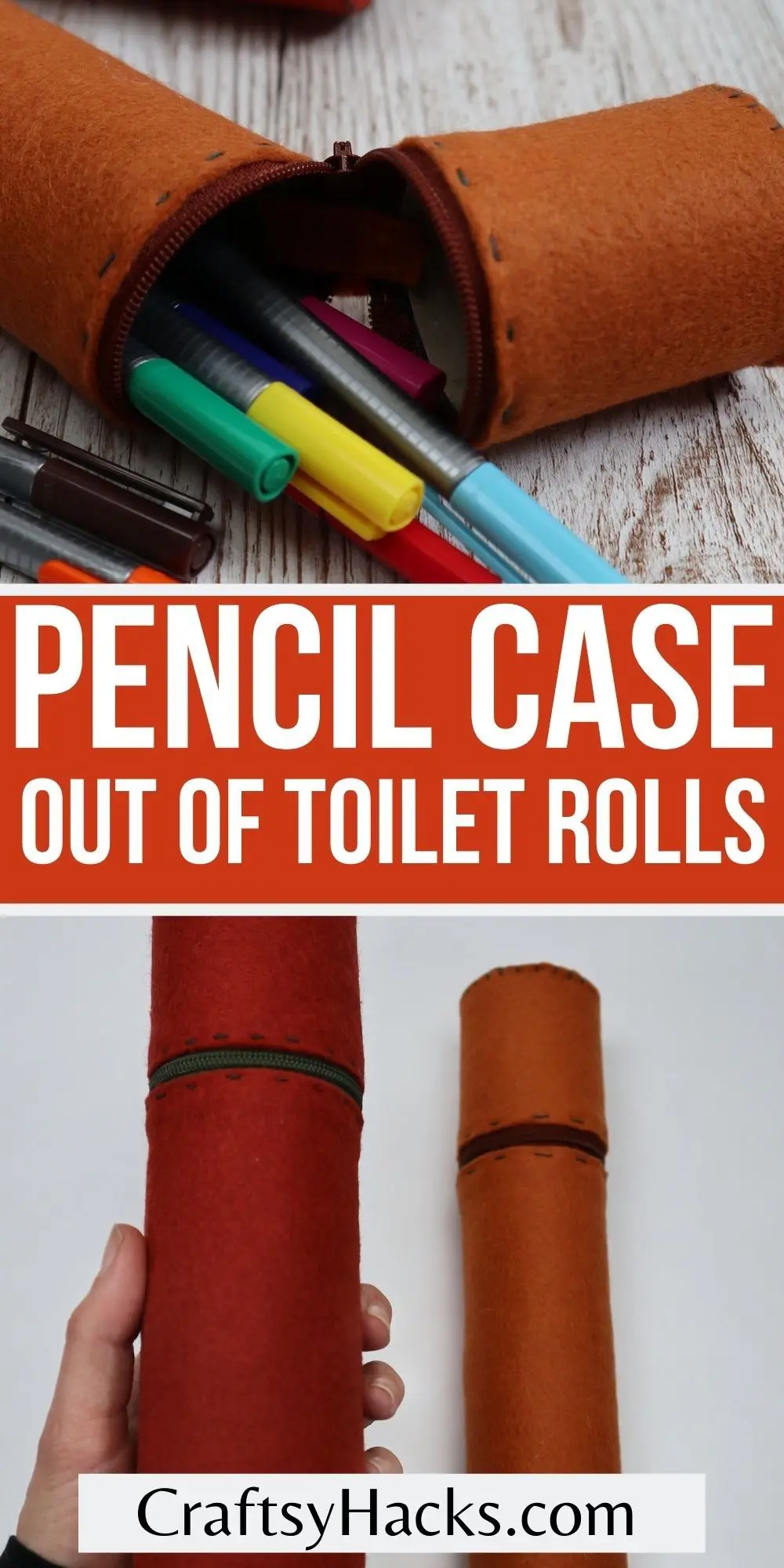 Yield: 1 pencil case
DIY Pencil Case Out of Toilet Rolls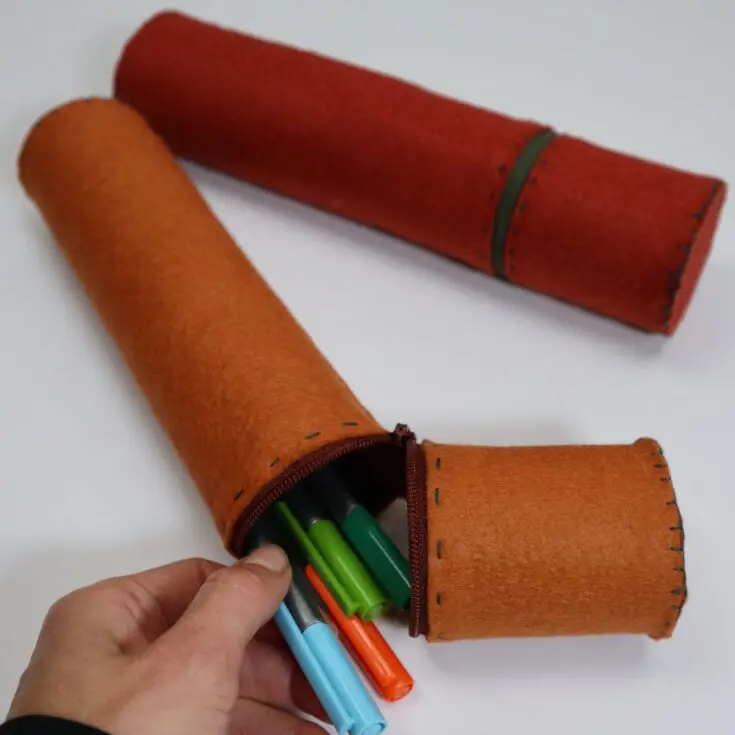 Upcycled your toilet rolls and make a cheap pencil case. This DIY pencil case is fun to make, will help you with extra storage, and will do just for a great back-to-school craft.
Additional Time
10 minutes
Materials
Colored felt sheets
Toilet rolls
Nylon zip (around 6'' (15cm) long)
Cardboard
Tools
Hot glue gun
Scotch tape
Pins
Needle
Thread
Pencil
Measuring tape
Retractable knife
Compass with a pencil
Instructions
Gather your supplies.
Cut one of the paper rolls in half, then tape one of the pieces to the top of the other paper roll.
Measure the tall paper roll's circumference and transfer that measurement to a piece of felt (mine was 15cm). Cut that felt piece out.
Lay the long and short rolls onto the felt piece, then cut between them to create two felt pieces.
Pin your zip into the gap, then sew along the edges with your sewing machine or a needle and thread.
Run a line of glue along the felt's edges, then roll both the long and small tube inside the felt. You've officially got a pencil case in your hands!
Now, it's time to fill the gaps on either end. Draw two circles on a piece of cardboard using a compass.
Cut those circles out, then glue them to a piece of felt and cut around the edges.
Now, sew those circles onto either end of your pencil case.
Finally, glue a thin felt strip over the join to finish your case. You're ready for the school year!