Use mason jars to create beautiful DIY wedding centerpieces. Get some inspiration for your wedding decor and transform your mason jars into something beautiful.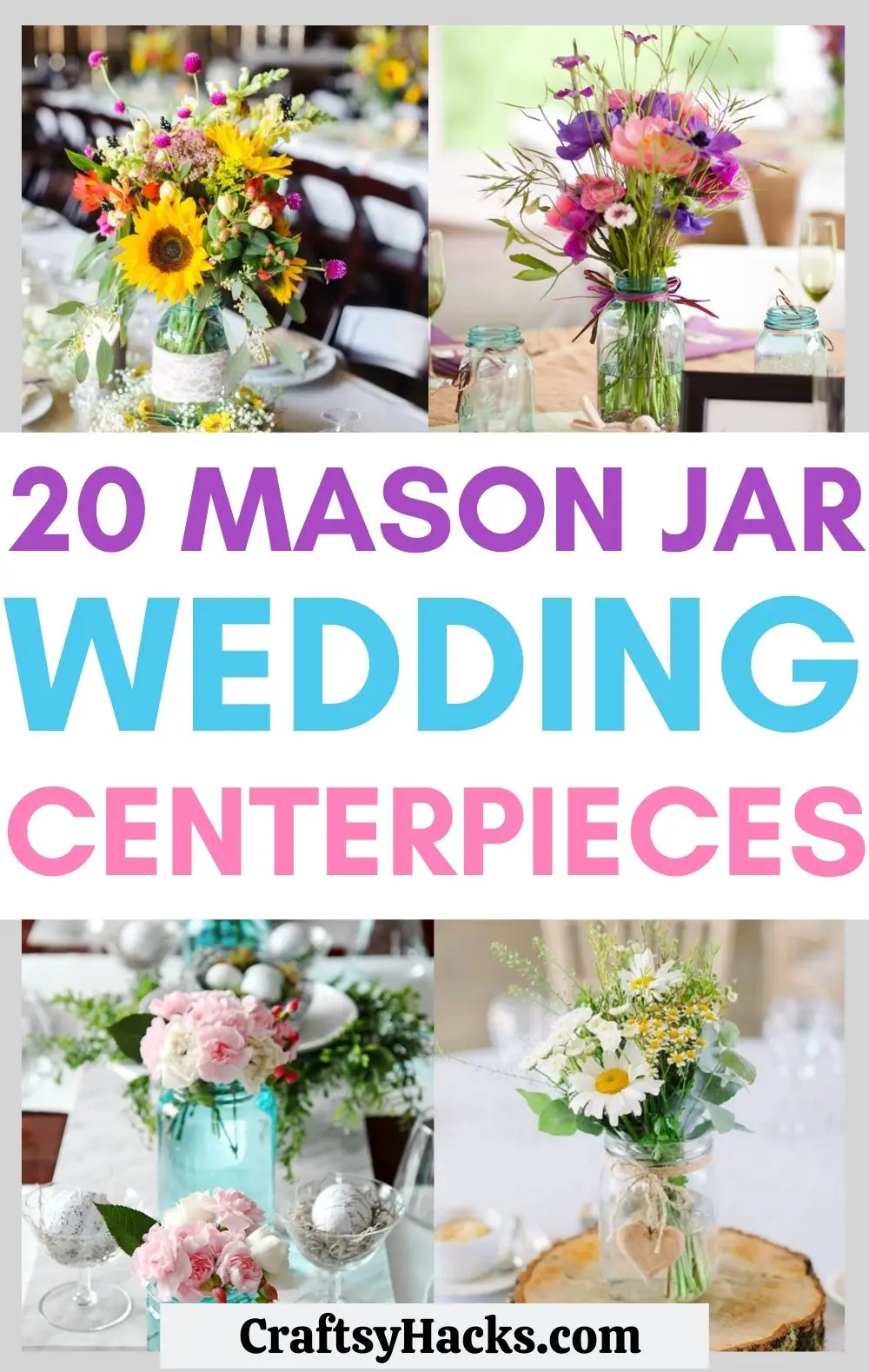 Your big day is on the horizon, the venue is decided, and your table settings have been chosen. But wait, what on earth are you going to do about the table centerpieces at your reception?
You'd be surprised how many zeroes your centerpieces can add to your overall wedding bill. In all honesty, you don't need to pay hundreds of dollars to get gorgeous focus pieces.
With the humble mason jar, you can create hundreds of different centerpiece types. This simple base ingredient is incredibly versatile, so no matter your wedding theme, you can make it work.
Let's get into just twenty of these hundreds of ideas, providing you with a springboard for your inspiration. Before we get started, make sure you have your mason jars ready. You can get them here.
1. Luminary Fall Centerpieces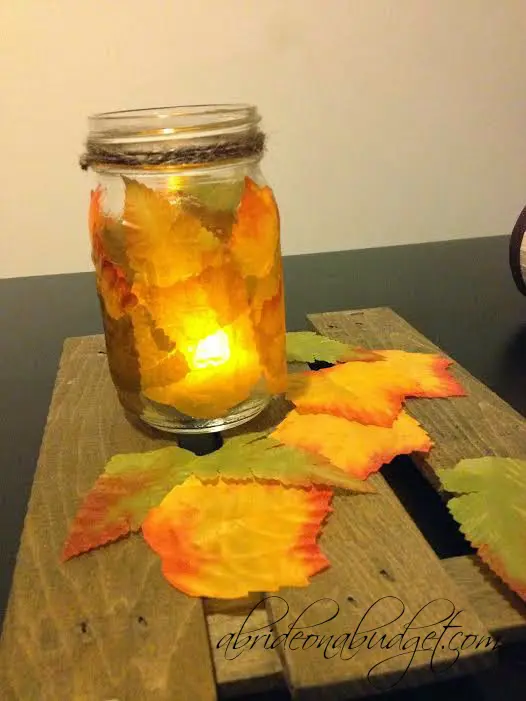 Credit: abrideonabudget.com
Light up your fall wedding with these simple-to-make centerpieces, offering a gorgeous accent to your reception. These jars illuminate every table with the shadow of green, orange, and yellow fall leaves.
The key ingredient here is, of course, the fall leaves. While you can buy faux versions here, it will add a natural touch if you can gather enough from your own backyard.
Otherwise, make sure you have Mod Podge and flameless tealights like these handy!
2. Beach Wedding Mason Jar Centerpieces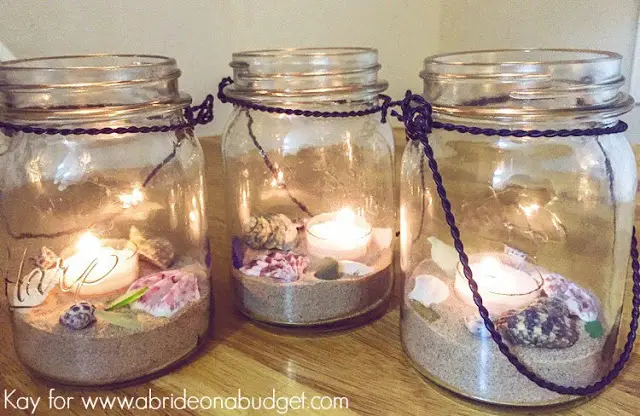 Credit: abrideonabudget.com
Let's take a sharp turn from fall-themed nuptials to the direct opposite; bright, sunshine-filled beach weddings! These adorable centerpieces use sand and tealights to provide simple yet stunning table accents.
If you're having a beach wedding and looking for ways to cut costs, these are your friend. Instead of buying myriad supplies, you can just harvest sand and shells from the beach.
3. Spring Arrangement Mason Jar Centerpiece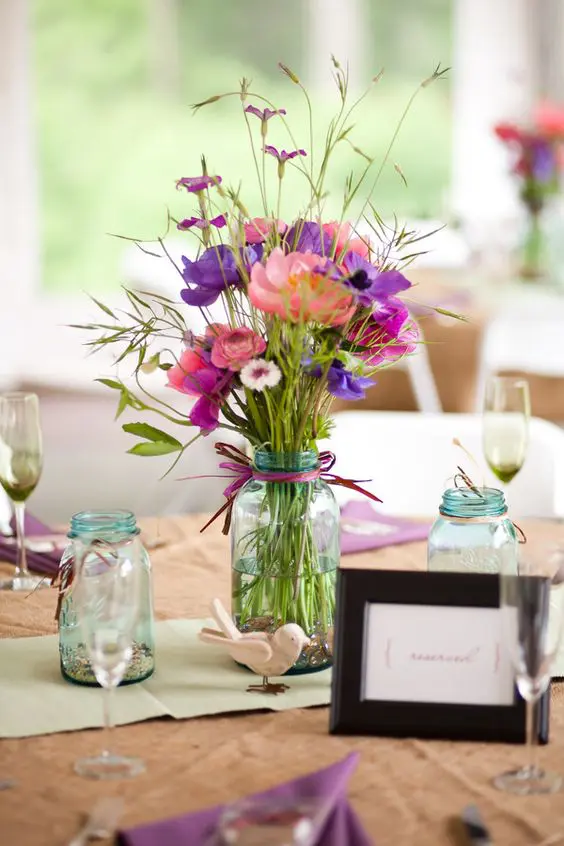 Credit: weddingomania.com
Next on our seasonal list is the vibrancy of spring. I love spring weddings for their color and sunshine, and many brides choose this season for that very reason. So, your centerpieces must reflect spring's colors!
These gorgeous spring wedding centerpieces embody springtime. You're combining natural flowers with a modern, clean mason jar. Collaborate with a florist or arrange them yourself. The sky's the limit.
If you're getting married in spring, utilizing your backyard is a great idea! Check out some creative backyard wedding ideas to save your budget.
4. DIY Photo Mason Jar Centerpiece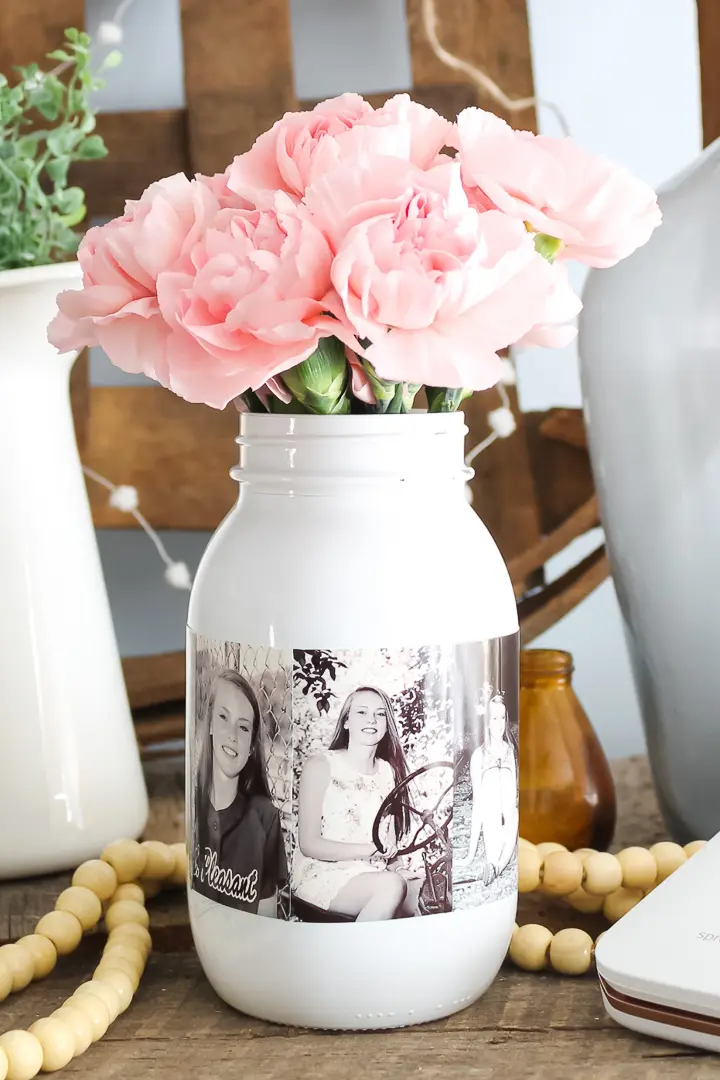 Credit: thecountrychiccottage.net
Weddings are a time to reflect on the past and look to the future. What better way to do that than with custom photo mason jar centerpieces displaying your most precious memories?
Any wedding website would charge you hundreds to create these for you, but you can make your own in a day for much cheaper. If you have an HP Sprocket that will help, but Mod Podge is a good stand-in.
5. Glowing Rustic Farmhouse Mason Jar Centerpiece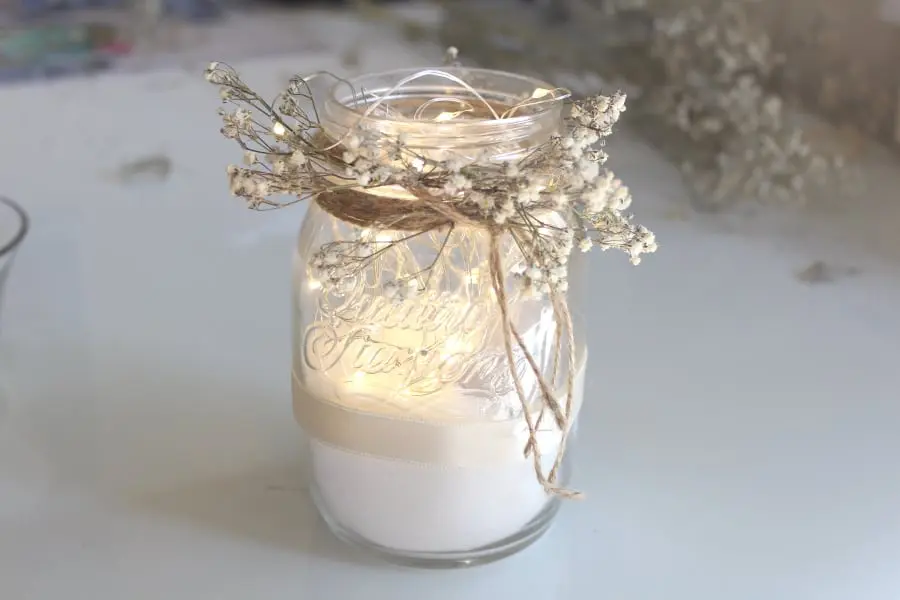 Credit: loveandlavender.com
If you've been reading CraftsyHacks for a little while, you'll know that I'm in love with farmhouse décor. Turns out, I'm not alone! Many brides and grooms are embracing this gorgeous theme for their special days.
You might be one of those lucky people. If so, these stunning mason jars take shabby chic to an entirely new level. Using jute twine, baby's breath, and Epsom salts, create your very own!
6. Burlap-Wrapped Mason Jar Vases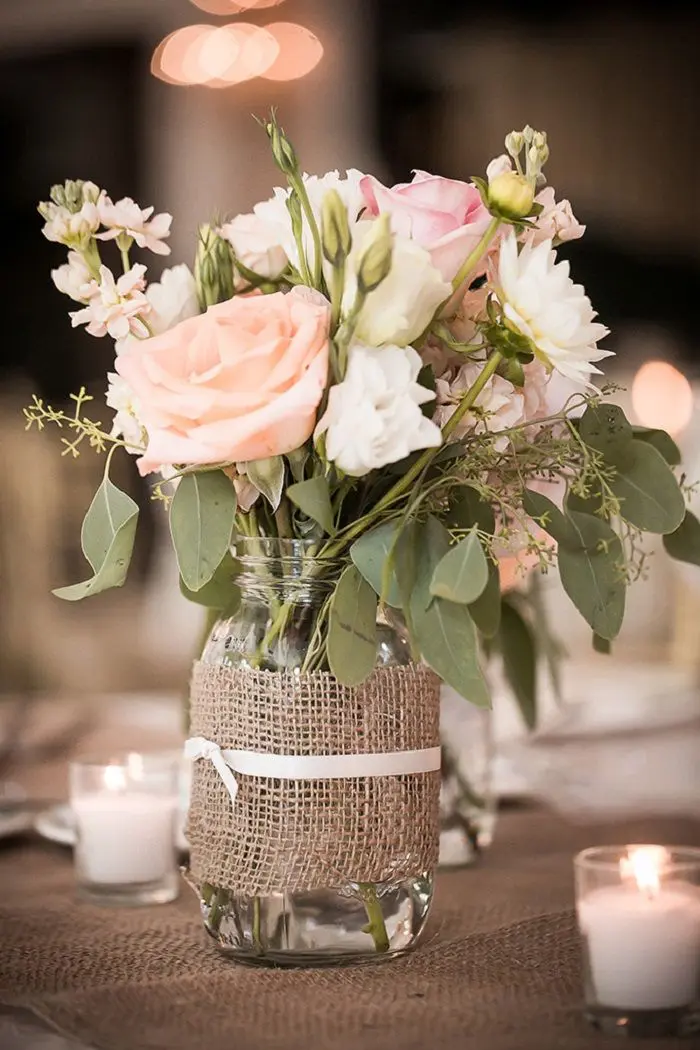 Credit: fabmood.com
A mason jar playing the part of a vase is a simple option for a centerpiece. So, why not dress it up with a shabby-chic strip of burlap? These gorgeous jars work with any wedding color scheme.
Not to mention, they come together so quickly and easily, saving you the energy you need for other wedding planning aspects. Simply wrap silk and burlap ribbon like this around a jar for effect.
7. Chalk-Painted Mason Jars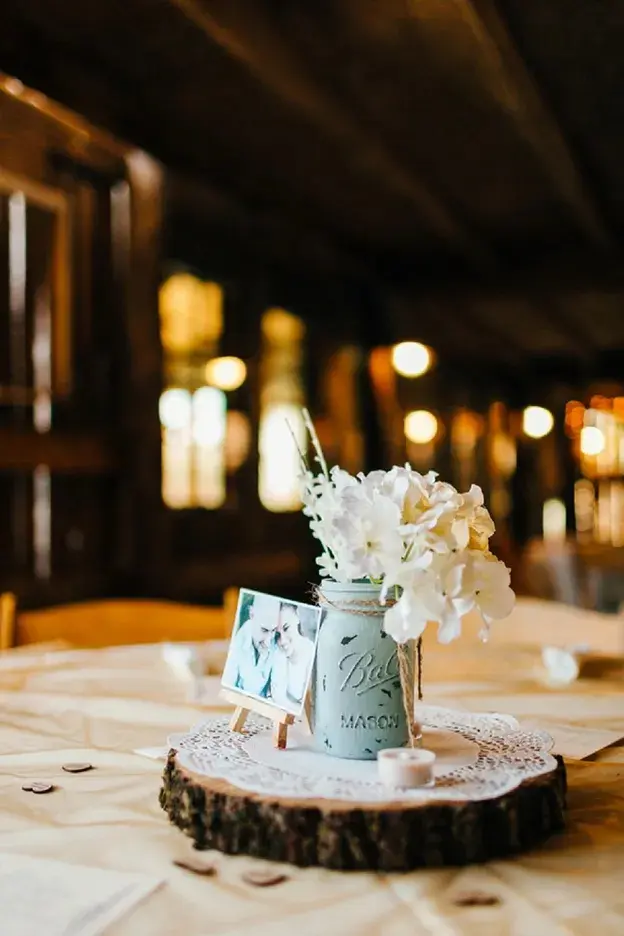 Credit: somethingturquoise.com
Rustic wedding themes are sweeping the nation. They're down-to-earth, comforting, and nostalgic enough to make the atmosphere feel warm and inviting. Make your rustic centerpieces unique!
Chalk paint is genuinely one of my favorite craft supplies. It's transformational, making even the simplest things look like they belong in a barn. Pick up some chalk paint here, fill the jar with silk flowers, and marvel.
8. Vibrant Fall-Themed Centerpiece
Credit: somethingturquoise.com
Who says a fall wedding must be done with muted colors? Fall is a season of gorgeous shades, and the right centerpiece will put these stunning colors to good use. This mason jar hack is one of those centerpieces.
Using the glittering accents of glass beads like these and glitter ribbon, you can contrast the natural rustic feel of autumn with a modern twist.
Use some log cuts as a base to bring it all together. Grab some here.
9. Painted and Distressed Mason Jars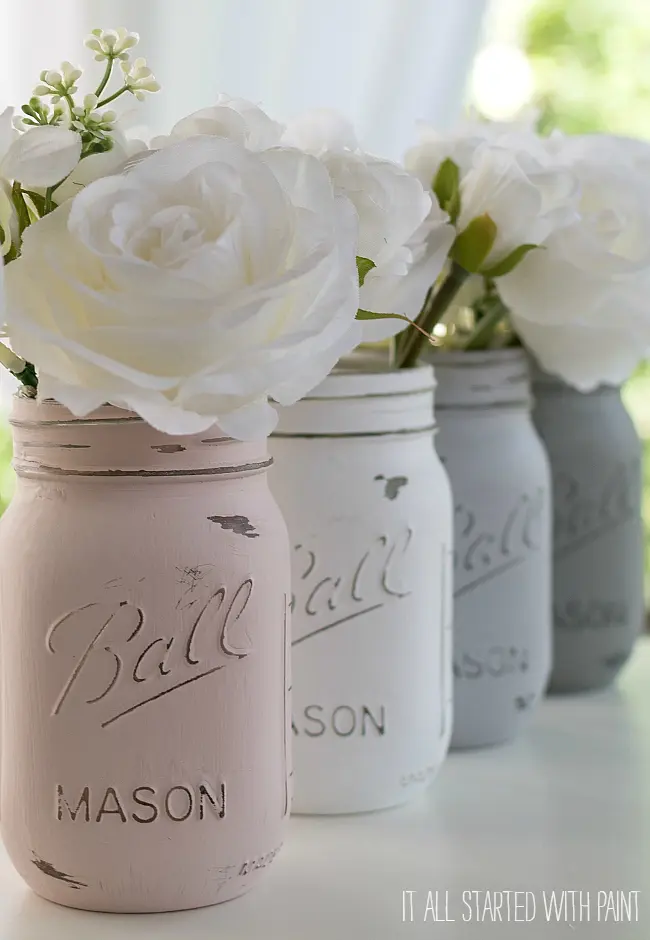 Credit: itallstartedwithpaint.com
Painted and distressed mason jars offer a gorgeous—yet humble—centerpiece for your rustic, farmhouse, or shabby-chic wedding. In fact, they work for pretty much any backyard wedding.
These are a simpler take on the chalk-painted mason jar from before. The full jar is painted, then distressed gently to age the piece.
I recommend getting jars with raised writing like these for the full effect.
10. Summer Elegance Frosted Lantern Jar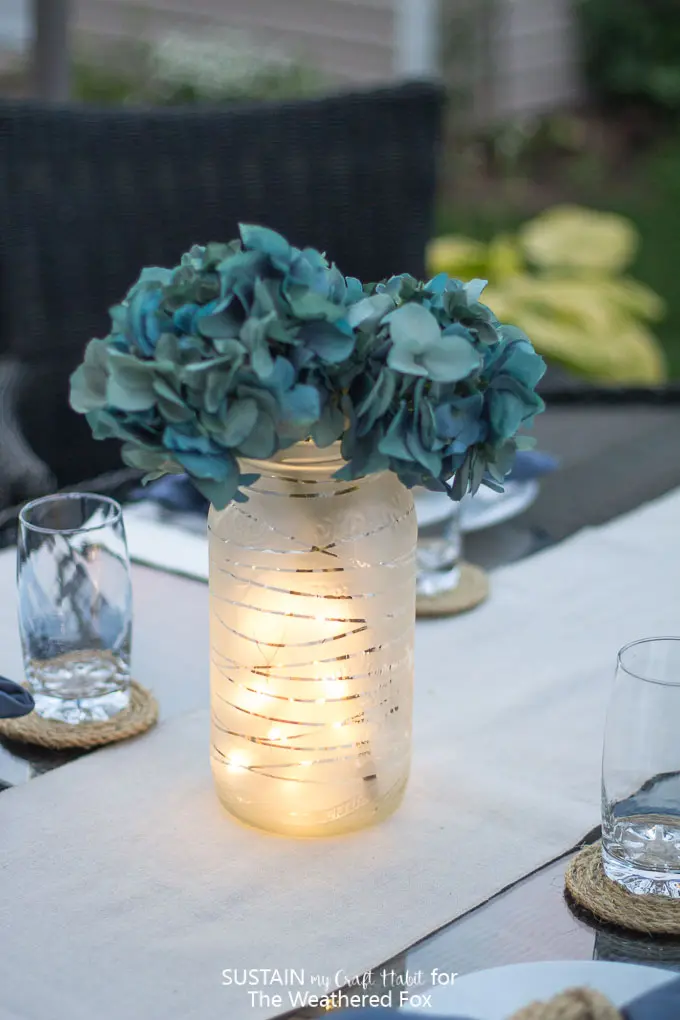 Credit: theweatheredfox.com
Avoid the costs posed by buying a bunch of lanterns. Instead, create your own to light up the night on your summer wedding day. These are stunningly easy to make, but they end up looking so professional.
Using 1-gallon jars ensures these pieces are definitely central but straightforward enough not to take away from your table setting. The critical ingredient is frosted glass spray like this, which transforms your jars.
11. Simple, Blue-Tinted Mason Jars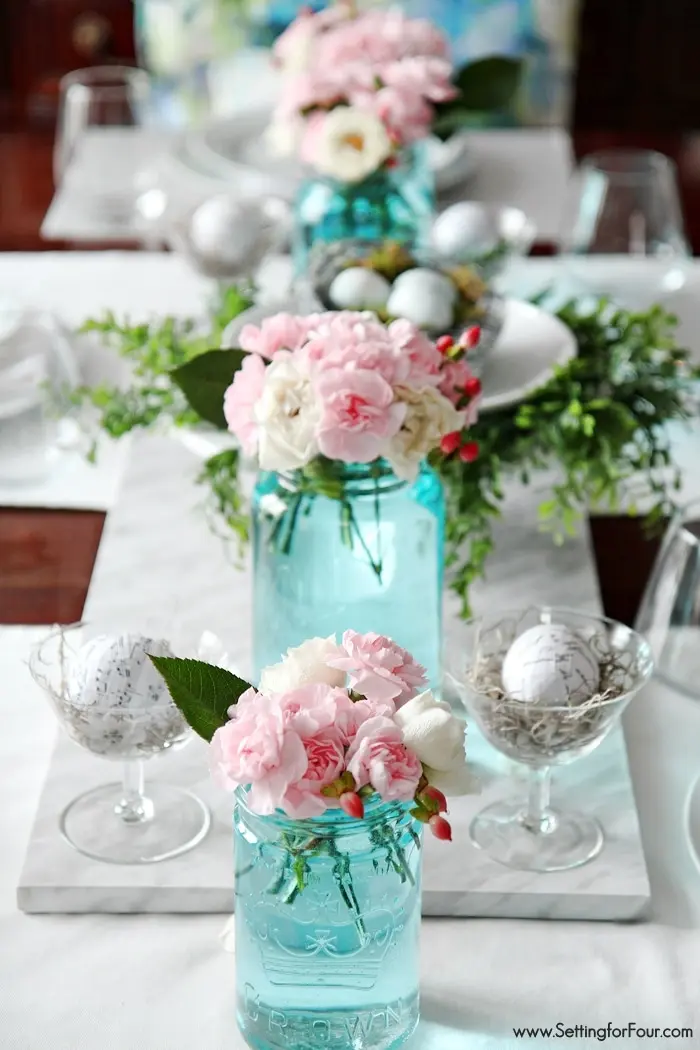 Credit: settingforfour.com
The best kind of centerpiece is one that accents the table without dominating it. That calls for simplicity with a twist, and that's precisely what these gorgeously tinted mason jars provide.
The good news is, you're not tinting the mason jars themselves. You're filing the jars with water for flowers, then dropping some dye into the water to tinge it any color you like.
12. Modern Country Wedding Mason Jars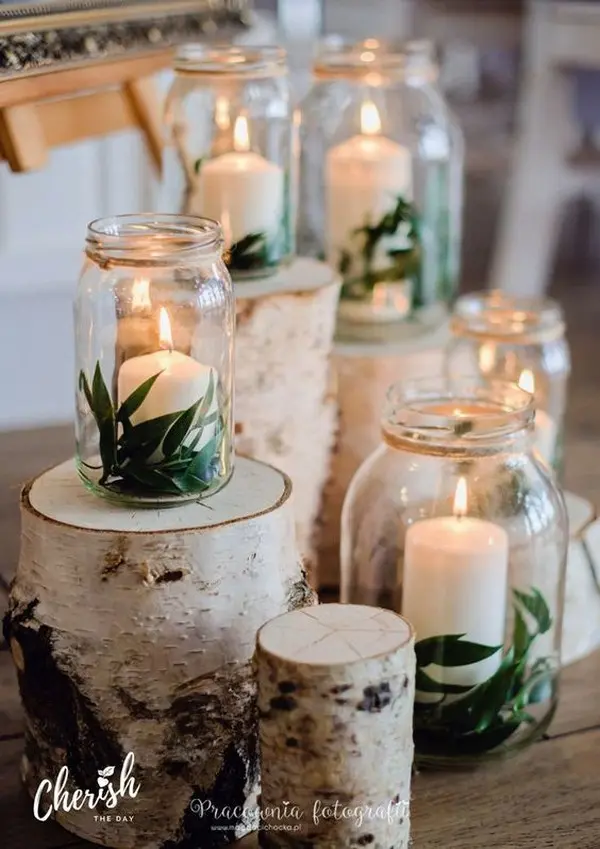 Credit: emmalovesweddings.com
Modern takes on country aesthetics are some of my favorites, and this stunning result just takes my breath away. Assembled from candles, birchwood, and leaves, I love how striking these jars are.
One thing I particularly like about this centerpiece is its use of levels. Choose birch logs of differing heights like these and place the mason jars on top, creating visual interest with a simple aesthetic. Love it.
In love with this centerpiece idea? Check out a few other wedding craft ideas to inspire you even more… on a budget!
13. Farm-Themed Dark Glass and Twine Centerpiece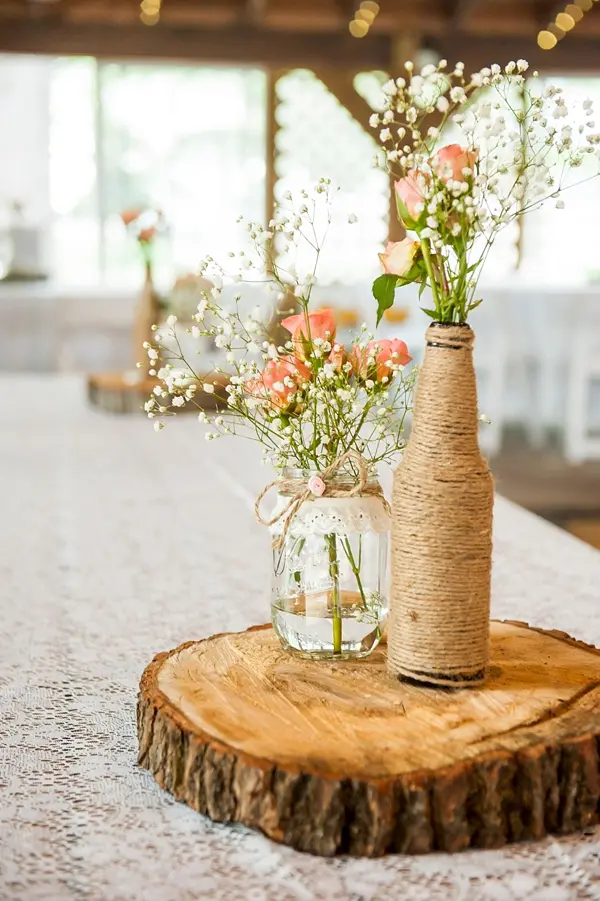 Credit: tidewaterandtulle.com
While many centerpieces use clear glass jars, I feel like dark glass is vastly underrated. Think beer bottles, kombucha bottles, and various 'essence' jars. These are some of the best accessories for antique themes!
I love how this clever bride has combined a dark glass bottle wrapped in jute twine with a clear mason jar adorned with lace. It's a beautiful way to mix masculine and feminine ideas into a single piece.
14. Four-Jar Rustic Log Centerpiece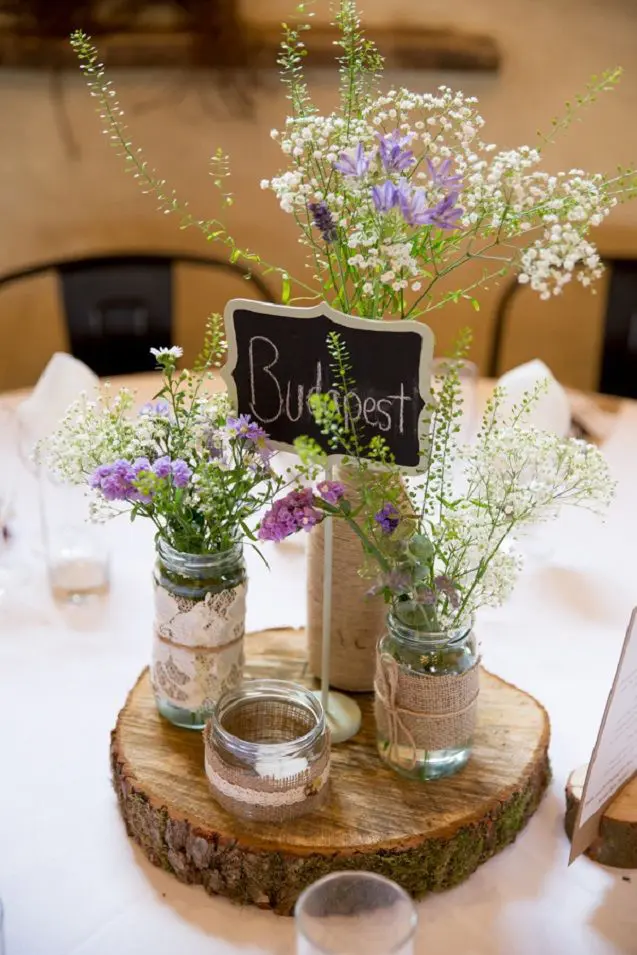 Credit: fabmood.com
Combining rough textures and gorgeous florals is a surefire way to elevate your table setting. Make your big day unique with this take on centerpieces.
Jars of several different heights are decorated with lace, twine, and burlap, filled with vibrant flowers, and stacked around chalk table labels like these. Consider using silk flowers to help them last a long time.
15. Golden Mason Jar Centerpieces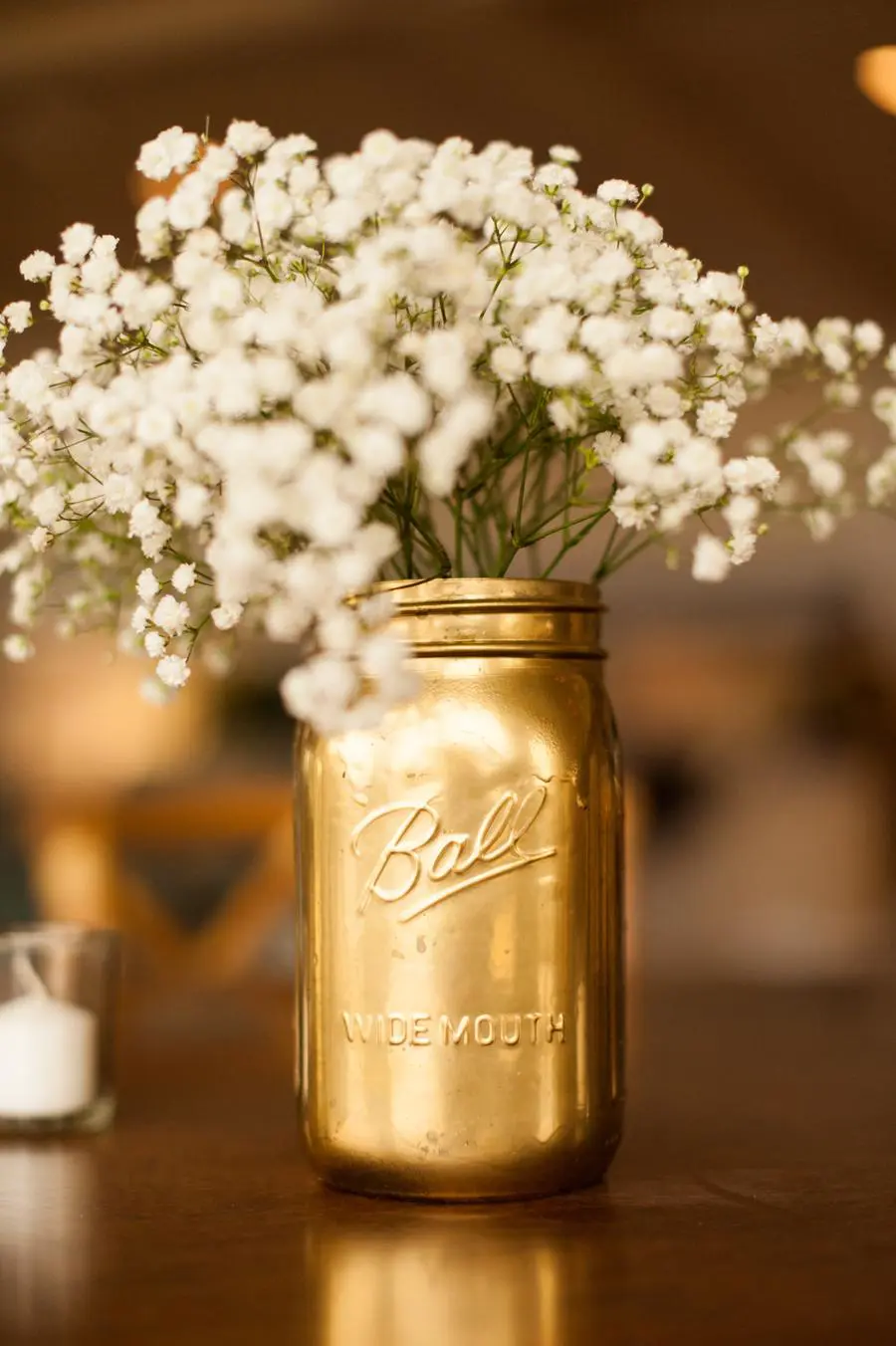 Credit: stylemepretty.com
Speaking of genius combinations, the intersection of modern gold with a rustic mason jar is so stunning.
Not to mention, they're so easy to make in bulk.
So, if you've got a big wedding, this is perfect for you.
All you need to make this craft perfect is gold spray paint (I like Rustoleum's) and some vintage mason jars. Fill the jars with a simple, clean flower-like baby's breath to complete the look.
Check out more wedding hacks using Dollar Store items here.
16. Glittered Mason Jars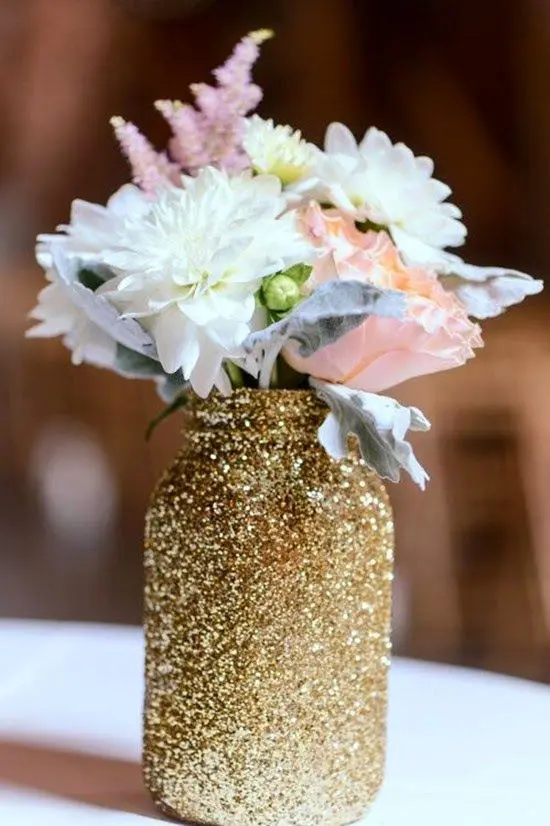 Credit: weddingomania.com
You think the last craft was gold? Wait until you see this stunning glittered mason jar!
This embraces all the modern gold and glitter trappings, turning into a delightful centerpiece with some blush blooms.
These can be created in a couple of different ways. The first relies on Mod Podge, a paintbrush, and a lot of gold glitter.
The second uses gold vinyl like this, but that might be more time-consuming.
17. Burlap Heart Centerpieces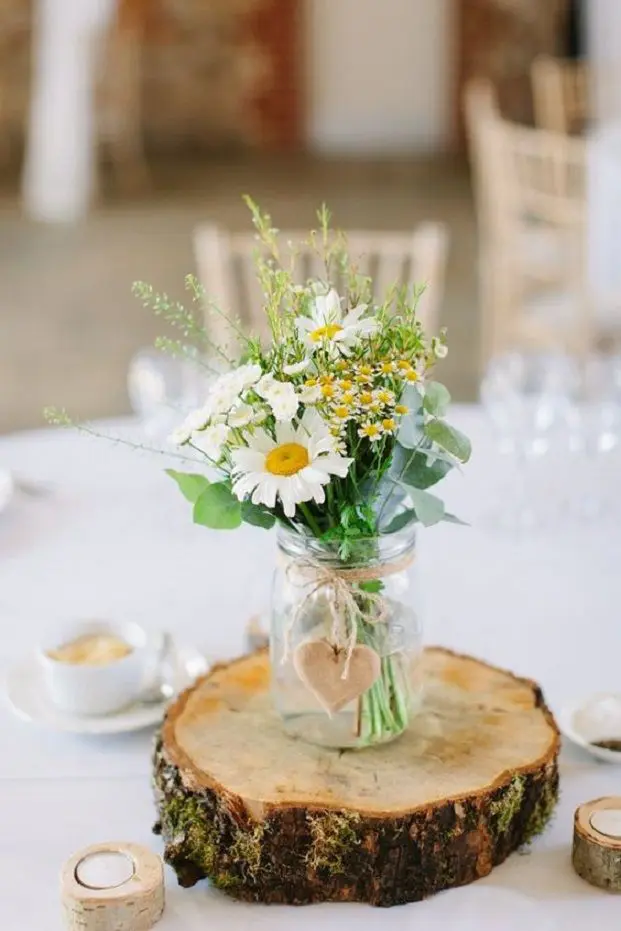 Credit: fabmood.com
Rather than using chalk labels or standing numbers for your centerpieces, why not incorporate a rough texture like burlap to elevate that rustic appeal? I'm in love with the combination of clear glass and burlap.
Simply start off with a large sheet of rustic burlap like this and small wooden hearts (here). Drill holes through the hearts to wind twine through before sticking the burlap on to create your labels.
18. Country Chic with Burlap and Lace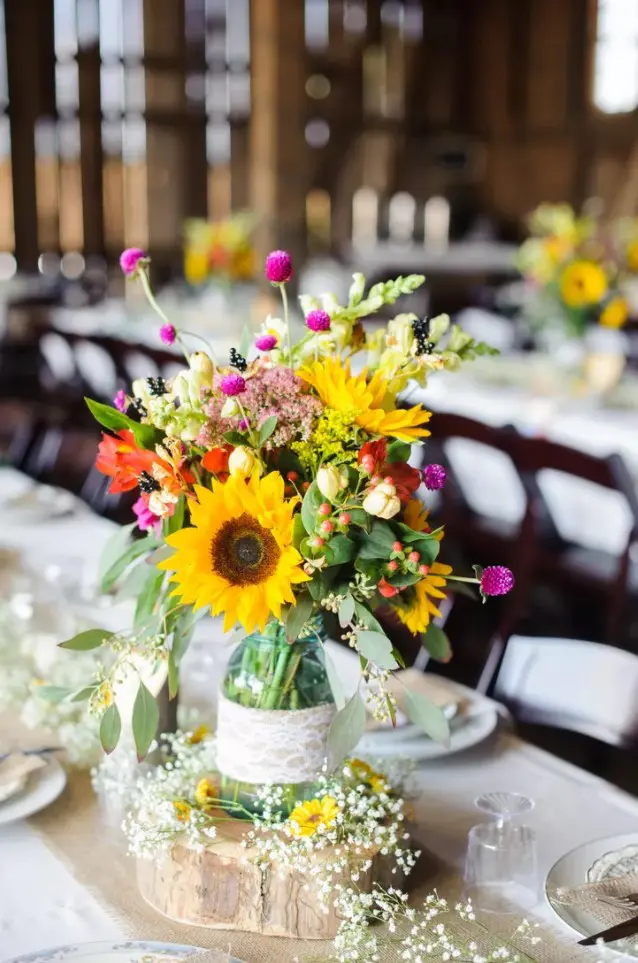 Credit: theknot.com
The combination of lace and burlap absolutely screams country chic, and I, for one, am in love with the look. You can create a long ribbon of lace over burlap, then use it to adorn clear jars as centerpieces.
To get the full effect, make sure you choose a lace with enough gaps to let the burlap show through. This can be a pain to glue, but if you pick up a spray adhesive like this one, you should be fine.
19. Doilies are Good for More than Sidetables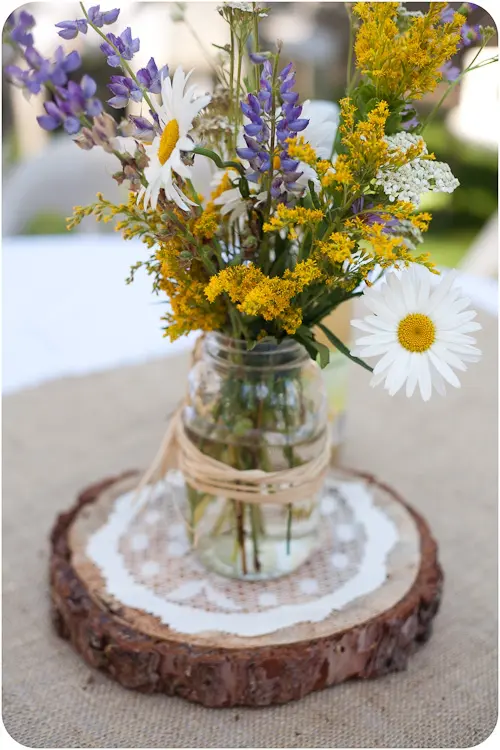 Credit: elisajoy.com
If you have many lace doilies—maybe as family heirlooms—this is the centerpiece idea. Once again, we're combining rough and smooth textures to create a shabby chic look.
However, this centerpiece has a decidedly old South feel to it. The doilies put us in mind of grandmothers weaving lace, mint green sidings, and the smell of honeysuckle in the air.
20. Classic and Contemporary Mason Jar Centerpiece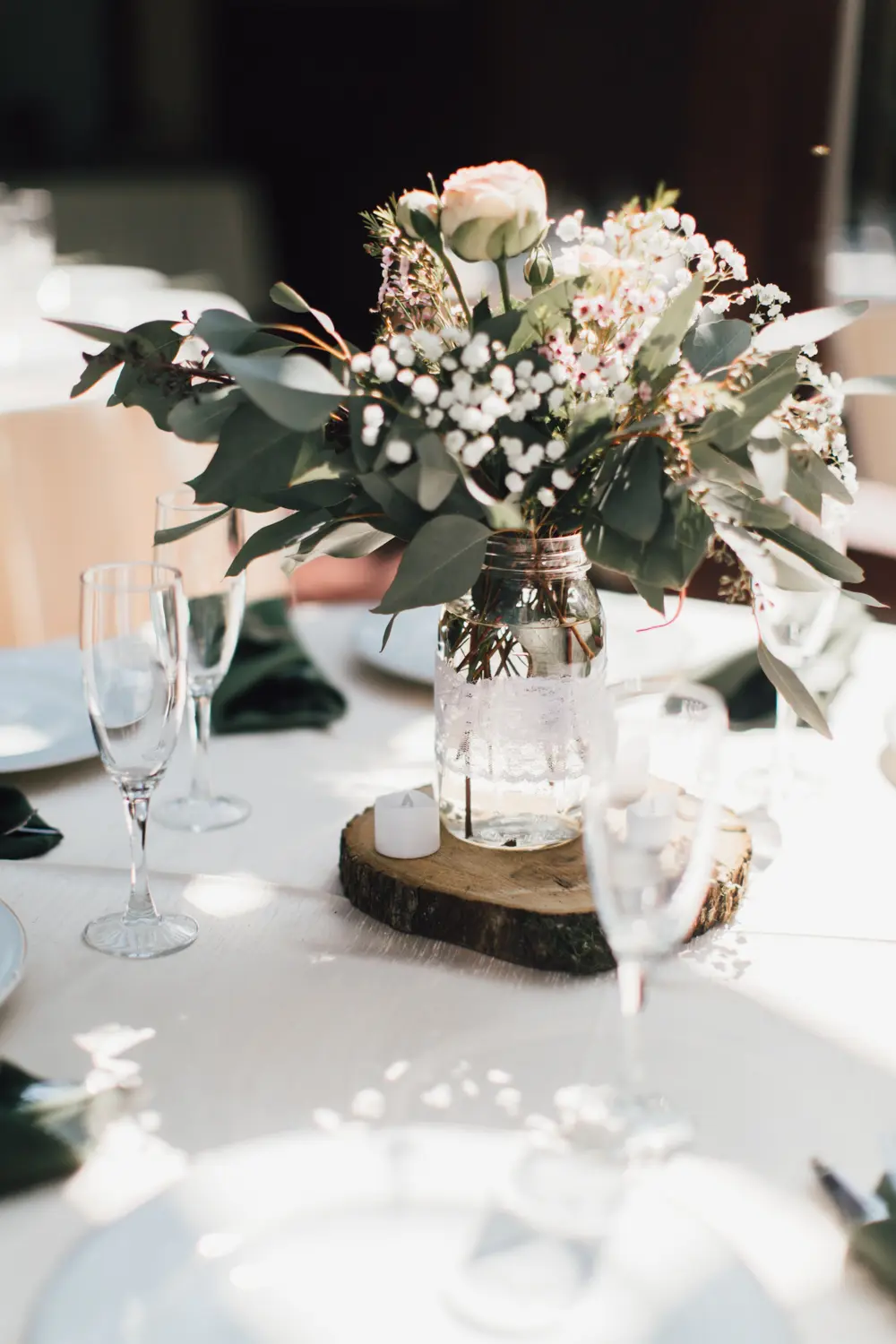 Credit: whimsicalwonderlandweddings.com
Finally, this list's last centerpiece is clean and modern, using mason jars as vases and log cuttings as a base. The key to this centerpiece's success is your choice of floral arrangement, so be careful!
I suggest combining baby's breath and sage with large pastel focus flowers such as roses or gerberas for a rustic yet modern aesthetic. You might even use cotton buds for a unique, edgy take.
Don't worry if you're cutting costs! You can purchase pre-made fake floral arrangements that would suit this craft here. Get some ideas to match these centerpieces with these beautiful wedding backdrops.
Conclusion
Which one of these wedding centerpieces is your favorite? Let me know in the comment section!