Looking for the perfect backdrop for your wedding? Get crafty with these amazing wedding backdrops!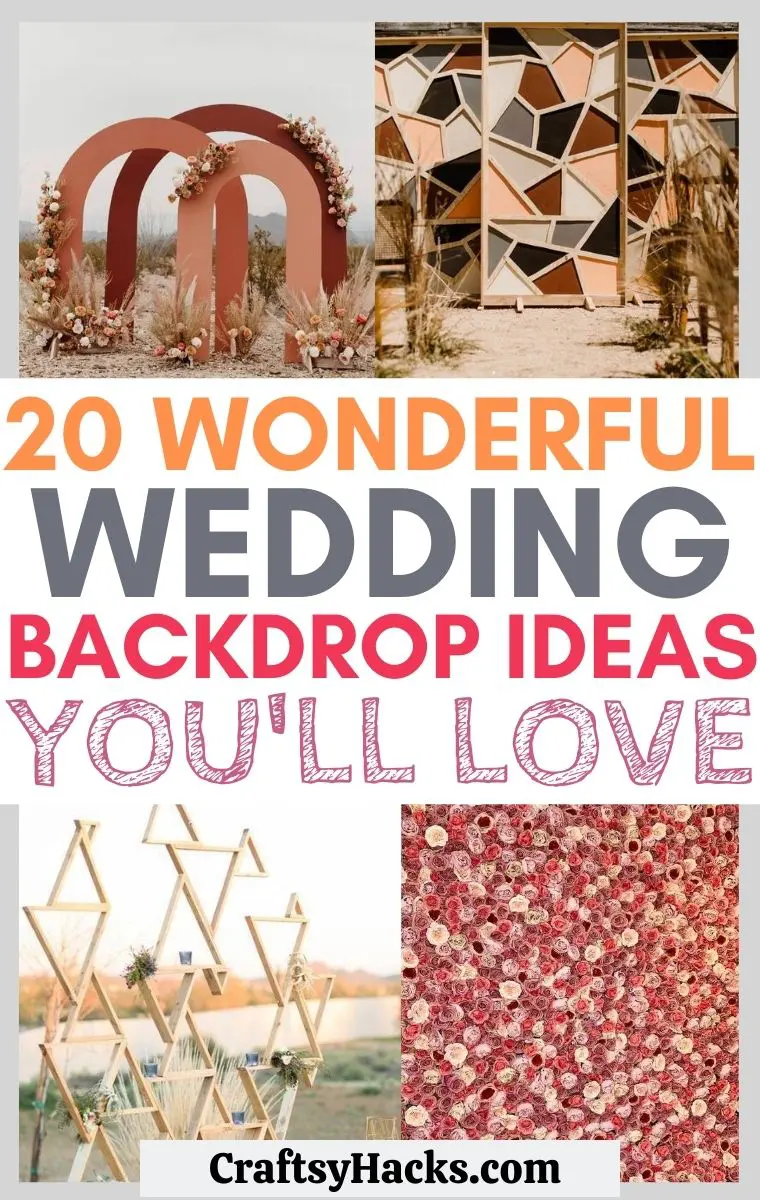 Weddings are one of those special events where everyone wants to create picture-perfect memories. Regardless of how far you are at with your wedding planning, don't forget to include a few wedding backdrops.
Sure, your venue may already be stunning, but an amazing backdrop is a perfect compliment for everyone. From glammed-up guests and stylish entourage to the stunning groom and, of course, the drop-dead gorgeous and beaming bride!
1. DIY Geo Arch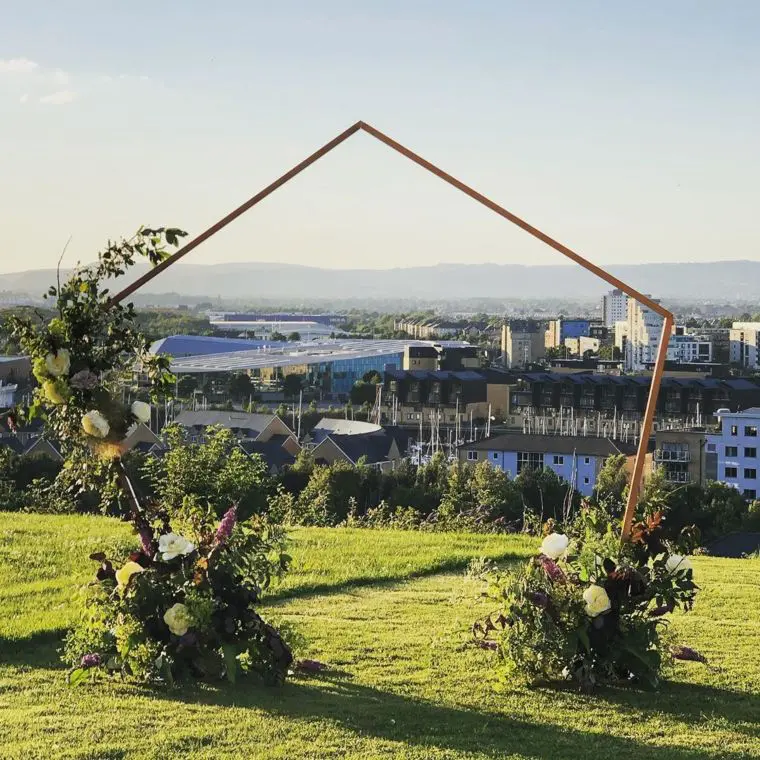 Credit: Instagram
If your wedding ceremony is set atop a hill with magnificent overlooking views, you can probably do away without a backdrop.
But if you wanted to accentuate the ceremony area, having a simple arch like this creates a frame-like effect that would draw everyone's attention to the couple and the celebrant.
Check out more creative backyard wedding ideas like this.
2. Copper Square Arch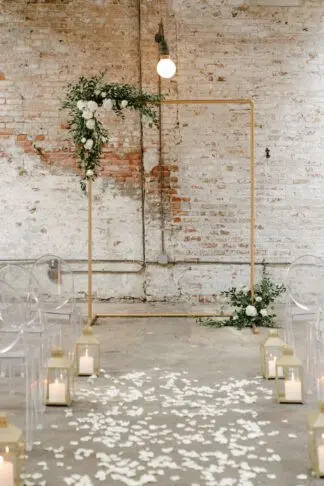 Credit: theweddingofmydreams.co.uk
This time, if the wedding ceremony is indoors, a relatively smaller square arch will do it. You don't have to get one custom-made for you.
All you need to do is go around thrift shops to find a tall clothes rack. The industrial or commercial-sized ones should do the trick. Ask your local shops, and maybe they can rent it to you for a minimal cost (or maybe even free).
Give it an elegant vintage look by painting it with copper spray paint, like this. If, however, you borrowed or rented the clothes rack, the best thing to use is a copper foil tape available here, which you can easily remove after the wedding.
You can get a copper arch like the one in the picture, here on Etsy.
3. Wedding Flower Wall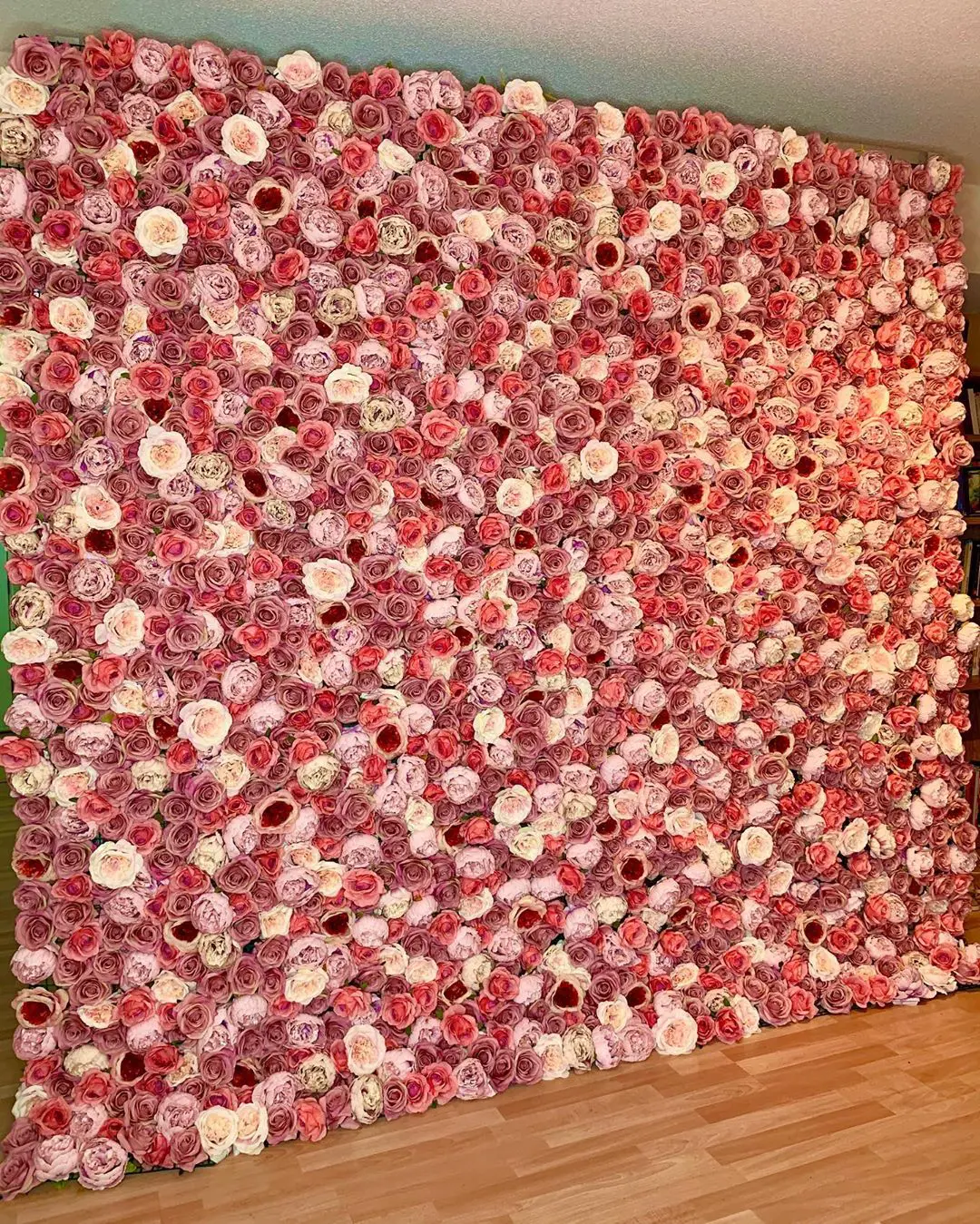 Credit: Instagram
This floral wall is perfect for an indoor wedding reception. I imagine it perfectly positioned on the wall behind the table, holding your wedding cake.
Dedicated photo booths or photo areas have become a trend for events, especially following the popularity of Instagram. If you plan to have one at your wedding, this floor-to-ceiling floral décor would be the perfect backdrop for that area.
Having this many real flowers can be pricey, but you can always get cheaper faux flowers, such as those found here. They come in a pack of four panels, making it easy for you to assemble it onto the wall.
4. Floral Hoop Backdrop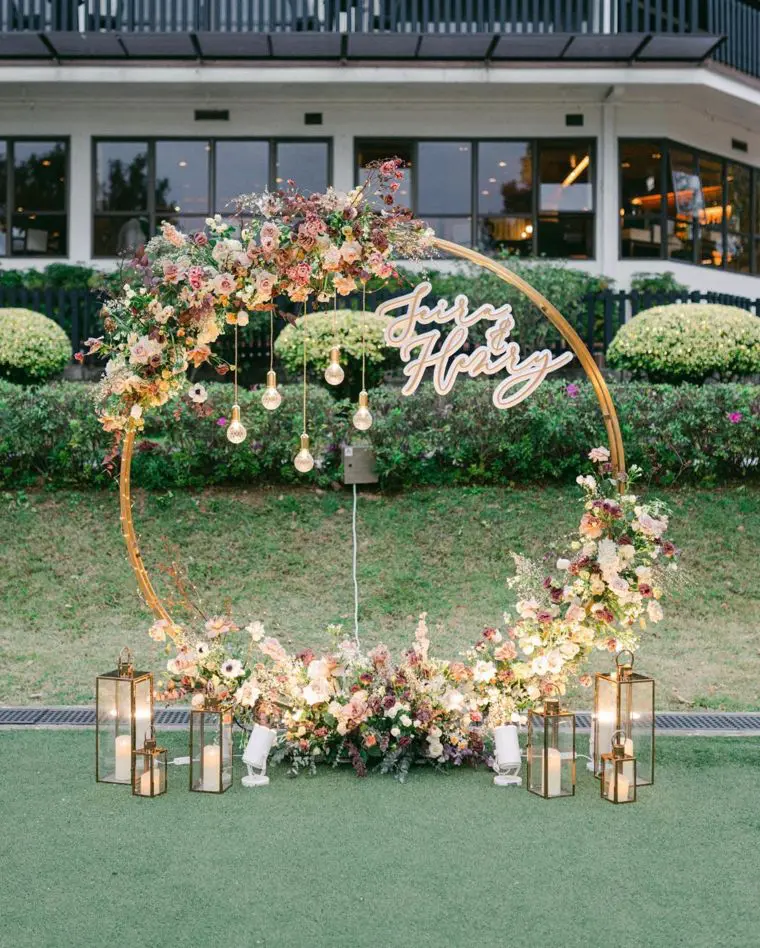 Credit: Instagram
This stunning floral hoop backdrop would be perfect for a garden or boho-themed wedding. The combination of different lighting pieces already looks amazing in daylight, but I bet it looks twice as stunning for a night-time wedding reception.
If you're drawn to the beautiful pendant lightbulb pieces in this backdrop, I discovered you can get them in packs of two via this page.
In case you're struggling, you can get your wedding hoop arch here and lanterns here.
5. Layered Arch Backdrop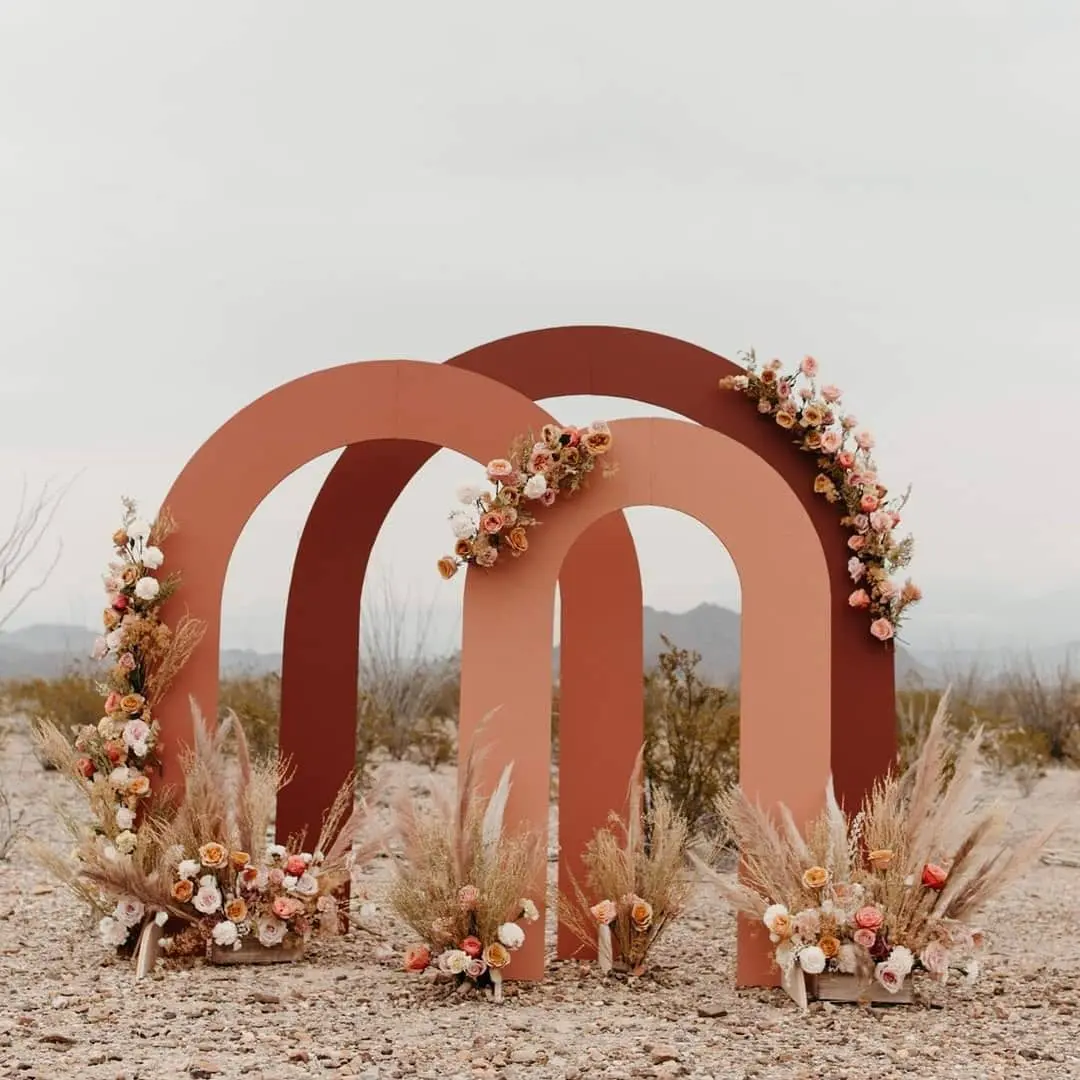 Credit: Instagram
Mixing different colors and sizes of arches is a great way to add dimension to a backdrop. This particular backdrop used various shades of terracotta in a dessert-like setting.
But this will work just as well with any other colors as well as other wedding venues. Use these layered arches as a backdrop for your ceremony or place it in the reception venue as a photo booth backdrop.
Watch your guests line up just to take photos in front of it. It will truly be a wedding to remember!
6. Monogram Wall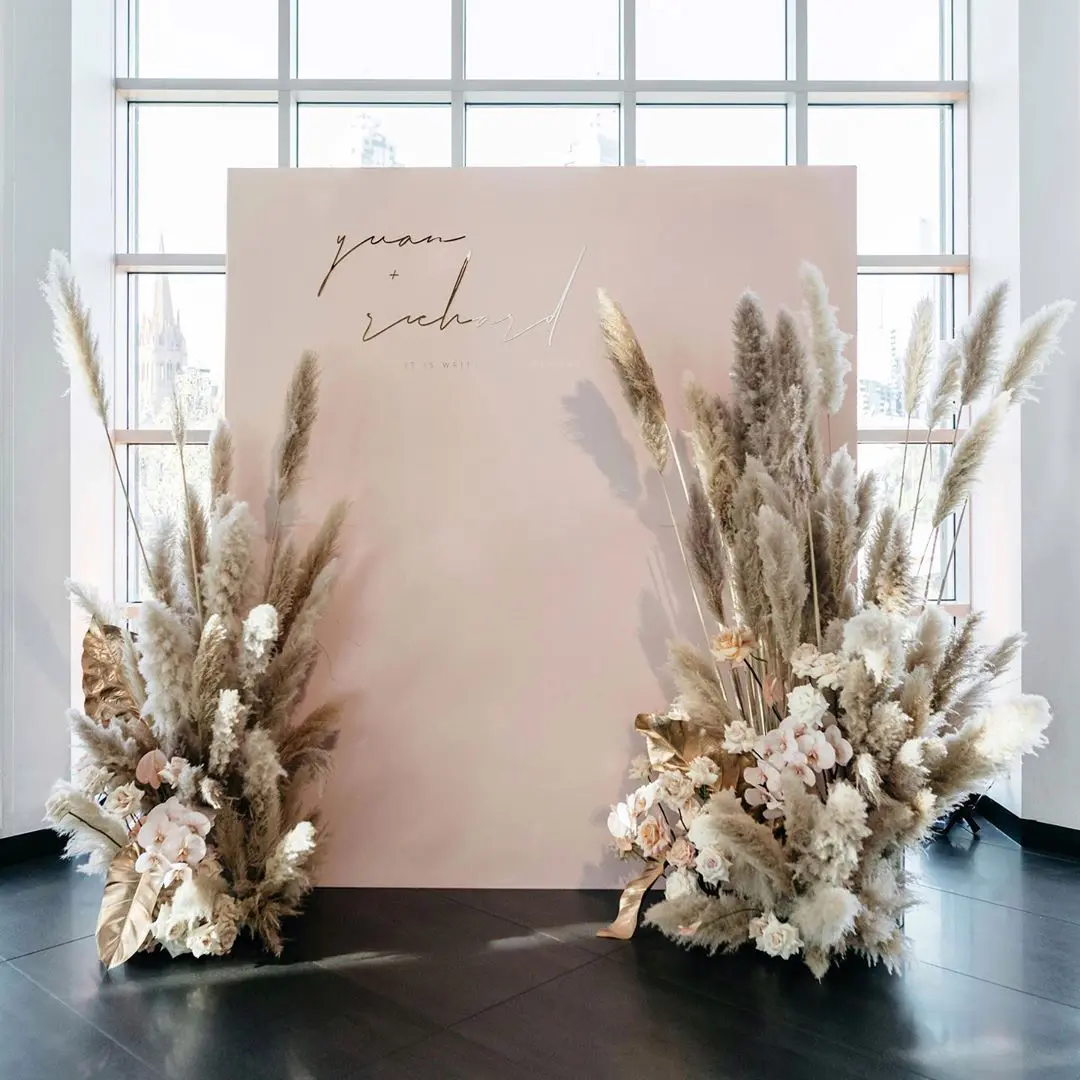 Credit: Instagram
Less is definitely more in this very neutral yet elegant-looking backdrop. If you want to do something similar, these gold vinyl sheets will stick really well to cardboard or plywood.
Position this by the reception venue's entrance, and ask one of the wedding photographers to use it as a backdrop for guests as they arrive.
Once everyone is inside, move it by the gift table or near the exit door. Attach a few metallic markers like these, and leave a sign asking your guests to write messages on the board.
After the wedding, you can use it as a decorative piece in your home. Now isn't that a great way of always remembering the special people who came to your special day?
7. Wall Mosaic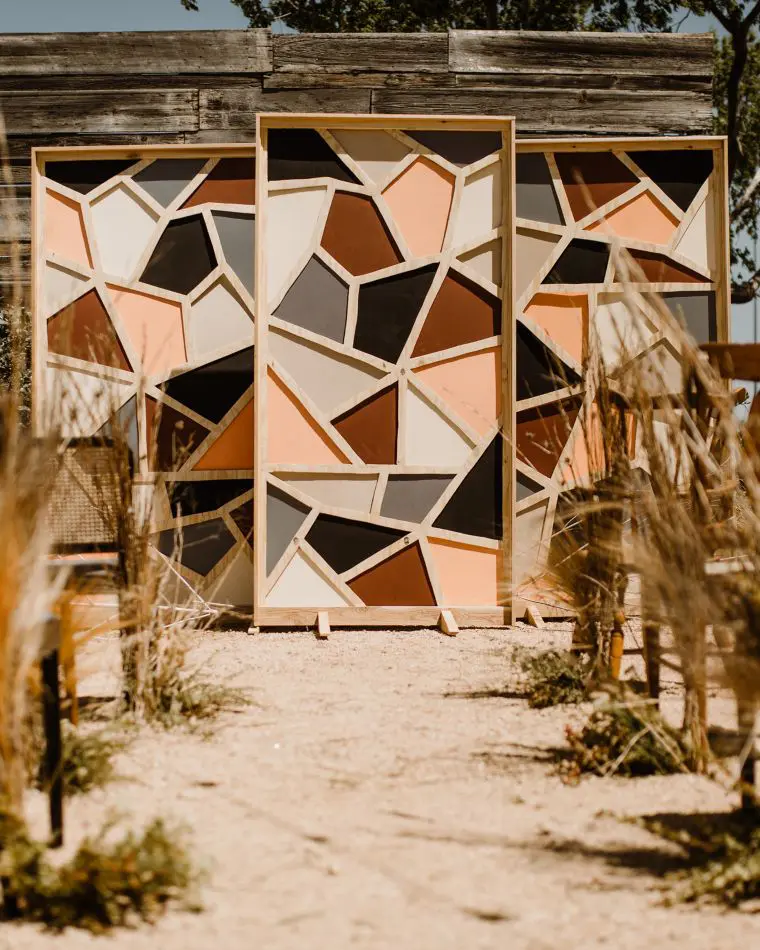 Credit: lightasgold.com
This wall mosaic is the perfect backdrop for an outdoor wedding ceremony, especially if you have it in an extremely open area. Having these gorgeous panels pulls the focus towards the couple and the wedding celebrant.
Just make sure your mosaic colors are subtle enough that they don't overpower your wedding outfits.
8. DIY Crepe Paper Outdoor Wedding Backdrop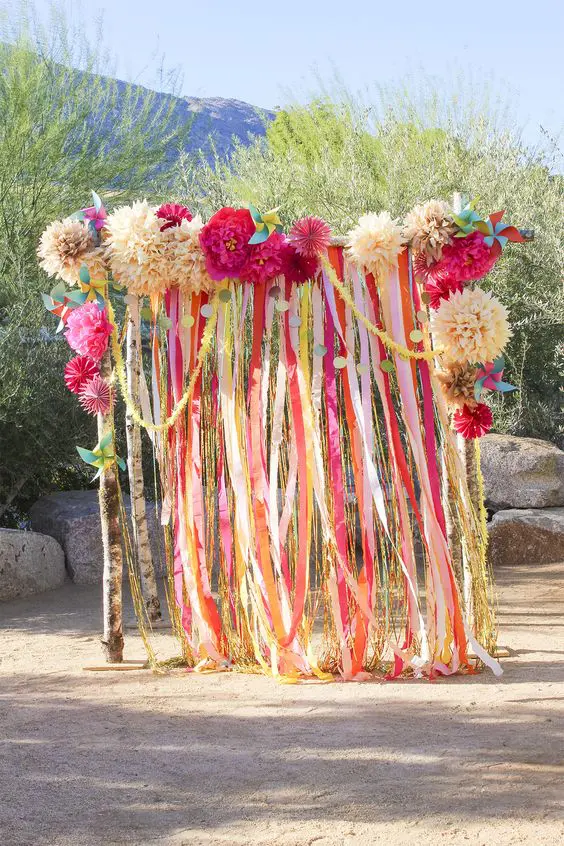 Credit: ourlaboroflove.com
You gotta love the versatility of crepe paper! They can be used in any type of craft – and yes, that includes your wedding backdrop.
If your wedding is set by the beach or any other breezy outdoor nature, this flowy crepe paper backdrop will surely give added drama to your wedding photos and videos. Here's where you can get crepe paper in bulk, in case you decide to go for this backdrop.
You could also use lights with this one. Check out more wedding lighting ideas here.
9. Macramé Wedding Backdrop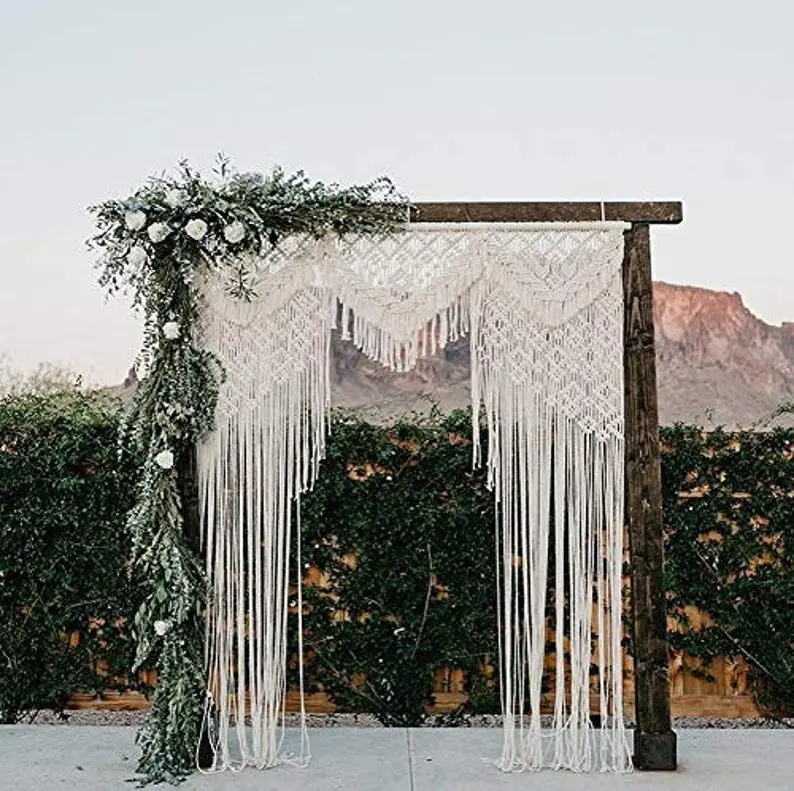 Credit: Etsy
This macramé wedding backdrop is, without a doubt, a boho wedding must-have! You can get them pre-made, or you can do it yourself.
If you decide to do it yourself, you can buy lengthy macramé cords here. You may need a few days or weeks to complete it but think of it this way. It's an excellent form of therapy to ease the wedding jitters away.
Love this? You can get the macrame backdrop from above here.
Check out more Dollar Store wedding hacks for low budgets!
10. Flowers and Wooden Crates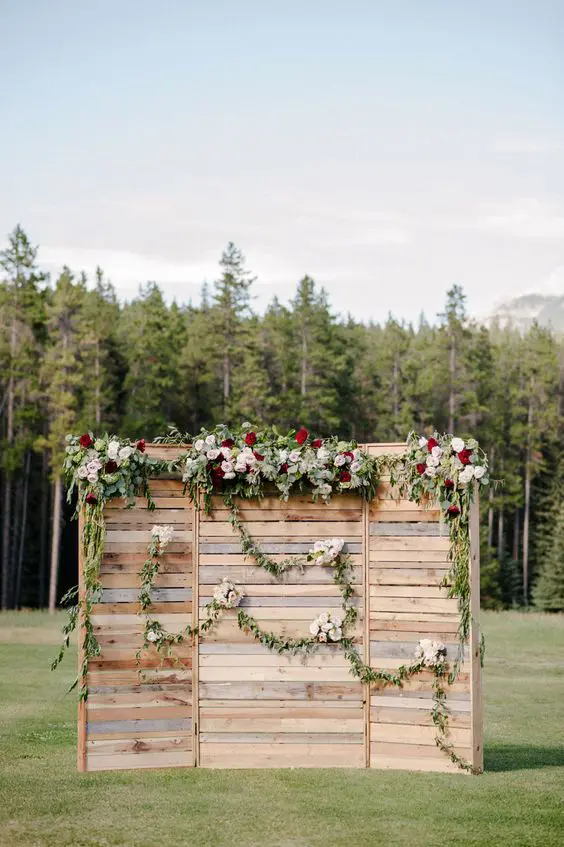 Credit: calgary-wedding-photographer.com
Another outdoor wedding backdrop idea is the use of wooden crates adorned with flowers. Again, this is an excellent backdrop for ceremonies held in wide-open spaces, as it draws everyone's attention away from the scenery and focuses them on you.
The icing on the cake: if you're resourceful enough, you may spend absolutely nothing on this backdrop!
11. Faux Green Wall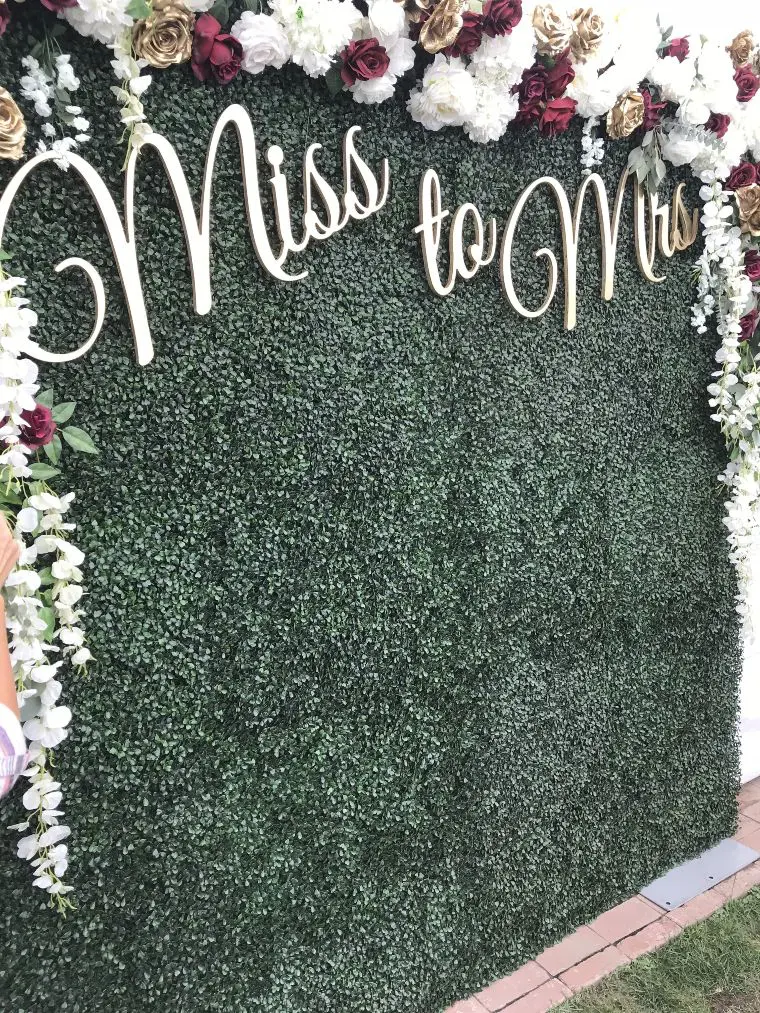 Credit: Pinterest
If you want the feel of greenery, but your venue is set somewhere that lacks it. This is the perfect backdrop solution for you.
You can choose to make one wall-sized backdrop, or if the budget permits, you can also line the four corners of your venue with greens.
Here is where you can get pre-made faux green panels if you decide to go for this backdrop. You can make a custom sign for your and your lovebird here similar to the one in the picture.
12. Lanterns, Flowers, and Greens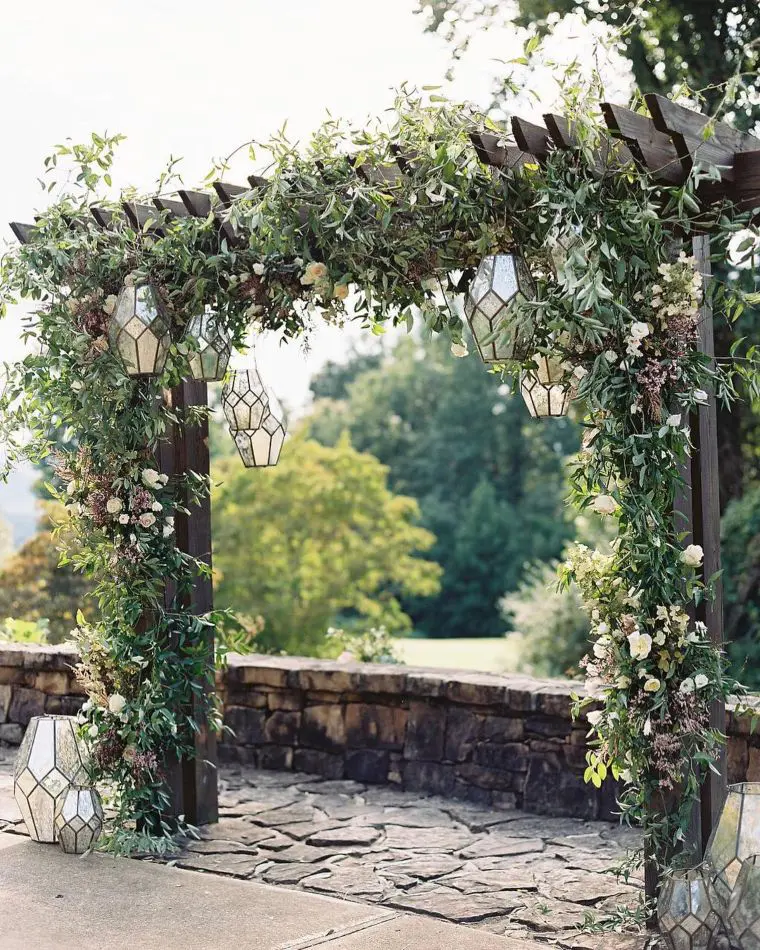 Credit: Instagram
Some wedding venues already have good-looking backdrops, and all that's needed is a bit of sprucing up. Just like this garden-style location, using a combination of flowers, lanterns, and vines to give more life to the location's existing arch.
I fell in love with the lamps used in this example. Although I wasn't able to find the exact lanterns, I found these, which are close enough.
13. Chalkboard-Inspired Backdrop Wall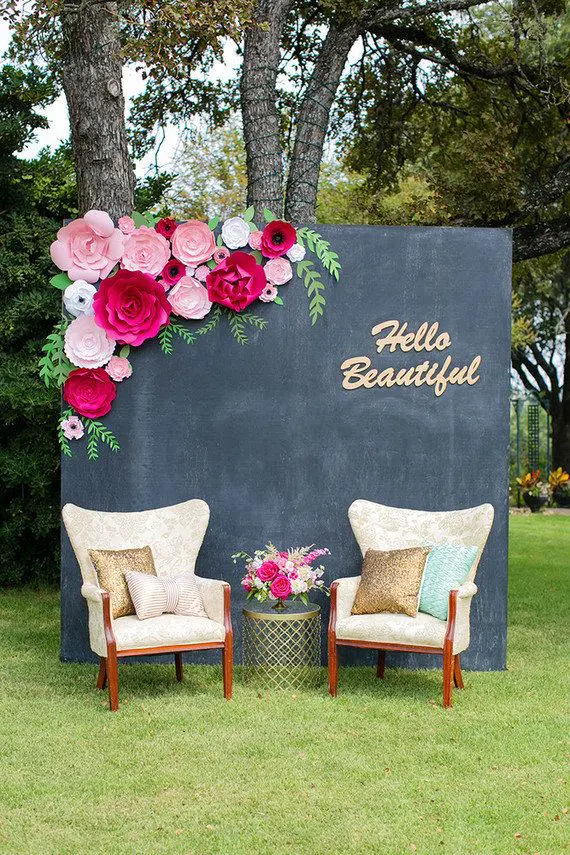 Credit: Etsy
Remember the white monogram board I showed you earlier in this list? This chalkboard-like wall does a similar effect. While the white one suits a more formal-style wedding, this black one would work great in a more relaxed wedding theme.
It's super easy to do. You just need a similar-sized wood panel (it doesn't have to be new either). Once you got your board, simply paint it over with chalkboard spray paint, like this.
You can get a similar backdrop here on Etsy.
14. Refurbished Old Doors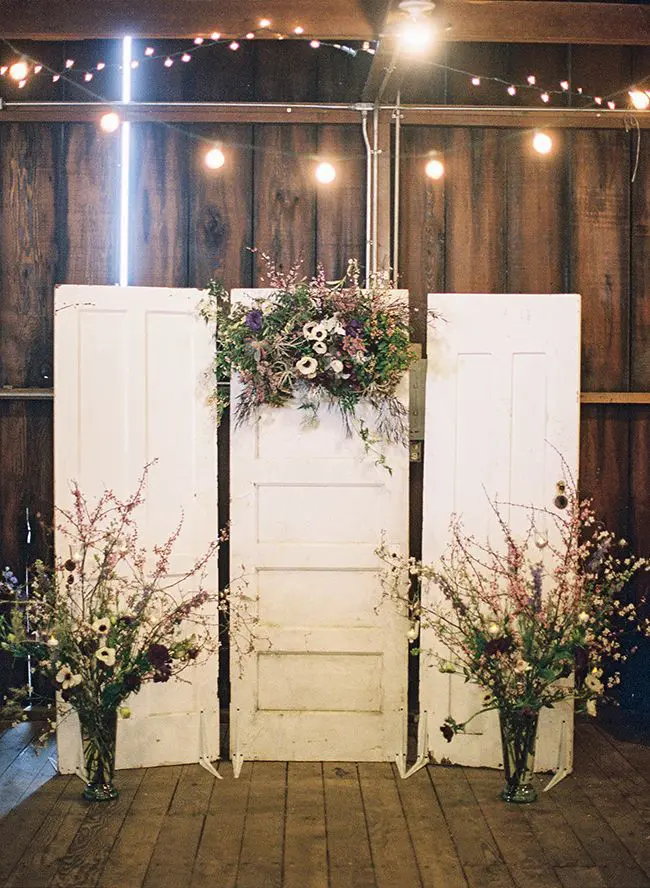 Credit: inspiredbythis.com
A very inexpensive backdrop for a rustic or vintage-themed wedding is the use of old door panels. You don't even need to paint them over, as their aged look adds to the beauty, and complements your farmhouse or vintage them really well.
You can rest the doors on the wall, or allow them to stand freely by securing them in place with L-brackets similar to these.
15. Loving Words on Fabric
Credit: Instagram
If you and your fiancé are the sentimental types, you would love this fabric backdrop, printed with a love poem.
Here's a tip to make your backdrop even more special: ask your maid of honor or best man to get a copy of your wedding vows and have them pre-printed on fabric. They can then have this hanging on a corner in the wedding reception venue either as a wedding cake table backdrop or photo area backdrop.
After the wedding, this would be perfect décor for your home, something to constantly remind you of your promises to each other on that special day.
16. Floral Vine Backdrop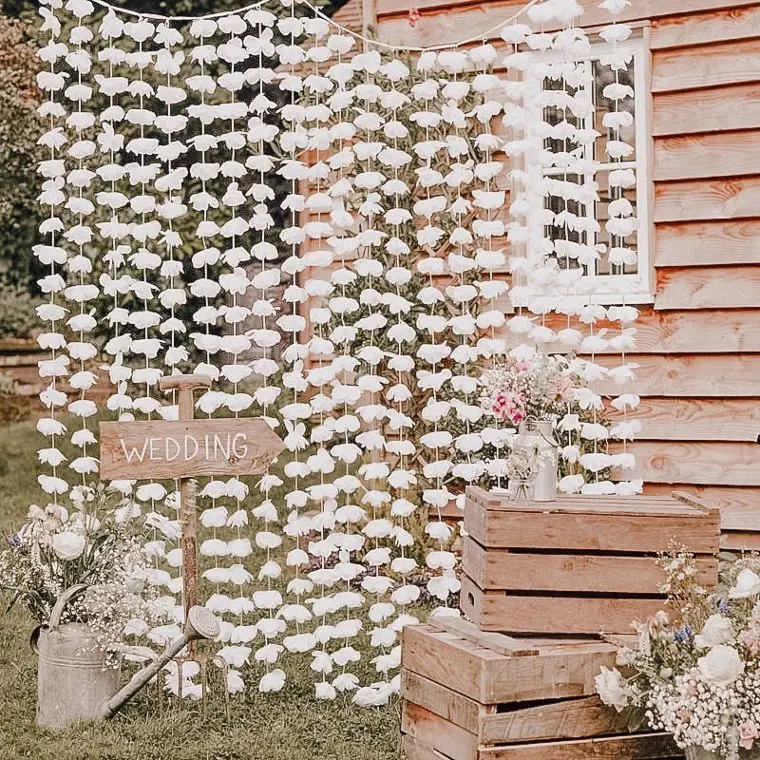 Credit: Instagram
If you want a simple yet appealing backdrop, try hanging floral vines like these.
They're relatively easy to make using a combination of crepe paper and yarn. But if you don't have the time to DIY the flowers.
You may want to check out these artificial hydrangea vines available in a wide variety of colors.
17. Black Backdrop Against a Green Venue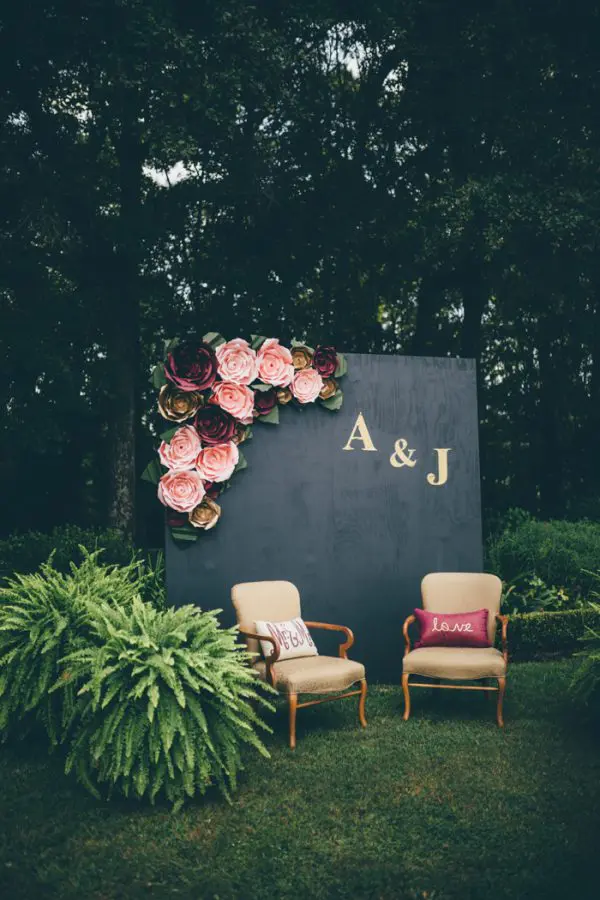 Credit: junebugweddings.com
Nope, I didn't make a mistake – I know that this looks similar to the chalkboard example above. But what I wanted to highlight is that a black backdrop works just as well even for late afternoon or nearly night-time venues.
I also wanted to show you that having a black backdrop creates a dramatic yet subtle contrast to the very green surroundings.
18. Triangle Collage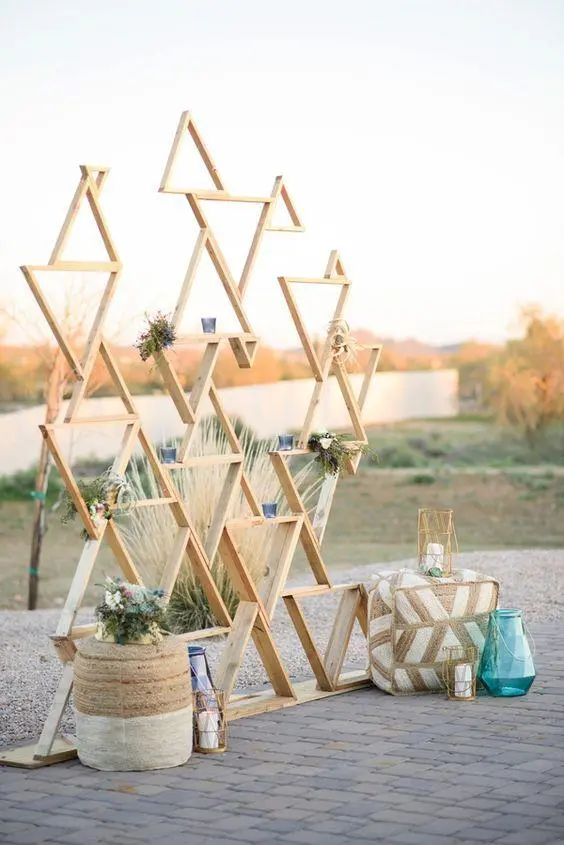 Credit: weddingcolors.net
Upcycle wood slabs into various-sized triangles and combine them together to recreate this backdrop-and-shelf in one. It's the picture-perfect backdrop to a beach or garden-themed wedding, don't you think?
19. Polaroid-Inspired Backdrop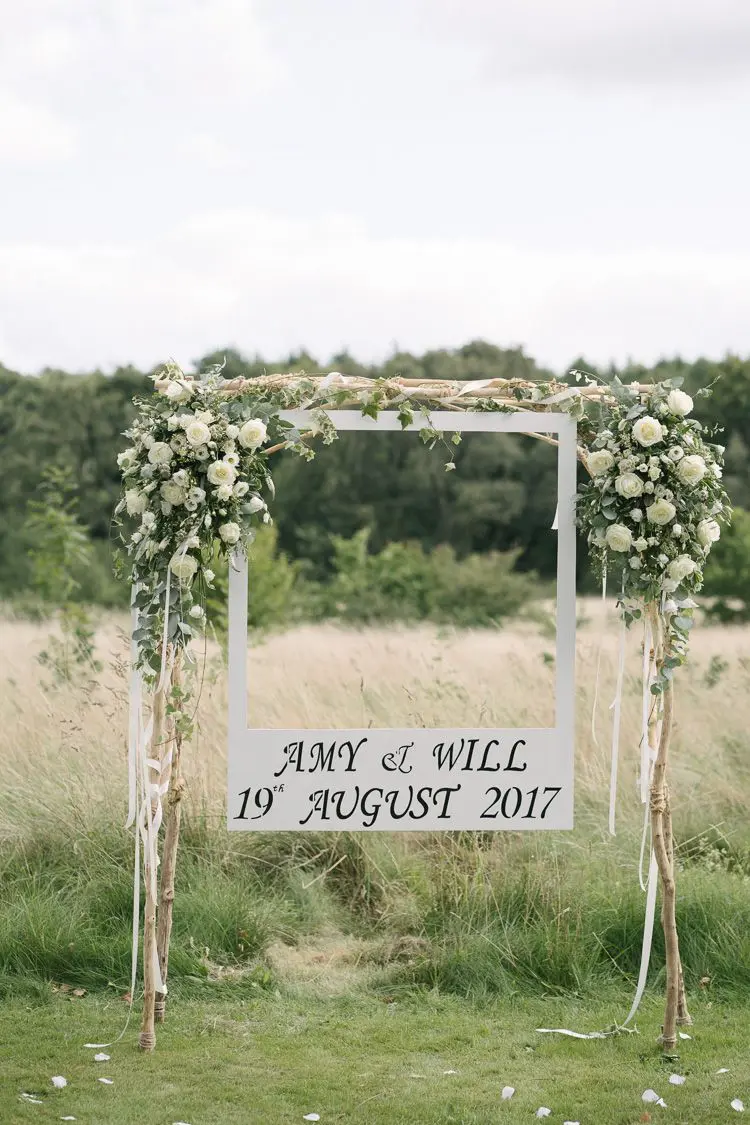 Credit: whimsicalwonderlandweddings.com
The easiest way to create a photo booth in an outdoor wedding venue is to use the scenery as the backdrop, BUT add a frame to it, such as this polaroid-inspired photobooth in a garden wedding.
It's very easy to make. You only need one large cardboard and adhesive letters like these to complete the look.
20. Recycled Books Turned Wedding Backdrop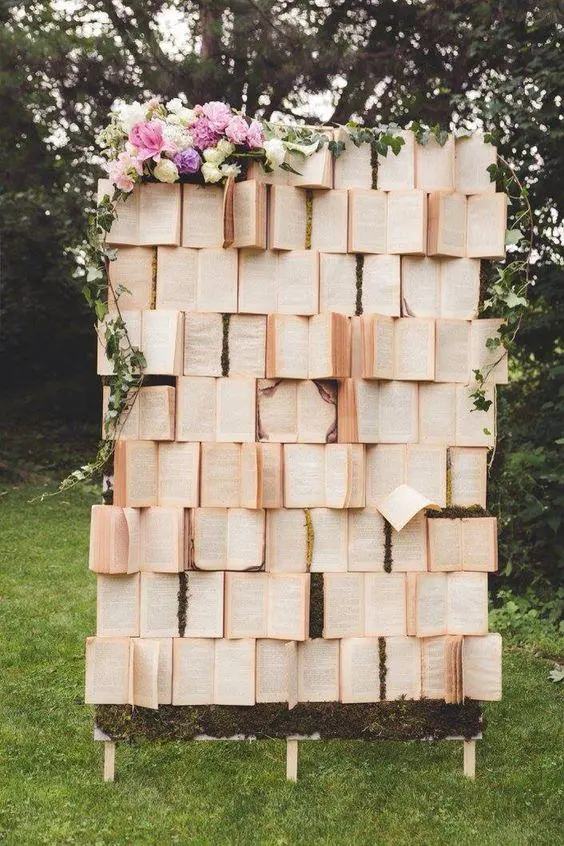 Credit: Pinterest
Despite our love for books, we all know that some of them, unfortunately, have to retire – so why not let them retire in a class by being the backdrop in your wedding?
You may need to use a few old books for this wedding backdrop project, and when you do, you will find they do not have the same page colors. The easy fix to that is by spraying them with a distress stain like this.
Conclusion
The newlyweds should be the focus of any wedding. But it doesn't hurt to add a few backdrops here and there to enhance the beauty of your wedding venue and make your wedding more memorable for you and your guests alike.
If you liked any of the ideas I listed or if you have any more to add, let me know by typing your thoughts in the comments below.