Decorating weddings can be expensive. Try these wedding lighting ideas to decorate on a budget.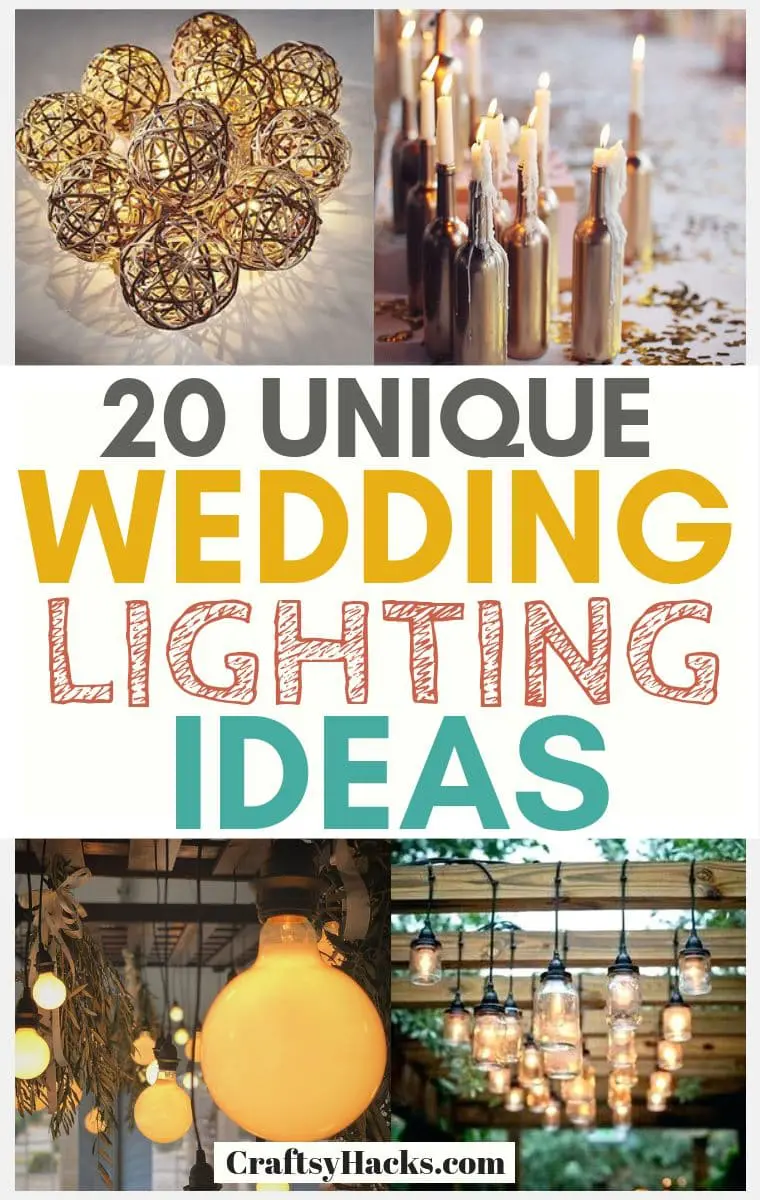 Proposal? Check. Wedding date? Check. Guest list? Check.
Now comes the hard part: Choosing a wedding theme and figuring out how to decorate your wedding venue for your big day.
Deciding how you want to set up the lighting for your wedding day is possibly one of the most difficult decisions you'll have to make! The options are completely overwhelming (everything just looks so good).
Also, there's a lot of pressure because your lighting setup can really change how everything comes together.
Need some inspiration for your lighting arrangements? Here are 20 unique lighting ideas for your dream wedding!
1. Crystal Chandeliers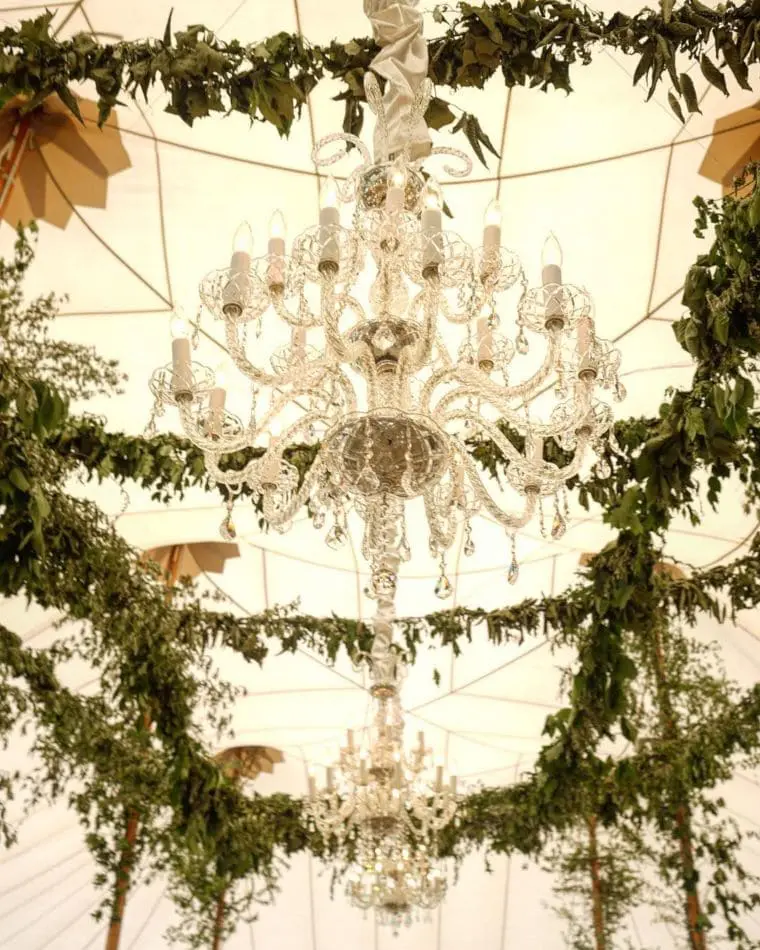 Credits: Instagram
Whatever your theme is, you really can't go wrong with crystal chandeliers!
Nothing says 'magical' more than having extravagant chandeliers scattered throughout your wedding space.
The grandeur and inexplicable beauty of these gorgeous light fixtures bring a dimension of sophistication and regal elegance to a wedding that's truly fit for a queen.
2. String Lights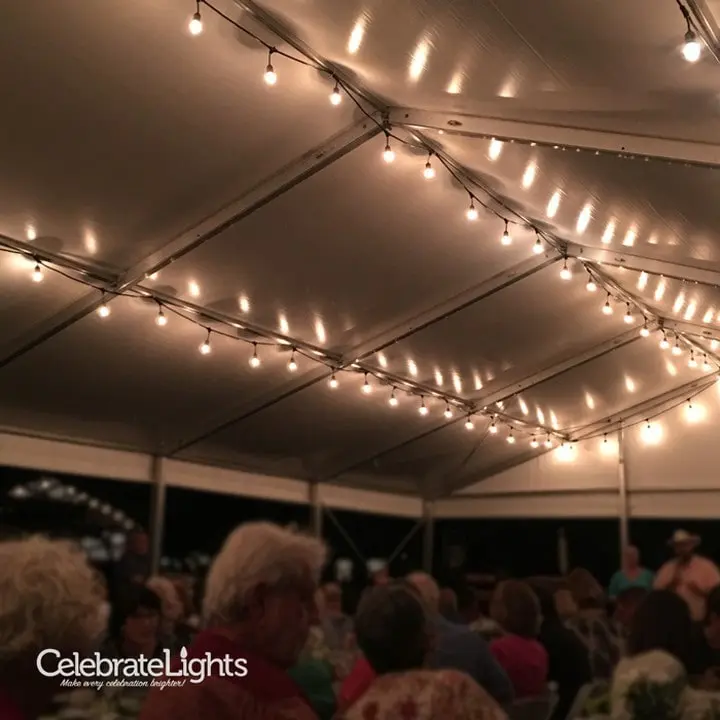 Credit: Instagram
Going for a simple, minimalistic outdoor wedding? Line the ceiling of your wedding tent with string lights to elevate the cozy ambiance of the intimate gathering.
Show everyone that love is in the air with a set of string lights up above shining just as bright as the stars.
3. Pendant Lights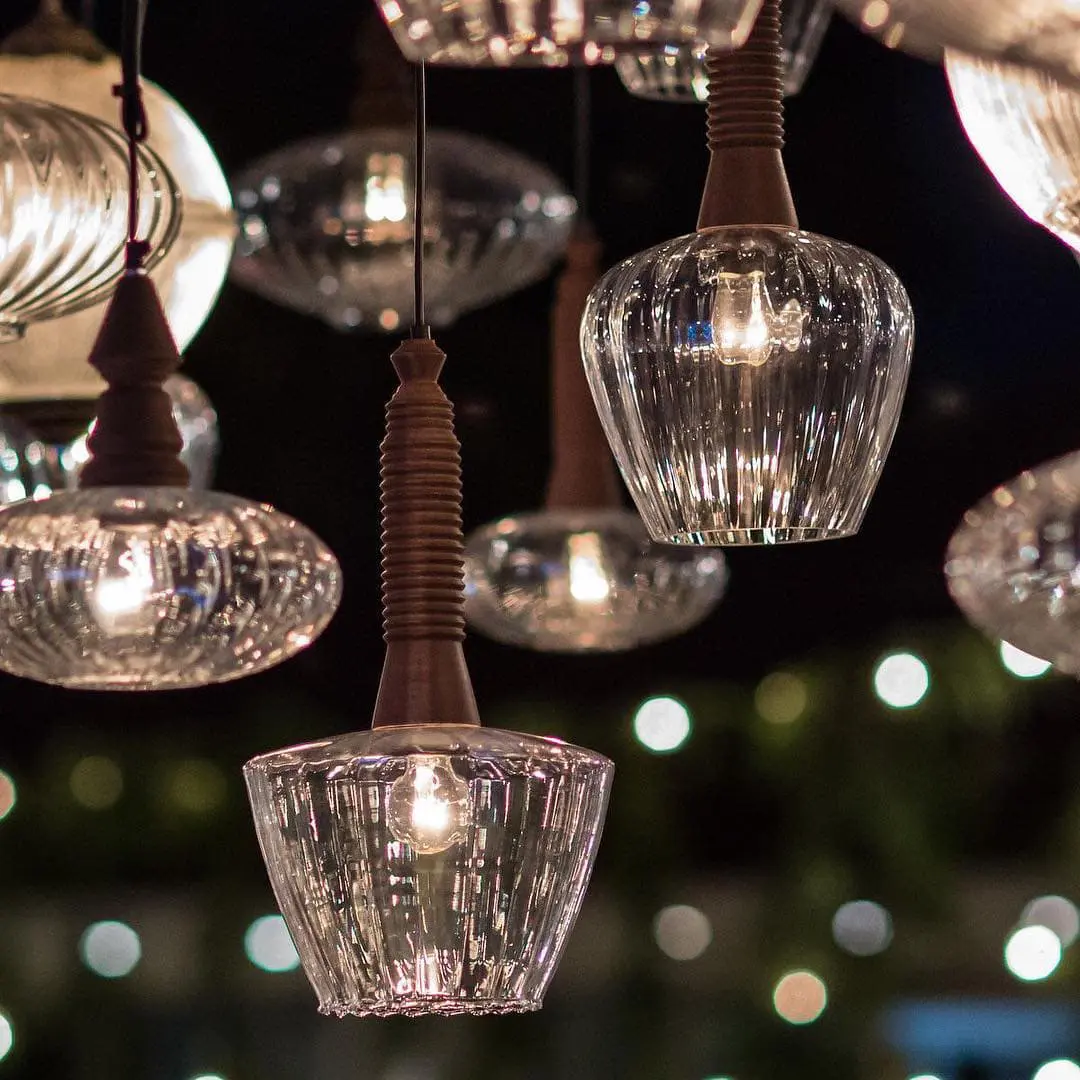 Credit: Instagram
Pendant lights are a popular choice for most wedding themes. They're great for creating a cozy and intimate setting for you and your wedding guests.
Hanging pendant lights are incredibly versatile. They work well for modern or contemporary weddings, or even for ones that are vintage-inspired.
When it comes to choosing the right pendant lights for your wedding, you have a number of different designs and colors to choose from. It all depends on what type of vibe you're going for!
To take things up a notch, suspend your lights at various lengths. That'll bring a whole other dimension of visual appeal to your wedding décor.
4. Wall of String Lights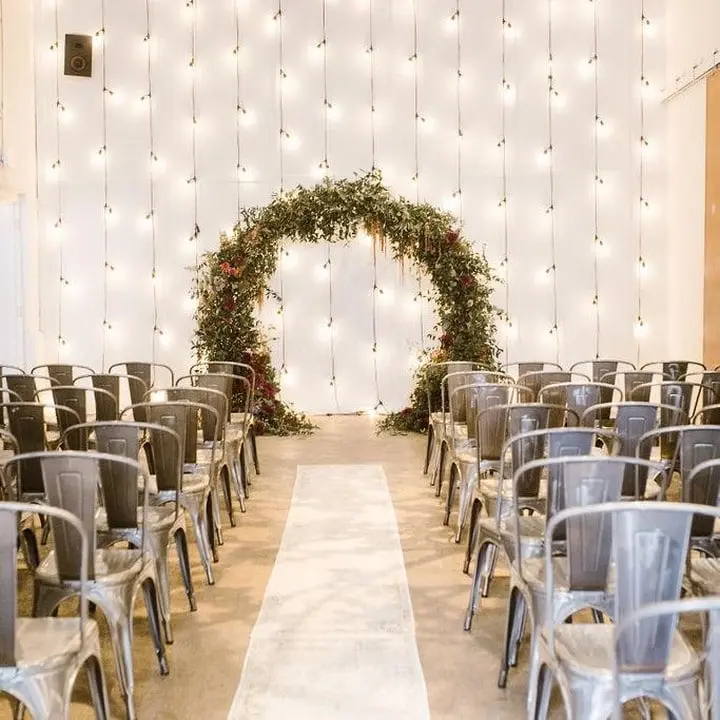 Credit: Instagram
When you're up at the altar, all eyes are going to be on you! So it only makes sense that you put more thought into how that space is going to look for the special moment everyone's been waiting for.
Use string lights to light up the wall behind the altar. Line your string lights in delicate rows to make the most important moment of your wedding day feel extra special.
The perfect arrangement can really make the setting feel more magical and intimate.
Another plus? A curtain of fairy lights works as the perfect backdrop for the photos of you saying "I do!"
5. Festoon Lighting Around the Perimeter of an Outdoor Garden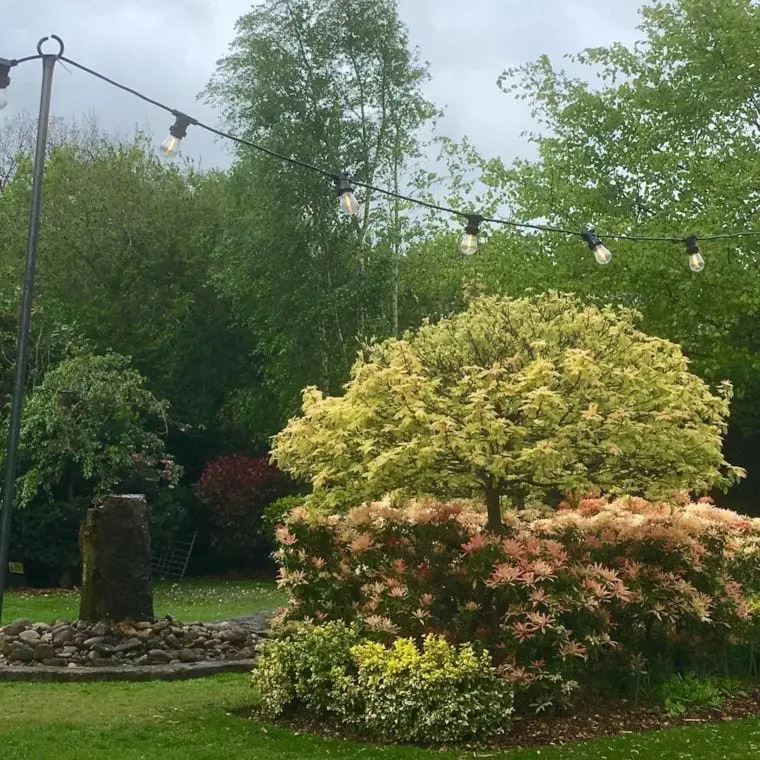 Credit: Instagram
Bring some charm to an outdoor wedding by lighting up the sky with the perfect arrangement of festoon lights. Use poles to section the garden and line your festoon lights around the perimeter of the garden.
Rain or shine, you can count on this lighting setup to bring a magical quality to your outdoor wedding. Check out more wedding ideas here.
6. Cascading Fairy Lights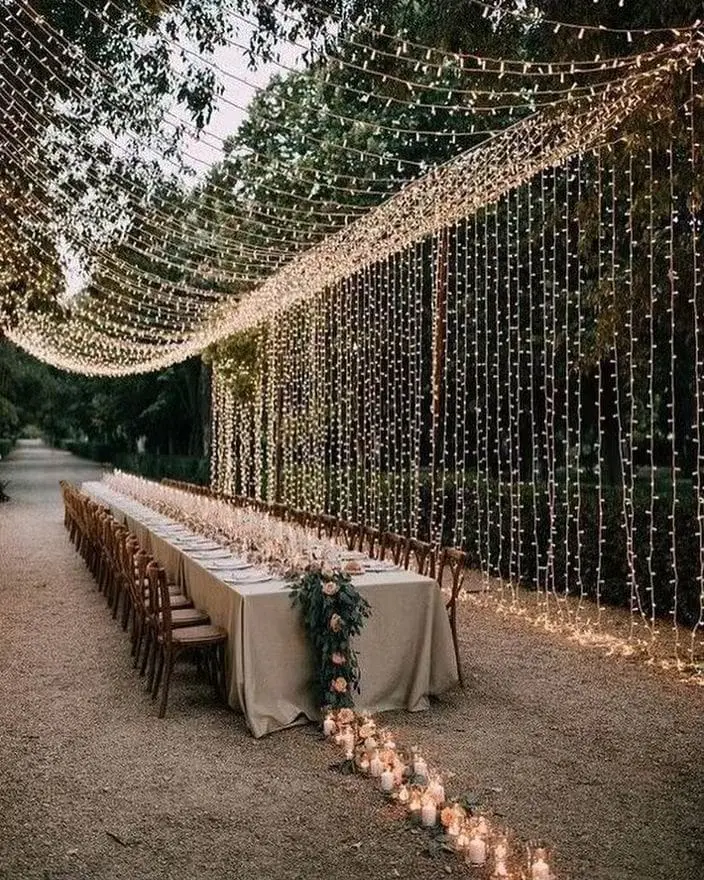 Credit: Instagram
Want to take your lighting situation to the next level?
For a scene straight out of your favorite chick flick, light up the sky with fairy lights and drape a curtain of cascading lights below it.
Using fairy lights to create the illusion of a magical tent in an outdoor space will give your guests plenty to admire.
7. Marquee Letter Lights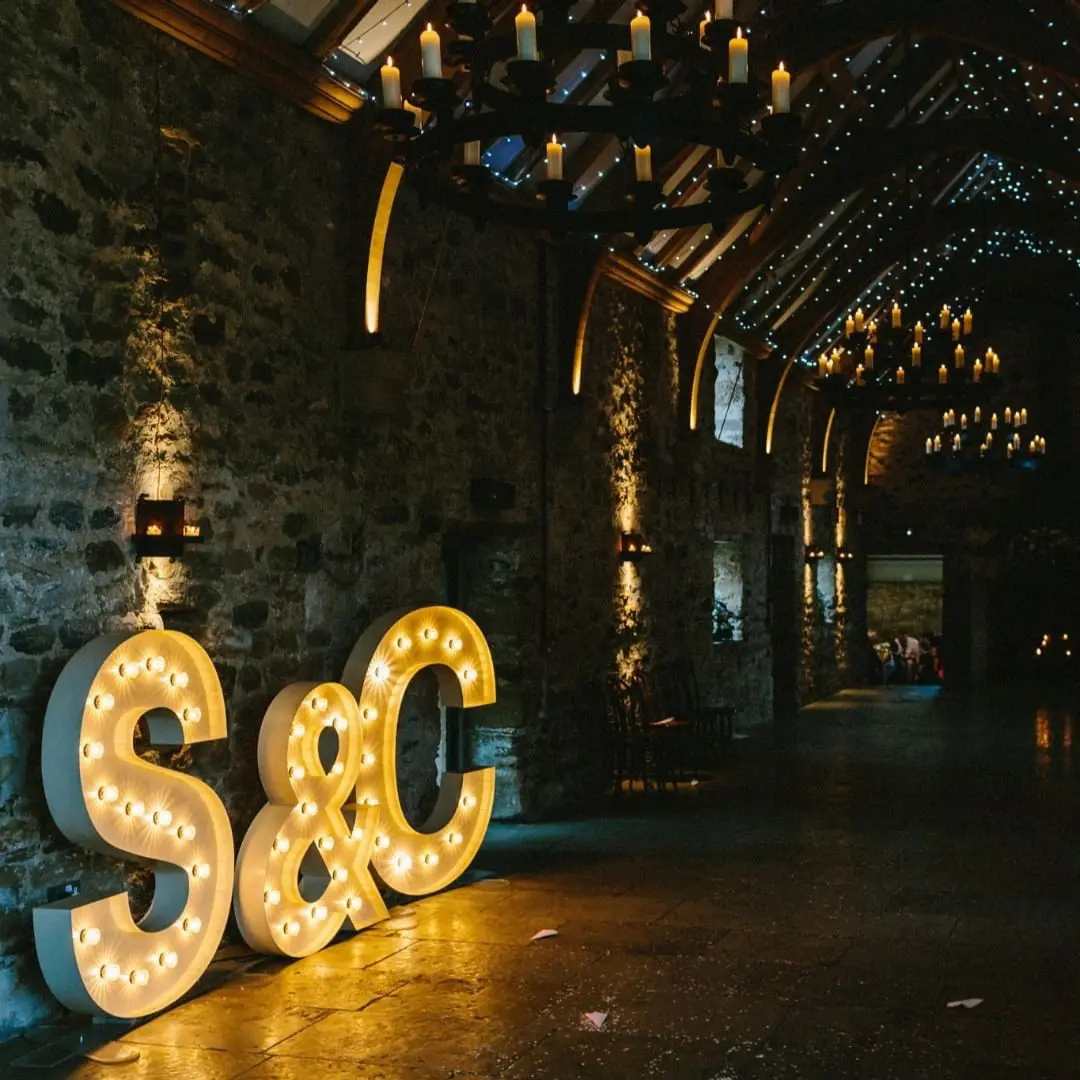 Credit: Instagram
Looking for a way to bring some fun into your lighting setup?
Use marquee letter lights to add a retro or whimsical vibe to your wedding space. These lighting arrangements are perfect for adding a personal touch to most wedding themes.
From rustic or farmhouse style weddings to one that's a bit more minimal or alternative. Adding marquee letter lights to your venue can bring an element of personalization that's otherwise unachievable.
For instance, you can use them to spell out the initials of you and your significant other. You might even incorporate them into a longer message. For example, a unique wedding hashtag.
8. Oversized Shade for Your Pendant Light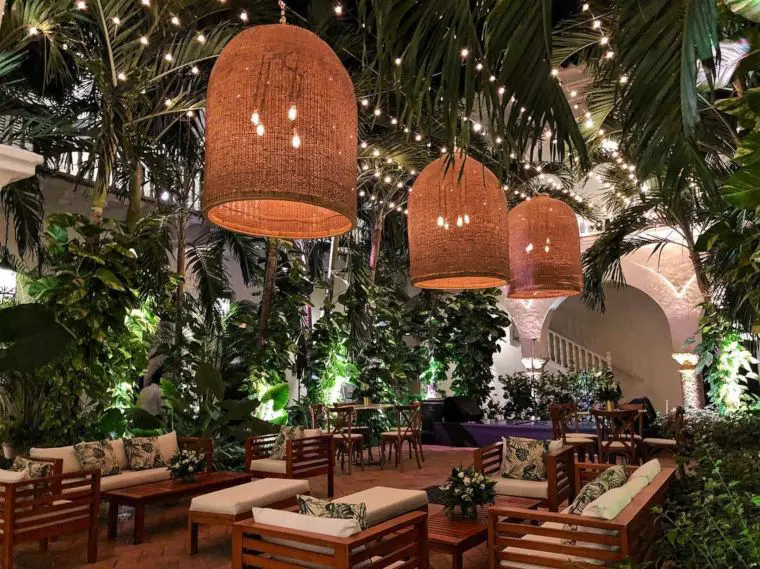 Credit: Instagram
Looking for a creative lighting idea for a modern but simple wedding? Even if you're not into the glitz and glamour of lavish wedding décor, it doesn't mean you can't do something unique with your lighting arrangements!
Bring some warmth and subtle drama into your wedding space by incorporating oversized light shades in a neutral tone to your hanging pendant lights.
9. Bulb Pendant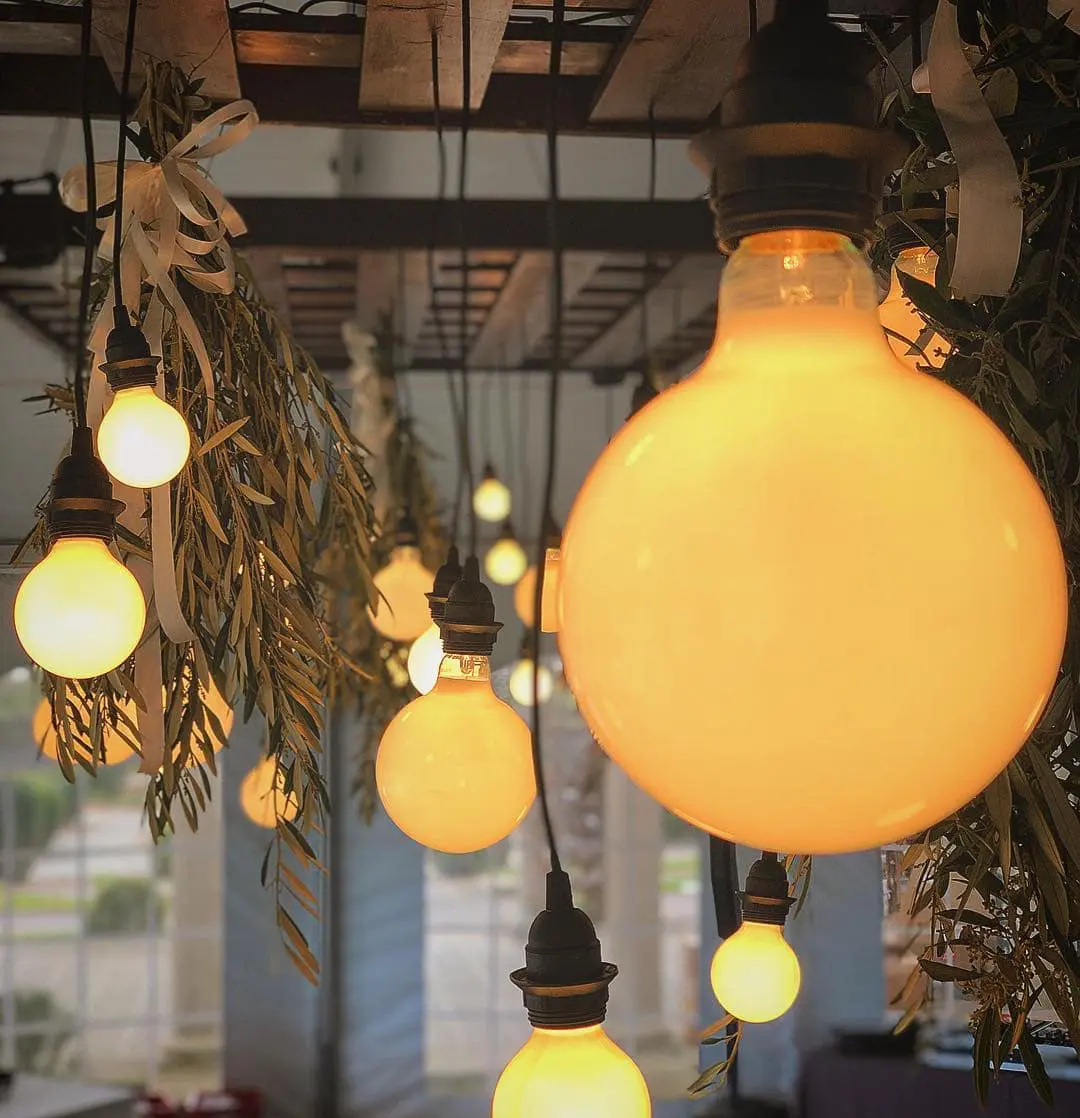 Credit: Instagram
Regardless of your wedding theme, hanging pendant lights are a great way to bring a more visual appeal.
On its own, a bulb pendant might seem a tad simple. But, there's plenty to admire about a cluster of them suspended at different lengths from the ceiling.
Depending on the color of the fixtures, bulb pendants can really enhance the overall aesthetic of your wedding theme.
10. Candelabra Centerpieces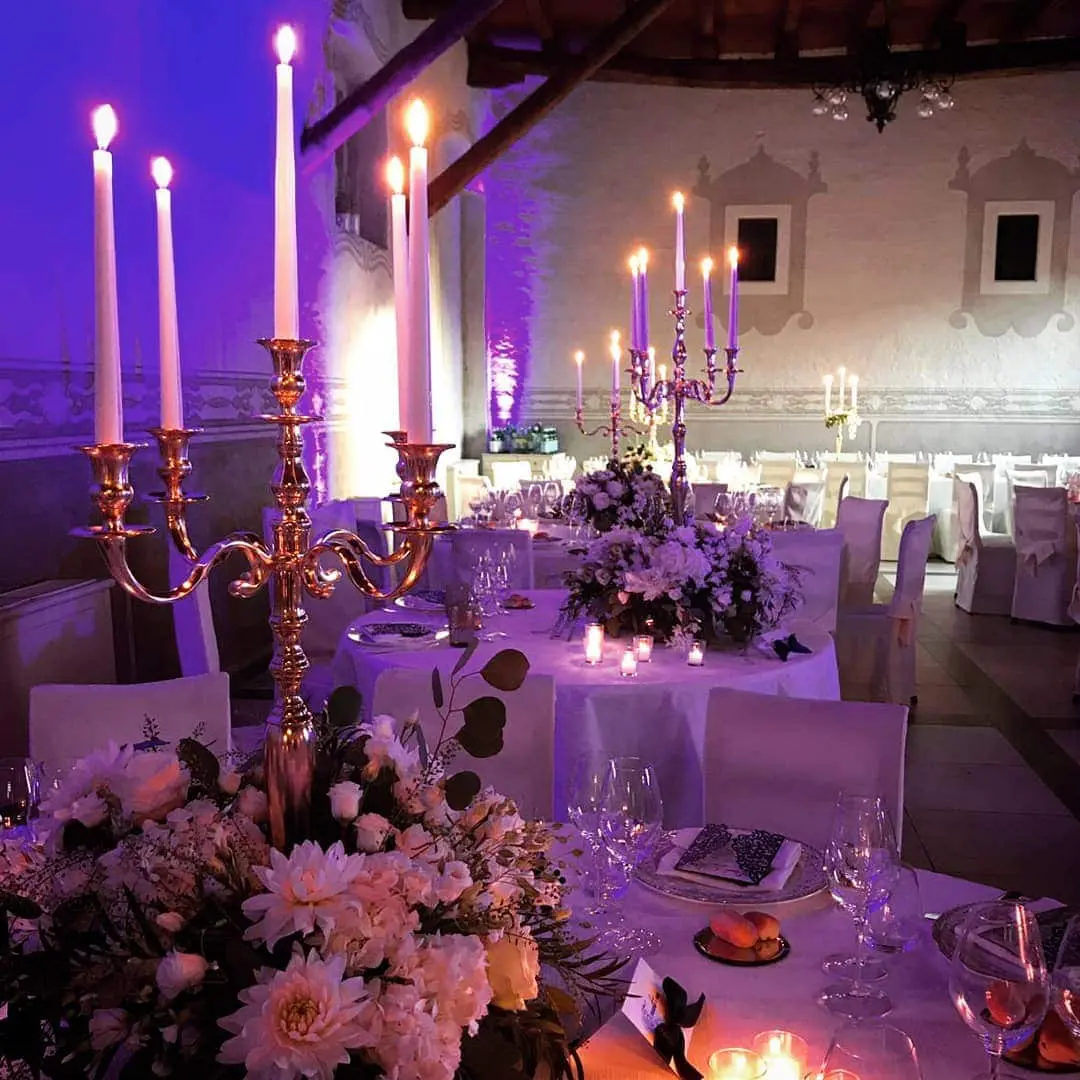 Credit: Instagram
A candelabra is synonymous with elegance and sophistication. Yet there's an element of simplicity in its ornate structure that makes it a beautiful addition to a wedding centerpiece.
Besides enhancing the visual appeal of your wedding venue, a candelabra like this brings a romantic quality to the table – quite literally.
This is something that could be incorporated into a wedding centerpiece.
11. Aisle Lanterns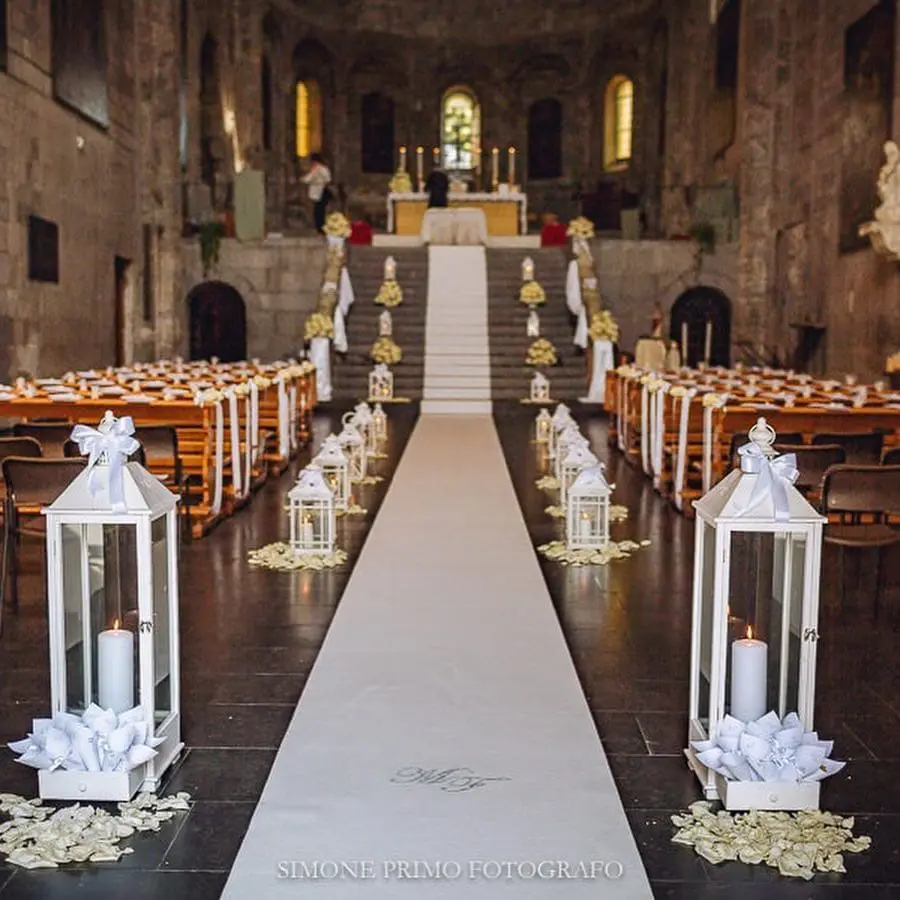 Credit: Instagram
Without a doubt, that moment you're walking down the aisle is the most exciting moment of the entire day.
Make that moment extra special by lining the aisle with flameless LED tealights housed in white lanterns. Use this simple but lovely lighting idea to add a sweet personal touch to the wedding aisle.
12. Mason Jar Festoon Lights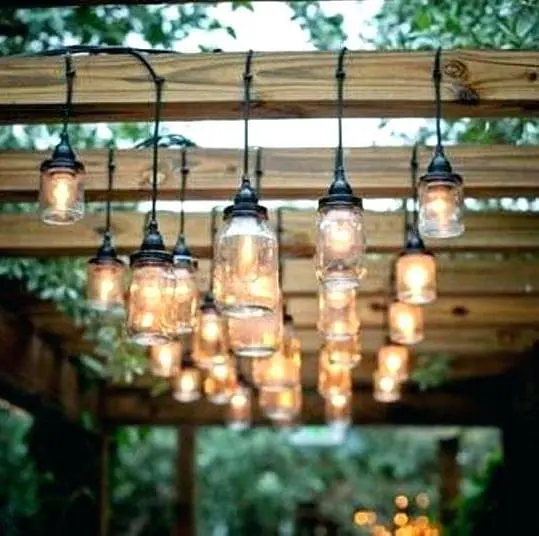 Credit: Instagram
Looking for a way to add an endearing quality to festoon lighting? Mason jar festoon lights are perfect for achieving a vintage-inspired type of simplicity in your wedding décor.
You can get a mason jar pendant here. Or other similar lights here on Etsy.
13. Long Stem Glass Candle Holder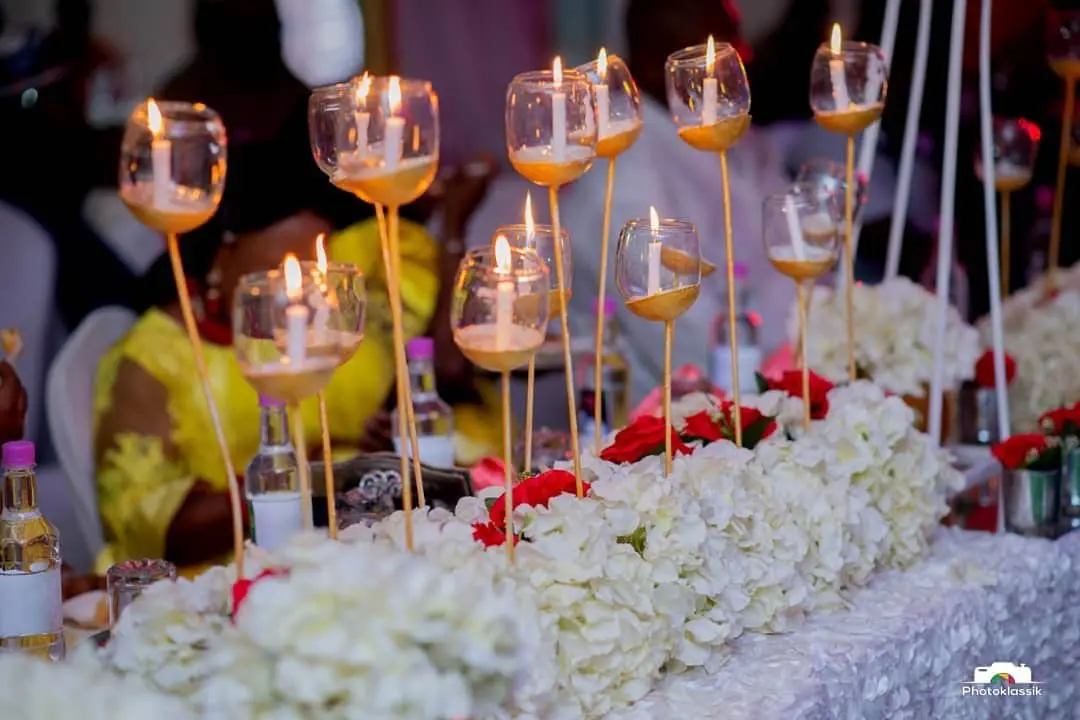 Credit: Instagram
Candlelight has an ethereal quality that can hardly be mimicked through other lighting arrangements.
Looking for a creative and simple way to incorporate candlelight into your wedding décor? Use long stem glass candle holders to add a romantic quality to your centerpieces.
Also, you can create a beautiful display in an intimate setting.
14. Ribbons Tied to String Lights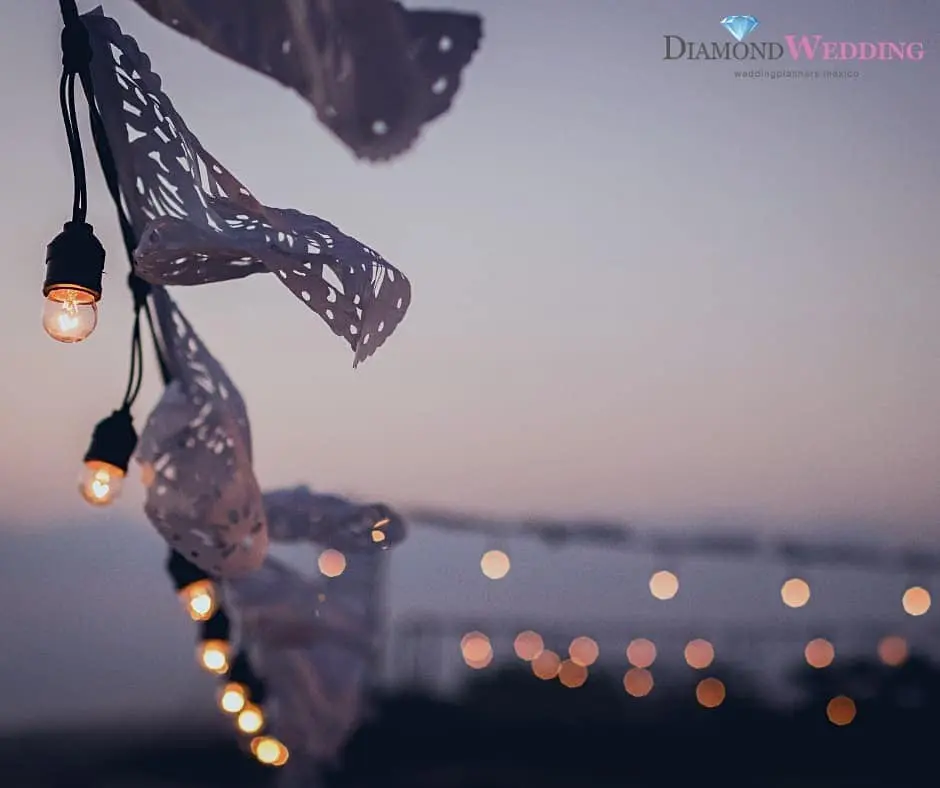 Credit: Instagram
You like the idea of decorating an outdoor space with string lights but you want to do something more creative?
Here's a simple and inexpensive way to add more details to your wedding décor. Use a pretty ribbon or tulle to tie a knot onto your string lights!
15. Colorful Lights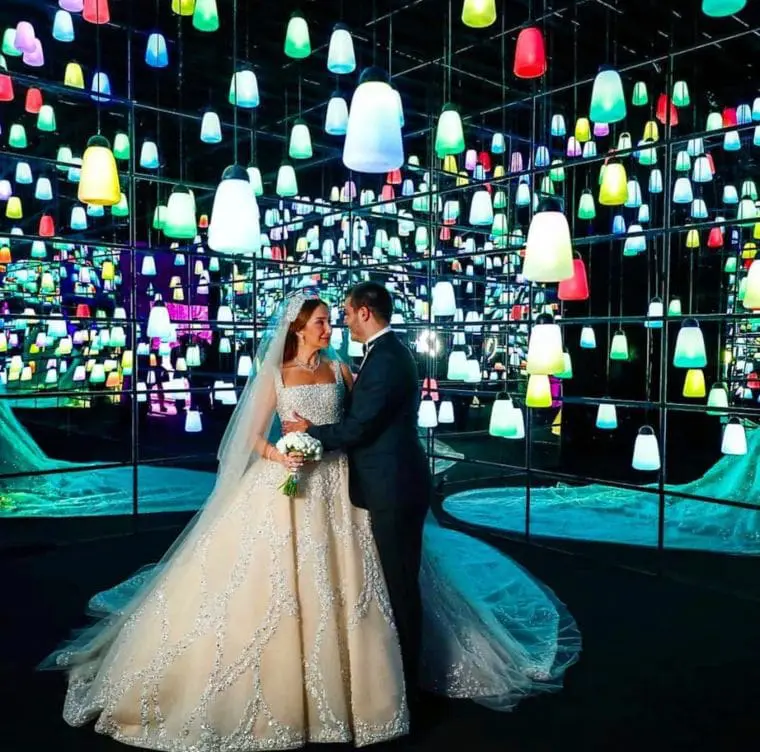 Credit: Instagram
Want to do something entirely different with your lighting situation?
Take it up a notch with the usual hanging pendant light by adding some fun colors into the mix.
Create a kaleidoscopic effect through the combination of bright colors and varying suspension lengths for your light fixtures.
16. Hanging Glass Globe Candle Holder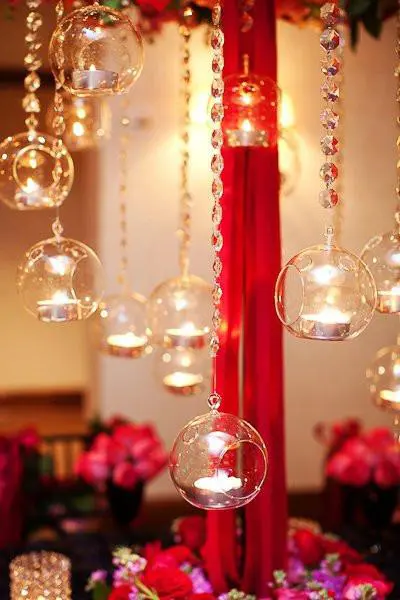 Credit: thatbohemiangirl.com
Looking for a creative way to incorporate romantic candlelight into your wedding décor? Mimic the appearance of hanging pendant lighting with hanging glass globes to suspend flameless LED tealights from the ceiling.
This is a great way to display candlelight at your wedding venue and it brings an enchanting quality to the entire setting.
17. Hanging Mason Jars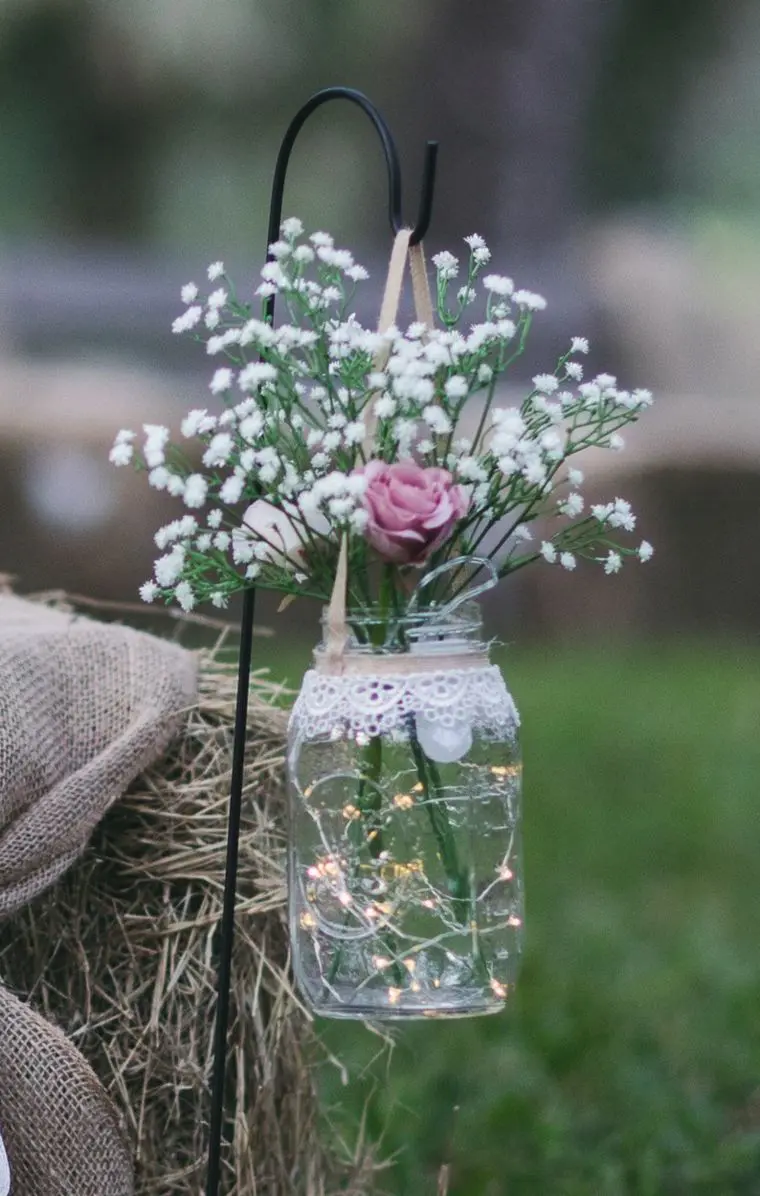 Credit: etsy.com
This one is for the DIY enthusiast.
This simple DIY project is an incredibly unique way to display fairy lights at your wedding venue. What's great about this creative lighting idea is that this arrangement actually doubles as a sweet floral arrangement. The ultimate win-win situation.
Just head to your local dollar shop to grab some mason jars or you could even purchase a set here.
You could also just buy a mason jar with lights inside too here. Or you could just get everything ready here.
18. Beer Bottle Candle Holder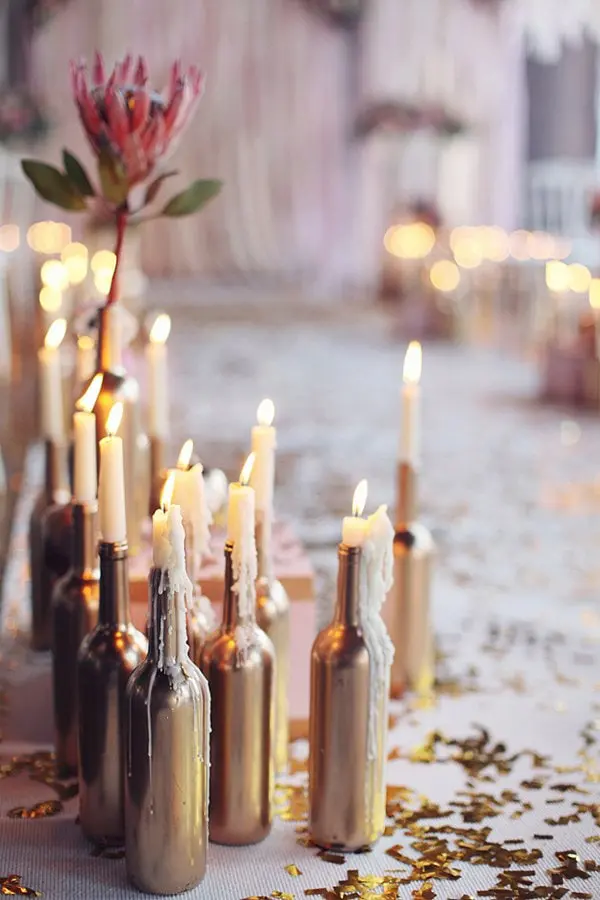 Credit: ruffledblog.com
Looking for a simple way to display candles throughout your wedding venue? Instead of spending a ton of money on expensive candleholders, just DIY them with a couple of beer bottles.
These DIY candle holders are the perfect addition to your wedding centerpieces. They're incredibly easy to make and the final outcome is both classy and elegant.
19. Rattan Ball Fairy String Lights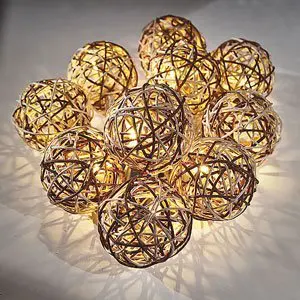 Credit: craftybutt.blogspot.com
If you're leaning towards a wedding theme that's on the whimsical side, you definitely need to incorporate rattan ball fairy string lights into your décor.
What's great about this lighting idea is you could either DIY it or buy the lights here. Housing your fairy lights in these rattan ball structures will give any space a playful yet quaint ambiance.
20. Paper Lanterns
Credit: Instagram
Last but not least, paper lanterns are a lovely alternative to hanging pendant lights. Light up the sky with dozens of white paper to create an artistic setting.
They come with a very delicate sort of elegance that can bring more warmth and sentimentality into your wedding venue.