Decorate your backyard for a wedding on a lower budget and yet make it look amazing! These backyard ideas are just for that.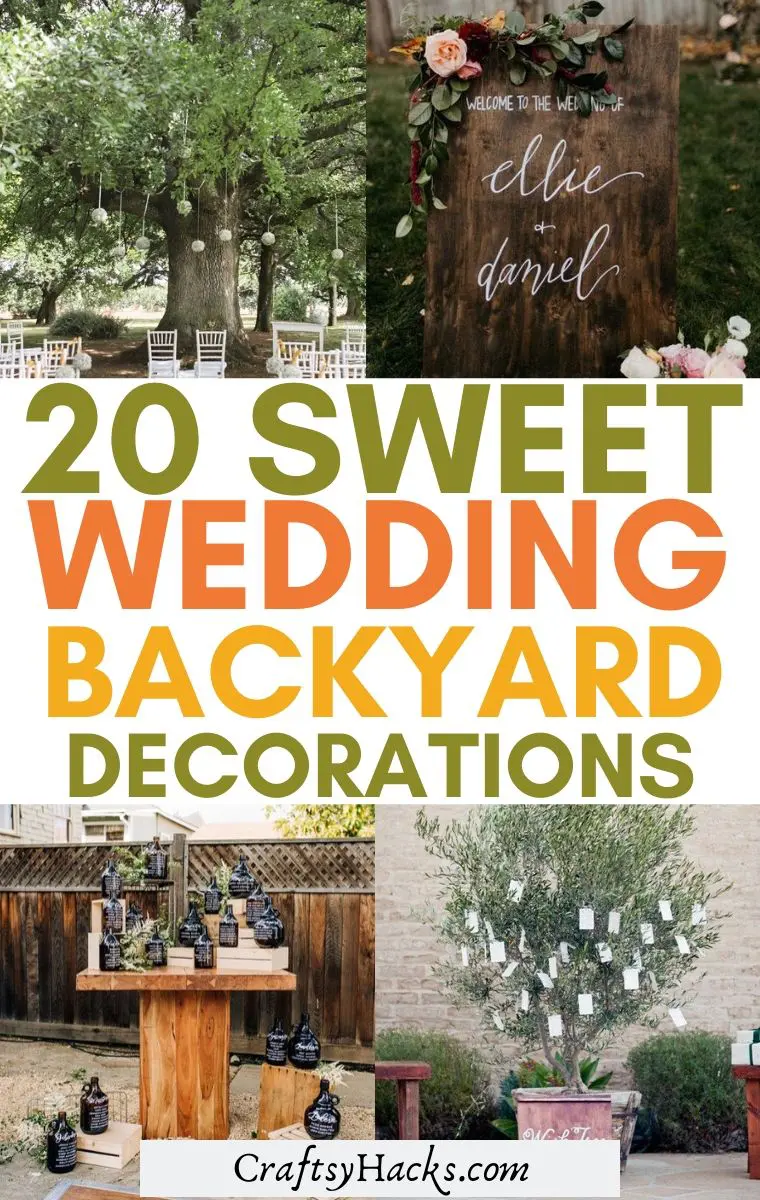 There's nothing sweeter than a backyard country wedding, and if you're on a budget, it's an even better idea. DIY your wedding in style and cut costs while keeping your ceremony chic and stylish.
Check out these backyard wedding decorations!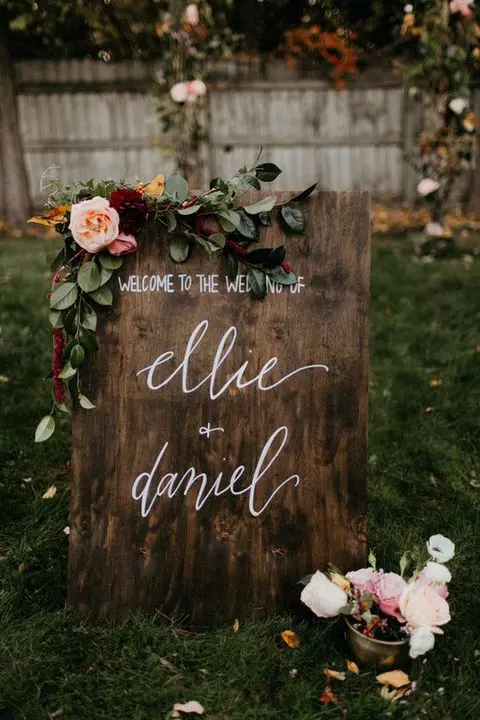 Credit: happywedd.com
Simple and shabby, a dark wooden board with a hand-painted welcome is a cute way to greet guests as they come in to sit down.
Accent the sign with greenery, including some flowers that tie into the same color as the wedding flowers. And you have a simple, affordable, and beautiful decoration that's elegant and lovely.
You can also add anything else you like to a sign like this. Make more signs to show guests where the food is or to remind them to put their cell phones away during the ceremony. This creates a cohesive theme.
Want to just buy a sign? Here is a relatively cheap option similar to this one.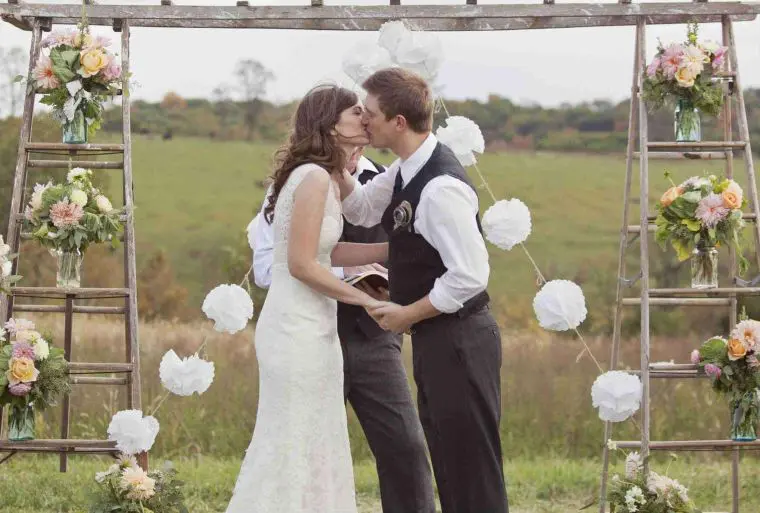 Credit: thismodernromance.com
You've seen those arches that couples get married under, right? Why not do your own version of the wedding arch – with ladders?
This absolutely adorable idea uses ladders decorated with glass flowerpots holding wildflowers. It's simple but so perfect for an outdoor country wedding.
To top it off, paper flowers are strung up in a garland to give the arch a bit of pizzazz. It's somehow both modern and vintage at the same time!
You can get rustic ladders like that here to arrange the look!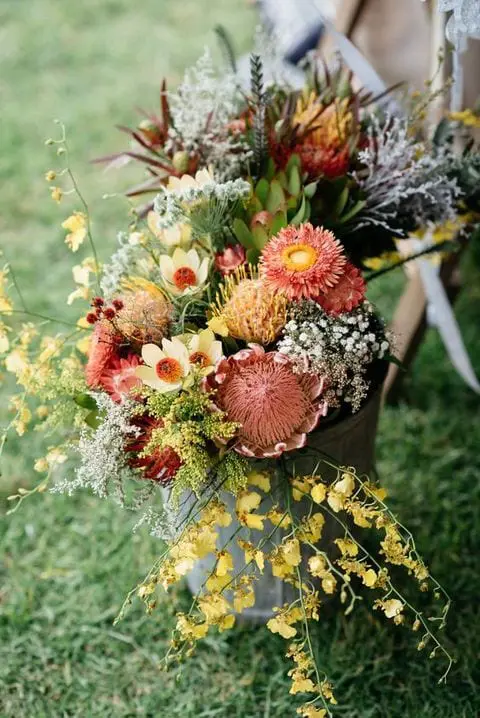 Credit: happywedd.com
Instead of fancy flowerpots for a country or farmhouse wedding, why not go with the theme and use metal buckets instead?
There's nothing more shabby chic than a metal bucket simply overflowing with wildflowers. These would look great sitting at the ends of the aisles or even as centerpieces on the drinks and snacks tables. Look for one like this one.
Make sure to incorporate the wedding colors when you're choosing blooms for the buckets. You could also tie a wide burlap ribbon like this around the bucket for an added accent that would look super pretty and rustic.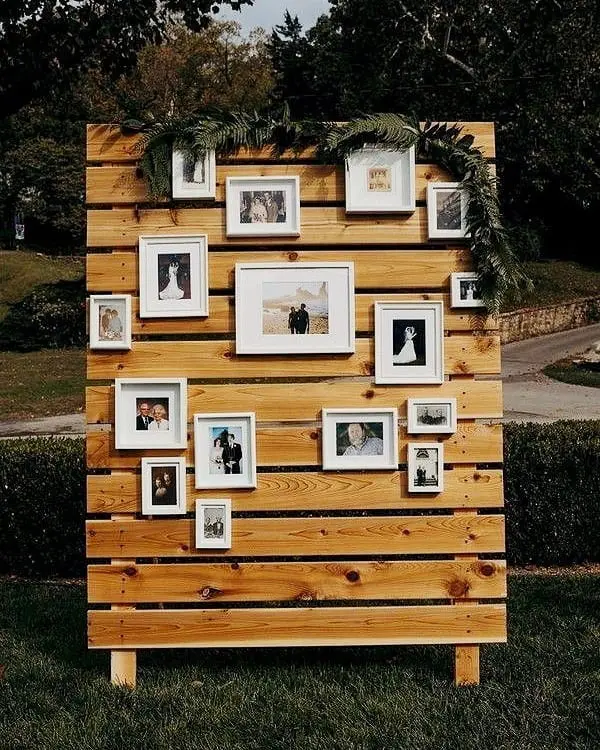 Credit: Instagram
Everyone loves to see old photos of newlyweds during their courtship. Display these photos in a way that makes them easy for everyone to look at.
A wooden photo holder allows photos to be hung in a way that makes it simple for each guest to see the photos.
Go sleek and use the same color of frames for each photo, or go quirky and use different frames for each photo detailing the couple's history together. Decorate the photo board with flowers or ribbons.
Here are more cheap wedding hacks like this.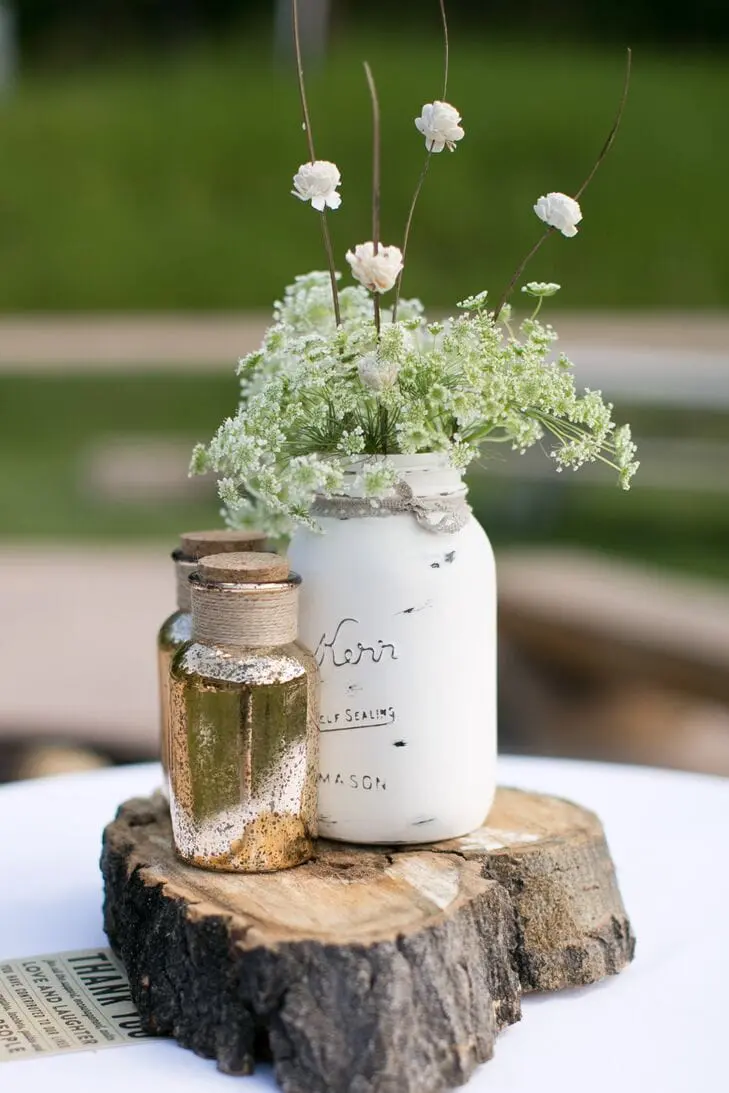 Credit: theknot.com
There are few things more country than Mason jars. They're also extremely affordable, making them great wedding centerpieces.
Paint Mason jars any color you like – they look amazing white, pink, or even metallic. Sit each jar on a slice of a tree stump on each table, fill it with flowers, and voila!
Instant centerpiece. Match the flowers to the color of the jar for a pretty look. Pro tip: there are plenty of ways to reuse these later!
If you don't have any Mason jars, you can get a bunch of them here.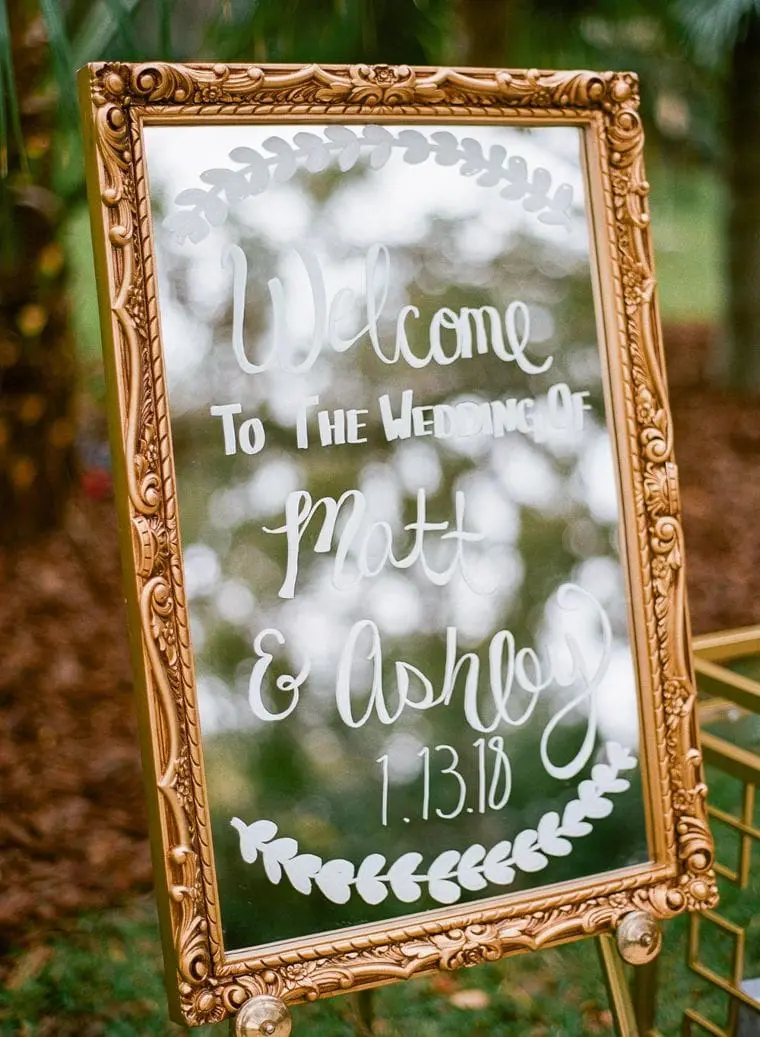 Credit: ruffledblog.com
Instead of a sign welcoming guests to your wedding, why not do something different? Use a paint pen or paint your welcome message on an ornate, gorgeous antique framed mirror like this.
Use an easel to hold the mirror up. You can doodle some decorations, write the date of the wedding, or even draw hearts or flowers.
This also makes a cute keepsake for the newlyweds once the wedding is over – it's already framed! If crafting is not your forte, you can get an almost identical sign like this here on Etsy.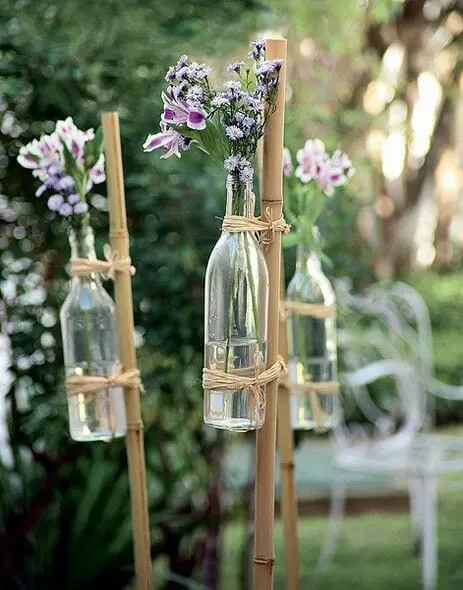 Credit: Pinterest
Outside weddings let you be creative in ways that indoor weddings can't. That's why it's fun to make decorations like this one.
Essentially, these are stakes in the ground. Each stake has a bottle tied to the top, and you add wildflowers to the bottle like a small makeshift vase.
These are perfect for marking the aisle or even creating an outdoor altar. You could do a lot with this idea – even substitute the flowers for LED lights or small twinkly lights.
Check out more wedding light ideas here!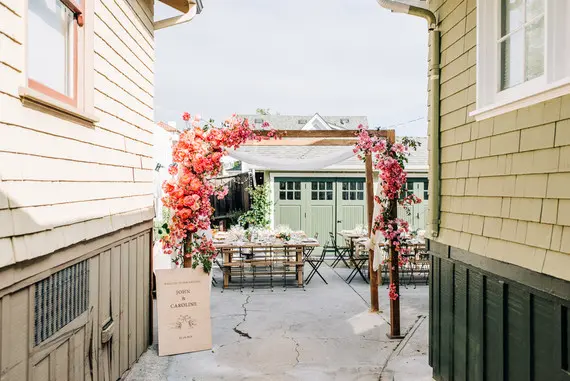 Credit: 100layercake.com
You're on a budget, and you're running out of time – don't stress out about making some masterpiece of an arch.
All you need is a simple structure with a few wooden beams. You can decorate this to make it look magical.
All you need are some floral garlands and larger bouquets of artificial flowers.
You can secure these to the sides and the top of the structure, making a few boards look like something out of your wedding fantasies, and it doesn't cost much or take up too much time!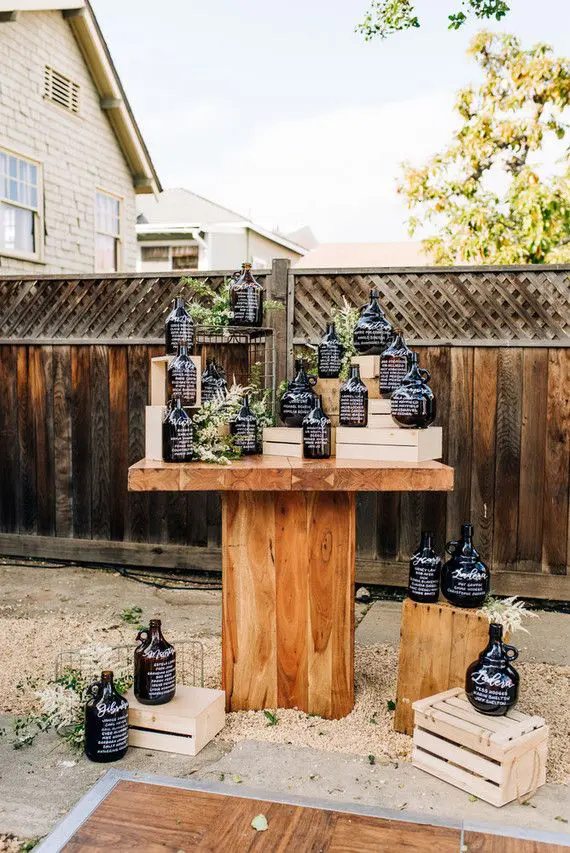 Credit: 100layercake.com
Old-fashioned whiskey jugs make for the cutest country decorations, especially when they have the seating charts painted on them.
What a creative way to let guests know where they're sitting. Each table has a name, and each bottle stands for a table. Guests find their name and know which table they're at.
The bottles are staggered on a table among flowers, and even though it's simple, it's just the best effect for a down-home, backyard wedding.
Here are a bunch of whiskey jugs to choose from!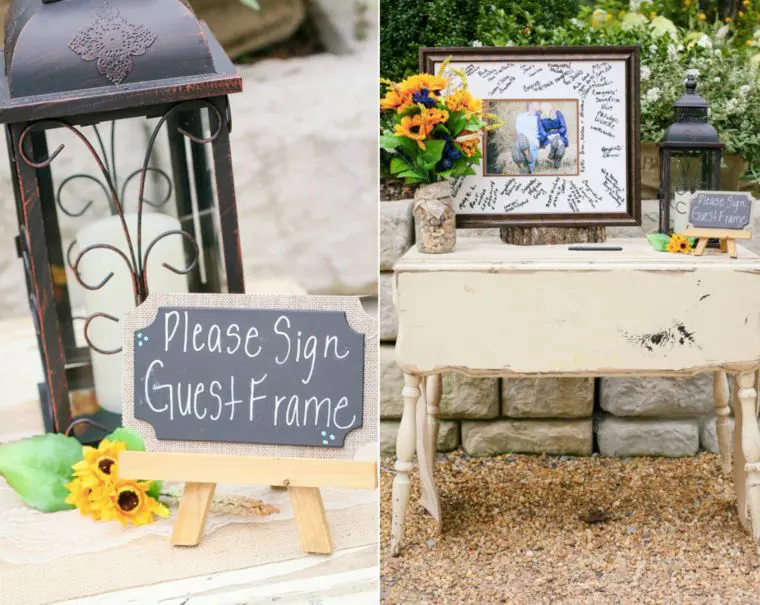 Credit: rusticweddingchic.com
Guest books are so passe. Instead of signing a guest book, so you remember who was at your wedding, get a giant frame with a large white mat.
In the center goes a photo of the newlyweds. Guests can use a permanent marker to write their names on the mat around the photo.
This is not only cute and creative, but it's a memento the newlyweds will love looking at later!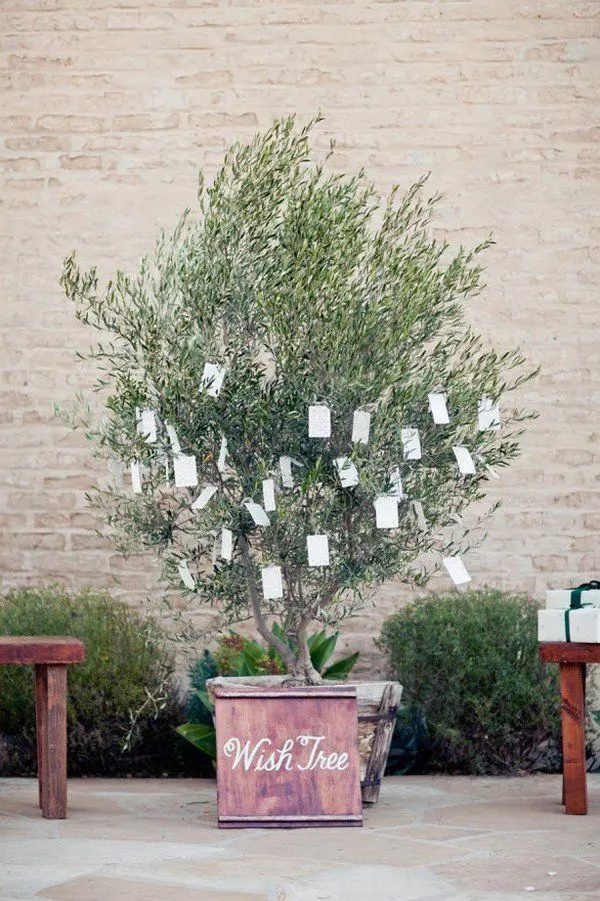 Credit: ohbestdayever.com
There's power in positive thinking. In light of that, ask your guests to make a sweet wish for your marriage.
Add a table with slips of paper next to a large potted tree. Each guest can write down their wish for you and secure it to a leaf on the tree.
Once the wedding is over, you can read the wishes together and keep them all in your wedding keepsake box. You could use this same idea to ask for wedding advice!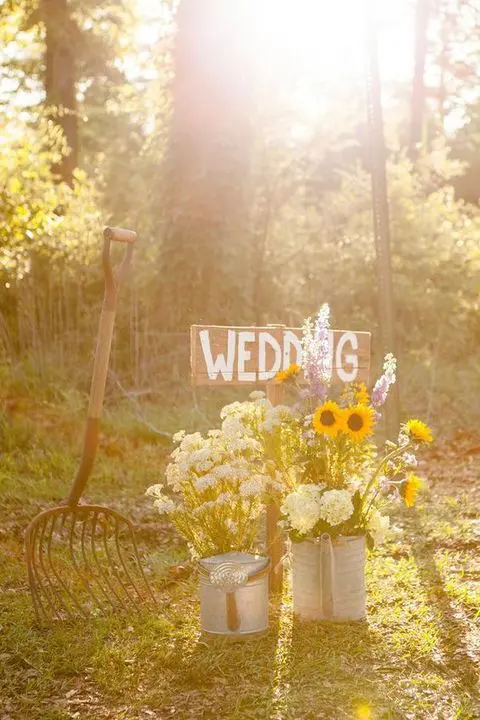 Credit: happywedd.com
Wedding here! Let guests know they're in the right place with a homemade sign and a country display that's so cute it's crazy.
A homemade painted sign simply says, "Wedding" next to a few overflowing metal watering cans filled with beautiful flowers.
The display is complete with a rake standing up nearby. Everything about it is country, which makes it all the more appealing – and sunflowers look amazing in metal cans!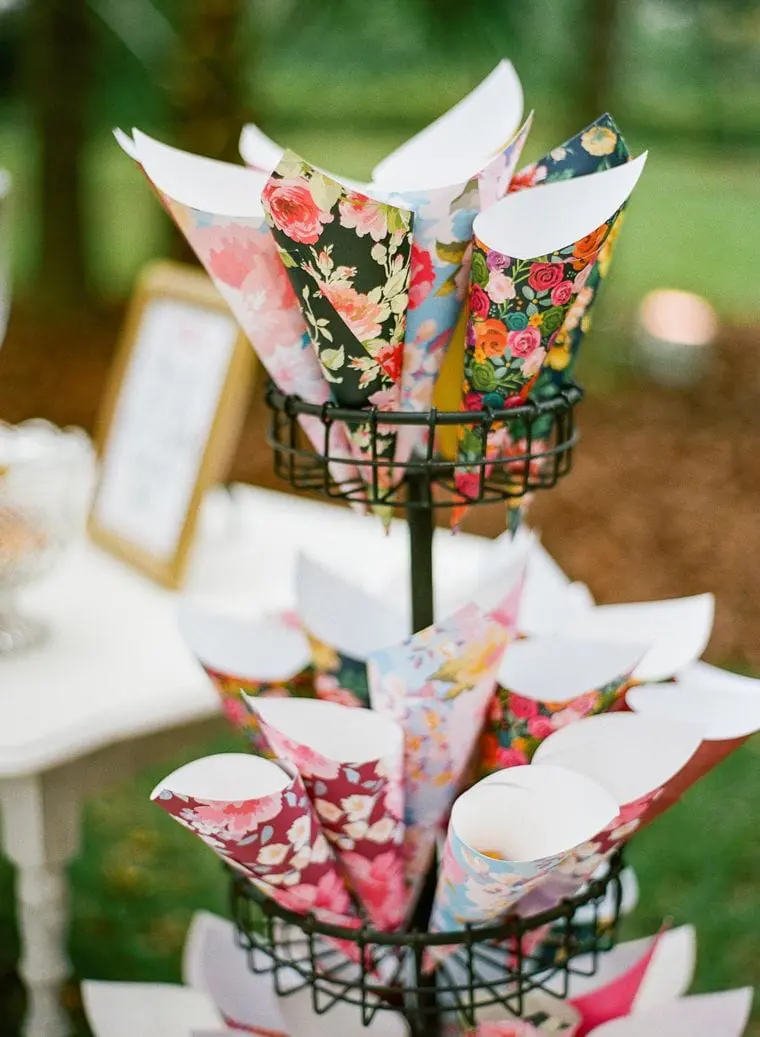 Credit: ruffledblog.com
Origami-inspired cones are the perfect holders for small snacks or candy. Using different colors of patterned paper looks lively.
Use a tiered stand to stack the cones, and guests can grab a snack on their way past. Pack them with peanuts, candy, pretzels, etc.
They may look elegant, but they're easy to make – just folded, taped paper in a cone shape. Try paper like this for a cute look.
Credit: Instagram
At the entrance of a wedding, display several lanterns of different sizes. These not only look charming and rustic, but they're functional, too.
Once the sun goes down, use LED candles, which you can find here, inside to create the most magical glow within the lanterns. You can also use them to light the guests' path to their seats at an outdoor wedding.
Pair them with a wooden sign for a dreamy display that's magazine-worthy.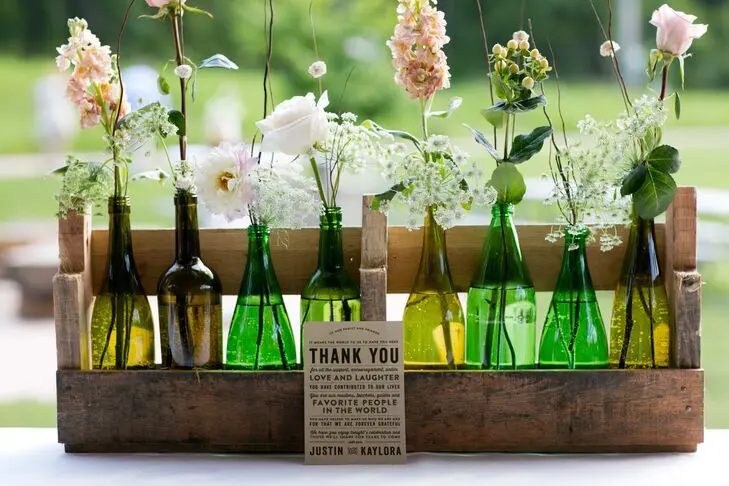 Credit: theknot.com
Skip traditional vases when you're planning a rustic ceremony. Instead, load up on vintage bottles of different colors and sizes.
Place wildflowers in each bottle. You can line a crate with the bottles, or use them grouped together as table centerpieces.
Either way, when the sun streams through the green and golden glass, it looks simply gorgeous.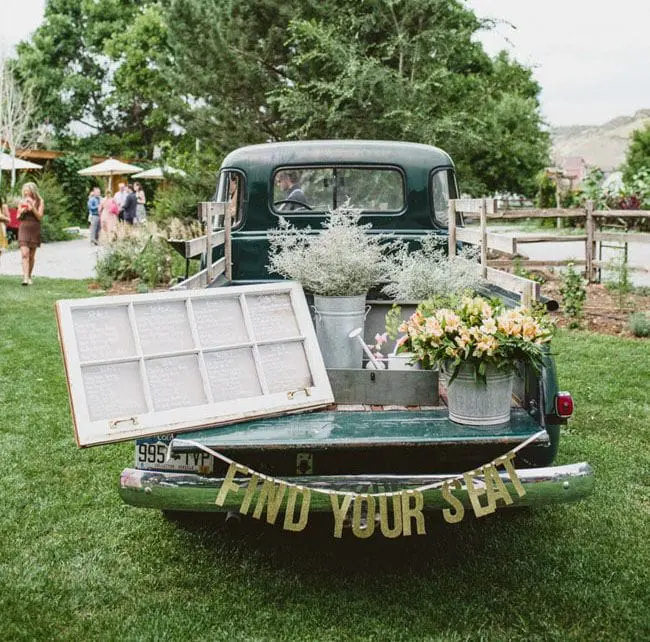 Credit: greenweddingshoes.com
An antique pickup takes the cake when it comes to attention-grabbing wedding displays. Release the tailgate and fill it with metal buckets of flowers and other rustic pieces, such as an antique door or ladder.
Add a banner like this one or another one and park it as guests enter the venue.
Guests will love taking pictures next to the truck! It sets the scene for a farmhouse affair.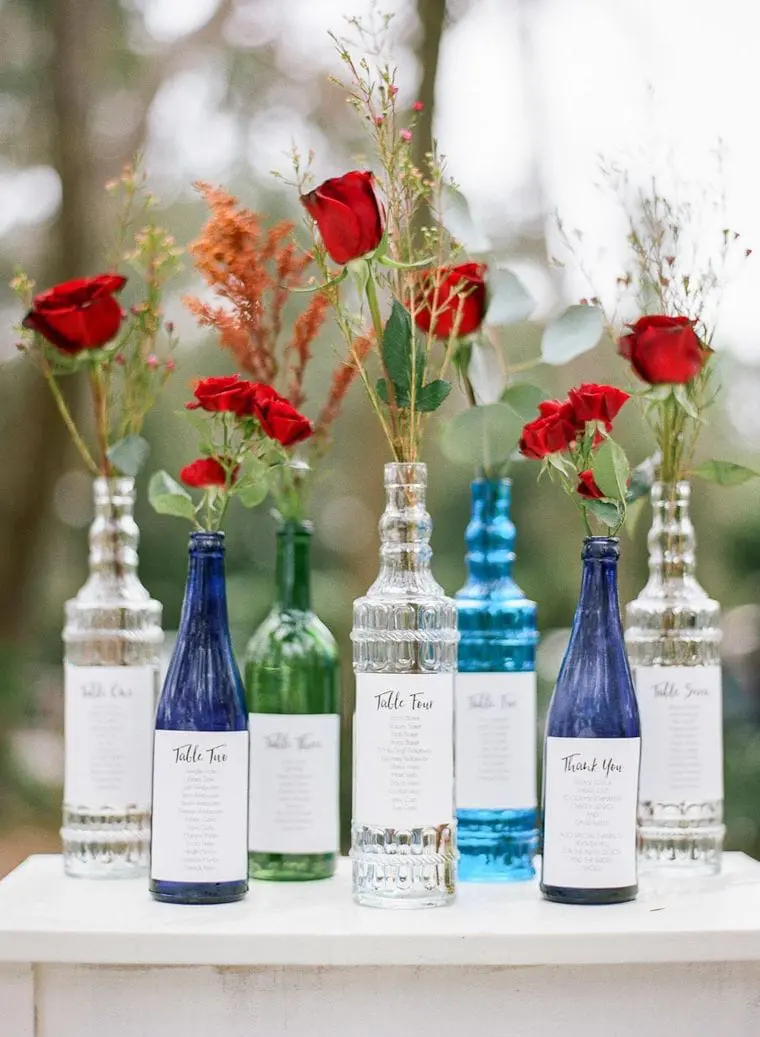 Credit: ruffledblog.com
Use colored bottles to let guests know where they're seated. Group them together on a table and put a single rose in each bottle. You can also use flowers that match the theme of the ceremony.
You can hand-write the names in calligraphy for a DIY touch. Make sure the bottles are all different colors and sizes for the proper effect.
This is a cost-efficient decoration that looks beautiful – and it's functional.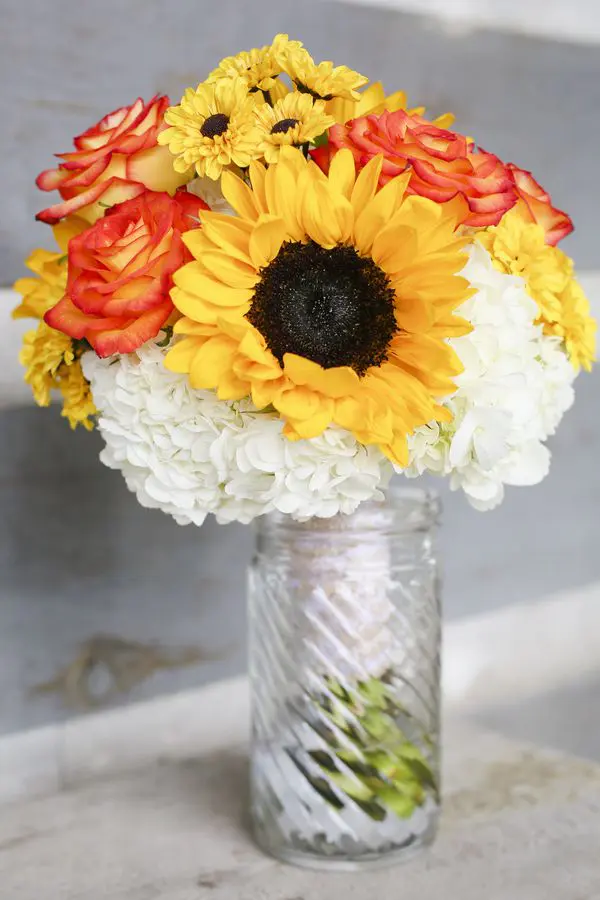 Credit: rusticweddingchic.com
Jam or jelly jars make for cute, small vases that work well for table arrangements. Create a full arrangement using different-colored blooms.
Using recycled jars is not only environmentally friendly, but it offers a down-home look that's charming and chic.
The jars can be different colors, sizes, and types of glass – the older, the better!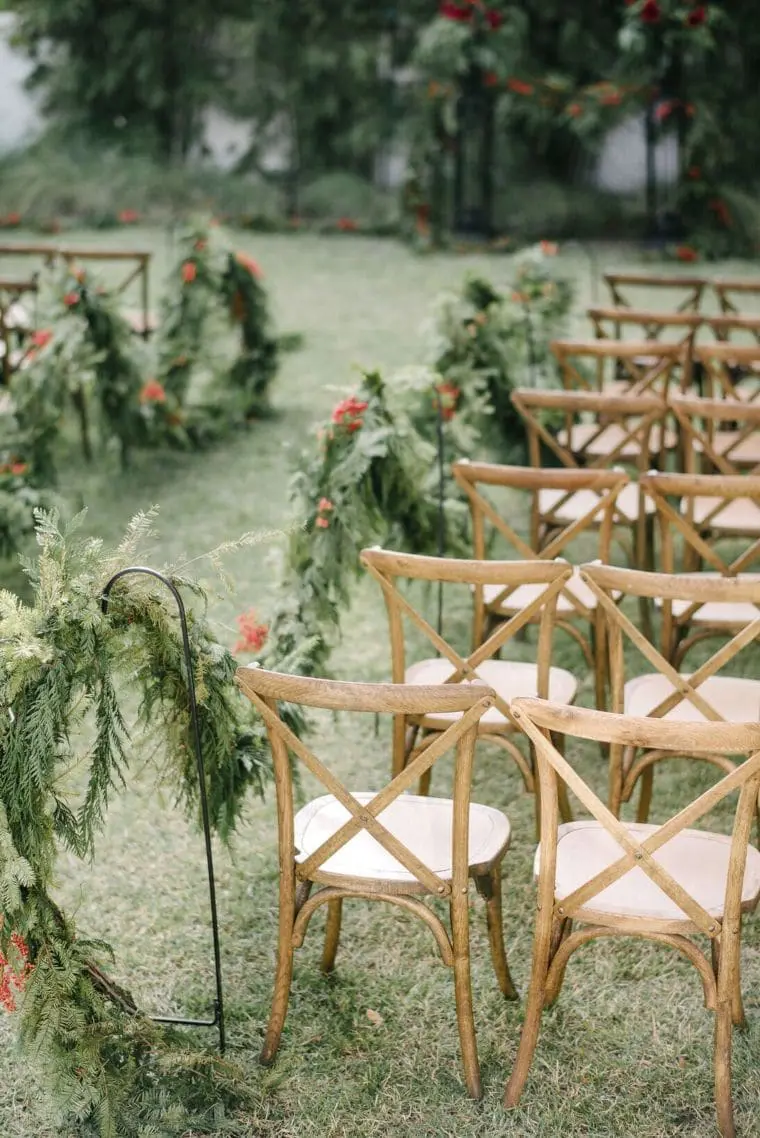 Credit: theknot.com
A decorated aisle not only marks off where the bride will walk, but it also looks simply gorgeous. Steal this simple idea for decorating the aisle with a garland of greenery.
Use metal stakes to hold the greenery in place. There are many types of garlands you can choose, and you can use real or artificial greens along with flowers of any color, like these.
They look simply dreamy and add just the right touch to an outdoor summer wedding, especially if the same garlands are wound around the altar.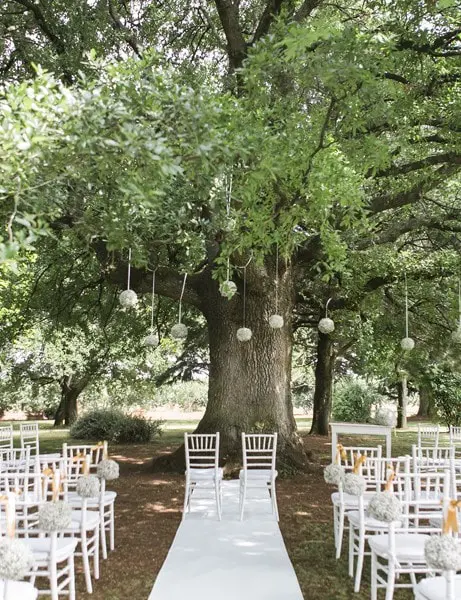 Credit: youandyourwedding.co.uk
Having a wedding underneath an old tree? Don't neglect to decorate it!
Using oversized paper balls is a great and affordable way to add a spot of sophistication to the tree. You can continue the theme by using these along the aisle and attaching them to the chair at the end of the aisle.
You can purchase these or make them yourself, but either way, they're cost-efficient.
Conclusion
Are you going to try any of these backyard ideas for your wedding? Enjoy a beautiful wedding design on a low budget!