Decorating a wedding can get extra expensive. Make these wedding centerpieces yourself and save the $$.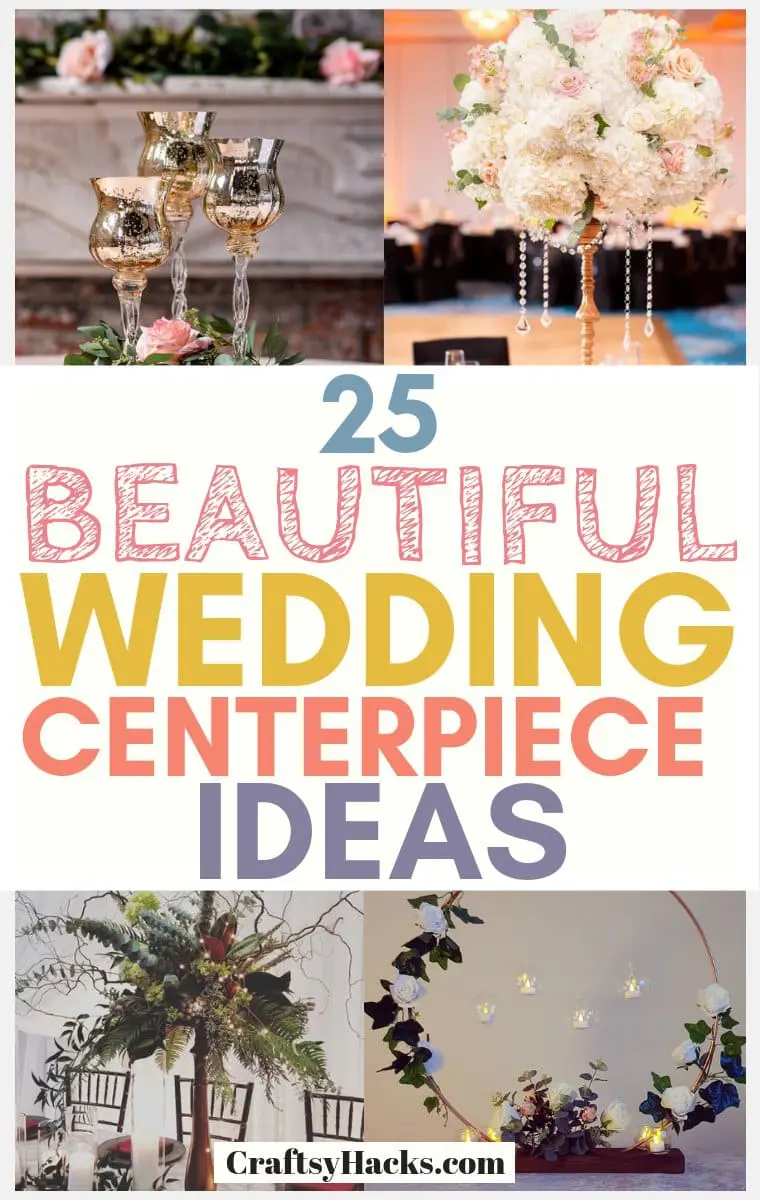 There is nothing more beautiful than a celebration of a wedding. We all want to be special since it's the moment of our life we all want to remember.
While it is very special, it can get very stressful when it comes to decorating, making the celebration right, and just keeping it sane.
If you're out and about searching for wedding decor ideas, you're in the right place. Today I'm going to share some of the wedding centerpiece ideas I've found and loved.
I hope these ideas will give you some very much-needed inspiration for your own wedding decor.
1. Colored Candles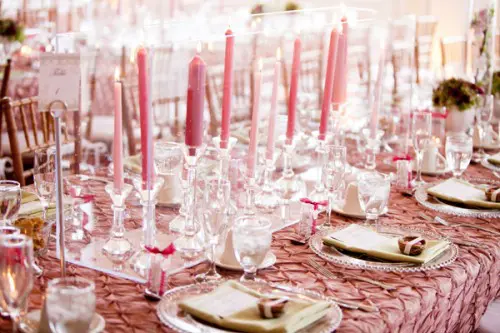 Credit: elizabethannedesigns.com
White is usually the dominant color at weddings. Why not put a twist on it and use colored candles instead?
It'll give the centerpiece very much needed warmth and a little bit of color that might be missing otherwise. Also, it's truly a cheap way to decorate a table, so go for it.
2. Floral Rose Centerpiece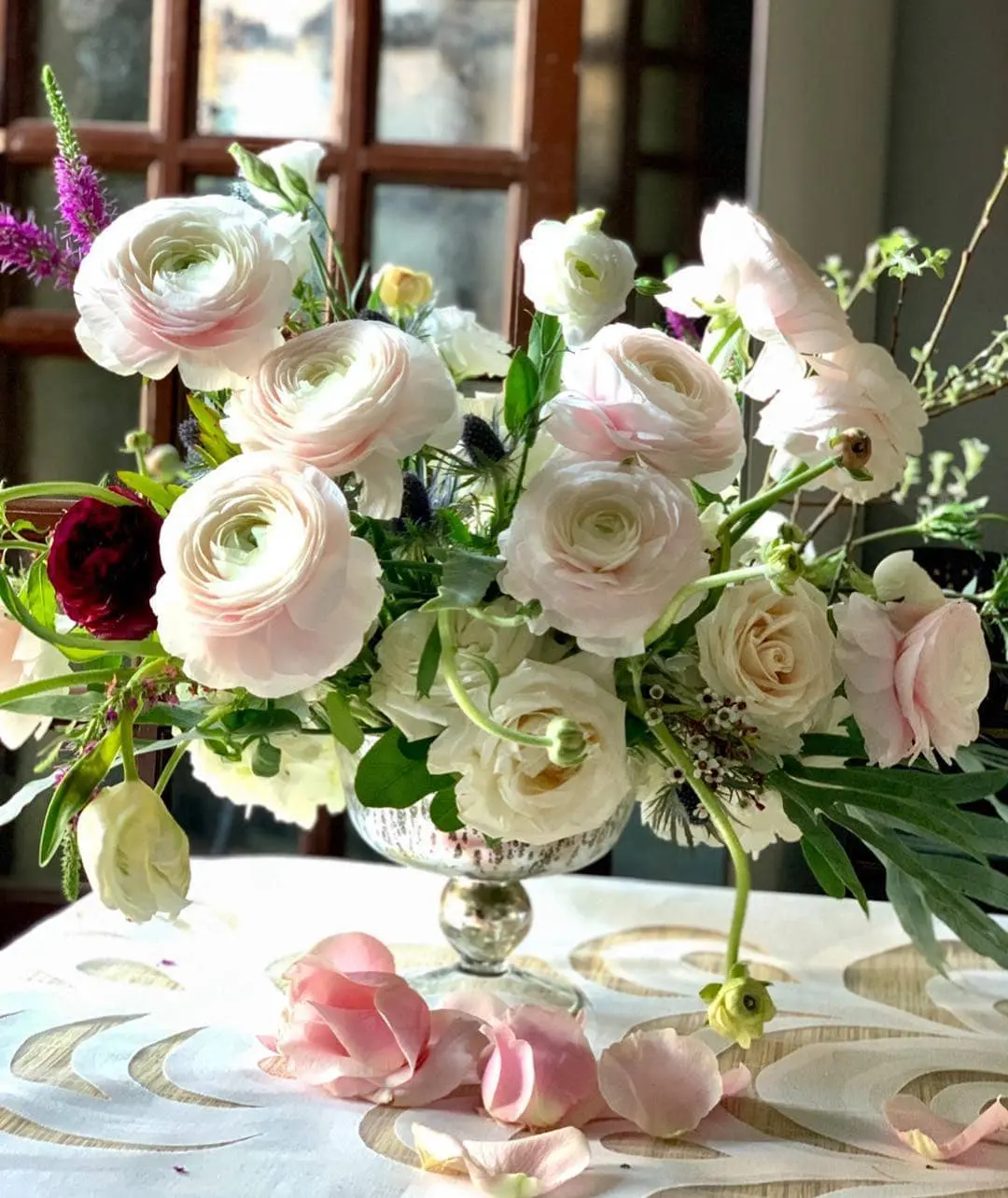 Credit: Instagram
Pinkish roses will never go out of fashion, so why not incorporate some into the centerpiece. Get an antique iron planter and use it as a base for the decoration.
You can get one like that here. The combination of antique and soft flowers is simply beautiful.
3. Cute Lego Centerpiece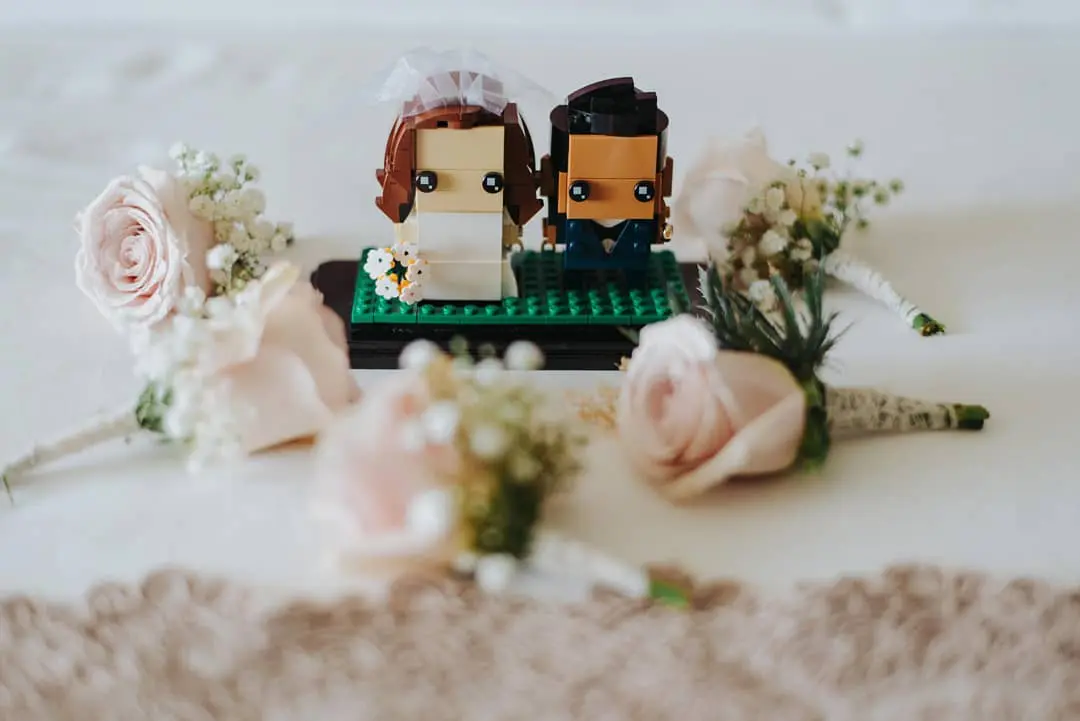 Credit: Instagram
Take your wedding décor to a whole new level with a little bit of imagination. Are you a Lego fan?
Have legos as a centerpiece on each table. You could really play with them and give each table a little bit of style.
Also, you might as well have a lego corner for all the little ones to play. Definitely, an interesting idea to try!
4. Table Number with Rustic Manila Rope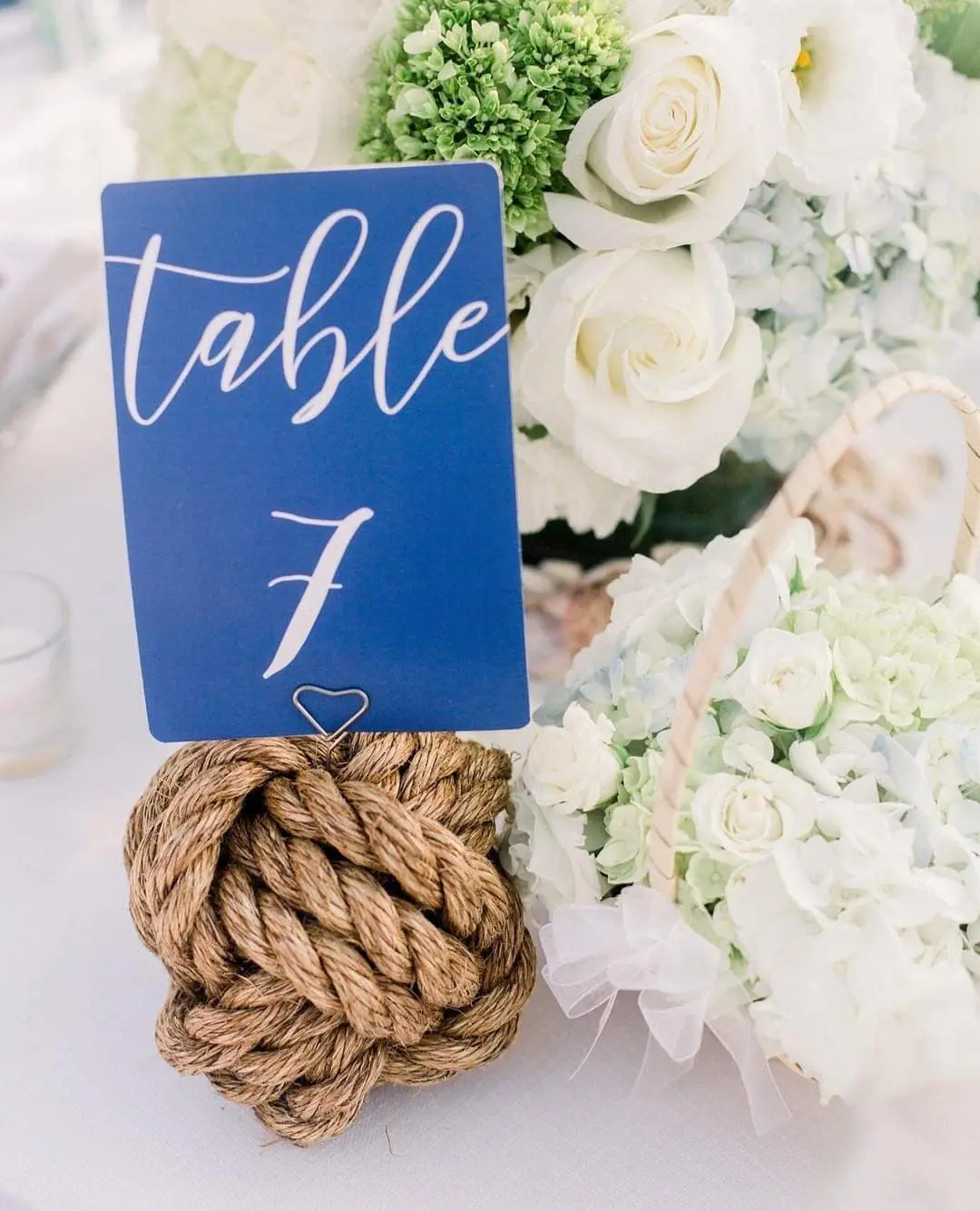 Credit: Instagram
Get a bit of rustic manila rope and design your own table number. Perhaps it's not exactly a centerpiece but definitely a great idea for a wedding decoration.
It's also super practical! And will give the table numbers a little bit of an edge.
5. Wooden Wedding Sign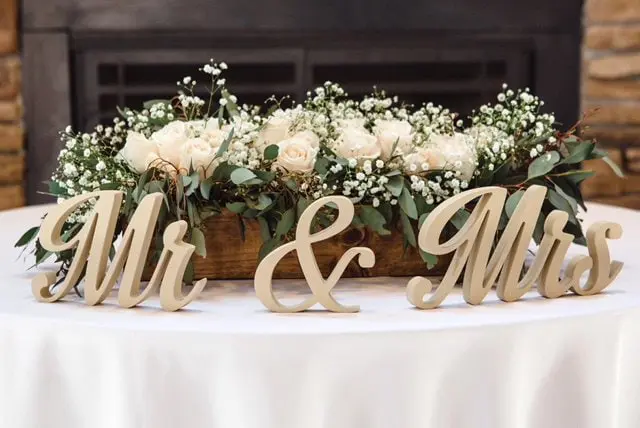 Credit: etsy.com
A wooden wedding sign is a must at any wedding. Have them near some flowers and you have a perfect wedding decoration.
Get creative with the wooden signs and give a bit of an edge to all the tables. Obviously, custom signs will be more expensive but might totally be worth it.
You can get this wedding sign here.
6. Silver Mirrored Tray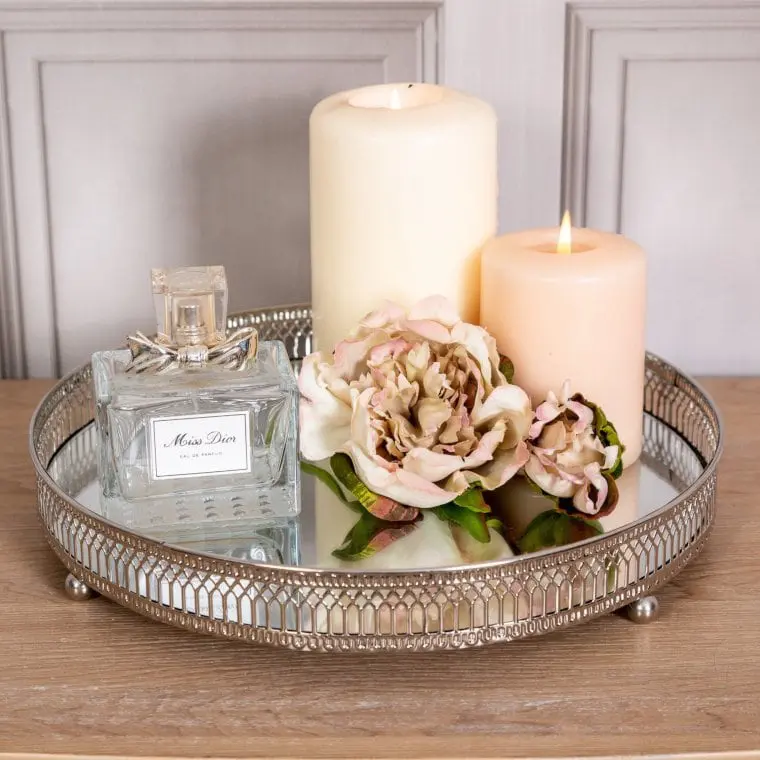 Credit: Ebay
Silver mirrored trays can truly change the way a table looks. They come in all shapes and sizes and aren't that expensive.
Check some of them here. Anyway, add a decoration or two on them, and you'll have something truly special.
Totally recommend it if you're on a low budget! You don't have to buy the actual silver tray for it to look good. You can get an identical tray here on Etsy for a reasonable price.
7. The More Flowers – The Better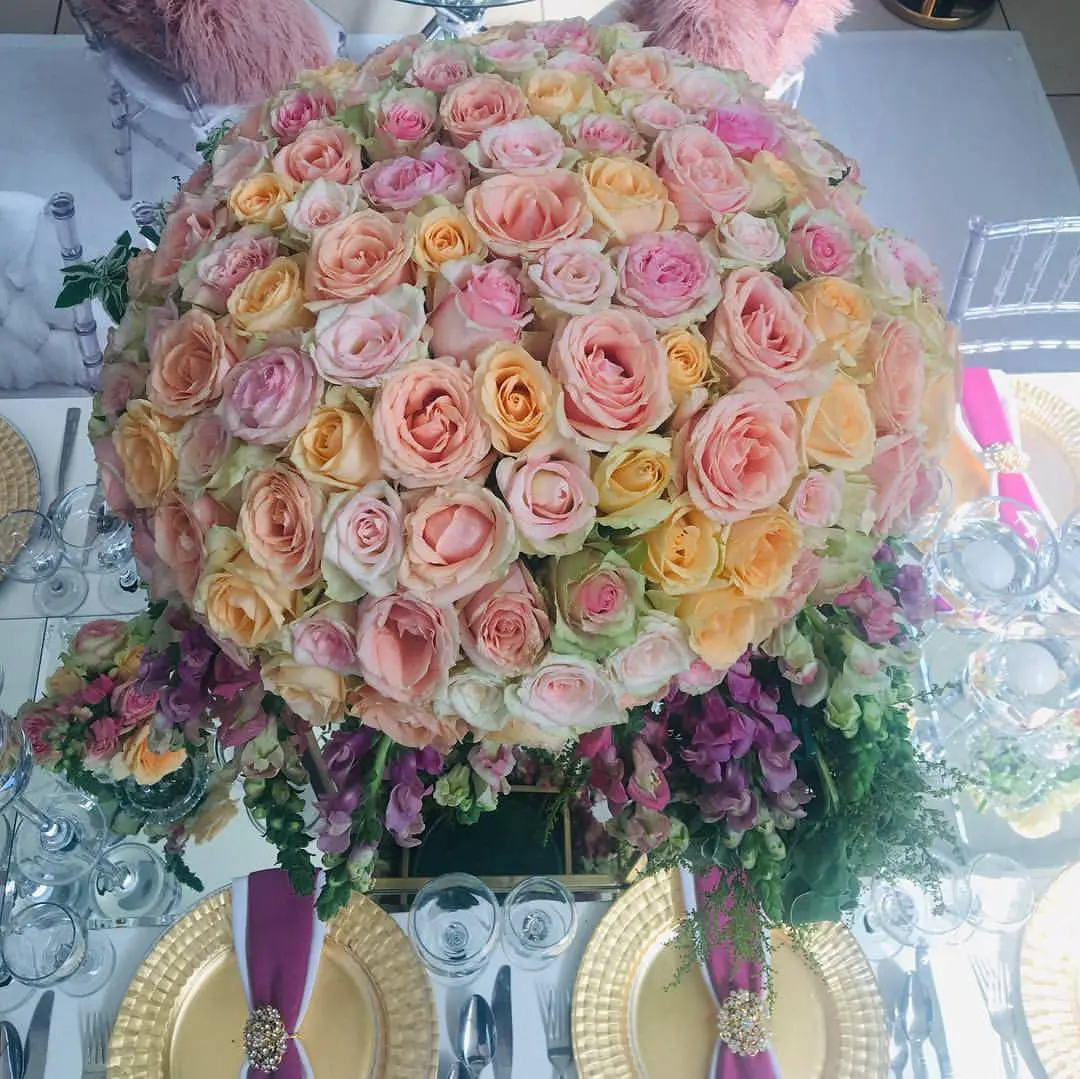 Credit: Instagram
If you love flowers and love to play with colors, make your own bouquet. The larger, the better.
There is nothing more beautiful and a tasteful arrangement of flowers. Sometimes it's all you need to impress a guest or two.
8. Floating Candles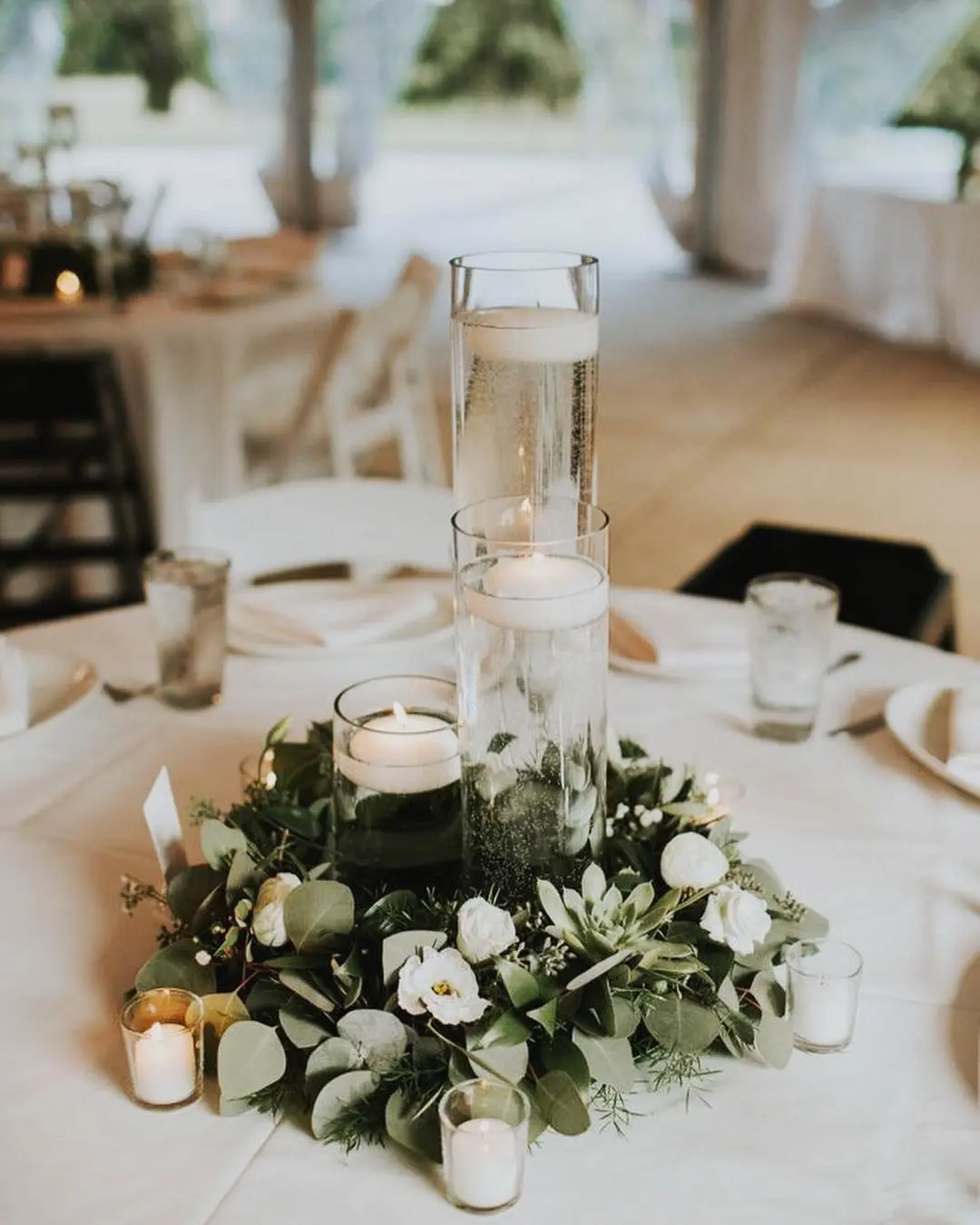 Credit: Instagram
Here is a truly budget-friendly centerpiece idea you want to try. Get a set of cylinder glass vases like these ones here.
Then, fill them up with water and get a few floating white candles like these ones here. Afterward, light them up and let them float.
9. Clear Glass Vase with Flowers In It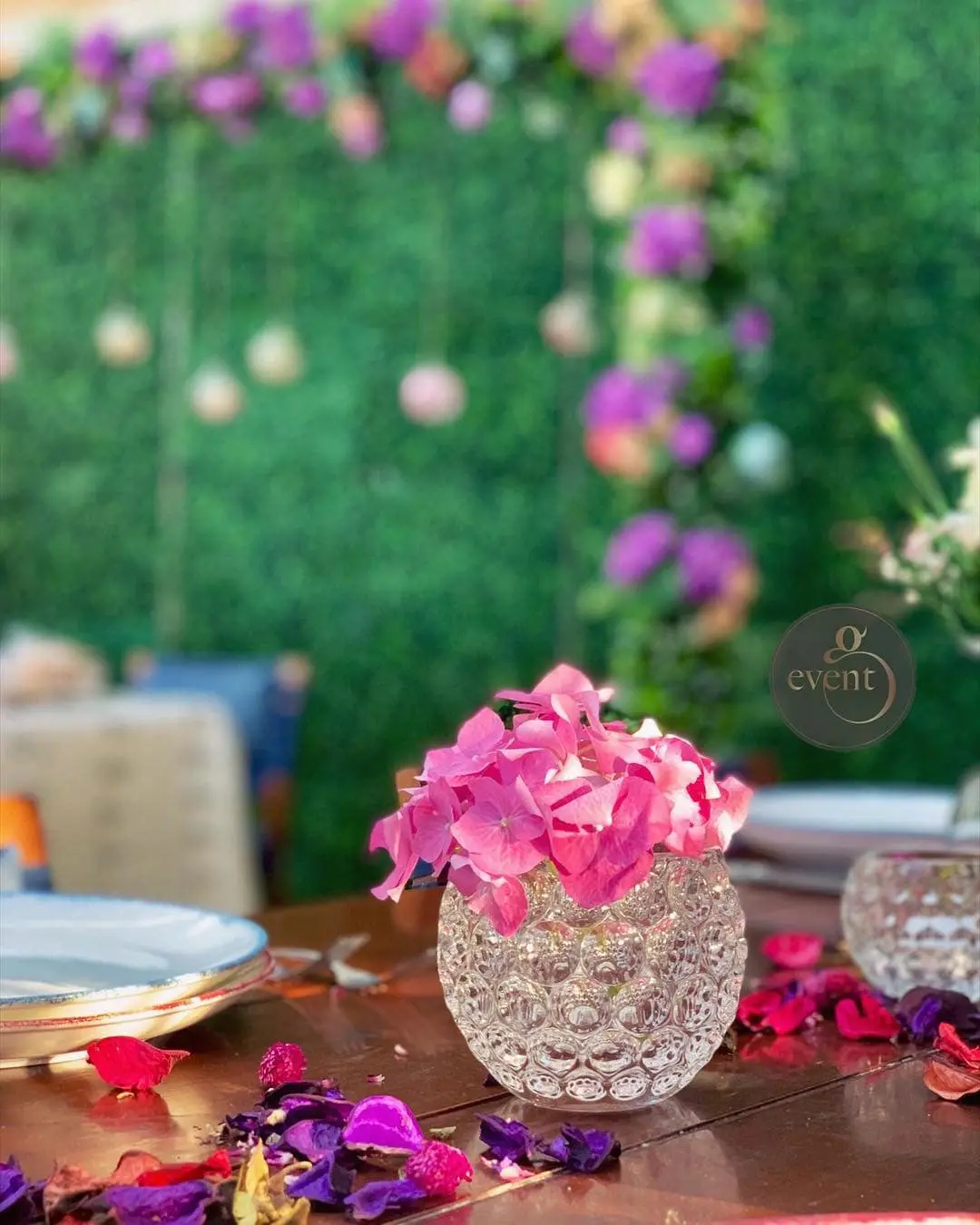 Credit: Instagram
There are a few types of vases you could use. Clear glass vases look amazing with flowers in them.
So, you'd want to get a vase like this one here. Also, you could get a crystal vase to achieve a slightly different look.
Look at some of the beautiful crystal vases here.
10. Vintage Candle Lanterns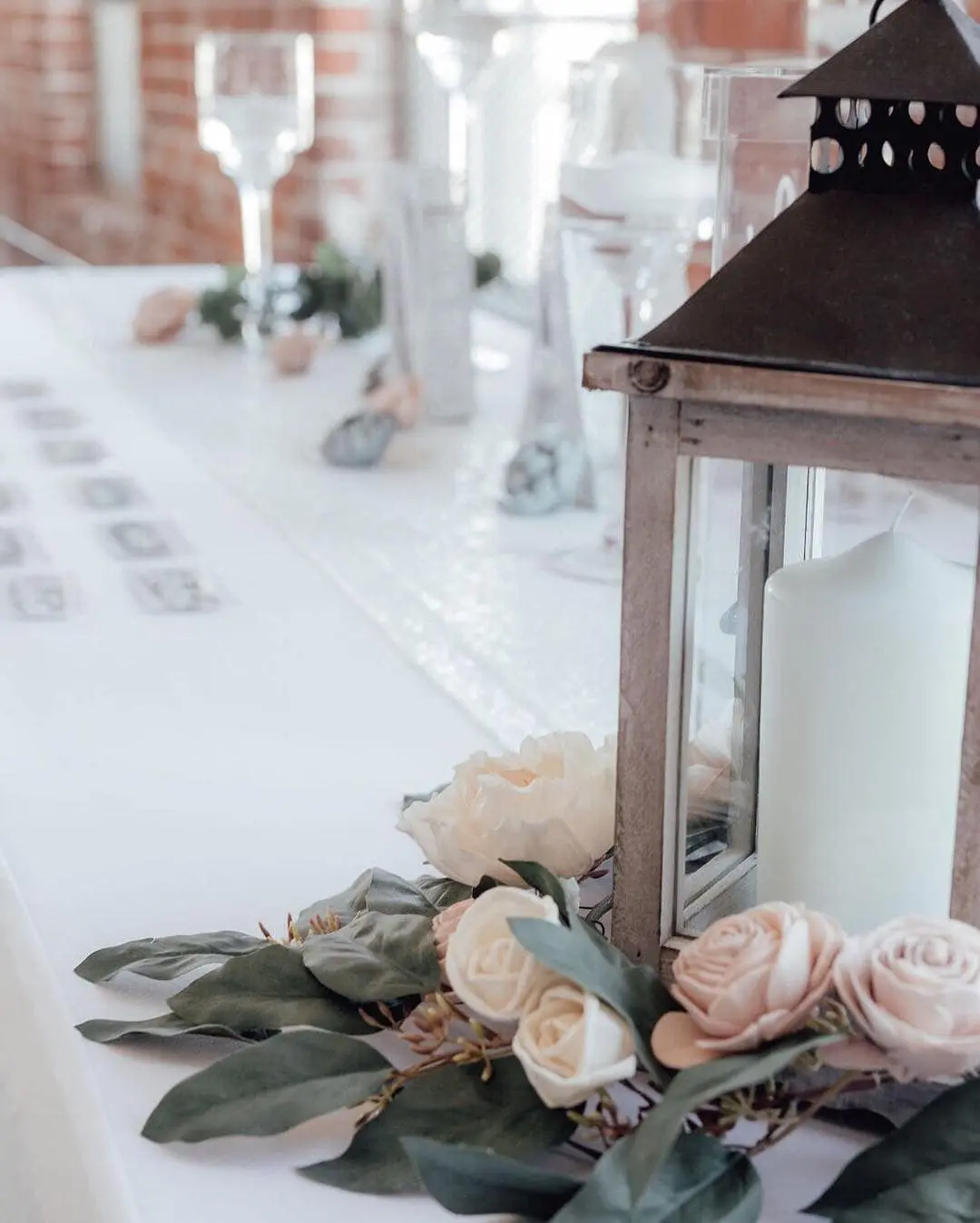 Credit: Instagram
Vintage lanterns are truly underrated. There is simply so much you can do with them to decorate your home, your garden, and even a wedding table.
Another great thing about them is that you can get them on a low budget. Either buy them online and choose from a variety of options here or go to a second-hand shop to see what it has to offer.
Check out more wedding ideas!
If you're loving the idea of lanterns on the tables, check this elegant candle lantern on Etsy.
11. Simple Arrangement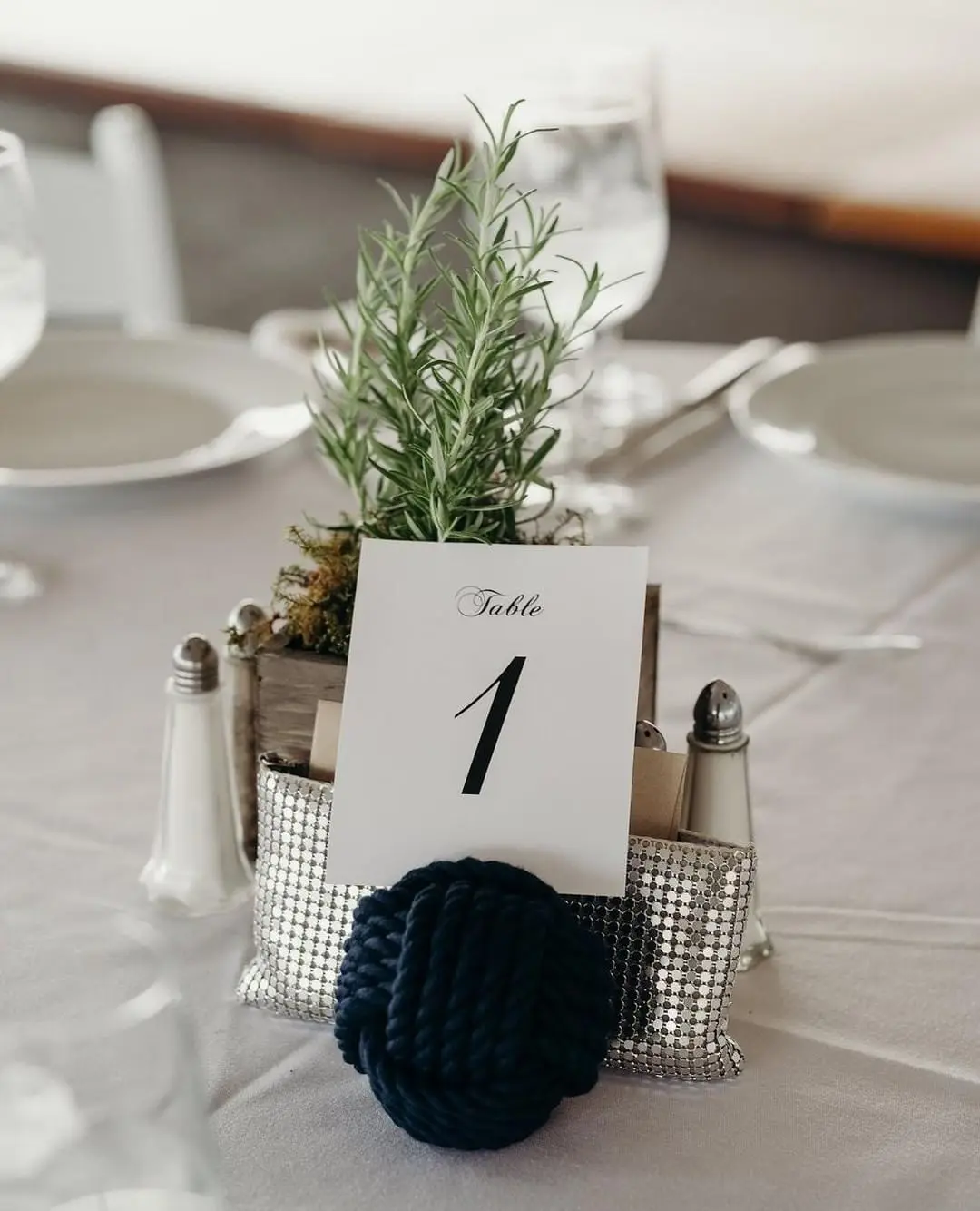 Credit: Instagram
Here is a quick look into super low-budget table arrangement. Get a wooden planter box, a plant or two, and a sparkly makeup bag.
Put all of them together into one simplistic but elegant arrangement and have fun with it.
If you're not much of a DIY person, you can get these wedding knots with table numbers here on Etsy for a reasonable price.
12. Goblets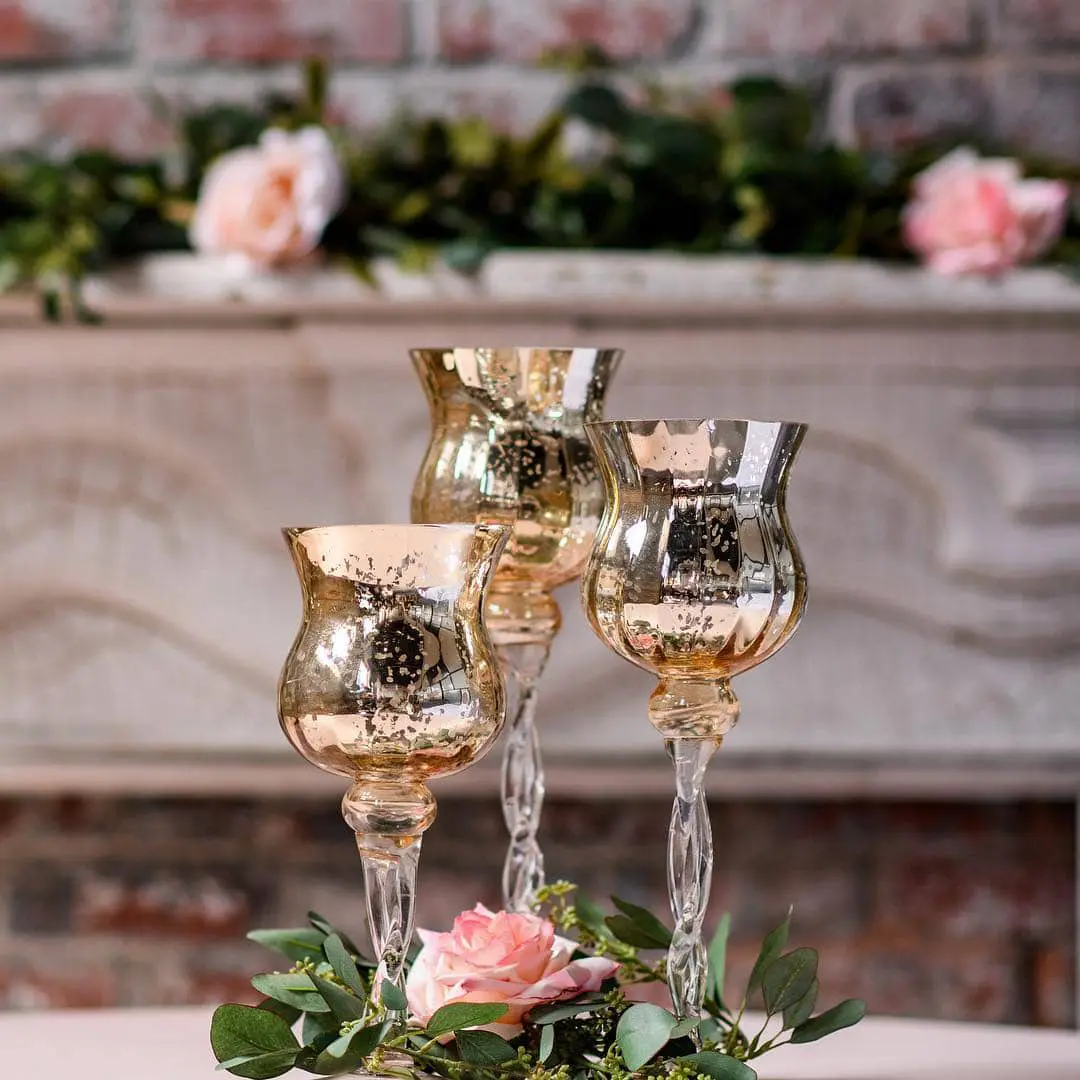 Credit: Instagram
Goblets have a beautiful symbolic meaning of the ceremony and represent religious unions. Something as simple as goblets can beautifully decorate the tables without you need to add too much to them.
An arrangement of flowers around a goblet can create a beautiful centerpiece. Check some of the options for goblets here.
You can find enough options to fit your style.
13. Simple and Natural Wedding Decoration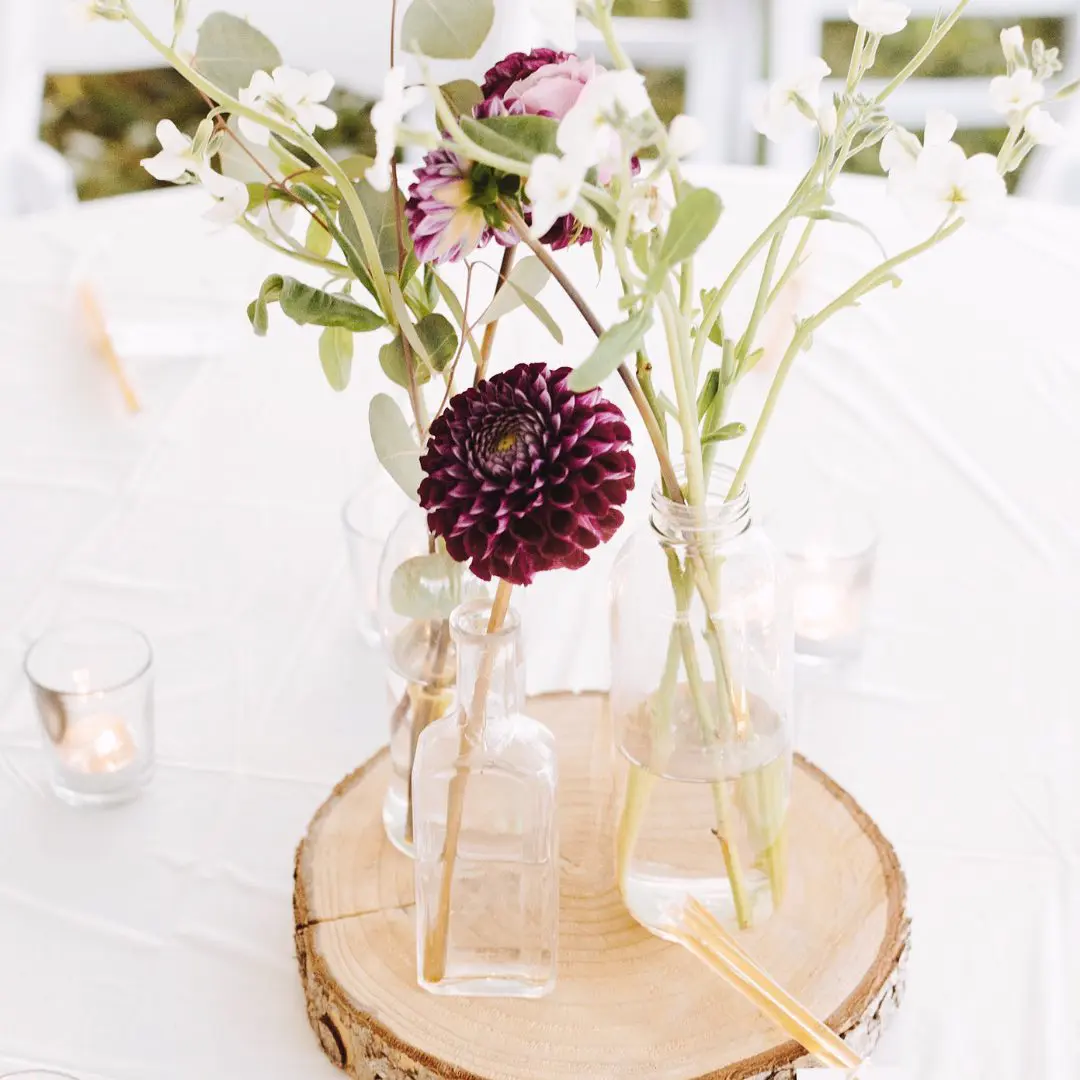 Credit: Instagram
A wood plank can bring in some very much-needed sense of nature into your wedding décor. It's a cheap décor option that's ridiculously beautiful.
Check these wood planks to see what I mean. Get a few transparent glass bottles, fill them up with water, and put flowers into them.
In this way, you can create your own, simple yet elegant centerpiece that looks natural and doesn't cost a lot of money.
14. Flower Garland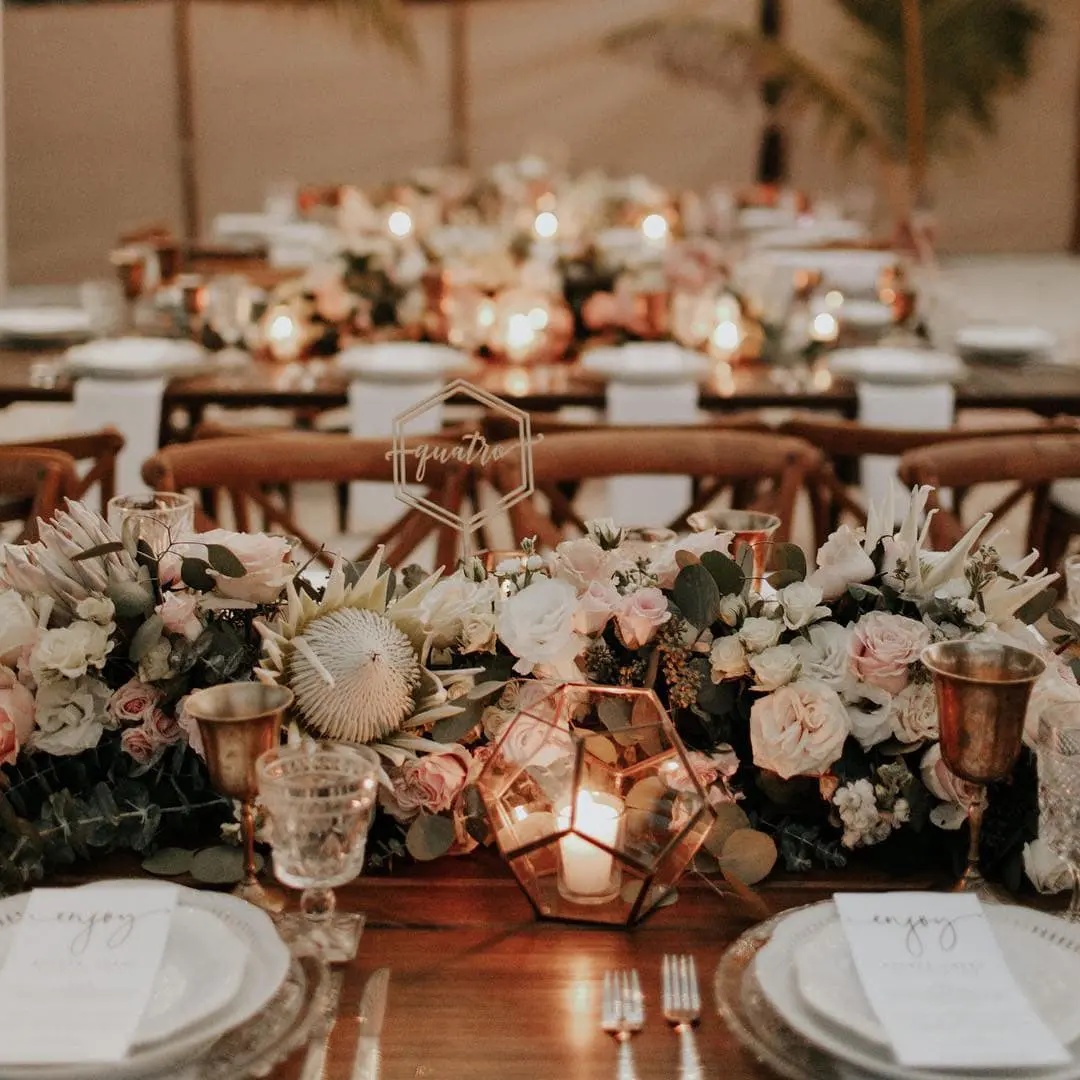 Credit: Instagram
There is nothing more impressive than a flower garland on the table. While it's not the most budget decoration, it sure looks amazing.
15. Elegant Wedding Metal Flower Stand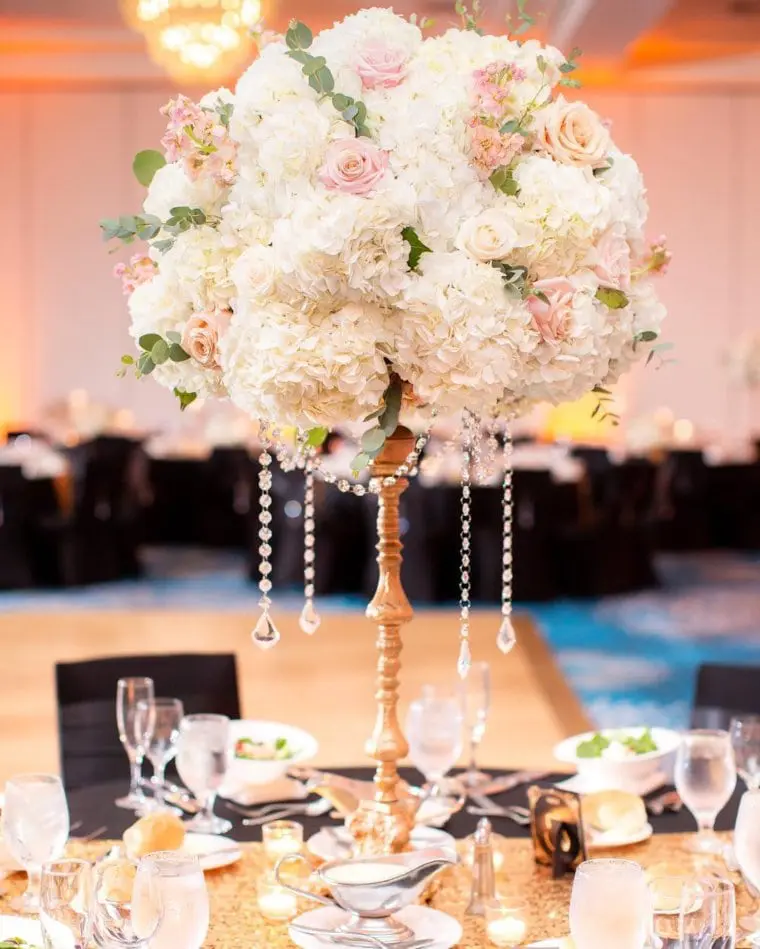 Credit: Instagram
Something as simple as a tall metal flower stand with flowers can look absolutely amazing on a table. Add a few chains of pearls and you have the masterpiece you've been needing.
Here are a lot of elegant wedding metal flower stands that won't break your wallet.
16. Carnival Style Decoration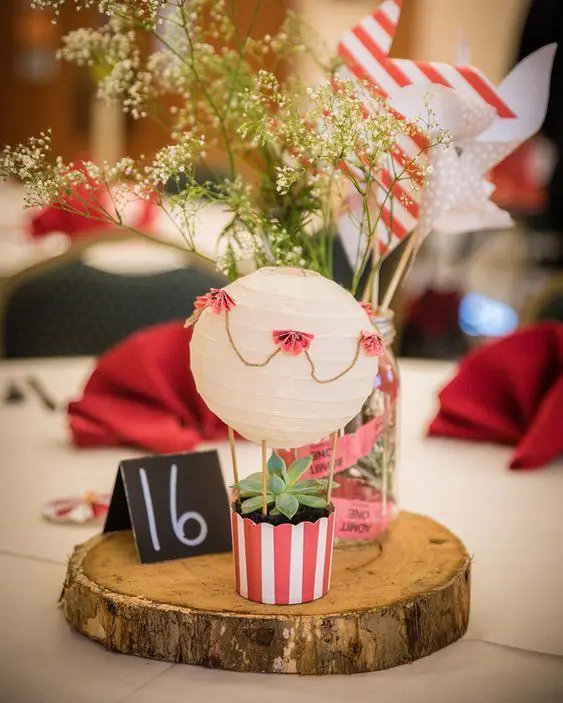 Credit: Instagram
It doesn't have to be all white all the time. Did you know that? Bring in colors into your wedding, make it a festival. Introduce wedding booths and make it a theme.
Loving this idea because it's truly low budget and can put a twist on your wedding design that you might not expect to like.
17. Candle Carousel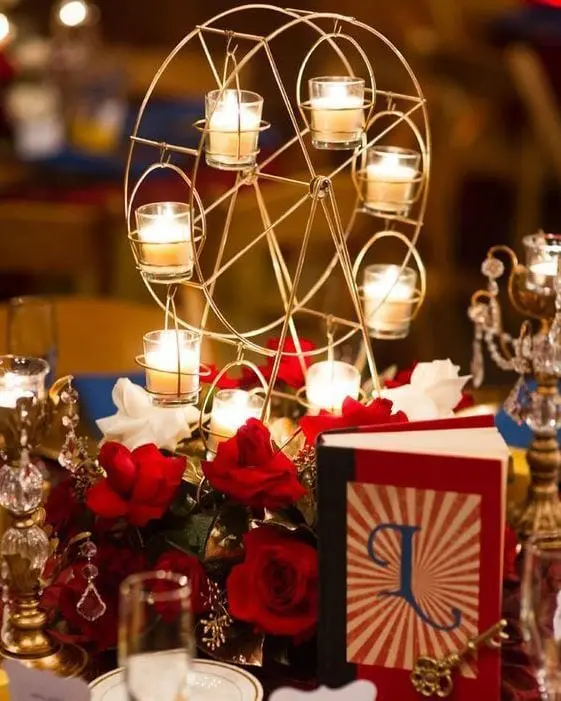 Credit: Instagram
If you want to have something truly special, dig deeper and search for a candle carousel. It'll bring in some liveliness into your design and give it a bit of a twist.
Something that simple can be cheap and look absolutely amazing.
18. Tall Flower Centerpiece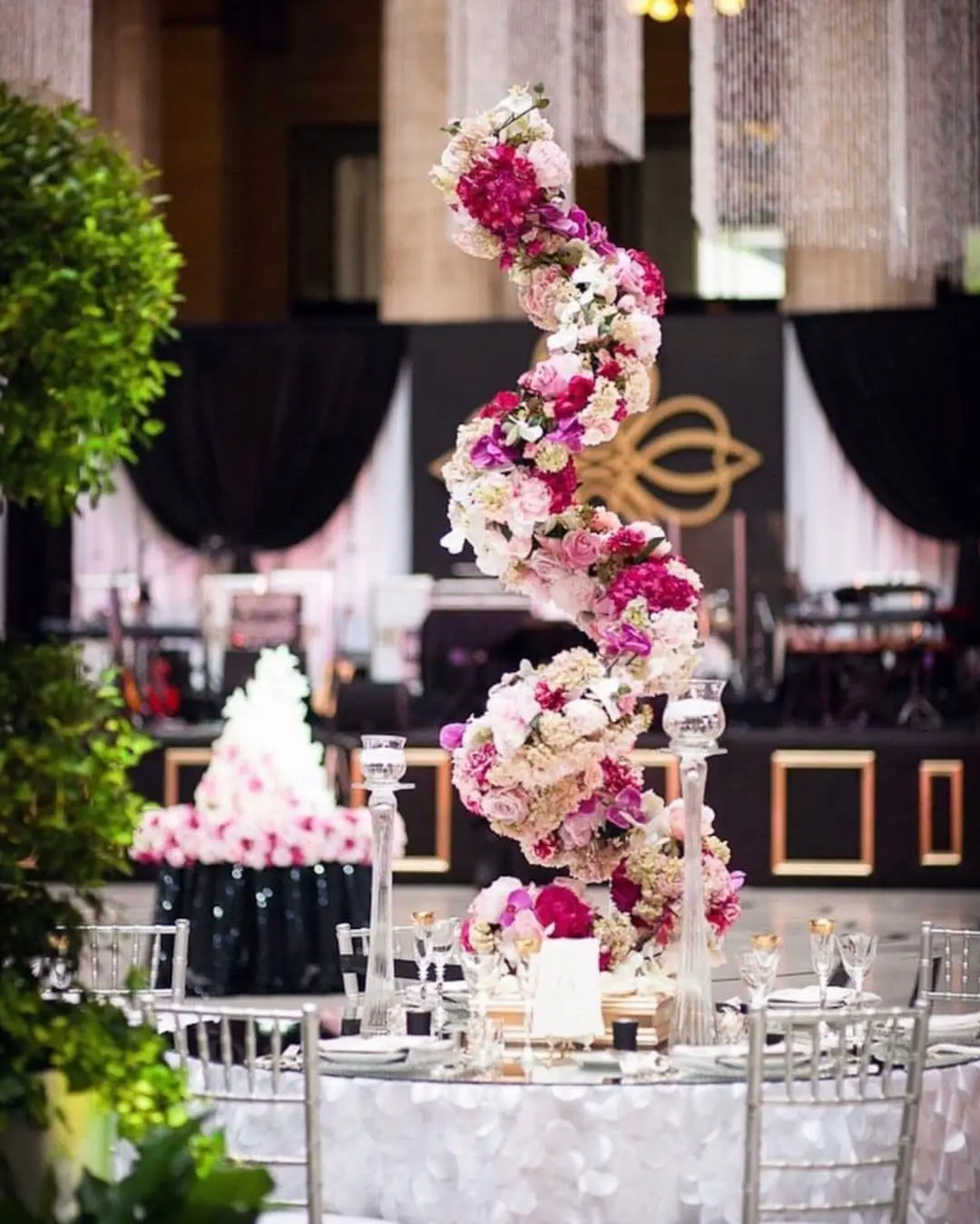 Credit: Instagram
Who said you can only go horizontal with your flower arrangements? Here is a beautiful example of how you can truly make an impression with something as simple as flowers.
An ingenious idea to try! However, a regular florist might not be able to help.
19. The Greener, the Better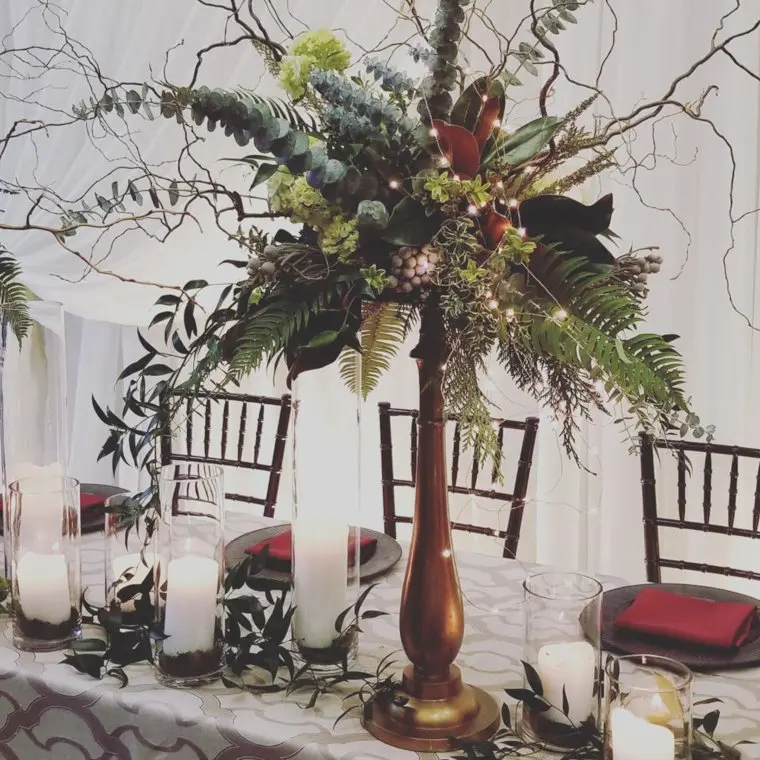 Credit: Instagram
Flowers are usually very important when it comes to wedding décor. However, you could just as well use the plants that don't necessarily blossom.
That's where you can get creative with tall candles and tall transparent vases too. You can get a set of these here.
20. Decorate Mason Jars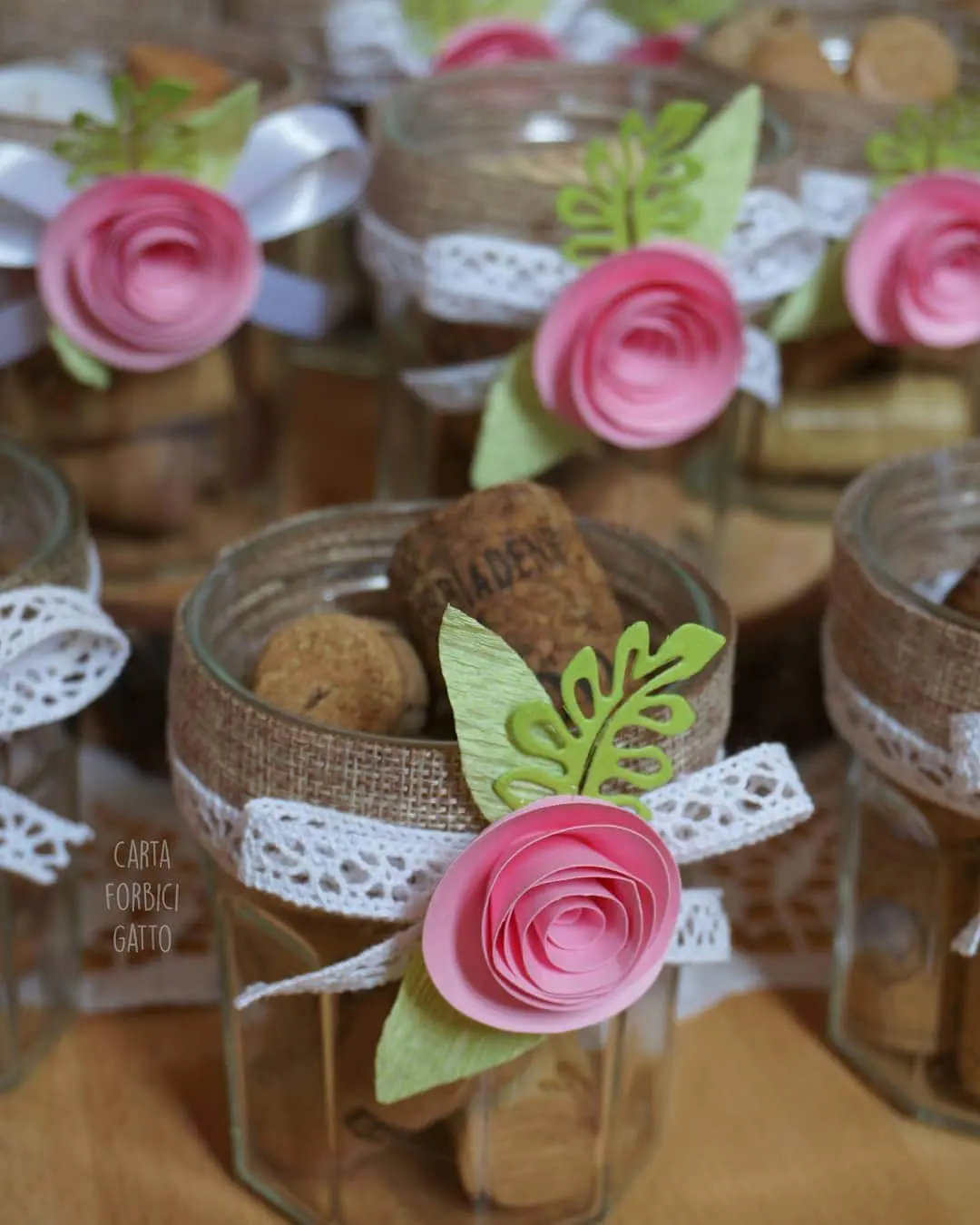 Credit: Instagram
Collect bottle corks just to use to decorate your wedding. Here is a beautiful idea of how you could use mason jars, flowers, and corks to create small centerpieces.
Here are multiple good quality mason jars you can buy in case the idea looks appealing to you.
21. Simple Greens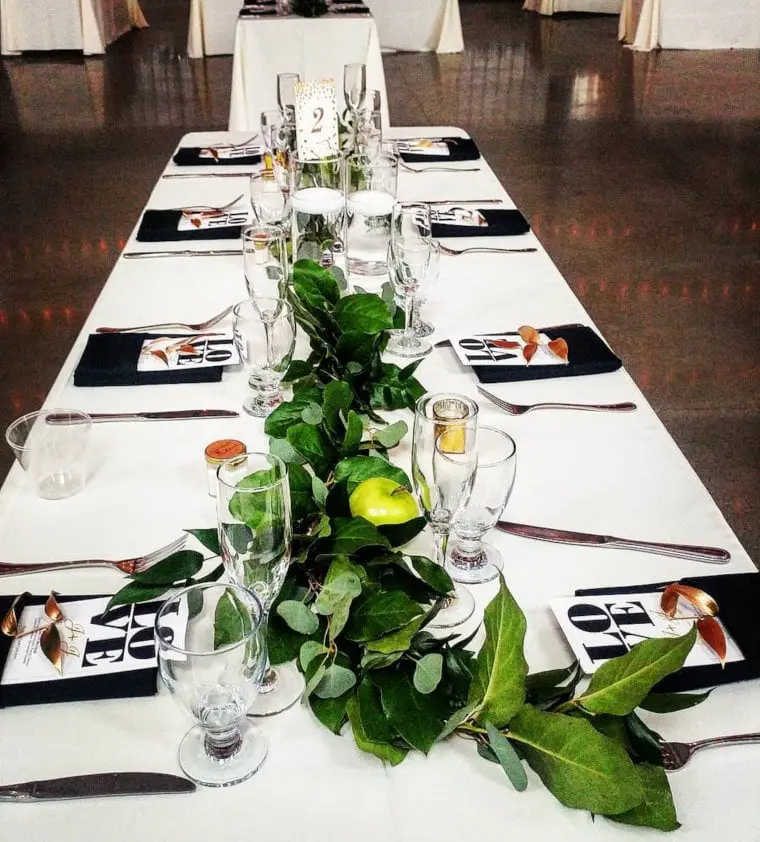 Credit: Instagram
The table centerpiece doesn't necessarily have to be anything complicated. Something as simple as greens can truly bring out the mood.
These especially look good on rectangular tables rather than circular ones. Usually, the circle tables require a few more decorations to make them look complete.
22. Classical and Yet Playful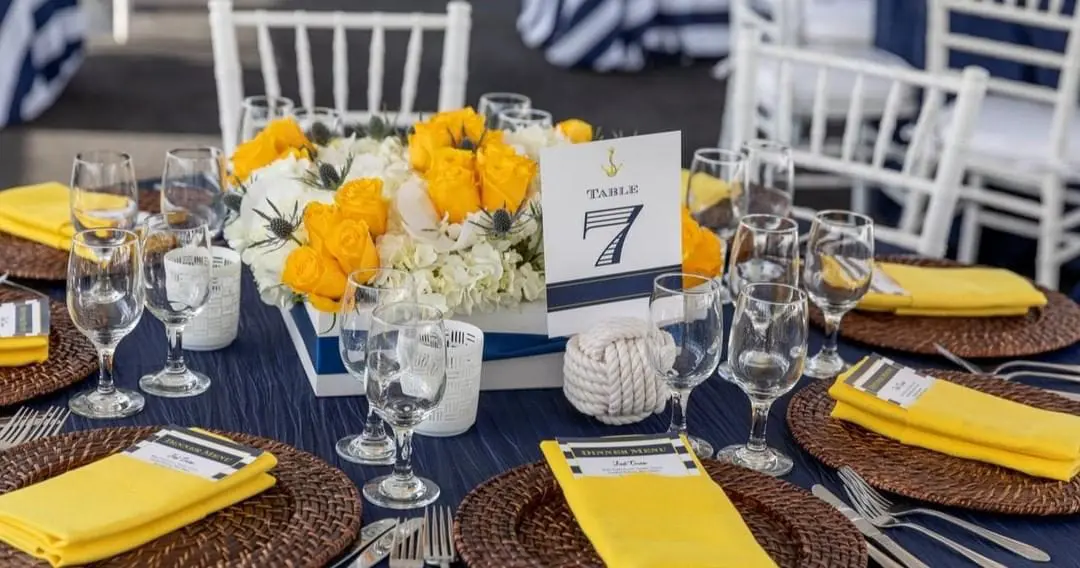 Credit: Instagram
If you want to go for a more elegant summer look, get a white box, decorate it with a ribbon, add flowers to it, and just play with colors.
This combination of blue sapphire and yellow truly gives the table a summer look. So, it's elegant but not boring.
23. Crystal Glass Candle Holder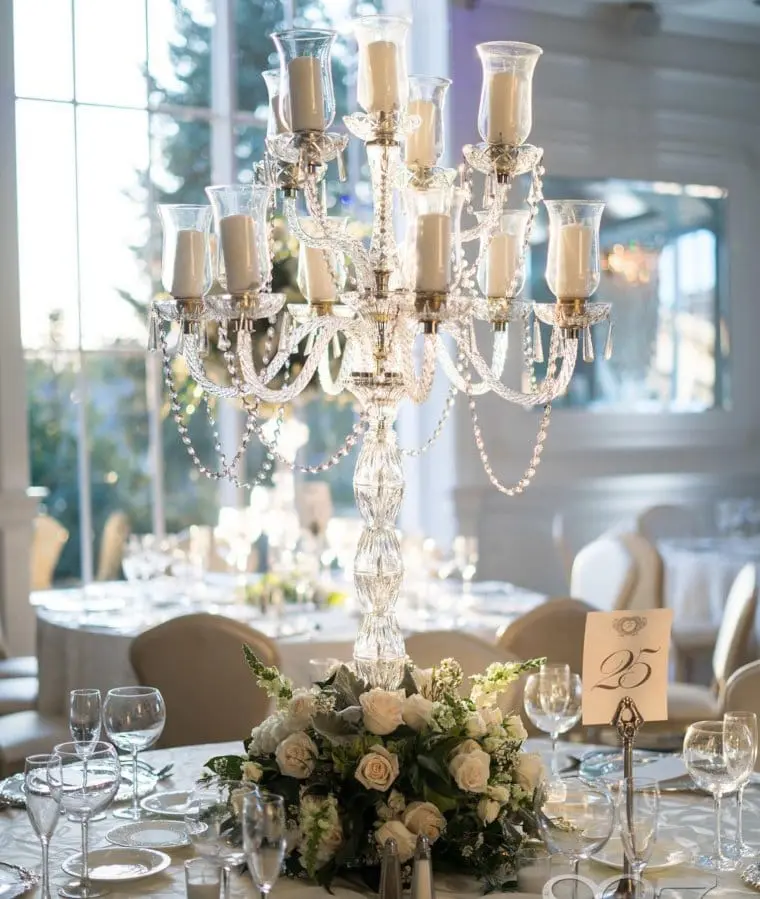 Credit: Instagram
A crystal glass candle holder can be an absolutely gorgeous centerpiece. However, these do cost a lot.
Thus, it might not make sense to buy them. But, you can always rent.
24. Gold Hoop Centerpiece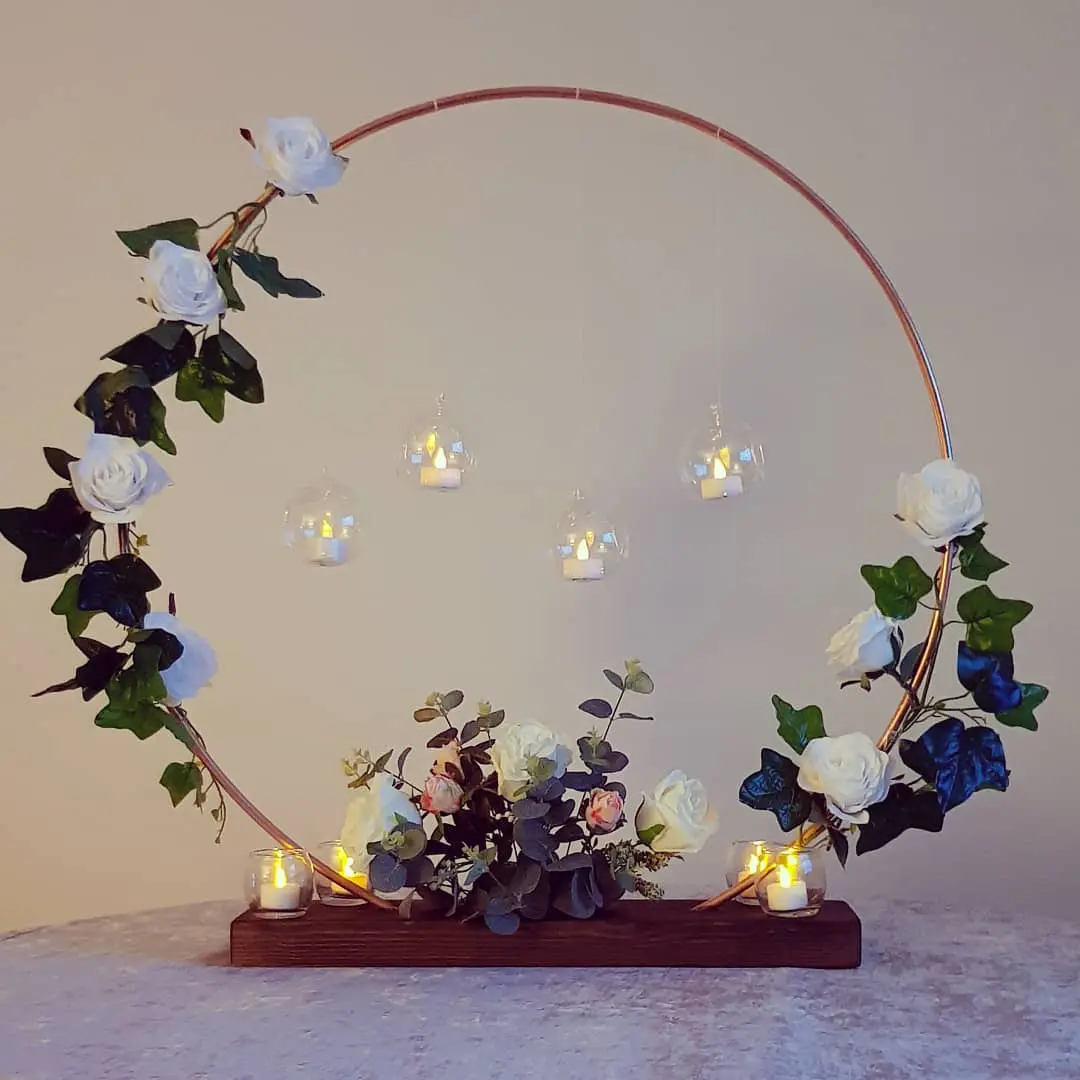 Credit: Instagram
While you might not be able just to buy one, a hoop centerpiece will truly catch your guests' attention. Decorate it with flowers and candle lights to get the full effect.
You can get a similar gorgeous centerpiece here on Etsy.
25. Simple and Chic Balloon Centerpiece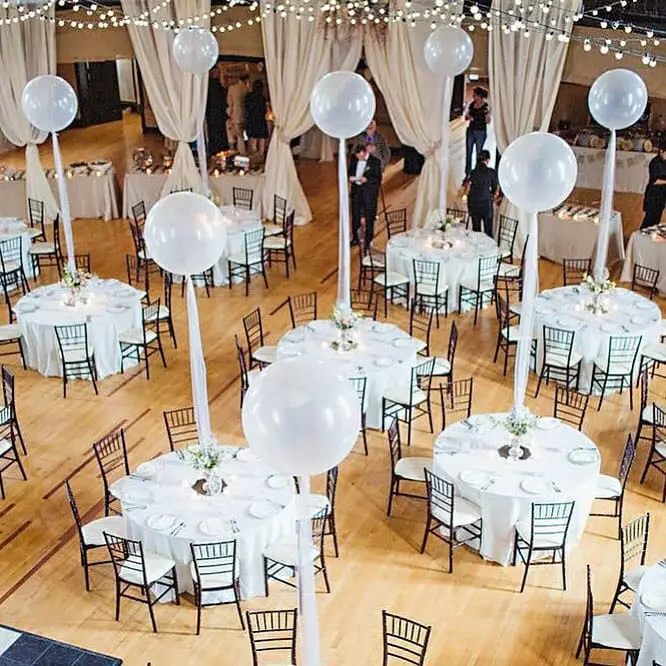 Credit: Instagram
This is an absolutely beautiful centerpiece idea. And it simply shows that you don't have to spend a lot of money to make your wedding décor unique.
Fill up the balloons with helium and connect them to the table with white silk fabric. Have a little vase of flowers at the bottom of it and the centerpiece will look miraculous.
Conclusion
I hope you've enjoyed some of these ideas! Have fun with them, get creative and good luck with the wedding!