Looking for wedding decor ideas? Check out these wedding signs you can make yourself!
If signs aren't already a part of your wedding day checklist, you better add them NOW!
They're great for welcoming your guests and guiding them in the right direction. The last thing you want is your wedding guests getting lost and ending up at someone else's wedding, right?
But before you panic-dial your wedding planner's number or frantically Google where you could buy some at such short notice. Check out the list of 20 creative wedding sign ideas I have rounded up for you below.
Don't worry if the big day is only a few weeks away or if you're working with an already maxed out wedding budget. I intentionally picked ones that are super easy to DIY and super friendly on the wedding wallet.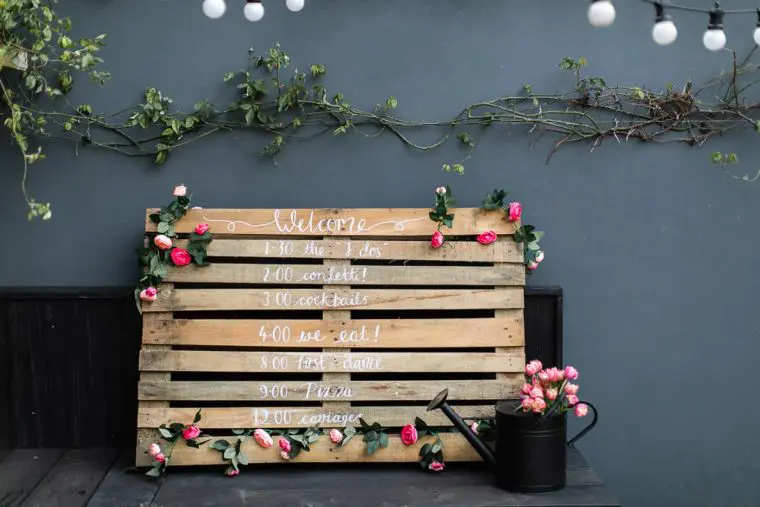 Credit: rockmywedding.co.uk
This welcome sign works best with farmhouse or boho-themed weddings. I believe they also work well with garden weddings.
For this rustic-inspired sign, you will need a large wooden pallet. They're usually free or come at a super low cost from various local retailers (you can also check the recycling sheds) and a few flower vines.
For the actual text on the sign, I recommend using a chisel-tip white marker, as the one found here. If DIY'ing is not really forte, here is a similar-looking sign you can get on Etsy.
This is a lovely backyard wedding idea that's low budget!
Credit: somethingturquoise.com
This minimalistic sign is another one that works well with garden or rustic weddings, but I can also picture them in front of the church. I love this because it's relatively portable.
So, after the church ceremony, it can easily be moved and used as a welcome sign at the reception venue. The best thing is, you don't need to look for an actual chalkboard.
You can use any old wooden slab lying around, paint it over with chalkboard paint like this, and then add final touches using floral and leafy accents.
In case DIY is not your forte, you can get a customized chalkboard sign similar to this one here.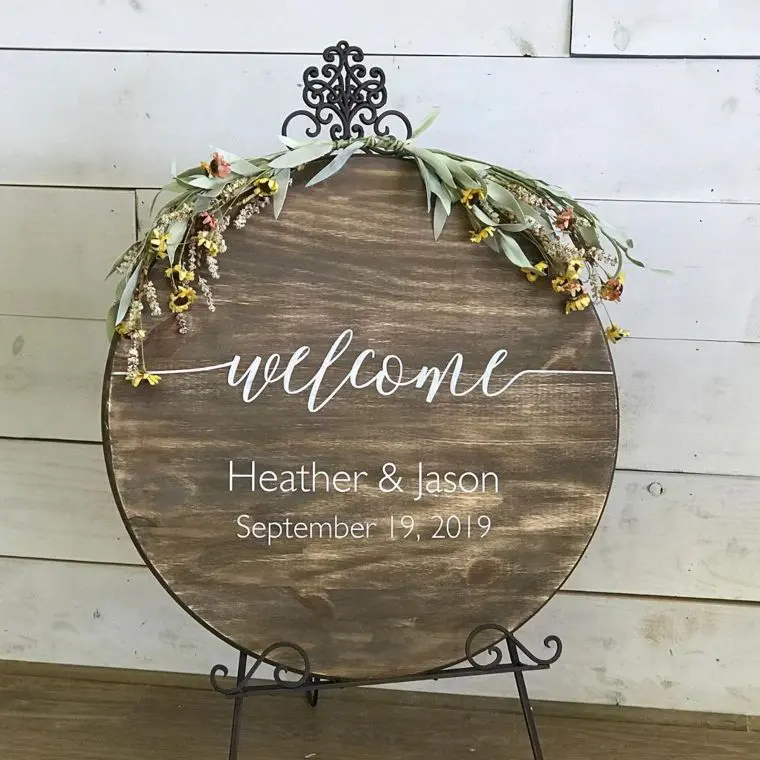 Credit: Instagram
If you have a large cheeseboard or grazing board tucked away somewhere in your kitchen, use it as a perfect tabletop welcome sign.
Remember, it doesn't have to be a circular sign like the one on this photo – you can use any board shape that you have.
If you have smaller boards, they also work great as wedding table signs, to help your guests identify their dedicated table.
Check more Dollar Store wedding hacks here.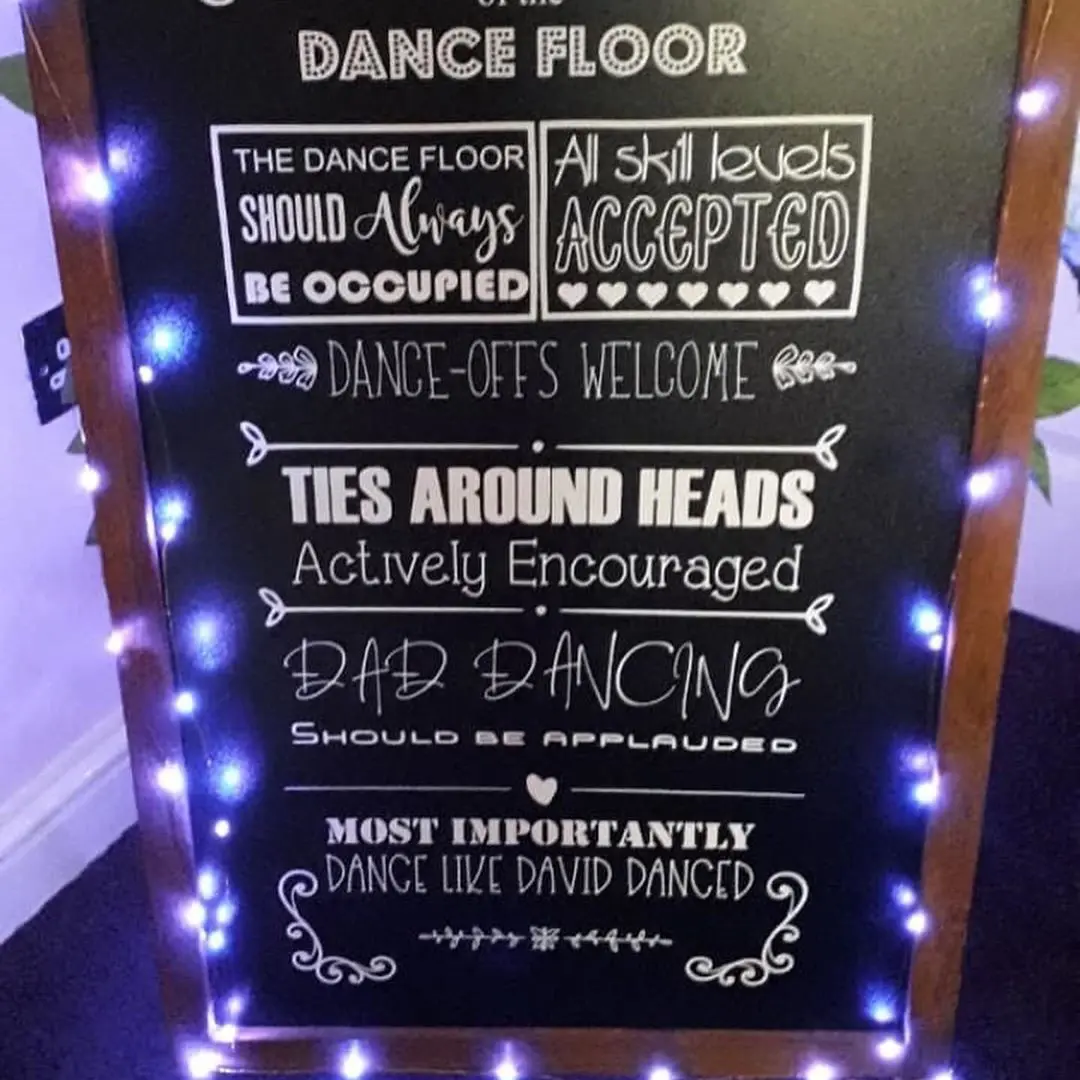 Credit: Instagram
This idea is another take on the chalkboard sign. It's something that works great for late afternoon or nighttime wedding receptions.
It's more of a fun and quirky sign than a guiding one, but it definitely suits the fun and festive mood of a wedding dance floor. If using at nighttime, make sure to add in fairly string lights, available online here.
Check out more wedding lighting ideas here.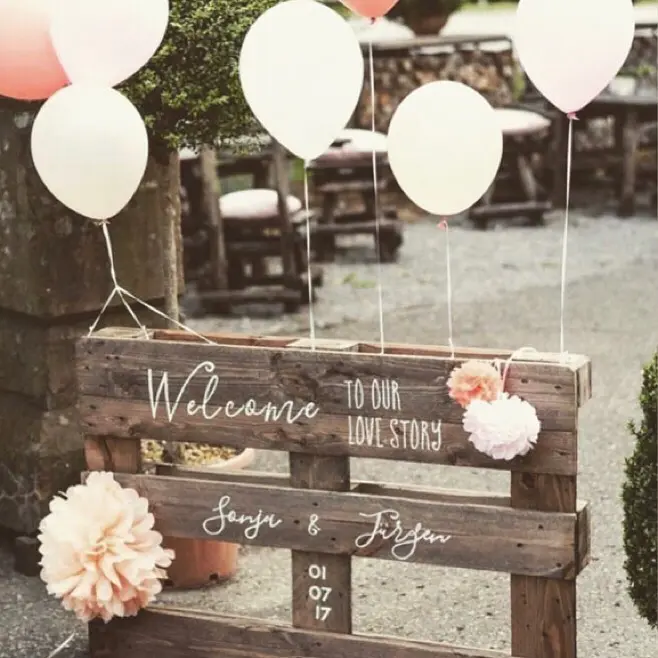 Credit: Instagram
This idea shows another way of using pallets to create an attractive welcome sign. The addition of balloons gives it a free-flowing, life-like effect.
For the floral accent, you can choose real flowers. If you wanted the accents to perfectly match the color theme of your wedding, there is always the option of buying faux peonies (or other flowers) that come available in a wide array of colors, like the ones I saw here.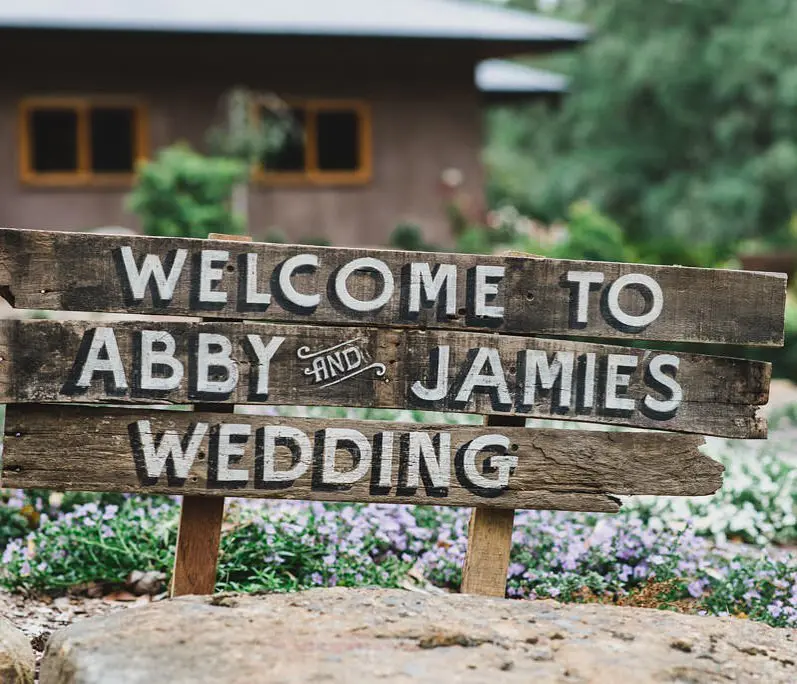 Credit: Instagram
I love this minimalistic yet catchy wooden sign. It's as simple as putting together two or three pieces of old wooden slabs.
Put up this sign along the roadside leading to your wedding venue to make sure your guests drive to the right place.
If you don't trust your handwriting and prefer the text to be uniform, use a reusable stencil like this to make your sign making project easier.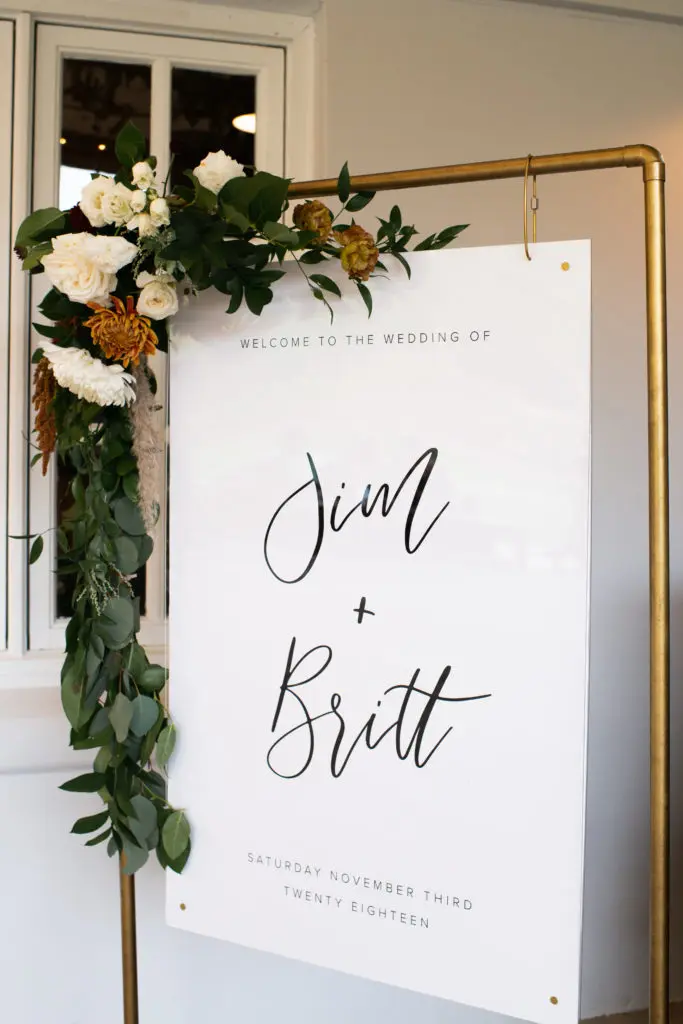 Credit: featheredarrowevents.com
Believe it or not, this welcome sign was created using a portable clothing rack. You know, the ones you use in small apartment spaces or those used in Hollywood to wheel the actor's outfits for the day.
Add a dash of elegance to a clothes rack by spray painting it with a metallic gold finish, such as the ones sold here. Ingenious, right?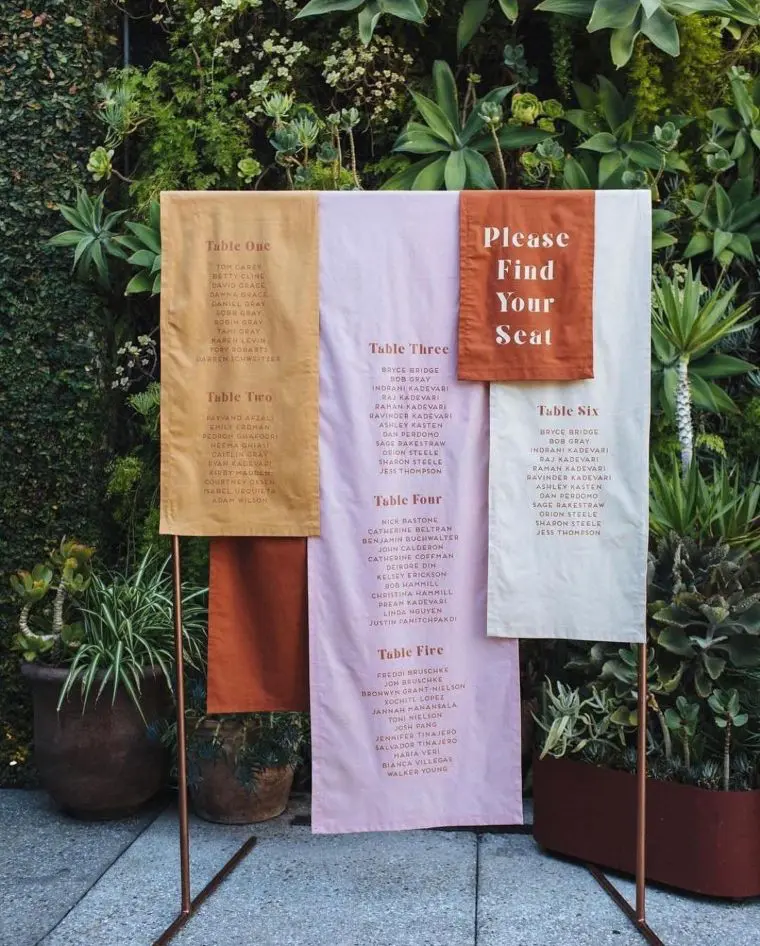 Credit: Instagram
Seating charts are a wedding must-have. You've probably spent hours making your wedding seating plan work, so make sure your guests follow this by providing them a seating chart.
Making this is super easy. All you need is to print the seating plan on a transfer paper similar to these and iron them on to your fabric choice.
Hang it on a clothes rack or pin it to the wall – it's totally up to you. Just make sure you place it where your guests can easily spot them, such as the reception entrance.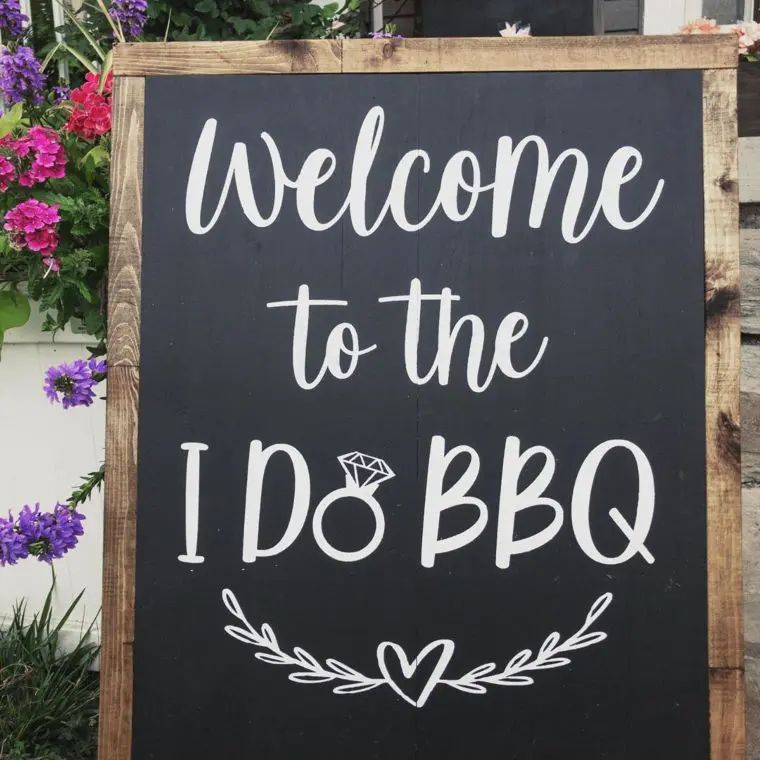 Credit: Instagram
I love BBQs, so I find this sign really cute and quirky – definitely gives the idea that the bride and groom are a fun couple.
Now I know I've already told you the trick to creating a chalkboard out of wood. If you also want to achieve the distressed wooden frame like the one on the photo, do this by using your choice of wood stain.
My favorite is the quick dry range found here.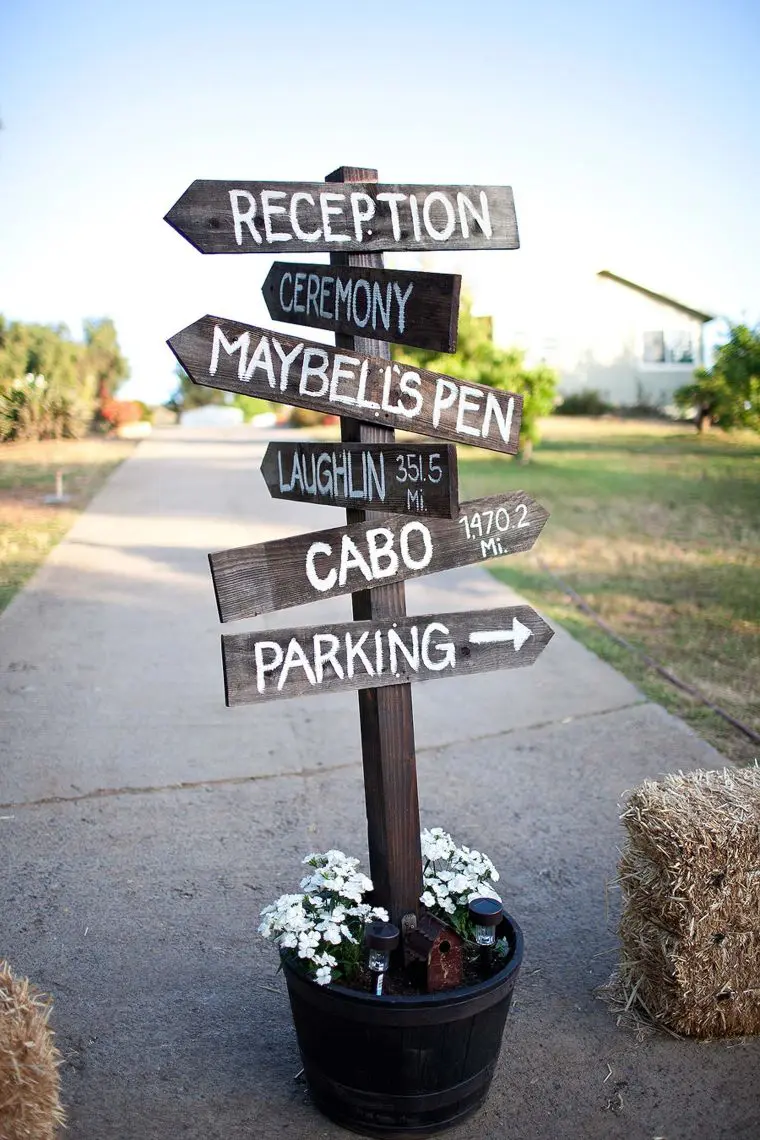 Credit: huffpost.com
This wedding sign reminds me of the signs seen in lighthouses, where they tell you how many miles away the various country capitals are from that particular lighthouse. It kinda gives you the idea that the couple loves to travel or are avid adventurers.
If you don't have the tools to create an arrow shape out of existing wooden slabs, it is cheaper to buy these pre-cut wooden arrows than buy the cutting tool itself.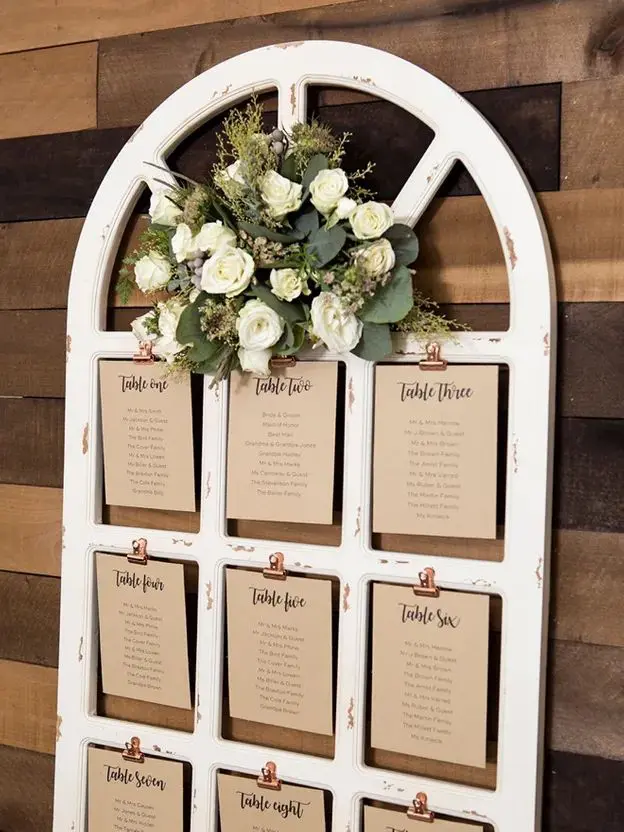 Credit: somethingturquoise.com
Don't you just love how the number of mini-window frames exactly matches the number of tables in this particular wedding? It's like this old window frame was destined to eventually be a seating chart holder.
If you have an old window frame but don't quite like its current color, you can achieve the antique-like white finish on this example by using a chalk finish paint, which can be found here.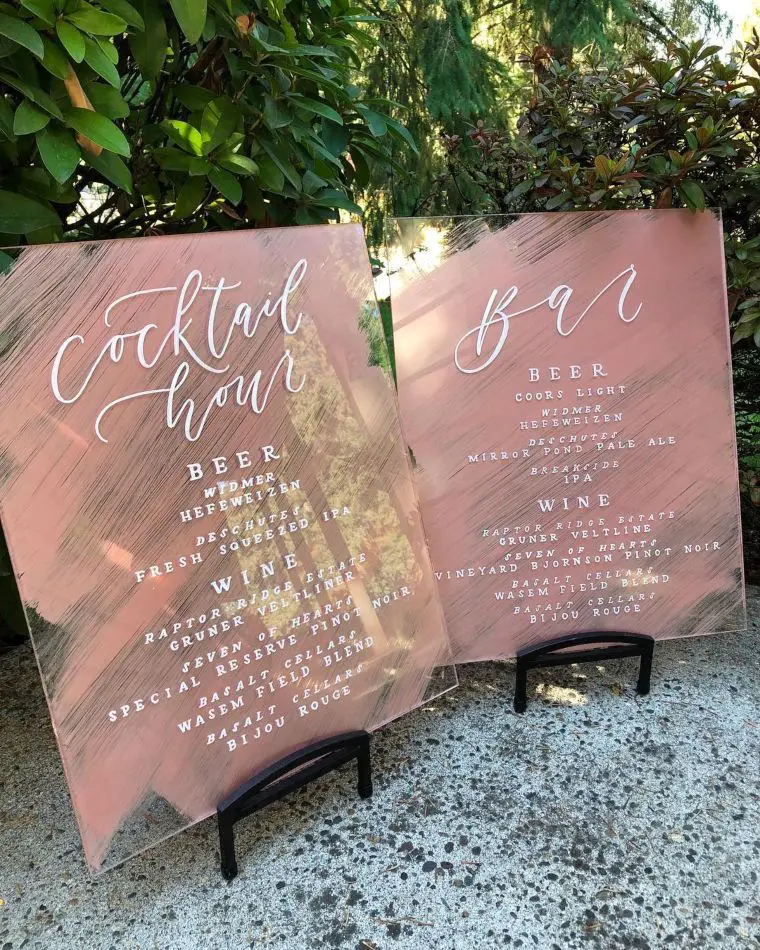 Credit: Instagram
A bar sign with a feminine touch – I love it! Because the material is glass, you probably want to place these signs well away from the kids (if children are invited to the wedding).
I believe this gorgeous sign was made using a few rose gold paint strokes like this, on a clear glass panel, followed by white marker calligraphy. I'm sure everyone would agree this is a very stylish sign fit for any wedding theme.
You can get a similar sign and customize it on Etsy here.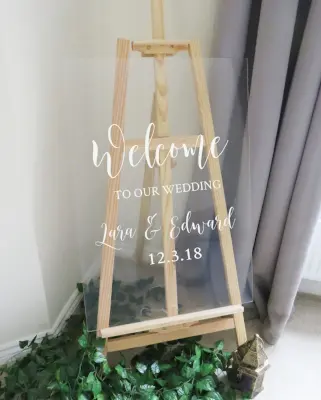 Credit: thediybridesboutique.com
This glass welcome sign is perfect for more formal or traditional type weddings. Besides a glass panel, you would need liquid chalk markers, suitable for use in glass surfaces.
My favorite is this set because it comes in three other metallic yet elegant colors.
Complete the look by mounting your glass sign on an easel stand, which you can probably borrow from a friend or a local gallery. If that's not something you feel you can just make yourself, check out a similar design here on Etsy that you can purchase.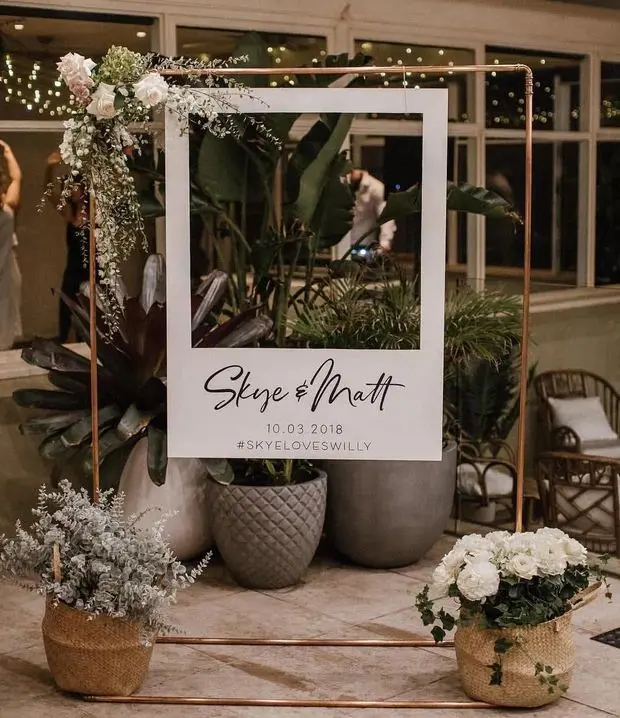 Credit: hitched.co.uk
In this digital age, every photo must be "instagrammable," as the millennials call it. What better way to give your guests this experience than provide them with an Instagram-worthy photo frame and background?
Don't forget to add your wedding hashtag on the frame, so your guests also remind you to place this when they post it. That way, you can always visit Instagram to look back at your wedding photos from the guests' perspective.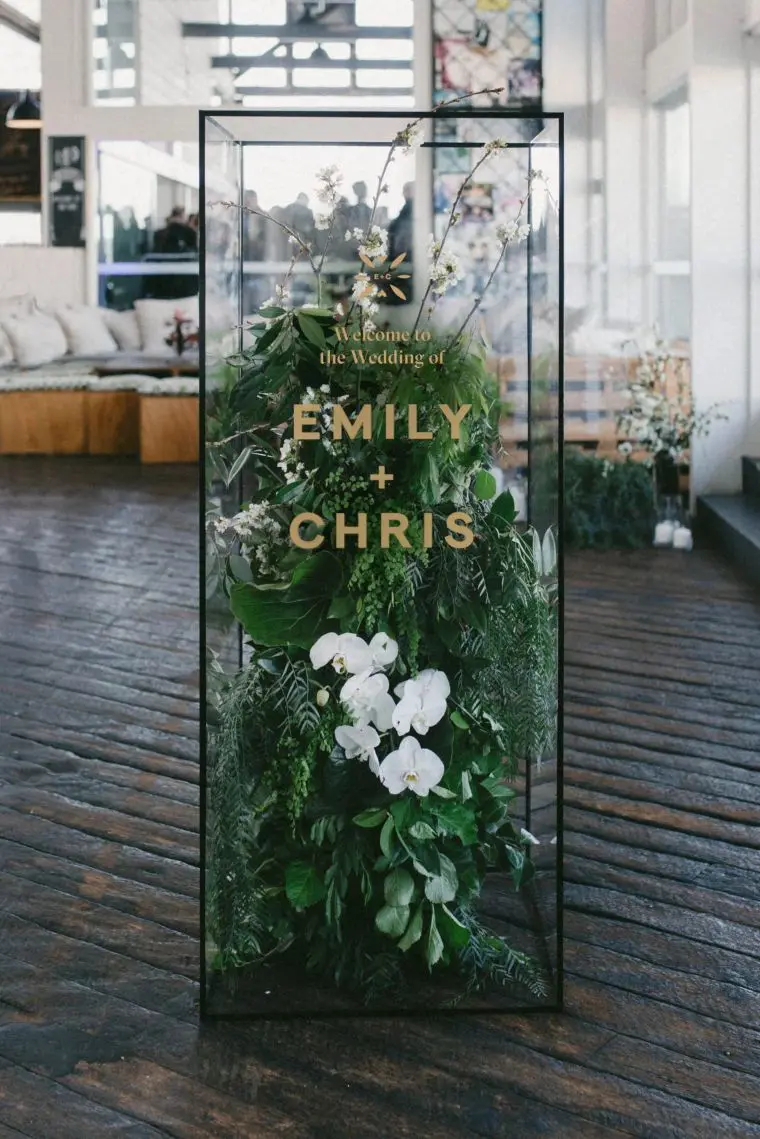 Credit: marthastewartweddings.com
If you are a plant parent (yes, that is actually a term now), you would love this wedding sign. The gold and glass material makes it suitable for a more formal wedding, but the inclusion of plants also makes it compatible for use with garden weddings.
I can also imagine mini-versions of this as table signs and the mini-mini version as great wedding souvenirs for your guests, wouldn't you agree?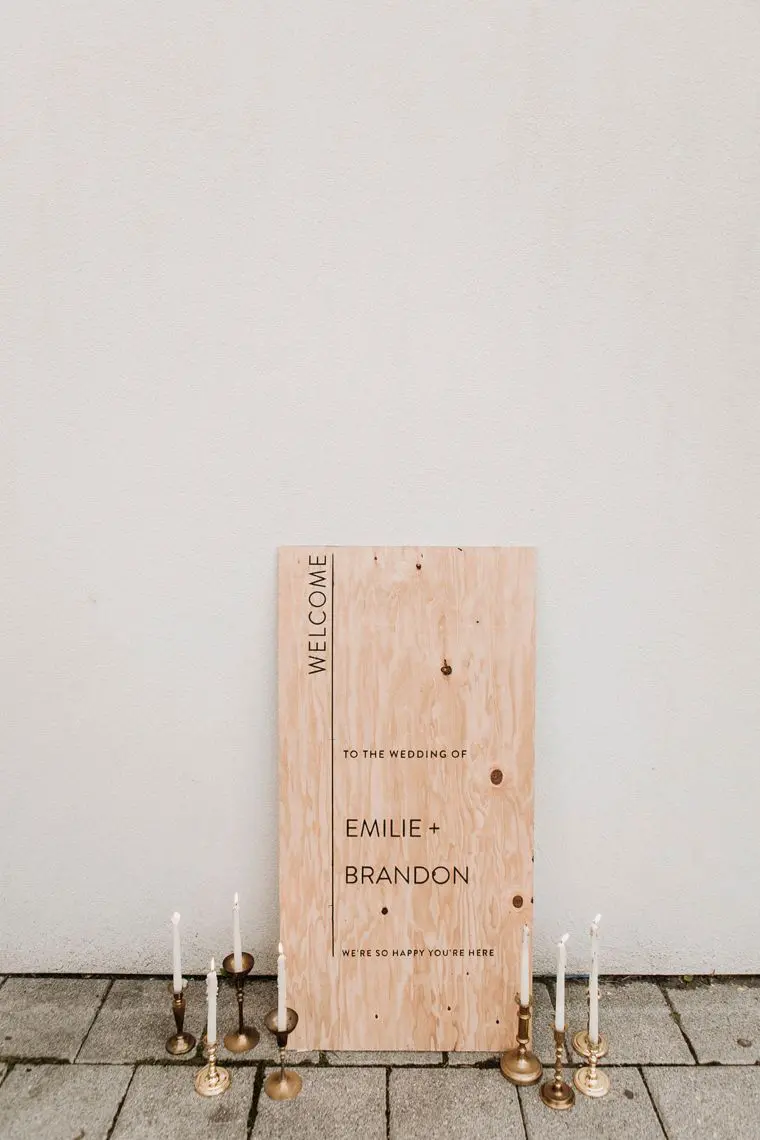 Credit: blovedblog.com
You have to admire how minimalistic yet stylish this wedding sign is. Recreating this is easy too.
All you need is to have your text printed on transfer paper suitable for wood, like this, and of course, your plywood slab.
Credit: Instagram
This wedding sign also doubles as a wedding photo backdrop.
It's super easy to make, and actually combines a few DIY techniques used in the earlier examples on this list.
If using it for a night wedding, you probably want to add some fairy lights around the vines, to further enhance the appeal of this beautiful wedding sign.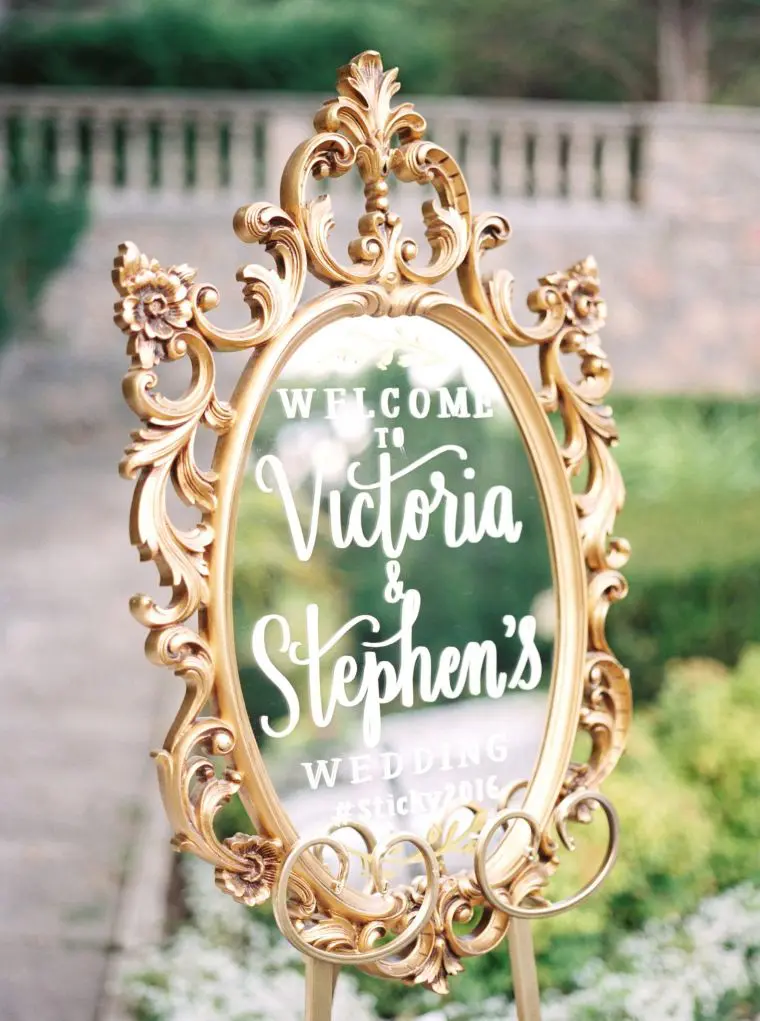 Credit: marthastewart.com
If you or anyone of your friends or family members have a gorgeous large-mirror, you can turn it into a classy wedding welcome sign, as seen in this example.
If you're borrowing the mirror, make sure to use something similar to this glass pen with washable ink, so you can return the mirror in the same condition you borrowed it.
Here is a more minimalistic, already ready mirror wedding sign you can just get.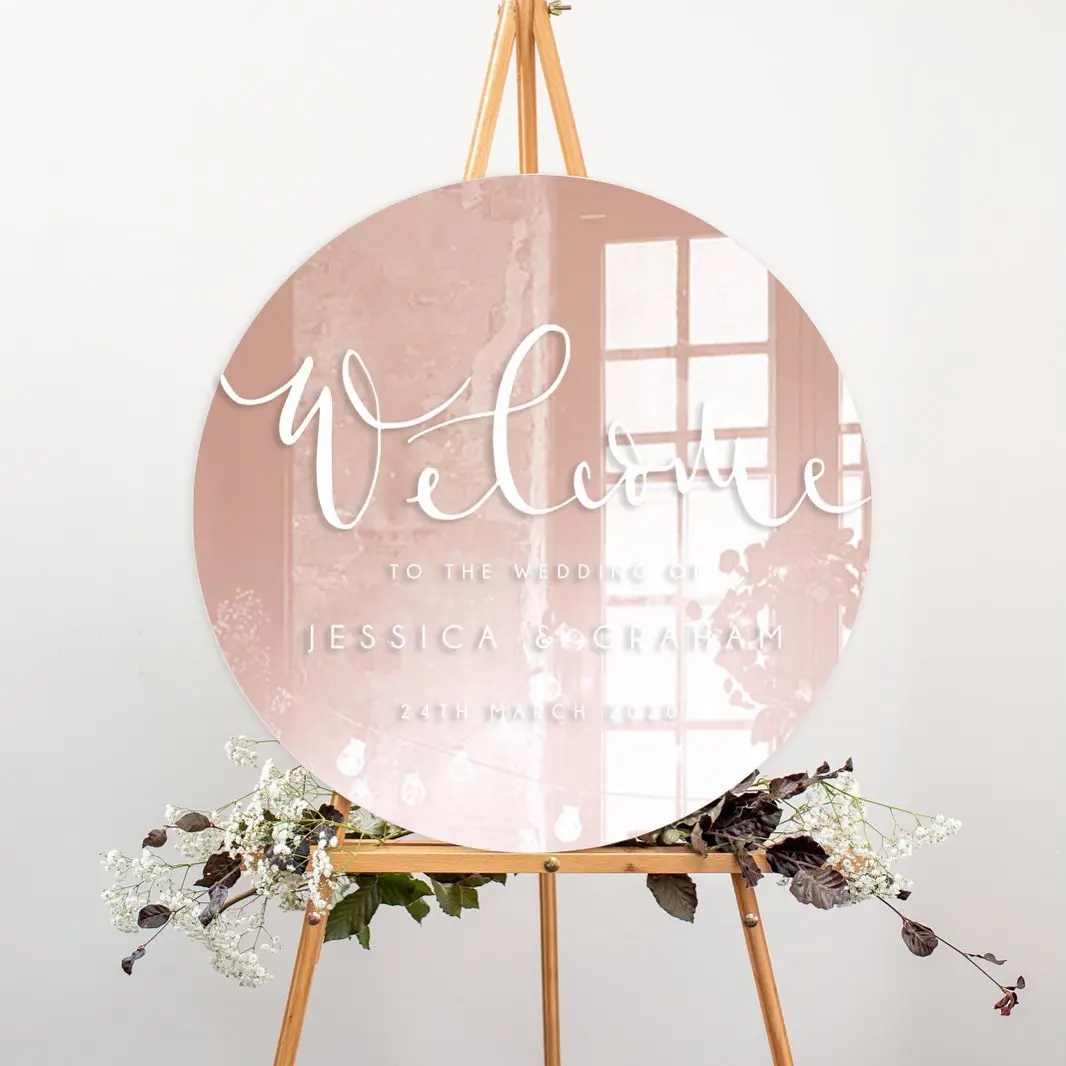 Credit: Instagram
This elegant-looking wedding welcome sign has a glass-like appearance, but you can actually recreate a similar one without using actual glass.
You simply need to use an extremely glossy contact paper, like the ones found here, to mimic the reflective surface seen in this example. Cheaper and less fragile alternative, right?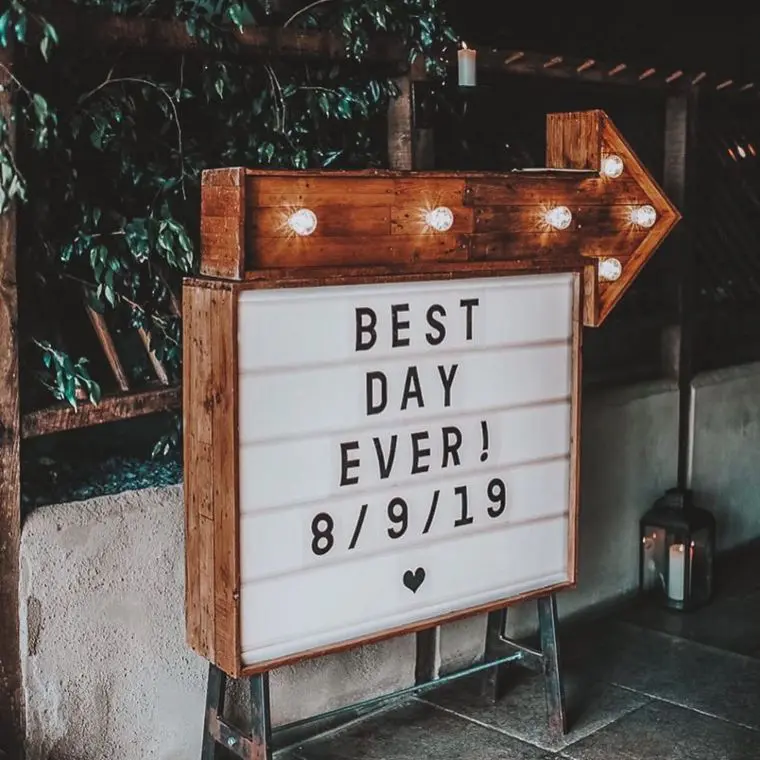 Credit: Instagram
If your birthday falls within the last couple of decades, you probably don't get why I called this idea cinema-like. Before digital signs, cinemas used massive memo boards with removable and interchangeable letters to showcase the current movies as well as the upcoming ones.
I believe this is where this wedding sign got its inspiration from. This is a great idea for retro-inspired weddings but is also handy. Especially if you are a venue owner yourself, as you can quickly and easily change the letters according to the day's events.
Conclusion
I hope you drew inspiration from these 20 wedding sign ideas I came up with. Do you have a favorite? I would love to learn about it in the comments below!
Oh, and before you go, let me be the first to congratulate you on your very special day!