All weddings need a card box! If you want a unique card box just to yourself, get crafty with these little wedding card box ideas!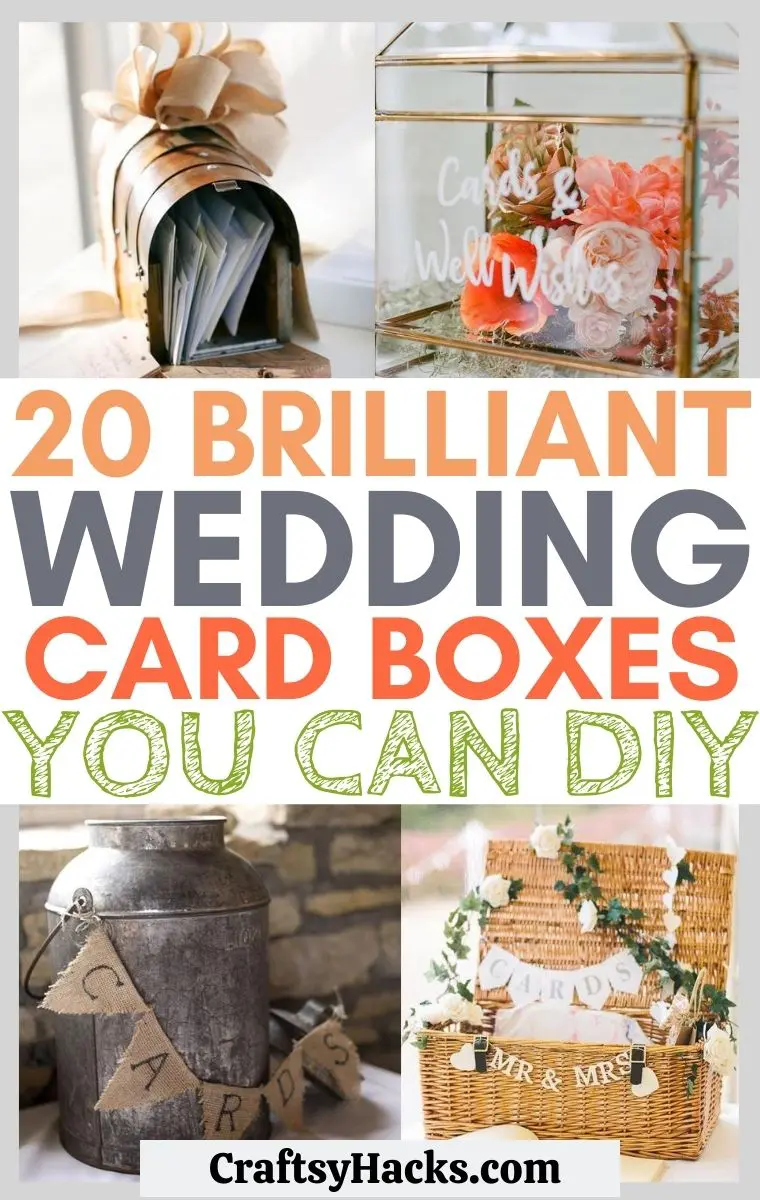 Card boxes, what are they? If you don't already know, wedding card boxes are used to hold greeting cards from guests during the special day.
Card boxes are probably one of the most underrated items on a wedding prep list. I personally feel like they hold among the most special wedding gifts: tons of love and best wishes put in writing.
Precious gifts like these deserve an equally special holder. But special doesn't always mean pricey. Have a look at this list of 20 DIY wedding card box ideas to see what I mean.
1. Terrarium-Inspired Wedding Card Box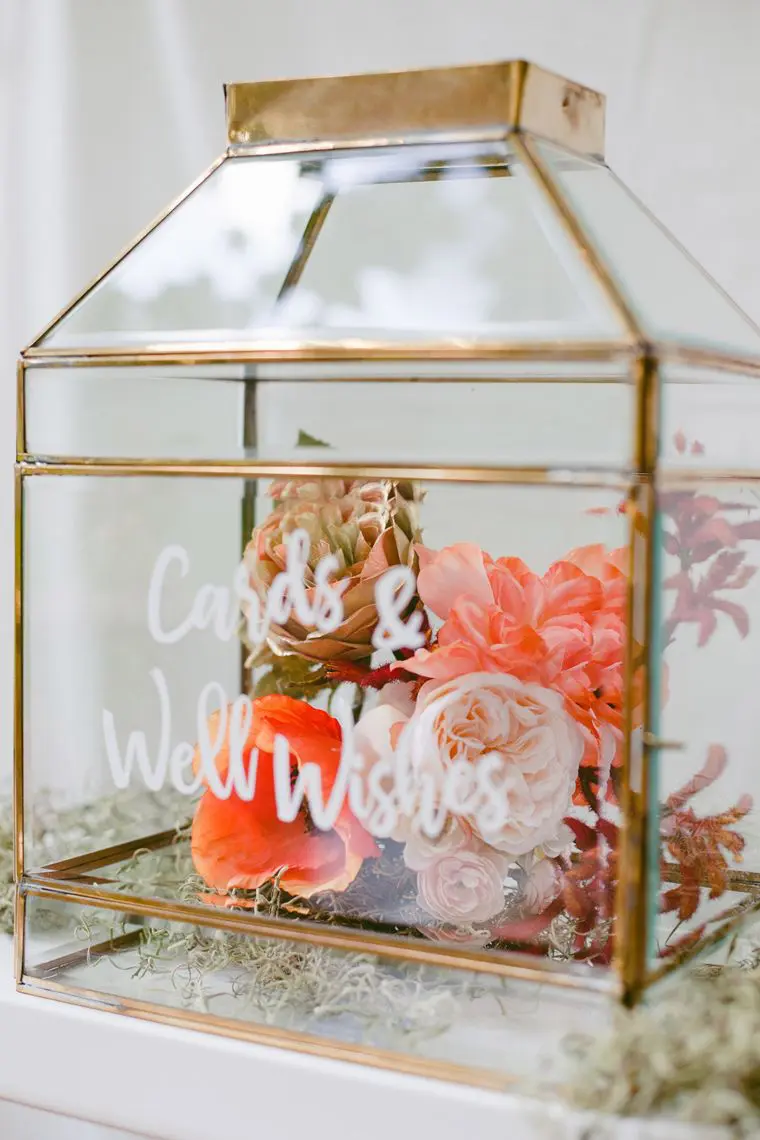 Credit: ruffledblog.com
This stunning glass box can be used at almost all wedding themes I could think of, from rustic to the super formal ones. If you're wondering where you can get the glass box base for your terrarium, I found a similar one here.
Once you have your glass box, you can then fill it with flowers or plants that complement the wedding's color scheme. After the wedding, use the box (with or without the cards inside) as a decorative piece in your home.
2. Mailbox-Like Wedding Card Box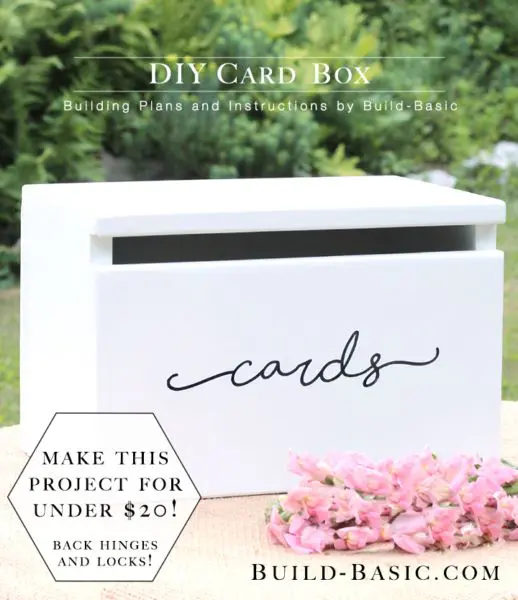 Credit: build-basic.com
You've got mail! Special wedding mail that is. This modern mailbox-inspired card box is perfect for a minimalistic wedding theme.
If you or your partner are into woodworking, this is definitely a project that you can do. If you want to know the technical nitty-gritty on how you can recreate this lovely piece, head on here.
Love the design? You can get a similar design here without the elbow grease.
3. Greenhouse Wedding Card Box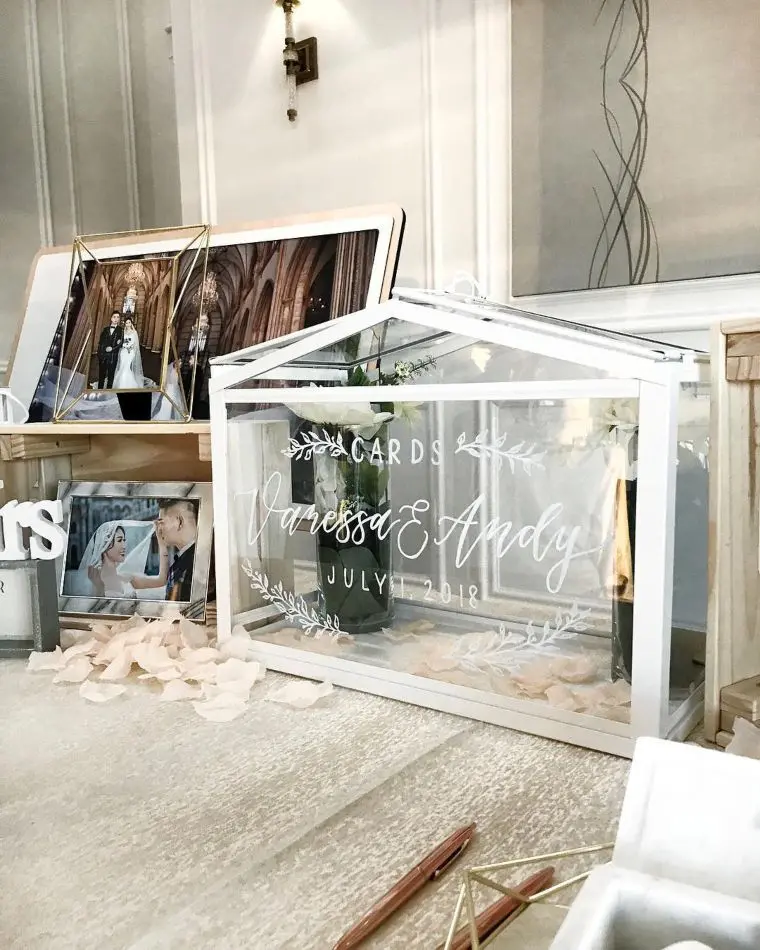 Credit: Instagram
This wedding card box idea is similar to the terrarium one we saw earlier. But can we just pause and take a moment to admire the beautiful set up this greenhouse card box is sitting on?
I can totally imagine the same setup for the newlywed's home!
By the way, if you're wondering how you can do the gorgeous calligraphy prints on the box, you can either write the words using glass markers like this or print and cut out your text on vinyl adhesive sheets like the ones found here.
If crafting is not really your forte, you can get an identical card box here with your own personalized message.
4. Repurposed Craft Box Turned Wedding Card Box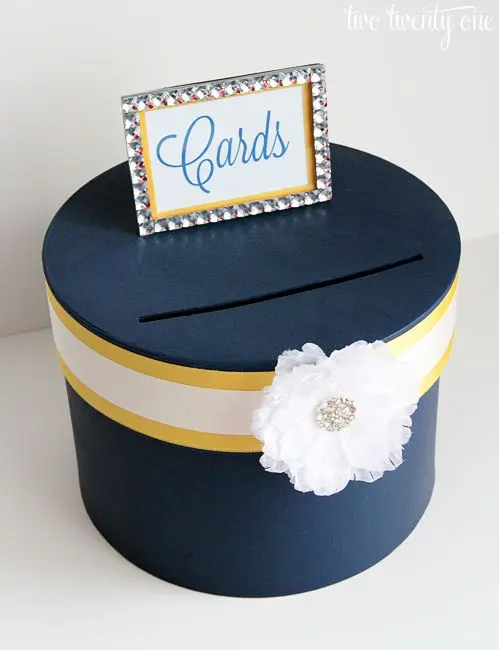 Credit: twotwentyone.net
Have a look around the house to see if you have any old kraft boxes. If you do manage to find one, the next step is to conceptualize your design.
Once you have the final design in mind, you probably want to paint over your kraft box, so here's where you can find a wide array of paint color options.
5. Diamond Card Box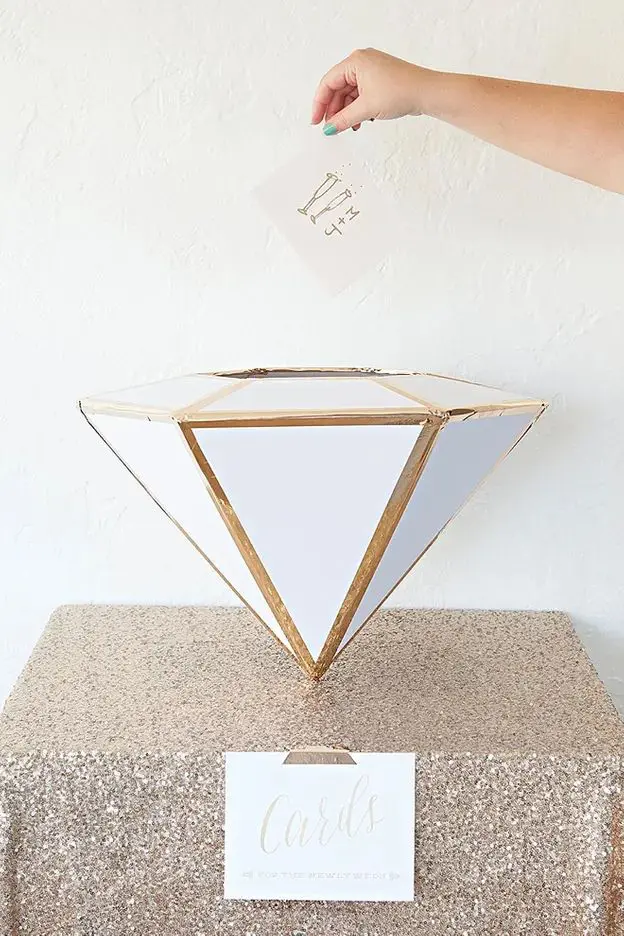 Credit: somethingturquoise.com
They say diamonds are a girl's best friend, and it certainly isn't a bad idea to have a diamond card box on your special day. After all, the wedding well wishes are as precious as this timeless gemstone.
Here's what you'll need: a thick white foam board, gold foil like the one found here, and your usual paper cutting and measuring tools. If you're unsure how to recreate the diamond shape, here's a link to the diamond box measurement template.
6. Vintage Luggage Wedding Card Holders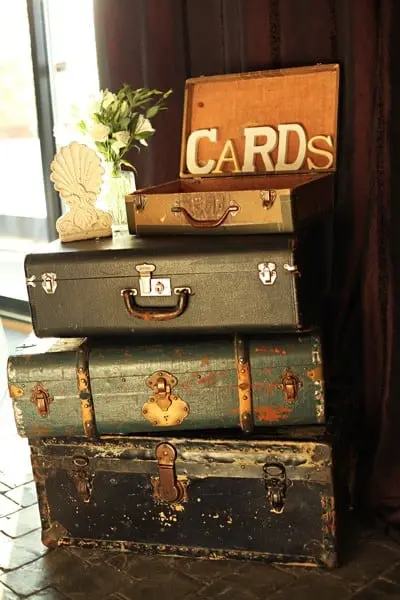 Credit: something-borrowed-wedding.com
Why not create an interesting wedding décor accent piece by stacking vintage trunks atop each other to create an Instagram-worthy wedding cardholder? This one will certainly be a conversation piece among your guests even after the wedding.
This stunning card holder idea will work perfectly with vintage, Victorian, or travel-inspired weddings, and the stacked vertical design is great for filling or concealing any awkward spaces at your wedding venue.
Check out more wedding décor ideas for your backyard here.
7. Wedding Card Log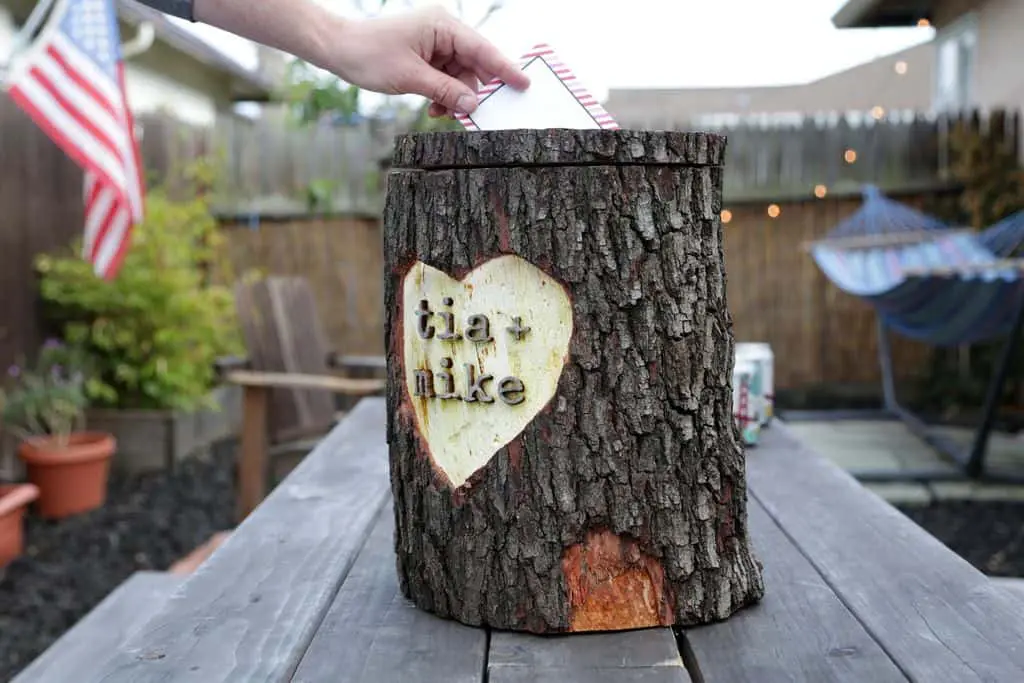 Credit: instructables.com
If there wasn't a photo included in this wedding card idea, it would sound like I was talking about a record of wedding cards, wouldn't it? This literal log is the perfect accent piece to rustic, garden, or farmhouse weddings.
You just need to find yourself a hollow log, carve out a heart and use wooden alphabet tiles like this for the text, and that's it.
8. Wedding Card Holder from an Upcycled Classic Mailbox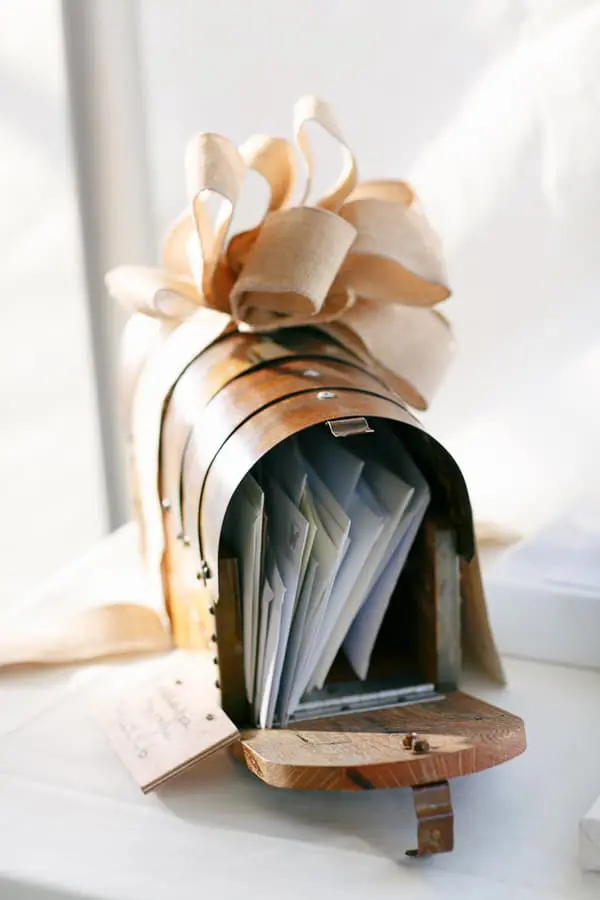 Credit: ruffledblog.com
This is another version of a mailbox-inspired wedding card holder, except this time, you can use an actual classic mailbox. This wedding card idea is so cute and would sit perfectly on any style of wedding gift table.
To recreate this mailbox wedding card holder, use a metallic copper spray paint similar to this and complete the look with a burlap ribbon, which you can get from here.
9. Burlap Sack Wedding Card Holder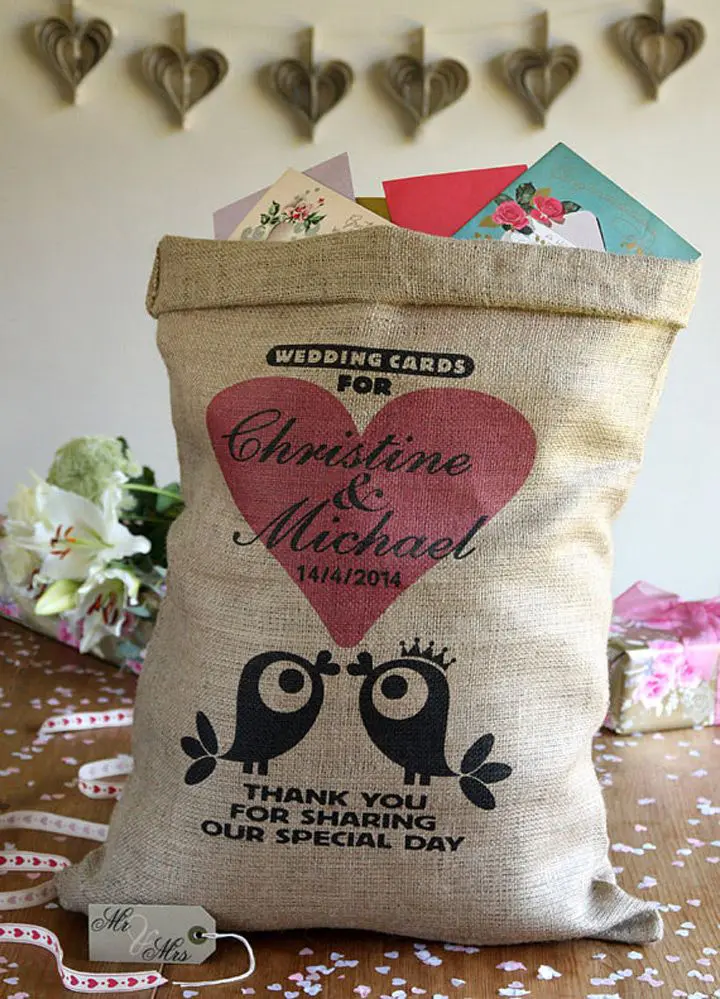 Credit: martinthornburg.com
I find this wedding card holder idea very unique, and I just had to share it with you guys. I think nothing beats this as the perfect cardholder for a farmhouse-themed wedding.
The best thing is, decorating the burlap is as easy as printing your desired text and images on these heat transfer vinyl sheets and later on using your iron to transfer it onto the sack.
10. Vintage Make Up Box Wedding Card Holder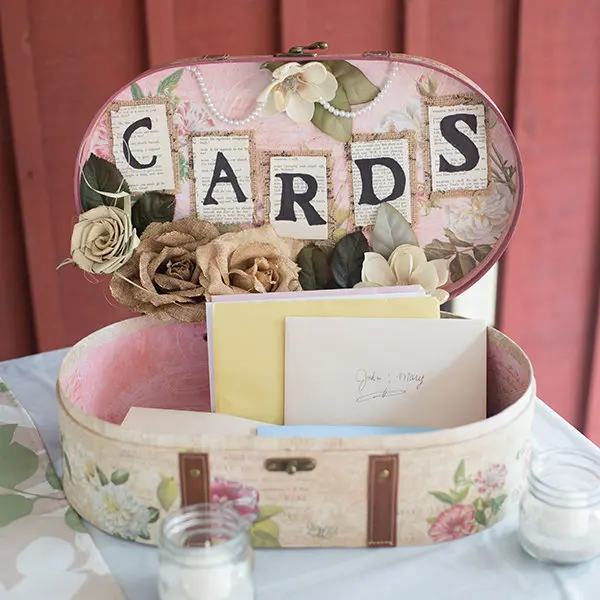 Credit: bridalguide.com
Previously on this list, you saw how vintage luggage trunks could be turned into wedding cardholders. This is another vintage piece, but this time you get to use makeup holders.
The thing is, you can use any type of makeup holder, vintage or not. Achieving the vintage look is just a matter of wrapping the holder with the perfect vintage-designed contact paper like this.
11. Wicker Wedding Card Holder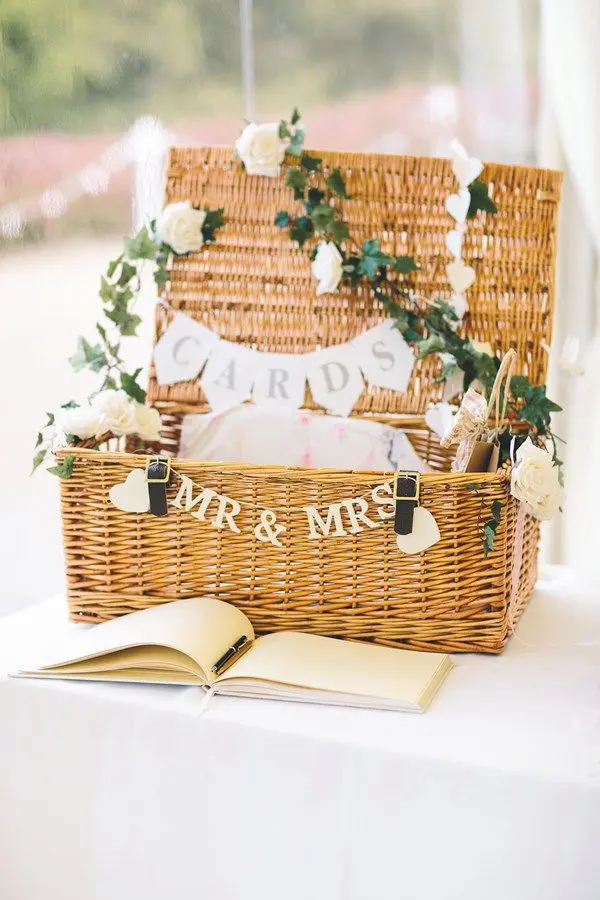 Credit: myweddingreceptionideas.com
You guessed it right, and this is an emptied picnic basket converted into a wedding cardholder. I super love the ingenuity!
The great thing about using a wicker basket is that it fits well with almost every wedding theme. And you simply have to add a few accent pieces to make it more cohesive with your existing wedding decor.
The best thing is, you get that heartwarming feeling each time you go to a picnic because this basket will be a constant reminder of the love and well wishes you received from your amazing wedding guests.
12. Repurposed Old Milk Can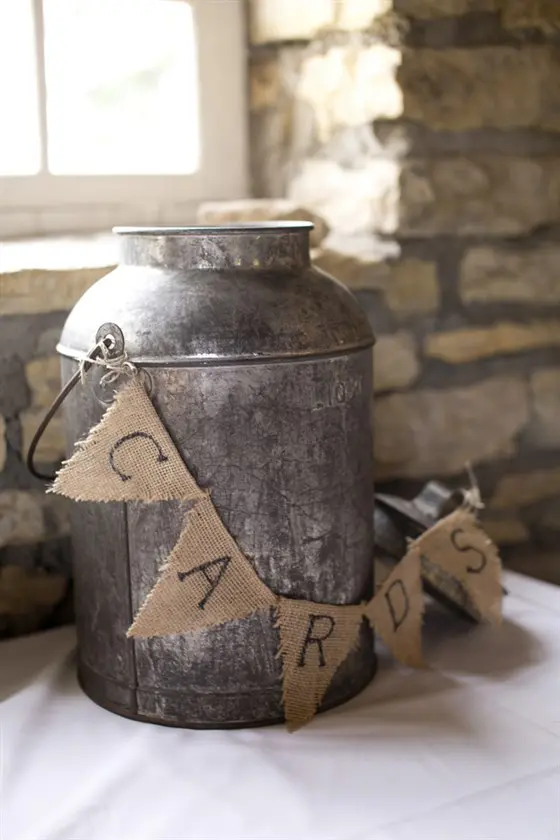 Credit: today.com
This old milk can is as rustic as it gets, and if you're planning a rustic style wedding, you can never go wrong with this idea as your cardholder.
Now don't worry if you can't find a genuinely old milk can. New ones would do, and you will still achieve the rustic feel by spraying it with a coat of rustic-looking spray paint like the burnished amber hue I found here.
You can also turn this milk can into a nice wedding centerpiece.
13. DIY Wedding Card Cage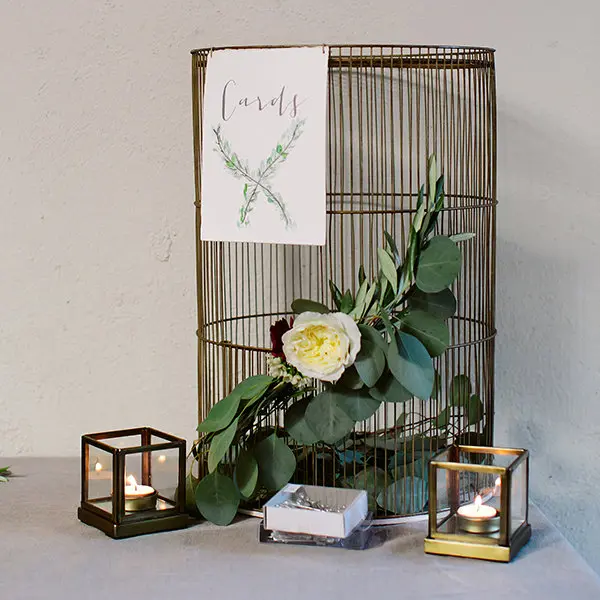 Credit: bridalguide.com
This wedding card box idea may be simple, yet it looks so classy and stylish. If you haven't figured it out already, it's a repurposed birdcage.
It's super versatile, and you can decorate it to match your wedding's theme.
The best thing with this cardholder is that you don't need to cut any holes or slots for the cards to fit – the spaces between the cage bars should be enough to accommodate standard-sized cards.
14. DIY Wooden Wedding Card Box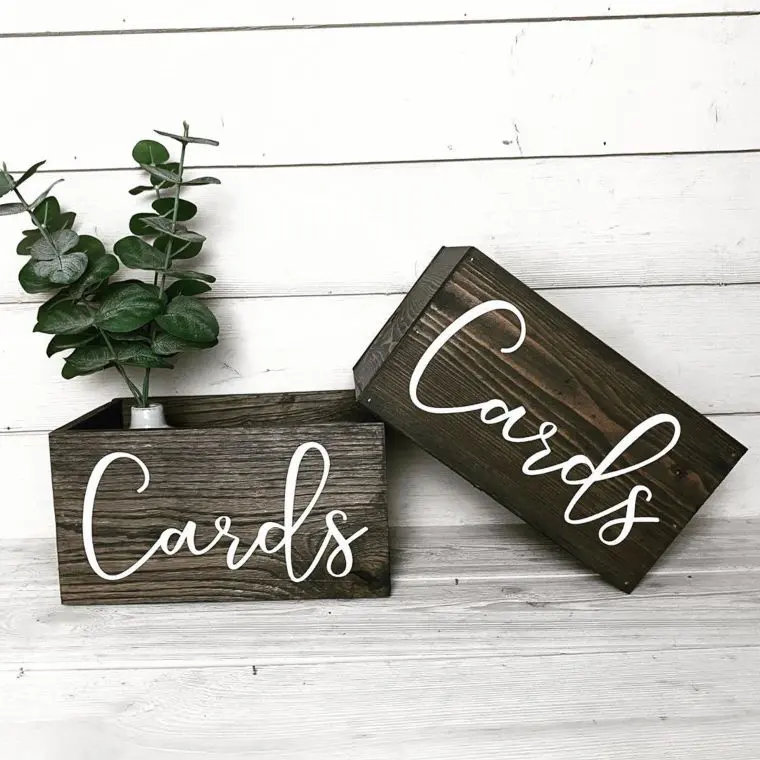 Credit: Instagram
Turn an ordinary wood storage box into a decorative wedding card box to match any type of wedding. The great thing with having plain wooden boxes as your base is that the only limit to the design option is your creativity.
If you want to achieve a similar distressed wood but can't be bothered to paint over the box, you may prefer wrapping it around with a sheet of wood plank wallpaper like the one I found here.
Love the design? You can get an almost identical one on Etsy here.
15. Old Globe Turned Wedding Card Box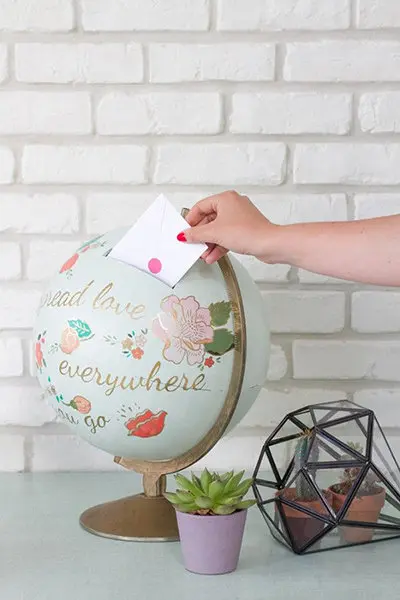 Credit: bridalguide.com
If you're planning for a destination wedding or if you are a globetrotting couple, this is the perfect wedding card holder for you. Don't have any old globes lying around? Try scouring through thrift shops.
If I'm not mistaken, globes are hollow anyway, so when you do manage to find one, all you need to do is use a strong cutter like this to cut a slot on the globe large enough for cards to fit.
Complete the travel theme by surrounding the globe cardholder with photos of the couple on their travels together.
16. Paper Flower Decorated Greenhouse Wedding Card Box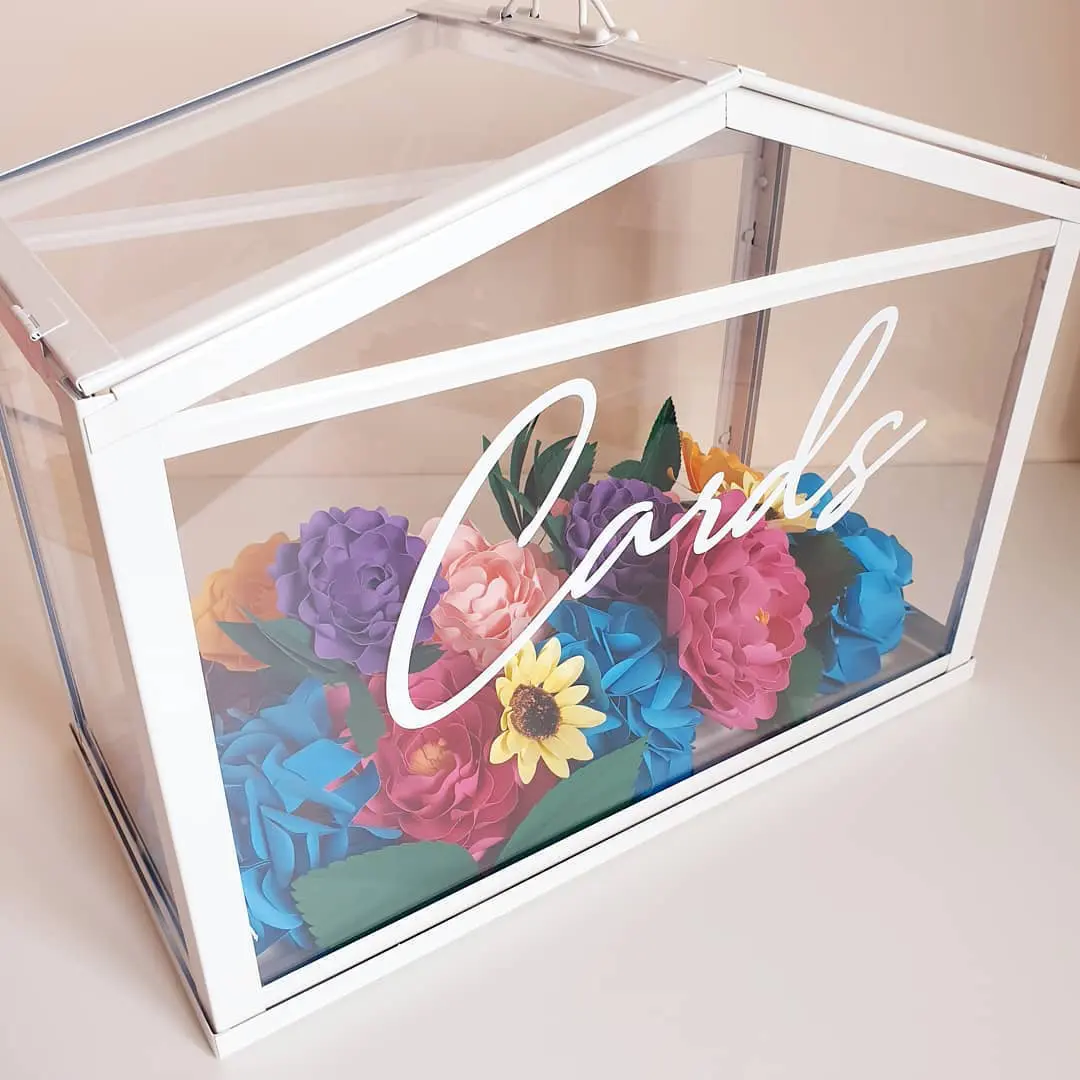 Credit: Instagram
This idea shows another way of decorating a glass greenhouse used to hold wedding cards.
There are certain instances when you would need to use paper flowers instead of real ones. Examples are when the flowers you want are not in season or if you can't find the perfect colors to match your color scheme.
If your origami skills are not up to par, don't be discouraged. You can always buy pre-made paper flowers like the ones available here.
17. Cookie-Monster Inspired Wedding Card Box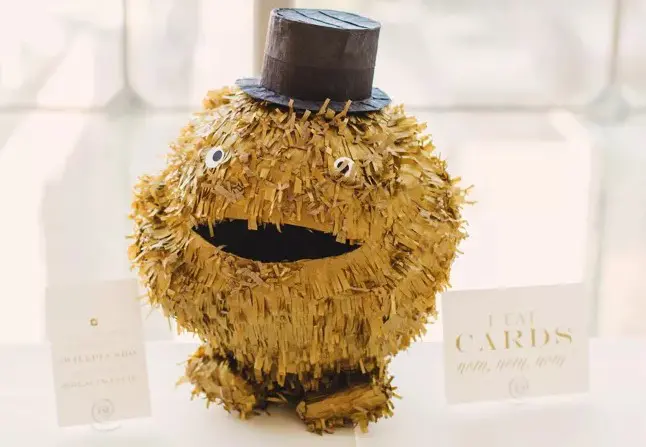 Credit: theknot.com
Yeah, I know. Cookie monster is blue and looks nothing like this golden round dude, but there's something about this wedding card box idea that just reminds me of him.
If you're planning for an out-of-the-box or super quirky type wedding, this wedding cardholder will surely be a hit for the guests – young and old alike. Just make sure to place it well above children's reach.
That's so they don't end up feeding this cute monster with delicacies from the buffet table.
18. Vintage Cubby Card Holders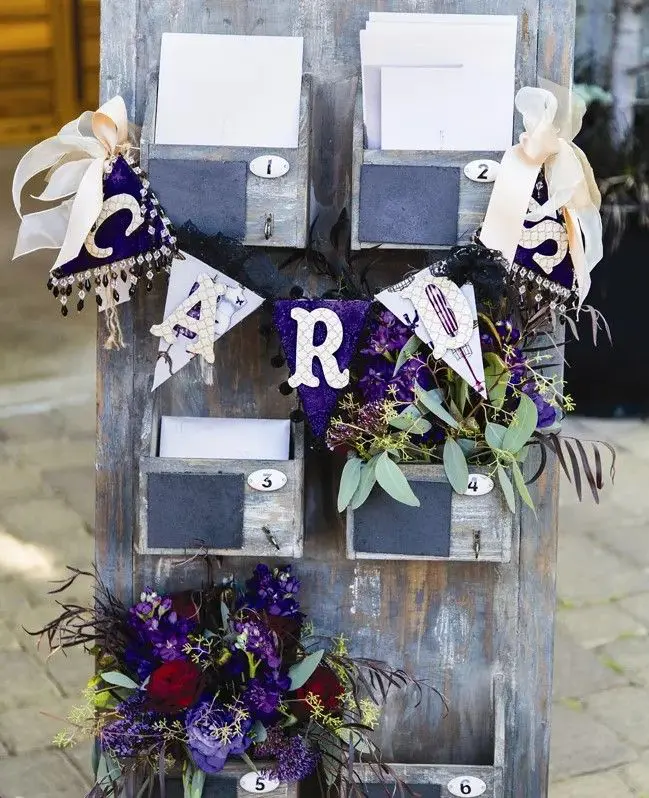 Credit: theknot.com
Wedding preparations are already complicated in itself, so try and simplify things by using pieces that save the same purpose. Just tweak it a bit to suit your wedding style.
Like this vintage cubby card/mail holder decorated with flowers and accents to suit a vintage garden wedding.
19. LEGO Wedding Card Box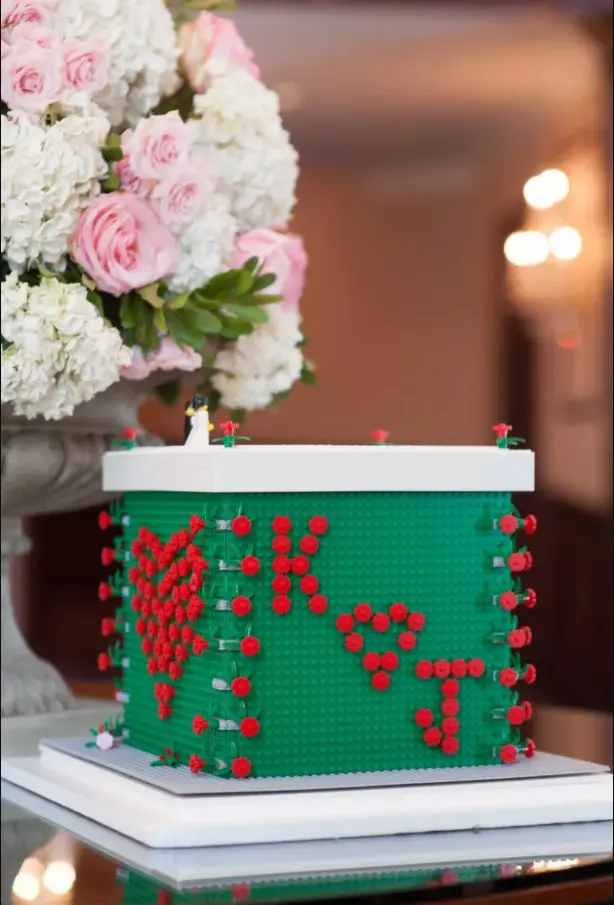 Credit: theknot.com
It's common knowledge that LEGO blocks can be used to create almost anything. What I've never thought about, however, (at least until I saw this photo), was that LEGO blocks could also be used as functional wedding pieces.
This cardholder will certainly be an eye-catcher and adds a fun spin to an otherwise serious milestone. Again, keep this box away from the reach of children.
Come to think of it. You may want to assign someone dedicated to watching this box. After all, we all know that adults also love LEGO!
20. DIY Moss Bed Wedding Card Box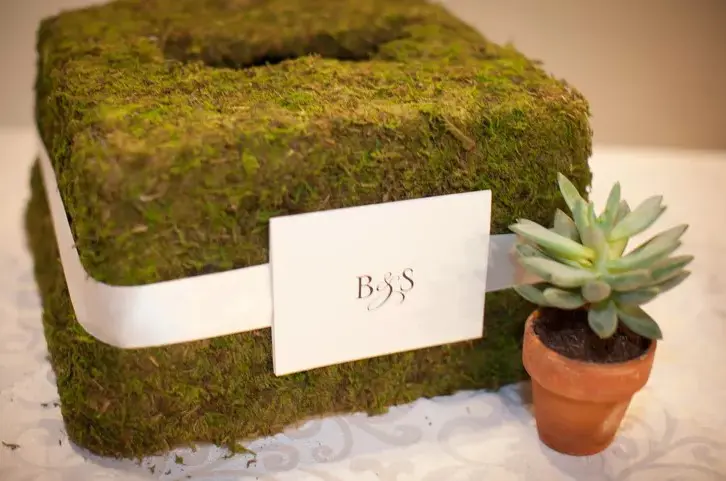 Credit: theknot.com
I think we can all agree that this is the perfect wedding card box for a garden wedding. Now before you dismiss this idea thinking it's going to be messy gathering moss and then layering them on a box, allow me to help.
You don't need to go around parks or forest walks looking for moss. You can do this from the comfort of your own home via this page.
The best thing is, they're already pre-made into a mat, so all you need to do is wrap your box with it, super easy and definitely mess-free.
Conclusion
There you go – 20 unique and stylish in their own ways wedding card box ideas for your inspiration. My favorite is the terrarium-inspired one.
What's yours? Let me know by dropping me a comment or two below.