Get crafty with kids. These fun crafts are perfect for kids to make and keep them busy. They'll provide with a nice family activity.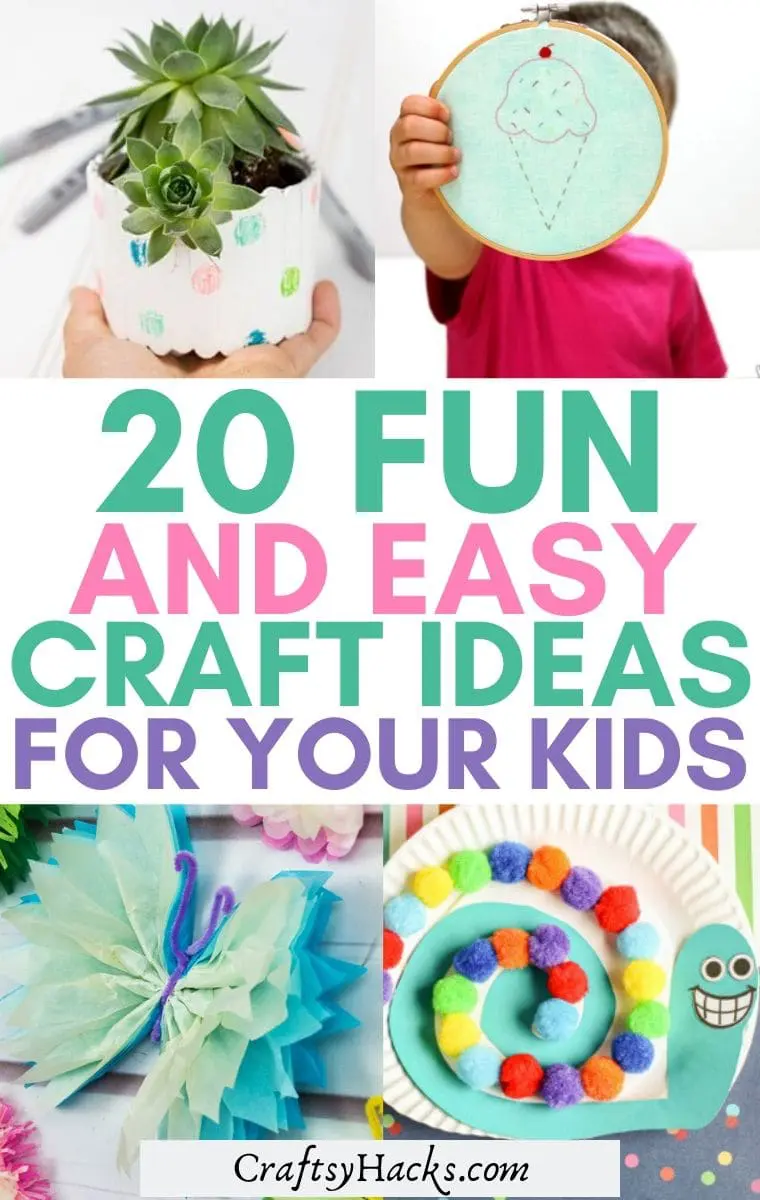 Whether you're after hours of bonding time with the kids or looking for productive ways to get them distracted so you can do you, crafts are a great way to keep kids busy.
Let your kids' creative flair and artistic style shine through with these 20 fun craft projects!
Remember, even if these projects are suitable for tiny hands, it's essential to supervise your kids, especially when it involves sharp objects. More importantly, don't forget to enjoy and have fun!
1. Headband Kite Design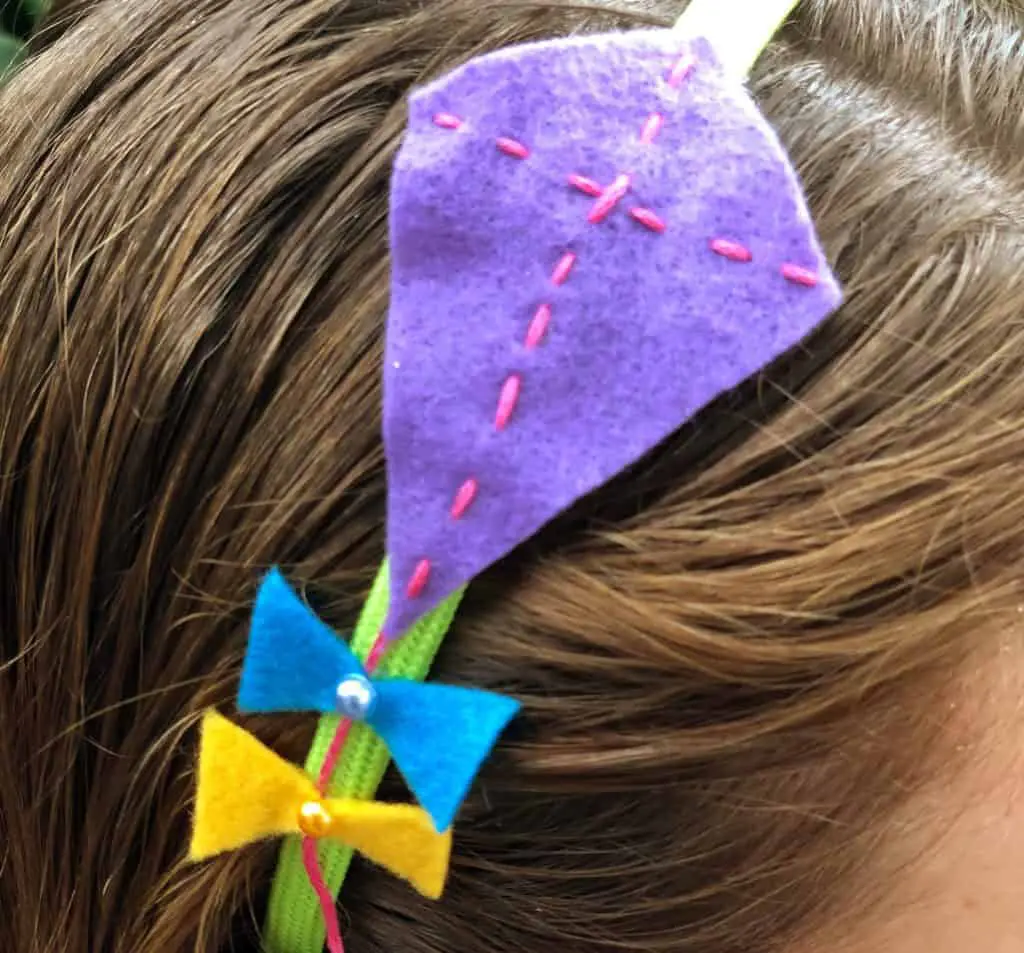 Credit: beginnersewingprojects.com
There's nothing young kids love more than flaunting their masterpiece. Create these vibrant felt headband kites with them and watch them beam with pride as they put them on.
This project is excellent for teaching your little one how to do simple stitches. The essential materials you need to pull this off are plain headbands, like these and colorful felt, which you can buy in bulk here.
You need your basic sewing kit for stitching together the kite, and the rest is up to you and the little one. Add as many or as few embellishments as you like.
2. Flower Pencil Tops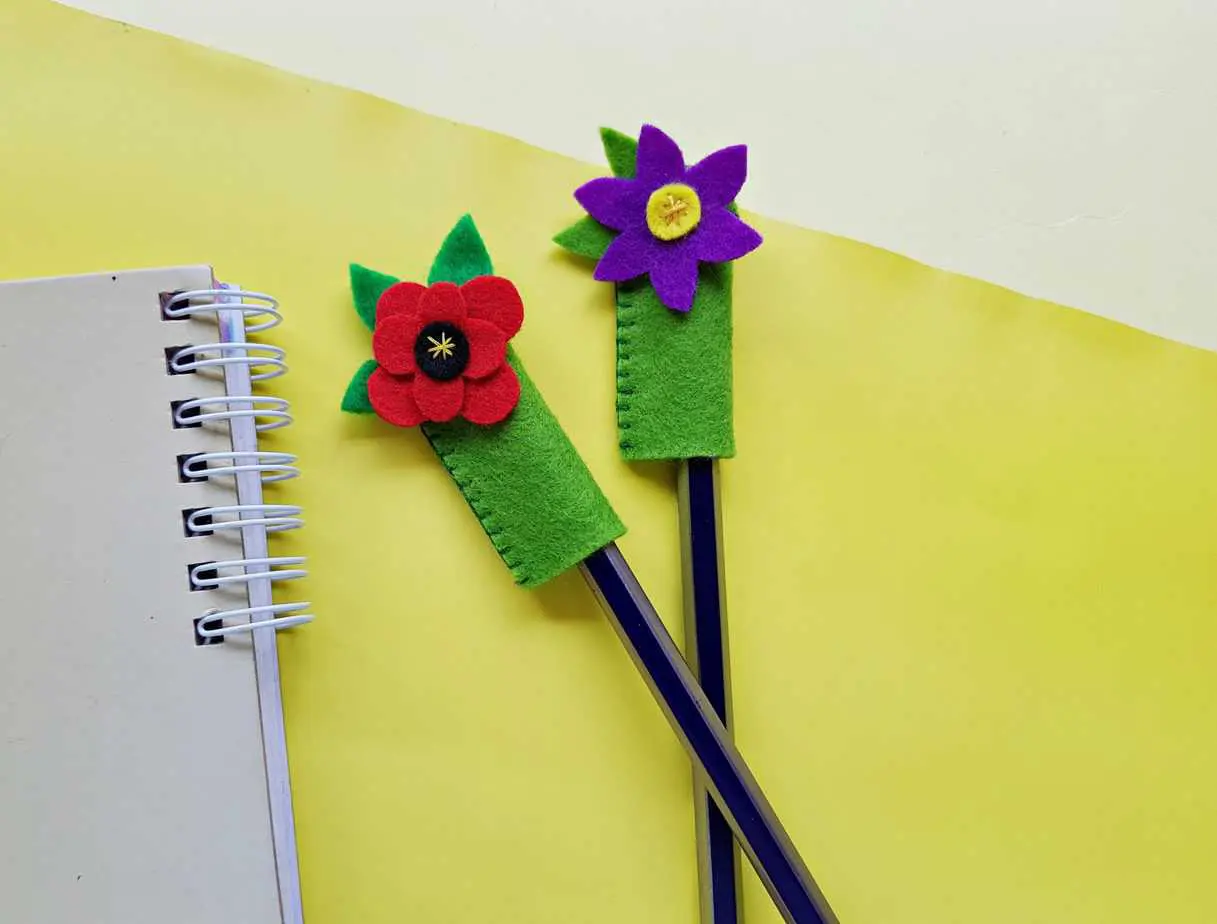 Credit: beginnersewingprojects.com
This project is a great way of helping improve your kids' fine motor skills and creativity. They're also great to include in party favor bags or as an alternative to sweets for trick or treat.
Head here to download a printable template of the flower tops.
3. Unicorn Magic Wand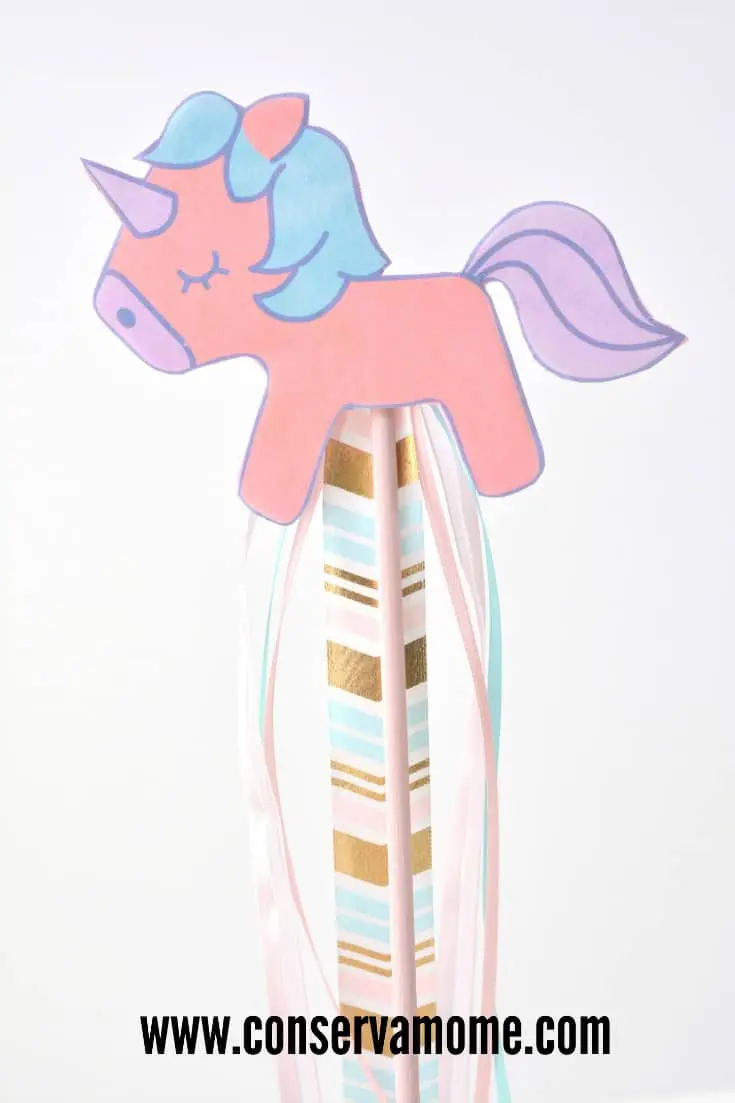 Credit: conservamome.com
Create a magical wand of color for your little one with craft foam, pink craft paint, paintbrush, scissors, ribbons, wooden dowel, and glue.
Most of these materials are available at your local craft store, but I always struggle to find the wooden dowels. If you encounter the same, you can get them online here.
4. Hanging Cotton Rainbow Decor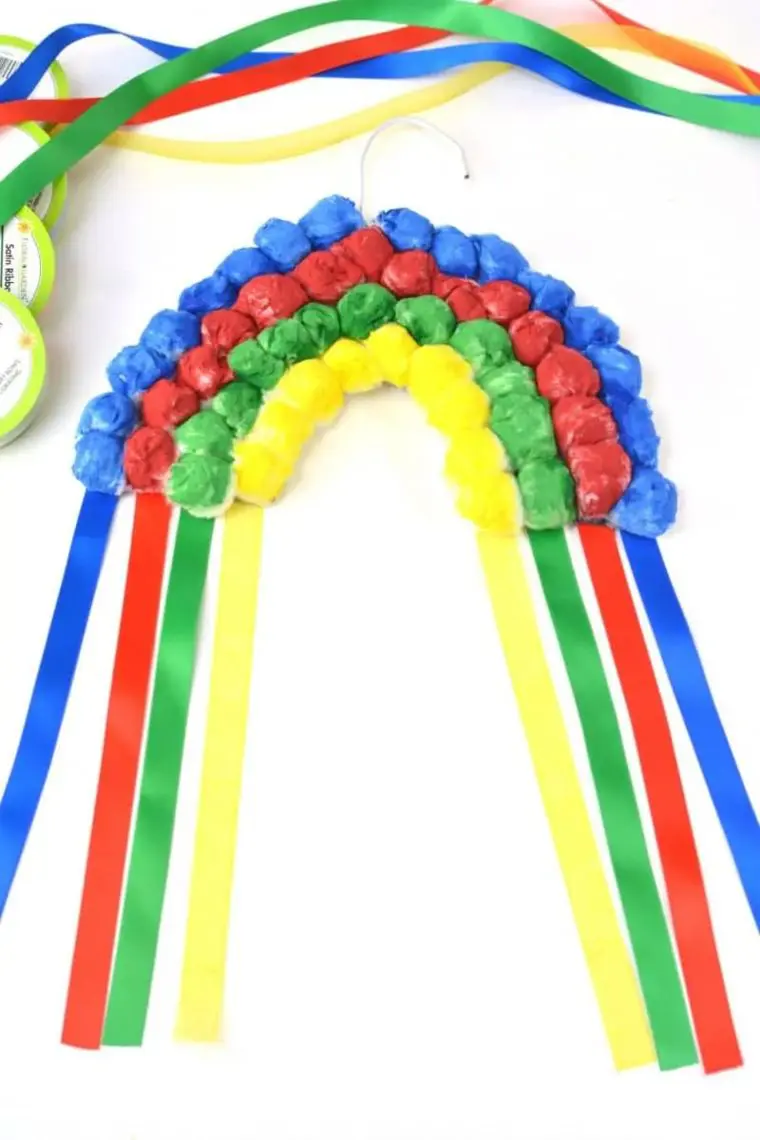 Credit: crayonsandcravings.com
Kiddie parties are all about fun and vibrant stuff. This simple DIY project is a great decor idea for your next kid's party.
You probably already have all the materials somewhere in your home. If anything, you probably only need to get rainbow-colored ribbons like these, and matching rainbow-colored paint, available here.
5. Easy Butterfly DIY Snack Bags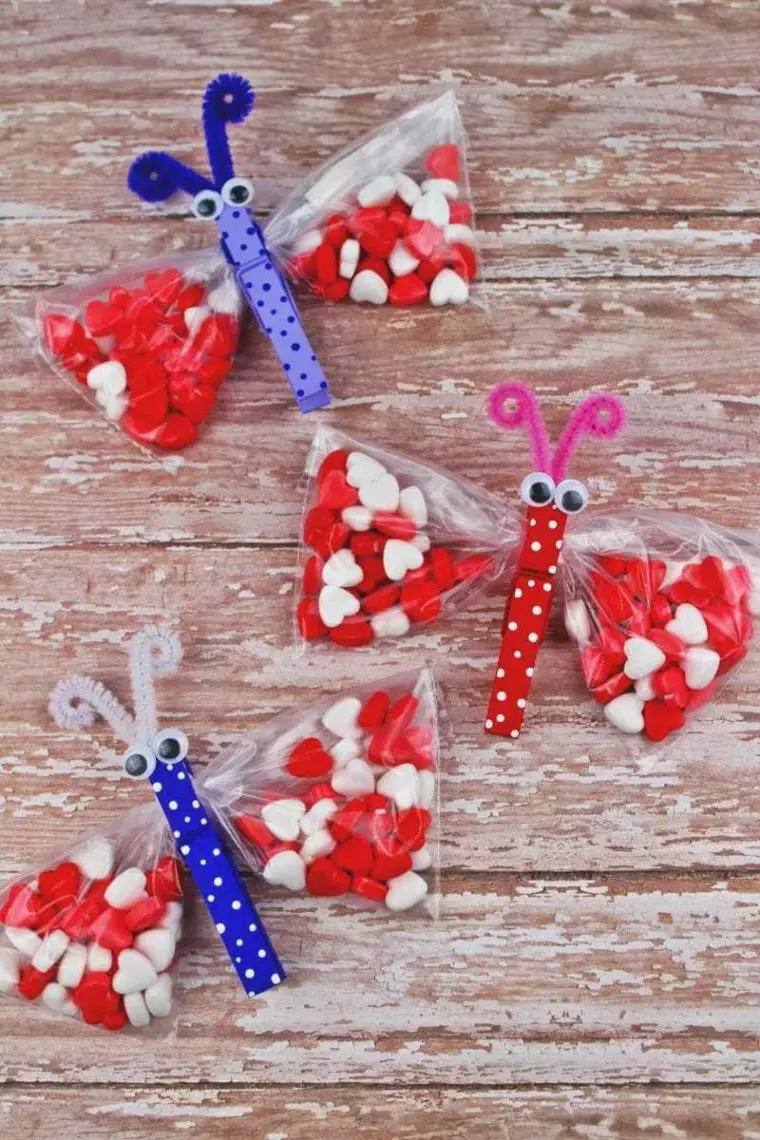 Credit: crayonsandcravings.com
Make snack time fun and animated with this DIY butterfly snack bags. They're great for storing small snacks for your little ones' lunch bags or as a party give away.
Simple crafts mean simple materials. All you need for this DIY snack bags are your snack-sized bags, clothespins, googly eyes, paint, paintbrush, glue, and of course, your choice of treats to put inside the bag.
Snack hack: If you want to skip the painting part, you can buy colorful, patterned clothespins here.
6. Tropical Flower Craft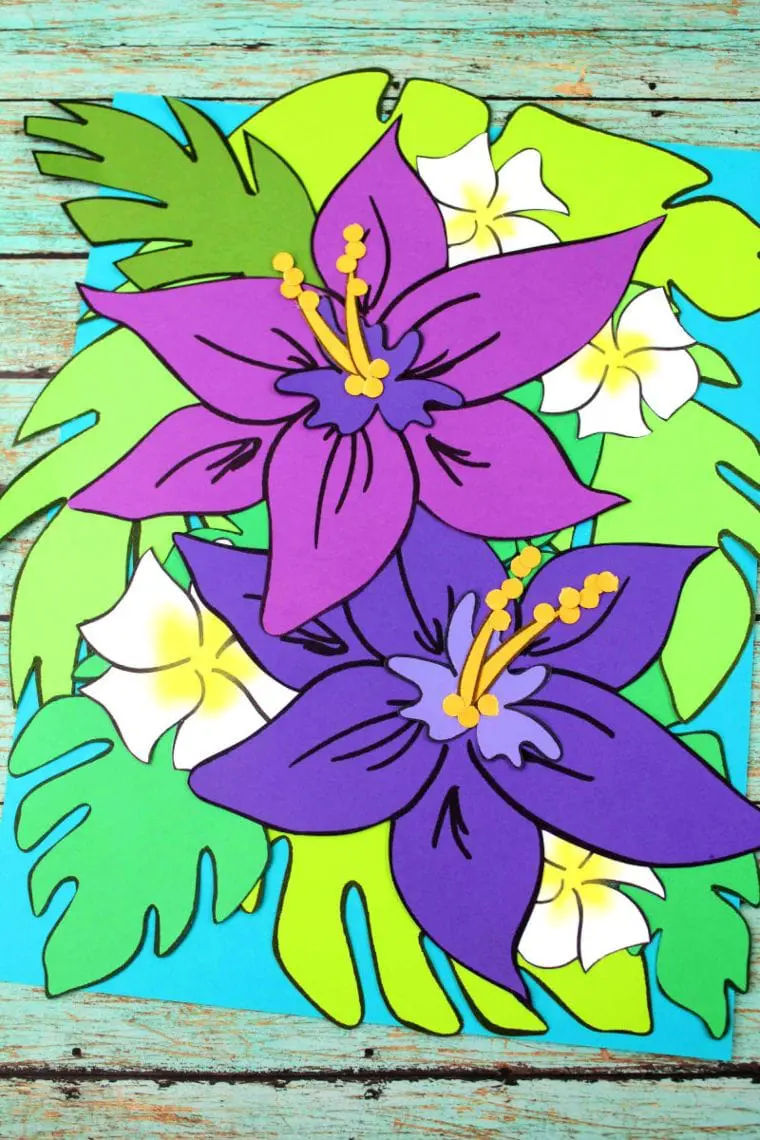 Credit: mamalikesthis.com
You can do this project using materials that are already staples at your home office or the kids' school supplies. It's an artwork with a simple design, perfect for a luau or Moana-themed party.
7. Upcycled Tote Bag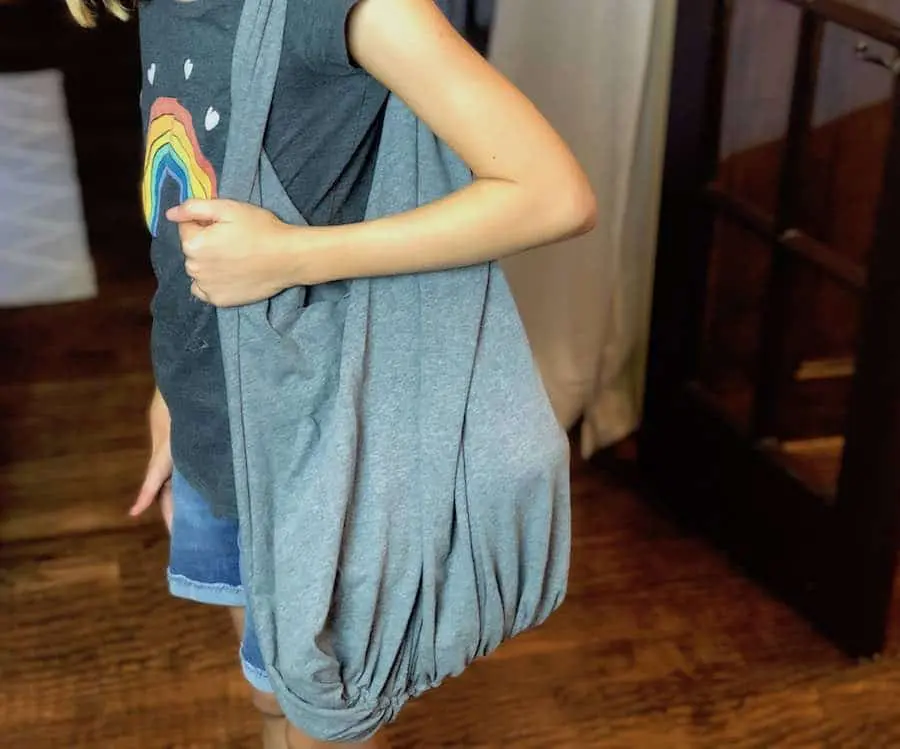 Credit: happiestcamper.com
Do your kids have a favorite shirt that they've outgrown but don't want to get rid of? This DIY t-shirt bag may be the answer to their attachment.
Don't panic if you don't know how to sew. This no-sew DIY only requires that you have a pair of scissors and that favorite shirt. Head on here for full instructions.
This is definitely a craft that will require a little bit of help from an adult. Get more ideas for projects like that here.
8. Magic Chalk Paint Recipe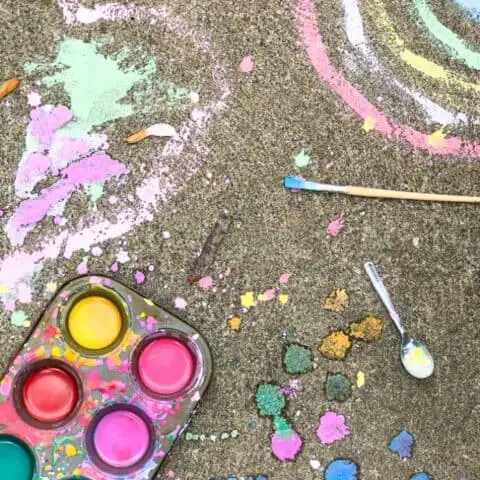 Credit: onmykidsplate.com
Let your kids go wild on your driveway with this non-toxic and washable chalk recipe. This little chalk recipe is kid-friendly and will give them more than one opportunity to get creative!
With a bit of chalk paint, they'll be able to spend the whole day outside, get some very needed sun and have fun!
Wide paintbrushes work well for this paint, especially if you have young kids. If you have kids of varied ages involved in the painting, you may want to try these assorted size paintbrushes.
9. Easter Bunny Handcrafts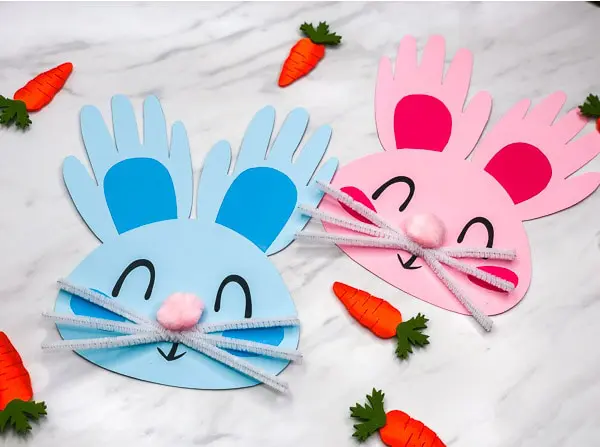 Credit: simpleeverydaymom.com
This is an easy and fun small project for your children during Easter. But they're also great as decors for parties or the kids' rooms.
Gather up your supplies of colored card stock, a marker, glue dots, and scissors. You'd want to use pink pompoms like these for the nose, and you can order white pipe cleaners here for the bunny whiskers.
10. Butterfly Paper Crafts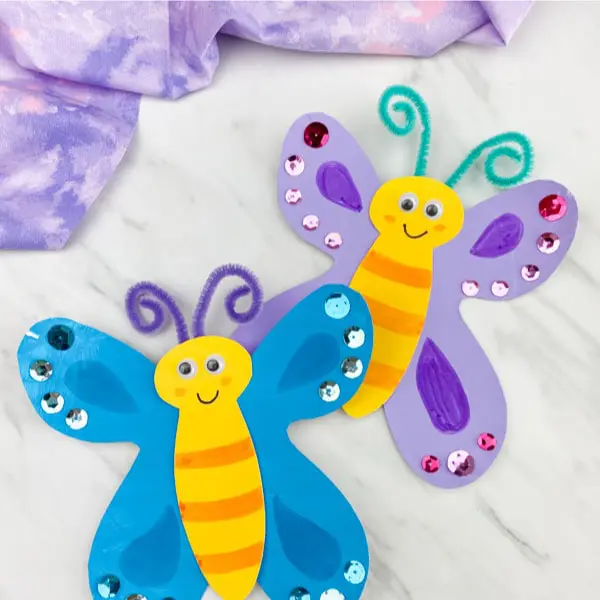 Credit: simpleeverydaymom.com
Your little kids will have loads of fun learning this easy-to-do butterfly papercraft. Once done, stick them on to the kids' bedroom walls or windows. They're great as bookmarks, too.
To create these beautiful creatures, you will need colorful card stock and markers, googly eyes like these, colorful pipe cleaners, glue, and a pair of scissors.
11. DIY Slime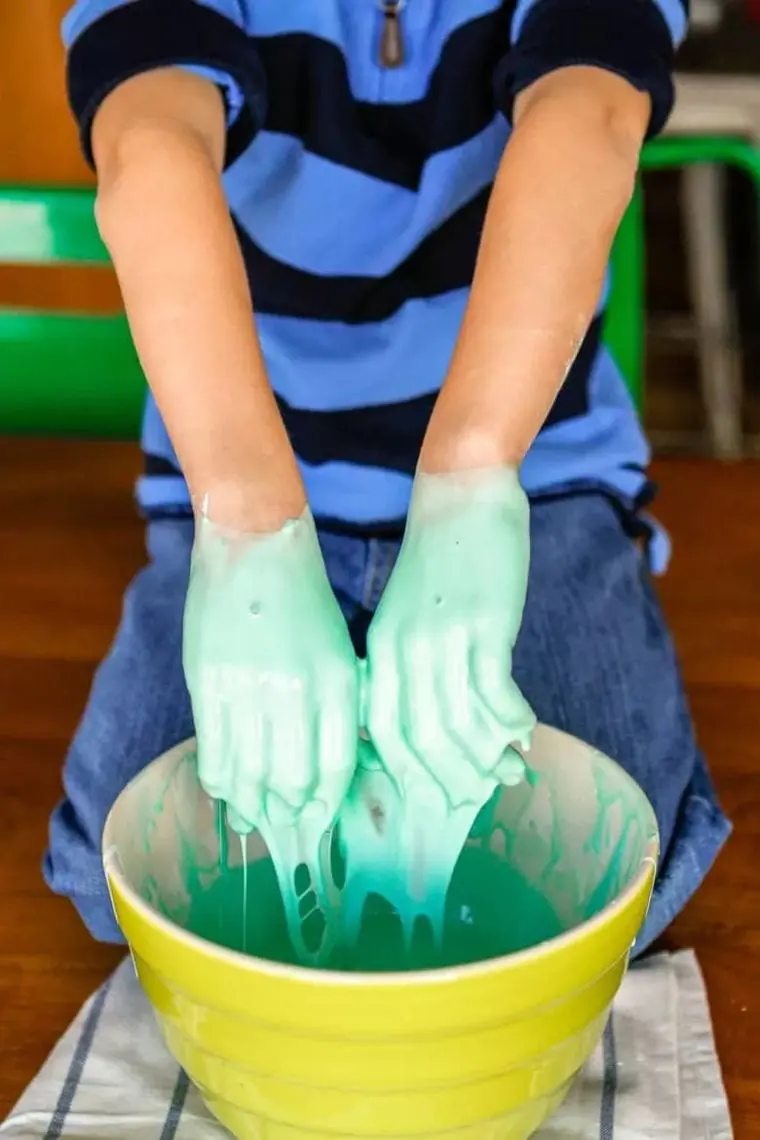 Credit: unsophisticook.com
Give each child a bowl and pop in ½ cups of cornstarch, 1 cup of water, and three tablespoons of tempera paint, available here.
Let the kids mix the elements using their hands – that's it. Add more water or cornstarch as necessary. Let the kids be the judge of the consistency.
When the kids get tired of having their messy fun, store the slime into covered containers for next time.
Check out more fun, creative crafts that are also cheap here.
12. Snake Huggies For Your Kids Who Loves Cuddling!
Credit: swoodsonsays.com
Get your kids to help you make this cuddly snake for a fun and creative bonding time.
If you love crafting, most of the materials are probably already on your craft kit. However, some of the materials may be a bit tricky to find, like the pack of stick n' stitch. If you can't find them locally, order them here.
Once you've gathered all your materials, the video on this page will show you how to make it.
13. Fun Stitch Sampler for Kids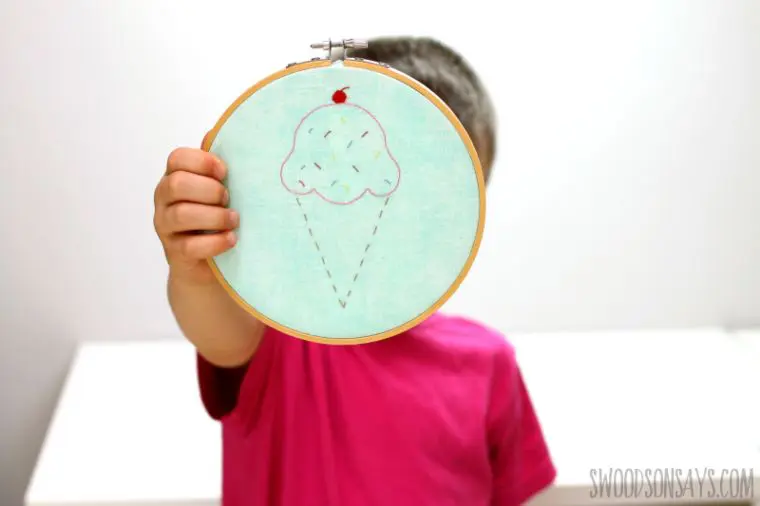 Credit: swoodsonsays.com
Teach your kids the basic principles of sewing with this craft activity. All you need are your embroidery hoop, needle, any fabric, and your thread.
If you're doing this with a lot of kids and you don't have extra embroidery hoops, you can order a 6-piece set here. When you're ready to do some stitching, download the free embroidery pattern here.
14. Colorful Dabbed Fish Craft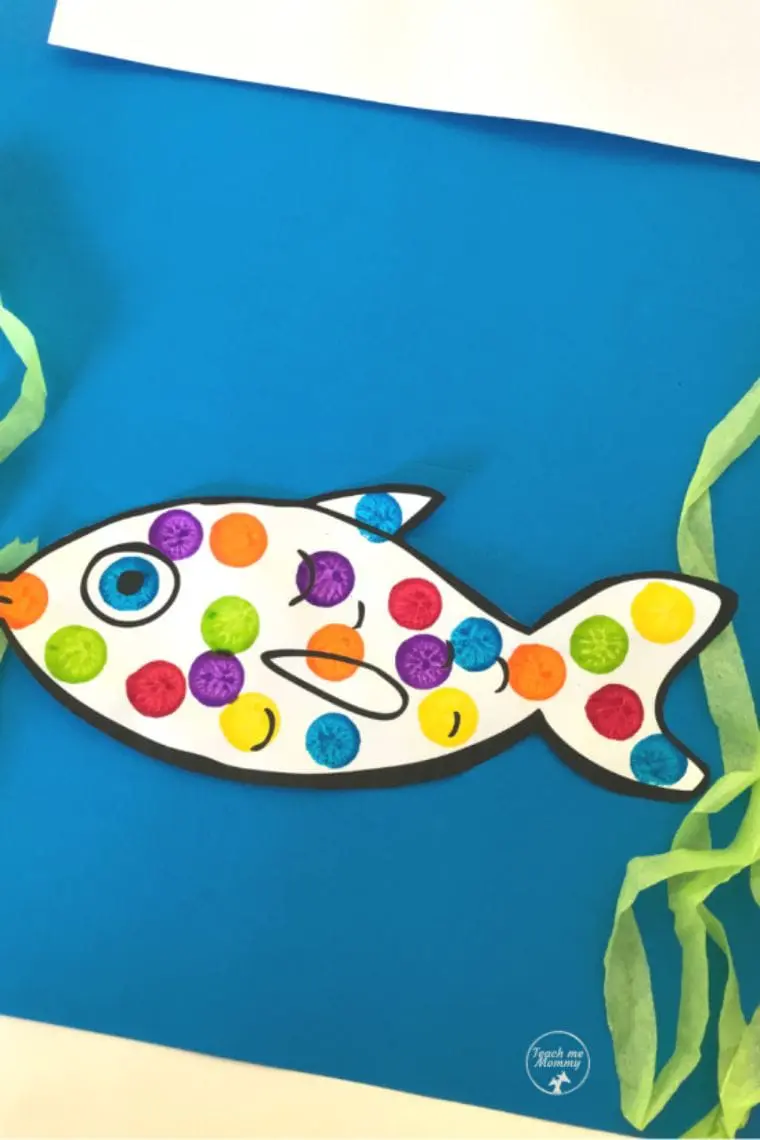 Credit: teach-me-mommy.com
Teach your kids a different paint technique with this dabbed fish craft. Use cork or cotton as an alternative to paint dabbers.
If you want to use the real deal, you can order a pack of 60 different-sized paint dabbers here.
Your kids loving paper crafts? Check out more of them here.
15. DIY Tape Art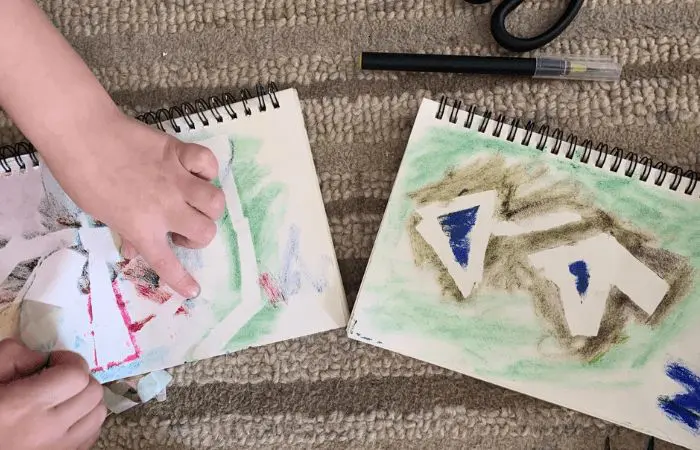 Credit: blueandhazel.com
This is another excellent art technique to teach your kids. It encourages them to be incredibly imaginative and creative.
My favorite part of this craftwork is the oddly satisfying feeling you get when you're peeling off those tapes. Try it for yourself, and you'll understand what I mean.
16. Mary Poppins Inspired Paper Kites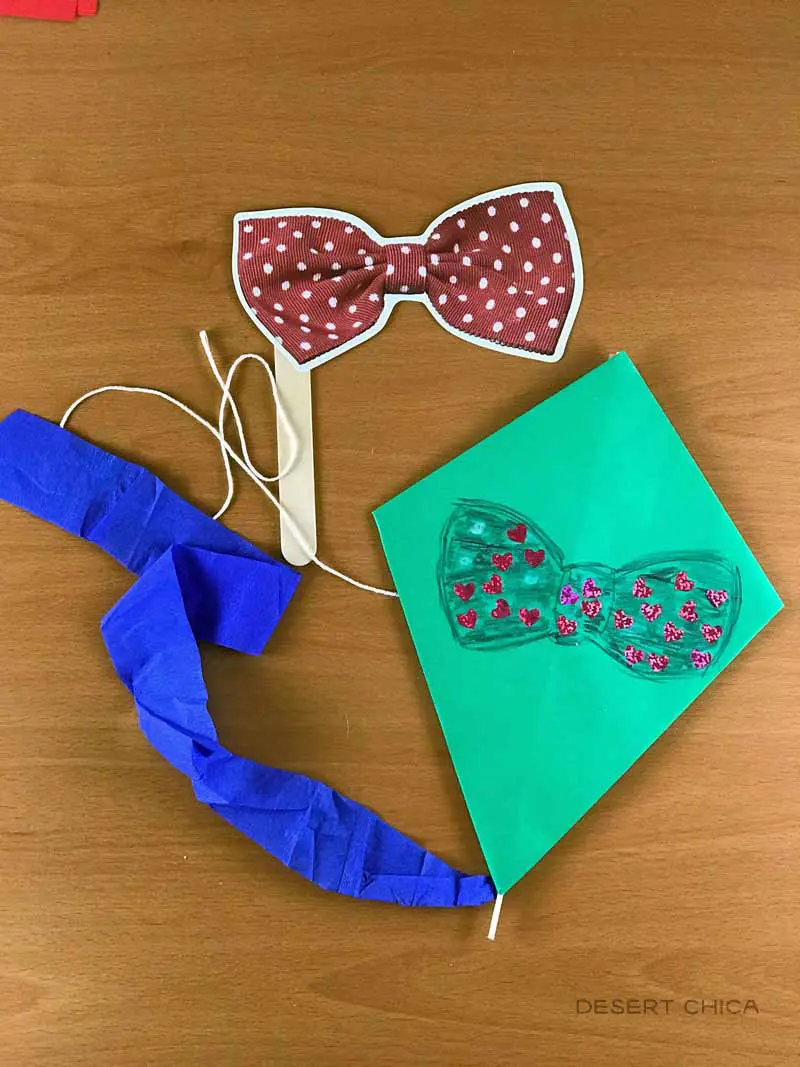 Credit: desertchica.com
This Mary Poppins-inspired DIY is a fun project for the whole family to do on a bad-weather kind of day.
It's simple and inexpensive, and you only need colored paper, wooden dowels or skewers, paper streamers, scissors, pen, and tape. You can also use patterned paper like these if you want your kites to be more playful and vibrant.
17. Rubber Band Guitar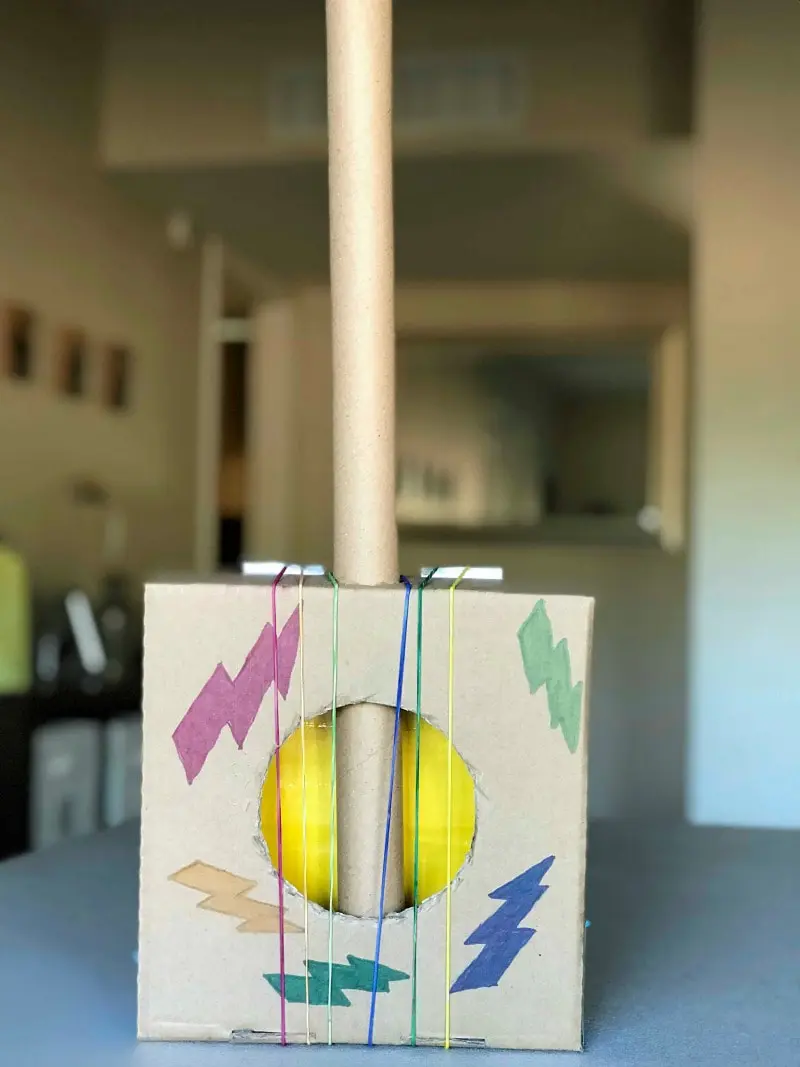 Credit: desertchica.com
If your kids love music, they will most certainly like this project. The good thing about this inexpensive pretend guitar is that it makes sounds, too!
To create this musical instrument, you need a used cardboard box, a cardboard tube, rubber bands, scissors, and markers. If you want to achieve a more realistic look to your guitar strings, look for black rubber bands, like these.
If you love upcycled crafts, you might want to check out these toilet paper roll crafting ideas for your kids!
18. Pompom Paper Plate Snail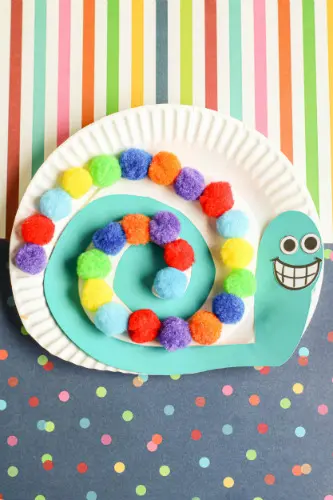 Credit: tootsmomistired.com
This is the ideal craft to make for your toddlers. The different textures used in this project makes for a great sensory play.
To create this colorful snail, start by cutting paper to mimic the snail's body.
Cut the bottom of the paper plate just enough to create a flat bottom and attach the paper plate to the snail with glue.
Use a black marker to draw the eyes and the lips. For added animation, you may want to use googly eyes instead.
Finally, line the snail's body with colored pompoms, which you can order online here.
19. Popsicle Pot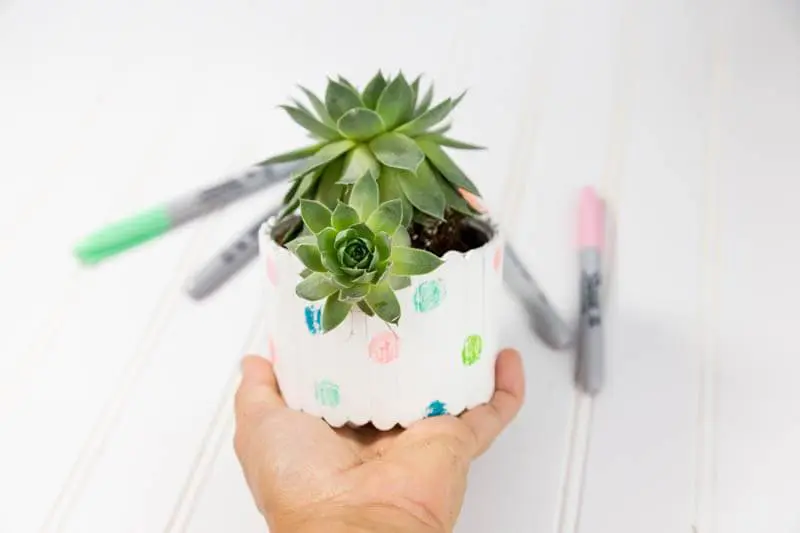 Credit: coralandco.com
Are you tired of the dull colors of your indoor plant pots? It might be time to put the kids' creativity to action with these DIY popsicle pots.
You can use any can or round container that fits your indoor plants. Glue on some short popsicle sticks, available here. Paint white acrylic paint over the popsicle sticks and the rest is up to your creativity.
If you want to skip the painting part, you can also go for colored popsicle sticks, such as these.
Check out more popsicle stick crafts that the little ones will absolutely love!
20. Colorful Tissue Butterflies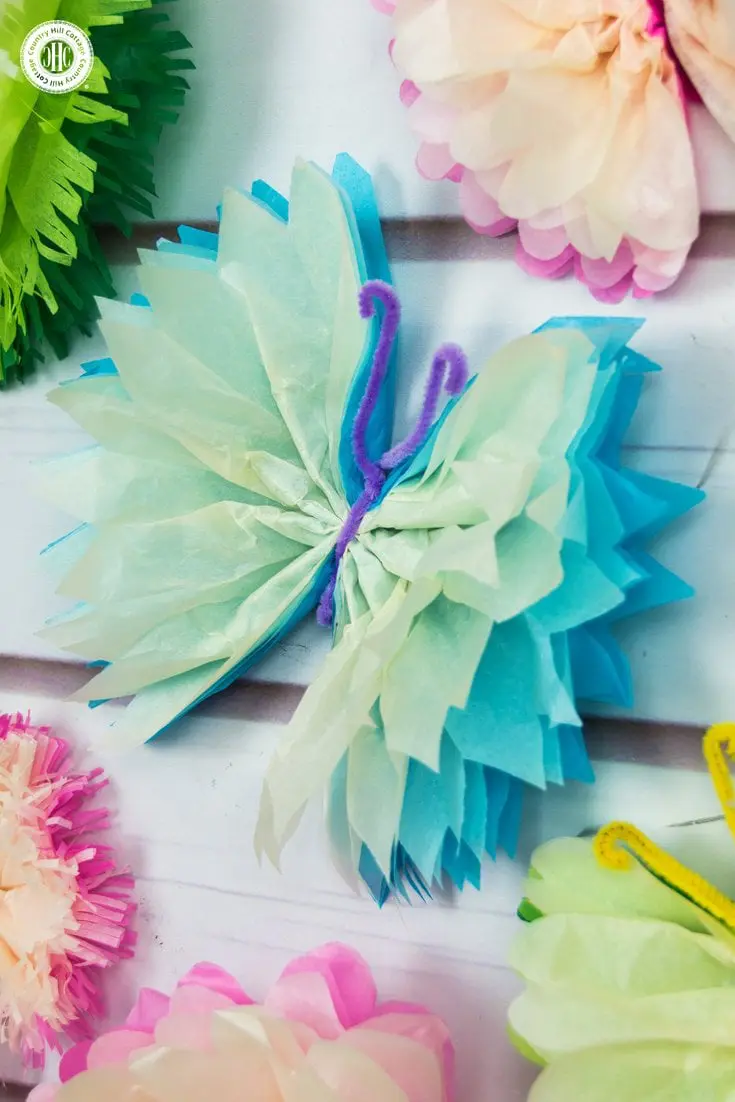 Credit: countryhillcottage.com
Brighten up your home with these adorable paper butterflies. They're straightforward to make as long as you have tissue paper, pipe cleaners, and thin wires.
If you don't have pipe cleaners at home, you can order them in bulk here. Don't worry if they come in boxes of 1000. In the world of crafting, there are thousands of uses for pipe cleaners.
Conclusion
What do you and your kids think of these ideas? Feel free to share this list with other parents, too!