Paper is a great crafting supply to work with! Make these paper crafts on a low budget and just have fun with the family!
Paper is an excellent medium for crafts. They're readily available, and because there are so many types of paper, your crafting possibilities are endless.
Whether you're looking for weekend family bonding projects or are simply looking for an entertaining and productive activity, read on. I've listed 17 DIY paper crafts below for you and your family to enjoy crafting.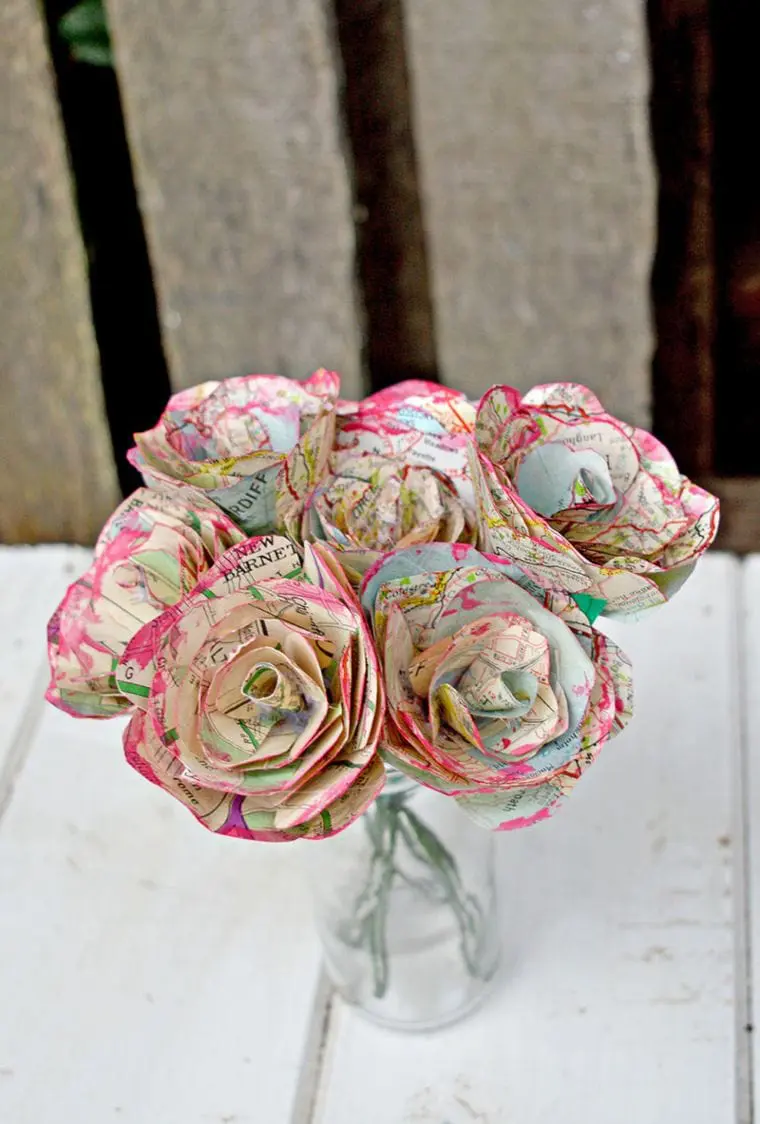 Credit: pillarboxblue.com
Flowers are stunning! Unfortunately, natural flowers don't last long and tend to wither within a few days or weeks. The good news is, we can create everlasting flowers that are incredibly affordable too!
Use these DIY paper flowers as ornaments on your home office desk or kitchen countertop. Add a personal touch to your gifting by using these as toppers instead of the store-bought ribbons.
These paper roses can be created in under 30 minutes, making it the perfect break activity to relax you on days where there's just so many chores to do. Head here to get a printable guide on making them.
What sets this apart from other paper roses? It's the vintage feel created by the old map wrapping paper, like this one.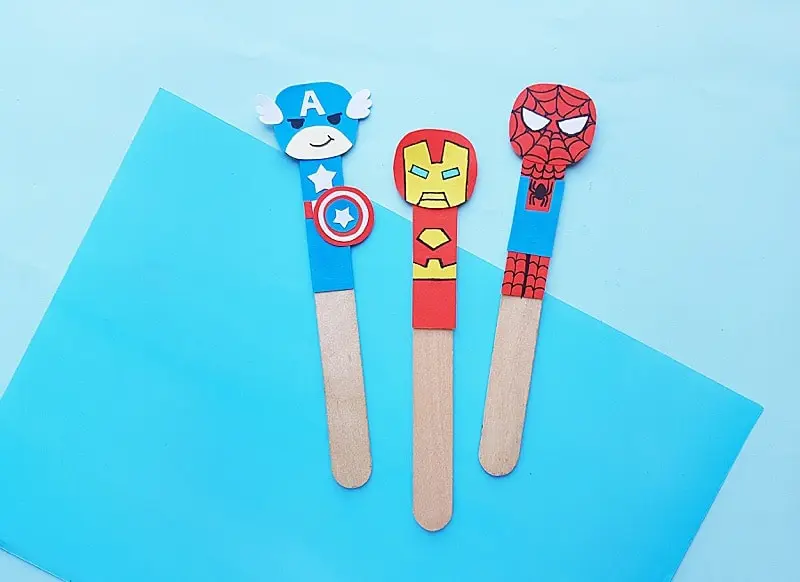 Credit: bigfamilyblessings.com
If your kids are avid fans of superheroes, they will surely love these bookmarks! It's fun and effortless to prepare. All you need, other than paper and pens, are craft sticks to serve as the superhero base.
If you don't have them readily available, you can order them online here.
Loving the popsicle idea? Check out more popsicle stick crafting ideas here.
Credit: bigfamilyblessings.com
This project takes a different take on a bookmark. You pop it on the corner of the page instead of sticking them in between pages.
They're so easy to make, my little princess loves creating them. This video tutorial shows you how to make one.
We also love doing creating other characters. They're great as party favors. Simply create one that is in line with your party's theme, and they're good to go.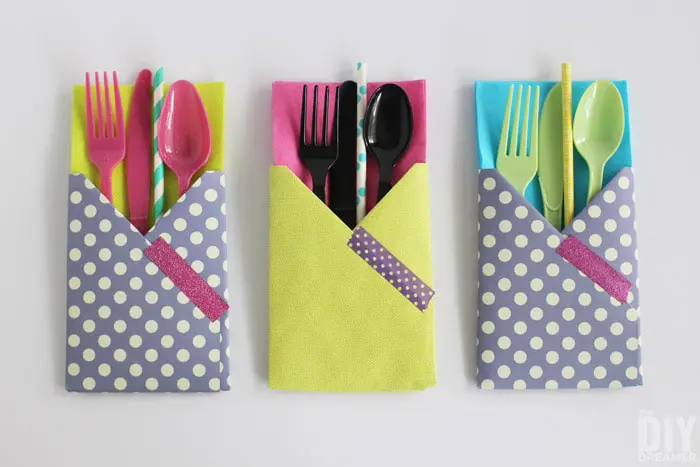 Credit: thediydreamer.com
Hosting a party and want every detail in line with the theme? Set your table decor on point with these DIY utensil holders.
It's quick to make – simply cut and fold scrapbook paper, seal them with washi tape, and fill them with your party utensils.
Do you also struggle to find playful scrapbook paper in the craft stores? I did. So I ordered my scrapbook papers here.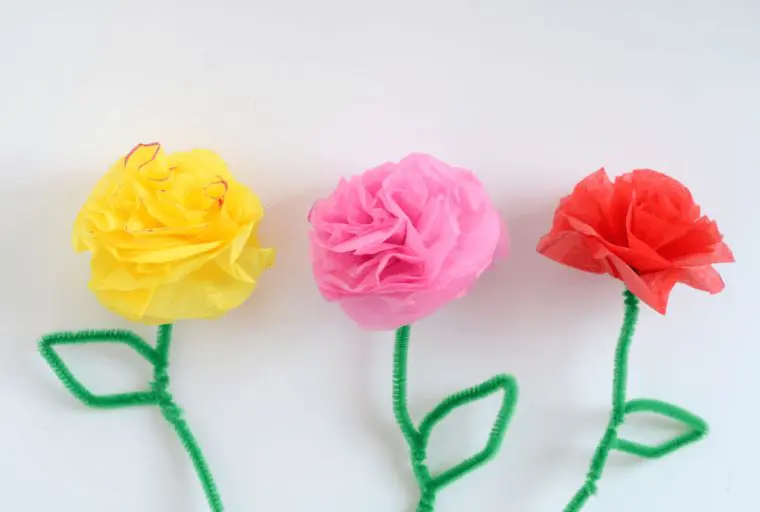 Credit: mommalew.com
Bring the spring feel to your home with do-it-yourself tissue paper flowers. Create a bunch of them to make a bouquet that would look good on your coffee or bedside table.
You will need colorful tissue, scissors, a marker, and green chenille stems, which you can get here.
Just as there are so many types of spring flowers, creating them also varies. Head on here for a collection of video tutorials on how to make different flowers out of tissue paper.
This is a wonderful DIY craft for adults out there!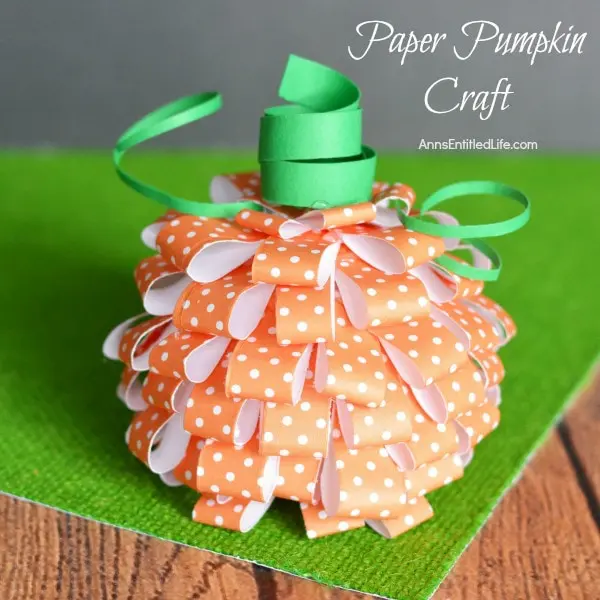 Credit: annsentitledlife.com
Halloween doesn't always need to be scary or gory decors. This cute pumpkin decor is proof of that.
Use a Styrofoam ball to create the base of the pumpkin and use orange and green cardstock paper for your pumpkin shell and stem.
These cute autumn-themed decors can also be added as "treats" for trick or treat. But if you're going to make a few, you may want to get a craft paper trimmer like this, to make your job quicker and easier.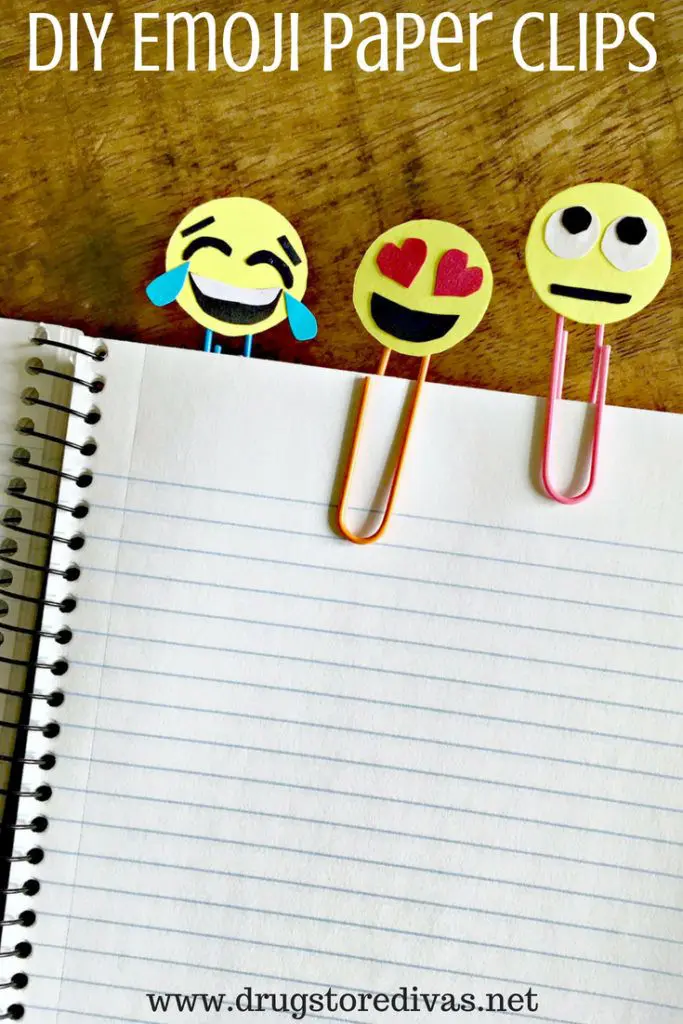 Credit: drugstoredivas.net
Are you the type who ends their text or email messages with emojis? If that sounds like you, why not up your emoji game and create emoji paper clips too!
The materials are almost certainly already in your craft drawers – paperclips, emoji-colored card stocks, glue, markers, and scissors.
It's so easy to make; no instructions required.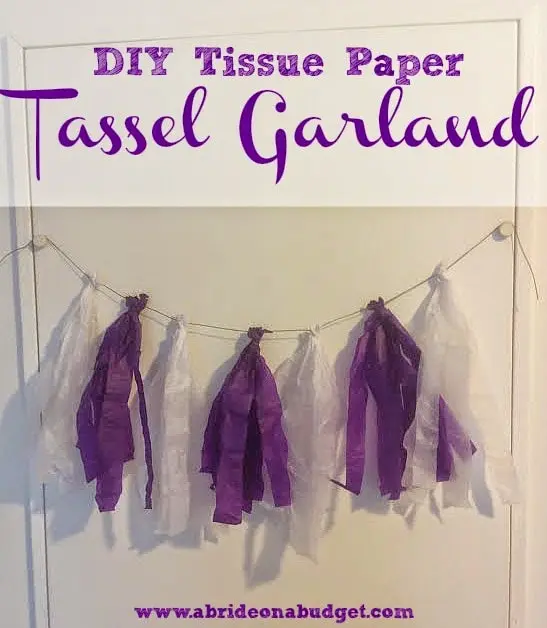 Credit: abrideonabudget.com
Tassel garlands are affordable and easy-to-make party decors. Colored tissue paper, like these, are the perfect materials for this craft because of their soft, flowy texture.
Cut tissue paper of your choice into sections, fold the sections across and create tassels by creating halfway through to the folded bit.
Pop the folded bit onto the string, scrunch the tissue paper, and twist to create a knot. That's it!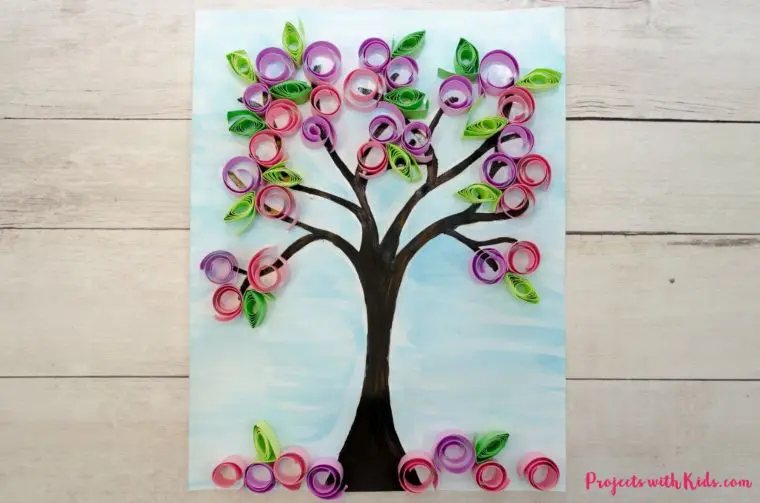 Credit: projectswithkids.com
If you can cut and roll paper, you can do this project!
It's that easy, and kids can do it on their own. If they're younger, you may just need to cut the paper strips for them.
What I love most about this craft is it gives the kids full creative license – they decide what and where the elements sit on the tree.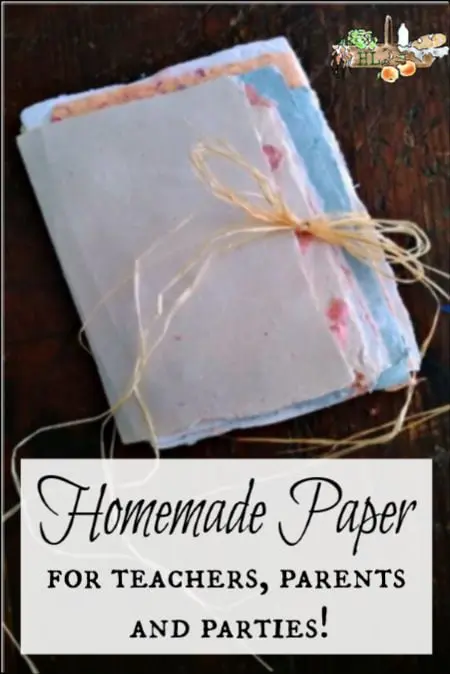 Credit: homesteadlady.com
Don't just throw away your unused pile of scrap paper. Instead, give it character and a trendy flair by upcycling them.
They're great for use as greeting cards, gift tags, ornaments, mason jar labels, and so much more!
If you want to know more, this page gives a detailed account of the step-by-step process.
Recommended: 20 Paper Roll Crafts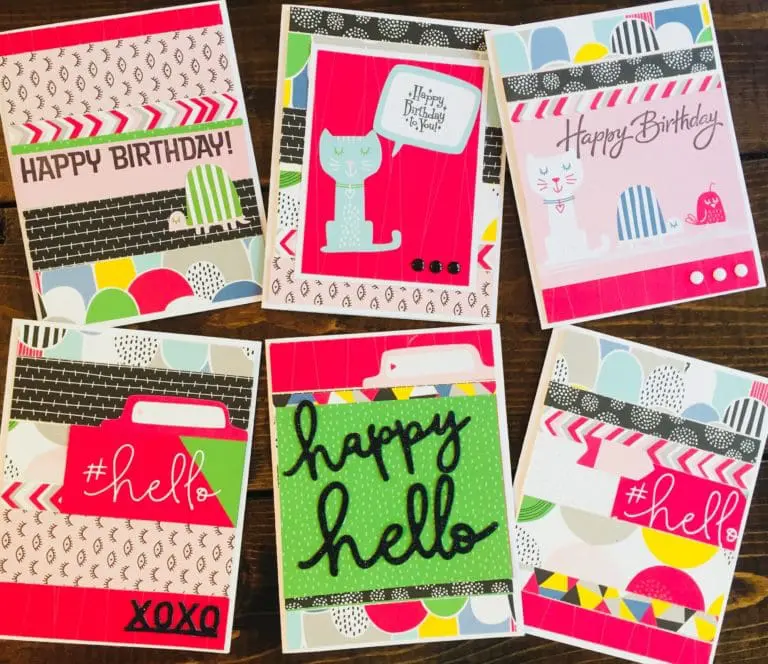 Credit: glitteronadime.com
Another way of recycling your paper scraps is by creating cute, personalized cards out of them.
Trust me, handwritten letters accompanied by personalized cards touch the recipient more than you will ever know (or more than they'll ever show you).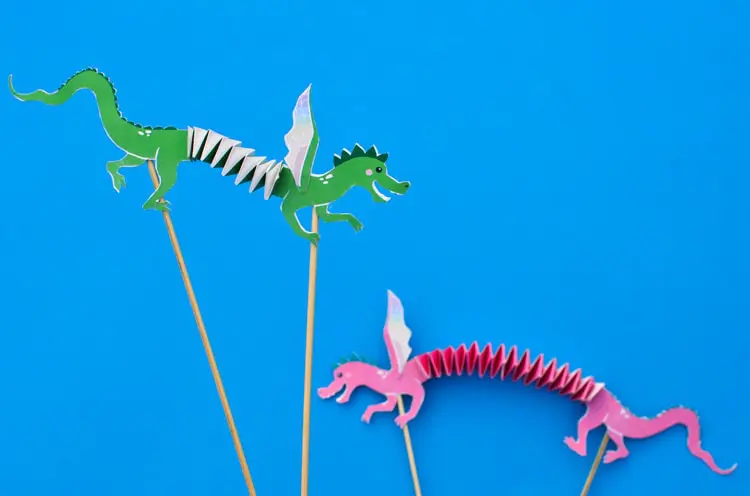 Credit: adventure-in-a-box.com
One of our family's favorite movies is How to Train Your Dragon. Naturally, we had to do this craft, and the kids had to learn for themselves how to train their dragons.
To create your dragon, you will need card stock, glue, and bamboo skewers. When you have your materials ready, watch this tutorial video that teaches you how to create your dragon.
Mom tip: If you have young children, ensure their safety and your peace of mind, by using semi-dulled bamboo sticks, such as the ones available here.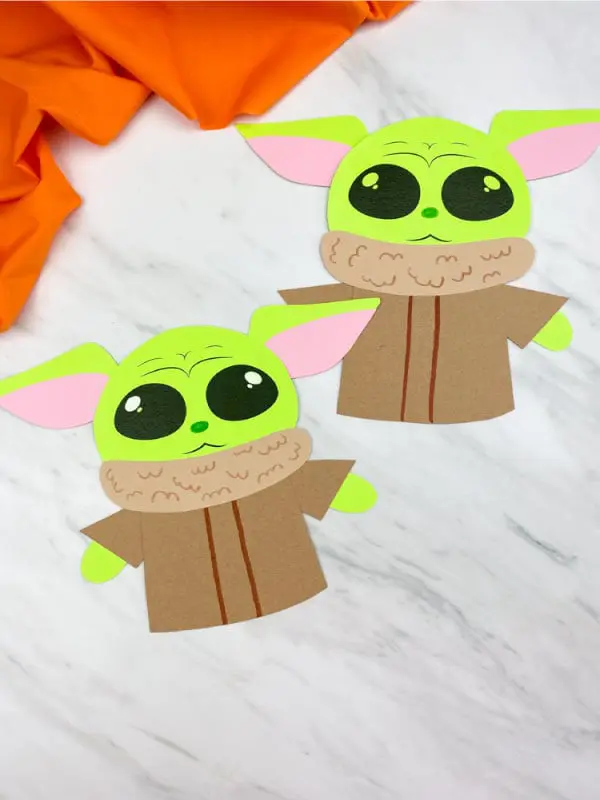 Credit: simpleeverydaymom.com
The only thing cuter than Yoda is Baby Yoda. Create paper versions of the cutest Star Wars character with the use of card stock, scissors, markers, and your creativity.
Stick these little green creatures on your kids' notebooks, or use them as decors for a Star Wars-themed room or party.
Check out more crafts for kids like this one!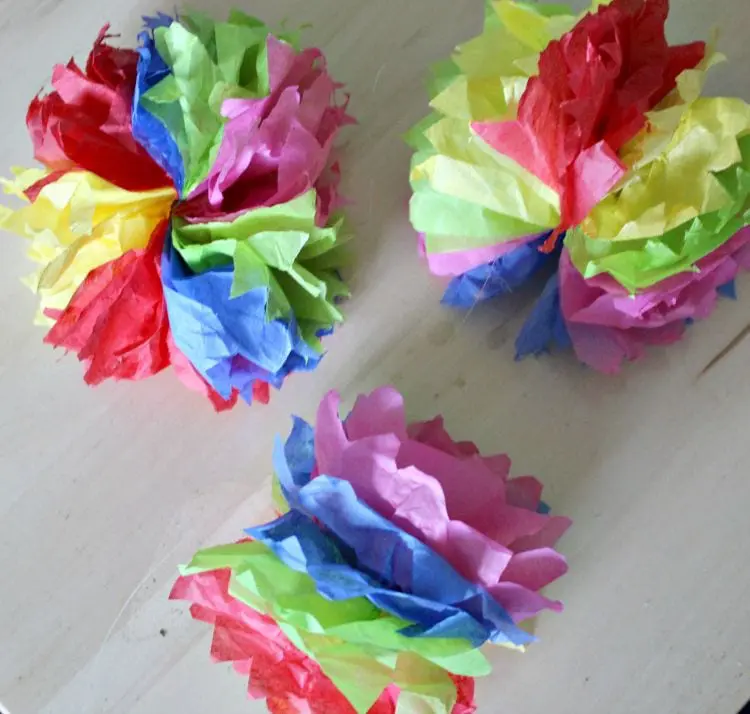 Credit: ourcraftymom.com
Do you want to redecorate your daughter's room? Planning a summer or Mexican-themed party on a budget? These hanging paper flower garlands craft might be the final touch you need!
For the flowers, you'll need colorful tissue paper and some floral wire. Check this tutorial here for more information.
Décor tip: Make your flowers stand out by hanging them on invisible wires, like this clear fishing wire found here.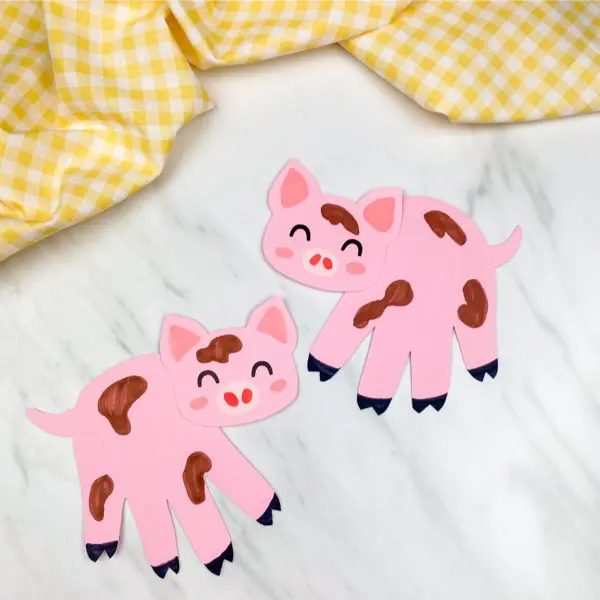 Credit: simpleeverydaymom.com
This fun yet straightforward DIY crafting project is suitable for curious toddlers who are learning to recognize animals. Make them with your kids to enhance their object recognition and memory skills.
Animate the cute pink animals by gluing googly eyes like these, instead of drawing the eyes in.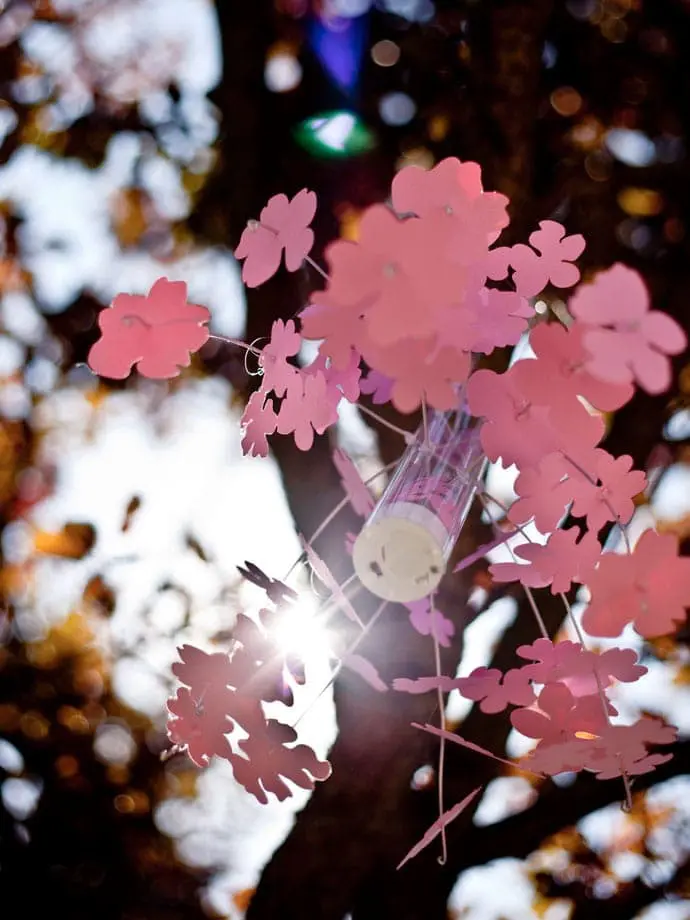 Credit: mypoppet.com.au
Why go to Japan when you can have your own little Cherry Blossoms Festival in your backyard? Follow this easy-step tutorial and achieve the full spring bloom experience in the comfort of your home.
When choosing the battery tea lights needed for this project, go for the ones with built-in timers. I used ones like these that have a 6-hour on and 18-hour off time.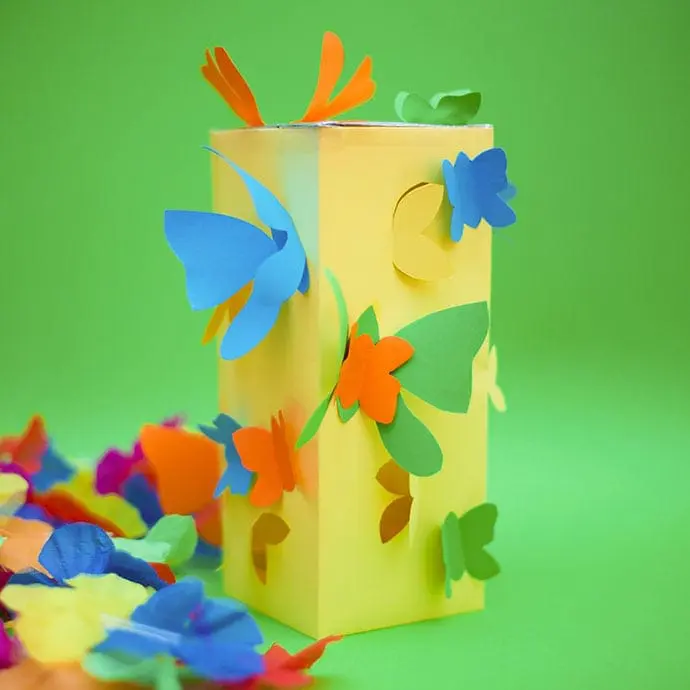 Credit: mypoppet.com.au
Add a whimsical sparkle to your kids' room or home office desk with this butterfly lantern. It's easy to make, and the materials aren't that hard to find. Check out this tutorial to know more.
Let your butterflies sparkle by swapping regular card stock paper with glittery ones, found here.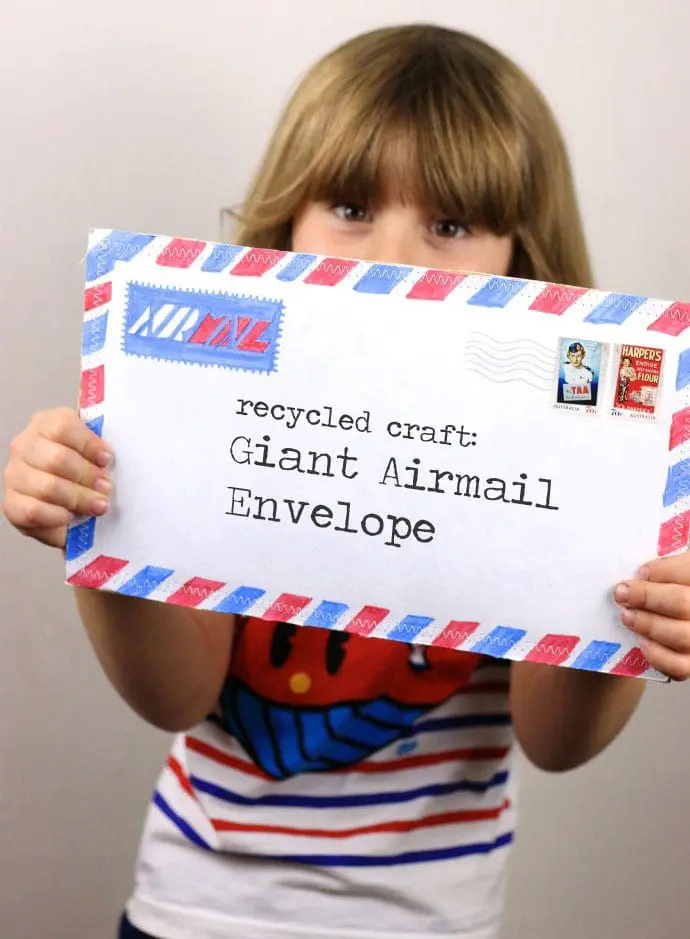 Credit: mypoppet.com.au
Instill the concept of snail mail in your kids through this fun project. For more details on how to create your large envelopes, head on to this tutorial.
The tutorial includes the use of a sewing machine to seal your envelope. If you don't have one, you can use adhesive tape or order a handheld sewing machine like these affordable ones.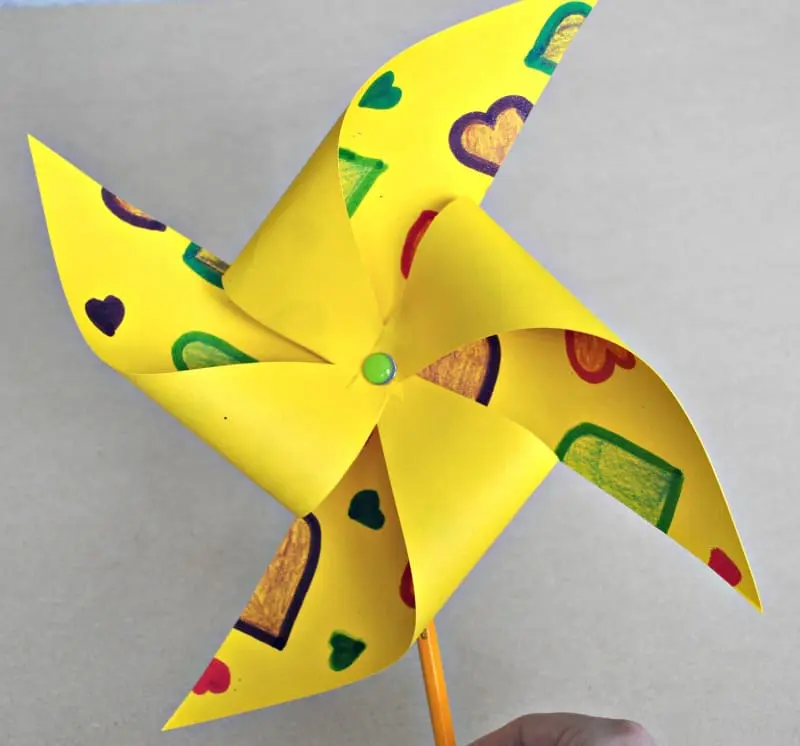 Credit: easy-crafts-for-kids.com
Did you love playing pinwheels as a child? My guess is all of us did. Introduce this easy craft project to your kids and watch them spend hours getting that wheel to turn.
There are tons of pinwheel tutorials out there. My favorite is this video tutorial because it uses a technique that doesn't require sharp pushpins, which can be a safety hazard for young kids.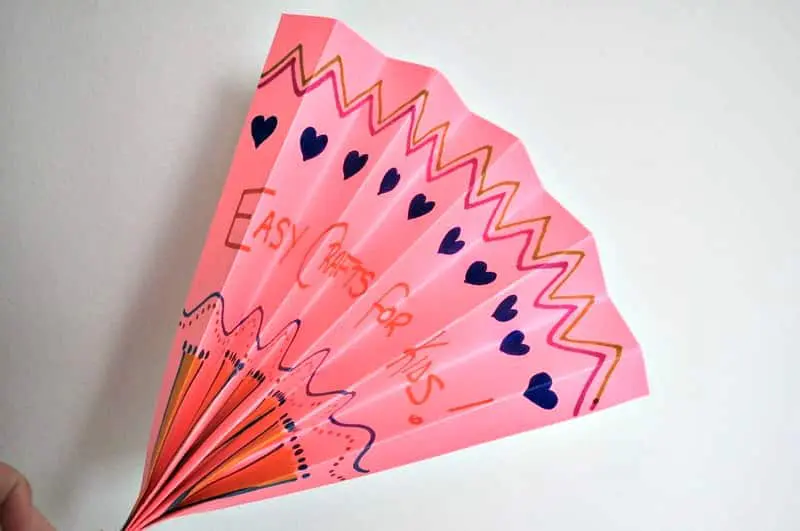 Credit: easy-crafts-for-kids.com
Save the easiest for last. Kids of all ages can create this fun project.
I found that origami paper, like the ones found here, works best for paper projects that require a lot of folding. I guess it's because they're thicker than standard paper and are designed to hold creases well with each fold.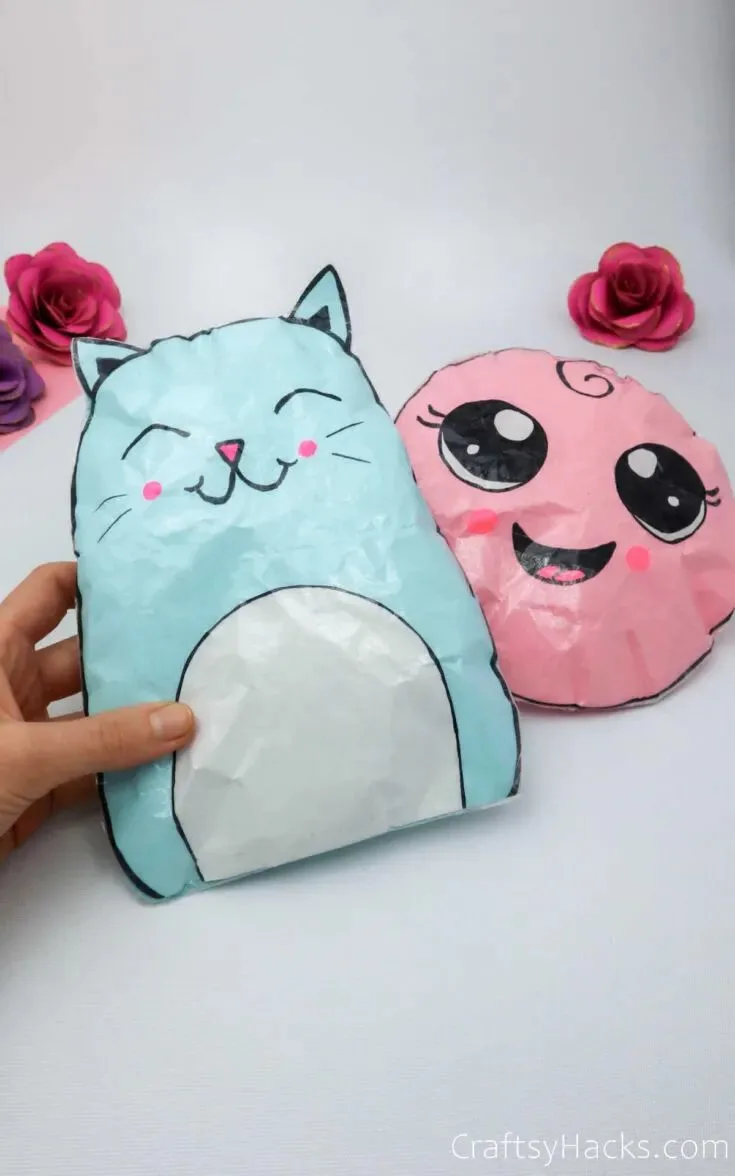 Credit: craftsyhacks.com
There's something unquestionably satisfying about paper squishies. It's a sensory delight to be able to hold something moldable and squishy and just, well, squish it.
You can make your very own squishies, and in just under 30 minutes, too. And, since you're making them yourself, you can design the covers.
That's why these cartoon squishies are perfect for kids. Grab some toy filling from here, and you're all set.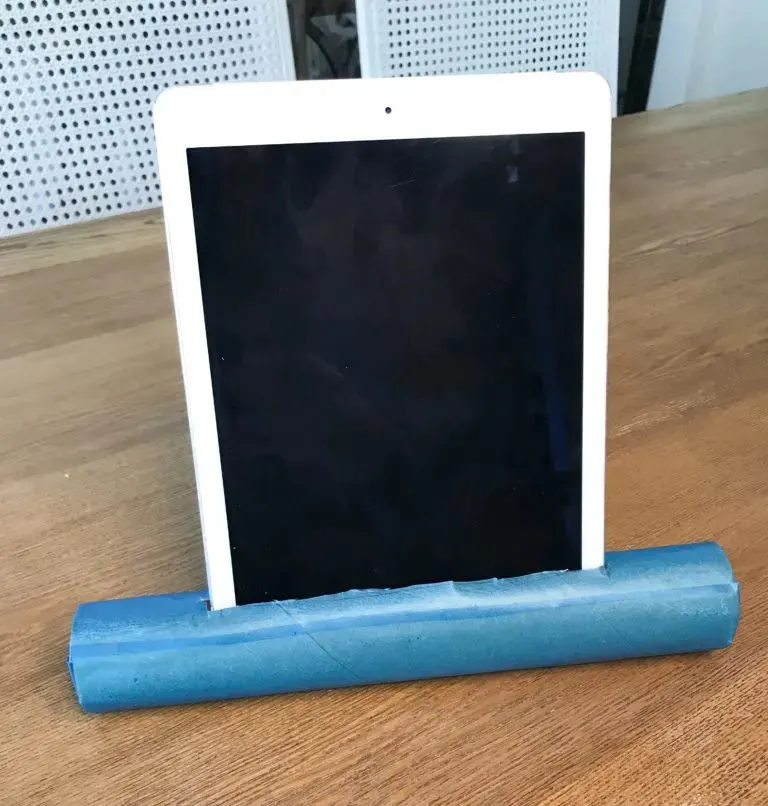 Credit: craftingwithkids.net
Paper towels and toilet rolls are both really handy around the house, yes. But I bet that you just dump the empty rolls in the recycling bin when you empty the rolls.
Not anymore you don't, not after you check out this DIY tablet stand made from empty paper towel rolls. Just remember to measure the tablet in question so you can make the paper towel stand in the appropriate dimensions.
Also, check out this DIY phone holder from toilet paper roll. You'll have an entire set for all your gadgets!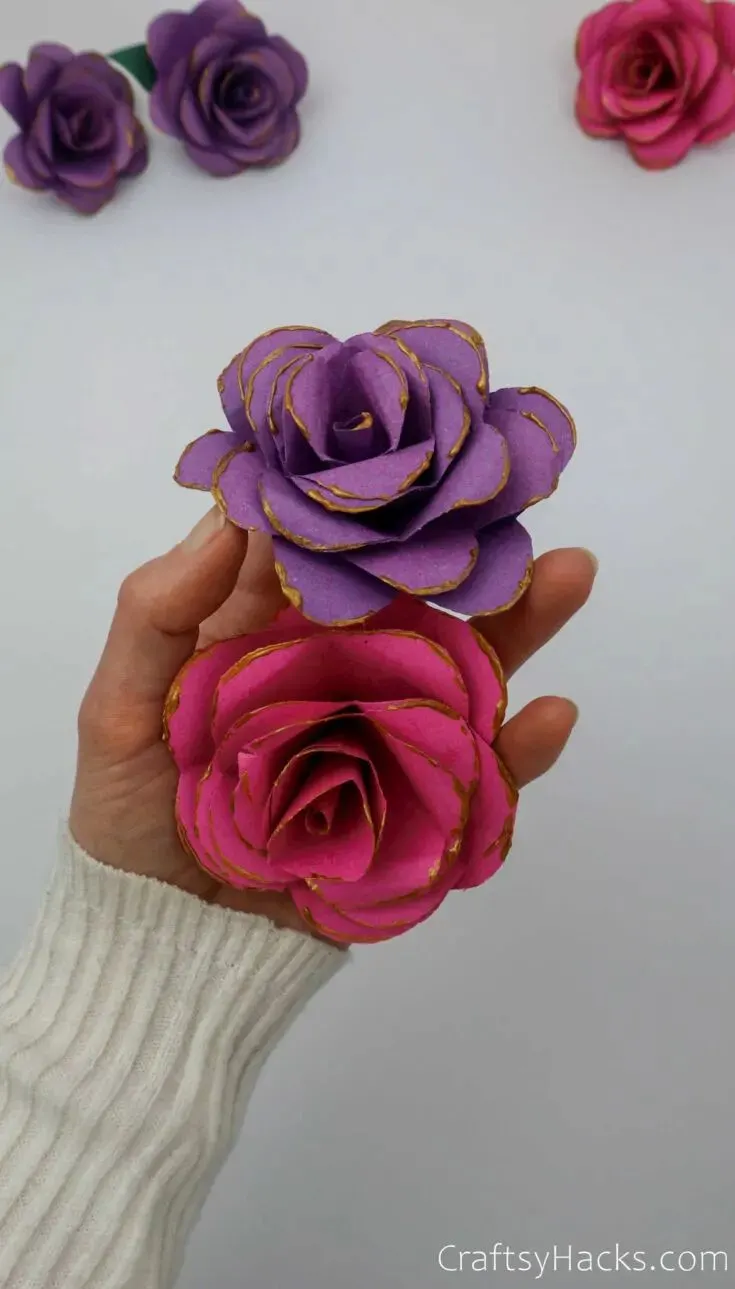 Credit: craftsyhacks.com
When you're decorating a craft project, you know what would be really useful to have at hand—apart from your craft essentials, that is? Paper flowers.
No, really, think about it. Wouldn't it be so convenient if you just made your paper flowers beforehand and stored them?
That way, you could just take them out and use them, replenishing your stash as you go. Grab a bottle of this glitter glue to help decorate your paper flowers and start crafting!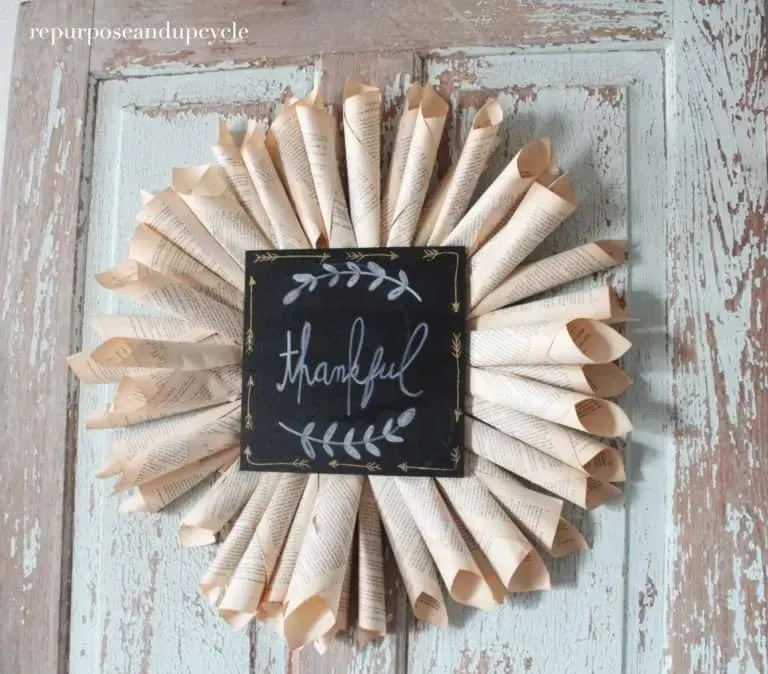 Credit: repurposeandupcycle.com
This is why I love upcycling projects; just look at this fabulous wreath! It's made entirely from old book pages!
There's even a little custom sign in the middle that you can change to make this wreath a year-round one! It's vintage, it's chic, and it will cost next to nothing to make it.
You will need a sheet of cardboard(even a pizza box lid will work) and a trusty hot glue gun. Pick one up from here and start making your wreath!
Credit: craftsyhacks.com
Paper jewelry tends to have a bad rap. It can come across as flimsy and cheap, but just wait till you check these DIY paper rings out!
These rings can be used as party favors, stocking stuffers, and more. You can make dozens of them beforehand and store them for later when you need them.
Perhaps you could even start a new trend and show off these edgy, eclectic rings. Go ahead and gather all the materials you'll need.
Just make sure you have plenty of washi tape from here.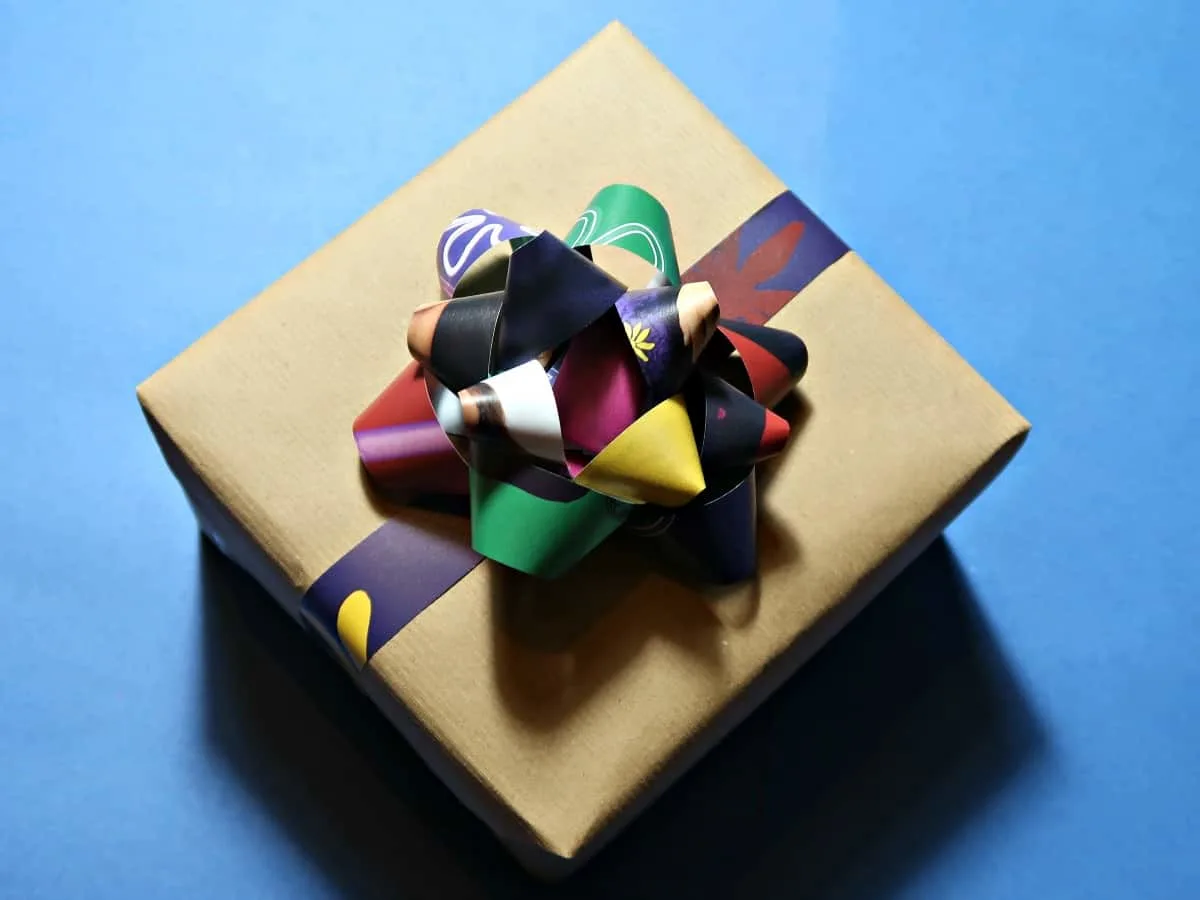 Credit: craftinvaders.co.uk
A nice big bow on top of a gift box is like the cherry on top of the sundae. You can do without either, yes, but why on earth would you?
So, the next time you're wrapping up a present, you can slap this
big, beautiful bow on top of it! You know what the best part is? This bow's made from magazine and catalog paper, so it won't cost you anything!
I bet you have a stash of magazines you've always been meaning to recycle but haven't got around to. It's time to get rid of that stash and in the most creative of ways!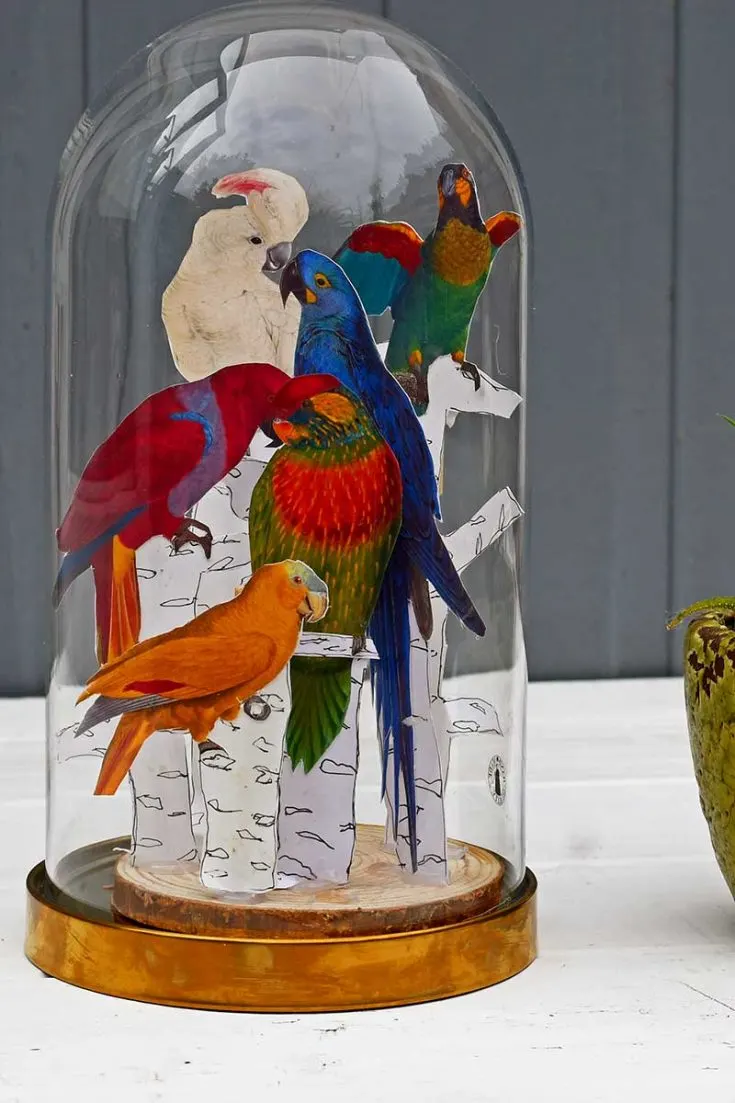 Credit: pictureboxblue.com
This tropical parrot paper craft isn't just a fun craft project to work on, it's also a great decor piece. You can place this colorful bird in a glass cloche or dome from here, and you've got yourself a lovely piece of decoration for your mantle.
It can add to the tropical theme if you have one going on in your home. It can add character and life to your room, too, not to mention a ton of exotic color to cheer it up.
So, download the template provided and start crafting your tropical parrot decor right away!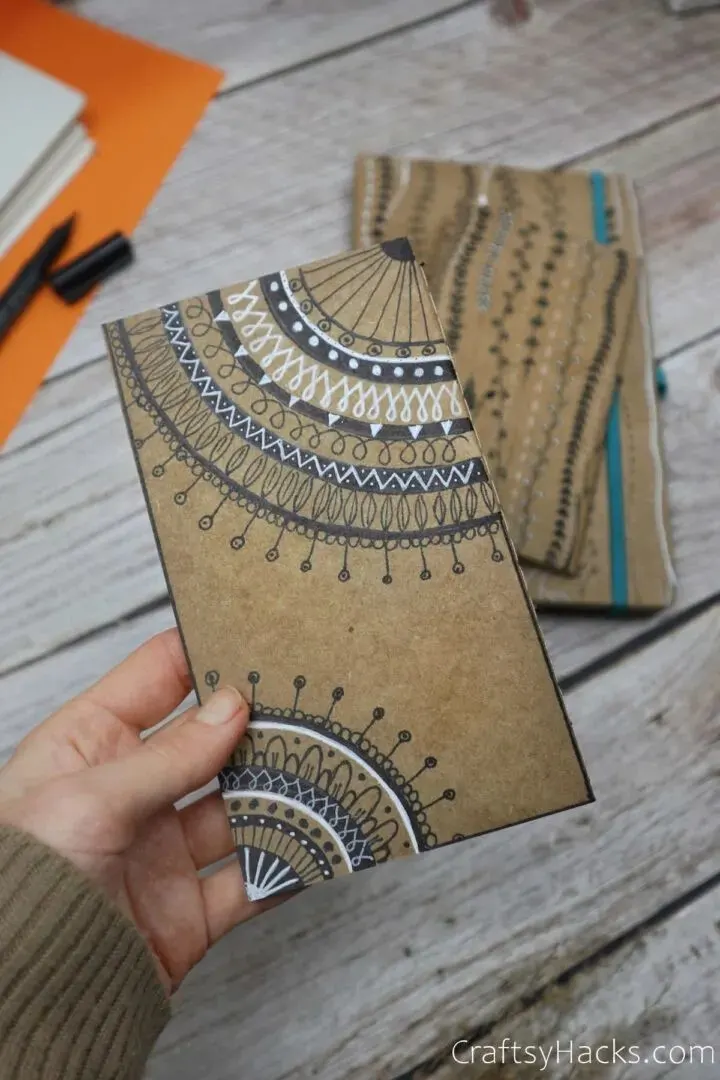 Credit: craftsyhacks.com
I don't know if you've ever felt this way but, when shopping for your school supplies, have you noticed just how pricey all the pretty journals are? It's only the basic and generic ones that are cheap, right?
When you're young and looking for ways to express your creativity and individuality, you're going to want to personalize your school supplies. This journal cover idea is exactly how you do that!
You only need those basic journals and some craft paper to help you transform your school journals into fabulous and trendy ones.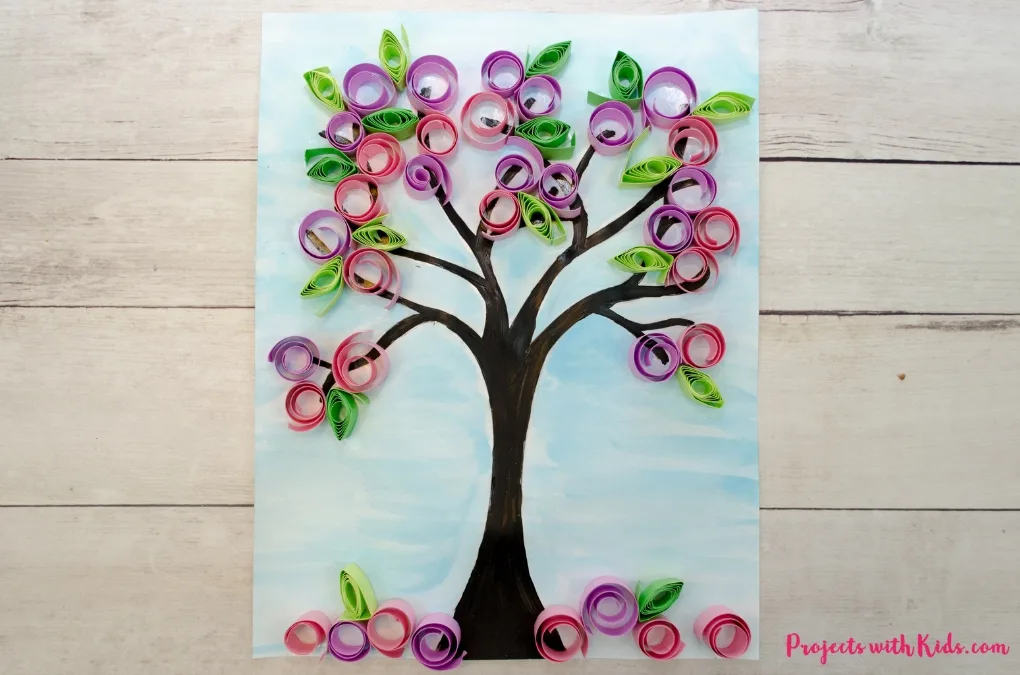 Credit: projectswithkids.com
We're well into the wintry months, and now more than ever, I bet you miss the sunshine, warmth, and colors of spring. Why not indulge in a craft project and make this spring tree craft?
The bright colors are reminiscent of spring and will surely boost your morale( and your kids' morale, too!). Grab a box of watercolors from here, first.
Then design your tree's trunk and branches on some cardstock paper. This will help you plan your tree exactly how you want it to be!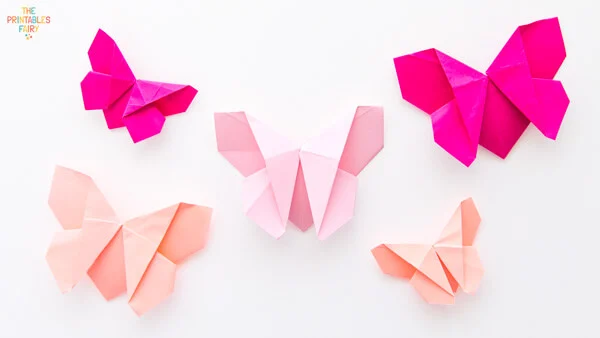 Credit: printablesfairy.com
Origami has kept me blissfully occupied for many long and happy hours. It's a project that requires just one main material: paper.
No fancy craft supplies are needed to make this origami butterfly, just good old paper. You can, of course, choose any colors, patterns, textures, and designs you like.
Just be patient while you learn the pattern; origami always gets easier with practice! So keep on working at it, and you'll have a dozen of these butterflies ready in no time at all!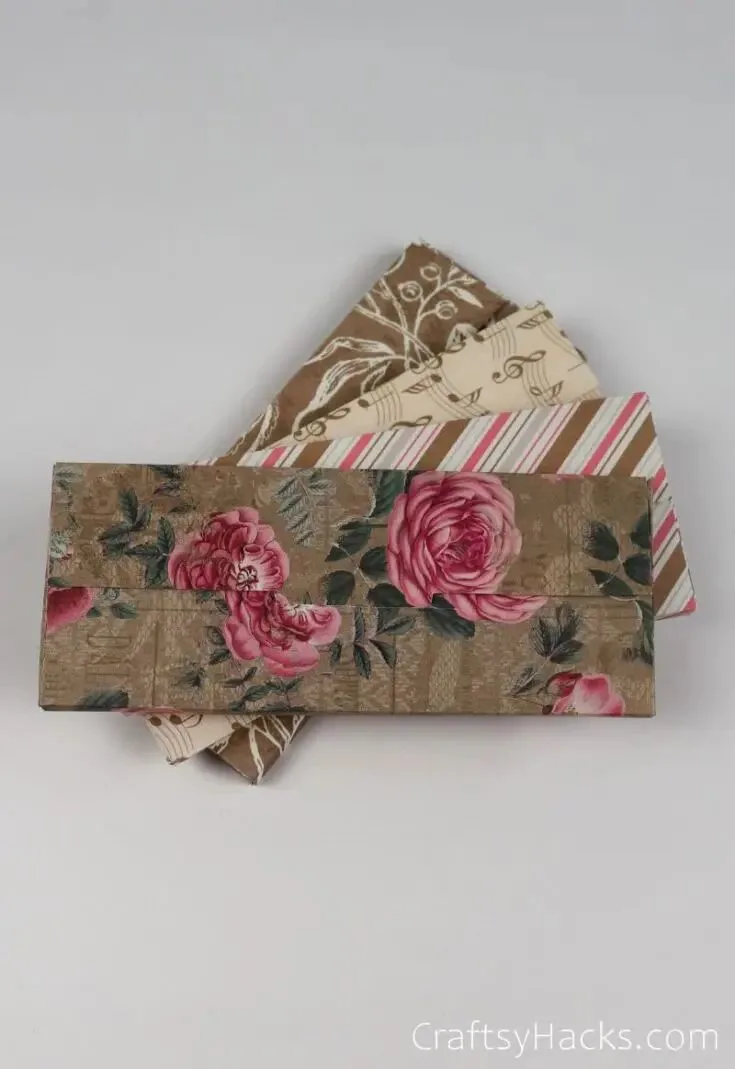 Credit: craftsyhacks.com
I bet you've searched and searched in your stash for an envelope but come up empty. You don't have time to run to the store to pick up one, either.
We've all been there, so fret not, here's how you can make your very own envelopes. The best part is that when you make your own envelopes, you can customize them any way you like.
You can pick a ton of colorful and patterned cardstock to make your envelopes out of. It's definitely cheaper than buying fancy envelopes, too, don't you think?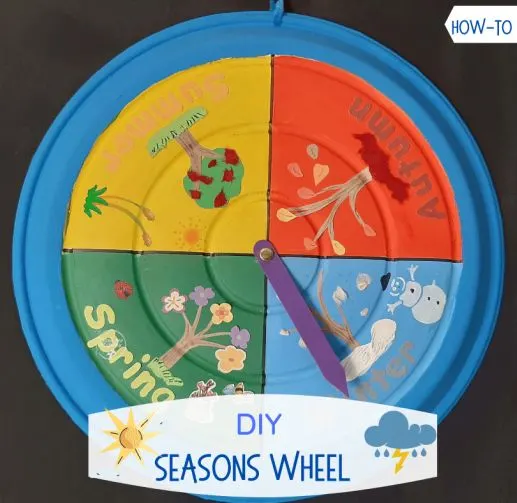 Credit: teach-me-mommy.com
A seasonal wheel craft project is a wonderful opportunity to teach your younger kids about the different seasons. You can't exactly wait for each season to pass to explain a new season, can you?
So why not mix craft time with learning time and make this wheel? You can add different components to each season depending on what you'll see as the seasons progress.
For example, your fall quarter of the wheel could have fallen leaves, fall colors, and maybe even a pumpkin or two.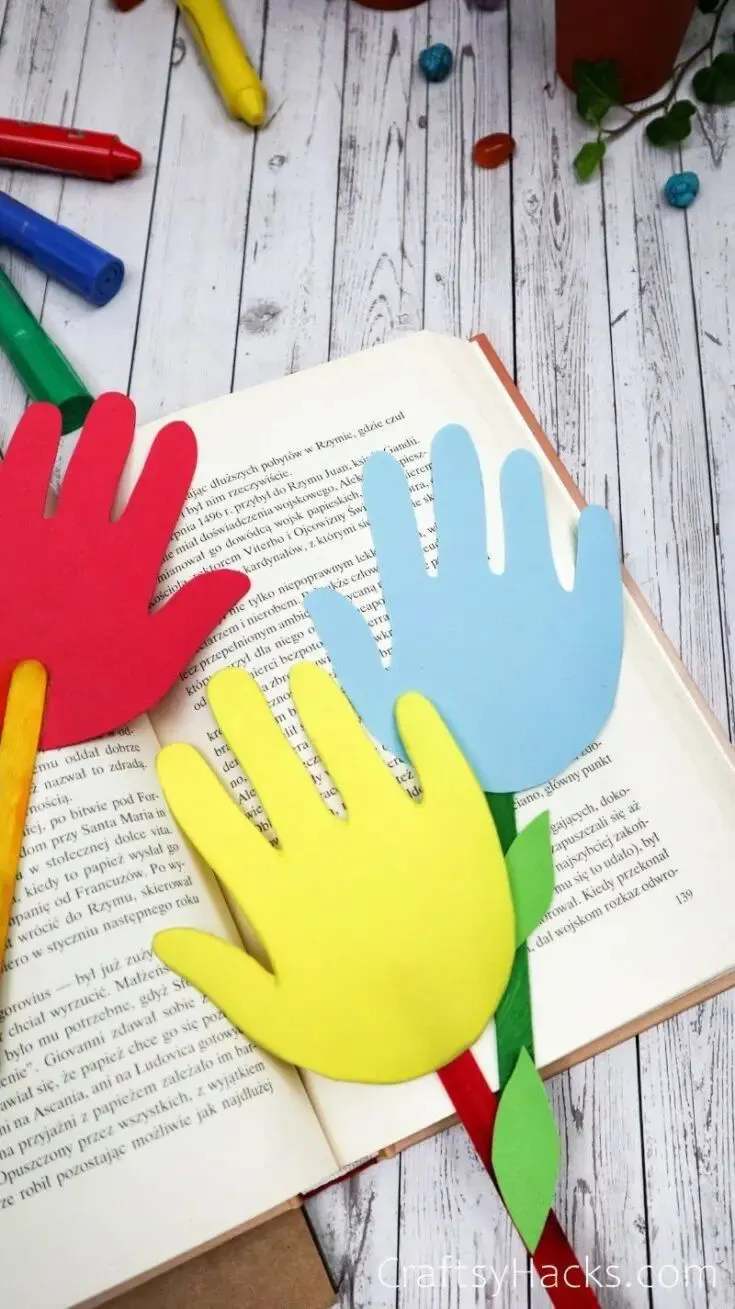 Credit: craftsyhacks.com
It's never too early to get your kids hooked to reading. Sure, in the beginning at least, it involves more reading to learn. But as they grow up, they'll enjoy reading for fun.
But first, you need to entice them to read, and these DIY bookmarks can help with that. Kids are bound to do an activity if they have a hand in making something that activity needs.
Grab some craft sticks from here, colored paper, paint bottles, and brushes. Don't forget to grab a pencil too, to help you trace the handprint on the paper.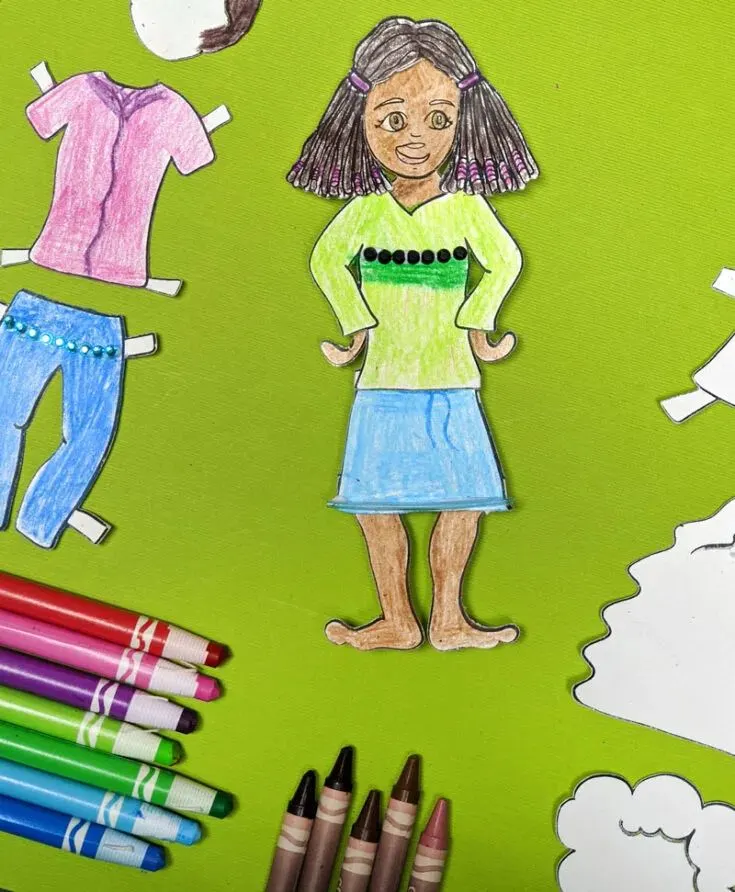 Credit: momsandcrafters.com
These printable paper dolls are a really fun project and an activity, too. But they aren't just plain old paper dolls that you can color and cut out, no.
These ones come with swappable hairstyles! How cool is that? You'll need a Cricut machine, of course. It will help you design and then cut different hairstyles for your paper doll.
Then, all that's left to do is color your doll, as well as each hairstyle. Maybe, if you're up for it, you can make swappable outfits, too!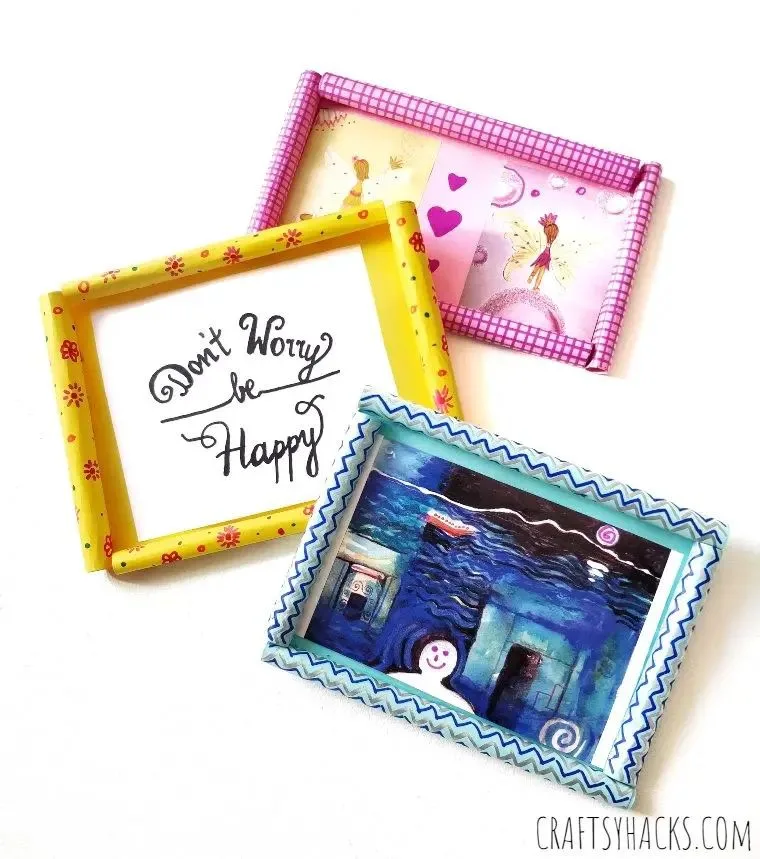 Credit: craftsyhacks.com
You can never have too many photo frames around your house to remind you of all the good times you spent with friends and family. Then there's also the many pictures that your kids drew or painted that just have to be displayed, too.
You can make homemade paper picture frames for that! In fact, since you'll be displaying your kids' art in them, I bet your kids would love to make these frames themselves!
Pick up a few markers from here, first. Then, you'll need sturdy cardstock to make your frames.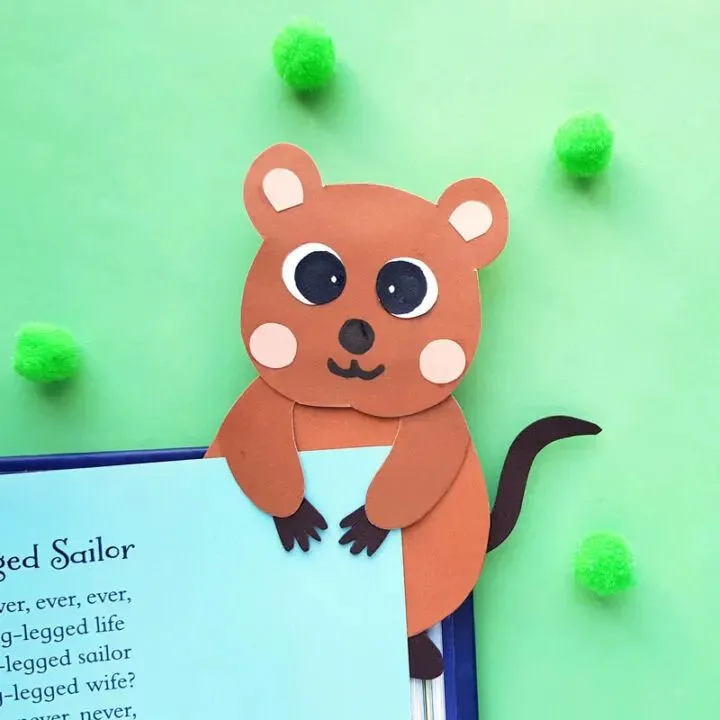 Credit: momsandcrafters.com
Quokkas are the happiest, most cuddleable animals. They're just as adorable as cats and dogs, and they deserve to be portrayed in craft projects, too.
How? Well, why not start with a quokka bookmark? Check this one out; don't you just love how their little paws are holding the page in place?
You can download the template provided to help you with this project. Then, grab a pair of scissors and start cutting your quokka bookmark!
Credit: craftsyhacks.com
Any craft session is enough to lure kids away from a screen. But I'm sure the promise of a dollar or two to slip into their brand new wallets is more than enough encouragement.
So, here's a DIY paper wallet project that you and your kids can enjoy making. I'm pretty sure you already have everything you'll need for this project in your craft supplies.
But you might want to pick up some decorative stickers like these to help you decorate the wallets!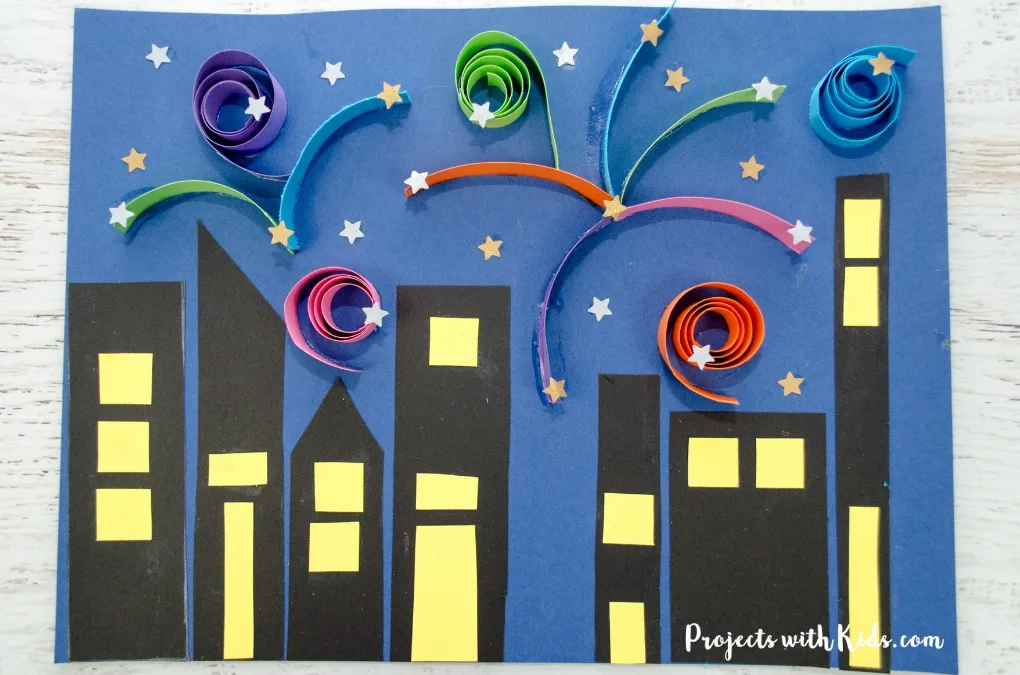 Credit: projectswithkids.com
Whether it's the 4th of July or New Year celebrations, it isn't complete without some sparkly fireworks. But sometimes, all that noise can be startling, especially for younger kids.
What you can do to assuage any fears is to introduce them to fireworks at craft time to get them excited. Once they see how much fun and how beautiful fireworks can be, maybe they'll enjoy it more!
So, pick out your paper—you can use cardstock or construction paper. Then, grab a paper cutter from here and start crafting!
If you have extra construction paper and some time to spare, check out these construction paper crafts for more inspiration!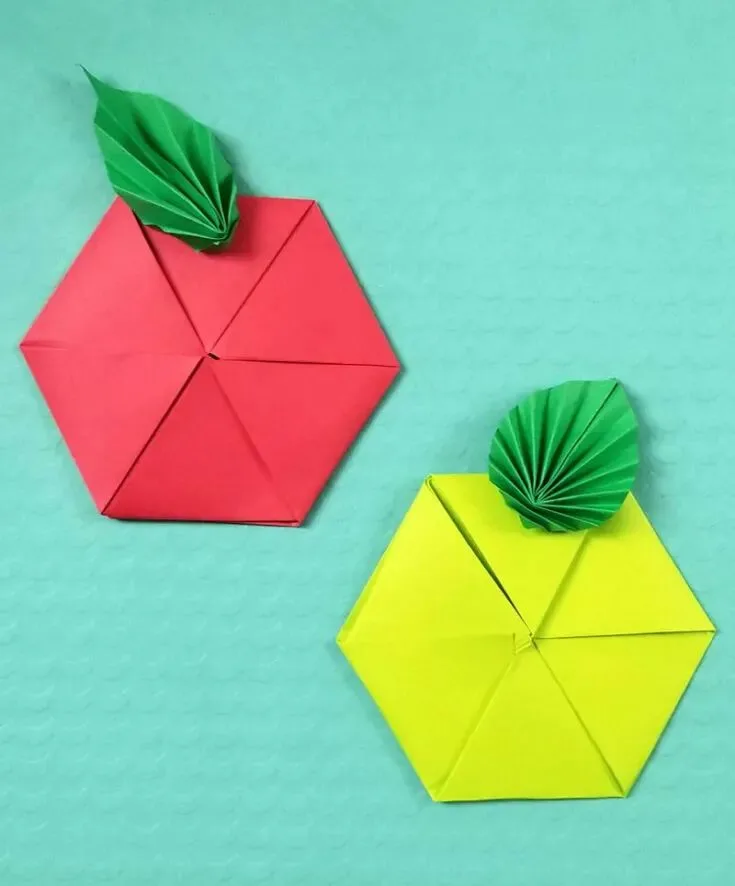 Credit: momsandcrafters.com
If you enjoyed making that origami butterfly earlier and want another fun origami project, then here's an origami apple to whet your appetite(ha!).
These origami apples are also a great way to introduce young ones to the art of origami. They're so wonderfully easy to make, and that makes them perfect for beginners!
There's even a lovely little fanned stem to top the apple off! You can grab a bone folder from here to help you get more defined and precise edges and folds!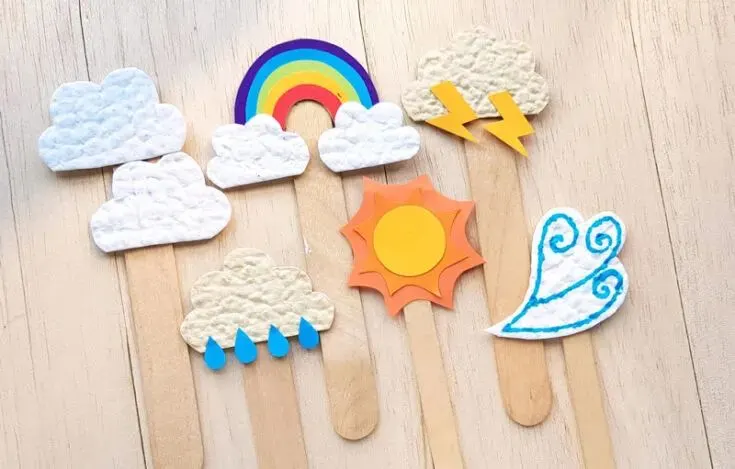 Credit: momsandcrafters.com
It's important to teach your kids about the different weathers and climates out there. You can't just wait for it to snow or hail to teach them about those weather phenomena, especially if you live somewhere hot and sunny.
Instead, you can grab a few craft sticks and craft mini weather indicators. Don't these look adorable? You can make little toppers for sunny days, rainy ones, cloudy overcast ones, and even one with a little rainbow!
You can do a little research beforehand to help you list out all the different weathers, even ones you don't normally see in your locale.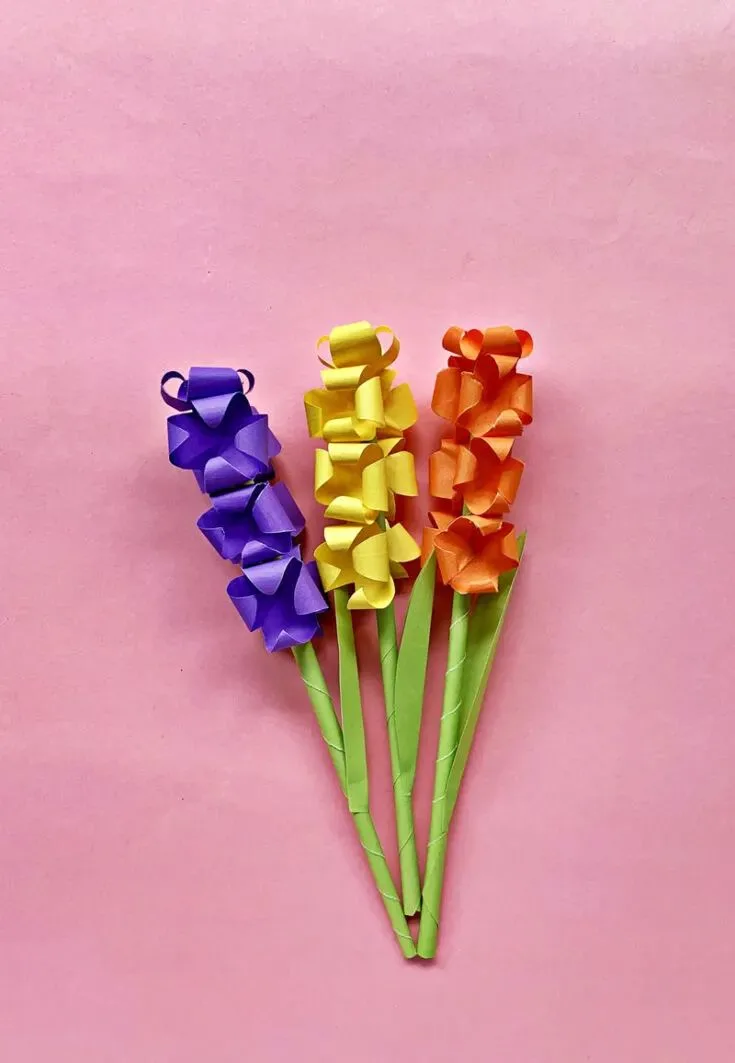 Credit: momsandcrafters.com
Don't you just love hyacinths? Everything about them—their color, the fluffy way that they curl into as they bloom, their fragrance—is just wonderful.
For this craft project, you're going to be making paper hyacinths using the free downloadable templates provided. You'll need colored paper, tacky glue, a pencil, and these skewers sticks to help you curl your paper hyacinths.
So start cutting your paper flowers and use those sticks to curl them. You won't believe how much fun it is to curl paper flowers!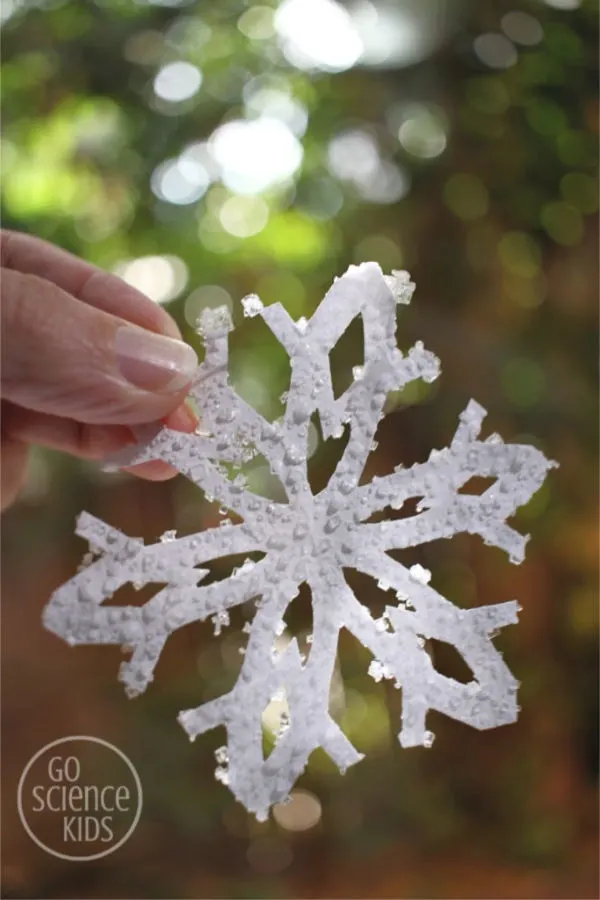 Credit: gosciencekids.com
I don't know about you but working with salt crystals is always a fun-filled activity. So, for your next craft session with your kid, you're going to make some lovely, snowy white, salt crystal snowflakes.
Look at it as a fun learning opportunity to do a little science experiment during craft time. Win-win, right?
You'll need to set up your work surface first. Pick up a cup, a stirrer, a plate, some table salt, and regular white paper. You'll also need a pencil and a pair of scissors.
If you're interested in working on more snowy craft projects, here are winter crafts that anyone can make!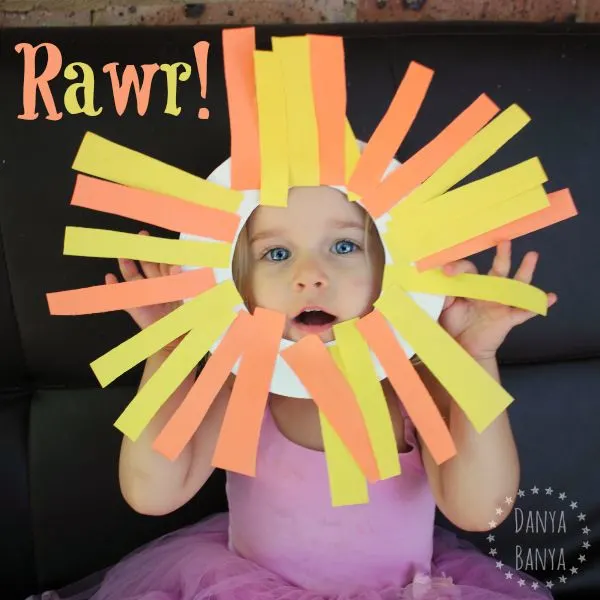 Credit: danyabanya.com
Masks are a crucial prop during make-belief playtime. Nothing can help your kids—or you for that matter—get into a role quicker and more effectively than masks.
Here's what you'll need to make this lion mask:
Paper plates from here
Scissors
Double-sided tape
Yellow and orange paper
Once you have everything you need, grab your scissors and cut out the center circle of the paper plate. This is where the face will fit in.
Credit: gosciencekids.com
Earth crafts will never go out of style, so to speak. There are so many learning opportunities involved in planet earth-themed crafts, and you can take advantage of every single one of them.
Grab some paper, watercolor paints, brushes, glue, a pair of scissors, and finally, some soil from your backyard. Also, a word of caution before you begin, lay out plenty of newspaper before you begin.
With kids, watercolors, and soil in the mix, it's bound to get messy and newspapers will help catch any splatters and control the mess.
This is a lovely back-to-school craft!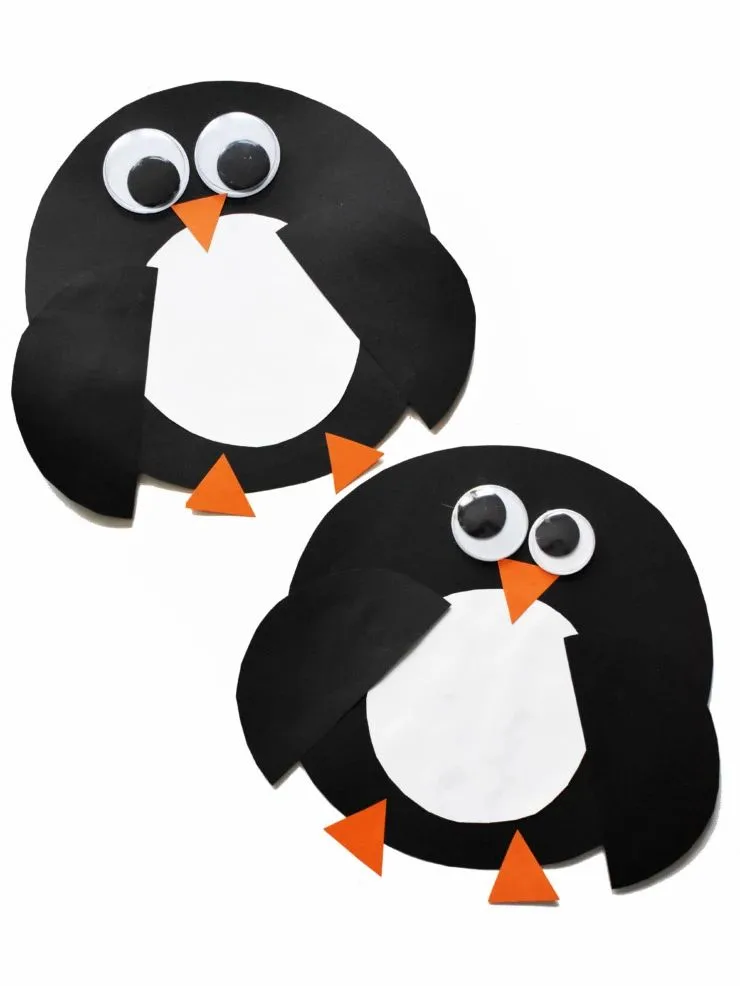 Credit: frugalmomeh.com
Nowadays, you can just head over to the zoo to see the penguins, as opposed to, well, a trip to the southern hemisphere. But when your kids want to bring the penguins home, well, that's a task that only craft time can handle.
To make these paper penguins, you'll need to bust out your stash of paper. You will also need some googly eyes from here.
But other than that, you already have everything you need to get you started. Why not use this paper penguin project as a teaching opportunity to educate your kids about penguins?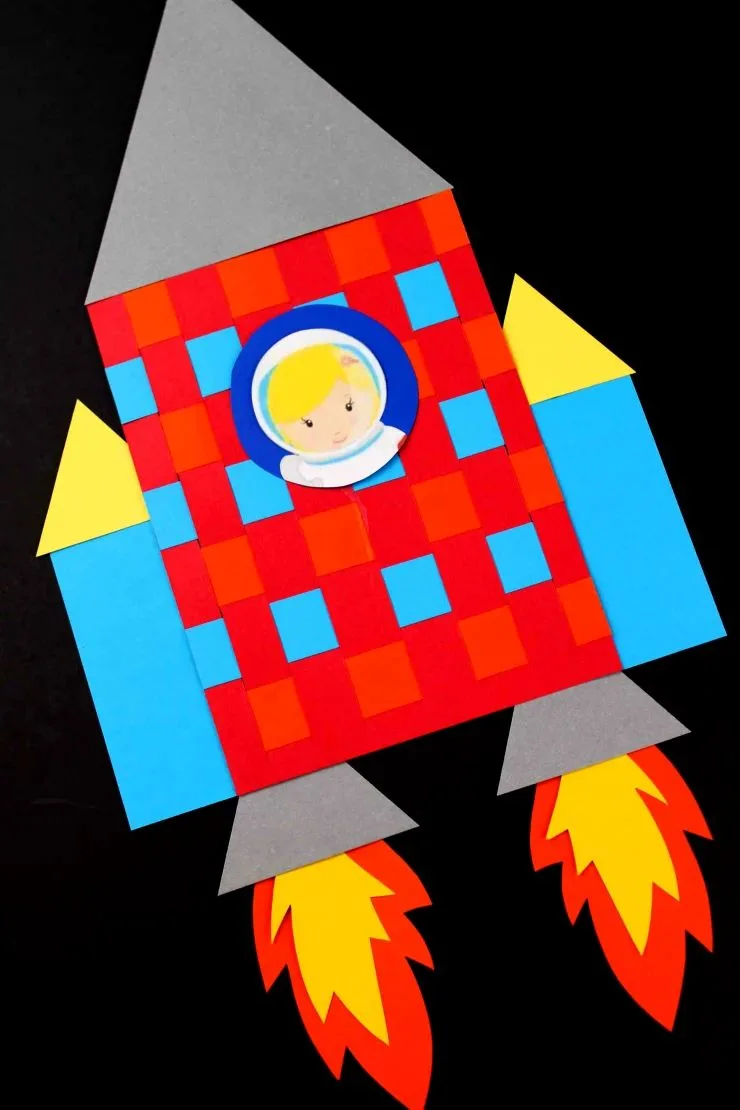 Credit: frugalmomeh.com
If you thought that a trip to the zoo to see penguins was too far, then what are you going to do when your kids want to visit the moon? Again, you turn to craft projects to help quench their thirst for impossible things.
So, until they're ready to work hard and become astronauts, you can assuage their need for rockets and spaceships with this basketweave rocket ship.
You can download the rocket template provided to help you along the way!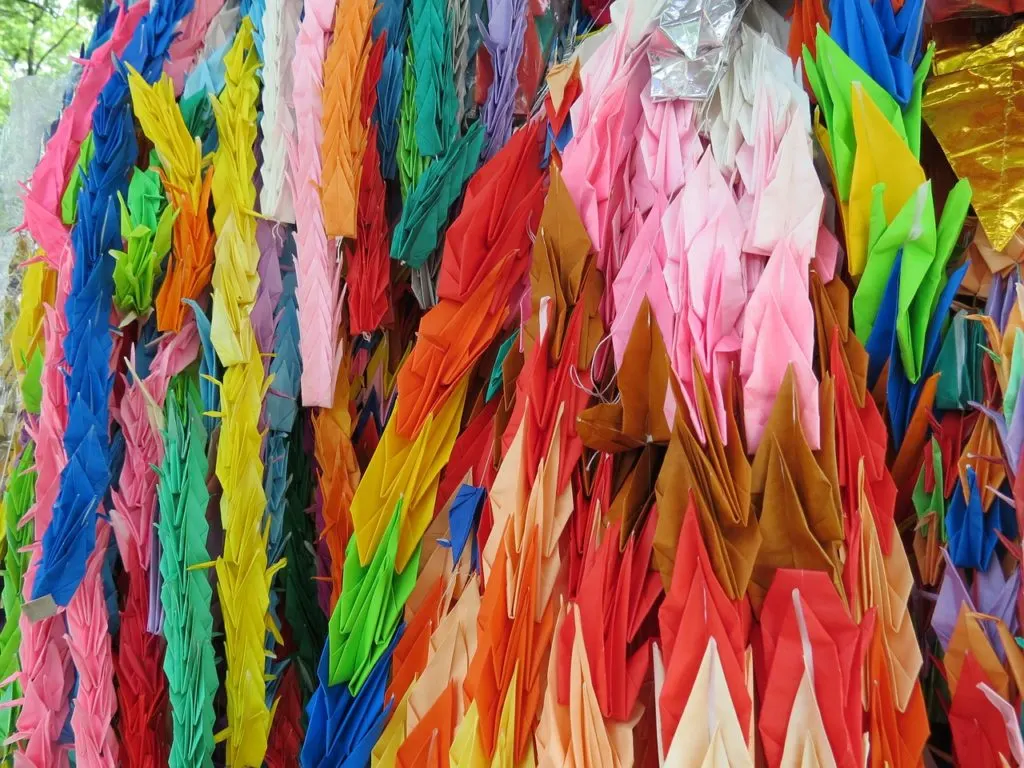 Credit: origamiexpressions.com
I'm truly not surprised that you're back for yet another origami project after the couple you worked on earlier. Origami can be quite addicting, can't it?
So, check out this cute origami crane for your next project. There are plenty of helpful tips included in the instruction that will help you take your crane to the next level.
They will also help you practise your folding and creasing techniques, so grab your paper of choice and start folding!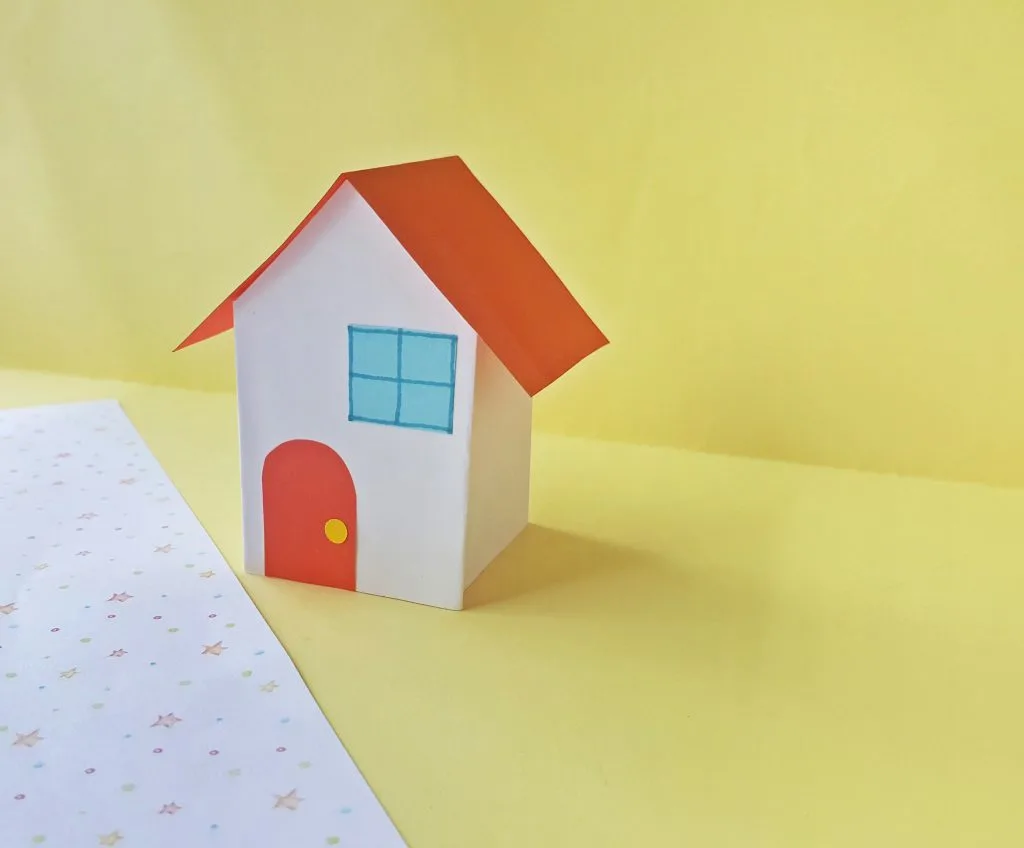 Credit: twokidsandacoupon.com
Paper houses are always a go-to project, especially when you're running short on ideas for new ways to keep your kids occupied. They're easy to make and I bet you already have everything you need to make them already.
You can 'build' the house and set it up on a sheet of cardboard if you like, too. It's an effective method to display the house your kids worked hard to make.
Just pick up some construction paper—appropriate for houses, right?—from here and you can start making your house!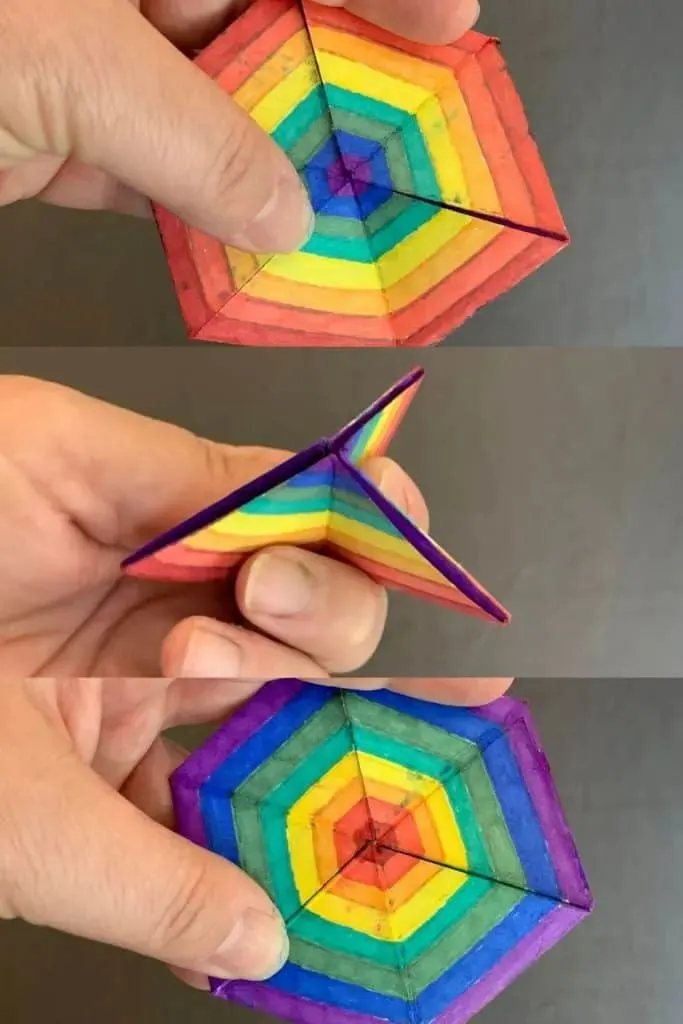 Credit: chaoticallyyours.com
Have you ever heard of a hexaflexagon? It's one of the coolest origami shapes you can work on by folding paper in the same direction infinitely to make a repetitive pattern—ergo, infinity loop.
So if you're looking for one of the following, you've come to the right place:
An origami project
An optical illusion trick
A STEM activity to teach kids about geometry and patterns.
The best part about these hexaflexagons is that you can play around with the colors of paper you use to make your finished product even more trippy!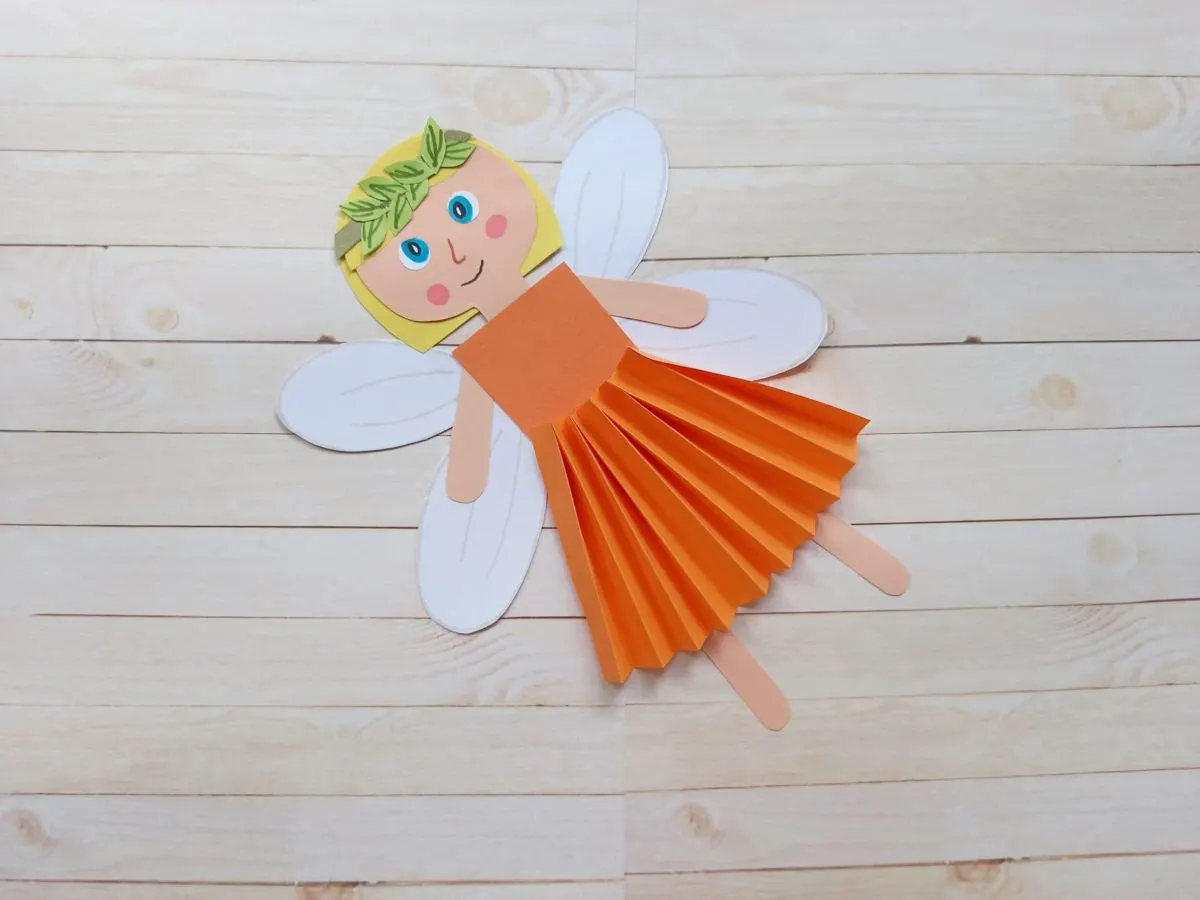 Credit: intheplayroom.co.uk
You can't ever have too many fairy-themed craft projects for your kids to enjoy. How else can you capture these magical beings and hold them close to you?
To make your super cute fall color-clad fairy, you'll need colored craft paper, pencils, a ruler, scissors, a glue stick(look here), and a popsicle stick.
You'll also need a printer to help print out the template for your fairy.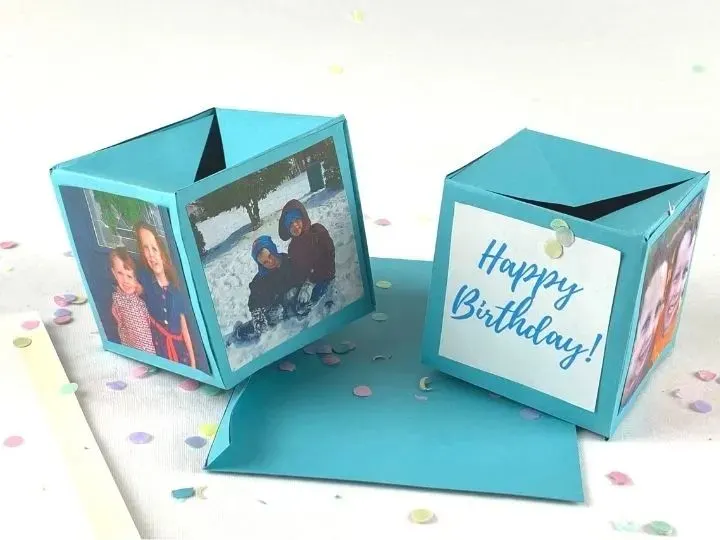 Credit: chaoticallyyours.com
Have you come across those fabulous explosion boxes? You have a box that pops open to reveal any number of things like: photos, confetti, candy, treats, small gifts, and more.
This one's covered with wonderful pictures and on the inside, you have room for special messages, and even a bit of confetti for an extra jolt of color and surprise!
You can make your own confetti out of shredded bits of colored paper and glitter flakes, or just buy some from here.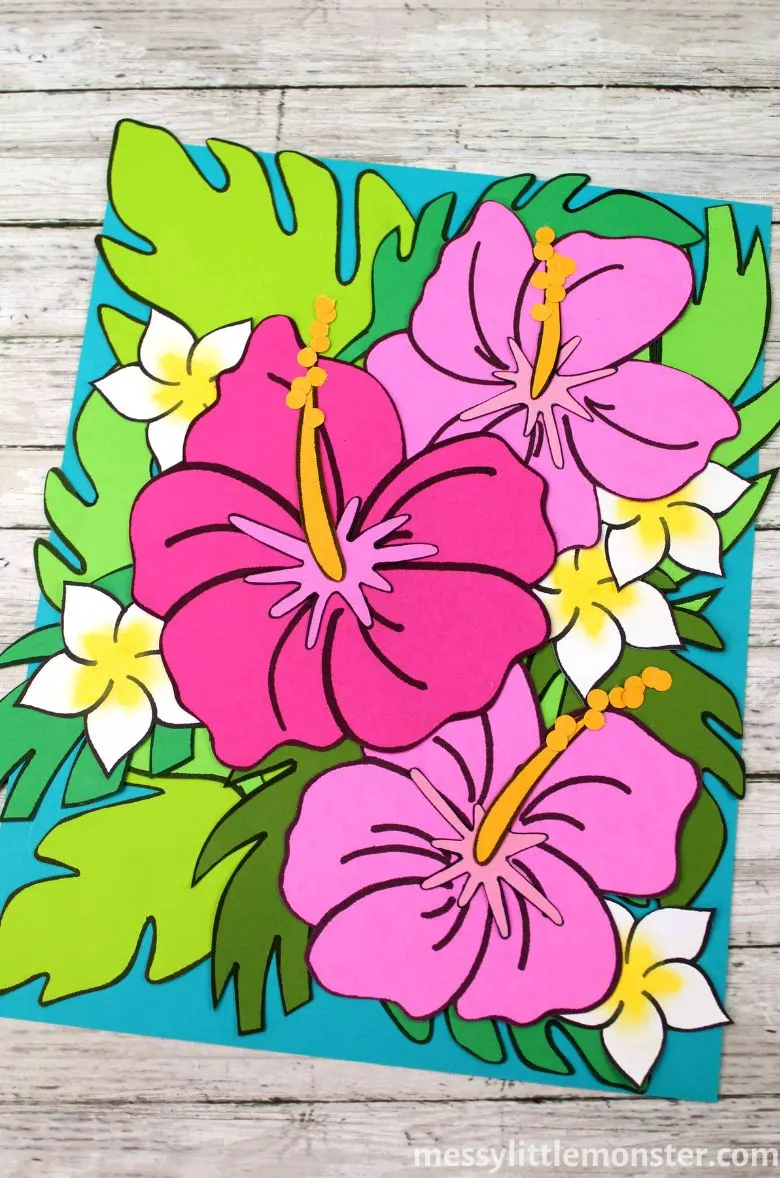 Credit: messylittlemonster.com
If you remember, when you started working your way down this list, you came across a tropical bird project. If you like, you can supplement the tropical theme you have going on in your home with these gorgeous tropical flowers!
First, print the template provided. Then, pick up some colored craft paper, cardboard, craft glue, and a pair of scissors.
You can print the template onto different colors of paper to make the flowers bright and colorful!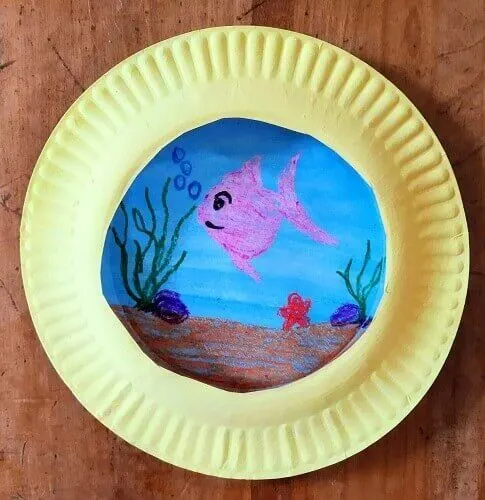 Credit: liltigers.net
Have you ever wished to be inside a submarine? You could look out of those little round windows and out into the depths of the ocean. Just think of all the brilliant and beautiful fishes and flora you'll see!
While that might not be physically possible, you can recreate the visual aspects of looking out that window. You'll need a paper plate, some colored paper, a few colored pencils, and a pair of scissors to get started!
Conclusion
Paper is versatile, so there are literally tons of craftworks you can do with them. If you loved the craft ideas listed above, please feel free to share this with your circle of family and friends!