It's that time of the year again! Check out these back-to-school crafts that will keep the pupils busy and entertained. They're fun to make and create!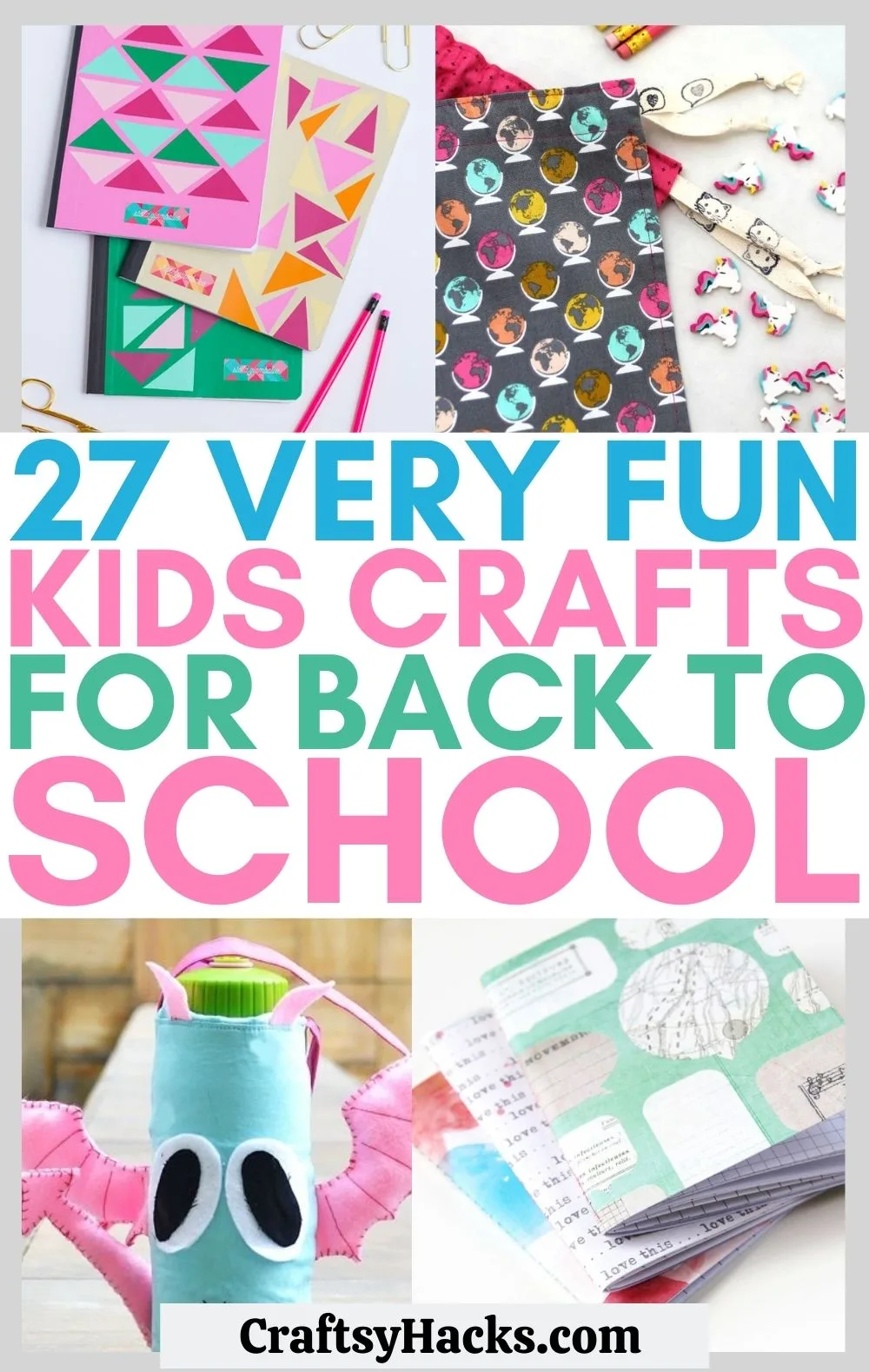 With the start of school year just around the corner, there's going to be a ton of back-to-school preparations to make. You'll need to shop for new clothes, shoes, school supplies, and other back-to-school essentials.
But there's something you can do this year, to make your academic year even more special: these 27 back-to-school crafts. You've got 27 new and innovative ways to personalize and customize your supplies and essentials.
It's a unique opportunity to exhibit your own personality and creative flair to your friends on your first day back.
So check out these amazing back-to-school crafts for inspiration!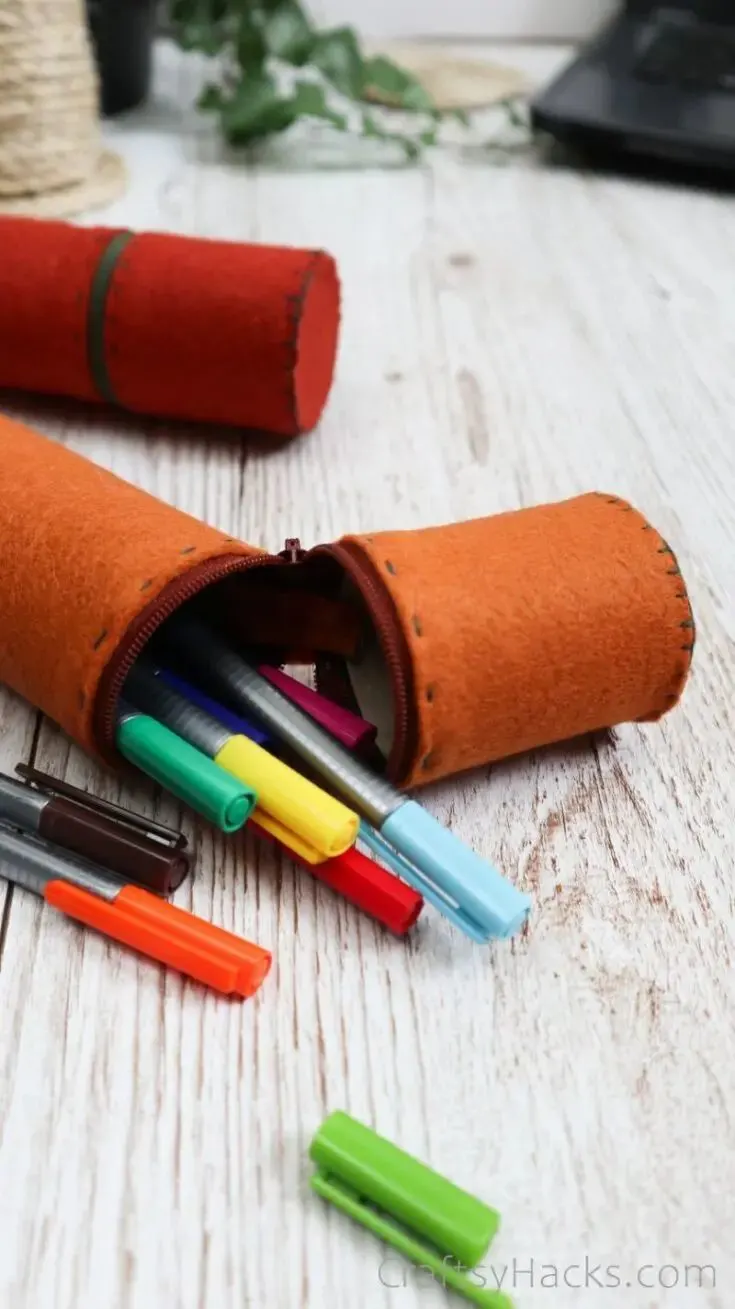 Source: craftsyhacks.com
With the start of the school year just around the corner, I bet you have a ton of back-to-school shopping to do. You'll have to get all your craft and writing supplies: pens, markers, colored pencils, and sketches.
Have you given a thought to where you'll keep all that stationery? Then check this DIY pencil case out of an empty toilet roll! Nothing can make your first day back better than unique supplies that show off your creativity.
You'll need to pick out the fabric you plan to use— this felt sheet, perhaps?—and you're nearly halfway there. Grab your trusty glue gun and get started on making this pencil case.
Love this craft? Check out more DIY scrap fabric projects you're going to like!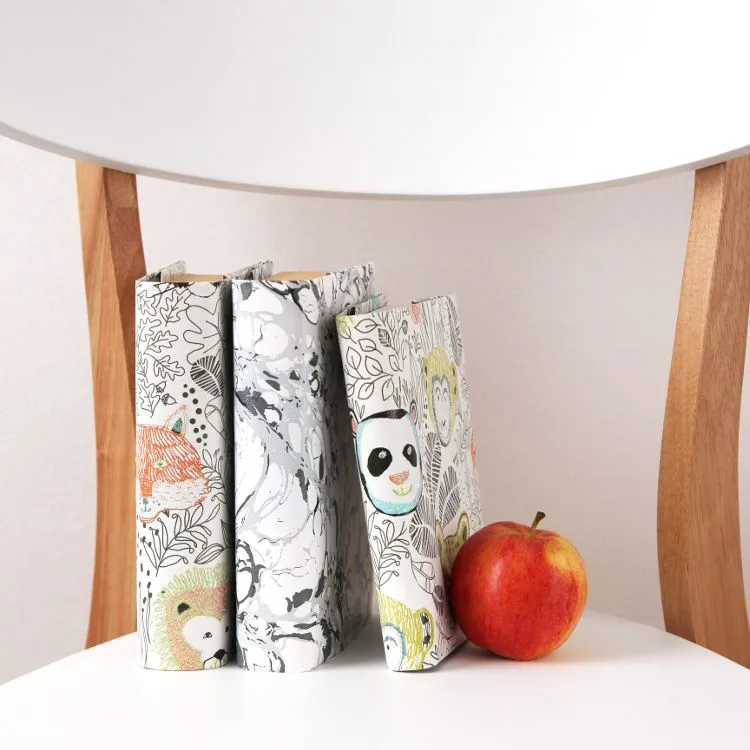 Source: gatheringbeauty.com
School notebooks and journals can become super pricey when you're buying designer ones with gorgeous covers. The affordable notebooks are usually pretty drab, too.
So here's what you can do: wrap the book covers with gift wrapping paper! A roll of pretty gift paper can spruce up a plain notebook in no time at all.
Just grab your notebooks, measure the dimensions and cut out the required length of paper. Tape them in place using this clear double-sided tape.
Feel free to add embellishments and other decorative bits to jazz up the cover!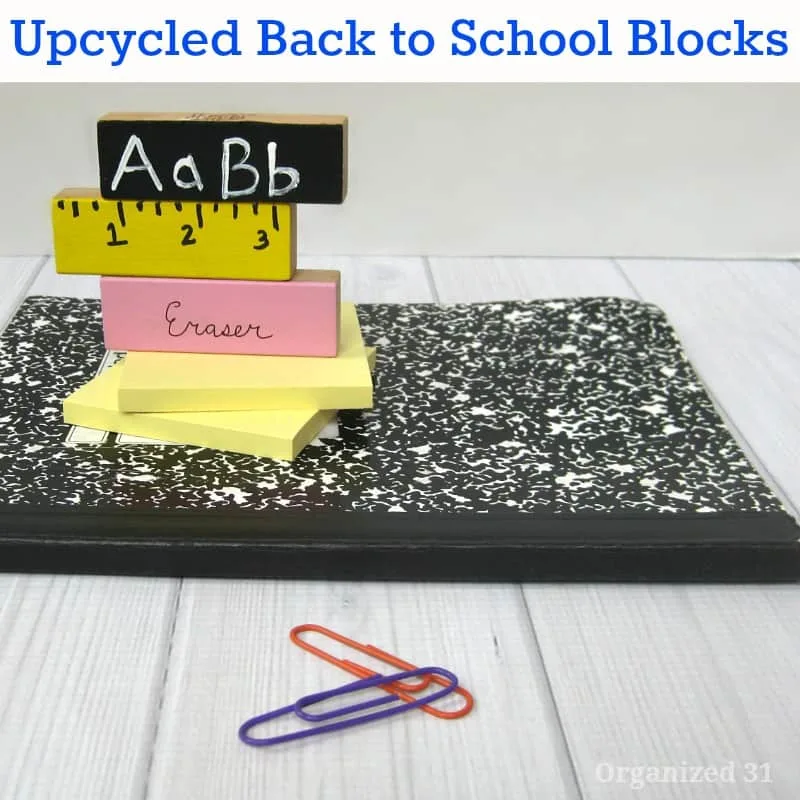 Source: organized31.com
This year, it's time you looked at upcycling your back-to-school supplies. I mean, all the cool kids are doing it, if that's an incentive.
There's a ton of creative ways to upcycle things to turn them into back-to-school stuff. Let's start with these Jenga blocks or just any type of well-sanded woodblocks from here.
Grab your craft paint, some sponge paintbrushes, and paint pens, or permanent markers, too. Here are some popular back-to-school theme designs you can make with these blocks: Bulletin board, ruler, pencil, eraser, name tag, chalkboard, and crayons, to name a few.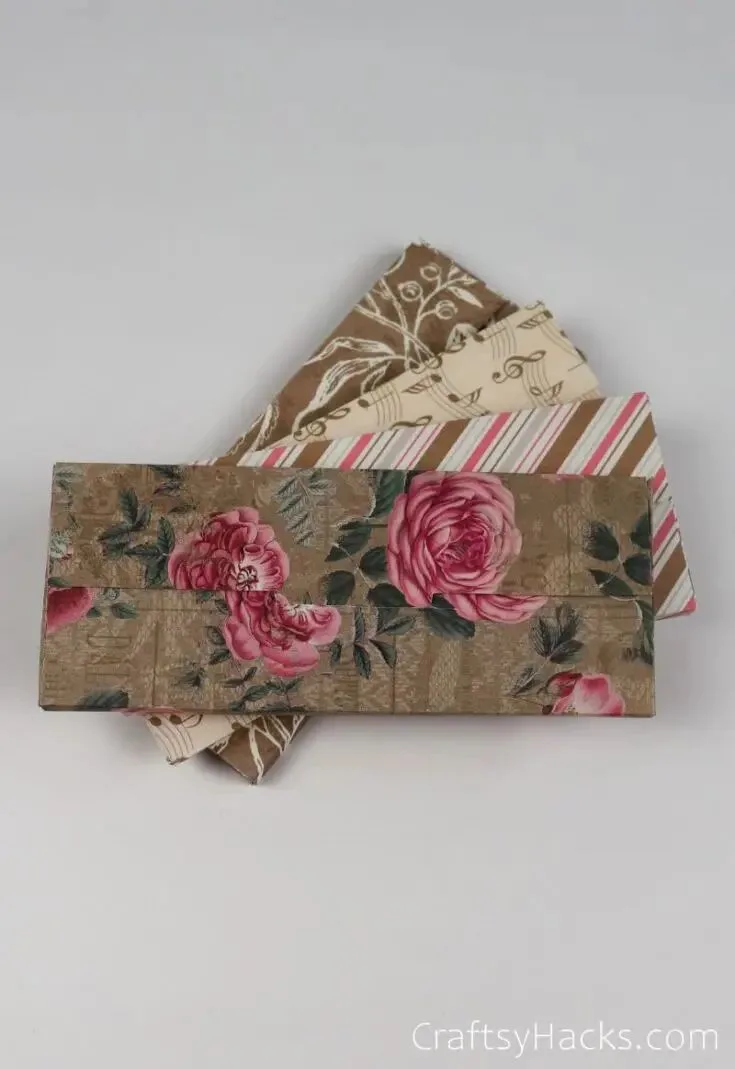 Source: craftsyhacks.com
Do you need a really beautiful DIY envelope to fill with a greeting card? Then take a look at these paper envelopes that you can make in under 15 minutes!
Whether it's someone's birthday, Christmas, or just a get well soon card, it deserves to be dressed up with envelopes like these.
So pick out some patterned cardstock and grab your ruler. Just remember to use thick paper as these envelopes need to hold a firm shape when folded.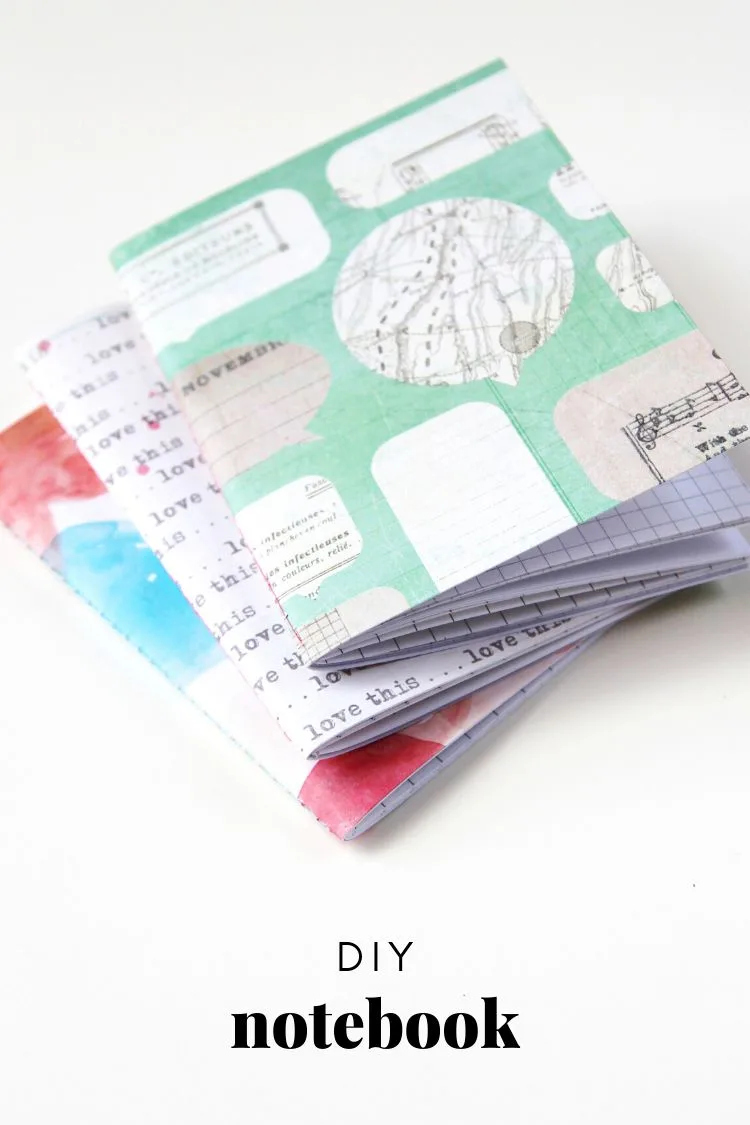 Source: gatheringbeauty.com
How about you make your own DIY notebook from scratch for this school year? They're really easy to make. You'll also be able to customize the size, shape, and other features of the notebook.
You'll need a sewing machine to bind the cover of the book to the pages. You can also use a spiral binding tool, as well as thick tape to bind the pages together.
Customize the cover using your favorite scrapbook paper, or you can use fabric, too!
Here's a DIY journal cover idea for you to explore!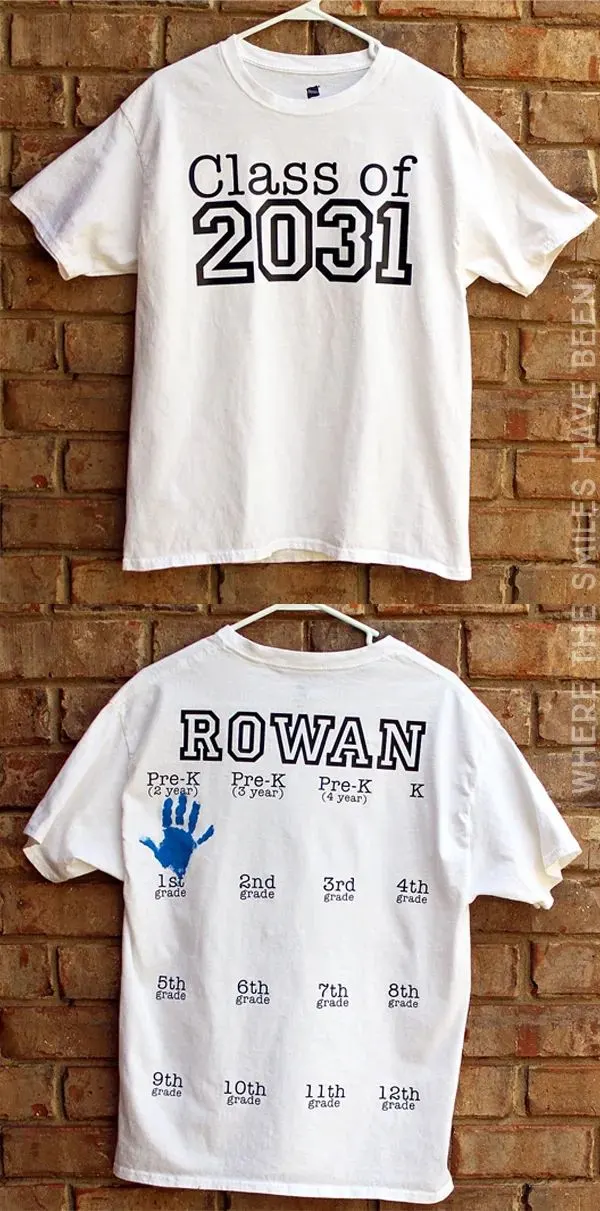 Source: wherethesmileshavebeen.com
While you won't technically be wearing this awesome tee to school, it's a lovely way to mark every milestone you take on the first day of school every year.
It's a tradition that you can start with your kids and they in turn can pass it along through the generations. These tees also make an amazing keepsake.
Imagine giving this to your kids on their last first day to school or college. Won't that just be the best gift ever?!
So grab some of these plain tees and start making new memories!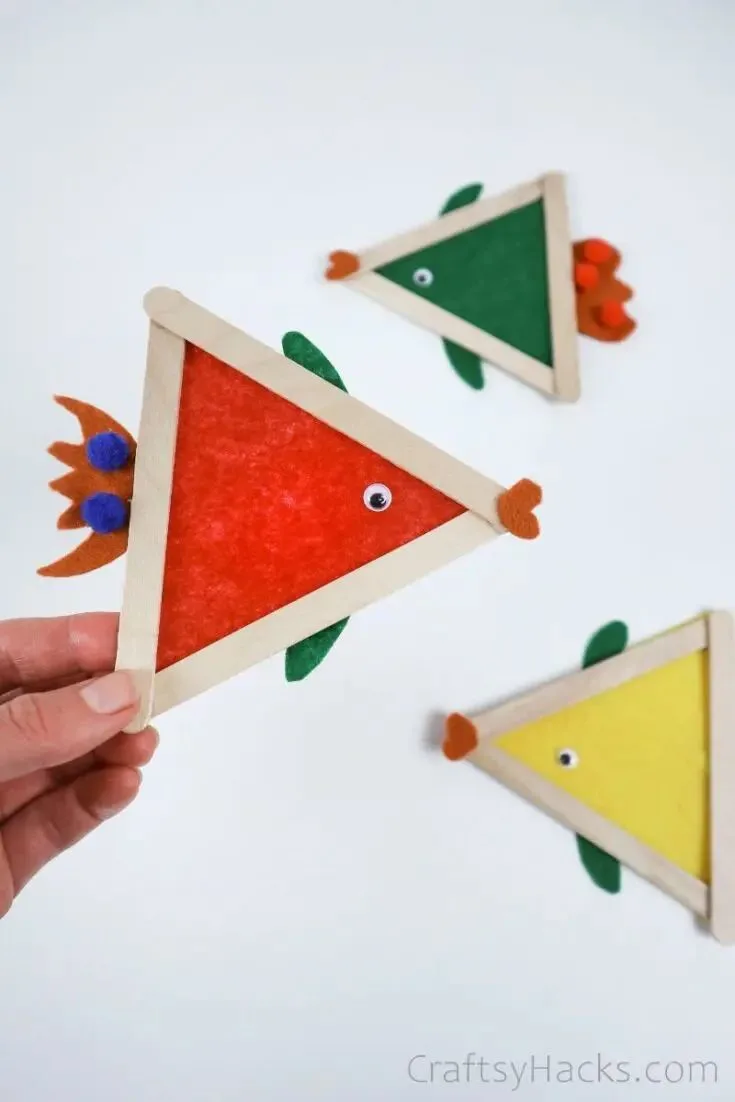 Source: craftsyhacks.com
If you're planning a fun craft session for young kids in your class, then look no further. Here's a fun craft project that allows you and your kids to get creative and learn about the ocean and sea life!
You'll need colored felt sheets, popsicle sticks from here, and these googly eyes, as well as some adhesive. You will also need to help the kids when it comes to cutting out the fabric
Once you've gathered all your supplies and rounded up the kids, let the fun craft time begin!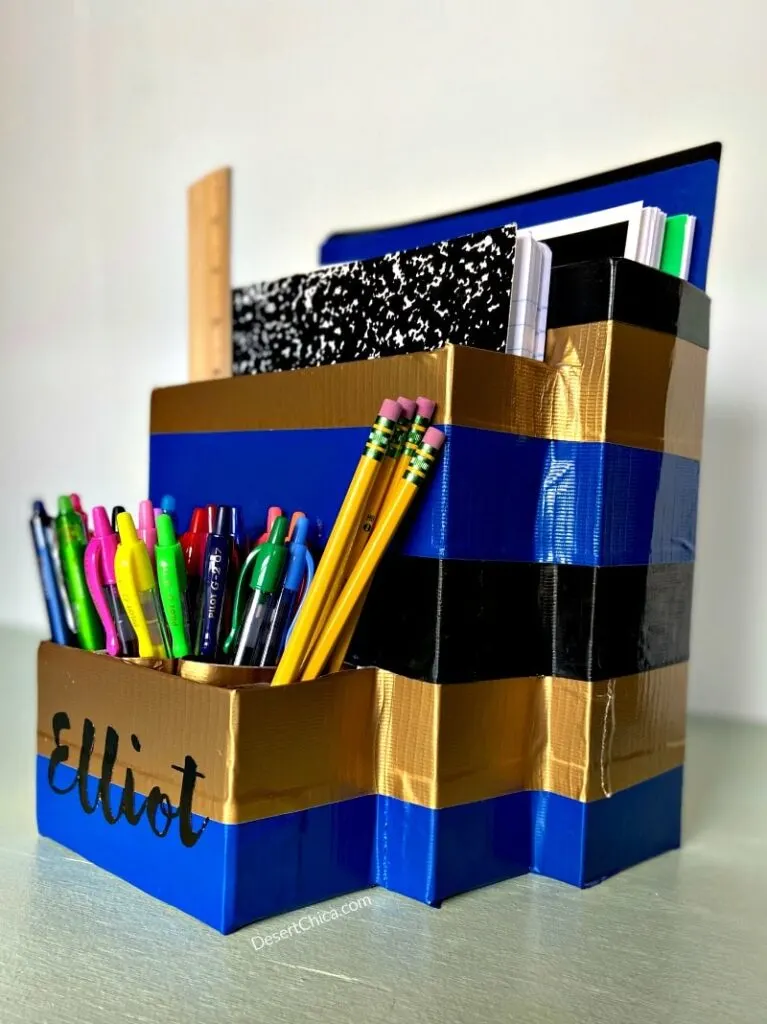 Source: desertchica.com
School work can keep you occupied well into the night. Having a designated space to work, like your desk, is super important. But what is even more important is keeping your desk and study area clean and organized.
So check out this DIY desk organizer to help you store all your school supplies and keep them from cluttering your desk. You'll need a few empty cardboard boxes, empty toilet paper rolls, and this duct tape to get started.
Make sure that the duct tape you use is of the sturdy type; that's the only thing keeping your desk organizer together.
You can also check out these upcycled tin cans to help organize your school supplies.
Source: familyfocusblog.com
School lockers never have enough room. There's a ton of vertical space that you hardly get to use and not nearly enough shelves or cubby space.
An easy way to address the issue and give you the storage solution you need is this DIY locker pocket. It can help you store all your loose sheets of paper, slips, notes, and even the odd pieces of gum and candy!
You will need to get a manilla folder to make the pockets, and you're all set.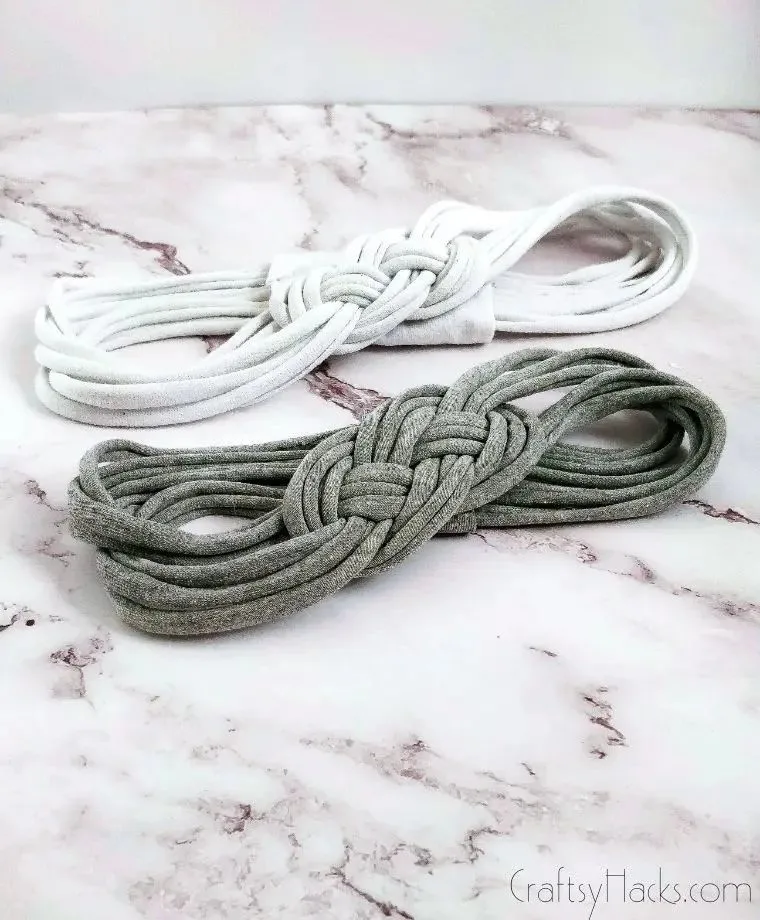 Source: craftsyhacks.com
What better way to start the new school year than with a trendy new headband? Bonus, this one's DIY, and you can make it right at home in under 30 minutes.
You'll need a pair of scissors and an old tee for this project. This knotted headband has an intricate Celtic pattern which you can master in no time at all.
Just follow the step-by-step guidelines, and you'll have your headband all knotted and ready to don in no time!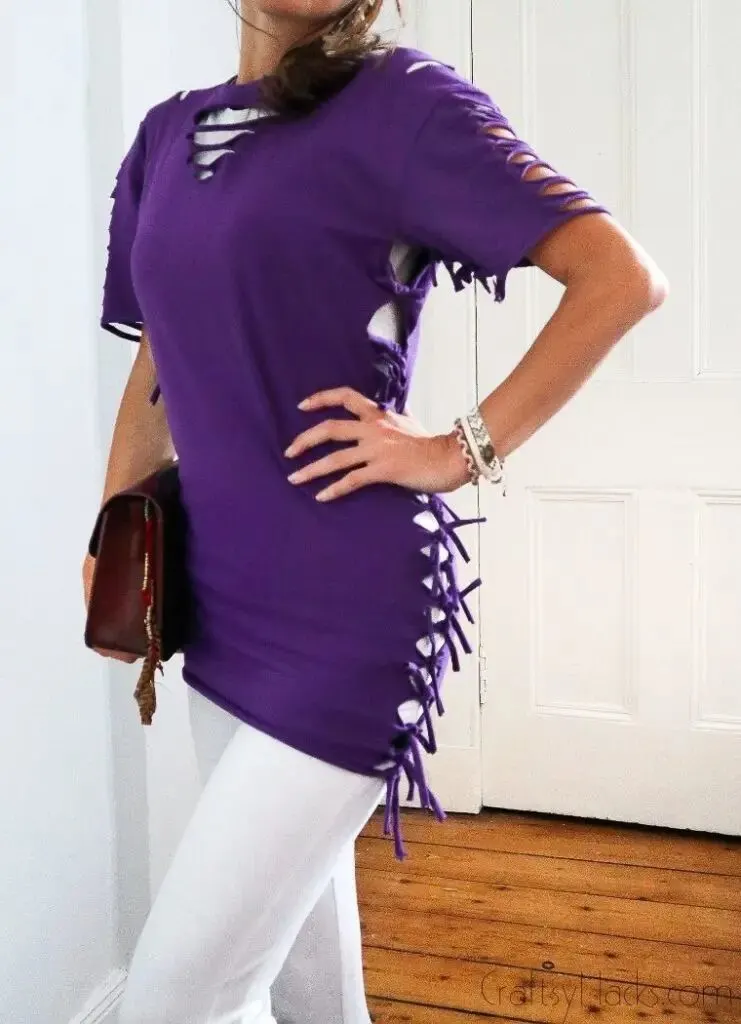 Source: craftsyhacks.com
Here's another DIY that involves a no-sew pattern for a T-shirt. You can customize the fabric and even jazz it up with some paint or embroidery if you have a mind to.
This is also an efficient way to upcycle old clothes without having to donate or throw them away. So grab some tailor's chalk from here and a pair of fabric scissors.
You'll want to carefully design where you want to cut the shirt beforehand to avoid any mishaps and bloopers.
Here are 37 DIY T-shirt ideas for when you want to upcycle or repurpose your old tees!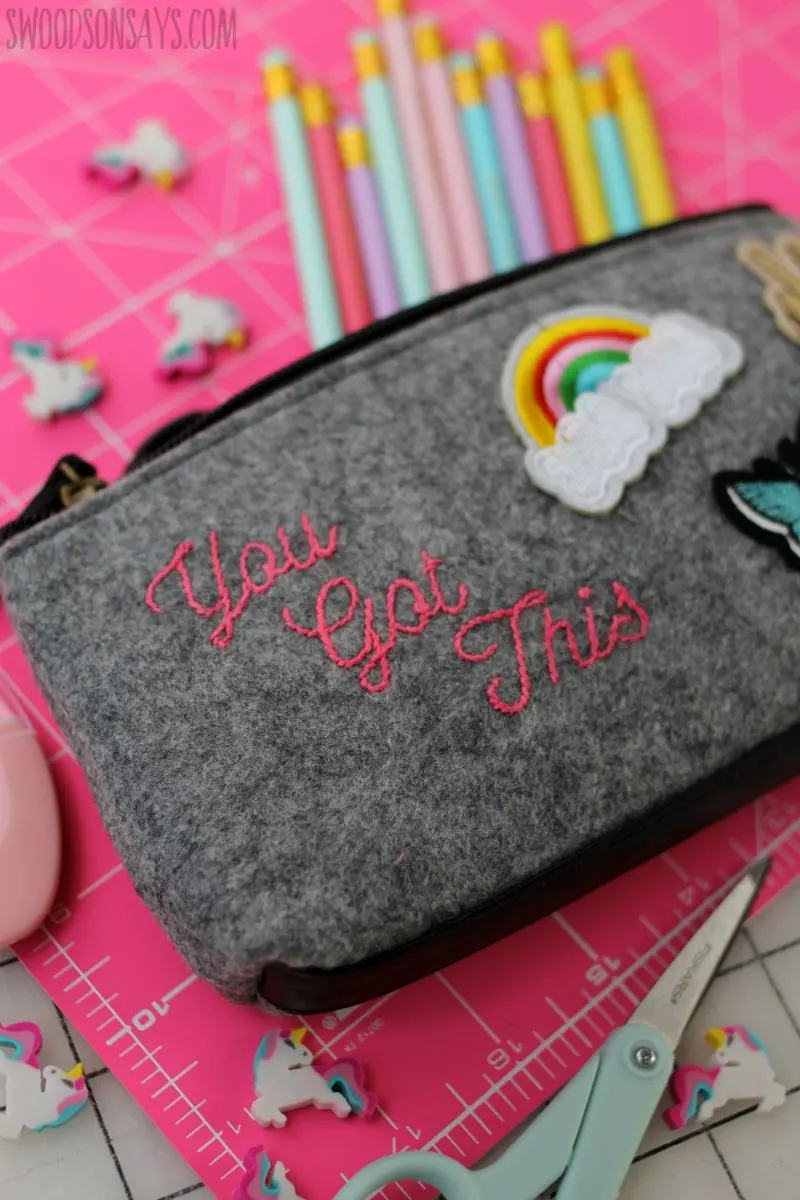 Source: swoodsonsays.com
You can never have too many pencil pouches, can you? You can also never have too many school supplies, so the only way to organize them is to keep them in pouches.
Here's a DIY embroidered pencil pouch project for you to try. You can pick out colorful thread, swanky patches and also gather your embroidery tools to get started.
It all just comes down to deciding what you want to sew onto your pouch and, subsequently the color of the thread and other decorations you might need. So thread your embroidery needle and start working!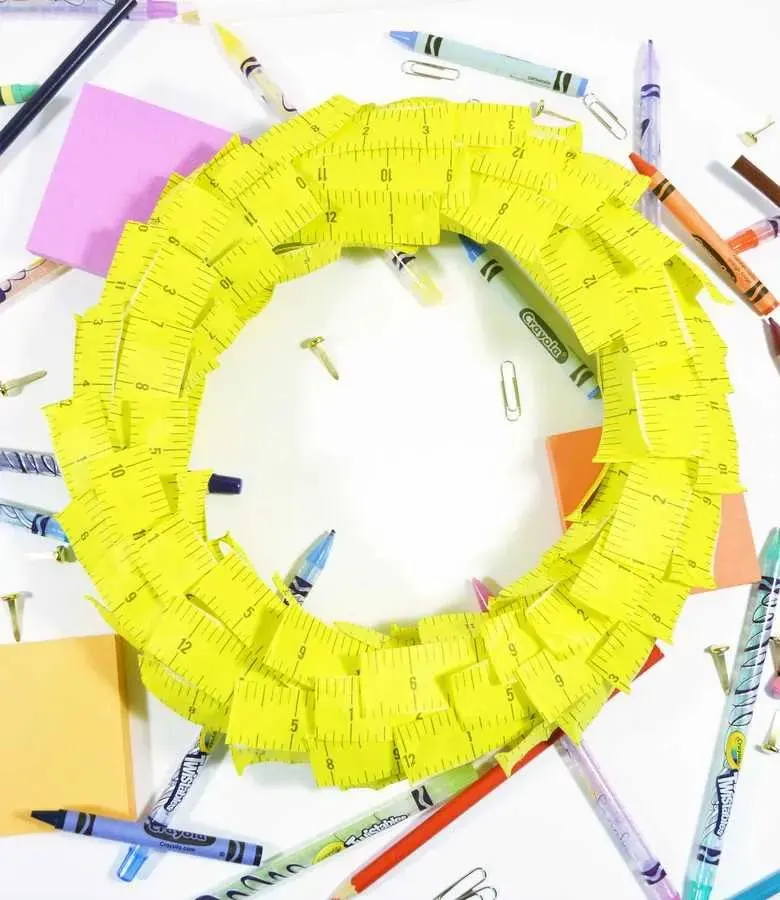 Source: burlapandblue.com
Do you want to celebrate your first week back to school? Well, nothing gets more celebratory than a wreath at Christmas or Easter, so how about this back-to-school wreath?
You'll need a wreath form like this and some ruler-print tape from here. Tear the tape, fold it into itself and stick the adhesive sides together.
Next, tape the pieces down around the wreath, with each row overlapping the previous one. Go ahead and finish that up so you can hang your back-to-school wreath in its place of honor in your room.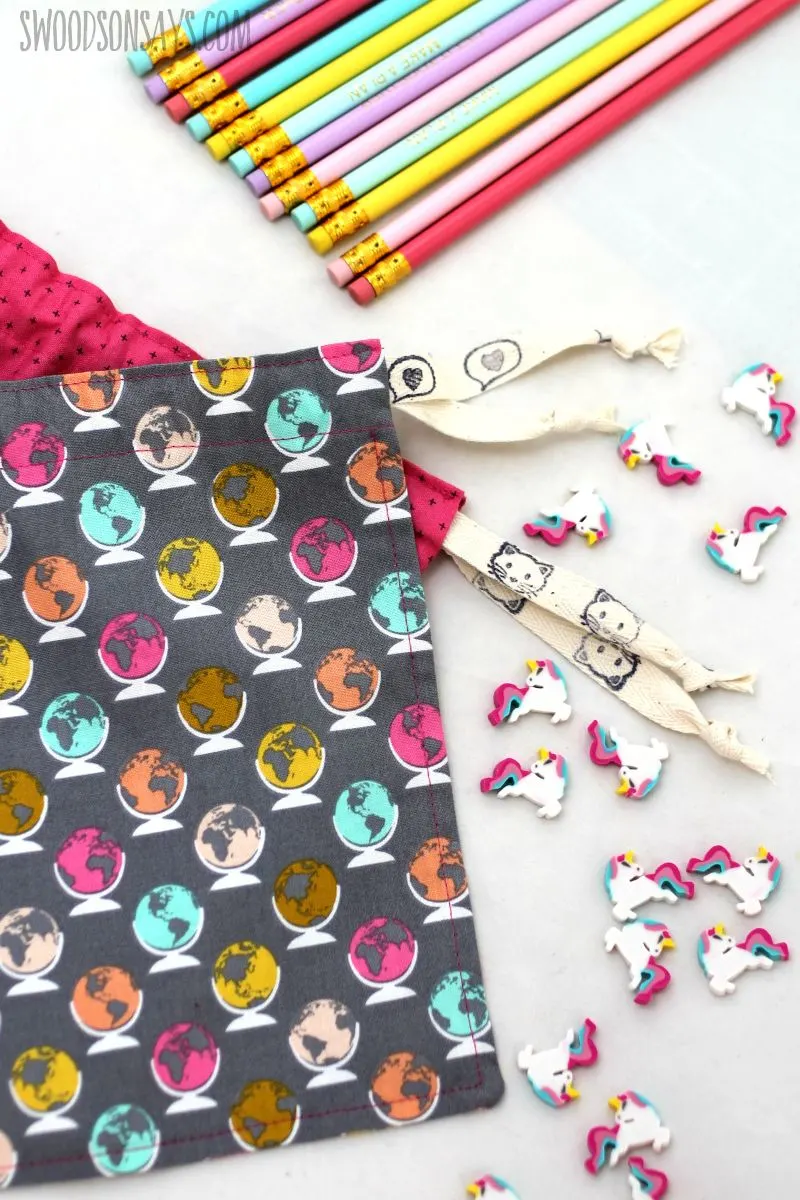 Source: swoodsonsays.com
A drawstring bag is a great way to carry or tuck your money away into your bag and pockets without the hassle of a big purse. It's also a great way to store your school supplies and craft supplies like washi tape, embellishments, and the likes.
Let's take a look at how to make your own drawstring pouches at home. You'll need some fabric—I bet you have a ton of scrap fabric left over from previous projects.
You'll also need your sewing needle, thread, and some sewing pins from here. Check out these 47 DIY scrap fabric projects you'll have fun making!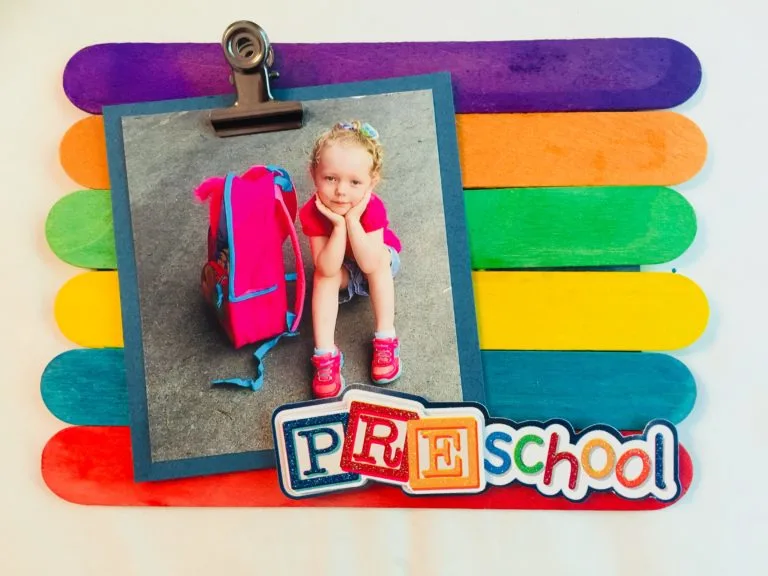 Source: glitteronadime.com
Everyone deserves to remember milestones like the first day of school or even the first day back to school every year. So with that in mind, here's a DIY photo frame project using popsicle sticks.
Do you have some craft popsicle sticks leftover from another craft project? If you don't, you can find them right here—jumbo-sized! You'll also need some hinge clips like these, cardstock, and a first-day-of-school photo.
You can rope your kids into this project as well and make it a hands-on craft session! Check out more popsicle stick crafts here.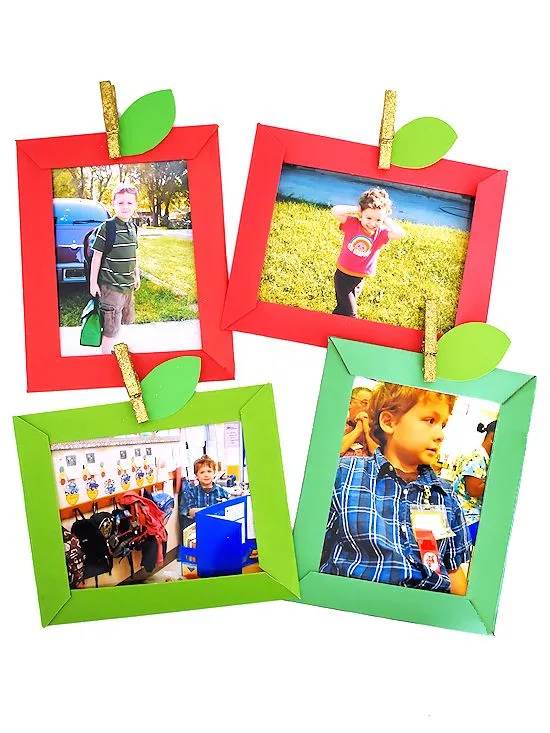 Source: ourkidthings.com
Not to be outdone by the popsicle photo frame you just made, here's another DIY photo frame that's easy to make and utterly adorable. It's an apple paper photo frame that you can make in just under 30 minutes.
All you need are some red and green colored cardstock, gold glitter clothespins, a pair of scissors, and a glue stick. You can also check out the downloadable pattern and template attached.
The most difficult part of this project is to pick out which photo you want to frame, so go ahead and select your photograph!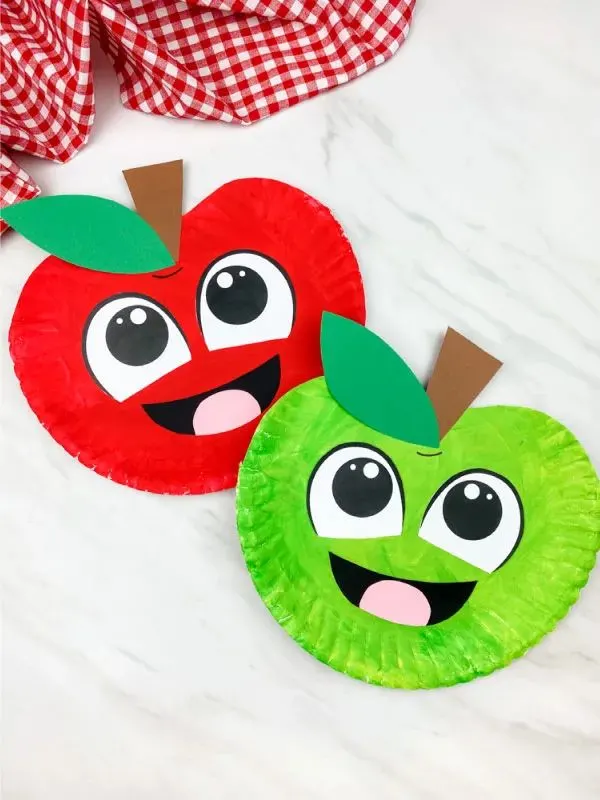 Source: simpleeverydaymom.com
Keeping with the apple theme we just saw in the last DIY craft session, here's another one for the kids to try: a paper plate apple. This is a great project to involve kids in Pre-K and primary school.
You can use this as an opportunity to teach them about colors, fruits, and shapes, too. By guiding them through the process of tracing and subsequently cutting out the apple, shape can be a valuable way to develop motor skills.
Make this project even cuter by giving your apple a nice green leaf and big shiny eyes!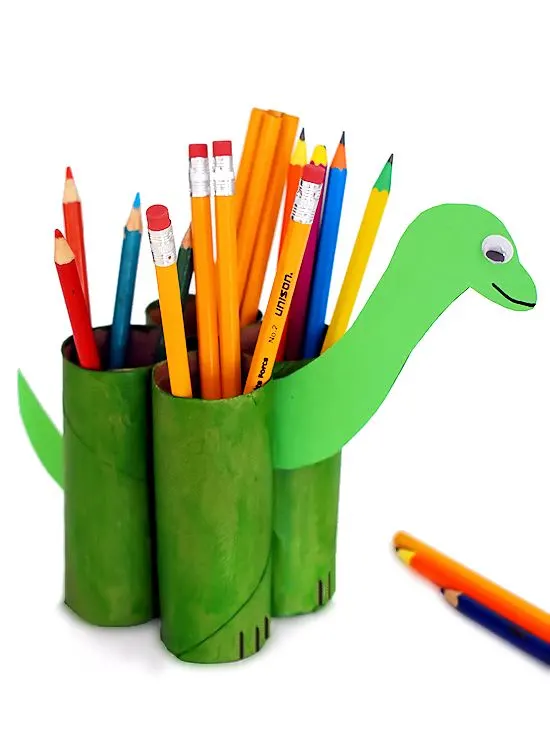 Source: ourkidthings.com
Kids just love dinosaurs, don't they? Be it the T-Rex or Barney—the squishy purple cartoon dino, kids can never get too much of dino-time.
So for this next DIY project, let's make a dinosaur pencil holder to help your kids look forward to going back to school. All you need are some cardboard rolls—you can use toilet paper rolls, as well!
This dinosaur can be a great study-buddy for your children when they're toiling away. They can also be used to store craft supplies, pens, and colored pencils too!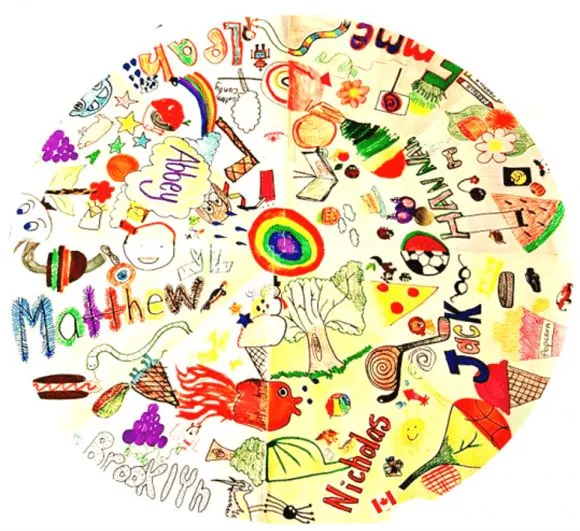 Source: teachingideas.ca
Here's a lovely gesture to honor a beautiful friendship that your kid shares with his best friend: a friendship wheel! Not only can your kid give it to his buddy as a gift it's a great craft project for their next play date!
All you need is a roll or a large sheet of white paper. You'll also need some crayons, pencil crayons and markers.
Just keep in mind that the bigger you make the wheel, the more detail and creativity it can be filled with! This will be a great memory to look back on!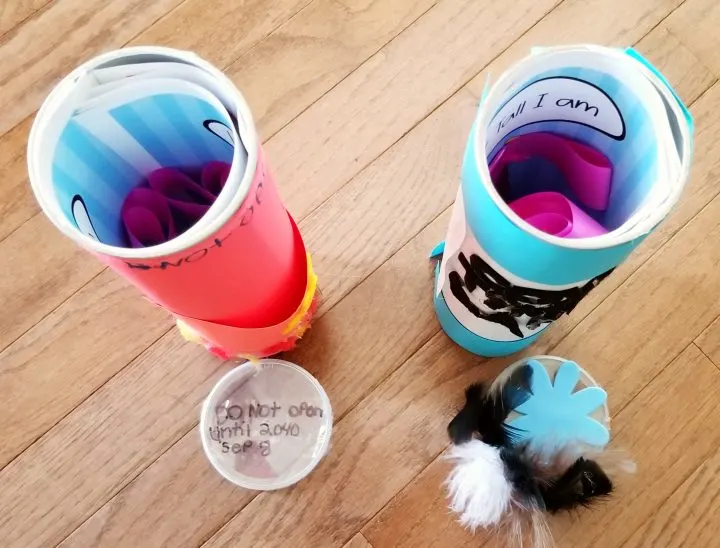 Source: teachingideas.ca
Speaking of things to look back on, check out this time capsule craft project! Having a time capsule is a right of passage for every child.
It's a great way to preserve memories and even greater still to come back to it years later to experience those memories once more. With that in mind, here's a list of things to include in your time capsule:
1.What is your favorite memory from this year?
2.Who are your closest friends?
3.A traced handprint, along with personal memorabilia like a book, a card, or a childhood toy.
4.A letter to your future self.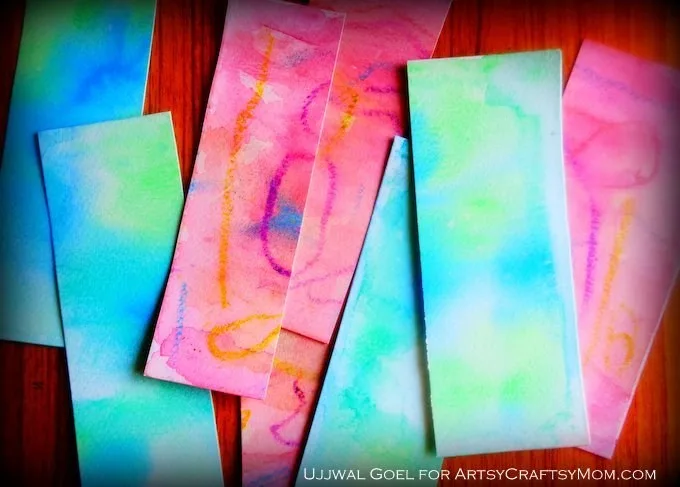 Source: artsycraftsymom.com
It's super important to get your kids interested in books and reading when they're young. One of the best possible ways to do that is with amazing bookmarks like these to entice them!
So here's what you'll need to get started: drawing paper, scissors, watercolors like this, brushes and a palette from here, markers, and a bowl of water.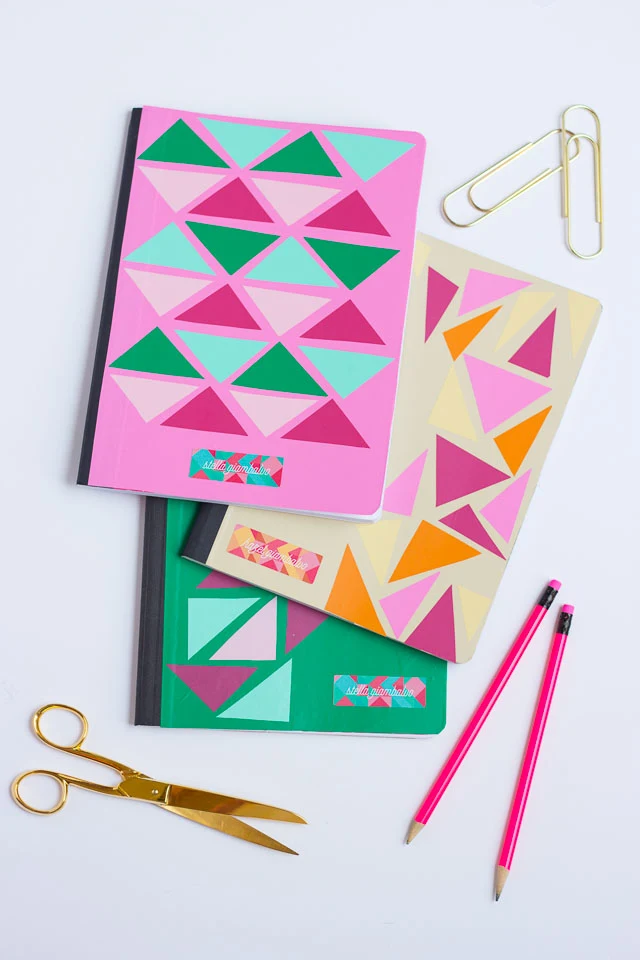 Source: designimprovised.com
When you're at school, you'll have a ton of notebooks at hand, as well as planners and journals. It's a really unique opportunity to express your individuality and creativity. How?
You personalize your notebooks, of course! A personalized vinyl notebook like this is a tangible and bold statement piece.
It gives you a ton of room to play around with different geometric patterns and shapes, to play with color and design, as well. So give it a try and enjoy having your friends compliment your creativity and flair!
Check out more paper crafts here!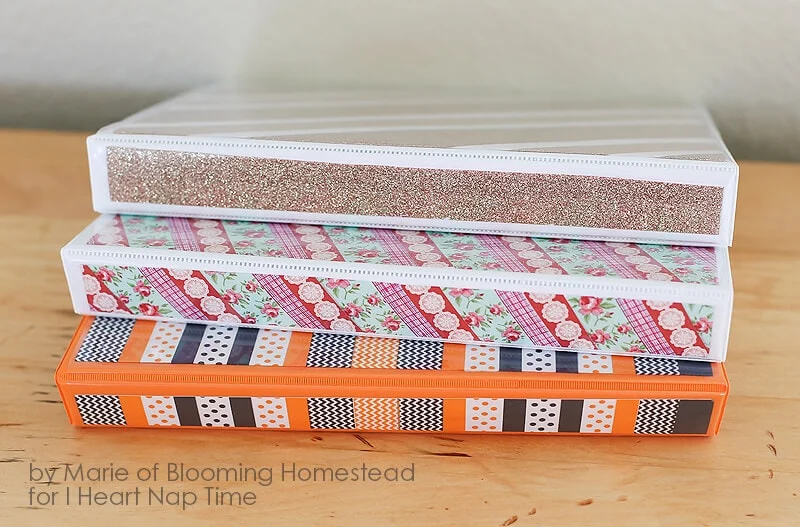 Source: theinspirationboard.com
Do you know what else you need besides pretty notebooks and a ton of school supplies for your back-to-school bundle to be complete? A binder, of course.
So you have to do what anybody with a zest for DIY, crafts, and color would do: you have to personalize your binder by making your own cover! You will need a few rolls of washi tape from here to get started.
You will also need to pick out some cardstock to pair with the tape and, of course, your binders from here.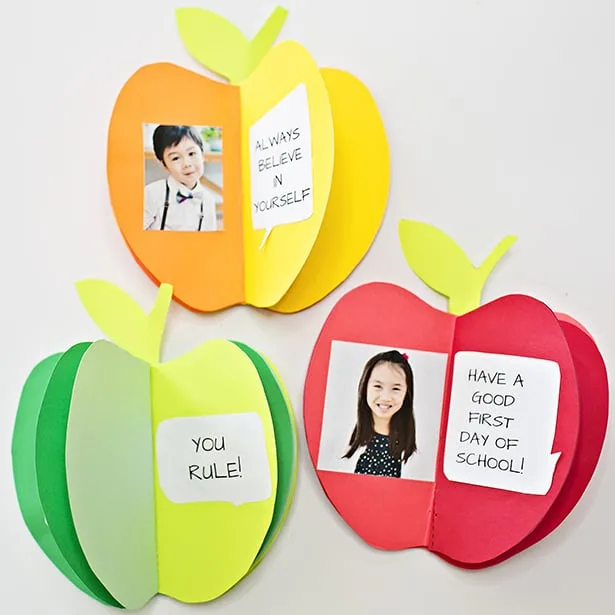 Source: hellowonderful.co
I don't know if you did this when you were a kid, but we'd have these little memory books we'd make at school to remember our time in that grade. Why don't you recreate that with this 3D paper apple book?
In fact, you can make it for your kids with photographs of them inside to remind them on their first day of school to enjoy the year and to make the best memories.
You can add to this book as you go, and before you know it, you'll have an amazing keepsake gift to pass on to your kids years later!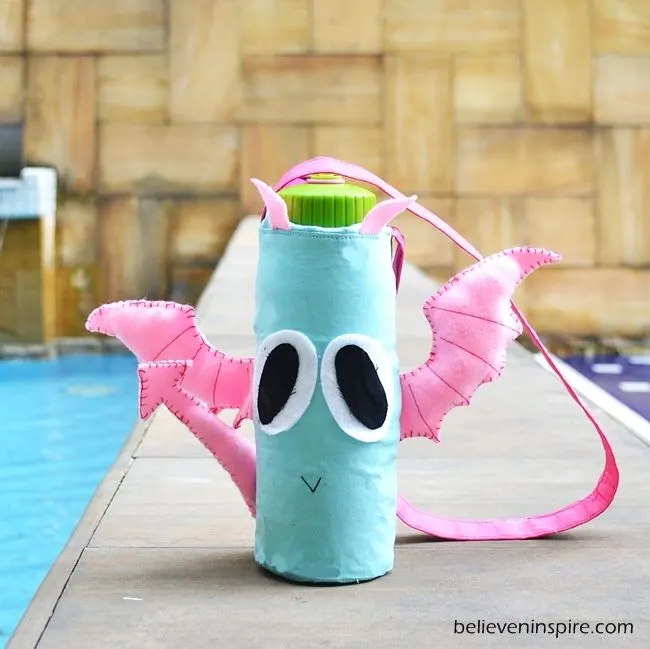 Source: sewsomestuff.com
Dungeons, dinosaurs, and dragons, that's the trifecta when it comes to craft time with little kids. Wouldn't your kids love making this cute little dragon cover for their sippy bottles?
I bet they'd love to take it with them to school and show it off to their friends! So, for this project, you'll need to pick out a quarter yard of your favorite fabric, as well as a half yard of lining and strap fabric.
You'll also need some colored felt scraps, as well as elastic, a glue gun, and finally, the downloadable template to guide you through this project!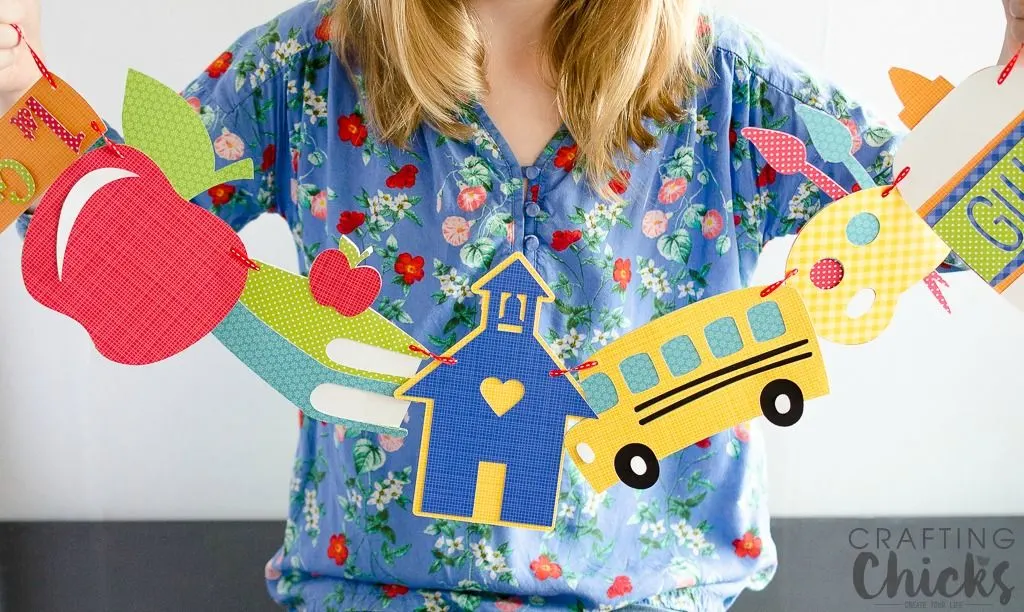 Source: thecraftingchicks.com
If you're the kind of person who's actually looking forward to going back to school, do you know what you need? You need a back-to-school countdown calendar!
You might want to invest in a cricut machine like this to help you with cutting out the design. You'll also need some adhesive and finally, some ribbon-like this to string everything together.
Once you've assembled your supplies, get started on cutting your calendar pattern according to the template provided.
Love the craft? Perhaps give these construction paper crafts a try!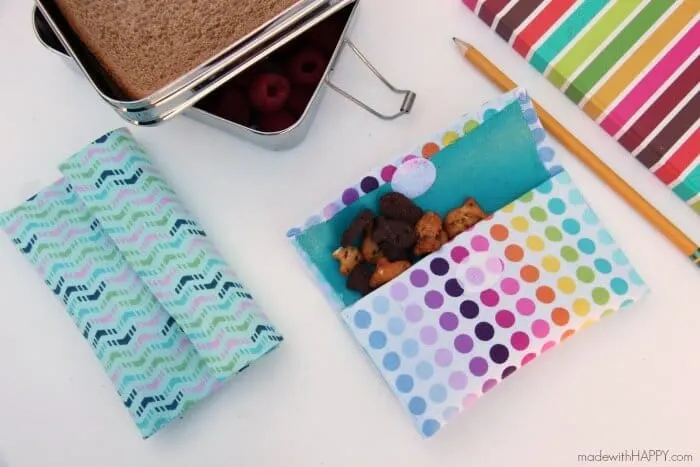 Source: madewithhappy.com
How sustainable are these reusable snack bags?! They're super easy to make and easier still to wash and reuse, with almost zero hassle.
These reusable snack bags—and possibly lunch bags, too— are the future of school lunches. Did I mention they were also no-sew?
I told you they were easy to make! Just pick out your fabric of choice, and you're nearly halfway there!