Got a bunch of paper lying around? It's a perfect time to make these paper crafts for adults and to take your creativity to a whole new level.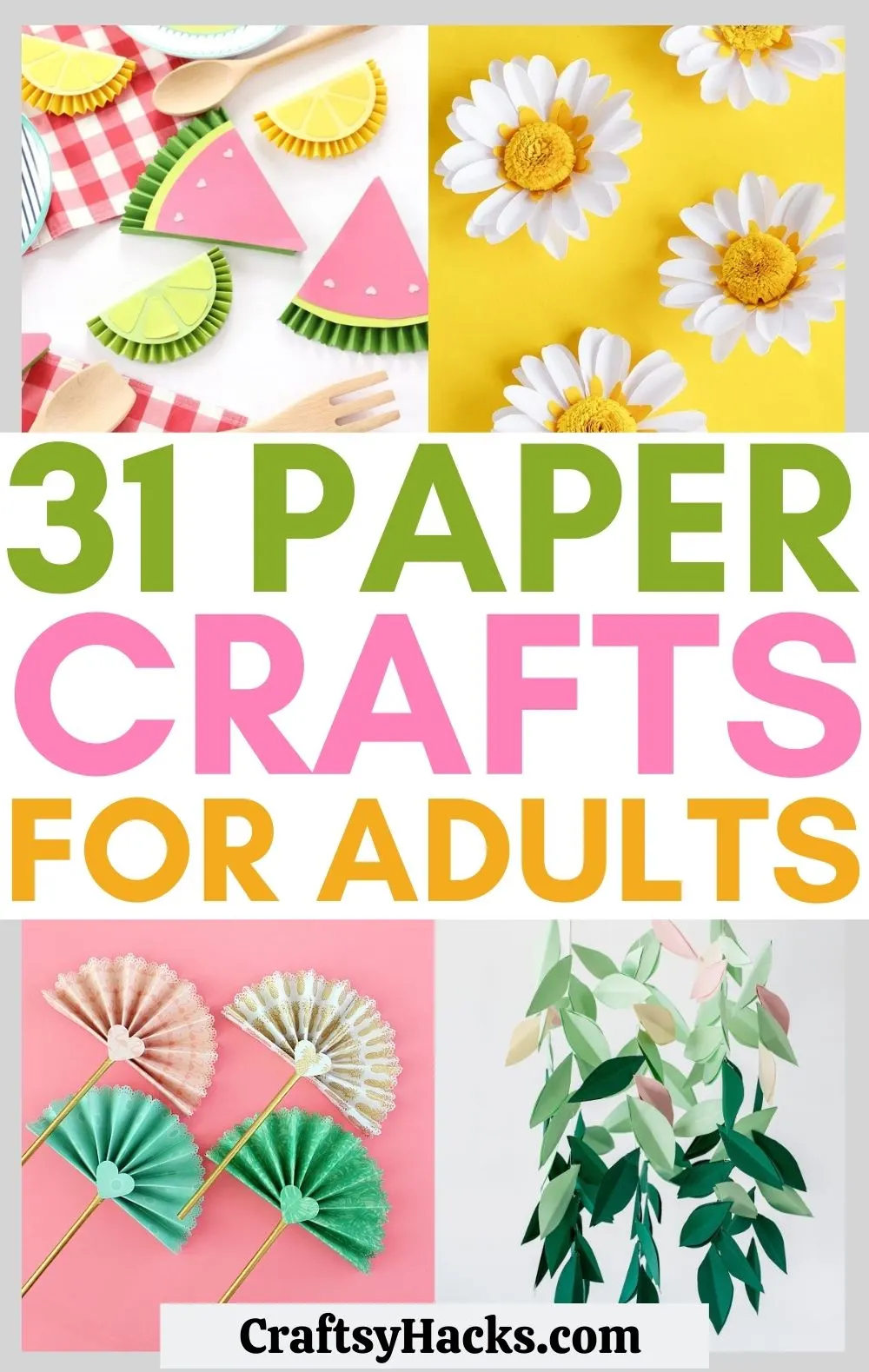 Paper crafts are for everyone, regardless of their age. Paper is a super versatile crafting medium, and with the right skills, tools, and knowledge, you can make anything out of it!
That said, many writers aim their papercraft lists at children. After all, crafts like this help with their development. However, I think it's time that adults got their chance in the limelight.
So, to the adult crafters with a stack of paper sitting in their supply cupboards, here's a list just for you.
1. Easy Tissue Paper Flowers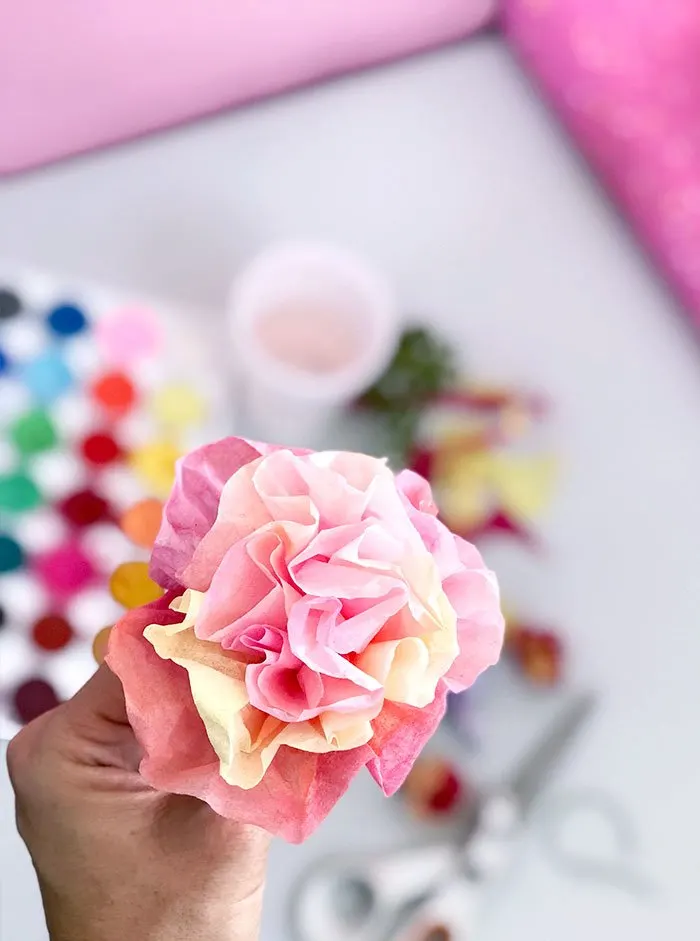 Credit: thecountrychiccottage.net
Let's start with an homage to tissue paper, one of my favorite things to craft with! This light, delicate form is perfect for creating fake florals, thanks to its sheer coloration and folding ability.
These tissue paper flowers will never wither or wilt, so they're perfect if you're getting tired of replacing your bouquets every month! Grab a pack of tissue paper here and let these flowers spring forth.
Don't worry if you're left with a lot of tissue paper in your stash. These stash-busting tissue paper DIYs are the perfect way to use it all up.
2. DIY Paper Birdhouses for Spring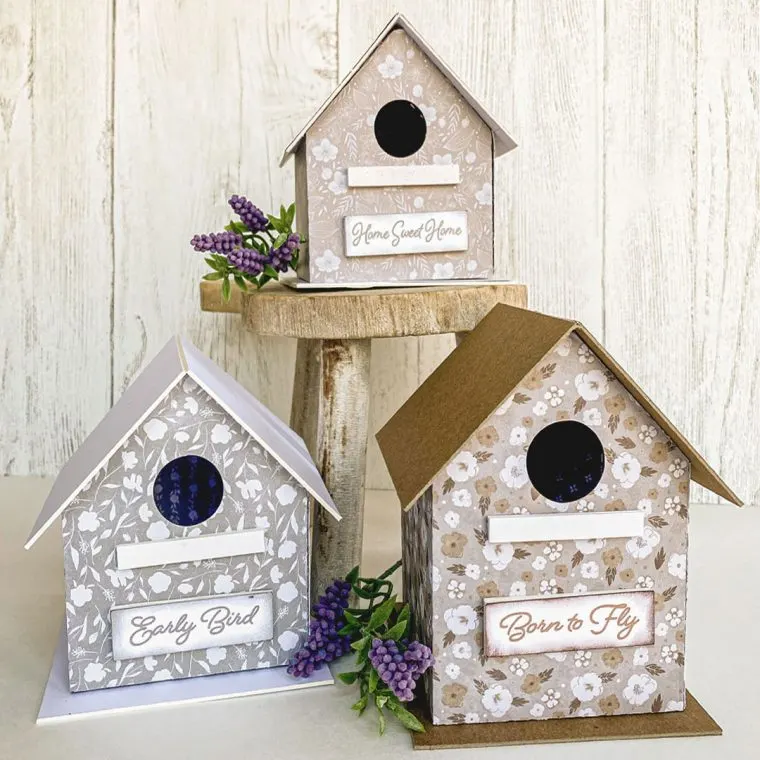 Credit: heartfilledspaces.com
Next on our list is a simple way to bring more birds to your garden. Who doesn't love waking up to the sound of birds chirping outside your window? This birdhouse will help you to get there!
If I hadn't read this tutorial, I wouldn't have guessed that you can make birdhouses from paper! A pack of patterned card stock like this is what you'll need, as cardstock is strong enough to hold the house's shape.
3. Paper Chain Rainbow Wall Hanging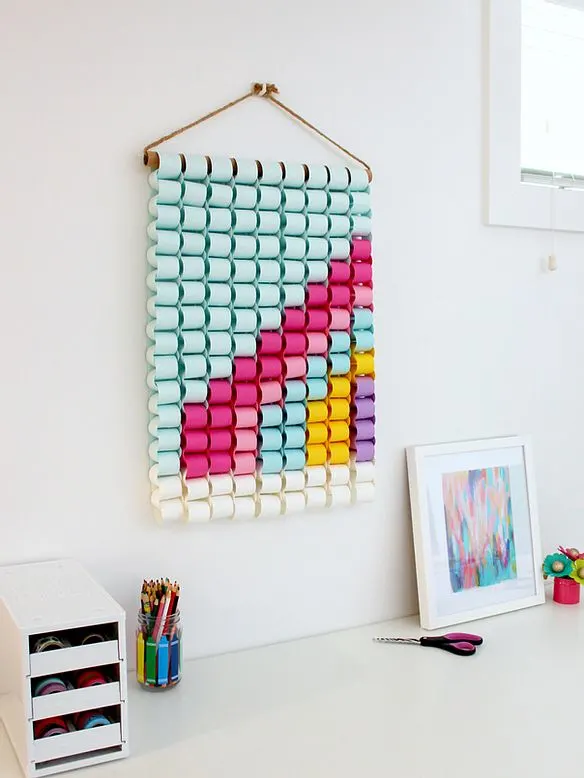 Credit: whitehousecrafts.net
If you're a fan of macrame crafts but you lack the required cording, this paper chain wall hanging is your next best option. Using a clever paper chain technique, you can create a rainbow from paper links!
Hang this gorgeous piece above your desk to keep your creative juices flowing! A hollow dowel like this and some yarn will easily support the piece's weight, as paper certainly won't weigh it down very much.
4. DIY Crepe Paper Garland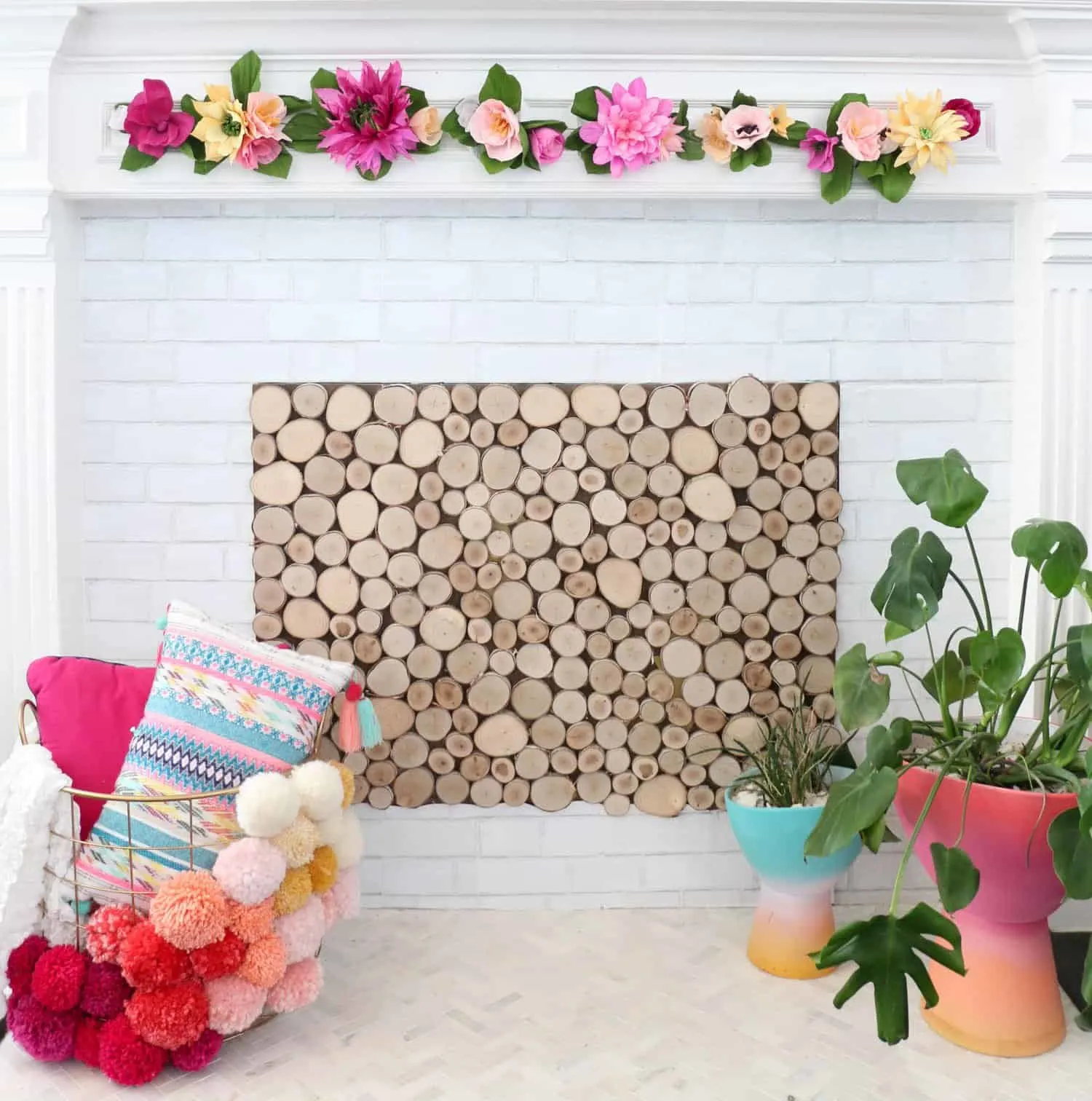 Credit: abeautifulmess.com
Crepe paper is slightly different from standard tissue paper, sporting a rippled texture that lends itself perfectly to creating fake flowers. This gorgeous garland will look amazing perched on your mantel.
A vital ingredient of this DIY project is the floral wire (find it here). This is a green wire often used in flower arranging, but for our purposes, it will be holding all the crepe paper in that distinct garland shape.
5. Gorgeous Paper Daisies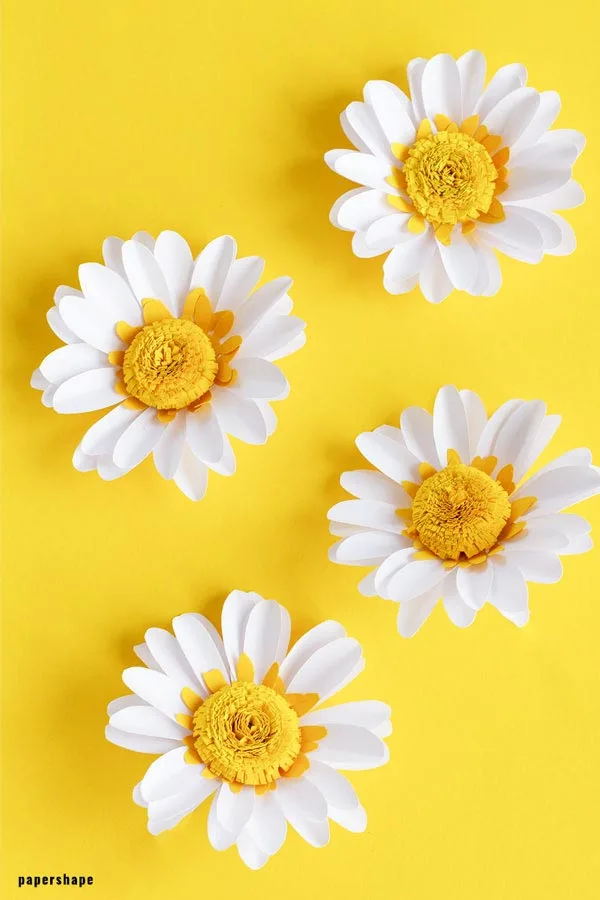 Credit: paper-shape.com
Here's another method for making fake flowers, except you don't make these daisies from tissue or crepe paper. Instead, any old printer paper will do for these bright and happy florals.
Use them as box decorations, arrange in a vase, or even place them on stems to give your friends gifts. After all, a sign of appreciation, friendship, and love is always welcomed.
6. Stunning Map Star Decorations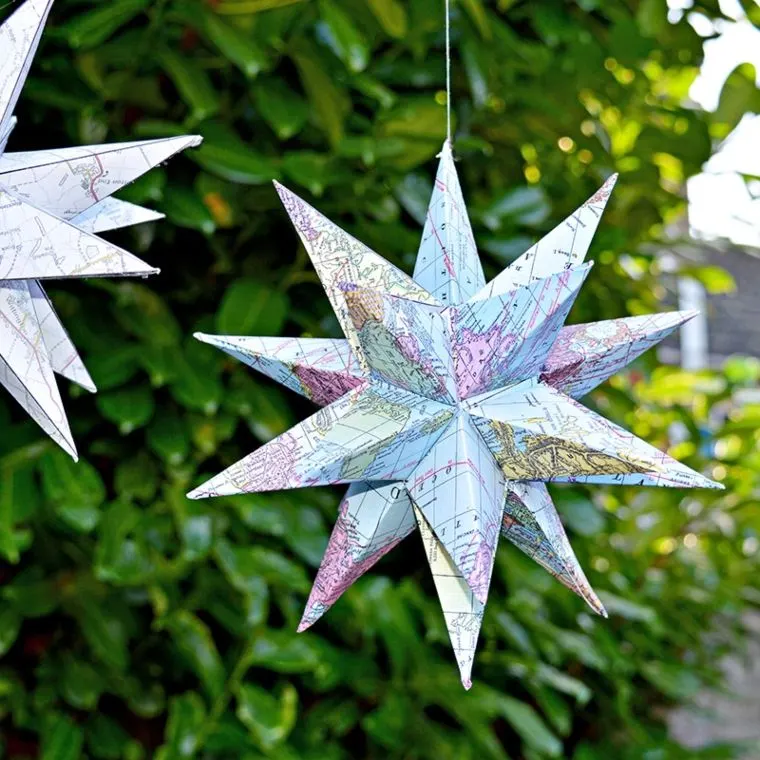 Credit: pillarboxblue.com
Are you somewhat of a travel fiend? With the advent of digital maps, paper maps have unfortunately become a lot less popular than they used to be. Don't worry, though; you can still put them to good use!
These paper map stars are such a unique decoration, plus they're perfect for using up any old map books you have lying around. To make these, you'll need solid and quick-drying paper glue like this.
7. Farmhouse Sign with Cricut Flowers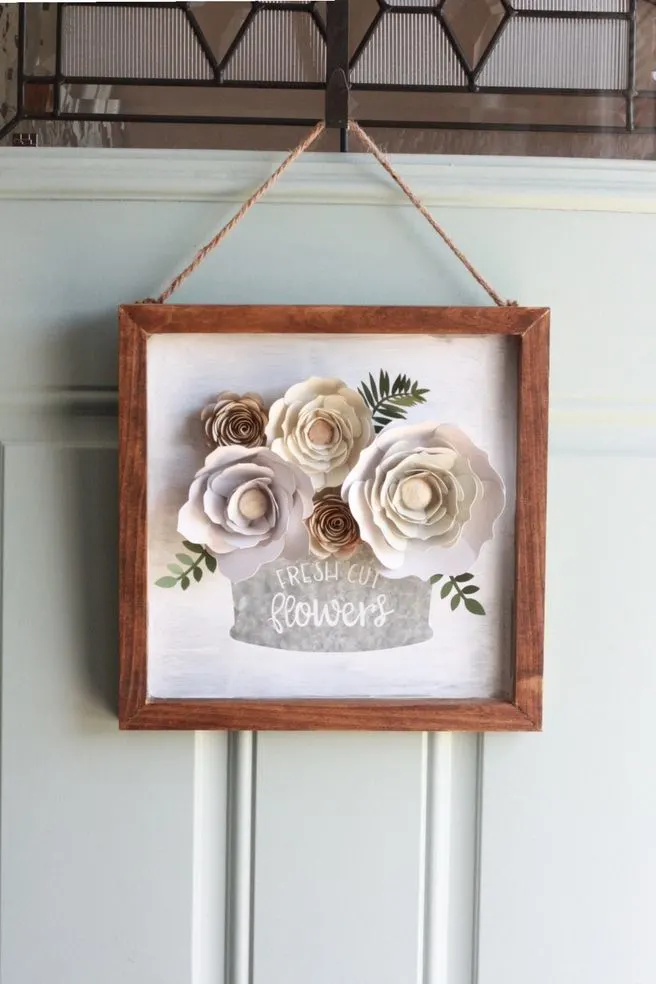 Credit: everydayjenny.com
If you're in love with paper crafts and don't already own a Cricut machine (here), it might be time to invest in one. These highly versatile machines are perfect for making everything from labels to signage.
When it comes to this farmhouse sign, the 'fresh-cut flowers' are cut from cardstock in various neutral shades, then mounted on the sign. Of course, if you don't want to buy a Cricut, you can also do this by hand.
8. Rainbow Paper Dahlia Flowers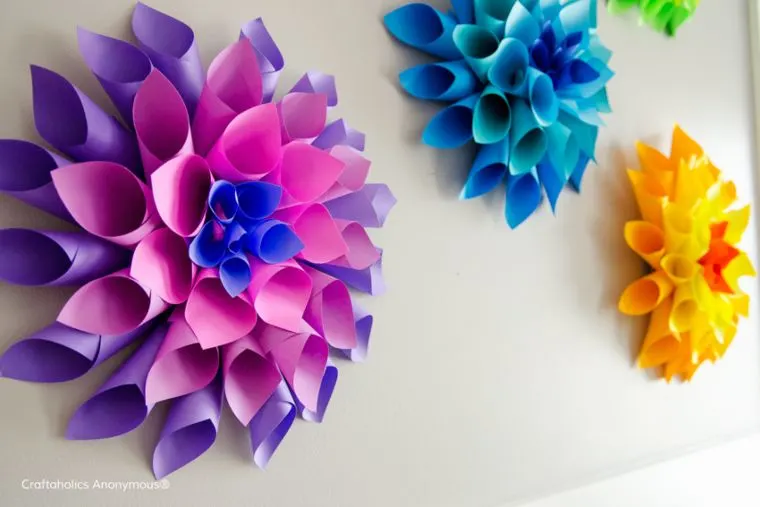 Credit: craftaholicsanonymous.net
In flower language, dahlias symbolize inner strength, creativity, dignity, and positive change. Who wouldn't want those positive vibes hanging around their workspace?
Create these paper dahlias with some colored cardstock and a simple folding technique. If you'd like to, this is also a great craft to do with the kids. Decorate your living space with these vibrant beauties.
9. Eucalyptus and Hydrangea Wreath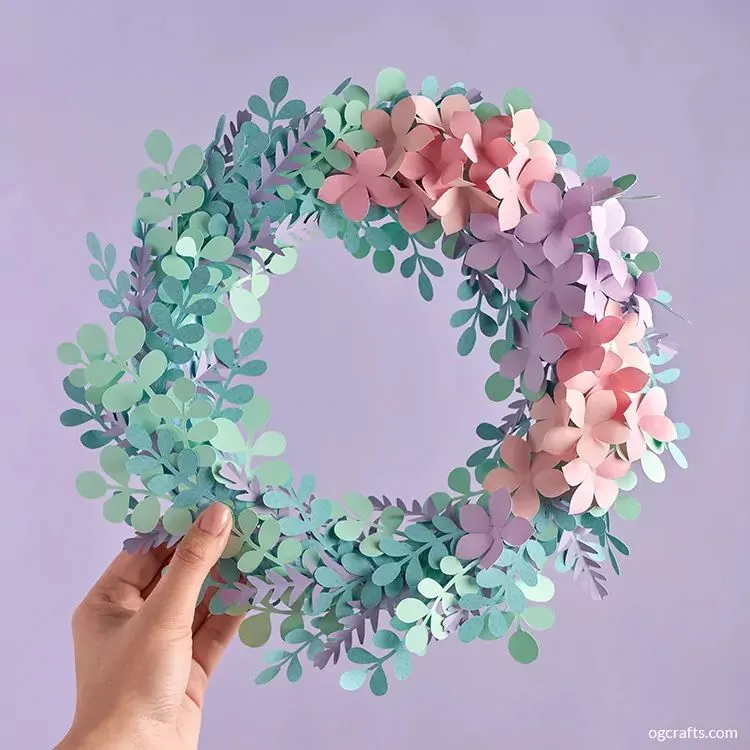 Credit: ogcrafts.com
On the other hand, this eucalyptus and hydrangea wreath is the perfect decoration with which to grace your front door. The craft uses a basic foam wreath form like this to provide a base, which is then covered.
Hydrangeas symbolize grace and beauty, while eucalyptus flowers are known for hardiness, strength, and protection. Welcome your guests with this message every time they walk into the house.
10. DIY Paper Envelope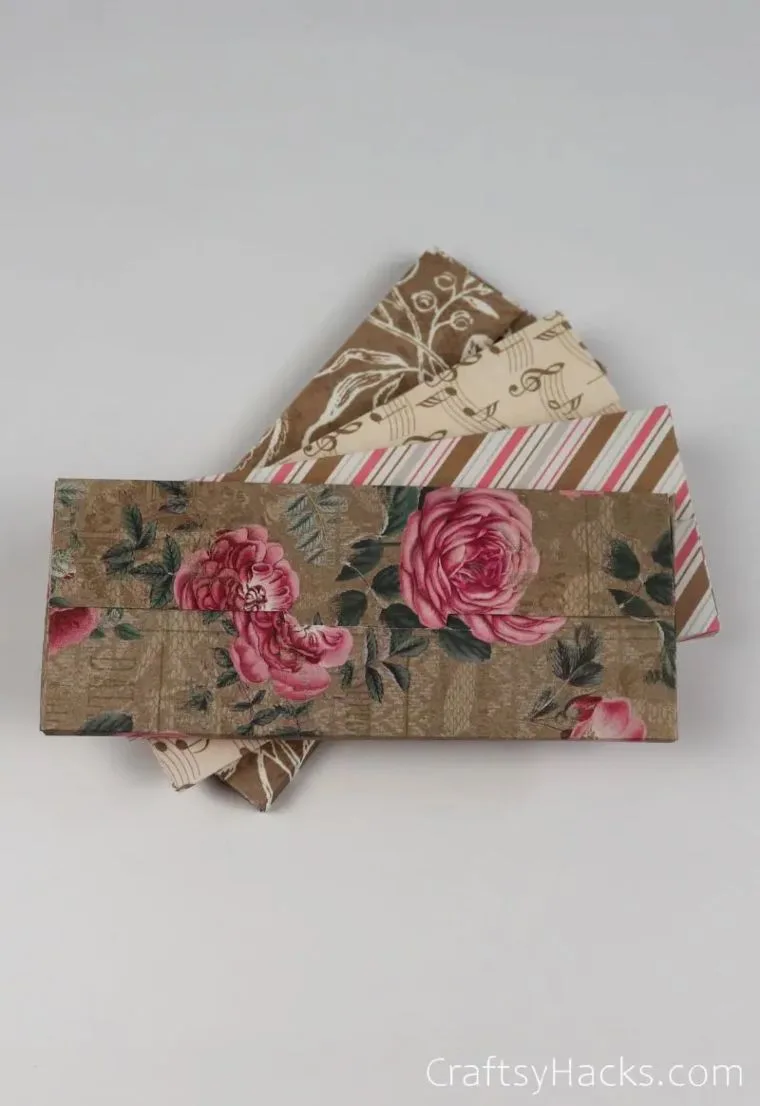 Credit: craftsyhacks.com
You'll never need to buy a store envelop ever again once you get this paper envelope technique down. Create these gorgeous envelopes out of any paper you have handy!
Not only will that inspire some seriously creative gift-giving choices, but it will also encourage you to be more sustainable around Christmastime and birthdays.
11. Gorgeous Paper Village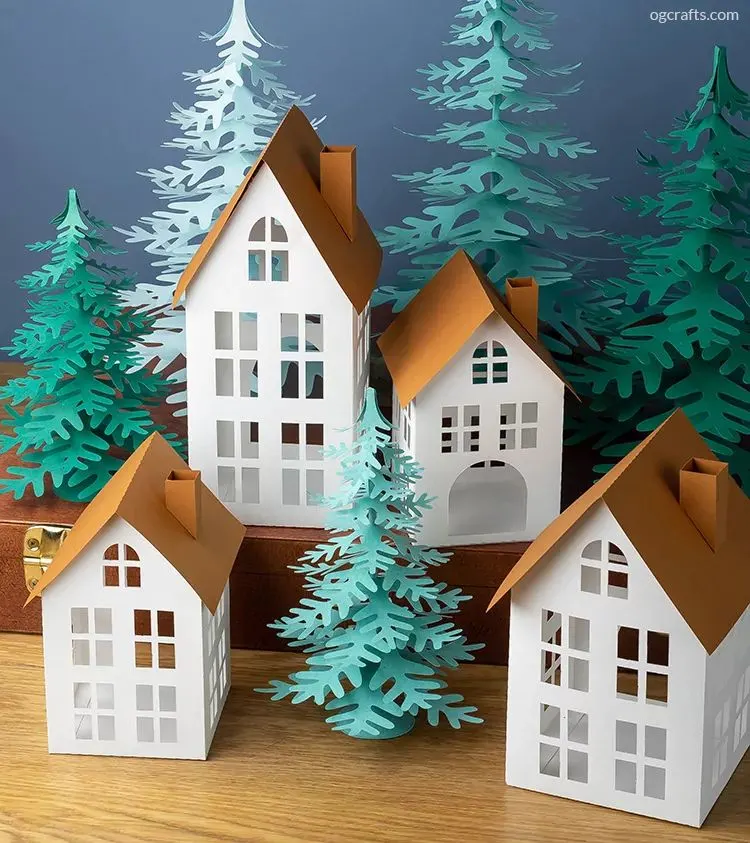 Credit: ogcrafts.com
Eschew the typical nativity scene in favor of this gorgeous handmade village, perfect for the winter season. Surrounded by a dense paper forest, these houses are the definition of cute!
Even for newbies to the papercraft arts, these houses are a cinch to make thanks to their simple construction. Make sure you have a high-temperature hot glue gun on hand (here) for solid joins.
You can also have your kids make a few animals join the scene, such as any of these adorable, kid-friendly dog crafts.
12. DIY Paper Plants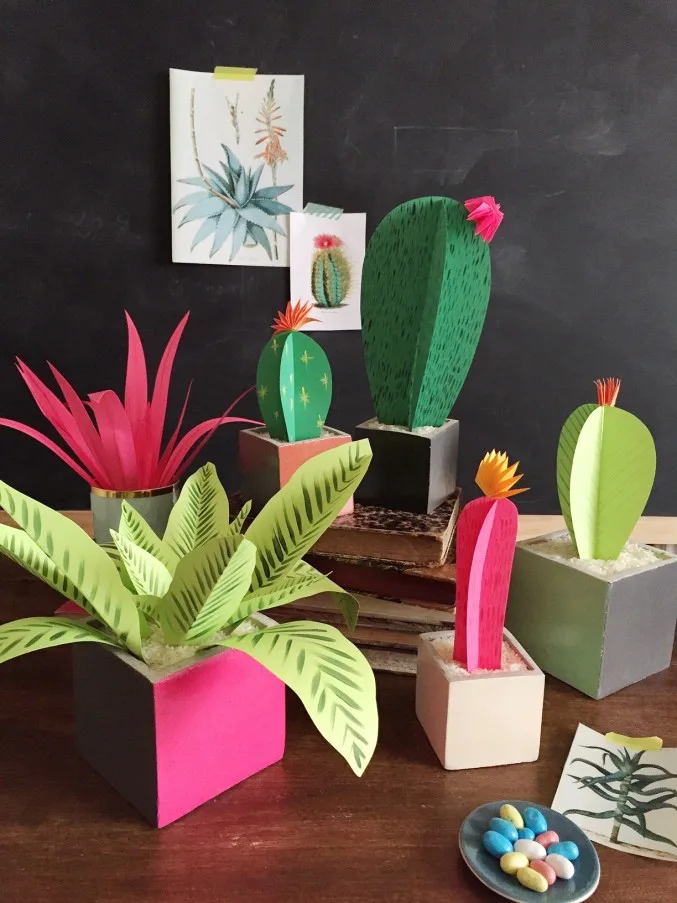 Credit: thehousethatlarsbuilt.com
While the idea of filling your home with plants is lovely to some, the maintenance required is often too much to justify doing it! That's where this array of gorgeous paper plants comes in.
Create a forest of plants that will never need water using this clever technique. There are no rules for color, shape, or size, so go wild! Here's a set of plant pots to get you started.
13. Simple but Stunning Map Roses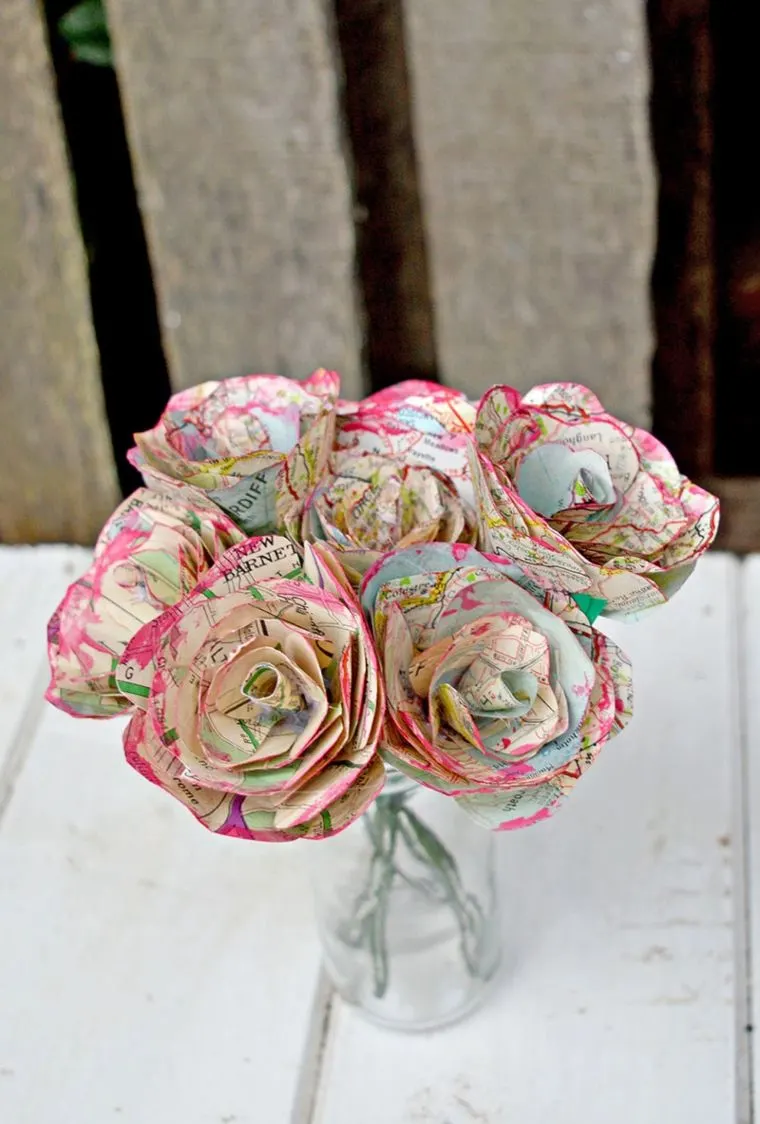 Credit: pillarboxblue.com
Here's another way to use up those old maps you might have lying around. Instead of hanging them from your ceiling, you can arrange these paper roses in a vase to act as the perfect travel-themed centerpiece.
This clever crafter has used some red watercolor paint to stain the map's edges, creating a gorgeous rosy effect. While I love the look, I wonder what it would look like with this golden stain instead?
14. Make Some Recycled Paper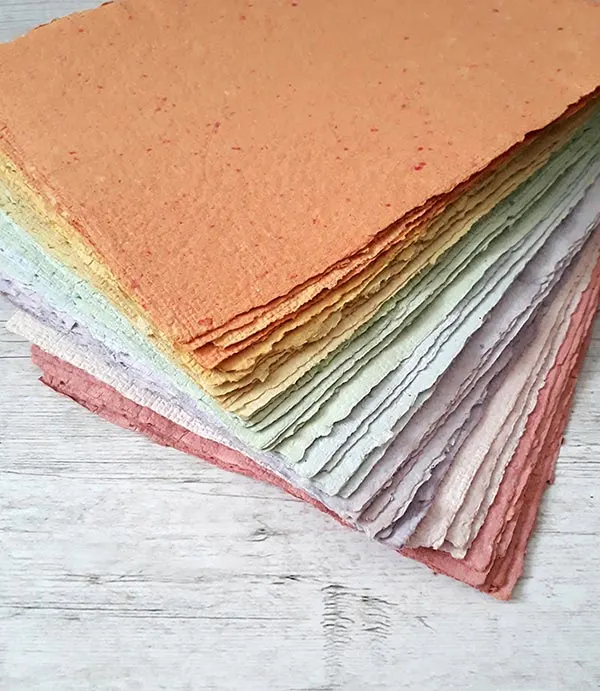 Credit: veraviglie.com
Our next project has a little bit of a twist… instead of making things with paper, you'll be making the paper itself! Recycling paper is a fantastic way to craft sustainably instead of contributing to the ever-growing waste.
Don't worry; not only is this paper super easy to make, but it also looks gorgeous when used in craft projects. You'll need both a wooden paper press and a wooden sieve (here) to attain this skill (which I recommend).
15. A Jar of Folded Origami Stars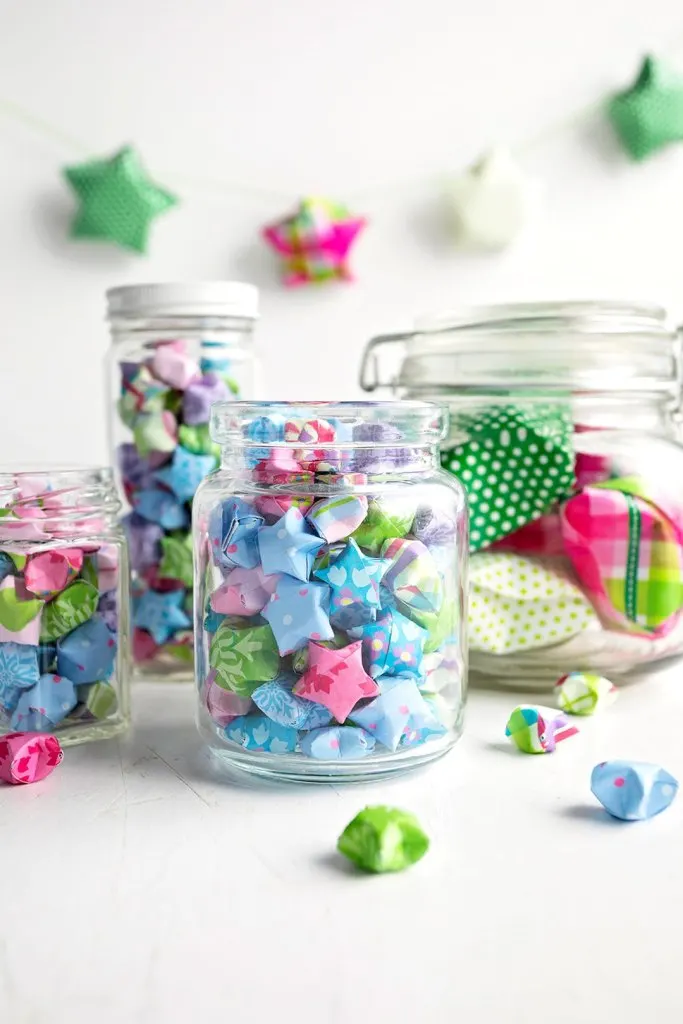 Credit: welcometonanas.com
In Japan, a common gift is a huge jar filled with a thousand miniature paper cranes to imbue the recipient with good fortune. Well, a jar of one hundred paper stars grants the recipient a single wish.
Learning the star fold is super easy, and once you have it down, you'll be churning these out at lightspeed. For an extra touch of love, write a small, positive message inside each strip of paper.
16. Origami Planter Covers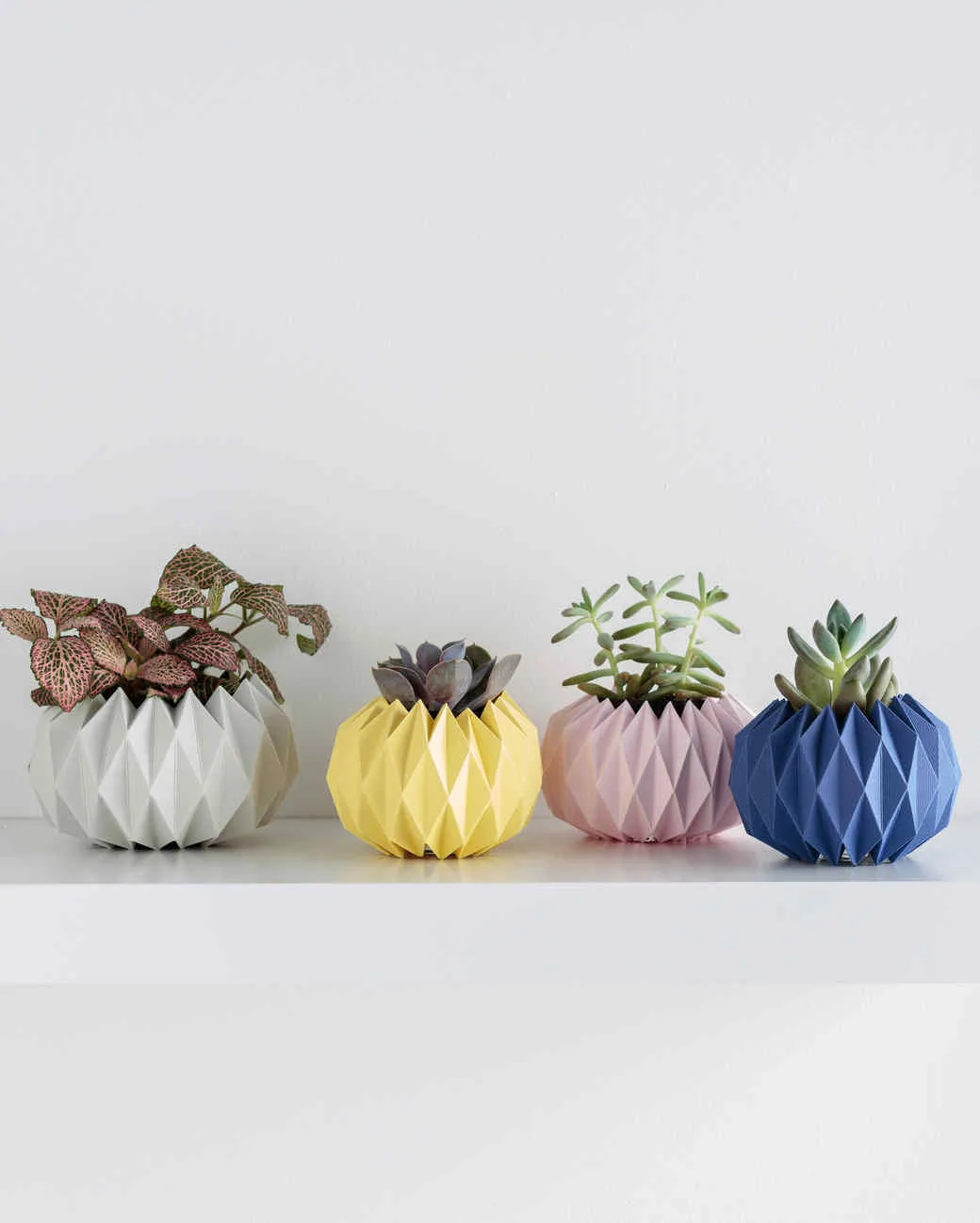 Credit: marthastewart.com
Standard terracotta pots are cute to look at, but even they can eventually get boring. Elevate your planters with this simple paper cover, made with cardstock and a scoring board set (here).
If you scale these covers up, they can cover anything you like! Cover circular vases and fruit bowls, or create a custom centerpiece all your own.
If you're after some other ways to up your planter game, check out some of these genius dollar store planter ideas.
17. DIY Paper Palm Leaf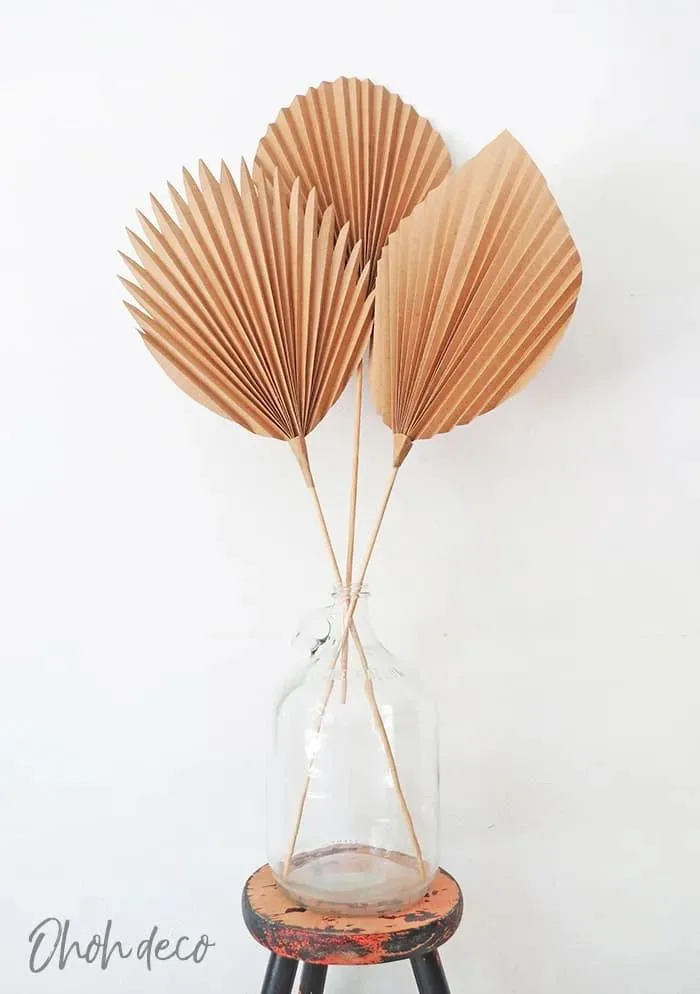 Credit: ohohdeco.com
Next on the list is an homage to minimalist style, with the barest touch of bohemian chic thrown in there. These paper palm leaves are gorgeous when arranged in a glass vase; they look straight out of a magazine!
You'll need some brown paper for the fronds and craft dowels for the stems, although you can also use bamboo (here) for a more textured look.
18. Crepe Paper Bunny Tails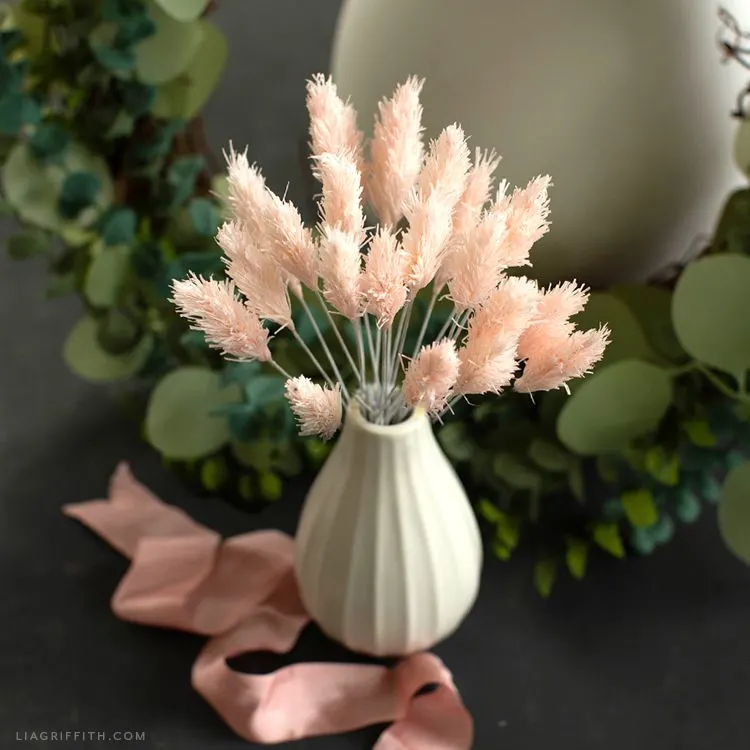 Credit: liagriffith.com
The resurgence of the crepe paper is here, and no, we're not making actual bunny tails! 'Bunny tails' is the name of a fluffy flower that looks like it belongs on a bunny's behind, and they're very chic.
This project is another good reason to own a Cricut, as it will drastically shorten the amount of time it takes for you to cut crepe paper into delicate fringe. Mount them on white wire (here) and style anywhere!
19. Gradient Paper Leaf Mobile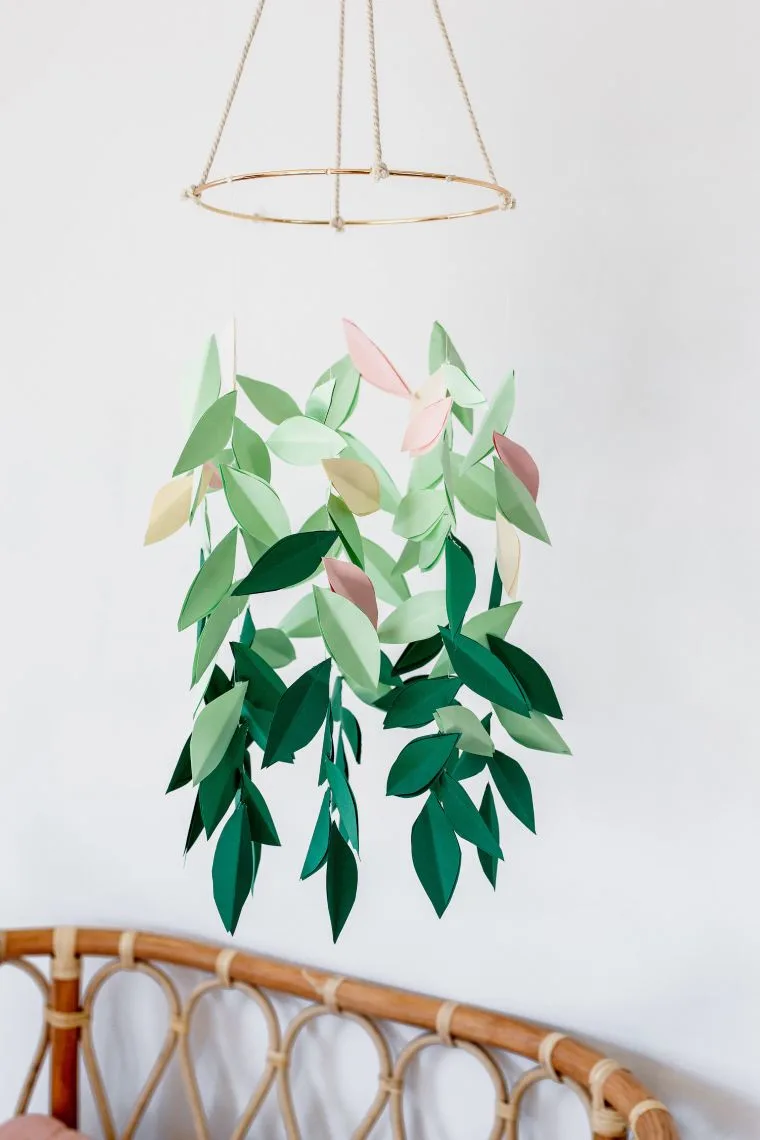 Credit: cleverpoppy.nz
If you're expecting a little one very soon, this gradient paper mobile will make an adorable addition to the little one's nursery. Not to mention, it's much cheaper than buying one from a store, so you'll save some cash!
Sit down with your partner and start cutting because you're going to need many individual leaves. String them onto some white yarn to form the garlands, then finally mount on your golden hoop like this to finish it off.
20. DIY Woven Paper Plate Bowl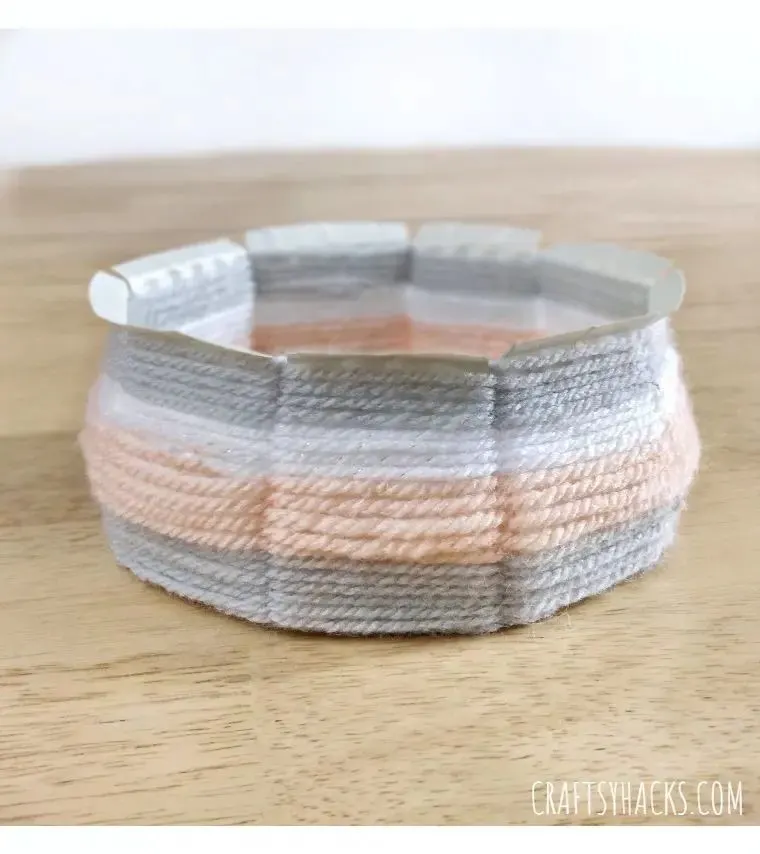 Credit: craftsyhacks.com
Who knew a paper plate could turn out looking this good? This is the perfect project to make if you're running out of space to store your craft supplies (which is why I came up with it in the first place!).
Using just a paper plate, some yarn, and some tape, you'll have a brand-new bowl ready to hold your belongings in under half an hour. That's how simple this is to make.
21. Pastel Rainbow Wall Hanging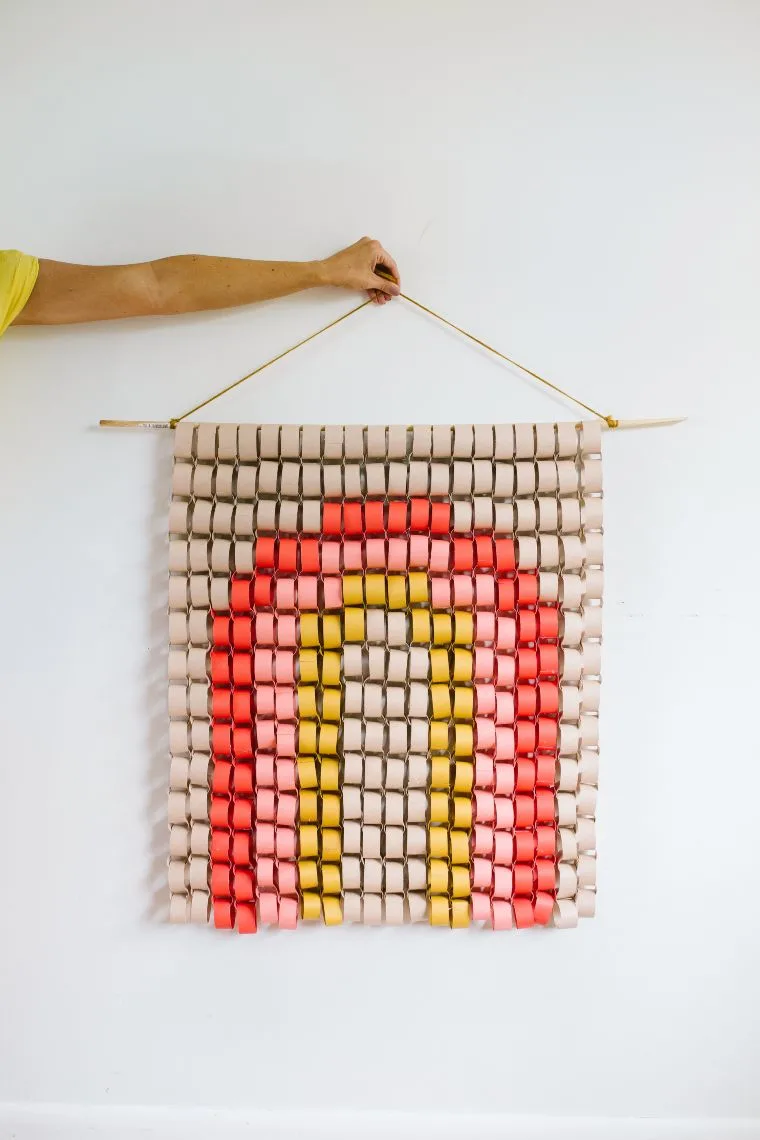 Credit: prettylifegirls.com
Now, this is almost the same as the rainbow wall hanging from earlier in this list but hear me out!
This hanging creates the entire rainbow from paper links instead of just half, and it's in pastel colors!
22. Simple Yet Elegant Paper Fans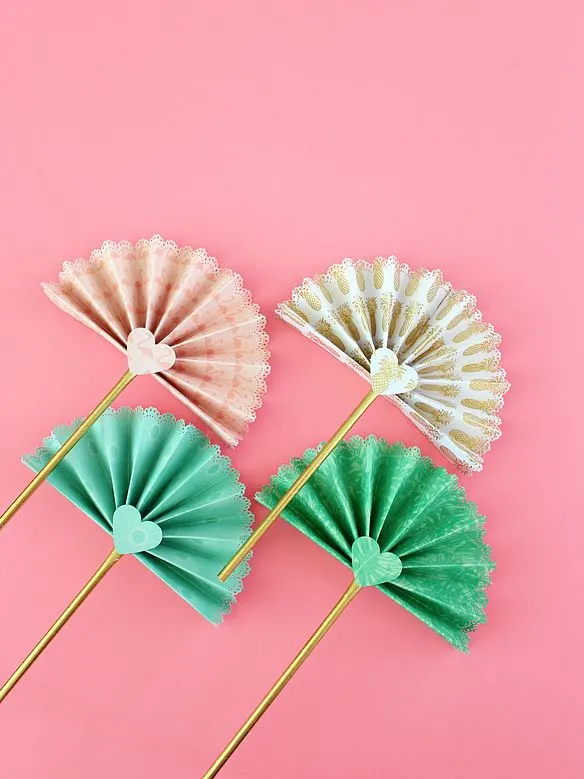 Credit: whitehousecrafts.net
Anyone with enough style and panache to hang paper fans in their home has my immediate admiration, which is why I included these on my list. You don't have to drop hundreds at Anthropologie to appreciate style.
Standard cardstock will be your material of choice, so choose your patterns carefully! Two things take these fans to another level: the doily edges (here) and the golden straws (here).
Don't hold back with these stunning decorations! These would look wonderful arrange in this yarn-wrapped vase, lending them a somewhat shabby chic look.
23. Simple DIY Gift Box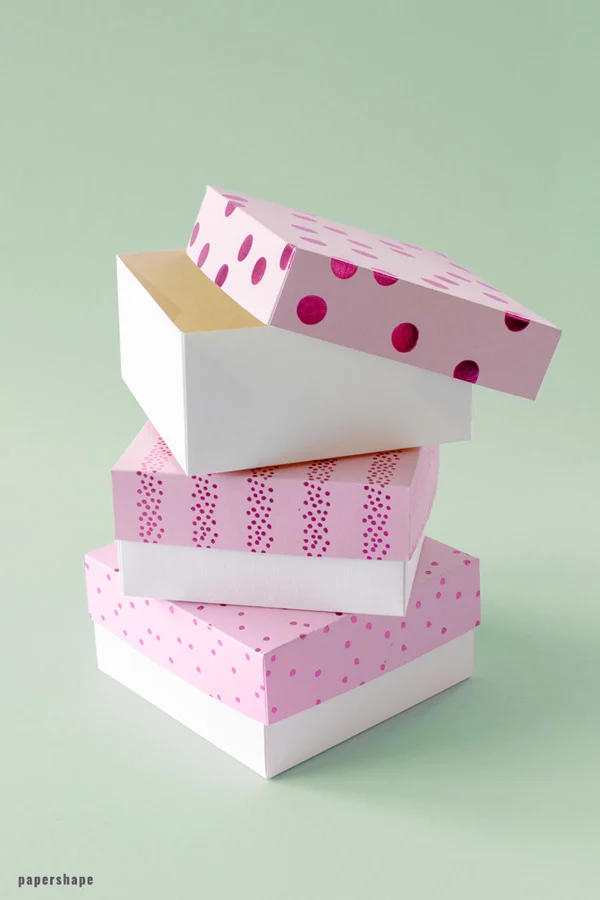 Credit: paper-shape.com
Next up, here's an accompaniment to that stunning paper envelope from earlier in the list. A simple DIY gift box takes almost no time at all, but it makes your gift seem so much more special.
If you don't already own a bone folder, I highly recommend getting one for this craft. It's crucial for achieving those clean lines and sharp angles, which make this box look like a professional job.
24. Stunning Hanging Wisteria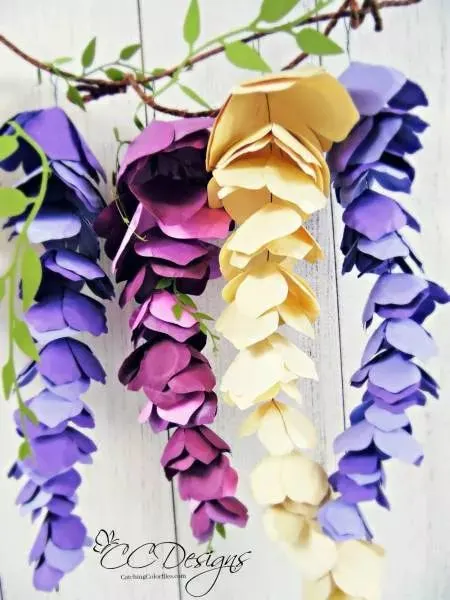 Credit: abbikirstencollections.com
Continuing with our flower language analysis, wisteria symbolizes long life and immortality thanks to its long life span. Unfortunately, despite that rigid constitution, these flowers don't do well indoors.
That's where this papercraft comes in. Instead of attempting to grow these flowers indoors, ring your kitchen, living area, or bedroom with an array of paper wisteria in different colors and sizes.
25. Origami Folded Pen Holder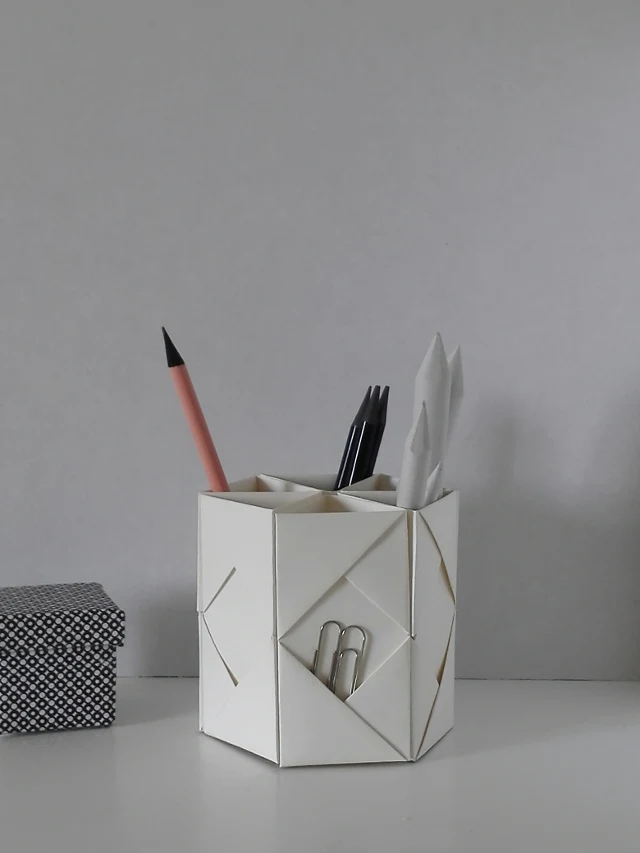 Credit: Blogspot
Origami can be marvelous because the right origami project also provides a valuable function. This origami folded pen holder fits the bill, providing a spot for even the smallest paperclip.
Choose any patterned paper to make your pen holder as unique as the rest of your décor. However, make sure you've chosen square origami sheets (here); the pattern relies on them.
26. A Gorgeous Fall Garland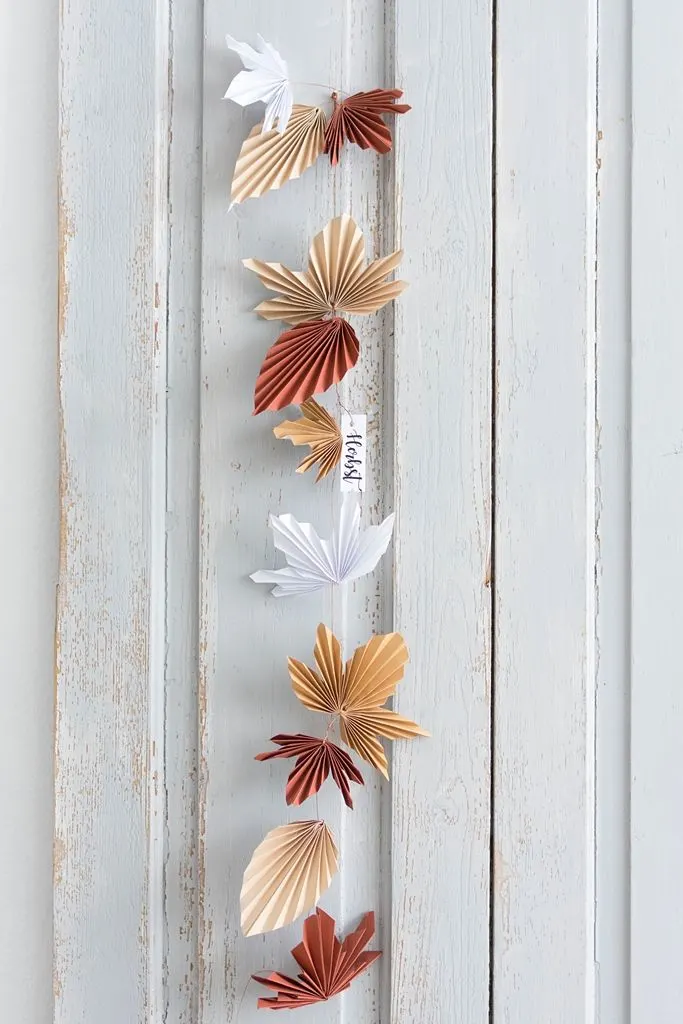 Credit: sinnenrausch.at
To celebrate the coming of Fall, you can't do much better than this charming Fall garland. To make this project sing, I recommend choosing a color palette and sticking with it for a professional look.
27. Create Your Seed Paper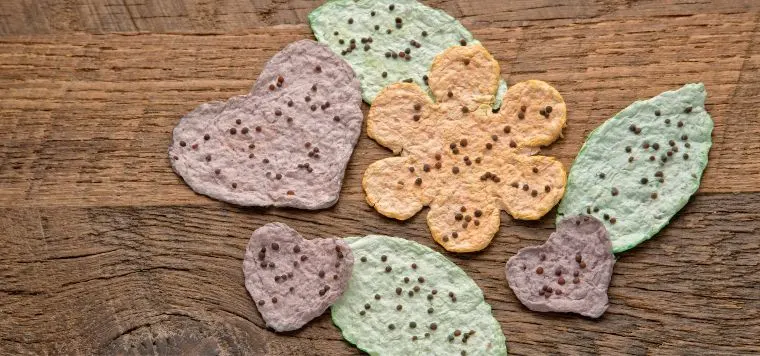 Credit: americanlifestylemag.com
Seed paper is pretty much what it sounds like: it's paper used to sprout seeds! Creating this is a beautiful way to give back to the earth, both because you're recycling old paper and because you're birthing anew.
28. Paper Punch Backdrop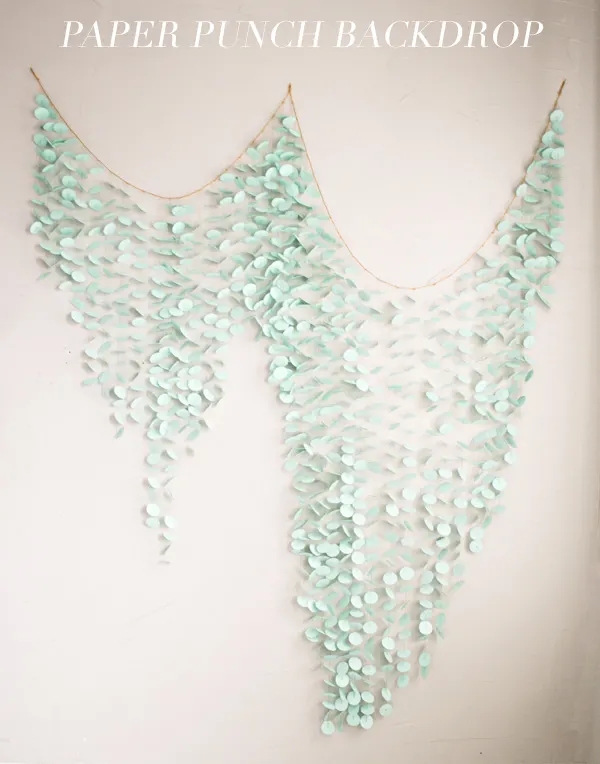 Credit: ruffledblog.com
Wedding and party DIYs are usually undertaken on a grand scale, but this stunning paper punch backdrop is just minimal enough to provide the perfect background. Plus, you can customize the color!
I highly recommend investing in a circle puncher like this if you'll be tackling this project. If you don't, you'll be stuck cutting out hundreds of tiny circles for hours.
Another cute idea for a wedding or party is to create a photo display wall as your backdrop. Use any of these nifty dollar store frame ideas to get it done!
29. DIY Paper Succulents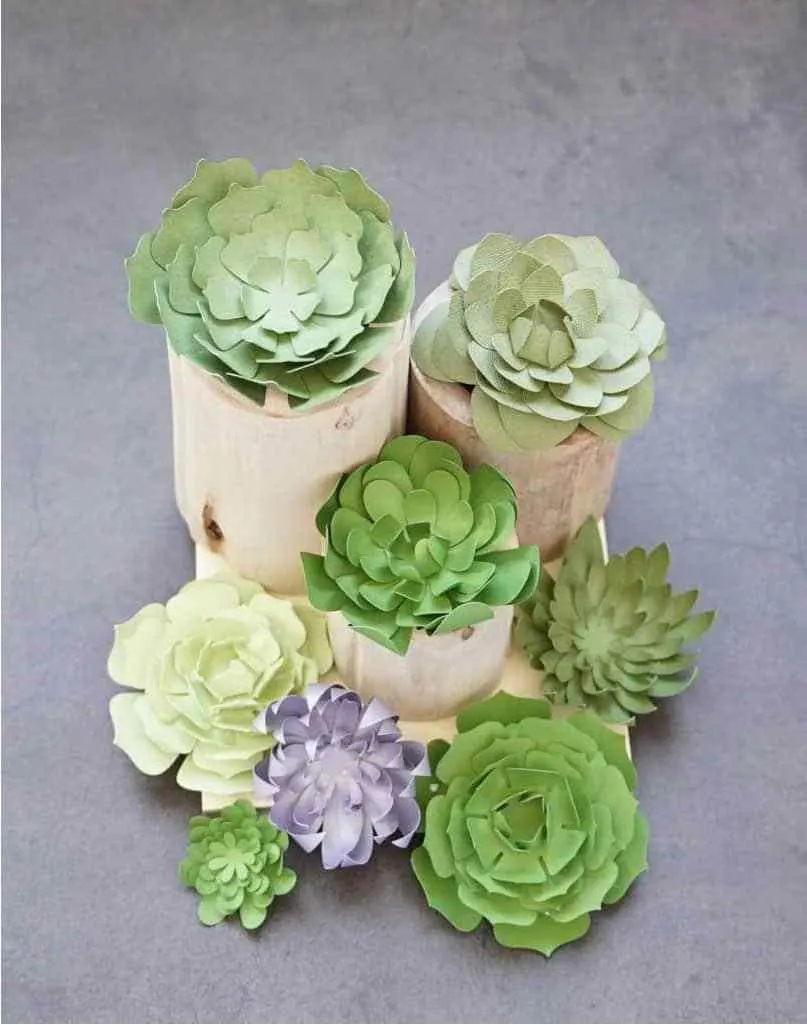 Credit: domesticheights.com
Here's another instance in which owning a Cricut will seriously come in handy. The shape, size, and color of these succulents are so perfect. They almost look like they're growing!
I recommend choosing a natural texture for your planter pot, as this will create a gorgeous contrast. Something like these wooden planters is ideal.
30. Summer Fruity Paper Medallions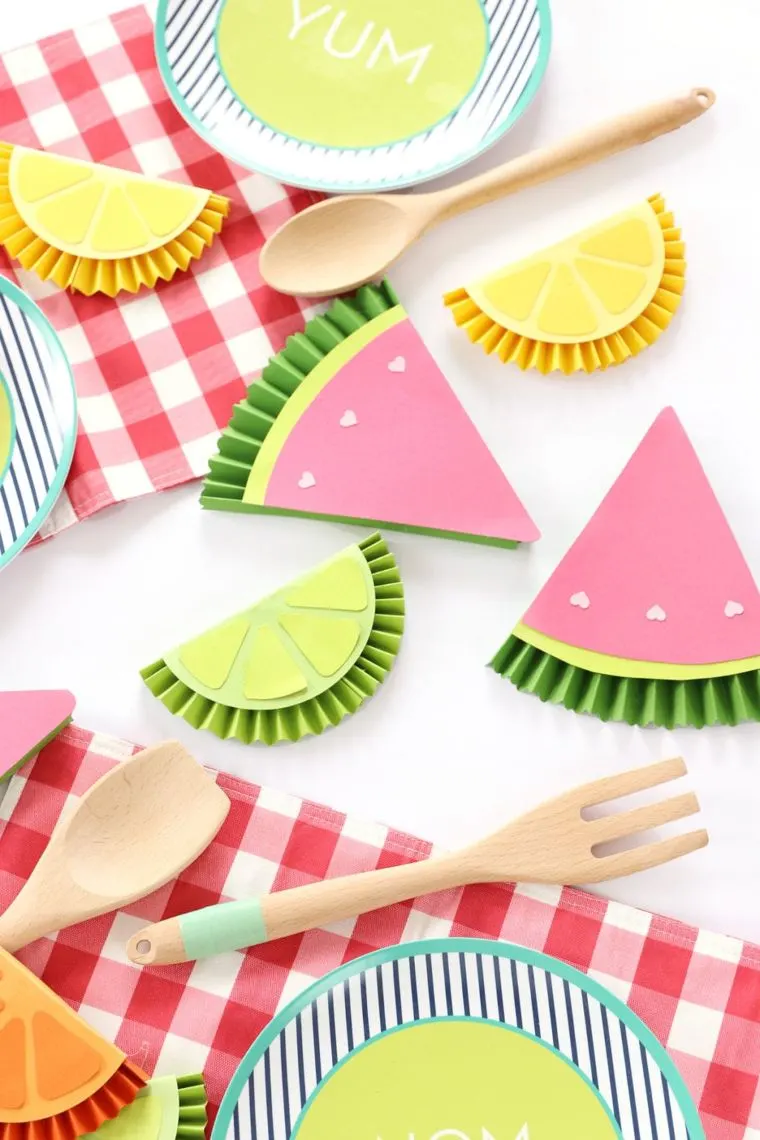 Credit: damasklove.com
Our penultimate papercraft celebrates the coming of summer with a tribute to fruit's gorgeous colors and shapes! Not only are these utterly possible with paper, but they might even look better than the fruit!
31. A Simple Paper Wreath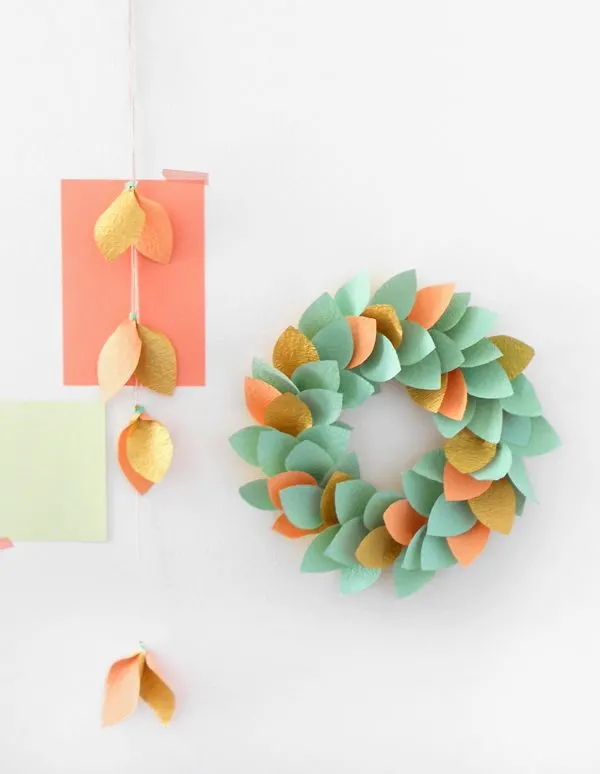 Credit: we-are-scout.com
Let's finish off the list with something that can be made for any time, any place, and any occasion. Make These sweet and simple paper wreaths from wrapping paper and theme them according to the season.
Grab some bunny wrapping paper for Easter, red and green for Christmas, or choose blue, gold, and white to celebrate a happy Hannukah. The options are endless.
There are many other unique wreath ideas out there, so give some of them a look for your next holiday party.
Conclusion
Which of these crafts has made it onto your to-do list? Have you ever made paper before? Let me know in the comments below!