Getting creative and making something truly special can be so fun. Do you know what's better? Making money out of it! Here are multiple crafts you can make and sell!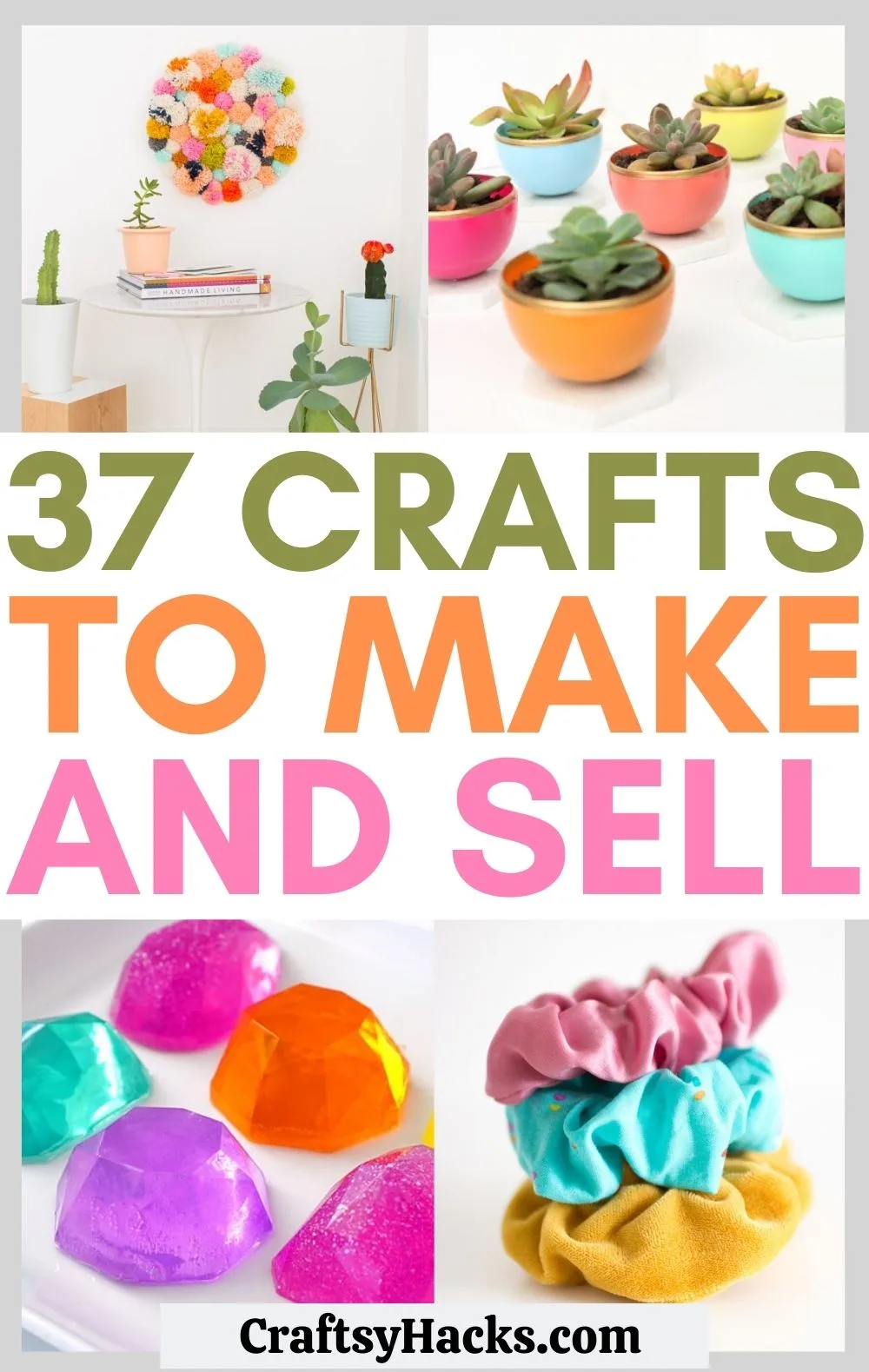 In this economy, finding a side hustle to supplement your day job is a given. Also, many teenagers are starting up their own small businesses selling high-quality handmade craft items, which I think is incredible.
If you're looking to jump on the bandwagon, you have an infinite number of items to choose from. While the first time you try a craft may not go smoothly, keep in mind that practice makes perfect, so stick with it!
Let's jump straight into my list of thirty-seven crafts to make and sell; after all, time is money, am I right?
1. DIY Wire Rings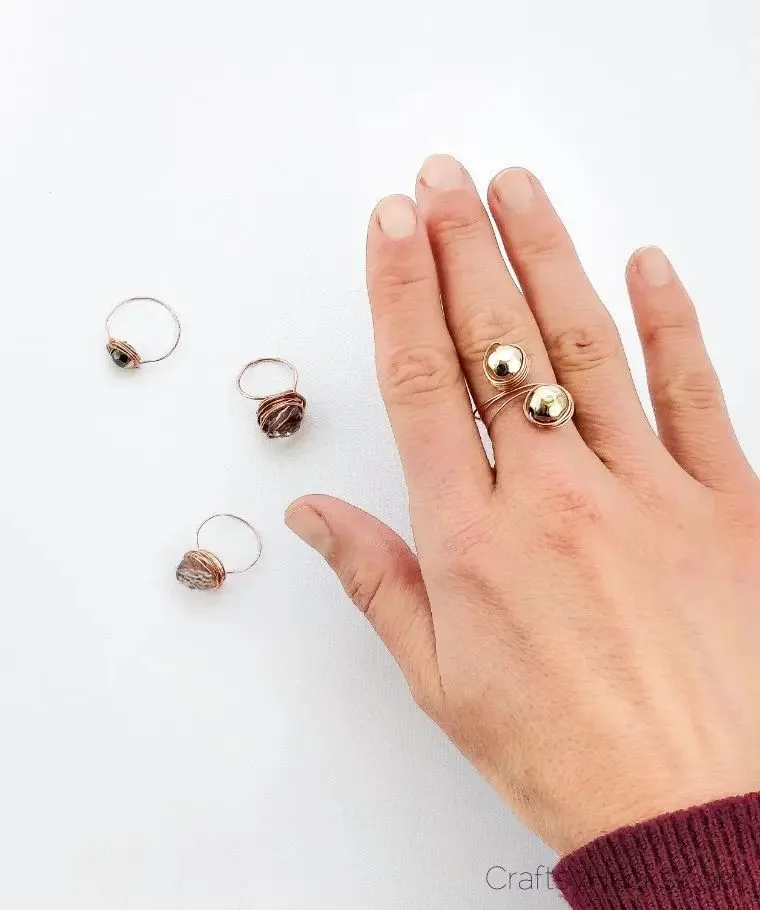 Credit: craftsyhacks.com
Let's start with a craft from my arsenal of projects; a DIY wire-wrapped wring. These are great to produce in large volumes as you can easily buy the supplies in bulk (such as this copper wire).
They're quick to churn out, look highly professional, and your audience will be wide thanks to their wearable look. You can also offer customized options at a higher price.
2. Macrame Rainbow Wall Hanging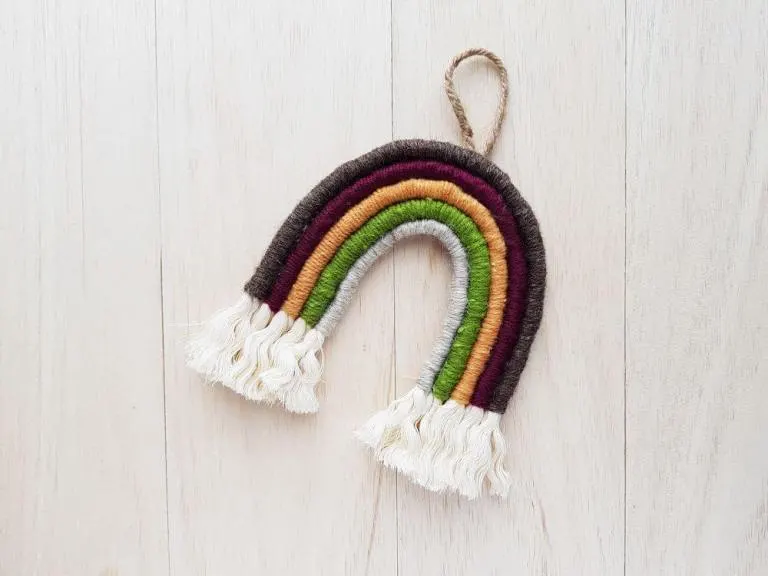 Credit: hawaiitravelwithkids.com
If you're a part of the LGBTQ+ community, this is a fantastic product to make and sell to perpetuate some pride!
These are super simple to make, and – once again – you can buy the products in bulk to make a profit.
3. Finger Knitted Ear Warmers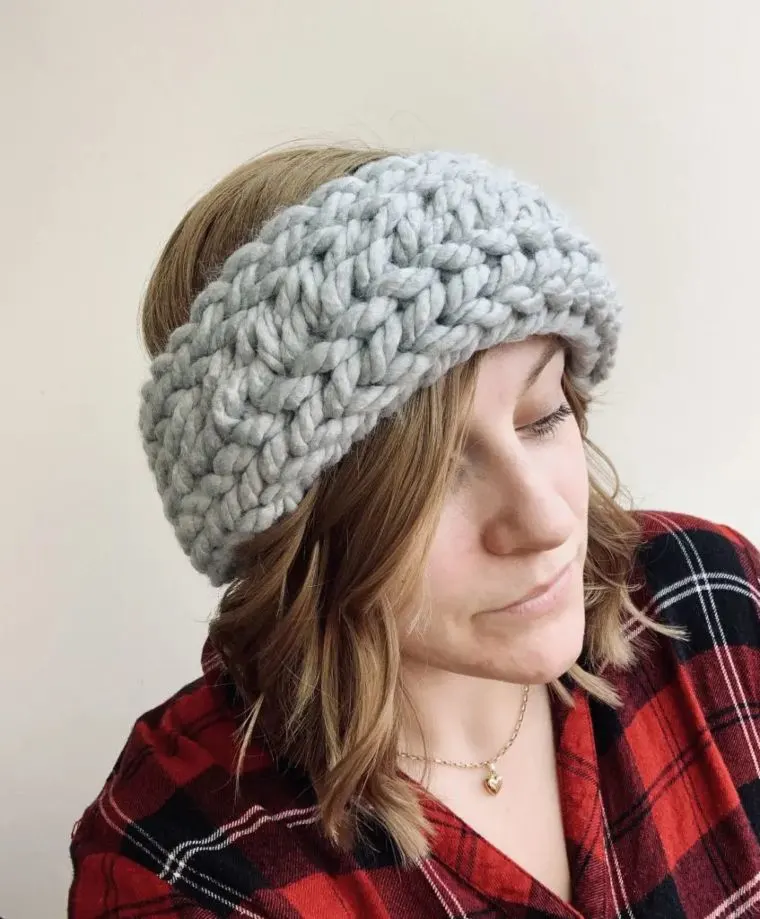 Credit: craftysewingsew.co.uk
Most knitted garments take forever to make, but these ear warmers are made using a finger knitting technique and chunky yarn. So, they're easy to make much faster than traditional knitted projects.
Make sure to pick up a chunky yarn like this (don't be mislead by the term' finger weight,' which denotes a fragile strand). Thinner strings will extend the time it takes to make these delightfully warm accessories.
4. Custom Glitter Tumblers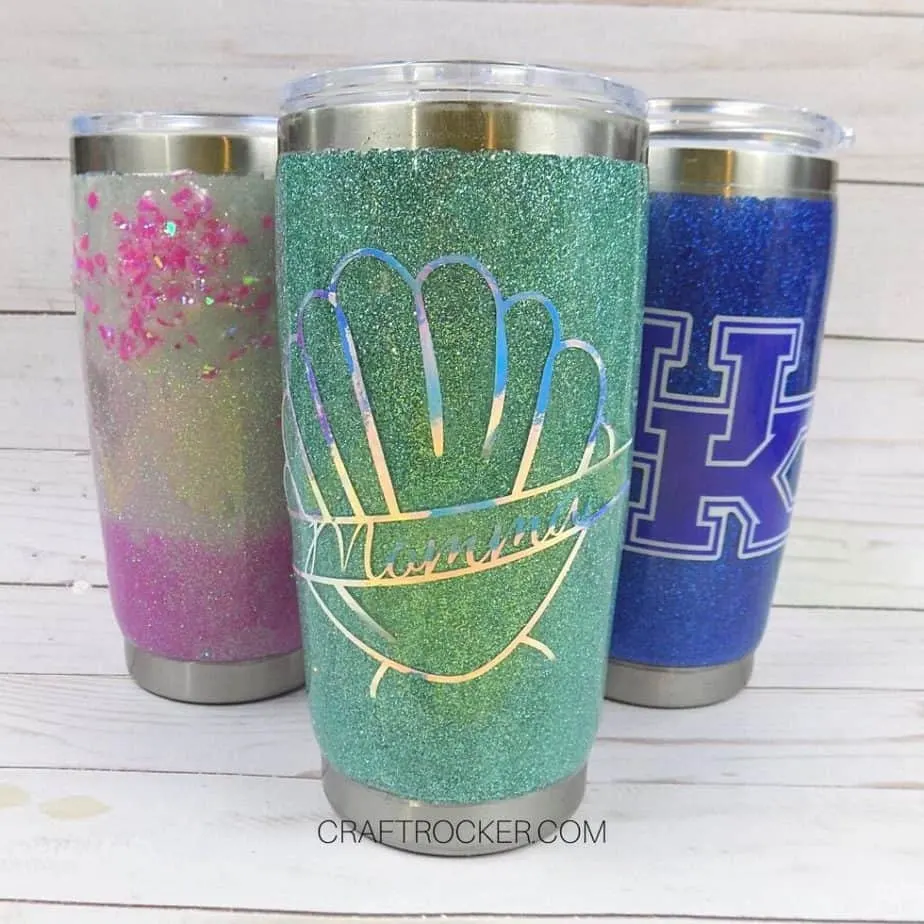 Credit: craftrocker.com
With sustainability becoming more important in the public mindset, many people are purchasing tumblers to use when ordering drinks or at the office. If you can make custom ones, you've cracked a whole market!
You'll need to order the tumblers in bulk, and make sure you choose a brand of sustainable glitter like this!
5. DIY Scrunchie Holders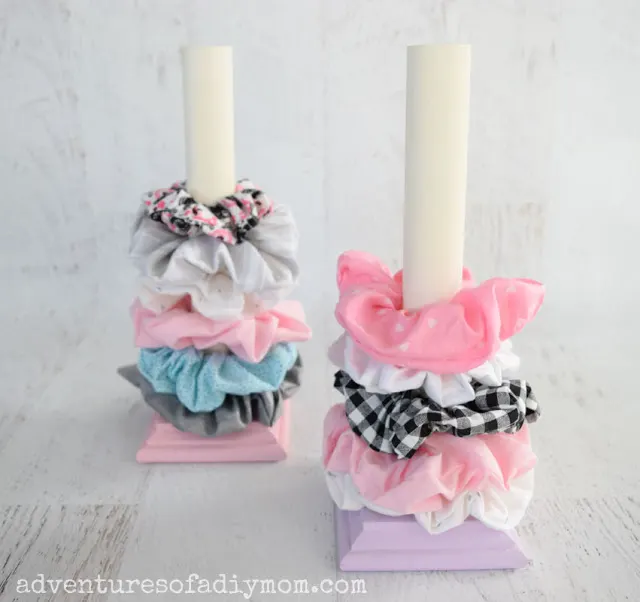 Credit: adventuresofadiymom.com
Anyone who loves to do their hair up with scrunchies will undoubtedly need a scrunchie holder, and that's where you come in. Make these quick, easy, and adorable scrunchie holders to sell online!
6. Colorful Wrapped Cuff Bracelet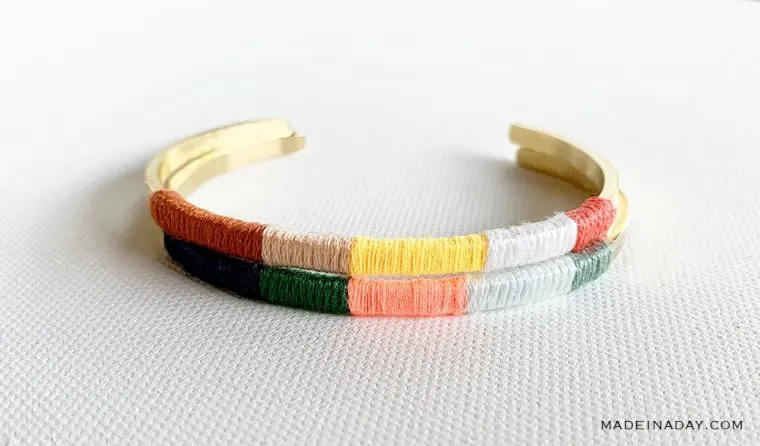 Credit: madeinaday.com
For all lovers of the bohemian-chic style, these wrapped cuff bracelets are a Godsend. If you're part of that community, tap into it by creating and selling these gorgeous accessories!
Thanks to the gold cuff bracelets, you can charge a premium price for these bracelets. Alternatively, go with a cheaper base and opt for quantity rather than golden quality.
7. Stunning Clay Leaf Dishes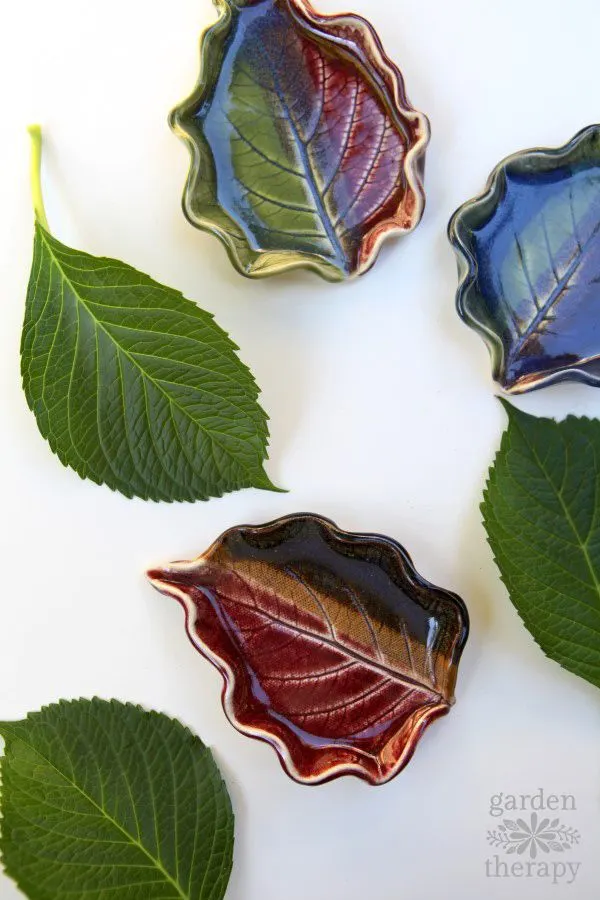 Credit: gardentherapy.ca
These clay leaf dishes are ideal for holding earrings, coins, and other miscellaneous items. The point is, everyone needs at least one of these little dishes in their home.
Thanks to these dishes' unique yet simplistic style, you can sell them to a broad audience and make a killing. Make sure you use air-dry clay (not kiln-dry) plus an appropriate sealer like this.
If you're looking for another, cheaper material to try, there's always salt dough!
8. Loop Texture Throw Pillow
Credit: itsalwaysautumn.com
This next idea is a home décor item with a lot of promise, offering a pop of color and texture that will have most homeowners salivating.
These are super easy to make with some loop yarn (here). I want one for sure!
9. DIY Pom-Pom Rug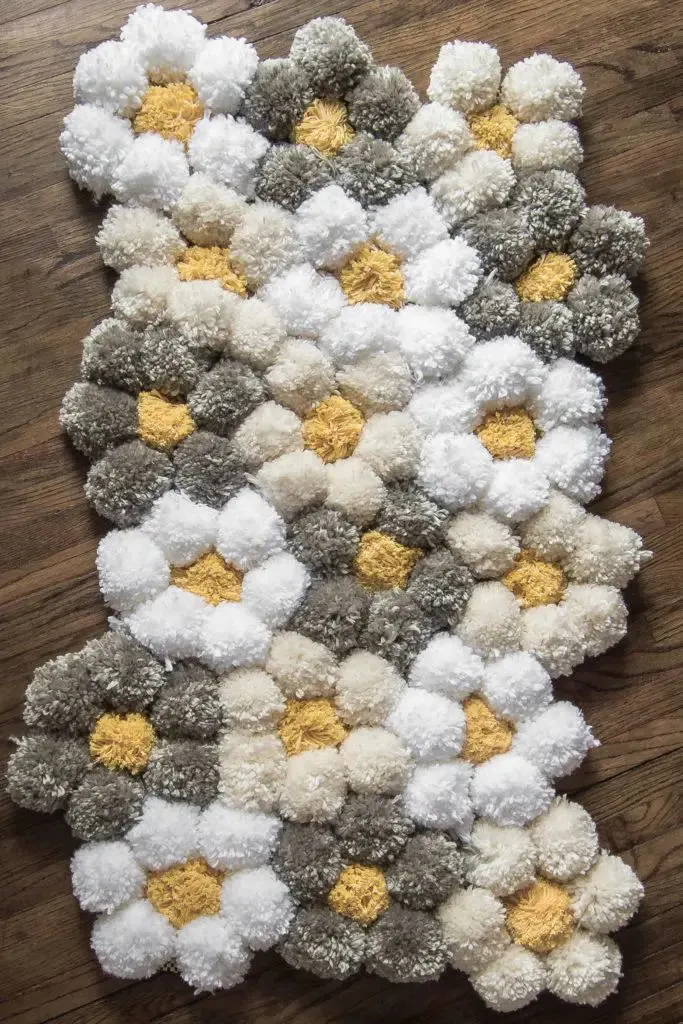 Credit: littleyellowwheelbarrow.com
Here's another home décor item that will sell like hotcakes. These adorable pom-pom rugs are plush and luxurious, but you won't have to dole out a lot of money to make each one, just time.
Thanks to the time it takes to craft these rugs, you can once again charge a premium price for this soft, comforting, adorable item. Offer customizable colors to really up your game!
10. Upcycled Headband from an Old T-Shirt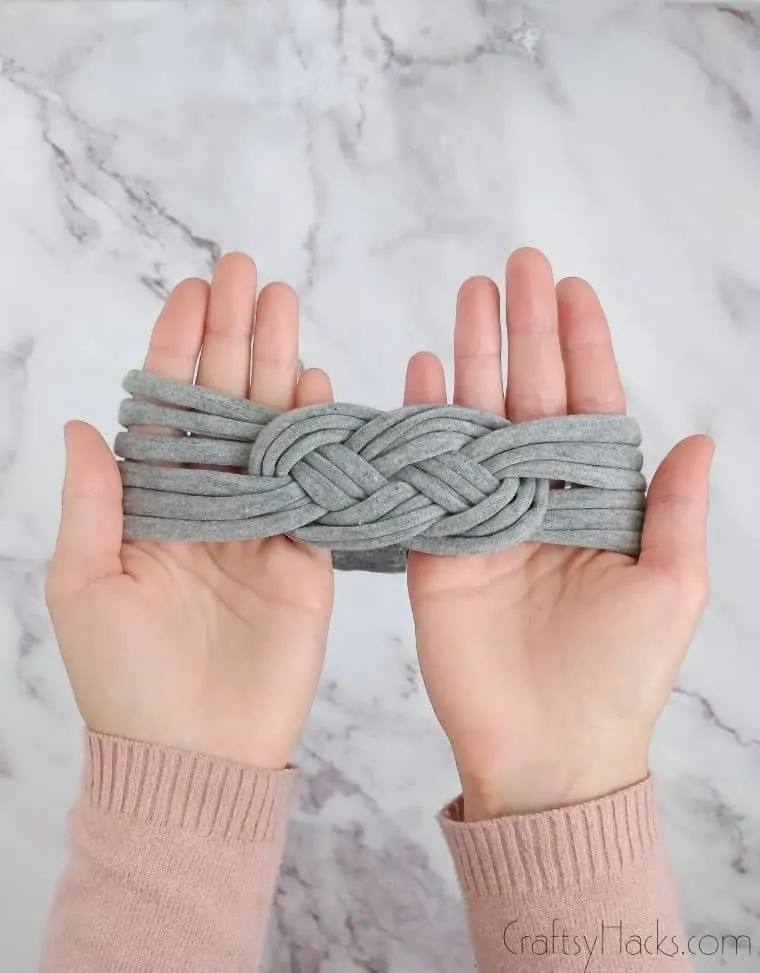 Credit: craftsyhacks.com
Old t-shirts are a fantastic medium to use for your products, as they're so easy to buy in bulk (for cheap) from thrift stores.
Speaking from experience, these headbands are quick and easy to whip up, and so stylish!
11. Ten-Minute Gemstone Soaps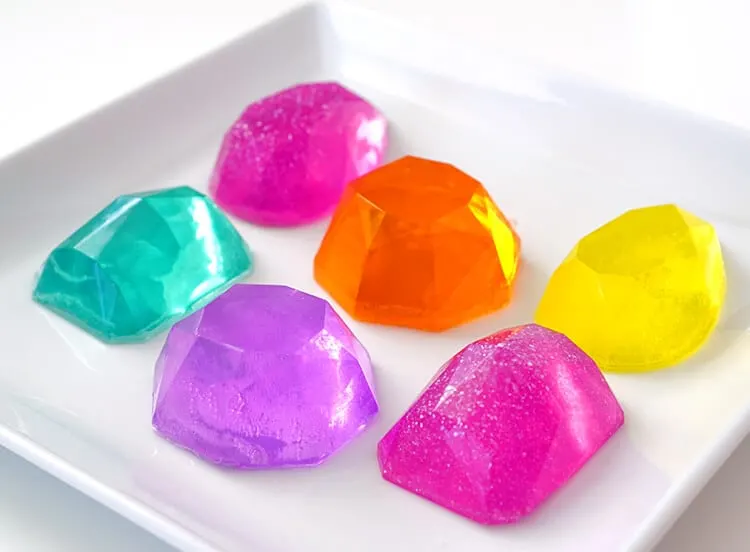 Credit: happinessishomemade.net
With self-care products dominating the market today, these tiny jewel soaps are the perfect item to sell. Whip up a single batch in under ten minutes, package in a bag, and proudly sell as adorable self-care aids.
You can easily buy a melt and pour soap kit to get started here. If you find the business is taking off, start buying in bulk to reduce your costs.
Speaking of self-care items, why not try adding any of these crafty mason jar gift ideas to each customer's first order as an incentive to buy?
12. Scandinavian Wall Art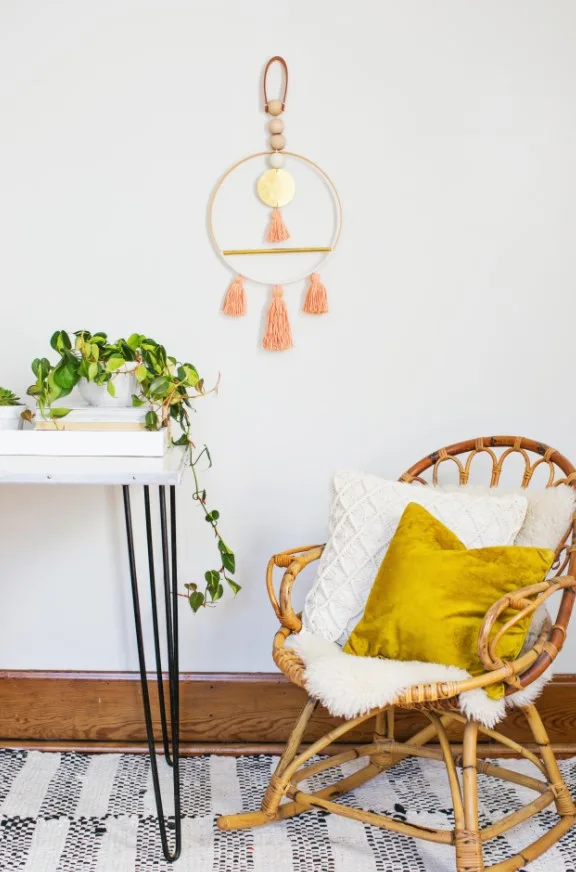 Credit: abeautifulmess.com
The Scandinavian aesthetic is founded in colorful minimalism, emphasizing strong shapes and defined lines with muted colors. This gorgeous wall art piece is so quick and easy to make in bulk numbers.
That's perfect for a small business idea!
13. Delicious Donut Bath Bombs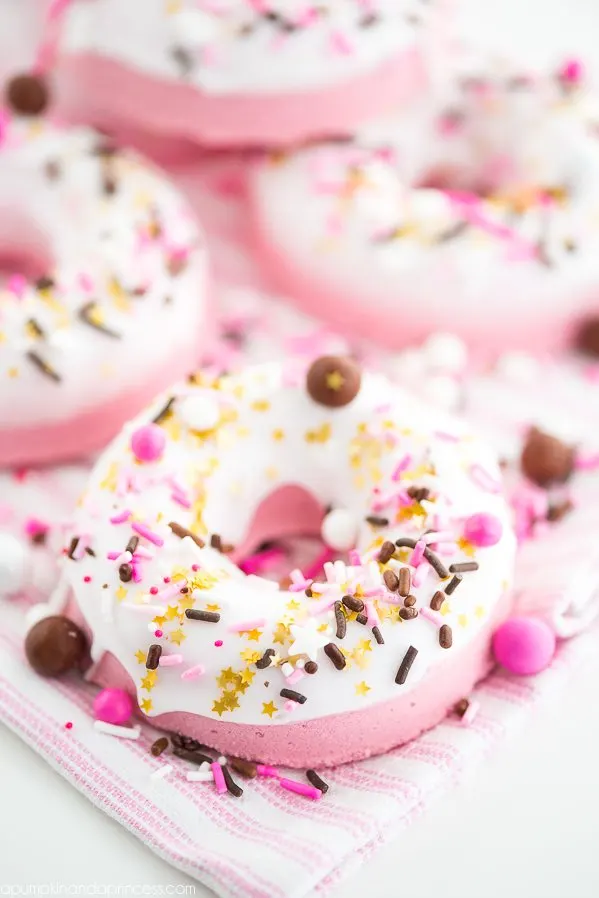 Credit: apumpkinandaprincess.com
Bath items are simple to make in bulk, plus you can sell each piece for a good price to make your money back (and then some) quickly. These donut bath bombs are particularly special because of how cute they are!
Using a few common bath bomb ingredients (plus these donut bath bomb molds), you can create large quantities in a single go. Wrap them up as prettily as possible, then market them to self-care lovers everywhere.
14. Cutesy Macrame Keychains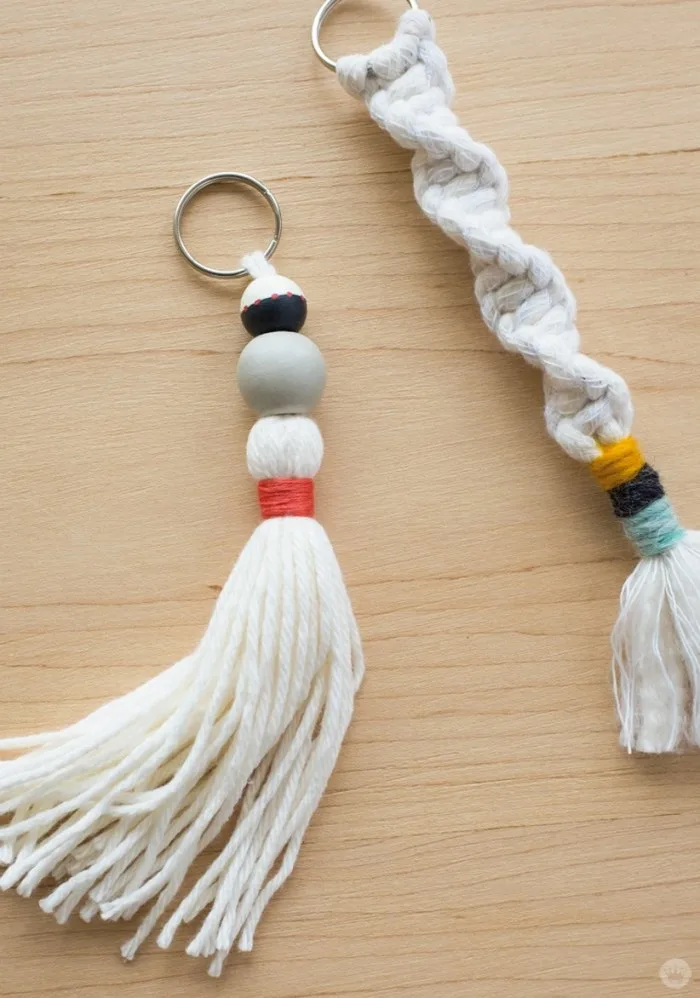 Credit: thinkmakeshareblog.com
Everyone in the world can have a keychain; these can be affixed to bags, hang from keys, or even loop through pants as an extra touch of style. Therefore, you have a wide audience to which you can market.
Grab a massive reel of macrame rope here and start weaving! You'll be a pro in no time.
15. Macrame Leaf Earrings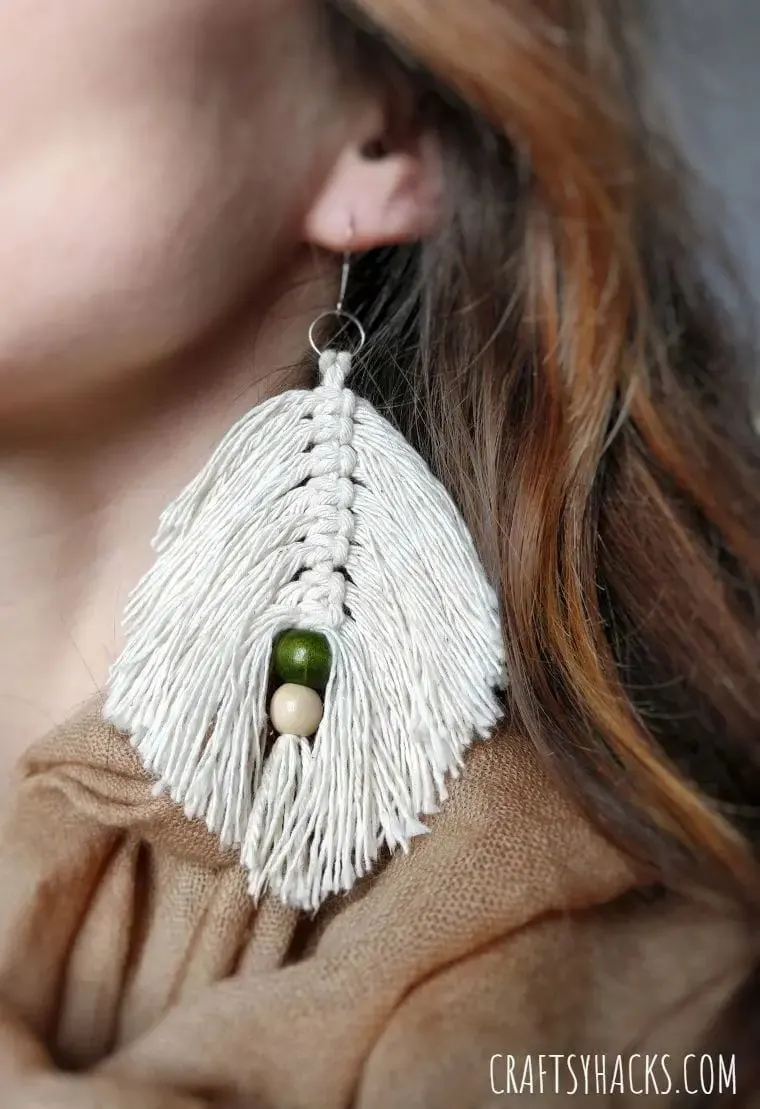 Credit: craftsyhacks.com
Speaking of using macrame, you can use it to craft these fabulous macrame leaf earrings (another one of my creations).
These are stylish and trendy enough to sell as professional items, plus they're fun to make!
16. Birthday Cake Bath Salts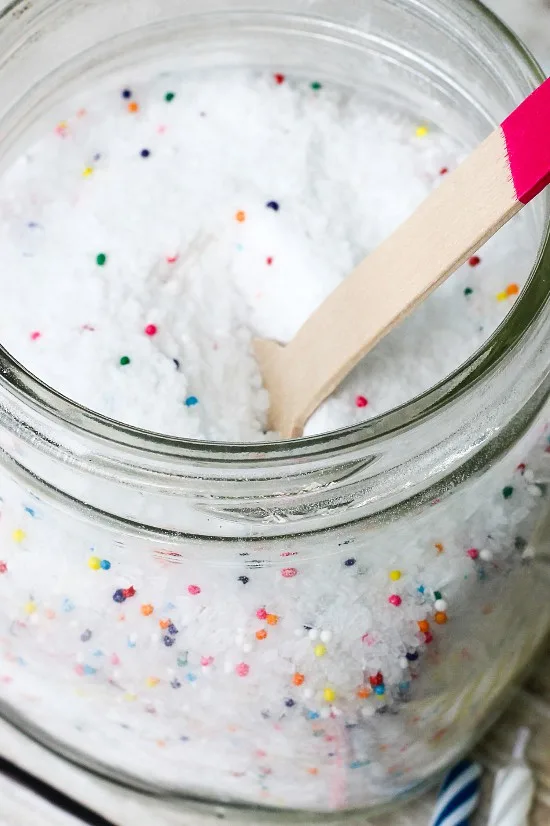 Credit: thegraciouswife.com
This is another bath-time product, but this one is even easier to make in bulk! Bath salts are fantastic to sell, as you don't even need to mold them; just store them in a jar, wrap, and you're good to go.
These birthday cake bath salts are great to market as a gift. However, they're also great for anyone who enjoys the smell. Namely, this smell.
17. Custom Wooden Heart Keychains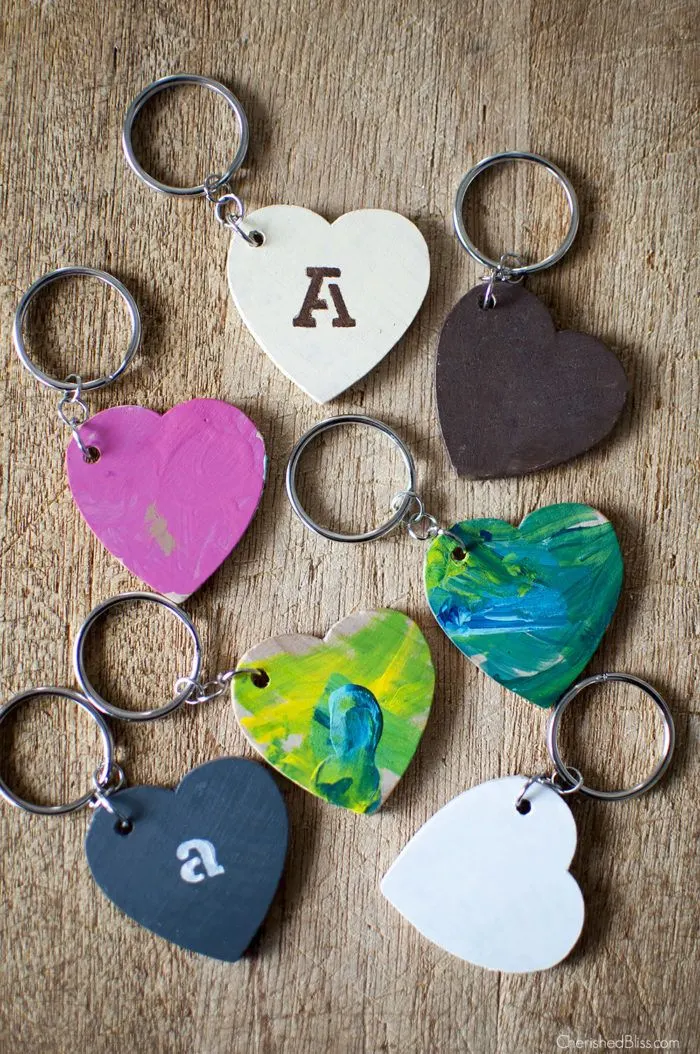 Credit: cherishedbliss.com
To potential customers, there's almost nothing better than getting to put their initials on a product. It personalizes the purchase, making a heartfelt gift that much more special. Enter these wooden hearts.
With a collection of wooden heart cutouts (here), some keychain rings, and a single set of stamps (here), you'll be set for a while.
18. Clear Watercolor Mugs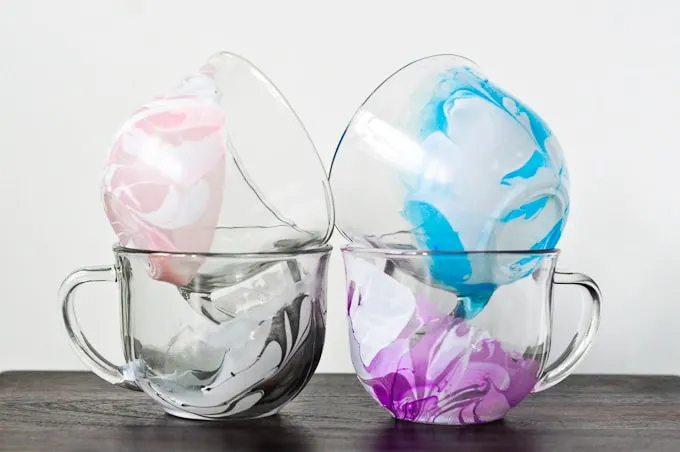 Credit: keystoinspiration.com
These watercolor mugs are stunning. Anyone would be proud to have them as an addition to their homeware collection!
That ensures—along with how simple they are to make—they're great for business.
19. Gold-Rimmed Jewelry Dishes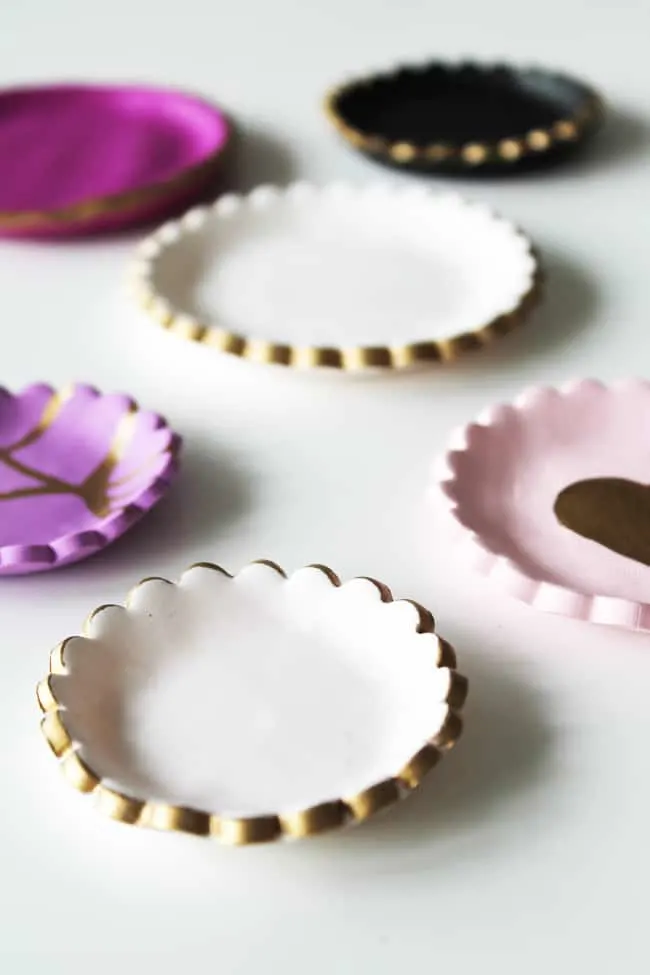 Credit: helloglow.co
This is a more glamorous take on the clay dishes from earlier. You can make these dishes with oven hardening or air-drying clay, whichever you prefer, and you'll need a gold leaf pen (here) to finish them.
I love how simple yet glamorous these stunners look. They're perfect for any bathroom or bedroom.
20. Living Space Lantern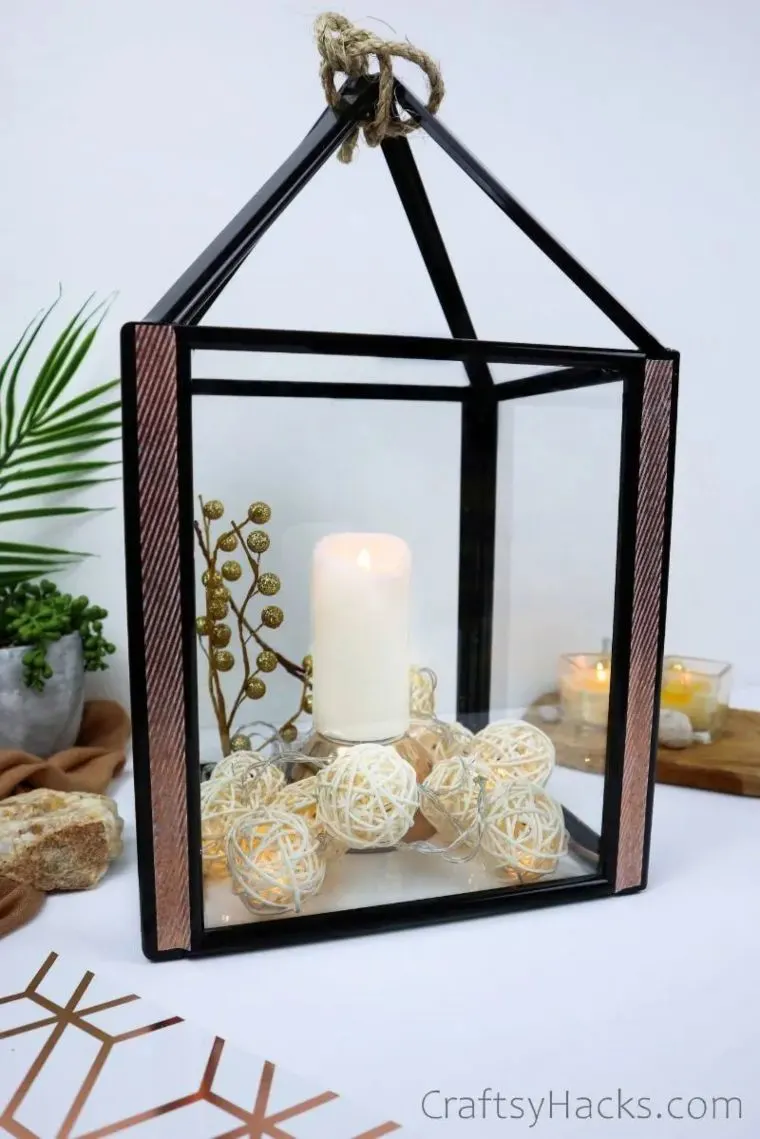 Credit: craftsyhacks.com
These lanterns are elegant when displayed in any common area, so your customer will happily pay for the glamor. That said, they cost barely anything to make. All the supplies are from the dollar store!
Suppose you want to expedite the crafting process. In that case, I recommend spray painting your frame pieces in bulk rather than individually decorating with washi tape.
This spray paint is perfect for the project.
21. Gold-Rimmed Mini Succulent Planters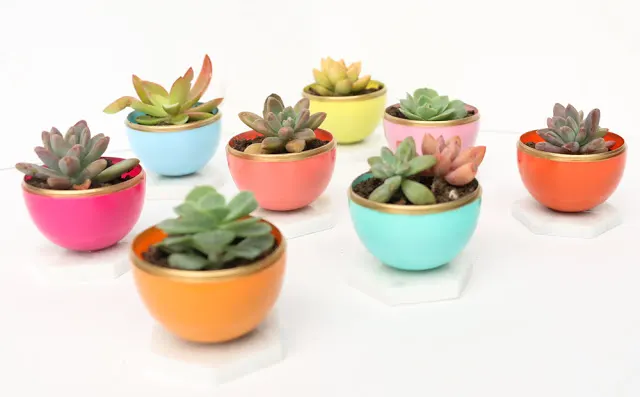 Credit: akailochiclife.com
Next up, here's another craft your customers can enjoy in their various living spaces. These mini succulent planters are absolutely adorable in any corner of the house!
If you're looking for a large-scale option to market to your customers, any of these twenty budget-friendly planter ideas will work!
22. Cricut Welcome Doormat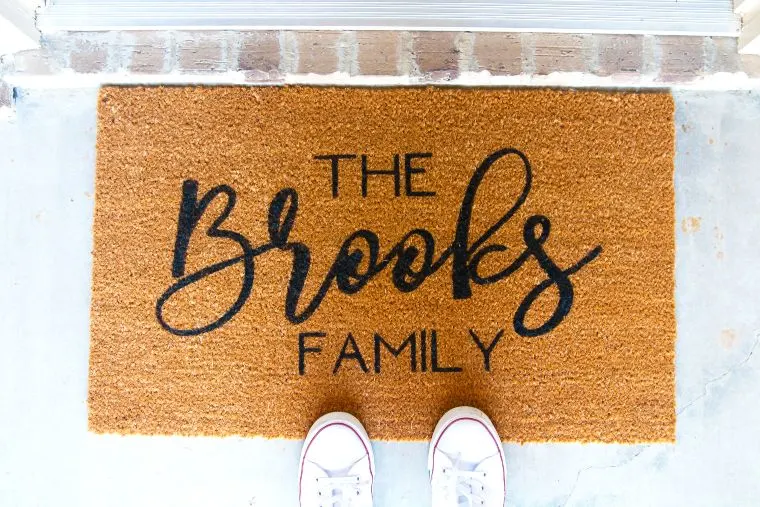 Credit: glitterandgraze.com
If you don't already own a Cricut machine, you'll need to invest in one for this next project to get off the ground. That said, the Cricut (here) is such a versatile machine; you can make many other products with it.
As mentioned previously, customized products sell like nobody's business. You'll have orders flying in for these personalized doormats!
23. Galaxy Marble Drink Coasters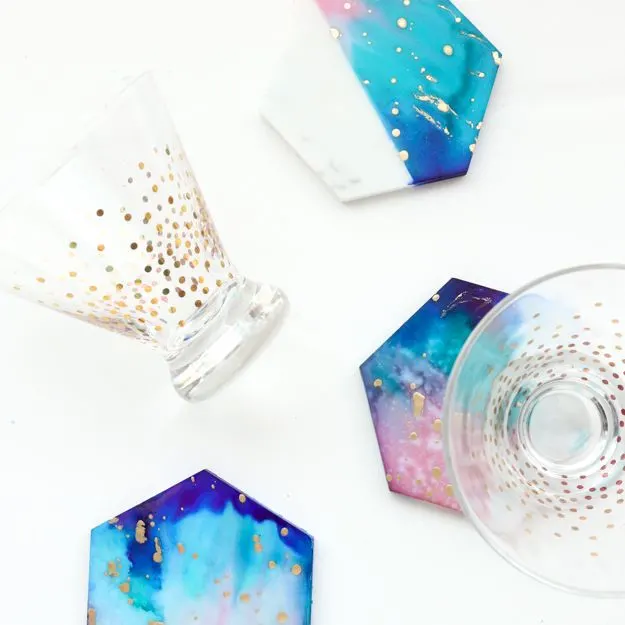 Credit: akailochiclife.com
Half galaxy-themed and half elegant marble, these drink coasters are the best of both worlds.
Catch your customer's eye with this unique design, which is both fast and budget-friendly to make yourself.
24. Rainbow Bubbling Bath Truffles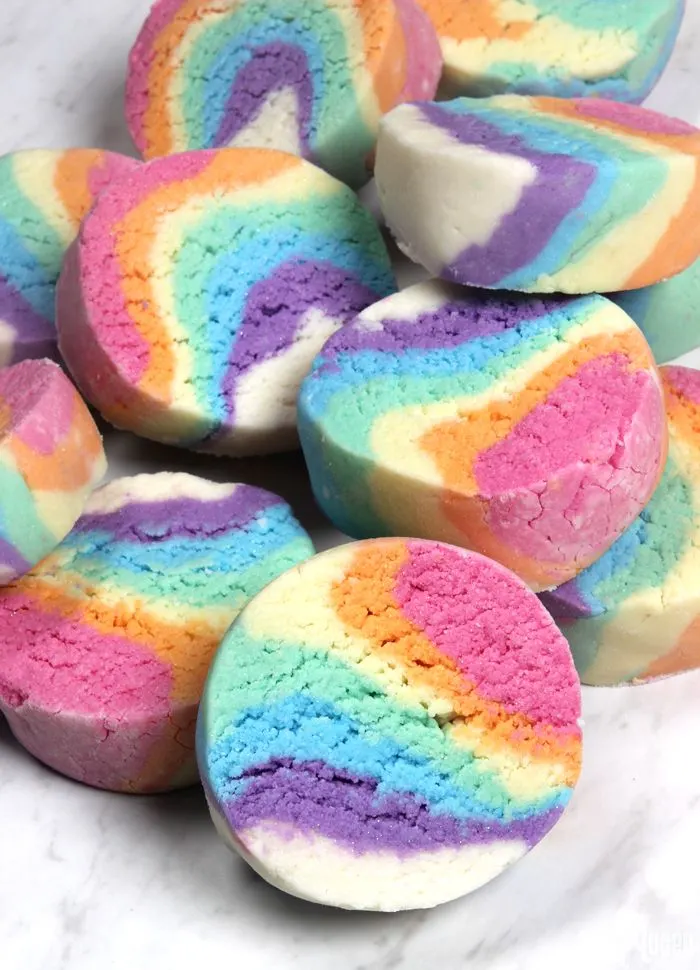 Credit: soapqueen.com
There are bath salts, bath bombs, and then there are bath truffles. These luxurious self-care products emphasize skin-loving body butter, so you can market these as more of a bath-time moisturizer.
I'd recommend choosing these for your business if you already have some supplies on hand, as the ingredients list is extensive.
25. Adorable Kids' Pencil Cases
Credit: craftsyhacks.com
There are parents everywhere looking for a cheap, sustainable, and practical pencil case their child will love taking to school. That's where you come in!
The original craft uses toilet rolls as its base, but if you're looking to craft the cases with something sturdier, you can always use craft foam (grab some here).
26. Handmade Scrunchies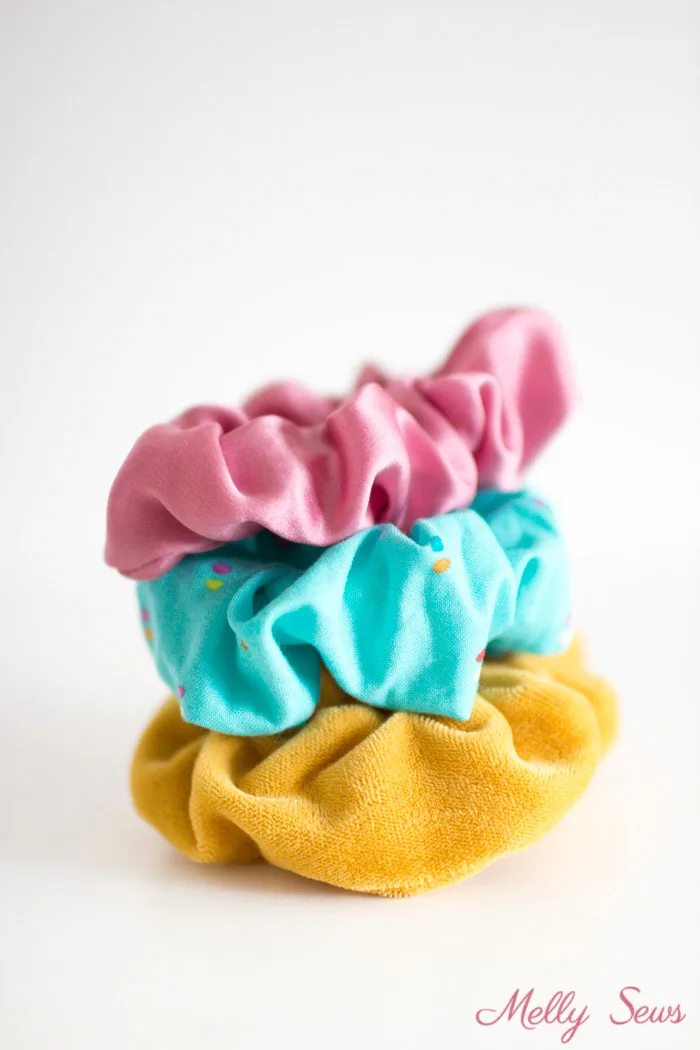 Credit: mellysews.com
These days, scrunchies are having a comeback as a must-have accessory (not just for kids). In fact, scrunchies made from materials like velvet, suede, and faux leather are getting into the adult scene.
Knowing how to make a scrunchie by hand will open a lot of doors for your side hustle. Requiring very little material and elastic (here), these hair accessories are great when sold in packs.
27. Miniature Handwarmers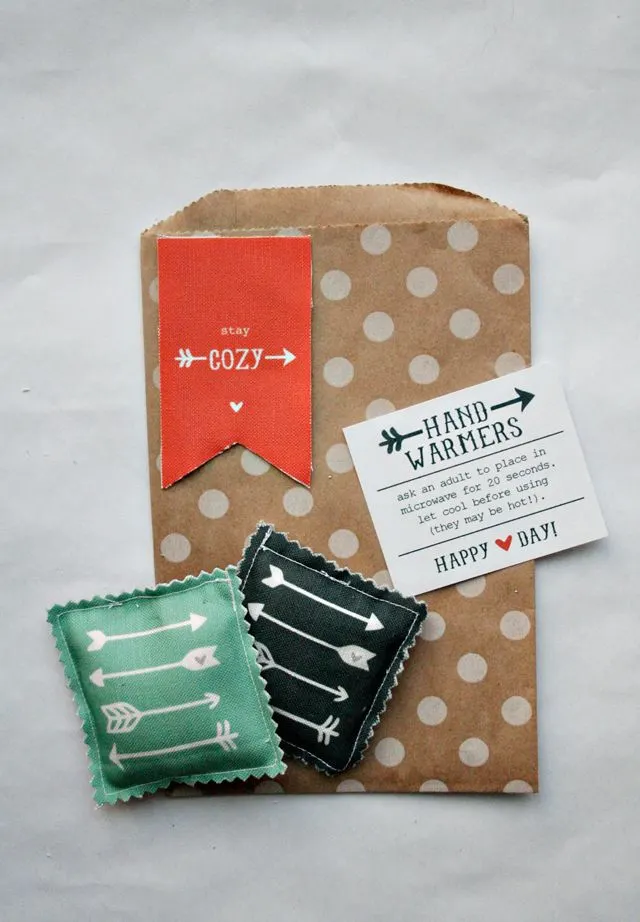 Credit: spoonflower.com
When the cold season approaches, there's nothing anyone wants more than warm hands. With these adorable (and customizable) hand warmers, you'll have a lot of customers knocking on your door.
Market these as gifts around Christmastime, or simply sell them year-round to combat period pain, sore joints, and other ailments.
28. Round Macrame Boho Coasters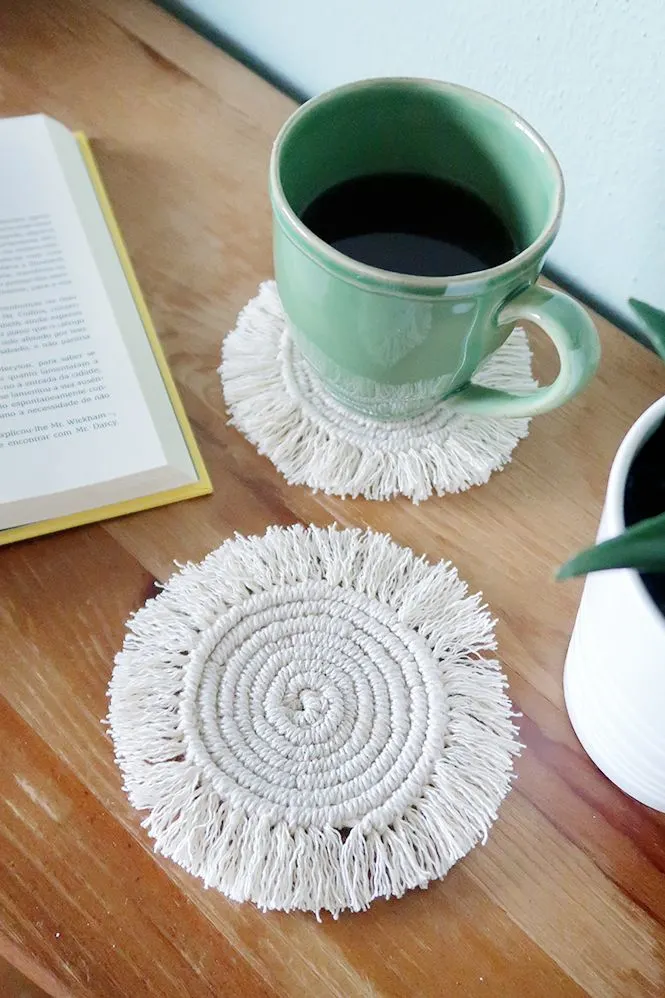 Credit: curlymade.pt
These boho coasters are absolutely gorgeous, using a similar technique to my rope coaster DIY to create beachy, frilly, extremely pleasing coasters. Larger ones can also be used under vases or as pot stands!
29. Pom-Pom Garland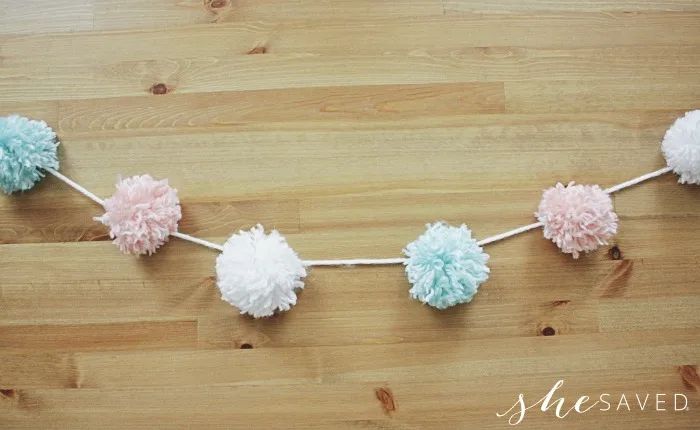 Credit: shesaved.com
Whether it's for a teenager's bedroom or a birthday party, these pom-pom garlands will definitely attract your customer's eye.
A pom-pom maker (here) will make the crafting process much faster, trust me.
30. Handmade Felt Bookmark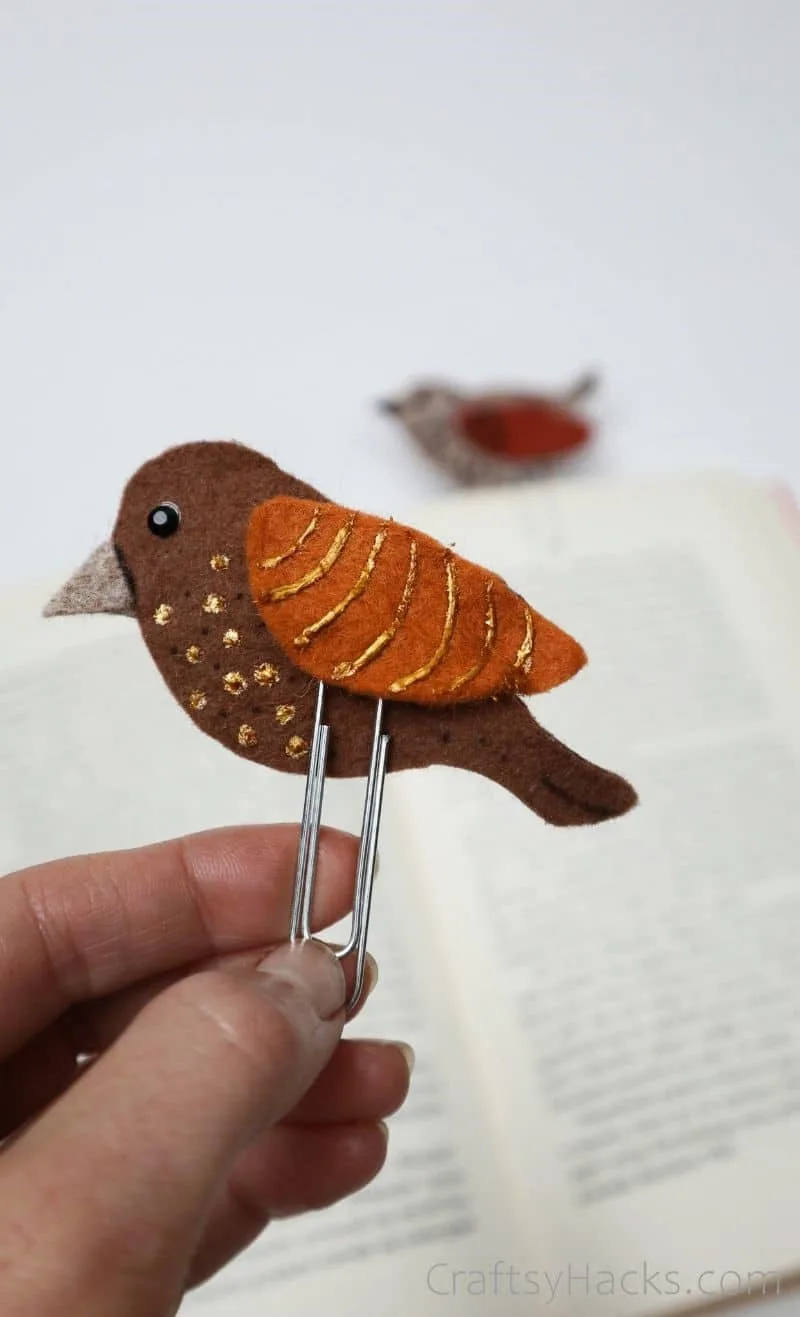 Credit: craftsyhacks.com
For all the bookworms out there who love to personalize their reading experiences, these felt bookmarks will go down a treat. Needing only paper clips and some felt (here), you can make these very easily.
Create a set range of bookmarks to sell or offer customized bookmarks to true reading enthusiasts; the business model is up to you.
31. Wooden Bead Garland with Tassels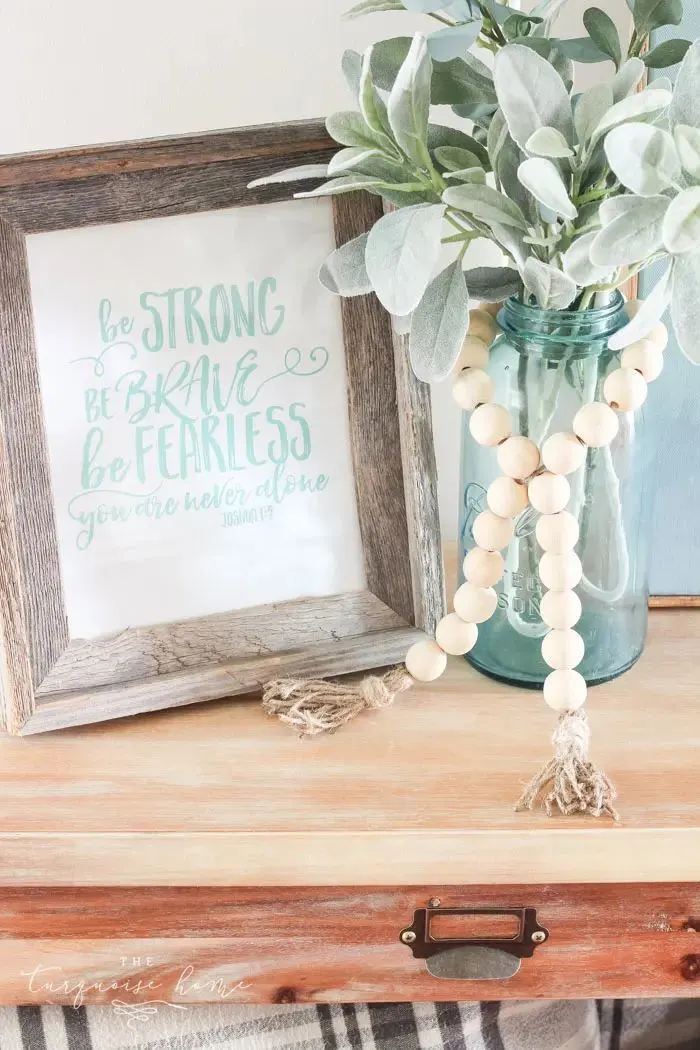 Credit: theturquoisehome.com
Each of these wooden bead garlands takes about ten minutes to crank out, so you can create an entire inventory to sell in less than a day!
Not to mention, they're perfect for the boho lovers out there.
32. Yarn-Wrapped Ombre Letter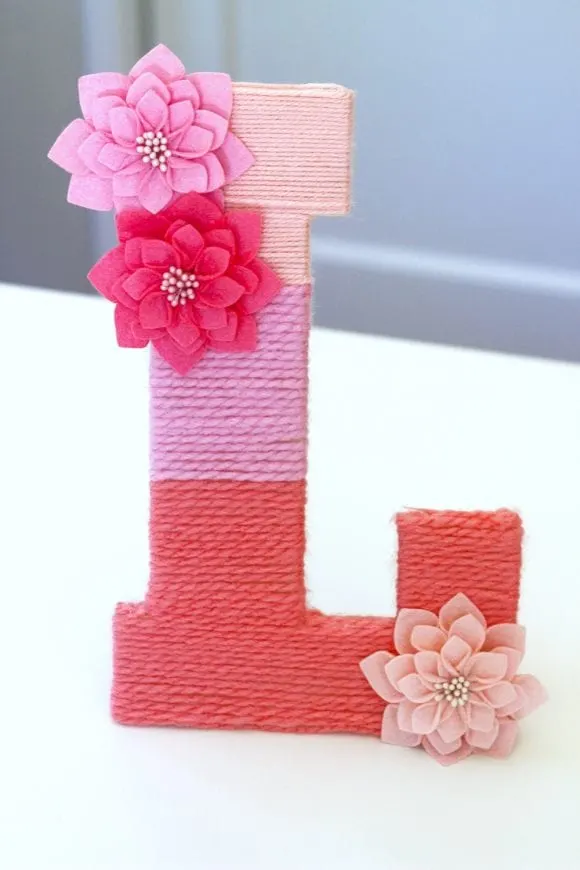 Credit: catchmyparty.com
I've said it before, and I'll repeat it; personalization sells. These monogrammed letters are the perfect bedroom door decoration, so offer your customers their choice of color scheme and letter (here).
Each one takes less than an hour to make, but the result looks like it was made by a consummate professional (which you will be after completing a few).
33. Terracotta-Potted Citronella Candles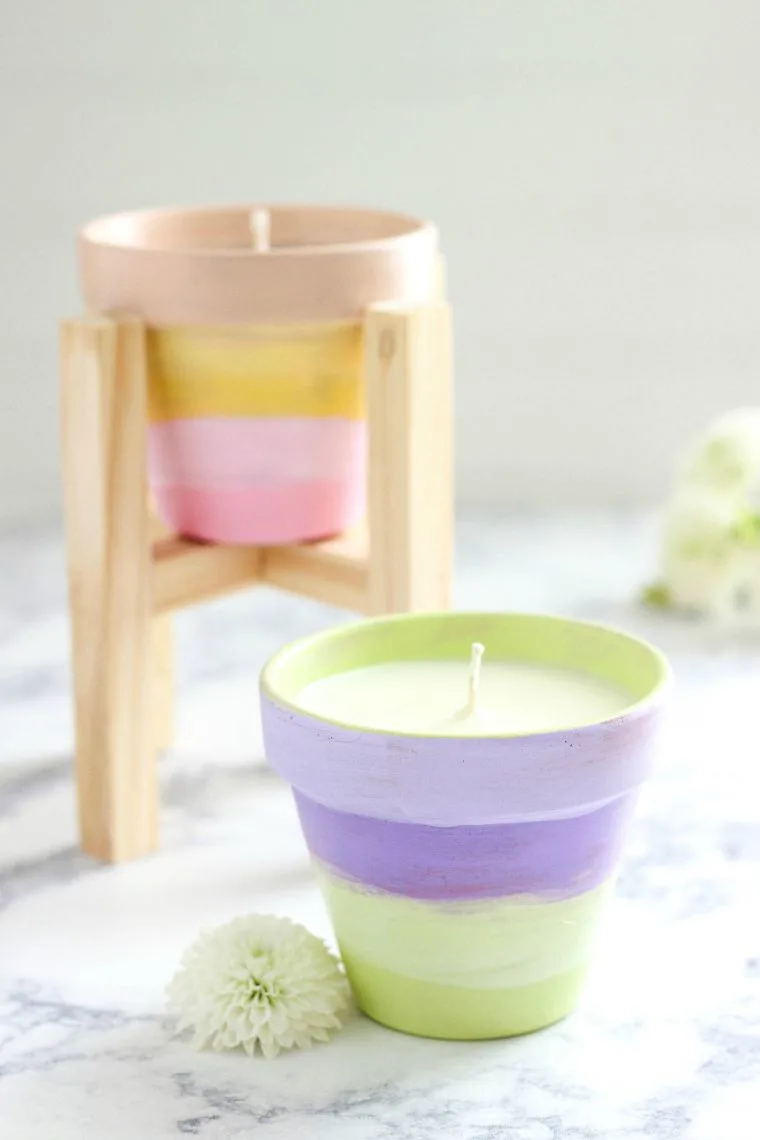 Credit: purelykatie.com
On their own, citronella candles are fantastic to have around the house, thanks to their bug repelling properties. In combination with these adorably painted terracotta pots, you won't be able to keep up with orders.
The candles are super easy to make, requiring only a melt and pour soap base and some citronella essential oil (here). Pour the mixture into the painted pot and let it cure before wrapping it up.
34. Embroidery Hoop Pocket Wreath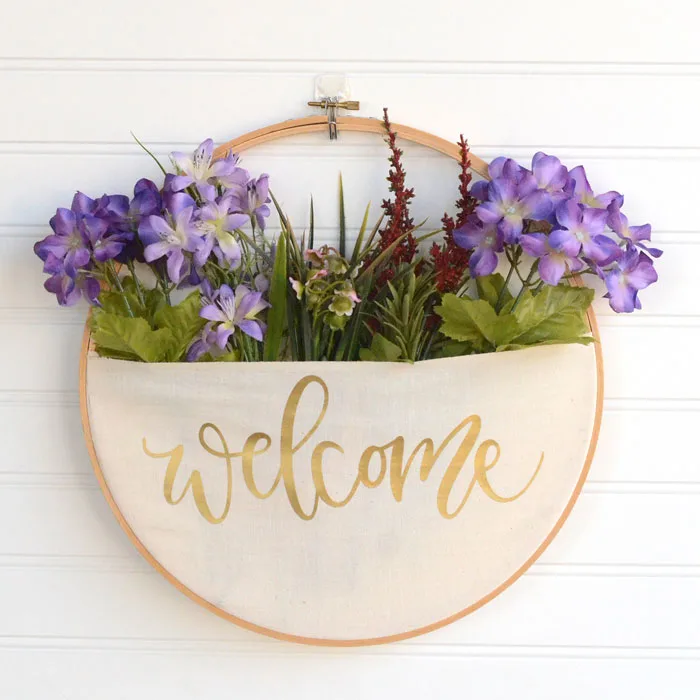 Credit: orangebettie.com
I can't get over how much I want one of these pocket wreaths, and I guarantee your customers will be in the same boat. With this to greet them at the front door, it'll be impossible to stay in a bad mood!
The pocket's size is perfect for storing freshly-picked flowers in the living room, but it can also work as an herb dryer in the kitchen. Depending on the size of the hoop (here), you can change the pocket's depth.
35. Pom-Pom Wall Hanging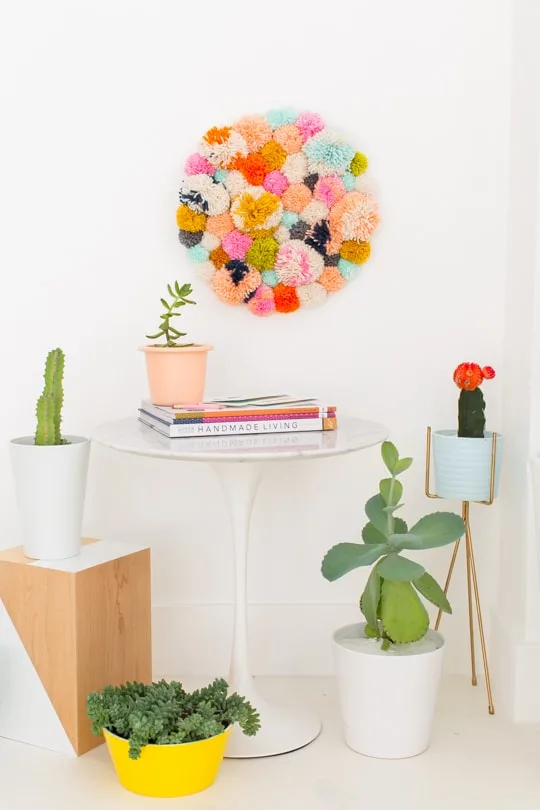 Credit: sugarandcloth.com
Our next craft project reflects the pom-pom rug from earlier in this list. Except, this time, it's living on the wall! With the right color combinations, this is a gorgeous wall hanging guaranteed to elevate a room.
Instead of a flexible medium to create a rug, you'll use a wooden round as the piece's base (find them here). Stick each pom-pom in place, taking care to overlap them, and create that 'puffed' effect.
36. Wooden Bead Wreath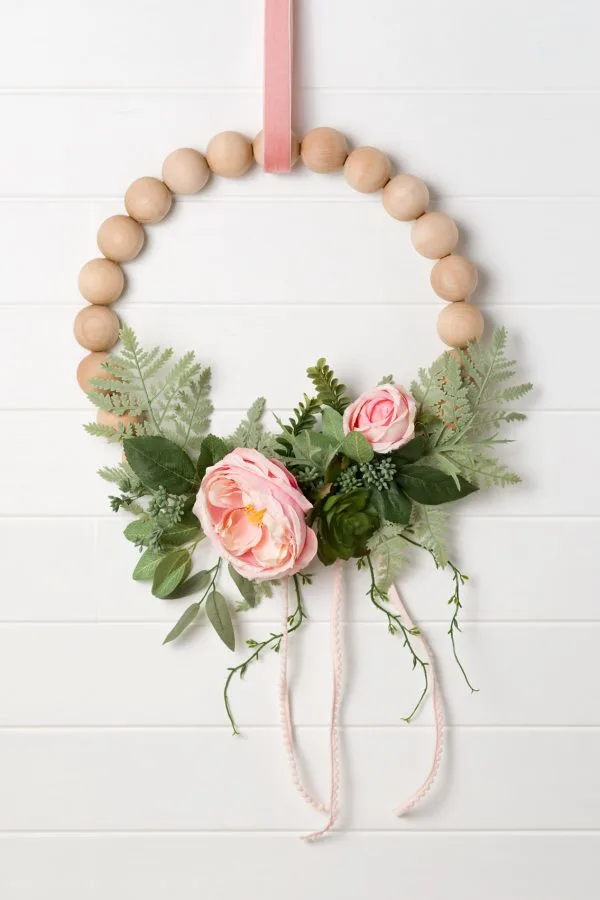 Credit: kippiathome.com
Unlike holiday wreaths—which you can only sell for a few weeks out of the year—these wooden bead wreaths are perfect for selling year-round. The cutesy look is ideal for those in love with florals!
It might be challenging to sell the wreath with real flowers. However, using silk flower arrangements like this, you can create the same effect without the hassle of the flowers eventually withering away.
37. Fired Alcohol Ink Art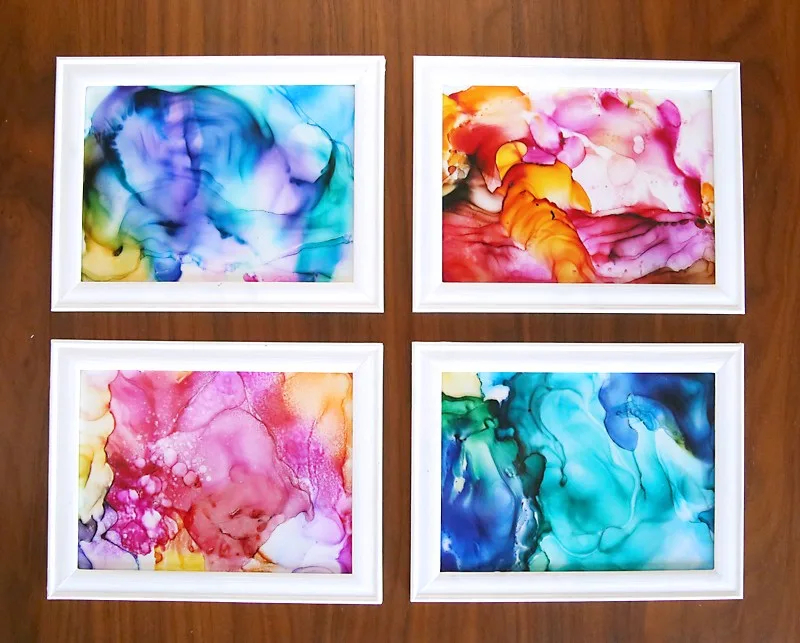 Credit: itsalwaysautumn.com
Finally, our last craft pays homage to color in all its forms. These white-framed pops of color will be welcome on any homeowner's wall, and as a business owner, you'll be happy to know they're simple to craft!
Now, if you're younger than 21, you'll have some trouble getting the required ingredients for this hack. If you do, make sure you're incredibly careful, as this craft does involve the use of fire.
Create large focus pieces or multiple coinciding pieces to sell in sets. Most importantly, enjoy their popularity!
Conclusion
Why are you looking to make and sell a craft? Have you gotten some inspiration from any of the items on this list? Let us all know your business name in the comments so we can check you out.
Thanks for reading. I'll see you next time!