Crafting can be so fun! These little crafts are perfect for girls to make, they're cute, colorful, and relatively easy.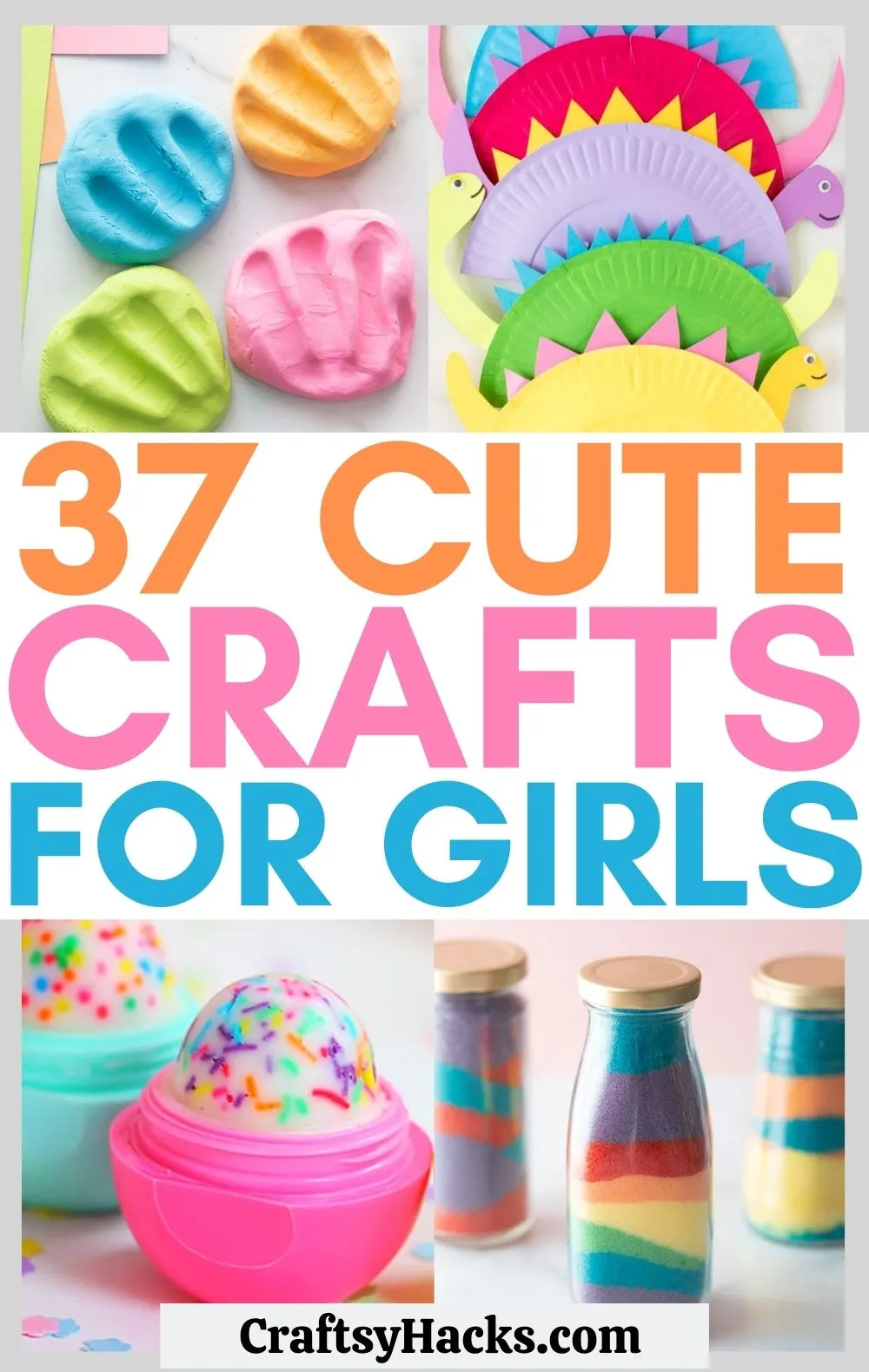 Crafting is an excellent way for girls to connect to the different sides living within them. Additionally, taking on projects alone helps them build independence from a young age, which is essential!
While gender doesn't dictate which crafts children can try, the arts on this list are ones that I think would suit young or teenage girls' interests. So, without any further ado, let's get into the list!
1. Adorable Fish Craft
Credit: craftsyhacks.com
Let's begin our list with a trip under the sea. If your daughter is a budding marine biologist, or if she loves the idea of being a mermaid, then these fish are perfect!
Create a whole school of them along with her, then use the fish to decorate her room as if it's underwater. How special and creative is that?
2. Outdoor Painted Fairy Houses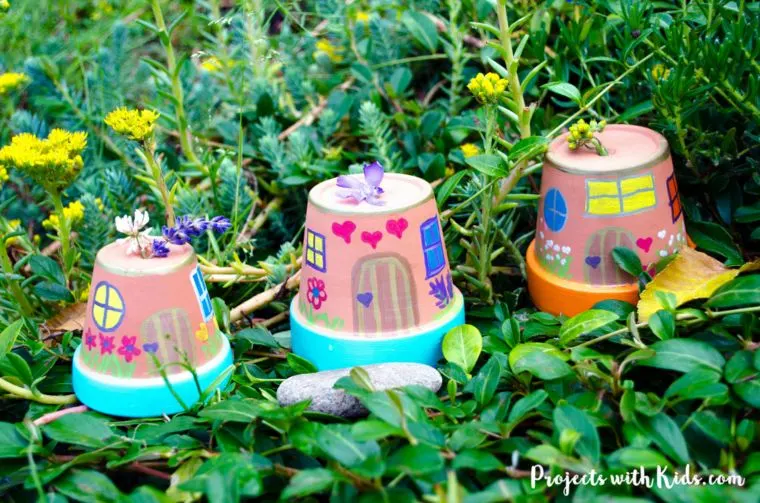 Credit: projectswithkids.com
When I was a little girl, I was fascinated by the fairies I thought lived in the garden like so many other little girls are these days. Bring your little one's imagination to life with these adorable painted fairy houses.
Create an entire village with this bulk pack of terracotta pots! Ensure to spray these with clear acrylic (here) to keep the fairies safe and dry in wet weather.
3. Pop-Up Flower Card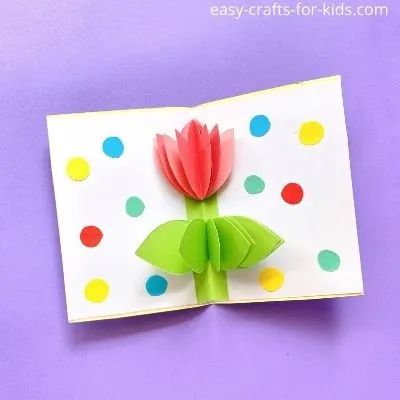 Credit: easy-crafts-for-kids.com
There's nothing more special for family members than receiving a handmade card from one of the family children. Teach your daughter how to make these pop-up flower cards, and she'll use them for every occasion!
Need something in which to keep it? This DIY paper envelope is ideally suited to the task.
4. DIY Sharpie Mug Bird Feeder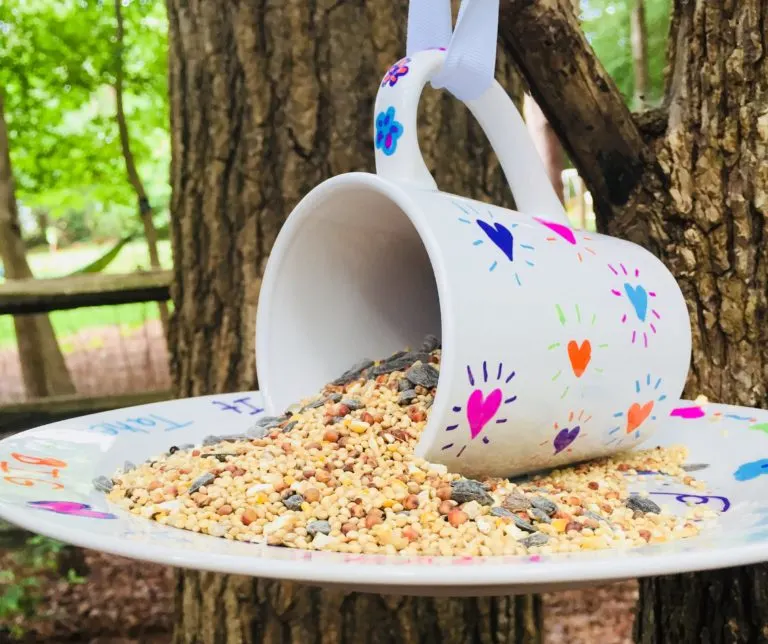 Credit: glitteronadime.com
Making a bird feeder with your daughter is a fantastic way to teach her all about birds. These animals are essential to our way of life and knowing how to contribute to their care is an important developmental step.
All you need to create the bird feeder is an old white mug and some colorful Sharpies. The main attraction (at least to the birds) is the delicious birdseed just waiting to be gobbled up. Find some here.
5. Shimmering Personalized Mermaid Wall Decor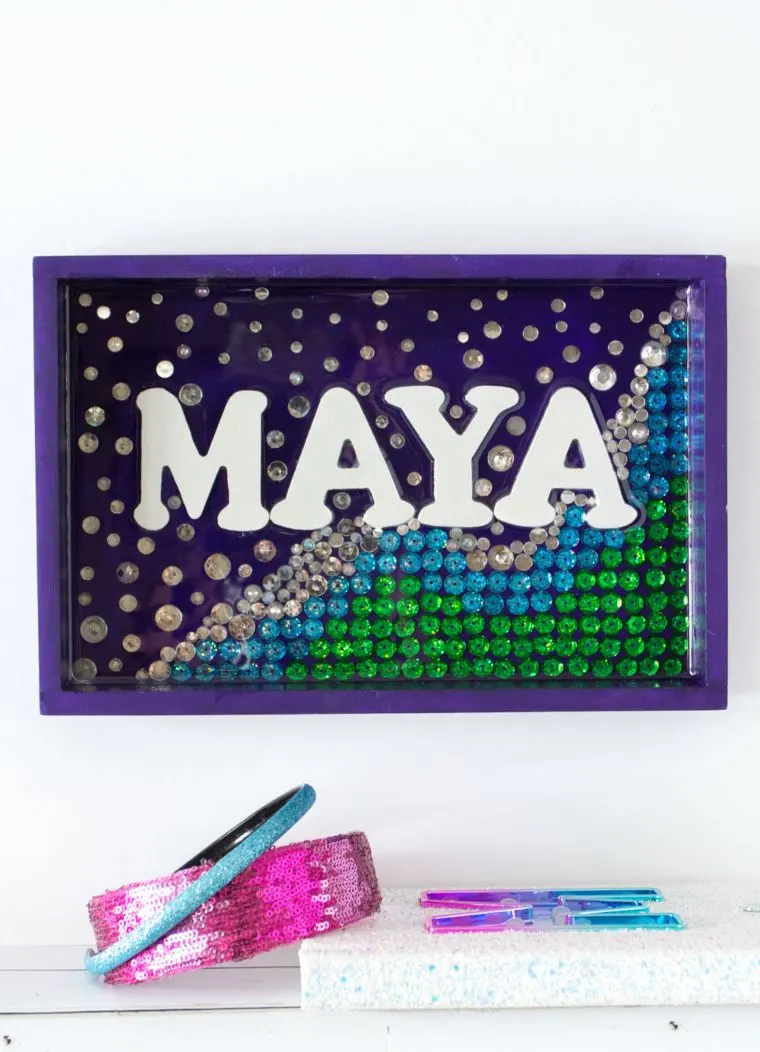 Credit: sustainmycrafthabit.com
Whether it finds a home on her door or her wall, this shimmering homage to mermaids will make your daughter squeal with delight. Sit down with her to create the sign's layout but work with the resin yourself.
Depending on her age, she might be able to help you with mixing and pouring the resin into the frame. That said, make sure she understands how messy resin can be and that it should never get near the eyes.
Grab your resin kit here!
6. Printable Unicorn Headband Craft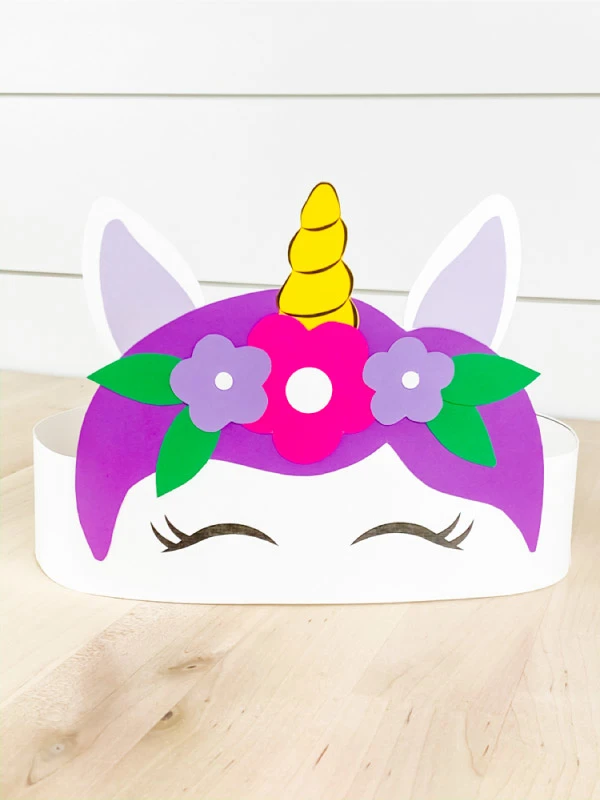 Credit: simpleeverydaymom.com
If your daughter has a birthday coming up, this could be the perfect craft to do at her party! The components are easy to prepare beforehand, and you don't need to worry about making a mess.
Center the entire party around a unicorn theme for a holistic theme! If you need any other unicorn ideas, I have you covered with this extensive list of delightful unicorn craft ideas.
7. Craft Stick Ballerina Figure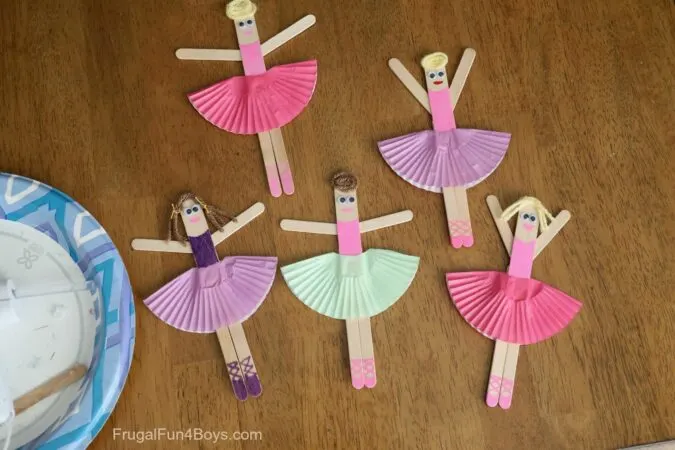 Credit: frugalfun4boys.com
These adorable ballerinas are perfect for decorating the wall of your daughter's bedroom. You can support her dreams of ballerina stardom and get her involved with ballet history through this craft!
Luckily, these ballerinas need very few supplies to come to life. Ensure you have a hearty collection of popsicle sticks (here), and bring these ballerinas to life.
8. Craft Stick & Button Dragonfly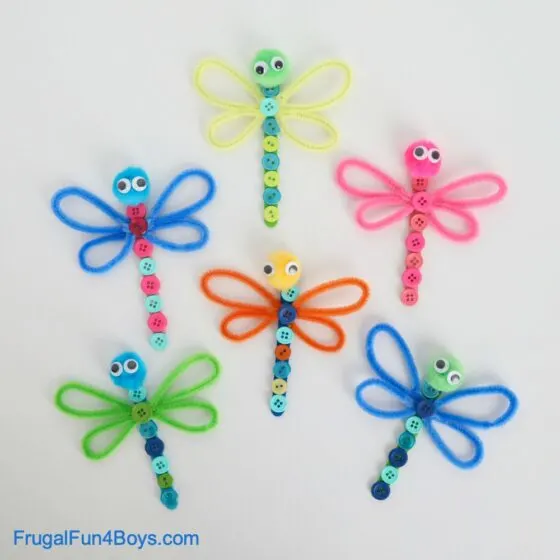 Credit: frugalfun4boys.com
Speaking of craft sticks, use some of that vast craft stick collection to create these gorgeous dragonflies with your little girl. Nix those fears of bugs straight away by showing her how cool and exciting they are!
9. Paper Clip & Felt Bookmark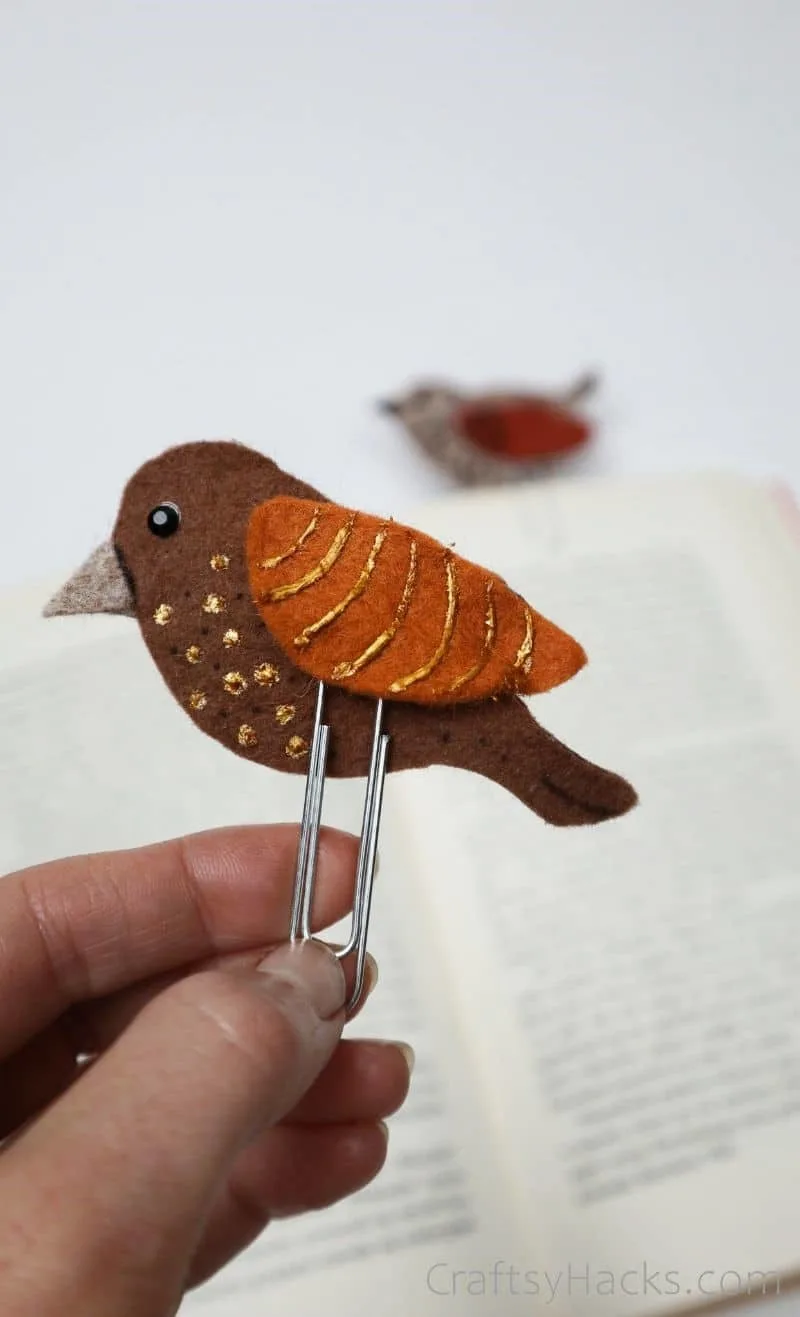 Credit: craftsyhacks.com
Many young girls show early signs of being a bookworm, which is a great sign for their development! Encourage that interest with these adorable felt bookmarks, each one mounted on a paper clip.
10. DIY Puffy Paint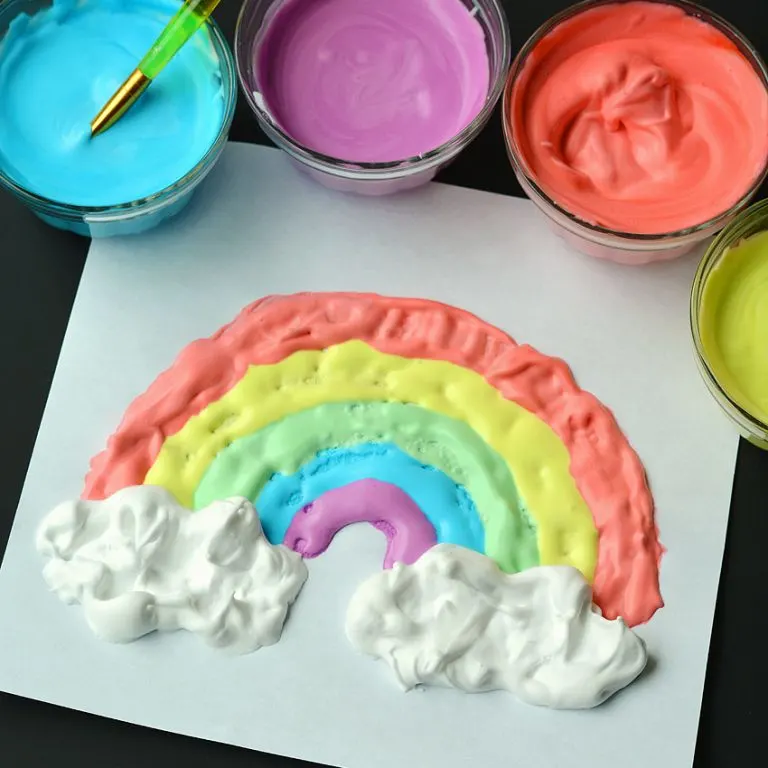 Credit: onelittleproject.com
In my opinion, puffy paint is one of the most remarkable mediums you can craft with. It's so much fun to paint with. Plus, the art projects that come out of it are some of the best. Did you know you can make it?
This is a wonderful DIY project to undertake with your little girl. As you're mixing, go in-depth about the science and chemistry behind the paint's puffiness. Kids learn better with practical examples like this!
Make sure you have plenty of Elmer's glue on hand for this one (here).
11. DIY Cloud Dough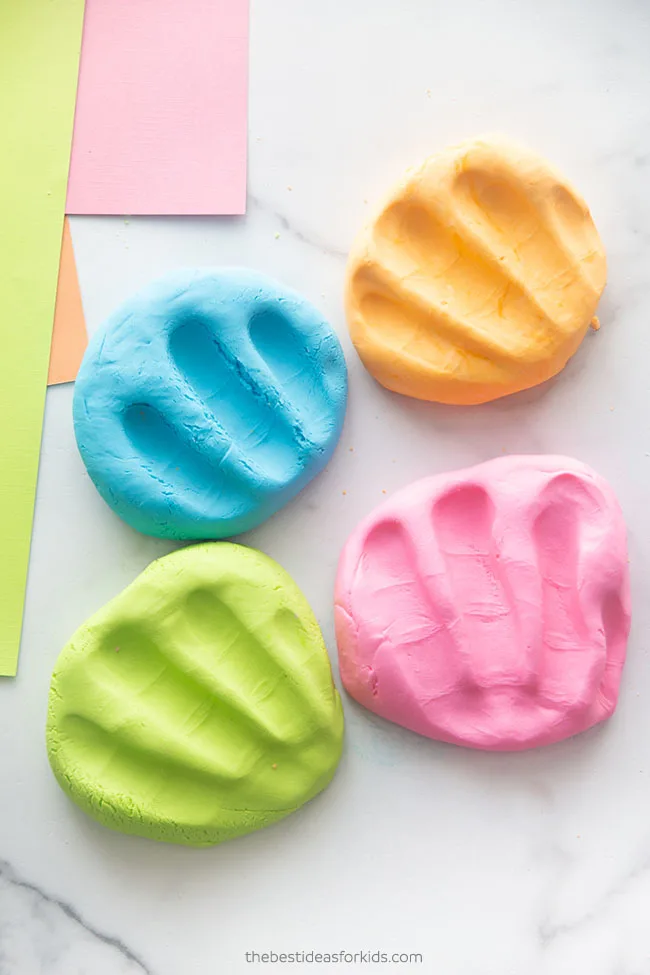 Credit: thebestideasforkids.com
This next craft project is a fantastic substitute for Play-Doh, mainly because your little girl can make the dough in any color she wants! Once again, this is also a great way to teach introductory chemistry practically.
If you're missing one of the ingredients for cloud dough, try making salt dough instead. It's excellent for creating ornaments!
12. Painting with Salt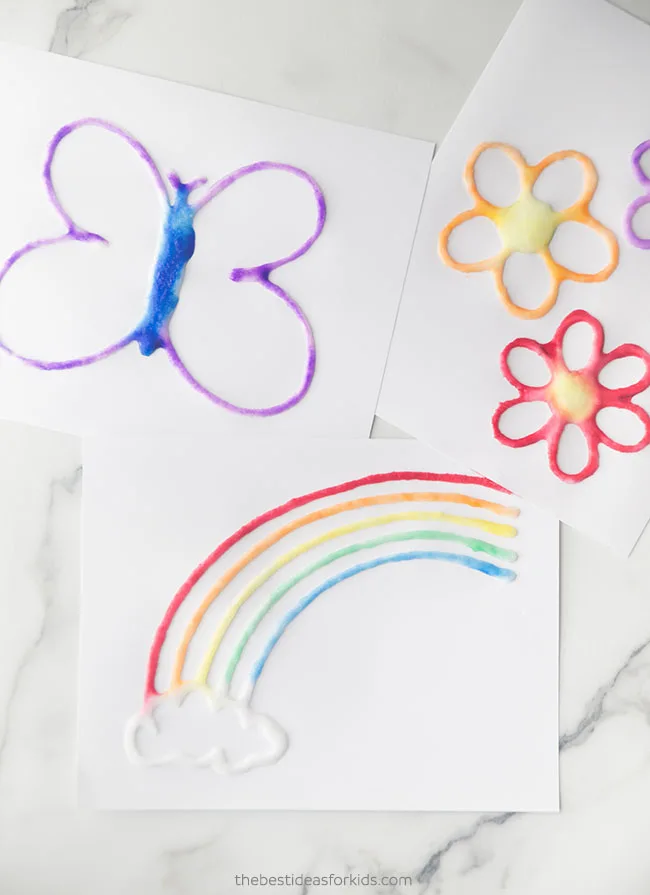 Credit: thebestideasforkids.com
Yes, you read that right! Salt painting refers to 'painting' an image using glue, then sprinkling salt over the top before completing it with colored paint. The result is a gorgeous, blended, almost tie-dye effect.
Using thick watercolors is an integral part of this craft, so make sure to pick some up here.
13. Paper Handprint Bookmarks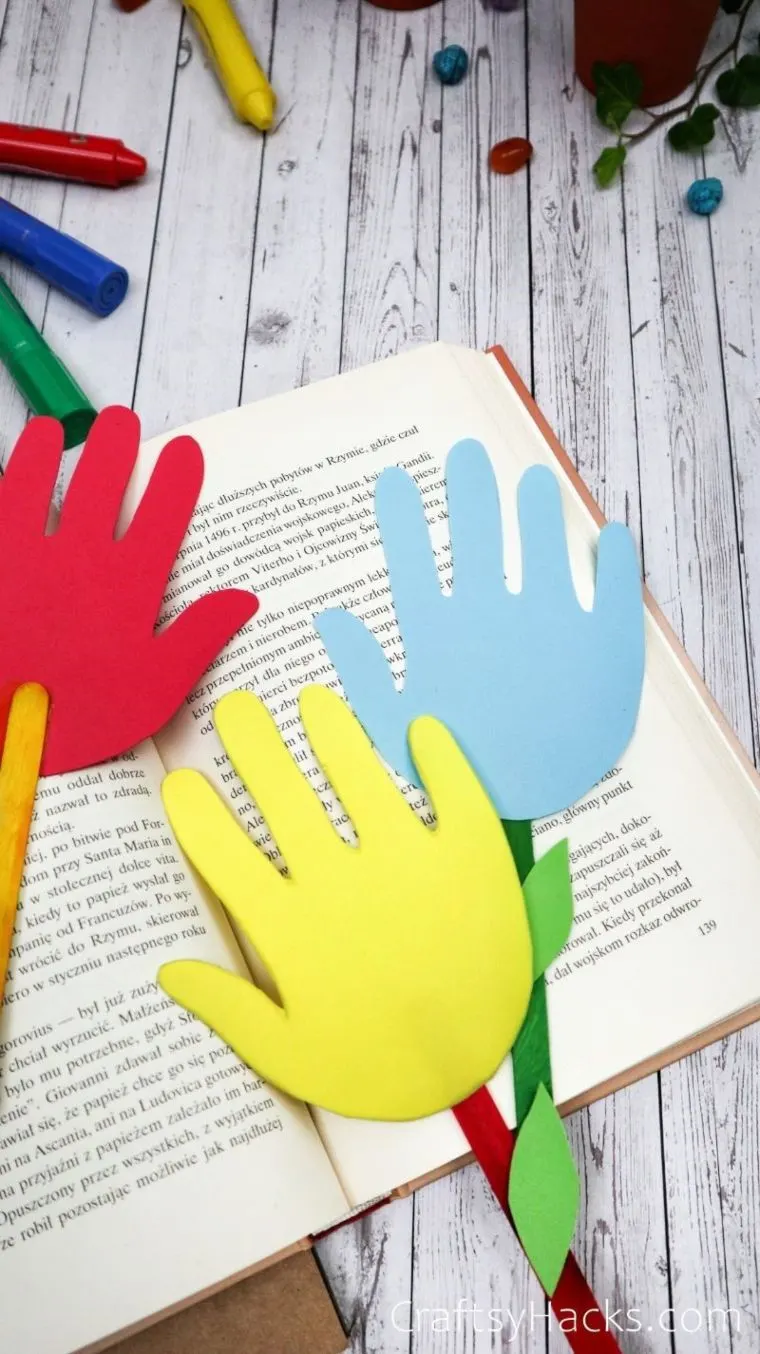 Credit: craftsyhacks.com
Next up, we have another bookmark for your little girl. Except this time, she'll be using her handprint to create it! This is a fantastic way to preserve a memory of her at this exact moment in time.
14. Fake Pom-Pom Cacti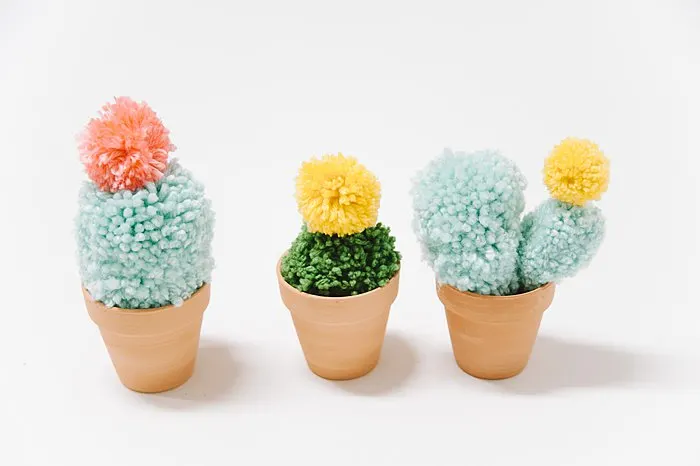 Credit: lauraradniecki.com
I know these crafts are for young girls, but I seriously want to make myself a pom-pom cactus. These adorable cacti are fuzzy and soft (unlike their brethren), plus they're super easy to craft.
If you have a pom-pom maker like this handy, use that to create and display your pom-poms. Otherwise, you can use the traditional method to bring your cacti to life.
15. Glitter Vinyl Tube Bracelets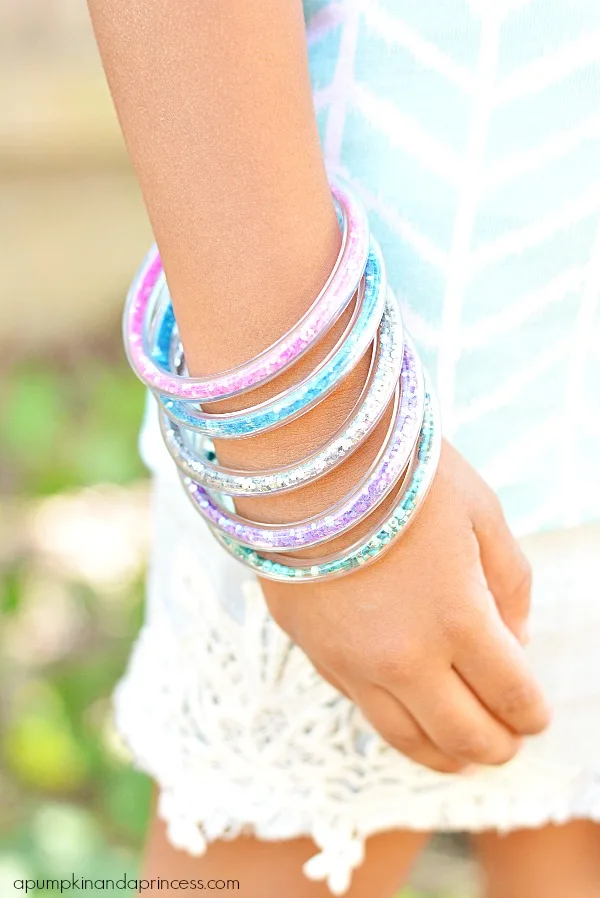 Credit: apumpkinandaprincess.com
I guarantee this DIY project will have your daughter shrieking in delight at her fabulous new accessories. Using something as simple as clear PVC vinyl tubing (here), you can create the ultimate gift for her.
Fill the bracelets with glitter in her favorite colors or mix and match to find the perfect combination. Make sure you use biodegradable glitter like this; the Earth is our friend, after all!
16. Sidewalk Chalk' Pops'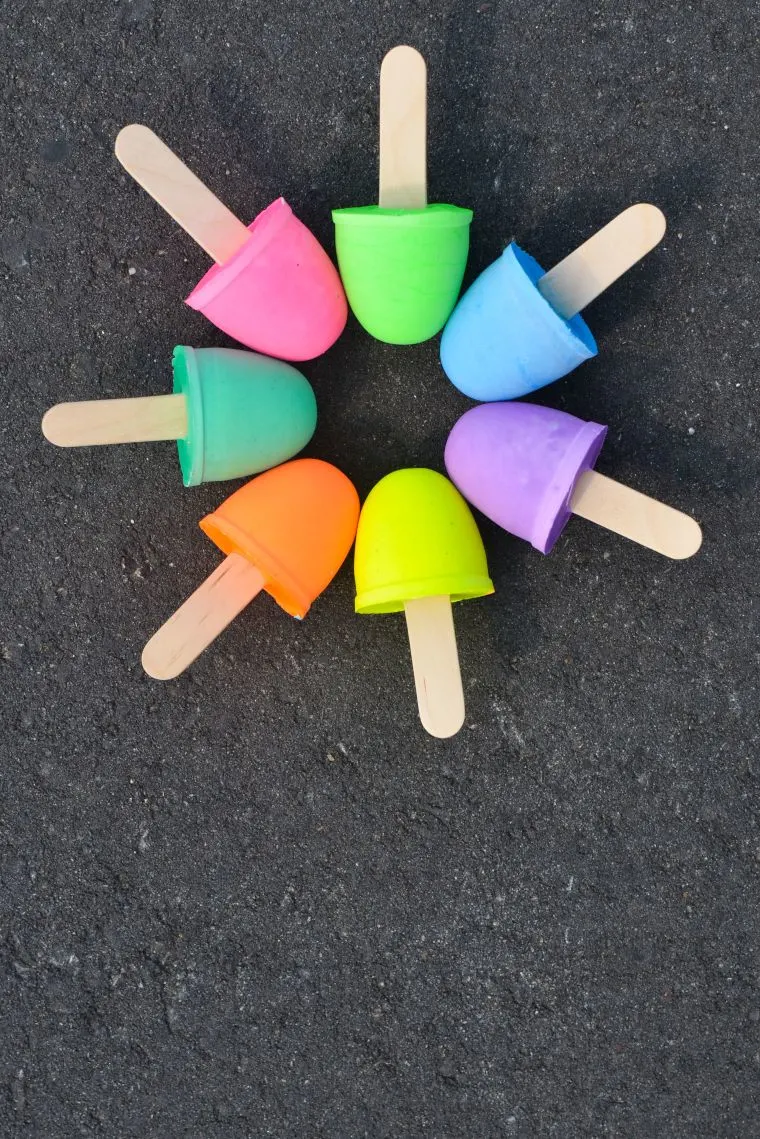 Credit: projectnursery.com
Our next craft is perfect for days out in the sunshine! Set up a craft table outside and get to mixing because you'll be making your very own chalk with your daughter in this genius project.
Using a combination of Plaster of Paris and tempera paint (here), you can create customized chalk that will smoothly pour into an ice cream mold. The shape is so charming; I can't get over it.
17. Cupcake EOS Lipbalm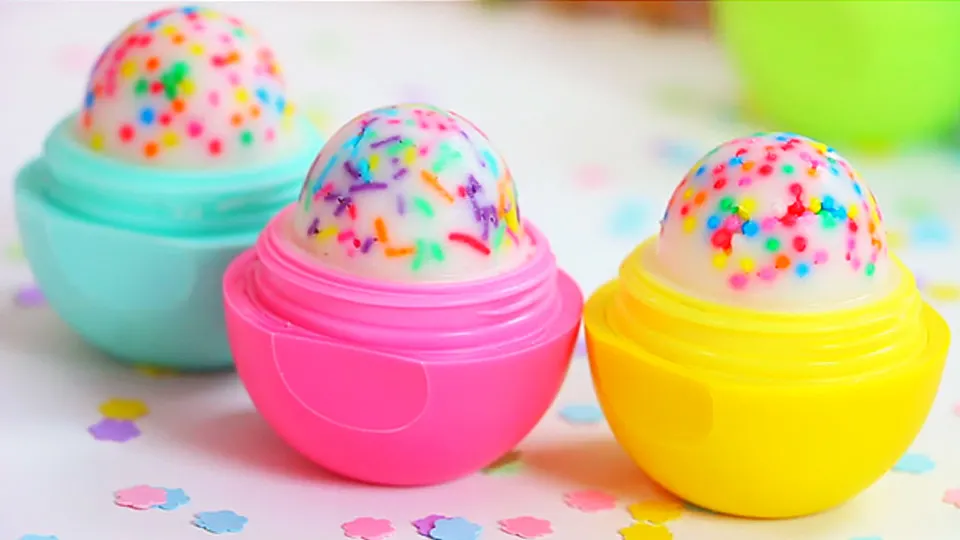 Credit: diyprojectsforteens.com
I remember when EOS lip balms hit the scene. Everyone had one, and who can blame them? If your daughter is a fan of baked goods and cosmetics, this is the perfect way to blend her interests.
You may not have beeswax lying around the house, so make sure you grab it here before you sit down to craft these adorable balms. Work along with her on one of these fun adult craft projects if you like!
18. Pipe Cleaner Finger Puppets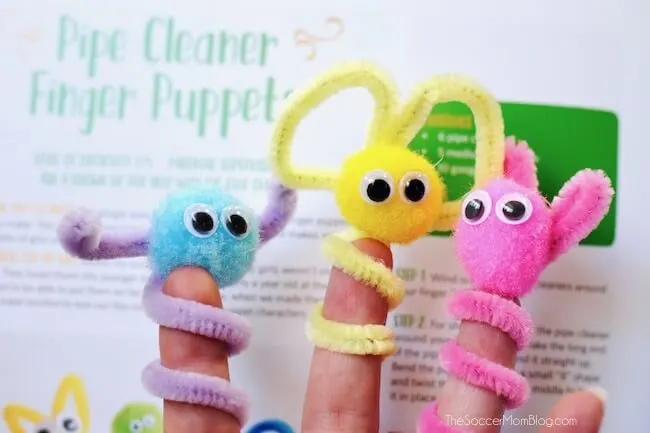 Credit: thesoccermomblog.com
Here's another craft that's ideal for your daughter's next birthday party. Her guests can put on a skit, create characters, or play around to their hearts' content with these puppets on their fingers.
Of the crafts on the list, this one might be the simplest. After all, it just requires some glue, a pom-pom, some eyes, and the all-important pipe cleaners (here).
19. Paper Plate Flower Craft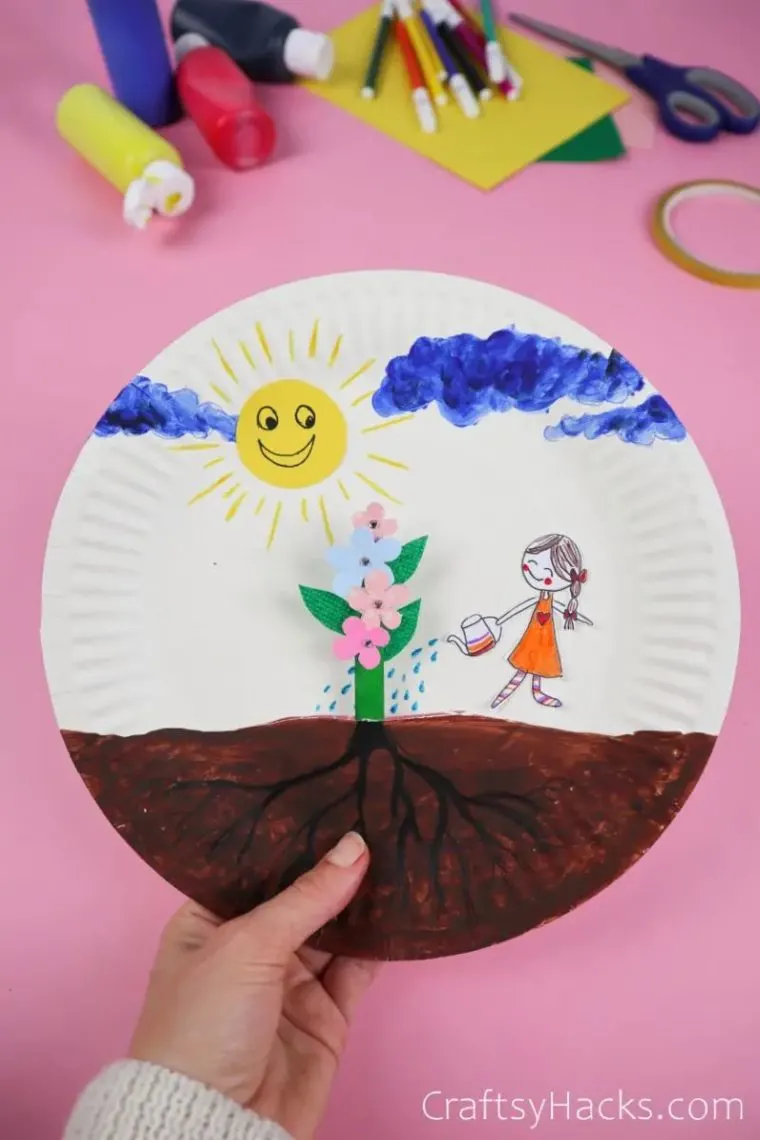 Credit: craftsyhacks.com
This is a lovely rainy-day activity to sit down and make with your daughter. You'll most likely have all the supplies already in your home!
Teach her about how plants grow using this plate for a practical learning session.
20. Glitter Bunny Crayons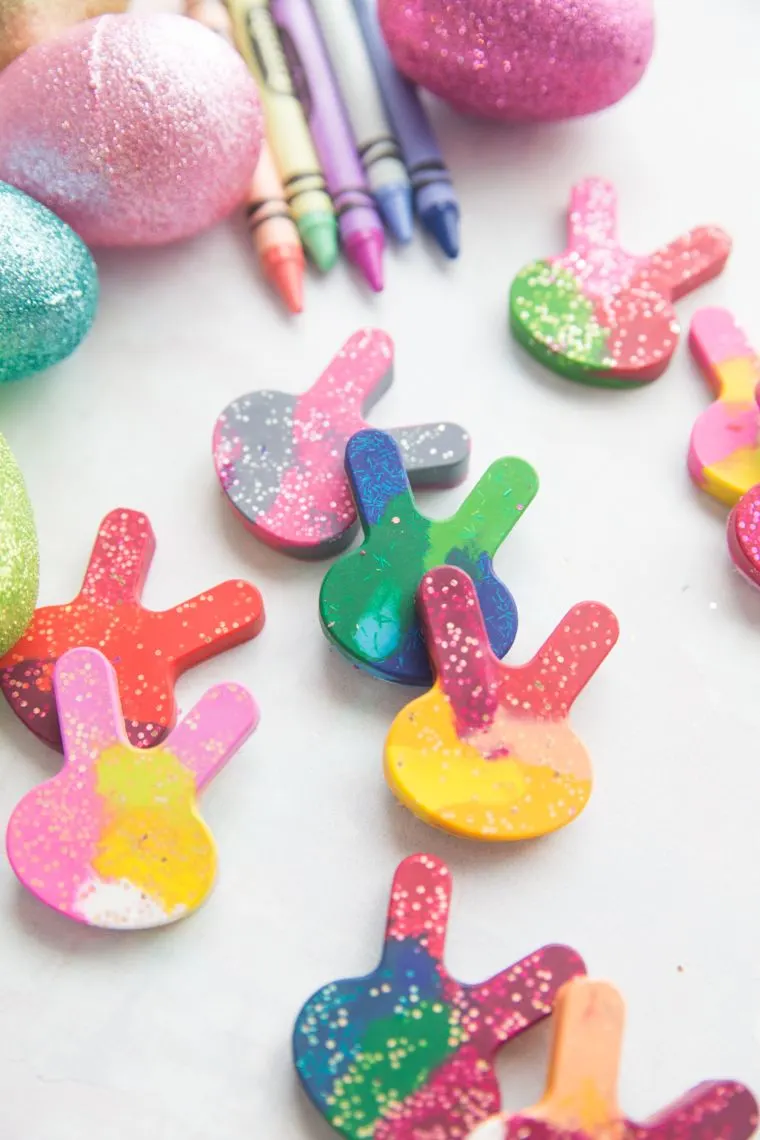 Credit: madetobeamomma.com
Standard crayons are pretty fun on their own, so what happens when we turn them into adorable, glittering shapes? These sweet crayon bunnies are the perfect craft to take on with your little girl.
While this hack used a bunny silicone mold like this, you can create crayons in any shape under the sun! Think of it like soap; the more creative you get with it, the more you get back.
21. Unicorn Mini Display Canvas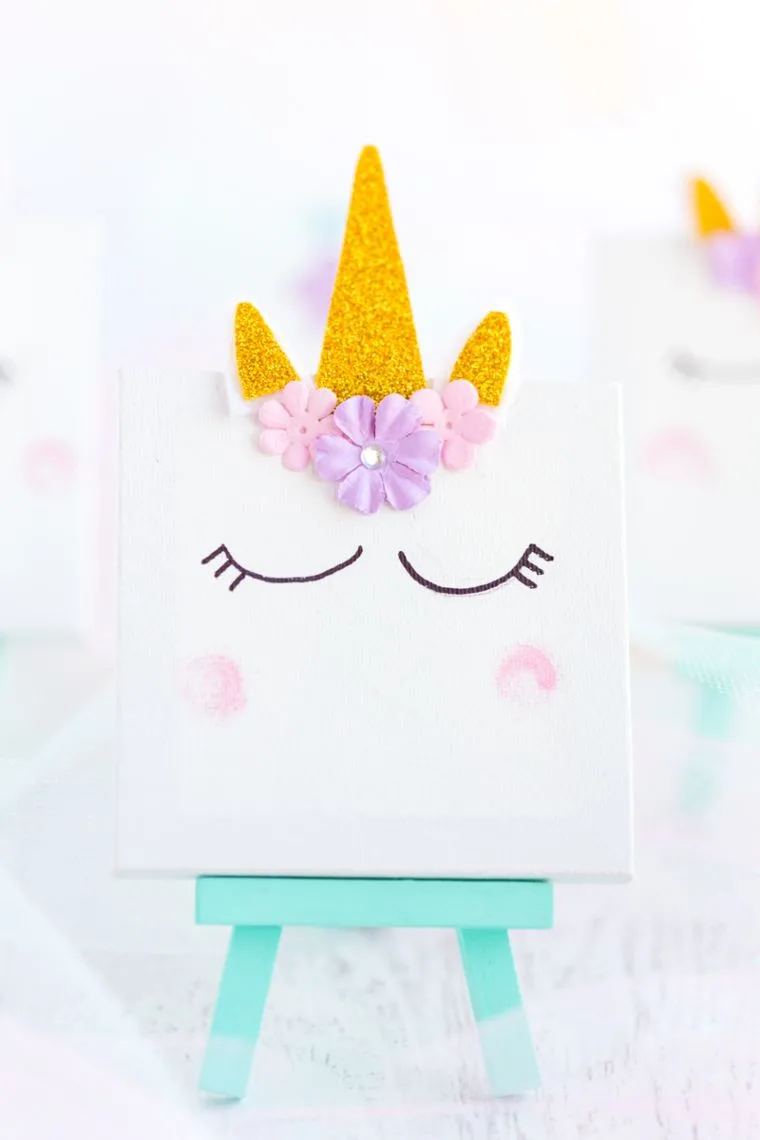 Credit: madetobeamomma.com
Here's another activity for that unicorn birthday party I mentioned earlier. It's also an ideal rainy-day activity, requiring minimal movement or mess to pursue the adorable result.
Your daughter can display this tiny canvas on her nightstand, inspiring dreams of magical lands and prancing unicorns. Use acrylic paint (here) to change the easel color so it will match her bedroom colors.
22. Glowing Fairy Bottle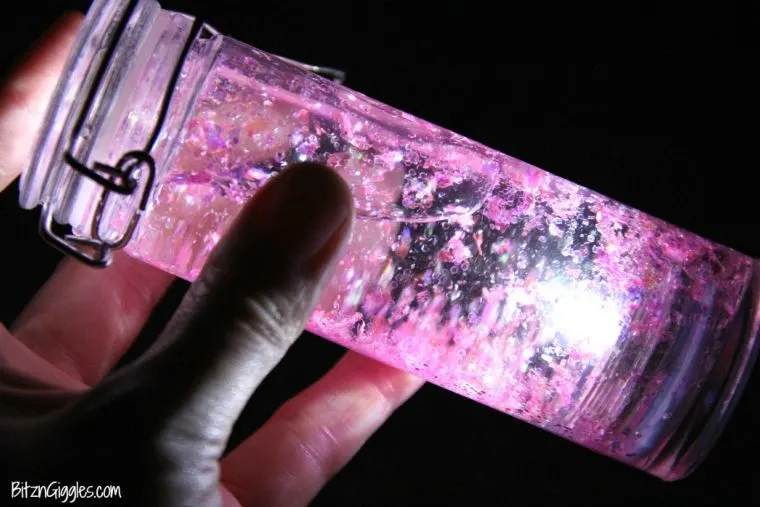 Credit: bitzngiggles.com
If you need something to accompany that adorable unicorn, this glowing fairy bottle will act as the perfect nightstand nightlight. This clever craft uses a submersible LED light like this to light up your custom fairy bottle.
23. Salt Dough Ornaments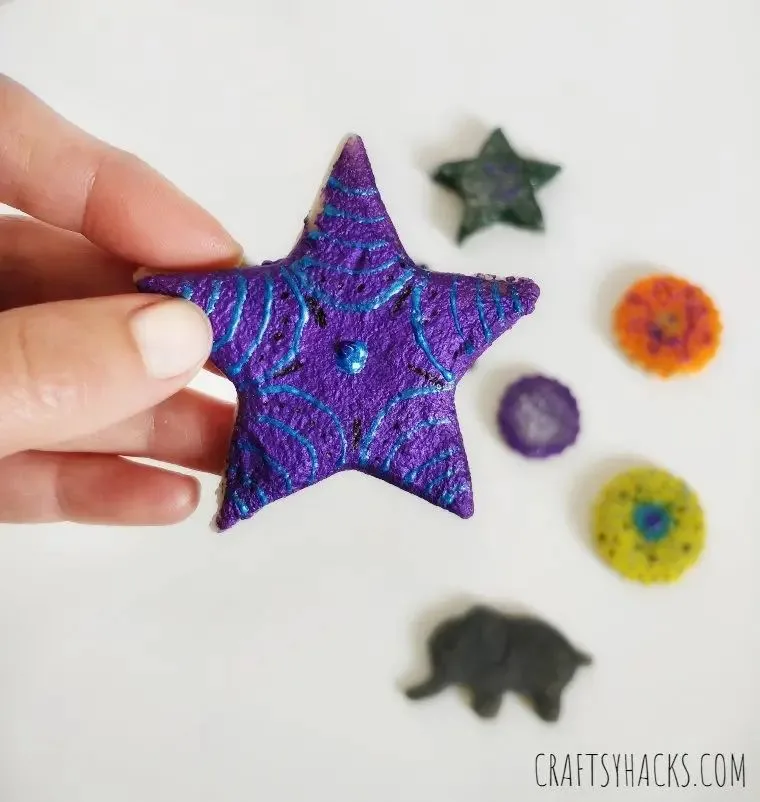 Credit: craftsyhacks.com
Salt dough has been a popular kids' craft for many years because it's versatile, cheap to make, and kids have a ball with the material! Making the salt dough is very simple.
Then all you need is to decorate with paint.
24. Friendship Pins with Letter Beads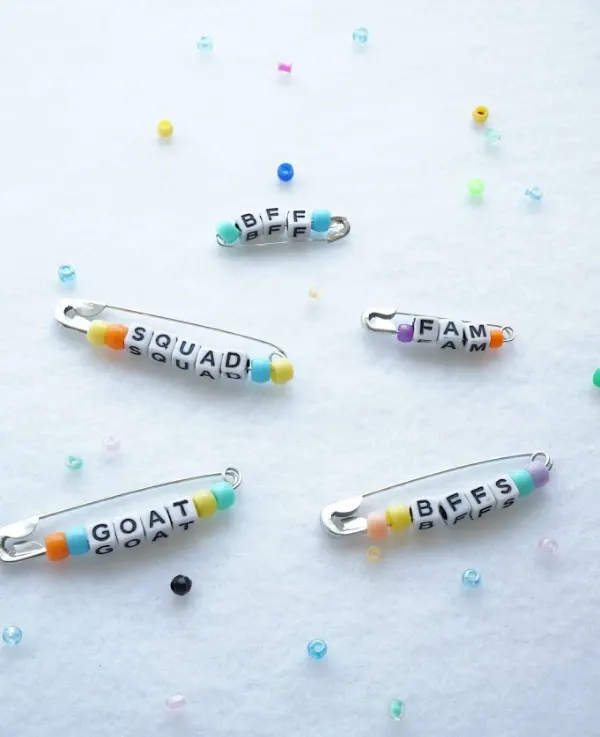 Credit: kitchencounterchronicle.com
Your tween will love these friendship pins, especially if she's stuck for a gift for her friends. She can make these pins say anything she likes, and the colored beads like these add a pop of interest to each one.
If you need any more crafts for your tween, try any of these forty super cute DIY crafts to see what she's interested in.
25. Simple 3D Rainbow Paper Craft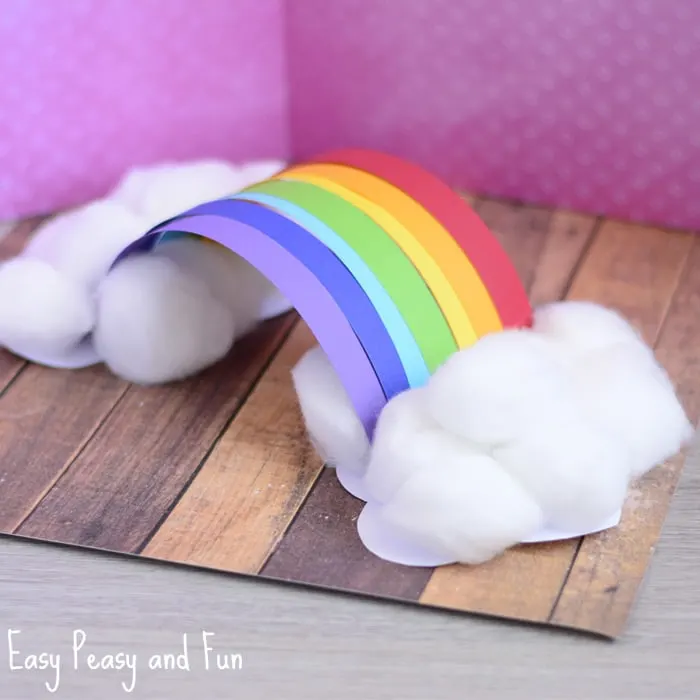 Credit: easypeasyandfun.com
Paper is one of the most versatile mediums in the craft world; it can make pretty much anything!
This papercraft celebrates colorful rainbows and would easily find a home on your daughter's desk or nightstand.
26. Colored Salt Jars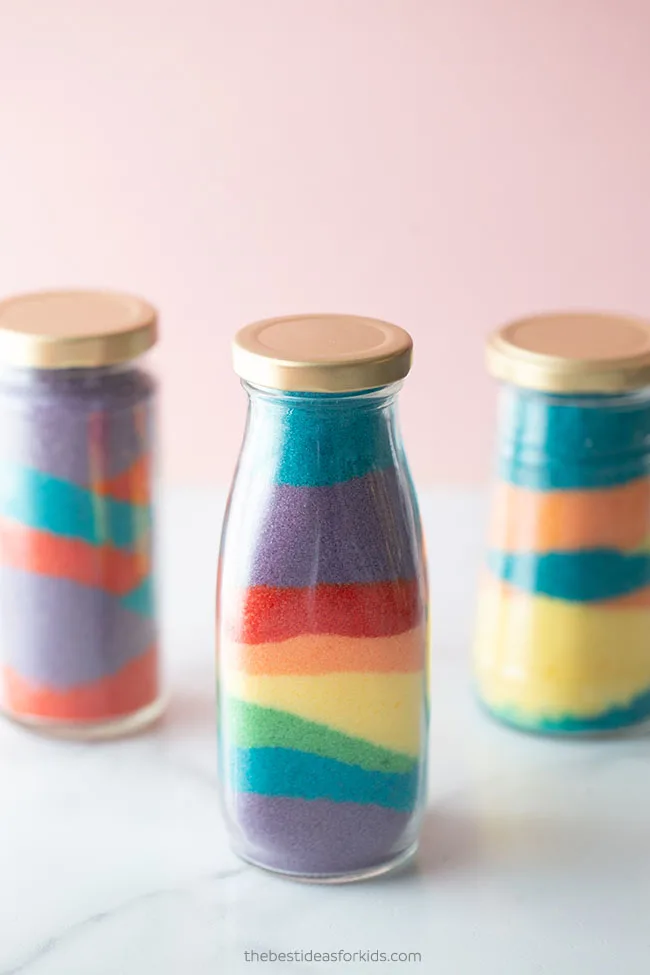 Credit: thebestideasforkids.com
I'm so obsessed with how these colored salt jars look that I might make some for myself. They're a gorgeous decoration for your daughter's bedroom, and she'll have a ball messing around with salt and color.
Pick up a bulk bag of salt here to make as many jars as you like! This is also a great way to recycle some jars. If you're into that idea, these mason jar spring décor ideas offer some sustainable décor options.
27. Pool Noodle Pom-Pom Shooter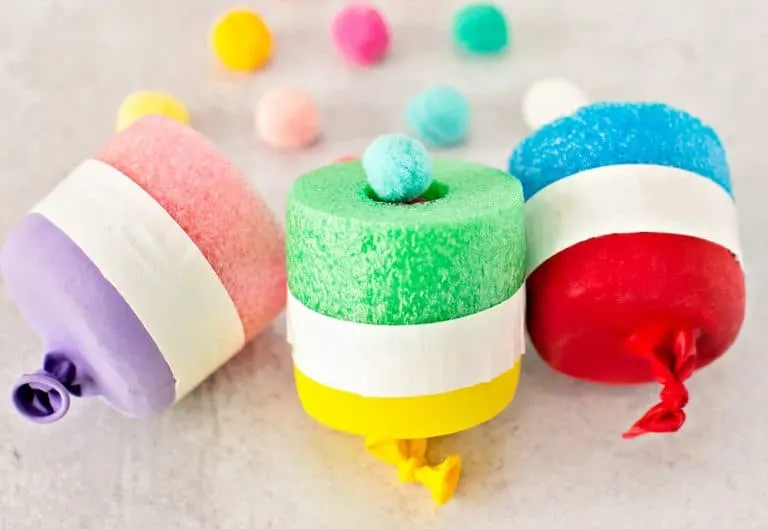 Credit: hellowonderful.co
This STEM activity is an absolute ball for your next summer day at home. The pom-poms are super soft, so there's no threat of damage or injury, so you and your daughter can have a pom-pom fight anywhere!
To make these shooters, all you need are some pool noodles (here), some balloons, some tape, and a whole lot of pom-poms. You can make those yourself, or you can buy a bag full of pom-poms ready to shoot.
28. Pet Cactus Rocks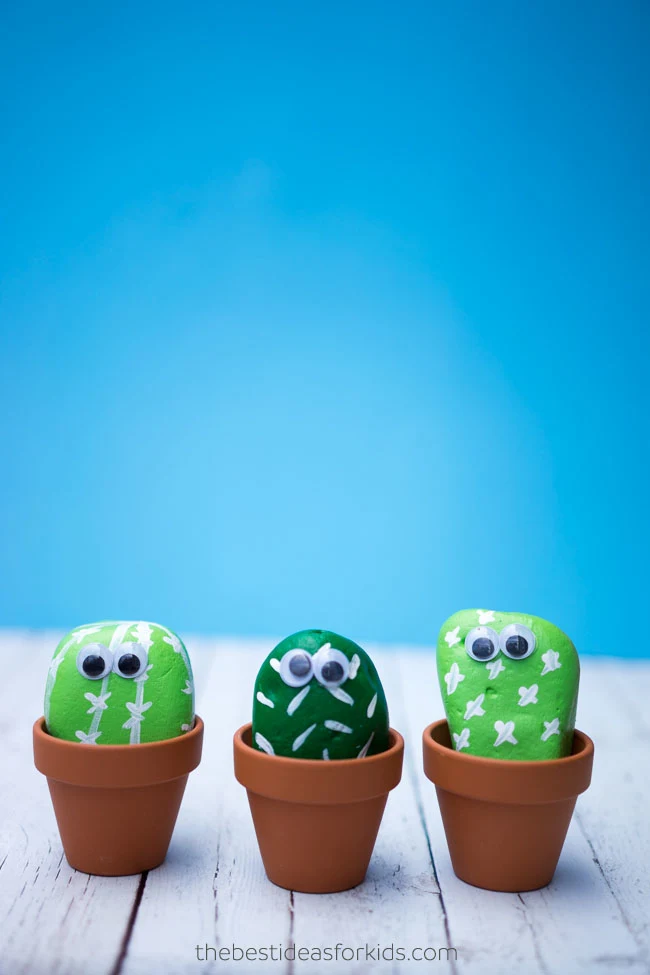 Credit: thebestideasforkids.com
If your daughter has been begging you for a pet, start her off with an adorable cactus rock to see if she's invested in it! These cacti stones are perfect for teaching little girls about what it takes to care for an animal.
Well, it is a rock, but the principle is there. All you need to do is forage some rocks from the back garden before painting them to look like cacti. These tiny terracotta pots will house the cacti but don't include soil!
29. Pom-Pom Hedgehogs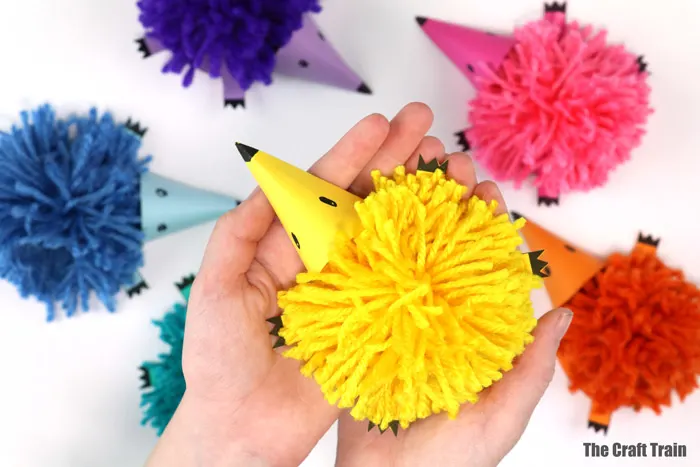 Credit: thecrafttrain.com
If rocks don't do it, these tiny pom-pom hedgehogs are sure to fend off any pet woes for the time being. I find them completely adorable. Using some paper and yarn, your little girl can have a spiky pet.
30. Fingerprint Glass Magnets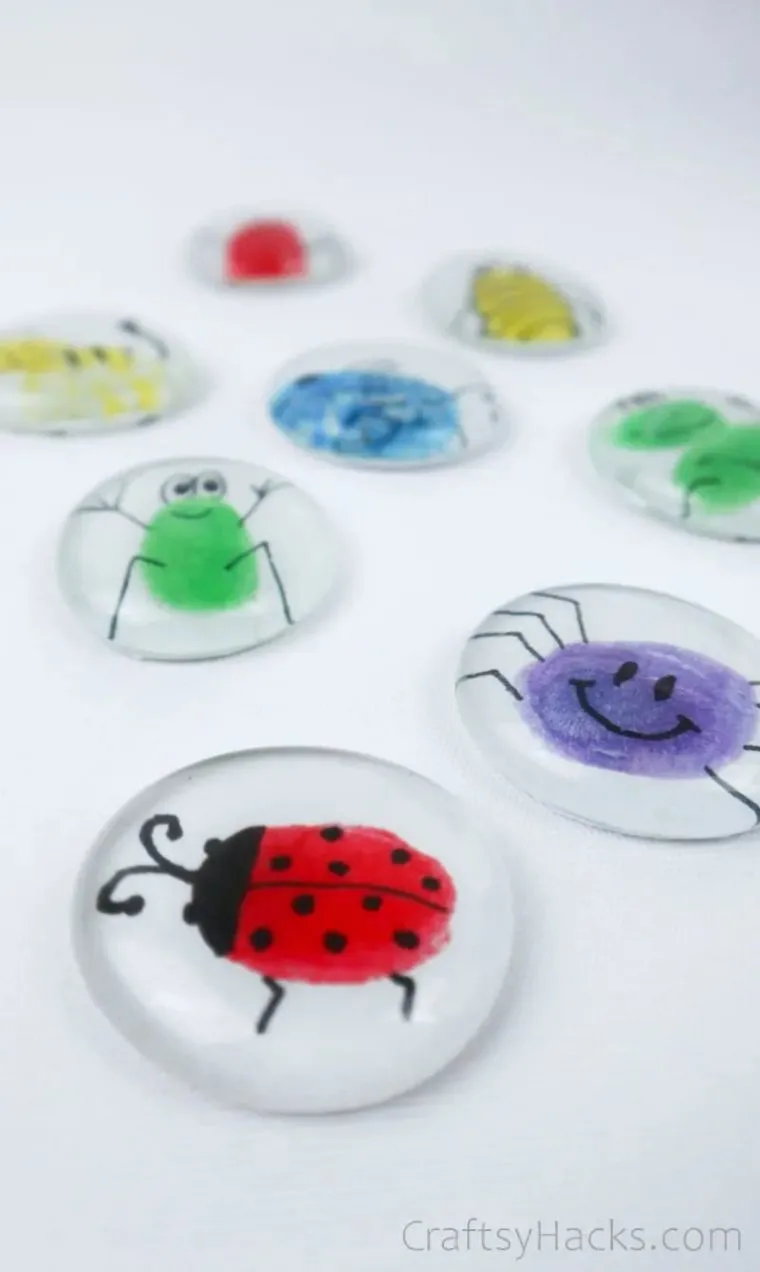 Credit: craftsyhacks.com
Much like the handprint bookmarks from earlier in this list, these fingerprint glass magnets are great for creating souvenirs from your little one's childhood. Thanks to their protected nature, they're even better!
31. Miniature Lid Banjos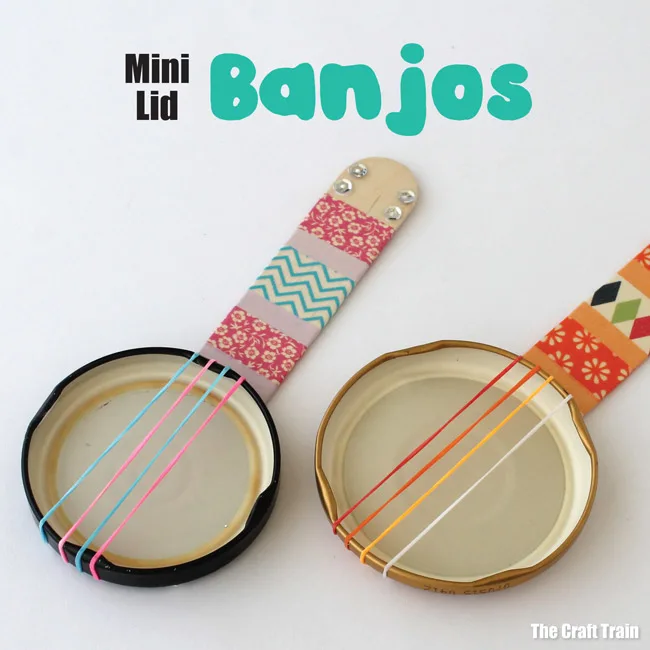 Credit: thecrafttrain.com
Calling all budding musicians! These miniature lid banjos are a great introduction to string instruments, or if your daughter is already an accomplished strummer, they're perfect for decorating her bedroom wall.
Jar lids and washi tape (here) are the main components here, in addition to some craft sticks and yarn.
32. Paper Plate Dinosaur Craft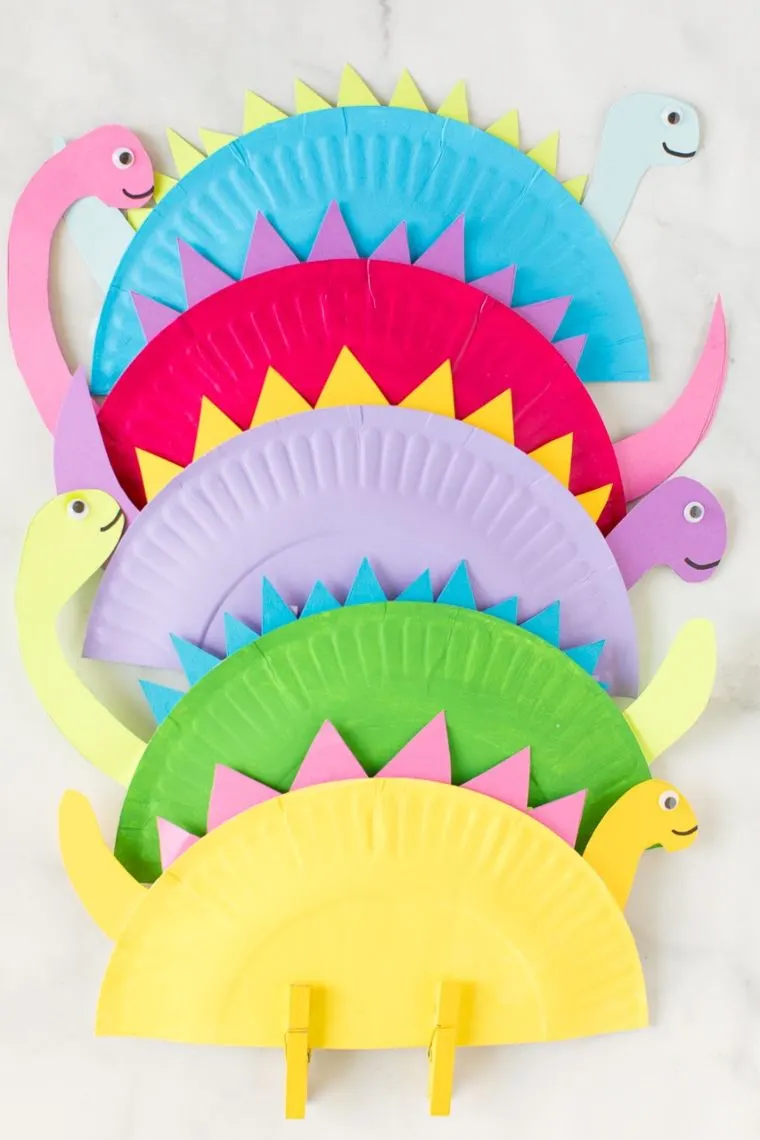 Credit: madetobeamomma.com
Is your daughter an aspiring paleontologist? Encourage her interest in dinosaurs with these adorable dinosaur paper plates, an ideal STEM activity for a gifted child.
33. DIY Wire Rings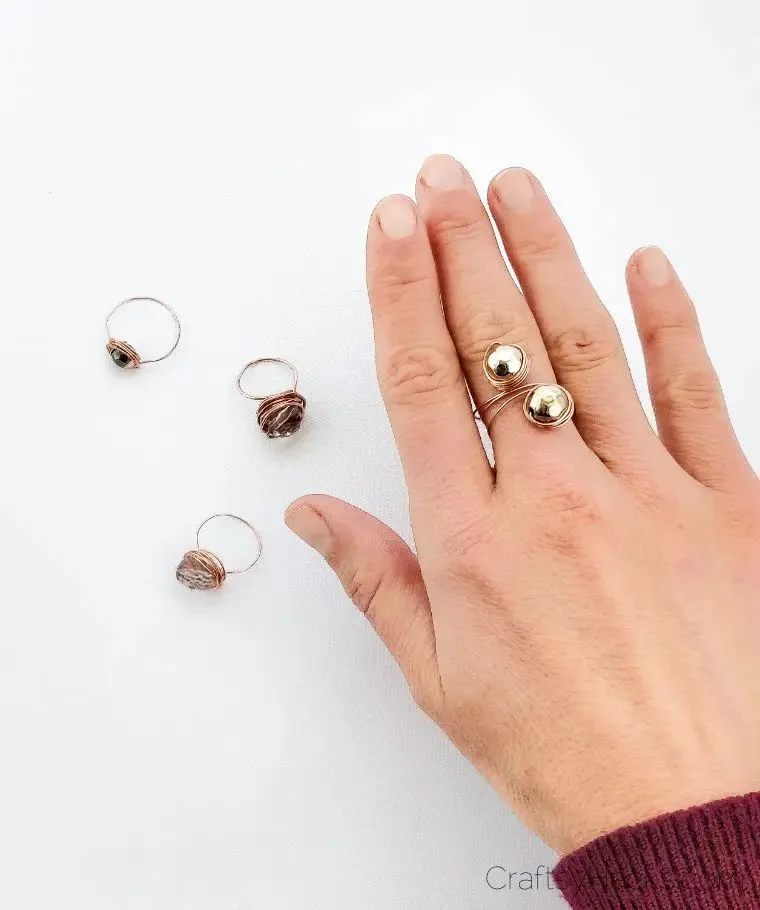 Credit: craftsyhacks.com
The next craft project on our list is ideal for tween girls in desperate need of new jewelry. Give her the tools to express her sense of style with these easily made DIY wire rings.
She can change out the beads for any adornments of her choice, including these cultured freshwater pearls for a touch of glamor.
34. DIY Hexagonal Dreamcatcher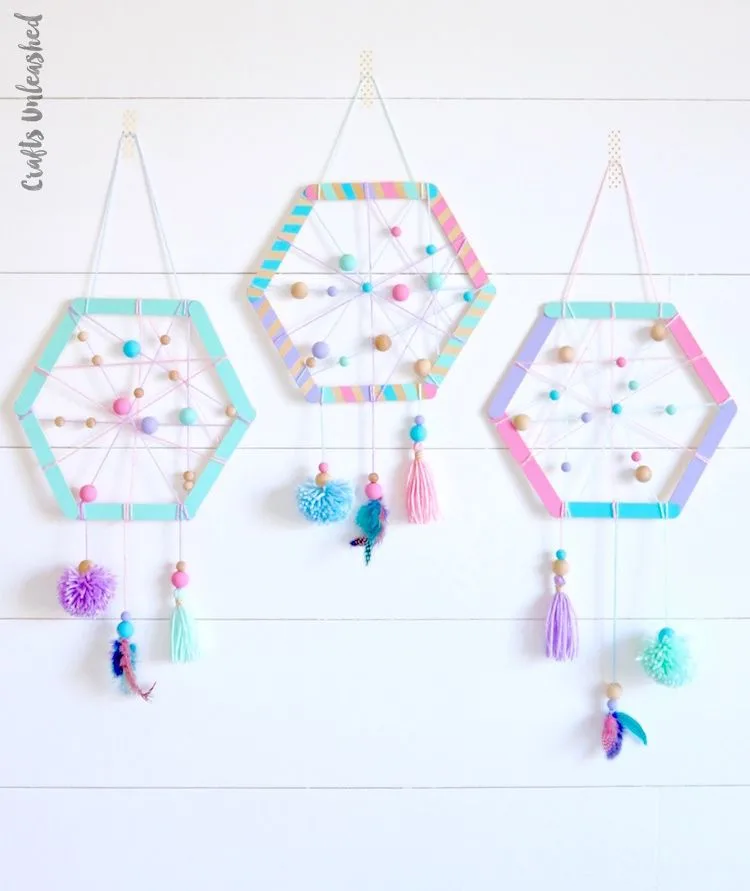 Credit: consumercrafts.com
Dreamcatchers catch nightmares and inspire good dreams, so who doesn't want that in their room? Work with your daughter to create her very own dreamcatcher with any colors she wants.
35. Beaded Pipe Cleaner Butterflies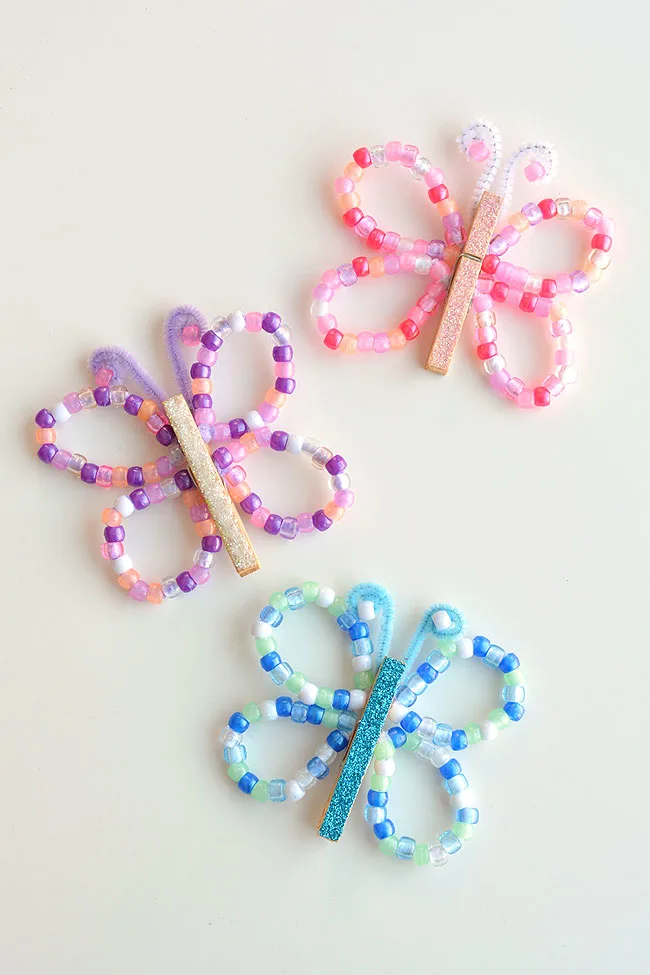 Credit: onelittleproject.com
These beaded pipe cleaner butterflies are perfect adornments for the dreamcatcher in the previous craft idea, but they're also wonderful on their own! Use them for jewelry, a bag tag, or alone.
The butterflies use glitter clothespins as their thorax, which you can make from these wooden clothespins and a healthy serving of glitter.
36. Gorgeous Pom-Pom Garland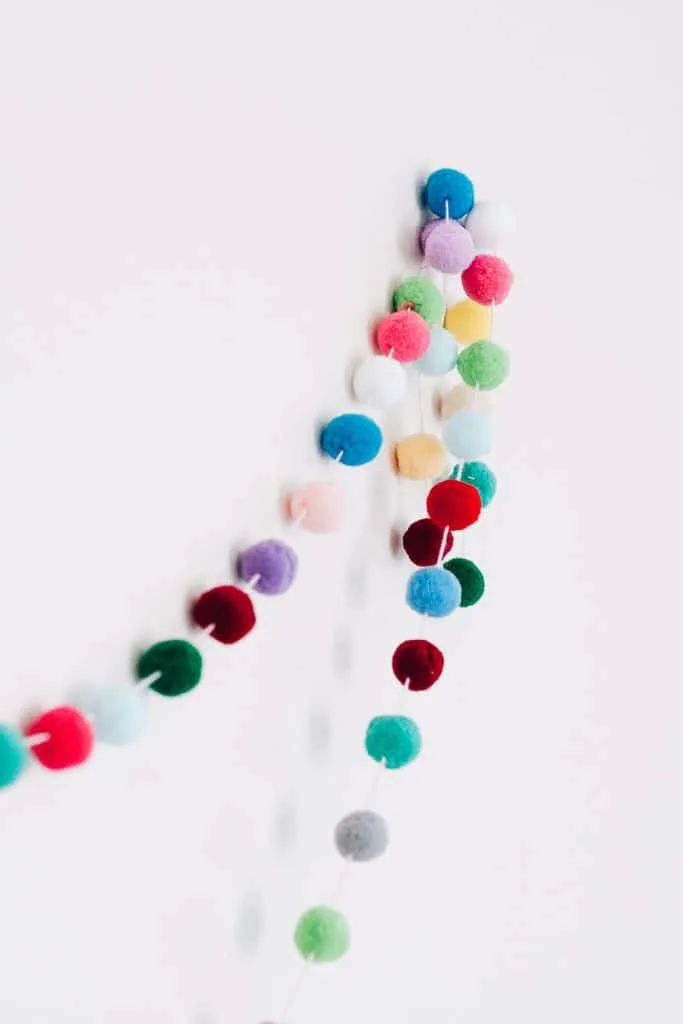 Credit: decorhint.com
This delicate pom-pom garland promises to make your daughter's room a touch more ethereal. You get so much back for so little effort, which is what I love about these quick and easy garlands.
37. DIY Rock Photo Holders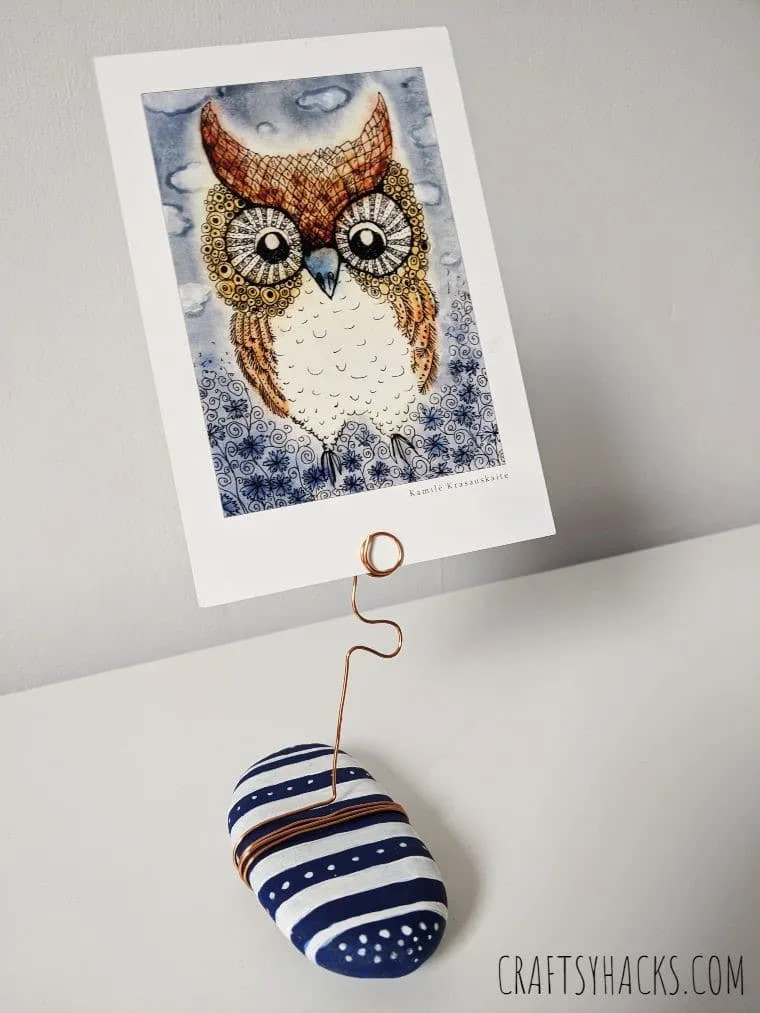 Credit: craftsyhacks.com
Our last craft is another CraftsyHacks creation. These DIY rock photo holders are perfect for displaying birthday cards, memorable photos, or even positive messages to put a smile on your daughter's face.
Make the 'holders' with some thick gauge wire (here) wrapped around the rock, and your little girl can paint the rock in any way that tickles her fancy.
Conclusion
There we have it! Thirty-seven delightful crafts any young girl will have a ball with. Is your daughter a keen crafter, or are you attempting to convert her? Let us know in the comments which one you'll try out!