Accessorizing for different occasions can turn your outfit from average to perfect! It's even better when the earrings you wear are handmade. Check out these DIY earring projects and get crafty!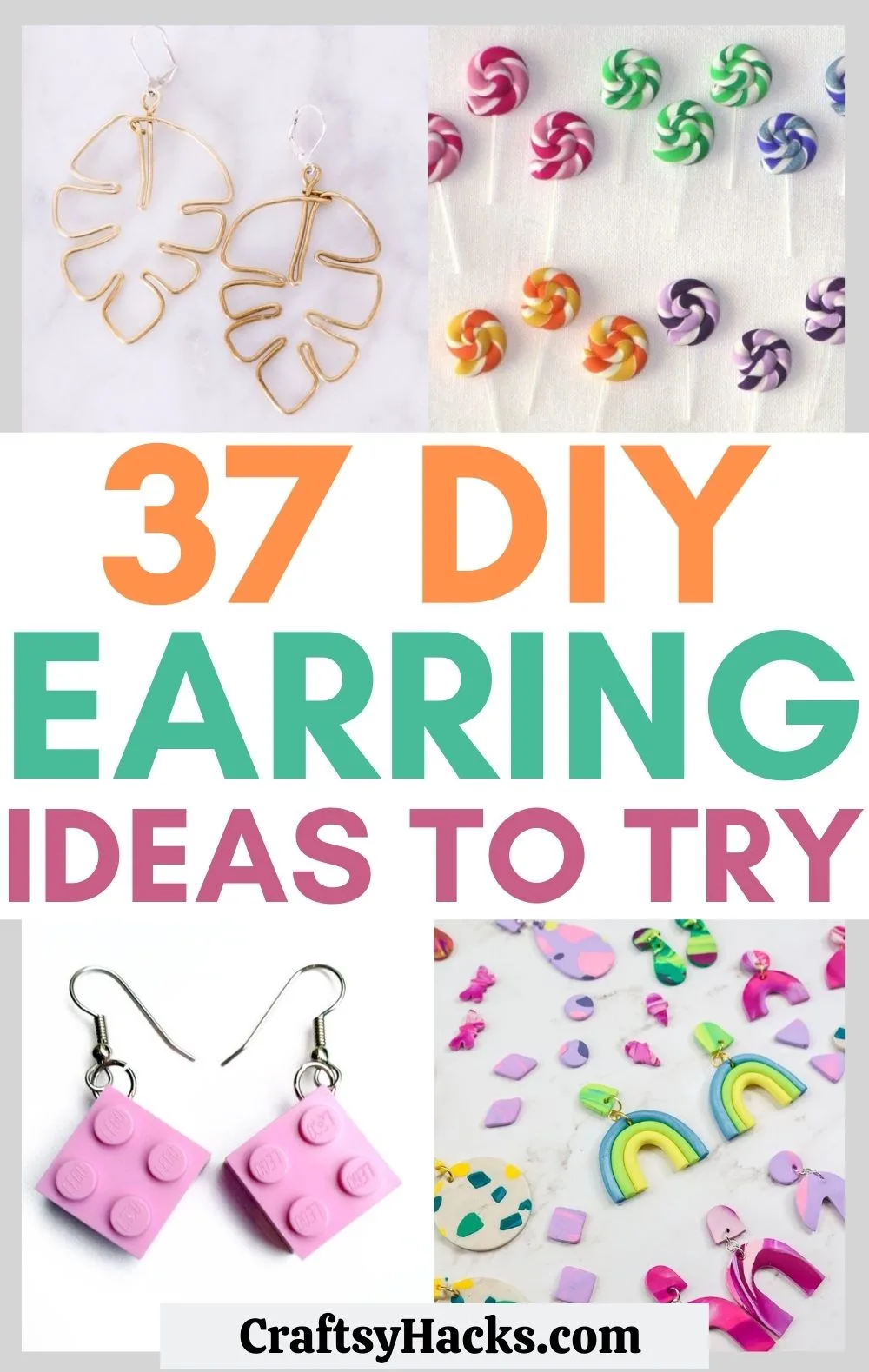 Earrings are arguably the perfect accessory. The right ones will make even the most basic outfit unforgettable, and they're a super fun way to express both your mood and personality.
I'm a self-confessed earring fiend! If you're one, too, you'll know how long it can take to build up a series of earrings that perfectly suit your style. Luckily, there are many epic earring DIY projects out there.
No matter your style, budget, or the materials you have on hand, I guarantee you can create a pair of studs that will have you feeling ecstatic. Let's dive in!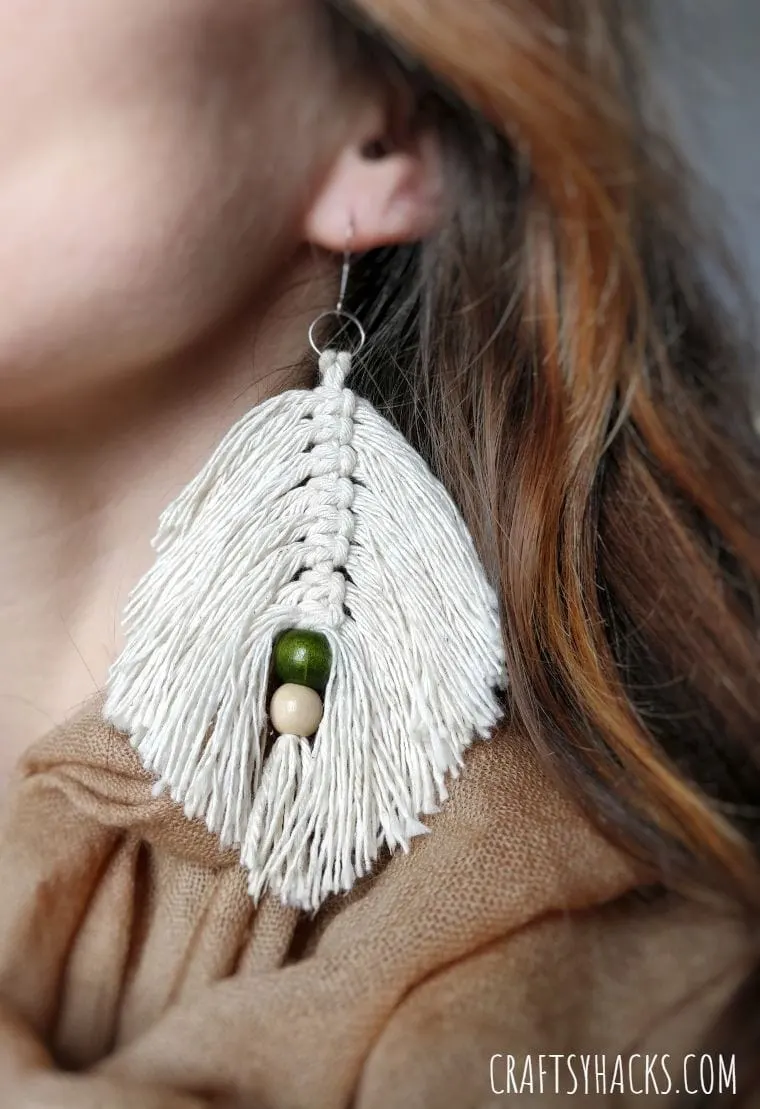 Credit: craftsyhacks.com
Let's start with a project from the home field. These macrame leaf earrings are my creation, and I couldn't be prouder about how they turned out. All you need to weave these are some macrame rope (here).
The result is a soft and supple leaf shape perfect for any bohemian chic outfit or even a day out at the beach!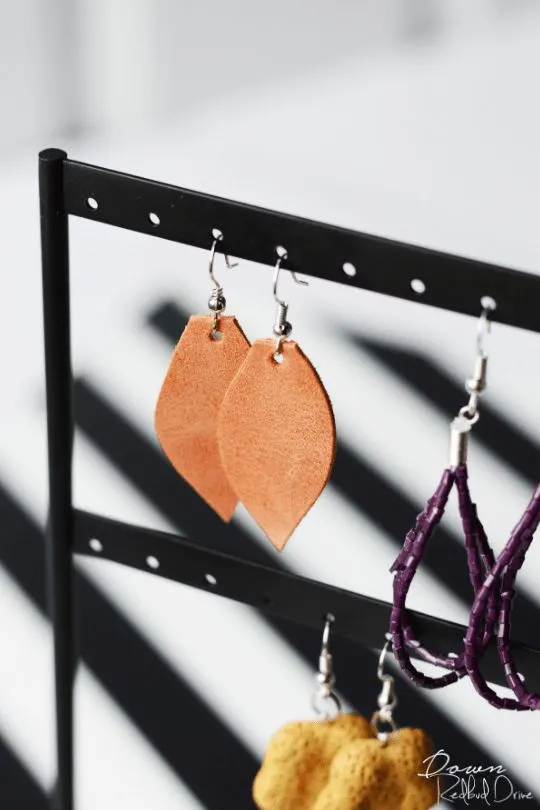 Credit: downredbuddrive.com
Let's switch from the softness of cotton to rustic leather. One of the essential tools you'll need is a leather punch like this. If you're planning on doing more leatherwork, consider grabbing a whole kit here.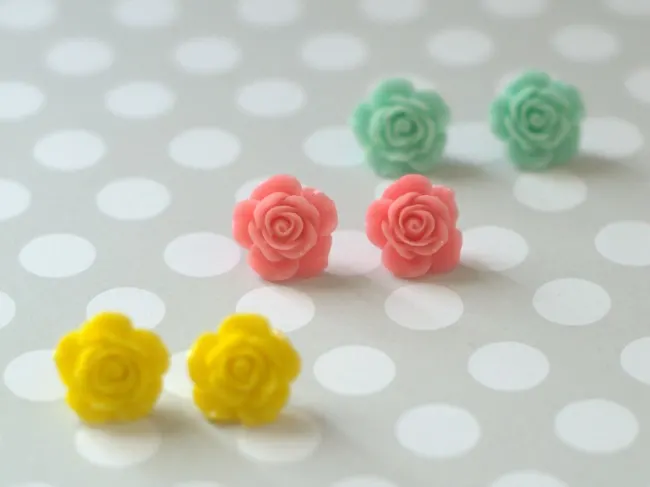 Credit: styleonmain.net
If you're not a fan of dangling earrings, studs might be more your speed. These adorable spring rose flower studs are perfect for sunny days!
Make sure you have plenty of earring posts (like these).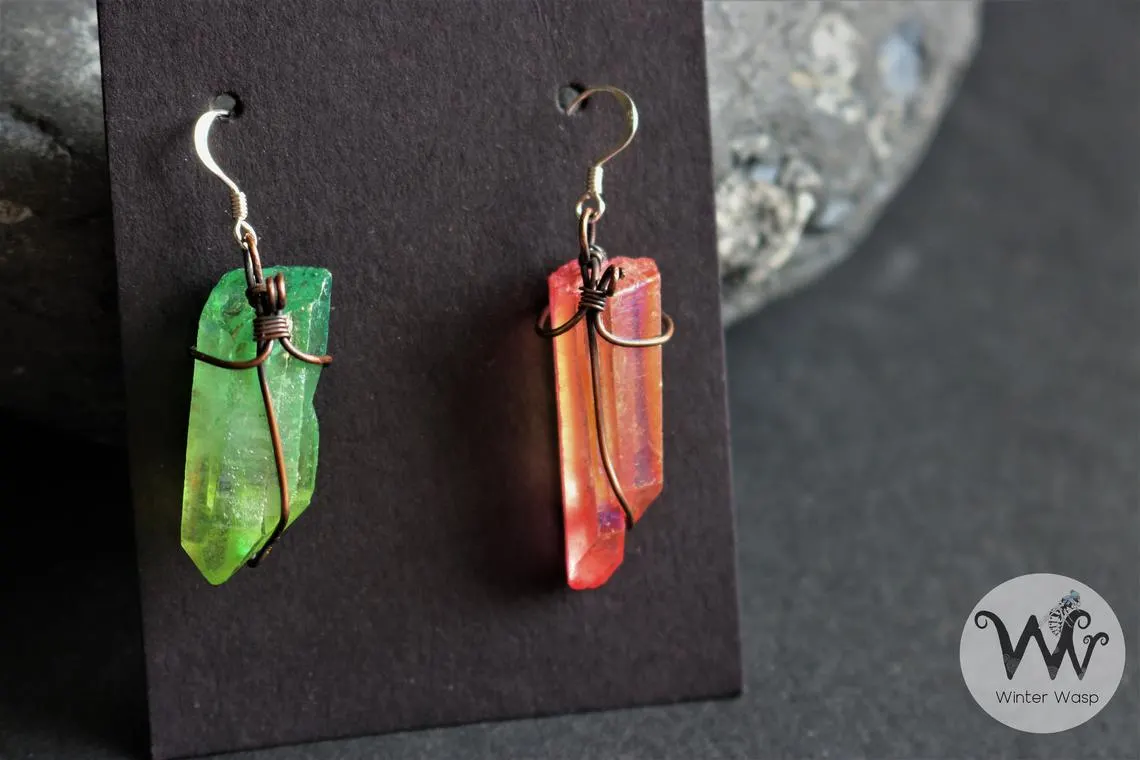 Credit: Etsy
This next DIY uses chunky crystal and a clever wire-wrapping technique to create a pair of gorgeous, mismatched earrings. If you're going for the bohemian chic look, you can't go wrong with this technique.
Statement earrings are extraordinary because they can turn an entire outfit around. No time to do all your hair and makeup in the morning? Throw on some jeans, a shirt, and these earrings to conquer the day.
Like the earrings shown? You can get them here.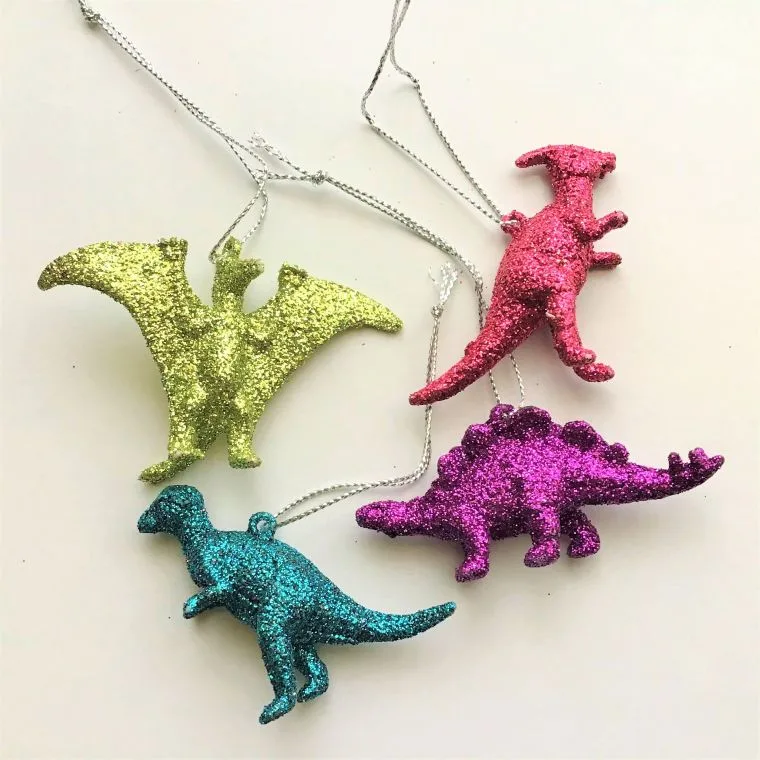 Credit: popshopamerica.com
Whether you enjoy a little bit of kooky style or these earrings are for your little one, you can't leave these glitter dinosaurs unmade.
Cover some dinosaur ornaments (here) in glitter and hang them from your ears!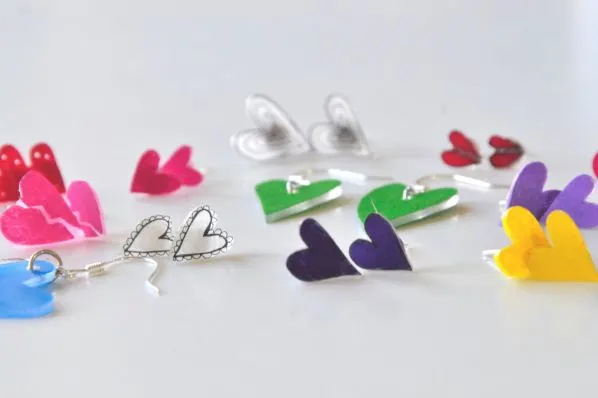 Credit: popshopamerica.com
When the fateful February 14th comes around again, you need to prepare! These heart-shaped earrings are perfect to wear or as a gift, plus you can choose between a dangly or stud earring. The key?
Shrinky Dink! Pick some up here, or head to your local craft store. Once you have a sheet, you can make as many pairs of earrings as you like.
Credit: cookingmydreams.com
Our next project requires some patience and comfort with polymer clay (which you can find here), and the results are gorgeous! Emphasize your bohemian chic look with a 2010 terrazzo jewelry throwback.
While the typical terrazzo colors include blue, yellow, orange, and green, you can create this patterned effect with any colors you like. Experiment with a black background and neon colors for a rave-inspired twist.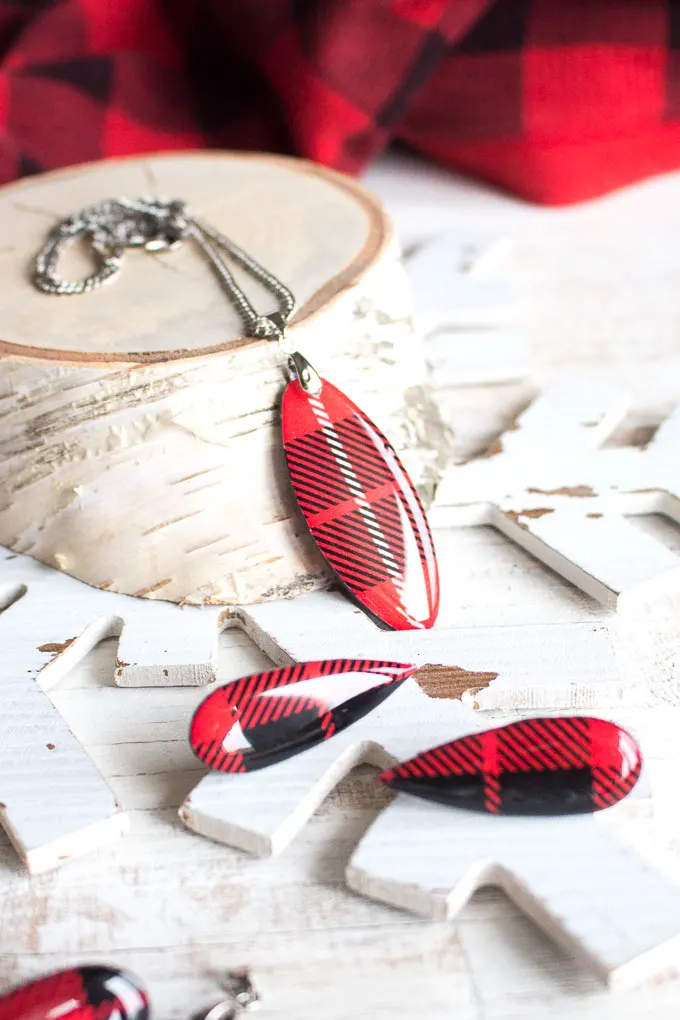 Credit: sustainmycrafthabit.com
If you've ever received a gift and hated ripping that gorgeous wrapping paper, this is the project for you! Preserve your favorite patterns by back lining resin (here) with wrapping paper in any shape you like.
Keep in mind, working with resin can be tricky, so make sure you trace your shape out beforehand. Also, move quickly, as it sets much faster than you think it will!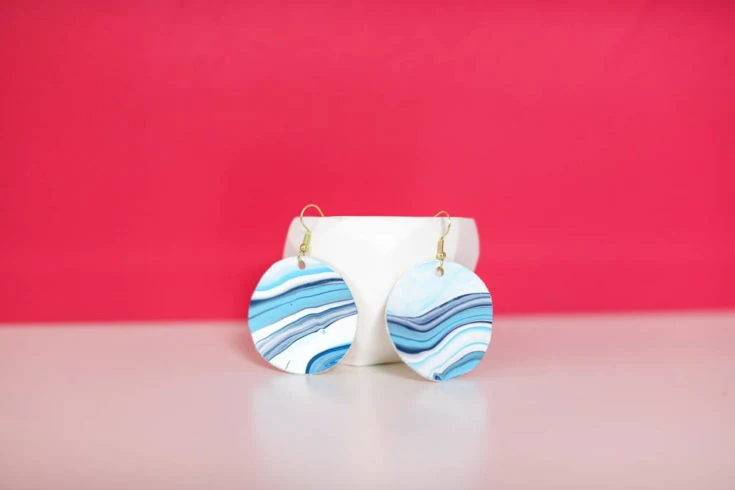 Credit: amber-oliver.com
Next up, this clever hack will create unique earrings because you'll be using an acrylic pour technique. No two pours are the same, so you can be assured you'll be wearing accessories no one else has!
You'll need a plastic cup, some acrylic paint like this, and a small canvas (here) to get started!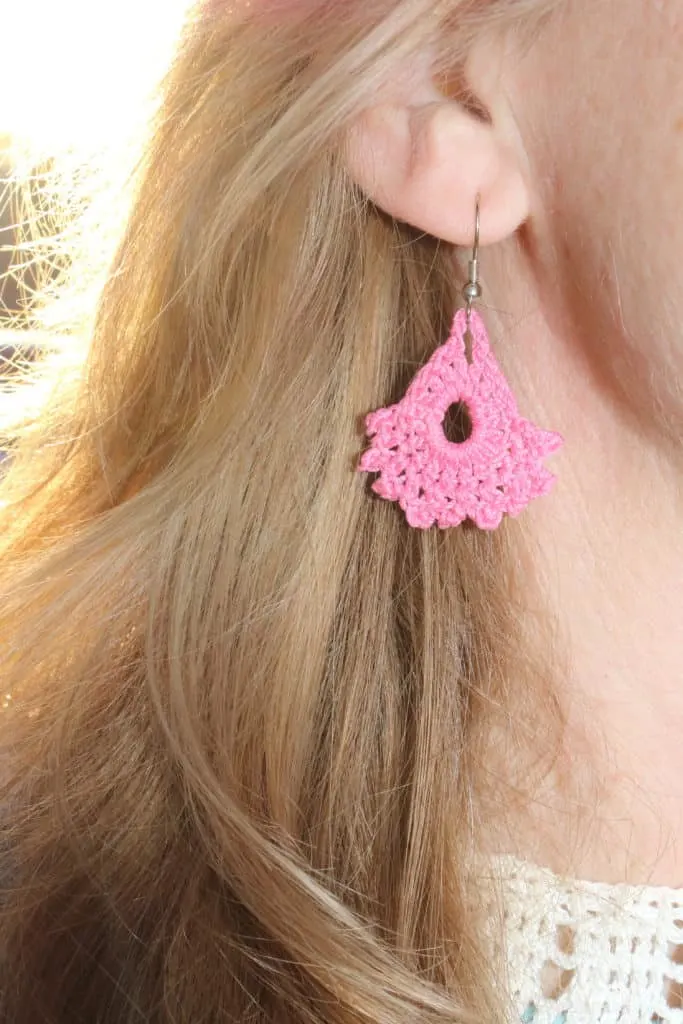 Credit: b4andafters.com
If you liked the macrame earrings from the top of the list, you might also like these crochet earrings! Using a small crochet hook and some doily thread (here), you can weave a custom earring to hone your crochet skills.
If you love these string crafts, you're not alone; I love them too! Check out this quick and easy DIY woven bowl for storing all your materials or creations.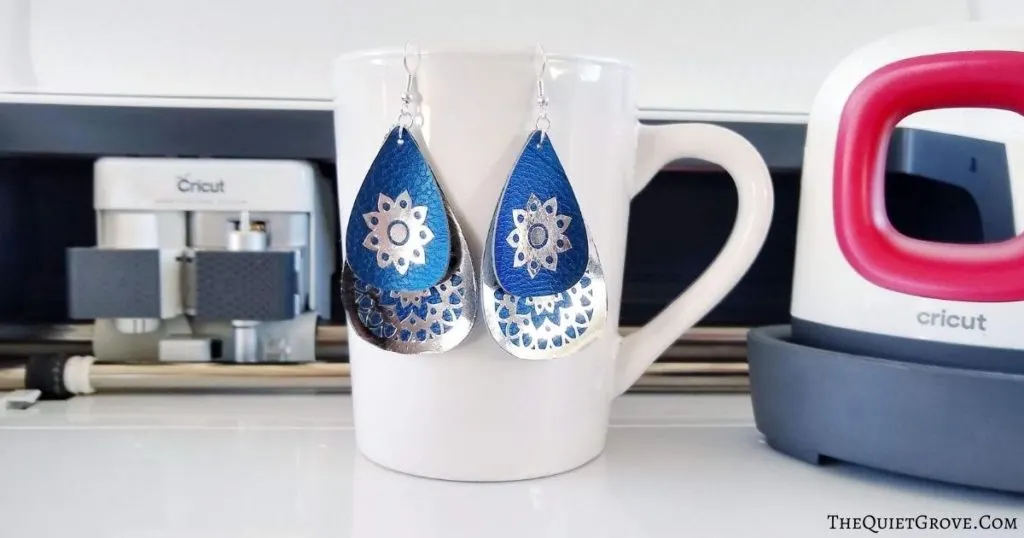 Credit: thequietgrove.com
If you happen to have a Cricut Faux Leather cutter, this would be the ideal craft for you!
Create these gorgeous two-layer leather earrings with silver foil designs to have your friends gasping with envy.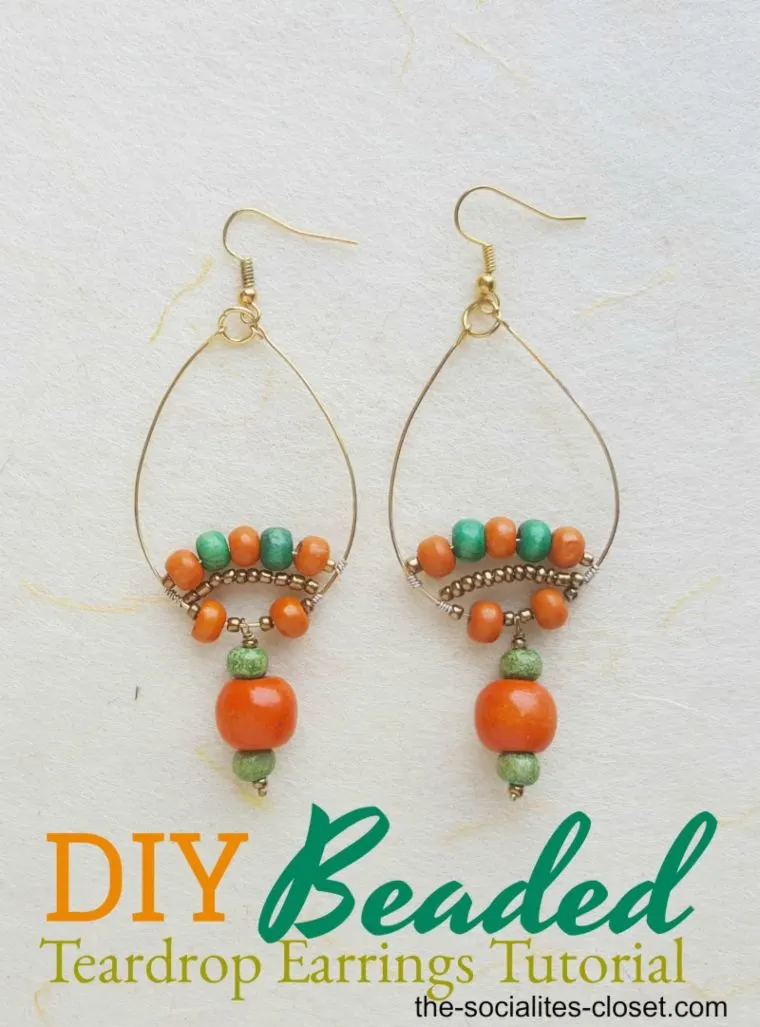 Credit: the-socialites-closet.com
Next up, here's an idea that takes your bohemian chic aesthetic to the next level. This is a traditional jewelry craft, so it's a great way to improve your wire and beading skills.
Pick up a bead kit here to get started.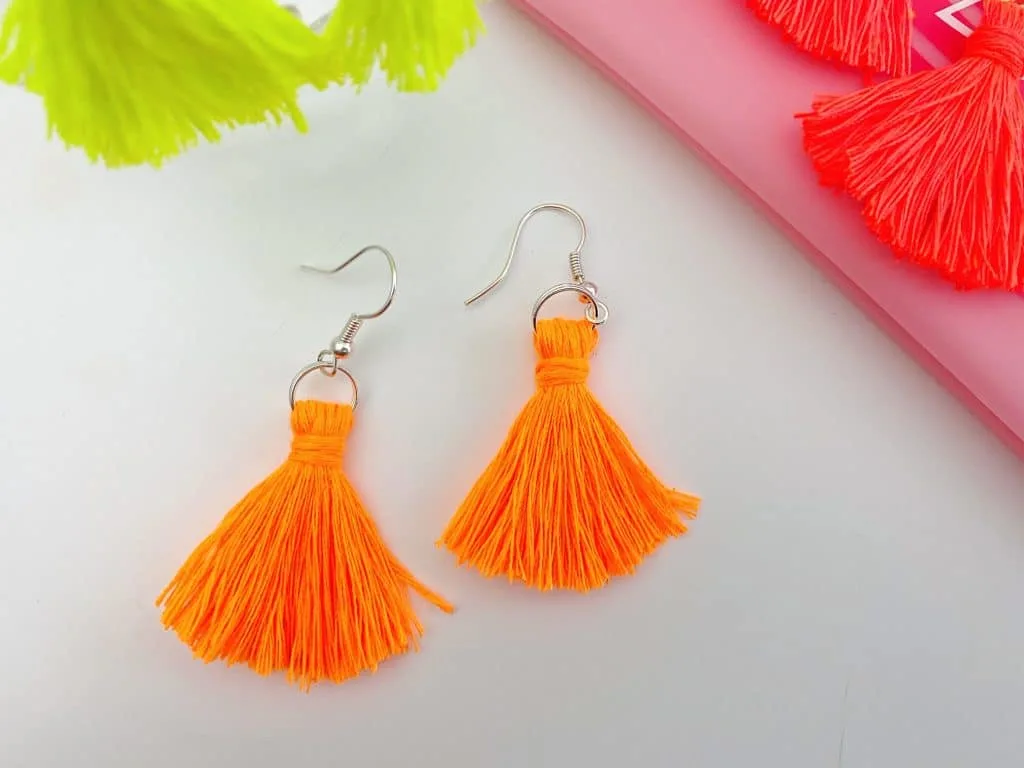 Credit: funhappyhome.com
If you love those bohemian chic earrings, you'll love these DIY tassel earrings too. Add a pop of exuberant color to your outfit with any shade in the rainbow! Any color is possible with one pack of thread (here).
Once you know how to make these tassels, you can put them on pretty much anything. Attach them to your bag, your phone case, or even hang them from your car mirror for a happy pop of color anywhere.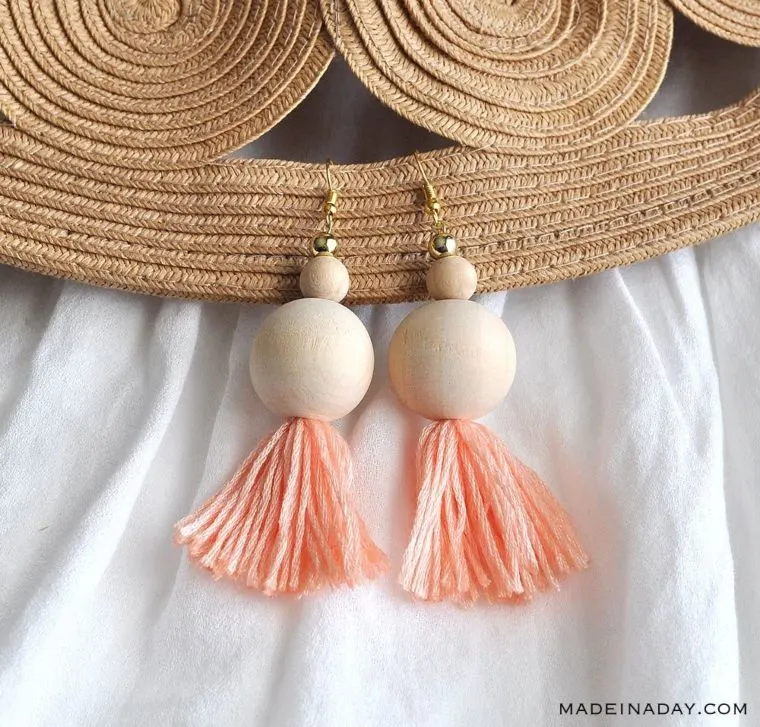 Credit: madeinaday.com
If you liked the tassel earrings but felt something might have been missing, these chunky wooden tassel earrings take the classic tassel to another level.
Pick up wooden beads like this to elevate the accessory.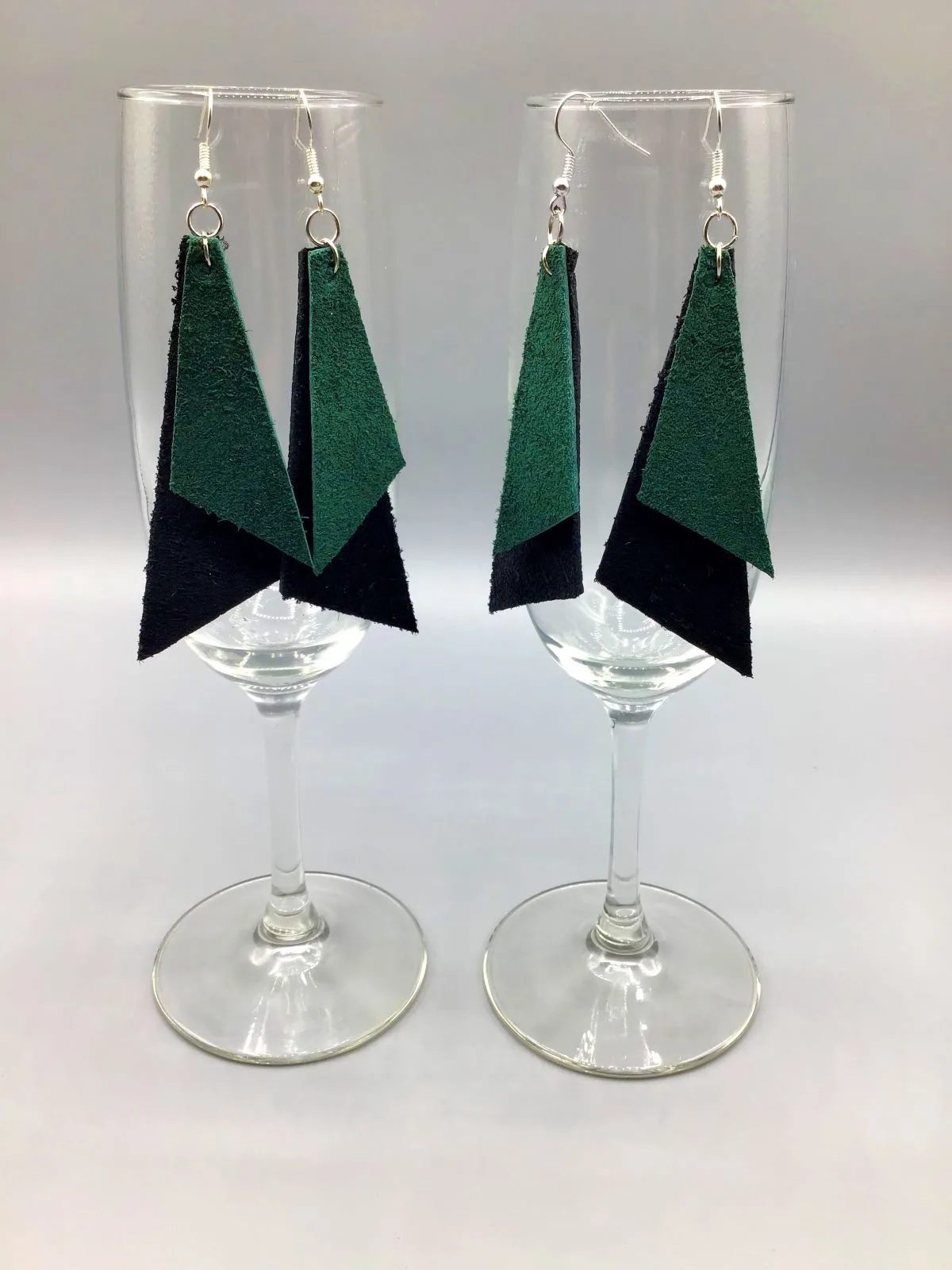 Credit: popshopamerica.com
I've seen these leather earrings all over the place; they're all the rage right now. But who knew you could make them for yourself?
It's easy to purchase a pack of craft leather online so you can go wild and experiment.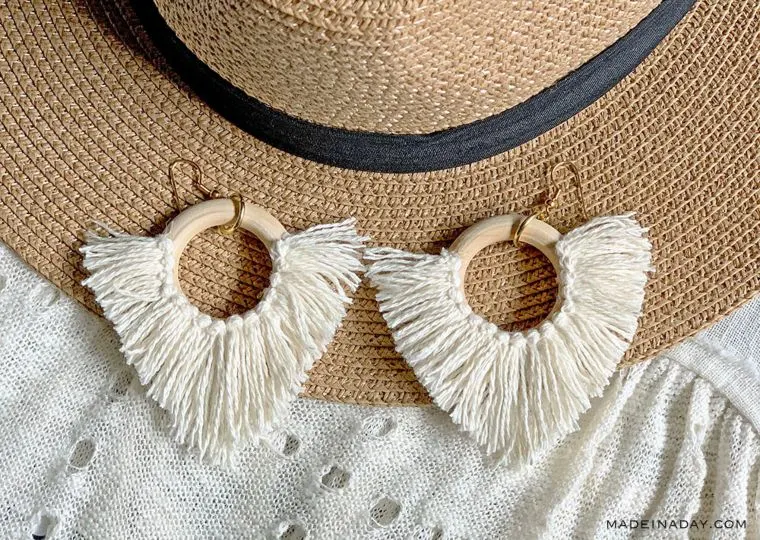 Credit: madeinaday.com
Take it to the beach with these gorgeous statement fringe earrings, which are perfect for a day under the sun. These pop effortlessly from beneath the brim of a sunhat or anchor a flowy white outfit with ease.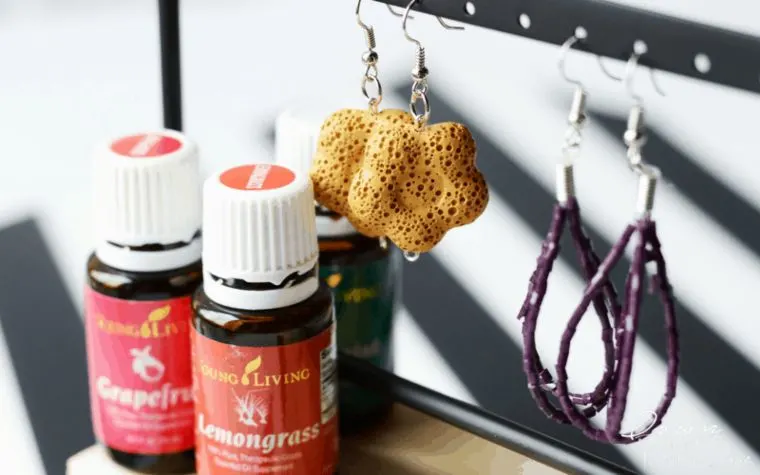 Credit: downredbuddrive.com
I love the idea of earrings that double as something else, but I never thought earrings could be oil diffusers! These genius creations use a porous rock called lava stone (here) to absorb the oils.
Grab a kit of essential oils here and start experimenting with your favorite combinations! I'm a fan of bergamot and patchouli, myself. You can also use the oils in some of these mason jar gift ideas.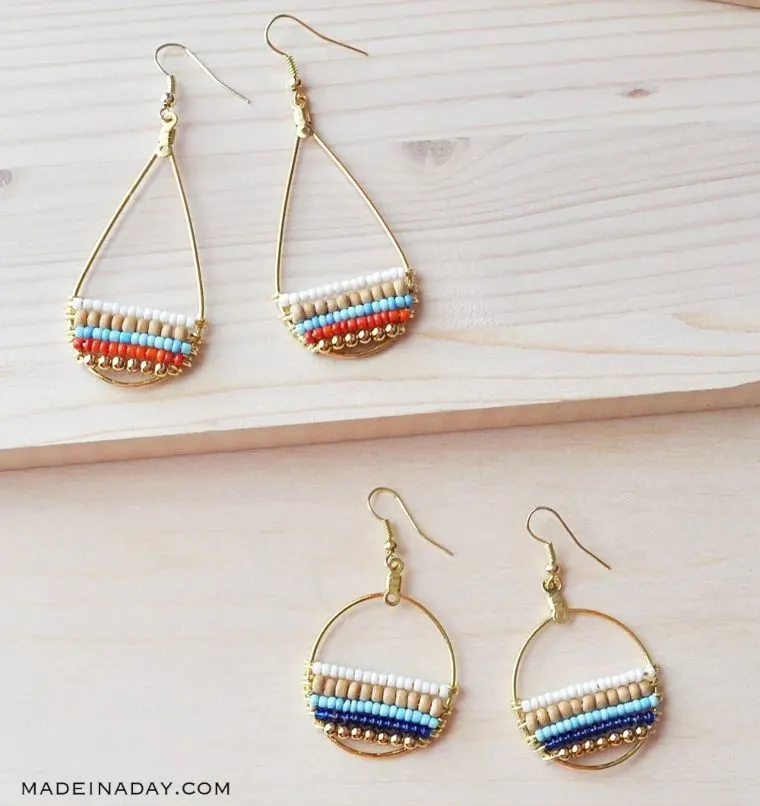 Credit: madeinaday.com
Combine the best of boho chic and beachy styles into these glamorous hoop earrings, perfect for holidays or livening up a basic outfit.
Using golden jewelry wire (here), take your beading and wire craft skills up a notch.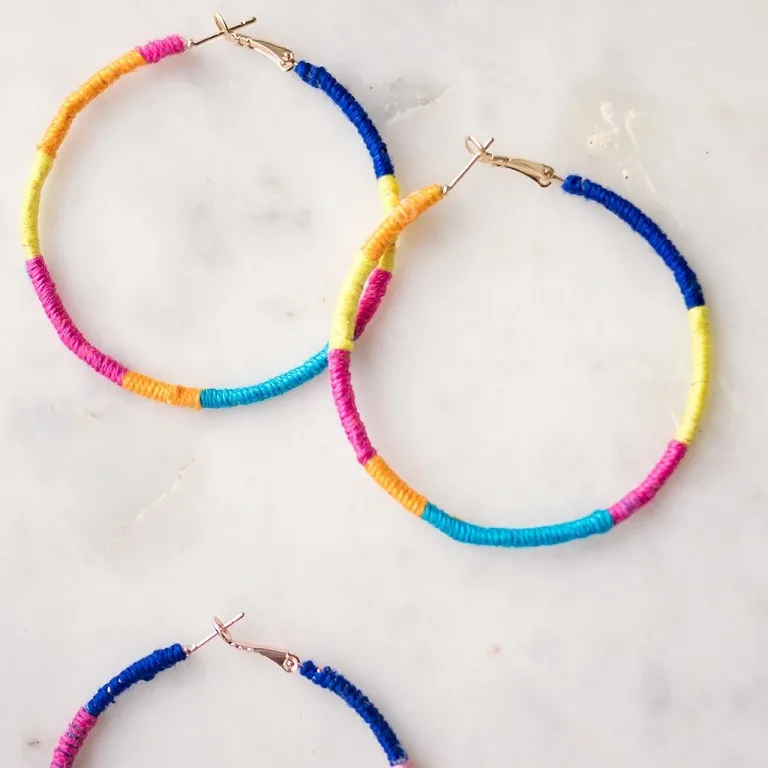 Credit: gina-michele.com
Whether you're hitting a rave or the next book club, these rainbow-wrapped hoops will add a welcome pop of color to your outfit. Use any spare embroidery floss and wrap it around these golden hoops, then glue.
If you don't want to buy the hoops online, you can always find super cheap golden hoops at your local dollar store. Alternatively, use this technique to jazz up any earrings currently wasting away in your collection!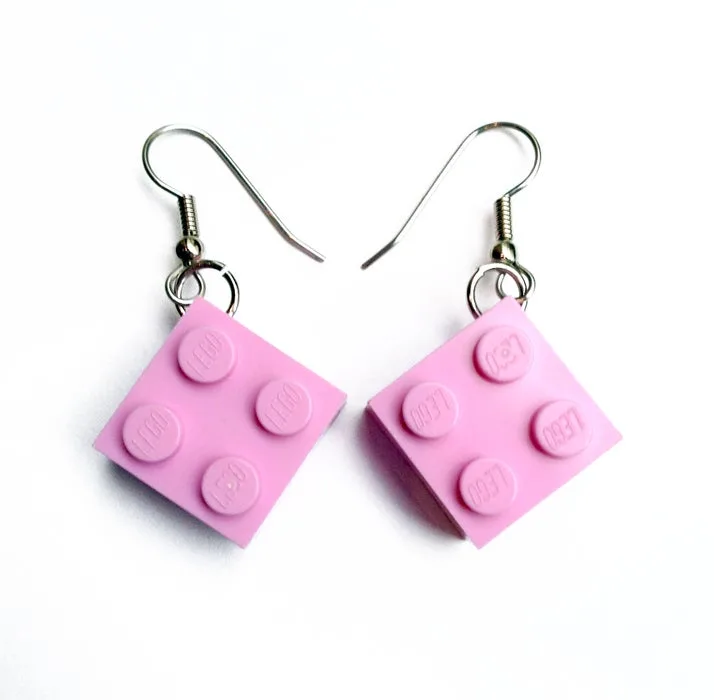 Credit: instructables.com
Stepping on a Lego might be the worst part of your day, but putting on these adorable Lego earrings is guaranteed to be the best. Fish a couple of bricks out of your kid's set, drill through and mount on a hook.
The best part of this hack is you can do this with any Lego piece in a kit. Choose from characters, different brick colors, or even a portion of baseboard for a unique, colorful look!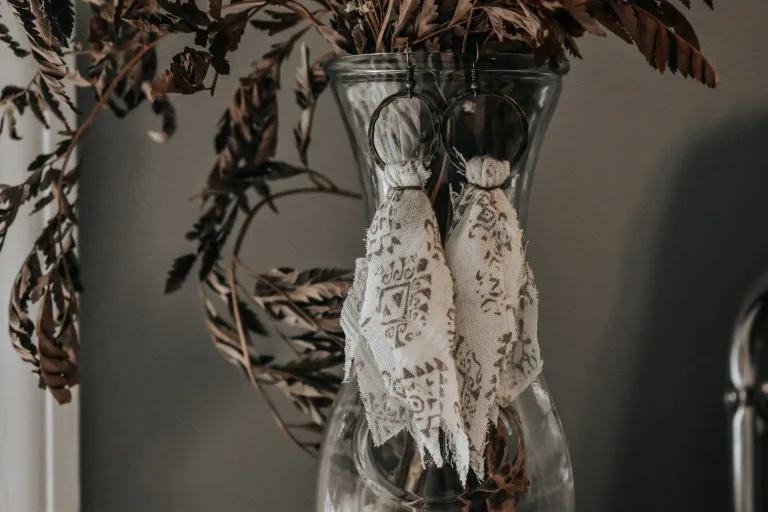 Credit: handmadewithjess.com
Shabby chic is a stunning aesthetic for your accessories as well as around your home. These rustic fabric earrings are a gorgeous stash buster, offering a statement piece with muted colors sure to suit any outfit.
Go for a single color if you're feeling minimal, or mix it up with multiple shades in a single color palette. This project is also a great way to memorialize a piece of clothing you don't want to wear anymore!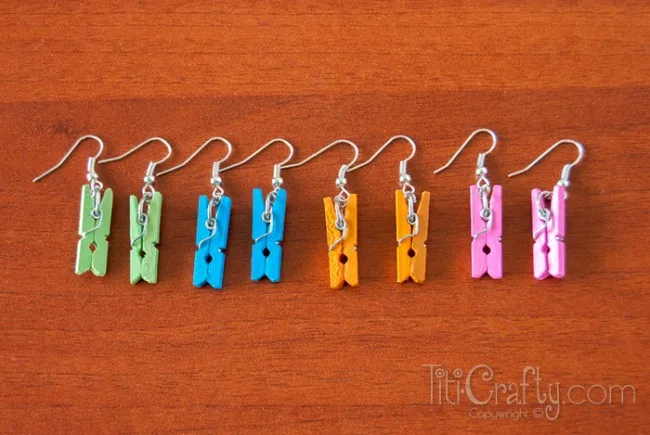 Credit: thissillygirlskitchen.com
Let's take a hard turn from shabby to cutesy with these sweet clothespin earrings. Depending on the color you choose, you can take these in any direction you want; mini clothespins come in many colors (black, anyone?).
If you want to be even more creative, why not try using the clothespins as intended? Hang small, light objects or pictures from the earrings for an alternative look.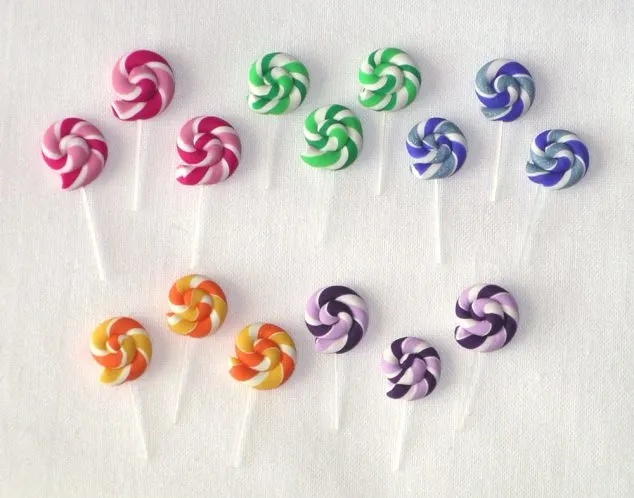 Credit: familyfocusblog.com
This next earring idea is, in a word, sweet! With lollipops dangling from your ears, no day can truly be bad. Even if lollipops aren't your thing, learning to craft earrings with clay opens up a world of possibilities.
From rainbows to emojis, use polymer clay to craft any shape under the sun. If you make multiple shapes in the same color, you can always mix and match them to give a different look from each side.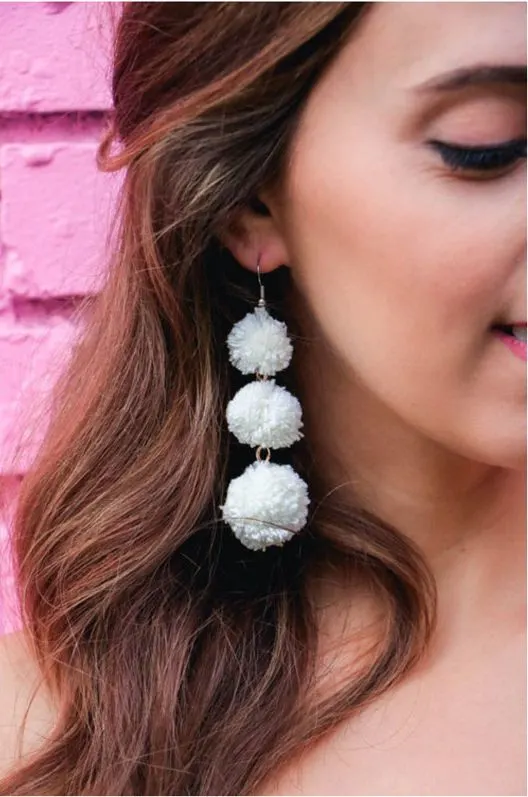 Credit: amandapuleo.com
Pom-poms are incredibly easy to make, but when properly styled, they end up looking like a style choice straight out of Cardi B's wardrobe. Grab some split rings here to connect each pom-pom to the next quickly.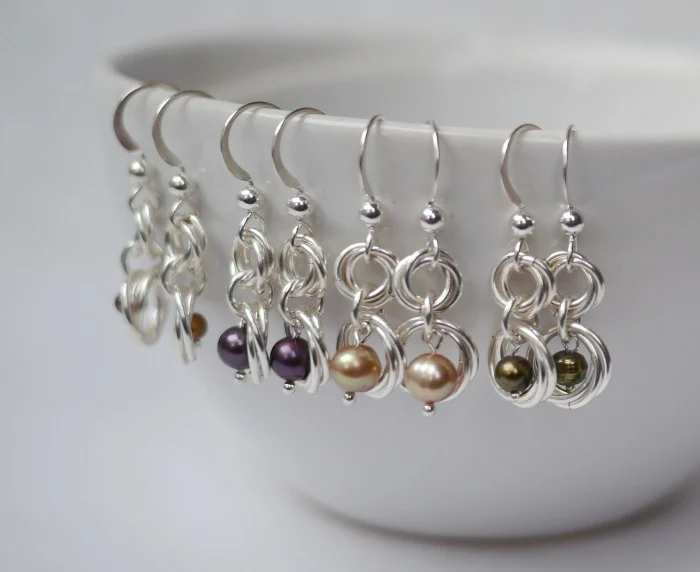 Credit: linkouture.com
No need to visit a high-end jewelry store; you can create those glamorous pearl earrings for yourself at home. This is a fantastic way to give the pearls from a piece of broken jewelry a brand-new life.
If you happen to have one more pearl handy, why not use this wire-wrapping technique to create a matching ring for your jewelry chest?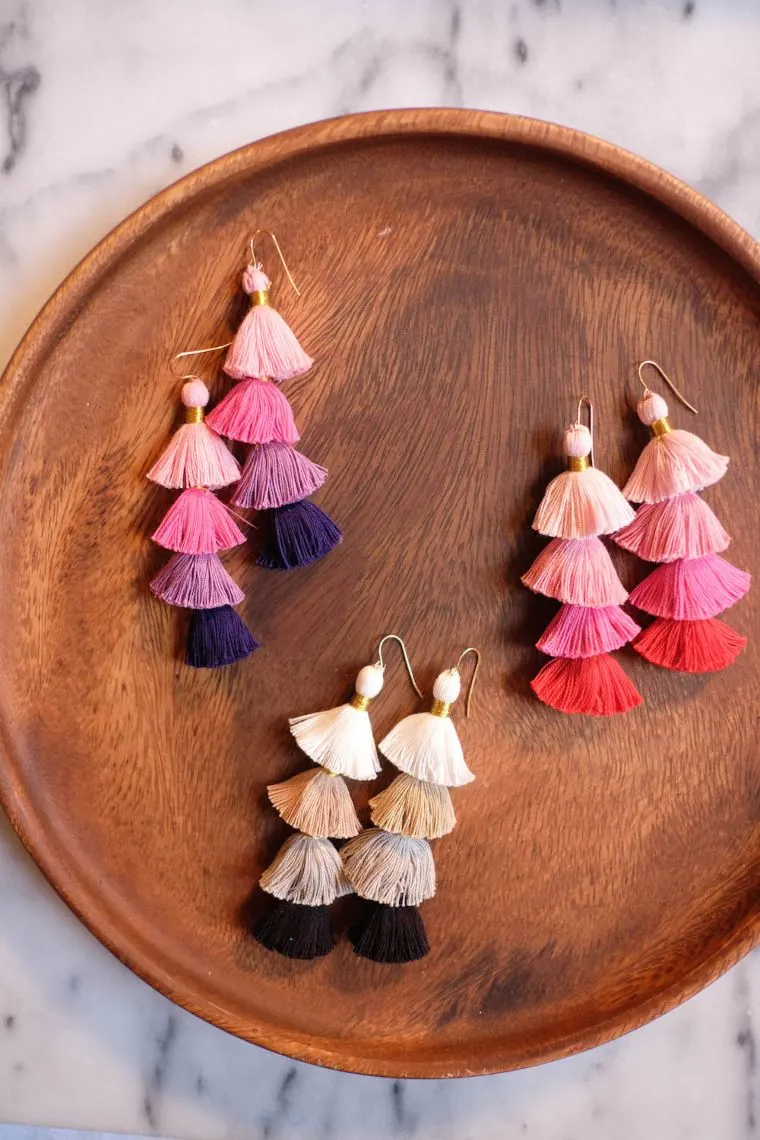 Credit: thestripe.com
Take the basic tassel earring from earlier in this list and upgrade it! These stacked tassel earrings are still super easy to make, but the result looks so professional and avant-garde; you'll never want to take them off.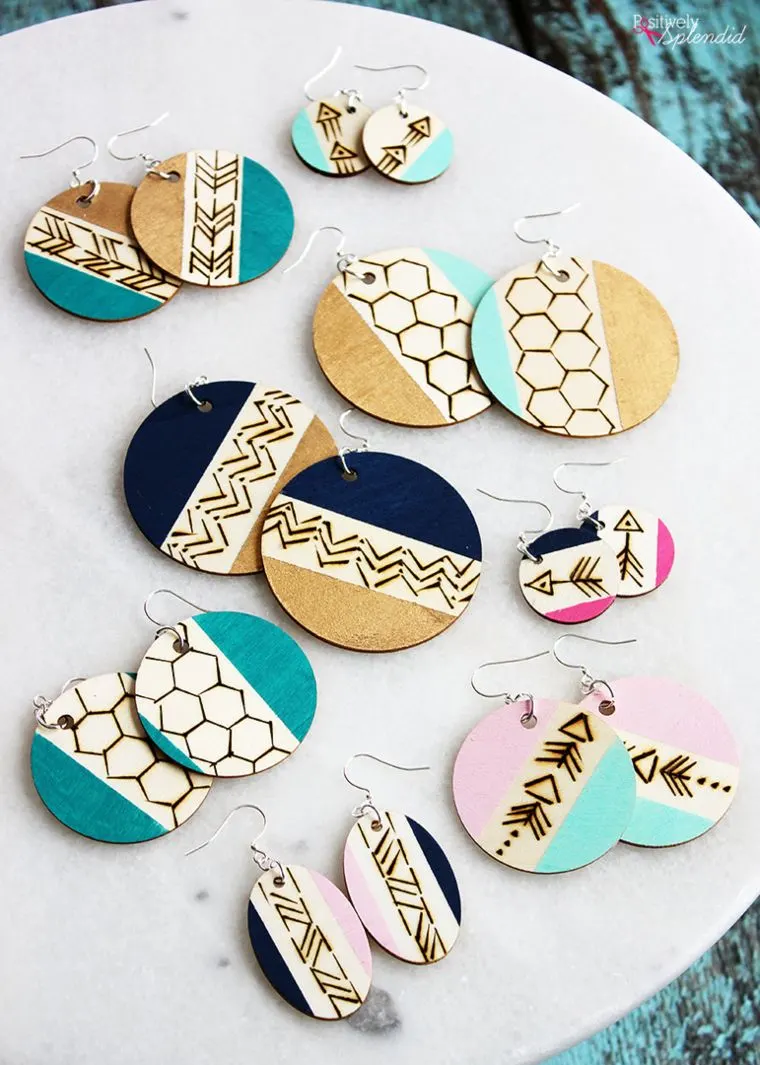 Credit: positivelysplendid.com
These wood-burned earrings come together in a cinch, taking no more than thirty minutes to make, but they look incredible.
Grab a woodburning tool (here) and carefully get crafting; this works for home décor too!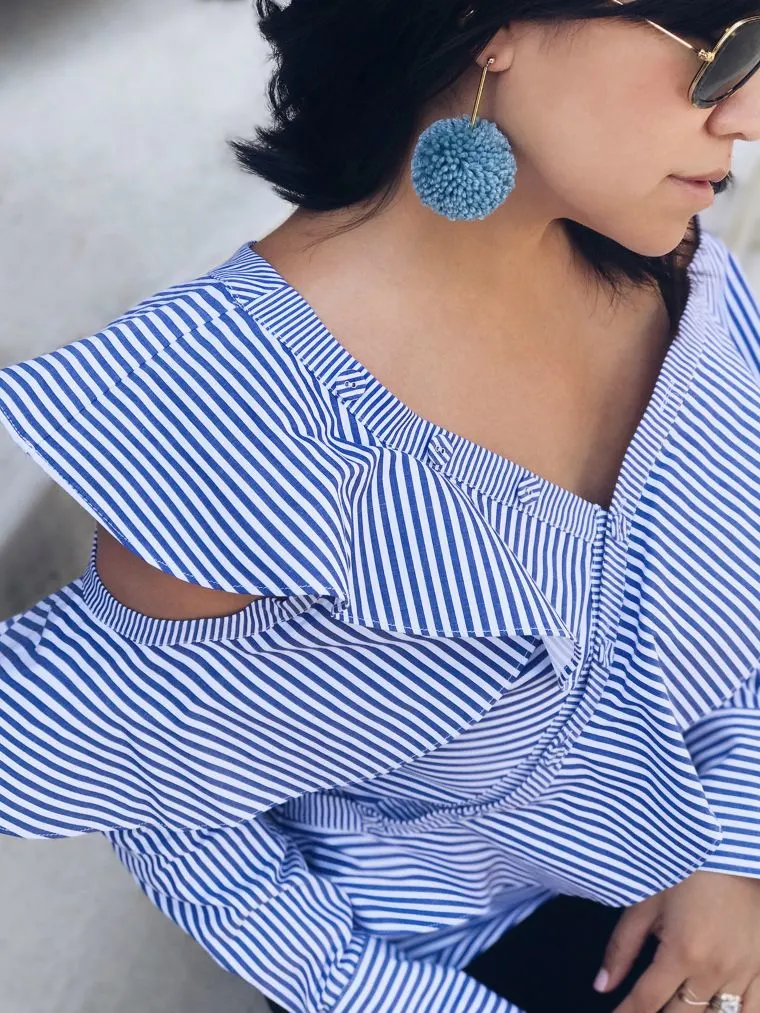 Credit: honestlywtf.com
Who knew pom-poms could look so glamorous? Apparently, this clever crafter did. Achieve the combination of whimsicality and glamor thanks to these lovely brass tubes, which contrast the pom-pom's fluff.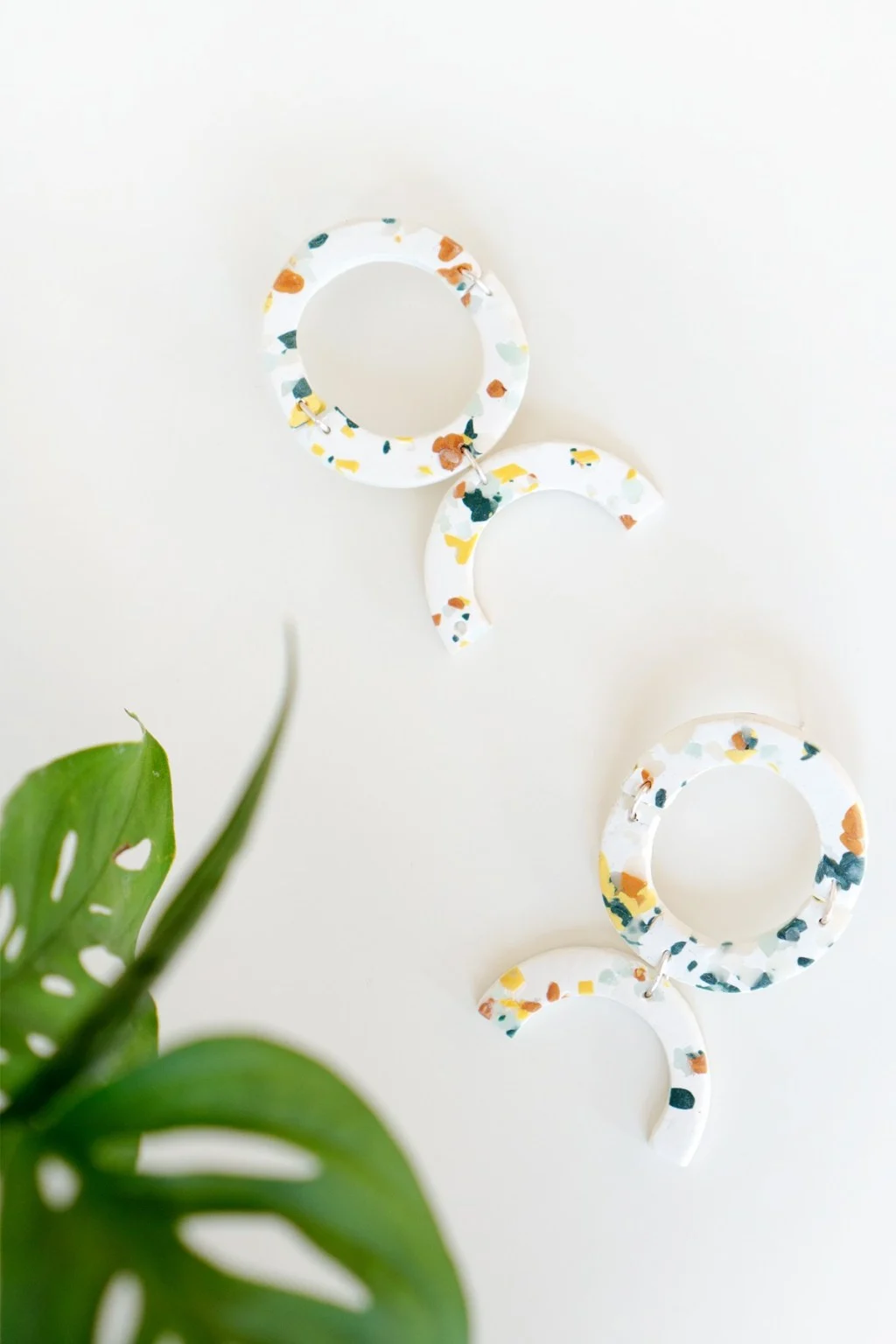 Credit: ctrlcurate.com
Terrazzo is having somewhat of a moment with jewelry makers (as evidenced by the two occurrences on this list). This DIY is a great way to use up your scrap clay, but it certainly doesn't look like a stash buster.
These would look fantastic with this DIY headband made from offcuts of an old t-shirt. Upcycle chic!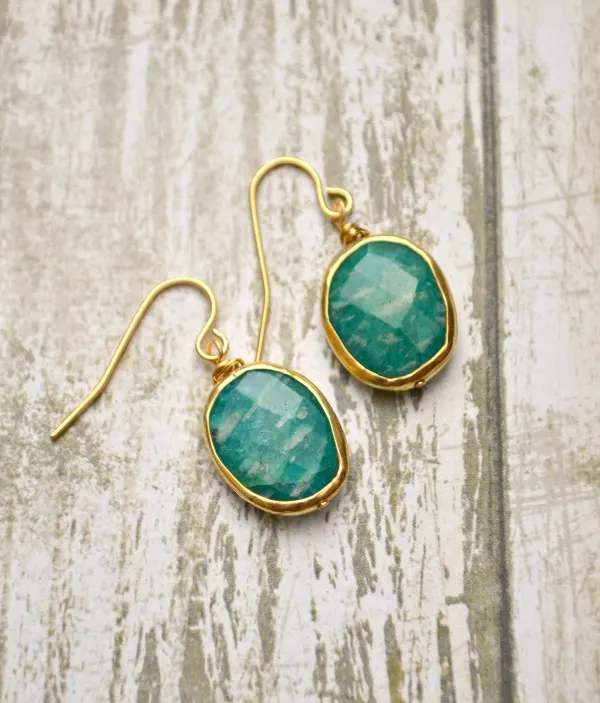 Credit: amylattacreations.com
While the concept of this project is simple, the result effortlessly adds style to any outfit. Gold-plated earring hoops and jump rings combine to anchor some gorgeous gold-plated amazonite beads (here).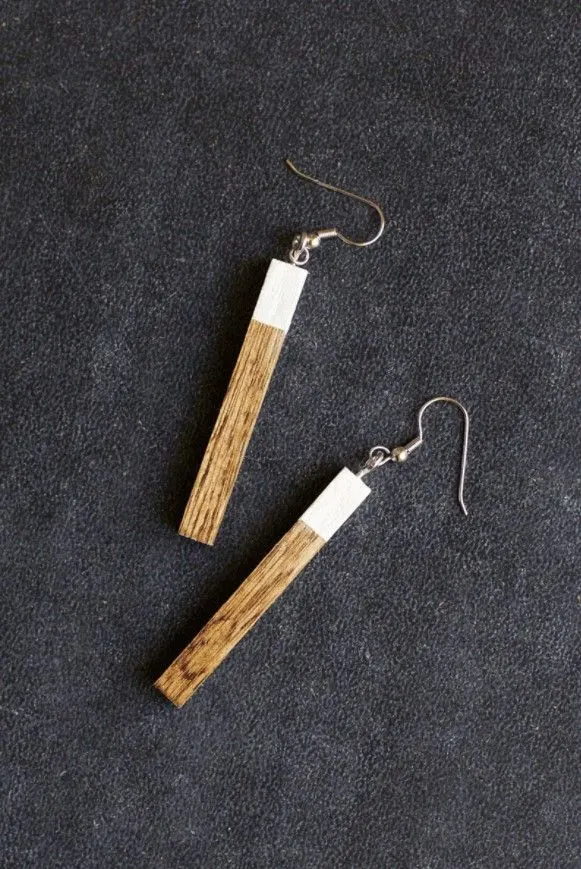 Credit: abeautifulmess.com
Raw materials rendered in jewelry are a gorgeous tribute to minimalism, and these square wooden earrings fit the bill. Using a simple square dowel (here) and some white paint, you can make your own.
While the tutorial uses dark-stained wood for a modern look, you can opt for any stain under the sun to make these earrings your own.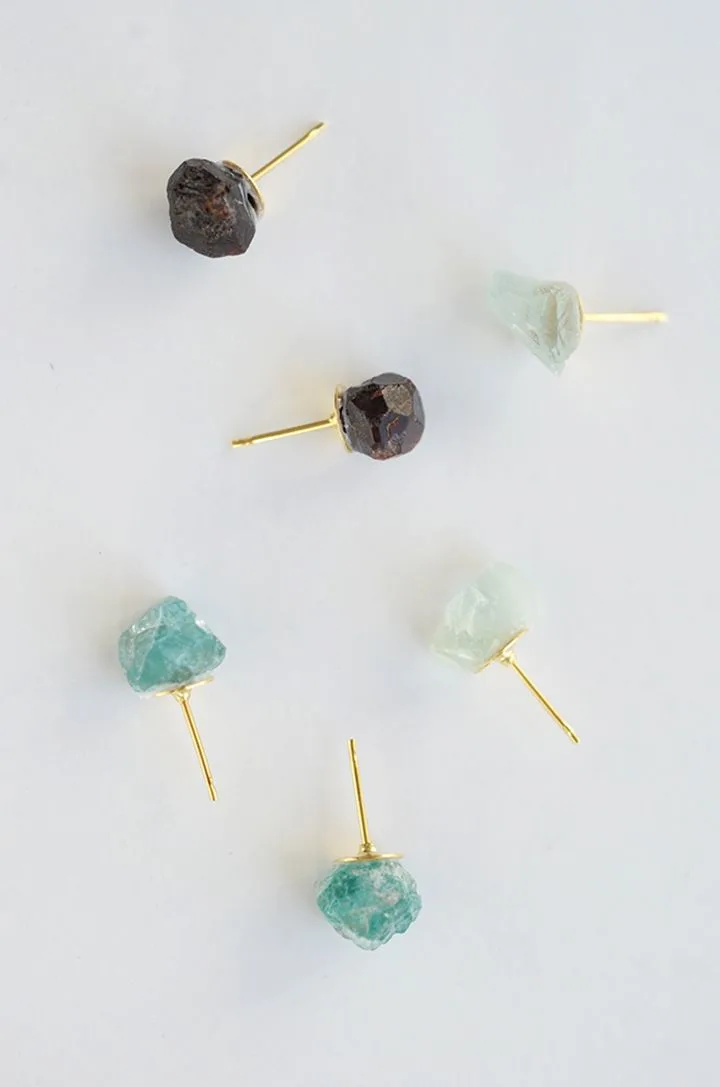 Credit: aliceandlois.com
Speaking of raw materials, these raw stone studs highlight the stone's natural beauty with no distracting embellishments. Mounted on gold earring posts, these are a stunning addition to your jewelry.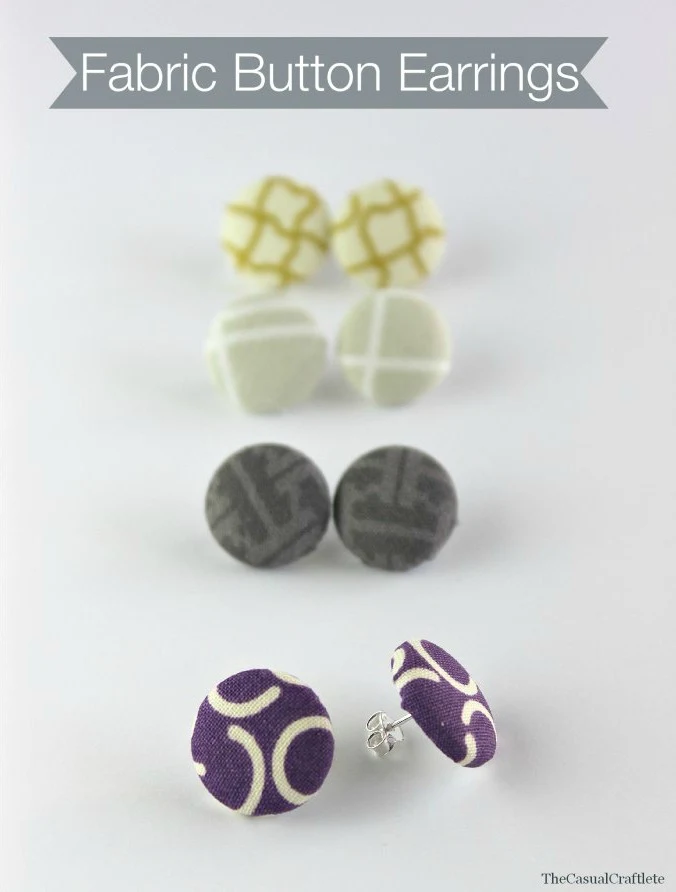 Credit: purelykatie.com
If you're a fan of a particular fabric pattern, you can carry it onto your ears as the ultimate tribute. Wrap the fabric around some aluminum cover buttons (find them here) for a quick and easy jewelry DIY.
These would look fantastic when paired with a garment in the same pattern. Gingham on gingham, for example, would make a statement!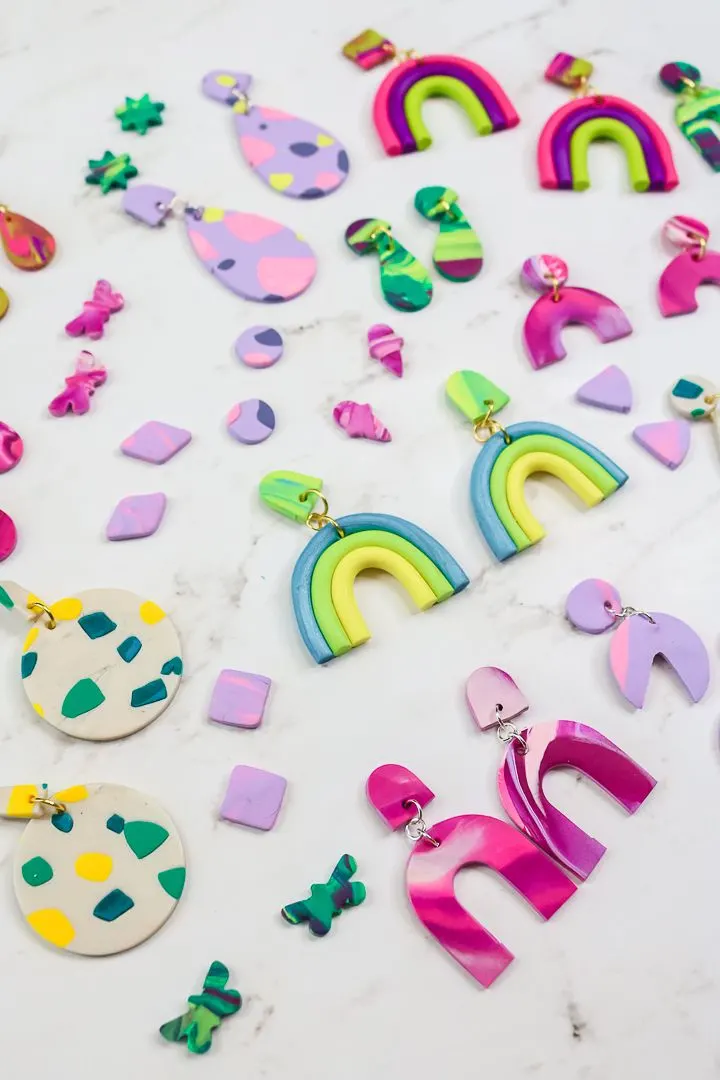 Credit: thecountrychiccottage.net
As a departure from the standard terrazzo, these gorgeous, marbled clay earrings are perfect for highlighting a particular color scheme. This is great for kids as well, and they'll love the DIY aspect!
Make sure you invest in some clay cutters to get your desired shapes (here), and a non-stick mat to work on certainly wouldn't hurt either.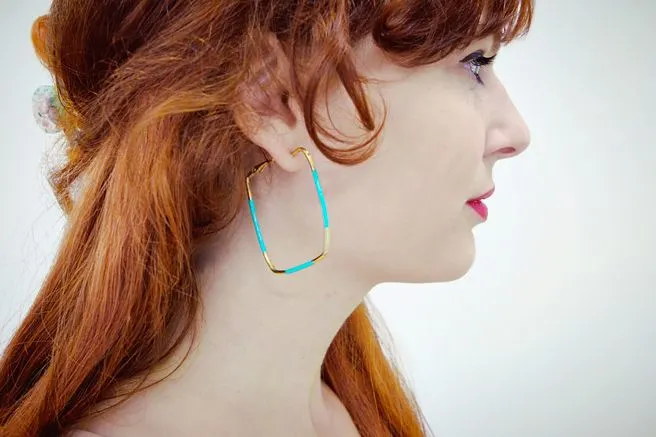 Credit: lanaredstudio.com
I know many DIY enthusiasts claim that a craft will 'just take a minute to do,' but these really will! Transform some dollar store golden hoops into trendy, modern squares with a teal accent.
The teal accent comes from this nail polish. If you want to be sure it will stay on the earring for as long as possible, consider going over the whole thing with a coat of clear spray enamel (here) to secure it.
If you're curious about some other ultra-quick and ultra-trendy jewelry ideas, this list of DIY ring ideas is right up your alley.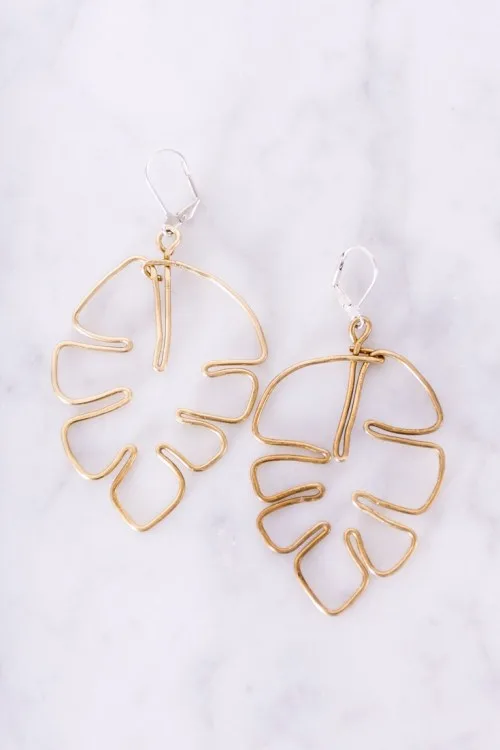 Credit: diyinpdx.com
Many prize the Monstera leaf for its gorgeous shape, so why not capture that in golden wire for your next pair of earrings? These golden Monstera ferns come together easily (with a bit of finagling).
Just make sure you have a pair of needle-nose jewelry pliers like these to get around those tricky twists and turns.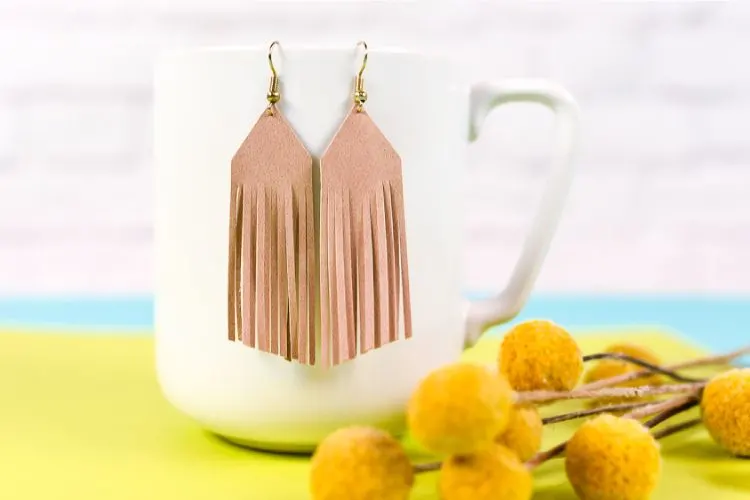 Credit: heyletsmakestuff.com
These faux suede earrings are so light and delicate; you can hardly feel them as they grace your earlobes. While the tutorial uses a Cricut to cut out the suede's shape, you can easily do this by hand.
However, I highly recommend investing in some fabric scissors (like these) if you do this. They leave a gorgeous clean-cut, which is essential for the minimalist profile of these earrings. Find your suede here.
I certainly know that my earring collection will grow significantly, all thanks to this list of ideas, but what about you? Which earring DIYs tickle you pink, and which ones don't interest you?
Conclusion
Even better, which earring DIYs do you know of that didn't make it onto this list? Comment them below and let us all know what our next project should be.