Lego all over the place? These little lego organization ideas will save you the nerves, the time and keep your home decluttered! They're relatively simple yet super useful.
If you have kids, then you have undoubtedly stepped on a stray Lego before. You will also know that it hurts. These tiny torture bricks need to be safely put away, but kids so often forget to keep them corralled.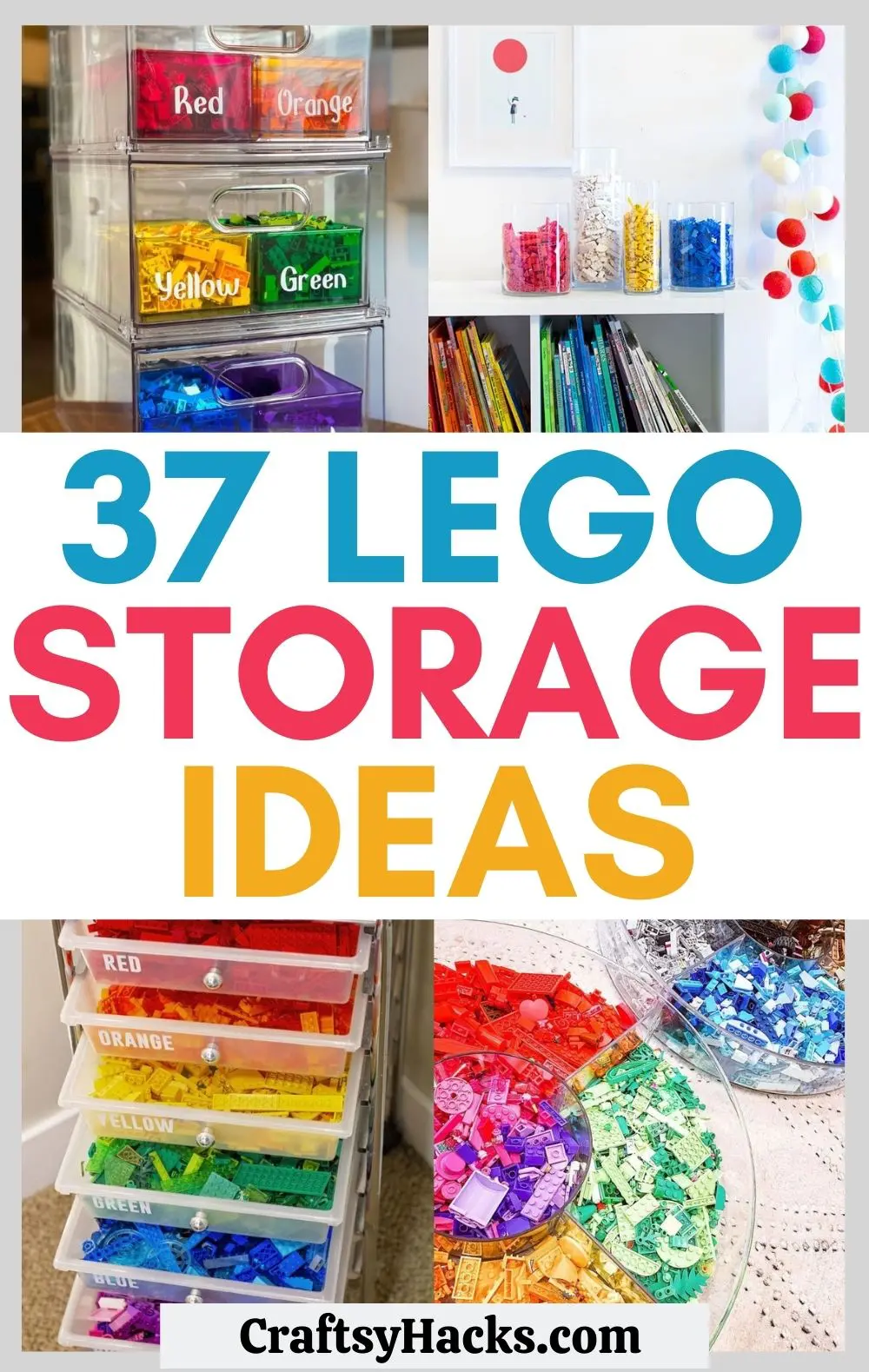 Luckily, I've got thirty-seven storage ideas that will help your kids keep every little piece neatly organized (and away from your unsuspecting feet). Browse through all thirty-seven to find one perfect for your home!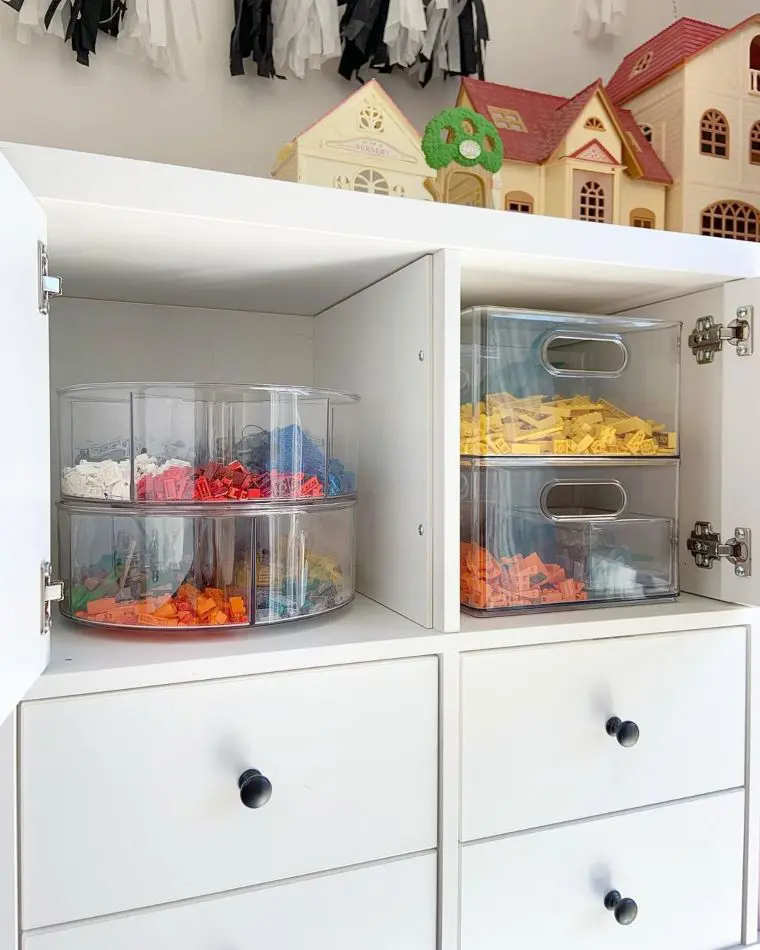 Credit: Instagram
First, on the list, we have a clever little hack that makes it easy for kids to reach every Lego piece in their collection. The clear containers are perfect for organizing the pieces by color, but the best part is the turntable.
Your little ones can rotate through the Lego pieces and easily pick out the ones they need without spreading the entire collection over the floor! Check out some clear turntable organizers here.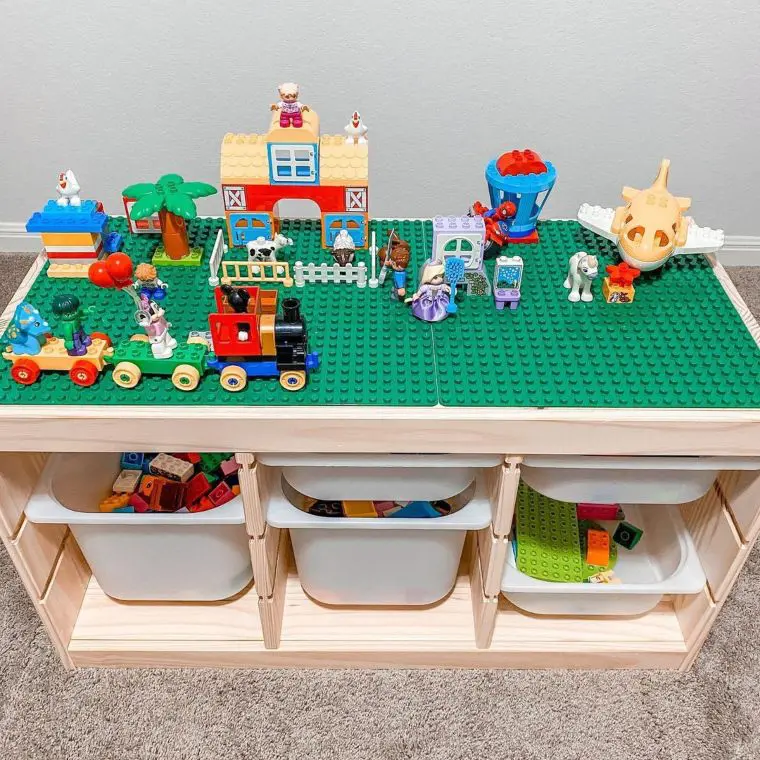 Credit: Instagram
Next on the list is something that will have your kids shrieking in excitement: a custom Lego table. The surface is perfect for displaying the most significant pieces in their collection, while the underside is all about organizing.
This particular hack uses an IKEA set of drawers with plastic inserts like these to accommodate the many different Lego sizes. Drag the whole thing into the middle of a room to create a two-sided play table!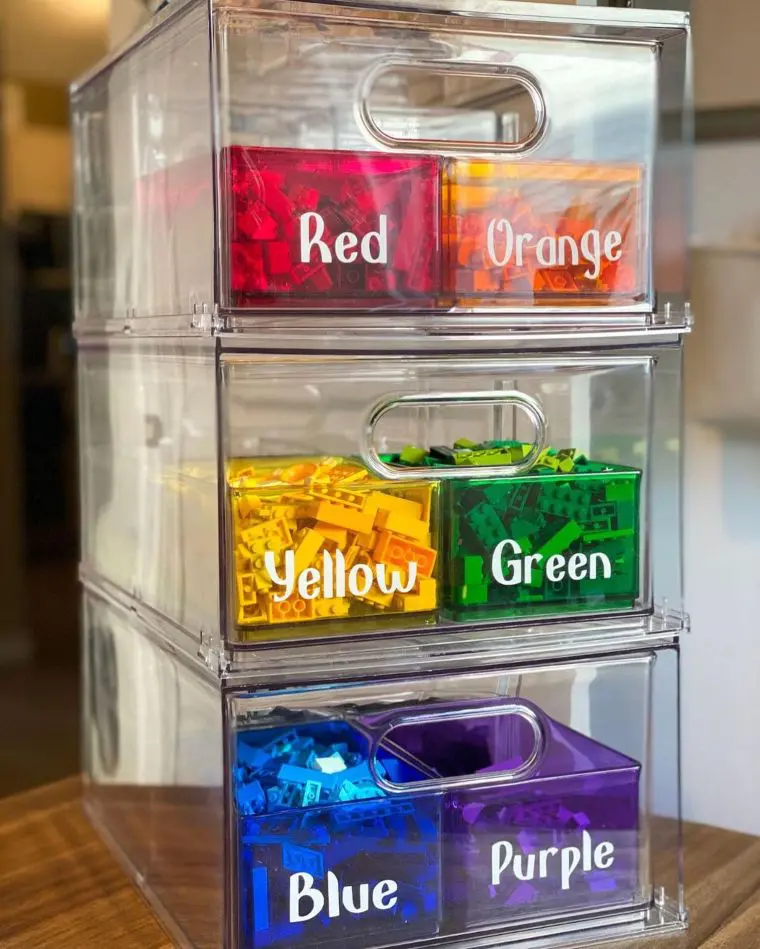 Credit: Instagram
I love the idea of organizing Lego bricks by color because it minimizes how much your kids need to sift through the bricks, thus reducing mess. These acrylic stacking drawers are perfect for the job.
Pick up a set of acrylic stacking drawers here alongside some color name labels like this. Then, sit down with your kids and get sorting! Depending on the size of their Lego inventory, you might need to scale this up.
Credit: Instagram
Where better to store all your Lego pieces than in a giant counterpart? These adorable Lego shelves look incredible, but they're not too difficult to make for yourself.
Using an average cupboard with the handles removed, create the characteristic Lego brick divots using stacked wooden cut-outs like these. Then, paint or spray paint the entire cabinet a single color. Voila!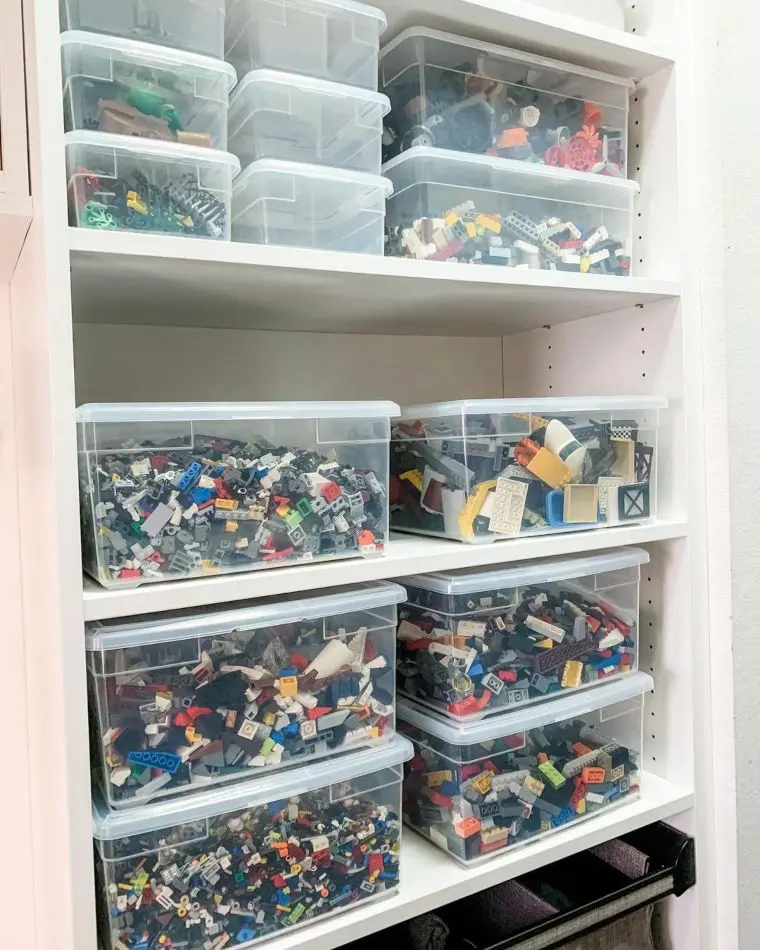 Credit: Instagram
Lego storage doesn't need to be overly complex; it just needs to work! These large plastic bins are perfect for keeping hundreds of Lego pieces in one place and offer a quick clean up with the kids.
While you can slide plastic bins under your child's bed or find a spare corner, consider a dedicated cupboard to promote organization and responsibility (IKEA is an ideal option).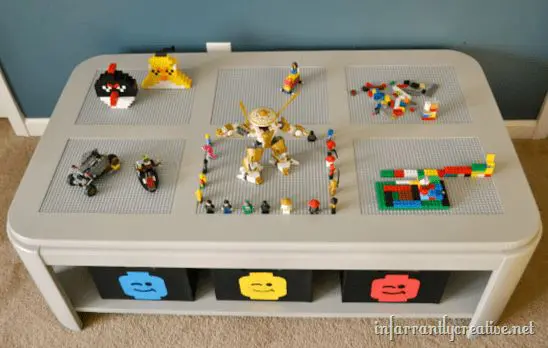 Credit: infarrantlycreative.net
Here's another take on the Lego table from earlier, only this one isn't as tall. Choosing a low and wide table offers more play space on which your child can build their creations.
Because this table is lower, you'll have to pick the proper storage for the job. I love the little black Lego boxes this crafter used; the colorful Lego men on the front are perfect for sorting pieces by color!
Find some black boxes here to make your very own.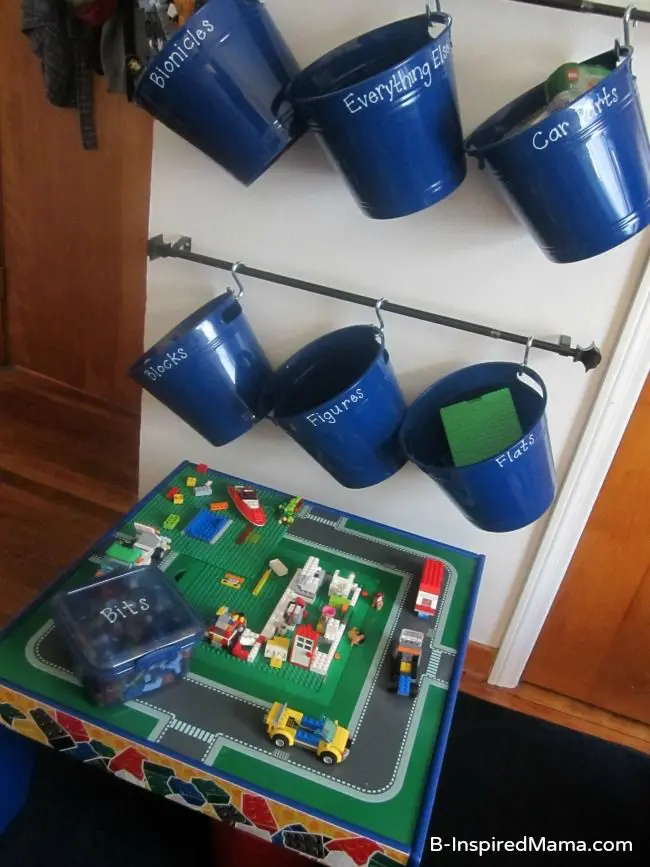 Credit: b-inspiredmama.com
Next up, we've got a storage idea that takes advantage of the amplest storage opportunity in your home: the walls. That's right; if you can figure out how to use wall space effectively, you'll beat the clutter.
Using some simple metal buckets, two towel rails, and some metal S-hooks (here), you can create a basic organization system. It looks so fun and adorable, it's kid-friendly, and it won't break the bank!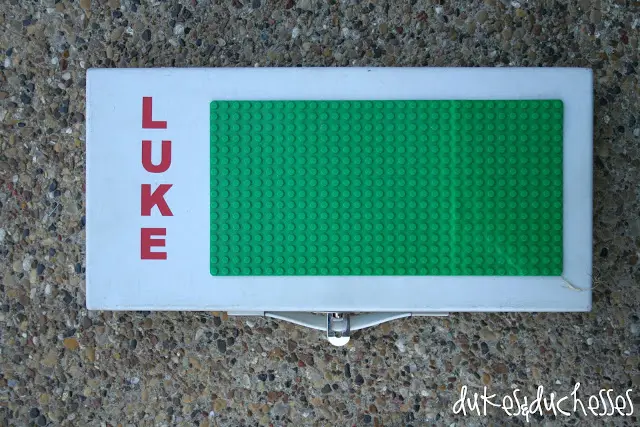 Credit: dukesandduchesses.com
Are you and the kids on the go a lot? Need an easy way to take their Lego collection along for the ride? This ingenious Lego traveling suitcase transforms a vintage metal case like this into the perfect solution.
While you can't fit a huge collection in this case, it's ideal for keeping the little one occupied on train rides or in the car. You can even display their favorite figurines using a Super-Glued base plate like this on the inside.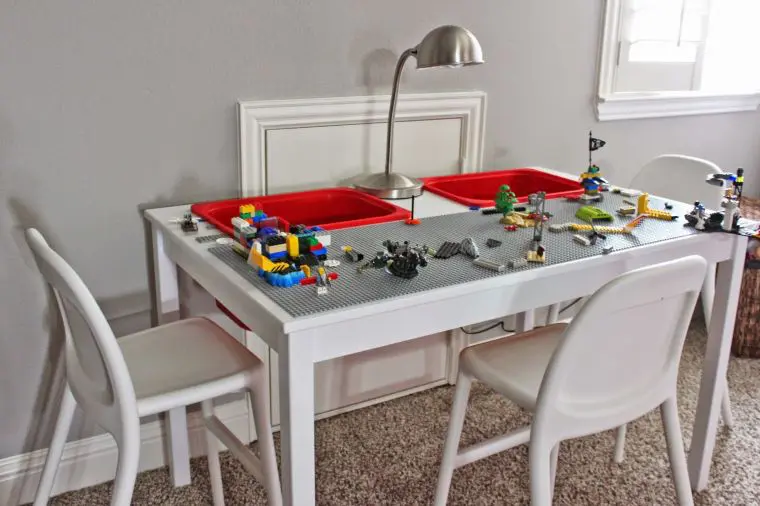 Credit: blogspot.com
Here's yet another take on the Lego play table idea, but this one is slightly different from the previous ones. Instead of just a flat surface with some under-counter storage, this table is designed to make playtime awesome.
Two bins filled with your little one's favorite Lego pieces sink into a low table, a lamp adorns the surface, and chairs for their friends ring the table. Start with a play table like this and get customizing!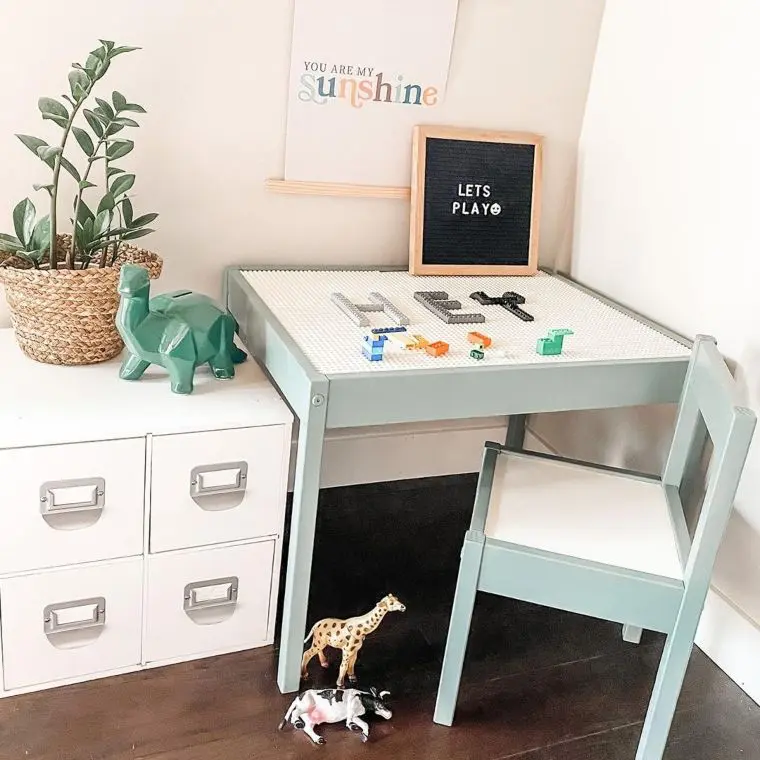 Credit: Instagram
If your little one is keener on playing alone, this is perfect for them. Create a Lego play area using the same table as the previous hack but cover the entire tabletop in that iconic Lego baseplate.
For storing the pieces, grab a set of filing drawers and set them to work, separating the parts into the correct bins. Work with your little one to come up with a system; that way, they're more likely to stick to it!
Check out more ways to organize children toys.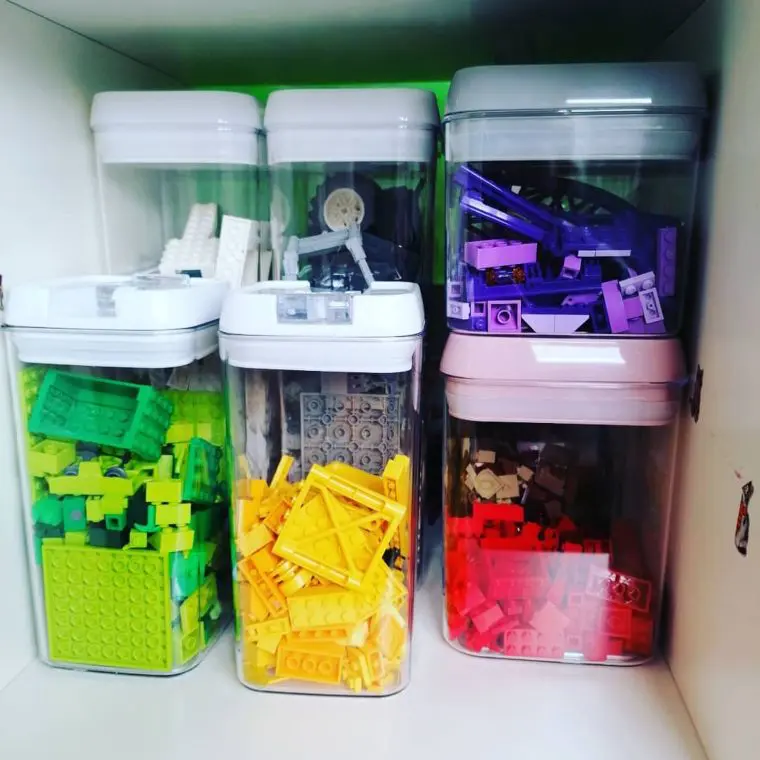 Credit: Instagram
Color-coding has never looked so satisfying. You can hit up your local Dollar Tree for these clear plastic bins, or you can find them online here. The key is to separate all your Lego pieces by color.
I love this idea for its simplicity. While initially made to store food, these storage bins will fit pretty much anywhere in your home. Even better, they're designed to stack, so they'll effortlessly save you space.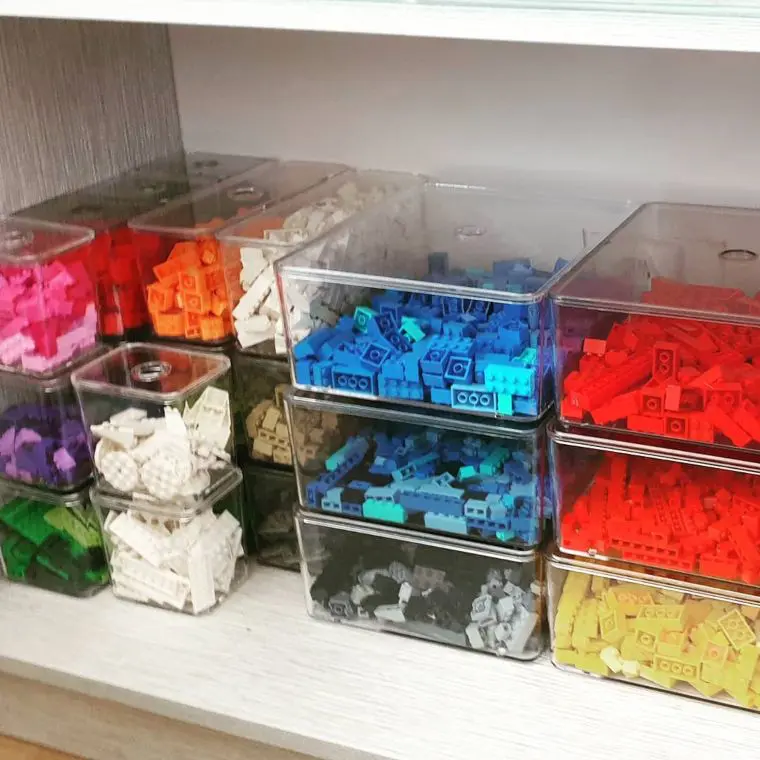 Credit: Instagram
Speaking of saving space, these flat acrylic boxes come in many different sizes so that you can accommodate any part of the Lego collection. Separate your pieces by color, by size, or by function.
I'd recommend keeping these in your child's toy chest, in the TV stand, or anywhere that will offer easy access to the pieces. If there's no designated space right now, grab a chest to make one!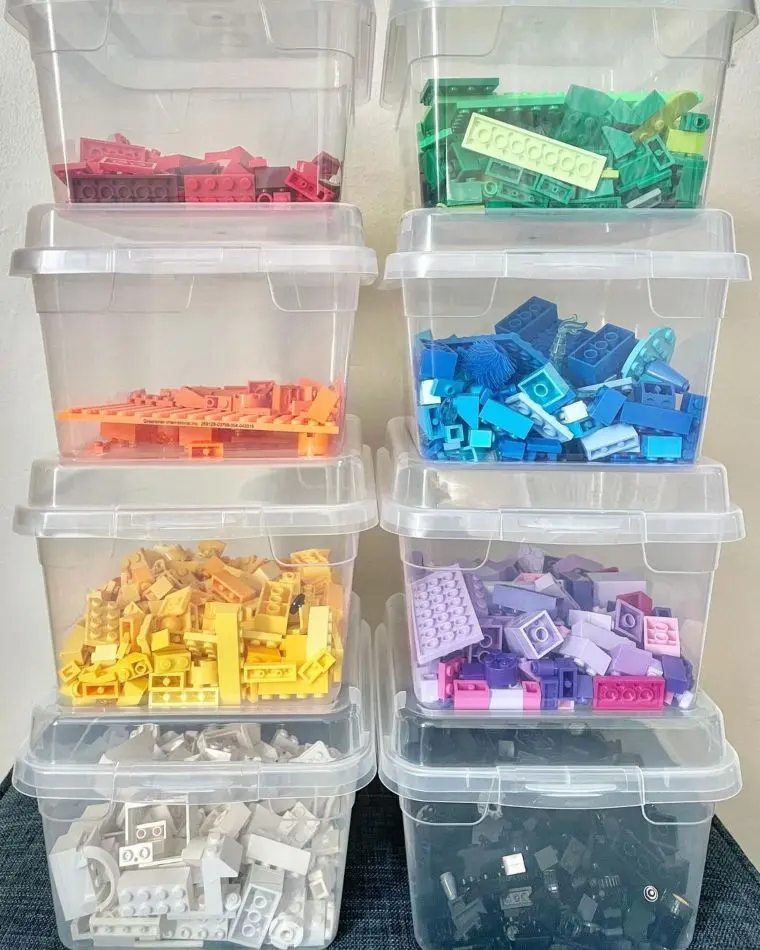 Credit: Instagram
If you have more space available (or a more extensive Lego collection to manage), this next idea might be for you. It's simple and easy to execute. Stackable boxes, snap-on lids, and transparent walls are great.
This project is a perfect idea if you don't want to spend much money. These plastic bins come in sets, so you can purchase as many as you need. Not to mention, their durability means they won't need replacing!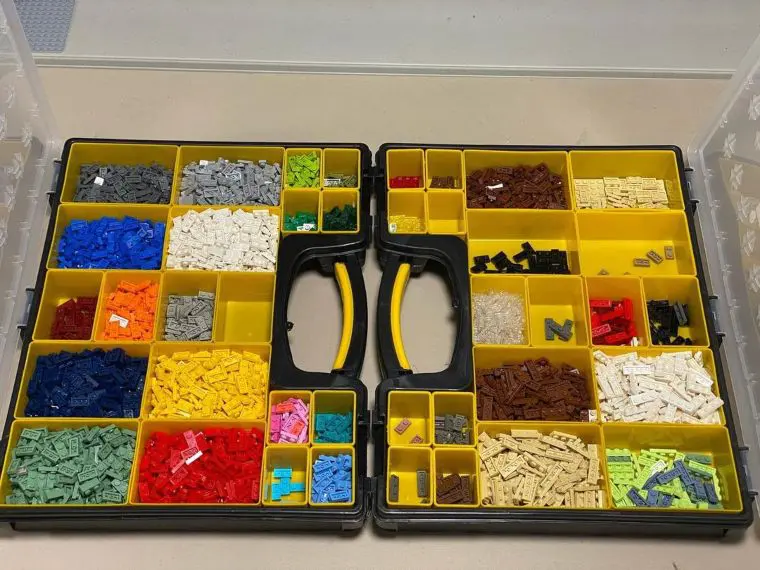 Credit: Instagram
All those little Lego add-ons can be an absolute nightmare to manage. That's where this toolbox idea comes in. Featuring compartments, a carry handle, and a see-through lid is an ideal spot for tiny pieces!
Pick up a toolbox or a set like this, then sit down with your kids and get organizing. This can be a fun activity for them, and it can also imbue a sense of responsibility, which kids love to take on with their toys.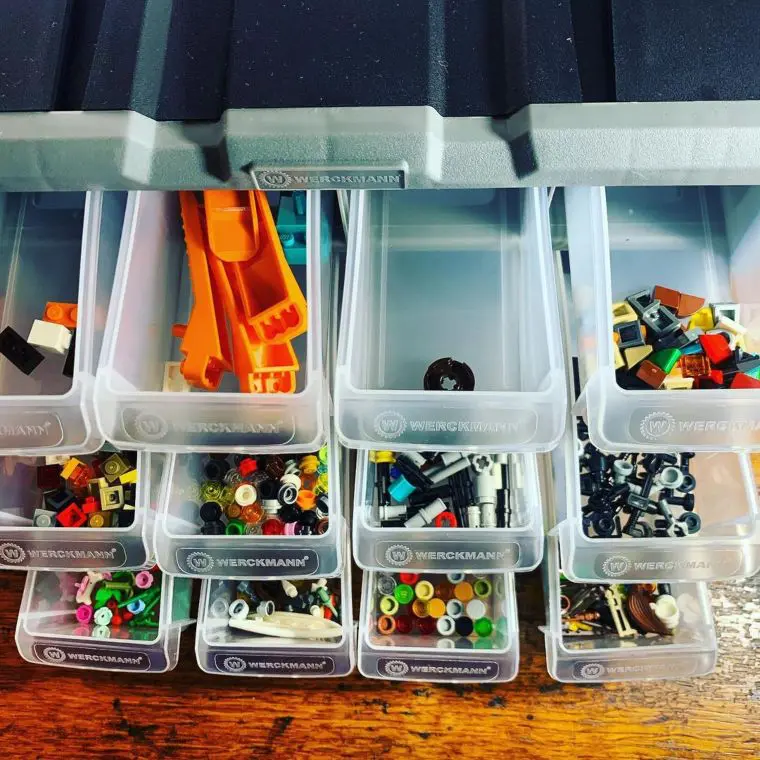 Credit: Instagram
Next up is an excellent desk organizer that can sit on your kids' toy chest, in the study, on their nightstand, or even on the dining room table. With deep plastic drawers a-plenty, this offers ample space.
I love this method because the long drawers are perfect for any awkwardly large Lego pieces. Now, you can keep everything in one place instead of finding multiple spots for large or tiny bricks. Simple!
Check out more office organization ideas for desk!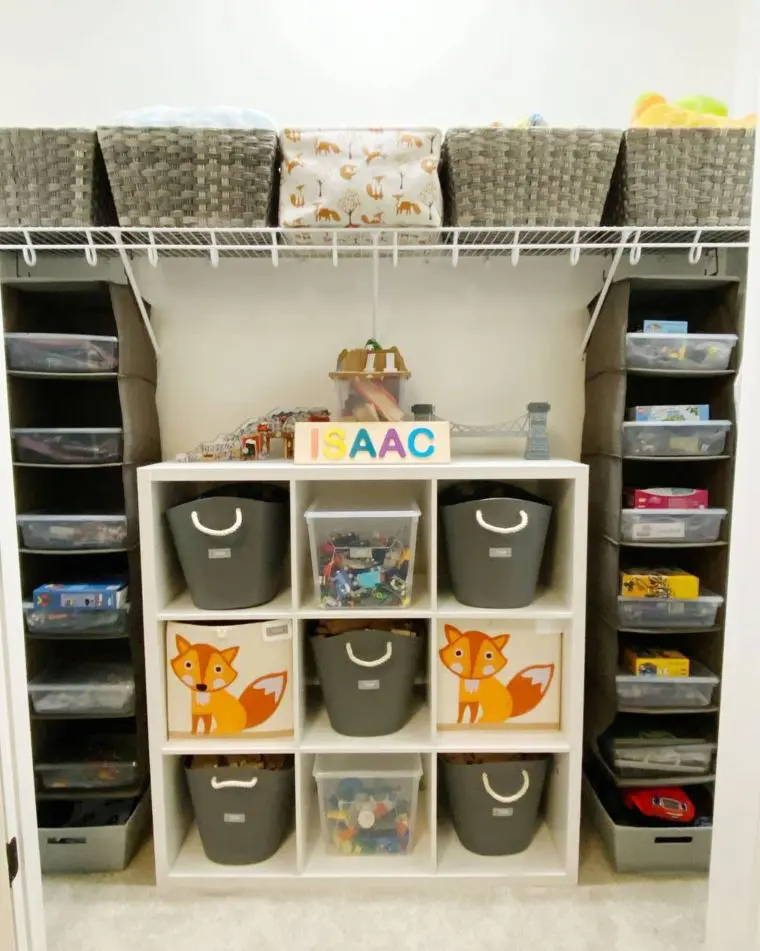 Credit: Instagram
This next idea is perfect if you have two kids who are fond of Lego, and you need to keep their collections separate. Create a full-on tower of Lego storage by combining a cube cabinet and some hanging organizers!
The 3×3 cube in the middle is ideal for storing loose pieces, base plates, and more in the storage bins. Then, your hanging organizers (here) can house each child's personal Lego kits with ease.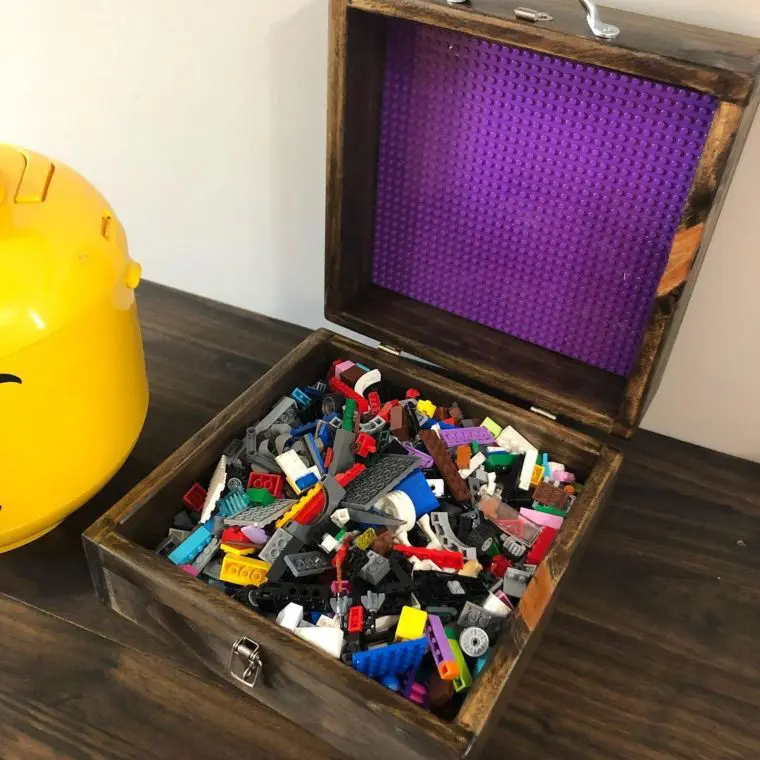 Credit: Instagram
This idea is one of my favorite on this list; can you blame me? This Lego travel case looks downright magical with the solid wooden exterior and royal purple base plate hidden in the lid.
You can make one of your own using a wooden chest like this. Just adhere a purple base plate into the lid, then store the Lego pieces in the bottom, and you're finished. Perfect for trips to friends' houses or further.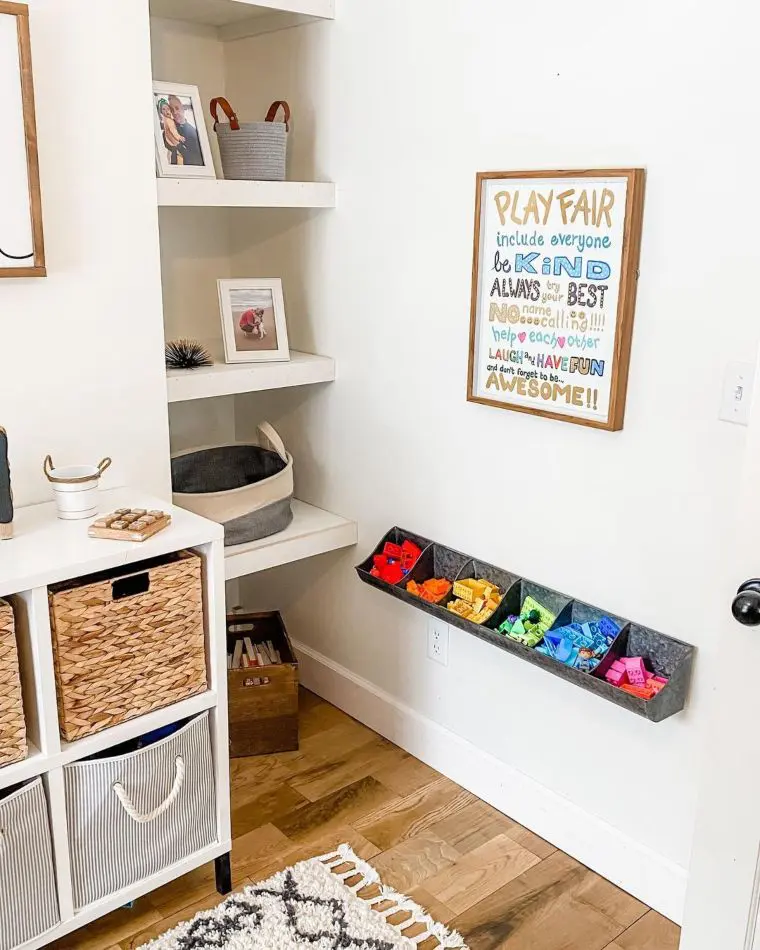 Credit: Instagram
This is a great way to use wall space for storage, plus it keeps all the Lego bricks neatly organized by color. Beyond that, it's easily accessible for little kids if you place the trough at the right height on the wall!
You can pick up a divided trough like this at a home goods store or online; your only responsibility is to mount it and get sorting. Ring an entire playroom with these beauties, or create a single Lego corner with one.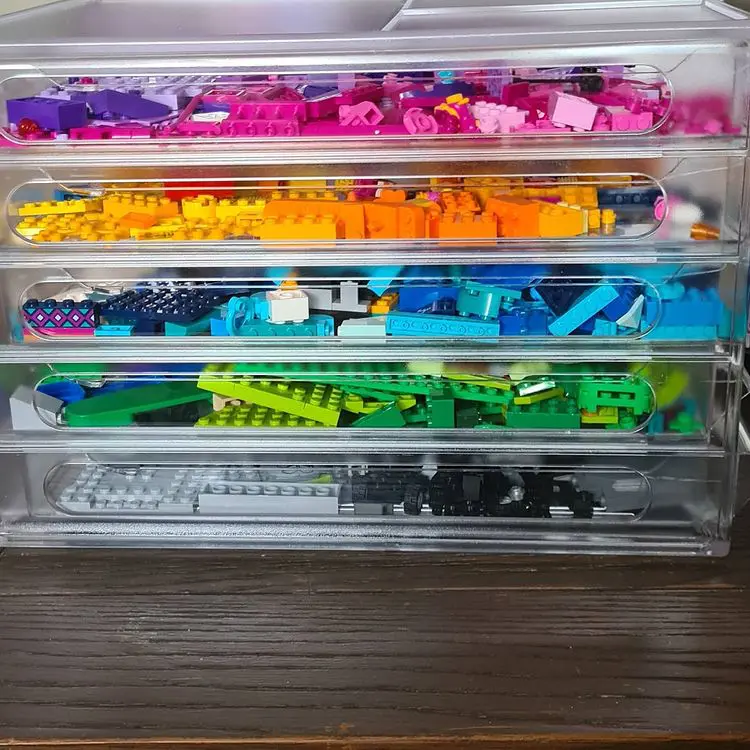 Credit: Instagram
Reusing items in creative ways is the realm of the DIY enthusiast! Why not try using a desktop file organizer to keep Lego bricks corralled and in their proper place? This is ideal for small collections or young kids.
Desktop file organizers offer ample storage over a small footprint and sit discreetly on any flat surface. Grab a clear one and organize by color or hide the vibrant bricks with an opaque surface.
Check out more ways to organize paper clutter.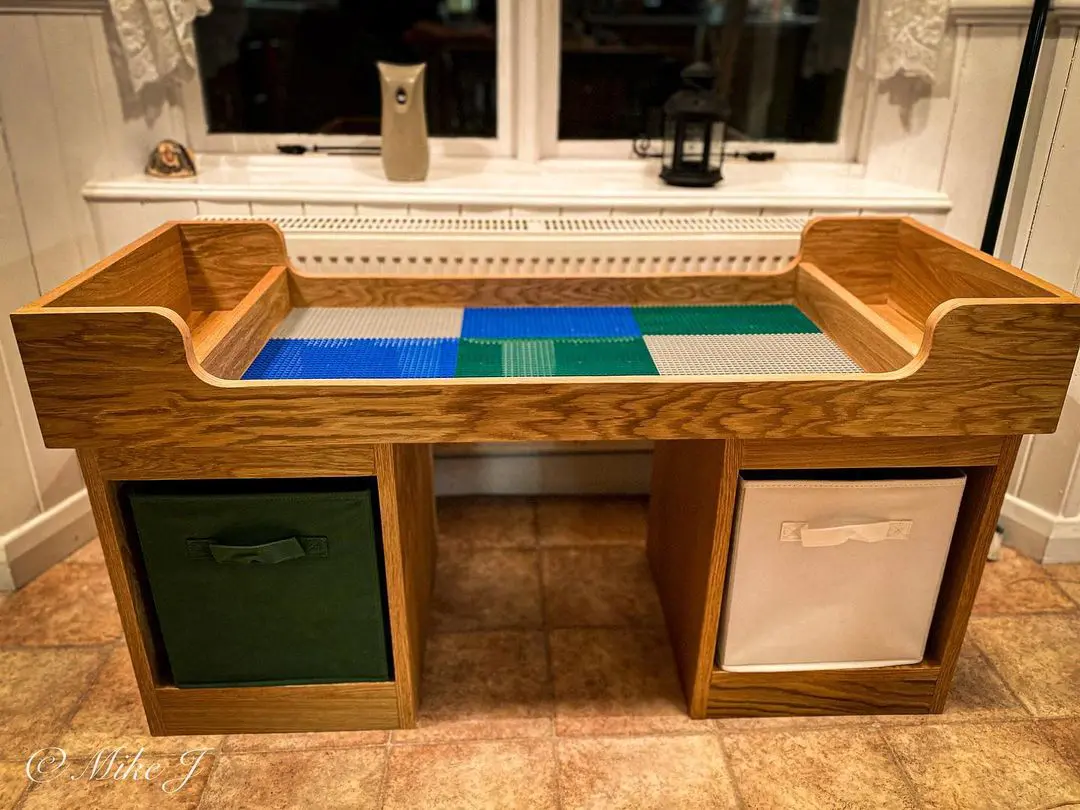 Credit: Instagram
This next idea comes express to you from a talented carpenter, one who took on the job of crafting the perfect Lego play table. Elevated on four legs that double as storage, this is the play area of your child's dreams.
Fill the legs with soft storage boxes like these to house the various Lego pieces. When it comes time to play, whip them out and fill the troughs at either end of the table with them for easy access.
If you're fond of the table, you can order a bespoke one for yourself from this crafter. Alternately, you can try revamping an IKEA TV stand to accomplish a similar idea.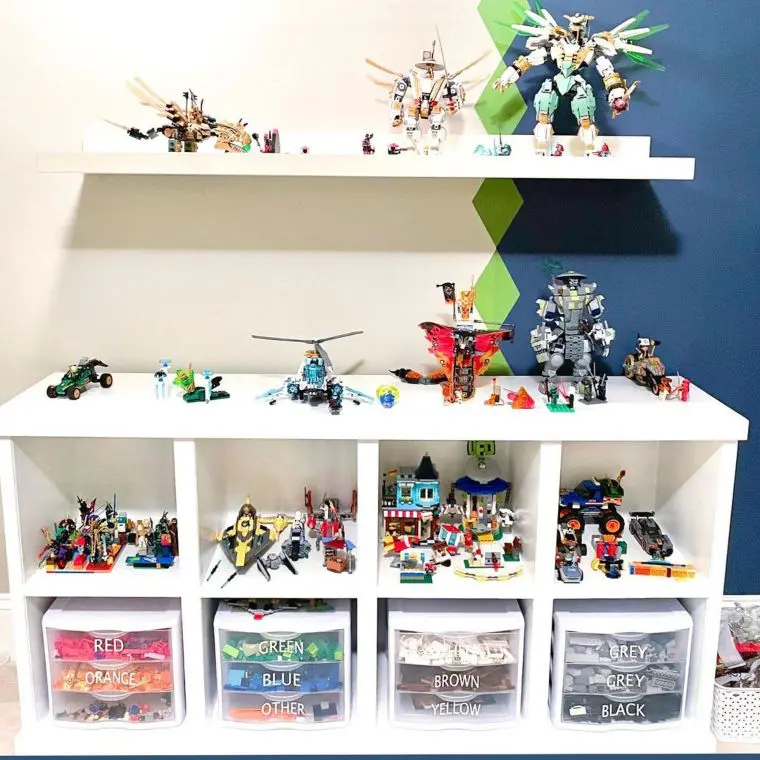 Credit: Instagram
If you or your child are seriously in love with Legos, this display unit is the perfect way to transform a wall into a Lego sanctuary. Using a cube organizer, some plastic drawers, and a floating shelf, you can do it quickly.
Begin by sorting your pieces by color into plastic drawer sets like these. Place them in the first tier. Then, fill the second and third tiers with constructed Lego masterpieces, and put your best pieces on the shelf!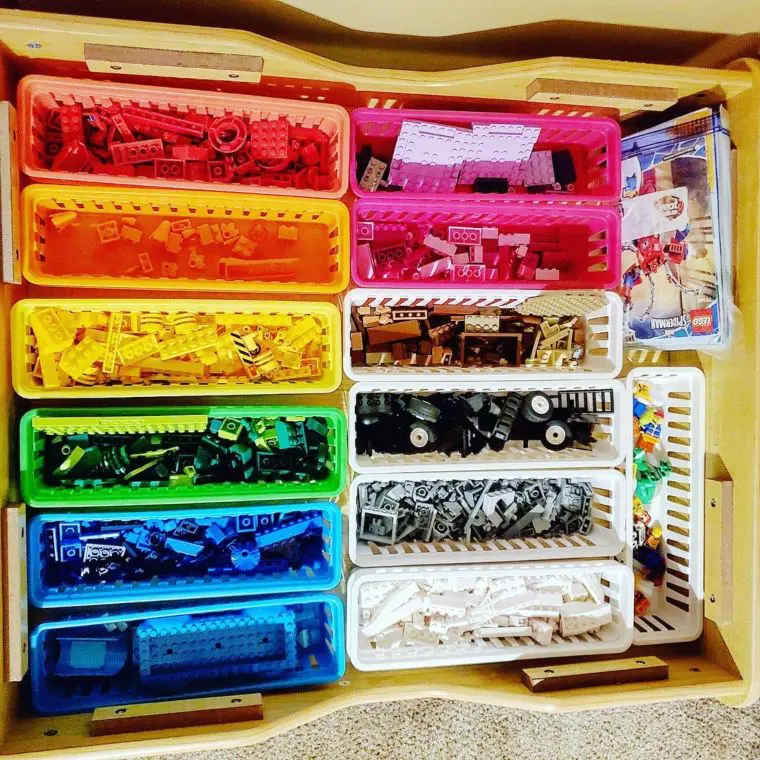 Credit: Instagram
Next up, here's a way to store a growing Lego collection that's perfect for the house's main living areas. While it might look like an ottoman on the outside, this is a Lego table!
Grab a reversible ottoman like this; it's perfect for storing loose items. Fill it with rainbow bins like these, then organize the Lego set by color for easy use. Finally, glue base plates to the underside of the lid. Voila!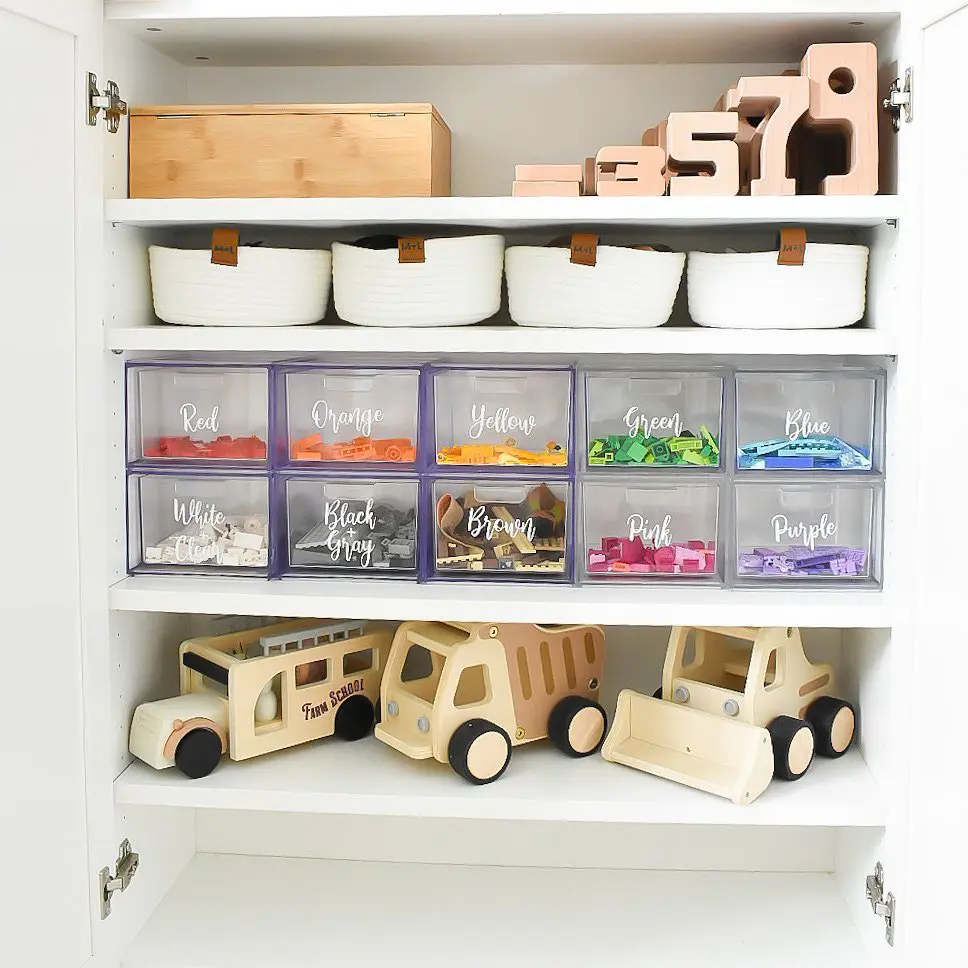 Credit: Instagram
This time, we're delving back into IKEA and using a Billy Bookcase for our playroom storage. Much like the other ideas on this list, you can color code the Lego bricks into divided storage containers.
Place this on the middle shelf of the Billy, then populate the rest of the frame with other playtime accessories. One great idea is to have an empty basket to use as the transport for bricks in use.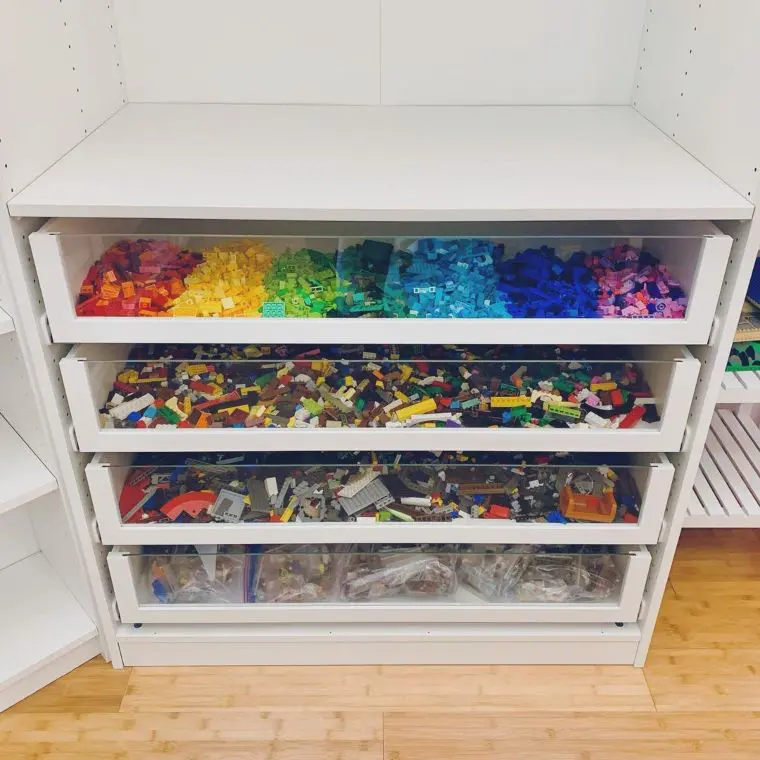 Credit: Instagram
If the Billy Bookcase doesn't quite do it for you, maybe this unique Lego drawer set will. Made with clear acrylic front panels and wide, strong drawers, this cabinet takes Lego storage to the next level.
You can repurpose an existing drawer set like this by replacing the front panels with acrylic sheets. Alternatively, pick up a pre-made cabinet that's and have a ball sorting the pieces into their proper places.
Credit: Instagram
Stackable storage crates are a fantastic way to store Lego because they're cheap, they're simple, and you can reuse them once your child grows out of Legos.
Simply break out the label maker (here) to separate each crate's purpose. Some can hold the bricks, while others can store animals, people, places, or baseboards. This storage method is so versatile.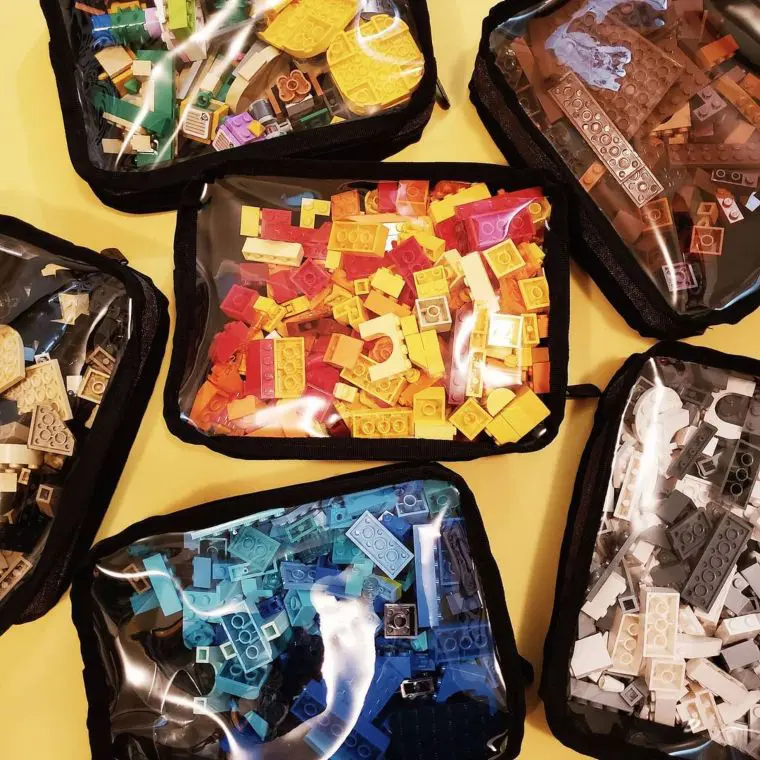 Credit: Instagram
Here's a genius way to store Legos – color-coded and all – without investing in a new piece of furniture. Simply grab a huge fabric bag to use as your Lego storage, but don't just dump the whole collection in there.
Instead, pick up some clear rectangular pouches like these. Separate pieces by color, size, or function, then store them all away in the Lego bag. This bag is also easy to take with you while traveling!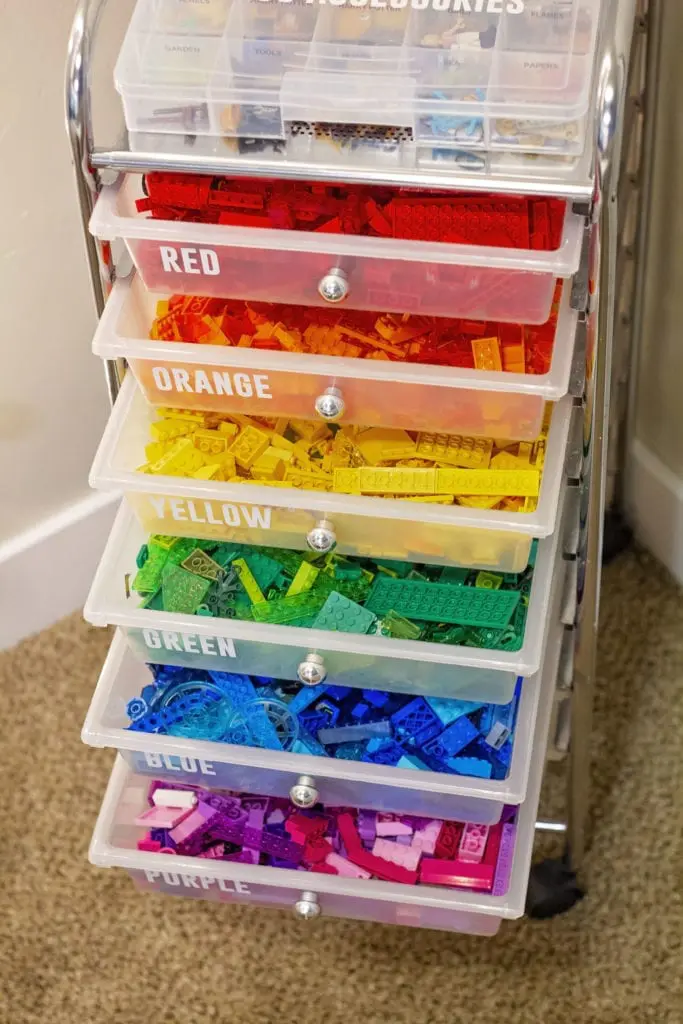 Credit: practicalperfectionut.com
When it comes to extensive collections of little things, simplicity is your friend. That's why this Lego drawer set idea works so well. You can store the bricks in rainbow color order for an attractive feature.
Then, for the little bits that don't have a place, use a bead organizer like this to keep them neat and tidy. Place it atop the set of drawers, and you're done! If you like, label each drawer with its color for an extra touch.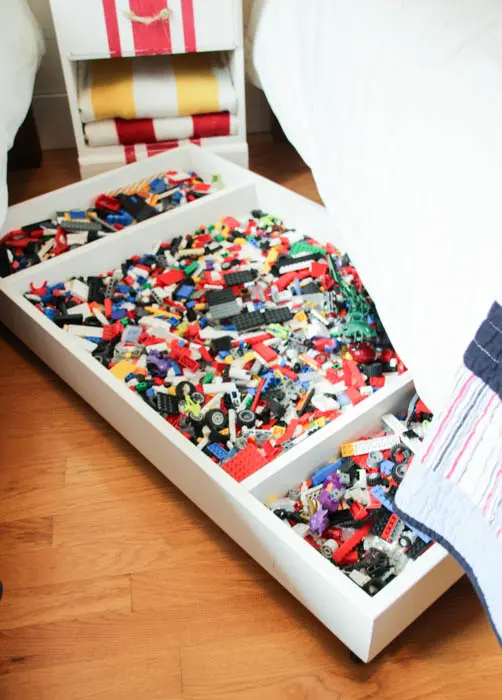 Credit: thehappyhousie.porch.com
Hiding things under the bed isn't just for kids anymore. The space beneath your kids' bed is a perfect storage spot, and many people desperate for more storage often overlook this space.
All you need is a rolling cart. Flip a bookcase on its back and attach some casters or pick a pre-made under-bed fabric divider up here for a simple Lego storage solution.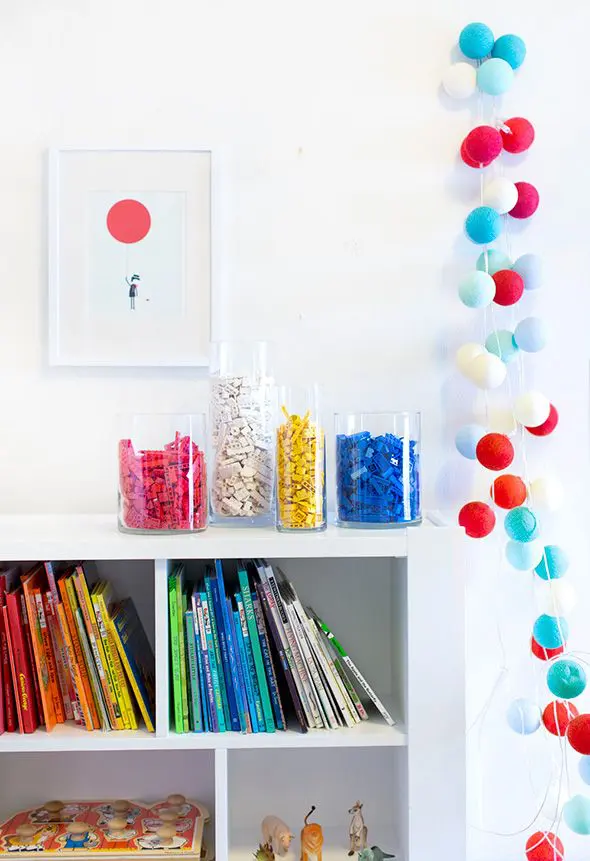 Credit: sayyes.com
Who says you have to hide Legos? These vibrant bricks make for a beautiful pop of color; you have to know what to do with them. Enter the pillar vase. These cylindrical glass containers are the perfect solution.
I recommend grabbing vases in a few different heights to add some visual interest. Separate your Legos by color, fill the vases, and create a stunning accent for your child's room that doubles as storage.
If vases aren't your thing, maybe mason jars are the answer.
Check out more ways to organize small items.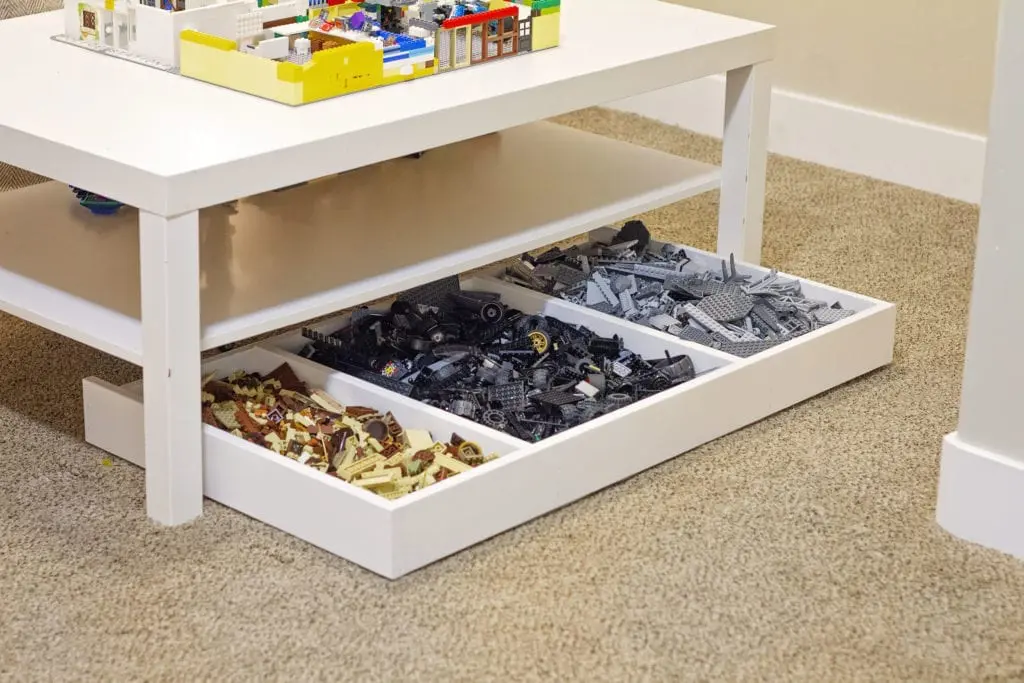 Credit: practicalperfectionut.com
If your kids' play area is in the living room, this might be the idea for you. Use the space under your coffee table to full effect with a clever wooden organizer. This thing slides away when not in use; excellent!
This would be easy to make if you have any old wood lying around, but if not, you can also purchase a simple divider online. Try this simple plastic one on for size.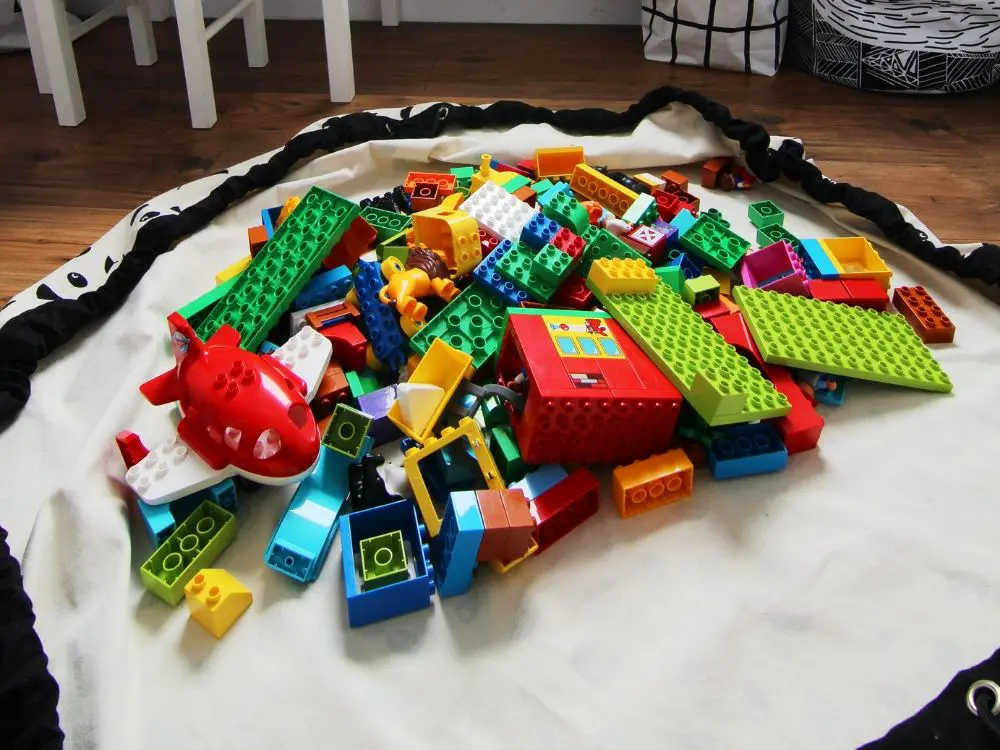 Credit: anjahome.com
This genius invention doubles as both storage and play mat, offering a simple way to tuck away the Legos when they're not being used. Whip out the carpet for playtime, then fold it away for easy cleanup.
You can buy your own Lego storage play mat here, or you can try to make your own! If you're a beginner sewer with some time on your hand, this will be a fulfilling and kid-friendly sewing project to try.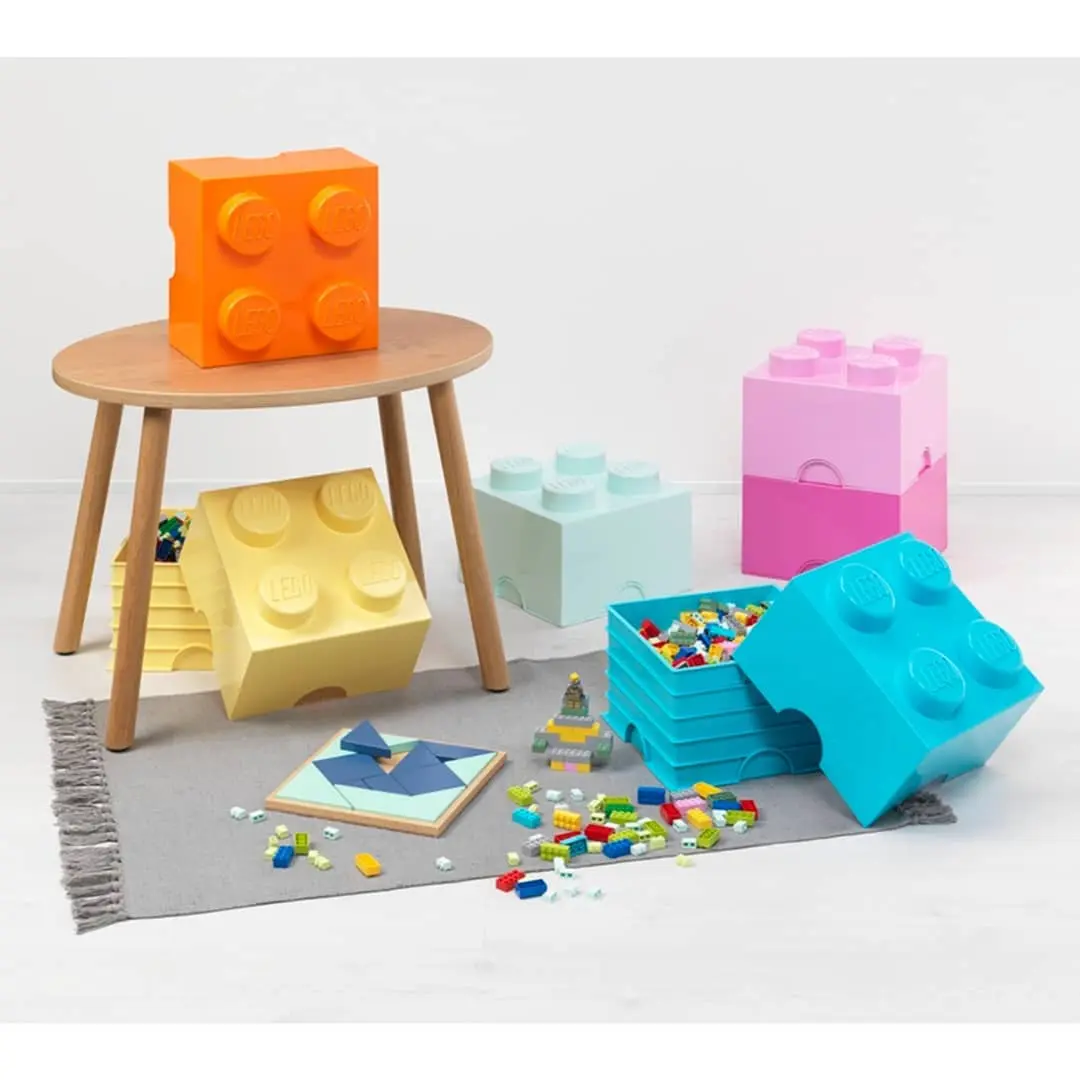 Credit: Instagram
Where better to store your Lego bricks than… in a Lego brick? That's right; Lego makes these large plastic containers that are perfect for keeping their tiny counterparts in check.
Not only are these seriously functional, but they're also incredibly adorable. Pick some up in multiple colors and get stacking here!
Credit: practicalperfectionut.com
Making different characters out of Lego pieces is one of the best parts of playtime, but storing all those minor character features can be a nightmare. Enter the plastic jewelry organizer.
Armed with a simple organizer like this and a label maker, you can divide the character pieces into different boxes to keep track of them. Think of it as a flat Lego closet!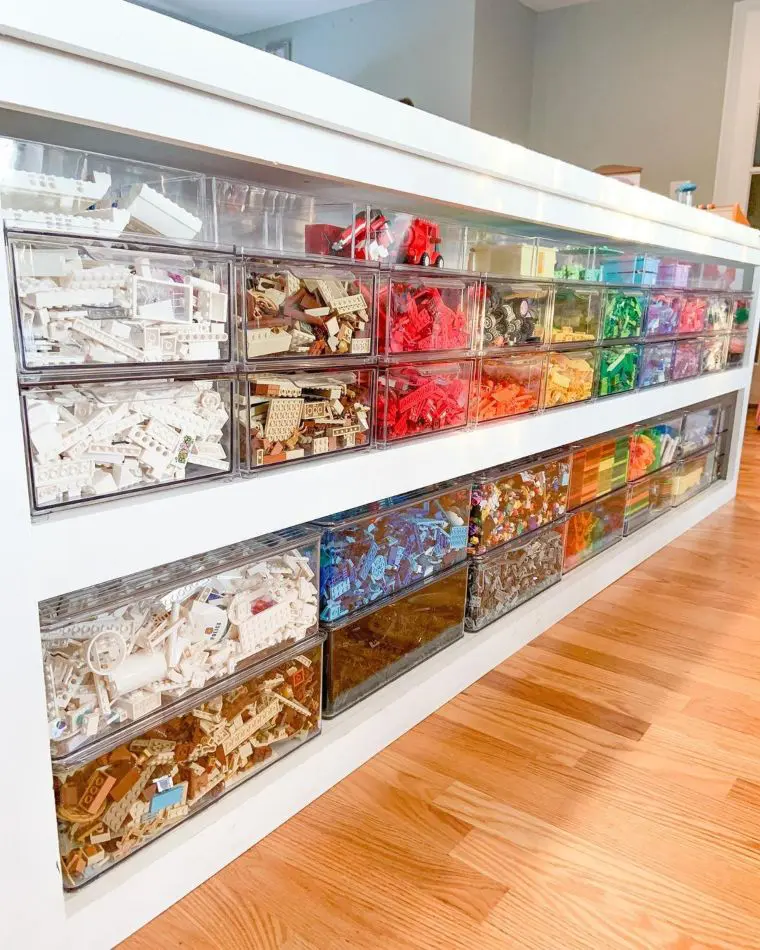 Credit: Instagram
If you and your kids are blessed with a large playroom, this will undoubtedly be your new centerpiece. Using a vast dual-level shelf as your table, fill the levels with acrylic stacking boxes for color-coded heaven.
This makes it simple to get out Lego pieces while playing, and the clean-up is just as simple. Take it one step further and glue Lego baseplates down one side of the shelf to create a ready-to-build playground!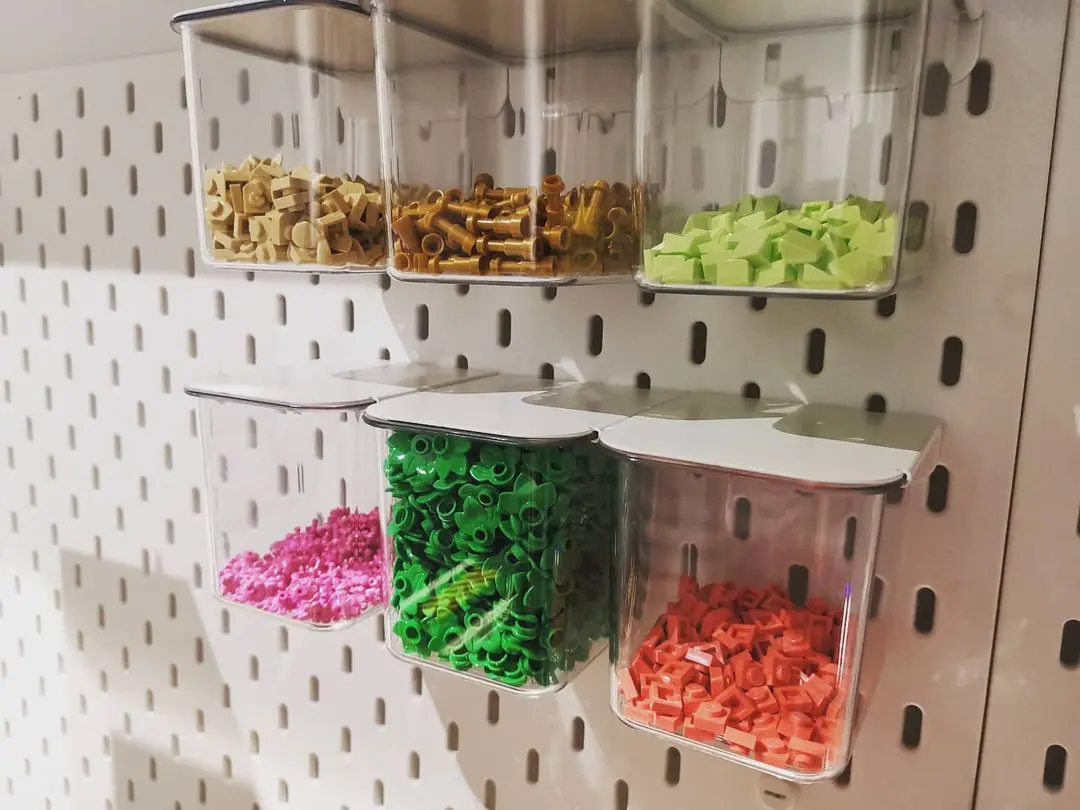 Credit: Instagram
This type of storage ticks a lot of boxes for me: it uses vertical space, it allows for color-coding, and you can shift the boxes around endlessly. That's right; it's a pegboard with corresponding boxes.
If you fancy yourself an artisan, you can easily create a pegboard wall by fixing this to your existing wall. Then, invest in some hooks and boxes that fit together and organize to your heart's content.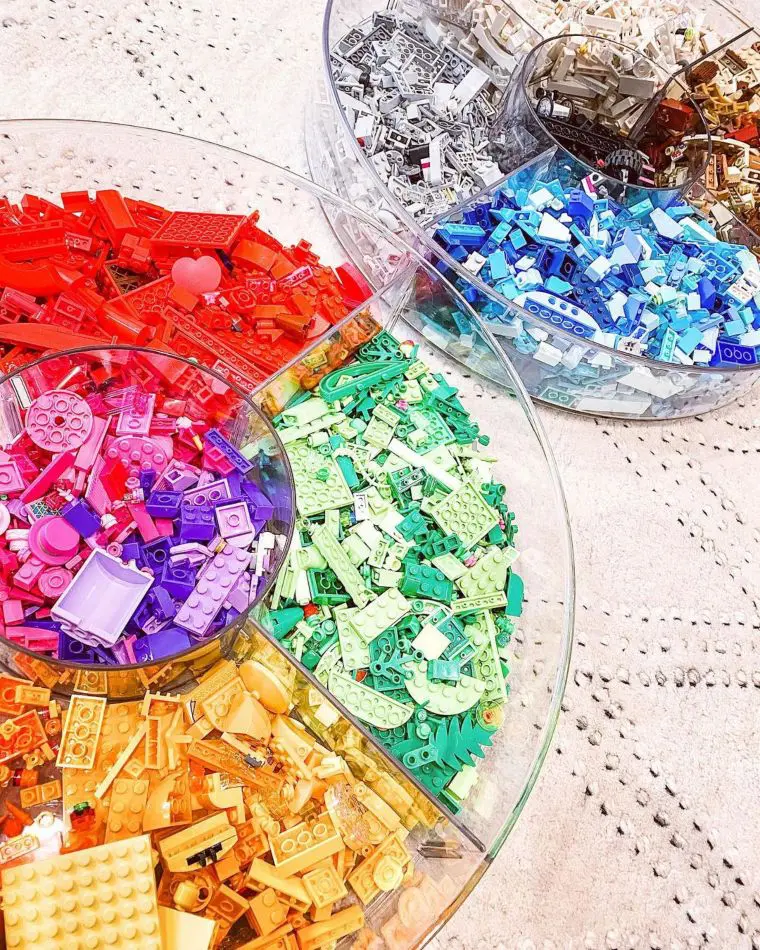 Credit: Instagram
Head to your local container store or venture online to pick up this giant Lazy Susan, a perfect solution for your Lego storage needs. These are perfect for storing on tabletops or wide shelves because they rotate!
Instead of constantly removing and replacing different boxes, just keep them in place and let your kids grab what they need as they play.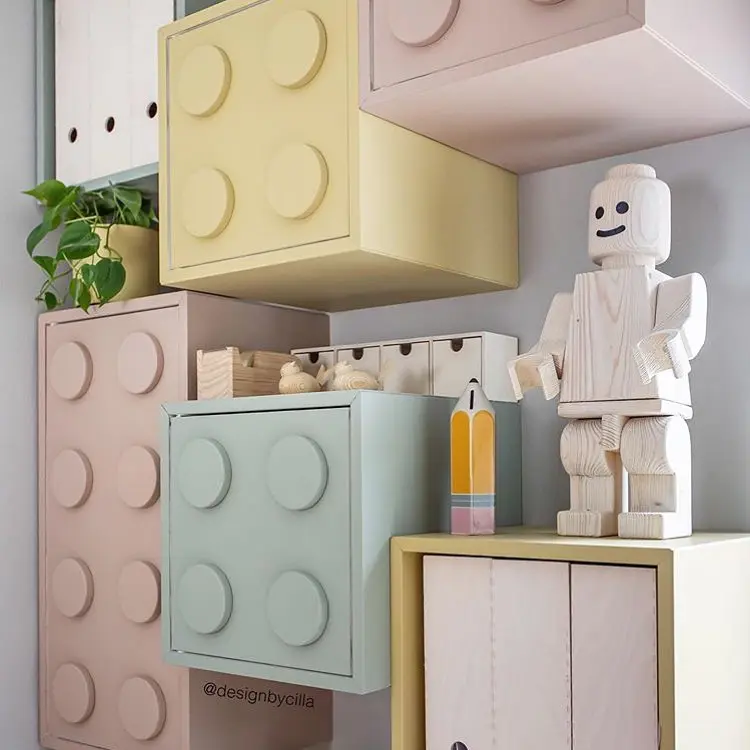 Credit: Instagram
The final idea on this list will effortlessly turn your child's playroom (or yours) into a pastel wonderland. Using some simple hanging square shelves, you can create the 'brick' look with circular wooden cut-outs.
Once that's done, paint with three contrasting pastel colors. I recommend using chalk paint, as it gives that vintage, somewhat aged look that softens the shelves' edges. Accompany with wooden Lego décor, and done!
Conclusion
Which of these is going on your crafting bucket list? Are they for your kids, or are you the Lego enthusiast in the house? Let me know below!