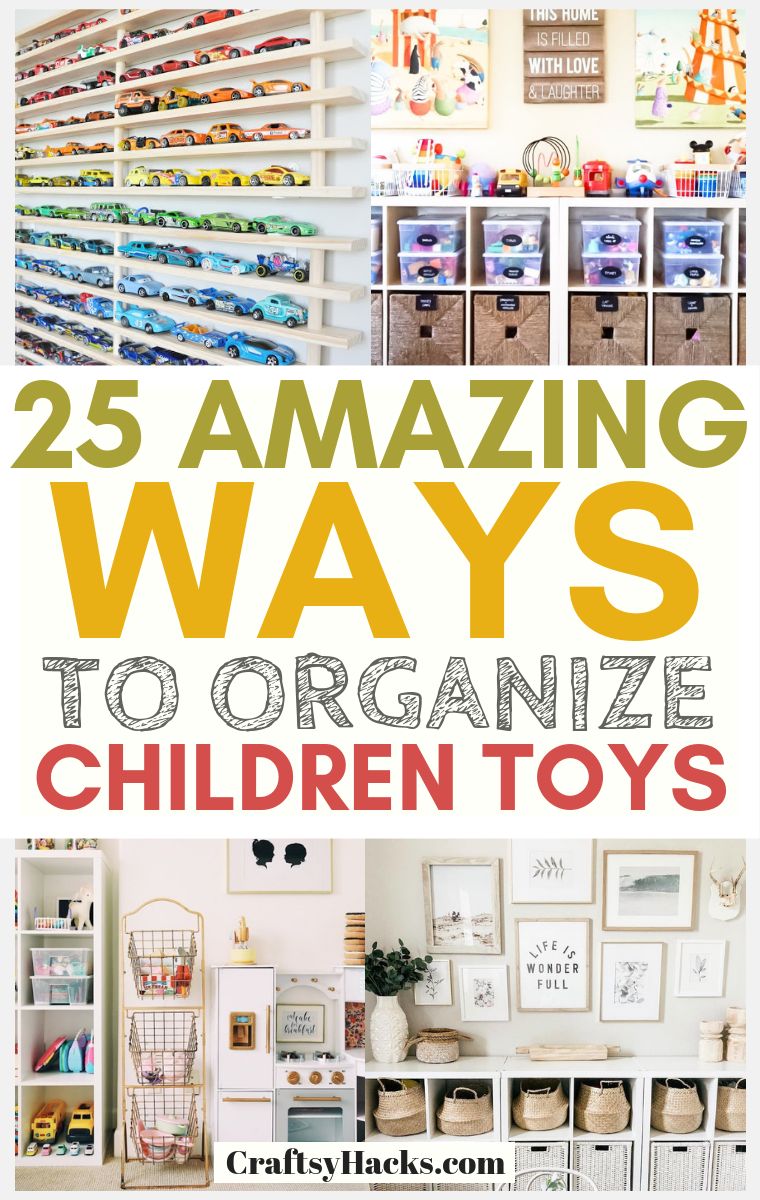 The home décor situation gets a little more complicated when you add a couple of little rascals into the equation.
From stuffed animals and countless toys to stacks of children's books, there's a lot of extra clutter our tiny little roommates bring into the home.
But the good news is, becoming a parent doesn't necessarily mean you've got to sacrifice your entire home décor situation. Especially when there are a ton of creative ways to organize even the smallest items.
Can't wait to hear them? Here are 25 unique ways to upgrade your entire storage situation!
This blog is supported by readers purchasing featured products. When you buy products with my links, I earn a commission at no extra cost to you. Here is my full affiliate disclosure.
1. Create Custom Picture Labels for Your Playroom Closet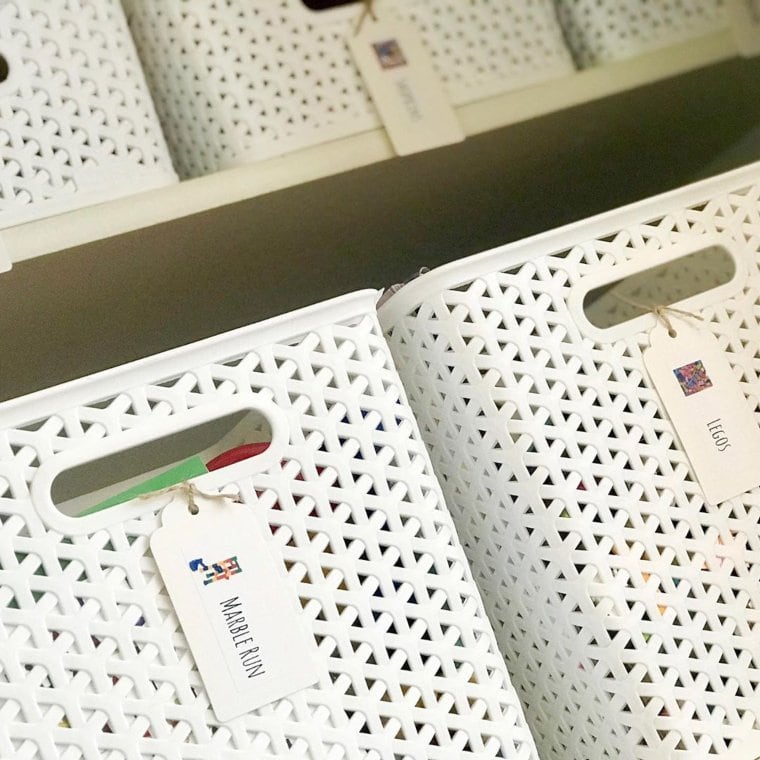 Credit: Instagram
Want to teach your kids to clean up after themselves? Here's a fun organization idea to get the little ones excited about putting things back in the right place!
Besides sorting all their toys into separate containers, make your own picture labels to attach onto them! This is a fantastic way to get younger kids (that are still learning to read) to get into the habit of cleaning up after playtime.
They can easily identify which items belong to which bin. To make your own custom labels, I highly recommend grabbing a set of tags like the type you can find here.
2. Build Your Own Storage Unit with a KALLAX Shelf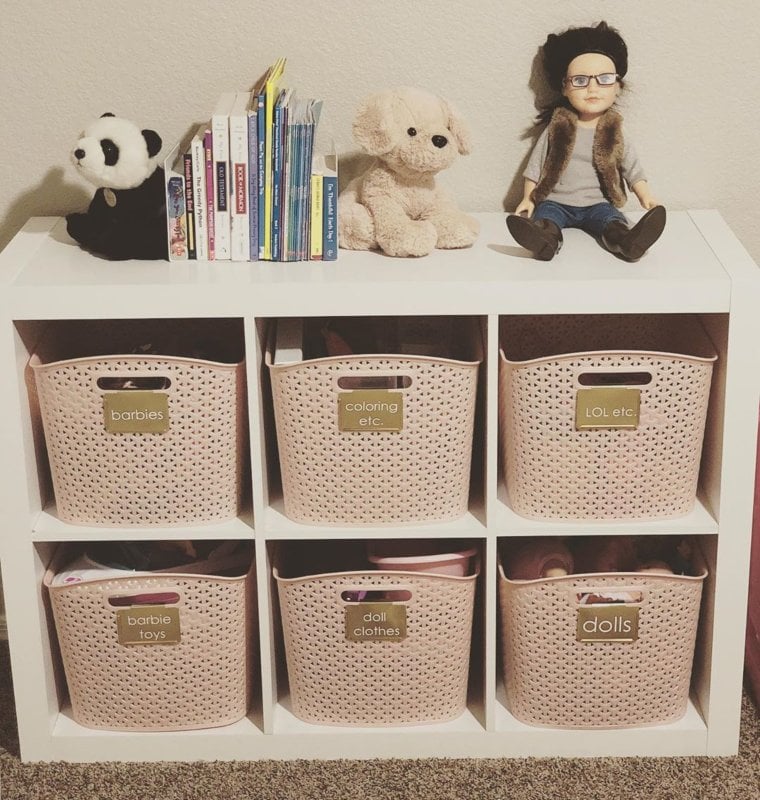 Credit: Instagram
A simple way to upgrade your entire storage situation? Build your own custom storage unit out of the IKEA KALLAX shelf.
Then, all you need to do is grab a couple of storage bins that suit the aesthetic you're going for! You can use storage bins like the ones you can find here.
There are plenty of pretty colors to choose from.
3. Handmade Toy Chest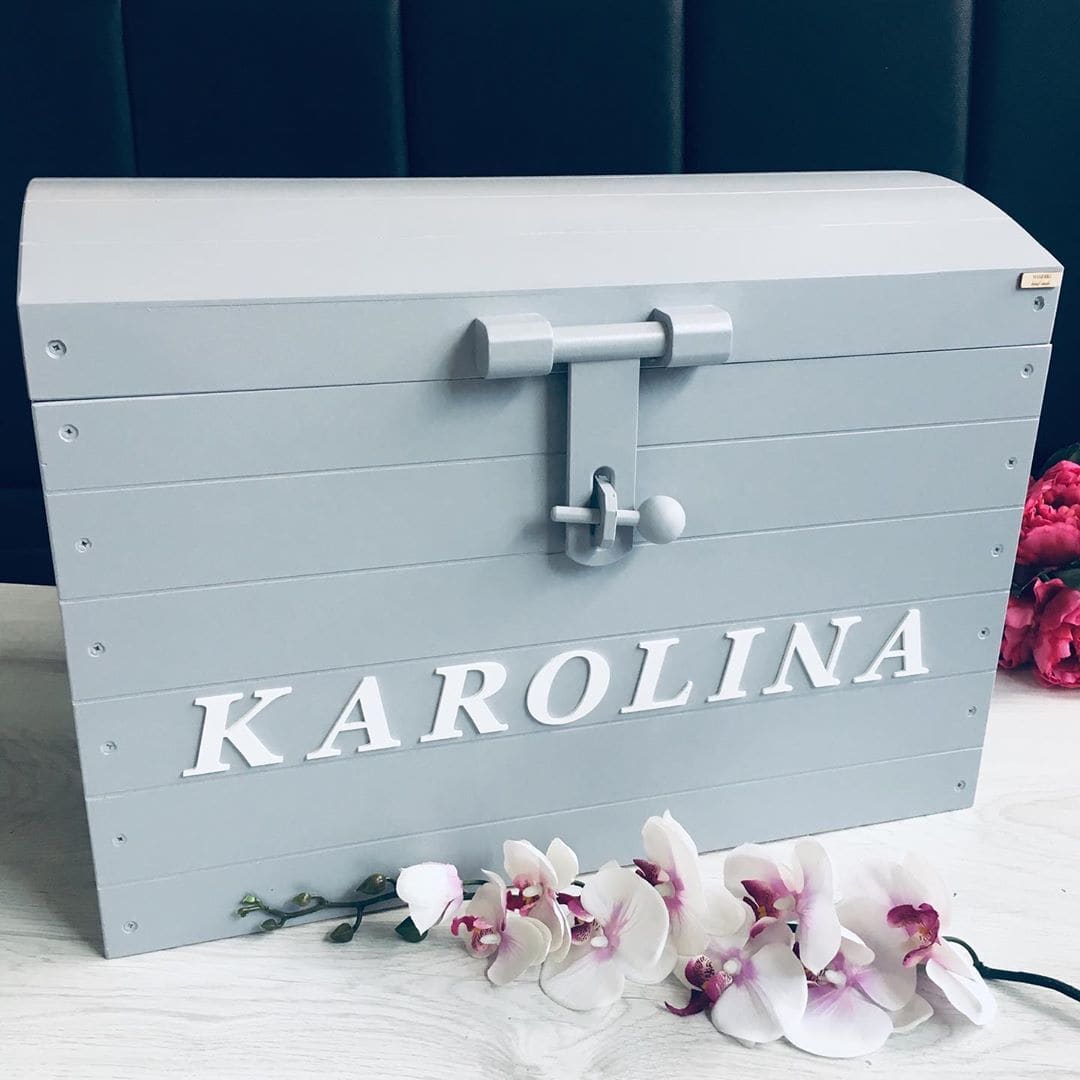 Credit: Instagram
When it comes to storing children's toys, you have to get your hands on a toy chest ASAP. You can either build your own or just grab one from the store.
Give it a complete makeover with a coat of paint and a few letters to spell out your little one's name! If you love crafting in general, check out these craft room organization tips!
4. Use Pouches to Organize Puzzle Sets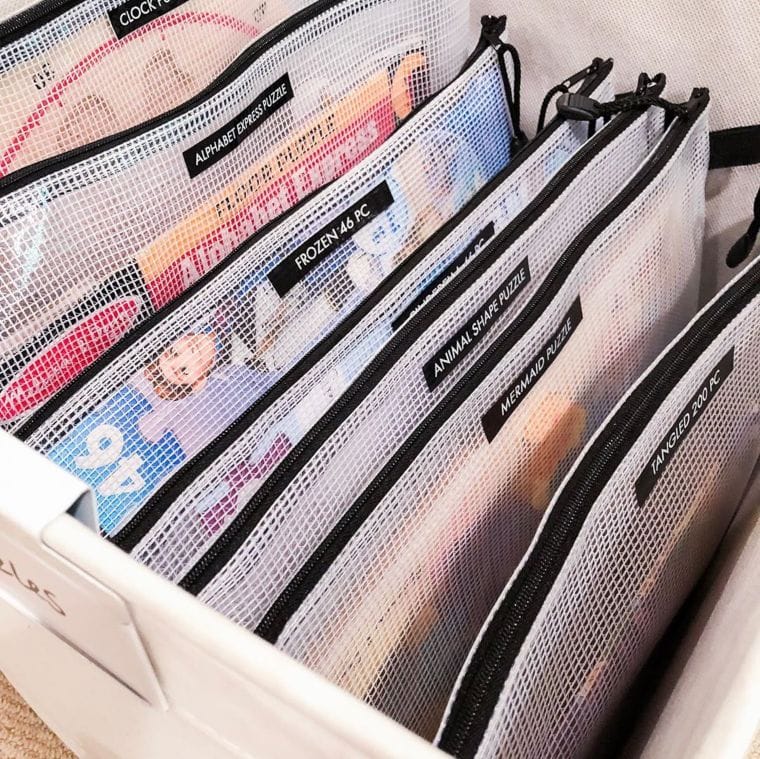 Credit: Instagram
Keeping a couple of puzzle sets stashed around the house is never a bad idea! It's a great way to encourage kids to have fun in a good old fashioned fun.
But the thing is, keeping them organized… isn't that much of a fun. The best way to organize puzzle sets?
Toss them into their own pouch and place them into their own drawer. You'll never lose a puzzle piece again.
I highly recommend grabbing a set of white mesh pouches like the style you can find here! Or you can always try to make your own pouch, just check these sewing projects for organizing your stuff!
5. Use a Diaper Bag to Store All Your Essentials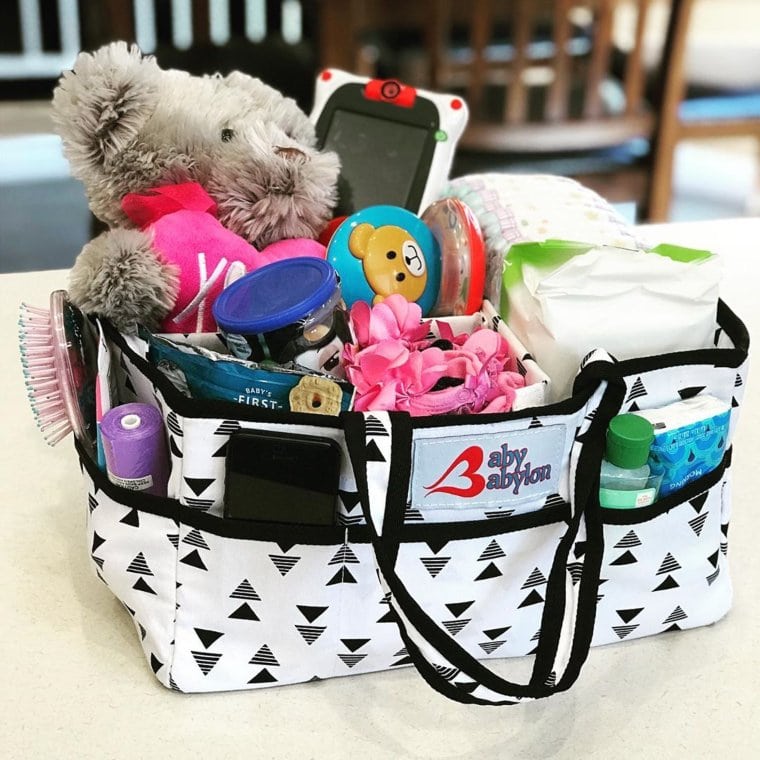 Credit: Instagram
Anyone else always having trouble finding the stuff they need? This organization hack might seem simple enough but it's a complete game-changer.
Just grab an adorable diaper bag for your car and fill it up with all the essentials you might need when you're with the kids! I absolutely love diaper bags that are both functional and sleek, just like the one here.
If you fancy getting a diaper bag pack instead that just looks like a regular bag pack, I thought this one was absolutely gorgeous.
6. Use a Wire Basket to Build a Home for Stuffed Animals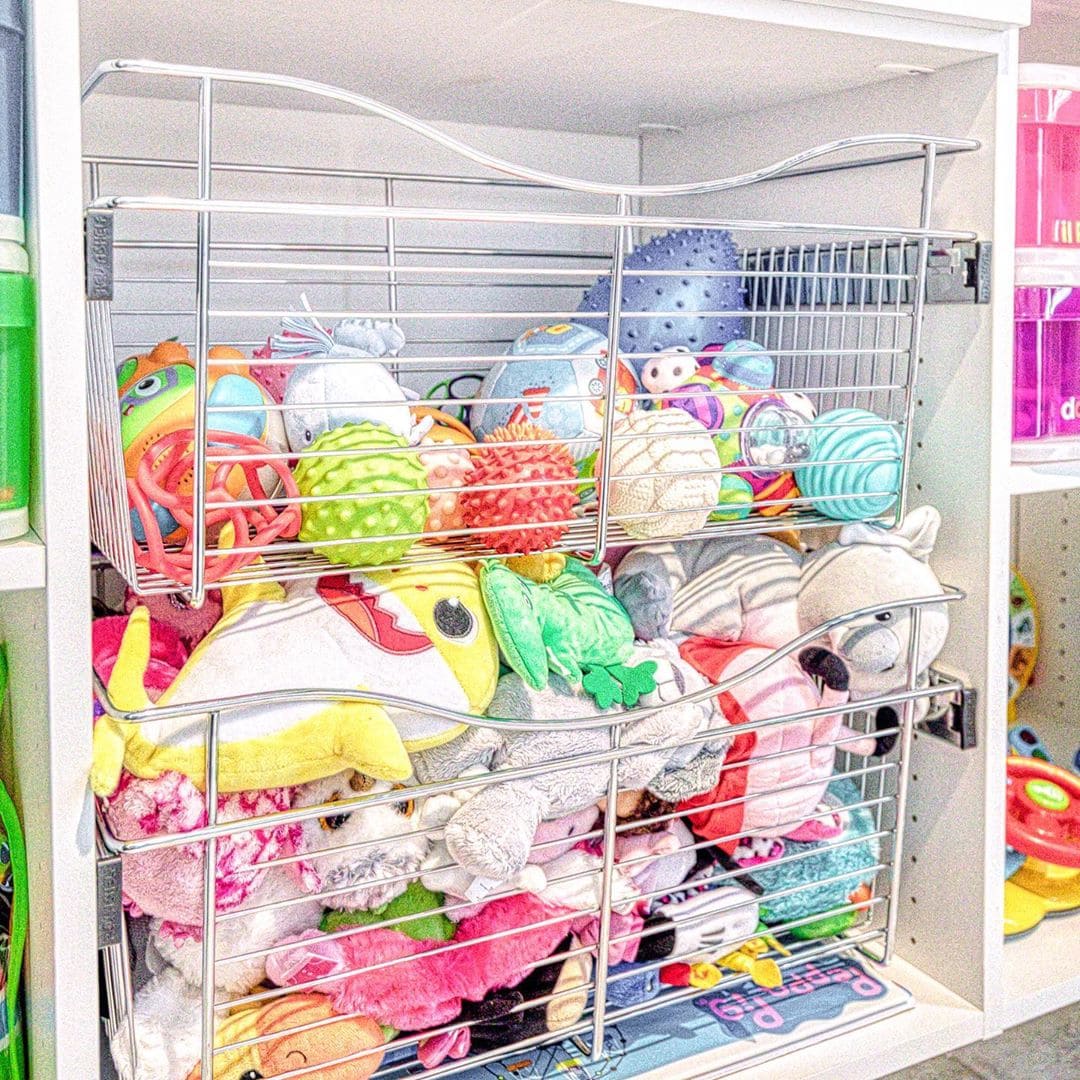 Credit: Instagram
Got a ton of stuffed animals lying around the house? Since these adorable animals have made their way into your little one's heart, it only makes sense to build them their own home!
In all honesty, this is just a great way to keep them off the ground and away from all the germs. You can easily construct a holder for stuffed animals out of a couple of wire baskets like these ones here.
These baskets are large enough to hold toys.
7. Label Plastic Storage Containers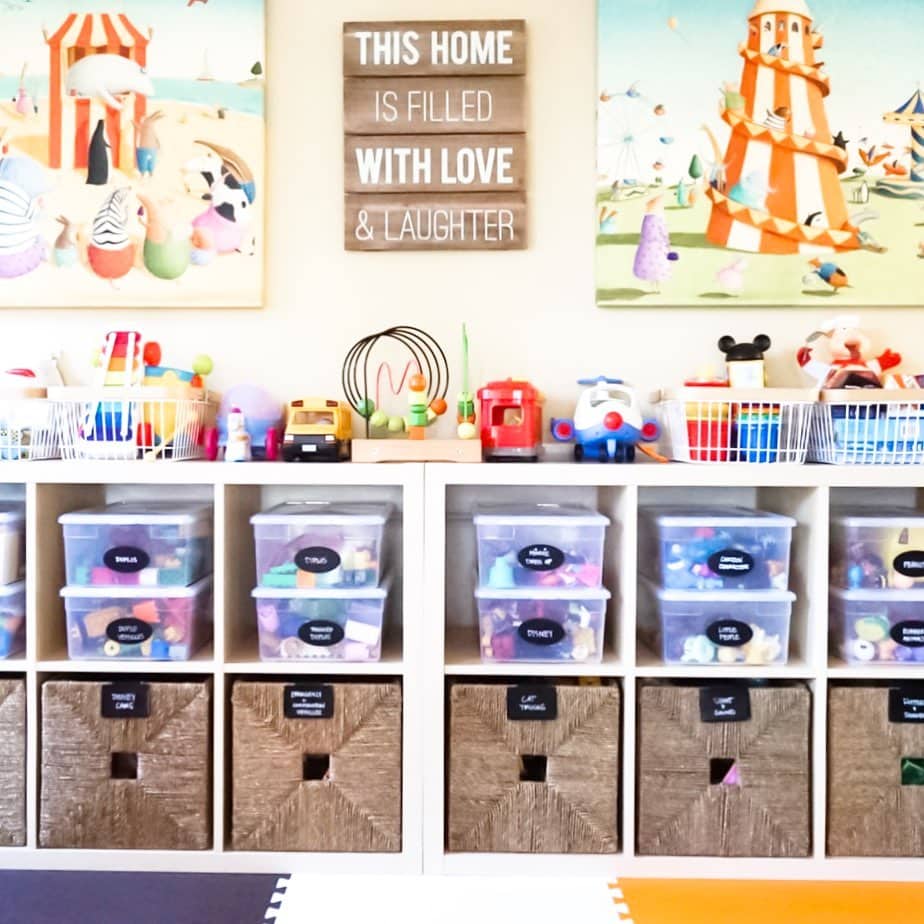 Credit: Instagram
If you aren't already labeling everything… well, what are you waiting for? It might seem like a simple task – but trust me, it makes the world of a difference.
Besides making it easier to find whatever you're looking for, it also makes your entire storage situation look more cohesive!
8. Vintage-inspired Storage Unit With Wicker Baskets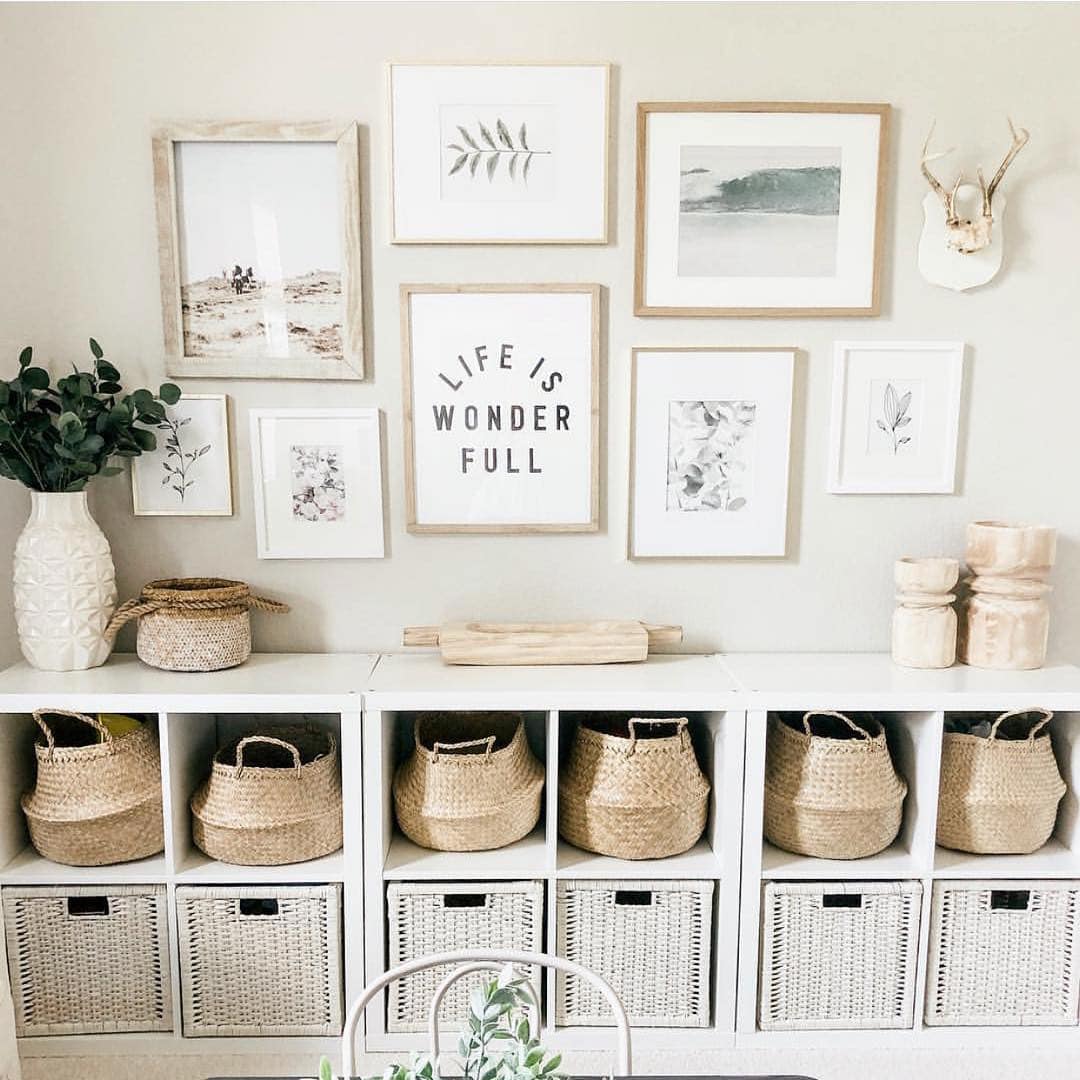 Credit: Instagram
Being a parent doesn't mean you have to give up on the home décor. If anything, there's now an abundance of opportunity to try out creative organization hacks especially if your rooms are small!
You can easily add a vintage vibe to your home by creating a custom storage unit out of farmhouse-style wicker baskets. These beautiful wicker storage baskets might be it!
9. Build a Wall Display to Park Toy Cars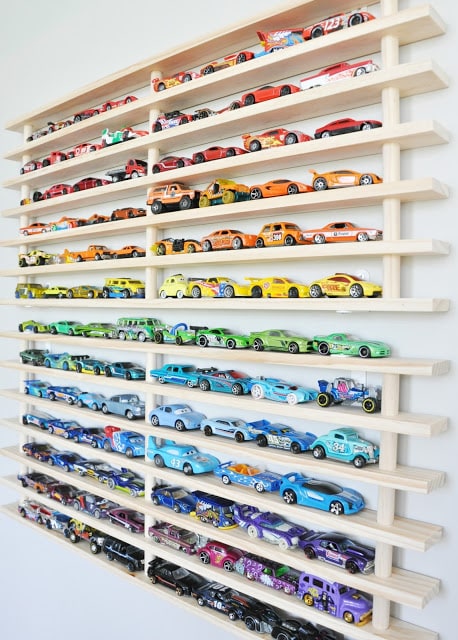 Credit: aloandbeholdlife.com
Got a bunch of toy cars lying around? Instead of throwing them into bins or leaving them on the ground, you can easily build your own DIY parking lot to cover up some empty wall space.
Another bonus? This will get the kids excited about picking up after themselves!
10. Use a Magnetic Knife Strip to Park Toy Cars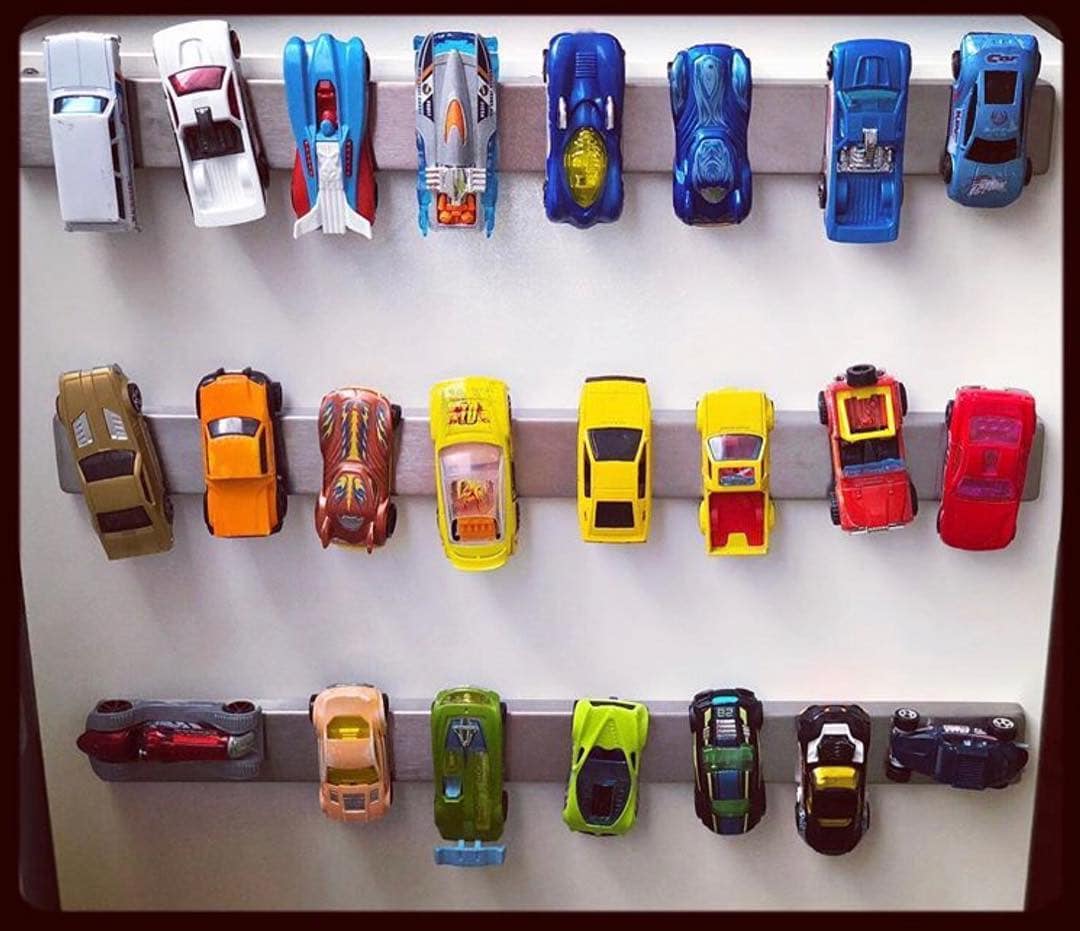 Credit: Instagram
Looking for a simple way to get rid of all the clutter? Mounting a couple of magnetic knife strips onto the wall in the playroom is a fantastic way to organize and display toy cars!
For this organization idea, I recommend grabbing a sleek magnetic knife strip like the one here.
11. Cube Storage Unit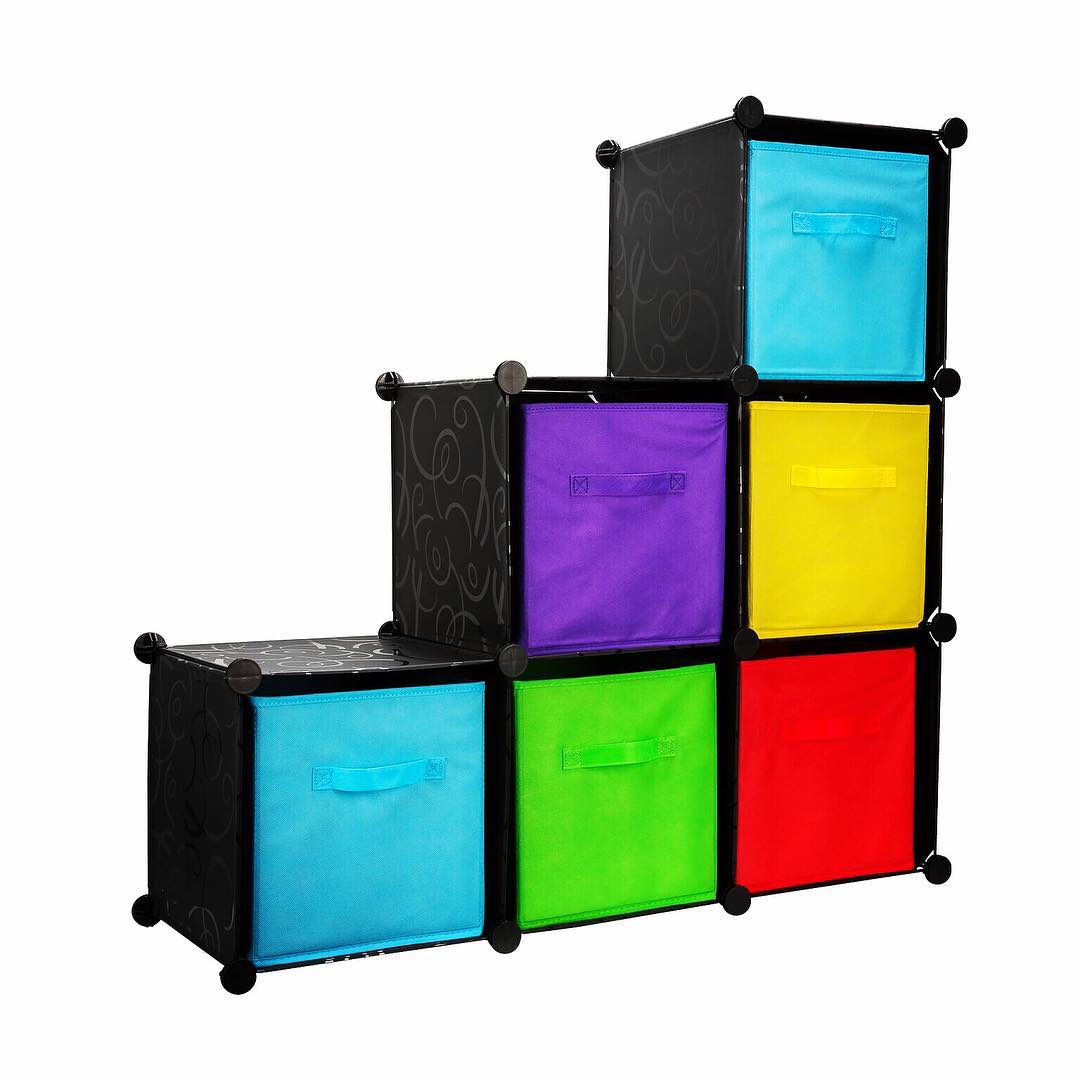 Credit: Instagram
Want to keep all the toys out of plain sight? Build a custom cube storage unit to keep all the toys organized and hidden!
The best part is that you can really customize the appearance of your DIY storage unit by picking out storage bins that suit the aesthetic you're going for.
12. Organize Plastic Storage Containers With White Labels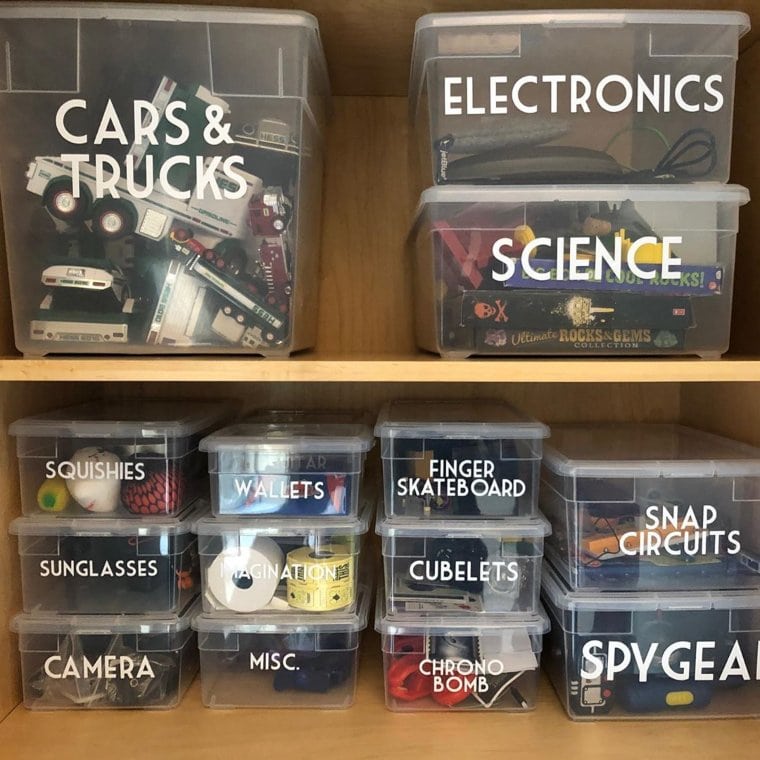 Credit: Instagram
Looking for a simple way to upgrade your entire storage situation? Make everything look more put together with a set of white adhesive labels.
When it comes to creating labels for storage, I always go with something simple like the stickers you can find here.
13. Add Metal Bins to Your Shelves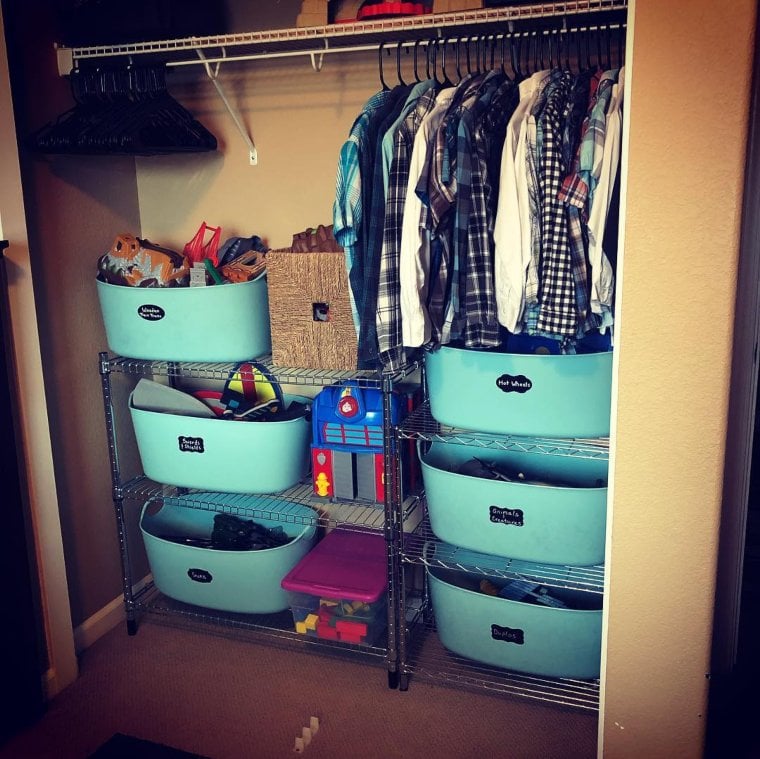 Credit: Instagram
Out of sight, out of mind! The best way to reduce clutter and maximize storage space is to add a couple metal bins or buckets onto the shelves in your closet.
Here, you can just toss all the larger toys. The best part?
Keeping all the toys out of sight is a great way to get your kids to focus on one toy at a time! You can get just the right steel tubs here. Feel free to color them to make them look more playful.
Need more closet organization tips? Check this article here.
14. Create Hidden Storage Compartments for Under the Bed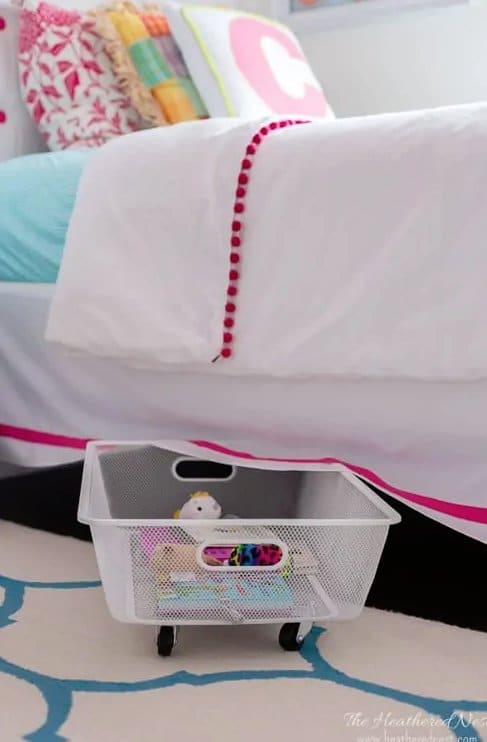 Credit: heatherednest.com
Chances are, there's a ton of storage space around the home that you're not taking full advantage of!
Get rid of all the clutter once and for all by sorting all the toys and games into storage containers that you can hide under the bed.
15. Use an IKEA Frame to Display Toys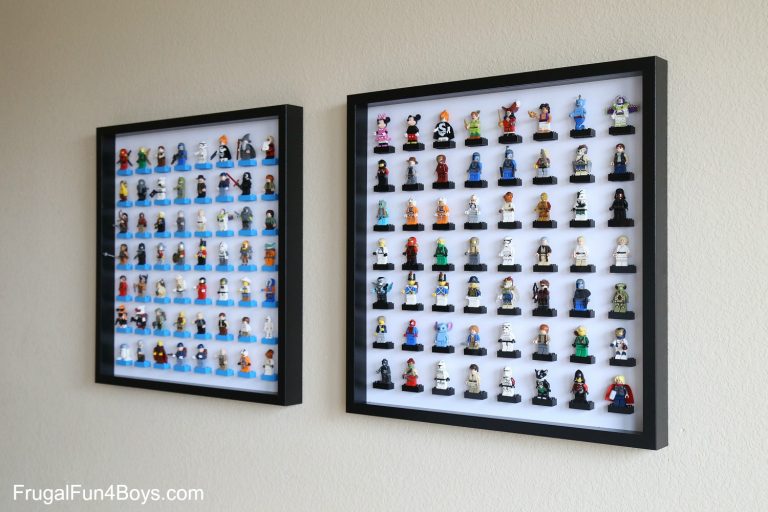 Credit: frugalfun4boys.com
The biggest dilemma when it comes to organizing toys? When you've got a bunch of toys that the kids aren't playing with anymore. However, you never know when they'll want them again!
Instead of tossing them out or letting them contribute to the clutter, grab a large picture frame from IKEA to create a one of a kind wall display for the playroom.
You can also just get large black picture frames here.
16. DIY Reading Corner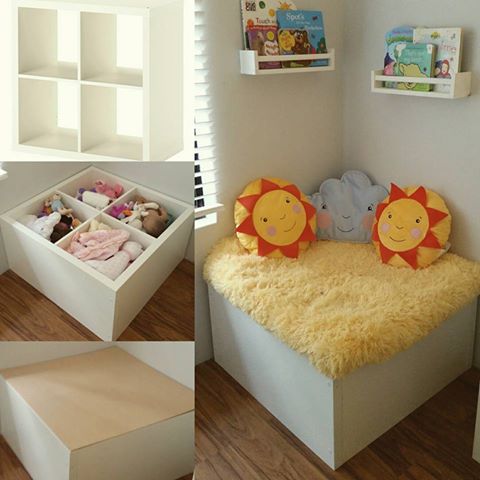 Credit: ikeahackers.net
If you don't already have a reading corner in your home… well, you're seriously missing out!
Adding a cute little reading corner into your child's bedroom or even playroom is a fantastic way to get them accustomed to quiet time, where they can just sit down and read a book.
The best part about constructing your very own reading corner? It doubles as a storage unit with hidden compartments!
17. Rustic Storage Unit for Toys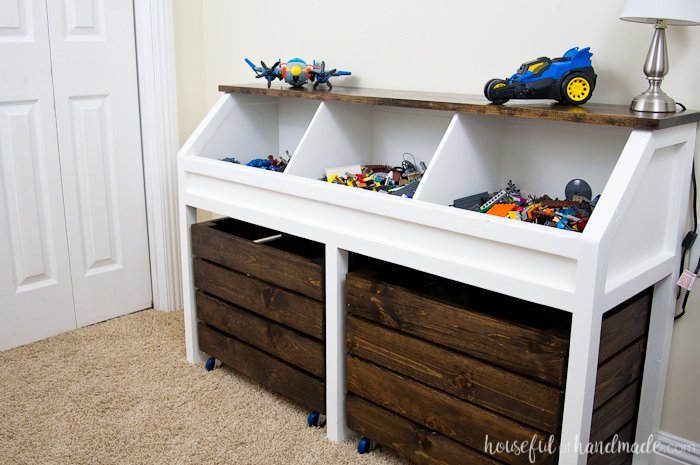 Credit: housefulofhandmade.com
Forget about stepping on a Lego ever again! Construct your very own rustic storage unit with a couple of large, open bins.
Then, add a couple of wooden crates underneath to store larger toys. The choice for rustic crates is inevitable, so check them out here.
18. Hanging Board Game Shelf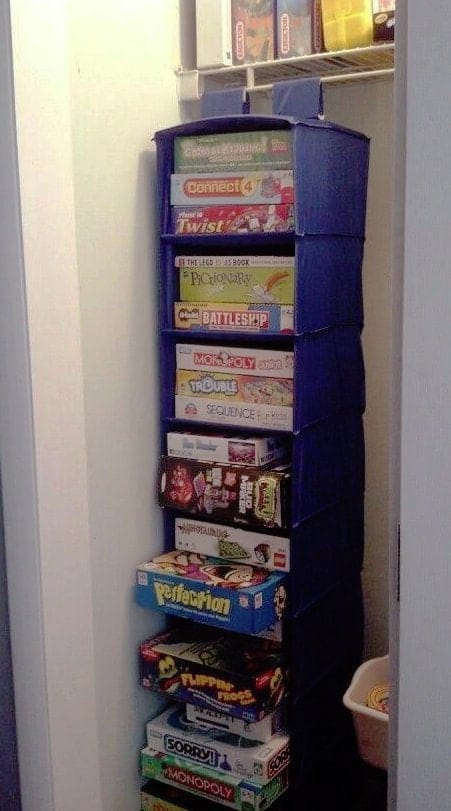 Credit: coupons.com
Here's the ultimate organization hack for the board game enthusiasts!
Instead of stashing your games all over the place, there's a simple way to keep your collection neat and tidy. All you need is a hanging clothes organizer, like the one here.
Another plus is that you know exactly where everything is and it's a lot easier to get to whichever game you're trying to grab.
19. Pegboard Toy Display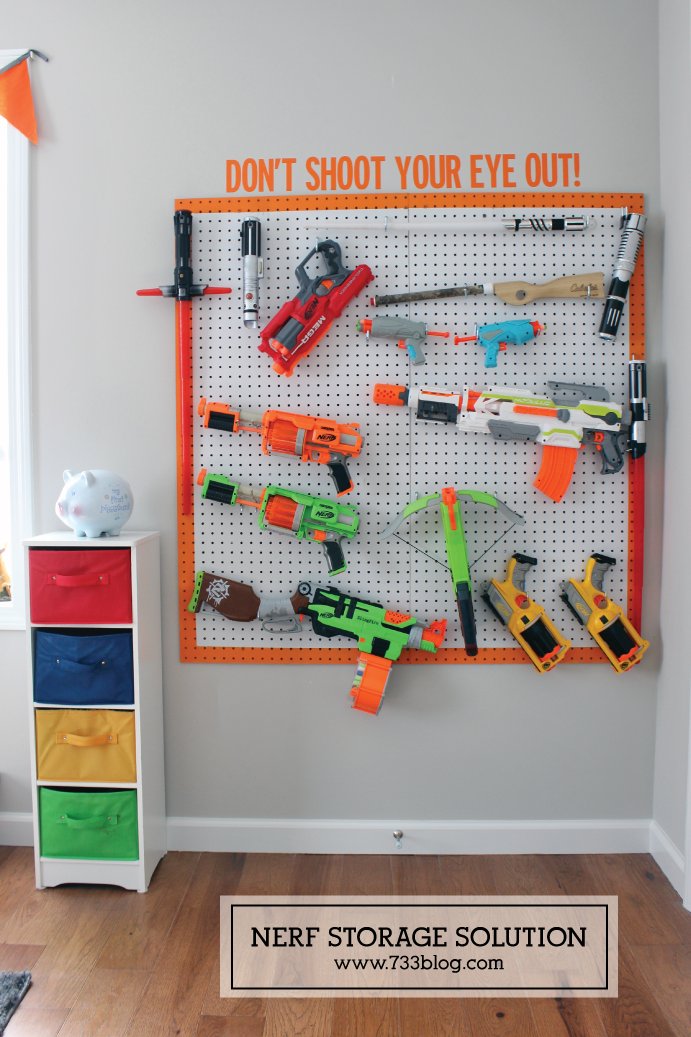 Credit: inspirationmadesimple.com
Want to maximize storage space? Forget about the storage bins, because there's a much simpler (and visually-appealing) way to go about this.
Make it easier for you and your kids to get to the toys they're always reaching for by adding a pegboard to the wall!
Actually, pegboards are great when you want to organize a desk space too!
20. DIY Wooden Toy Box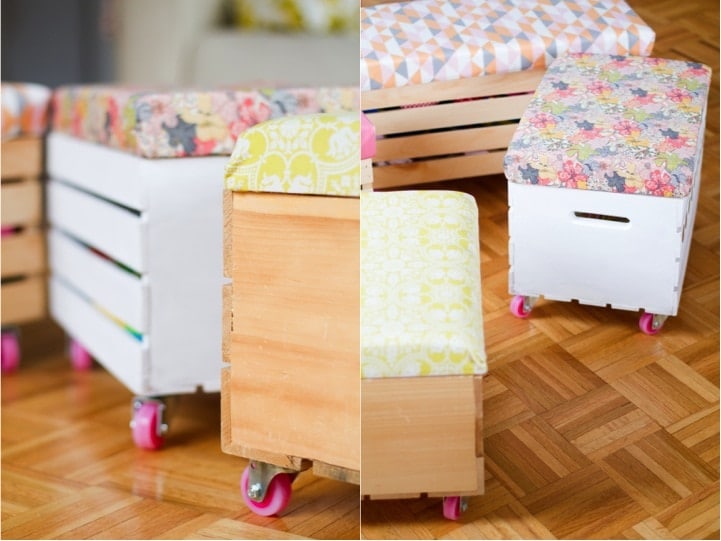 Credit: thislittlestreet.com
Who doesn't love an adorable wooden toy box? With a little DIY, you can easily build your own toy box that also works great as an additional seat for the playroom!
This is exactly the wooden crate you'll need to achieve the very same look!
21. Magnetic Wall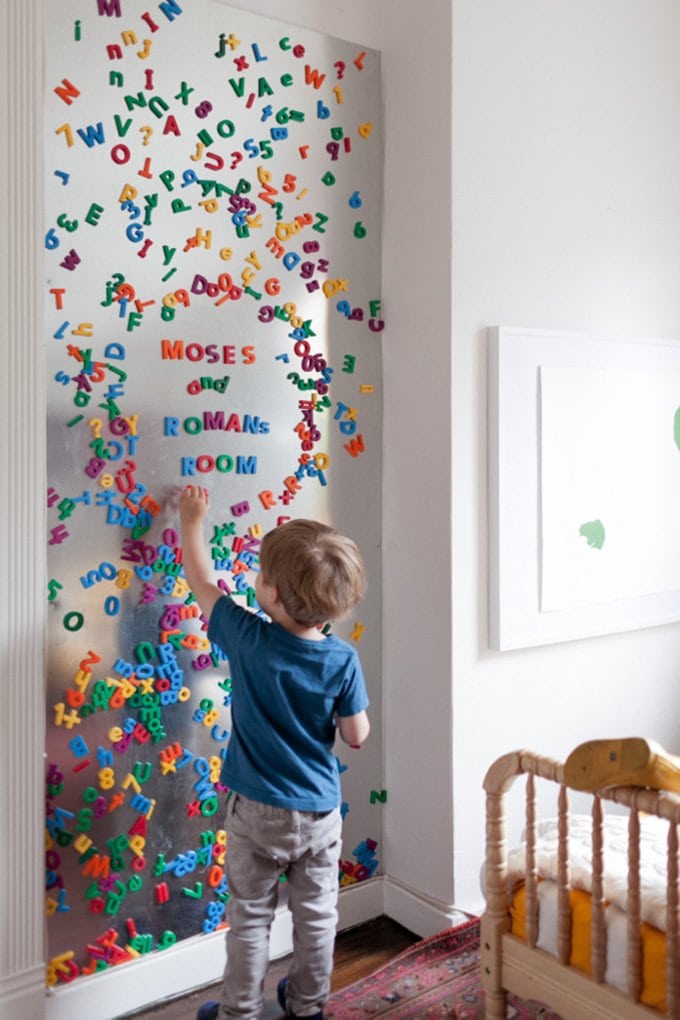 Credit: cupofjo.com
Take it up a notch with the home décor by adding a large magnetic board an empty wall space.
You can do that either in the playroom or your child's bedroom.
Just grab a couple of sets of magnetic letters and numbers to keep them busy. You can get a ton of these for a fantastic price here!
22. Plastic Drawer Unit for Smaller Toys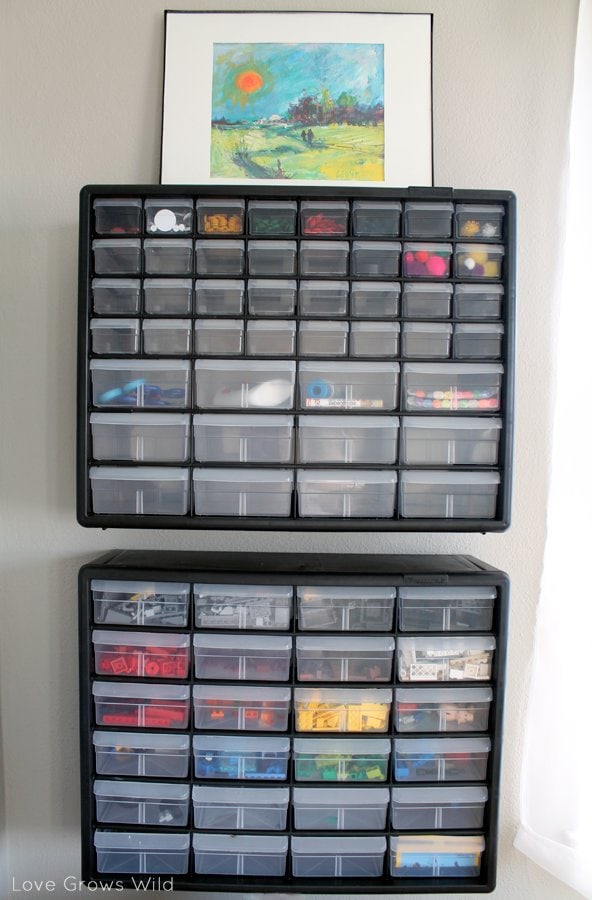 Credit: lovegrowswild.com
Got way too many tiny toys and Legos lying around the house? Keep everything organized by sorting them into a plastic drawer unit.
The best part is that you'll know exactly where to find everything when you need it the most! This is exactly the plastic drawer cabinet you'll need. What's great about it is that it's low budget-friendly.
23. Vintage-inspired Wire Basket Storage Unit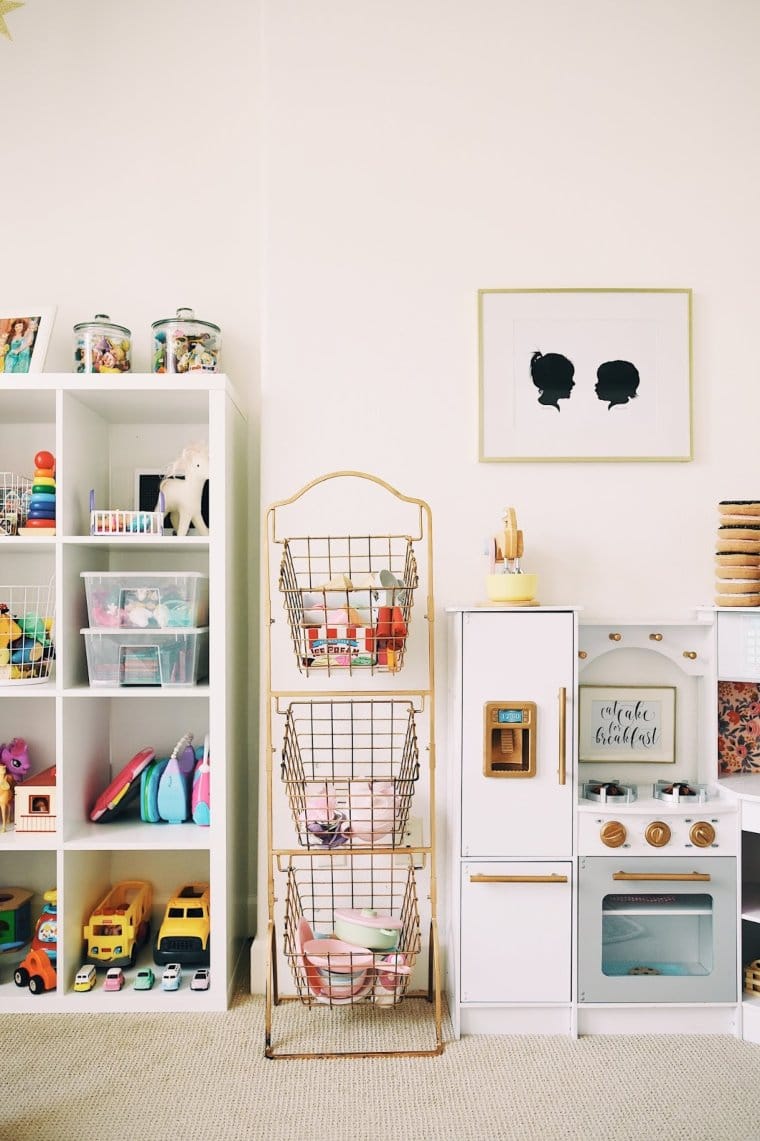 Source: hellobabybrown.com
This DIY vintage-inspired storage unit is the perfect addition to any room. The best thing about it is that it looks so beautiful you'll be able to reuse it once the kids grow up.
It can store anything and looks absolutely amazing in any room. Here is a good quality 3-tier metal wire basket storage unit.
24. DIY Ladder Shelf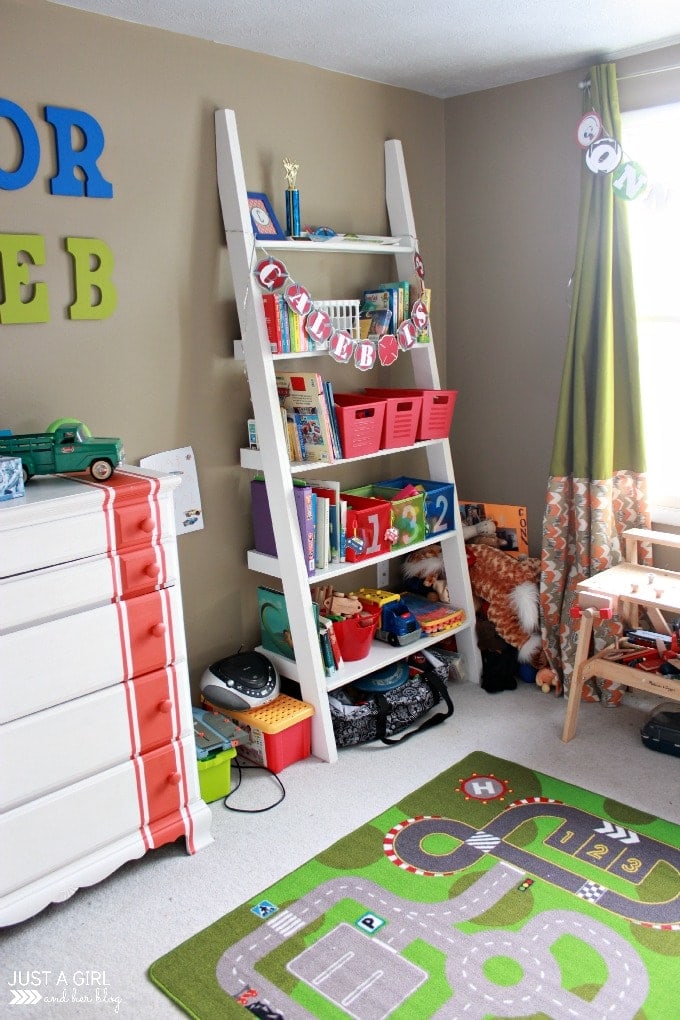 Source: justagirlandherblog.com
A white ladder shelf is a great way to enhance the aesthetic in any corner of the house! The best part is that you can really customize the look of your shelf by painting it the right color to suit your home décor.
Not interested in crafting? No problem, there are a ton of ladder shelves out there to choose from. Check them out here.
25. Give Your Over-the-door Caddy a Makeover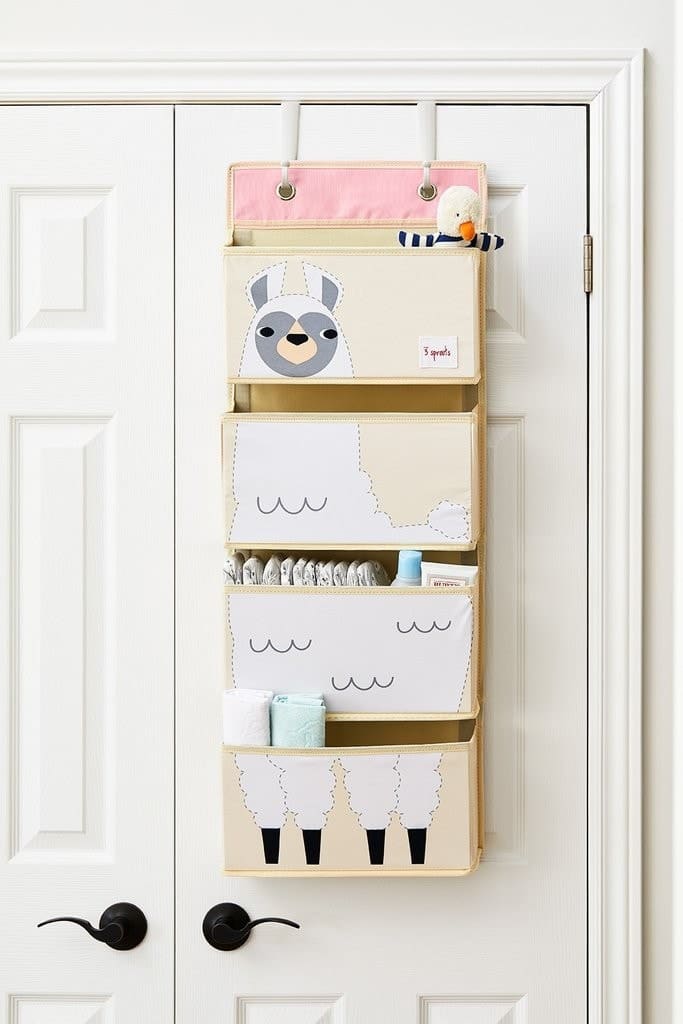 Source: jeujouet.co.uk
Make things easier for yourself by adding an over-the-door caddy into the playroom! This is a great way to organize the items that you're always reaching for.
Like with most things you can get creative. Customize the appearance of your over-the-door caddy by painting adorable characters onto it.