Office gets super messy? Try these office organizing ideas to get your workflow under control!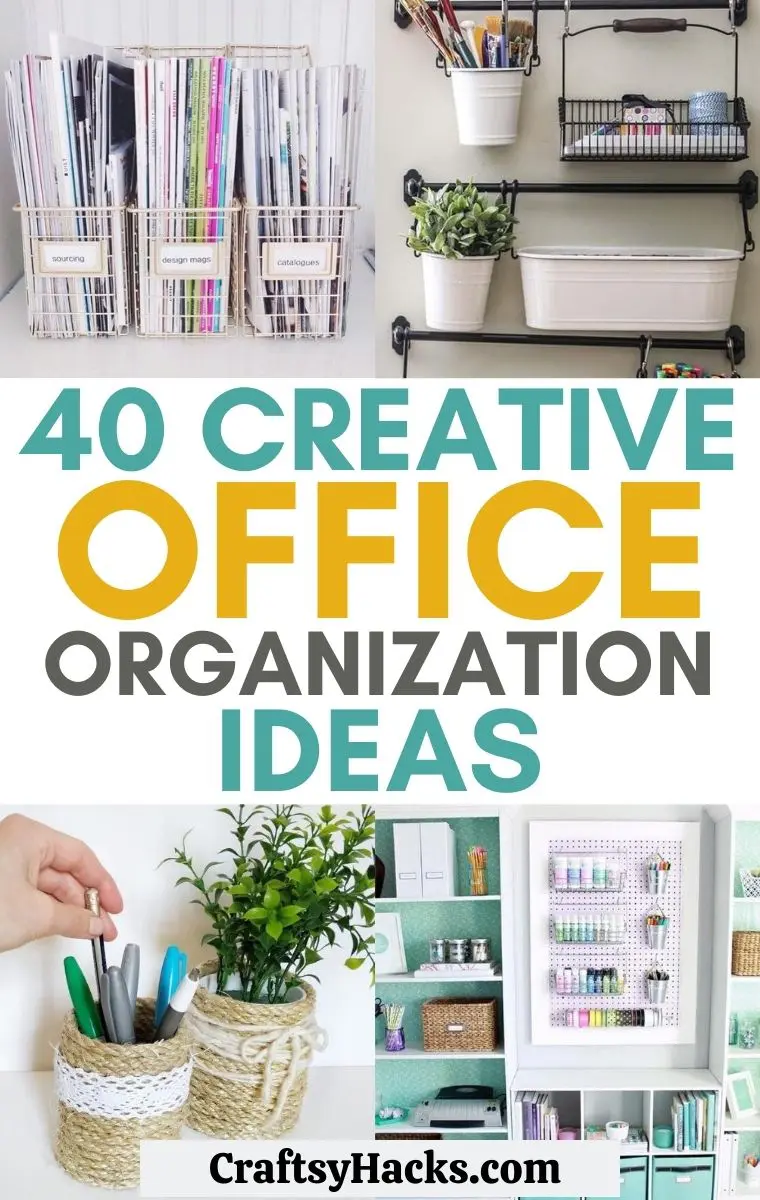 Always on the lookout for simple DIY projects to upgrade your workspace? The good news is that there are tons of creative ideas for transforming your entire home office situation – without spending a fortune!
All you really need is a bit of creativity, resourcefulness… and a couple of items you can easily find at your local dollar store.
Not sure where to get started? Here are 20 office organization ideas to help you set up your dream workspace!
1. Add Storage Baskets to Shelves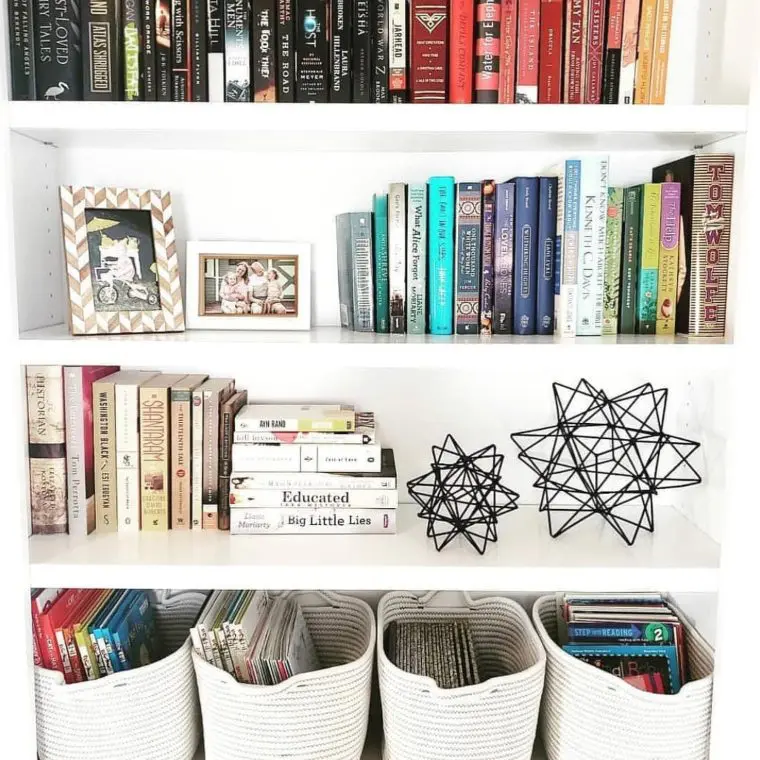 Credit: Instagram
The easiest way to maximize storage space around your home office? Add storage baskets to your shelves to organize the larger items that you can't really seem to find a home for.
For all my storage needs, I absolutely love using storage baskets like the style you can find here.
The best part is that they come in a wide range of colors so you can pick the perfect color combination to match your décor theme – my top pick is beige!
2. Plan Your Time With a Daily Planner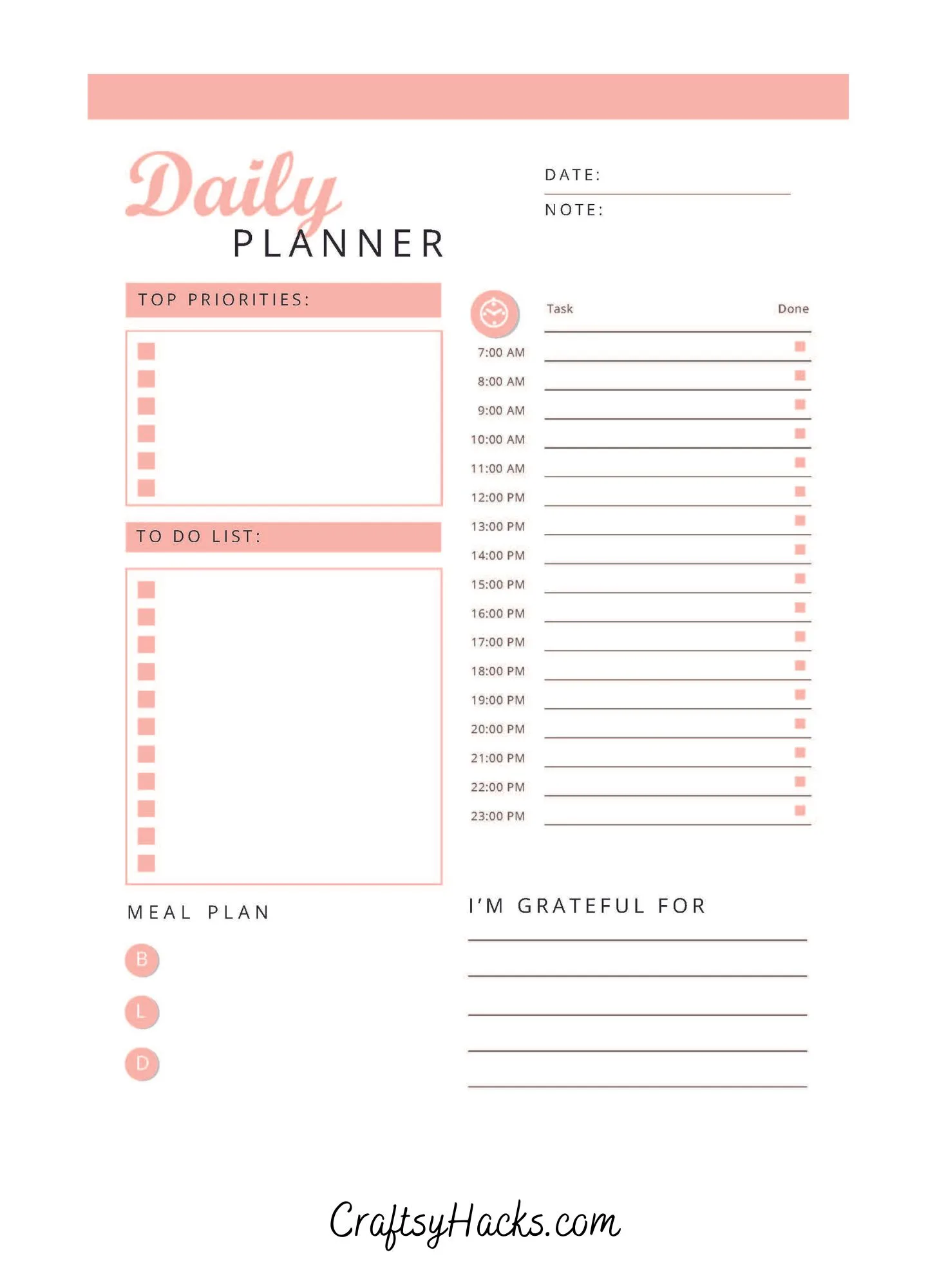 There is nothing more important to an organized office and a productive space than a good plan. You can have your office all decluttered but your head still spinning with the thoughts of all you have to do!
We've all been there! Feeling anxious and overwhelmed with the endless amount of tasks that are waiting for us! A lot of anxiety actually comes from a fear of forgetting something.
The best way to counteract that and get productive is to plan your days out. With a simple planner, you'll have all of your tasks noted down and meetings scheduled.
At that point, you no longer need to worry about missing something out. You just have to follow the daily plan!
A daily planner has increased my productivity significantly and relieved so much of the anxiety!
Get the daily planner below! Just put in your information and I'll send the daily planner straight into your inbox immediately!
3. Chalkboard Labels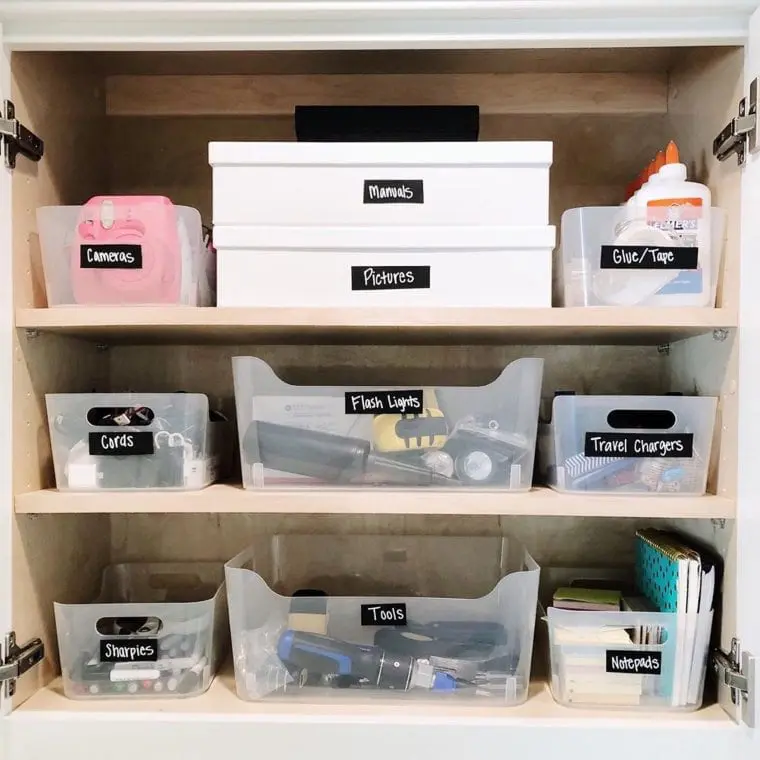 Credit: Instagram
Adding chalkboard labels onto all the storage containers around your office might seem like a simple idea, but it's a total game-changer! It doesn't just make everything look a lot tidier, but it also helps you maintain a cohesive aesthetic throughout your entire storage situation.
I highly recommend grabbing a set of chalkboard labels with a chalk marker here.
4. Transparent Plastic Boxes
Credit: Instagram
Keep your shelves neat and tidy by sorting out all your larger items into large transparent plastic boxes. They also work incredibly well for storing papers and other important documents.
The best part is that they're transparent so you know exactly where everything is! Here is a set of such plastic boxes for a cheap price.
5. Plastic Holders for Office Supplies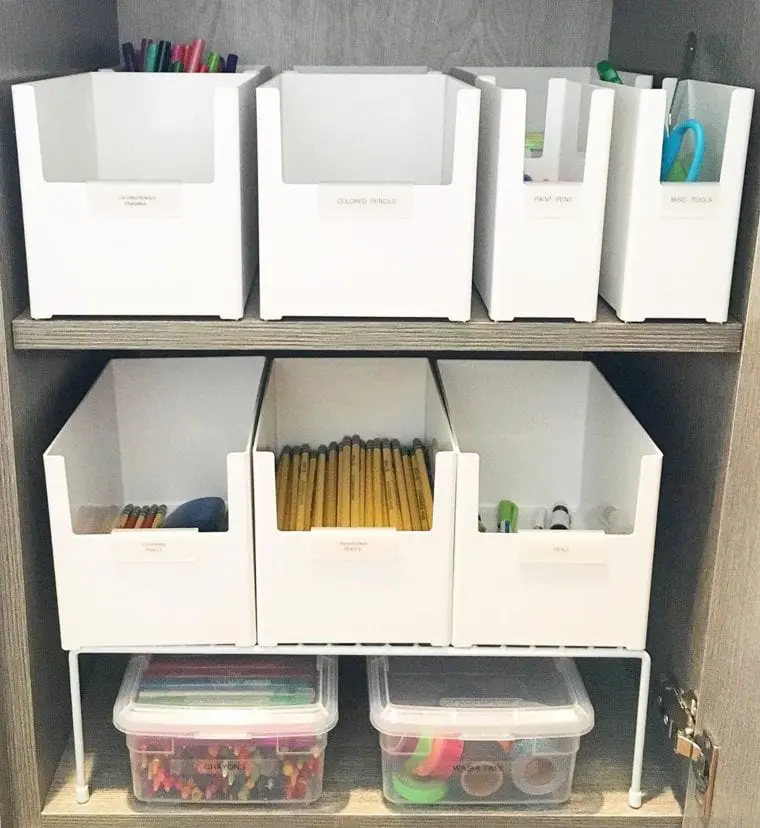 Credit: Instagram
Upgrade your entire workspace situation by setting up a stationery station in any empty corner of the room!
Use large plastic storage containers to keep all similar items together and to sort out all your office supplies.
6. Pegboard Organizer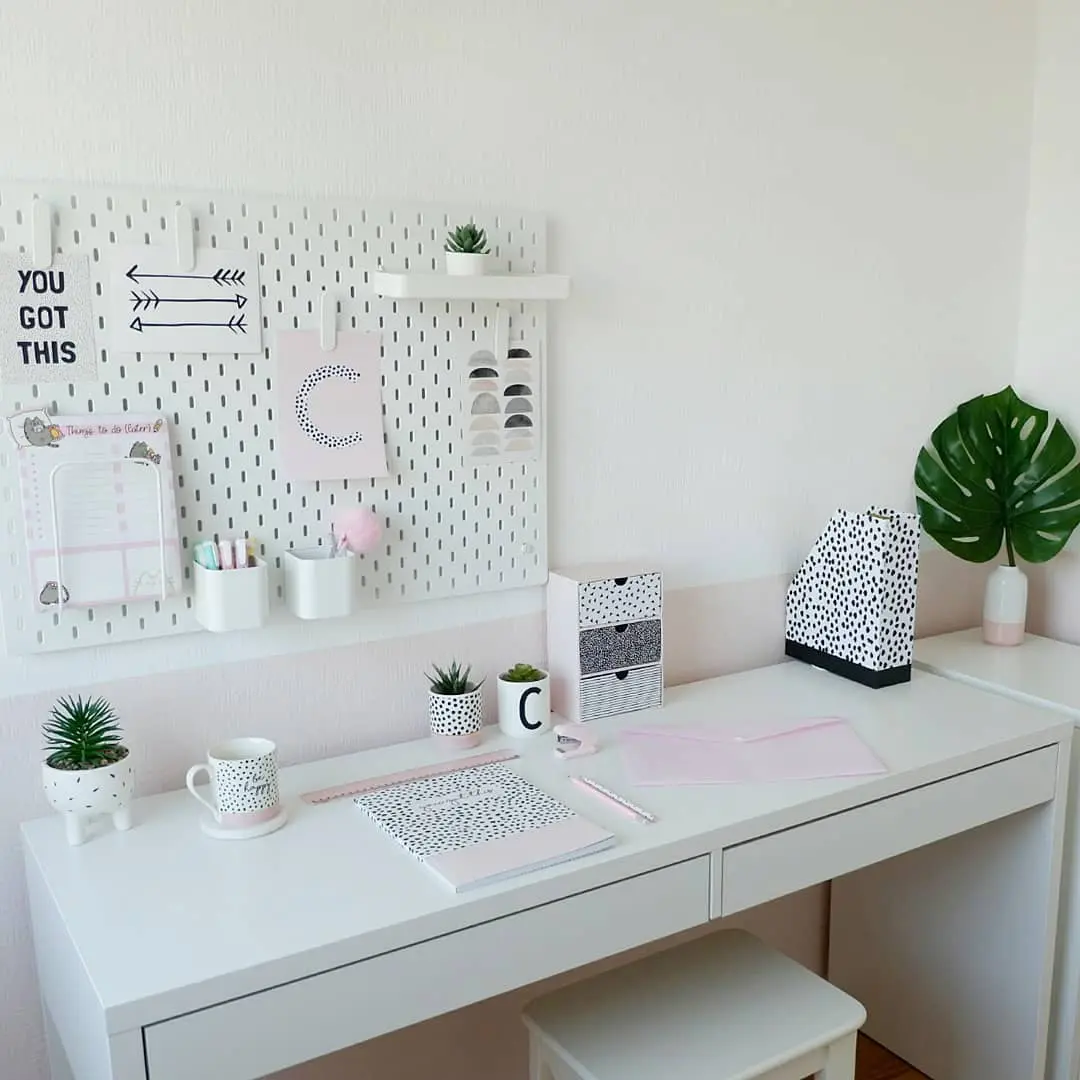 Credit: Instagram
Adding a pegboard to any empty wall space around your home office is one of the best ways to maximize storage space.
It's also an added bonus that mounting a white pegboard onto a wall in any room looks incredibly modern and chic.
For your home office, I'd recommend grabbing a pegboard with a sleek design like the one you can find here.
Although you really can't go wrong with white, you could easily change up the color scheme with a coat of spray paint!
7. Paper Tray Organizer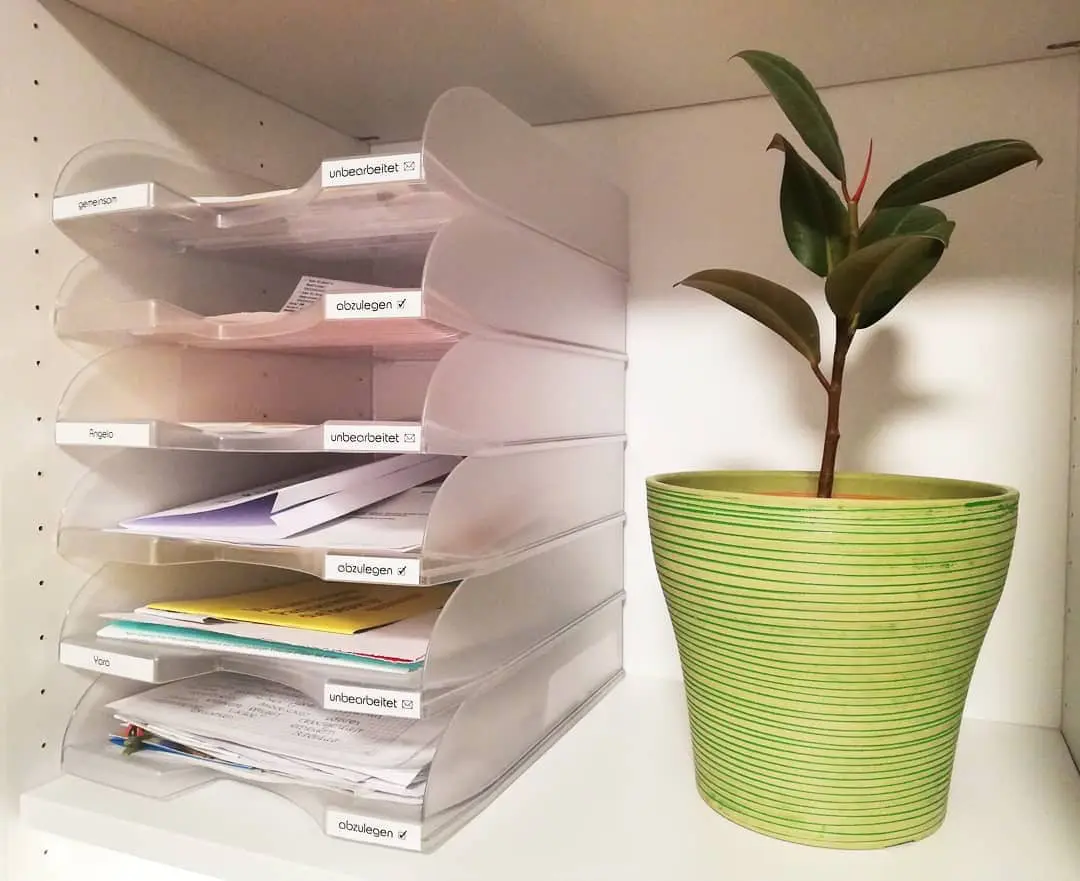 Credit: Instagram
If you don't already own a paper tray… well, what are you waiting for? This is another small but life-changing addition to any workspace.
Besides taking up very little space wherever you choose to place it, they're great for reducing the clutter that always seems to find its way onto your tabletop.
This paper tray organizer has a sleek design! So, check it out. Also, a paper tray organizer offers a good way to organize smaller items too.
8. IKEA KALLAX Shelf with Doors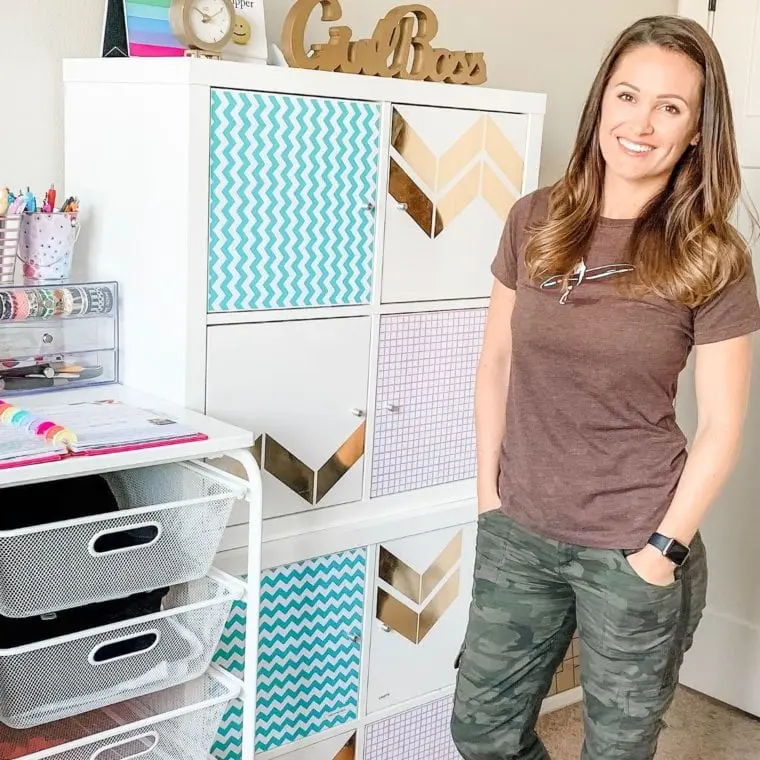 Credit: Instagram
The IKEA KALLAX shelf is a complete godsend for the ultimate DIY enthusiast. The best part is that it comes in a variety of size options so you can really choose the best version to meet all your storage needs.
What's great about this unit is that you can easily create separate cabinets by adding doors and knobs onto it! I highly recommend grabbing a set of knobs with a modern but elegant design like the style you can find here.
This one would do great for organizing children's room too!
9. Tote Organizer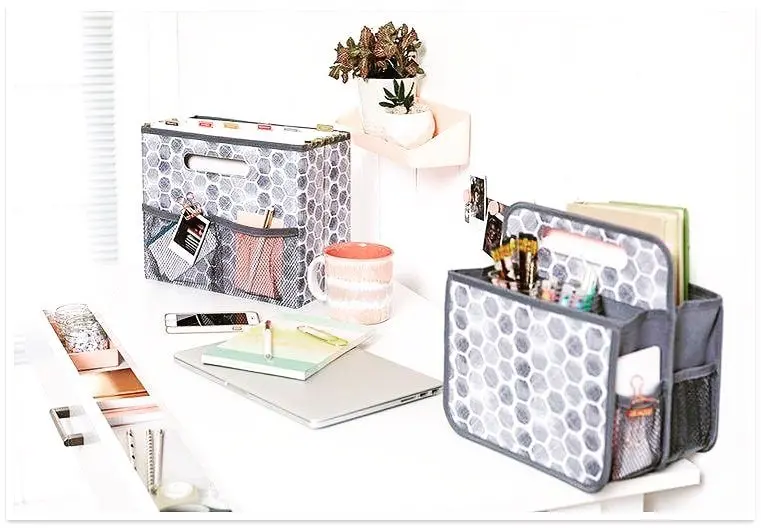 Credit: Instagram
A large tote bag isn't just great for carrying items around. But, you can actually use one to increase storage space on your tabletop!
Use a tote bag in your home office to organize the items that you really can't find a home for.
Where to find a cute tote for your home office? I absolutely love the sleek but functional design of the tote you can find here.
You could also just sew one up. Here are a few more sewing projects for organizing rooms!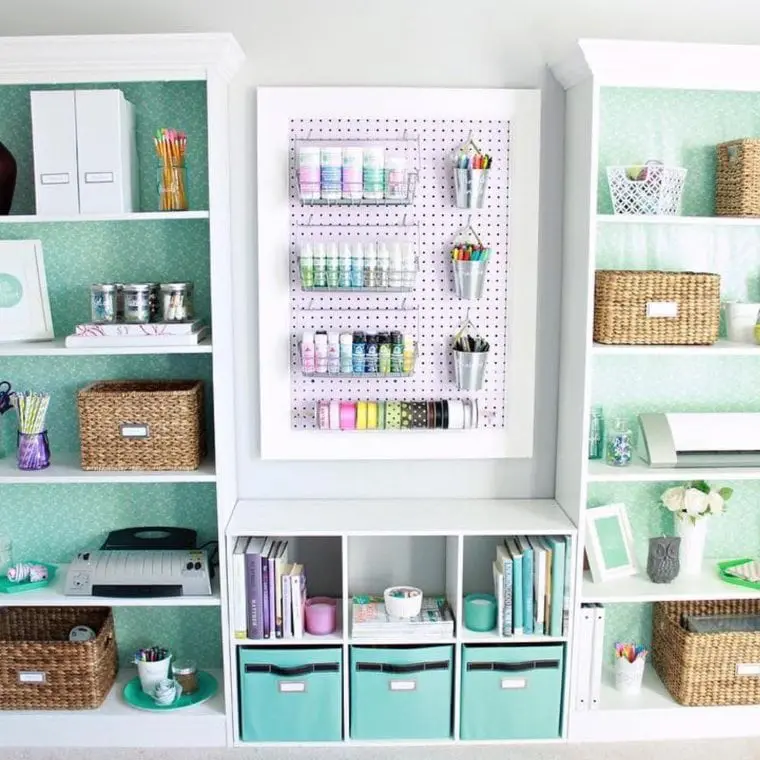 Credit: justagirlandherblog
Looking for a simple way to organize your stationery? Just grab a set of tiny metal buckets to sort out all your stationery.
You can either place them on your tabletop or mount them onto a pegboard setup. I love using small metal buckets to store smaller items around the house!
Here are some of the colorful ones that you might like!
11. DIY File Organizer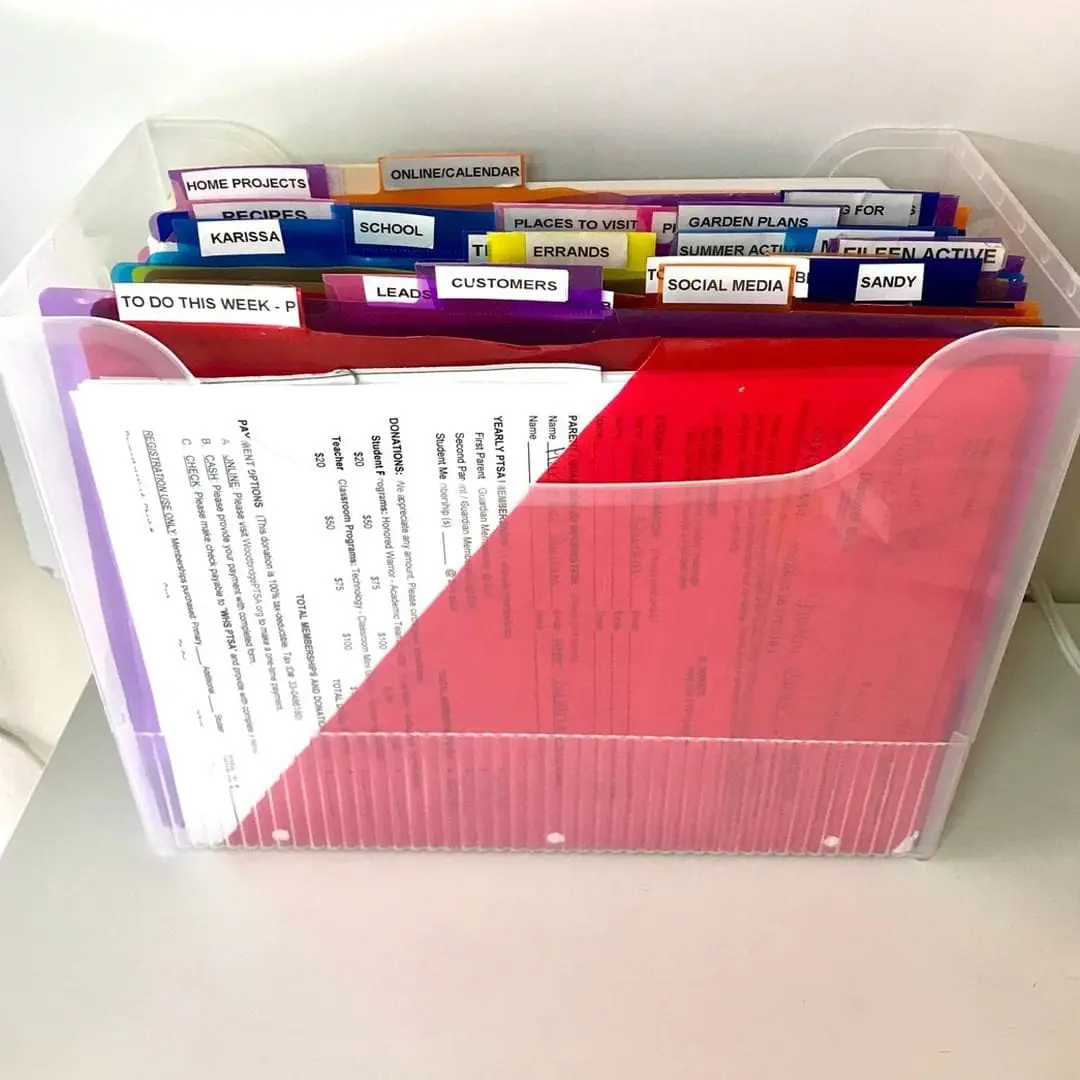 Credit: Instagram
Looking for a way to organize your files… without spending a fortune on a file cabinet?
You can easily make your own file organizer with a little DIY! All you need is a plastic container and a set of plastic dividers with tabs (the type you pop into a binder).
I recommend grabbing colorful plastic dividers like the set you can find here.
12. Makeup Storage Container for Stationery
Credit: Instagram
Looking for a way to organize all the stationery on your tabletop? A makeup organizer actually works incredibly well for sorting all the smaller items lying around your workspace.
Not to mention, it's a great way to organize the clutter that tends to build up in our drawers. I love using acrylic makeup storage cases to organize items on my tabletop like the one here!
If you want to check more makeup organization ideas, check this article here.
13. Rustic Mason Jars for Pens and Pencils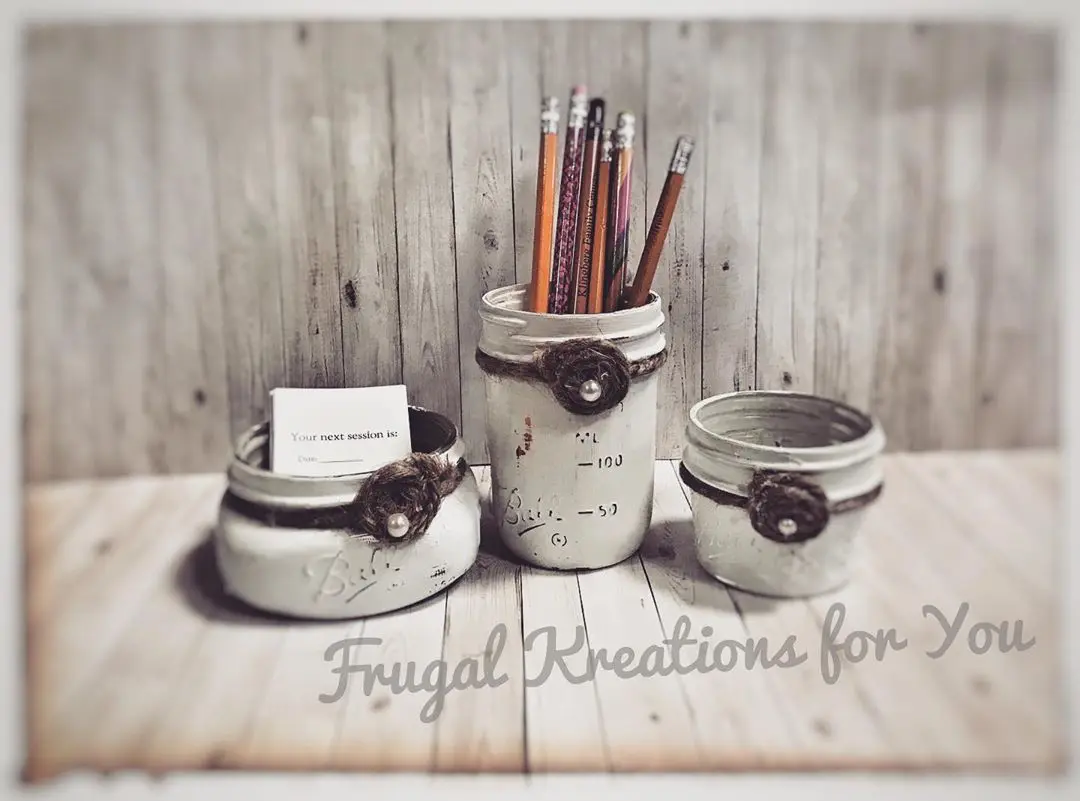 Credit: Instagram
The easiest way to organize all your stationery? Use glass mason jars.
The best part about using mason jars is that you can easily decorate the jar to suit the aesthetic you're going for!
For more of a rustic or vintage-inspired look, add a coat of white paint to your jar and use twine to decorate it. You can purchase Ball mason jars in bulk for a fantastic price here.
Mason jars are quite good for organizing anything. I've talked about using them for organizing the laundry room, bathroom, craft room, kitchen, and even fridge.
Thus, the possibilities are limitless!
14. Add a Muffin Tin Into Drawers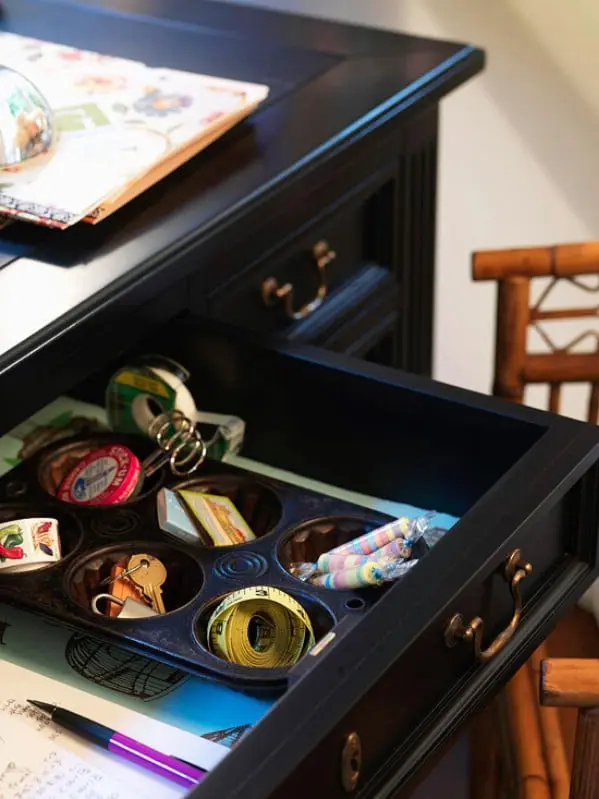 Credit: Instagram
Looking for a way to reduce the clutter in your drawers? Here's the ultimate hack to save a couple of bucks on adding compartments to your drawers.
Instead of spending a fortune on plastic containers, just use a muffin tin!
15. Hanging Slatted Bed Base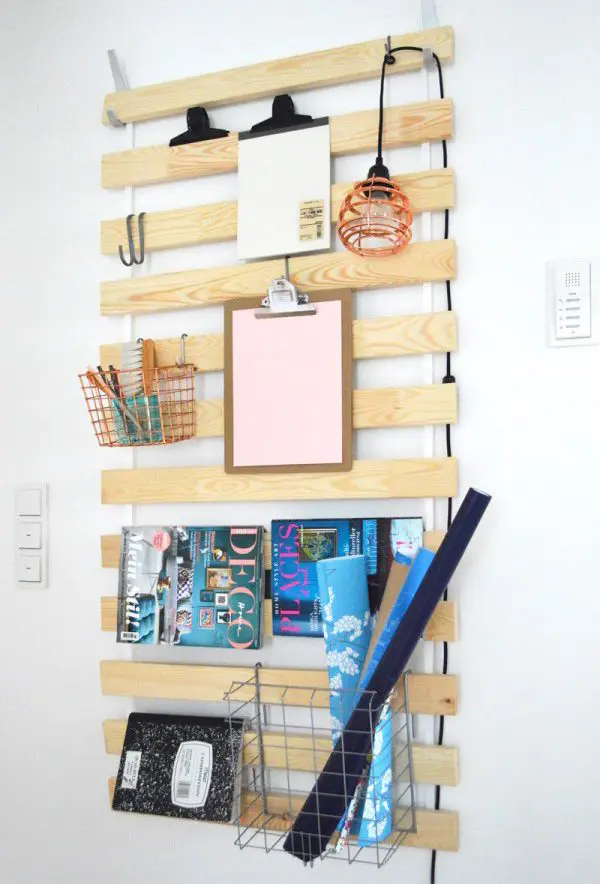 Credit: Instagram
A creative way to increase storage space in your home office? Keep the clutter off your tabletop and out of your drawers by mounting a slatted bed base onto the wall!
This is a super creative way to construct your own memo board or even just to display items on your wall. Not to mention, the exposed wood elements add an urban quality to your entire décor situation.
They're not always easy to find but here's one that's very large. Can be useful if your office is small and you have quite a few things to organize.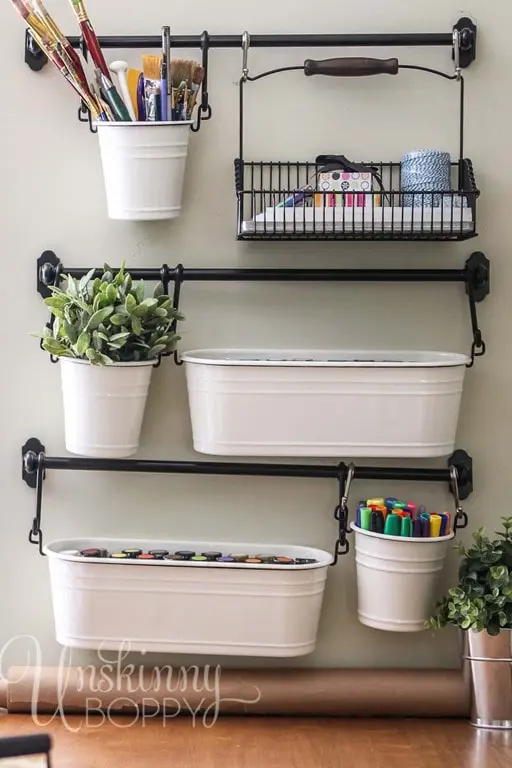 Credit: unskinnyboppy.com
You can easily assemble your own custom wall shelf by grabbing a couple of items from the IKEA FINTORP series.
Though it's meant for the kitchen, it works incredibly well for maximizing storage space in any area around the house!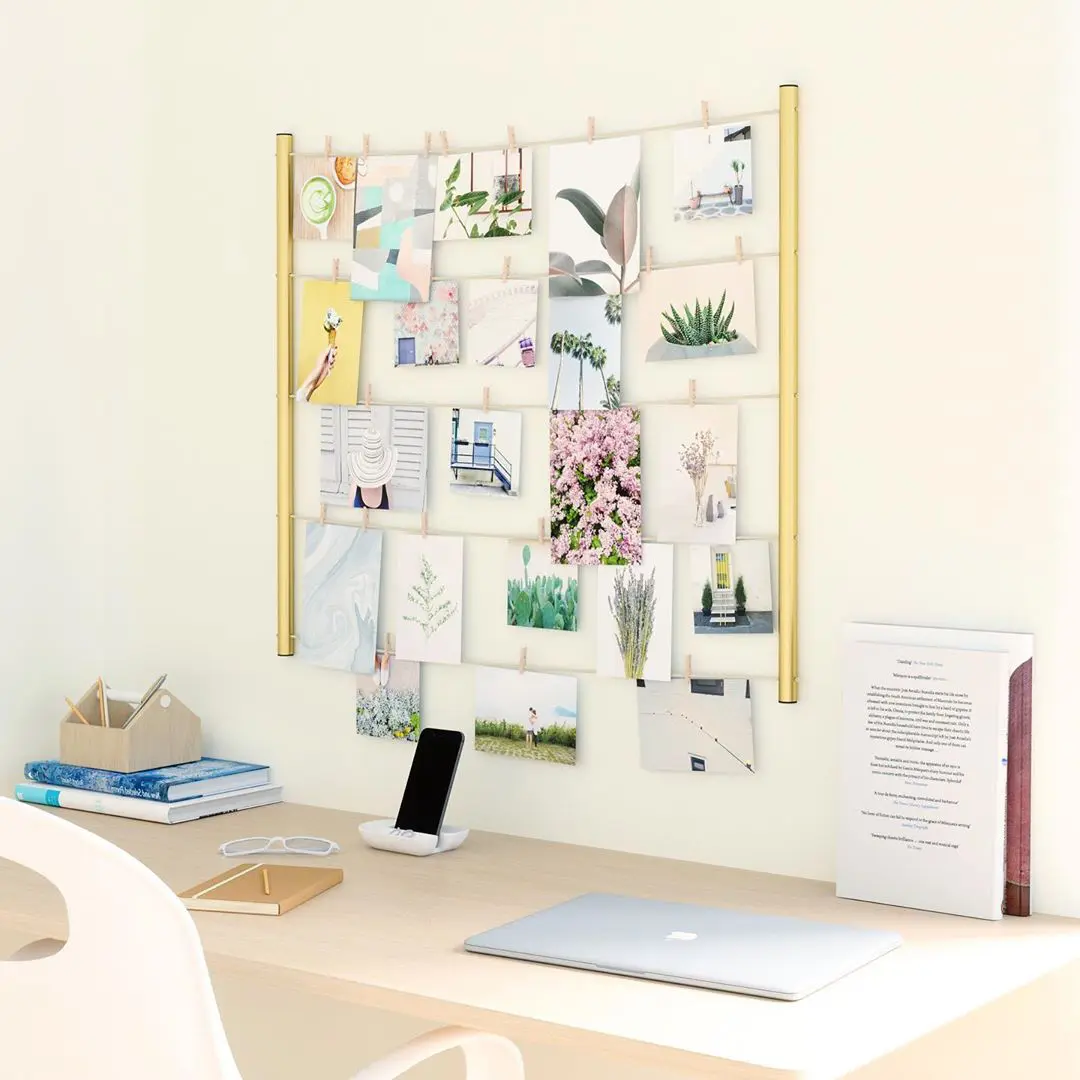 Credit: Instagram
If you don't already have a memo board on your wall – you're seriously missing out!
You can use your memo board as a sleek way to display photos, or even to leave important notes and reminders for yourself.
There are a variety of memo boards to choose from here. They can truly suit any décor out there!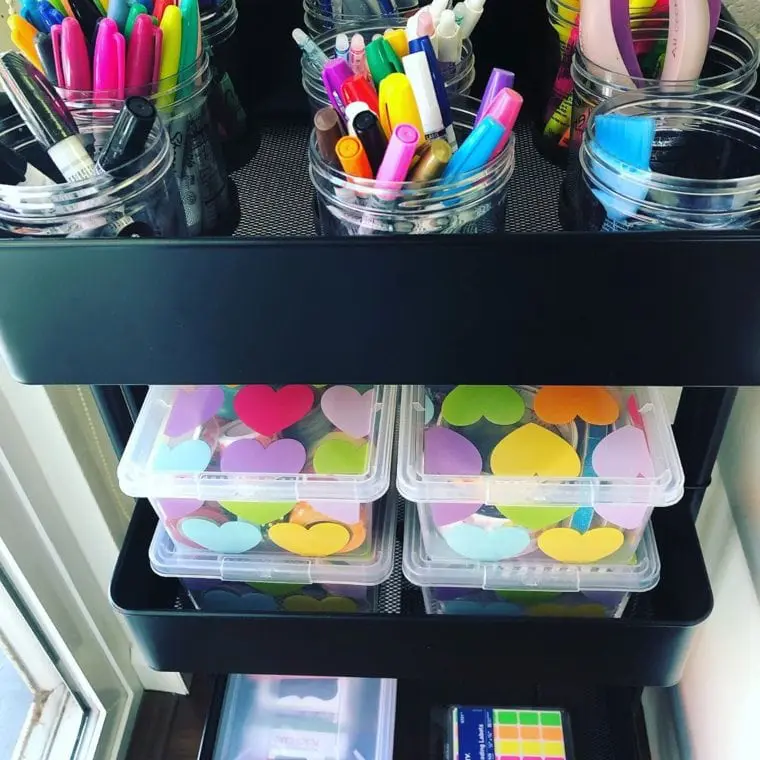 Credit: Instagram
Adding a utility cart to your home office is one of the easiest ways to maximize storage space! I recommend grabbing a cart with a sleek but functional design like the one here.
You can easily give your utility cart a complete makeover with a coat of spray paint. My top pick is either white or gold!
You can also add decorative pieces to your cart, such as a gorgeous floral arrangement or picture frames.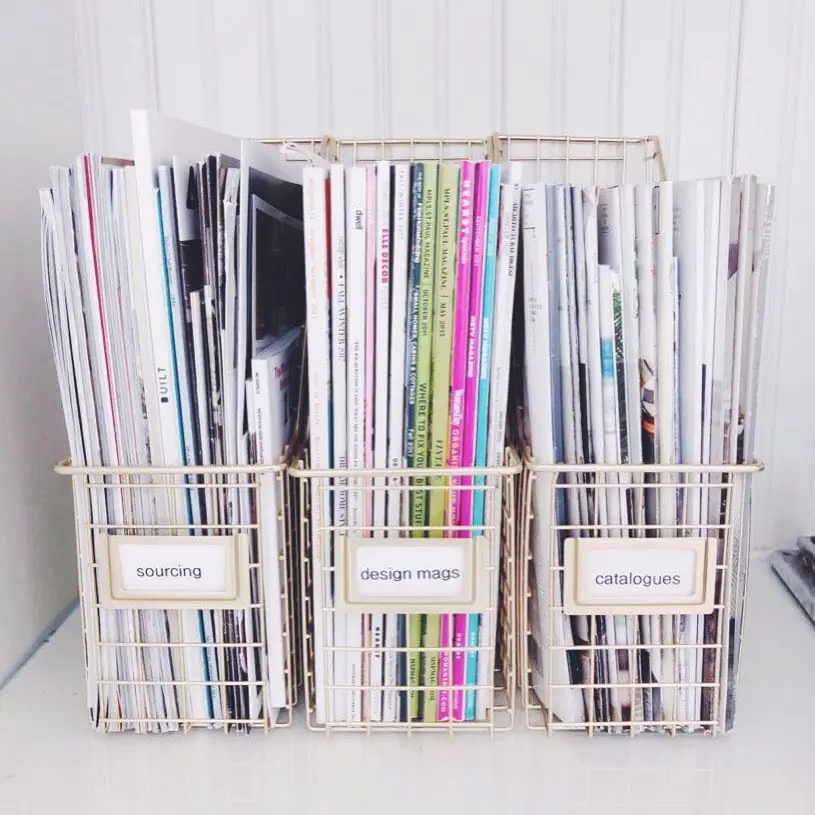 Credit: Instagram
Got tons of documents or magazines just lying around? Grab yourself a couple of magazine holders and use labels to sort them!
Not to mention, it looks incredibly sleek when you place a couple of wire magazine holders side by side.
I highly recommend grabbing a set of wire magazine holders like the type you can find here – they look fantastic on any tabletop or shelf.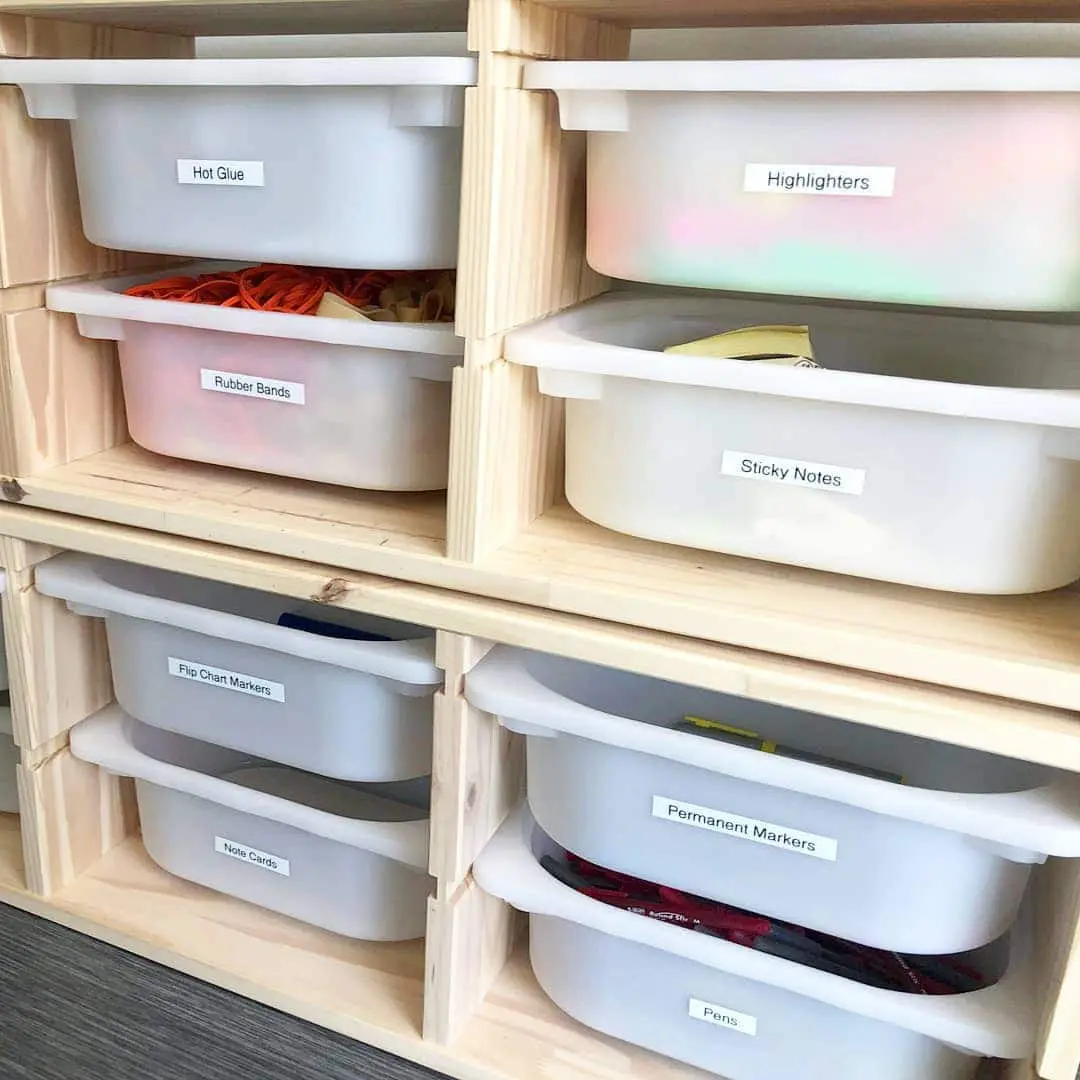 Credit: Instagram
When it comes to reducing clutter around your home office, it's actually a great idea to invest in some sort of storage unit with pull-out drawers.
This will make it so much easier for you to get to whatever you're looking for! I also suggest labeling the drawers so you know exactly where everything is.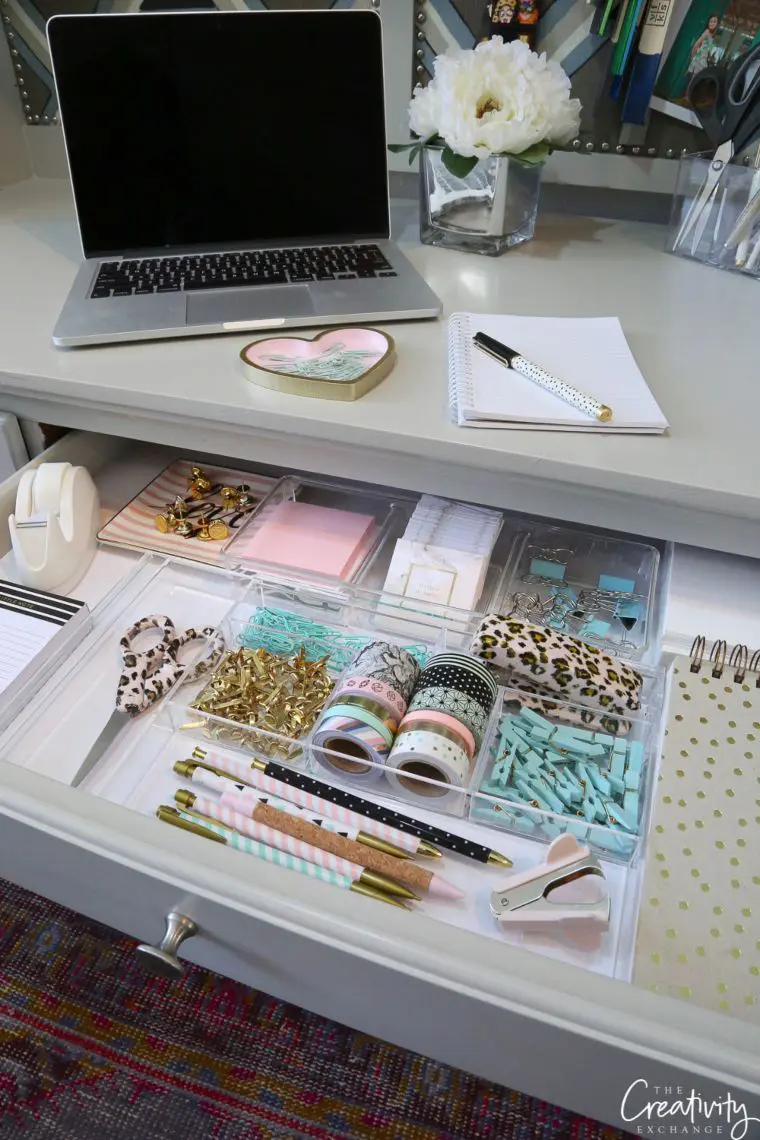 Credit: thecreativityexchange.com
Have you ever been on the phone, and someone gives you important information that you need to jot down, only to open your desk and find clutter?It's super annoying, especially when you can't find a working pen or a Post-it piece.To declutter your drawer and avoid this situation from ever happening again, try using clear dividers on your drawers, like those I found here.They come in different-sized compartments. Because they're clear, it's super easy for you to spot whatever piece of stationery you may need.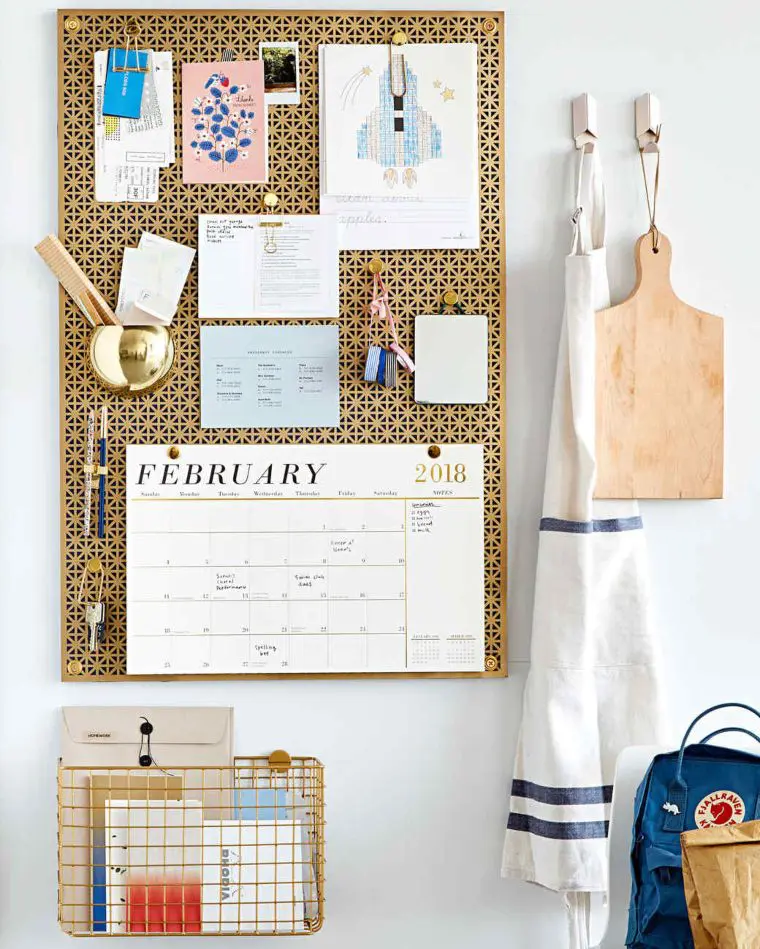 Credit: marthastewart.com
Every office, including your home office, needs a memo or bulletin board. Do away with the traditional corkboards and go for an exquisite and elegant look by using aluminum hobby boards.You can get them in various designs and finishes to suit your office's overall color scheme. I couldn't find any from my local craft store, so I ordered a from here instead.With just a few additions of thumbtacks and bits and bobs, I easily transformed the sheet into a wall-mounted organizer, memo board, and letter caddy.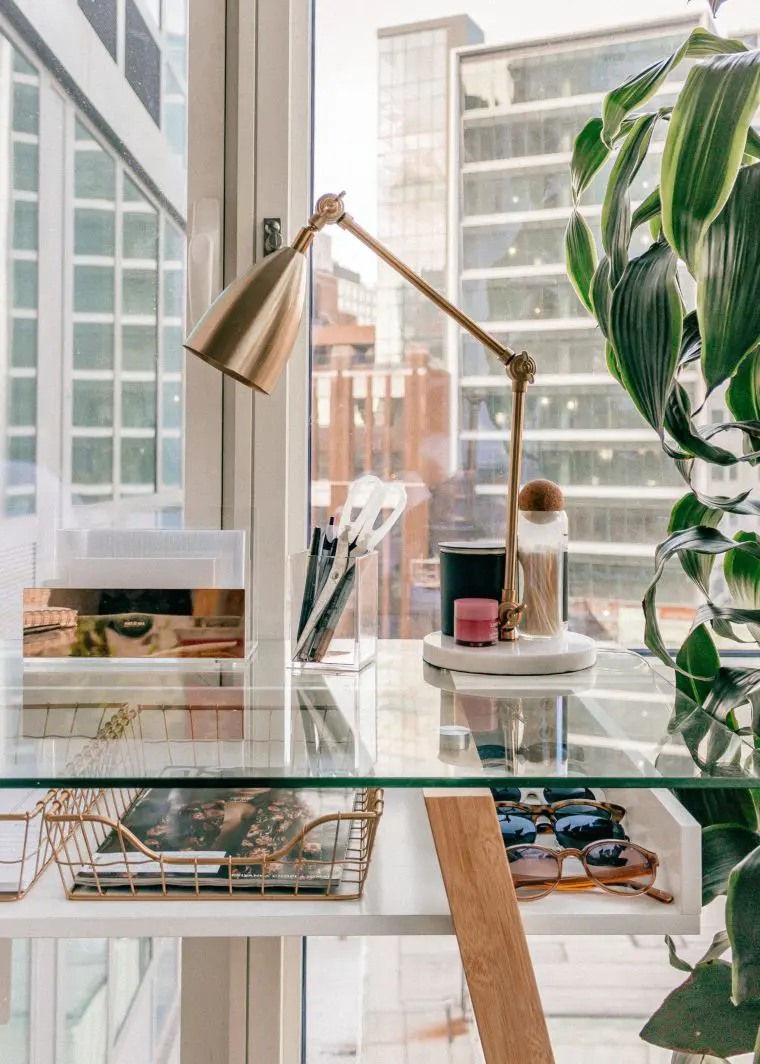 Credit: melissafrusco.com
If your office desk doesn't come with drawers, there's a stylish and quick fix to that. Use wire racks instead.They're great for keeping papers, brochures, and other loose pieces in the office. If you are obsessed with color coordination like I am, click here to check out this stunning five-piece rose gold wire rack set.This is a great way to organize paper clutter.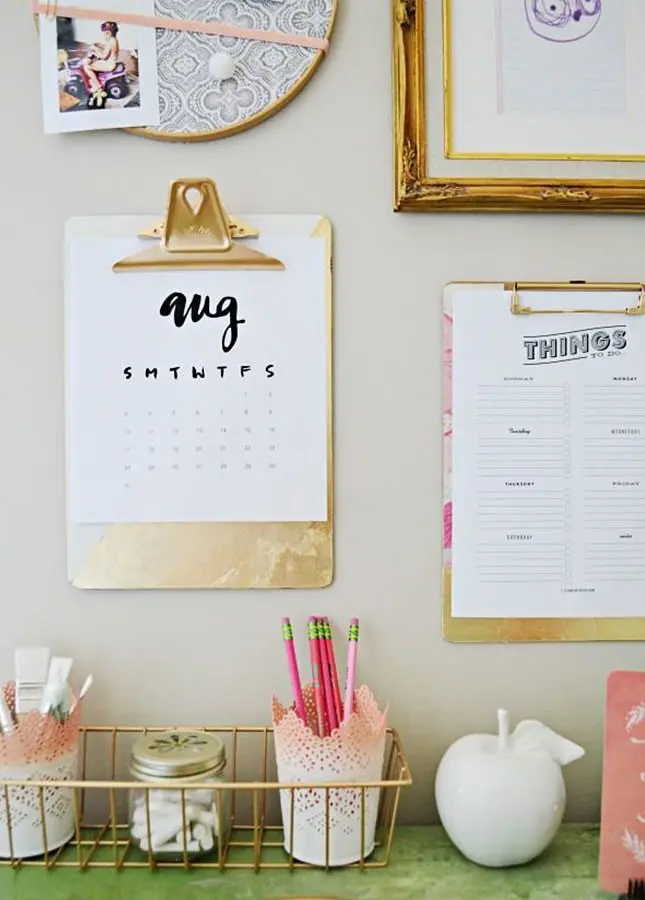 Credit: fashionmagazine.com
Upcycle your kids' study clipboards by turning them onto wall-mounted reminder boards or DIY calendars. All you need is paint to match your office's theme and your creativity.To maintain a cohesive color scheme on your wall, use a round corkboard, paint, or wrap it over with the same color you used on the clipboards. Attach a bit of elastic around it, and you have an instant corkboard to hold receipts, bills, or even photos.My go-to metallic spray paints are available here. I love that they are available in six-pack varieties and can be used on pretty much any material or surface. You can use these rope organizers with this one too!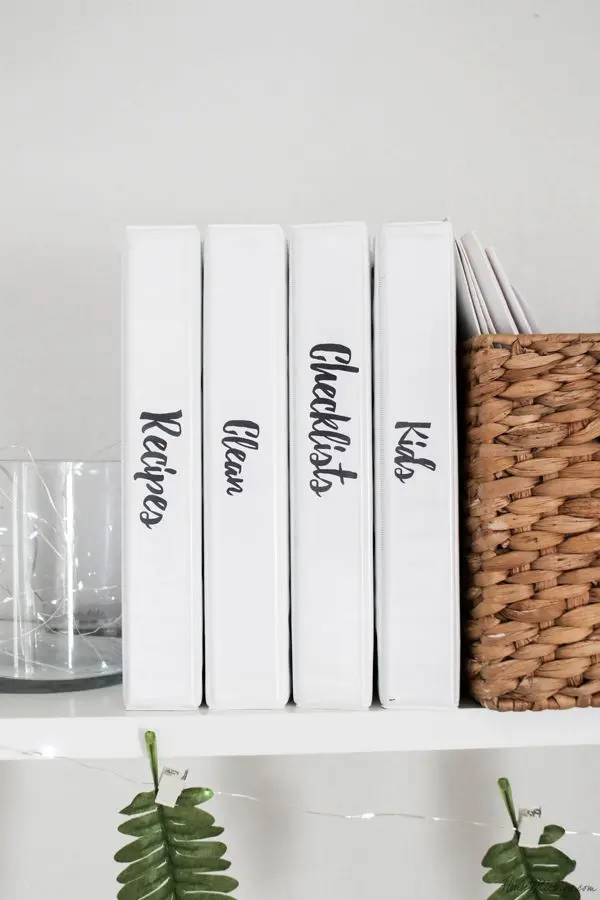 Credit: housemixblog.com
Binders are excellent tools for storing your receipts, manuals, warranty cards, car registrations, your family's birth certificates, etc. Because they're inexpensive, you can have a binder for each category.Label them according to their category, and store them on the top shelves of your office. That way, they aren't cluttering your everyday workspace, but they are easily accessible when you need them.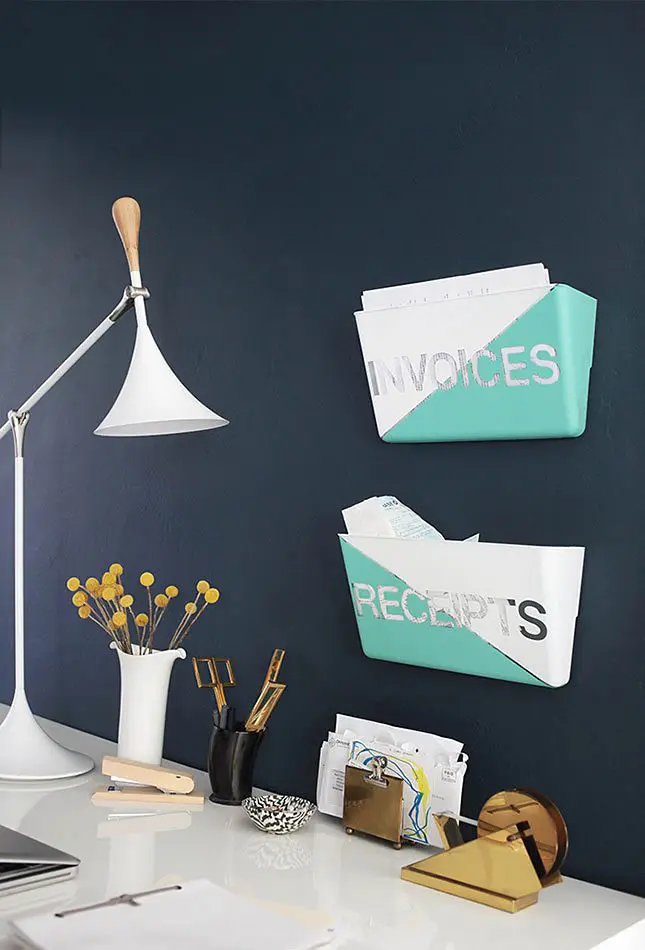 Credit: fashionmagazine.com
Another ingenious way of organizing your documents is using docu-pockets that easily mount onto your wall. This space-saving solution works great if you have limited desk or storage space.The first step is to buy a set of plain-colored document holders like the ones here, and then use your creativity to give an added decorative touch. I love labeling them, so I know exactly what is inside each pocket, making my daily tasks more efficient.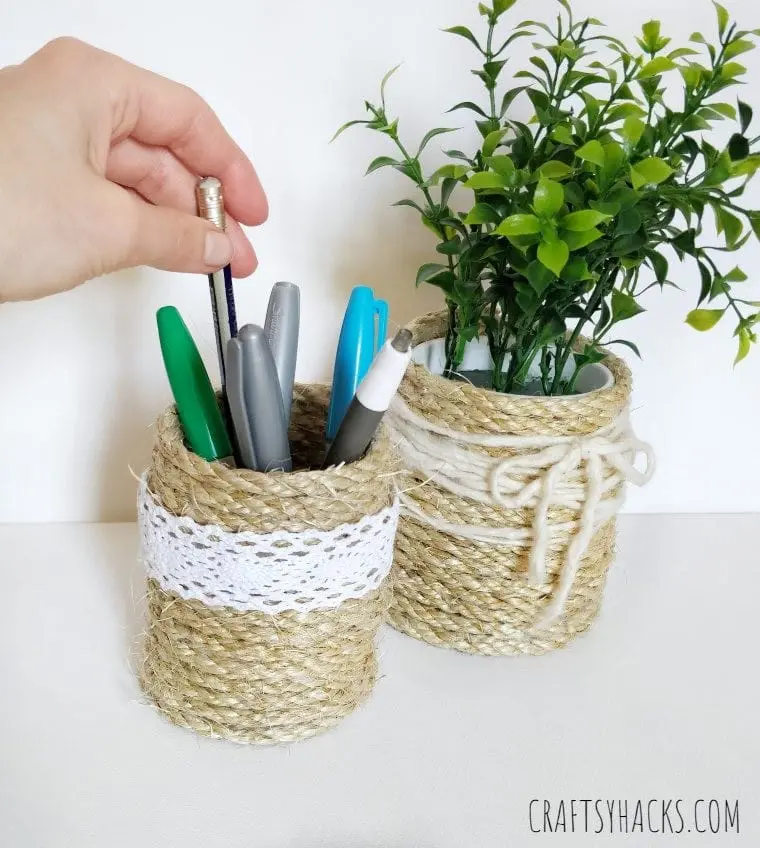 Credit: craftsyhacks.com
Organizing your office need not be expensive. You can create your organizers out of everyday household materials, like a rope.It's a fun DIY weekend bonding project that you can do with the entire family. All you need are your hot glue gun, scissors, yarn, and decorative ribbons.Head on to this page for a full set of instructions, including photos.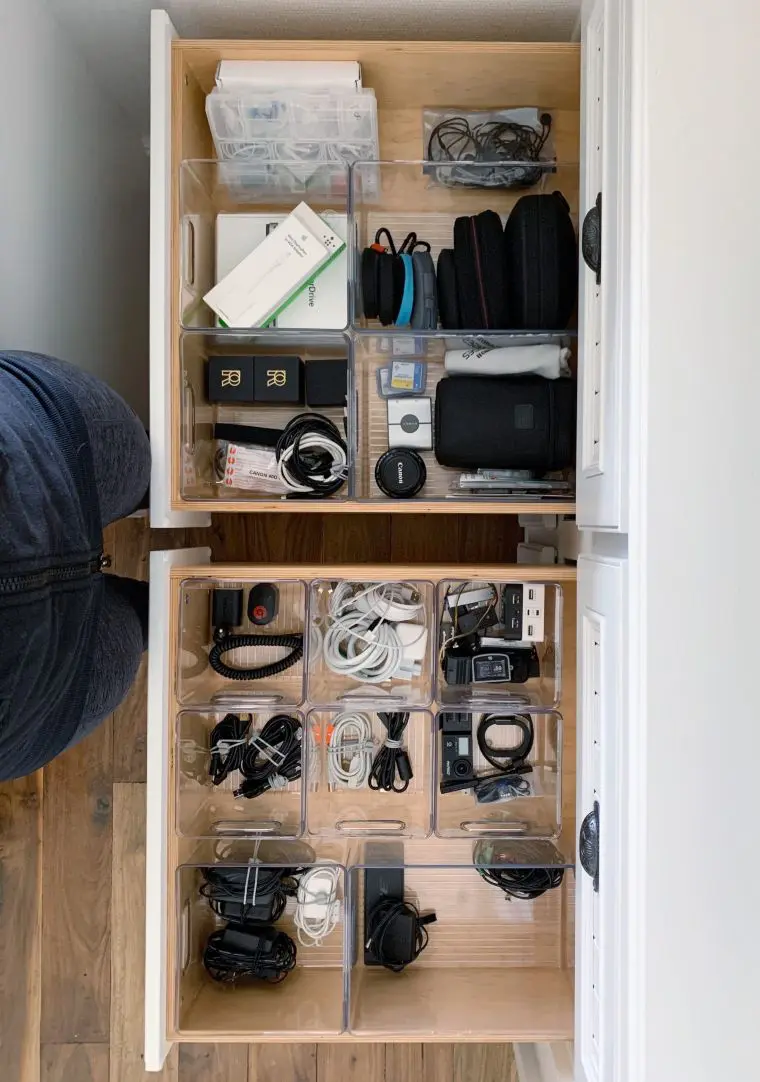 Credit: simplyorganized.me
In today's digital age, it's inevitable to have so many cords, chargers, and tech accessories. If these aren't stored probably, they end up tangled in each other, making it extremely hard to find or eventually damaging it.Use clear storage bins that come in different sizes like these, to hold your various-sized gadgets.Another trick is to get yourself a craft organizer box like this, which is great for keeping earphones, USB sticks, batteries, and other small digital accessories. Craft boxes are great because they often come in transparent designs, making it incredibly easy for you to spot the item you need.Check out more ways to organize small items!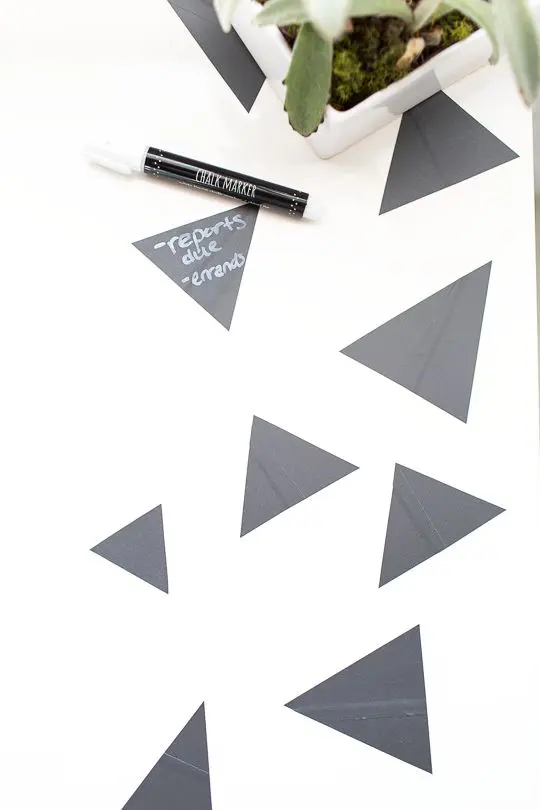 Credit: sugarandcloth.com
Write your tasks on your desk, literally. Post-its are very handy, but if you're anything like me, I always seem to lose them, no matter how many pads I buy.Fortunately, I came across this really cool idea of sticking chalkboard sheets on to the desk. This way, I am sure not to lose my notes, and once done with the task, it's easy to wipe it off to add a new one.If you don't know where to get your chalkboard paper, I recommended getting it from here. It comes in a roll of 120 sticker sheets, plus you also get a chalkboard pen with an eraser with the package.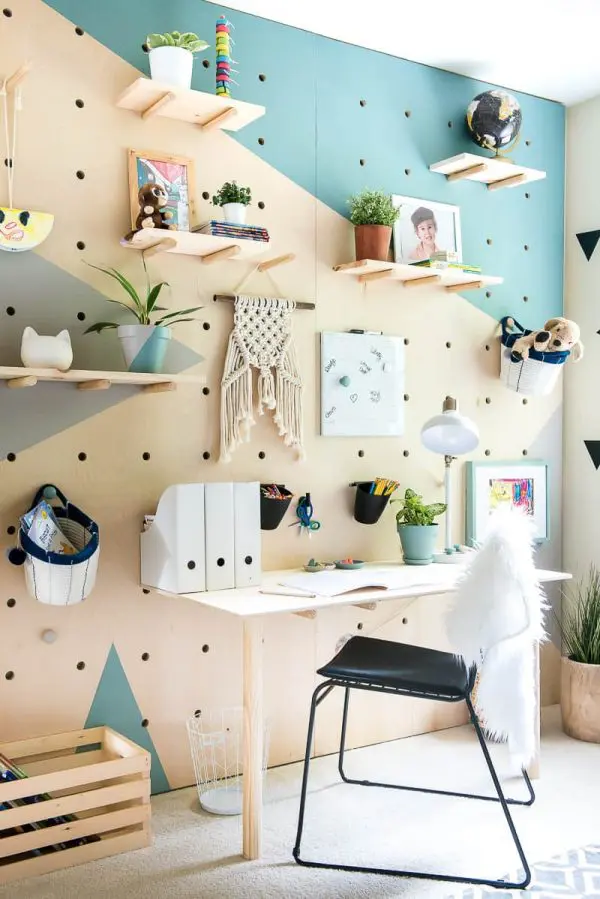 Credit: placeofmytaste.com
To maximize your home office space and, at the same time, add a bit of your personal touch to it, create your pegboard wall. Don't panic just yet, I'm not going to ask you to knock off your entire wall and replace it.It's easier than it sounds. All you need is a bunch of pegboards that fit the size of your office wall, paint, and other decors, and of course, your all-important creative mind.The pegboard kit available here may be a great material to use, as it also comes with a couple of shelves and rods. All the pieces have a natural wood finish, making it super easy to customize it.Check out more pegboard organizing ideas here.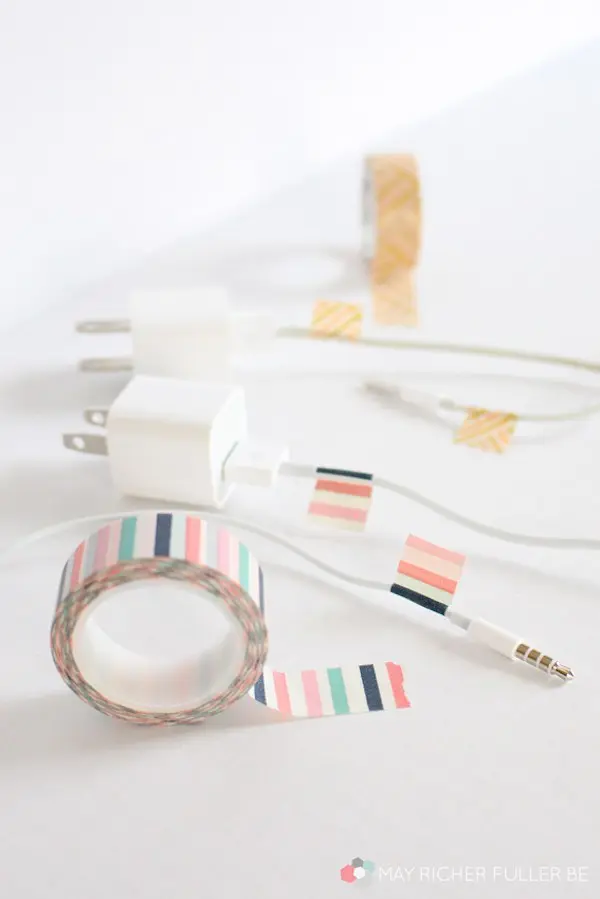 Credit: simplyspaced.com
In addition to organizing your cords and cables in clear bins like the idea we presented earlier, you can also label them, to avoid confusion regarding which cable belongs to what gadget.There are so many ways of doing this, but my favorite is by using washi tape like these because they're relatively inexpensive. They come in super cute colors and patterns.Use a marker pen to label the washi tapes according to their respective gadgets the cords belong to.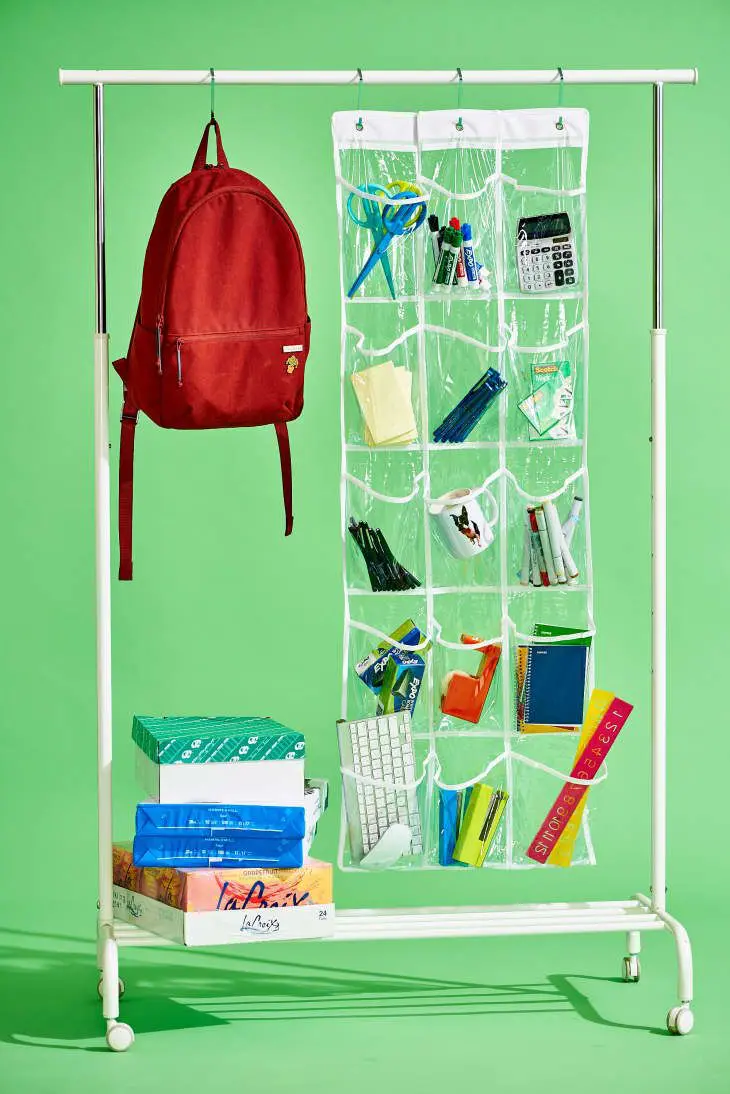 Credit: apartmenttherapy.info
If your office struggles with space, maximize your door's use by converting plastic shoe racks into stationery organizers. They're usually available at your local dollar shop, but if you can't find any, order them here instead.If you can't use the door, you can also get an inexpensive mobile clothes to rack like this, which gives you more storage space, and you can place it beside your desk for better accessibility.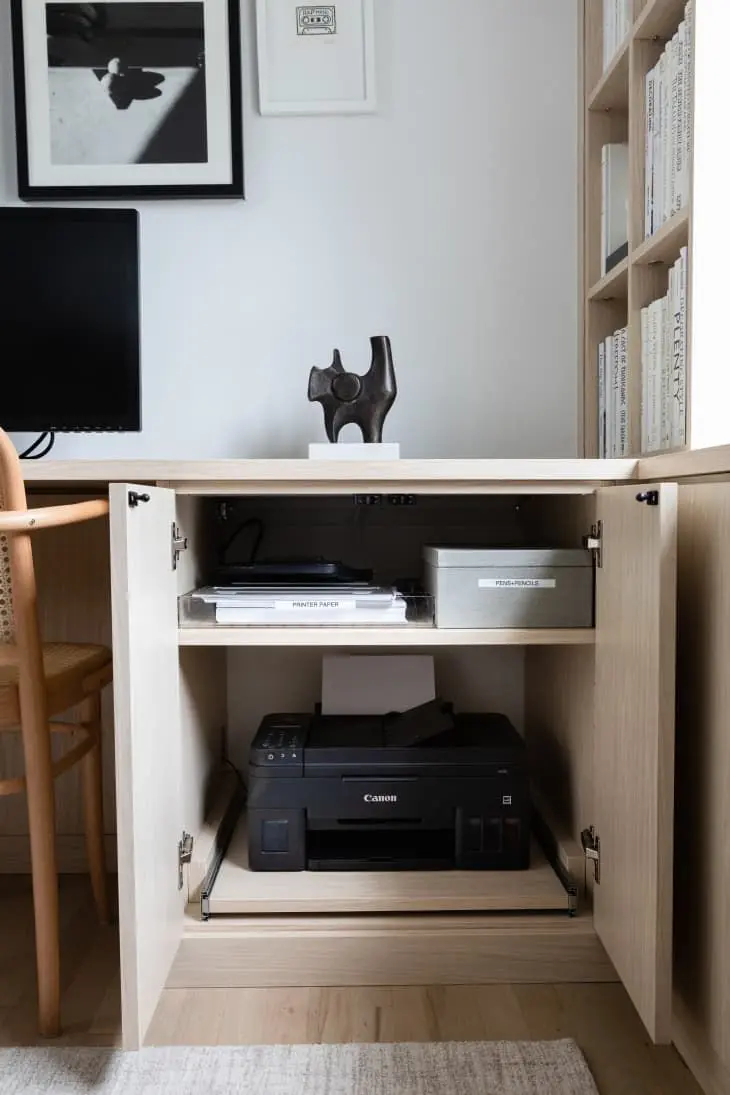 Credit: apartmenttherapy.info
Printers and their accessories can be an eyesore in the office. To make your office look clutter-free, use one of your cabinets to tuck your printer away neatly.Install a pull-out shelf for the printer to stand on, so it's easier to bring it out the next time you need it. You can use a standard pull out shelf from your local hardware stores.You can also install one that is dedicated for use with computers and electronics, such as this one.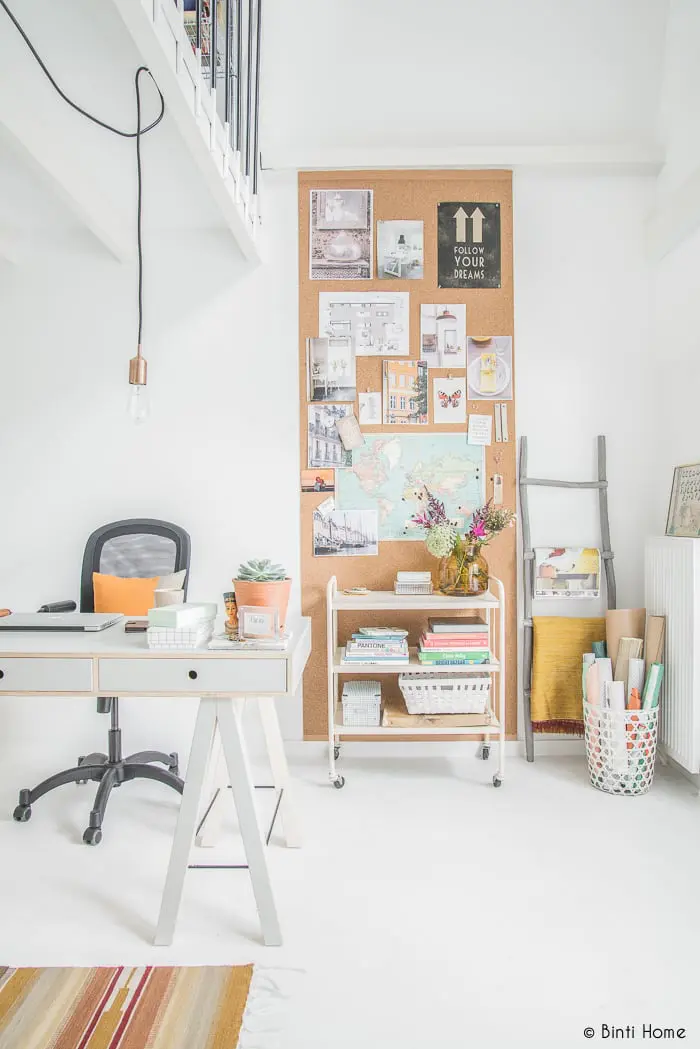 Credit: bintihomeblog.com
Sometimes, a lot of visual cues are needed in the office. A single corkboard may not be enough, so why not go for a full-on, floor-to-ceiling corkboard?If you don't know it already, corkboards are also sold in rolls like this, so you are sure to find a length to cover your entire wall.To store the rest of your office materials, such as posters, designs, or plans, roll them up and store them in round tall wicker baskets. Place these near the corkboard, so it's easy to access when you need to pin one of them onto the wall.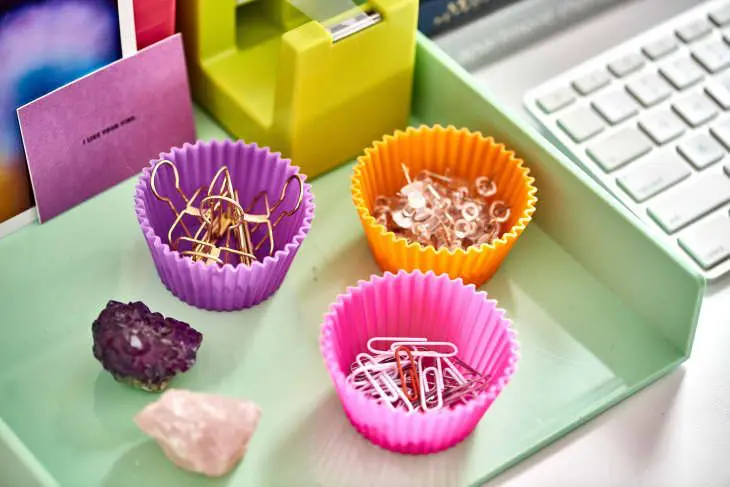 Credit: apartmenttherapy.info
Keep your office bits and bobs neatly organized and separate from each other by using things silicone muffin cups.These cups are relatively cheap and come in different colors and sizes, and you will surely find one that suits your style.Check out more Dollar Store storage ideas for cheaper here!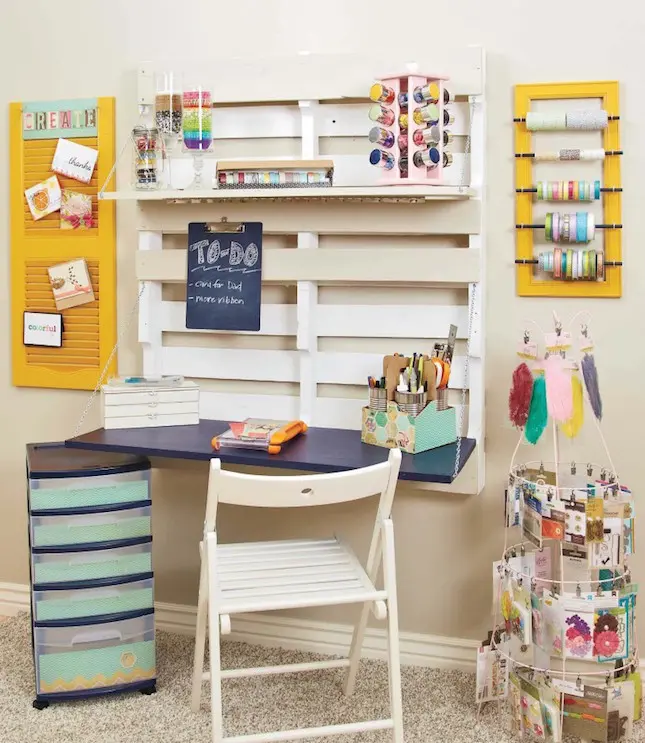 Credit: onecrazyhouse.com
There are many creative office design ideas in this photo that you can easily adapt to your own office. My favorite is the upcycled spice rack.If your business involves DIY jewelry, crafts, or sewing, this office organization hack can be very useful. Use them to store beads, needles, buttons, and so much more.They're transparent, making it easy for you to see what's inside. They are also designed to be really accessible, making your day at the workspace so much more efficient.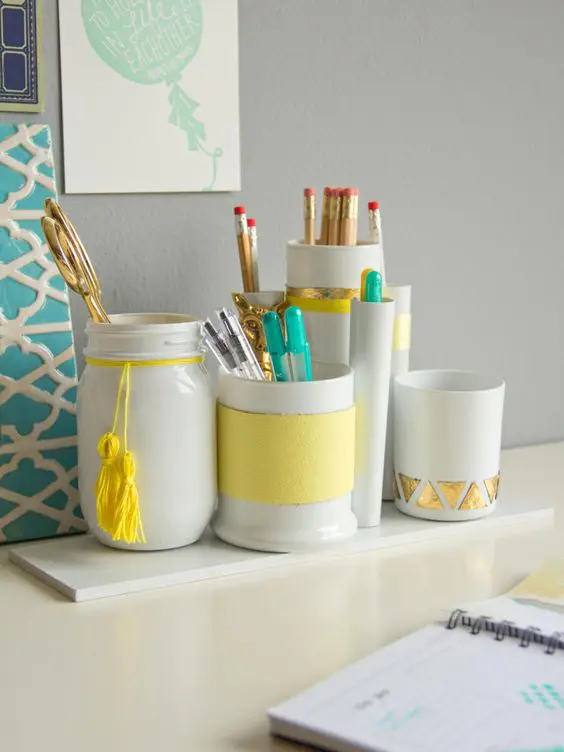 Credit: hgtv.com
Here's another inexpensive way of organizing your desk space. If you have a lot of unused containers lying around at home, this may be the perfect project.Apart from the containers, you will need a wooden board, spray paint of your choice, museum putty (like this), a glue gun, and a handsaw with a miter box.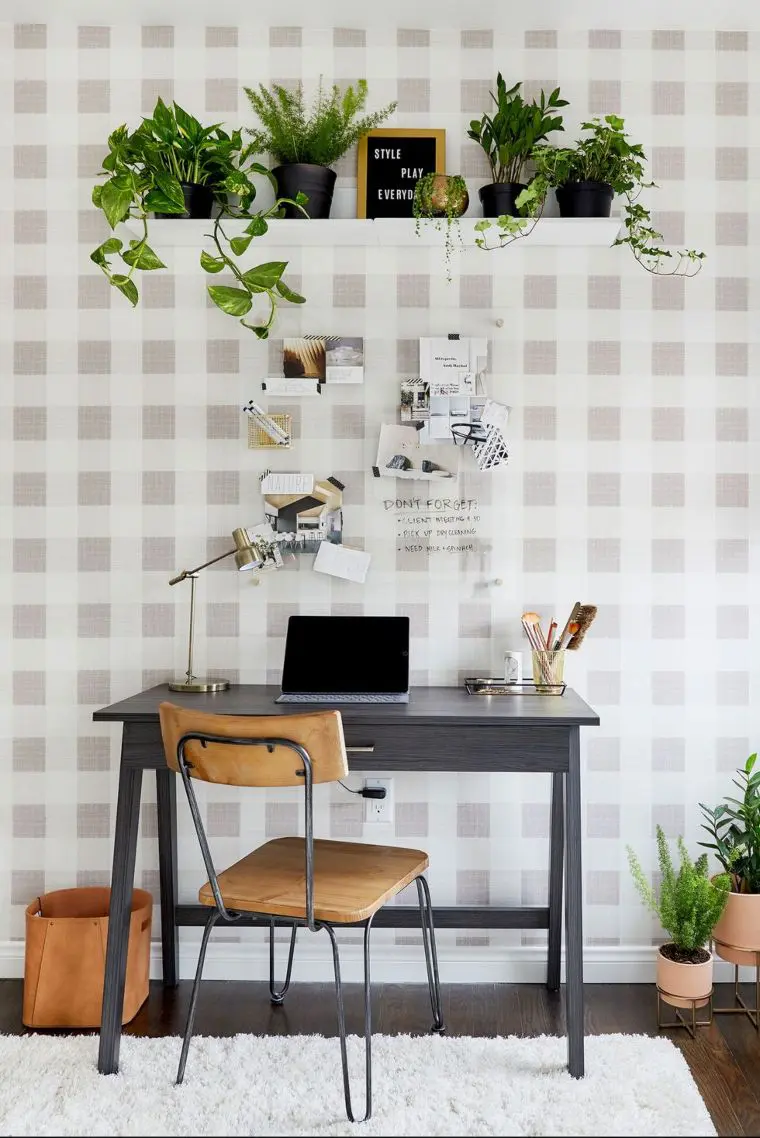 Credit: housebeautiful.com
If your office wall design is absolutely beautiful and placing a corkboard or a DIY memo board won't do it justice, why not try a clear, glass magnetic whiteboard instead? That way, you can still make reminders and organize your stuff without ruining the gorgeous wall. They're not too expensive as they sound either. In fact, I found a relatively large one here that costs less than $40. Now, that's not too bad for a chic-looking board.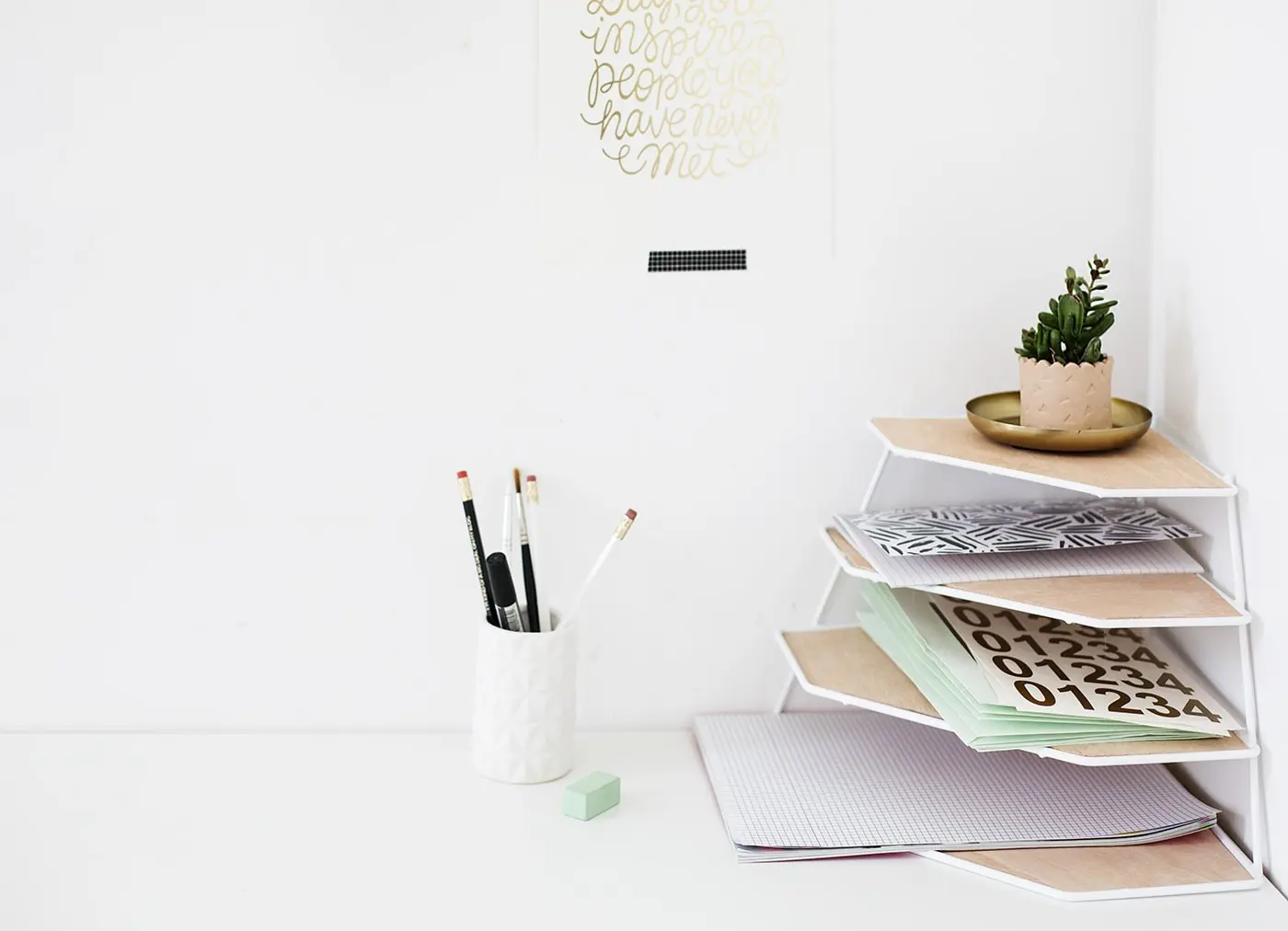 Credit: thelovelydrawer.com
This office hack is another one that brings kitchen materials to the office. This particular project uses corner dish racks lined with wooden sheets.You can do something similar, but if you don't have time to do the wooden lining, simply buy a black dish rack like this. Black goes with all color schemes, so you don't even need to repaint or decorate it to match your office's existing décor.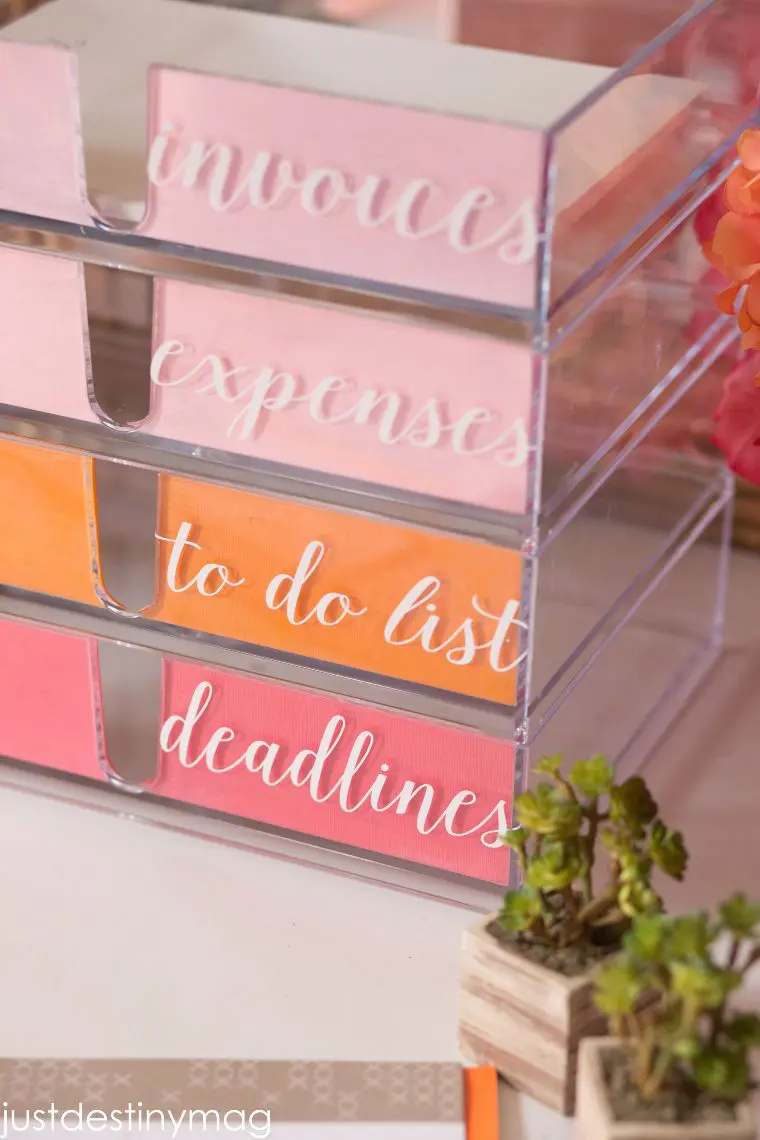 Credit: justdestinymag.com
Add a more personalized and creative touch to your clear desktop drawers by decorating them with colors and patterns. It's super easy to do, too.All you need are some cardstock, scissors, a pencil, a sponge brush, and you're good to go. The rest is up to your creative geniuses!