Laundry room can get messy! Use these storage hacks to keep your laundry room neat and beautiful.
Who else gets excited to do the laundry? In all honesty, doing the laundry might not exactly be your favorite household chore until you finally show the laundry room some much-needed love!
With a couple of creative storage ideas, you can easily upgrade your entire storage situation to give yourself the prettiest laundry room you could ever imagine. The best part about having a neat and tidy laundry room is that the whole process gets a lot easier.
Can't wait to build yourself the perfect laundry room? Here are 25 simple laundry room storage ideas for you to draw inspiration from!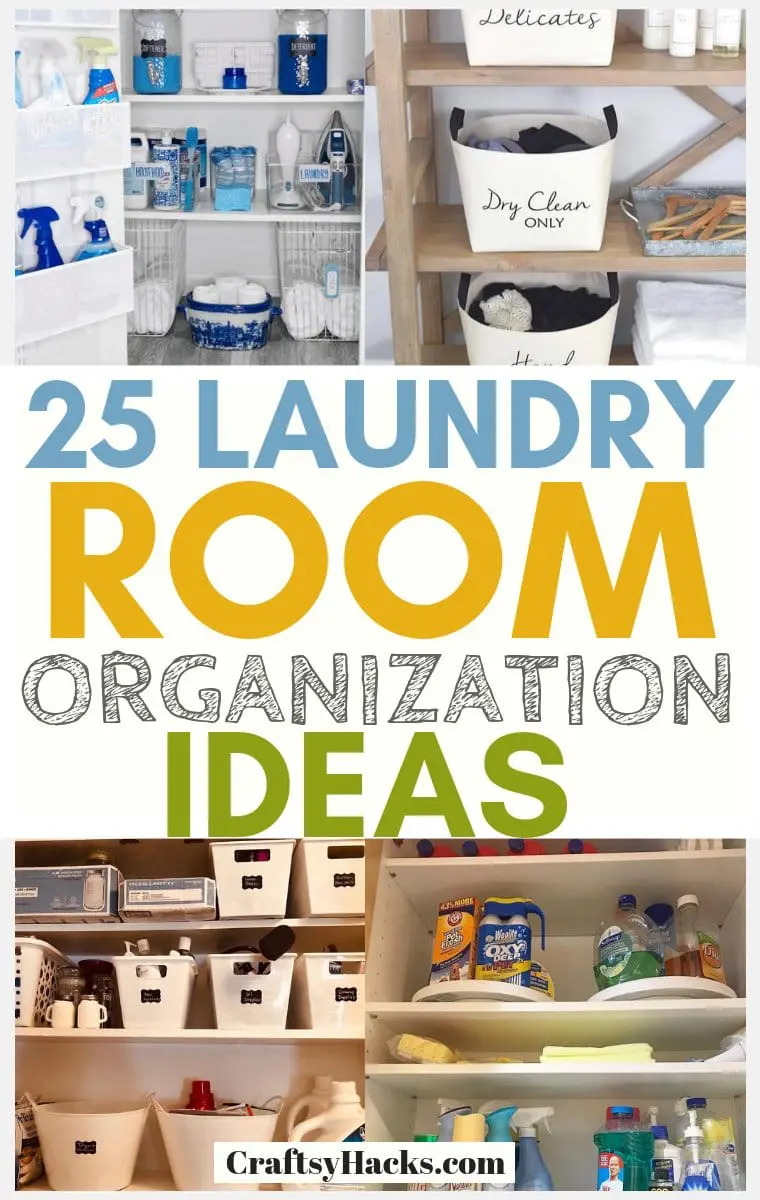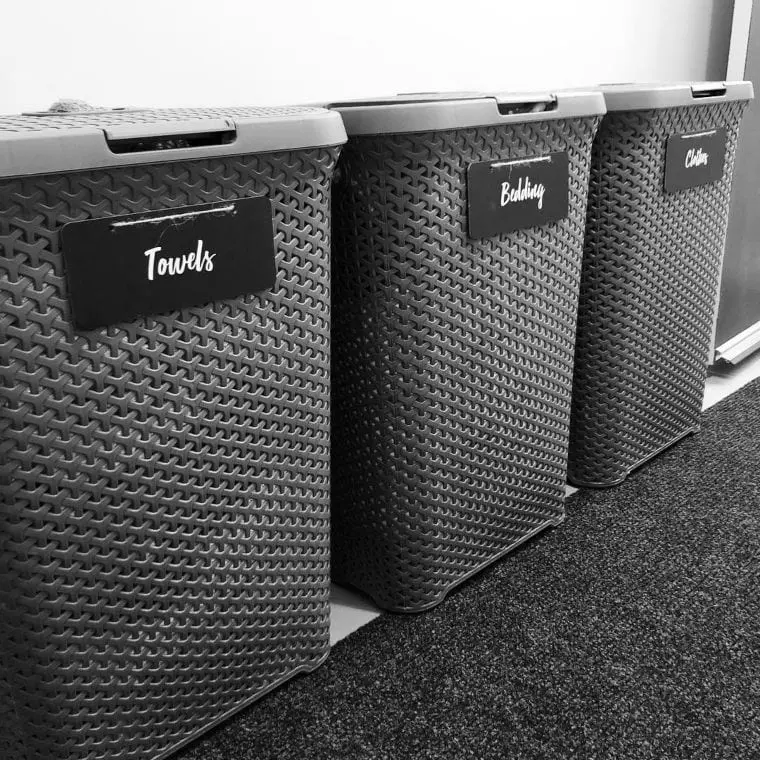 Credit: Instagram
Looking for a simple way to elevate the aesthetic in your laundry room? The best way to sort all your clothes and to upgrade your entire laundry room situation is to invest in a set of minimalistic hampers.
Then, add vinyl labels to them! For all your labeling needs, you can use chalkboard labels. You can get them here and change labels whenever you need.
The only thing you might need is a chalk pen. They come in various colors too.
Also, this is the type of hamper I'd usually look for.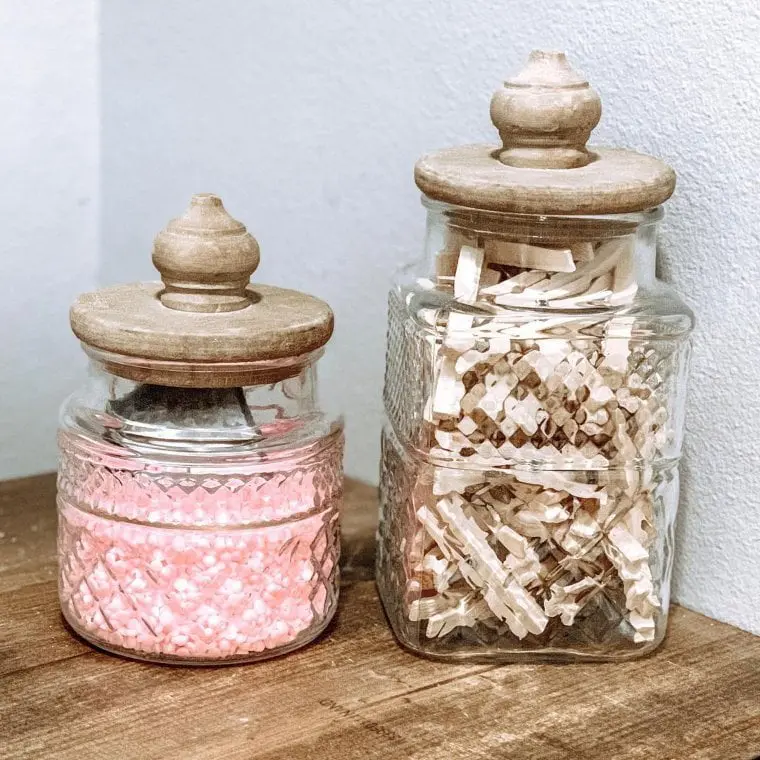 Credit: Instagram
My least favorite part about doing the laundry? When I have to dig around to find the stuff that I really need!
A fantastic way to get rid of all the clutter is to store them in glass jars. The best part is that they look great even when you just leave them out in the open.
All you need to do is toss all your clothespins and other smaller items into a glass jar. These beautiful candy glass jars are great not just for candies!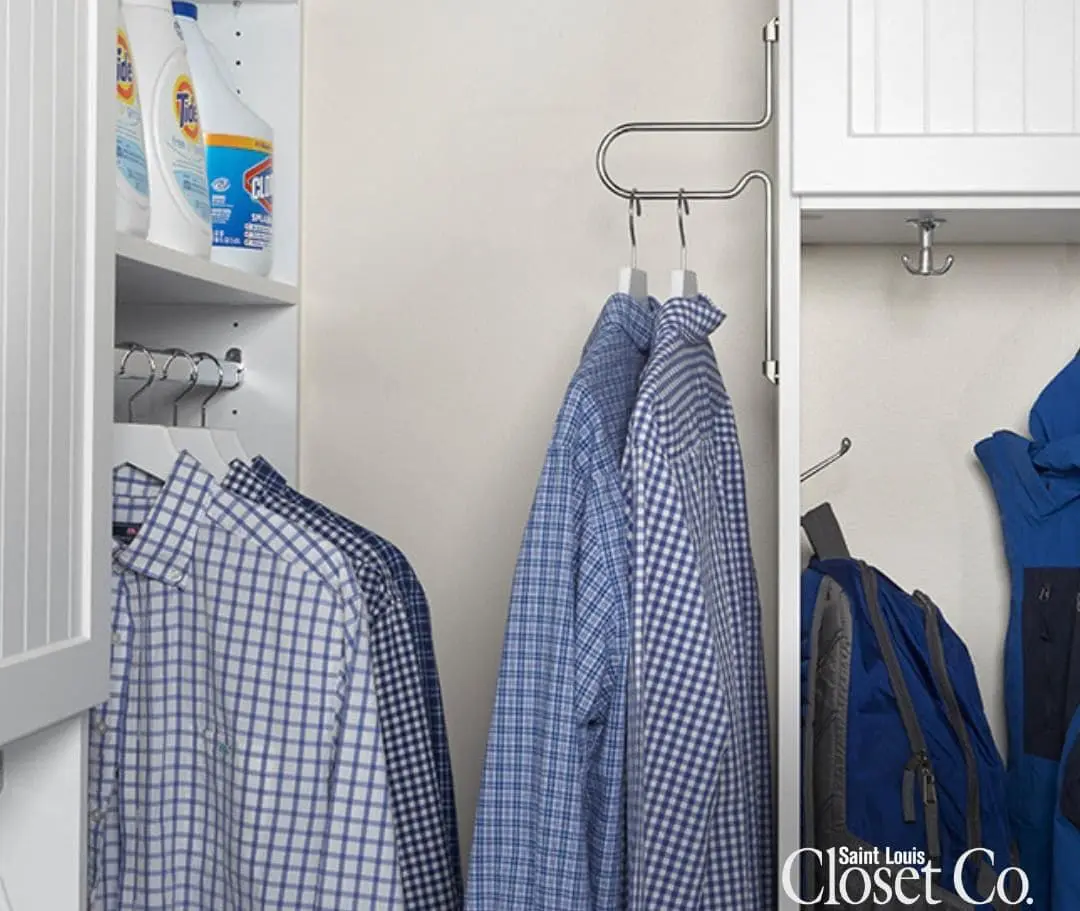 Credit: Instagram
We can all benefit from an additional clothes rack to hang clothing in the laundry room! All you need to do is install clothes rack to the side of a shelving unit.
For this small but life-changing organization hack, I highly recommend grabbing a hanger rack for clothes like this one here. It works great when you mount it onto the wall.
Credit: Instagram
This might seem simple enough, but it makes a huge difference! Just empty out a closet to turn it into your designated laundry closet.
Add a couple of plastic storage containers or wire baskets to the shelves, and mount a unit on the back of the door to organize all your cleaning supplies.
To make everything look more put together, create your own labels using the same color scheme and font!
Here are even more ways to organize closets at home.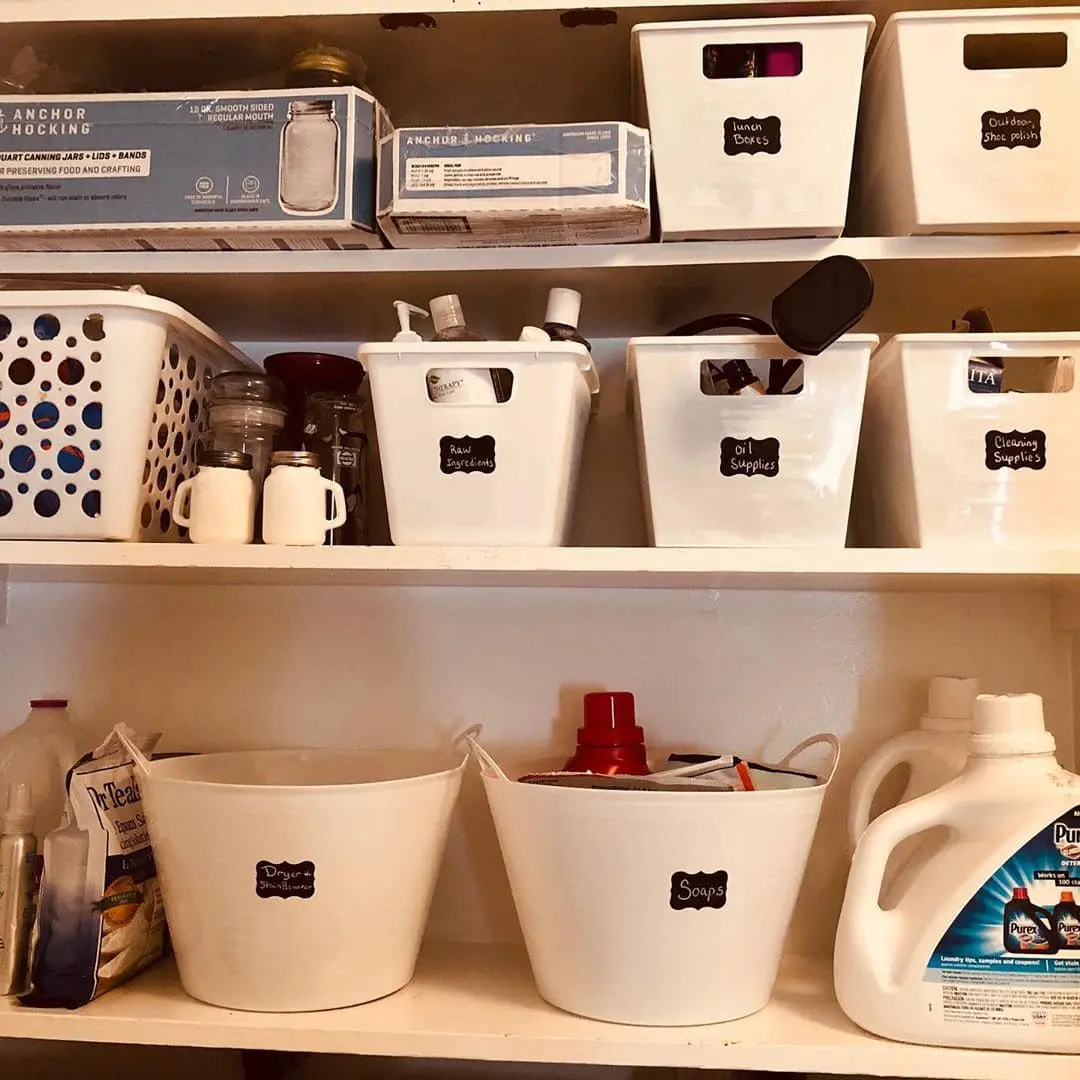 Credit: Instagram
This organization idea is inarguably one of the easiest ways to upgrade your entire home décor situation. In any area of the house!
And you don't even have to do much besides investing in a set of glass jars or containers. Just toss out all the packaging that comes with your products and empty everything out into their own container.
6. Use Baskets to Organize Clothes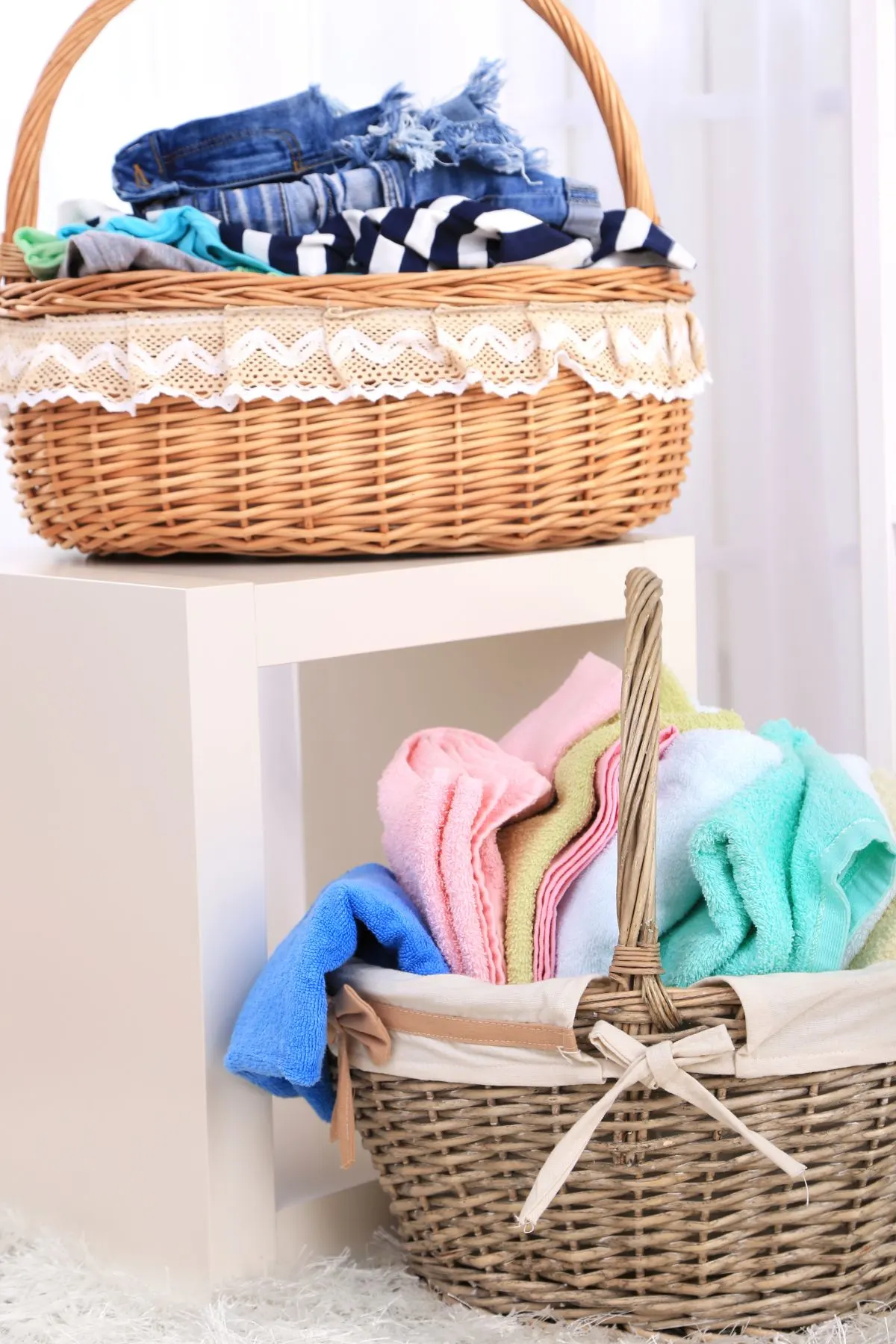 Sorting out all the clothes into individual hampers isn't always an option because it takes up way too much space. That's a luxury some of us simply can't afford.
Instead, just set up a couple of baskets on the shelf and label them! I'm loving these willow wicker laundry baskets with handles.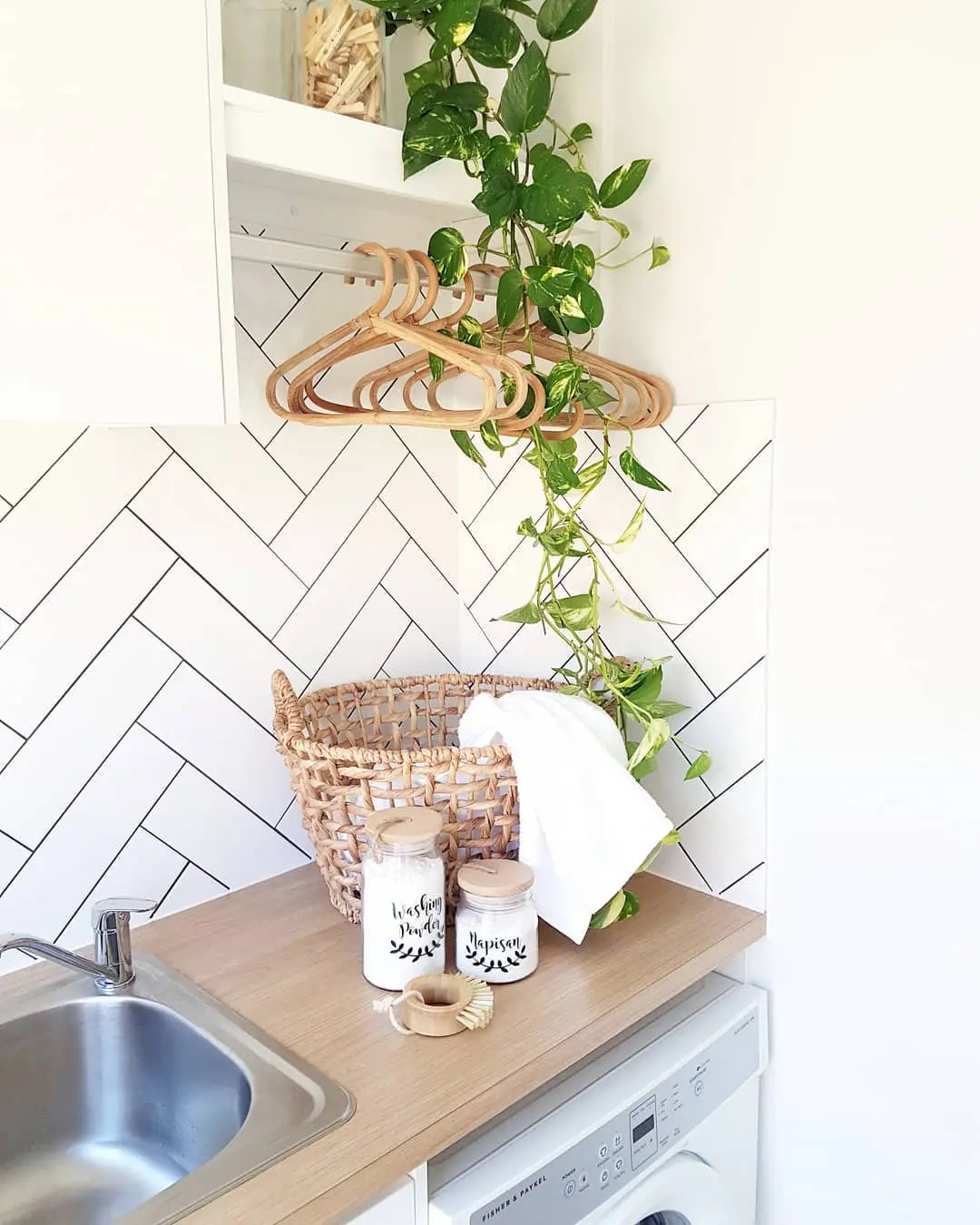 Credit: Instagram
Dealing with a super tiny laundry room? Well, there's good news.
With a little creativity and resourcefulness, there's always a way to increase storage space even in the smallest rooms. To hang clothing, you can easily install a horizontal rod into an area with some empty space in your laundry room.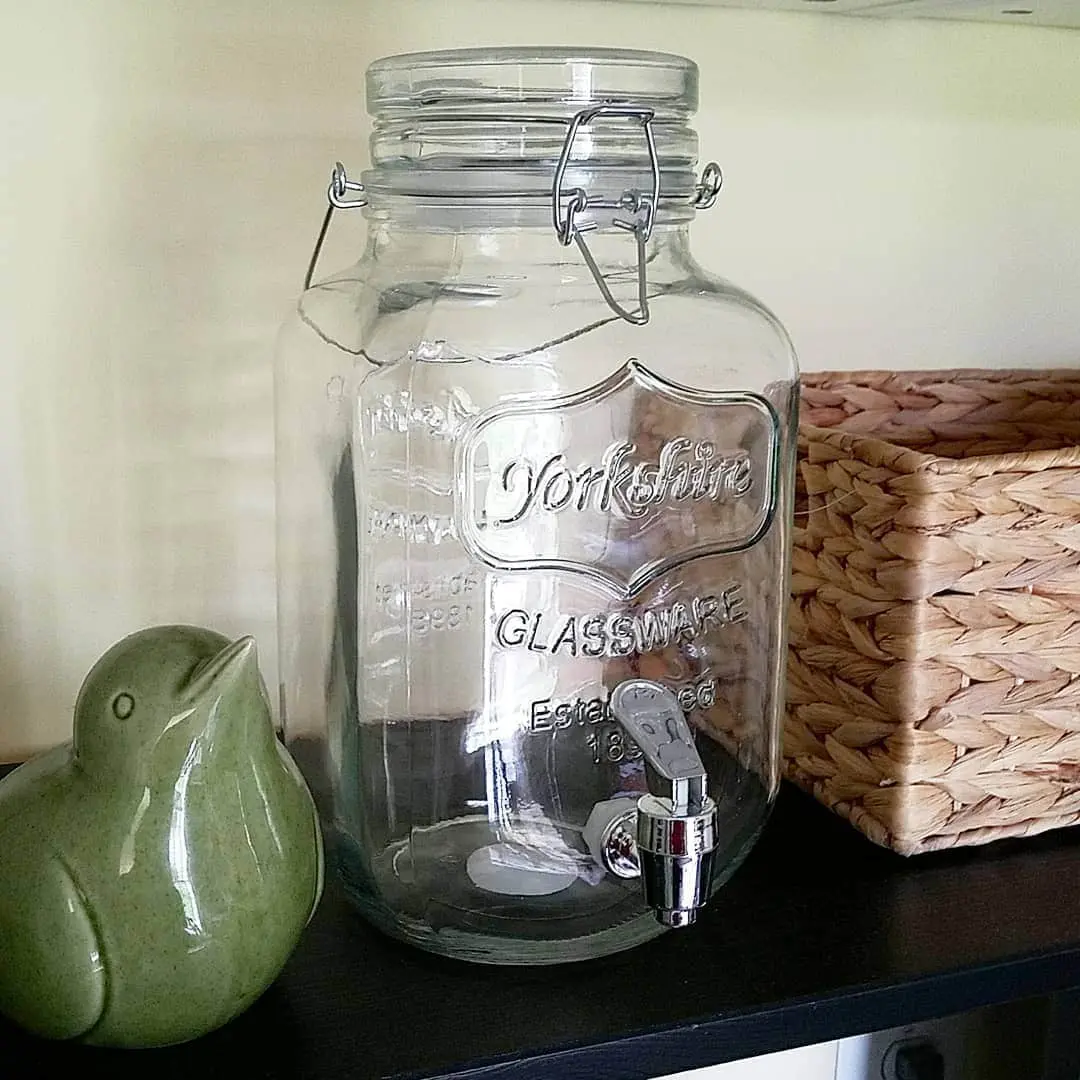 Credit: Instagram
Get rid of all the clutter once and for all by emptying out all the liquids into their own glass dispensers!
This simple organization idea will instantly make your laundry room look THAT much better. Also, you actually get a lot more space from tossing out all the packaging.
For liquid detergents, I love using vintage-inspired glass dispensers like the style you can find here.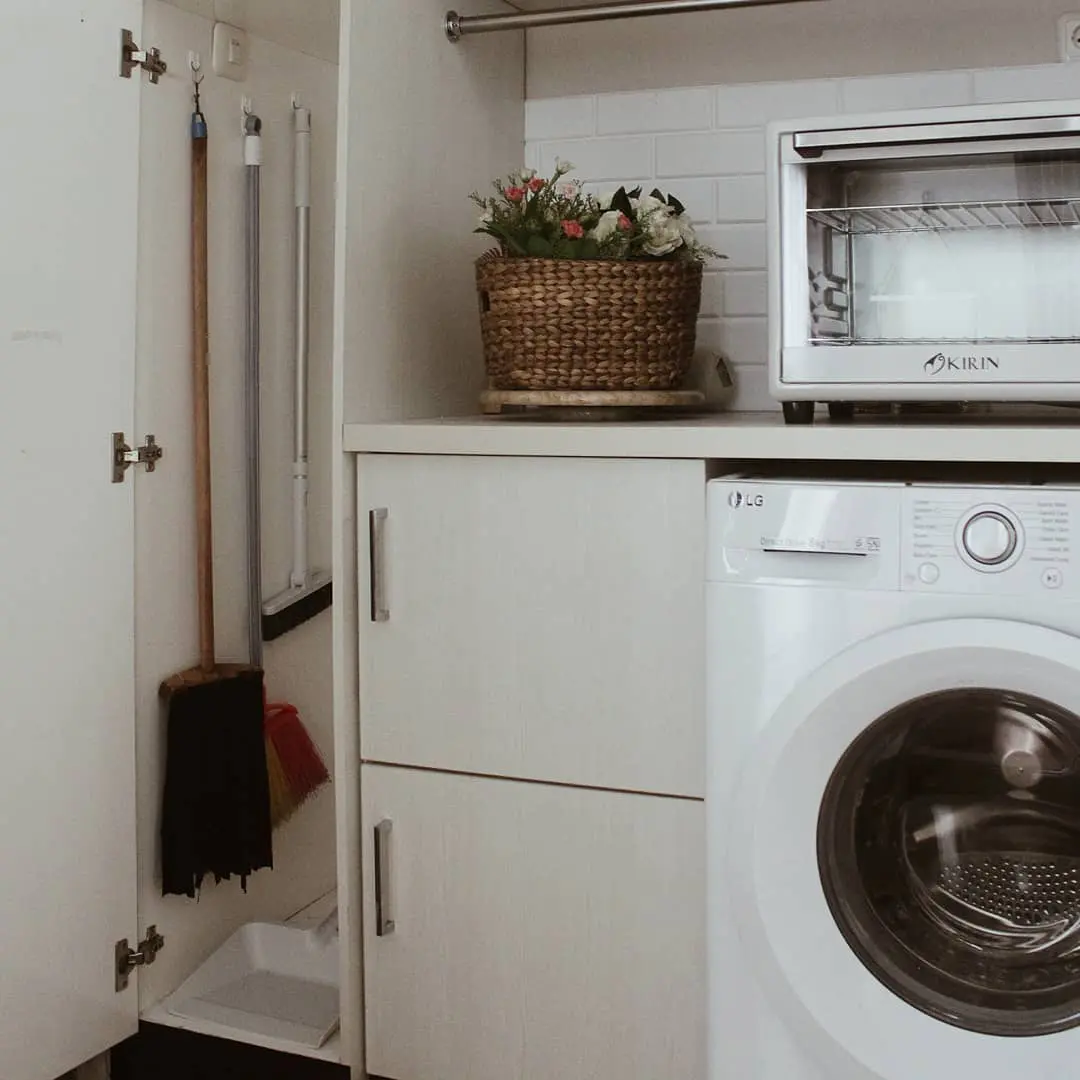 Credit: Instagram
When it comes to creating the perfect laundry room situation, you really can't forget about the cleaning supplies.
Here is a great way to get rid of all the clutter and to make things more accessible. Install hooks onto wall space to hold brooms and other cleaning supplies.
When it comes to hooks the choices are limitless and you can see all of them here. Loving the hooks? Here are more ways to use command hooks at home to keep it organized.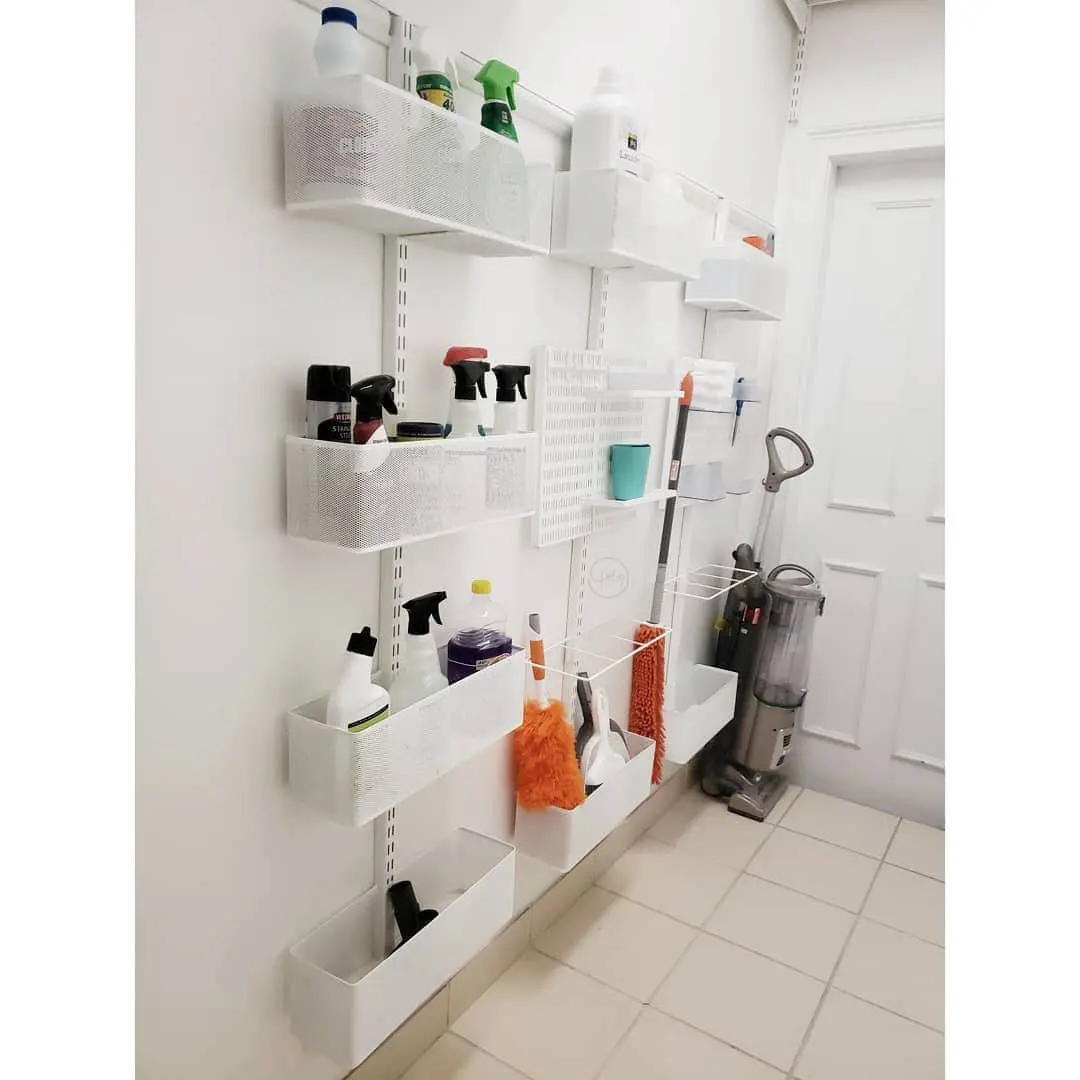 Credit: Instagram
Out of closet space? Regardless of the size of your laundry room, a great way to increase storage space is to install a shelving unit onto the wall.
That's where you can store all your cleaning supplies. Besides the functionality, a wall shelving unit looks incredibly sleek in any room!
Here are all types of shelves you can use to add to your home décor. Stay creative and practical!
At the end of the day, shelving units offer some of the best ways to organize a kitchen, desk space, and even a craft room.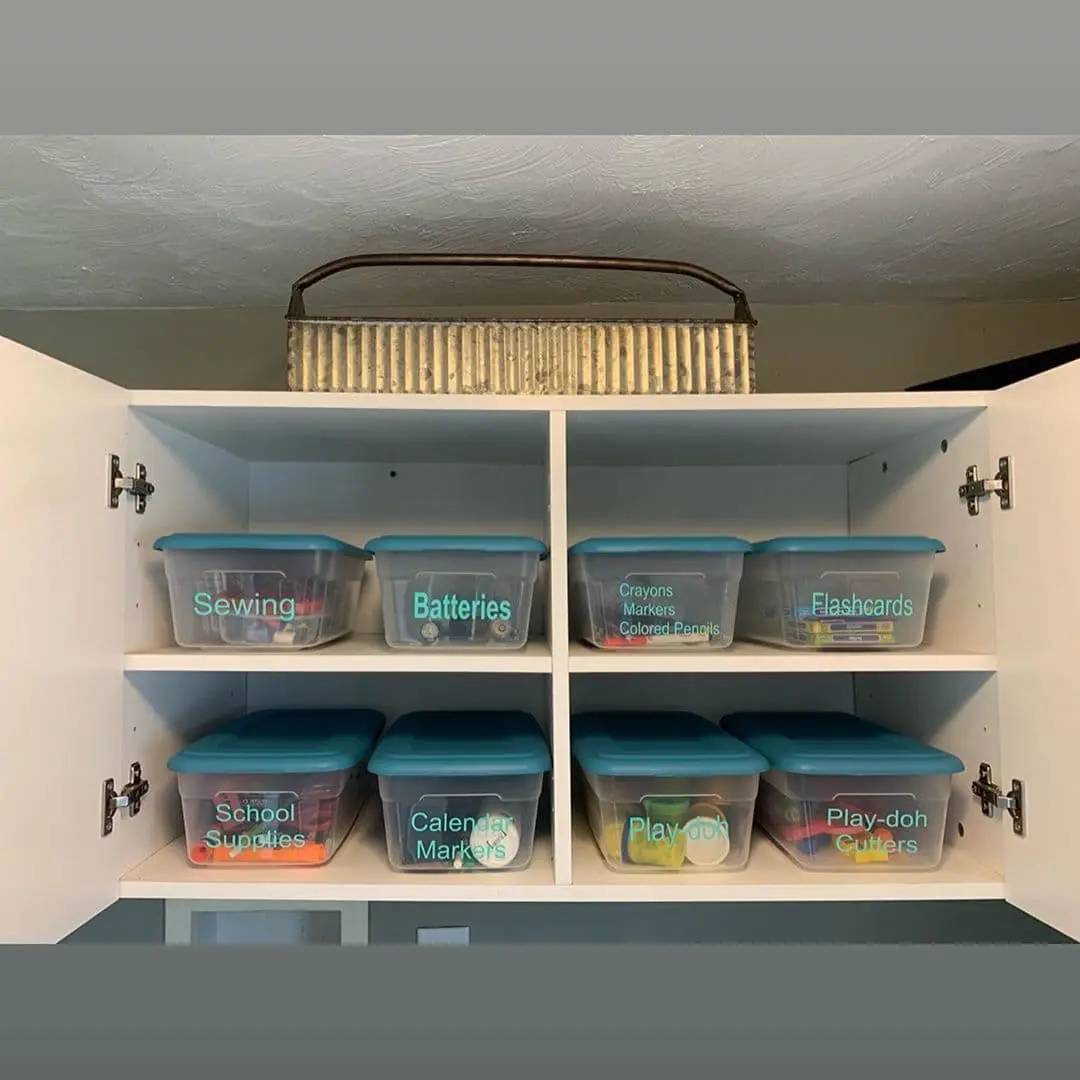 Credit: Instagram
Looking for an inexpensive way to upgrade your entire laundry room situation? The easiest way to organize everything is to grab a set of plastic containers and to create labels for each!
You can find a sturdy set of plastic containers for a fantastic price here.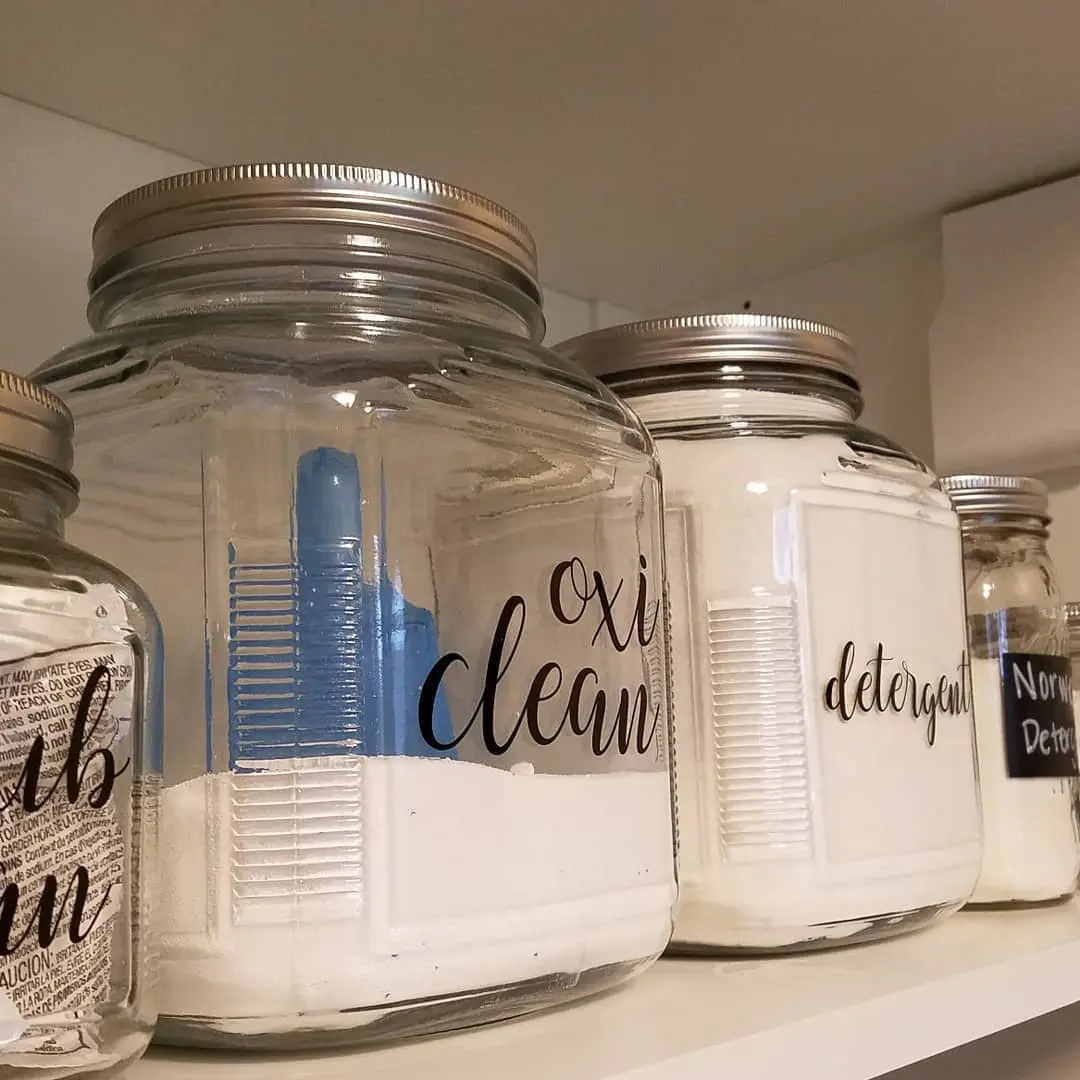 Credit: Instagram
This might seem like a simple idea, but glass jars have a special way of bringing a vintage-inspired vibe into any interior space!
Empty out all your products into glass jars, toss the packaging, and add pretty labels to them.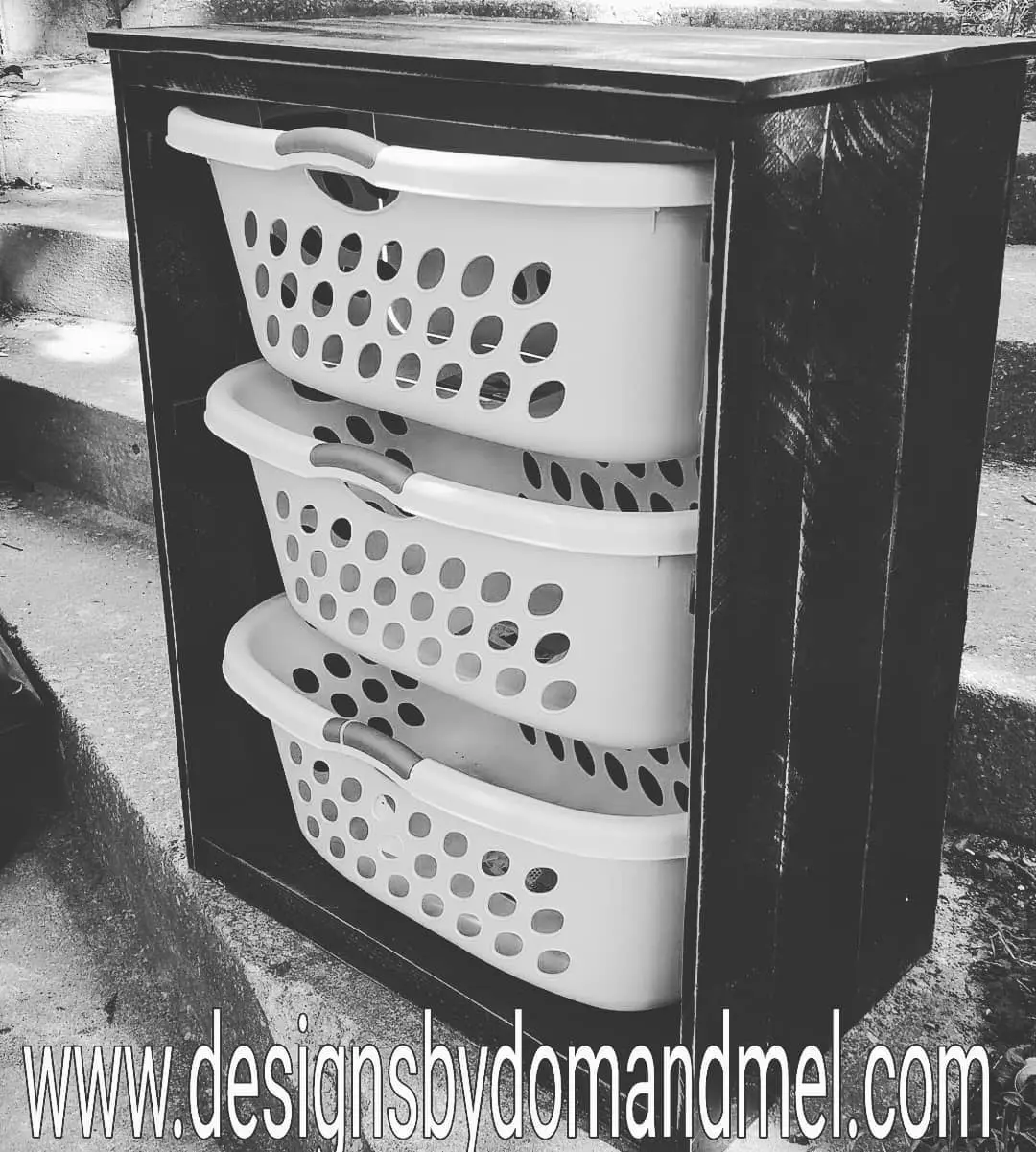 Credit: Instagram
Forget about spending a fortune on new storage units because you can just build your own with a little DIY.
Besides saving a couple of bucks, the best part is that you really get to customize the look of your storage unit. So, pick out the right size and color of the containers you are going to use.
To recreate the look: you'll obviously need a wooden cabinet frame for this one. However, in addition to that, you'll need to get these plastic laundry baskets or these ones.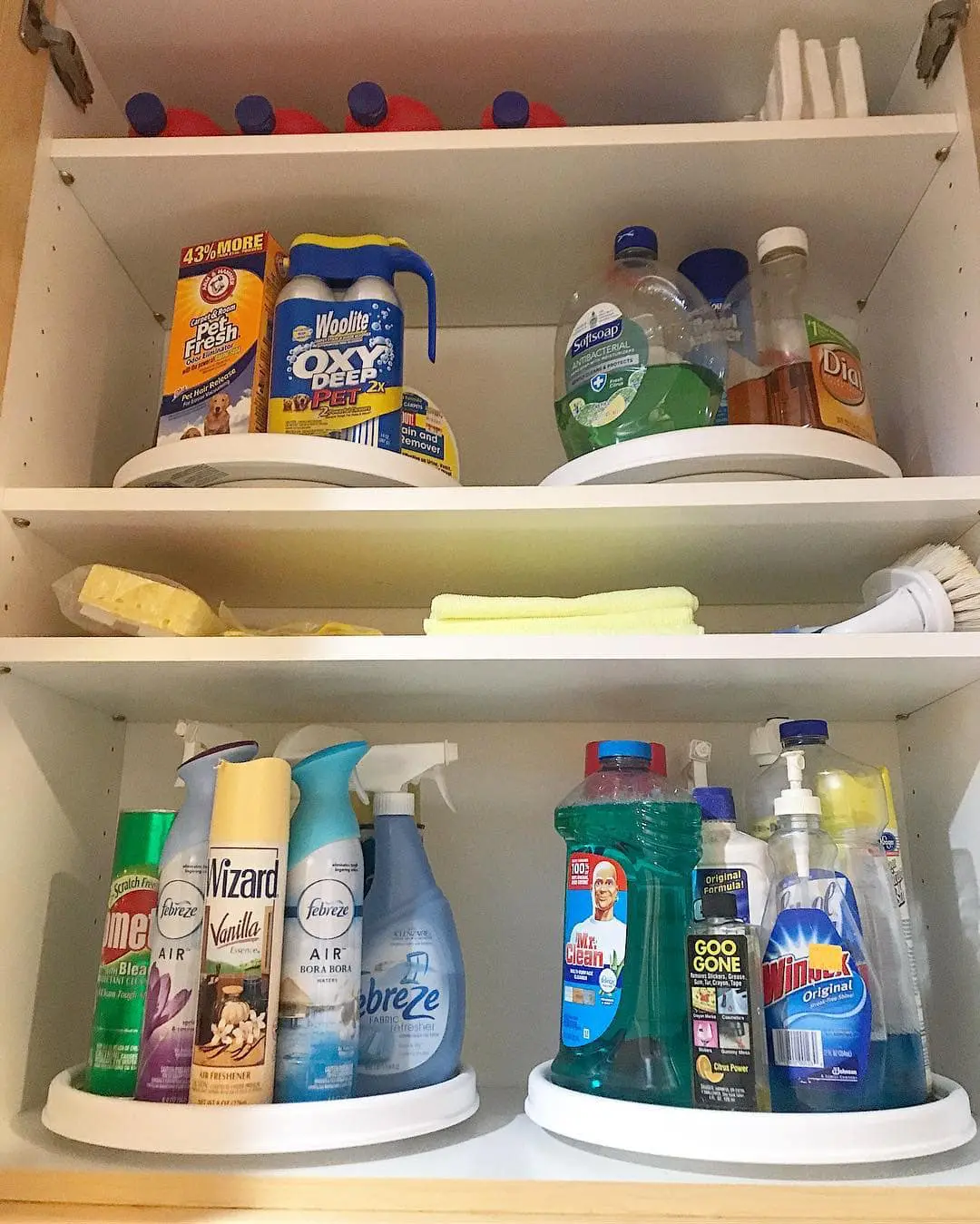 Credit: Instagram
Looking for an easy way to maximize storage space? Create a holder for all your cleaning products and laundry detergents. All that by adding a rotating display tray to your laundry room!
Besides giving you some more space, this just makes it a lot easier for you to get to whichever product you need. I love the functional but sleek design of the rotating tray you can find here.
Credit: Instagram
Tired of spending a ton of money on new things? There's an easier (and more cost-effective) way to go about this.
Just make your own storage units. That includes hampers!
The best part is that you can create a handle out of any regular old clothes hanger!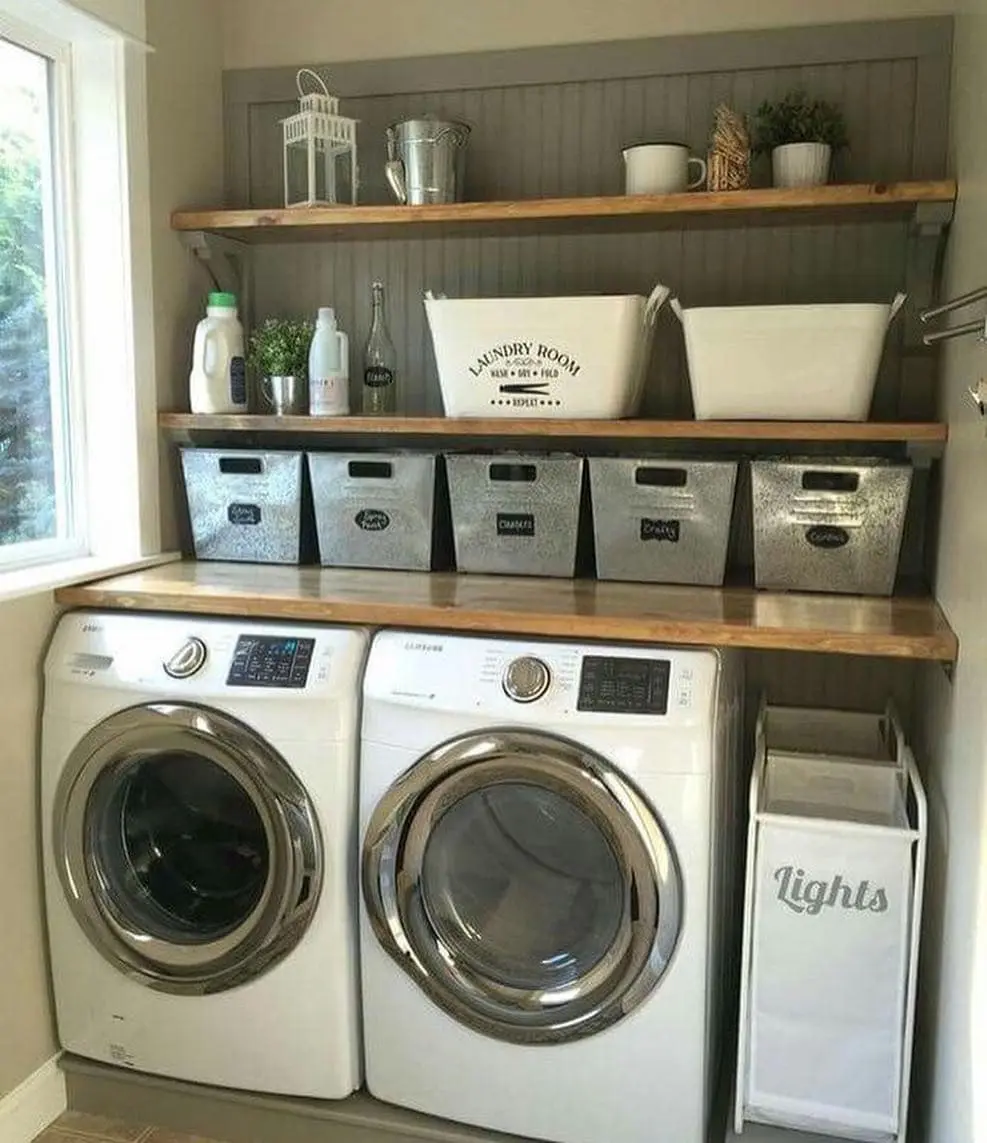 Credit: Instagram
Chances are there's a ton of extra space in your laundry room that you're not taking full advantage of. You just have to look for it.
The best place to build a couple of extra shelves? Above and between your washer and dryer units!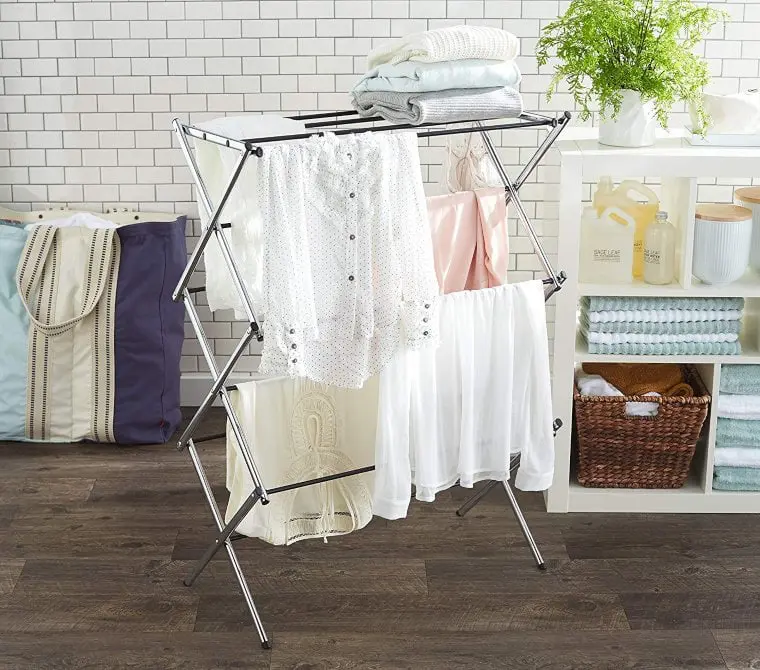 Credit: Amazon
If you don't already own a foldable drying rack, you should get your hands on one ASAP. To save space, I recommend getting a rack with a sleek and simple design like the one here.
It's low budget-friendly yet very sturdy.
Credit: rogueengineer.com
We could all use a rolling storage cart for the laundry room to store literally everything. With a little DIY, you can easily construct one of your own.
The best part is that you can make it super slim to fit into that tiny space between your washer and dryer.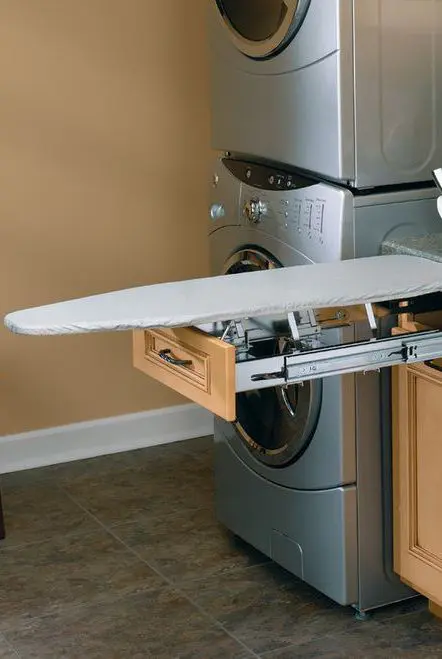 Credit: womansday.com
If you don't have a folding station in your laundry room, you're seriously missing out. That's because it speeds up the entire process tremendously.
You can easily build your own folding station by adding a flat piece of wood over your dryer! While it's probably not as easy to install as it sounds, it's definitely doable.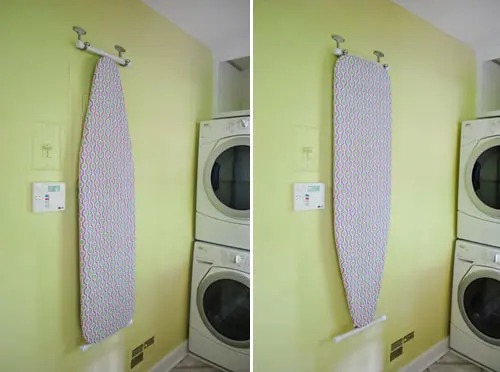 Credit: younghouselove.com
The biggest dilemma when it comes to upgrading your laundry room situation? Making the ironing board fit in with the aesthetic you're going for.
The good news is that you can easily use your own board cover to make it fit the decor. Here are a bunch of beautiful covers to choose from.
Afterward, install hooks on the wall to hang it up!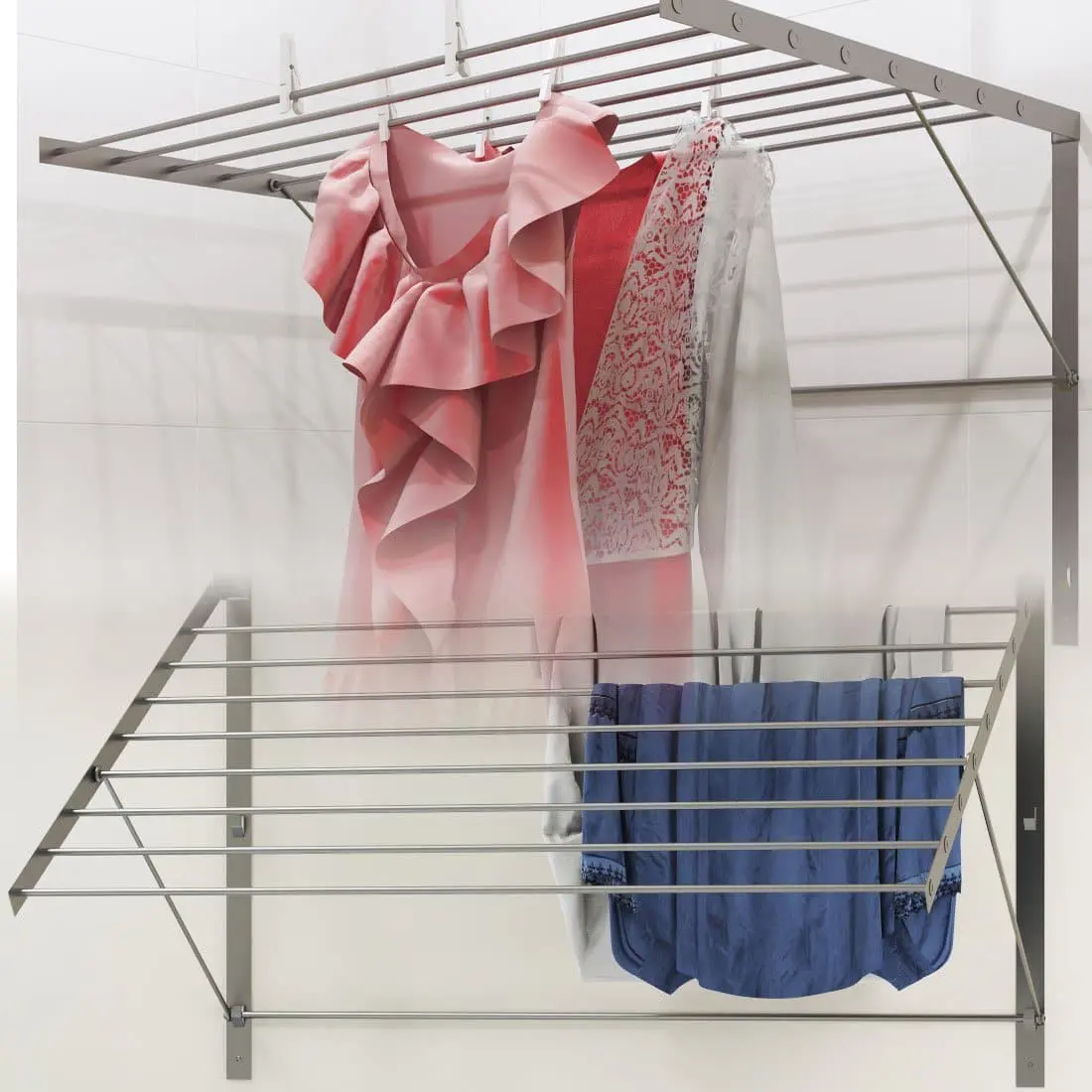 Credit: Ebay
The best way to save space in your laundry room? Install hooks where you've got some empty wall space.
Then, you can hang a foldable drying rack onto the wall.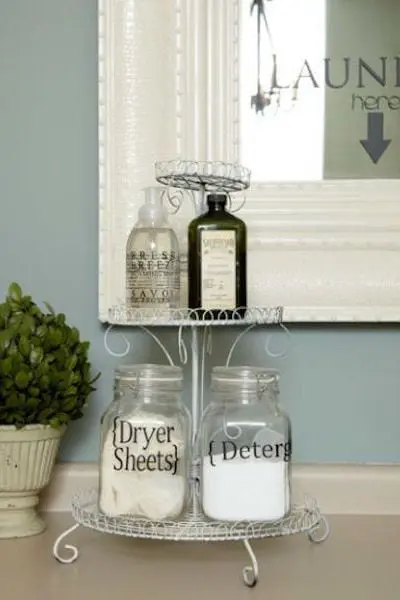 Credit: womansday.com
On a quest to make your laundry room look prettier? Invest in an elegant dessert stand or display tray to organize all your detergent and cleaning supplies.
A gorgeous display tray is a perfect addition to any room in the house. You can use cake stands as kitchen organizers too.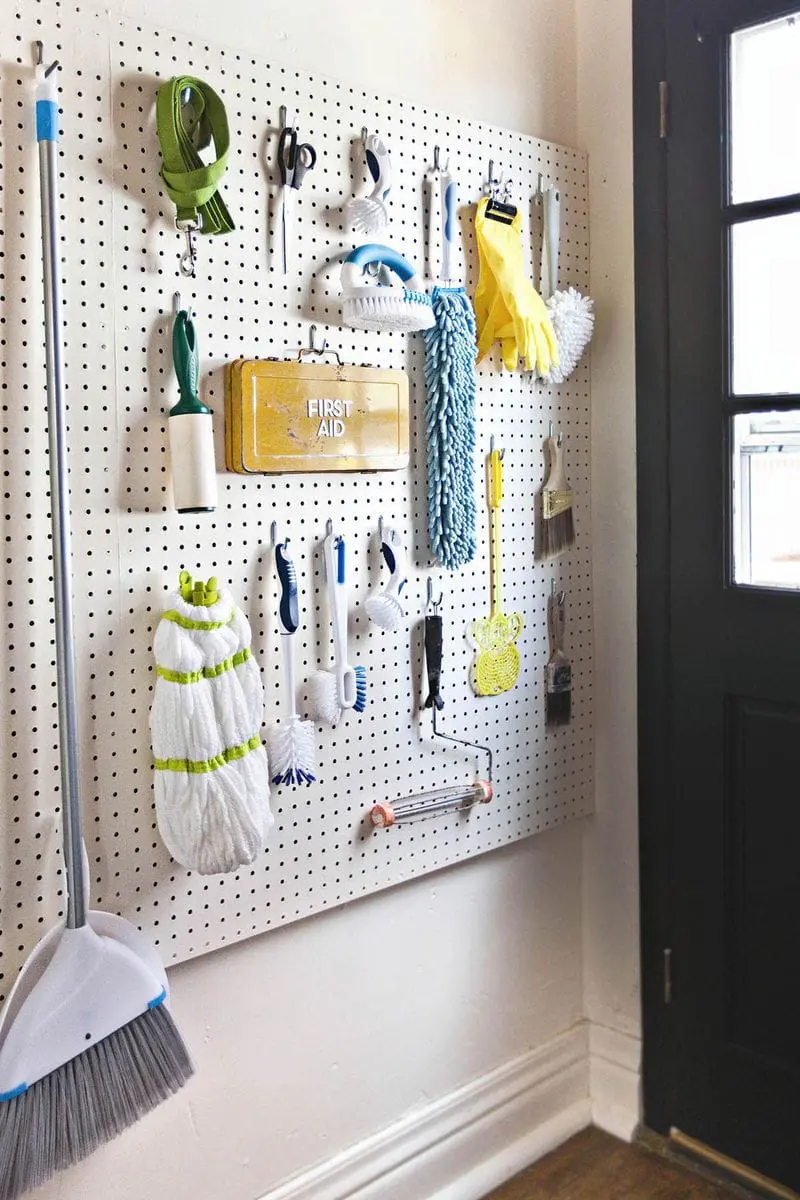 Credit: goodhousekeeping.com
Pegboards are amazing, they can be used to organize any and every room in your house. The laundry room is no different.
Credit: Instagram
Most of us don't even realize that there's plenty of space in between our washer and dryer units. It doesn't have to be these specific units, any extra space works!
Adding a functional but sleek rolling cart into that empty space will make things much more convenient for you. These metal rolling carts are my favorite, I mean they're just so cute!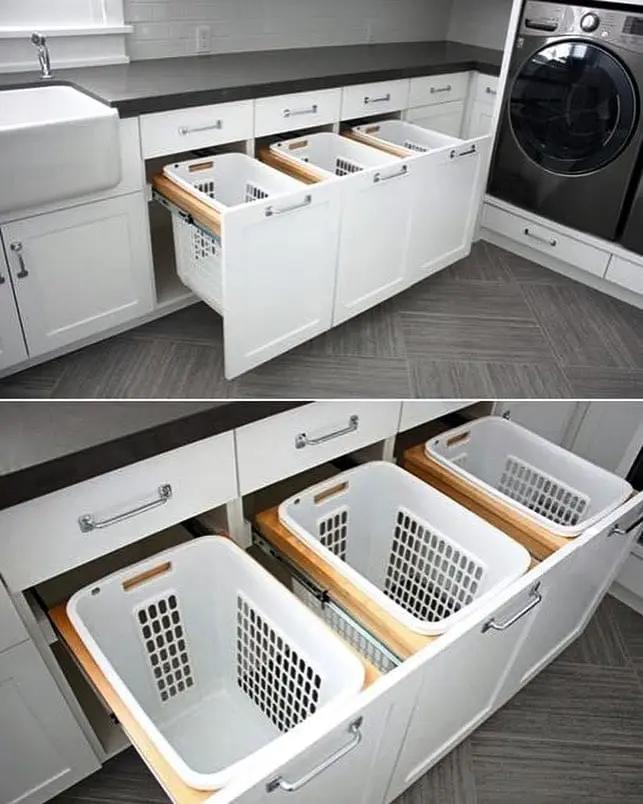 Credit: Instagram
Keep all the clutter out of sight by installing one huge pull-out drawer with hampers inside!
This organization idea definitely tops the list as one of the most coveted storage setups for the laundry room – EVER. Not to mention, t's also a fun DIY project for someone innovative.
Try it and have fun in an organized laundry room!