Need more storage space? No problem! These Dollar Tree storage ideas are not only practical but also cheap!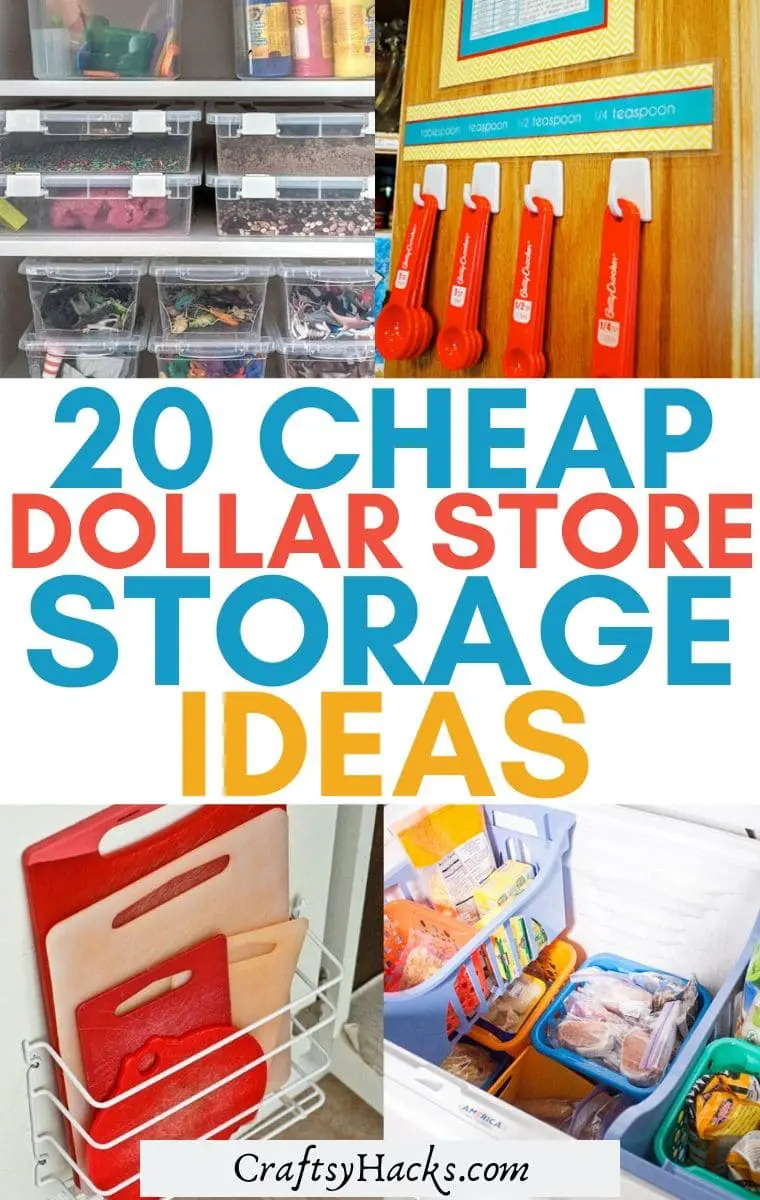 Are you tired of opening your drawers or cabinets and seeing all the mess piling around? This could easily be solved with a few dollar store items.
Not only will you clean up your home and keep everything in its place, but you will also save money.
Here are some ideas on how you could organize your home and your life.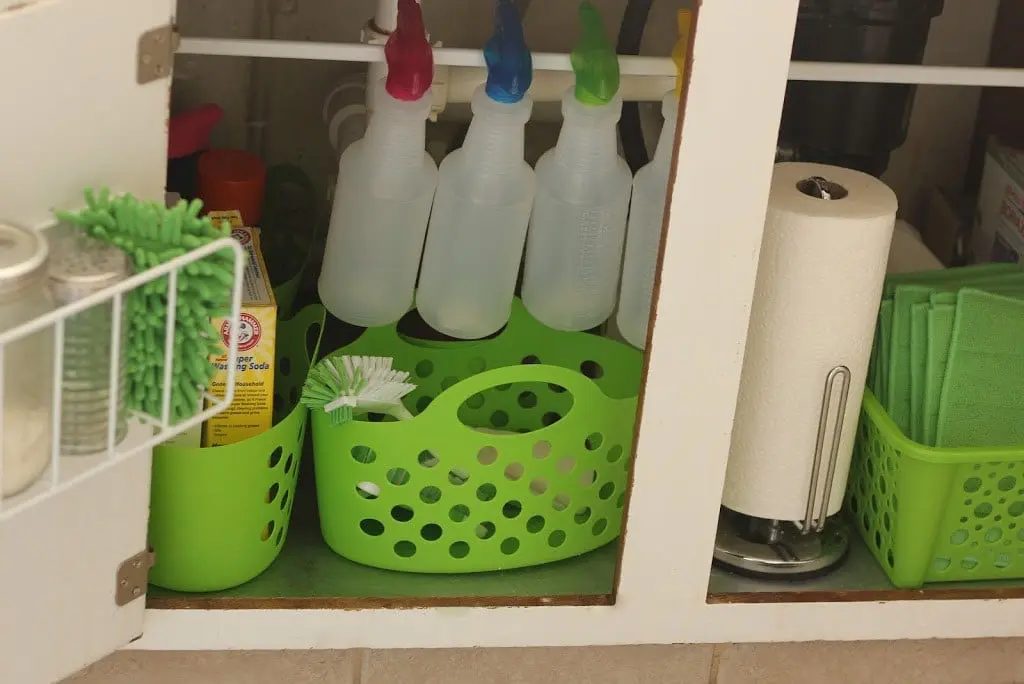 Credit: amynewnostalgia.com
Is the space below your sink in total disarray? You can solve that problem by getting some cheap baskets from your local Dollar store.
You can have one for brushes, rags, and one for detergents. Make sure you're also using all that vertical space.
Get a plastic rack and hang all of the plastic bottle sprays. All that under sink storage won't go to waste!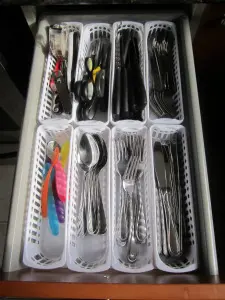 Credit: theelmlife.wordpress.com
If you own quite a bit of cutlery, especially if you have a big family, getting them organized will feel wonderful. Use vertical dollar store trays to keep your forks and spoons all in one place.
Don't have the time to go to the store? Get them online here.
This way, you will keep your knives, forks, and spoons separated. Get longer ones for cooking spoons, whisks, and all other bigger utensils.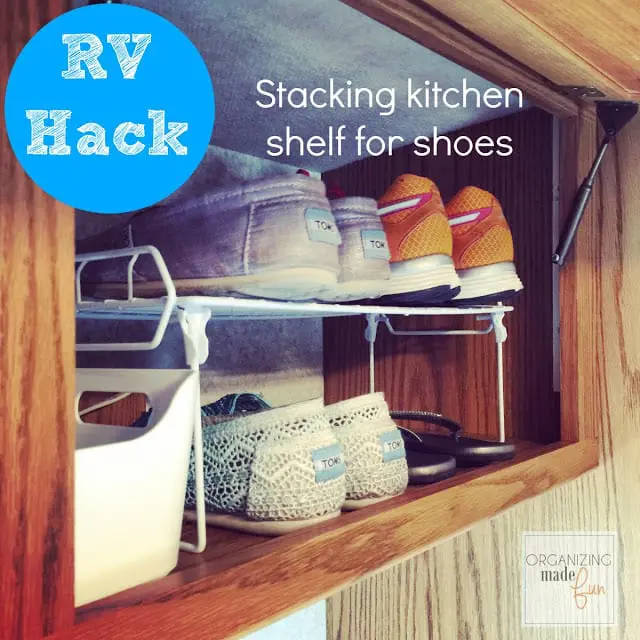 Credit: organizingmadefun.blogspot.com
Do you have too many shoes and don't know where to keep them? Well, solving that problem with a stacking shelf is very easy.
Pick a shelf like this one here and put it in your shoe cabinet. In this way, you're going to be using a lot more of vertical space that usually doesn't get a chance to serve you in any way.
This is a great solution for bigger closets. Especially when you have a ton of flats and trainers. Check out more closet organization tips here.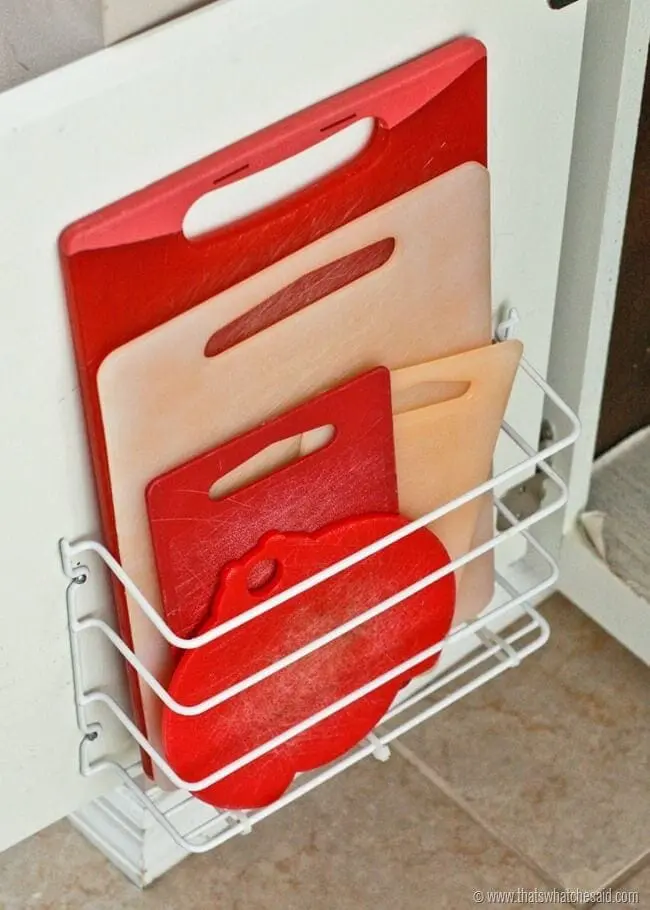 Credit: thatswhatchesaid.net
Here is a good way to have all your cutting boards in one place and not all over. Get a wire organizer, and attach it to the inside of a cupboard.
Wola! You have all your cutting boards organized in one place. Easy, and gives you a chance to use up a bit of that vertical space.
Here are more ways you can organize your kitchen cabinets!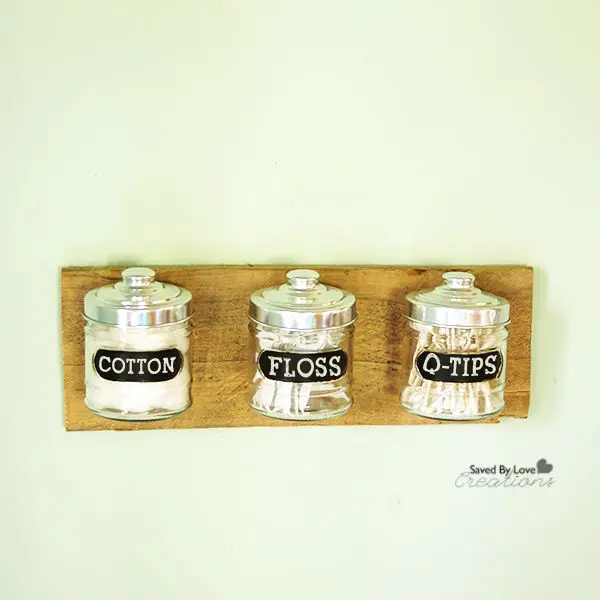 Credit: savedbylovecreations.com
For this hack, you will need glass jars, a piece of wood and chalkboard paint. You can get cheap and good chalkboard paint here.
Glue the jars to the wood pallet. Fill them with cotton pads, Q-tips, whatever you want, then just label them, and you're all set.
You can get the jars at the Dollar Tree store or get them online here. Check out more bathroom organizing tips here.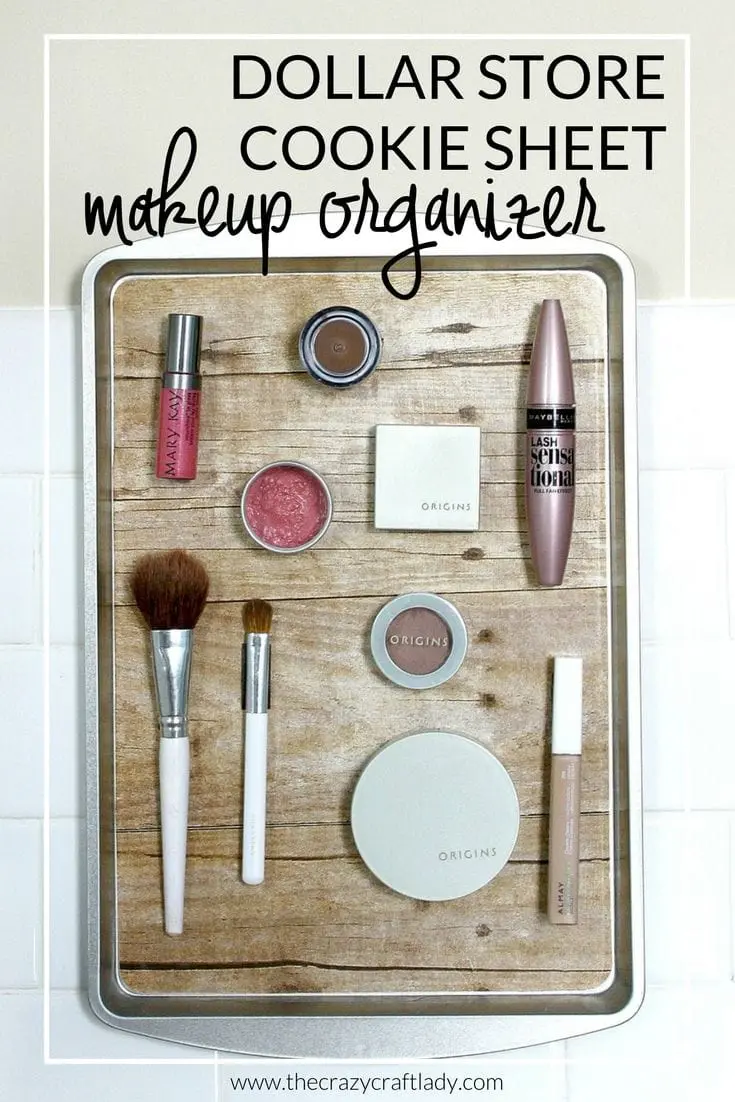 Credit: thecrazycraftlady.com
Combine your love for makeup and cooking into one. Create a magnetic cooking sheet makeup organizer.
This is fairly simple. All you have to do is stick the magnets to your beauty products. They will then stick to the cookie sheet. Feel free to decorate the cooking sheet with decorative paper or just paint it.
In case you opt for the decorative paper, I can recommend some. It's not too flashy, and it can fit in with any design. Get it here.
Also, stock up on those adhesive magnets here. Get more ideas on how to organize your beauty products here.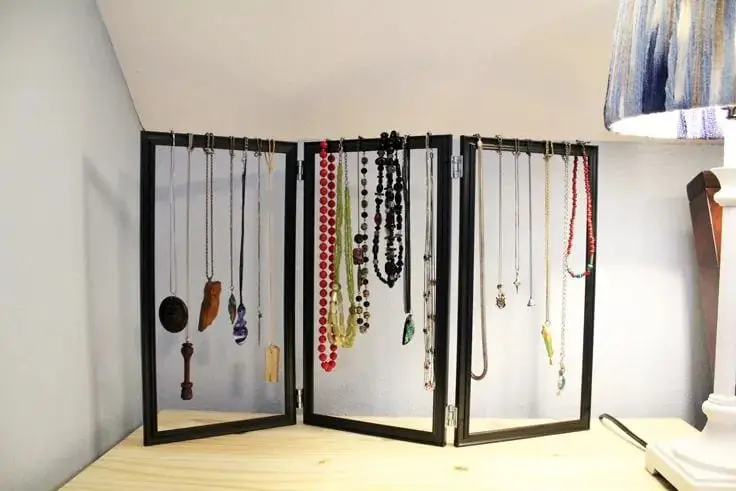 Credit: kenarry.com
If you have lots of jewelry and like to keep your necklaces untangled, then this DIY is for you.
What you will need are a few photo frames, like the ones here, and hinges. Feel free to use Dollar Store frames as well!
Remove the glass and paper from the frames as you won't need them. Then, use hinges to connect the frames.
Now, it's up to you how you're going to display your jewelry. You can use pins to hang the necklaces and bracelets.
Check out more ways to organize your closets here.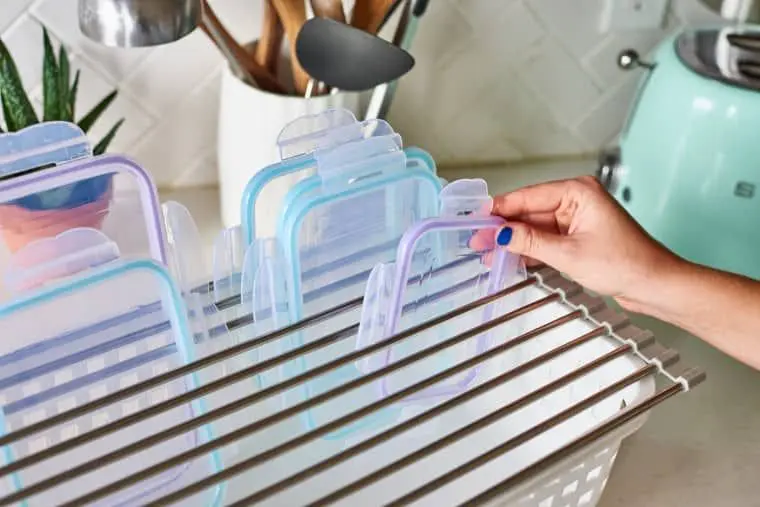 Credit: thekitchn.com
Organize your plastic container lids and turn the mess into beauty!
Get a plastic bin and a cooling rack like this one. Fit the rack on top of a plastic bin that's not too deep.
Now vertically place all your lids into the slots, and here you go. A much more organized kitchen is within your reach!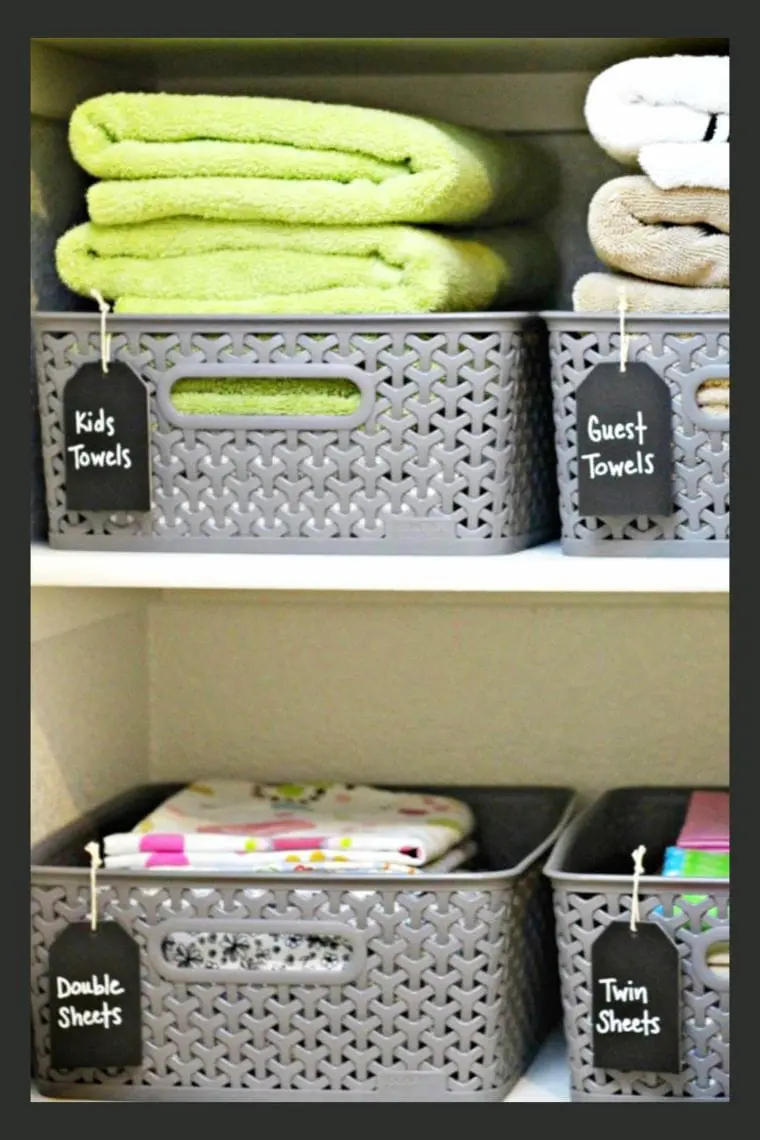 Credit: declutteringyourlife.com
Keep your linen closet tidy with the help of plastic baskets. No one likes having their closets messy.
That's where baskets come in handy. Fold in those towels and keep them away without getting into your way.
A nice way to do it so to label all the baskets too. Use these hanging tags to do just that.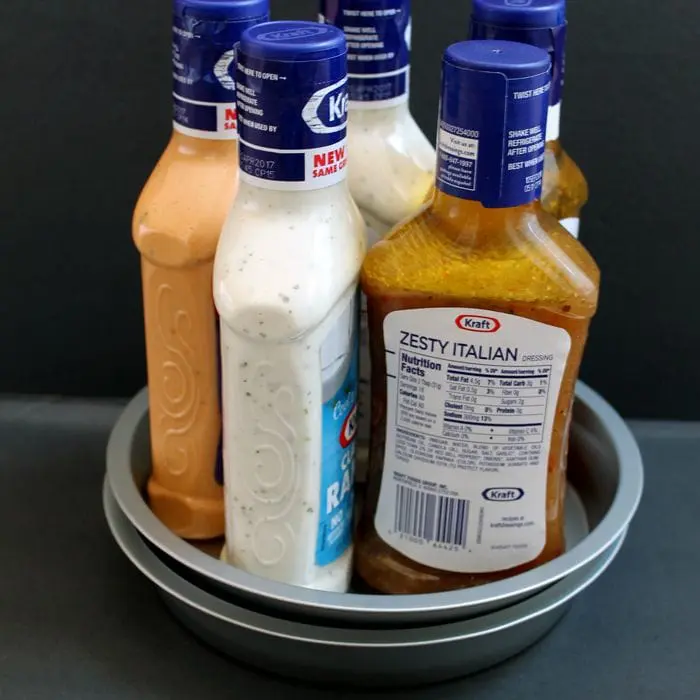 Credit: thecountrychiccottage.net
Love DIY? Make a lazy susan yourself. This is a great hack for organizing your kitchen cabinets, and it's so practical
Get one cake pane, pour some marbles into it and put another pan on top. Here you go! Easy peasy!
Get some marbles here.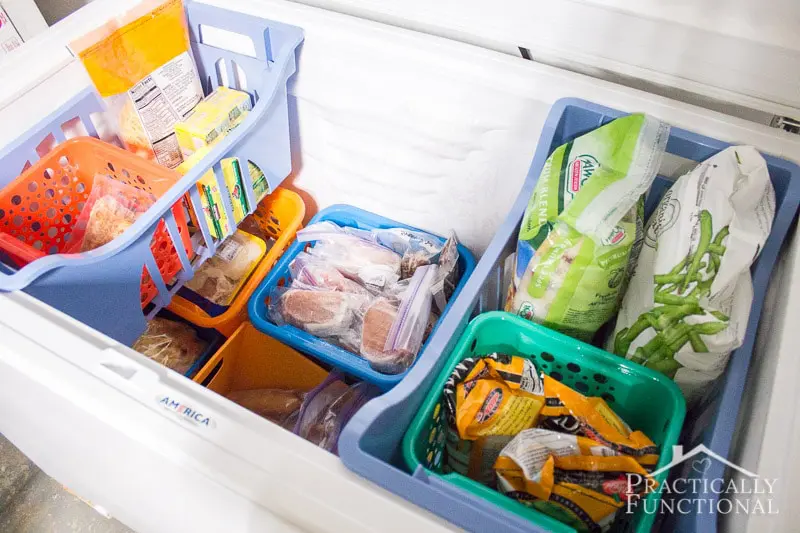 Credit: practicallyfunctional.com
So, getting your freezer into order might not be your priority. However, if you have some time, you might want to do it.
It will help you keep your food fresh and make sure you're not wasting products. Just check how many products you have that have already expired!
Get a few colorful baskets from your local store and get playful with it. Use colors to separate food by type.
Attaching a label here and there will help with keeping those expiration dates away.
Here are more ways to organize your fridge!
Credit: Instagram
Do you have a little one that likes drawing, or you, yourself, like to create art? If so, your house is probably filled with tons of colorful paper, pens, paint, glitter, and all other supplies.
You transparent plastic boxes! They will make it easy to spot the supplies you need and will save you from the headaches when searching for what you need.
Check out more tips on how to organize your craft room here.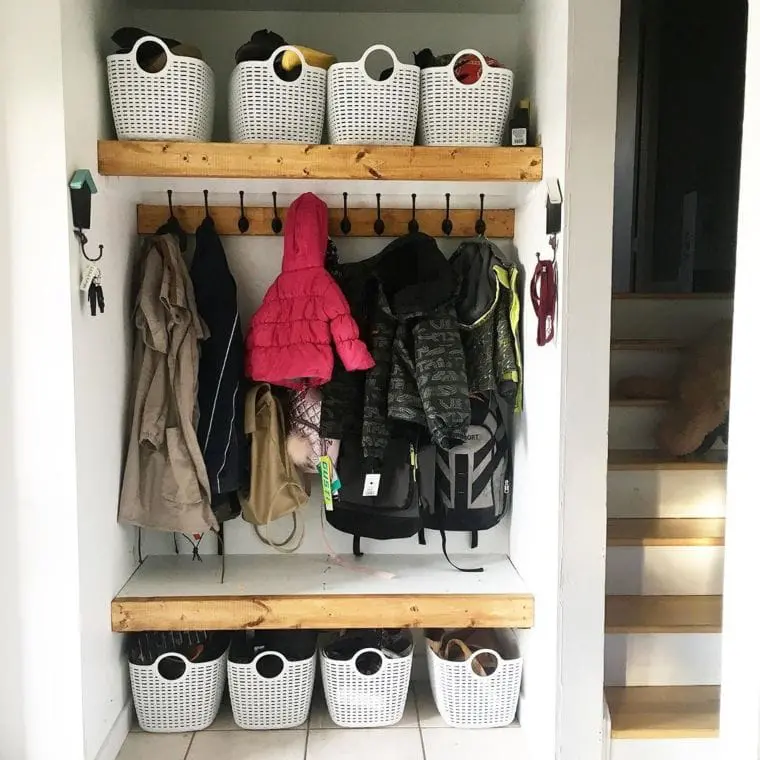 Credit: Instagram
Surely, your entry closet stores a ton of clothing items. Whether it's jackets, shoes, hats, or other items. If they are smaller, like gloves and hats, they can easily get lost.
To stop that from happening, just throw everything into baskets. This is exactly how you solve a problem!
Fill them with gloves and hats or any seasonal pieces of clothing that you don't wear on a daily basis. Also, you can use them for belts, accessories, and even shoes.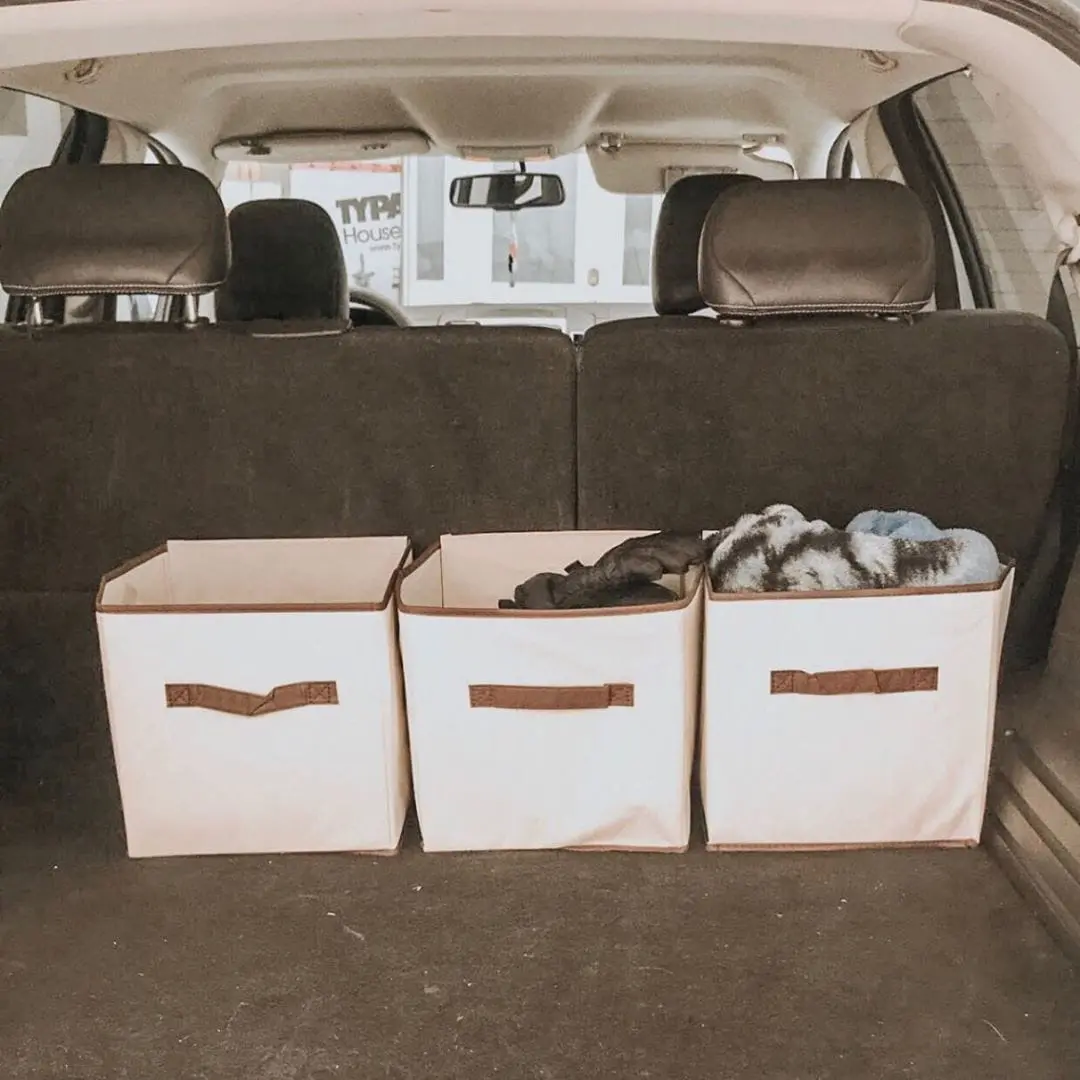 Credit: Instagram
If you are a parent who drives a car, it's safe to say it can get messy. Especially when you have kids, and they bring all their baggage with themselves.
To get rid of the clutter, just throw in a few fabric storage boxes. They're foldable, so if the car is empty, they won't take up too much space in your truck.
Here are plenty of storage cubes to choose from. Check out more lazy car organization hacks here.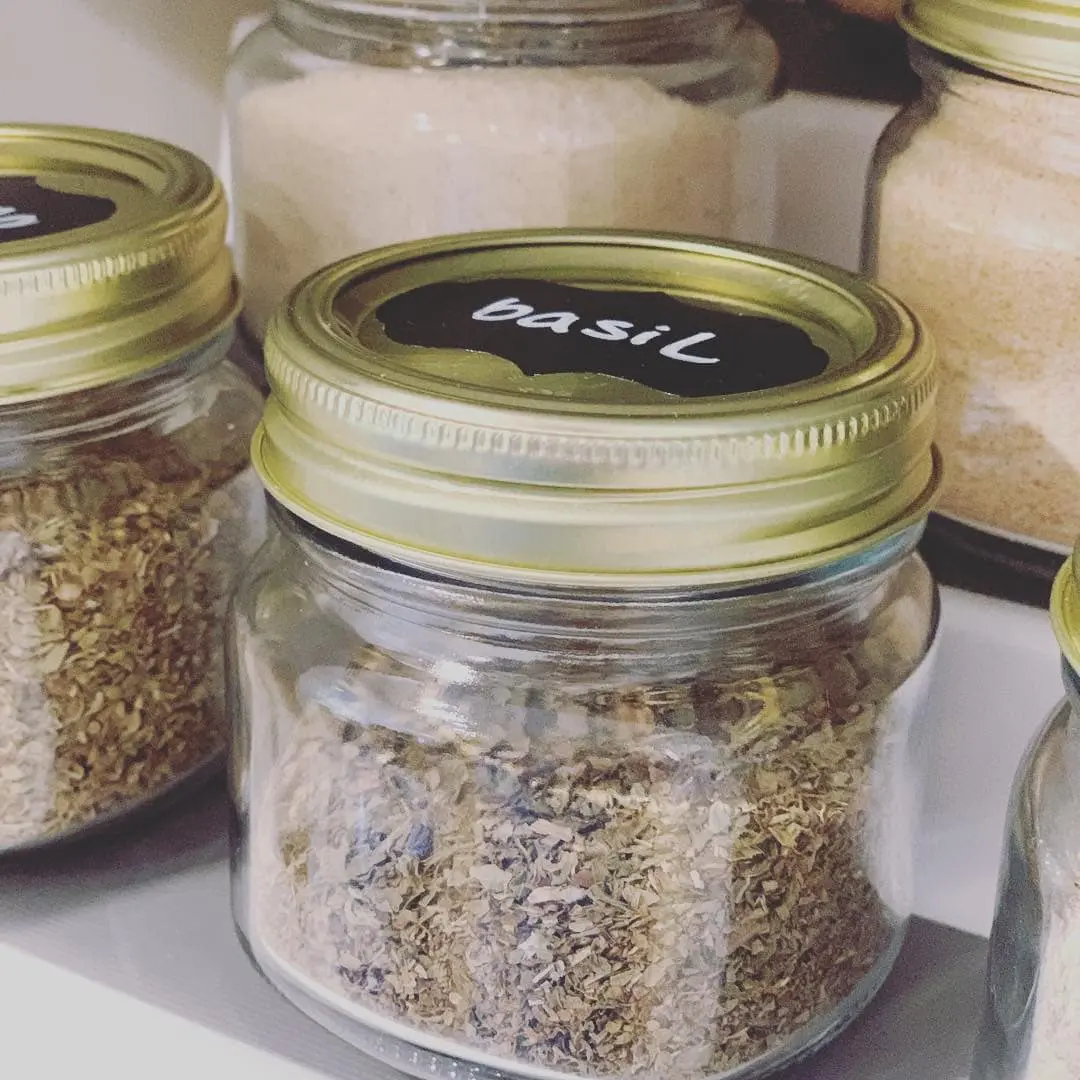 Credit: Instagram
An organized kitchen is a dream of every cook. Having everything in place, knowing it will be there when you open that cabinet door is so satisfying.
But to keep something so neat, you need to get creative. That's where jars with labels will come in handy!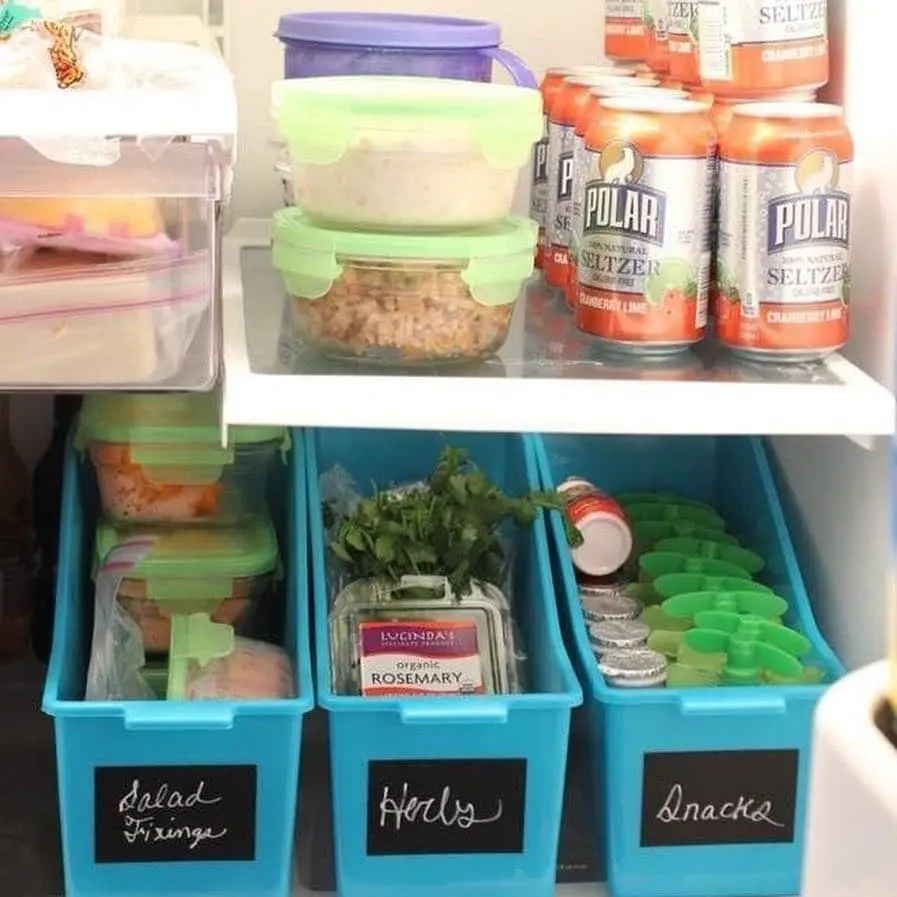 Credit: Instagram
Sometimes all you need to keep your fridge in order is a few labeled plastic boxes. Get these and have your meal prep, herbs, veggies all separated.
Just pull out each box, and you can easily reach any food you need. Do make sure you're rotating the products so that you don't end up with a bunch of expired food.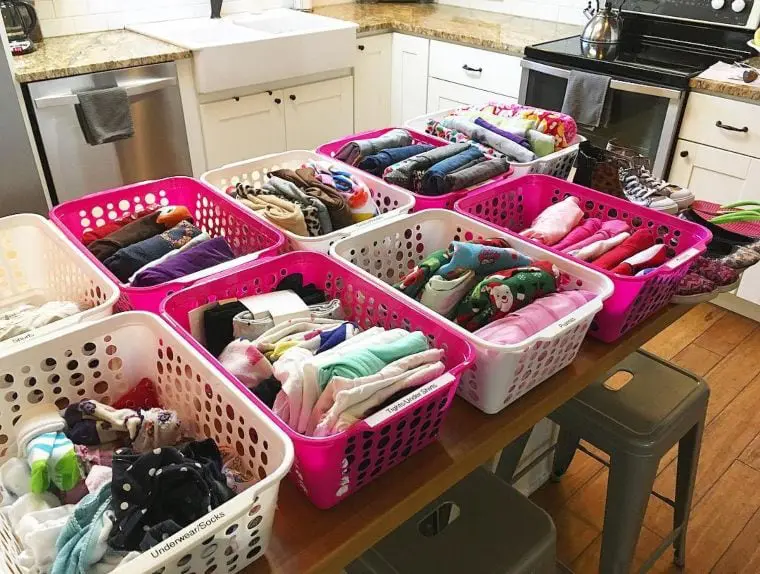 Credit: Instagram
Shopping is a form of therapy for all of us. Surely, you like treating yourself to a new pair of jeans or a new dress.
A good way to keep your underwear, baby clothes, socks, or any other smaller clothing items in order is to store them in plastic boxes. Then, just place them in drawers, and you have everything within reach.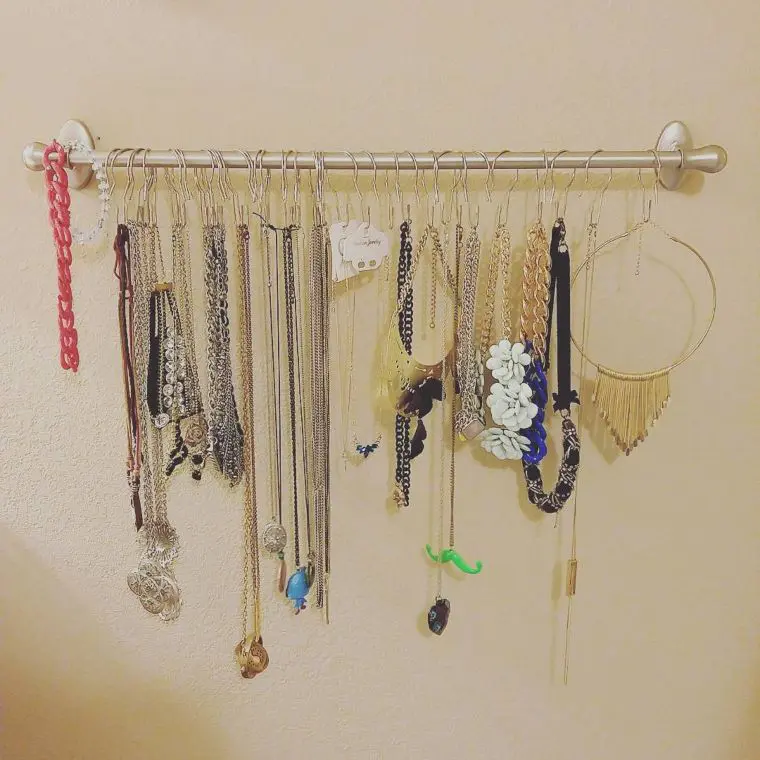 Credit: Instagram
If you like having your necklaces on display, then this little hack is just for you. You will need a small curtain rod and multiple hooks. You can get them here.
Secure your rod to the wall and use the hooks to hang your jewelry items. Check out these ideas on how to use command hooks for organizing.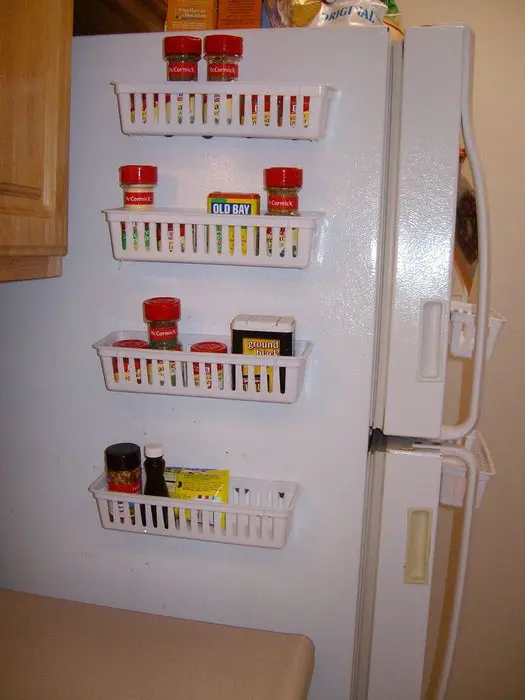 Credit: instructables.com
Now, you can place your spices inside a cabinet or a drawer, but you can also keep them out in the open. On the fridge, for example.
If your stove is next to the fridge, this is a great DIY for you. You will have to get a few white baskets from the Dollar Tree.
Firstly, attach the magnets to the baskets. Make sure they are good-quality magnets, like these ones here.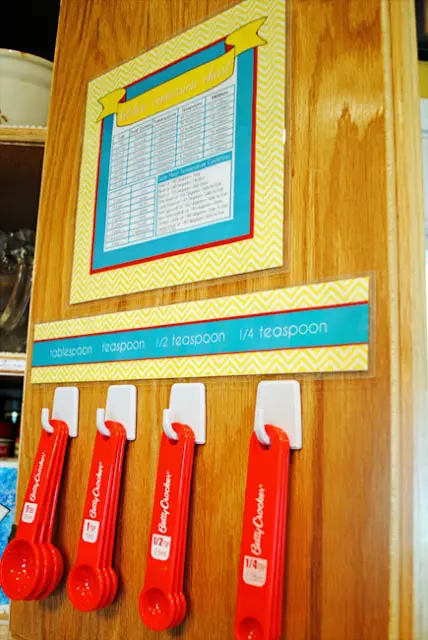 Credit: ishouldbemoppingthefloor.com
If you are a frequent cook or love to bake, you're probably using your measuring spoons. Here is a way to actually have them organized!
First up, get these adhesive hooks here. Stick them to the inside of your cupboard and hang those measuring spoons. Easy, convenient, and so practical!
Conclusion
Which one of these dollar store storage ideas are you loving? Are you going to try any of these? Let me know in the comment section.