Cars get so messy so easily. Try these car organization hacks to keep your car neat with little effort.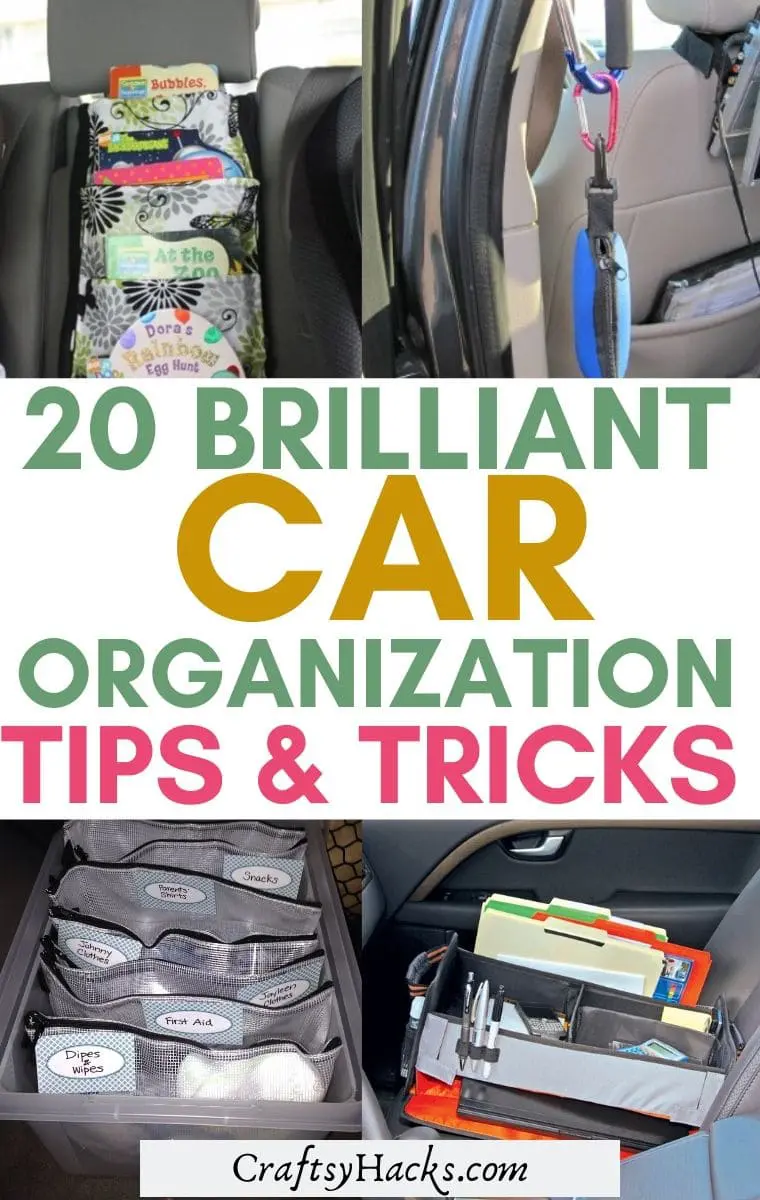 Keeping your car organized isn't easy, especially if you have kids. All those car seats, toys, snacks, and other stuff lying around can easily turn your vehicle into a mess on four wheels.
It's time to put an end to the suffering! Luckily, the car organization doesn't need to be hard, time-consuming, or costly. All you need are a few organization hacks that will save you lots of time, stress, and (especially) mess!
Here are multiple reasons why you stay organized based on science!
Today, I have 20 wonderful LAZY car organization that might just change your life!
1. Just-in-Case Car Organizer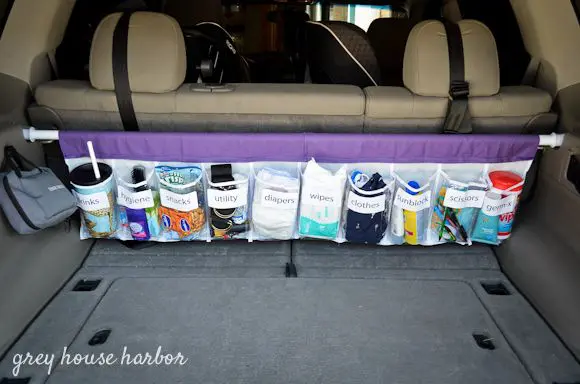 Credit: greyhouseharbor.com
If you have a baby, then you always have to carry a giant bag of supplies just in case. Diapers, wipes, extra clothes…
And then one day, you leave that bag in your hallway. That is most likely going to be the day when your little one decides to make the biggest mess ever!
And you have nothing on hand to clean him. It's Murphy's Law.
No more of that. Hayley from Grey House Harbor came up with a super-smart just-in-case organizer made of a cut and restitched plastic shoe organizer (like this one here) hung from a shower rod (like this one). Genius!
2. Organize with Carabiners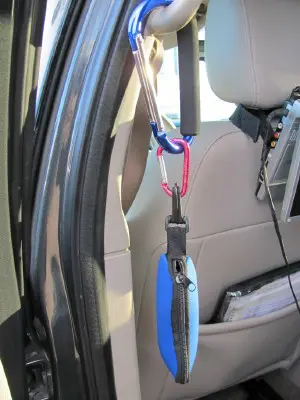 Credit: orgjunkie.com
Climbing carabiners? Oh, yes! If you use them as hooks, they will help you make the most of your vehicle's vertical space. Use carabiners to hang your kids' bags, your purse, groceries, gym bags, etc.
Get your carabiners here. You can also organize small items.
3. DIY Pop-Up Trunk Shelf
Credit: instructables.com
This pop-up shelf will not only provide extra storage space but also separate the delicate items (such as eggs) from heavier ones that could damage them.
You can easily make it on your own with just several supplies: a wire closet shelf, two folding legs, teacup hooks, zip ties, and auto-grade carpet.
4. Car Book Storage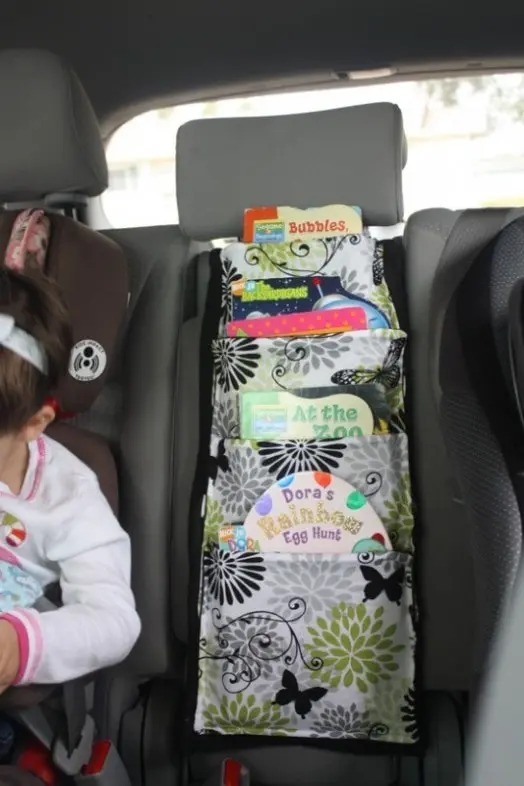 Credit: kidsomania.com
If you've got kids, you need to make sure they're kept engaged during longer rides. That's why it's a great idea to keep several of their favorite books in the car.
But that calls for a suitable car organization that will keep all those books neat and organized. This cool book organizer is made of colored scraps of fabric.
Here are more sewing projects that are perfect for keeping things organized!
5. Binder Clip Sunglasses Holder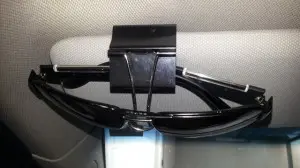 Credit: lifehacker.com.au
Use two binder clips mounted on your car visor as sunglasses storage.
Although binder clips were originally designed to hold together sheets of paper, they're good for so many more things. From small metal binder clips (like these ones) to large ones (like these), they're strong, cheap, and come in different cute designs.
Binder clips are also wonderful for organizing paper clutter at home.
6. Use On-the-Go Travel Pouches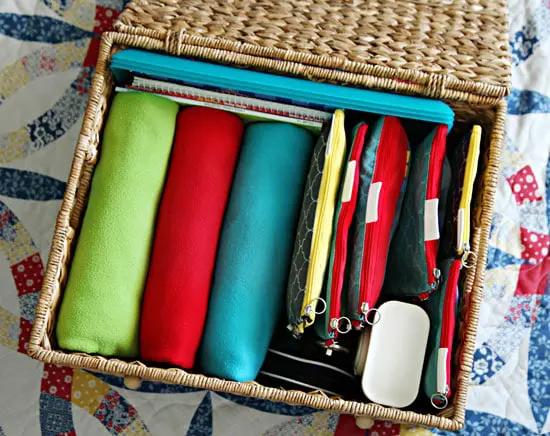 Credit: iheartorganizing.com
You can use simple clear zippered bags (like these) to pack everything you need for your travels. From activity packs and snack packs to first aid kits and lotions, you'll have everything at your fingertips!
Jen from I Heart Organizing uses a large ring to clip the pouches together or keeps them in a big woven basket with a lid (like this one).
Woven baskets are great for organizing the laundry room as well as keeping closets organized.
7. Paper Cup Car Tissue Dispenser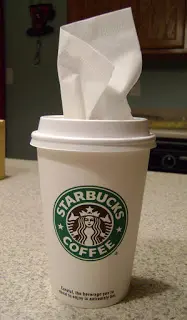 Credit: infarrantlycreative.net
This super-easy tissue dispenser will fit perfectly in your car's cup holders! All you need is a clean paper cup with a lid, scissors, utility knife, and a stack of tissues.
This DIY hack will take you no more than 10 minutes. The only tricky part is to figure out how to arrange the tissues so they "pop out" correctly, but I'm sure you'll manage.
8. Use a Tote Buddy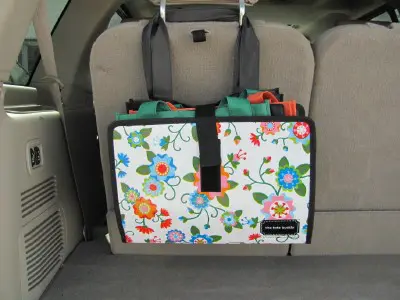 Credit: orgjunkie.com
You can use a Tote Buddy to organize your trunk or cargo area.
Store the items you keep in the car in individual zippered pouches (use labels like these to make it easier to find stuff). Then, put the pouches in the tote.
You can use tote buddies to organize your office space as well!
9. Snack Basket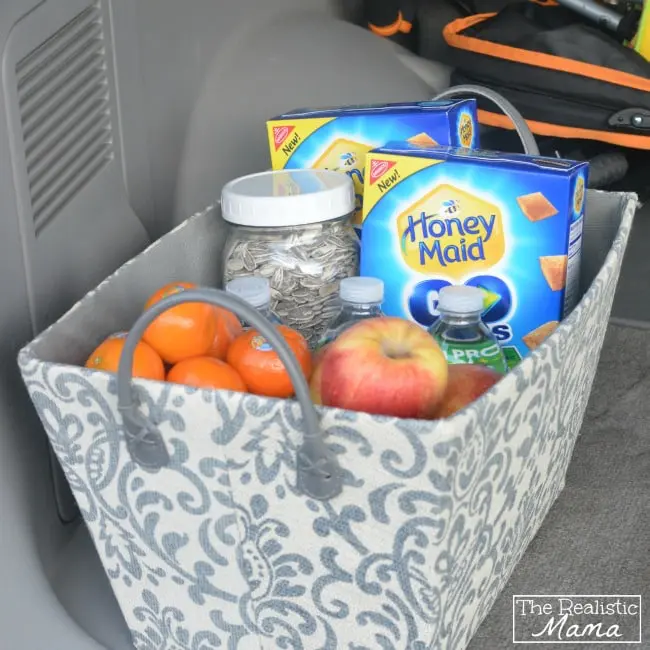 Credit: therealisticmama.com
Why should you give up on healthy snacks just because you're constantly on the move? Use a fabric basket like this one to store foods that are good for you and your little ones.
If you don't have a fabric basket at hand, you can use a wicker basket or even a clean laundry basket. What matters is that healthy food will be at hand anywhere you go!
10. DIY 'Purse Organizer' with Old Tea Boxes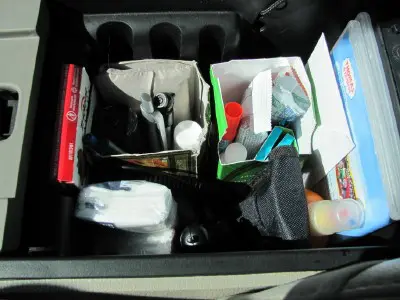 Credit: orgjunkie.com
Purse organizers are ideal for keeping in consoles because they provide compartments for small items such as change or lipstick.
But if you can't find a purse organizer that fits, you can easily make one on your own. Just use your old tea boxes!
You can use this trick to organize beauty products at home as well.
11. Car Documents Folder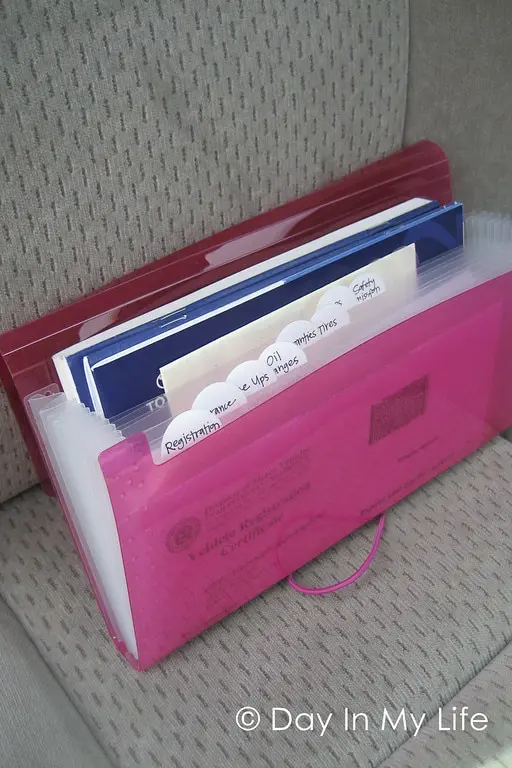 Credit: tiffkeetch.blogspot.com
Otherwise known as 'cop folder', this file is great for keeping all the documents you might need in case you get pulled over or in case of an accident.
Use it to keep your registration, driver's license, insurance details, emergency contact numbers, etc.
Get your folder here.
12. Line Your Cup Holders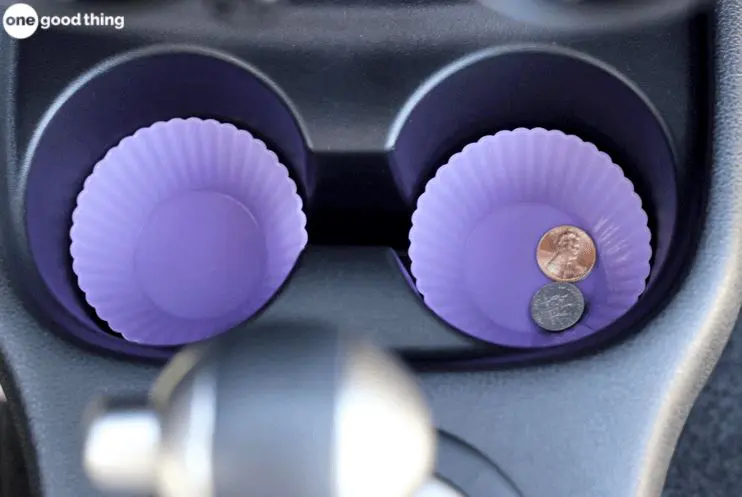 Credit: onegoodthingbyjillee.com
You know how the car cup holders are a pain to clean? To make it easier on yourself, line them with silicone muffin cups.
Whenever the cup holders get dirty, just put the muffin cups in the dishwasher or replace them with new ones.
Get your silicone muffin cups here.
13. Car Office Organizer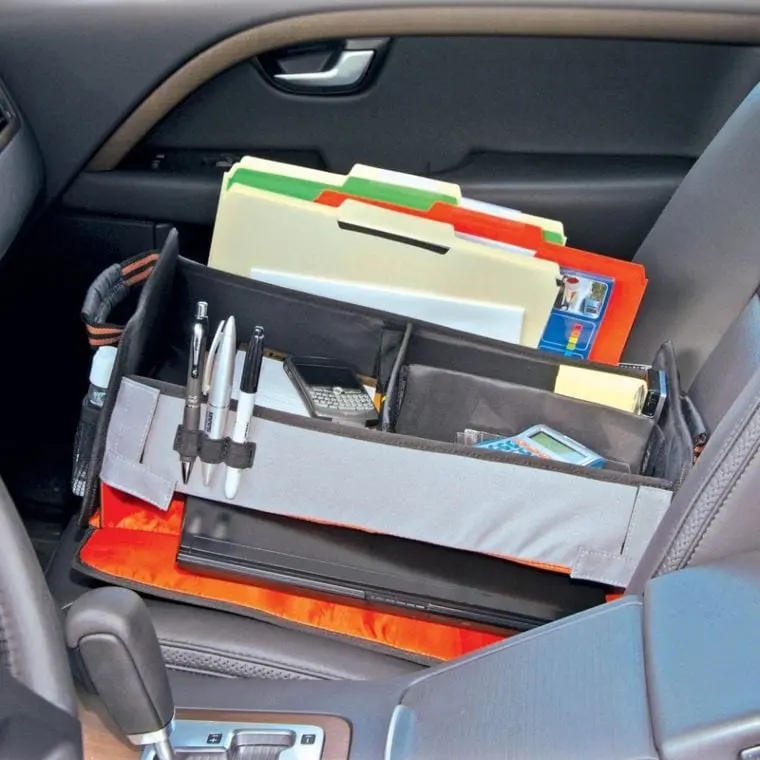 Credit: organizeyourrooms.com
Do you carry your "office" everywhere you go? Keeping all the supplies you need for work in a briefcase isn't very convenient as it will make it difficult for you to grab things on the go.
It can also make driving quite dangerous! So, to avoid getting distracted and prevent your papers from flying around the car, try this amazing car office organizer.
If you're loving this hack, you might enjoy some of these desk organization tips here.
14. Use Shower Caddies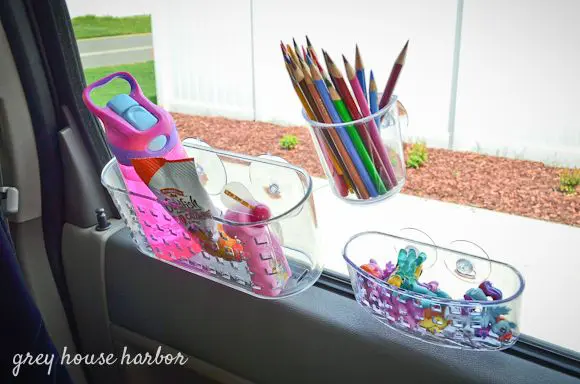 Credit: greyhouseharbor.com
Shower caddies work great as car organizers for the kids' small toys, tissues, sunglasses, books, and other miscellaneous items in the car.
Here are more ways to organize children's toys at home.
15. Get Some Car Hangers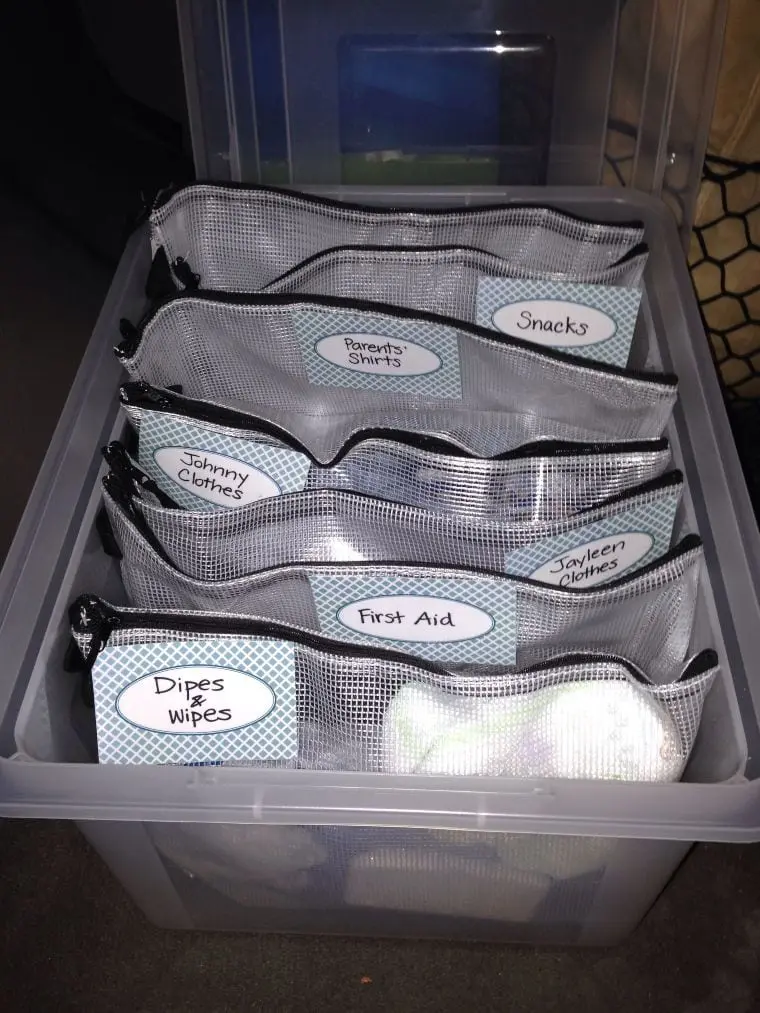 Credit: Pinterest
No more cracked eggs or crushed bread! No more bags and umbrellas sliding around your car!
Just hang them from hooks attached on the front seats to free-up some space and avoid damage!
16. Use Q-Tip Containers for the Small Items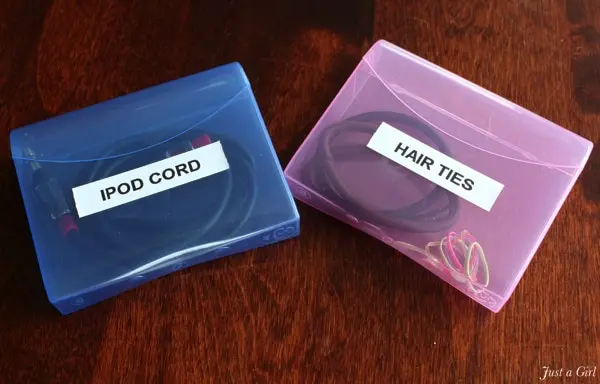 Credit: justagirlblog.com
Keep hair ties, charging cords, and other tiny items in plastic q-tip containers. If you want the containers within a hand's reach, keep them in the console.
And don't forget the labels. They'll make it so much easier to figure out what's inside the container.
17. Use IKEA Flort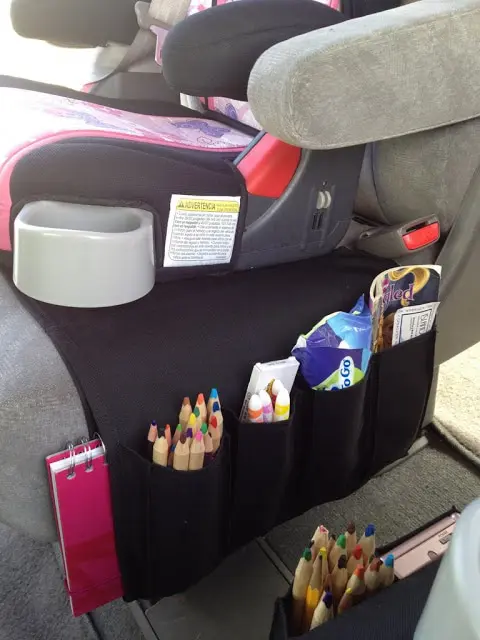 Credit: ikeahackers.net
IKEA's Flort is originally designed as a remote control holder for the home. But it does a great job as an organizer for kids' car seats as well.
Use it to store all those notebooks, pencils, tissues, toys, and video games all tucked away in their place.
18. The Everything Pouch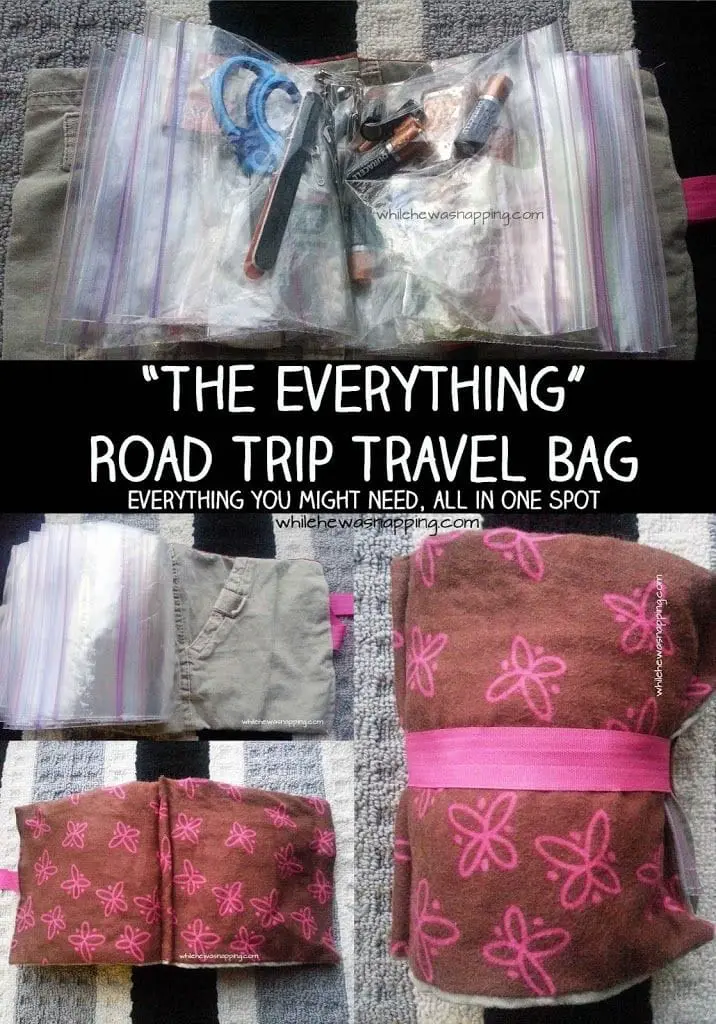 Credit: whilehewasnapping.com
If you're going on a longer trip and you want to feel like you're prepared for anything, this is the perfect hack for you. To make this bag, you'll need some scrap fabric, ribbon, and zippy bags (like these ones).
This project will take you about half an hour and will hold anything from band-aids and pills to q-tips and floss picks.
The best thing about this pouch is that it doesn't get in the way and you'll easily find what you need.
19. Use a Bungee Cord to hang Grocery Bags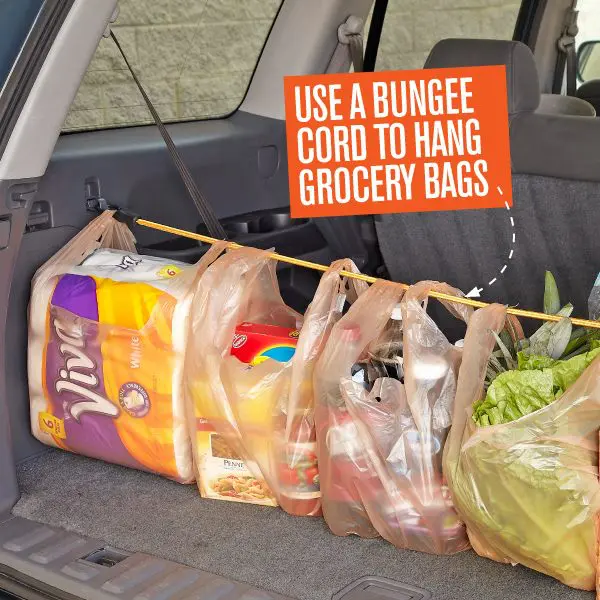 Credit: handyman.net.au
If you're looking for an efficient way to keep your car more organized, a bungee cord might be the ideal answer. You'll probably find some bungee cord lying around in your garage, but if you don't have any, you can get it here.
To keep your groceries from spilling in your car, string the bungee cord through all of your grocery bags' handles. Then, attach the cord on both sides of your trunk. So simple!
20. Summer Car Organization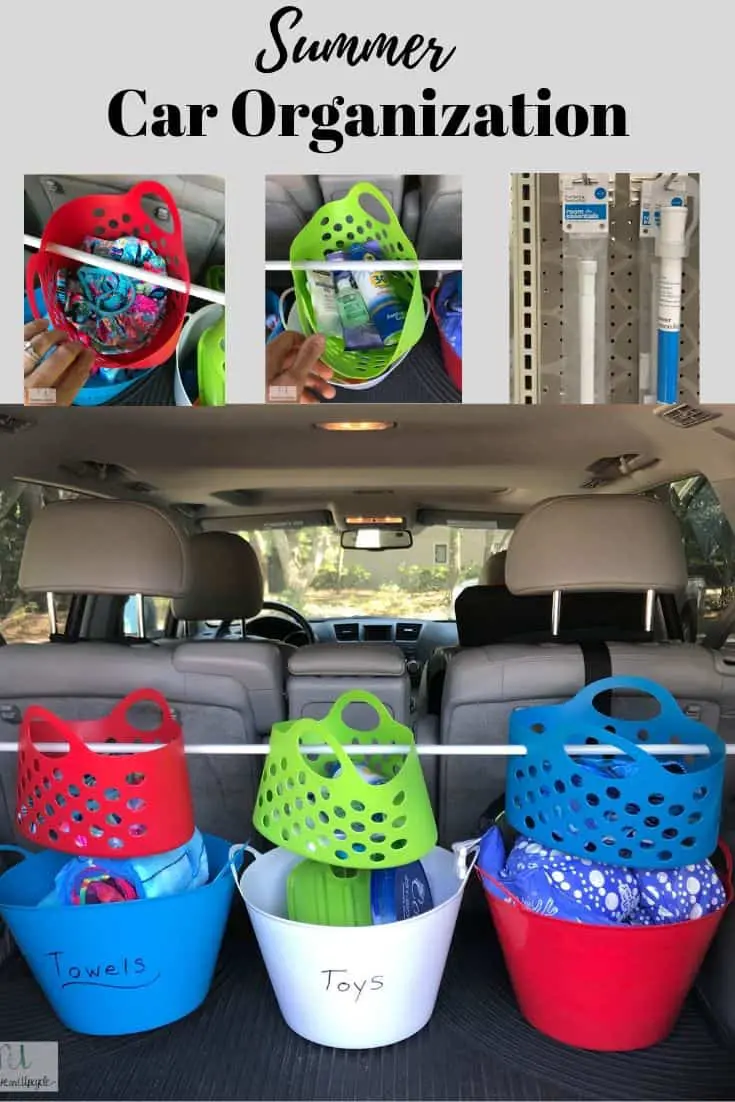 Credit: repurposeandupcycle.com
Do you and your family live in the car during the summer months? Of course, summer is all about going places and doing things.
So, your car needs to keep up. Lindsey from Repurpose and Upcycle found a great solution to keep all those bulky summer items such as towels, life vests, and beach toys.
Her genius hack is made with a tension rod, plastic carry totes with holes, and flexible bins with handles.
Conclusion
Which one of these car organization hacks is your favorite? Let me know in the comment section below.