Organize paper clutter with these simple hacks. These organization tips are great for your office or crafting room!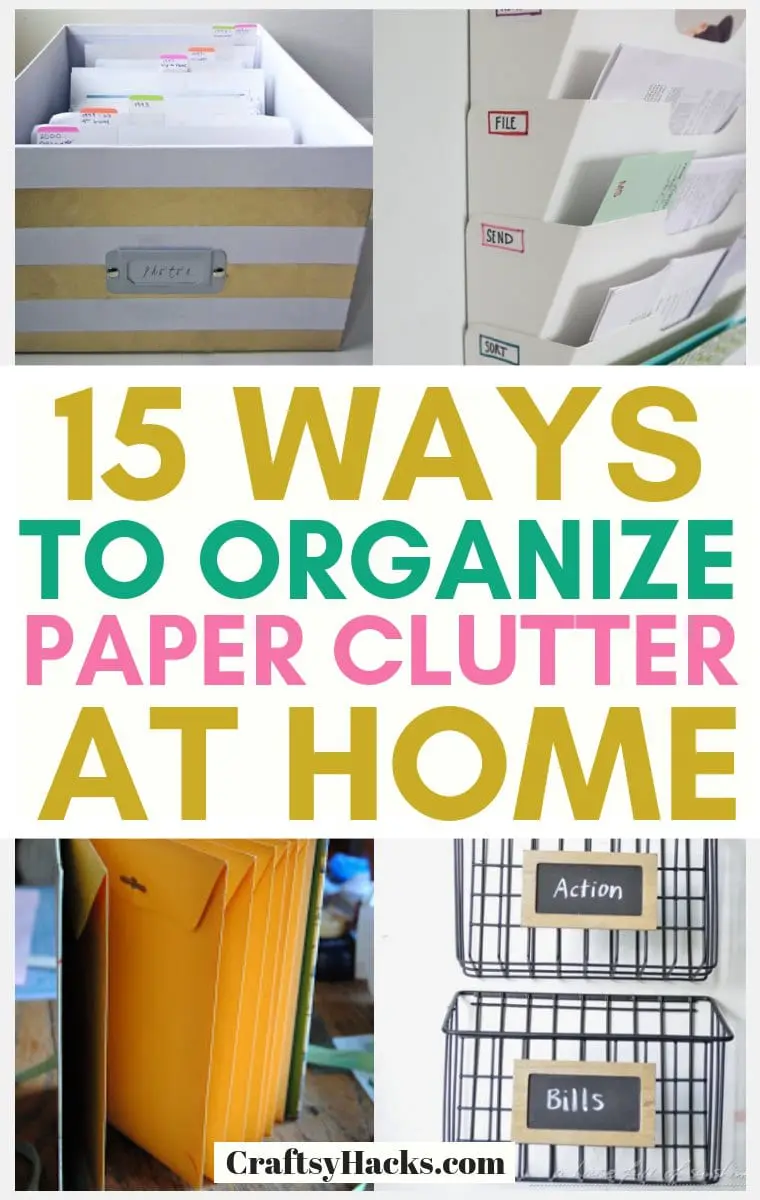 Anyone else notices how hard it is to keep the space on your tabletop clear? Seriously – even after a thorough tidying session, the clutter seems to reappear within days.
What's worse is when you keep stumbling upon important pieces of paper that you want to hold onto to but you don't really have a home for them. Instead, they just end up all over your home.
Here are 15 simple but life-changing ways to organize paper clutter around your house and become more productive!
1. Filing System with Storage Box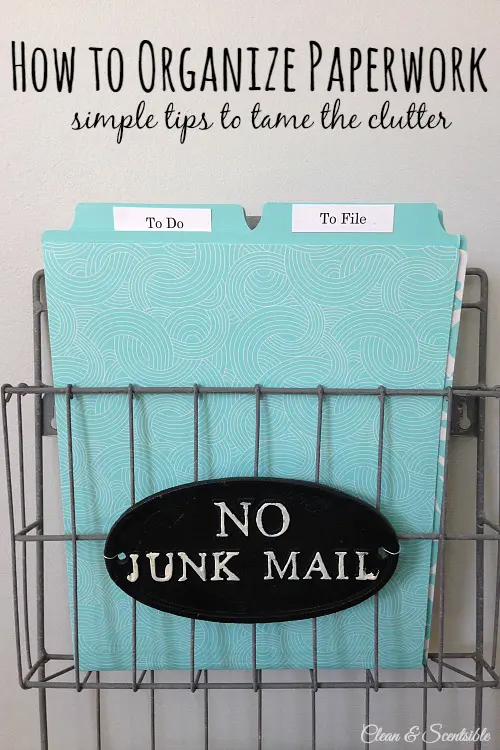 Credit: cleanandscentsible.com
If you don't already have a filing system going on… well, what are you waiting for? This is one of those small but life-changing hacks that you ought to try out ASAP.
Gone are the days of digging around for important documents or letters. Just get yourself a filing system to sort everything out.
From your banking information to creating separate files for your kids' stuff. For sorting out all my important documents, I like to use a filing system that comes with a storage box like the one here.
2. DIY Envelope Receipt Book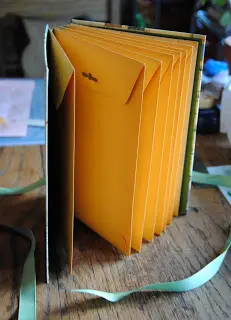 Credit: craftyminimeg.blogspot.com
Anyone else always having a hard time holding onto their receipts? You can easily construct your very own envelope receipt book out of green cardstock, 9×6 inch envelopes, and some pretty ribbon.
Aside from being a great way to keep all your receipts organized, you can also add a cute cover to it. So, it looks great on top of your table!
For this DIY project, you can find a pack of envelopes here for a fantastic price.
3. Fabric Mail Organizer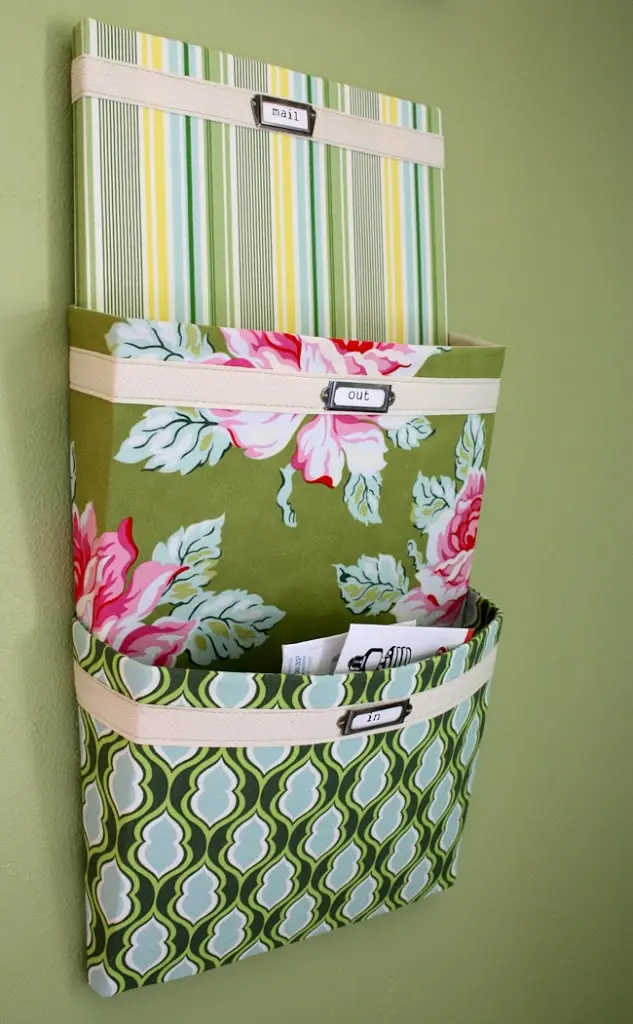 Credit: noodle-head.com
Keep all your mail off the table with a DIY fabric mail organizer. The best part is that you can also choose your favorite patterns to match your home décor theme.
Also, create your own custom labels to sort all your mail. Labels are great for organizing office space, kitchen, and even your closet organization. You can use floral patterns like the type of fabric you can find here.
4. Mail Tray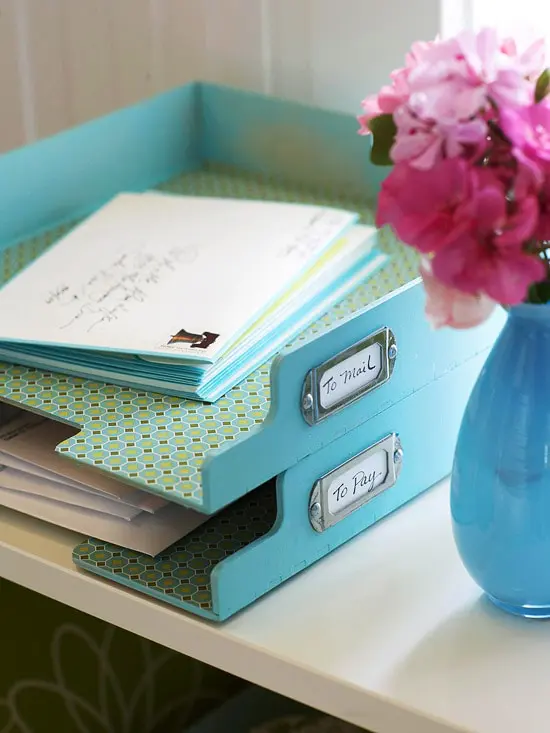 Credit: iheartorganizing.com
The easiest way to reduce the clutter on your tabletop? Use a paper tray to organize all the paper!
You can easily spice things up with a little DIY to add another compartment to your tray. All you need to do is grab two separate trays and stack one on top of the other.
Use mail trays to also organize your craft room! Great for all your drawings!
5. Customized Task Clips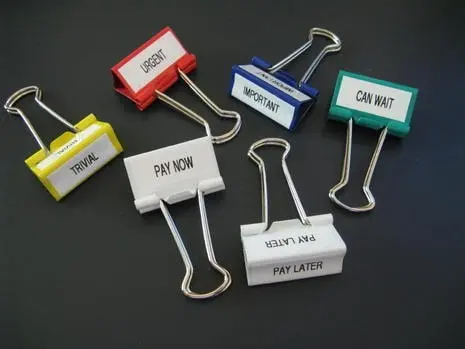 Credit: curbly.com
Here's another small but life-changing organization hack! Make your own customized task clips to keep all your papers organized.
You can easily make your own task clips by adding labels to them. I highly recommend grabbing a set of colorful clips that can hold onto a large stack of papers.
These clips here are great.
6. Finance Binder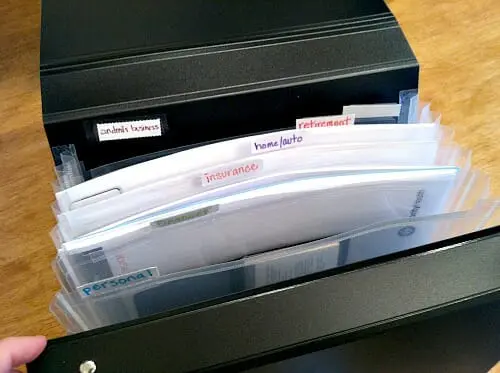 Credit: andreadekker.com
Gone are the days of digging around for important documents! Make things easier for yourself by putting together a finance binder to keep all important information neat and tidy.
Keep your finances in check with binders. You can use them to organize your office too since that's where you keep the documents.
7. Plastic Storage Organizer
Credit: Amazon
Looking for an easy way to reduce clutter? Get yourself a small plastic organizer with drawers to sort all your papers before it becomes a huge mess.
A plastic organizer with a colorful design like this one here is a good addition to any empty counter space. You can also use them to organize small toys in the children's room.
8. Photo Box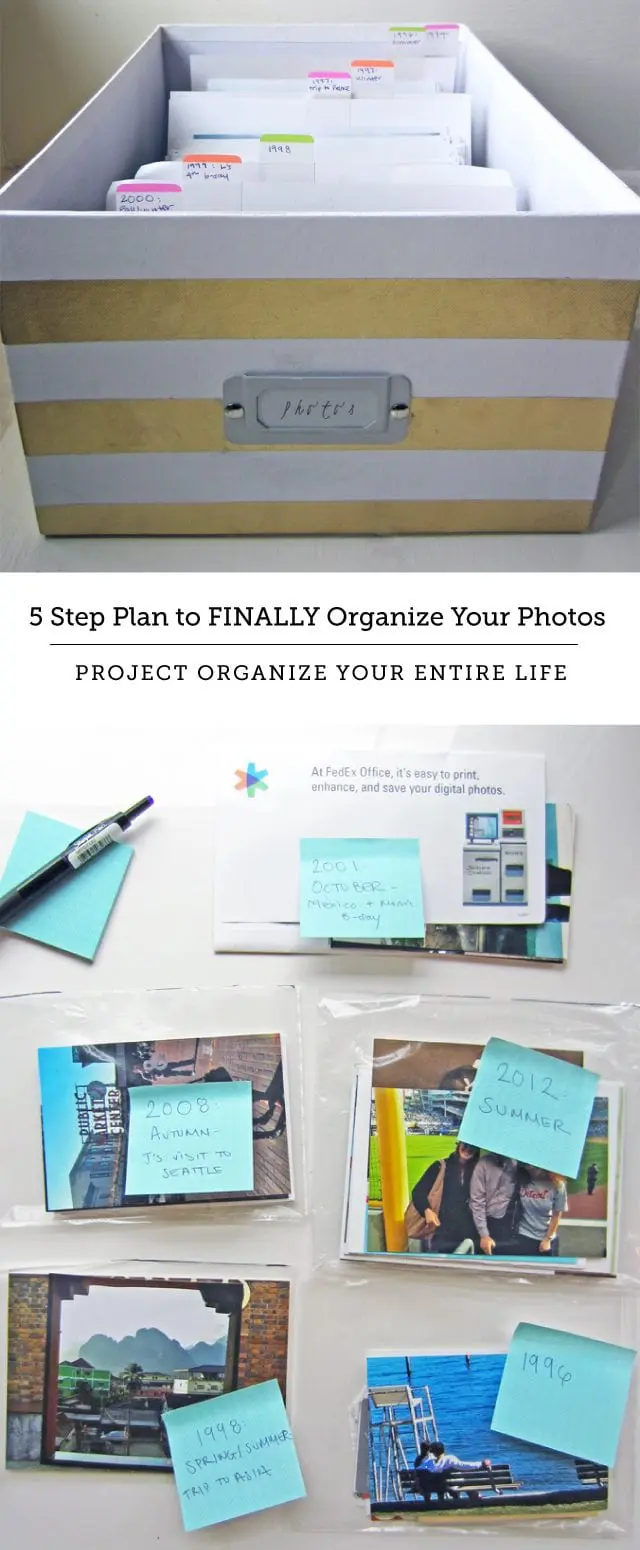 Credit: modernparentsmessykids.com
When it comes to organizing all the paper clutter you have to lie around the house, a great place to start is with your photos. Nothing feels better than having all your memories kept together in one spot.
Sort them, and label them so you can take a trip down memory lane whenever the nostalgia hits.
9. Industrial Mail Baskets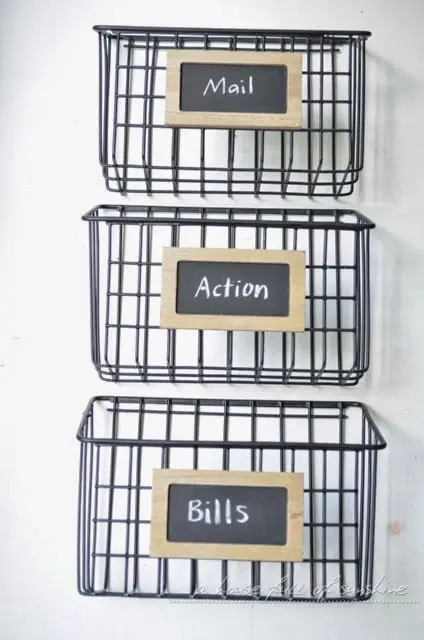 Credit: ahousefullofsunshine.com
This is one of the easiest ways to display your mail while bringing more of an industrial vibe into your current home décor situation. Simply create your own mail organizer by mounting a couple of wire racks onto empty wall space.
The best part is that you can use spray paint to change up the color scheme to match your décor theme. For this project, I recommend grabbing simple wire baskets like the ones you can find here.
You can also use wire baskets for laundry room storage too!
10. Receipt Box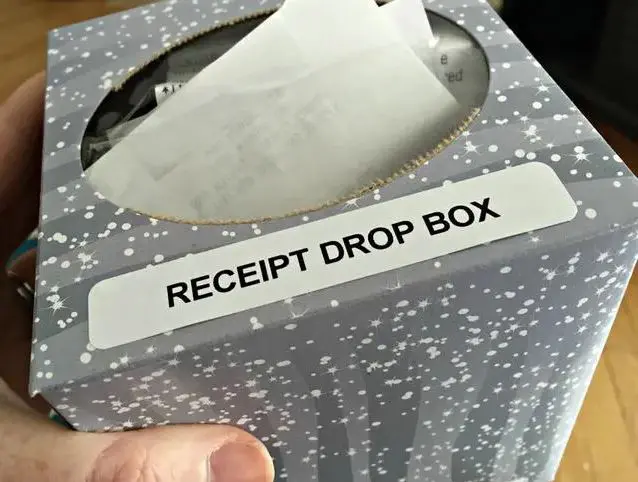 Credit: carissashaw.com
If you aren't already holding onto your receipts – well, you really should. It works wonders for helping you keep track of your spending. Also, you never know when you need a receipt to return something!
Instead of tossing them all over the place, you can easily make your own receipt box to store them.
11. Wall Mail Organizer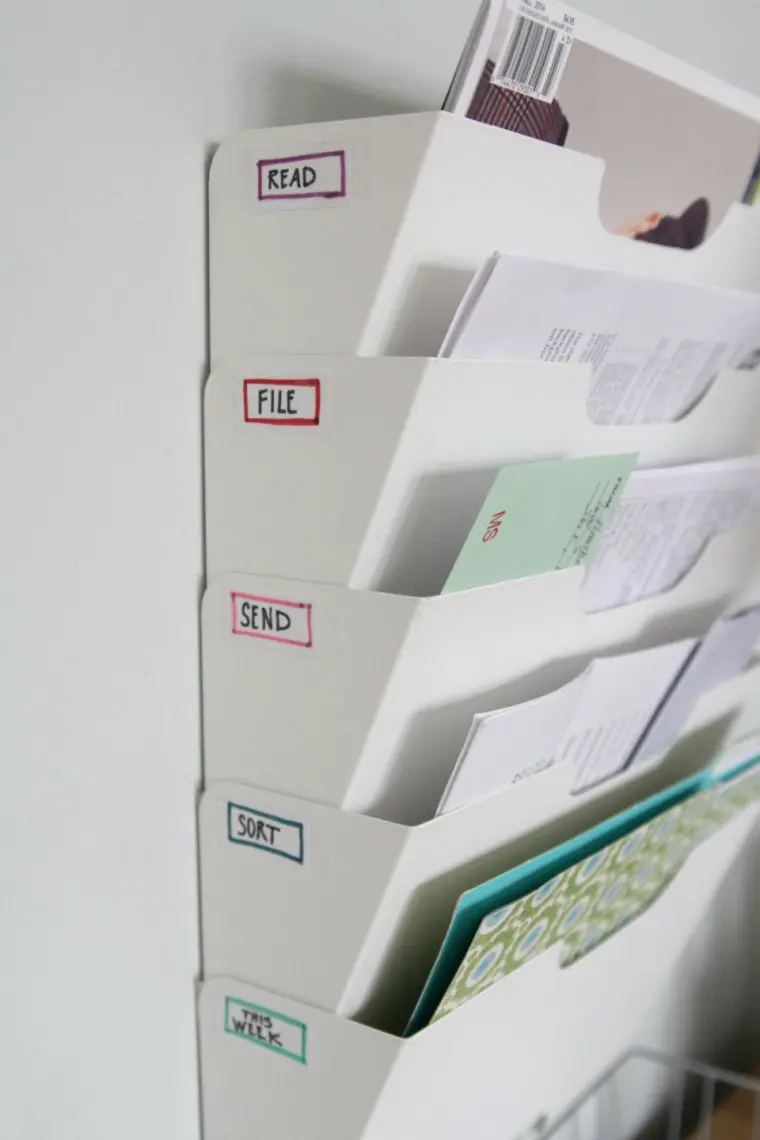 Credit: thedecorfix.com
The easiest way to organize the paper clutter around your home? Mount a mail organizer onto any empty wall space to sort out all your mail.
Take your mail situation to the next level by adding labels to each individual section.
12. Fabric Mail Sorter
Credit: brightandblithe.wordpress.com
Who else has a hard time keeping track of all the bills and payments? Instead of going paperless, there's another simple way to organize all your mail and to keep track of the stuff that requires your immediate attention!
With some fabric, you can easily stitch together your own mail sorter with labels. If you're a fan of sewing, try these sewing projects for organizing.
13. Receipt Jar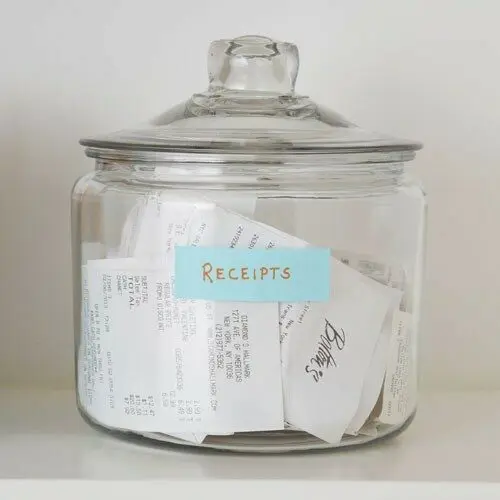 Credit: allyou.com
Here's another great trick for holding onto your receipts! Just grab yourself a glass jar and toss your receipts into it.
For storing smaller items around the house, I recommend using a mason jar. That's instead of spending a ton of money on fancy glass containers.
The mason jars you'll want to get are here.
14. Letter Tray for Documents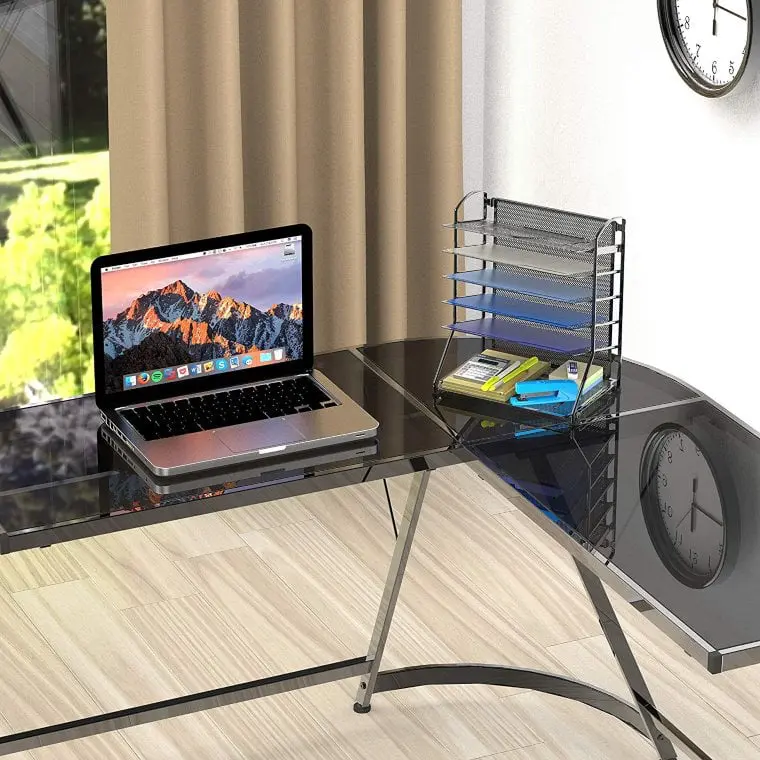 Credit: Amazon
Don't you just hate it when all your documents get mixed in with one another? Keep everything in one place by sorting out all your papers with a letter tray.
I recommend getting yourself a letter tray with a sleek but functional design like the one you can find here. A minimalistic letter tray makes the perfect addition to any empty tabletop.
15. Tissue Paper Organizer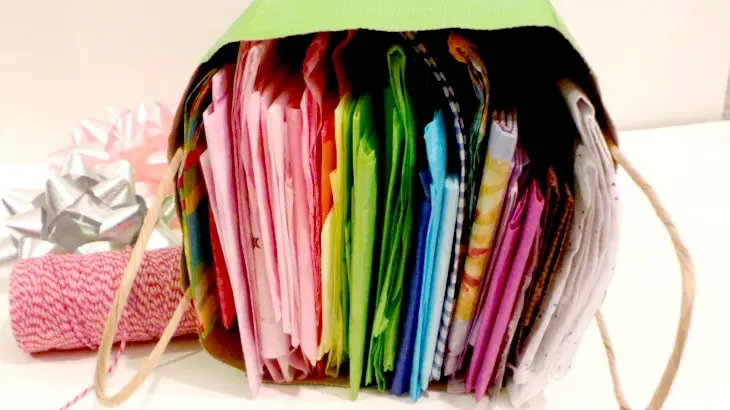 Source: avasalphabet.com
You really can't call yourself a DIY enthusiast without keeping a stack of tissue paper stashed around the house. Not to mention, having an assortment of colorful tissue paper on hand sure comes in handy when it's time to wrap gifts!
To make your own tissue paper organizer, all you really need to grab is a gift bag. Here are some of the gift bags you could get!
Conclusion
Enjoyed some of these organization hacks? Feel free to share them with your family and friends!