Get crafty with your Dollar store planters. Bring new life to your home on a low budget.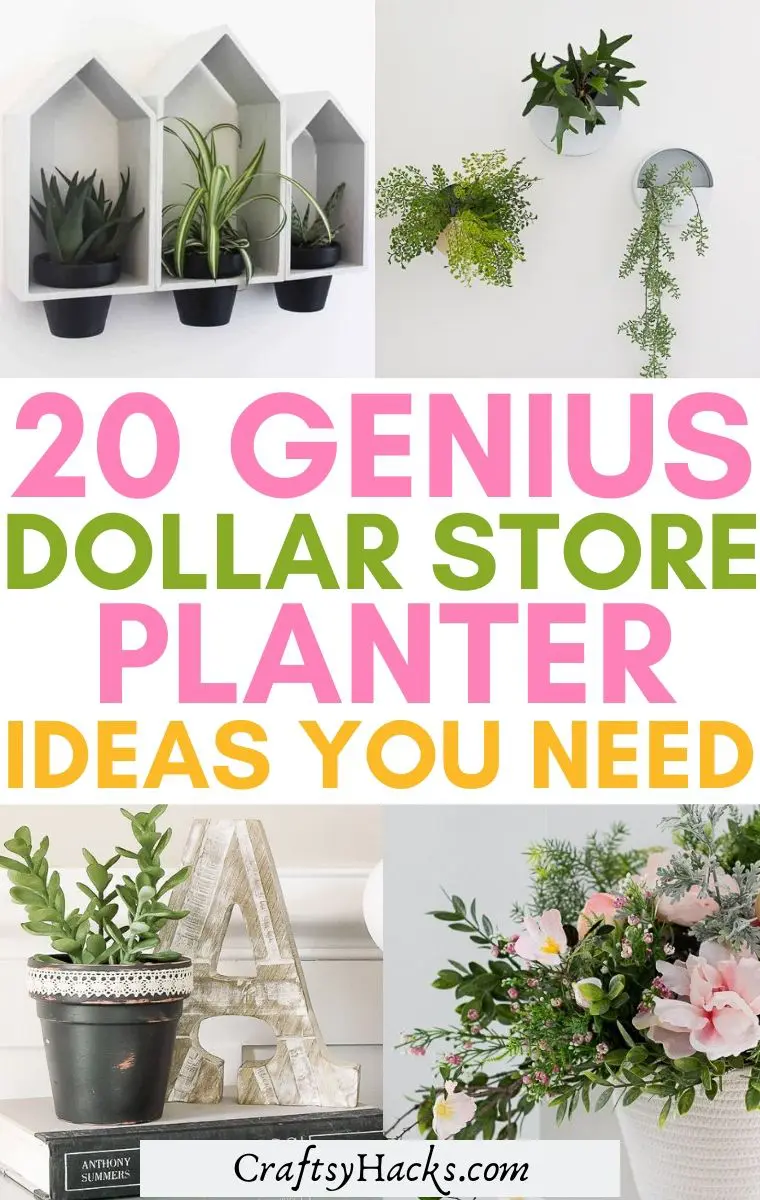 Planters are excellent accessories that give added character to your already gorgeous plants.
The problem is, sometimes, you just can't find the right planter that suits your interior. And if ever you find one, the price is way too pricey, and you can't get yourself to buy them.
But hey, being the crafters and DIY addicts that we are, there is always a way. The dollar shop way.
I've listed below my collection of dollar store planter ideas. Hopefully, you see one that fits your style and budget.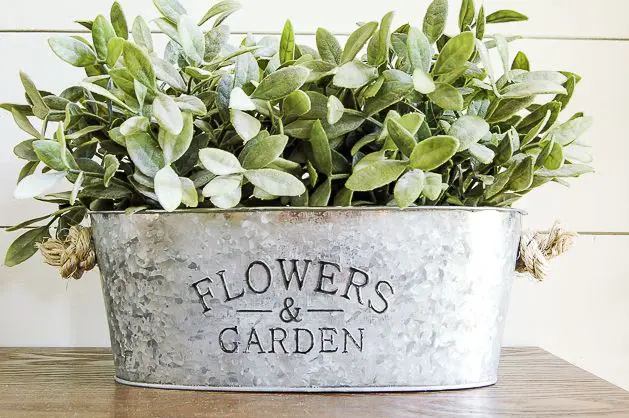 Credit: littlehouseoffour.com
If you browse through your dollar shop, you will likely spot a galvanized planter. You can use it as is, but if you don't want the shiny finish, you can age it a bit.
To do this, you will need three things commonly found in homes: salt, vinegar, and hydrogen peroxide. In a bowl, mix a tablespoon of salt and approximately three tablespoons of vinegar and hydrogen peroxide.
Using a spoon, pour some of the concoction into the planter. Let sit for a while, then rub it in using a paper towel or an old rag.
Repeat until you achieve your desired look. I did a similar project some time ago, and I wanted a bit of color, so instead of merely aging it, I spray painted it. I used the aged brass spray color I found here.
Although I spent more because I had to buy the paint, it saved me from mixing and rubbing. I also achieved the brass color that matched my décor, so the additional cost was worth it.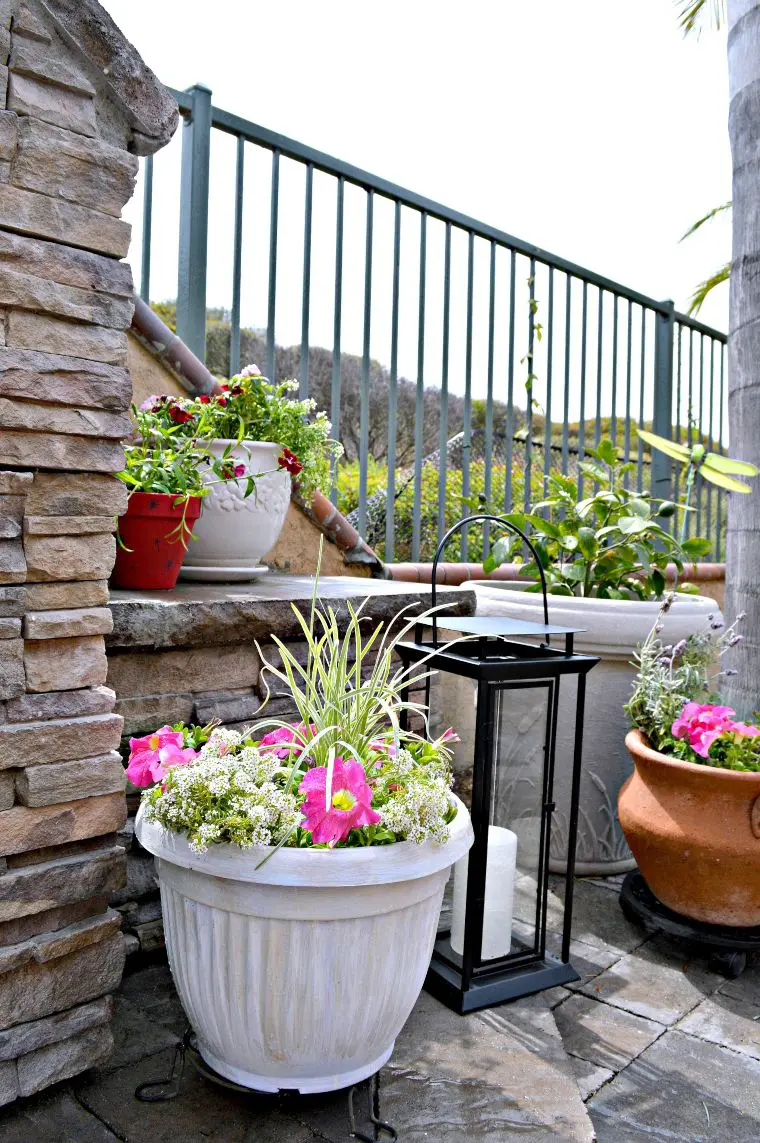 Credit: myuncommonsliceofsuburbia.com
Dollar store plastic outdoor pots are already great steals. They are large enough to accommodate your growing plant and low-maintenance, so you don't have to worry about leaving them outdoors.
The downside is, they come in standard colors, or as I'd like to call them: lacking an oomph factor.
Recreate this outdoor pot example, and paint it over with a chalk finish paint in serene, available here. And just like that, your dollar store find found its oomph!
Check out this yarn-wrapped DIY flower pot I've made!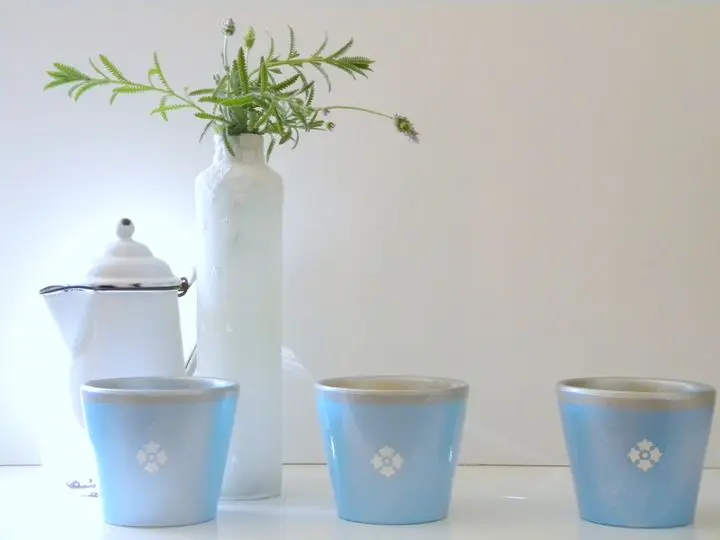 Credit: hometalk.com
You can find cute little pots like these at your local dollar store. Unfortunately, they usually come plain.
But your creative genius can surely remedy that. Simply pick your desired paint colors and design away!
You can manually draw your patterns. But if you want to achieve a uniform look, try using this inexpensive flower-themed stencil I found on this page.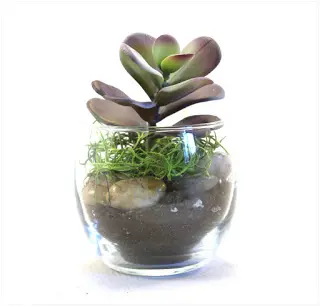 Credit: myhusbandhastoomanyhobbies.com
I love using succulents to decorate small spaces because of the compact nature of the plant. To mimic this succulent planter, look for a slightly largish candle holder or wide-brimmed shallow glass.
Add a bit of soil, your succulents, some river rocks, and moss. That's it! They look great on bookshelves, window sills, or even on your home office desktop!
Check out more Dollar Tree crafts for low budgets here.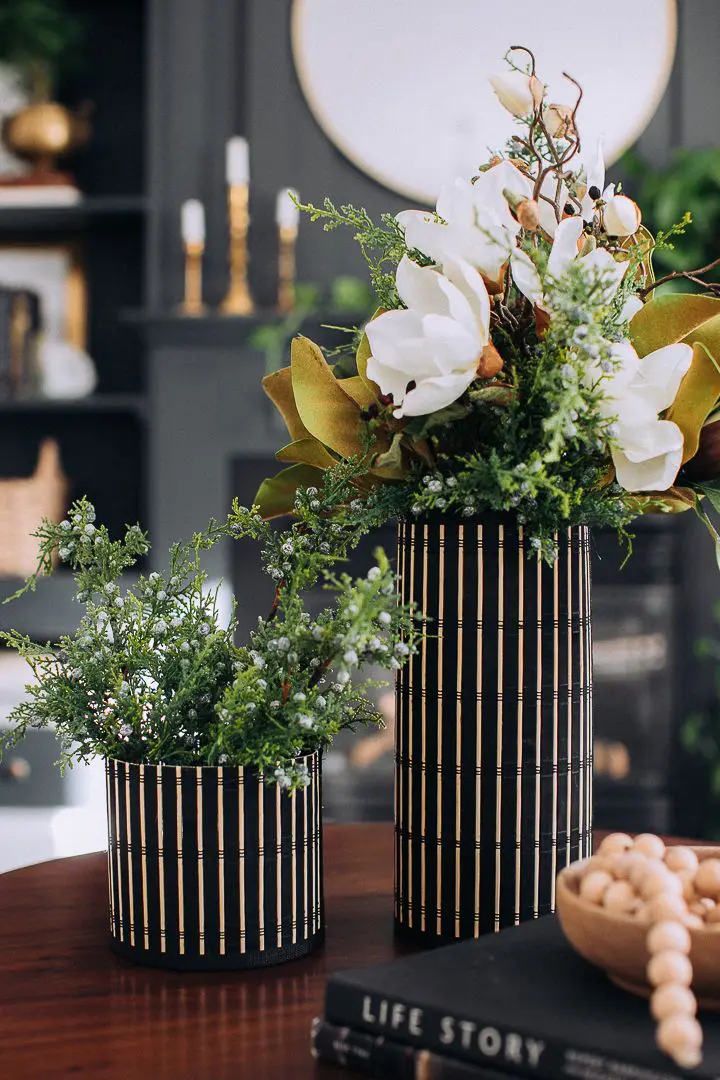 Credit: craftberrybush.com
Can you guess what dollar store find they used in this planter? Try zooming in… still can't tell?
It's a placemat! Who would've thought, right? They simply wrapped and glued a placemat around a glass vase.
In the unfortunate event that your dollar store doesn't stock woven placemat patterns, you can check some online retailers, like this.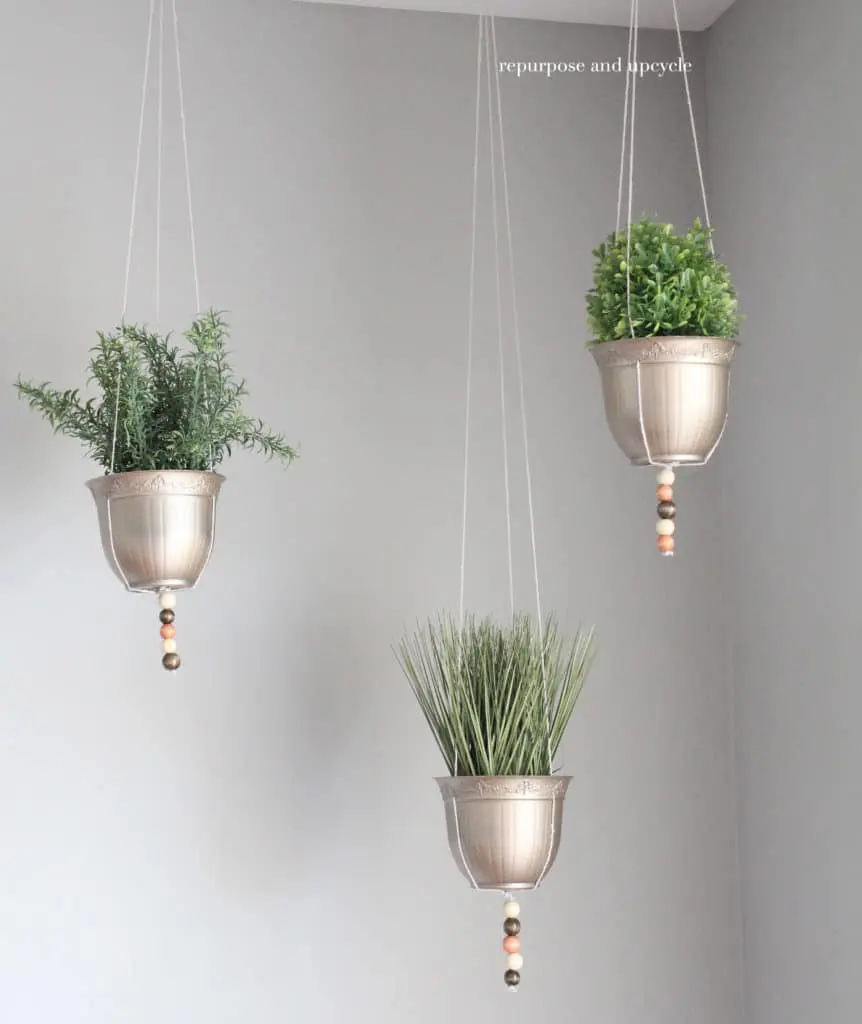 Credit: repurposeandupcycle.com
Hanging planters are great space-saving decors that bring the life of the outdoors in. To achieve this hanging planter design, you will need planter pots, cotton twine, and floral foam from your dollar store.
Now, to finish the metallic look, spray the pots with metallic gold paint, like this. To learn more about creating this hanging planter, head on here for an image-rich step-by-step guide.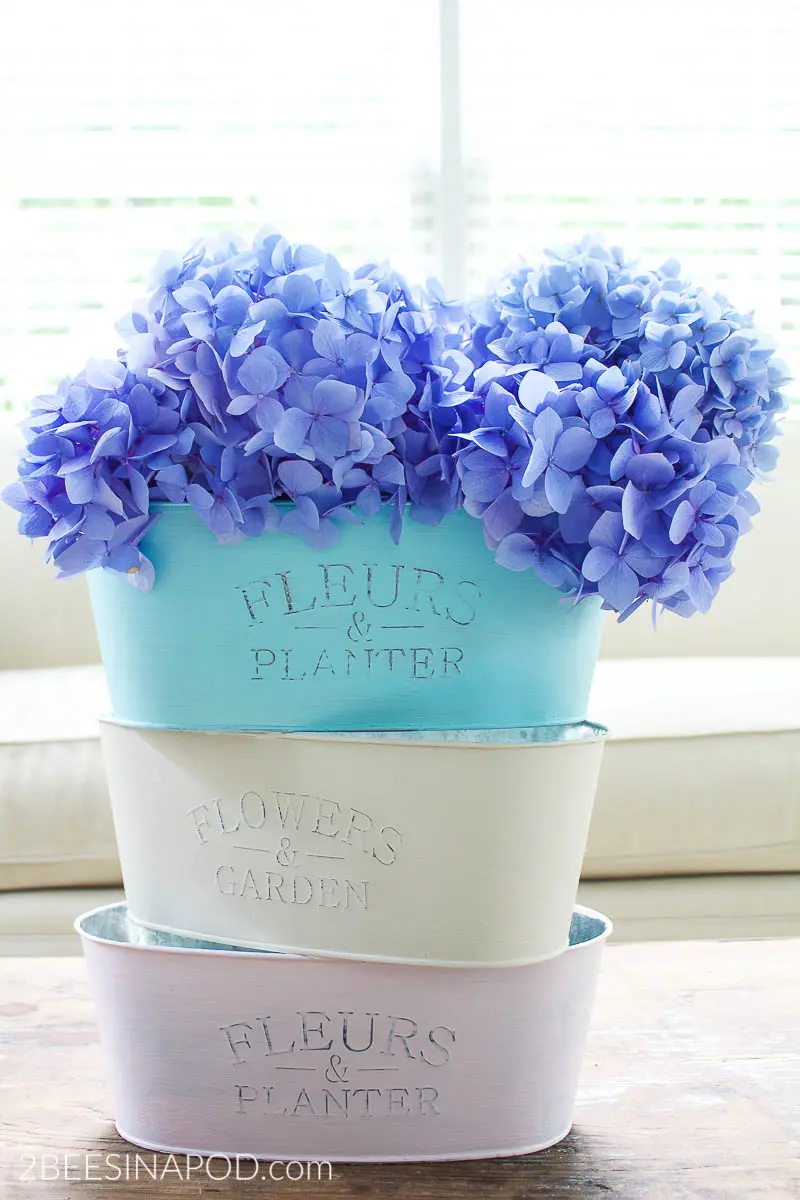 Credit: 2beesinapod.com
This metal planter project is similar to the first planter on our list. The only difference is that instead of aging, vibrant colors were used.
You want to give your metal planter a bit of sanding before you paint on your preferred.
I like using chalk paint because of its rough, vintage feel. You can get different colored chalk paint here for just over $2 each.
You can also repurpose these planters as utensil holders for outdoor parties. This is a fun craft to make for adults!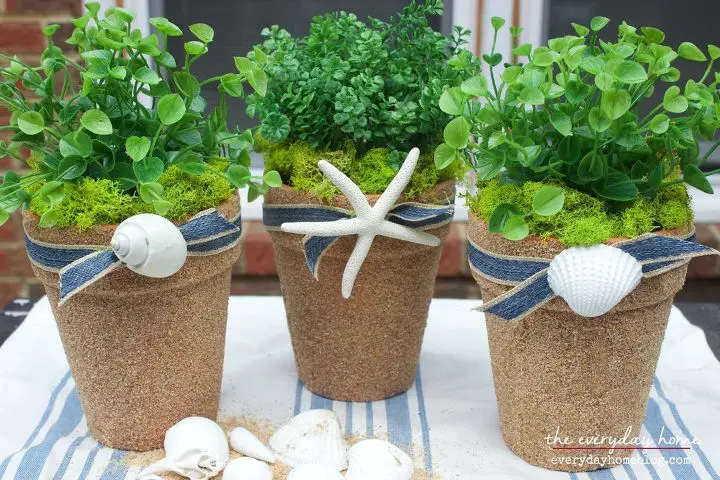 Credit: hometalk.com
This project is a creative way of keeping a beach feel in your home if you're a beach lover. You will need terra cotta pots from your dollar store, glue, sand, and an assortment of seashells.
If you don't have access to sand, you can order them online here. Seashells are also available via this link if your dollar store doesn't have them.
Cover your pots with glue, roll it in the sand, and complete it with a ribbon topped with a seashell. Super easy, right?
This could be a fun craft to make for your teens!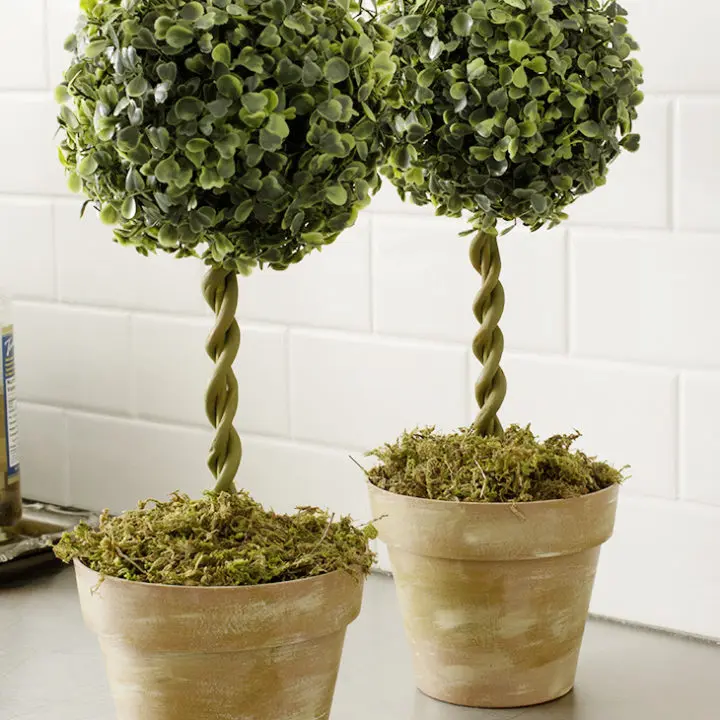 Credit: homemadelovely.com
Your local dollar shop will likely have all the materials you need for this gorgeous topiary tree and planter. Have a read through this page for a full list of materials and step-by-step guide with photos.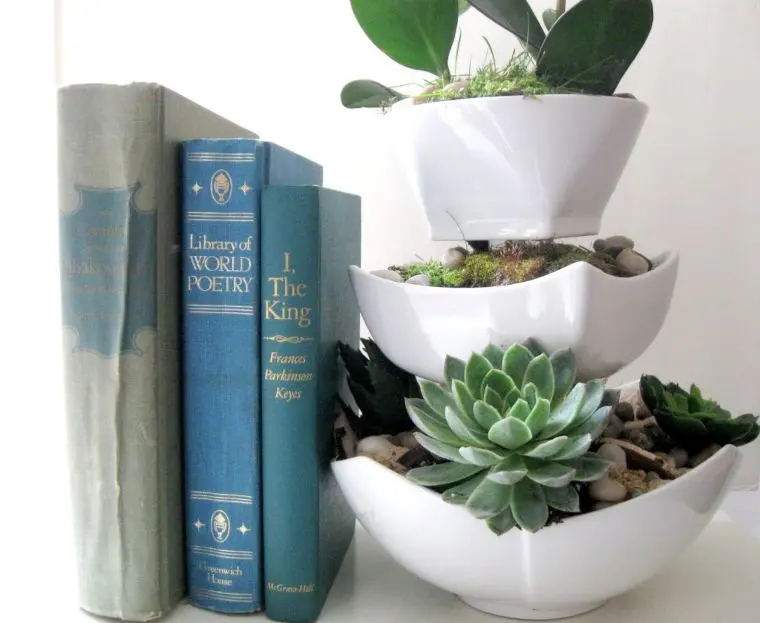 Credit: craftberrybush.com
If a single row of succulents is not enough, why not try three.. or more? To achieve this succulent high rise, you will need to buy various-sized bowls and varied-length glasses from your dollar shop.
The idea is to put the bowls on top of each other using the glasses as the base. I would suggest using a strong-hold epoxy like this to ensure the durability and stability of your structure.
Once the adhesive has dried up, you can decorate your three-tier showcase using a mix of succulents, river rocks, sand, and moss.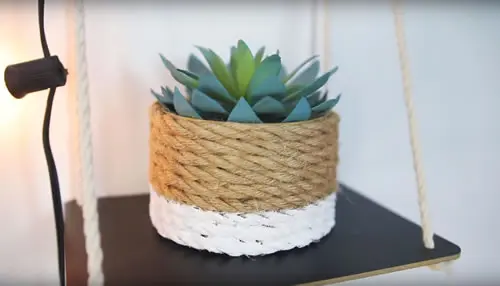 Credit: kimspireddiy.com
This super cute tiny planter is easy to make as long as you can get a small round cardboard box, rope like this, a paintbrush, and a glue gun.
Glue the rope around the box and finish off by painting the top portion with whatever color acrylic color paint you have at home. One tip: as water easily damages cardboard, you probably want to use faux succulents like these on your DIY planter.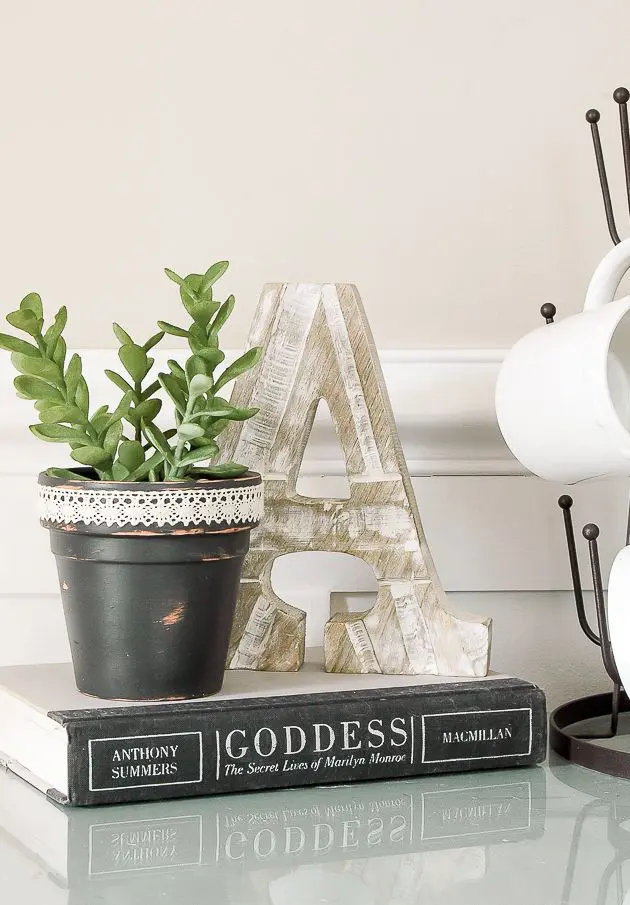 Credit: littlehouseoffour.com
This project is another way of decoratively storing your succulents – the real ones, that is. Use any pot you can find at your dollar store or home.
Paint it with your desired color, and add finishing touches using a ribbon. You have to agree its an easy and inexpensive makeover.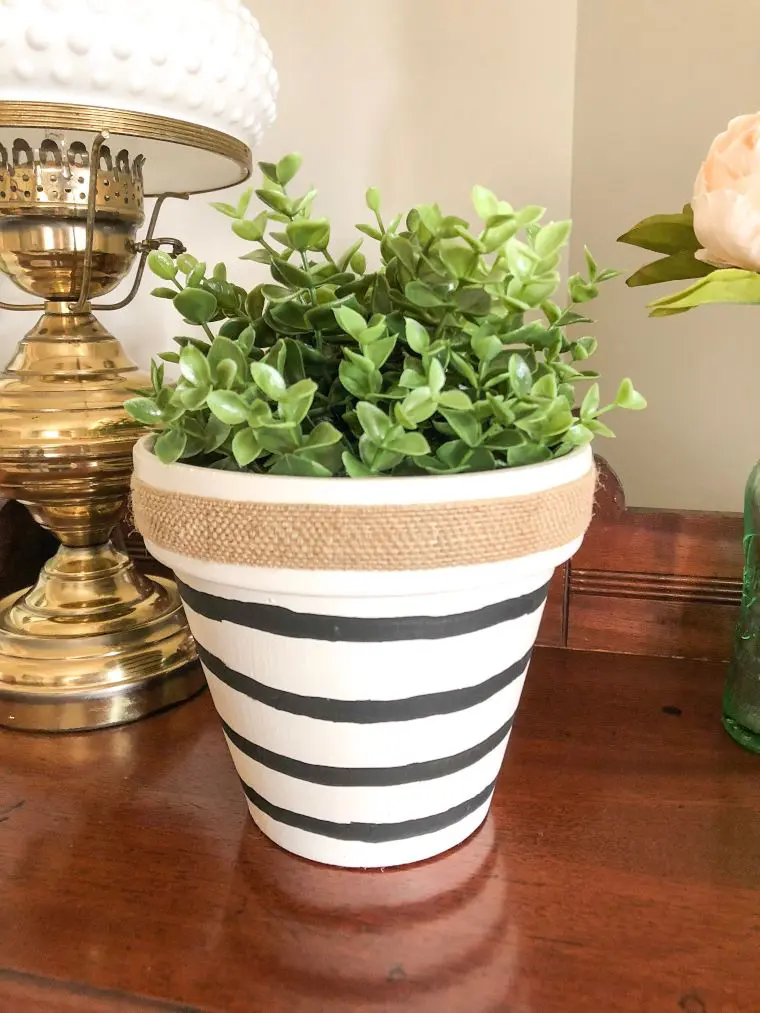 Credit: thecrazycraftlady.com
This project is another take on the decorative pot like the last one shown above. The process is the same, paint it over with your preferred color or design.
Instead of a lace ribbon, a burlap cloth covered the mouth of the pot. Another addition is the wooden letter tiles.
If you can't find wooden letter tags, you can always buy them online here. These tiles are great as they already have holes in them, so all you need to do is thread a piece of rope in them.
The letter tiles are a brilliant idea, especially if you plan on giving this planter with a plant as a gift.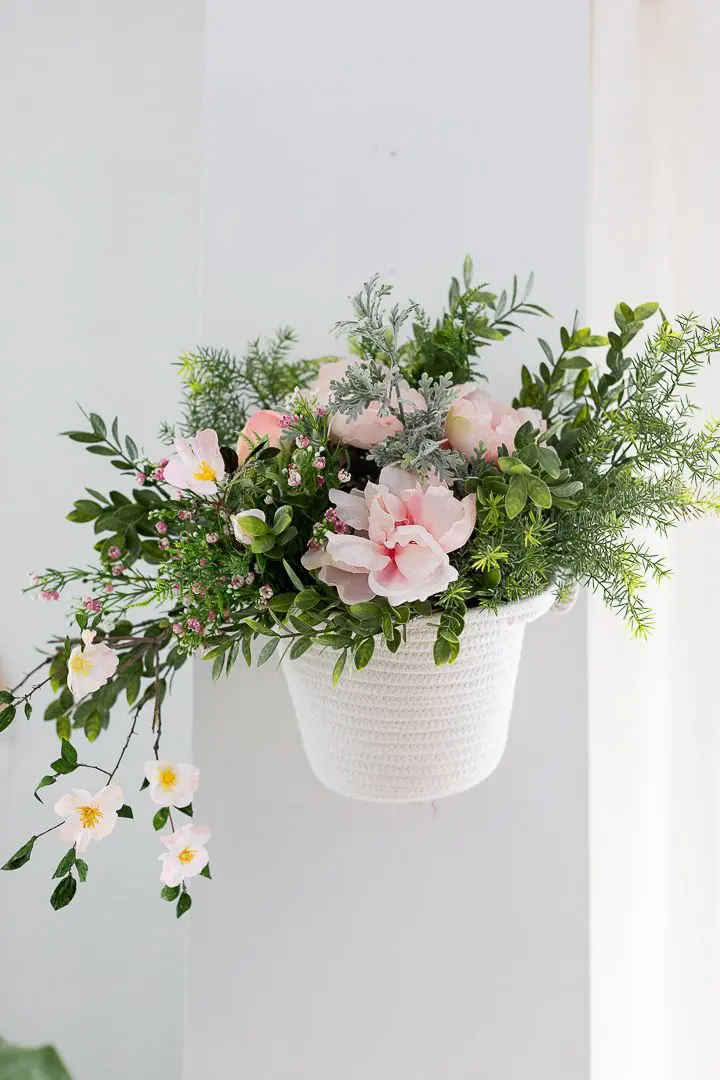 Credit: craftberrybush.com
This DIY craft is another alternative to a hanging planter. This time, we use woven rope baskets and faux flowers (recommended because of the planter material, plus it's too high to maintain regularly).
To see how easy this project is done, watch this video on YouTube.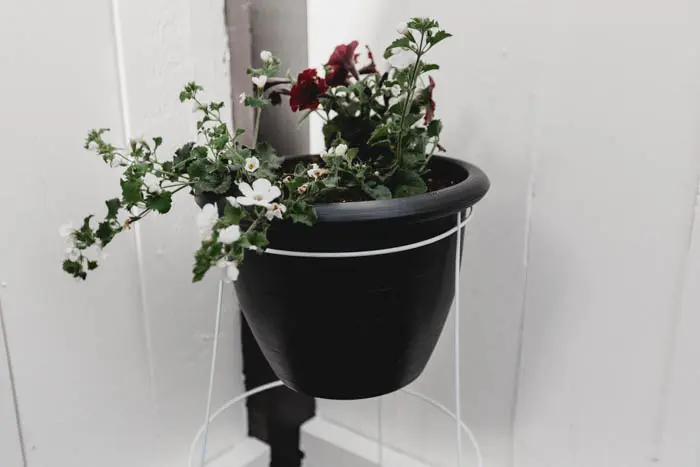 Credit: lovecreatecelebrate.com
Besides wire cutters and spray paint, your dollar store should have the remaining materials (tomato cage and pot) for this project. Read through this post for detailed instructions on recreating this planter that would look great on your front porch.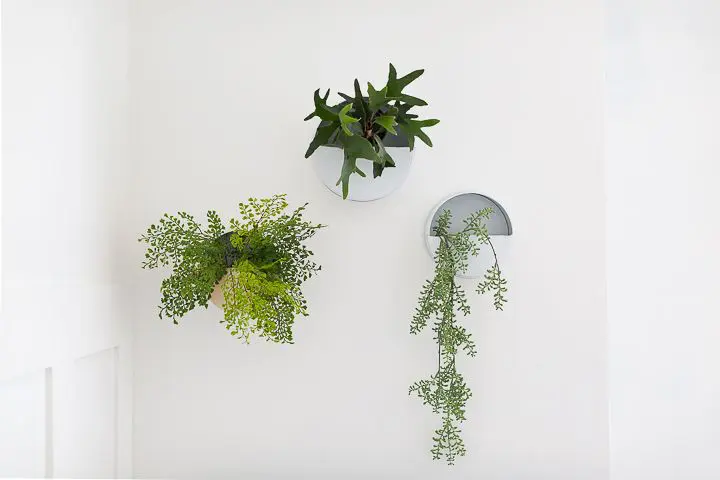 Credit: craftberrybush.com
Wall planters at Pottery Barn can cost you as much as $199 for three pieces. But why spend big when you can use dollar store finds to achieve a similar effect?
Actually, if you have old cookie tins lying around the house, you probably don't even need a dollar store trip. You would need spray paint, which you can get here if you don't have any at home.
If you want to watch a video on making the cookie tin planter, head on to this YouTube link. There, you just saved over $100.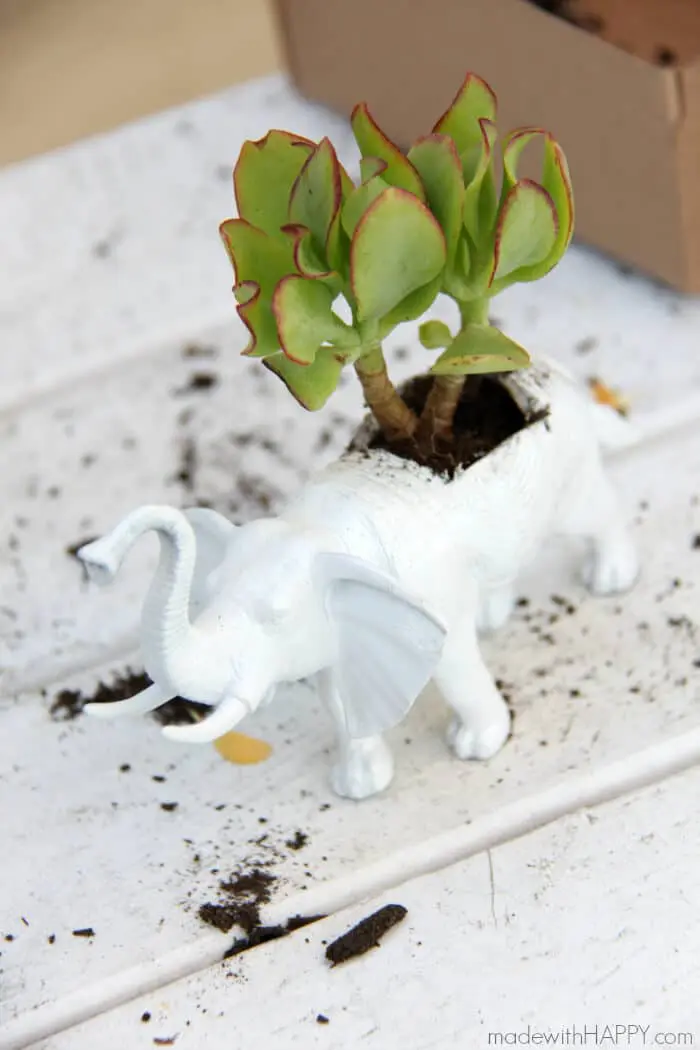 Credit: madewithhappy.com
Anything from the dollar store can be a planter.
A butter dish container, for instance. All you need to do is glue the lid on the base, and that's it. Instant rectangular glass-like planter.
For more eccentric planters, use animal figures and poke a hole big enough for plants to fit in. I would suggest using faux plants or flowers like these when using animal figures for low maintenance purposes.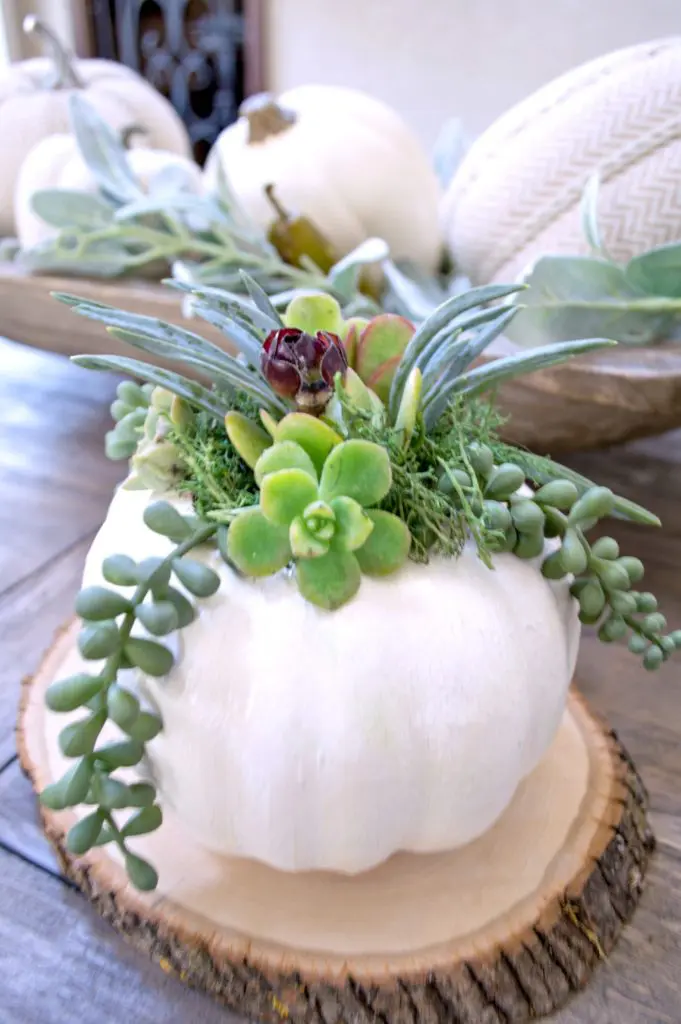 Credit: myuncommonsliceofsuburbia.com
This planter hack is the perfect way of repurposing old foam pumpkins used as spring or Halloween decors. The idea is to place your succulents and soil on a plastic or glass cup, which you will later on put in the pumpkin.
Paint the pumpkin using your preferred color and cut an opening on the top using a knife or a cutter. Insert the cup with succulents through the hole, and you're done.
For an added rustic look, you can mount your pumpkin planter on wood slices, usually available at your local craft stores. If you can't find any, try to check this link where I ordered mine from – they come in packs of 10, so I have a lot of extra slices for other crafting projects.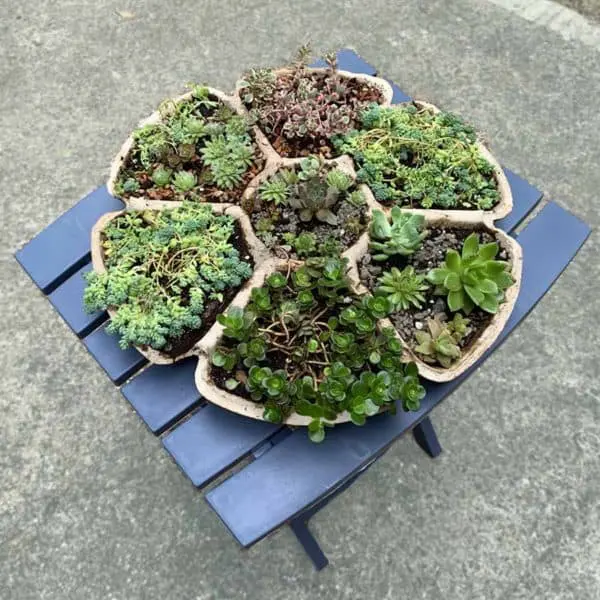 Credit: artsyprettyplants.com
Would you believe this flower-like planter is made from chip and dip trays? It's hard to imagine, especially given its cement look.
Here's a video showing how they made it, along with the materials involved.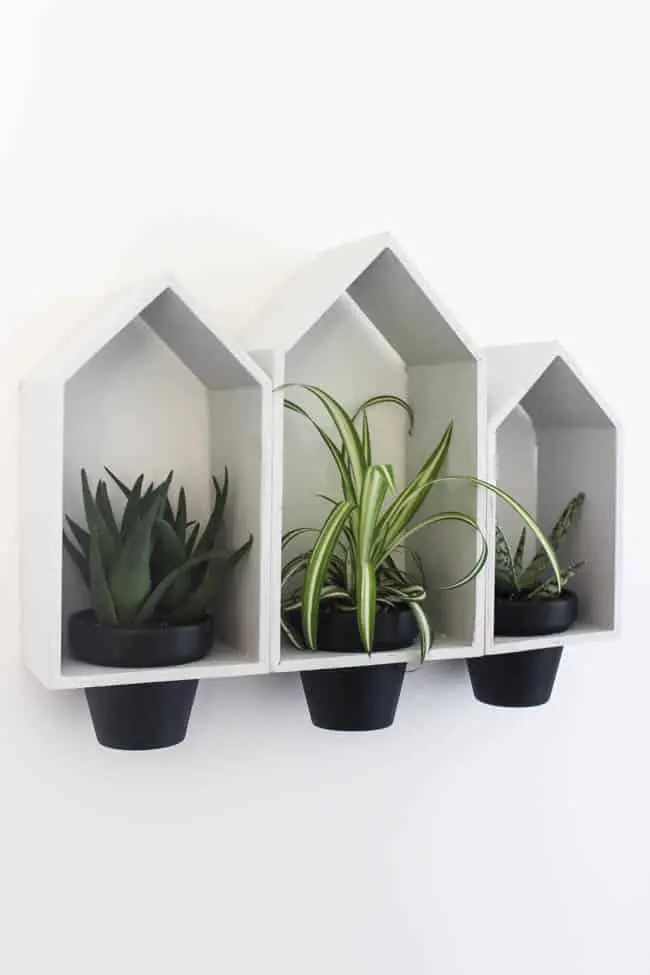 Credit: lovecreatecelebrate.com
This planter idea is another space-saving hack for your home. You will need dollar store pots, nesting houses, a jigsaw, a drill, and a wallpaper.
You will also need a paint color of your choice. This project used a matte black finish like this for the pots and white paint for the nesting houses.
For visual learners like myself, here is the video tutorial.
Conclusion
Whether you prefer real greens or artificial ones, you must admit, these planter ideas are ingenious and relatively inexpensive.
Help us spread the dollar savings by sharing these ideas with your plant-loving friends and family!