Do you love making your own jewelry? Get crafty with these DIY ring projects and accessorize to your liking.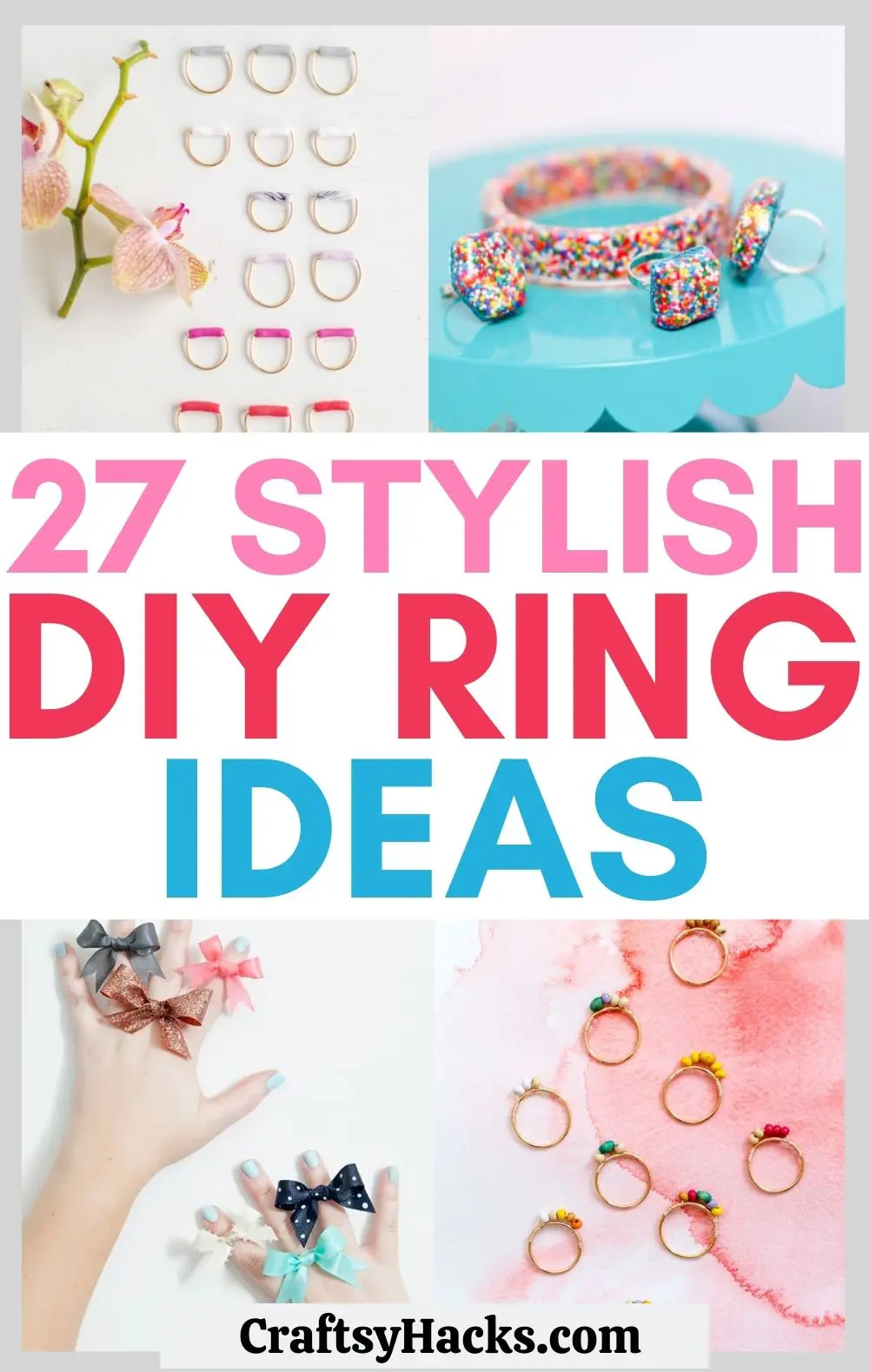 We've all seen them out there in the wild. The gorgeous people are wearing multiple rings on each finger, brass and silver and gold shining from their knuckles as they gesture delicately.
Now, I don't know about you, but wearing rings makes me feel a lot more put together. I could be having a bizarre day, but the second I put some rings on, I feel almost ethereal.
However, buying rings can quickly rack up in dollar amounts, not to mention they're not always a perfect fit for your style (or your finger). Luckily, DIY rings are easy to make and look amazing; very bohemian chic!
So, why don't we take a stroll through some DIY ring ideas to adorn our hands with?
1. DIY Wire Ring with Leather Tassels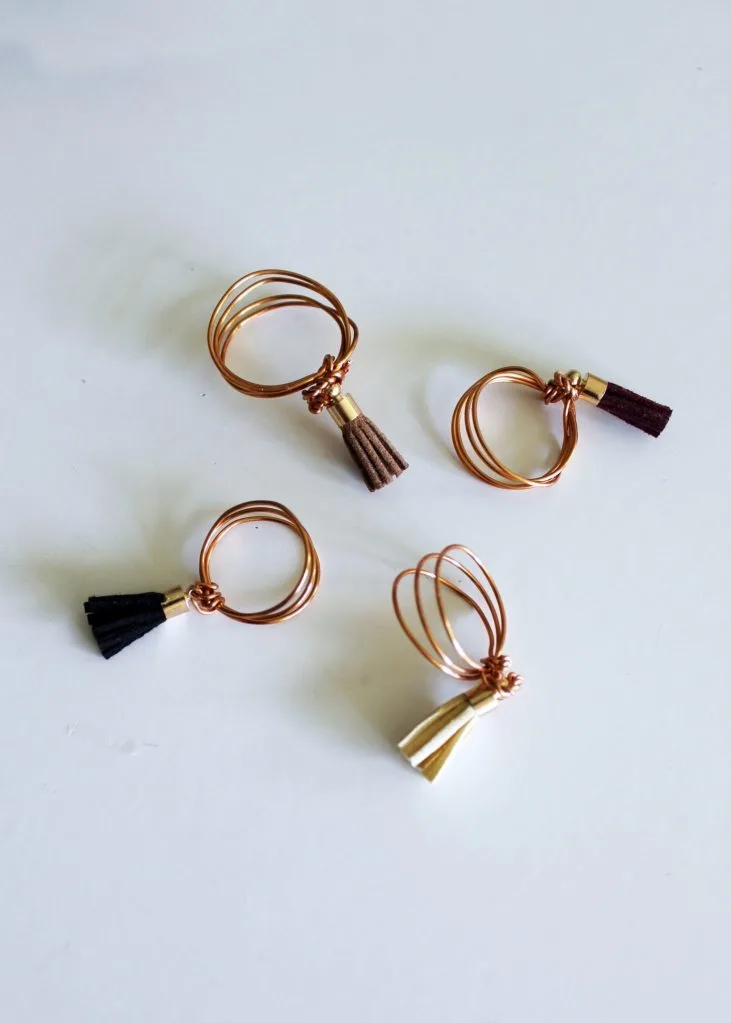 Credit: creativefashionblog.com
We're kicking off the list with something really unique: a leather-tasseled ring. Hear me out! This gorgeous adornment is so boho, easily layering up or standing solo on your finger.
I love the delicate leather tassels on these rings; the contrast between brass wire (which you can find here) and leather is just so timeless. Stuck for the tassels? Grab some charms to use for your ring craft here.
2. DIY Wire Heart Ring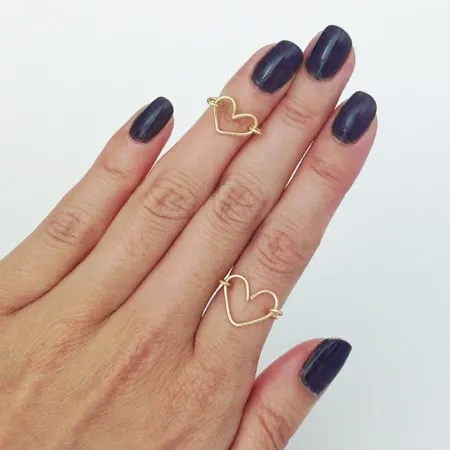 Credit: yesmissy.com
From bohemian chic to adorable minimalism, next up is this delicate DIY wire heart ring. These are so incredibly easy to make, requiring only your 20-gauge wire, some clippers, and your jewelry pliers.
I recommend grabbing a set of pliers like this, as they contain clippers, as well as needle-nose and flat-nose pliers. All that's left is to bend your wire into a heart shape, then create the ring portion to finish it off.
Love DIY jewelry? Check one of my favorite ETSY jewelry stores, 'WinterWaspUK' here.
3. Stone and Wire-Wrapped Rings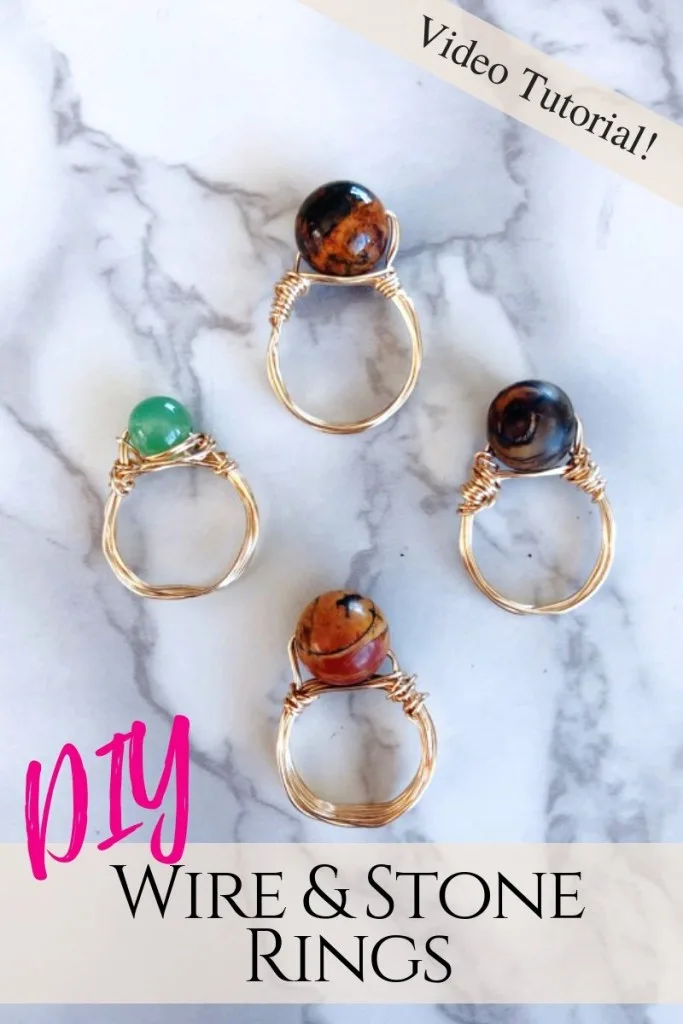 Credit: creativefashionblog.com
These stone and wire-wrapped rings look like they came straight out of a nearby jewelry store, but you don't have to shell out the asking price. In fact, these stunning rings make for super cost-effective gifts.
One thing that's recommended in the tutorial is to purchase a mandrel, a tool used by ring makers to size rings. While you can get by just fine without one, having one will make the finished product a bit cleaner.
If you'd like to pick up a mandrel, you can find the one here. Also, if you're looking for another gift for your fashionable friends, these macrame leaf earrings ought to do the trick.
4. Easy Folded Wire Rings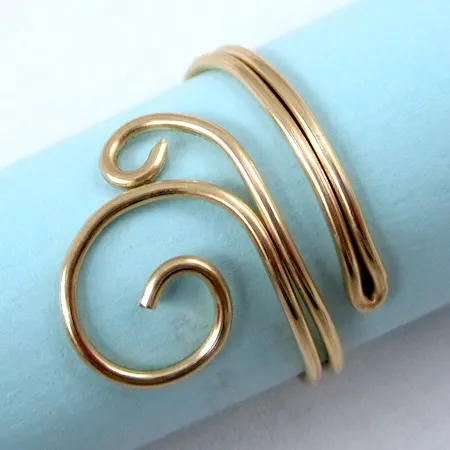 Credit: jewelrymakingjournal.com
Nothing screams 'unique' more than a custom set of rings, but who says a ring has to have a jewel to be beautiful? These easily folded wire rings kick that assumption right out the window.
Featuring elaborate twisted shapes and shining wire, this technique is perfect for creating larger rings (the kind that stretches knuckle to knuckle). They're both cheap and easy to make.
5. Dainty Stacking Rings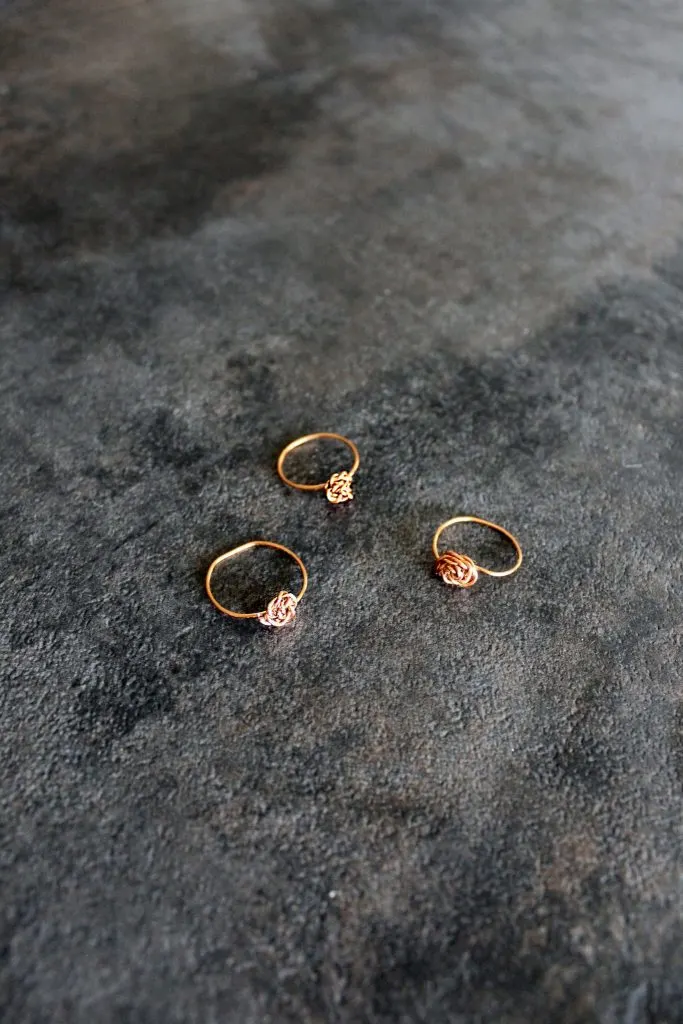 Credit: creativefashionblog.com
On the other end of the spectrum, we have dainty rings made for stacking. I love the stacked look; it's so elegant, earthy, and ethereal. Thanks to this technique, you don't have to drop hundreds for the accessories.
The key to a dainty ring is a slightly thinner wire gauge and only going once around your finger (so, no looping back around). The excess wire is twisted onto the front to create a pseudo-rose, and you're done!
6. Colorful Czech Beaded Rings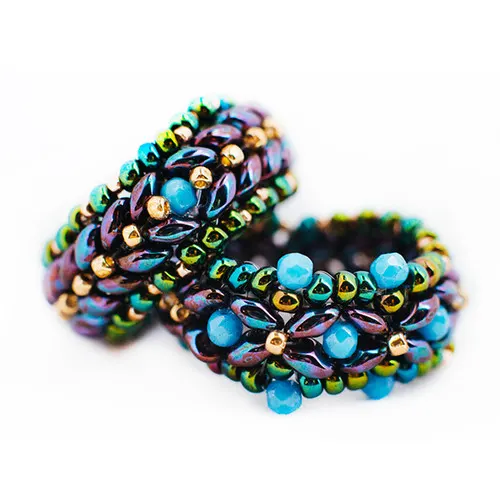 Credit: kraftika.shop
Next up, we're diverging from the simplicity of bare wire to another realm: the realm of the bead. Beaded rings embody bohemian style, not to mention they're super easy to experiment with.
If you've tried your hand at a couple of the other rings on this list, make this one your next endeavor. You'll be using multiple bead types for this ring, so it's best to buy in sets. For example, this Superduo set.
7. Delicate Beaded Rings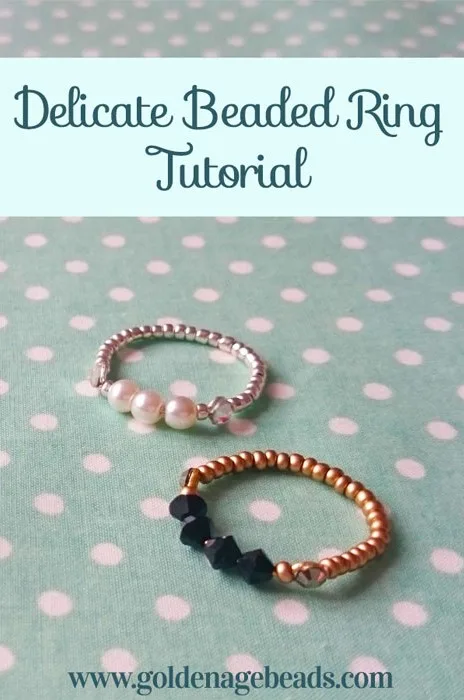 Credit: goldenagebeads.com
Beaded rings can be dainty, too, as evidenced by this delicate beaded ring tutorial. These are great to wear day-to-day, and they come together pretty quickly once you've got the hang of the technique.
Now, if you've never made a beaded ring before, then you'll most likely be missing a couple necessary tools. For example, you'll need a beading thread like this and a beading needle (here) to create the dainty accessory.
8. Easy Elastic Rings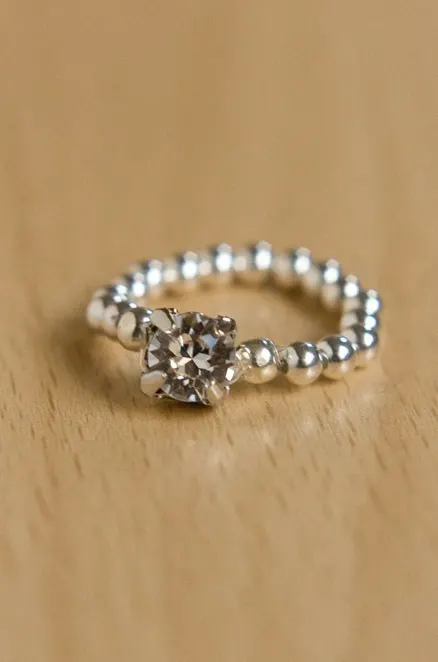 Credit: makeandfable.com
Up until now, we've been looking at rings that are solely for adults. But what if your kids want to get in on the fun? Look no further than these easy elastic rings – perfect for an afternoon craft session with the kids.
Using this technique, you'll get all the payoff of a wire ring with none of the potential harm to your little one's hands. Not to mention, these are also a perfect kid-friendly gift since you don't need to size them first!
Don't worry. If your kids aren't into jewelry, they can try any of these 21 delightful duck crafts. They're a blast!
9. DIY Duo-Bead Wire Rings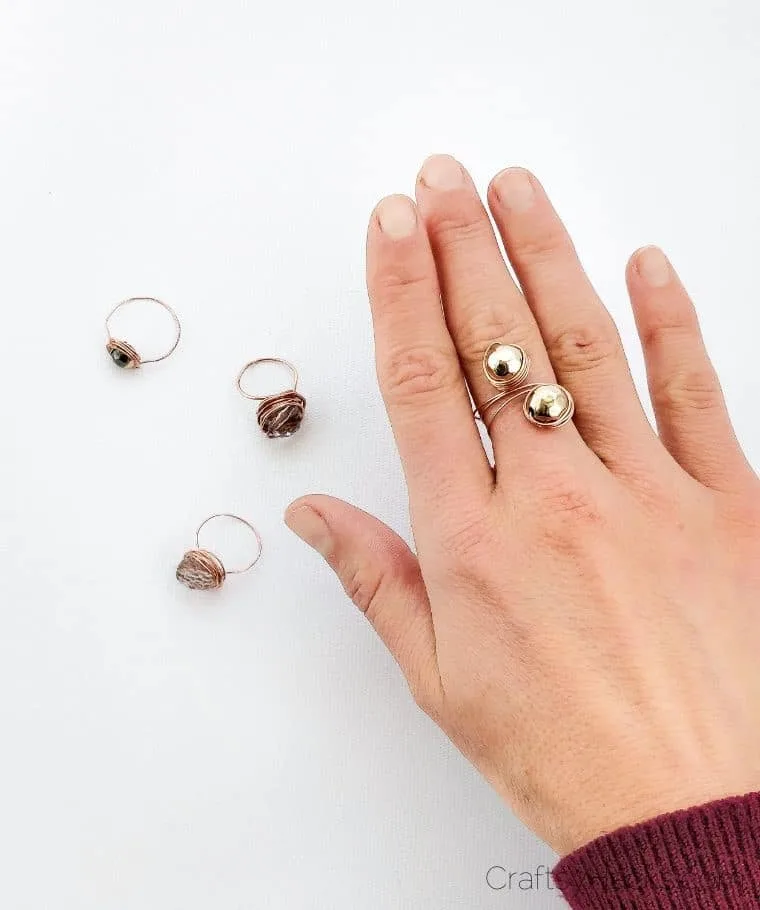 Credit: craftsyhacks.com
This one is a tutorial from yours truly, and I have to tell you, I'm in love with these rings. They're so easy to make, don't cost a heap, but they come out looking like store-bought gifts!
The key to the dual-bead look is a double-ended approach. You thread your chosen beads (I recommend these) on either end of the wire ring's excess before rolling it back and around. It's really that simple!
10. Resin Sprinkle Rings
Credit: tikkido.com
Here's another one that's sure to have the kids smiling. These resin-sprinkle rings look like a birthday cake come to life! Even if you've never worked with resin before, don't worry; these are super simple.
Of course, the crucial ingredient for these rings is resin. I recommend a clear-casting epoxy kit like this, which comes with everything you need. Then, you just need some molds like this, and you're ready to craft!
I love the idea of making these as a party favor for your kids' next bash. In fact, they'd go great with any of these other 20-dollar store party ideas.
11. Stamped Wrap Ring with a Custom Message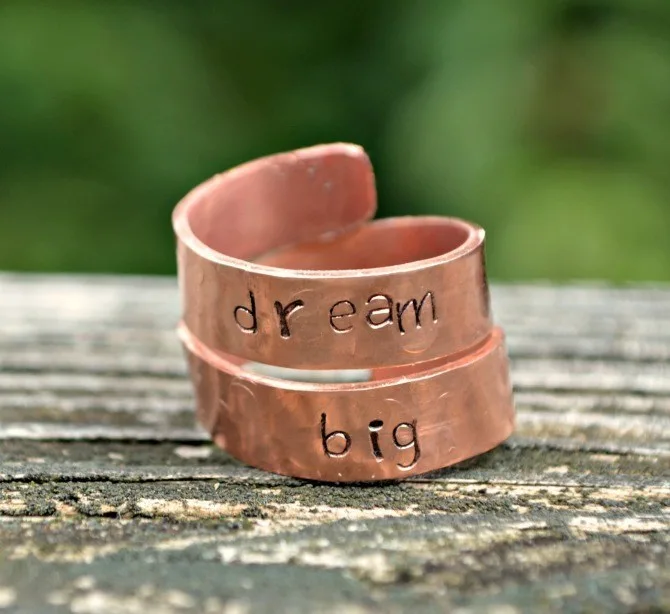 Credit: amylattacreations.com
The next ring on our list requires a little previous ring-making experience, as well as a steady hand. Trust me, any effort you put into this ring is so worth it because it is an absolute knock-out.
Whether you're making it for yourself or as a gift, these rings seriously make a statement… literally. You'll be using a Dremel power tool to cut, sand, and engrave the metal, so make sure the kids aren't nearby!
12. Stretchy Stackable Bead Rings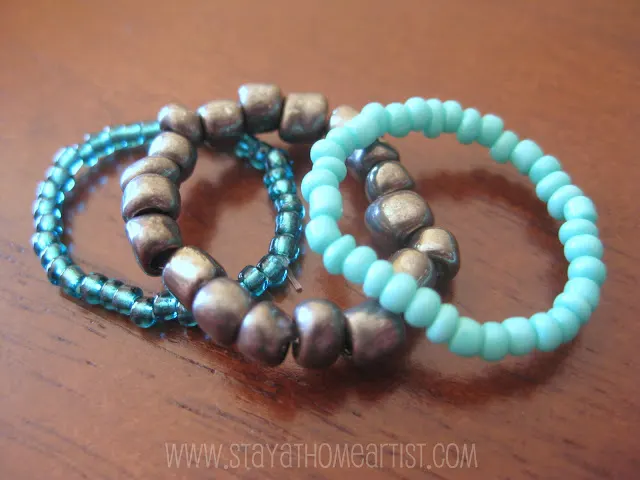 Credit: stayathomeartist.com
Let's snap back to a more accessible medium: elastic. Equipped with a roll of transparent stretch cord and any beads you like, you can create infinite rings (which is why I love this craft so much).
Enjoy the simple way to express yourself through your jewelry. These rings are super easy to size; you just have to stretch the cord around your finger. With a beading needle and a little patience, you'll be set.
13. Multi-Bead Wire Wrapped Ring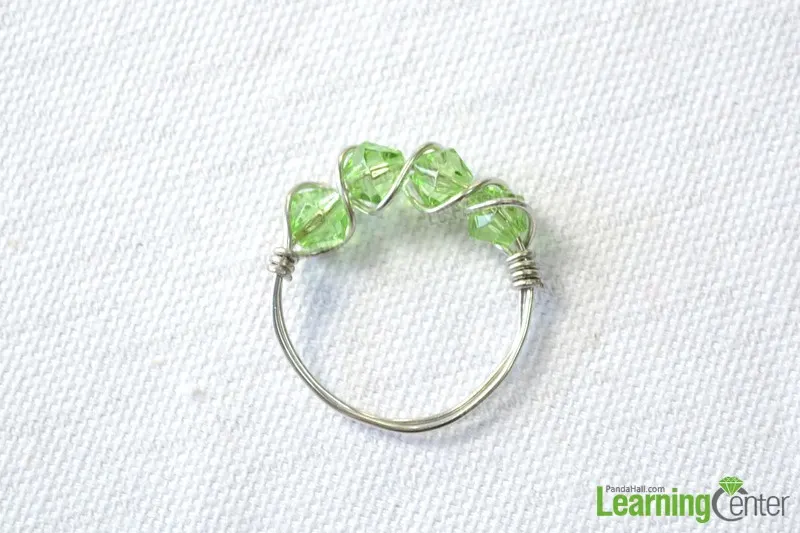 Credit: pandahall.com
This one is ideal if you're creating a ring for your partner. With multiple stones and an intricate wire-wrapped design, your loved one will immediately see the care and love you put into making this beauty.
When choosing the bead color and wire type, I recommend thinking about your partner's existing jewelry. Will this new piece be something they wear daily, or just for special occasions? Tailor the colors to suit.
14. Wire-Wrapped Sea Glass Ring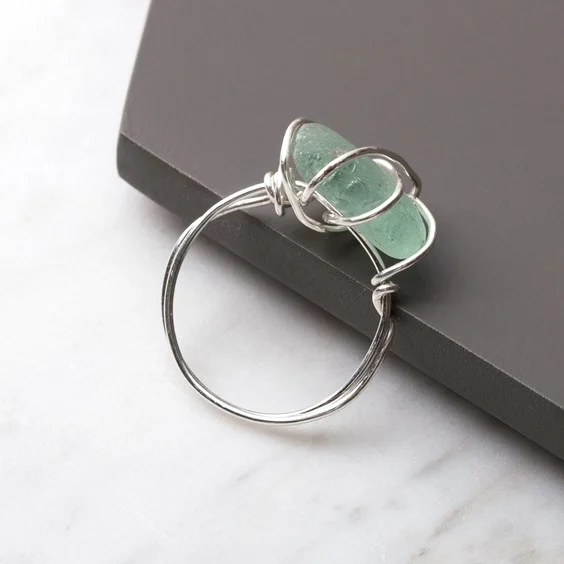 Credit: kernowcraft.com
Here's another take on the wire-wrapped stone, but this time, you'll be using sea glass. If you or your recipient are beach lovers, this is the perfect way to carry a little bit of the coast anywhere you go.
If you don't already have a souvenir from your last beach adventure, scour your local coastline for well-worn sea glass in an appealing shade. From there, simply follow the tutorial to create something unique.
15. DIY Open Back Bezel Rings with Resin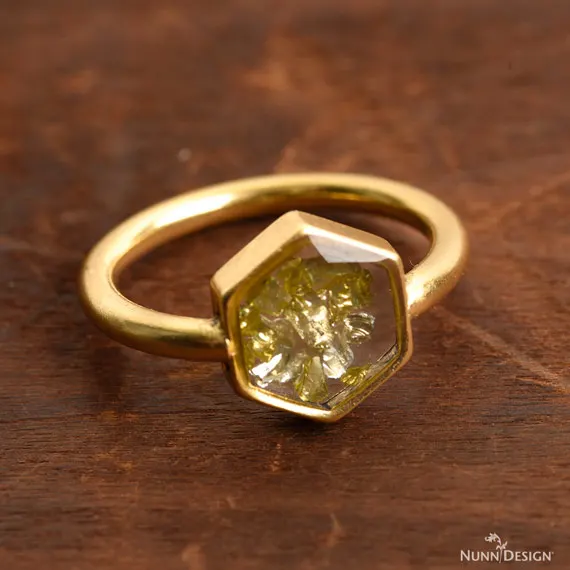 Credit: nunndesign.com
This ring 100% looks like something you bought at a jewelry store, but you can tell people you made it yourself when you wear it. How cool is that? The classic design and color make it super versatile too.
To get this right, you'll need to pick up some open back bezel rings from your local craft store. If you don't already have resin, grab some here and get crafting.
16. Harry Potter Lightning Bolt Ring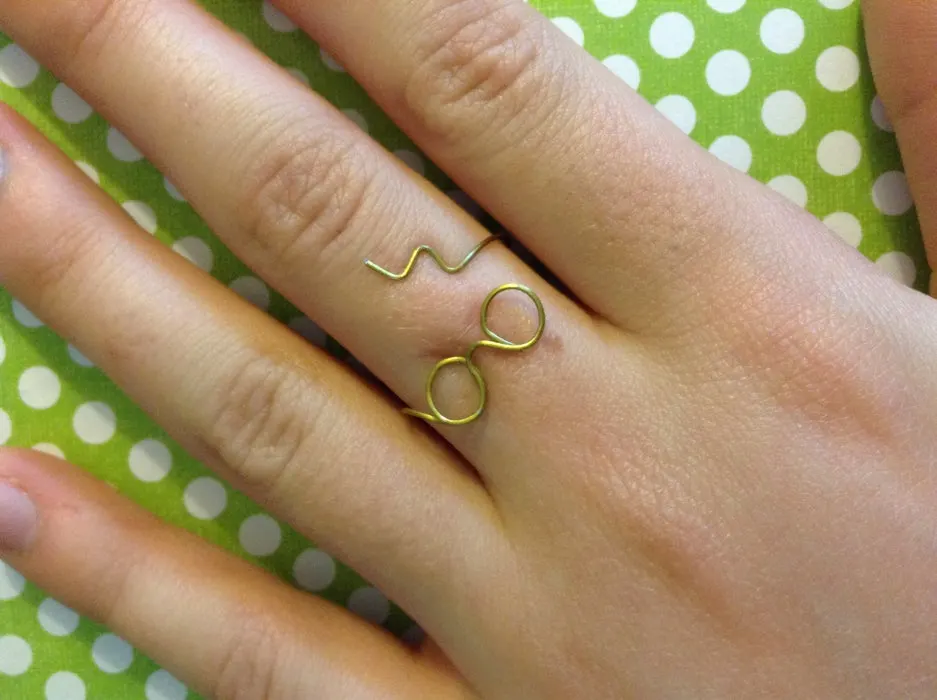 Credit: instructables.com
This one goes out to all the nerds and Potter-lovers out there. Buying merchandise from your favorite magical franchise can get expensive quickly. Still, with wire and a little patience, you can magic up your own.
If you're not into Harry Potter, maybe you have another franchise you can try this trick with! The key is to figure out the character's essential features, then mold them as a wraparound ring. Go nuts and have fun with it.
17. DIY Mini Beaded Rings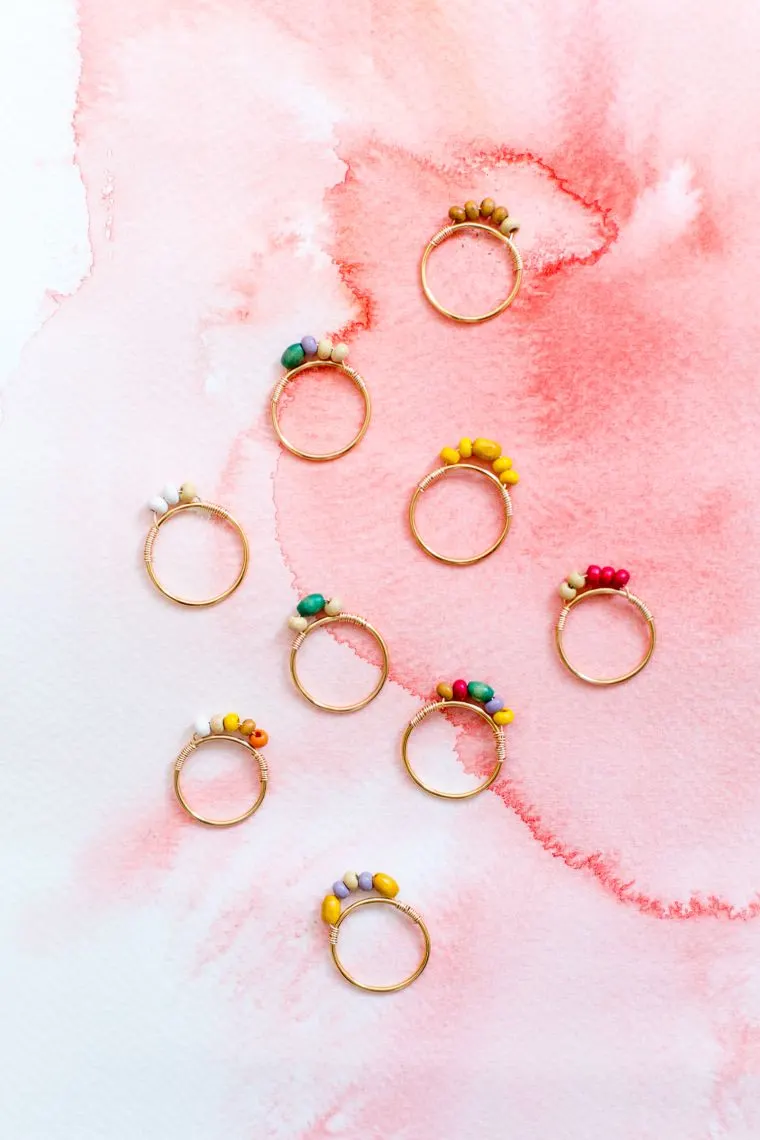 Credit: fallfordiy.com
Thanks to these rings, we've circled right back around to chic bohemian style, and I'm definitely not complaining. The beaded arches atop these rings make for a classic yet unique look you'll adore.
This craft actually uses ready-made rings for the base, then winds the bead arch atop the existing ring. It's a clever way to save time and create a unique shape! So, grab some ready-made bands here to start.
18. Wraparound Leather Heart Ring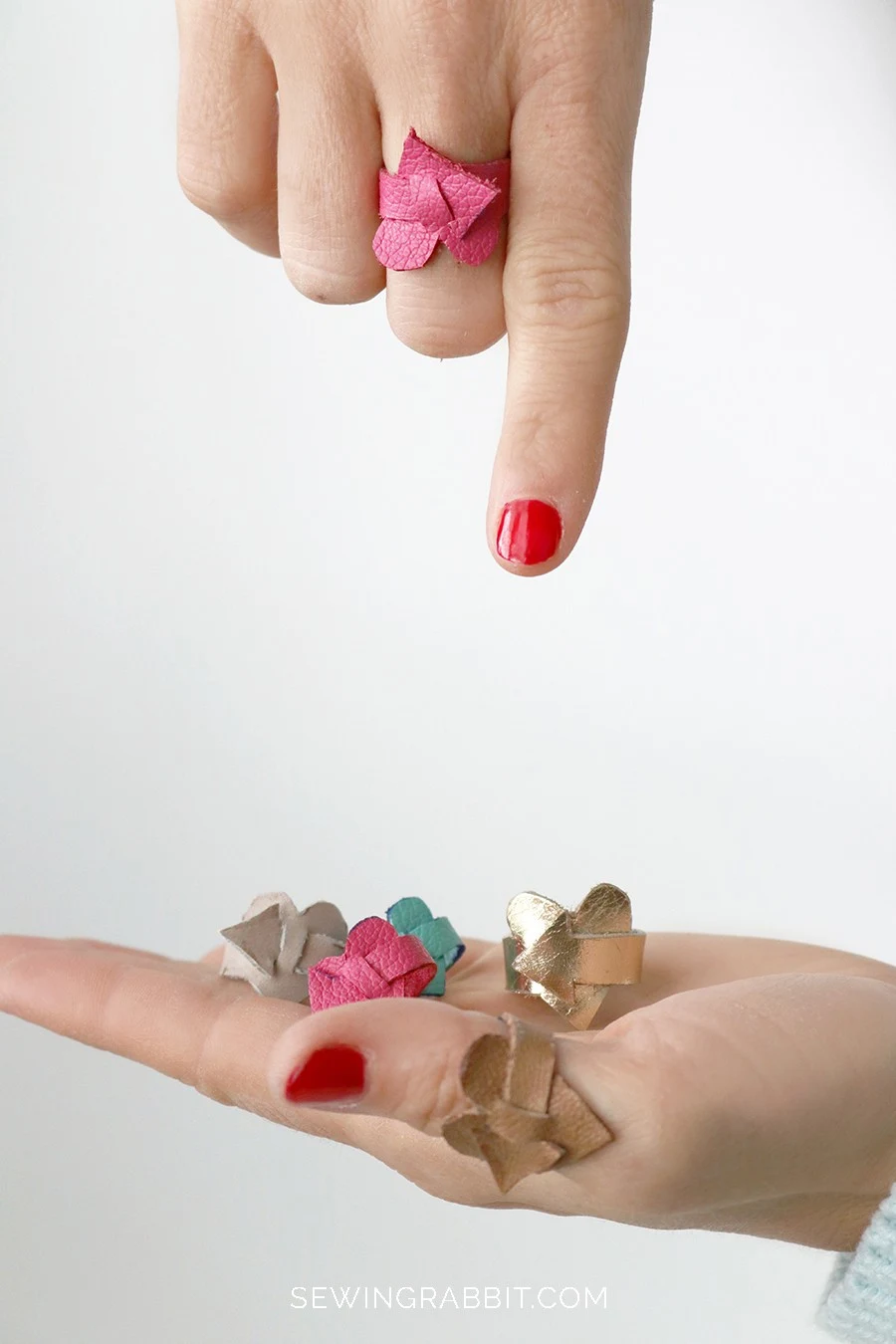 Credit: mesewcrazy.com
Instead of using leather as a simple add-on, why not take it to the next level? These rings are made entirely out of faux leather (which you can find here), and they're a perfect project for the beginner sewer!
In fact, I'd suggest taking this tutorial for a spin with your kids in tow (if you have them). Not only will you all spend some quality time together, but they'll also start learning a valuable skill.
19. Stiff Ribbon Bow Rings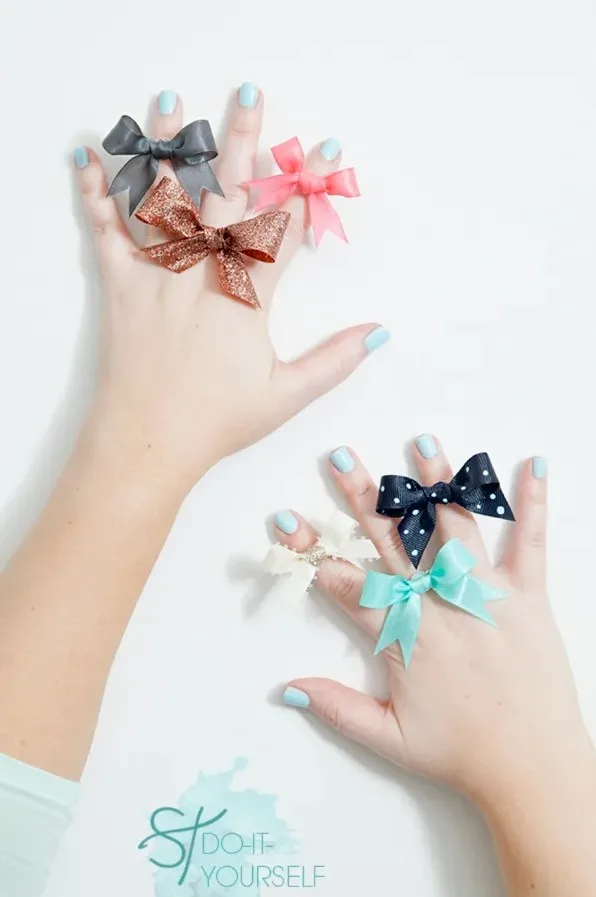 Credit: somethingturquoise.com
Speaking of crafts to do with the kids, these stiff ribbon bow rings are a perfect party activity. Each child can pick their favorite ribbon from an assortment, then you can help them make a ring to take home!
All you need are some ring bands, your ribbon, decoupage glue, fabric stiffener (here), and you can get cracking. You can even grab some little boxes to put the completed rings into, making them even more special!
Not to worry, those aren't the only party ideas hiding up my sleeve. Check out these 18 mermaid crafts for more kid-friendly party crafts.
20. DIY Spoon Ring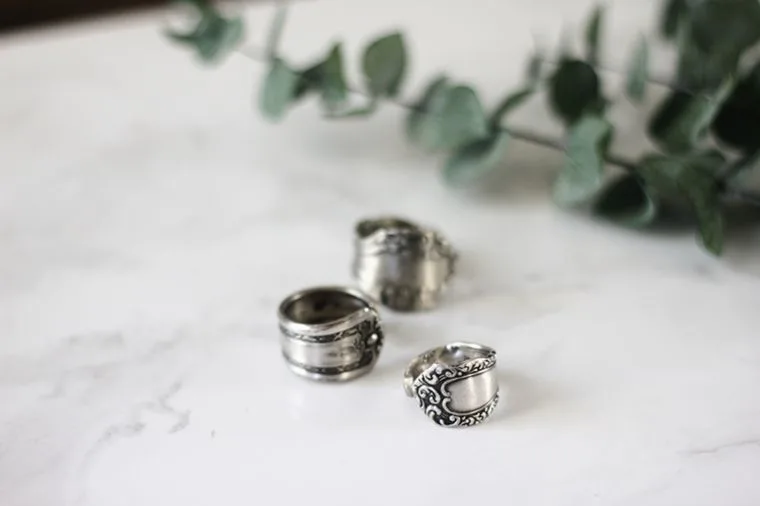 Credit: themerrythought.com
This craft might not be what you first expected when you read the title (I know it certainly surprised me). This is a ring actually crafted from an old spoon, not made to look like a spoon. How crazy is that?!
If you have a unique memento – maybe from a lost grandparent – you can use this technique to turn it into something you can take with you everywhere.
The key? Hammering away at it with a rubber mallet (here).
While it takes some patience and muscle, the result is definitely worth the sweat.
21. Multi-Strand Bead Ring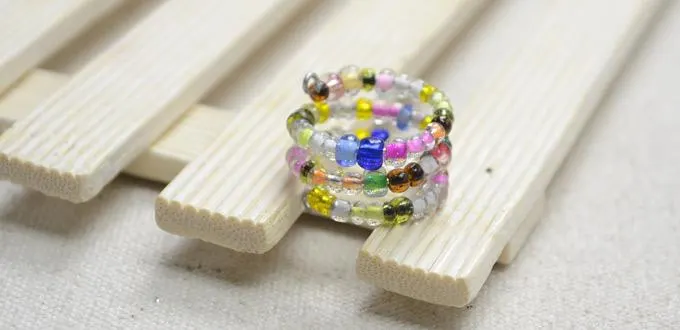 Credit: pandahall.com
Whether you're just a colorful soul or you need a craft to do with the kids, this is the ring for you. With multiple strands and endless possibilities, this ring allows for the ultimate creative expression!
This ring is entirely comprised of glass seed beads, so one multi-colored set of seed beads will sort you for multiple rings at once. I recommend grabbing a bulk kit like this (especially if there are multiple crafters).
22. Leather Rings DIY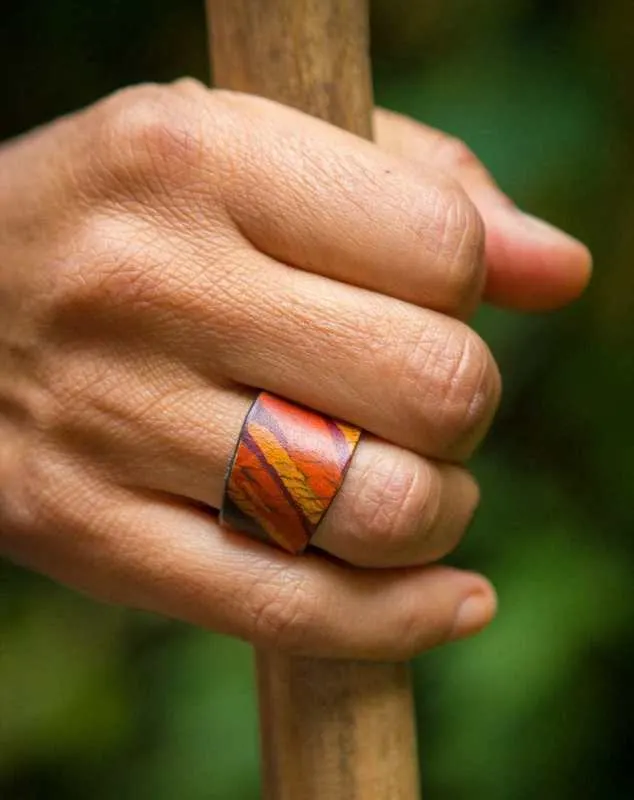 Credit: secondskinblog.com
If you're making a ring for the man in your life, or if you enjoy a more masculine jewelry style, this leather ring craft might be for you. Using vegetarian tan leather like this, you can make it for yourself!
You'll need quite a few tools to get the job done, many of them specific to leatherworking. So, this might be an excellent introductory craft if you're considering entering the leatherworking world!
23. Simple Filigran Wire Rings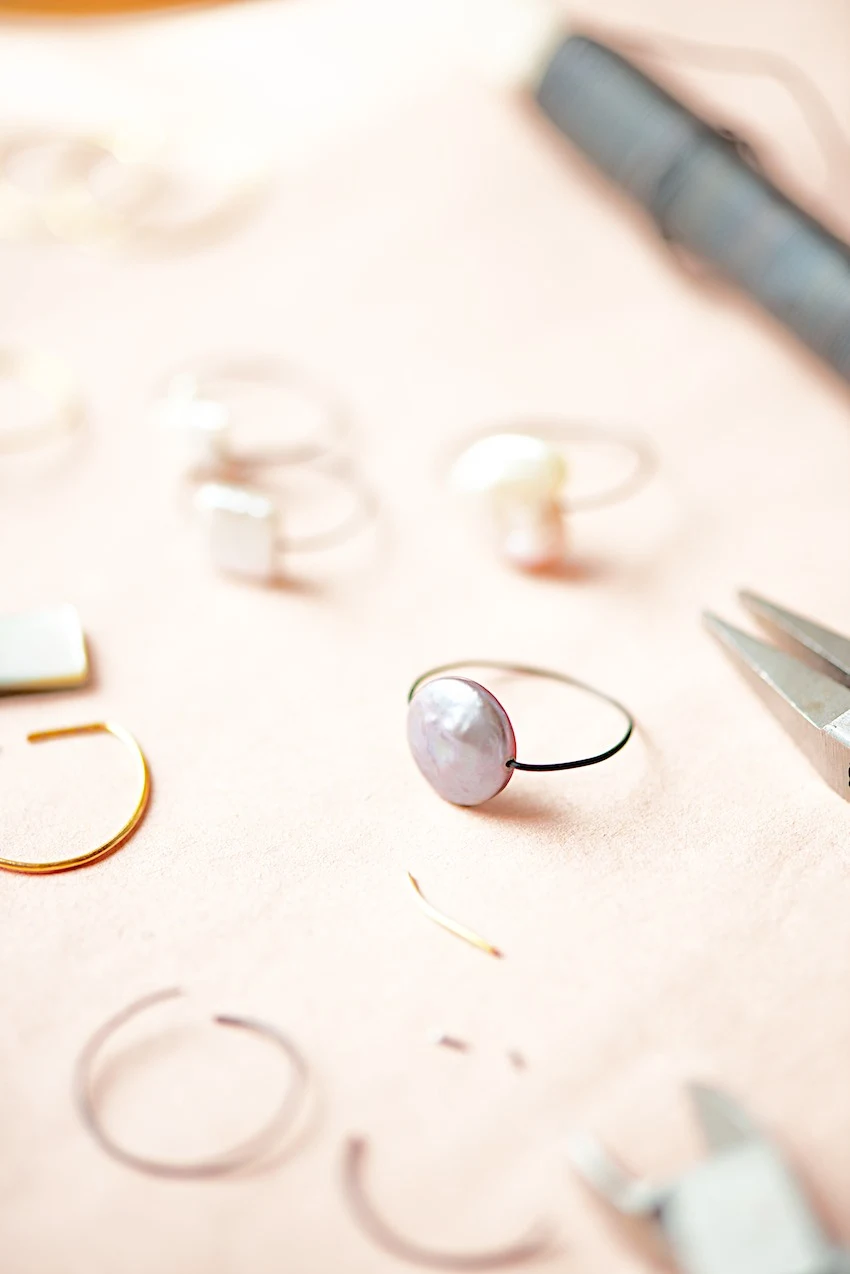 Credit: lebenslustiger.com
Simplicity has really come back in style, and this filigree wire ring places a gorgeous pearl or bead as the focal piece. The goal is to bore a small hole through your 'jewel,' then thread it onto your wire.
You can opt to buy a pre-drilled bead as your centerpiece. However, if you're using a pearl or stone you already own, you'll need to delicately drill a small hole through it. Voila, you've got a gorgeous ring.
24. DIY Tube Rings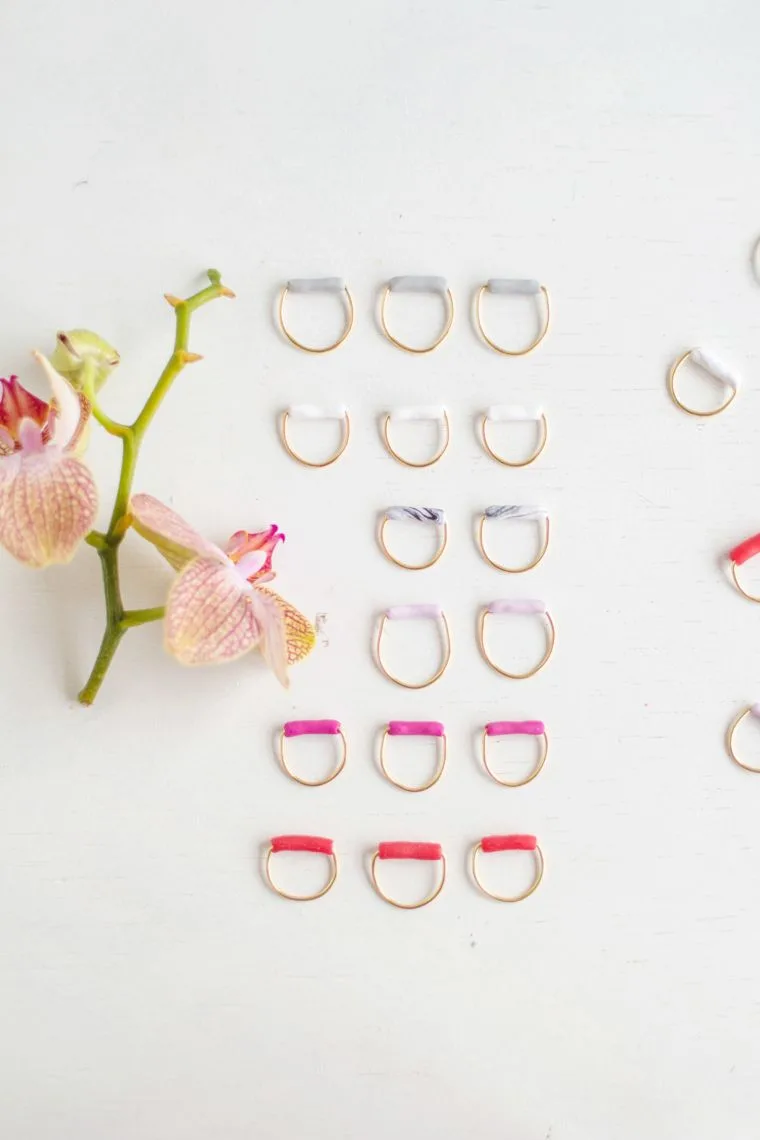 Credit: fallfordiy.com
These are the kind of rings that are so easy to craft that you'll get caught up in making them. Seriously, prepare to have a surplus of gifts for your friends. What do you need for these intensely simple rings?
Some basic ring-making supplies (i.e., pliers, wire, mandrel) and some polymer clay (which you can find here). Your only job is to shape the polymer clay, fix it to your ring, and bake it for the final result.
These aren't the only DIY crafts that can churn out results. These DIY fingerprint glass magnets also come together super quickly and super easily.
25. DIY Twine Bow Ring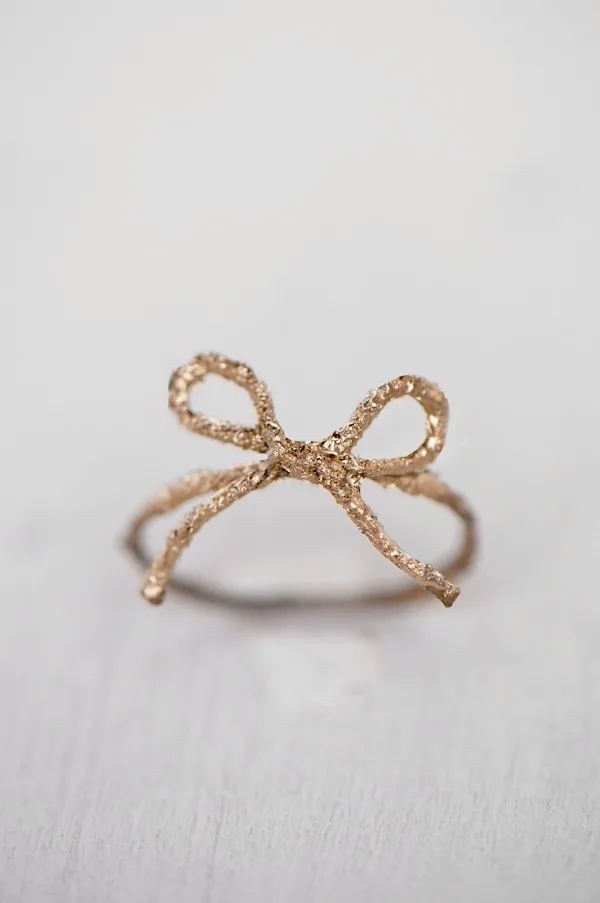 Credit: ohthelovelythings.com
This one goes out to all the farmhouse décor lovers out there. If you're adoring that scheme in your home, why not bring it with you wherever you go? This DIY twine bow ring makes that dream a reality!
Using fabric stiffener (much like the ribbon ring from earlier in this list), you can create the cutest little twine bow to adorn your finger. Make multiple stackable versions with no bow, or just use one as a highlight!
26. DIY Simple Lace Rings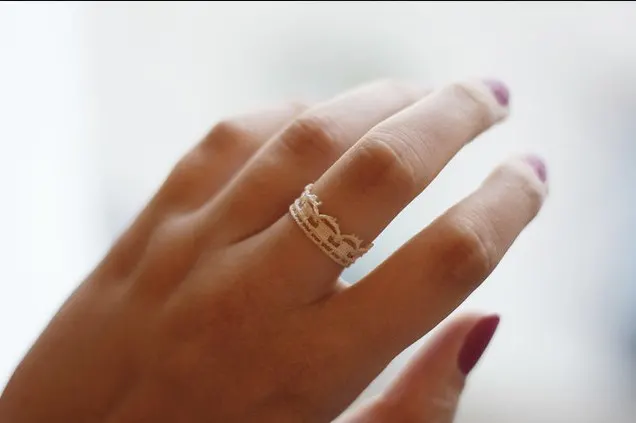 Credit: morning-by-foley.com
Nope, you didn't read that wrong, lace rings! Once again, we're pulling out the fabric stiffener to create a simple lace ring that will effortlessly accent anything you're wearing. This would go so well with the twine ring!
The tutorial is in French, but if you don't feel like finding the translation, here's the general gist. Measure enough lace for your finger, stiffen it on a mandrel, allow it to dry, and wear! Simple, cute, and cheap.
27. DIY Faux Granite Rings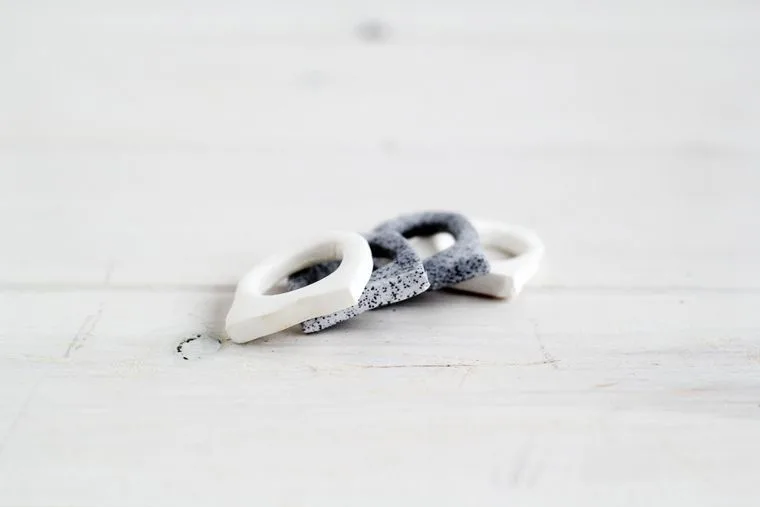 Credit: fallfordiy.com
Finally, let's go from soft lace to rock-hard granite (or at least… faux granite). These are fantastic as a statement ring, often taking a simple outfit to the next level. They're also great as a professional-looking gift!
Faux granite is easy to create with some granite polymer clay, a roller, and a craft knife. Once you've crafted your shape, simply bake the rings, let them cool, and you're done!
Let me know in the comments which of these rings will be adorning your fingers in the coming days. Are you a stacker, or do you choose a single statement ring and let it speak for itself?
Conclusion
Which one of these DIY rings is your favorite? Let me know and share them with your friends!