Mermaids are beautiful creatures that definitely deserve to be around the house! Make these little mermaid crafts with kids and have fun with it!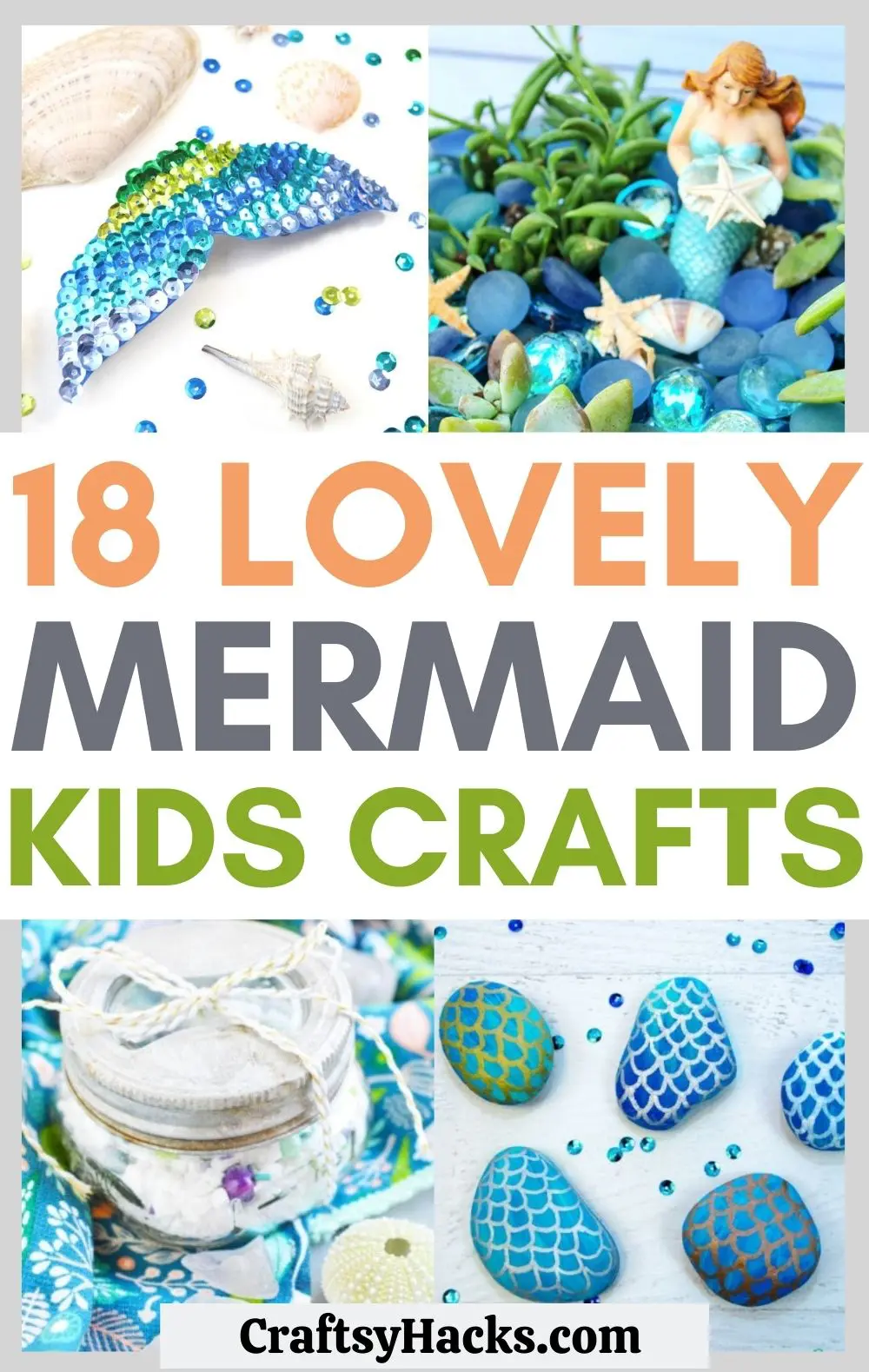 For many kids, Ariel is undoubtedly the best Disney princess! She lives underwater, she has a tale, and she goes after her prince with all the wide-eyed wonder of someone in love.
In fact, many kids love mermaids more than any other fantasy creature. Thankfully, there's a whole realm of crafts around mermaids. Each one offers a new chance to dive deeper into creativity!
Whether you have a budding marine biologist on your hands or your child is a massive Disney fan, these 25 mermaid crafts are sure to come in handy.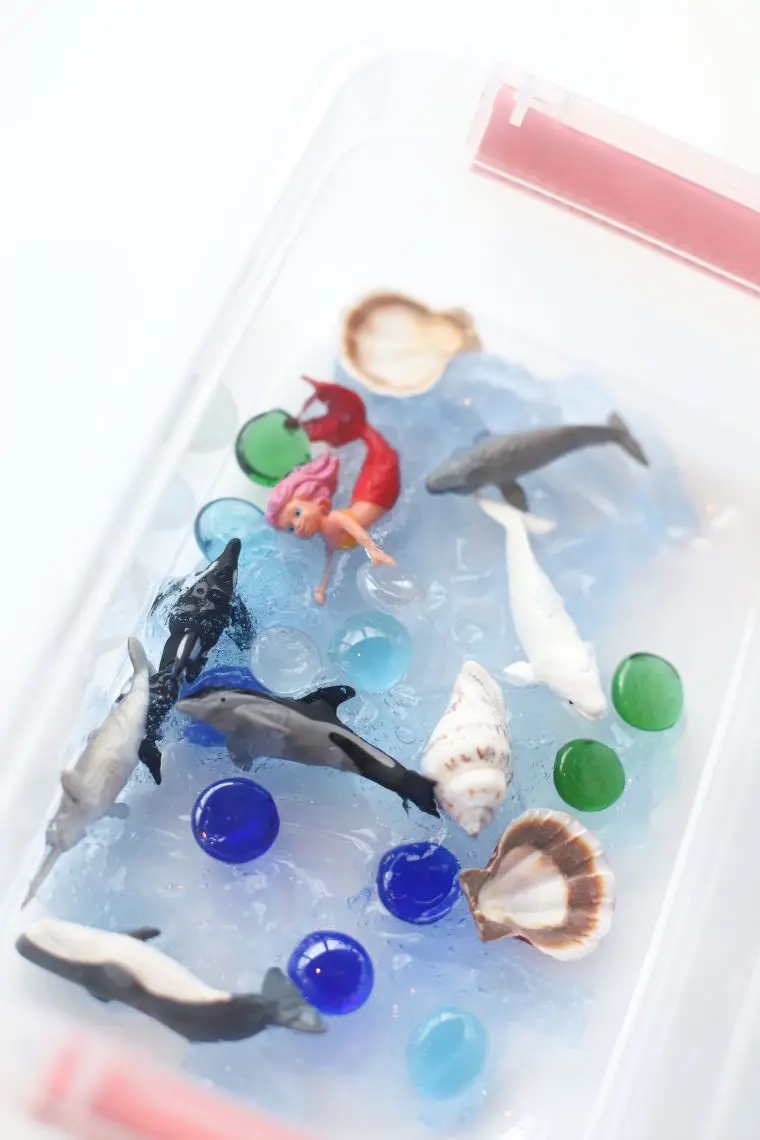 Credit: glitterinc.com
Sensory bins or stimulation bins are fantastic additions to any kindergarten classroom or home. They allow kids to embrace their imaginations, letting their minds run wild along with their senses.
The great news is sensory bins don't have to be fancy or expensive. This one is specifically for multiple kids, so it's great if you're in a classroom setting. However, you can make a tailored one too!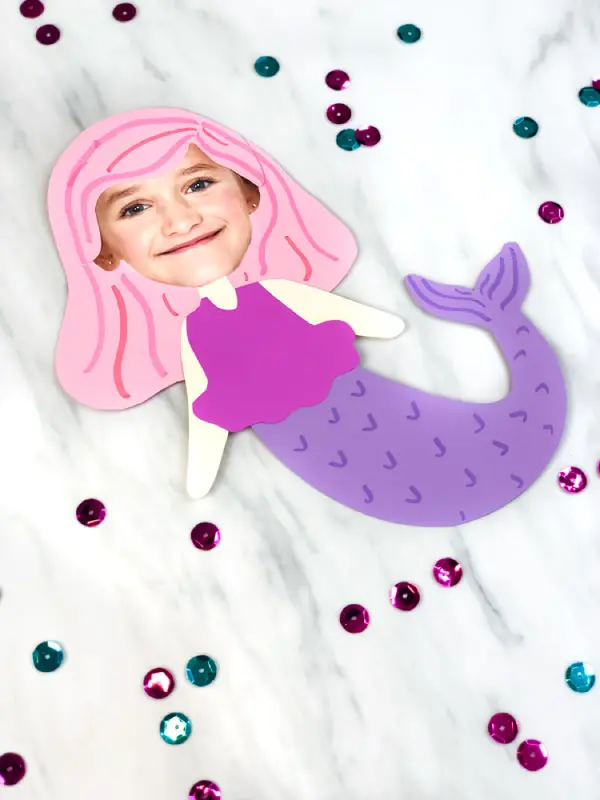 Credit: simpleeverydaymom.com
Turn your child into a mermaid with this delightfully simple photo craft. The idea is to use a cut-out of your child's face and stick it onto the shape of a mermaid.
Bring their fantasy of living beneath the waves to life with this craft. You can even customize the mermaid body to suit their favorite colors and clothes!
If you're stuck for a place to put them, these DIY photo frames are the perfect place to keep their mermaid personas safe.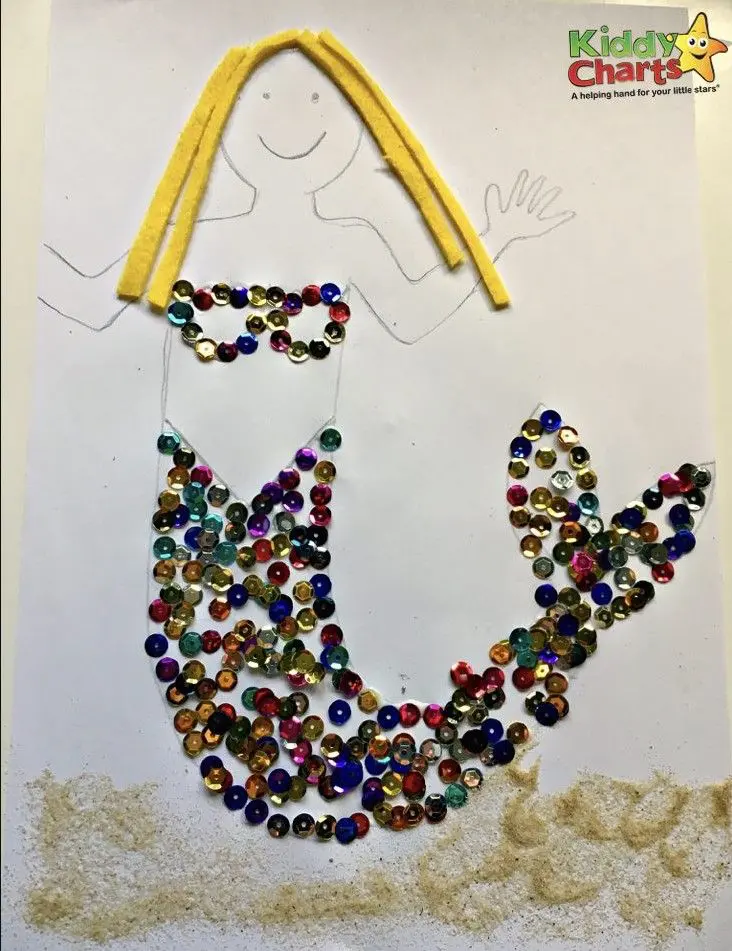 Credit: kiddycharts.com
Hone your child's fine motor skills and get an adorable piece of art out of it; that's what I call a slam dunk! This sparkly activity harnesses sequins (grab a pack here) to create an iridescent mermaid tail.
Help create the mermaid's hair with felt or wool, then adorn the bottom of the page with sand to finish it off. This is another craft you might want to frame, as the sand will start to shed after some time.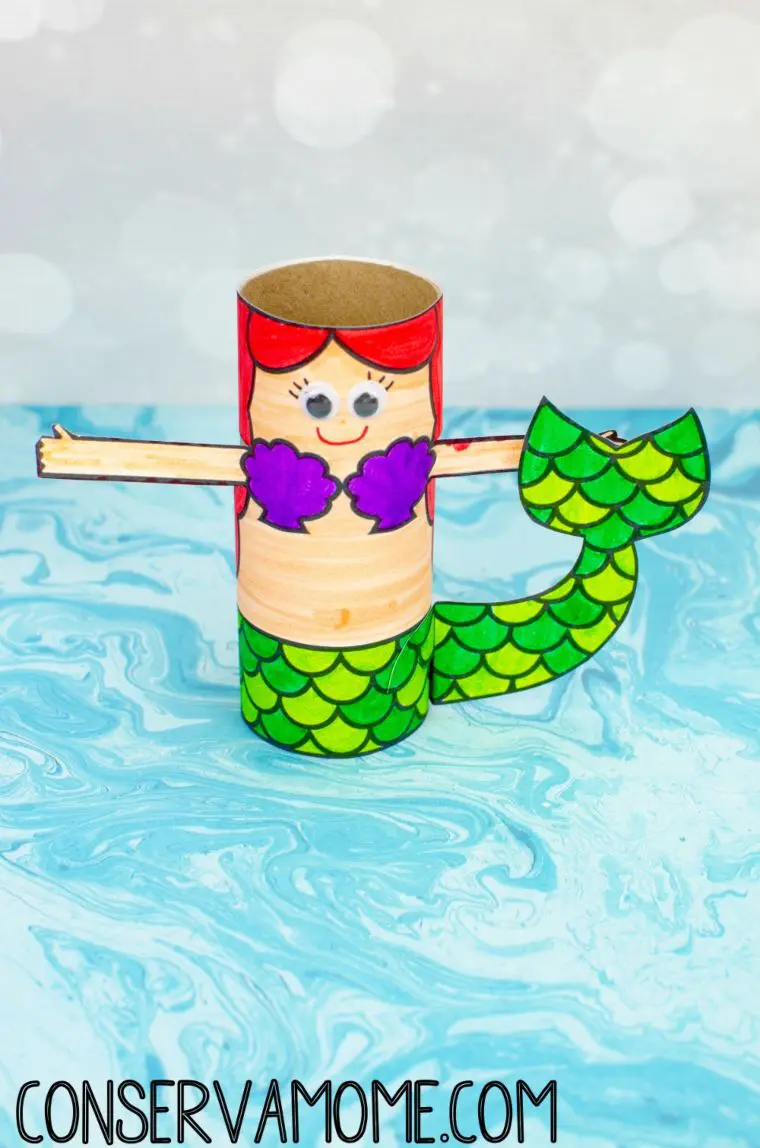 Credit: conservamome.com
Sometimes having a mermaid by your side is the best way to get through the day. At least, that's what kids tell me!
With a toilet paper roll and some clever finagling, you can bring your child's imaginary mermaid friend to life! You can use the template available or go freehand. It's all up to you.
Keep in mind that younger children might have trouble creating correct shapes, so you might want to opt for the printable template for them.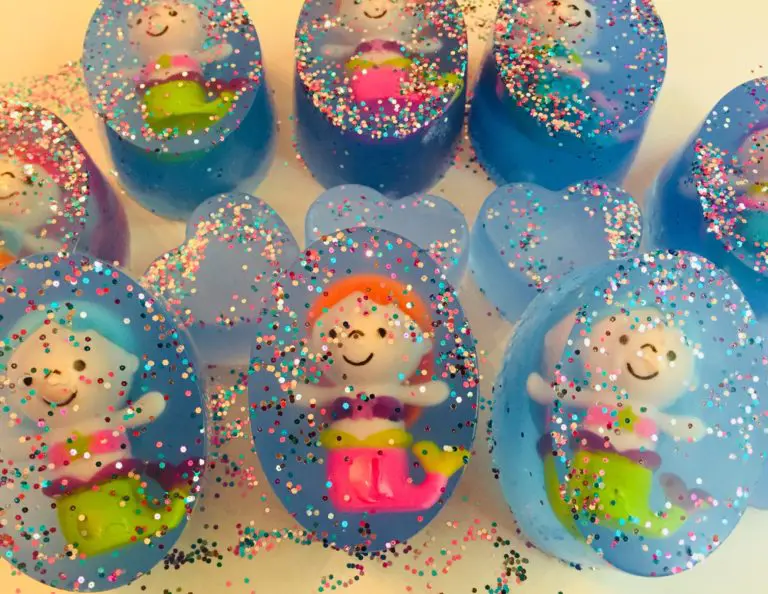 Credit: glitteronadime.com
Bath time can be a real trial if you have kids! However, if you know they have a fondness for mermaids, this soap could offer a way to get them to enjoy their end-of-day cleaning sessions.
Thanks to the melt-and-pour clear glycerine soap (which you can find here), these mermaid soaps come together quickly. The orange essential oils and blue soap color (here) only add to the illusion!
Are you looking for some other cool soaps or bath products? These craft projects have plenty to choose from.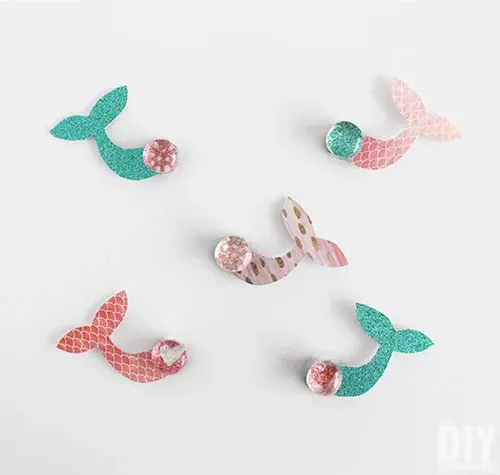 Credit: thediydreamer.com
Let's face it, a lot of mermaid-themed décors are tough to integrate into a household design scheme. Thankfully, these minimalist glass bead mermaid magnets walk the line perfectly.
These are a great way to bring your child's enthusiasm into your décor, which is so important when raising kids. One key ingredient of these mermaid tails is—of course—the magnets (find them here).
However, you'll also need to gather some Mod Podge, clear glass beads, scrapbook paper for the tail, and your trusty glue gun.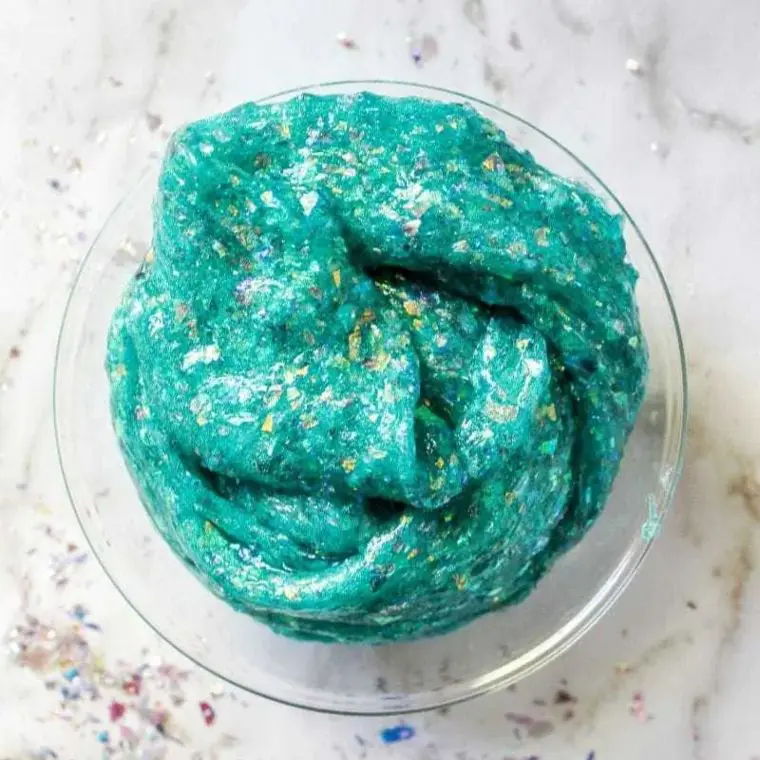 Credit: crayonsandcravings.com
Sick of seeing slime recipes that require Borax? This Borax-free sparkly mermaid slime is the perfect solution to that problem. Instead of Borax, it uses a contact lens solution.
Slime is so easy to mix and customize, so this would make an amazing activity for a mermaid-themed birthday party. Iridescent glitters and colorful slime make for one heck of party favor.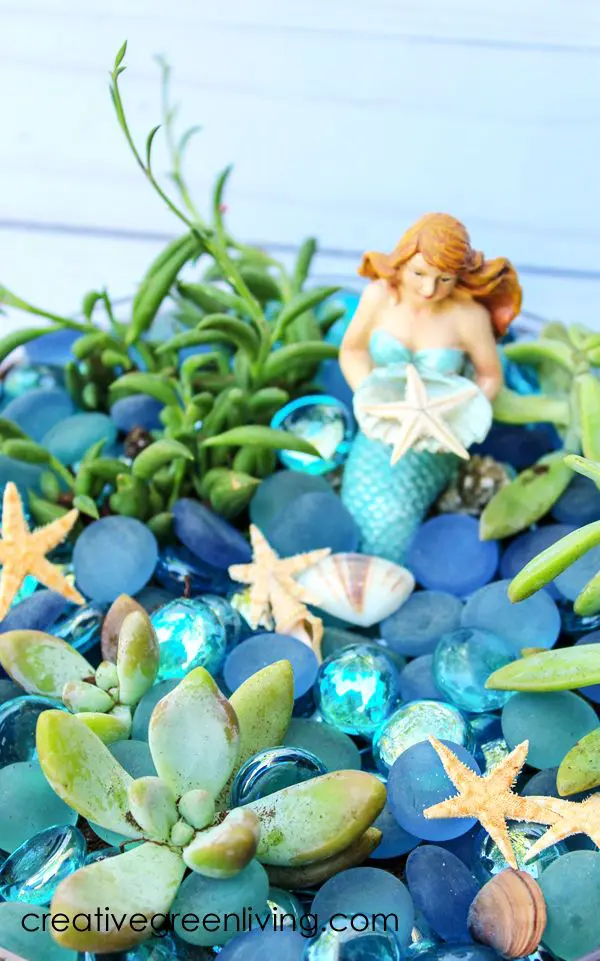 Credit: creativegreenliving.com
I love how creative this craft is, and it's perfect for teaching your kids the basics of gardening! Succulents are tough plants, so they're the perfect plant to stand up to this mermaid décor scheme.
Using a large terrarium bowl, simply plant the succulents and decorate the top of the soil with gems, mermaid figurines, and other underwater tokens. Make sure to place it in a sunny spot for the succulents!
If you've gone a little succulent-mad (I know I have), here are genius Dollar Store planter ideas to give your new plants a home.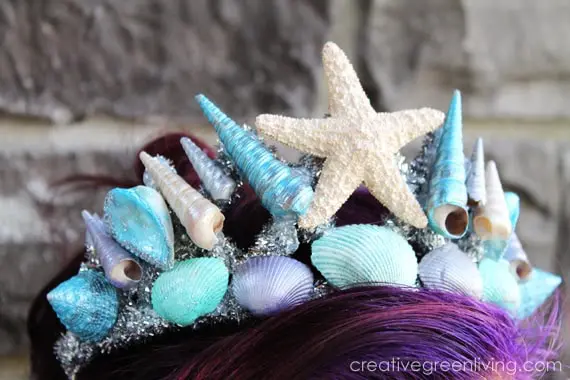 Credit: creativegreenliving.com
I guarantee you this: if you make this crown for your child's birthday party, they absolutely will not be able to stop smiling for the entire party. In fact, I kind of want one for myself!
If you have a beach nearby, visit it to pick up some authentic seashells to decorate the tiara. If not, you can grab a pack of fake seashells here.
Construct the crown with a peak in the middle, as this shape denotes its status as an underwater crown jewel. If you have the time, you can make smaller versions for the other guests!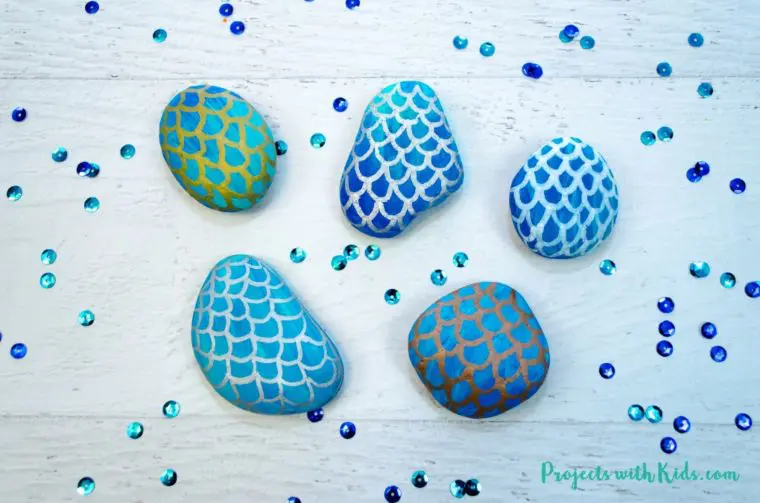 Credit: projectswithkids.com
Kids and tweens will adore this craft, especially if they're partial to underwater fantasy creatures. These scale-painted rocks are perfect as a summer camp activity. After all, rocks live in the wild!
While the result looks very professional, the process of drawing the scales is super simple. Simply paint the rock in a gradient, then draw the scales on with paint pens (like these).
Complete the craft by layering some Mod Podge over the dried design to protect it from flaking. You can use this technique in other ways too! DIY rock photo holders, anyone?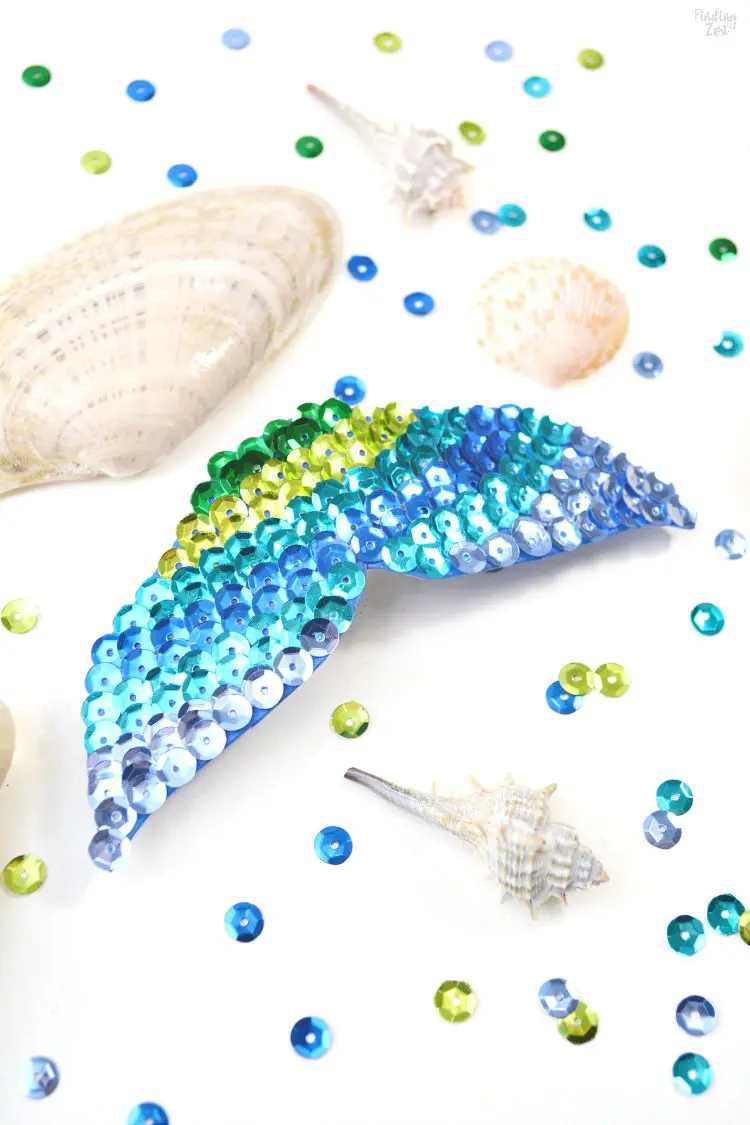 Credit: findingzest.com
While I wouldn't exactly call this pin discreet, it is small enough that your little one can wear it to school. In fact, it's the perfect way to let them take a touch of magic with them wherever they go.
This craft can be quite finicky, as you have to layer the sequins in a careful pattern. So, this is suited to older children and even tweens. Use blue craft foam (here) as the base to lend it an ocean feel.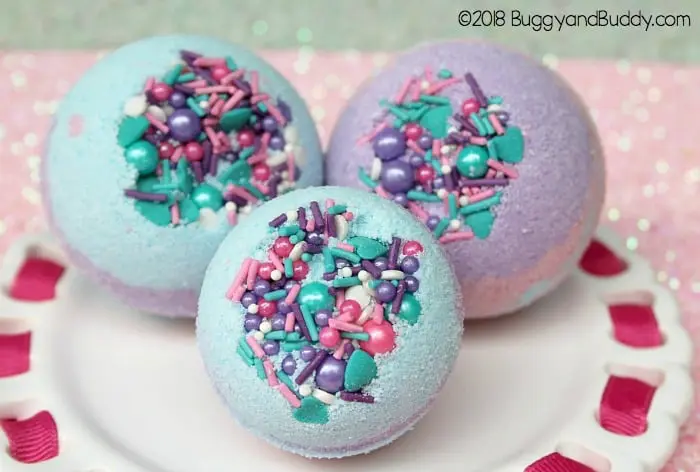 Credit: buggyandbuddy.com
If you're seeking a gift for your tween or hunting for a way to make your little one's bath time more fun, then these bath bombs are for you. Though they look complex, they're very achievable!
Keep in mind that bath bombs typically have a long list of ingredients, and this recipe is no different. Things like SLSA (sodium laurel sulfoacetate) and mica coloring (here) are necessities!
Pro tip: If you want to make smaller versions of these bombs, simply use a silicone ice cube tray instead of the usual large bath bomb mold.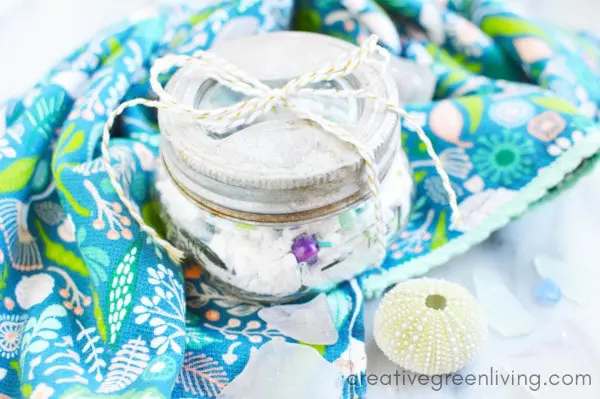 Credit: creativegreenliving.com
Speaking of bath products, these fizzing mermaid bath salts are even easier to make than bath bombs! No mold or mica colorants are required, and they're just as fun to use in the bath.
Not to mention, these salts also use ingredients that you're more likely to have around the house. Things like citric acid, corn-starch, and bubble bath all mix together to form the salts.
Have some fun decorating a jar with your child specifically for storing these salts. They need an airtight container for storage, so it might as well fit the theme!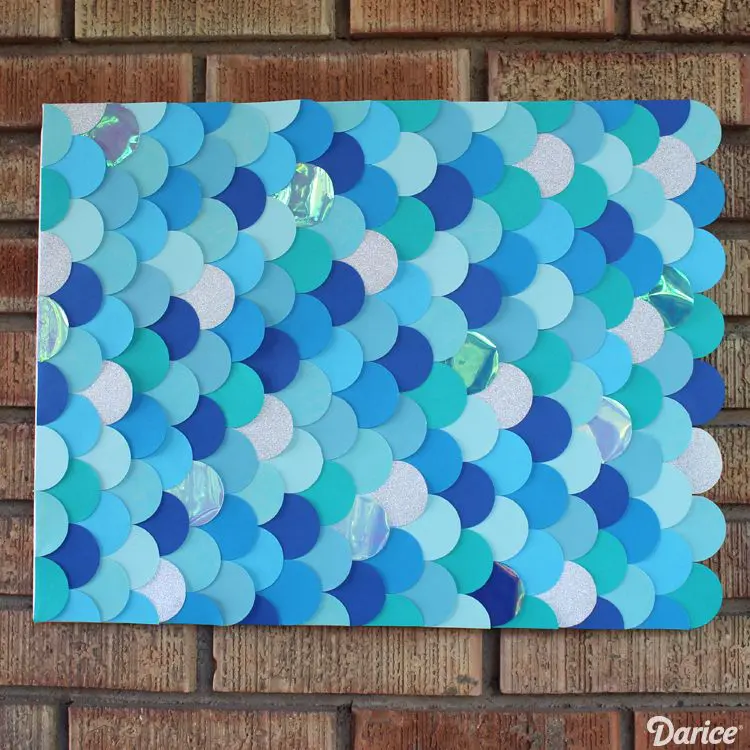 Credit: darice.com
This modern wall-hanging is perfect for a kid's bedroom, no matter their age. While the original craft uses blue and silver as their colors, you can shift them to fit your mermaid-lovers preferred shades.
The key to the uniformity of these scales is something called a circular paper punch (find it here). While you can sit and cut the circles out by hand, these punches will keep the scales nice and round.
If you're making this for a teen girl's room, why not give her another craft to work on while you do this one? Check out this list of cute DIY crafts for teen girls to get started.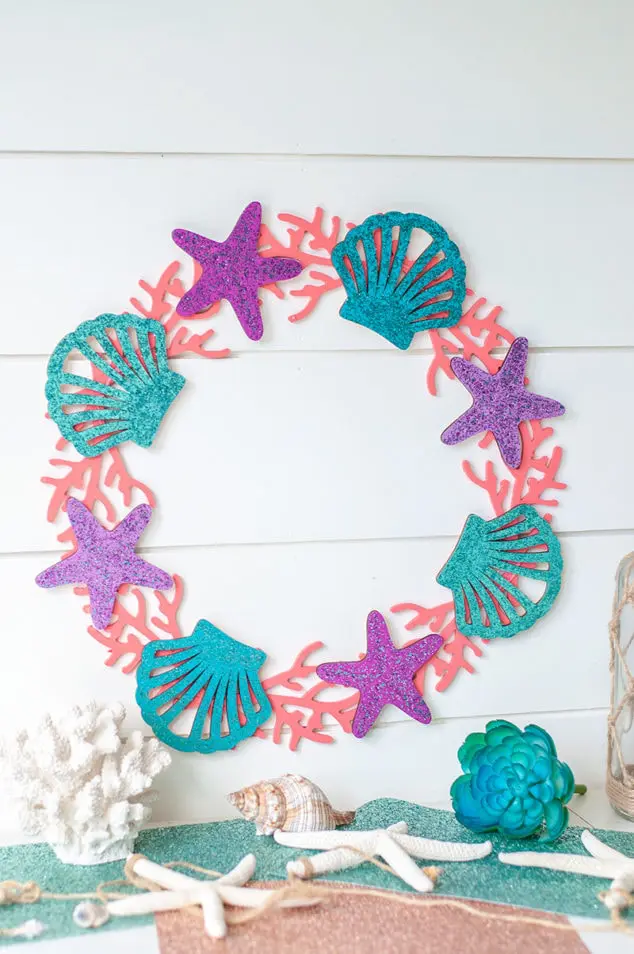 Credit: craftsbycourtney.com
Whether Christmas is around the corner or you're simply seeking a cool new door decoration, this wreath will do the trick. Work together with your children to bring this galaxy-inspired wreath to life!
This makes a fantastic door hanging year-round, but it's even better to come to Christmastime. You can even use the same principle to make a personalized wooden twig wreath (here) for every bedroom!
If you're in need of inspiration, there's plenty hiding in this list of unique Christmas wreaths.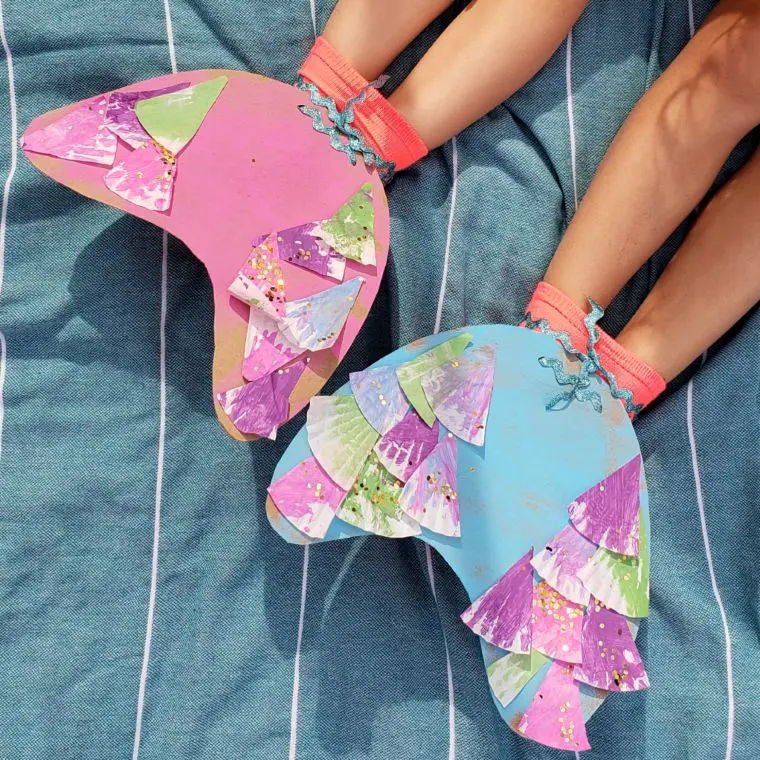 Credit: momtrends.com
Of course, if your little ones love mermaids, then the chance to become one for a day is not one to be missed! This DIY mermaid tail craft is perfect for birthday parties (particularly ones by the water).
Tap into everyone's imagination with a set of their very own fins. Layout all manner of acrylic paint colors (here's a huge pack), along with some foam brushes and your cardboard fin cut-outs.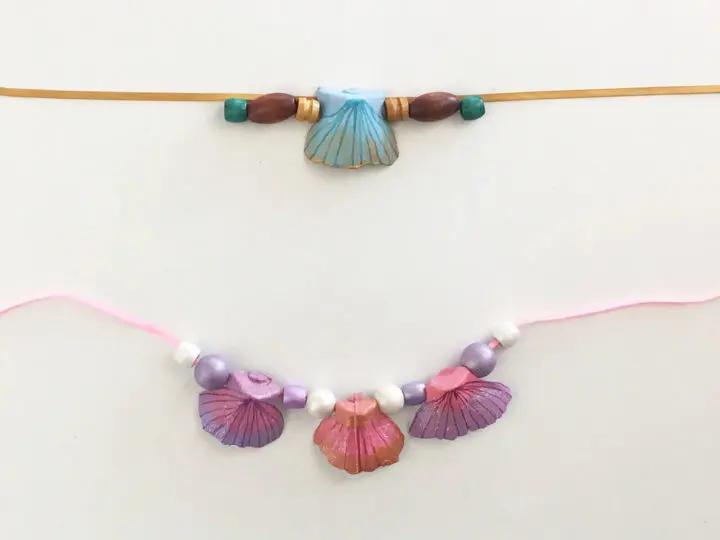 Credit: creatingcreatives.com
These mermaid necklaces would make for some amazing party favors. In fact, they'd pair beautifully with the mermaid tails from the previous craft on this list!
Whether you're making one of these necklaces or twenty of them, the key to satisfaction is getting the "shells" to look right. Sit down with your kids and experiment before stringing them onto the necklace.
You'll need some wooden beads and pony beads to bolster the necklace's appearance, and your child can choose any color scheme under the sun!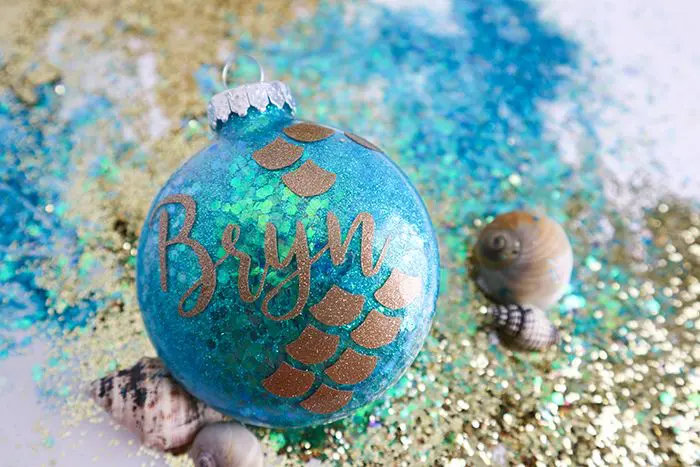 Credit: clumsycrafter.com
I've always believed that Christmas trees should have a little touch of everyone in the family. So, if you've got a mermaid lover in the house, these are perfect ornaments to create with them!
These can be put together in the matter of an afternoon. In fact, if you made a bulk pack, they would make a wonderful gift or stocking stuffer. Just make sure you pick up enough clear ornaments (here).
Create an ornament style for everyone in the family! You can find some inspiration from these beautiful Dollar Tree Christmas decorations.
Conclusion
Love any of these mermaid crafts? Let me know which one is your favorite!